17 Farmhouse and Cottage Valentine's Day ideas. Fast and beautiful ways to bring the spirit of Valentine's Day into your home.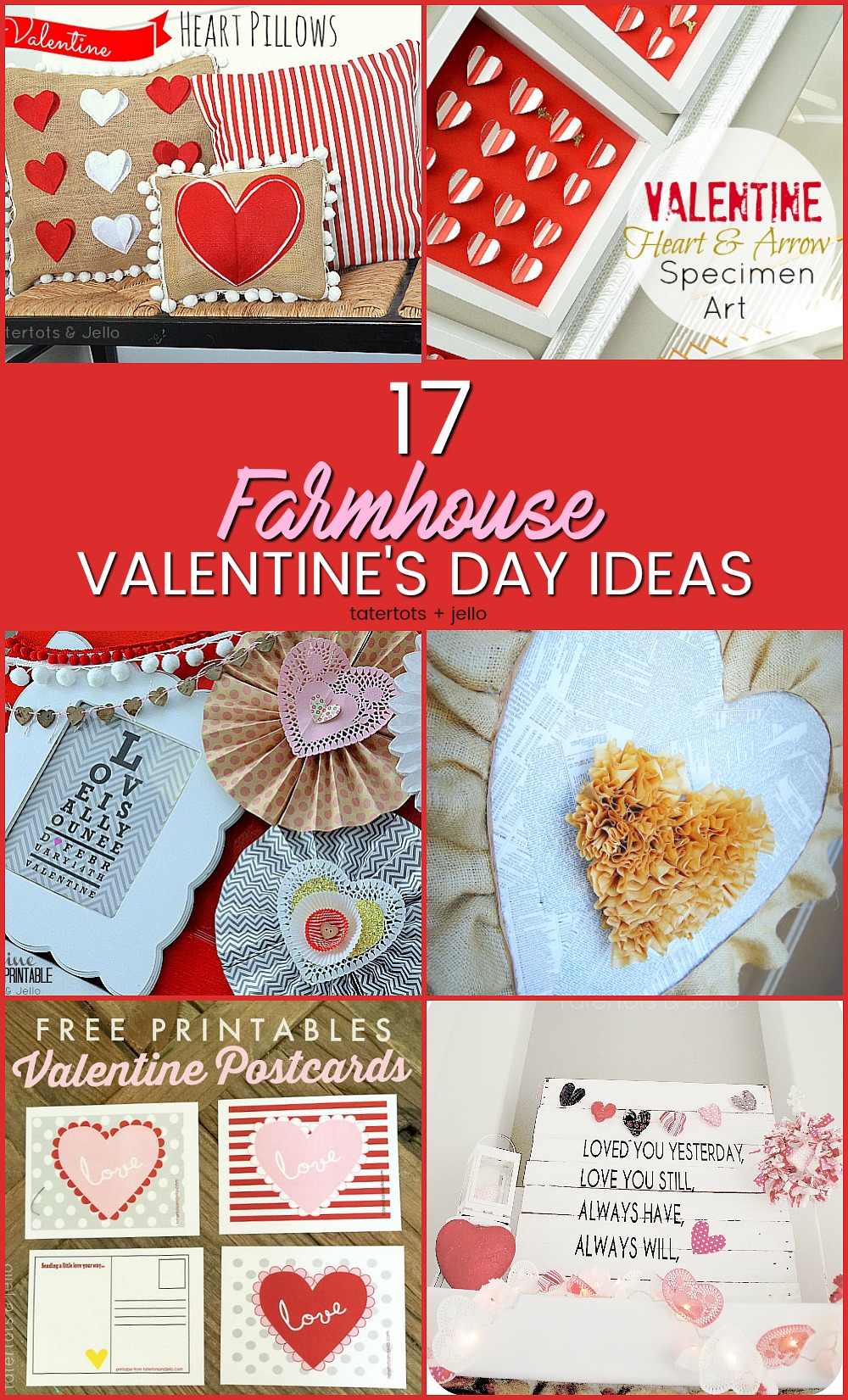 Beautiful Farmhouse Valentine's Day Decorating
I love decorating our home. Over the years, Valentine's Day as become on one of my favorite holidays to decorate for. The bright pink and reds of the holiday syeem to break up the Winter blues for me. Here are a few of my favorite Valentine's Day projects I've created over the past few years — pillows, wall art, wreaths and ways to decorate your mantel and porch for Valentine's Day!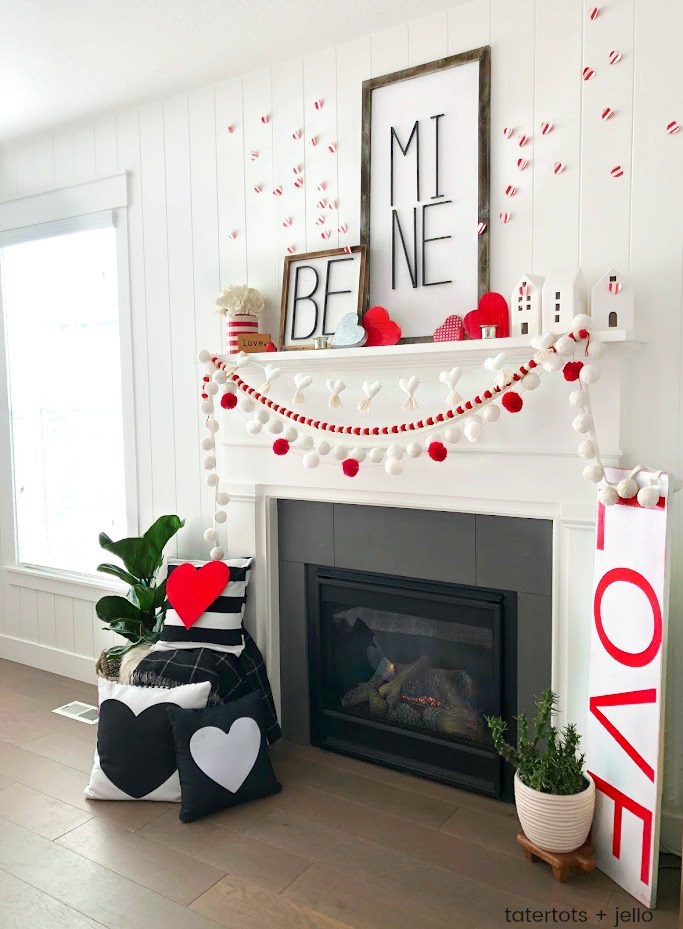 This was one of my favorite Valentine's Day Mantels. I took 90%-off signs and painted the insides white, then added simple metal letters!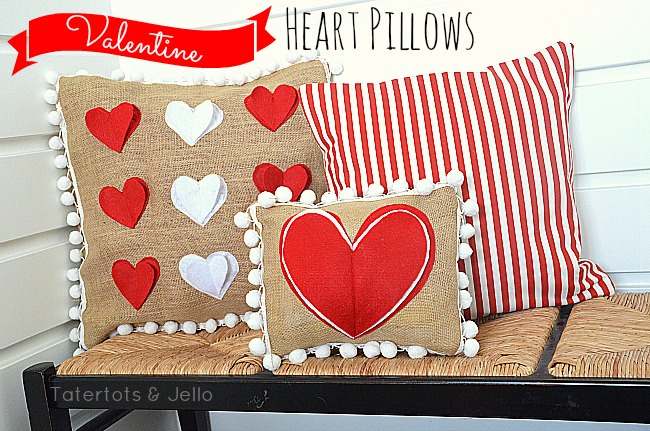 Still one of my very favorite projects. These burlap pillow covers were easy to make. I added felt 3-dimensional hearts to the fronts and some pom pom trim to the edges.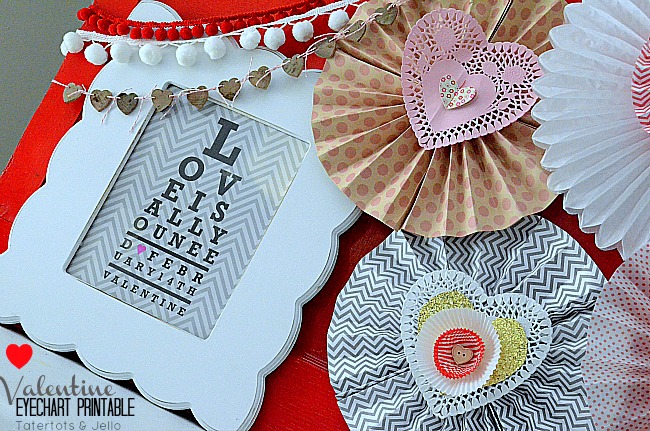 This simple and graphic printable is fun for Valentine's Day. I love the graphic elements. It comes in grey or pink!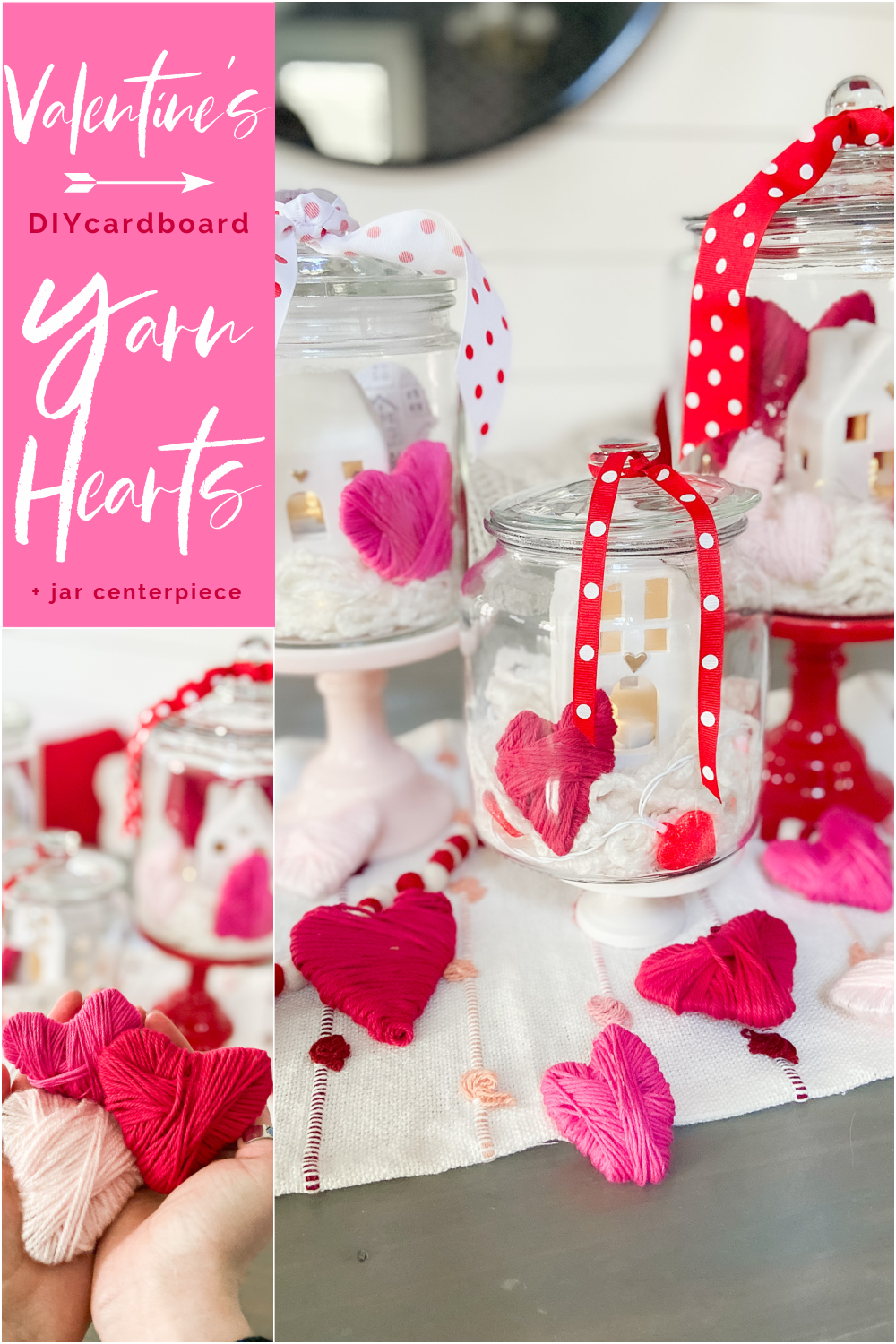 This one is so easy! All you need is cardboard and some yarn to make adorable hearts — perfect for making garlands, putting on shelves or creating Valentine's Day centerpieces!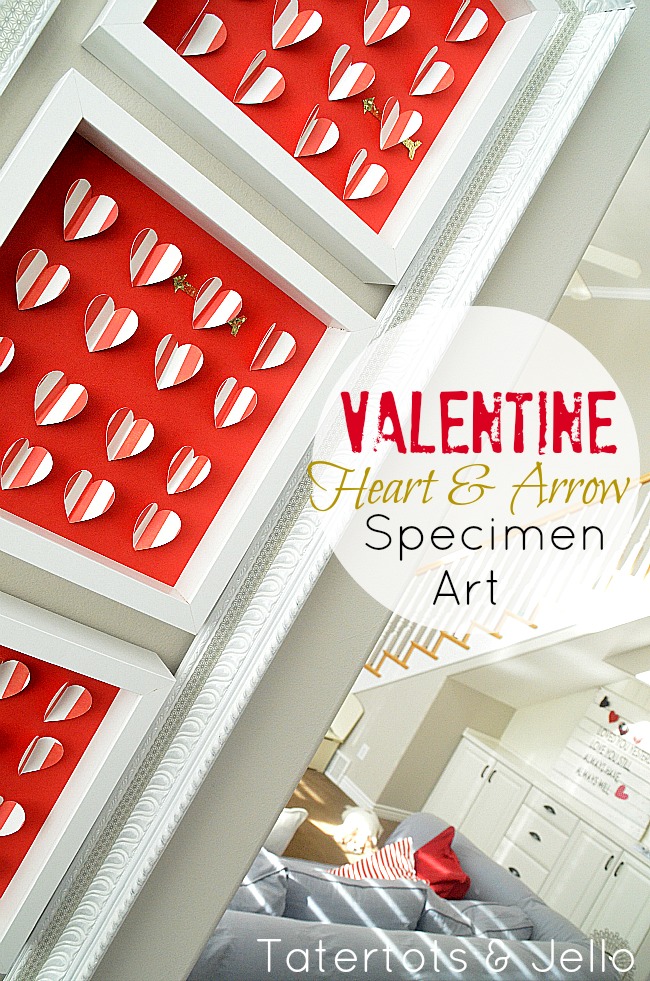 Specimen Art has been one of my favorite ways to decorate for a long time. I love the symmetry of specimen art. This one is so cute with the red and white for Valentine's Day!
Farmhouse Valentine's Day Ideas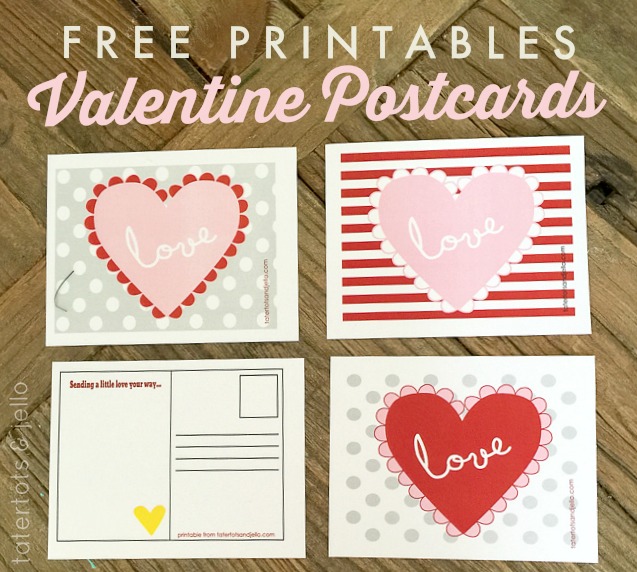 As easy way to send love to your friends and family. These cards are free printables. Just print them off, fill them out and brighten up someone's day.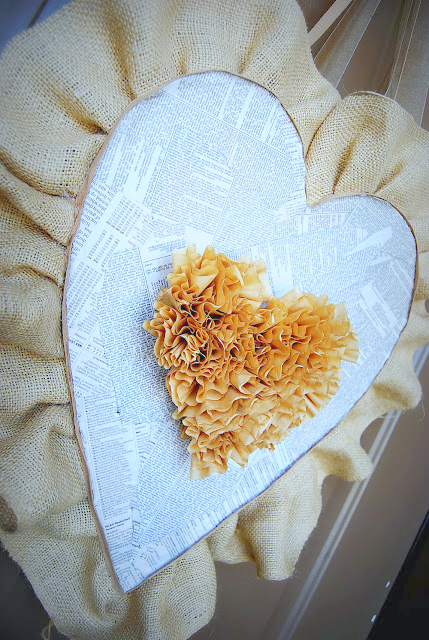 For those of you who love a more neutral Valentine's Day, make this cute heart wall hanging.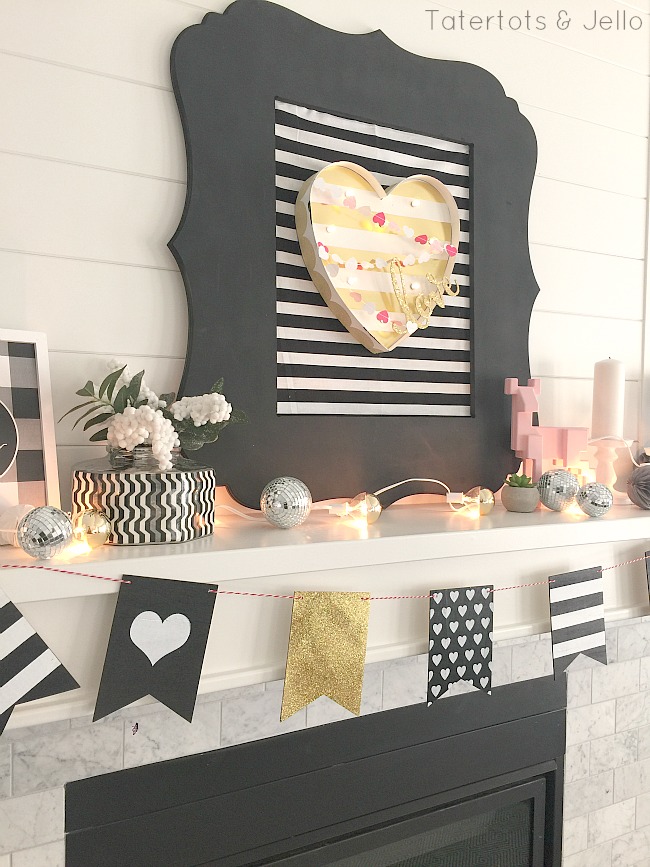 Black and white are so pretty for Valentine's Day. You can add pink or red and make a graphic statement. I hung a heart marquee light to my mantel and it was so pretty all lit up at night.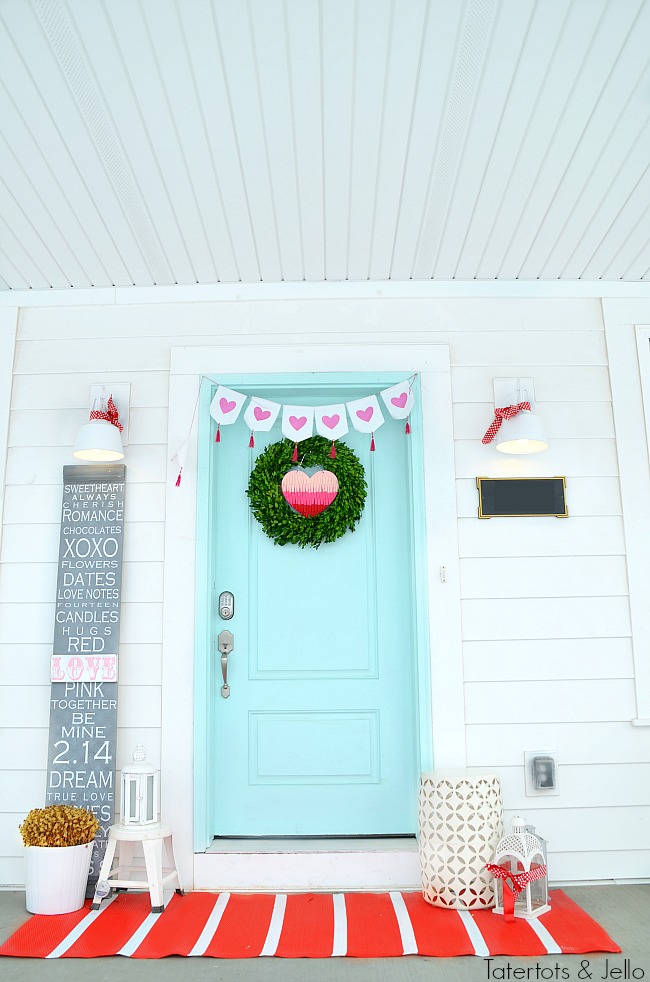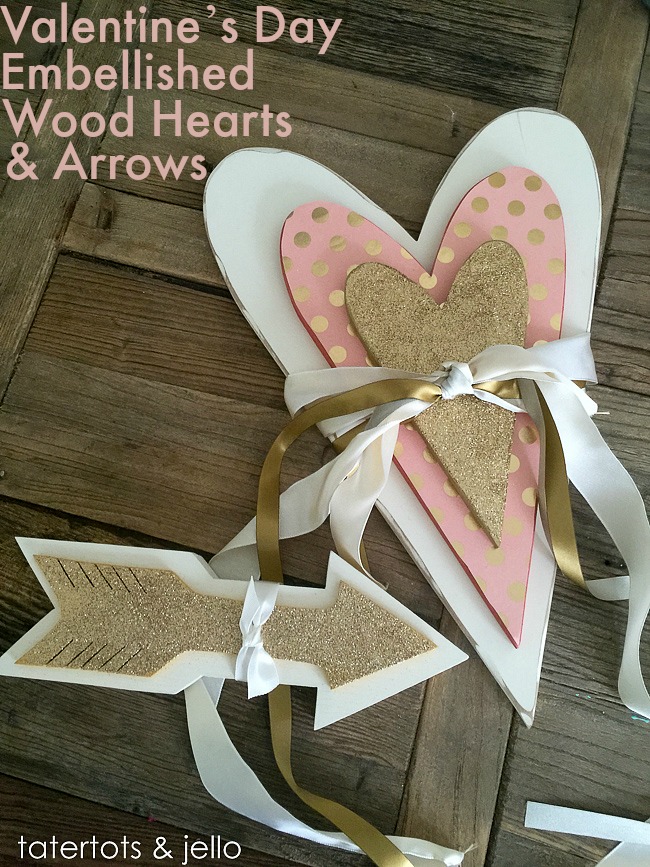 Easy ways to bring a little Valentines cheer to your front door or porch.
Add some pretty paper to wood heart and arrows to customize your Valentine's Day decor. I share where you can get these cute wood shapes too.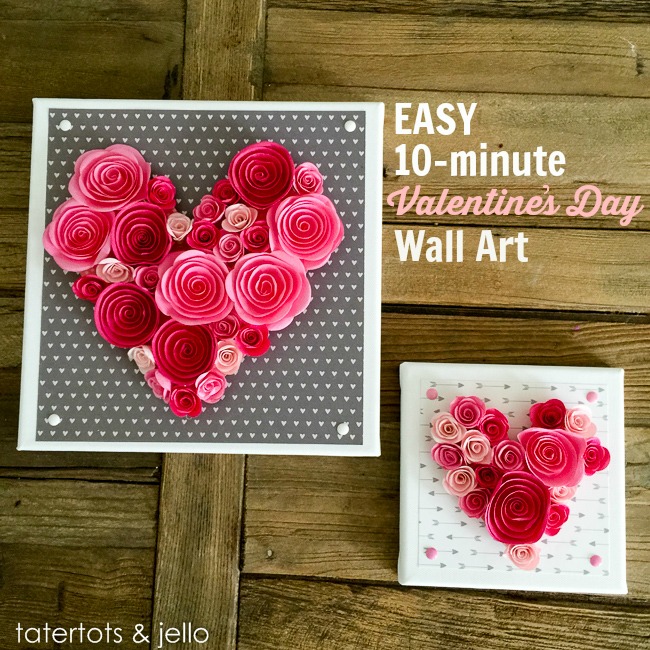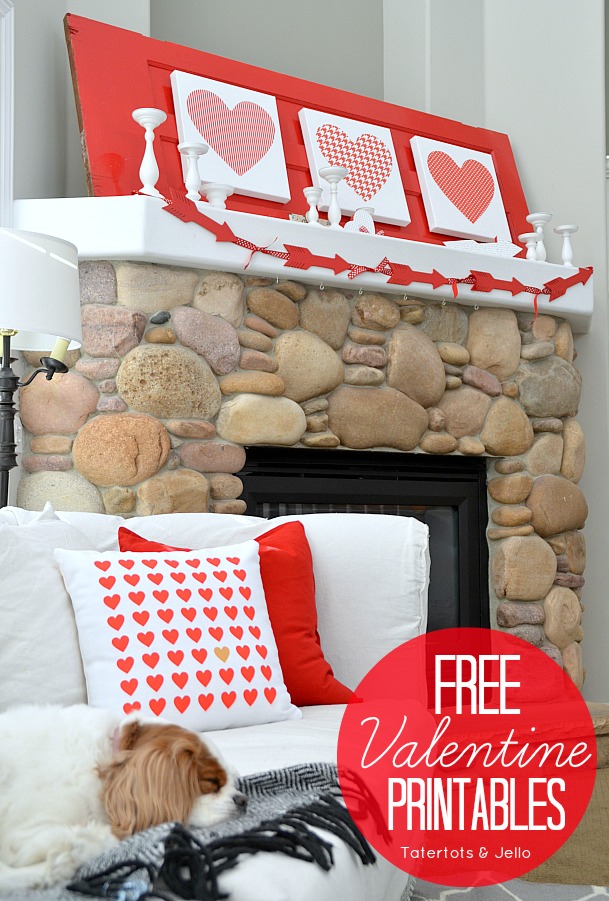 This was such a simple project. I also love how it creates such a statement with a 3-dimensional element.
I share these three FREE bold and graphic heart printables. You can print them off on your computer and frame them, or send them to a printer to be printed in a large size or on canvases or pillows. I share all the details on how to do that.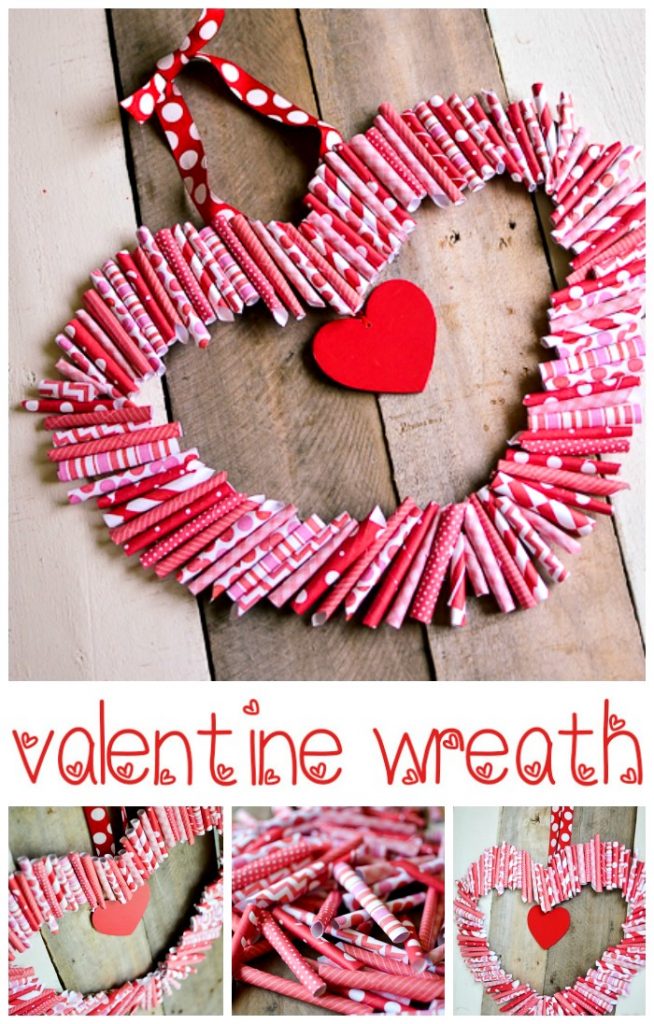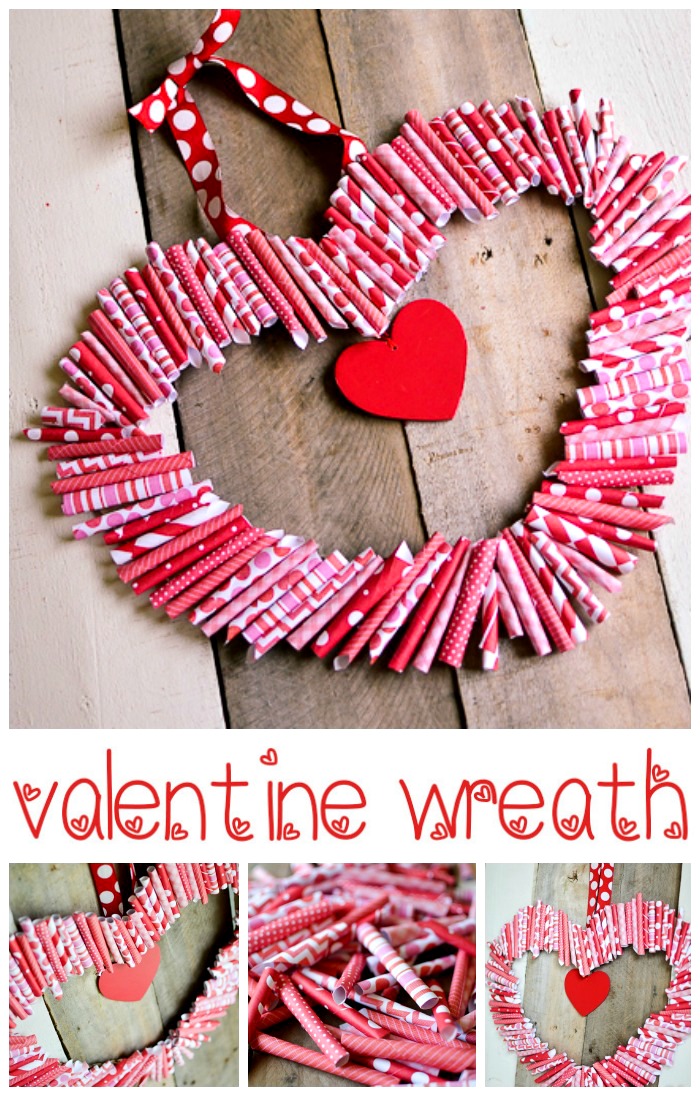 This wreath is so cute and easy to make. Roll paper strips and create something really special for your home.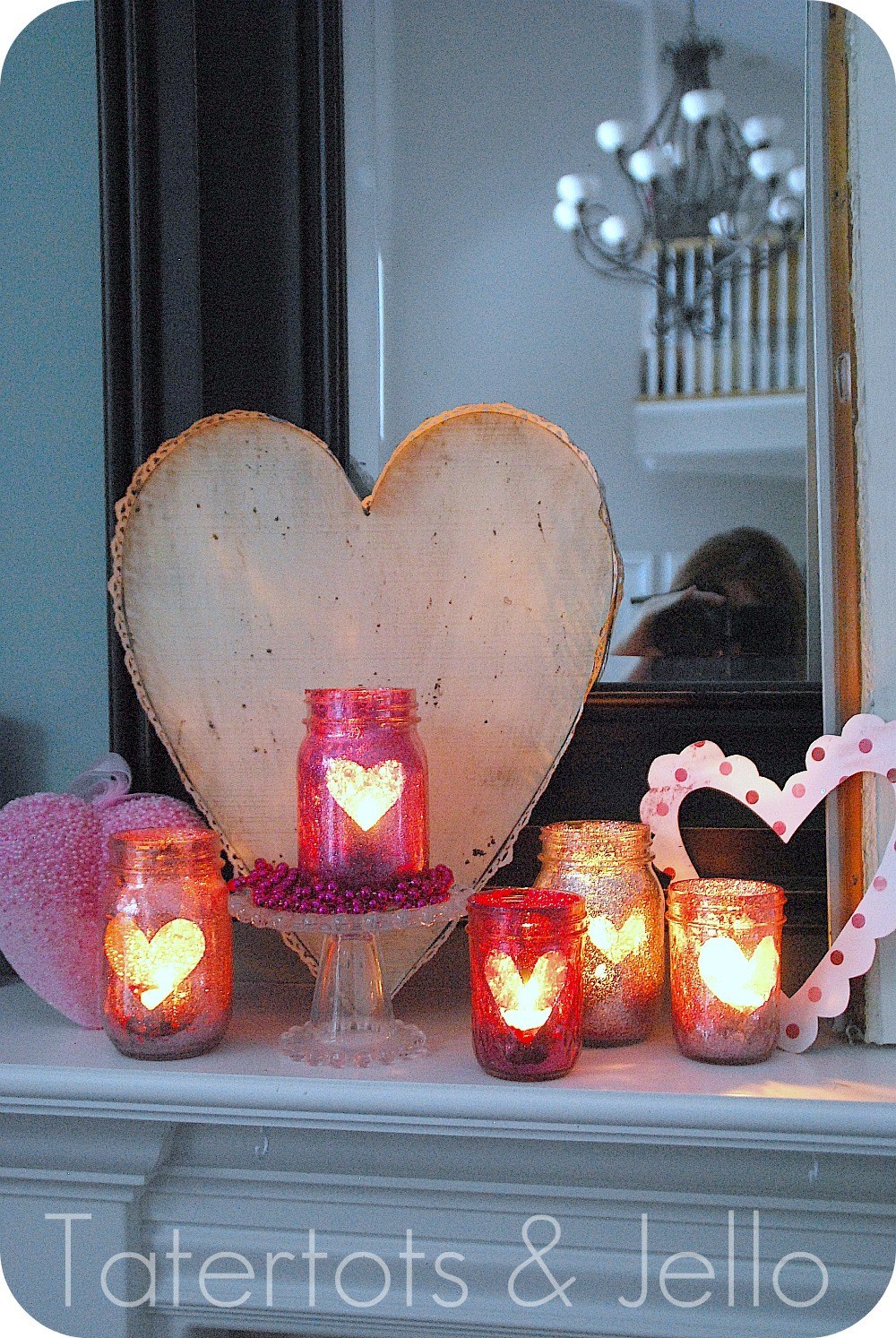 Take jars, add paint and glitter to create beautiful mercury glass-looking votives that sparkle and glow on your mantel or table to celebrate Valentine's Day.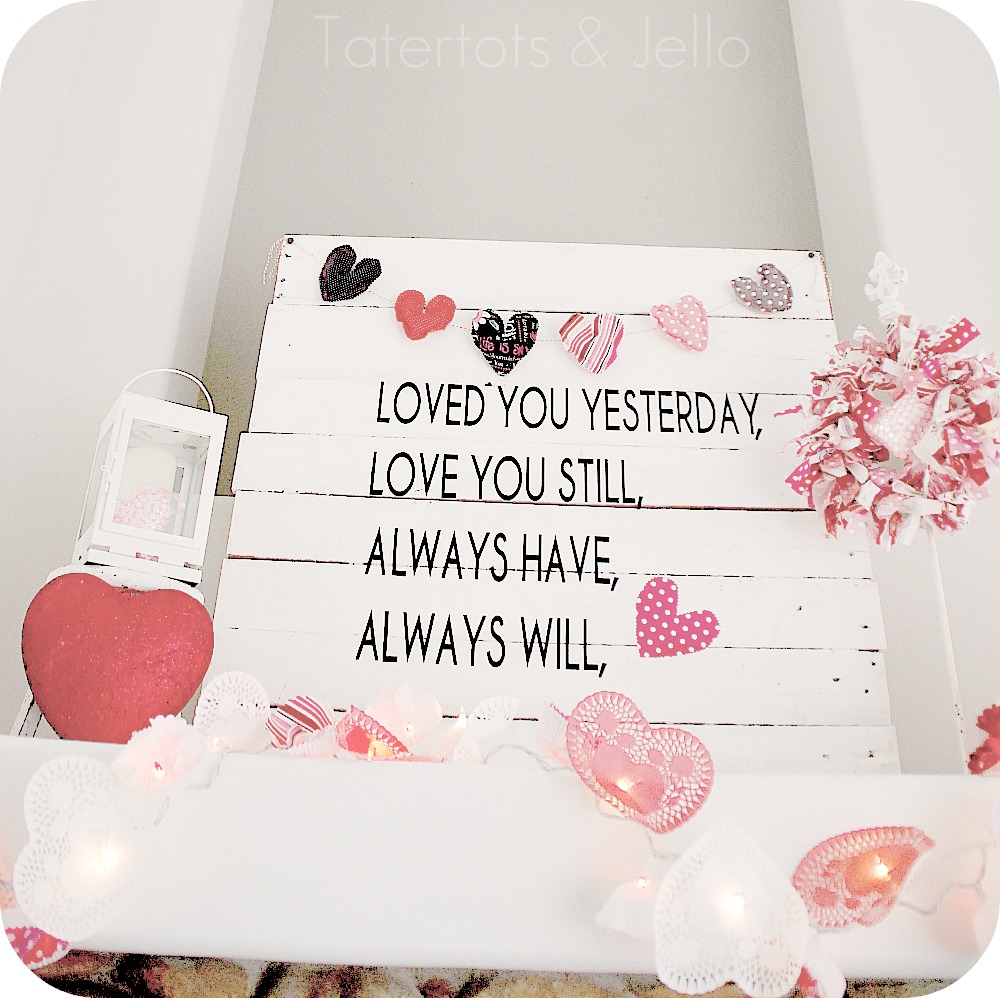 I wanted something big to make a statement on my mantel. I cut some boards and built a big pallet. Then added some vinyl and made a lit up doily banner. It was one of my favorite mantels.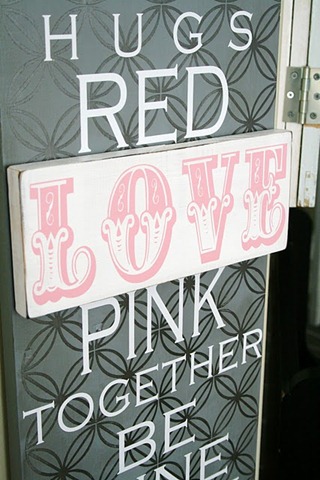 One of my favorite subway art projects, this subway sign has all kinds of cute Valentines' Day sayings, plus a pretty pattern underneath. I love putting this sign next to my mantel or my door.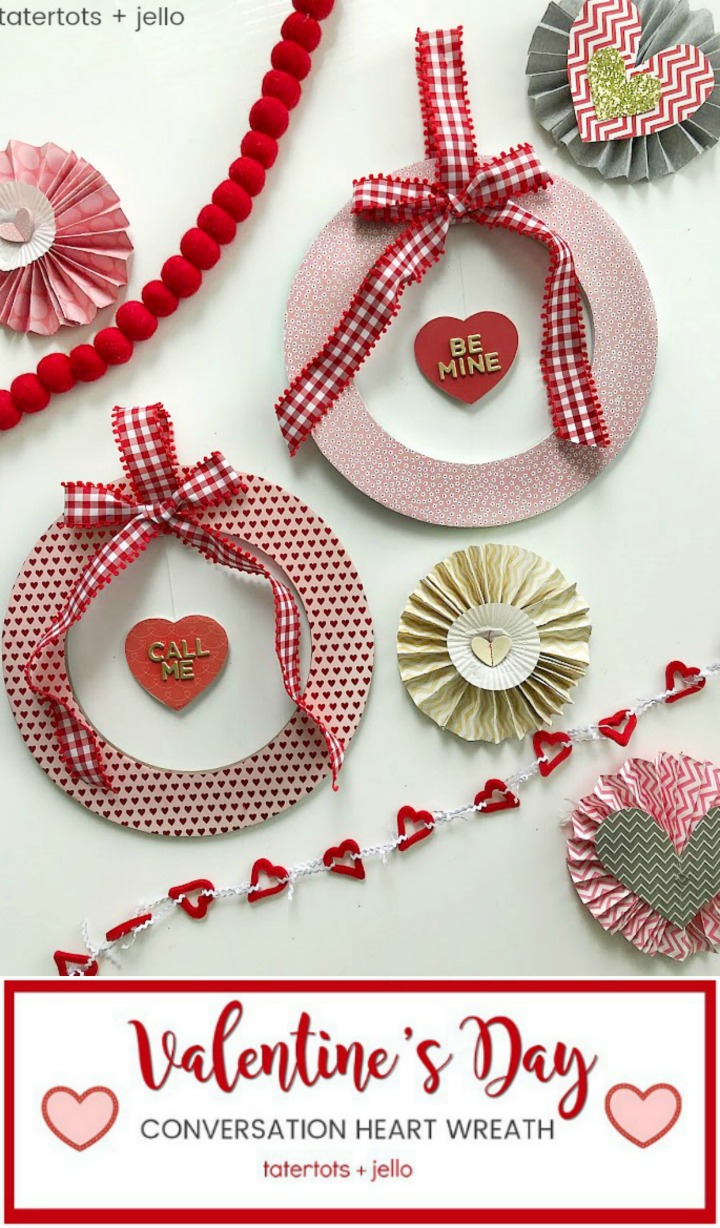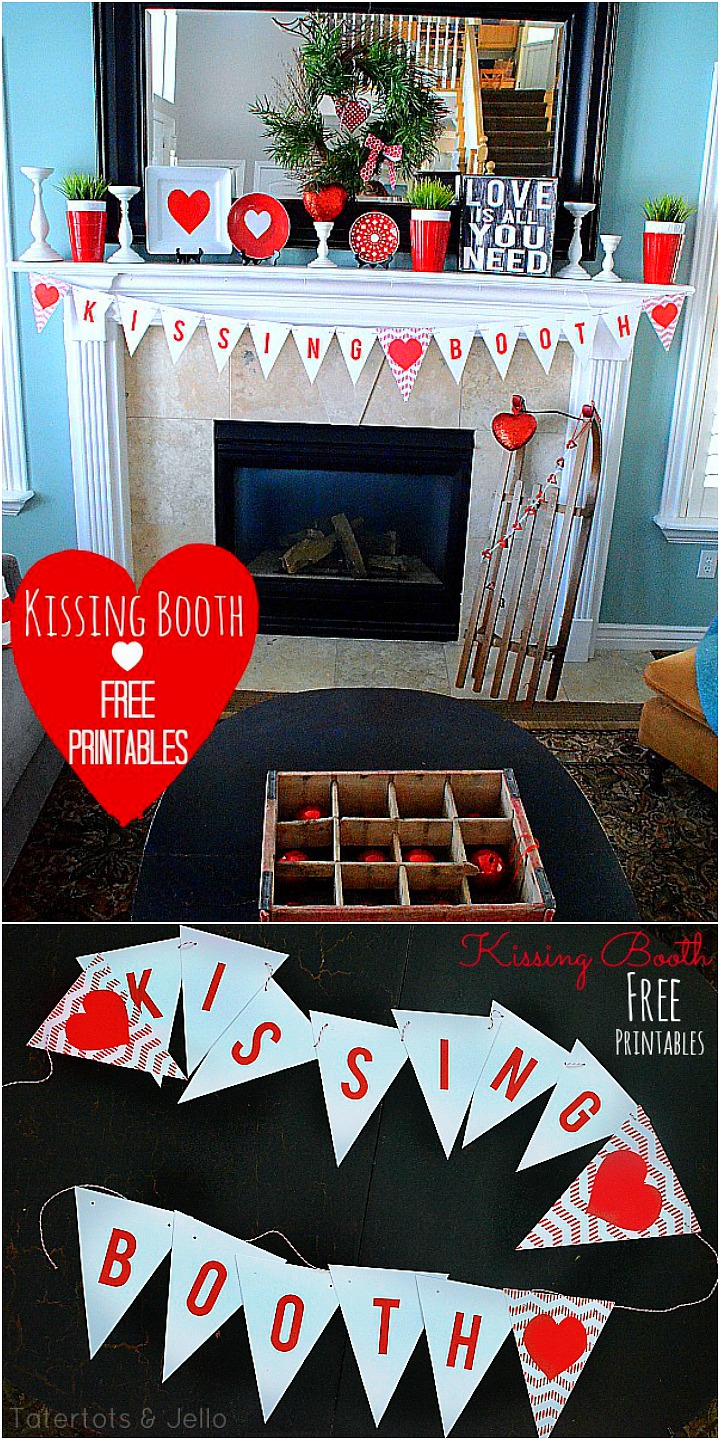 This simple wreath uses scrapbook paper and a little wood heart with a saying. You can hang it on your door or a wall to add some Valentine's Day cheer.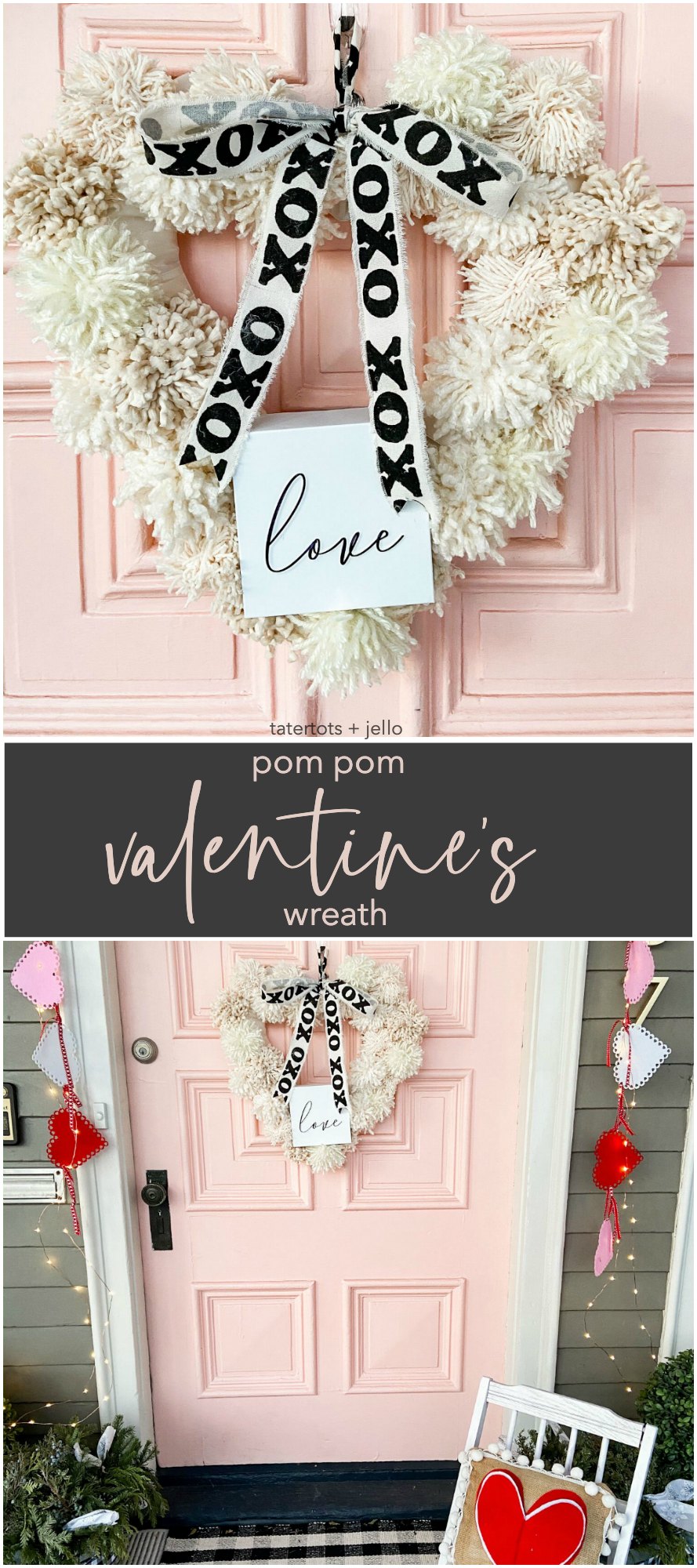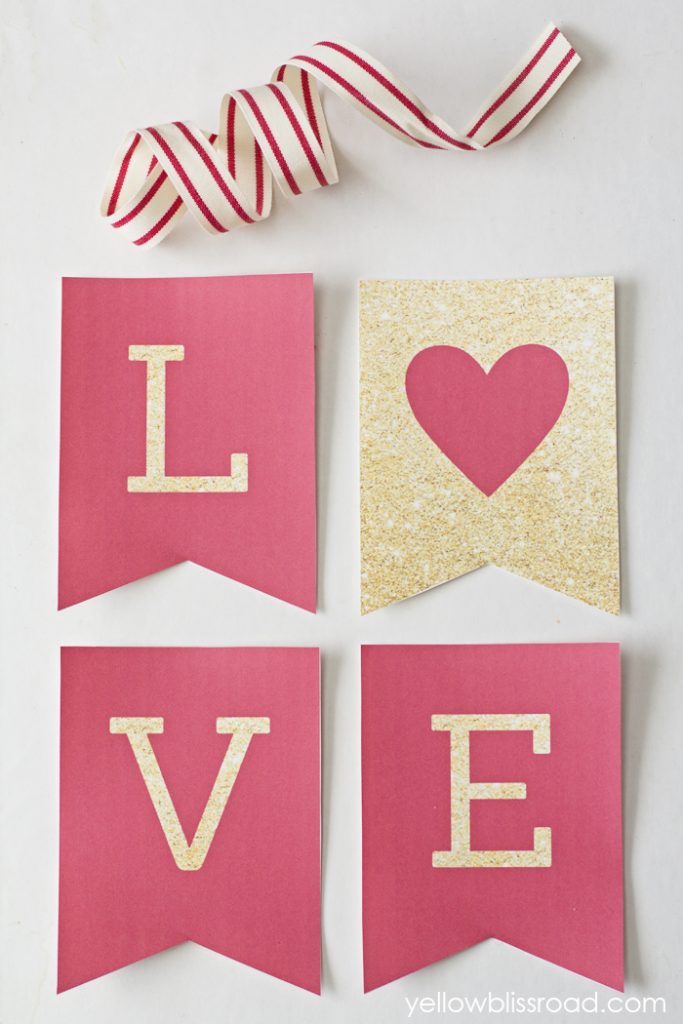 Print out this banner and hang it up under a mantel or above a door. Such an easy way to decorate your home.
Another free Valentine's Day printable. The glitter adds such a pretty element for Valentine's Day.
Those are just a few of my favorite projects! Have you decorated your home for the holiday?
What projects are YOU working on? Tag me on Instagram at @tatertotsandjello and show us YOUR ideas!!
Let me know in the comments – I would love to come see YOUR ideas!
xoxo