Valentine's Day Floating Conversation Heart Wreath. Turn your favorite paper into a cute wreath for Valentine's Day and add a floating heart with a Valentine's Day saying!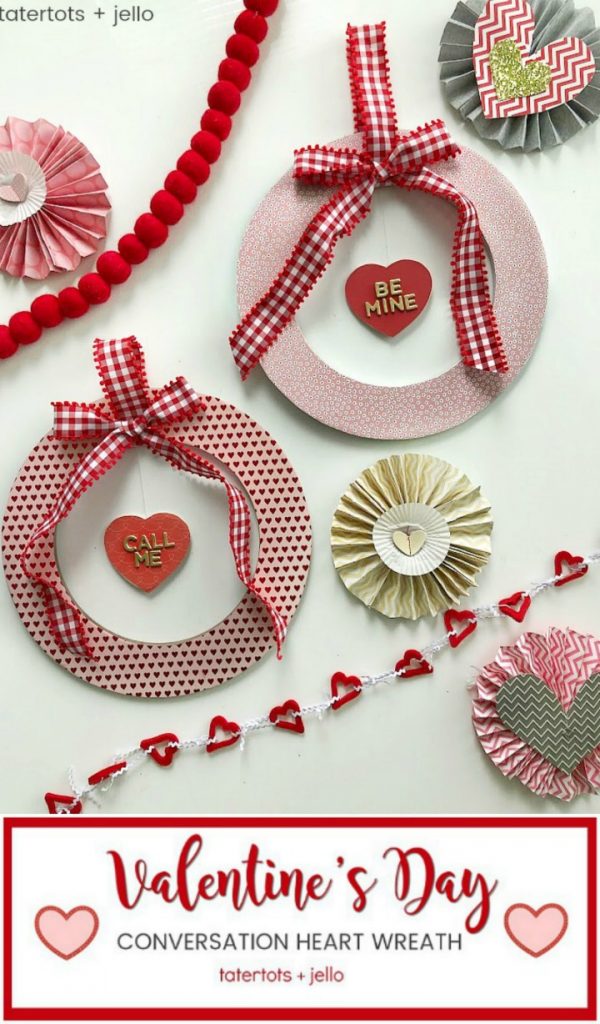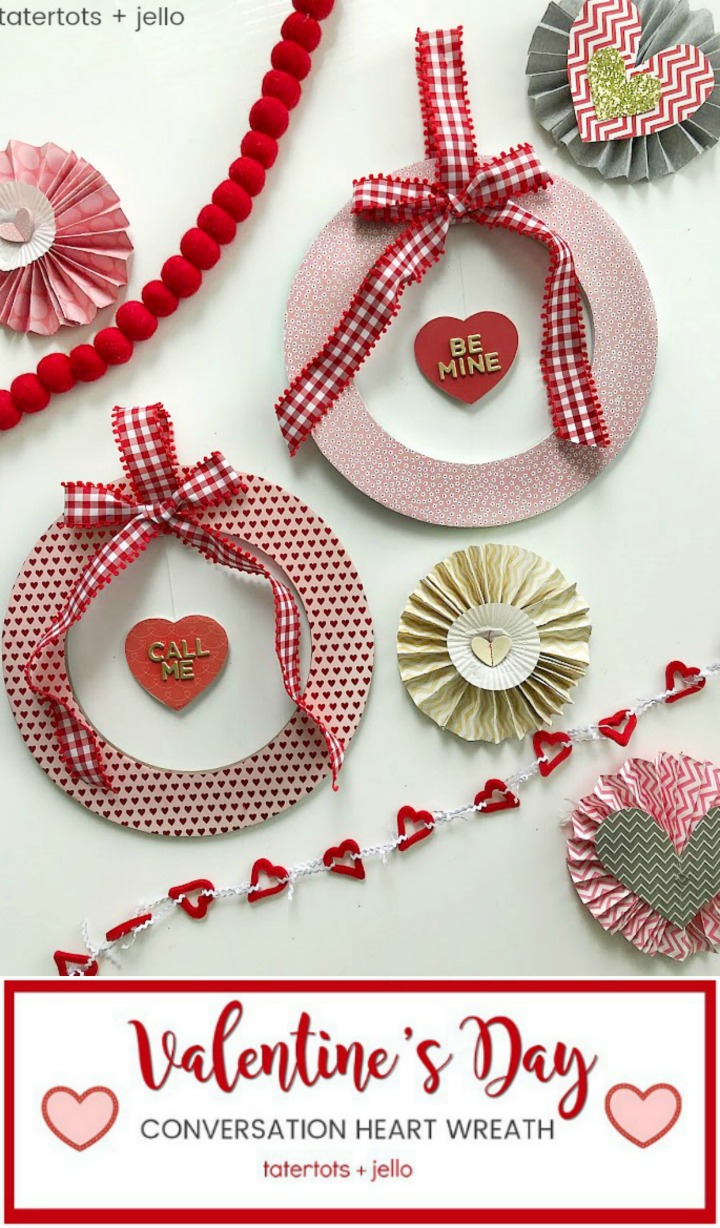 Valentine's Day is one of my favorite holidays to decorate for! I have been sharing a live tutorial each week on my @tatertotsandjello Instagram page. Last week I shared my Snowflake Porch and an easy Snowflake Wreath made out of popsicle sticks. At the end of the tutorial I asked for suggestions for the next tutorial and quite a few people responded with a Valentine's Day wreath!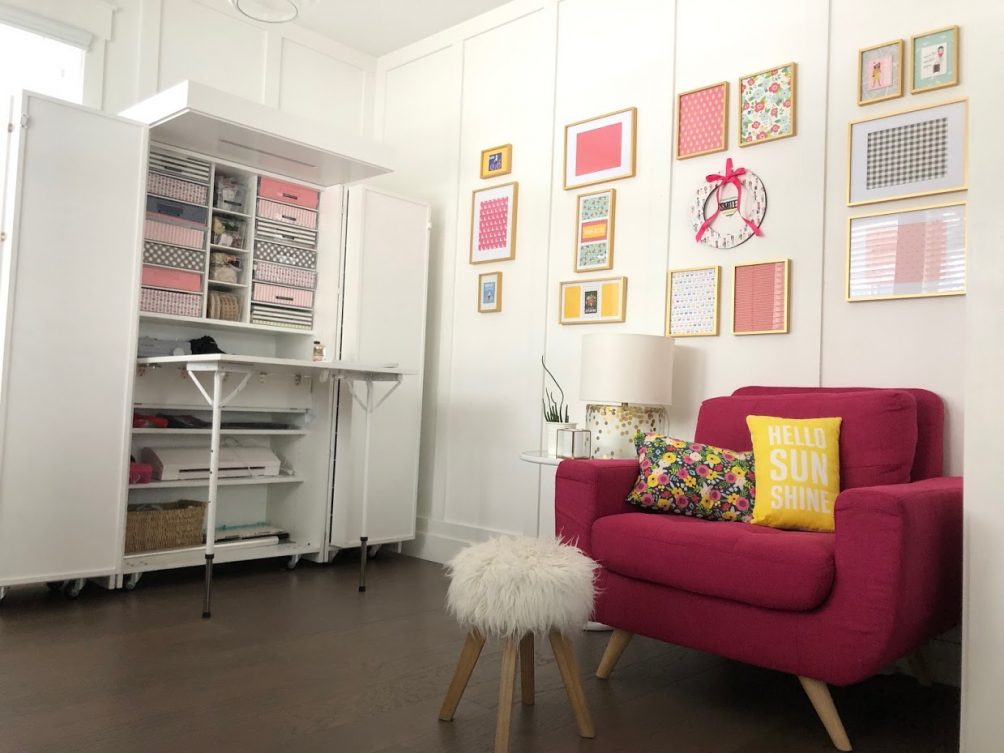 Bright and Colorful Office Gallery Wall
Meanwhile I have been working on my office space and a fun gallery wall there. I have a new line of paper coming out with Pebbles, Inc. called Chasing Adventures. It's so cute!!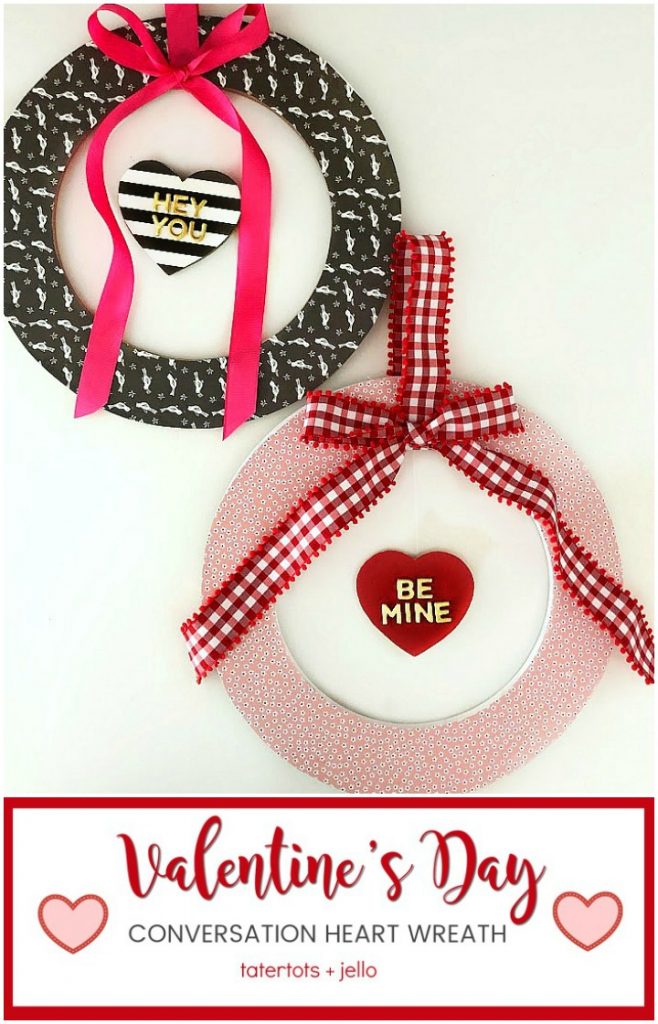 Frame Scrapbook Paper for a Gallery Wall
I decided to frame some of the papers and embellishments in a bright and colorful gallery wall for my work space. It was so fun to do! I decided that the gallery wall needed a little wreath. And since the rest of the gallery wall was framed paper, I thought it made sense to make a paper wreath!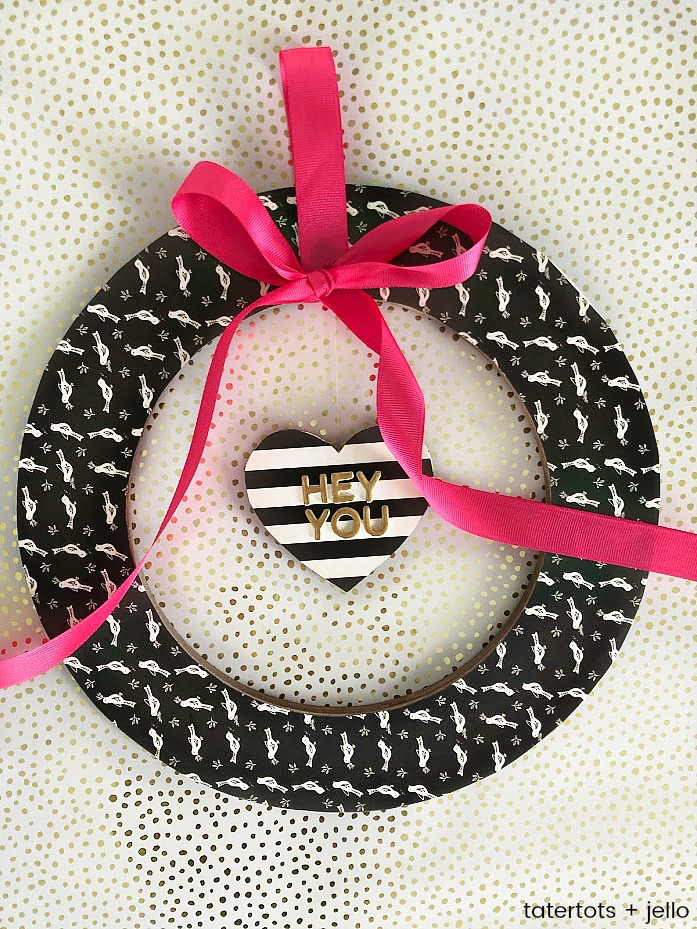 Conversation Heart Wreath
So I made a few variations of this paper wreath! One is for Valentine's Day. I made a little heart in the middle and it reminded me of a conversation heart, so I added a little saying to it. You know – like the ones you see on a conversation heart. Mine says Be Mine — but other ideas could be: True Love, Be Mine , 4 Ever, Call Me, Crazy 4 U, Sweet Talk, Hey You, LOL, I Heart U, Cutie Pie, XOXO… It's up to you!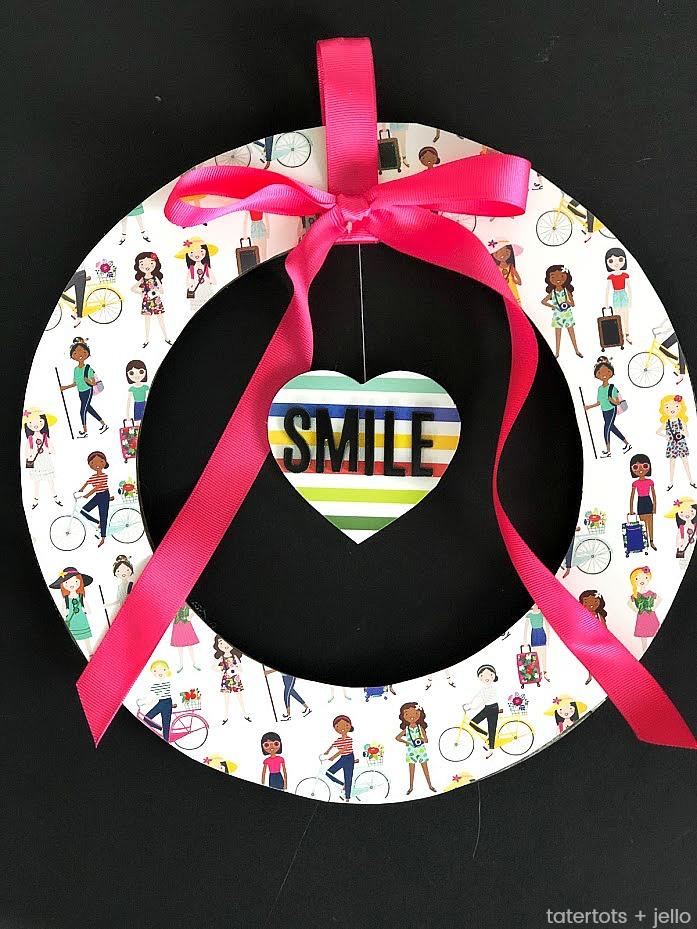 I also made one that is going to stay on my gallery wall that features the adorable paper with my line's girls and inside the heart says — SMILE.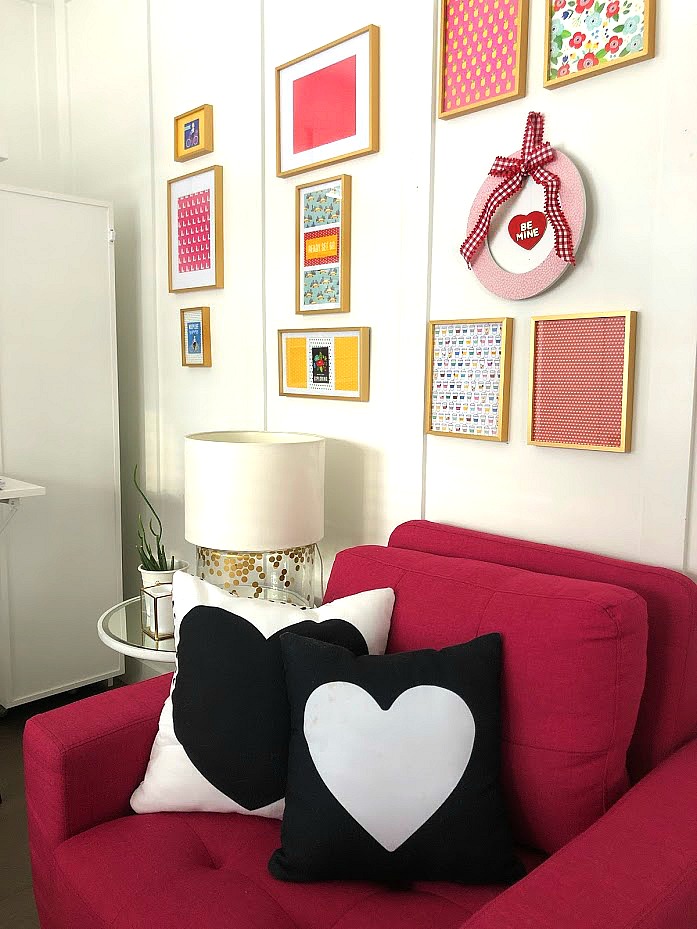 Ways to Customize This Wreath
There are so many ways you can make this wreath. You can create one for Valentine's Day OR you can create one that can stay up all year! There are millions of ways to make this — just add YOUR favorite papers and ribbons and saying. SO fun!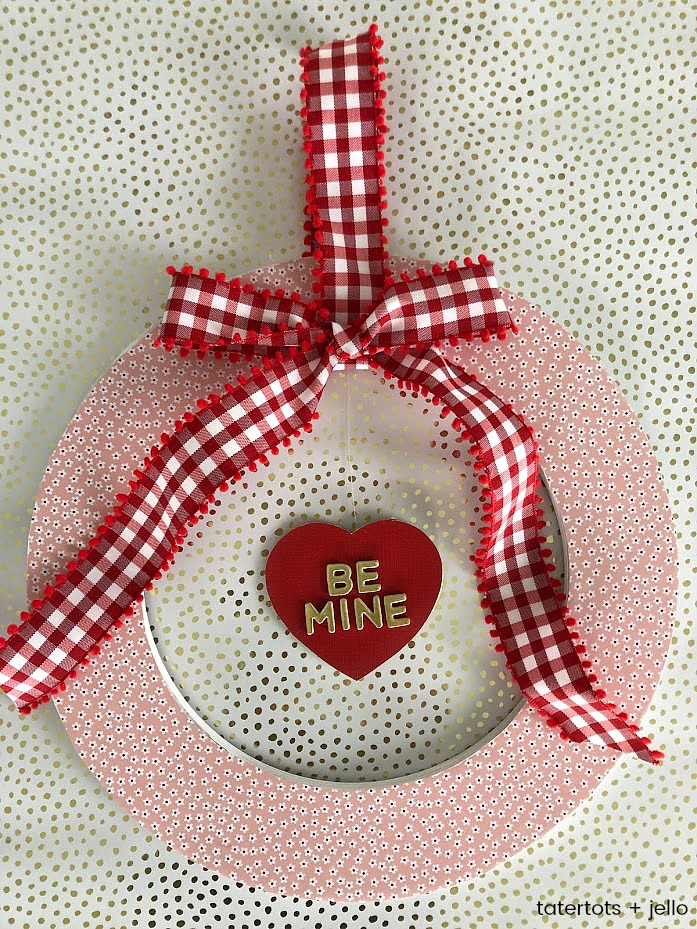 Make a Valentine's Day Floating Conversation Heart Wreath
Here's how to make a Valentine's Day Conversation Heart Wreath!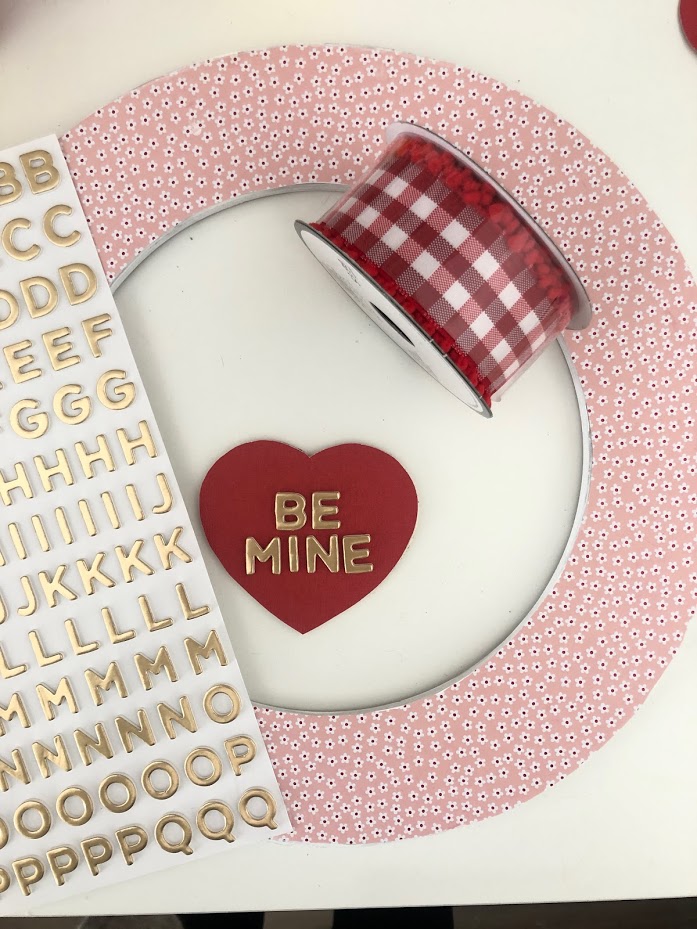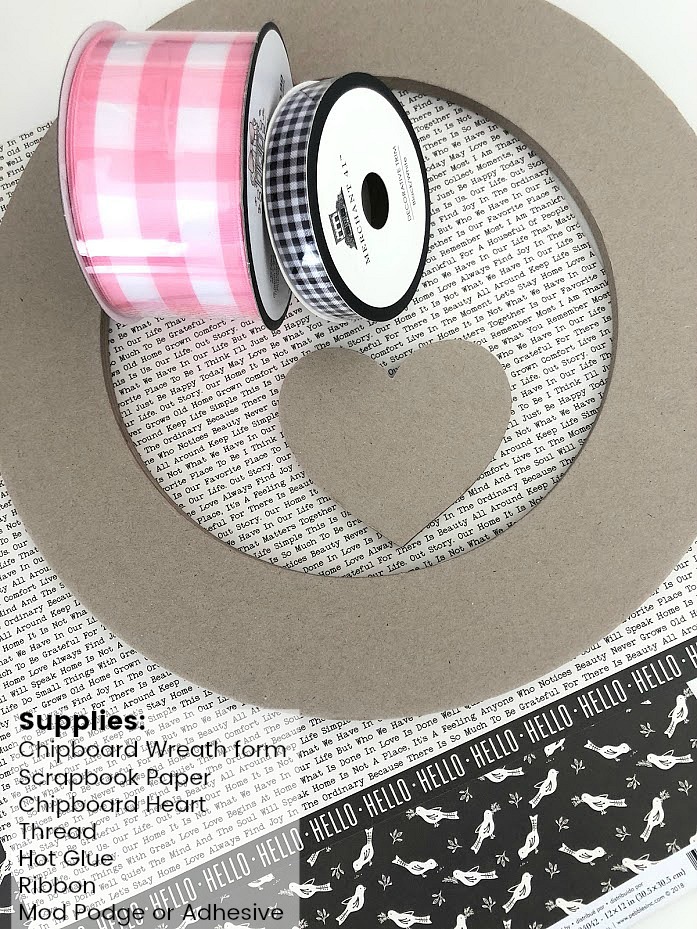 Supplies:
Chipboard Wreath Form
Chipboard or Wood Heart
Adhesive or Mod Podge
Scrapbook Paper (2 coordinating patterns)
Ribbon
Thread
Hot Glue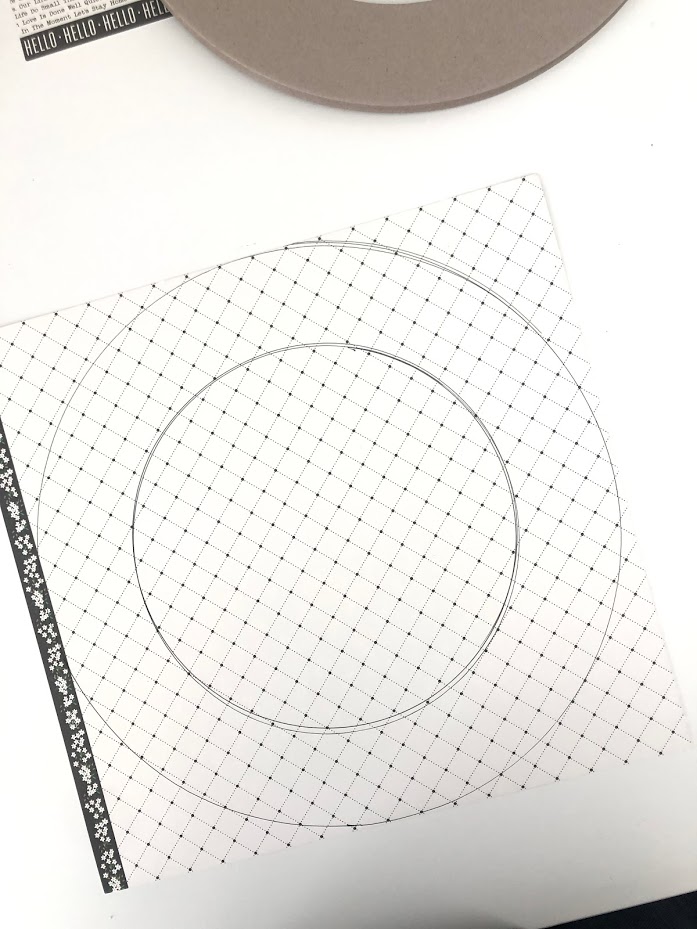 Directions:
Trace your chipboard wreath onto the back of the scrapbook paper you want to use.
Cut out the wreath shape.
Trace and cut out the chipboard or wood heart.
Paint the edges of the wreath (optional).
Use Mod Podge or adhesive to attach the paper to the chipboard wreath form and heart.
Add ribbon. I made a circle of ribbon with about 3 inches at the top and secured it with hot glue. Then I added the bow to the front of the wreath.
Add the thread. Flip the wreath and the heart over. Add a line of hot glue on top of the ribbon and another line of hot glue on the back of the wreath. Attach the thread to the top of the wreath and the heart. Pull the thread tight through the hot glue so the heart will hang at the correct length inside of the wreath. (see picture)
8. Add the saying to the heart.
Hang up your wreath!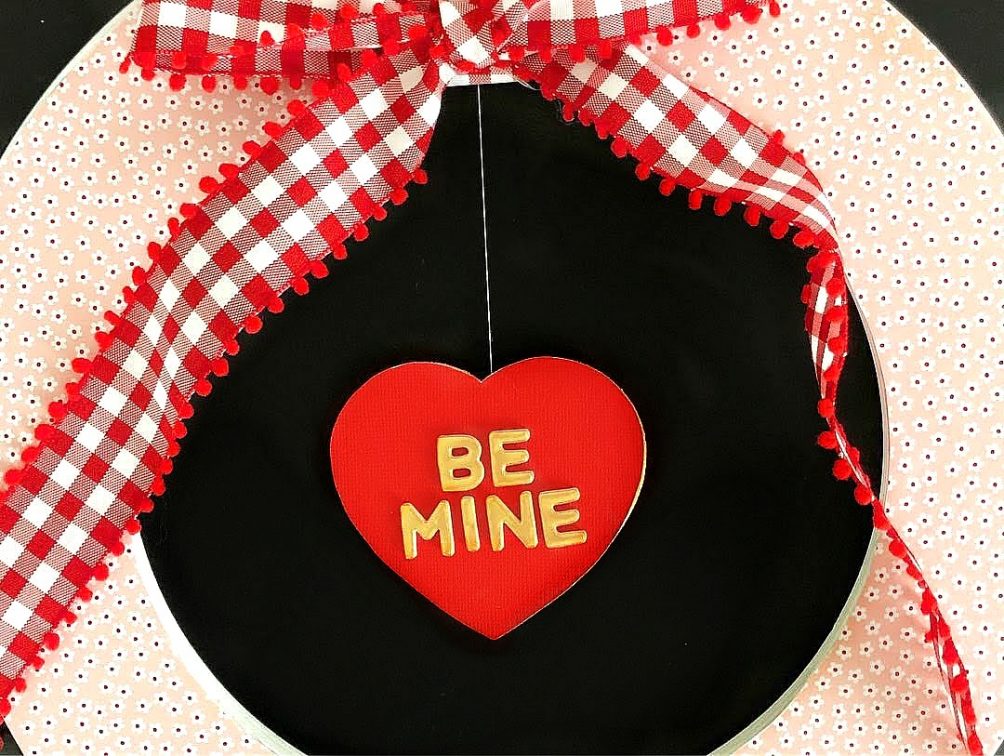 You Can Paint The Edges of The Wreath
You can paint the sides of your wreath if you want. I did this on a couple of the wreaths. I wouldn't recommend spray painting the chipboard wreath form. Since it's made of pressed paper, getting it too wet might make it warp.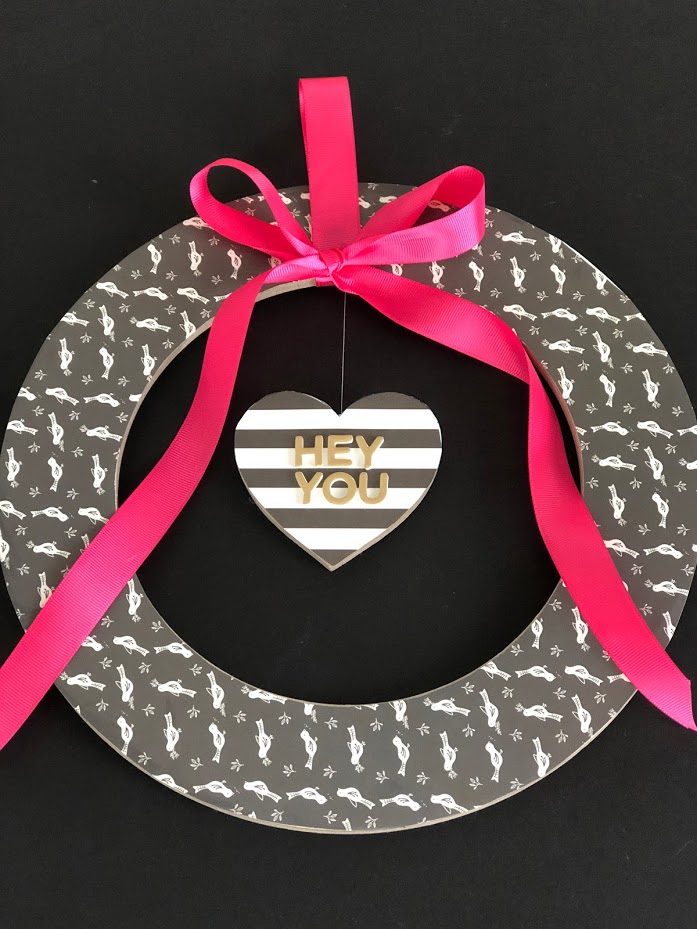 How to Protect a Wreath From Outdoor Elements
Also if you want to hang this wreath on your front door, you can use Outdoor Mod Podge to attach the paper to the wreath and heart. Then just use a layer of it over the top to seal it from the elements. I probably wouldn't put it on a front door that isn't protected by a awning or porch. Just because the base is made of chipboard. But if you add a couple layers of Outdoor Mod Podge I think it will hold up on a protected porch.
I hope you enjoyed this tutorial. Here are a couple other Valentine's Day Projects that are easy to make: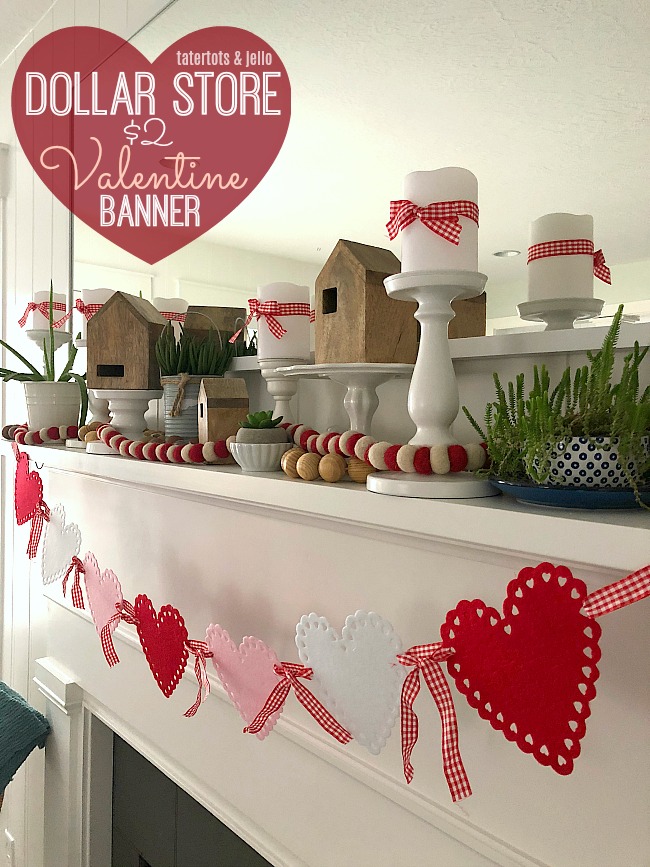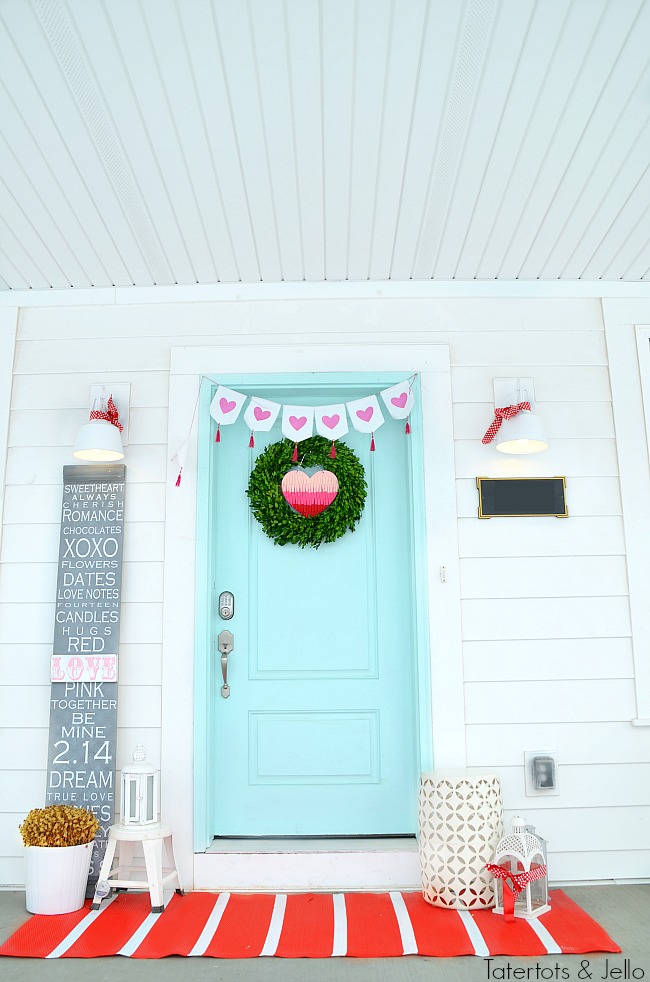 Have a Beautiful Day!
xoxo