Our New Bedroom and Bathroom Decorated for Fall! Step inside our cozy 1891 bedroom and bathroom remodel with warm rustic touches.
Fall Bedroom and Bathroom Home Tour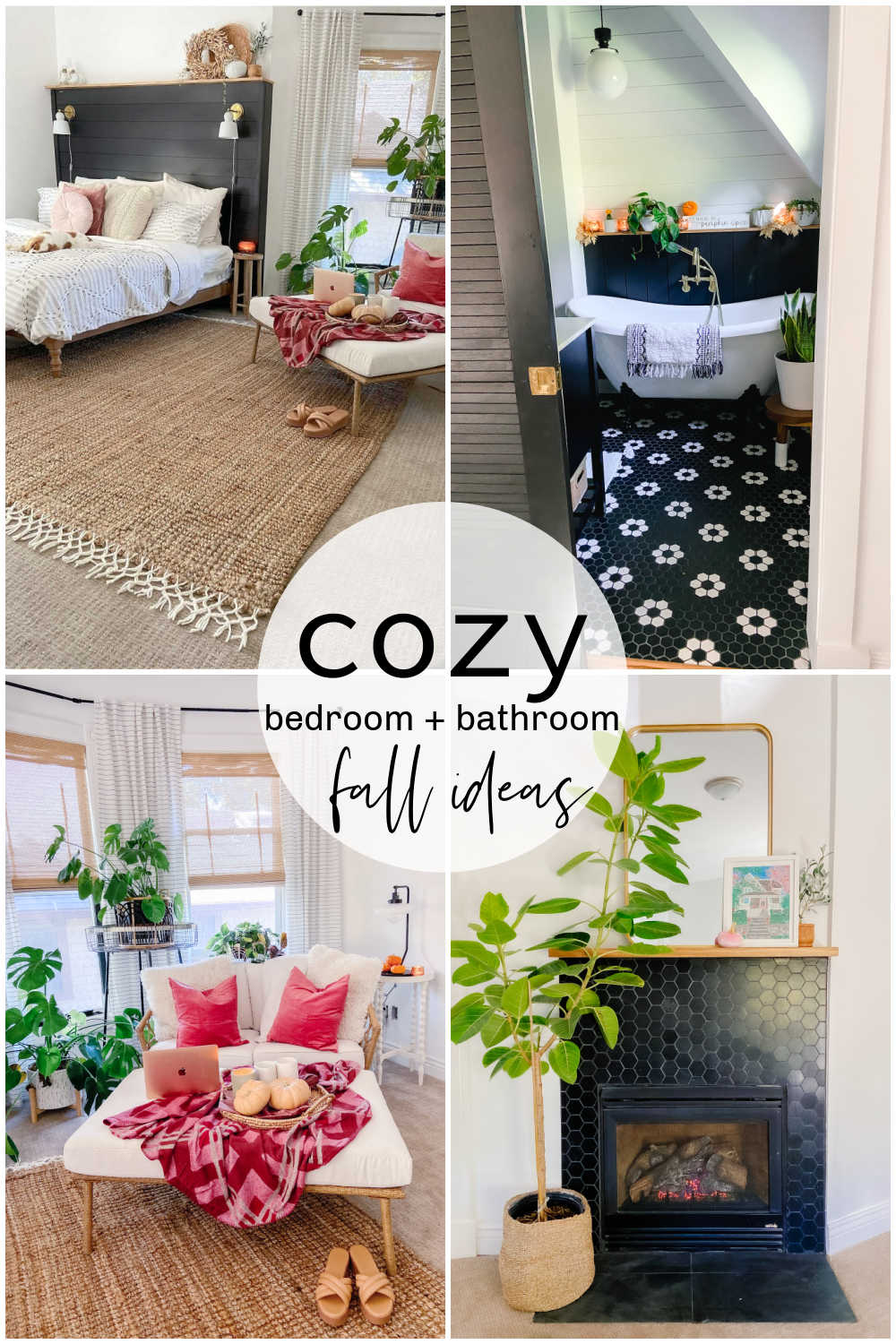 I am SO excited to share our NEW bedroom and bathroom in The Blogger's Best Home Tour! Thank you Kelly @thetatteredpew for inviting me. I can't wait to go around and see everyone's cozy fall homes! We are just finishing our NEW bedroom and bathroom. in our 1891 cottage and I added a few cozy elements for fall!
30 Amazing Fall Home Tours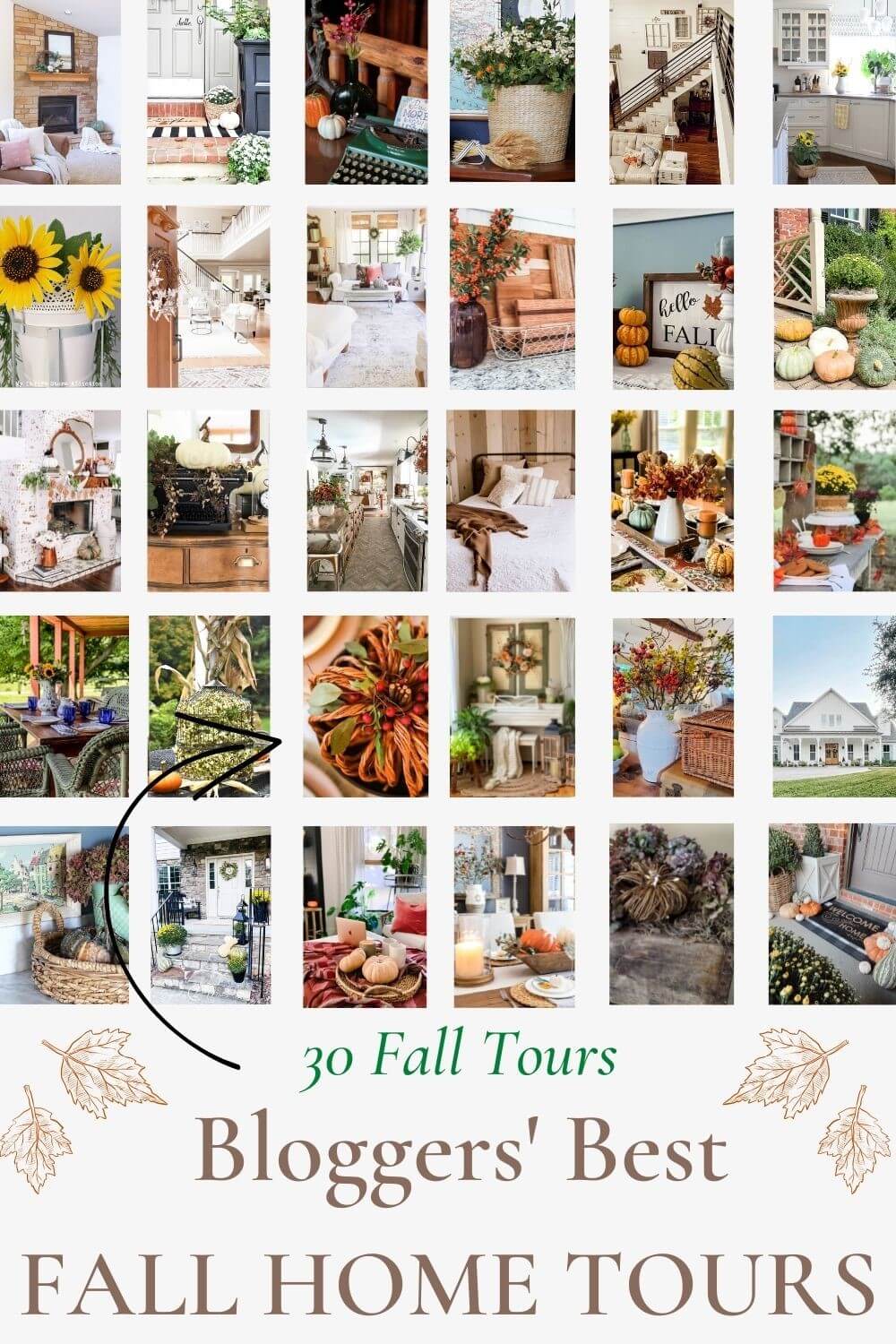 Be sure to scroll down to the bottom and hop over to see all of the inspiring DIY ideas. I love home tours and these are just gorgeous! Welcome if you are stopping over from The Old Barn. Jessica's home is so warm and cozy!
Our New 1891 Bedroom Remodel Sneak Peek
We just barely moved into our new bedroom and I am so thrilled! The room is almost done but I am waiting on a few final touches like the matching drapes that are in our bedroom nook. The longer length drapes are still out of stock for our windows by our bed and I know they will look so pretty flanking our front windows! Here are a few ways I brought some cozy vibes into our new bedroom!
Making a Bedroom Cozy: Adding Warm Candles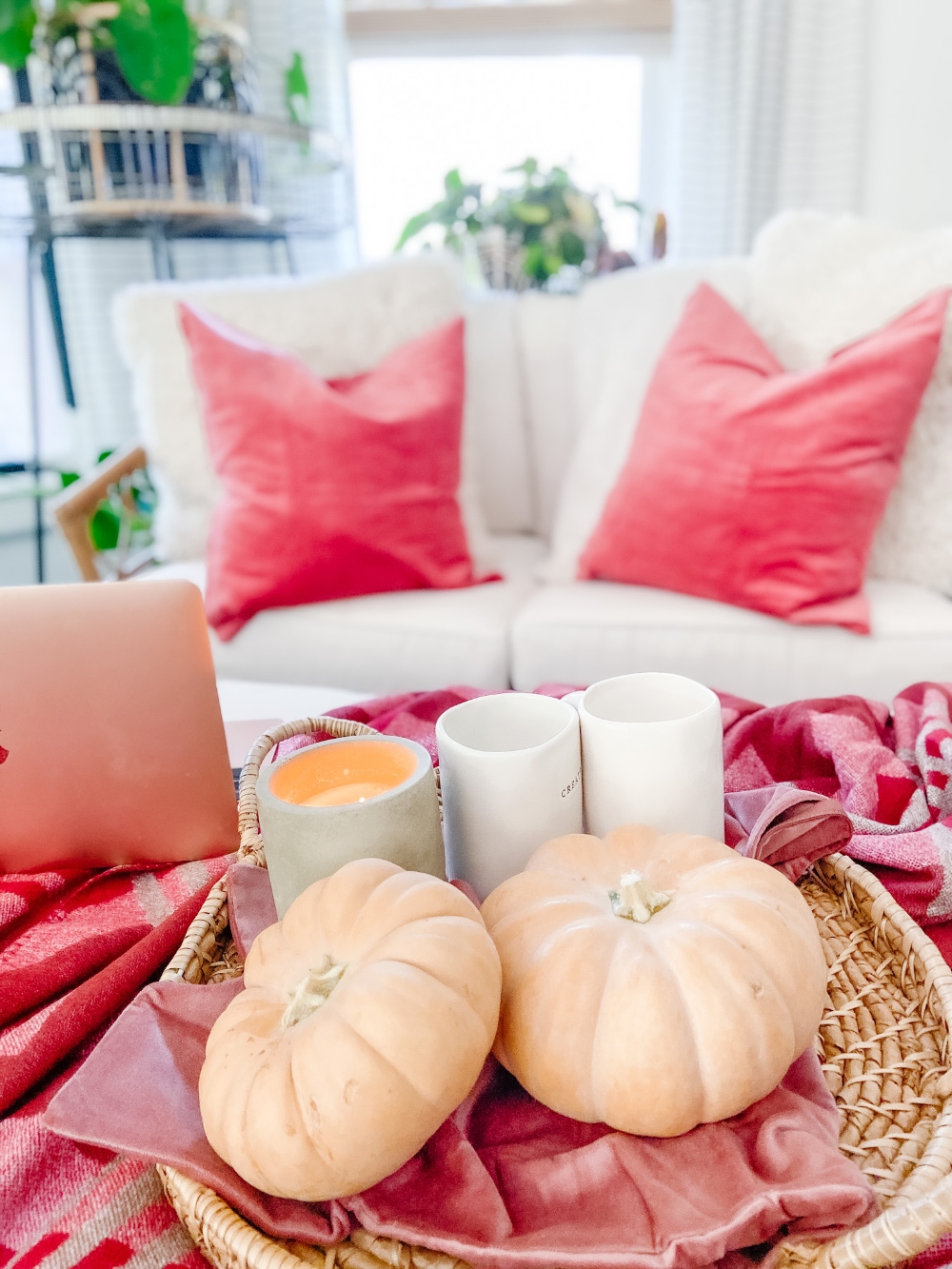 I love candles in the fall! And candles in the bedroom are so relaxing and romantic. I added a couple candles in our bedroom nook. One on a tray that I used when I am working to keep snacks and drinks on. This cement candle is from my friends at @sparrowconcretecandle and their candles smell so good! I added a pretty glass pumpkin candle on one of the tiny nightstands by our bed too!
Making a Bedroom Cozy: Warm Pillows and Throws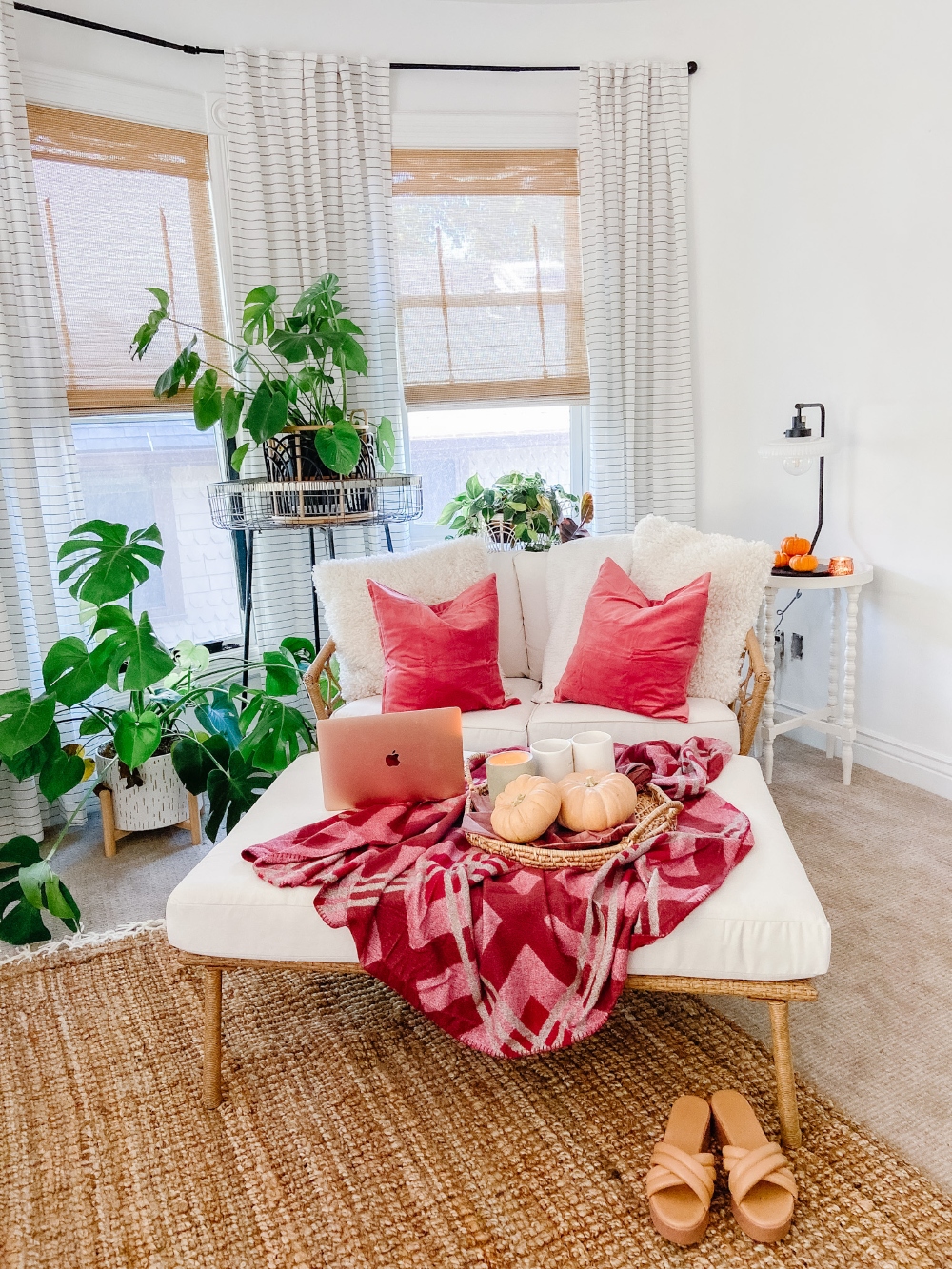 Another way I love making our home cozier is adding textured and cozy fall pillows and throws. In our sitting area I added these fluffy white wool pillow cover and then vibrant rose-colored velvet pillows along with the warmest colored throw! I love sitting in this sitting area to work on my laptop, writing blog posts and working on school work during the day. My husband loves sitting there on the weekends and watching football!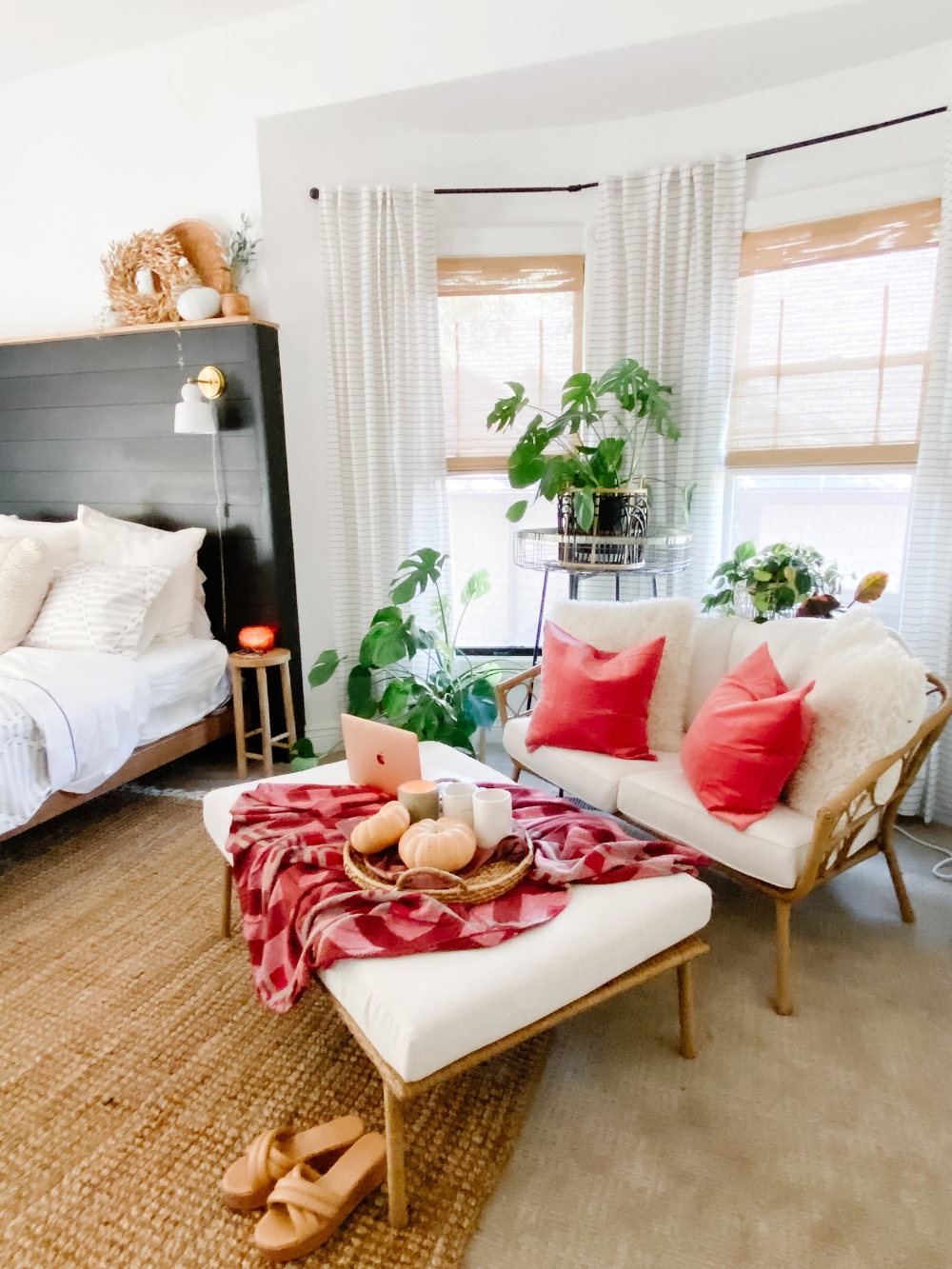 Making a Bedroom Cozy: Adding Fall Decor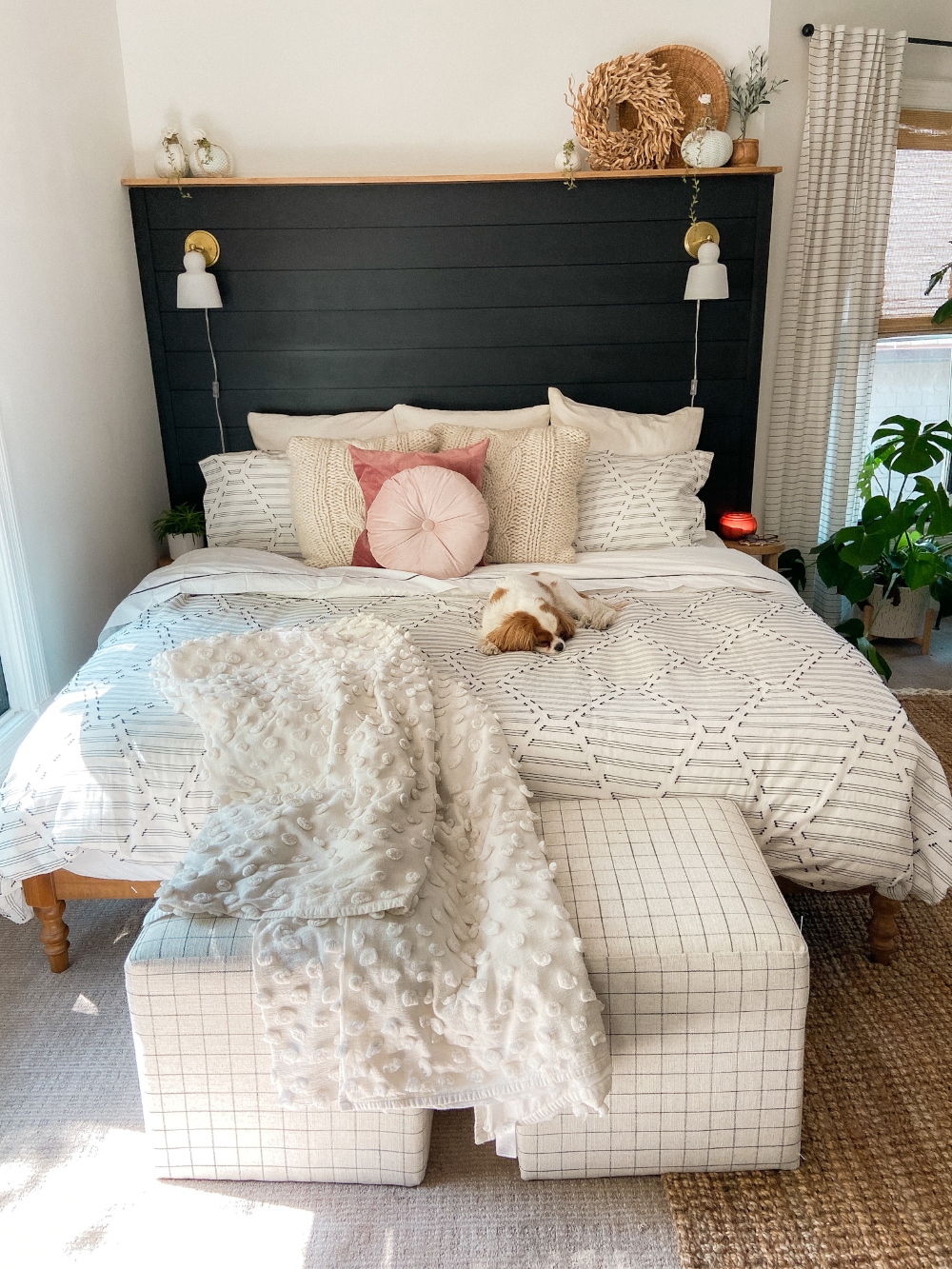 I added some sweater pillows on our bed along with a rose-colored faux fur pillow cover and a blush round velvet pillow. It makes our bed feel so welcoming!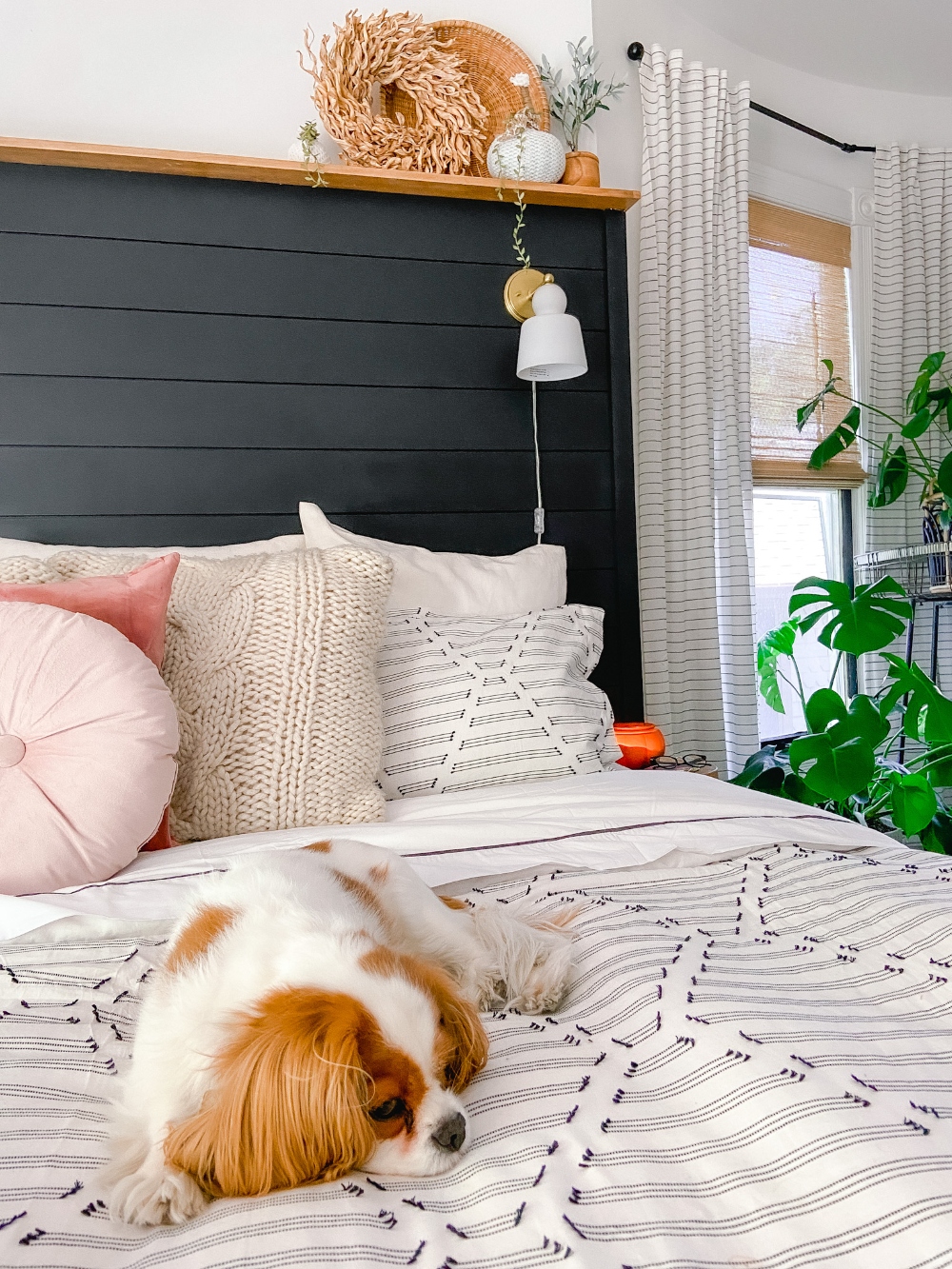 I added a few fall items in the bedroom. One of the design features I love about our bedroom is the DIY headboard wall that we built! Instead of a traditional headboard I wanted to create a wall that anchored our bed. The only place that made sense to put our bed was on a very narrow wall. So instead of having large nightstands I used tiny nightstands and hung sconces on the wall so they didn't take up space on the nightstands. At the top of the wall is a shelf. I added some sweater pumpkins I made a couple of years ago and a cornstalk wreath!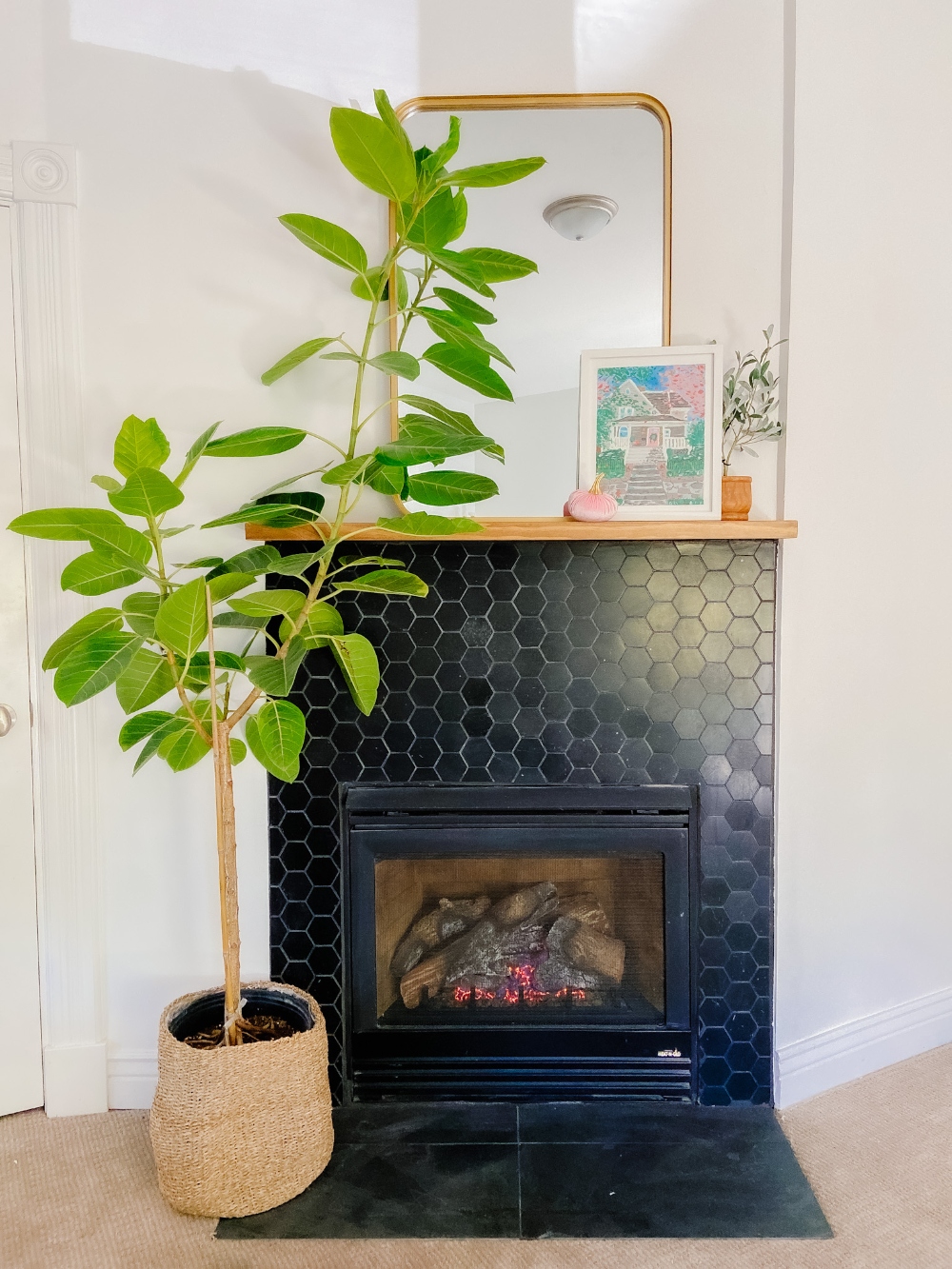 Our 1891 Cottage New Bathroom Sneak Peek!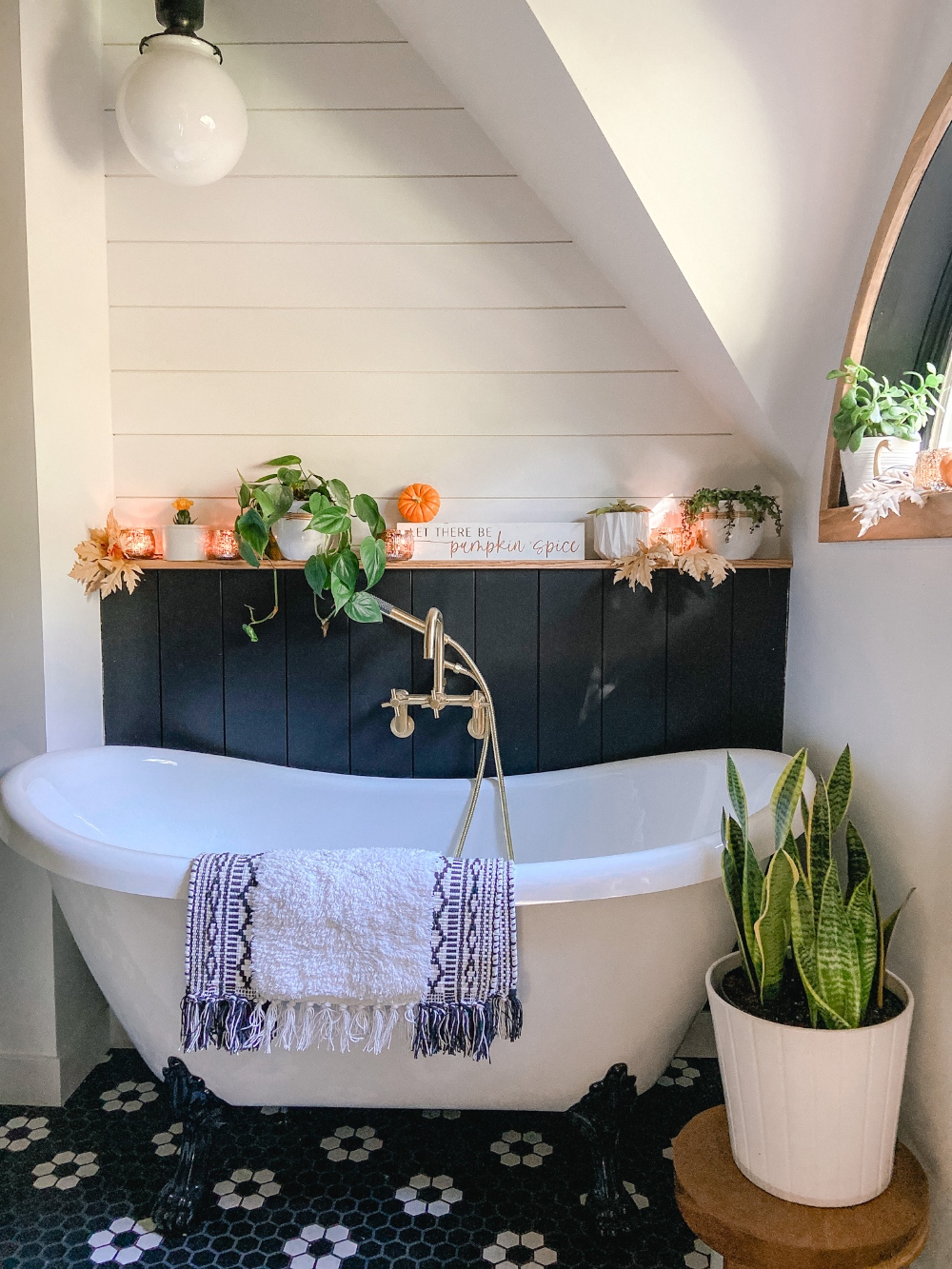 Our bathroom is done! The glass shower enclosure was installed last week and we are loving our new private bathroom. It's small but mighty!
Cozy Candles in the Bathroom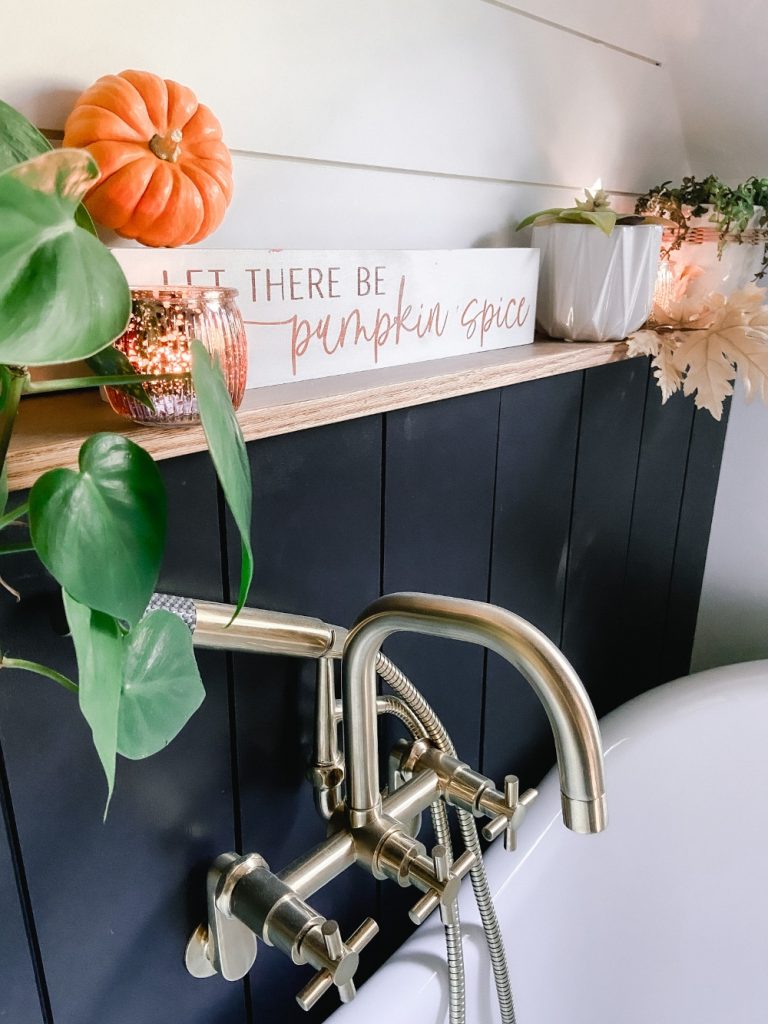 One of the design features I added to the bathroom is a little half wall that mimics the one in the bedroom! I love the idea of soaking in a candlelight bath! I added these beautiful mercury glass votives in three different metallic colors along with a pumpkin spice sign. These mercury glass votives come in three different metallic colors and I love the way they look glowing at night!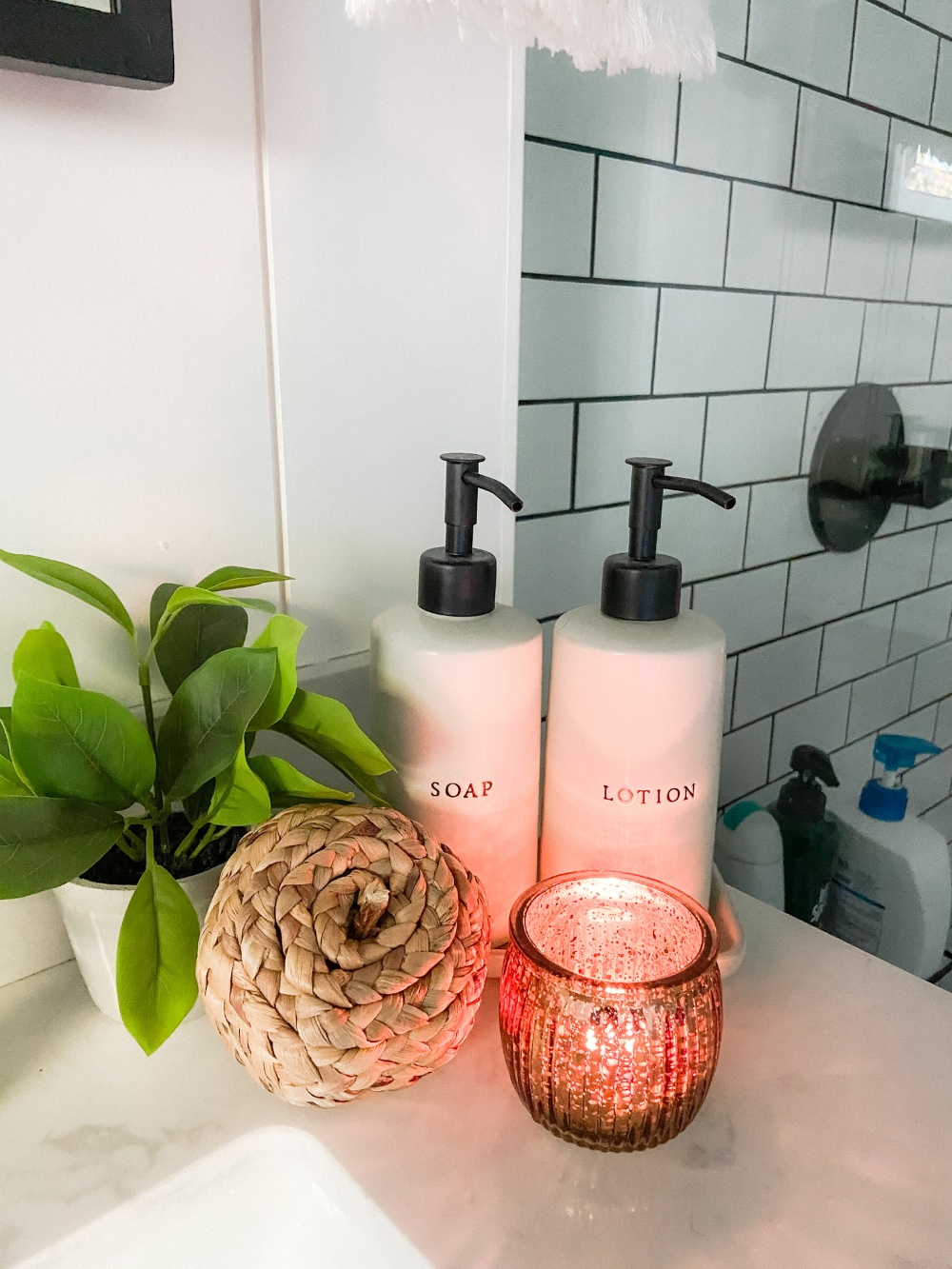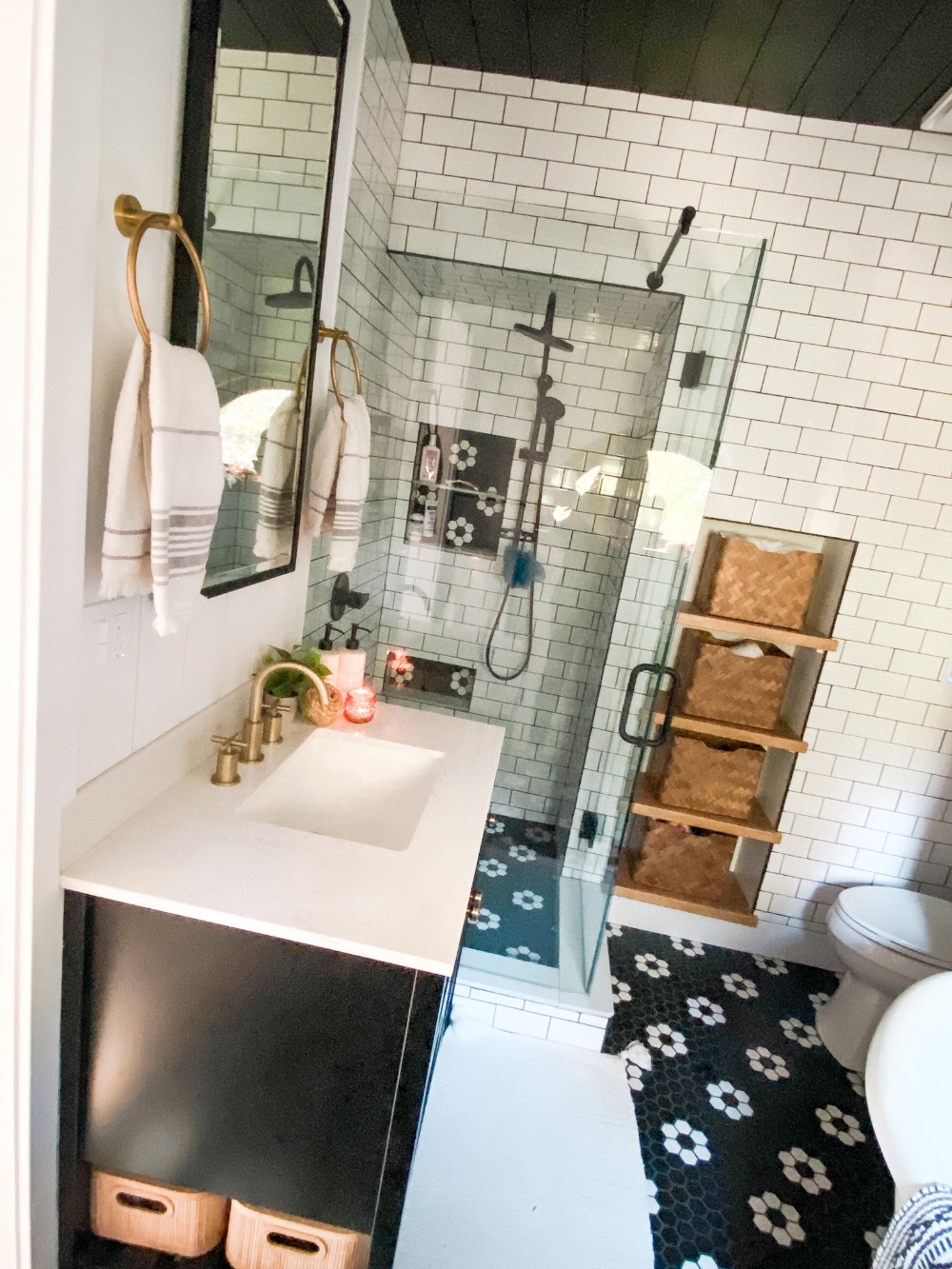 This week I'm joining my blogging friends for the Bloggers' Best Fall Home Tours! All week long we are welcoming you into our homes. Next up on this fun tour is Rachel's gorgeous home at The Ponds Farmhouse. I love her industrial vintage style!
Monday's Tours

The Tattered Pew / Midwest Life and Style / Bricks 'n Blooms
My Thrift Store Addiction / Pasha Is Home / Willow Bloom Home Blog
Tuesday's Tours

Open Doors Open Hearts / White Arrows Home / Cottage On Bunker Hill
Simply2Moms / Cottage In The Mitten / Fiddle Leaf Blog
Wednesday's Tours

Sweet Pea / County Road 407 / Lora Bloomquist Create and Ponder
Thistle Key Lane / Cloches and Lavender / A Life Unfolding
Thursday's Tours

First Day of Home / The Old Barn / Tatertots and Jello
The Ponds Farmhouse / StoneGable / Noting Grace
Friday's Tours

Dabbling and Decorating / She Gave It A Go / Sand Dollar Lane
Robyn's French Nest / My Family Thyme / Shiplap and Shells
More Home Ideas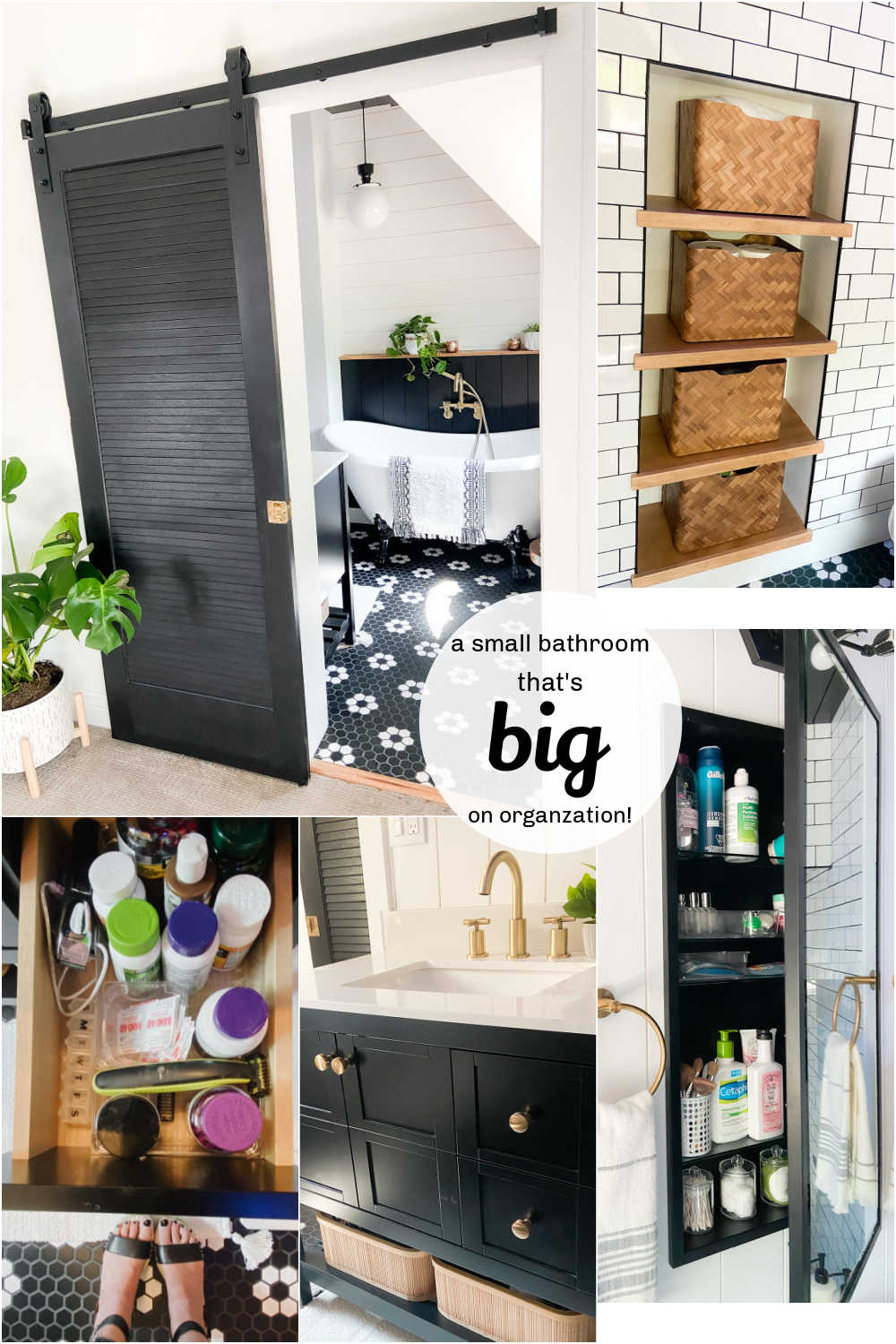 Here's a little more about our NEW bathroom and how we organized our space.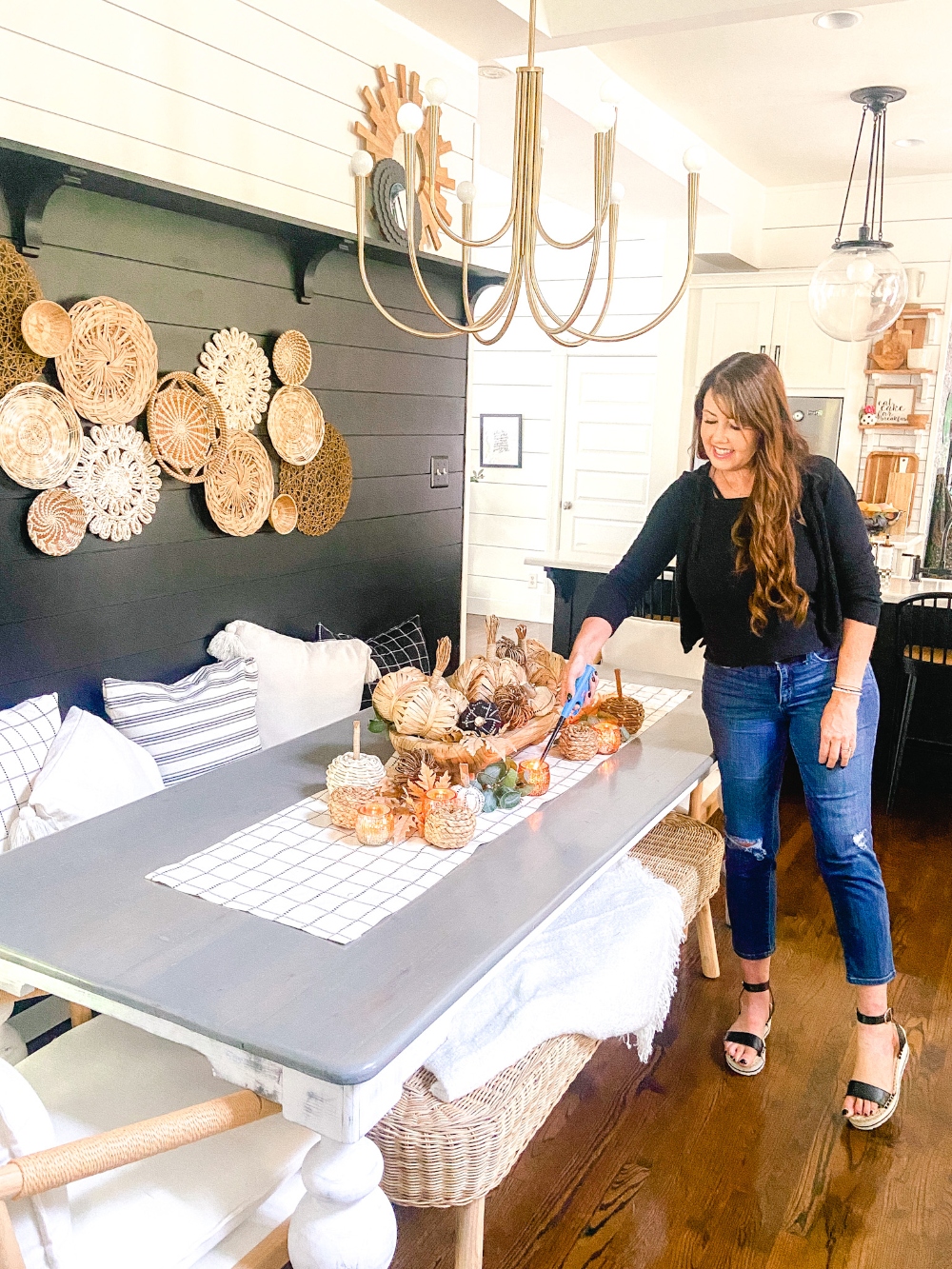 How to create a fall boho tablescape with a no-sew fabric runner, a footed pumpkin centerpiece and fabric-wrapped pumpkins!
Have a Beautiful Day!
xoxx