Boho Cottage Fall Decorating Ideas. How to add warm and relaxing fall touches to your home with a few DIY projects and decorating ideas!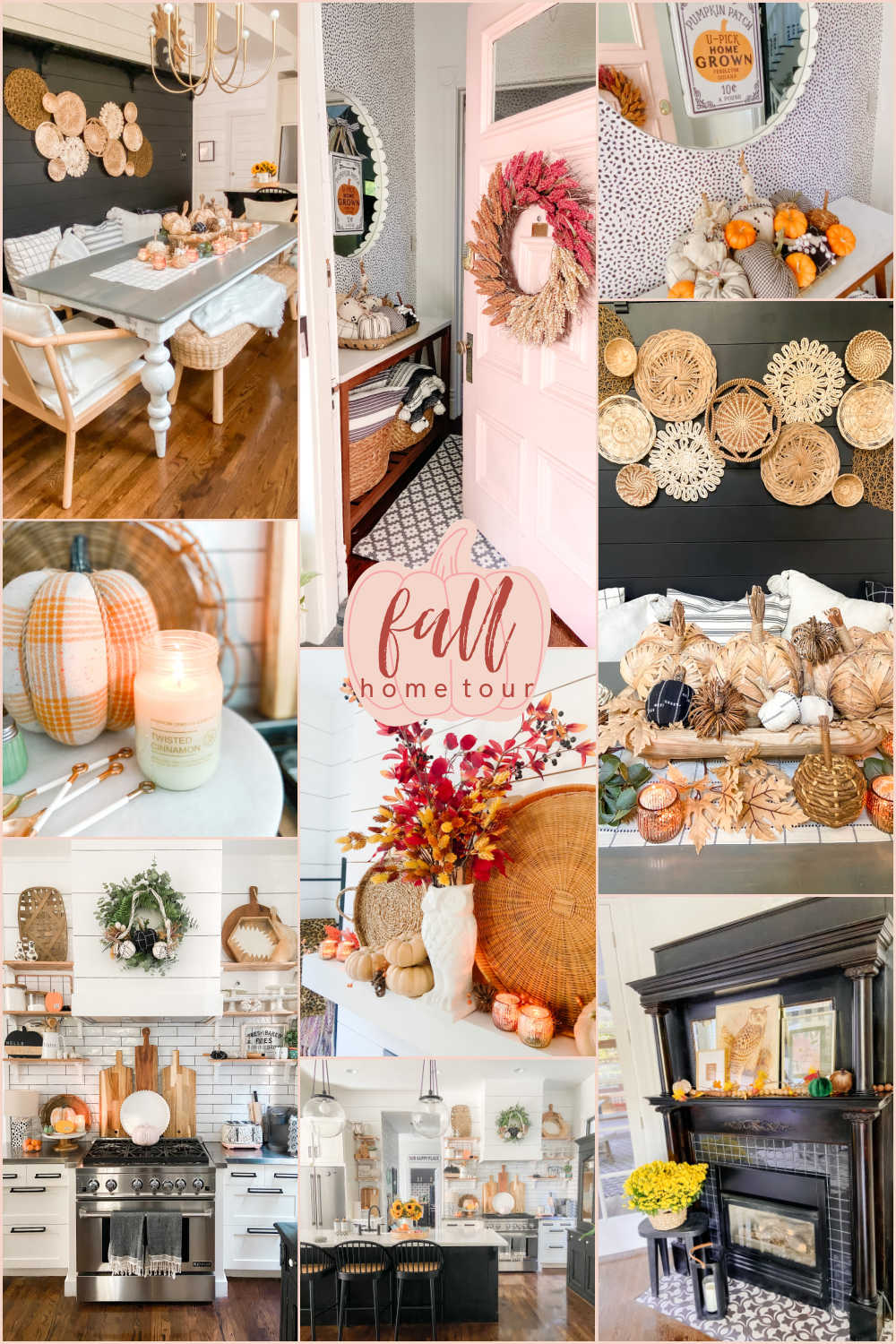 Boho Cottage Fall Decorating Ideas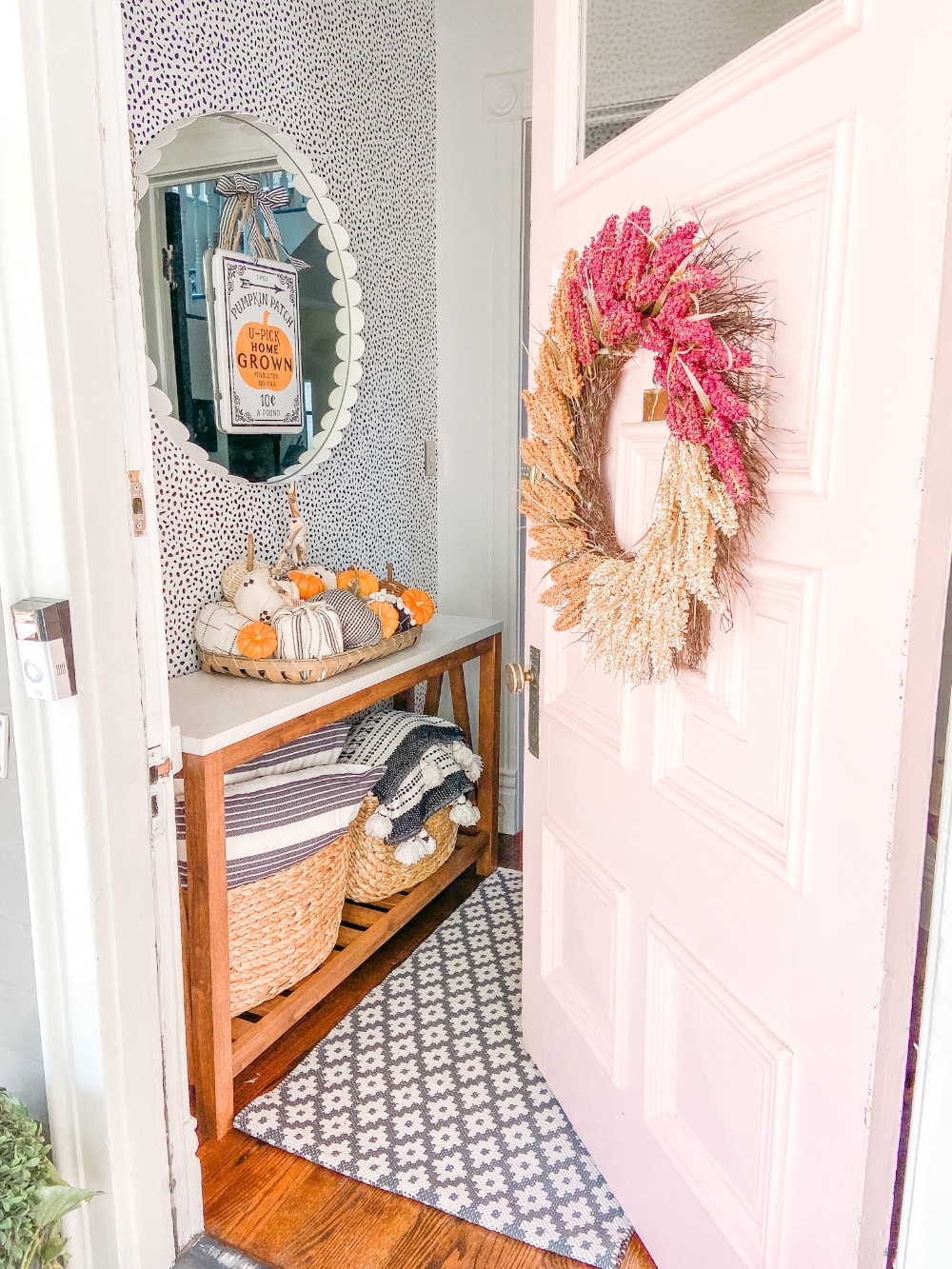 Can you believe it's almost October?? This fall is going by way too fast!! Have you started decorating your home? Today I am sharing our 1891 cottage all decked out for fall! I have some easy DIY ideas and decorating tips that will help you make your home warm and welcoming all autumn long! Grab a cup of tea and join me!
Seasonal Simplicity Home Tour Week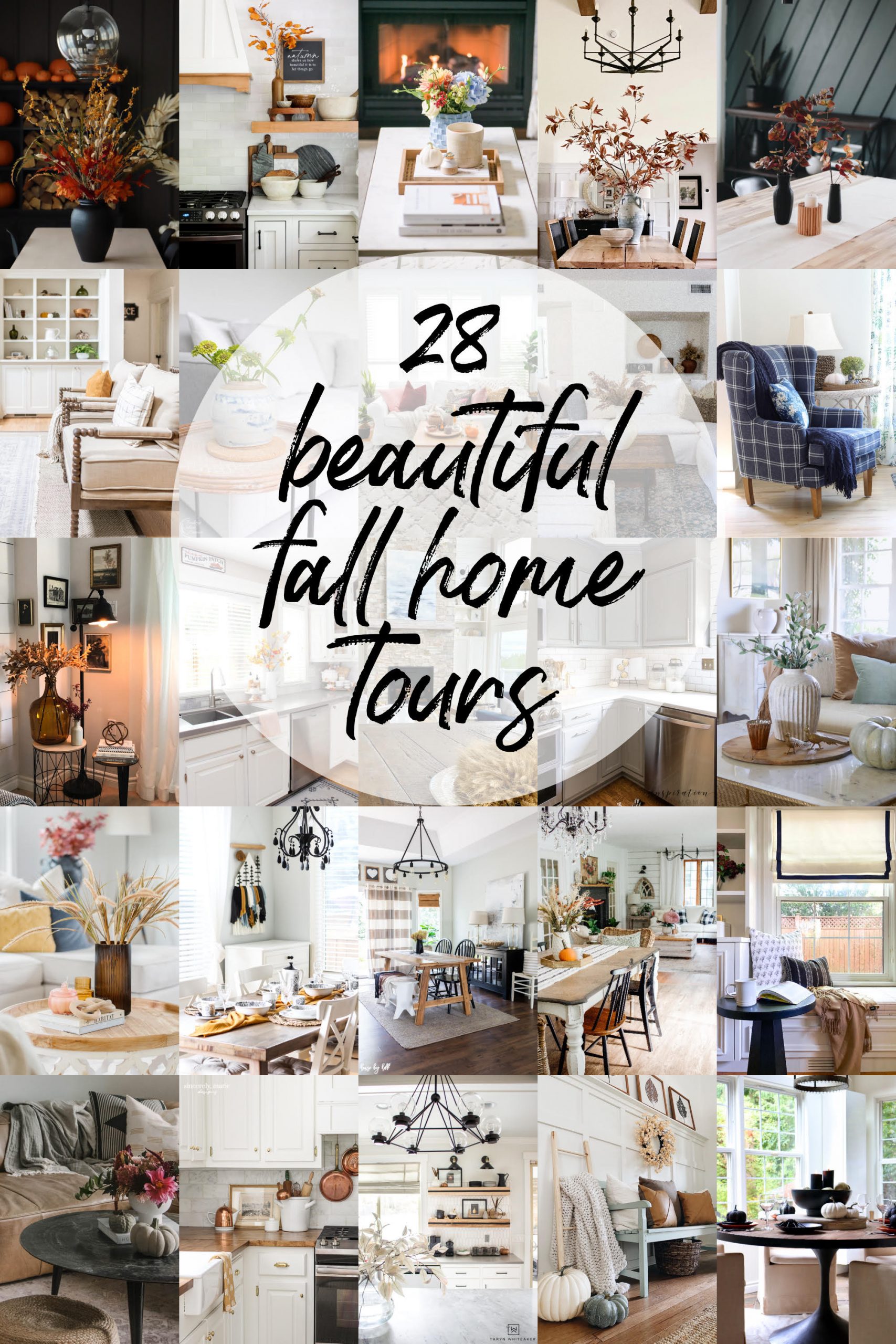 I am so excited to be joining my friend Krista at @thehappyhousie in her #seasonalsimplicity fall series. This week Krista and our friends are sharing their fall homes! You will be so inspired by these amazing ladies and their gorgeous homes! If you are here from Love Create Celebrate — welcome!! I am so glad you are here!
Boho Cottage Fall Ideas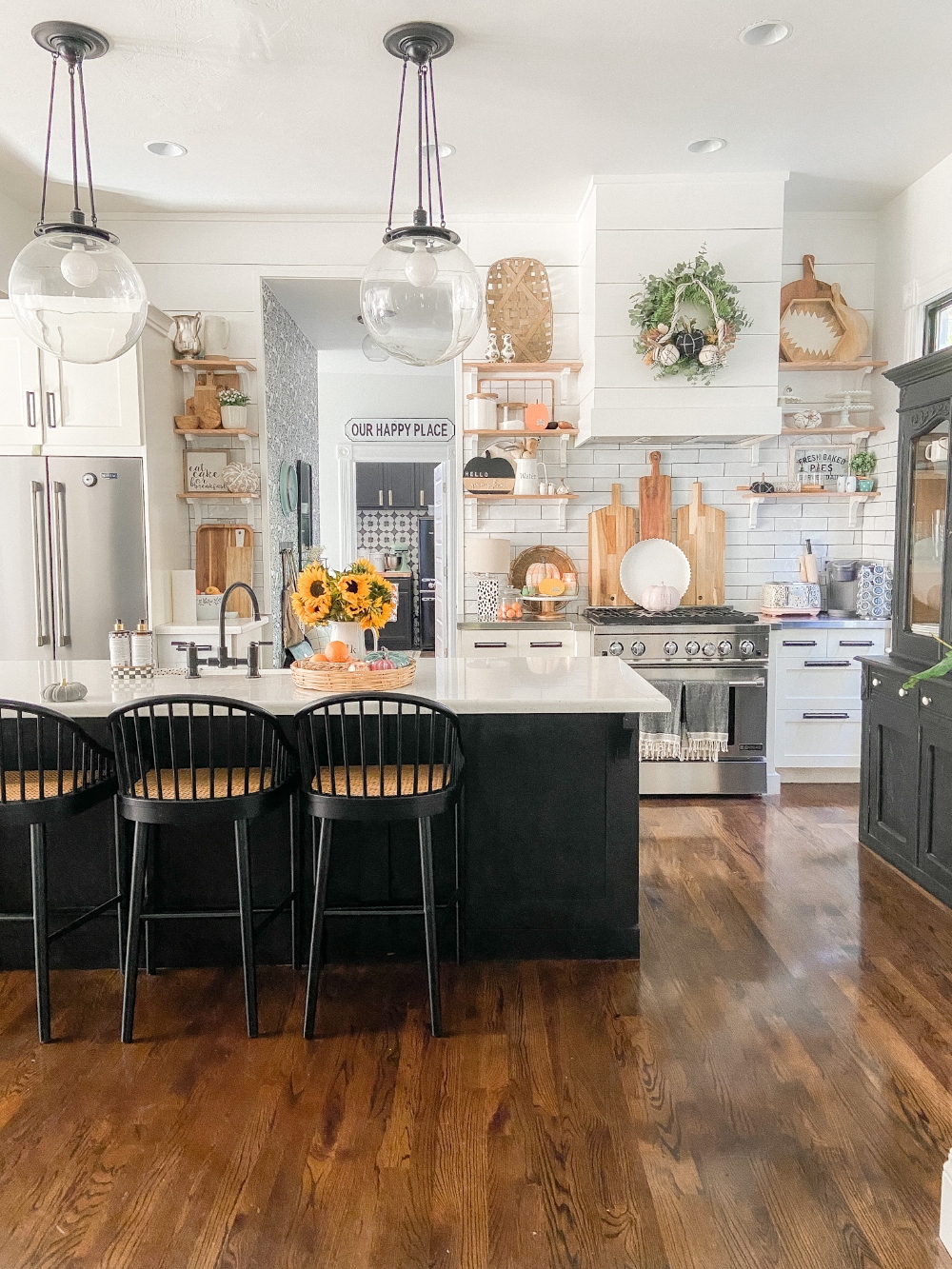 We live in an 1891 home that we have been remodeling for the past two years. And I am SO excited to say that it is almost all the way done! I am sharing our bottom floor and I'll link to the DIY projects that I created in each room too!
Welcome to our Fall Home!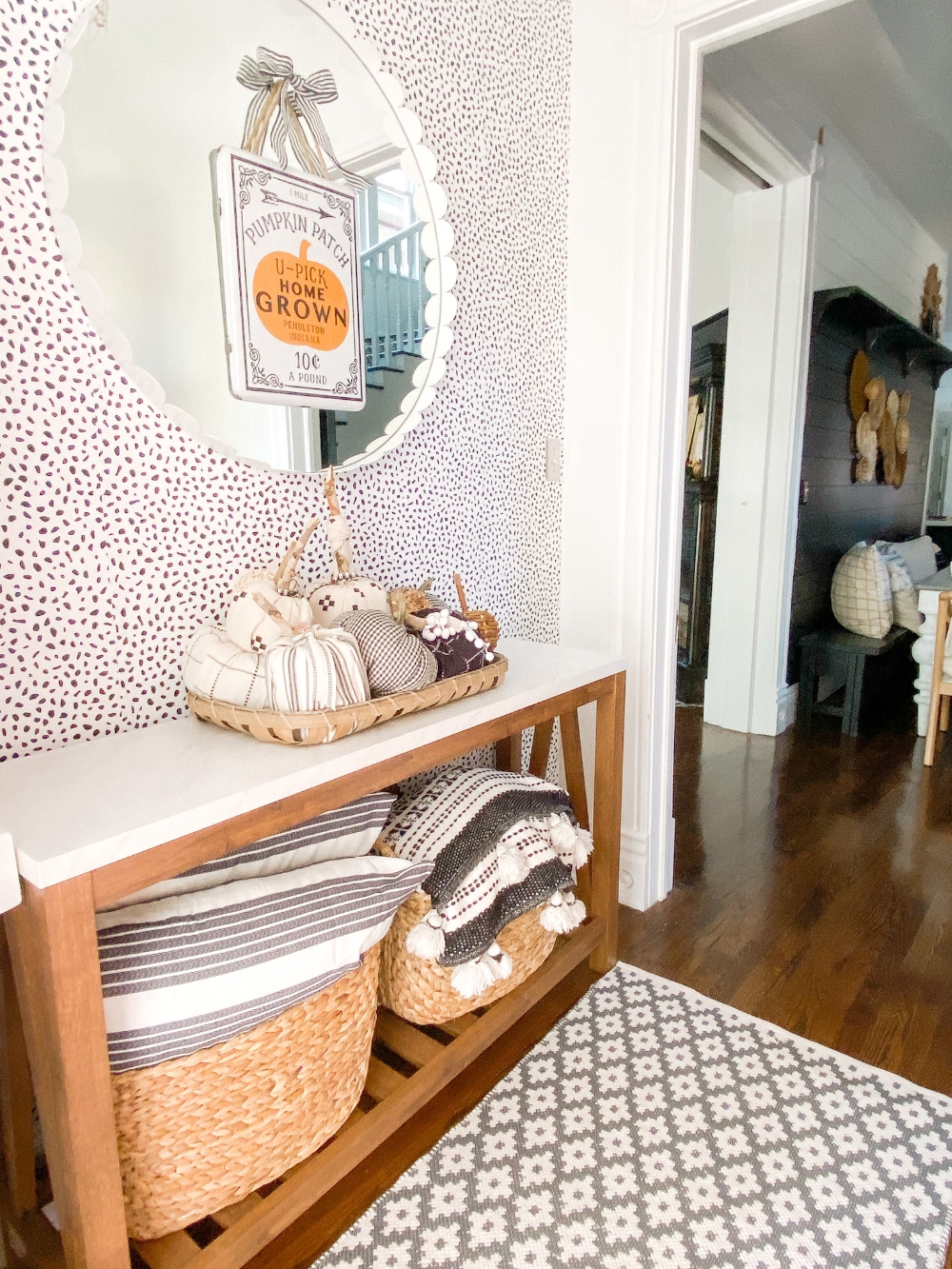 In our entryway I created a little centerpiece with these fabric-wrapped pumpkins. Can you guess what I used to make these pumpkins??? TOILET PAPER. That's right! Check out my Elevated Toilet Paper Pumpkin tutorial to see how I made them FOUR different sizes!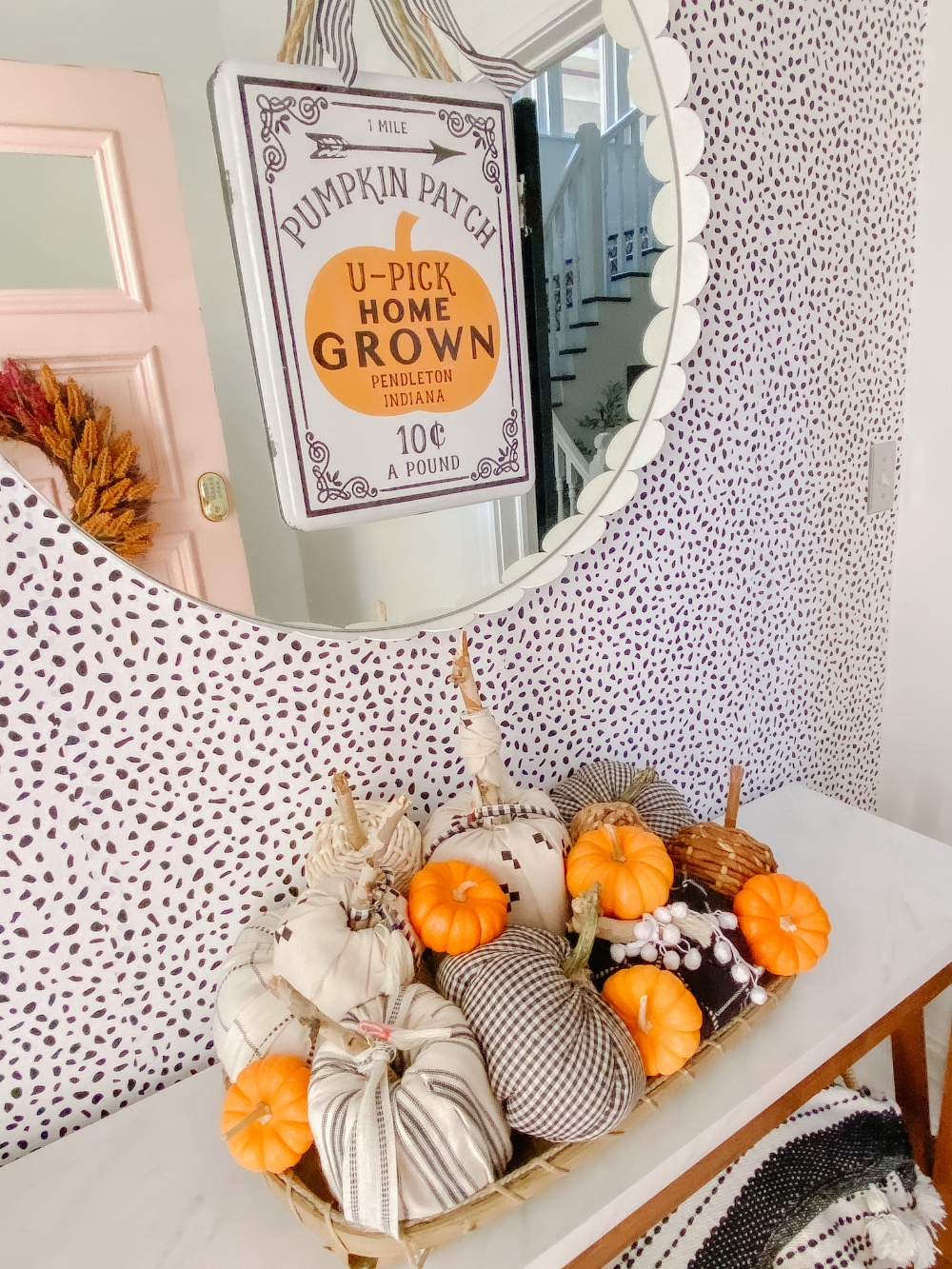 Boho Cottage Dining Nook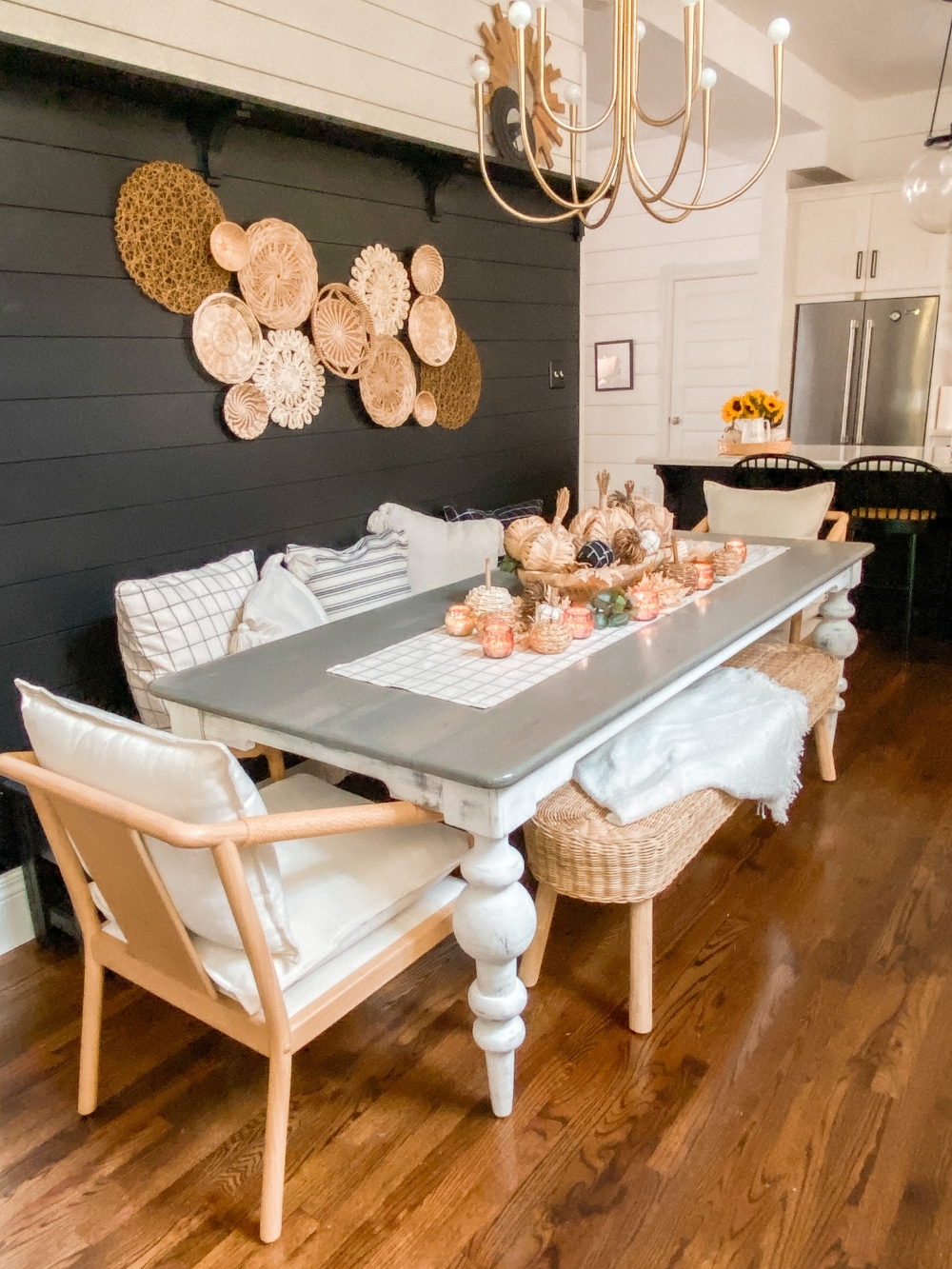 When you walk into our home the first room you see is our dining room. I just finished painting the wall black and love how moody and dramatic it is! I worked with my friend Shannon at @thriftsandwicks to create the basketwall. Shannon creates full basket walls at great prices. Check her out to put a basket wall on a wall in your home. My master bedroom which is almost done and we are creating a basket wall over our bed. I can't wait to share it! I created this boho centerpiece that matches the casual, boho vibe in the room.
Boho Cottage Fall Centerpiece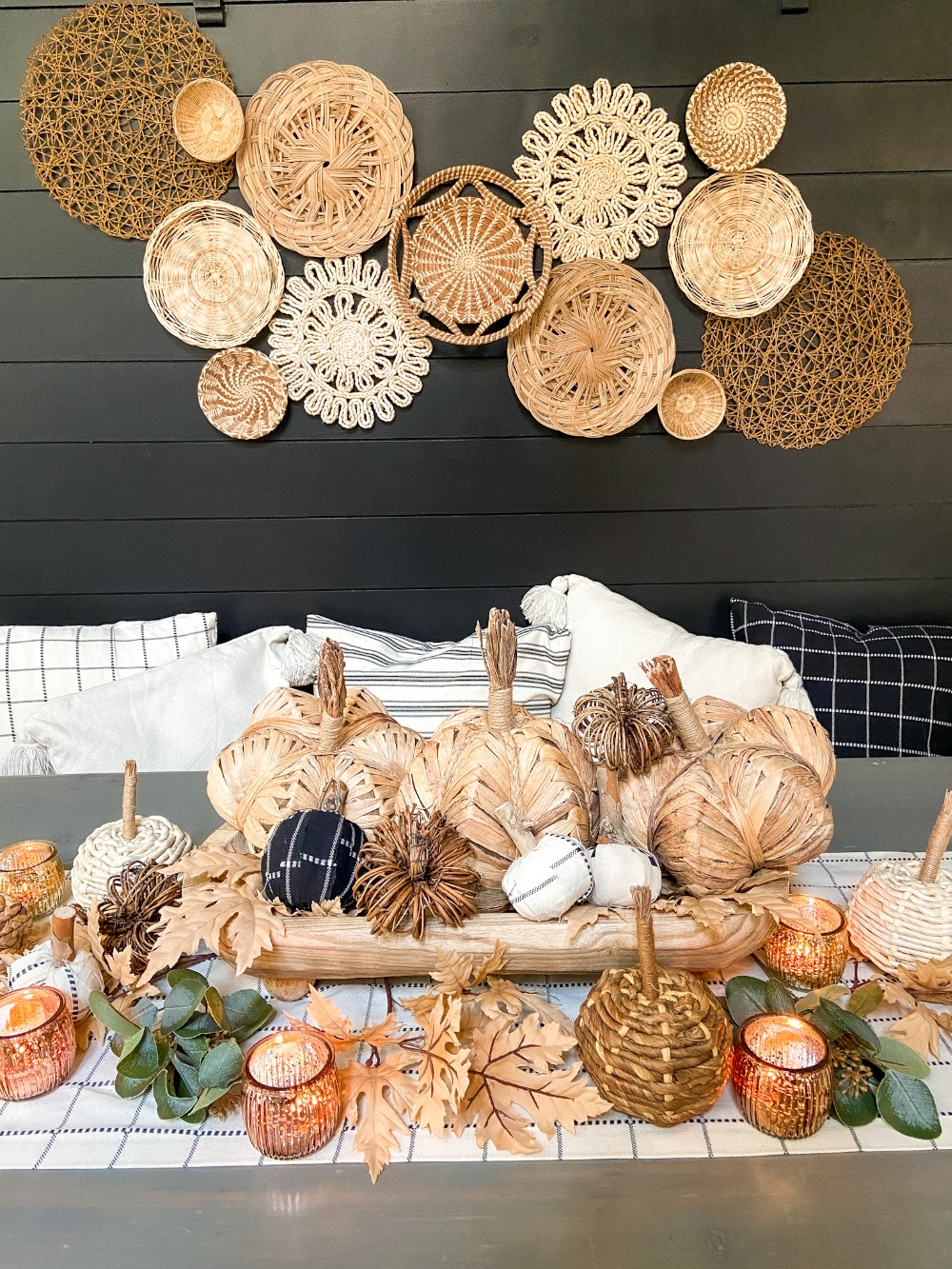 I made FOUR projects for this centerpiece — 1. a DIY NO-SEW runner, 2. fabric-wrapped pumpkins and 3. a footed bowl. I LOVE the mercury-glass votives! They are so cozy! You can find out how to make this fall dining table centerpiece in my Boho Cottage Fall Centerpiece post! I also made matching pillow covers for the banquette. Did you know you can make a pillow cover in 10 MINUTES? It's true – I have a post How to Make 10-Minute Pillow Covers, if you want to make some for YOUR home.
Boho Cottage Kitchen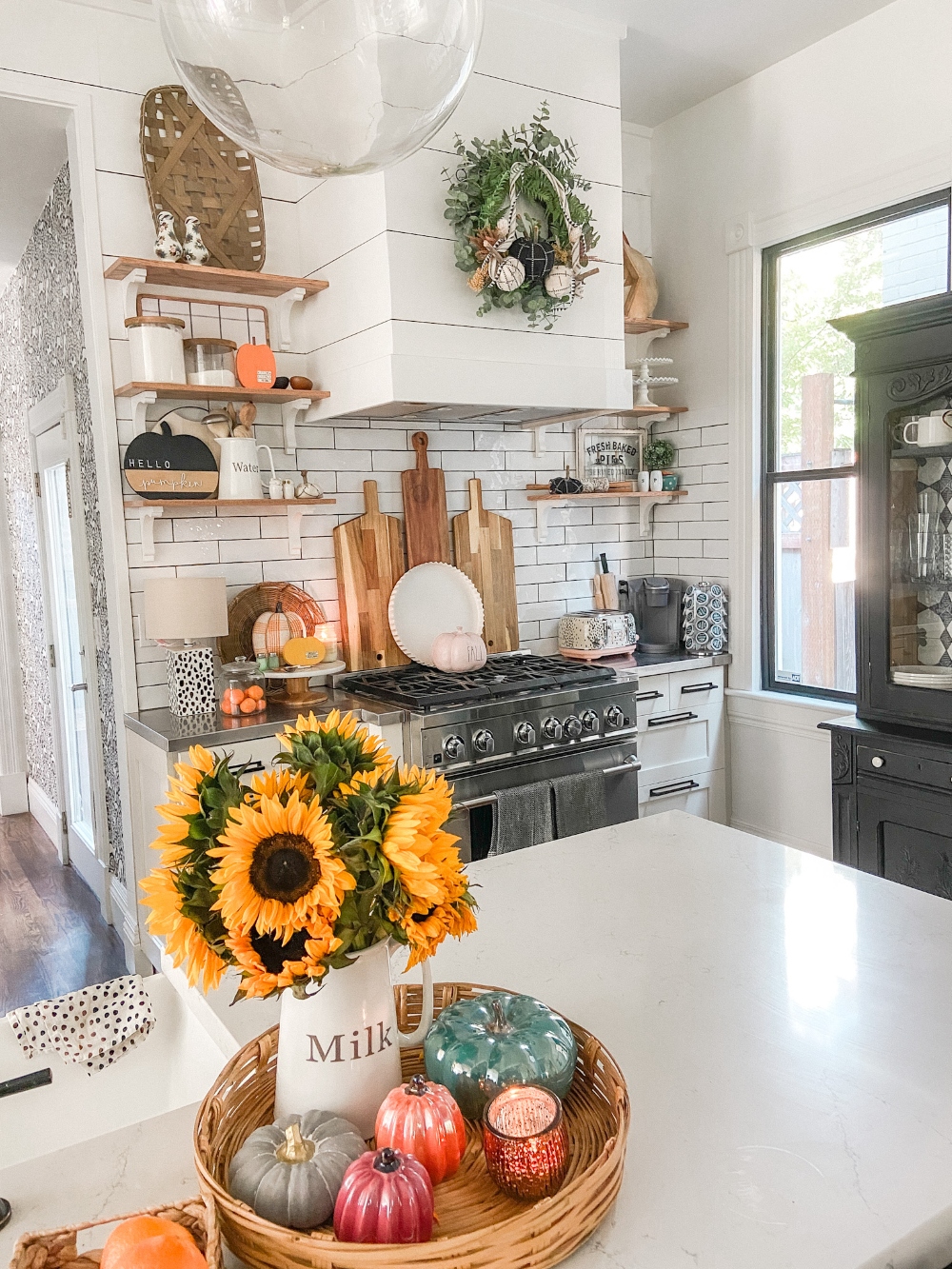 In my kitchen I added some fall fun in a few different ways. I corralled some oranges, pumpkins, a candle and some sunny sunflowers on our island.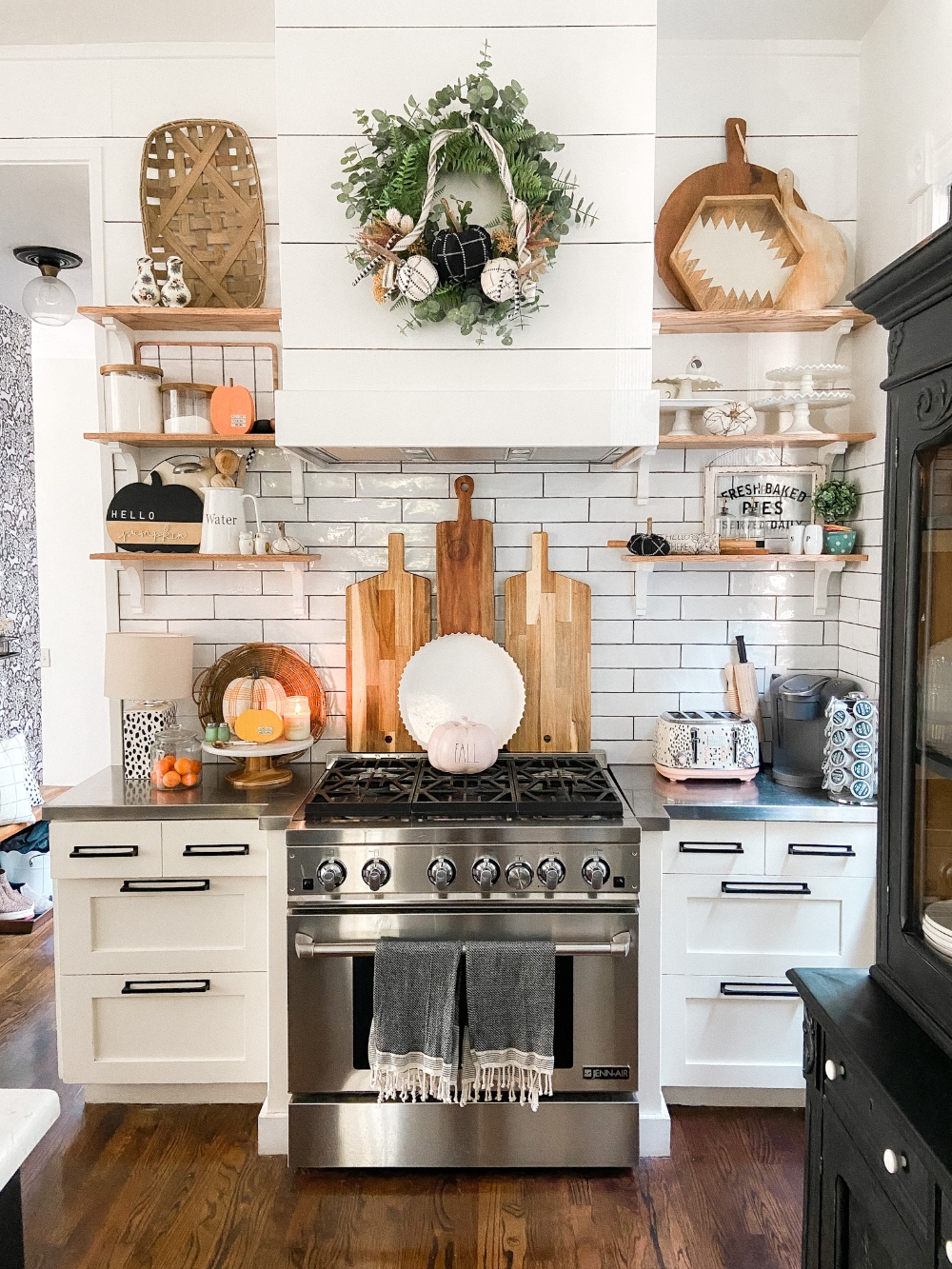 I also created a warm little display near the stove by elevating a plaid pumpkin, the YUMMIEST candle from my friend at @sparrowcandleconcrete. Check out her shop. She creates handmade candles that smell SO good! I added my copper measuring spoons and elevated everything on a cake plate. My kitchen smells SO amazing!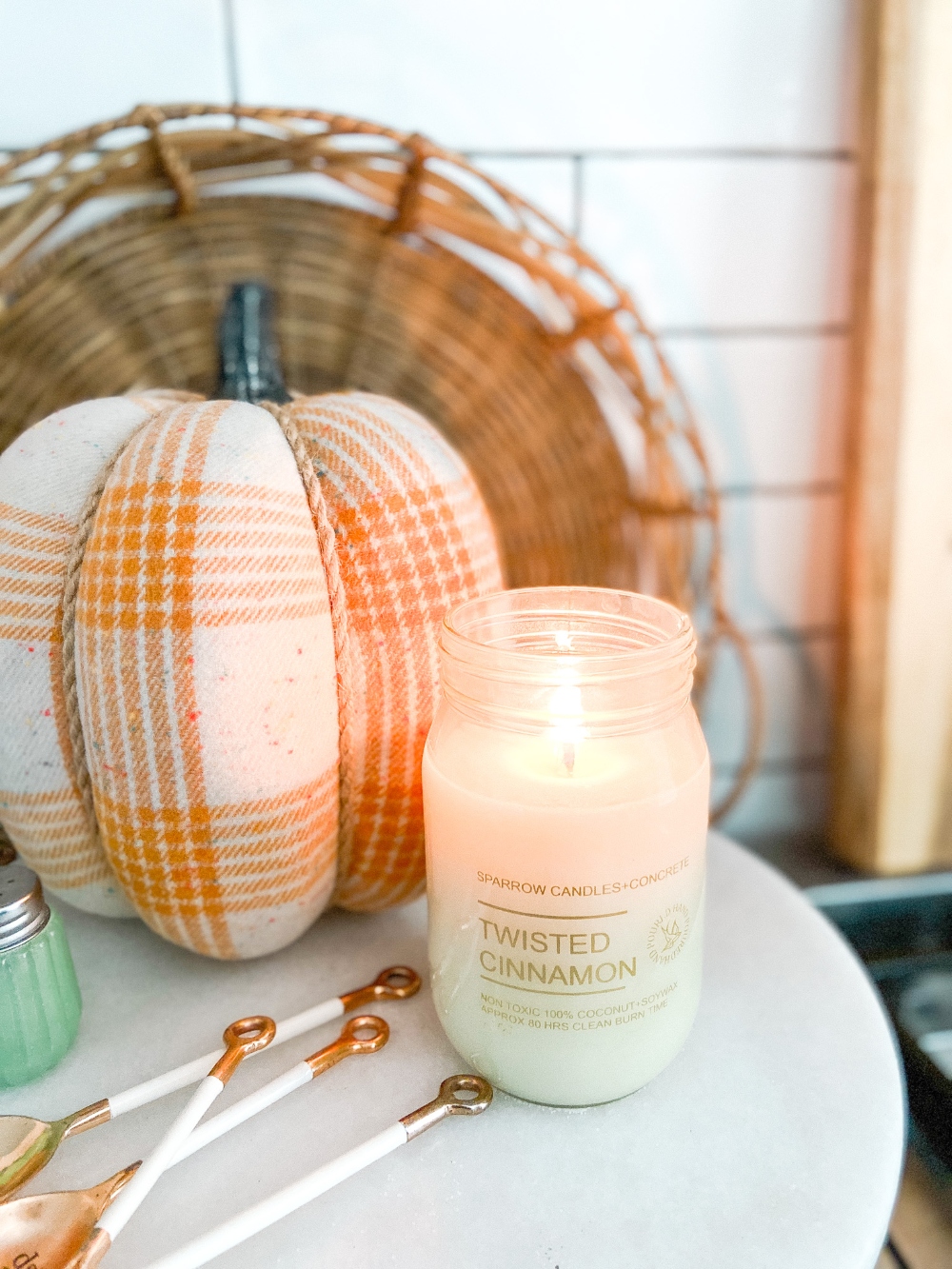 Boho Cottage Family Room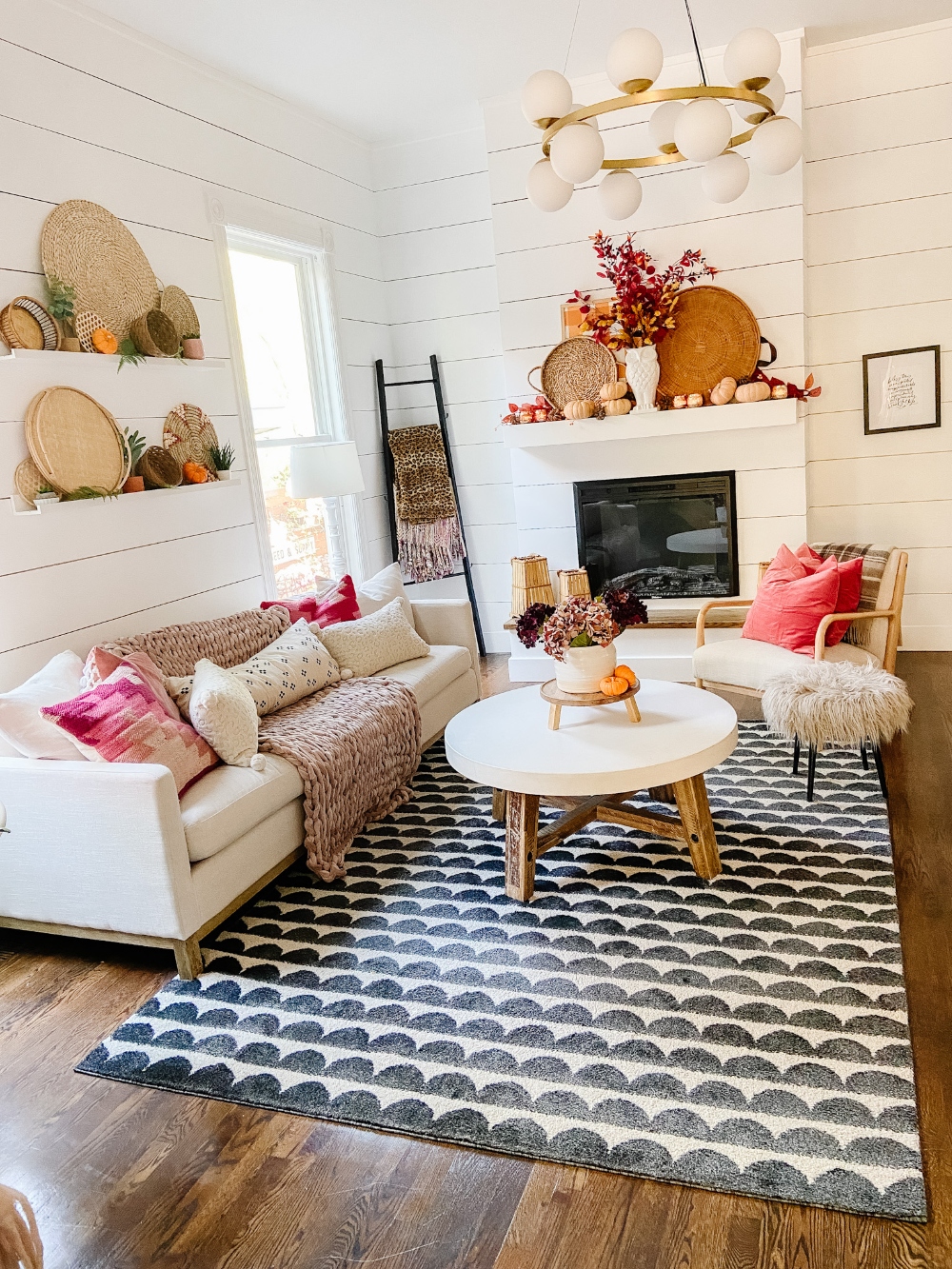 Off of the kitchen is our family room. We spend a lot of time in here. I love making it extra cozy in the fall. This year I created a little display and put it on a wooden stand. The container and flowers are from IKEA! I also made a pillow cover with the fabric I used in my dining nook.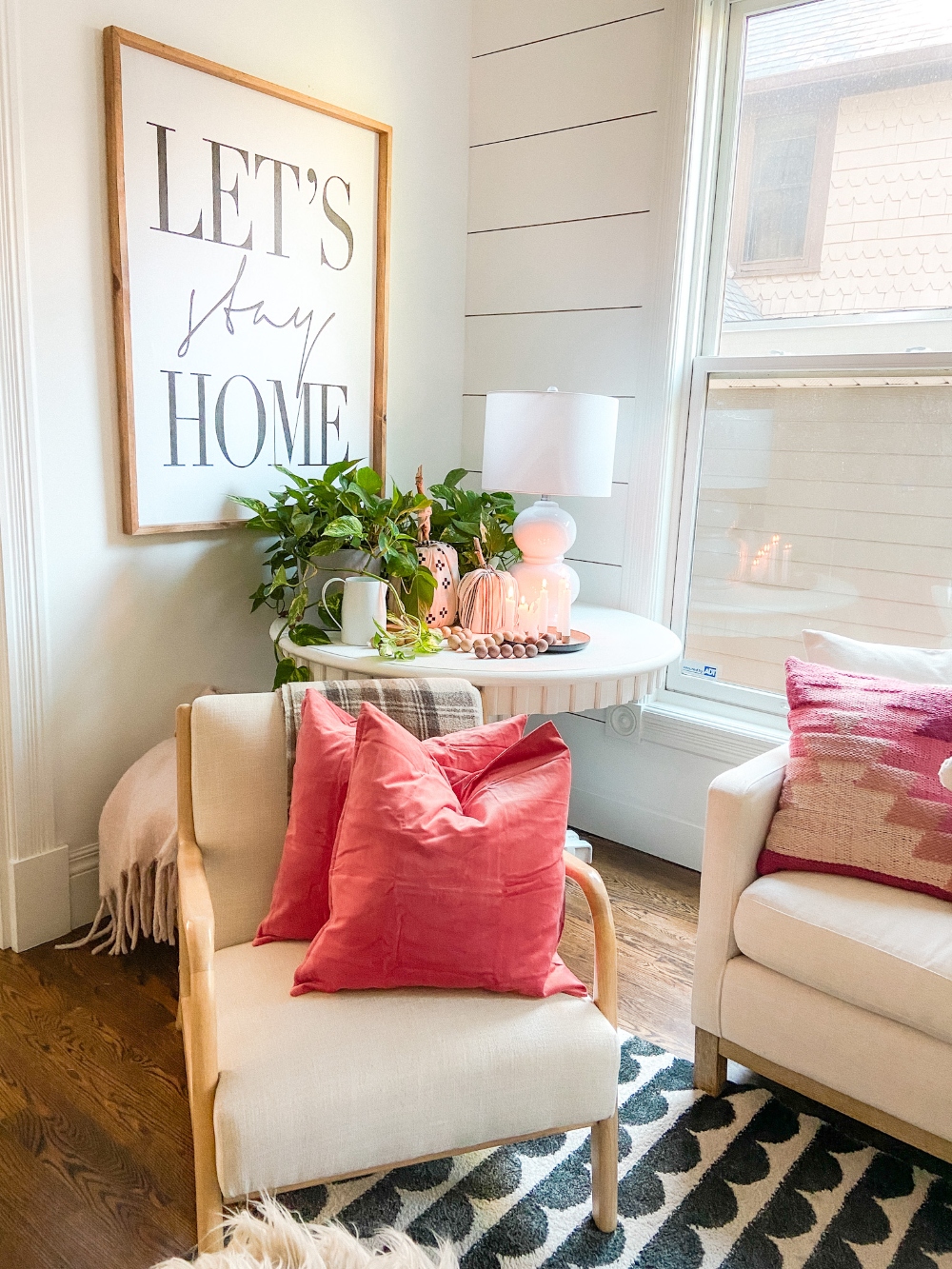 Boho Cottage Fall Mantel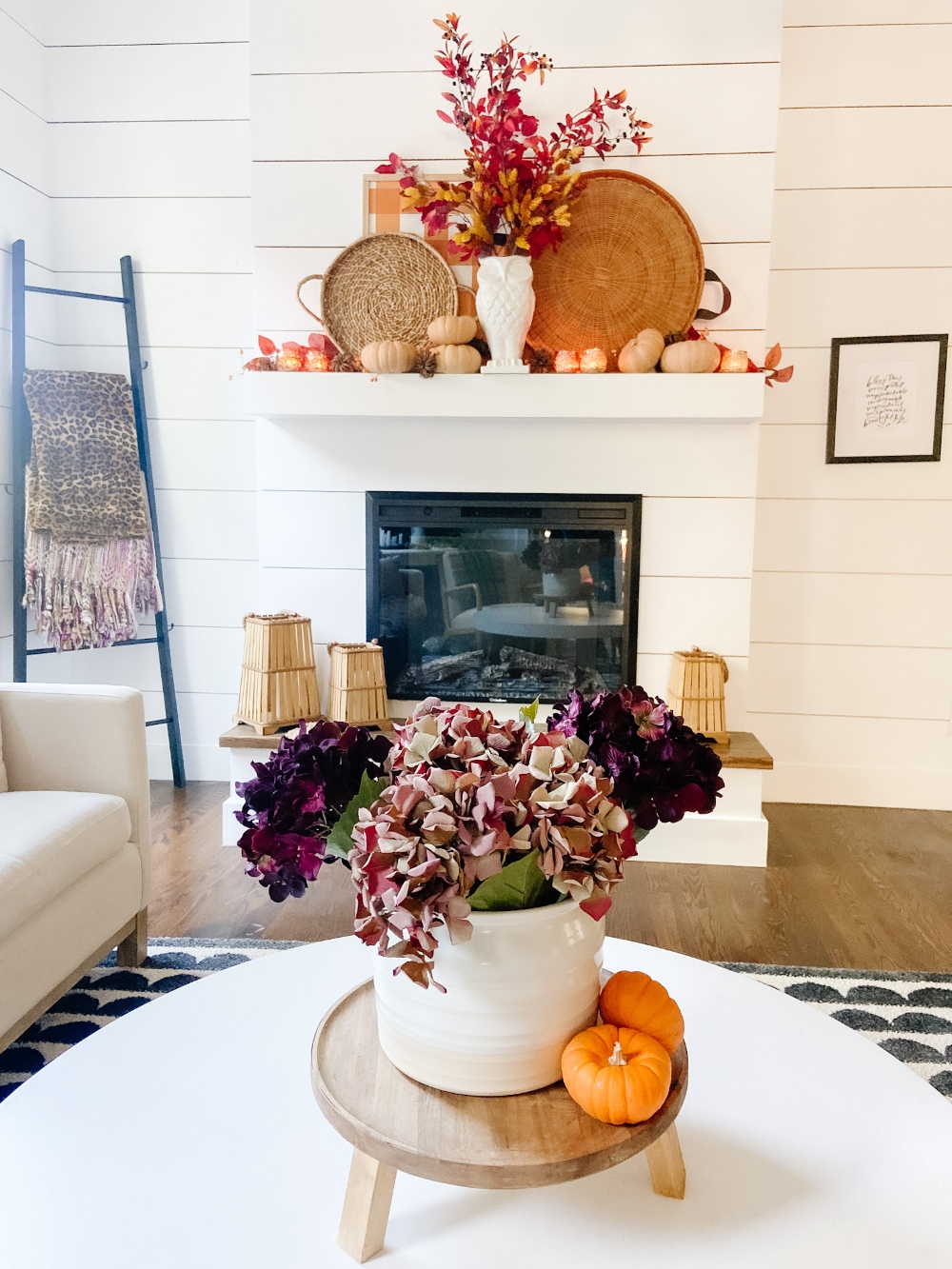 For the mantel I used an owl vase that I have had for about 10 years. I added some pretty red and orange stems and the same metallic mercury glass votives. I am obsessed with them. You can buy them at Hobby Lobby. I have all of the details on the mantel on my Boho Cottage Fall Mantel post.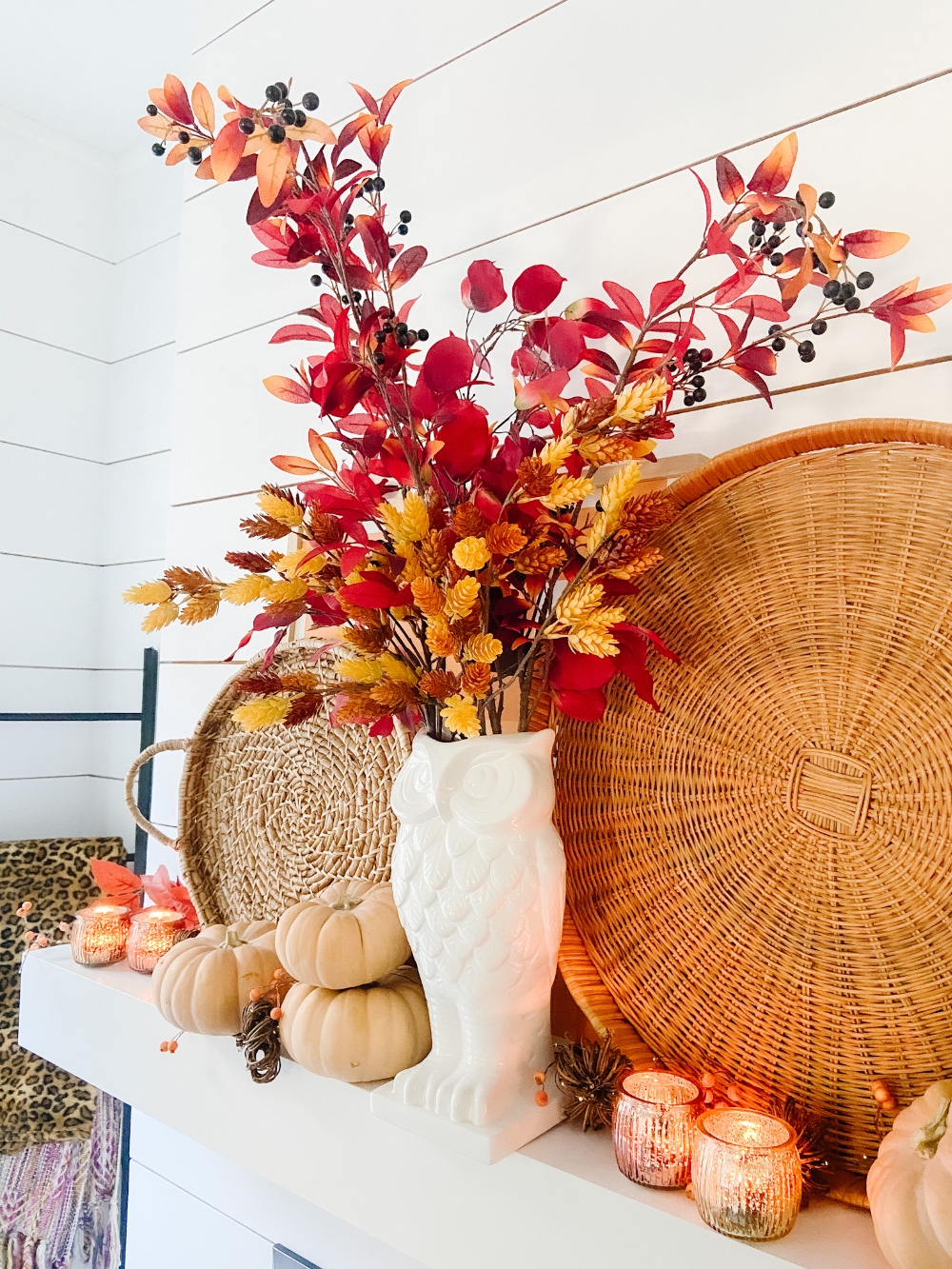 Boho Cottage Fall Mantel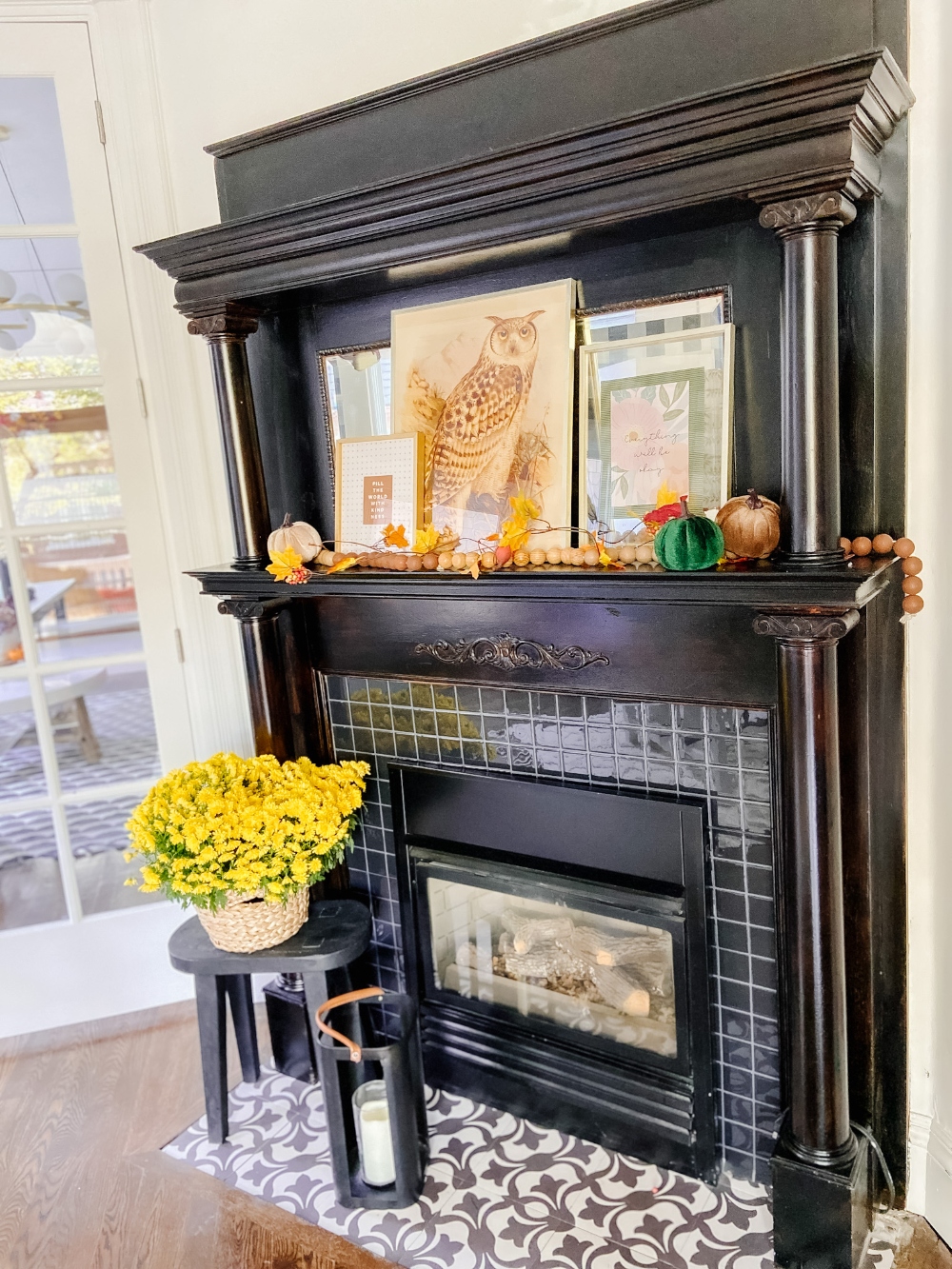 We have the original 1891 mantel in the front room of our home which is now my office. I am right in the middle of a huge office makeover so my space is not ready to show off but I did decorate our little mantel. I framed a vintage owl print and then the other two frames are cards from my Pebbles Peaceful Heart collection! You can buy the sayings online through Scrapbook.com.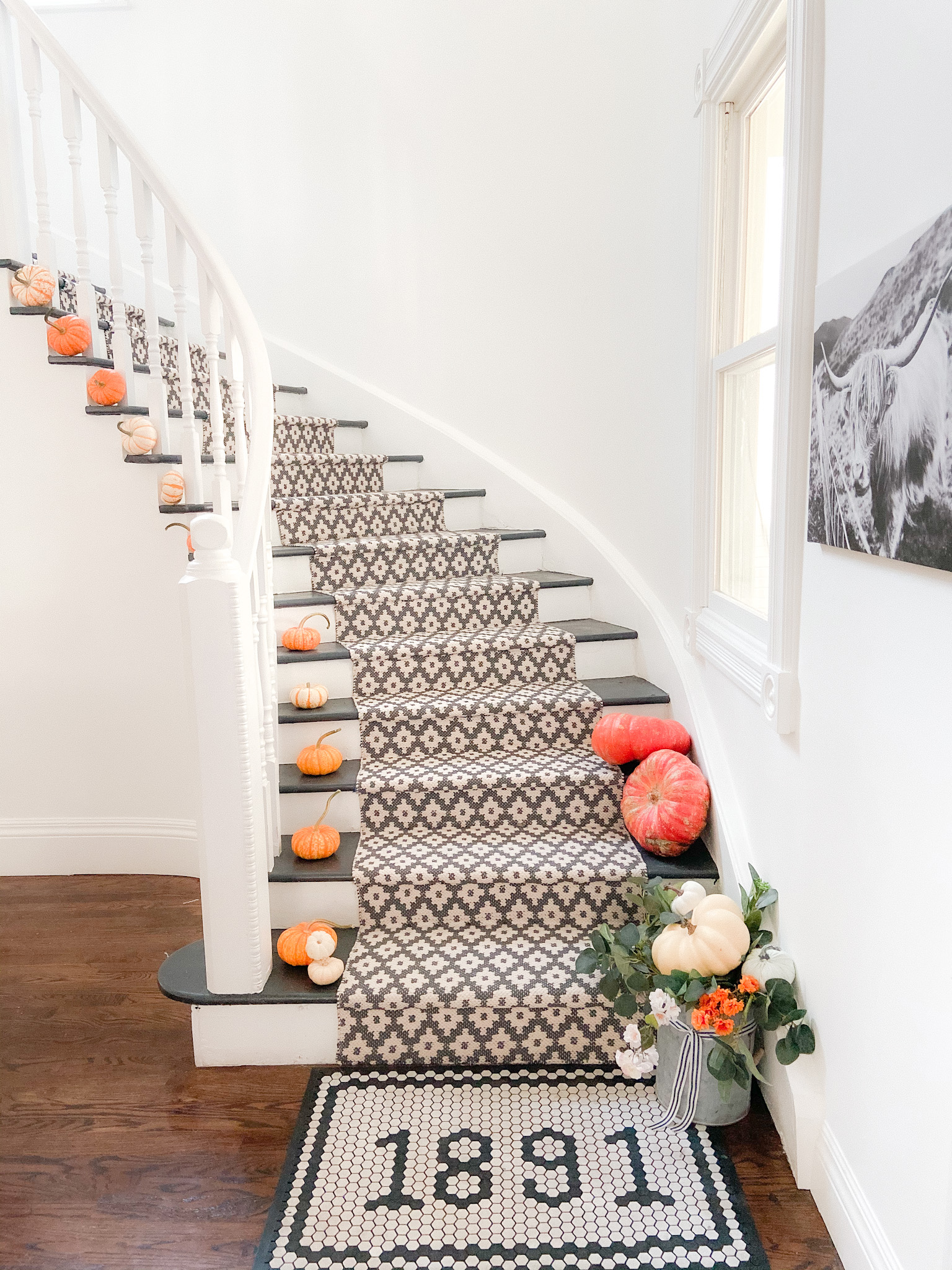 That's our 1891 cottage all decked out for fall! Next stop is Lucy's incredible home at Craftberry Bush! Be sure to check out ALL of the amazing fall homes!

This week I'm joining some of my talented blogging friends for the Fall Seasonal Simplicity Series. All week long we are sharing our homes decorated for Fall. Be sure to check out all of the beautiful inspiration by visiting today's tours, and pop by again during the week to visit everyone else who is sharing!
Sharing with me today…
Friday
And sharing the rest of this week…
Monday
Tuesday
Wednesday
Thursday
What projects are YOU working on for fall?
xoxo