Paper Bag Leaf Garland. Upcycle your old paper grocery store bags into a warm and vibrant paper leaf garland for a mantel or shelf for Fall!
Paper Bag Leaf Garland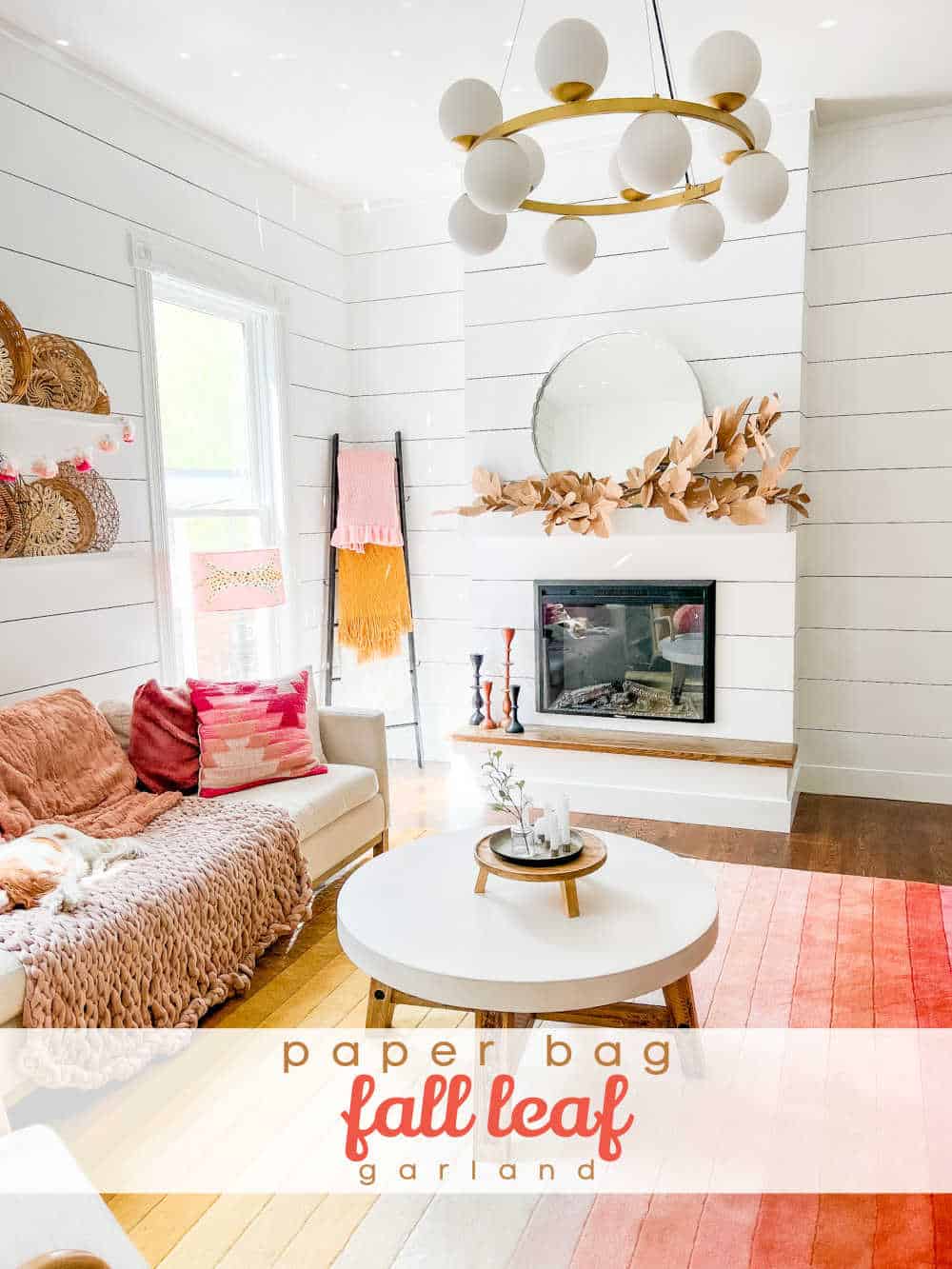 Hi friends! It's August and since it's been raining the last few days, I am getting in the mood for fall. I had a big pile of paper bags under our kitchen sink and I thought instead of throwing them in the recycling bin, why not make something out of them for fall? The warm brown hues and the rough paper texture seemed perfect for fall!
Upcycle Paper Bags into Craft Projects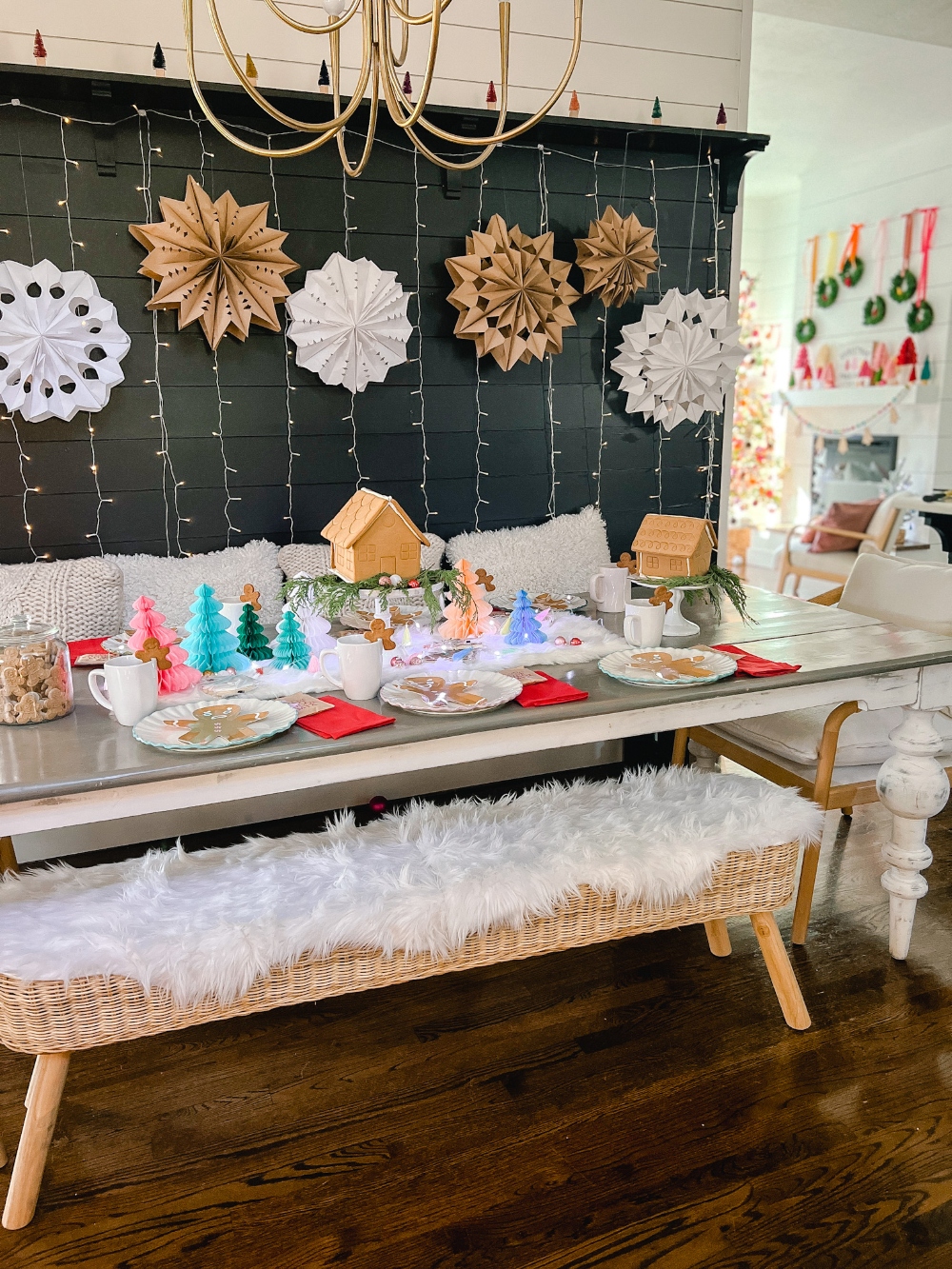 I had so much fun creating paper snowflakes last Christmas that I have been looking for another project to se paper bags for and this one is so easy! So instead of throwing those paper grocery store bags away or in your recycling can, save them to make crafts with!
Paper Bag Leaf Garland is a Free Project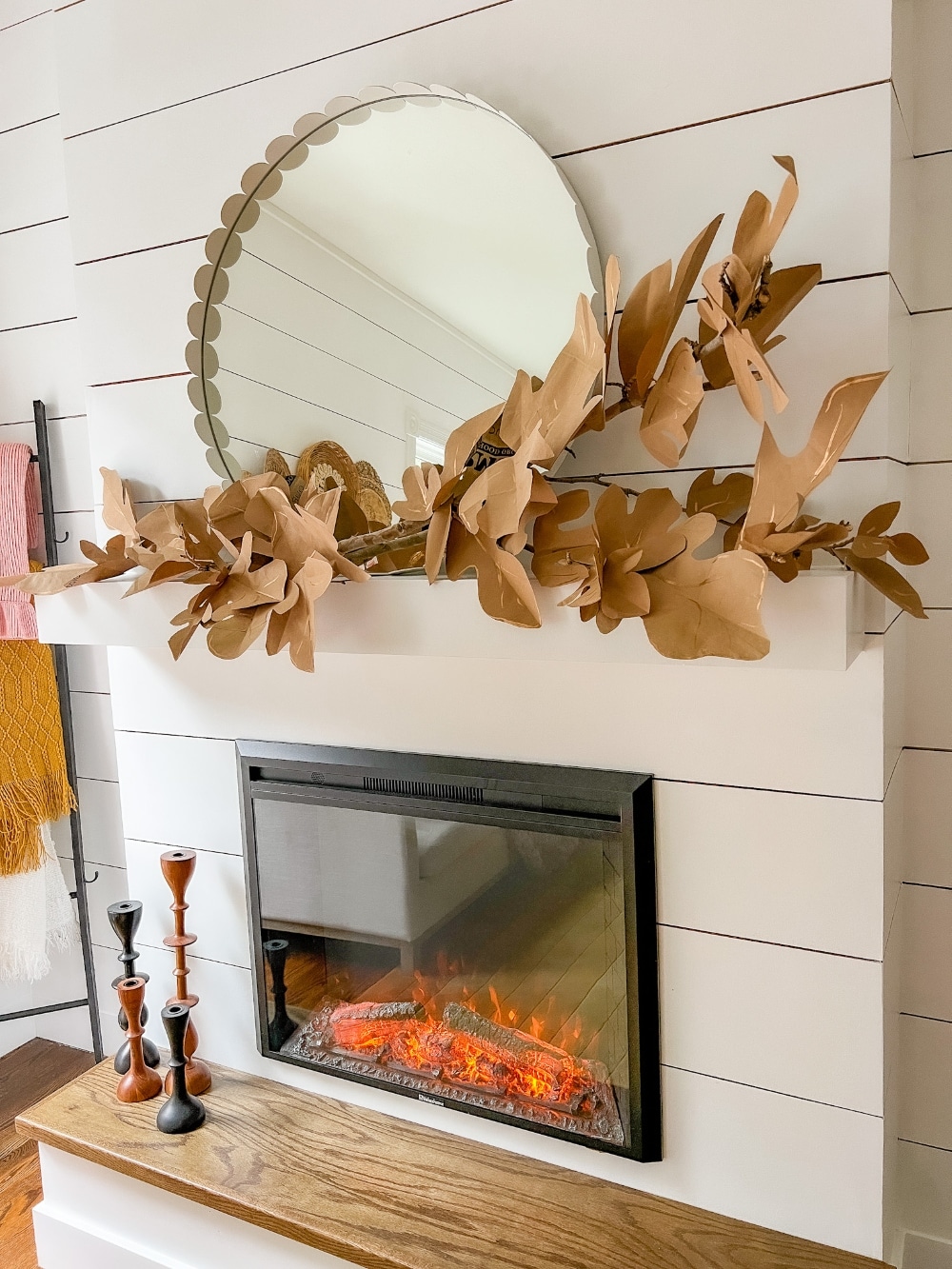 I love a free project! It feels kind of magical turning trash into something to display. I found items around my house for this project so it doesn't cost anything!
Where Can You Display a Paper bag Leaf Garland?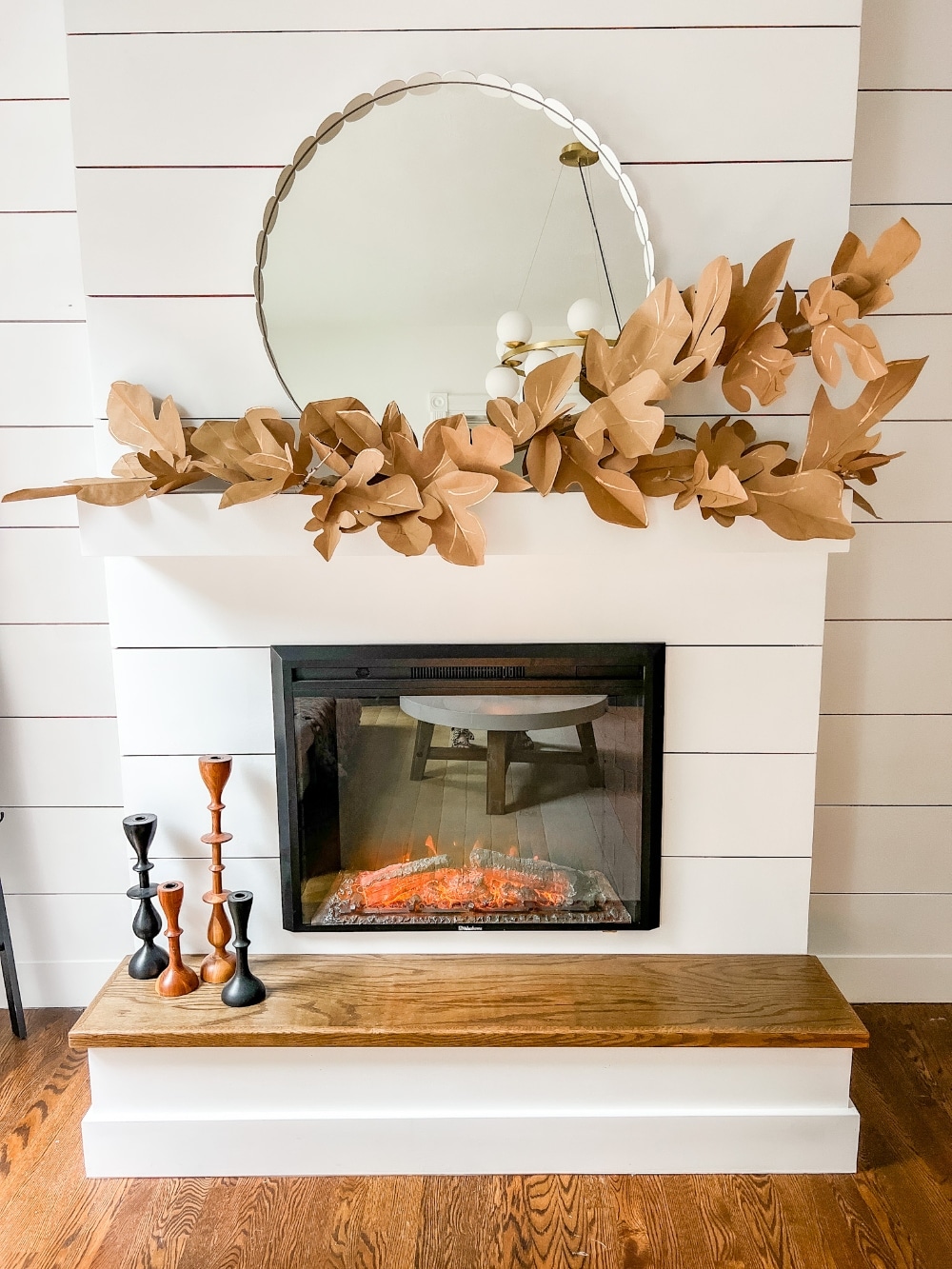 I created this garland to go on my mantel, but the beauty of this idea is that you can make this project to go almost anywhere in your home. You can display this on a shelf, above a cabinet or instead of glueing the paper leaves to a branch, glue them to a string and hang it over a doorway or over a bed to welcome fall !
Supplies to Make a Paper Bag Leaf Garland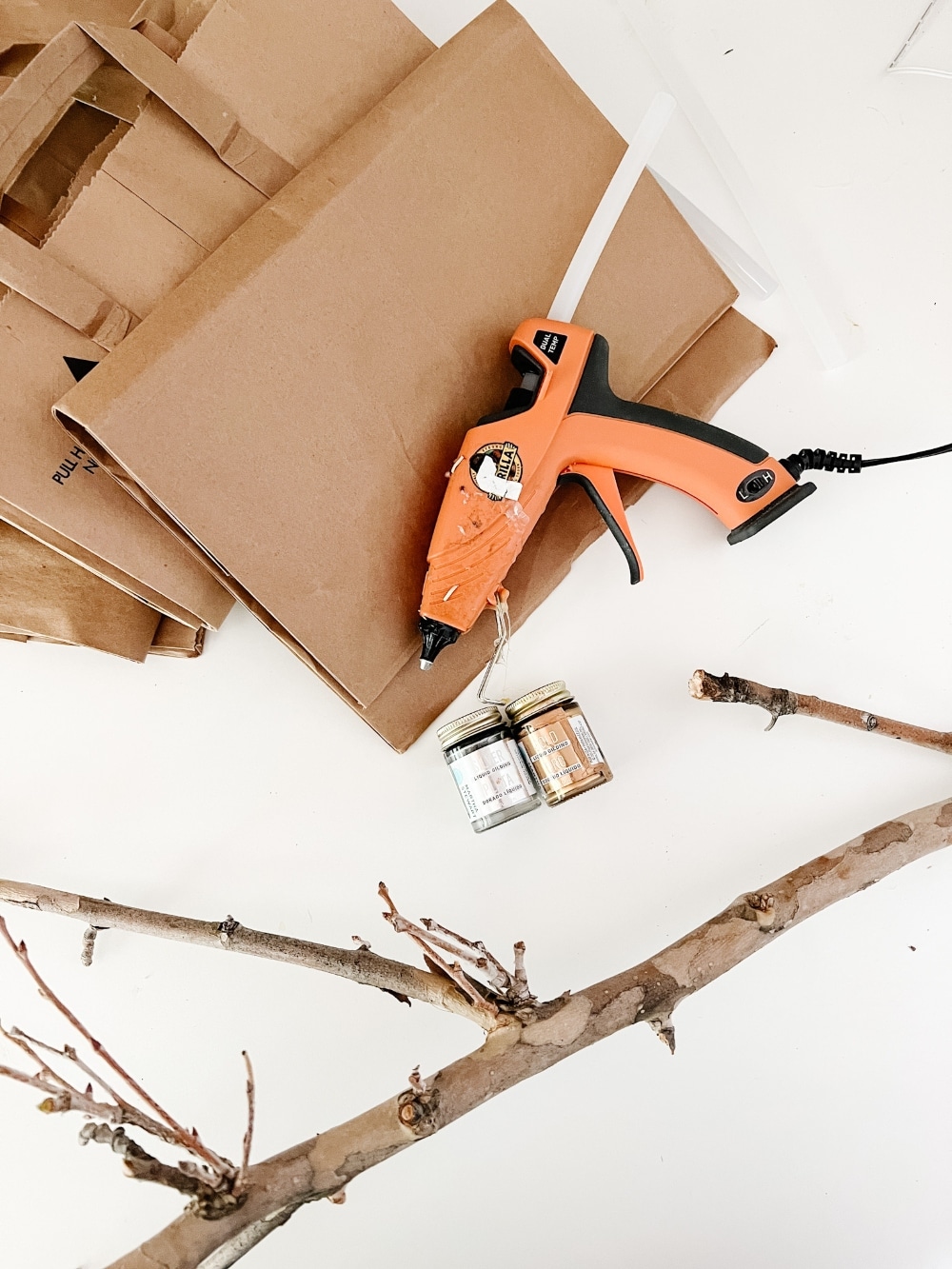 All you need to make this project are:
8-10 paper grocery store bags
1-2 branches from your yard (or heavy cord if you don't want to use a branch)
Hot glue gun and glue sticks
Metallic paint (optional)
How to Make a Paper Bag Leaf Garland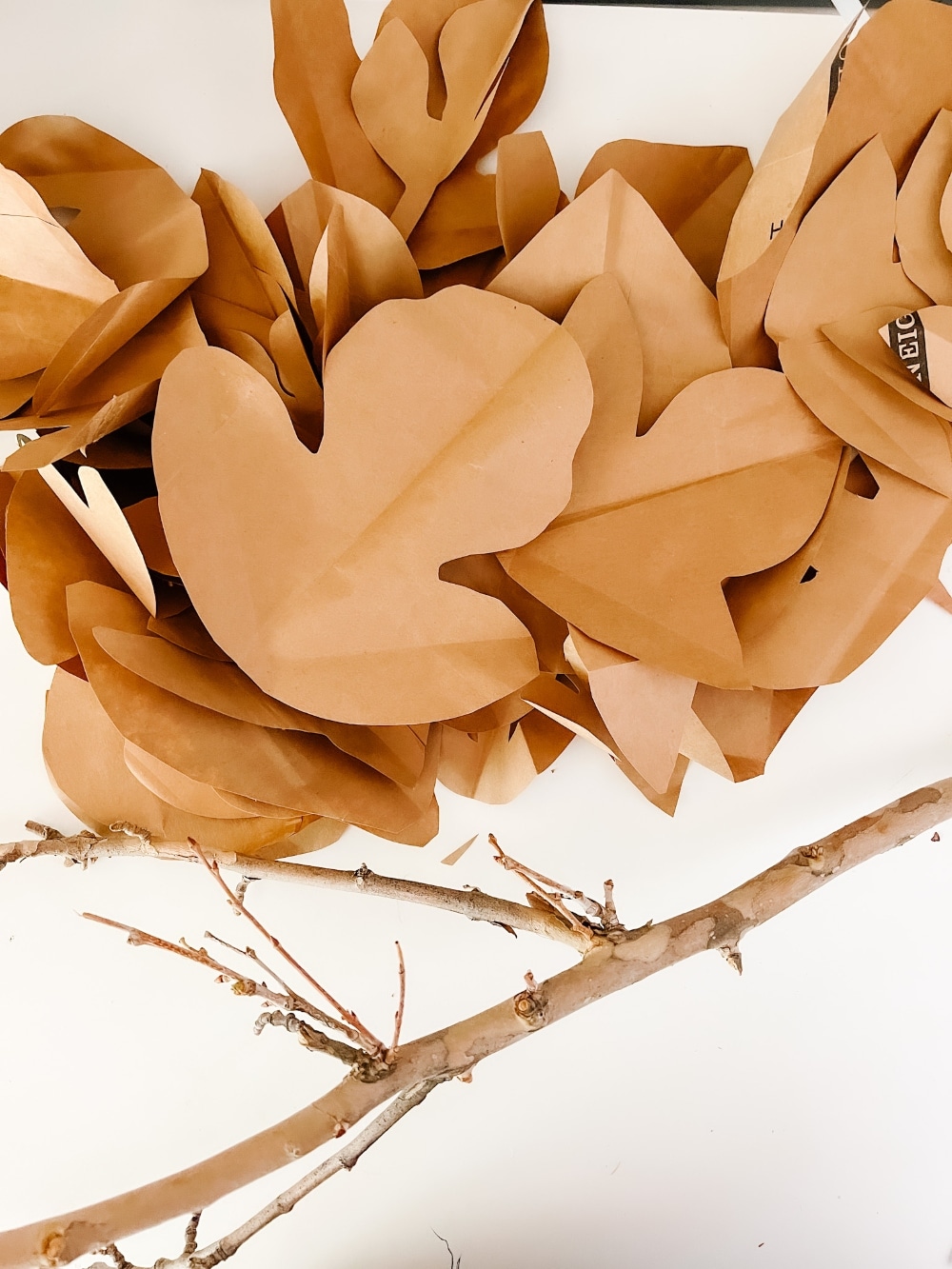 The first thing I did was cut my bags apart so I had the front and back of the bag as a flat surface.
Trace a leaf on a bag. I have included a template if you want to use mine. Just print it off, cut around the leaf template and use it to trace and cut out leaves on your paper bags. I included three different sizes.
Cut out your leaves. I cut out the larger leaves first.
Then take the scraps and cut out the smaller leaves.
Arrange your branches on your mantel or shelf.
Hot glue leaves to the branches. Start with the large leaves and fill in with the medium and small leaves, layering as you go.
Optional – add a little shine to your leaves by adding veining with metallic paint and outlining some of the leaves.
Paper Leaf Templates
Here are some hand-drawn leaves if you want to print them off and use them as your template! Right-click on the images below and click on "opin image in new tab". Then go into that tab and right-click and click on "print" to print them off!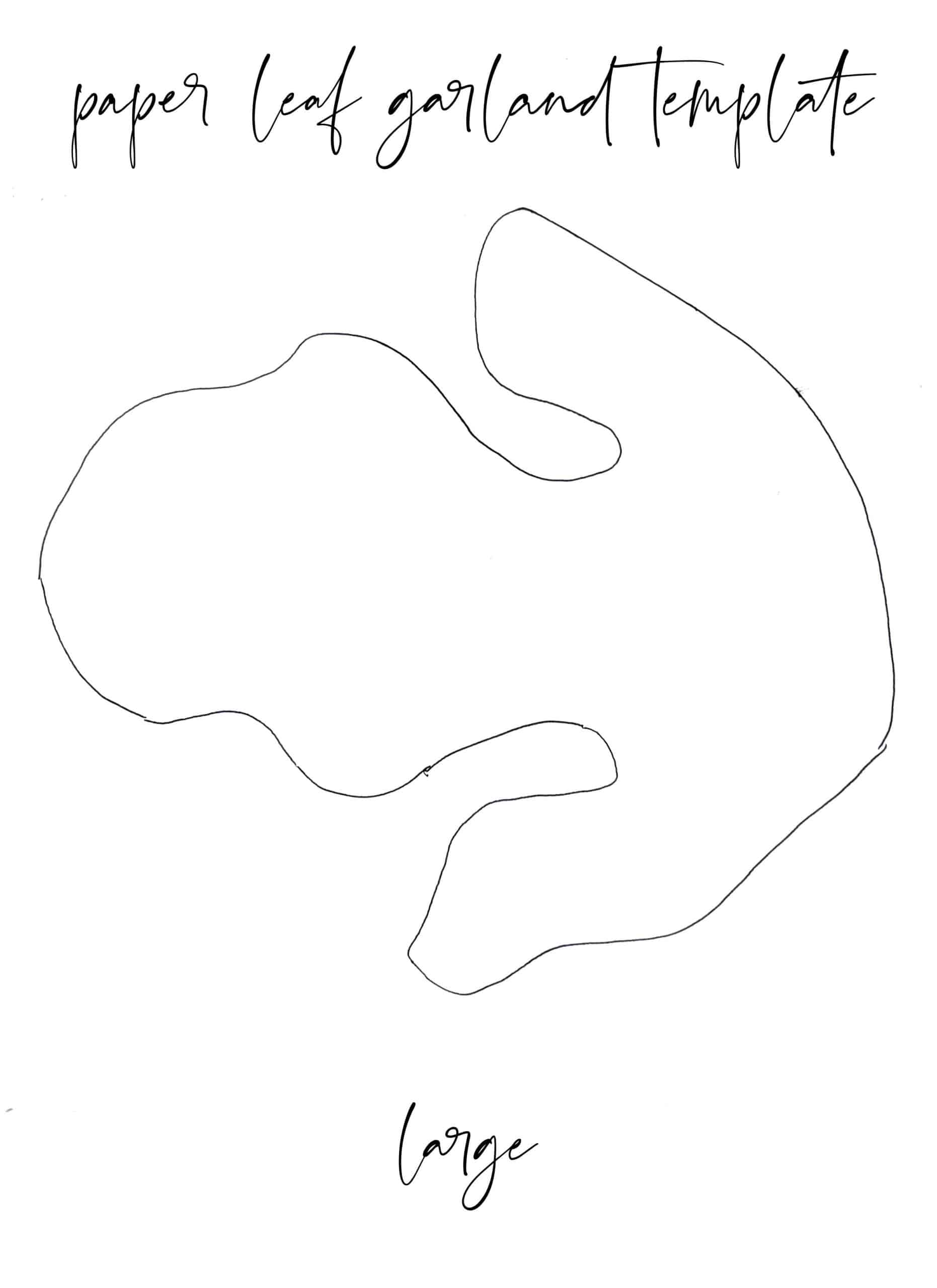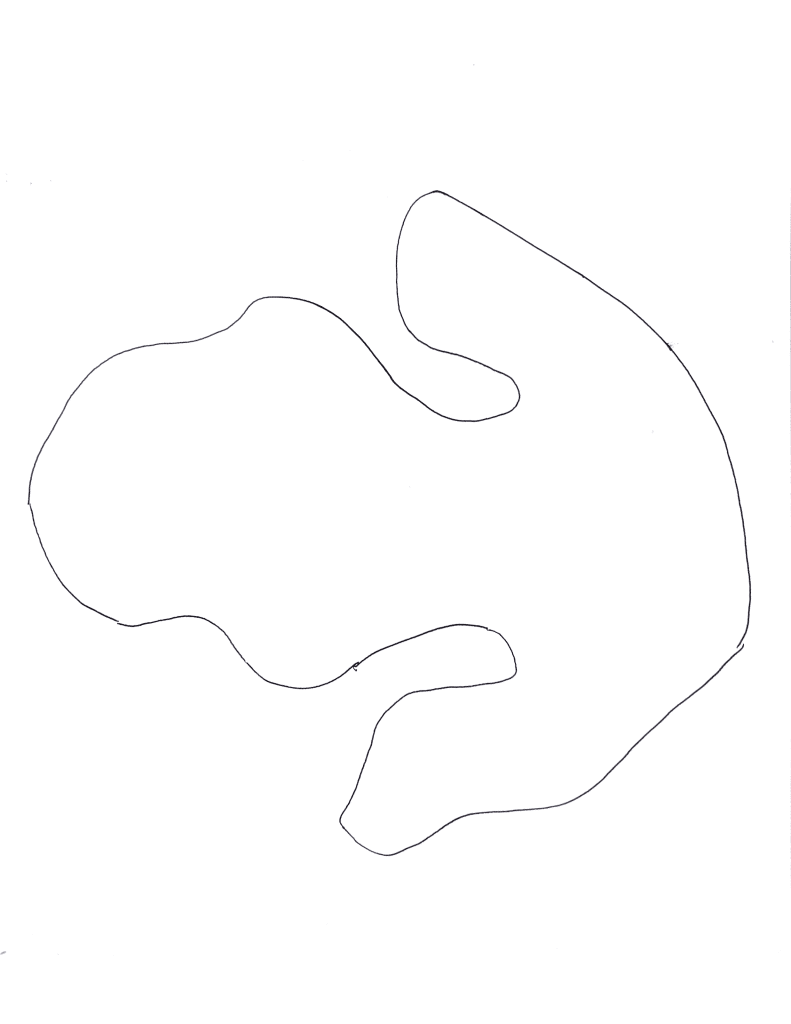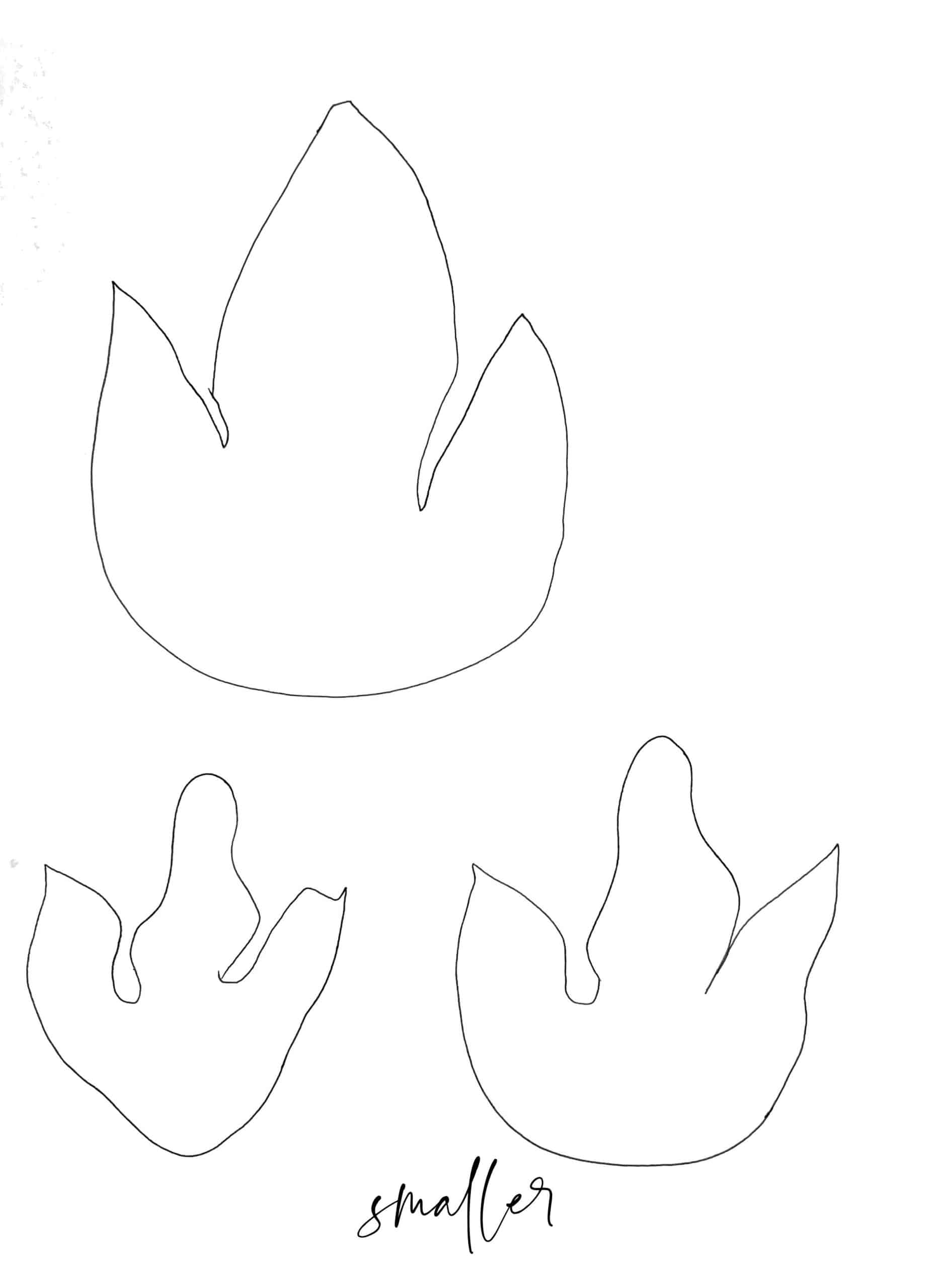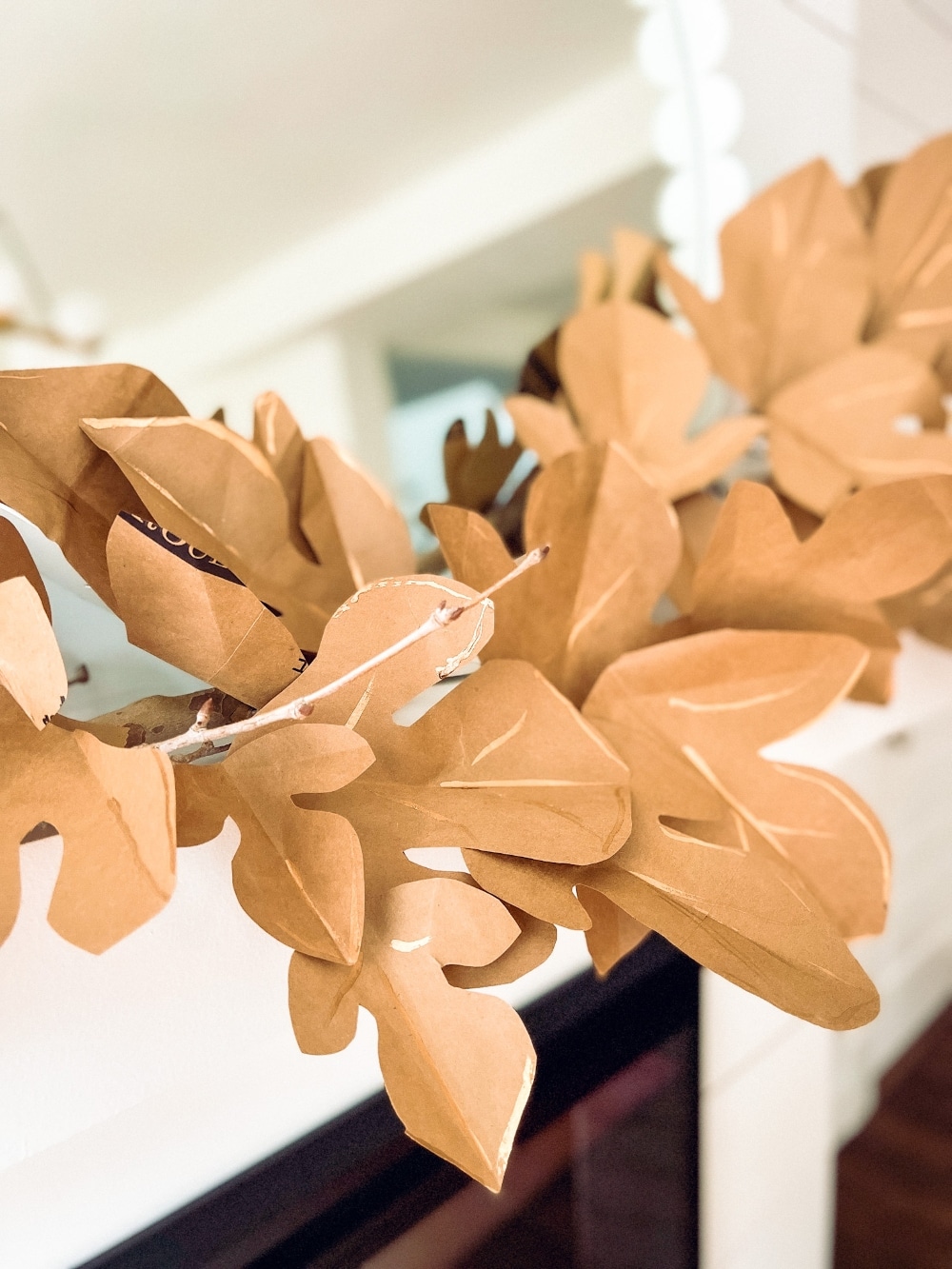 Enjoy Your Fall Paper Bag Leaf Garland!
I hope you made one of these easy garlands! I'd love it if you tagged me on Instagram at @tatertotsandjello so I can share yours! If we haven't connected on Instagram, I'd love to have you join my community there where I share behind-the-scenes projects in real time. I also have videos of making this project saved on my highlights there under "paper garand" if you want to see the video tutorials!
Pin This Idea for Later!
Pin this idea so you can make it when you're ready! And share it with your friends. I would be so grateful if you shared this idea. I love seeing everyone's creative ideas in their homes! Thanks, friends!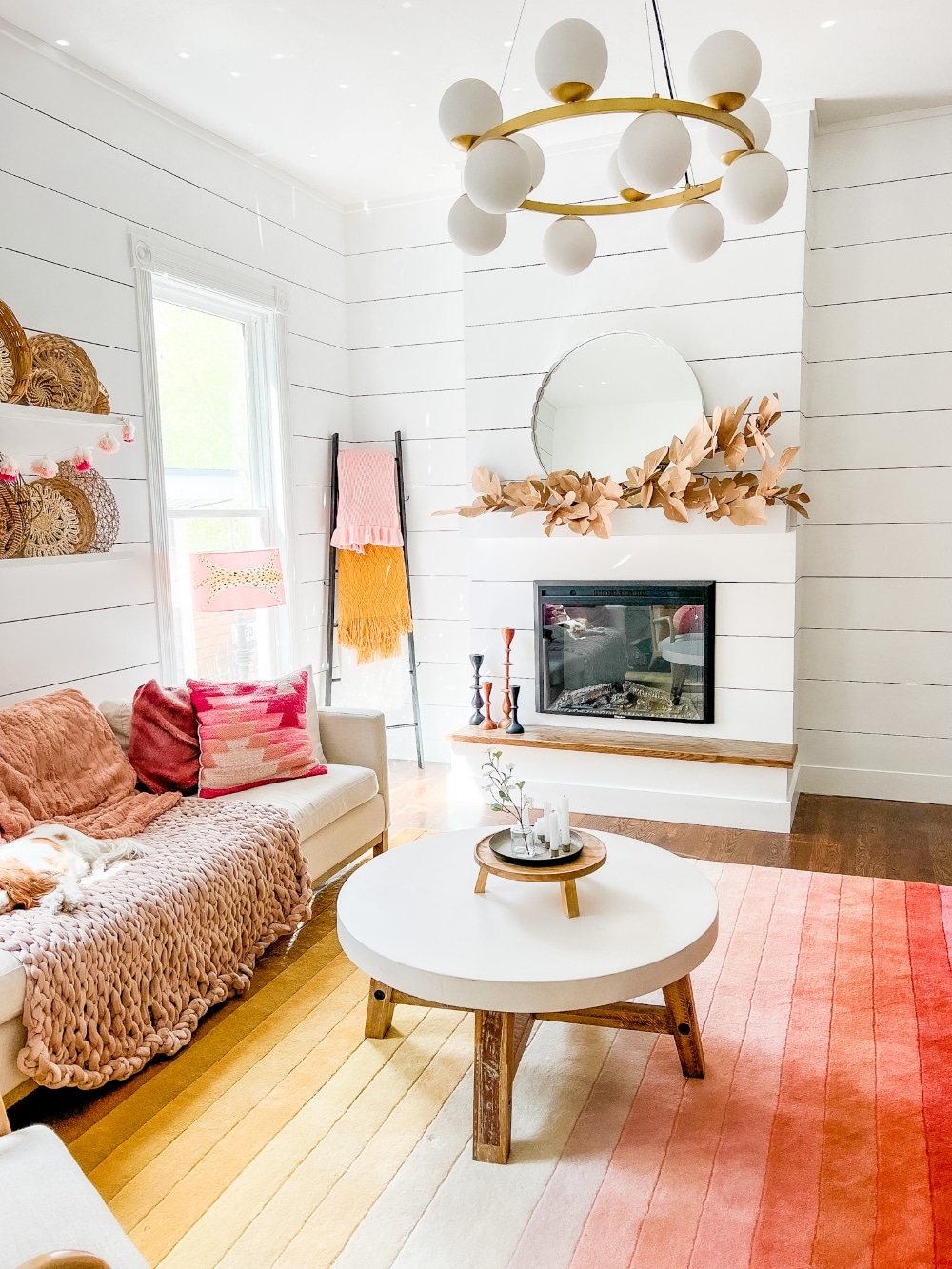 More Paper Crafting Ideas
I love using paper to create pretty ideas. Here are a few other ways to decorate using paper!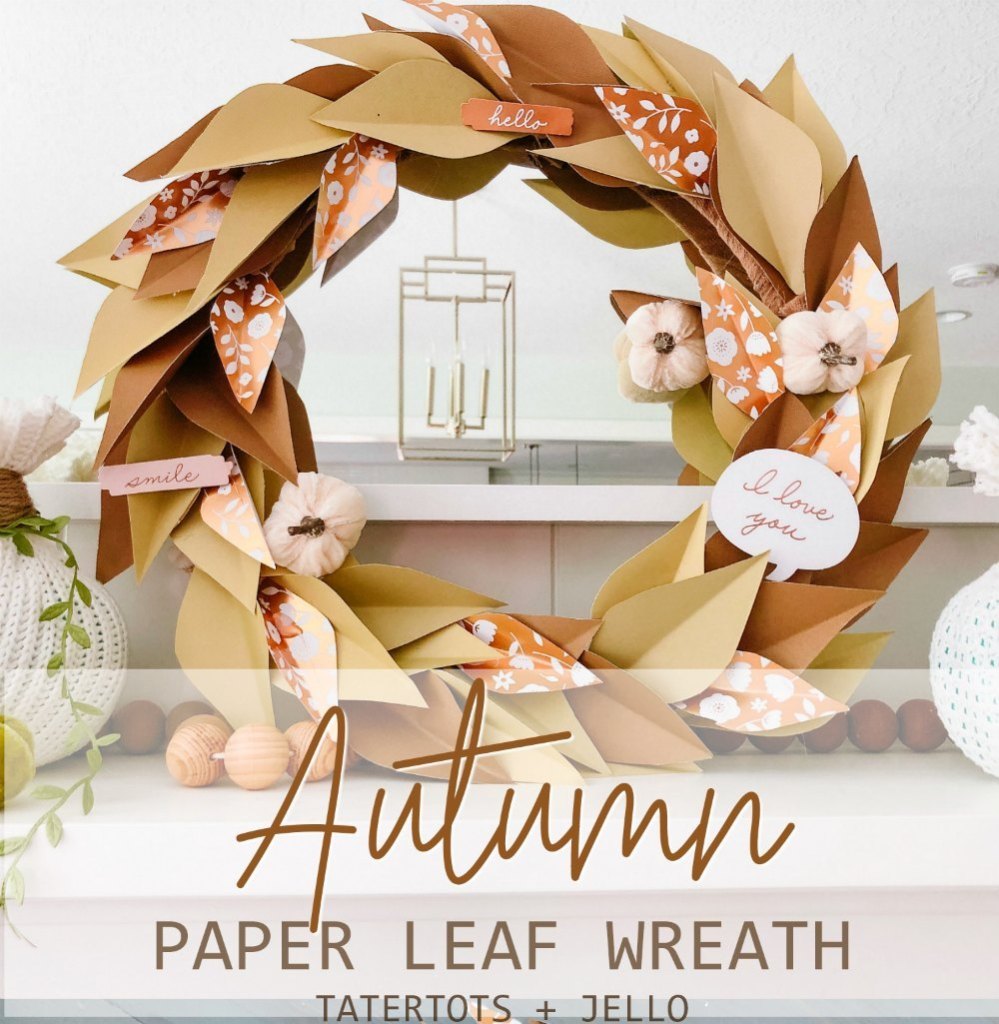 Here's a fun paper wreath and I included a template to make it super easy!
Easy Paper Pumpkin-Shaped Garland. Turn a couple of sheets of scrapbook paper and some wood beads into a gorgeous 3-D Pumpkin-shaped garland for Fall! I also used paper and embroidery hoops to create the pumpkins on the mantel!
Have a Beautiful Day!
xoxo