My Colorful Holiday Cottage Tour. Adding whimsical elements and colors to our historic home for the holidays with easy DIY ideas!
My Colorful Holiday Cottage Tour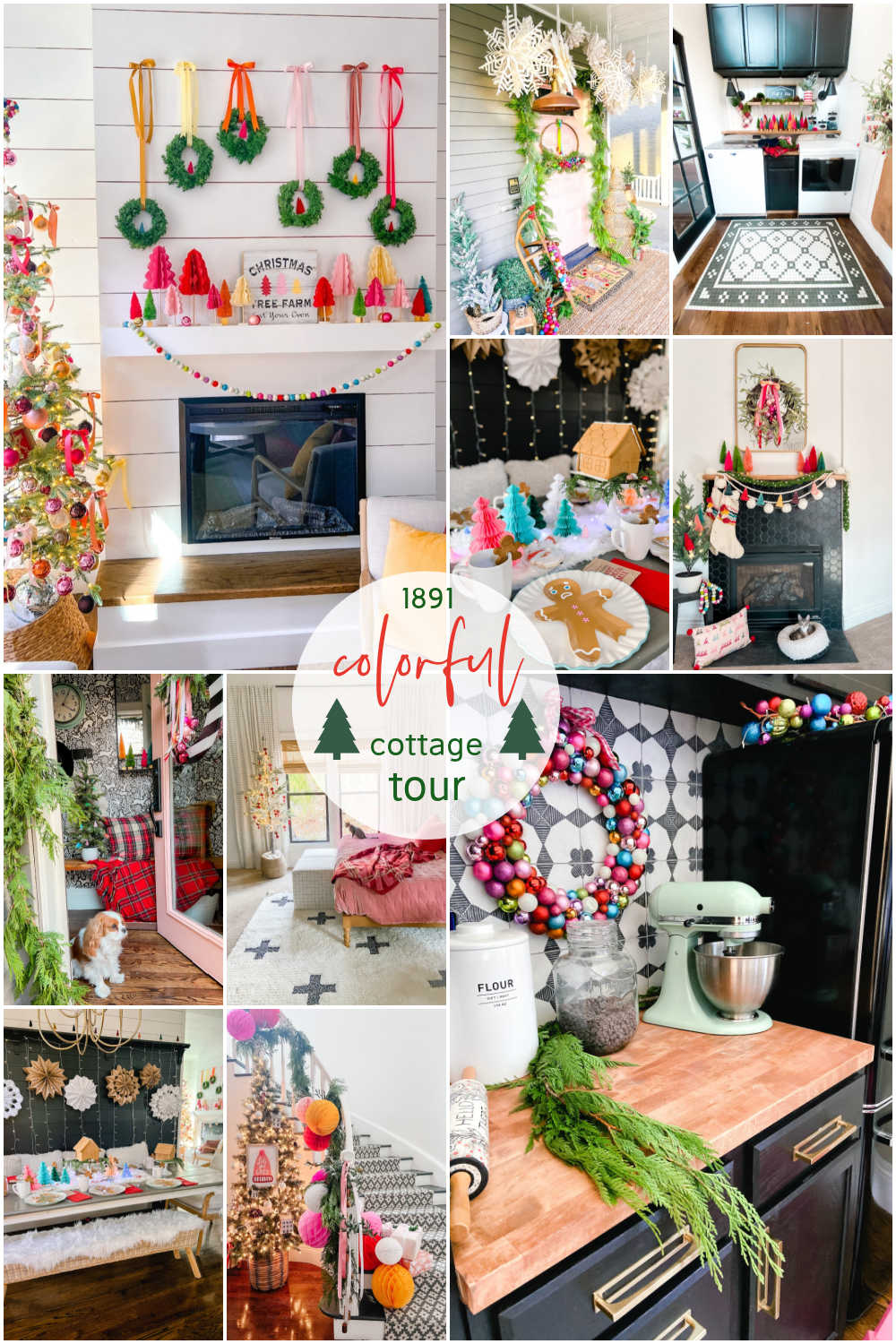 Welcome, friends! I am so excited to be joining in the It's A Colorful Life Holiday Tour! If you are stopping by from Kaleidoscope Living, Welcome! I adore Tasha's colorful home and amazing ideas! If you are new to the tour, be sure to start over at Dimple and Tangles at the beginning of the tour so you can see ALL of the colorful homes!
A Colorful Cottage for the Holidays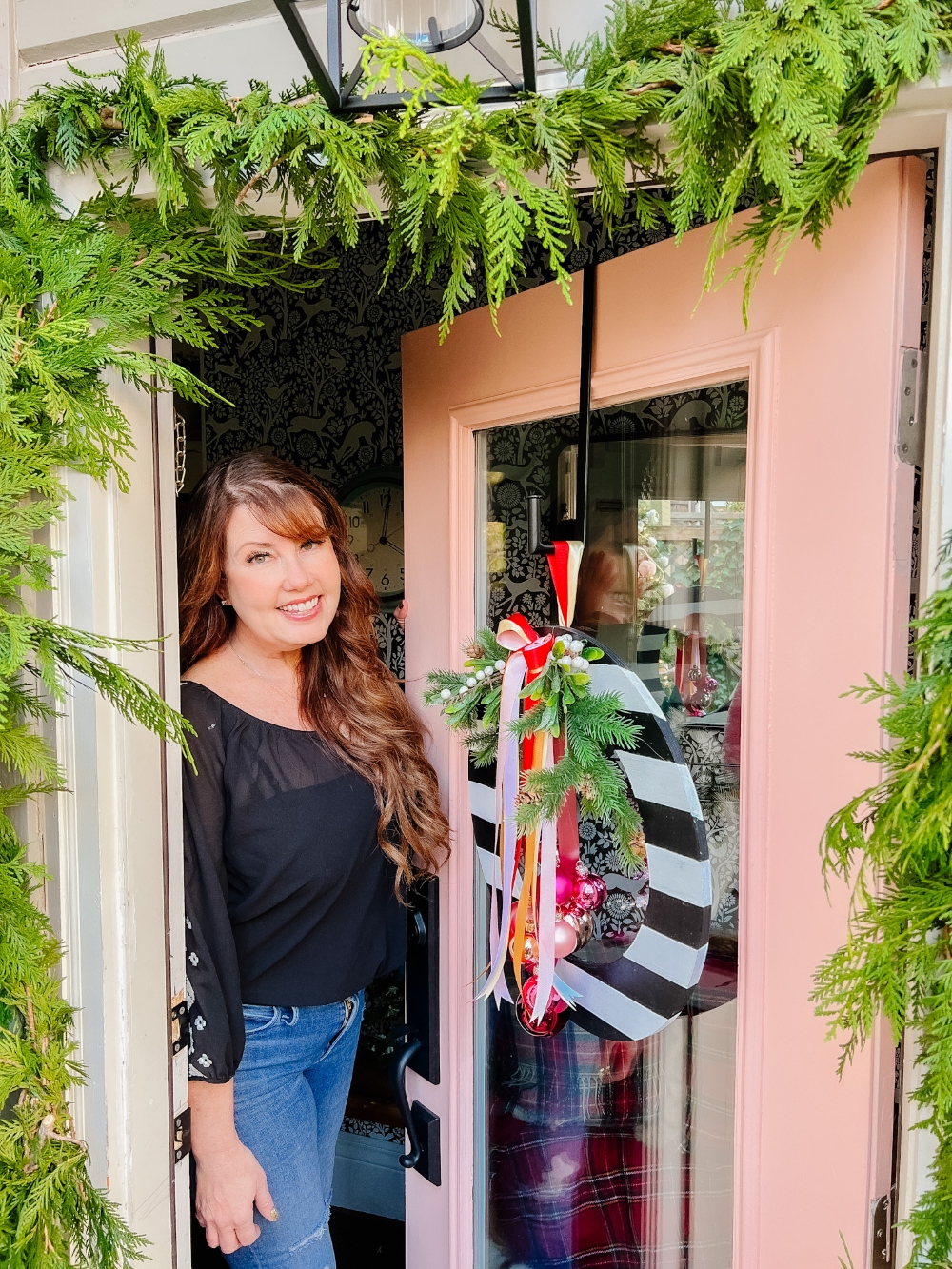 Welcome to our 1891 home decked out for the holidays. I love color and using it in unexpected ways. I have to say that we've lived here for a little over two years and I struggled with how to bring color into this historic home. We have been busy remodeling our home over the past two years, so now that we are getting closer to being finished I am bringing more and more color into the palette and it's making me SO happy! Today I would love to share our family room and some projects throughout our home as well as some colorful touches I brought into the apartment we built on our first floor that we airbnb out!
Colorful Outdoor DIY Projects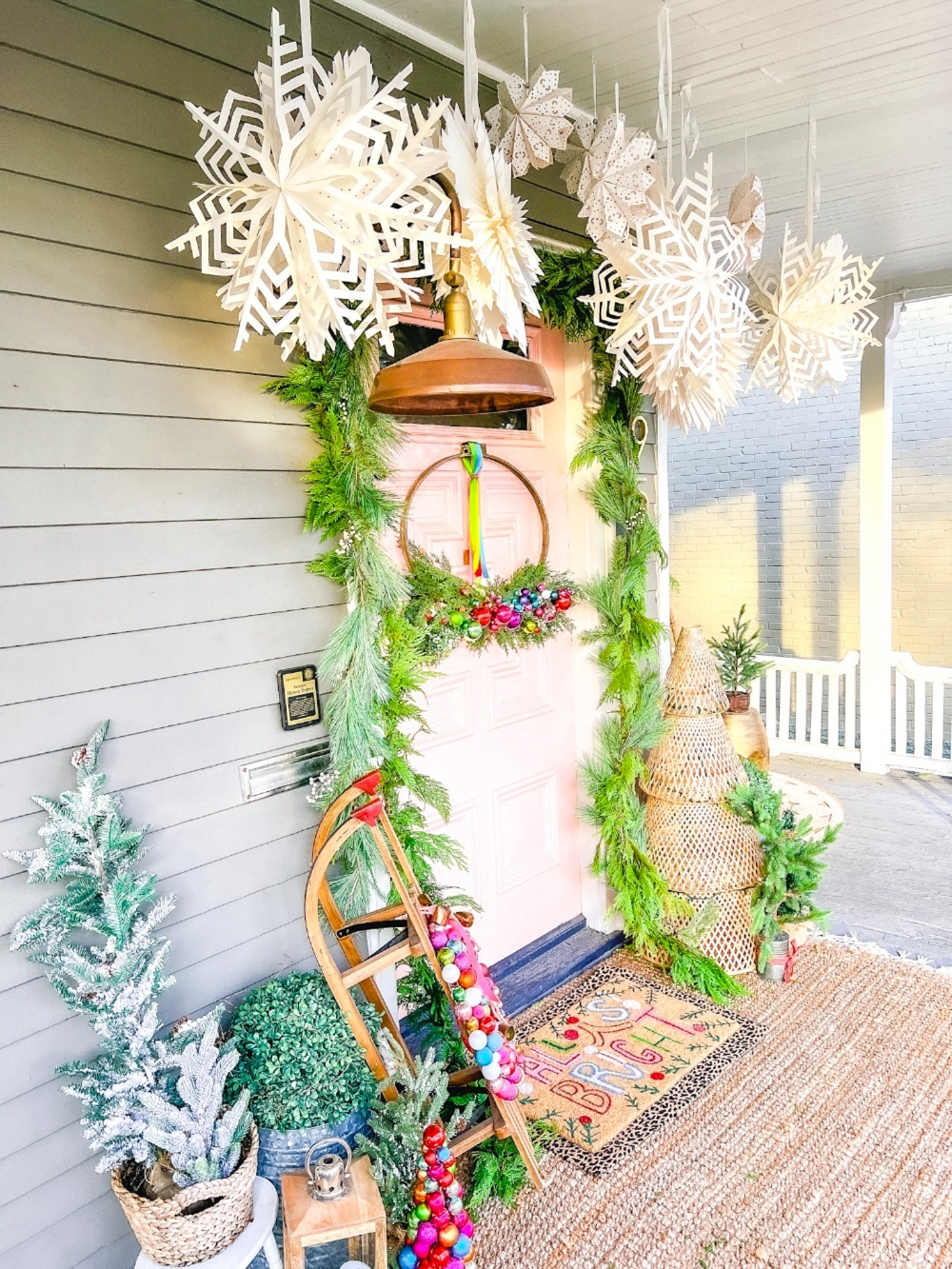 This year I added some color on our front porch by painting an anthropolgie-inspired doormat! I have tips and tricks if you are interested in painting a doormat for your home too!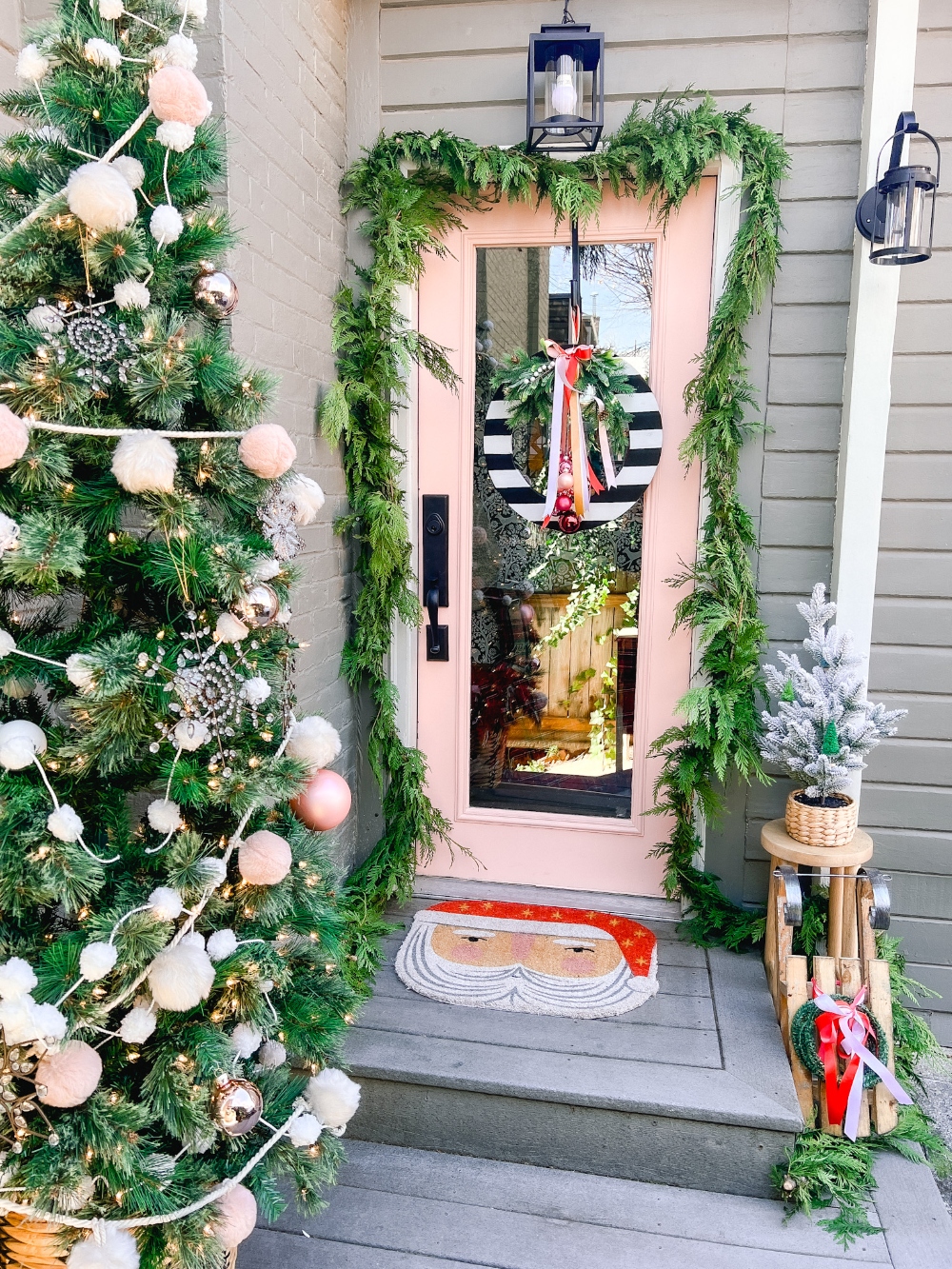 I also made over our side porch and finally painted the door to match our front door. It feels so much happier!
Adding Color to the Staircase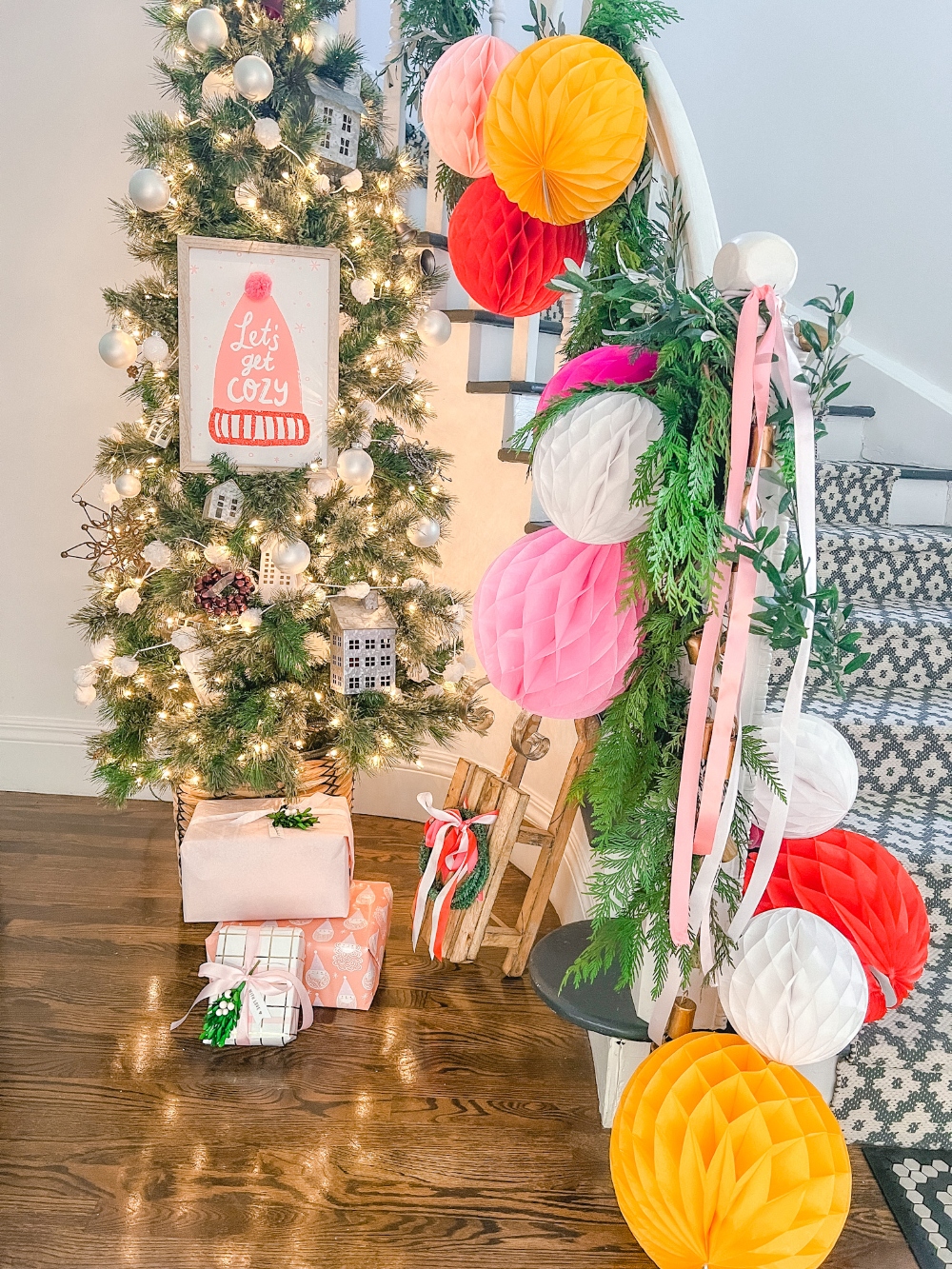 I am a little obsessed with honeycomb balls for the holidays! The spiral staircase when you first walk into our home is something I fell in love with. I layered garland up the railings and then arranged colorful honeycomb balls at intervals all the way up the stairs! I used different sizes and I love how bright and happy it looks!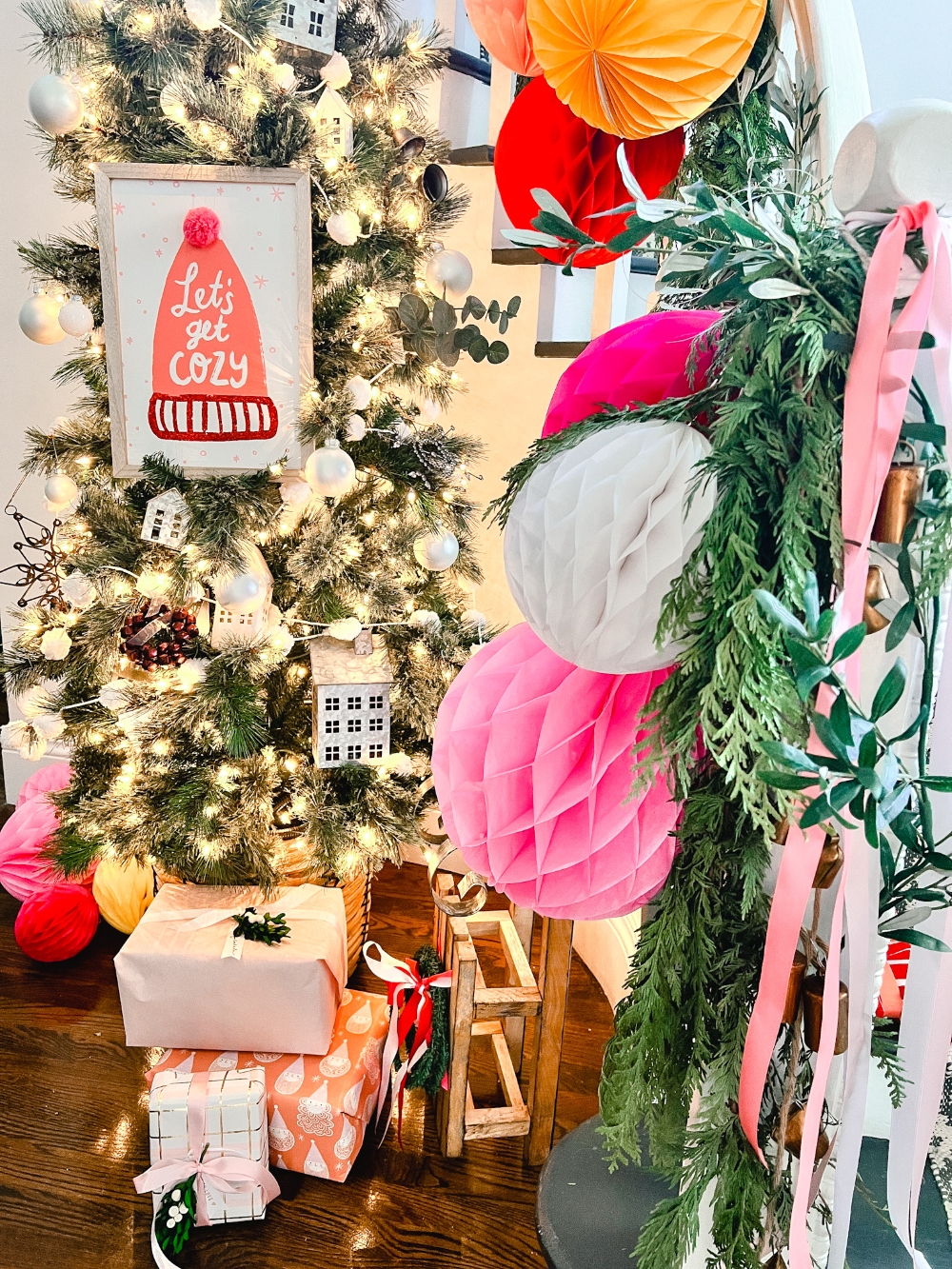 New Colorful Office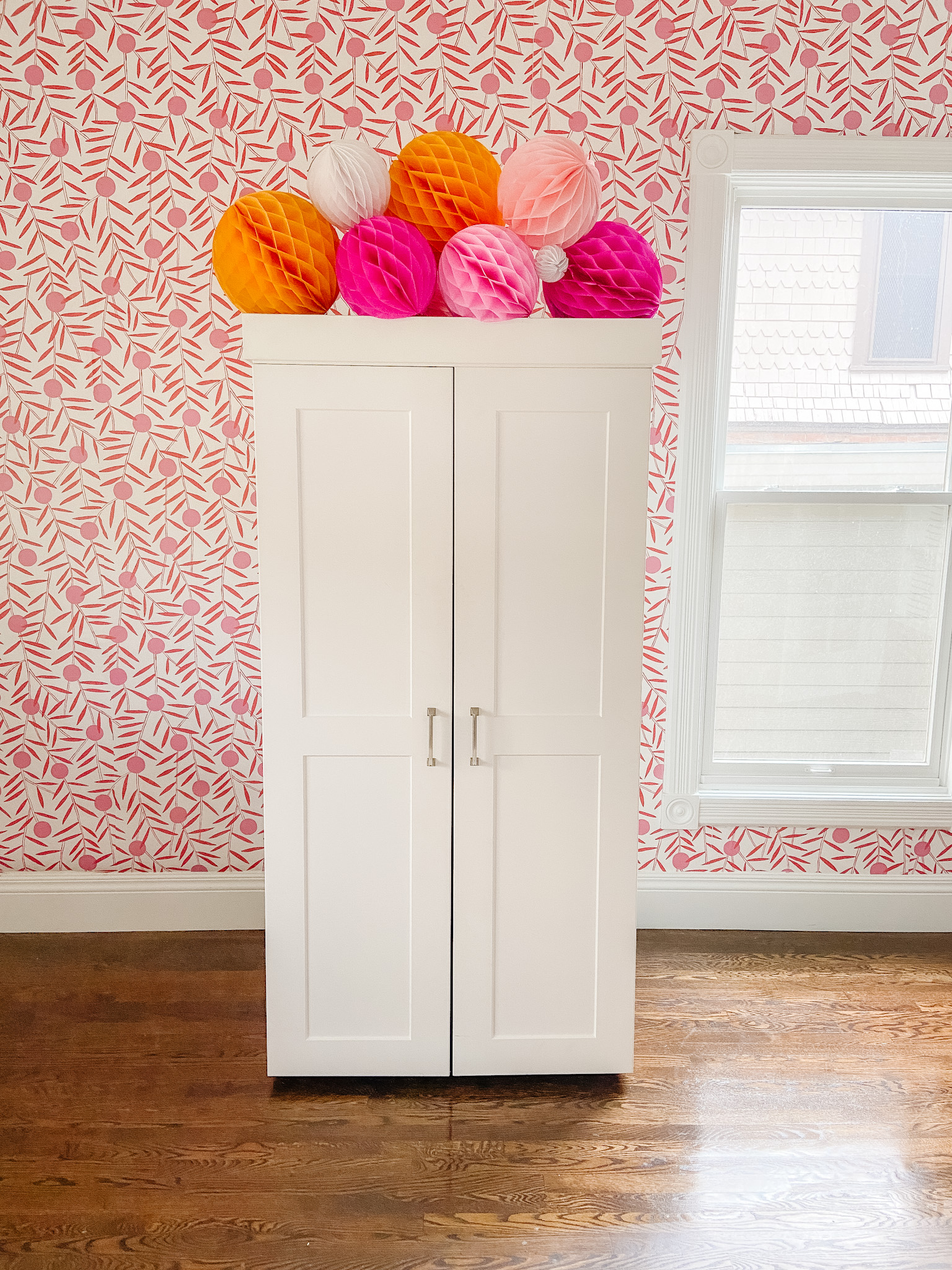 I am right in the middle of an office makeover. I was so thrilled to receive the most BEAUTIFUL Hygge and West Bloom Wallpaper for that room (#gifted). The bright colors bring so much light into my workspace! I will be writing up a post all about installing peel-and-stick wallpaper as soon as I have the room finished!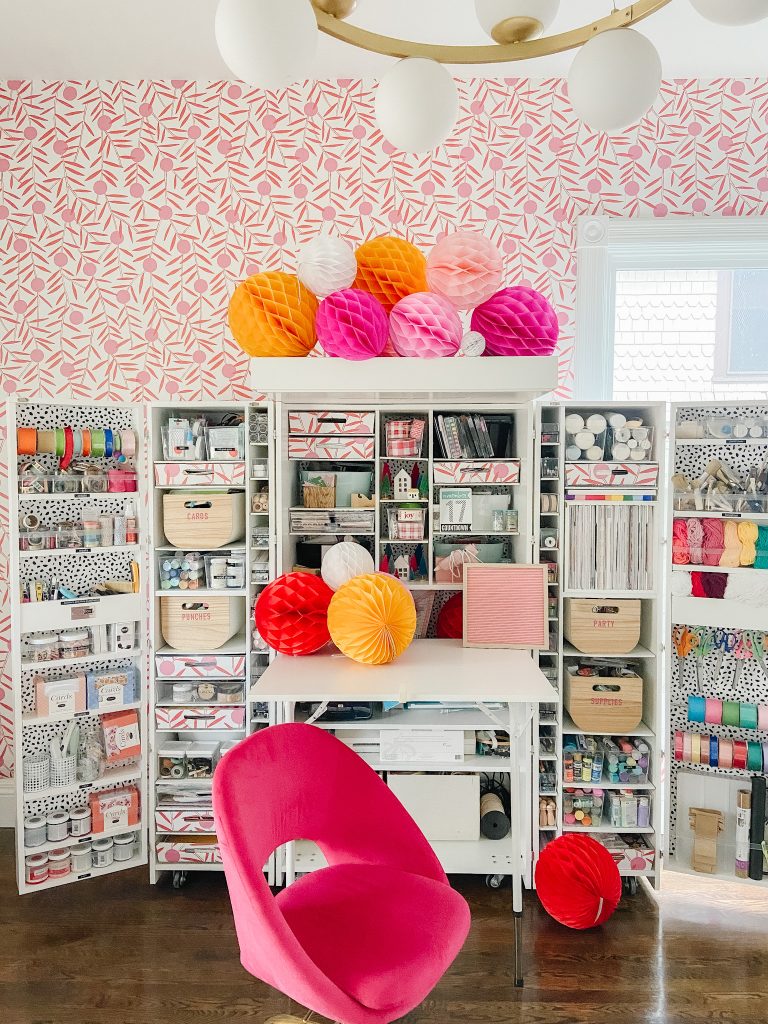 I decorated my Dream Box with some little holiday houses and trees. Then I added matching round honeycomb balls on top and it is such a happy room now!
Whimsical Colorful Holiday Dining Room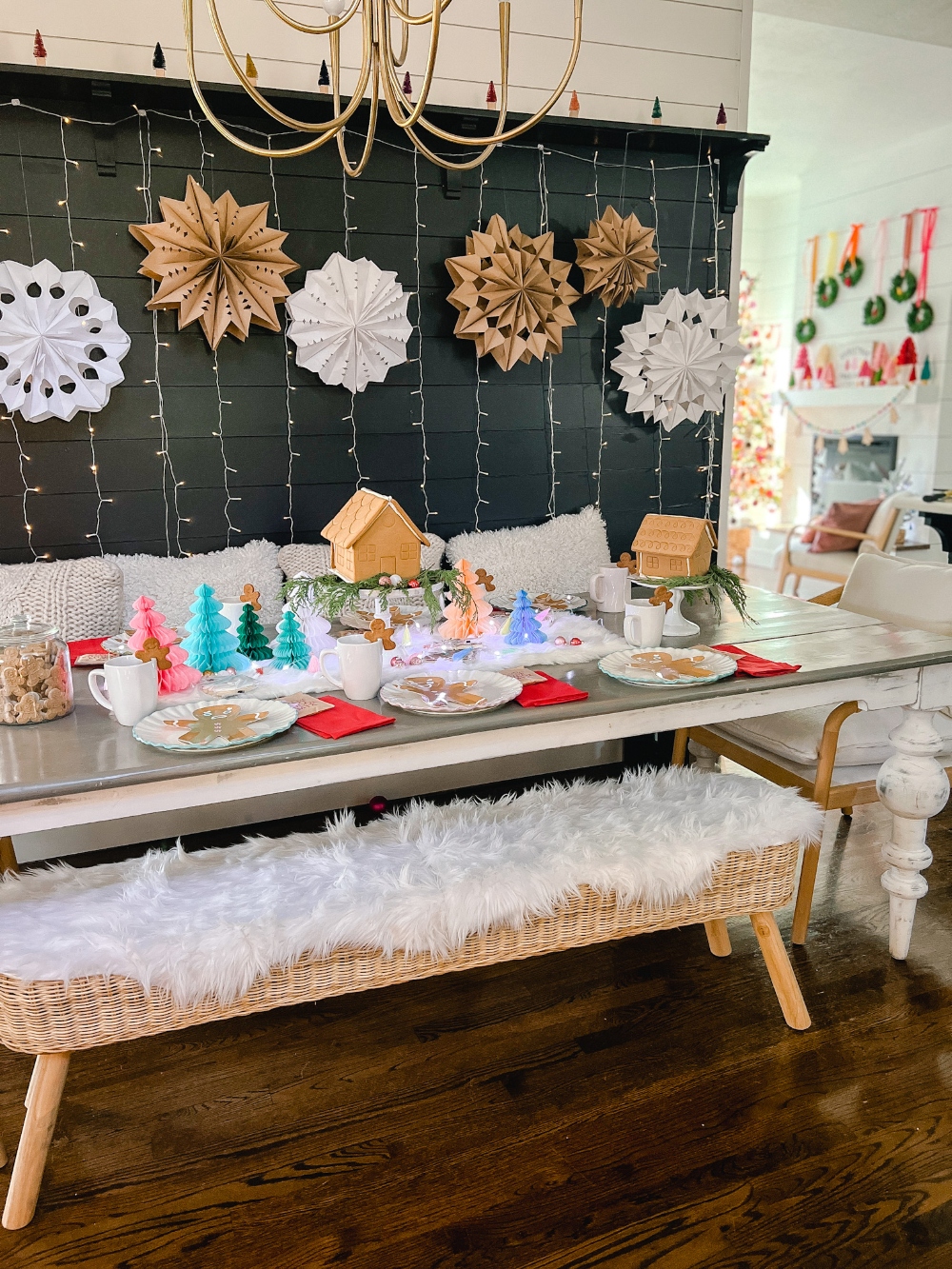 One of our favorite traditions is family gingerbread night! I created a whimsical centerpiece with gingerbread houses and honeycomb trees. Plus tassel lights and the cutest gingerbread men plates.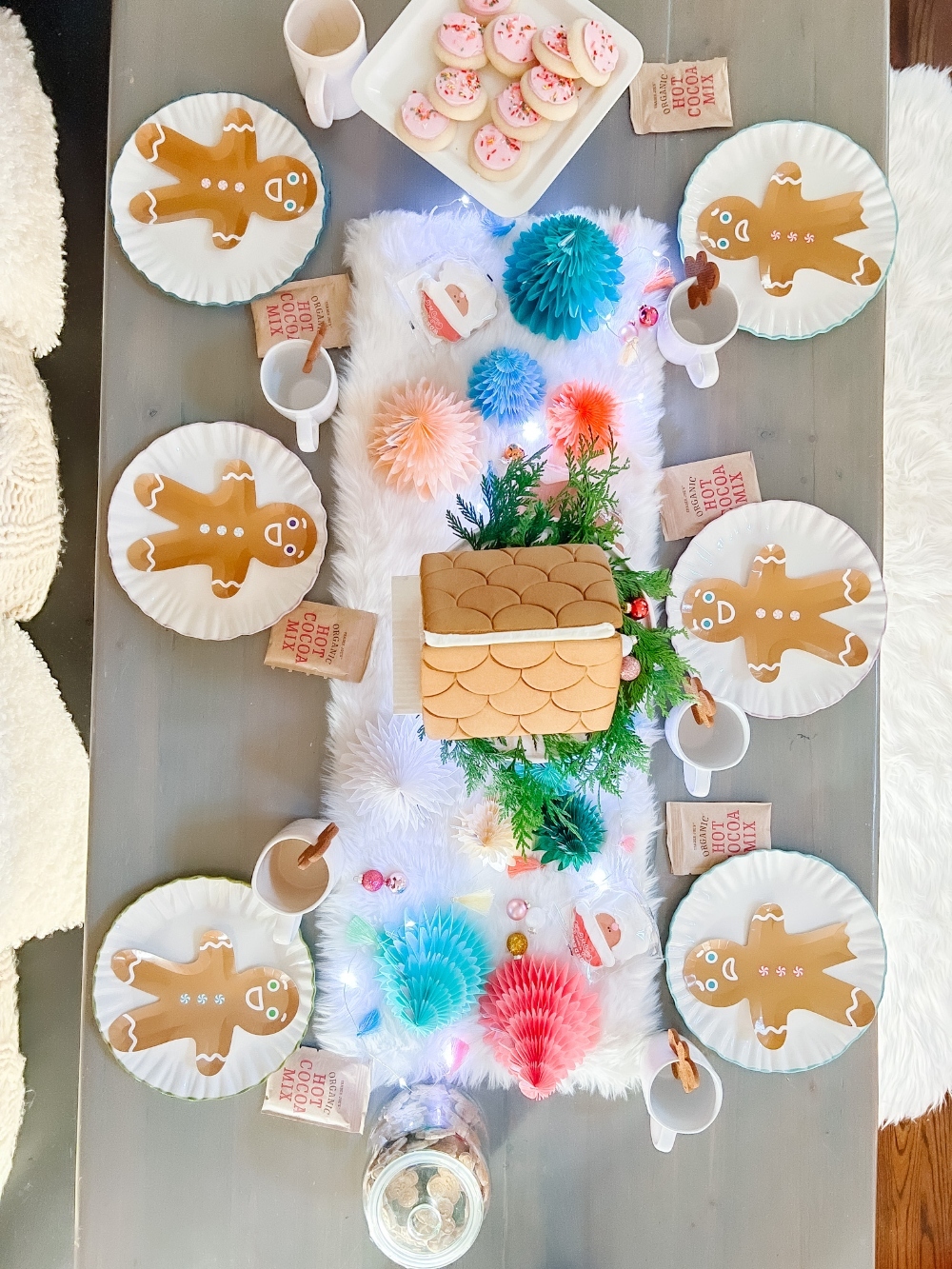 I wanted the room to feel magical so I hung curtain ombre lights and made some giant paper snowflakes. If you want to find out how to make some for your home, check out the Tik Tok video I made!
Pastel Colorful Family Room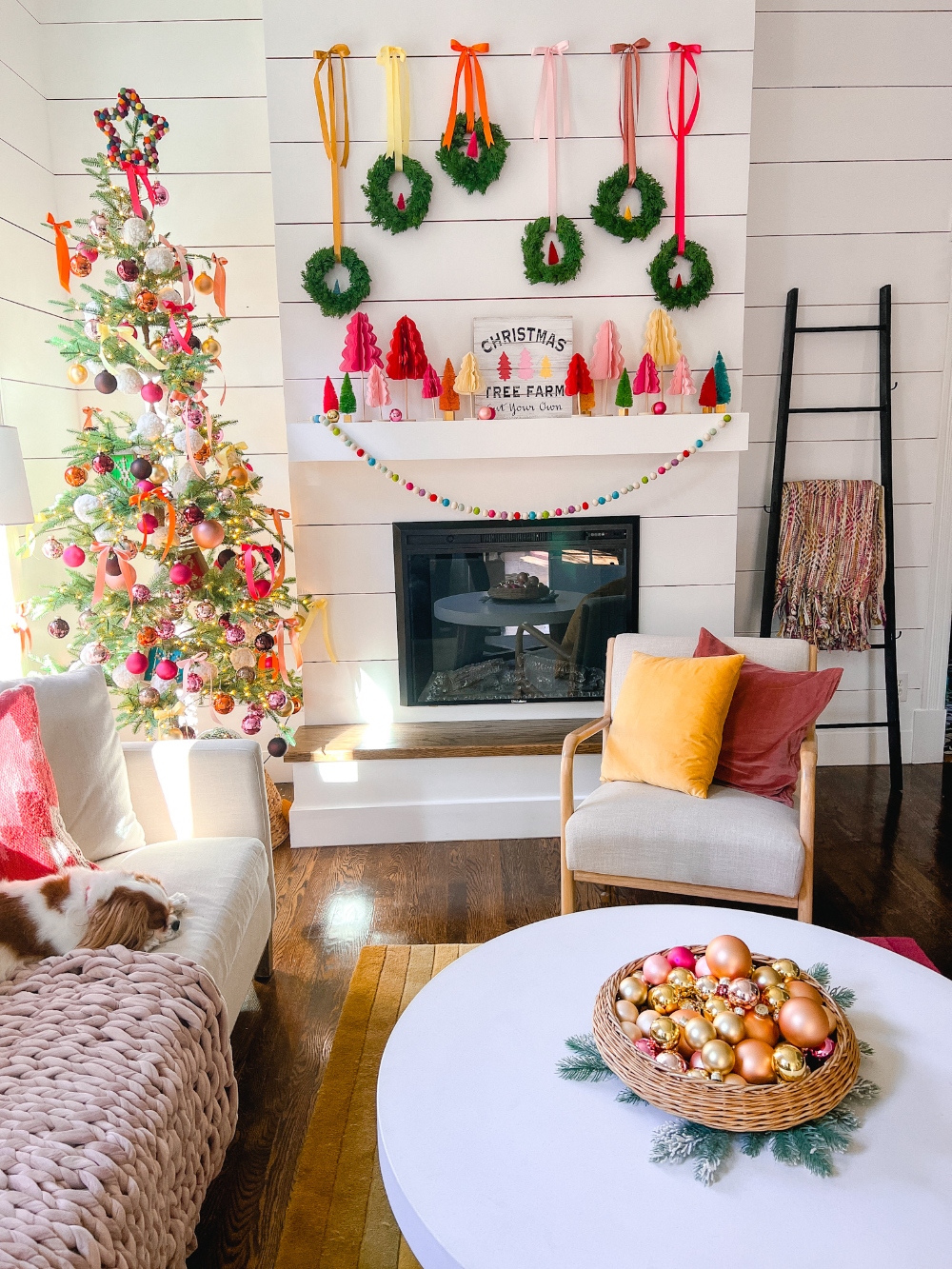 I fell in love with this rainbow rug. It's really going in my new office, but I decided to use it for the holidays this year first! I love the yellow, pink and orange tones. This is what inspired my whole holiday color palette this year!
I have been using the colorful bottle brush trees from Hobby Lobby for a few years. I added some https://tatertotsandjello.com/diy-tissue-paper-holiday-trees/DIY tissue paper trees. Now I have a mantel full of trees!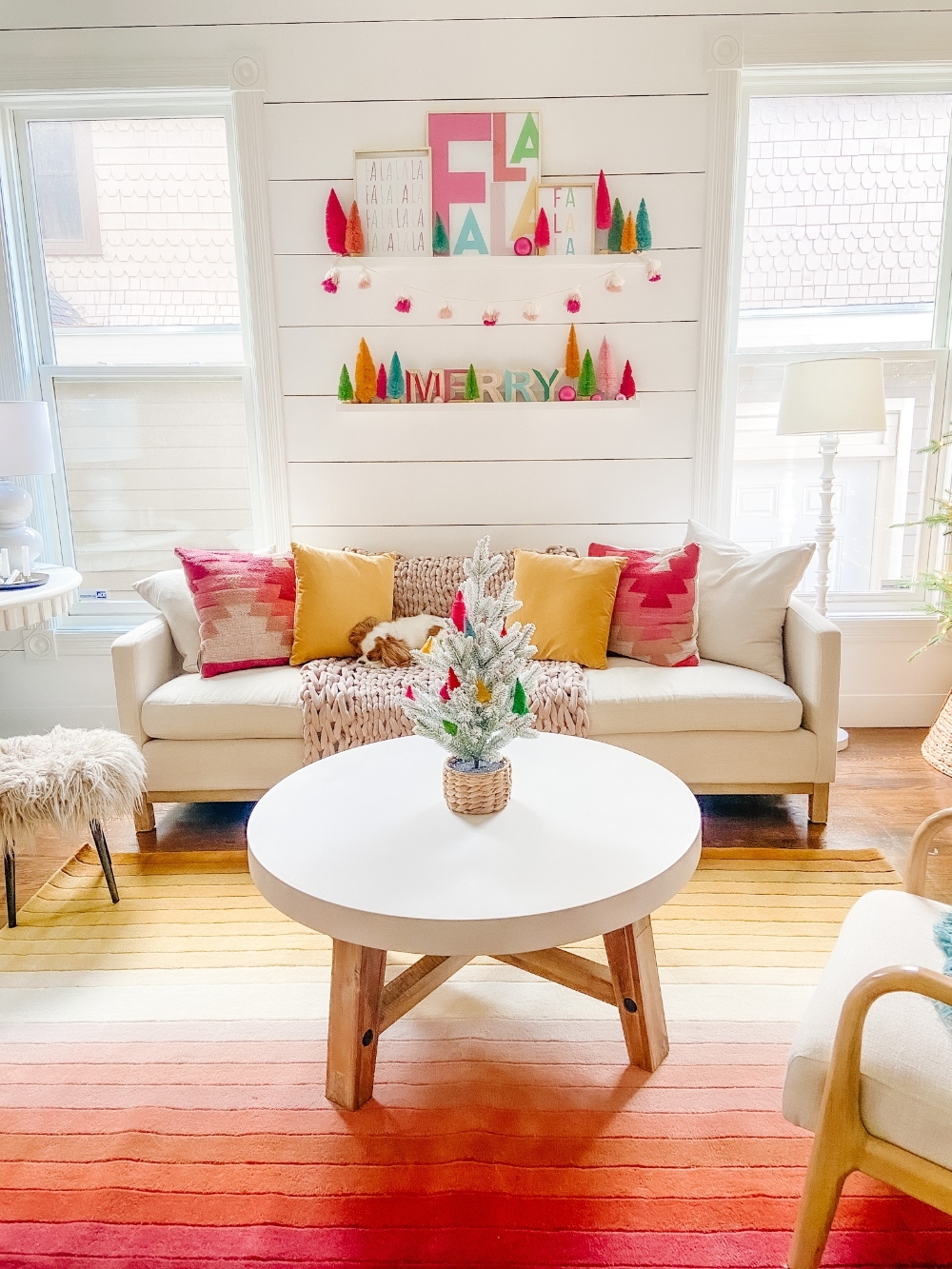 I also created some free colorful art that I have displayed on the shelves above our couch. You are welcome to print some off for your home!
Colorful Elements in Our Bedroom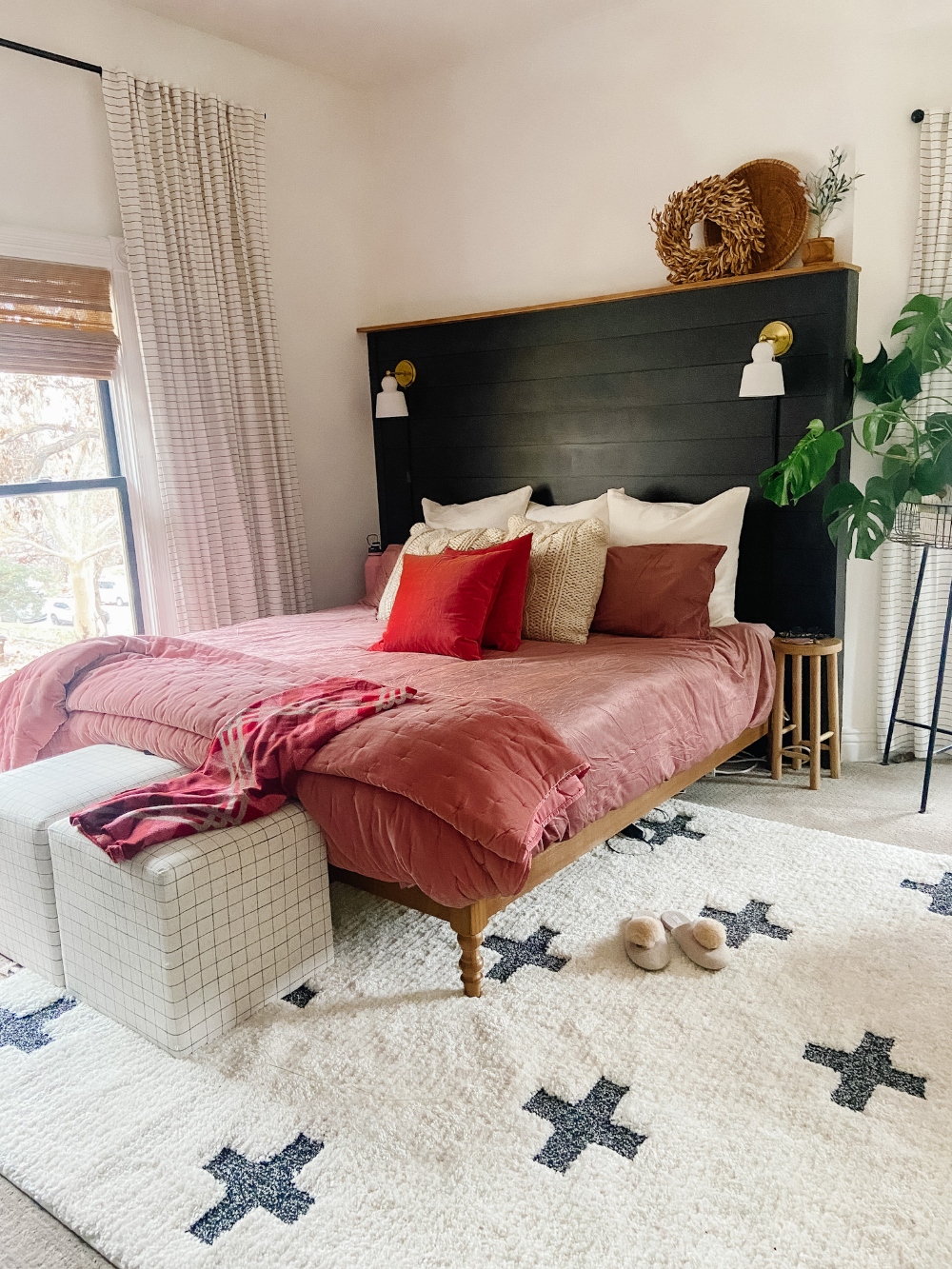 We just finished our bathroom and our bedroom is almost done — it feels so great! We had been sleeping in a room in our attic for the past two years with only one skylight window. So it feels amazing to have a real bedroom again! We build this DIY wood headboard and since the only wall that was big enough to put our bed is pretty narrow, we have tiny nightstands. So I hung lights on the headboard and it feels so cozy! Luckily the other side of our room is huge with a bay window. I ordered the most amazing Leanne Ford bouclé couch that is going to fit perfectly in that space. I also have plans for the wall on the other side of our bed. So stay tuned on those projects!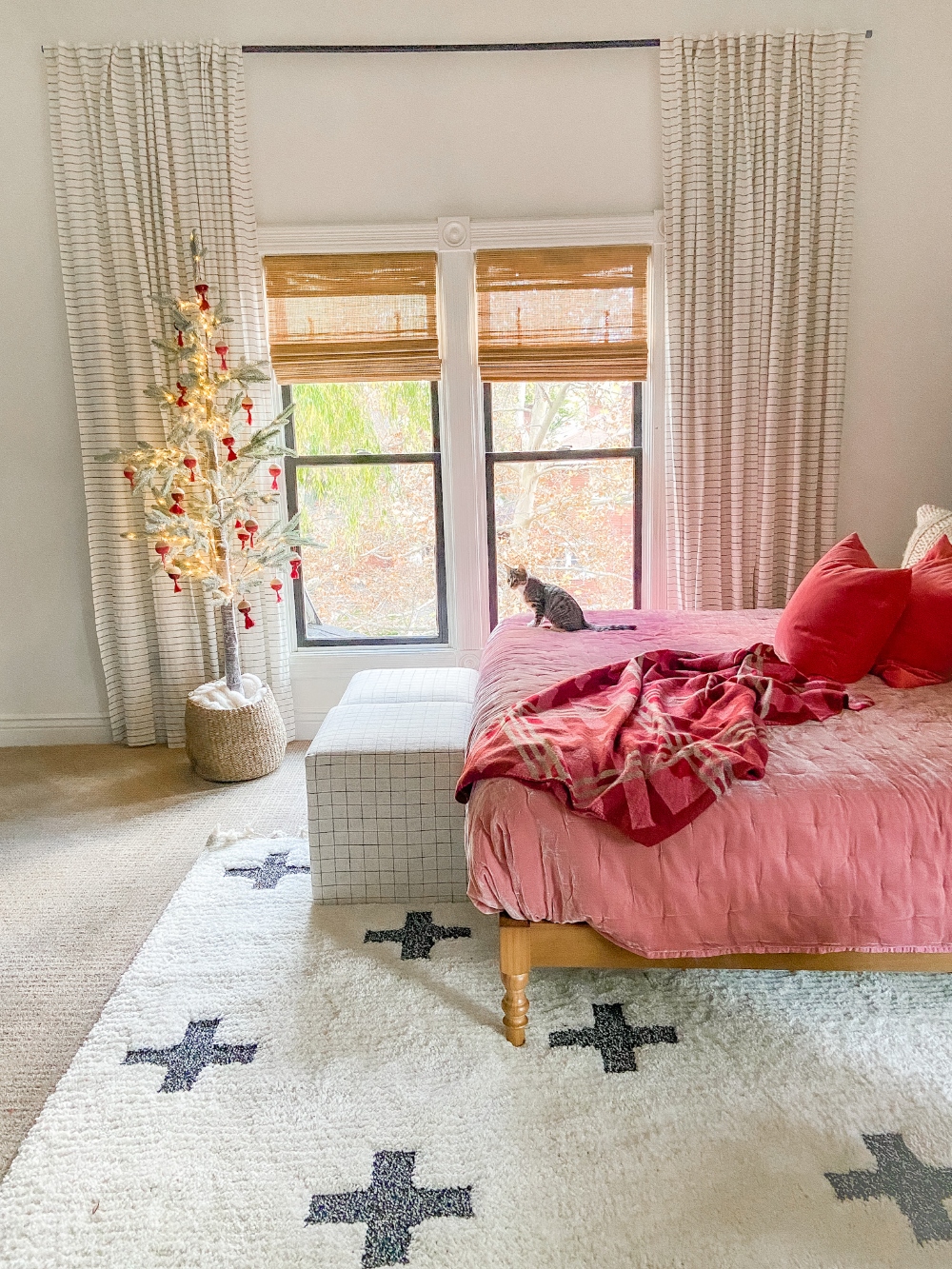 I put a little tree in our room and made some Crate And Barrel-inspired ornaments. We also redid the small fireplace and I added some bright and colorful elements like this hanging ornament wreath and some whimsical garlands!

Adding Colorful Elements in Our Apartment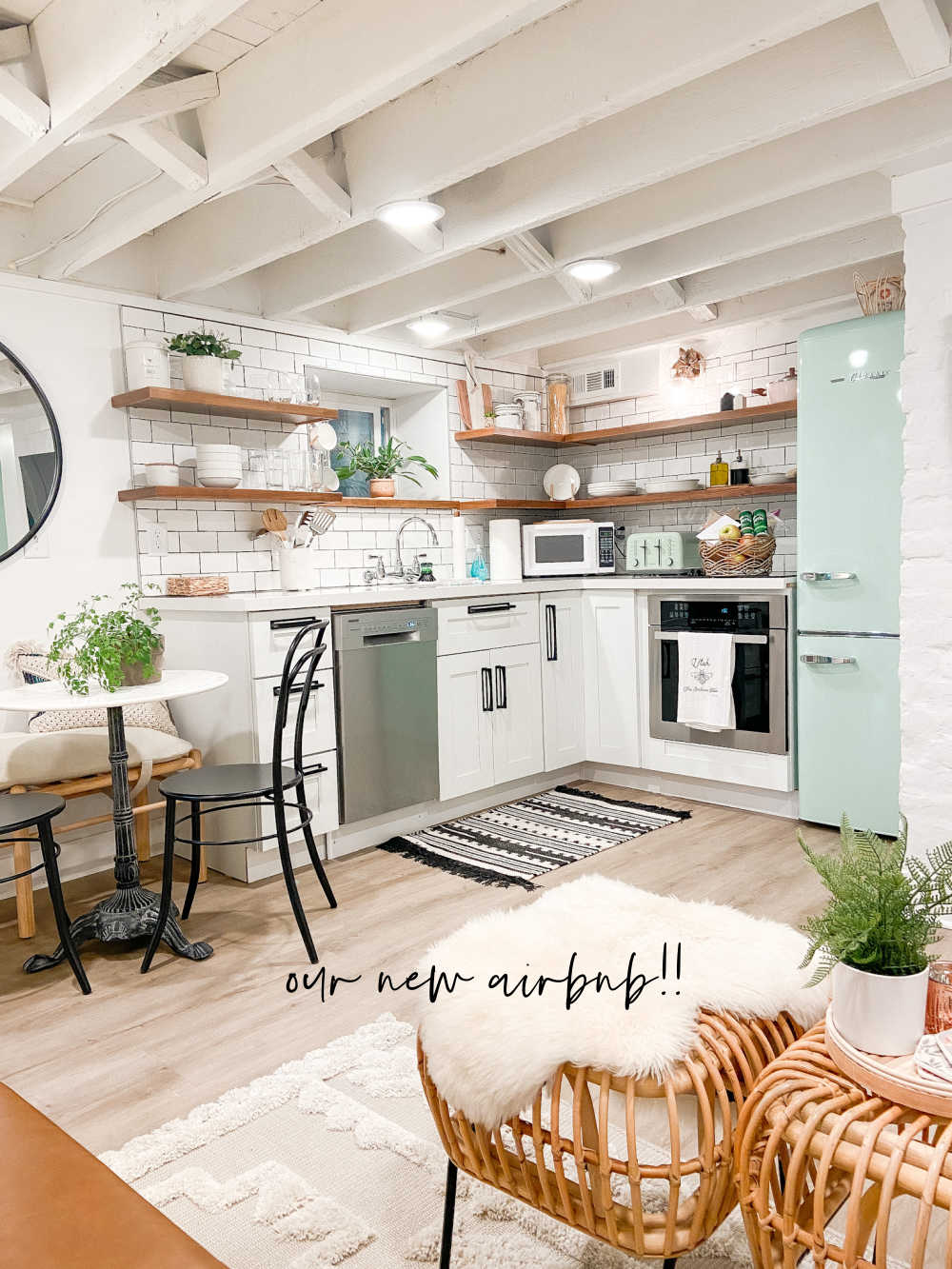 Here's our little apartment we built on the main floor! I had so much fun designing this little space. The main kitchen and living room have a lot of mint elements like the mint fridge. For the holidays I added a little gingerbread sign that matches the fridge.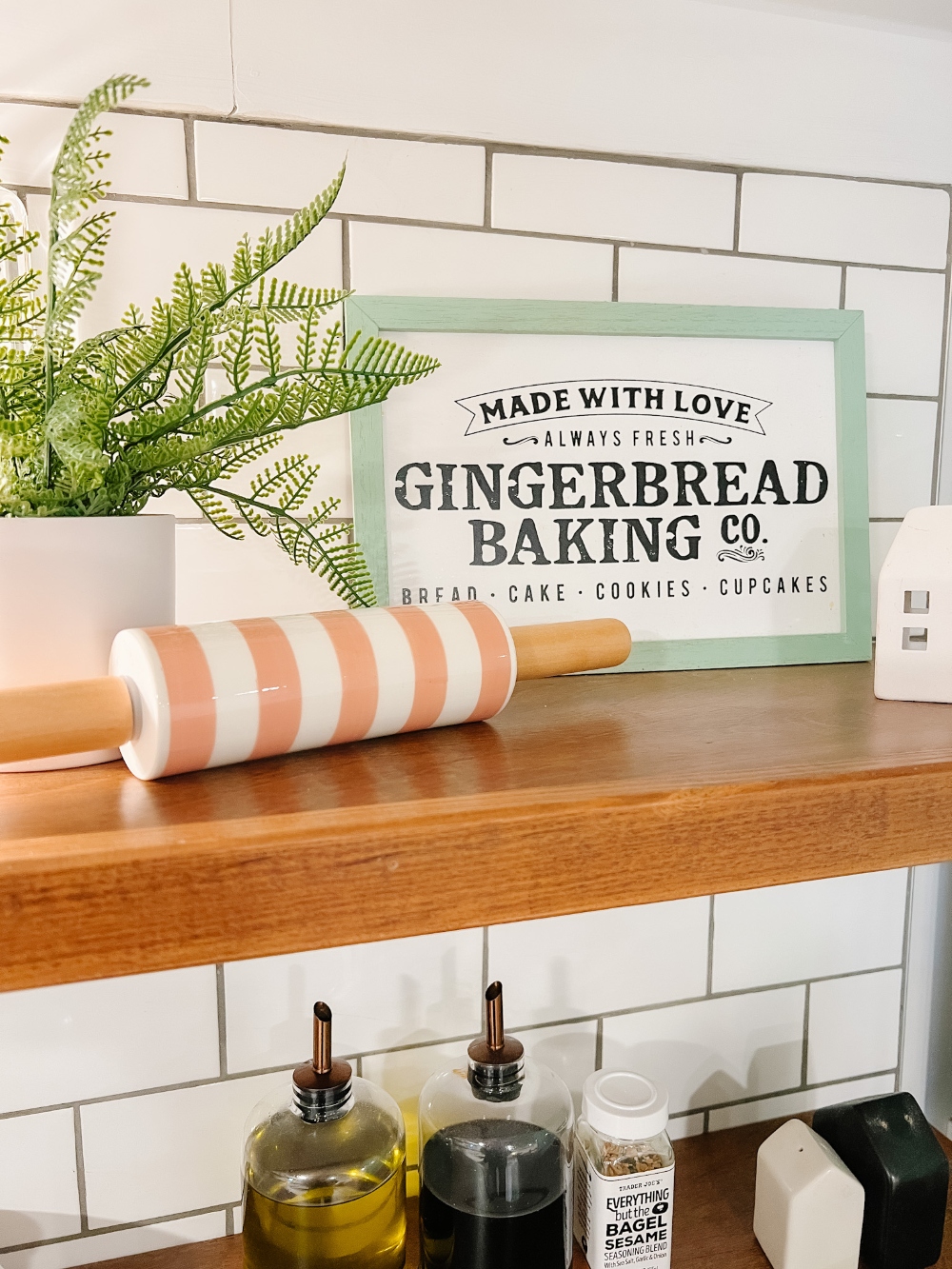 In the living room I added a cozy throw and a colorful holiday pillow. I just had to add a little tree to the space too!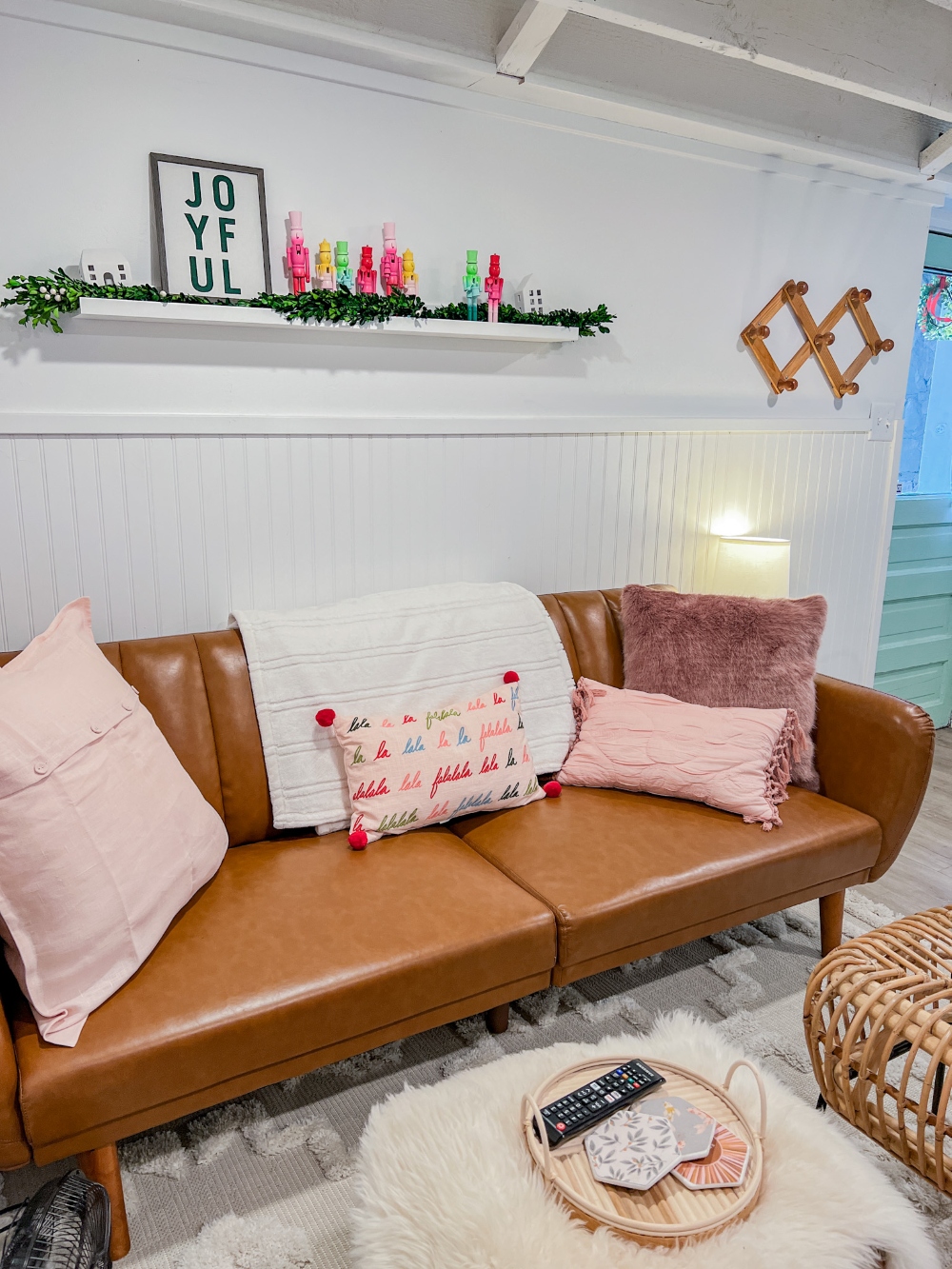 We redid the tiny bathroom and I love the colorful wallpaper!
Adding Color in the Laundry Room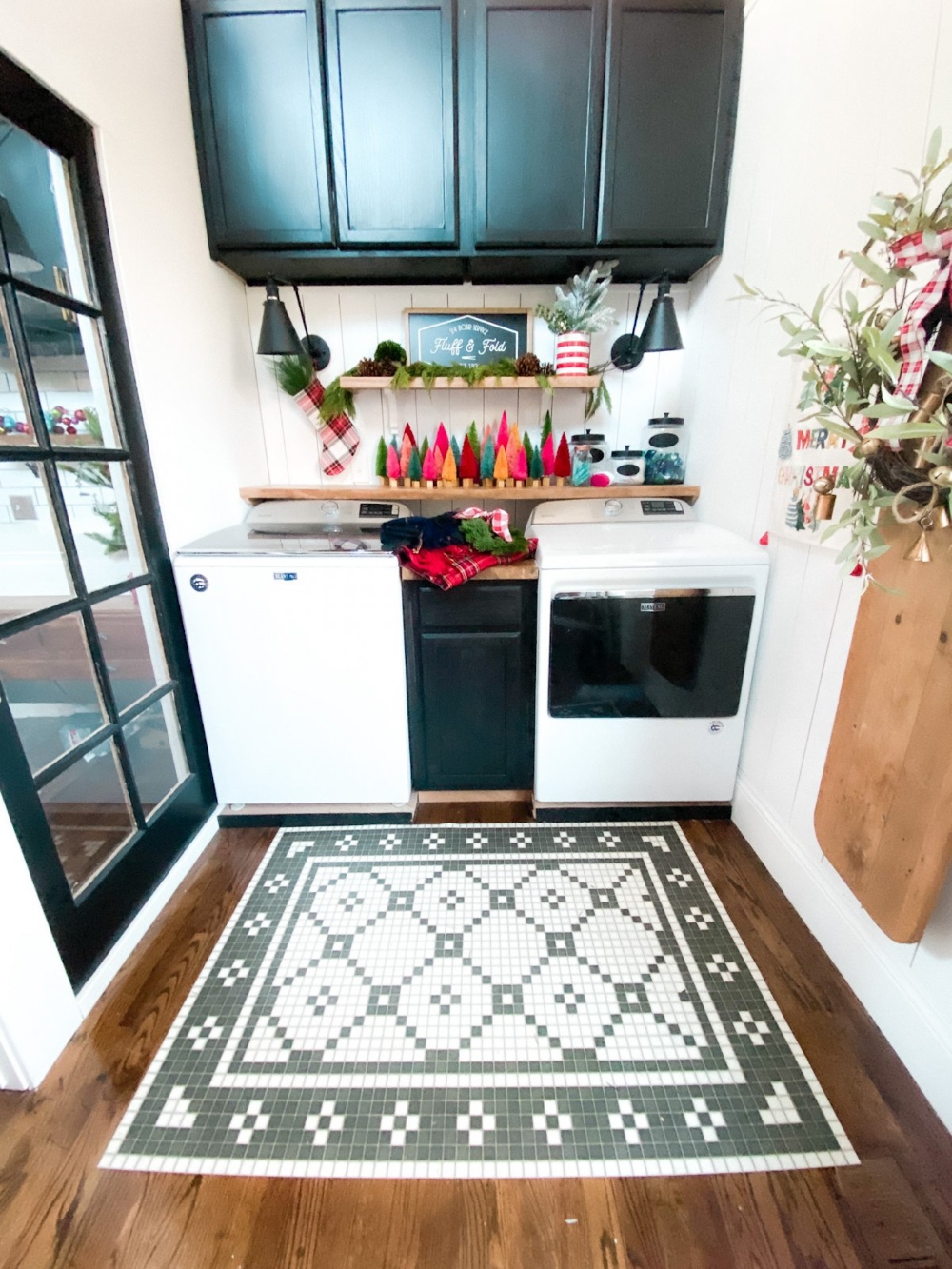 Behind our kitchen we have a little butler's pantry and laundry room. This back space is where our new oven is and this is our baking area! More colorful bottlebrush trees in the laundry room brighten up the space and now laundry doesn't seem so boring!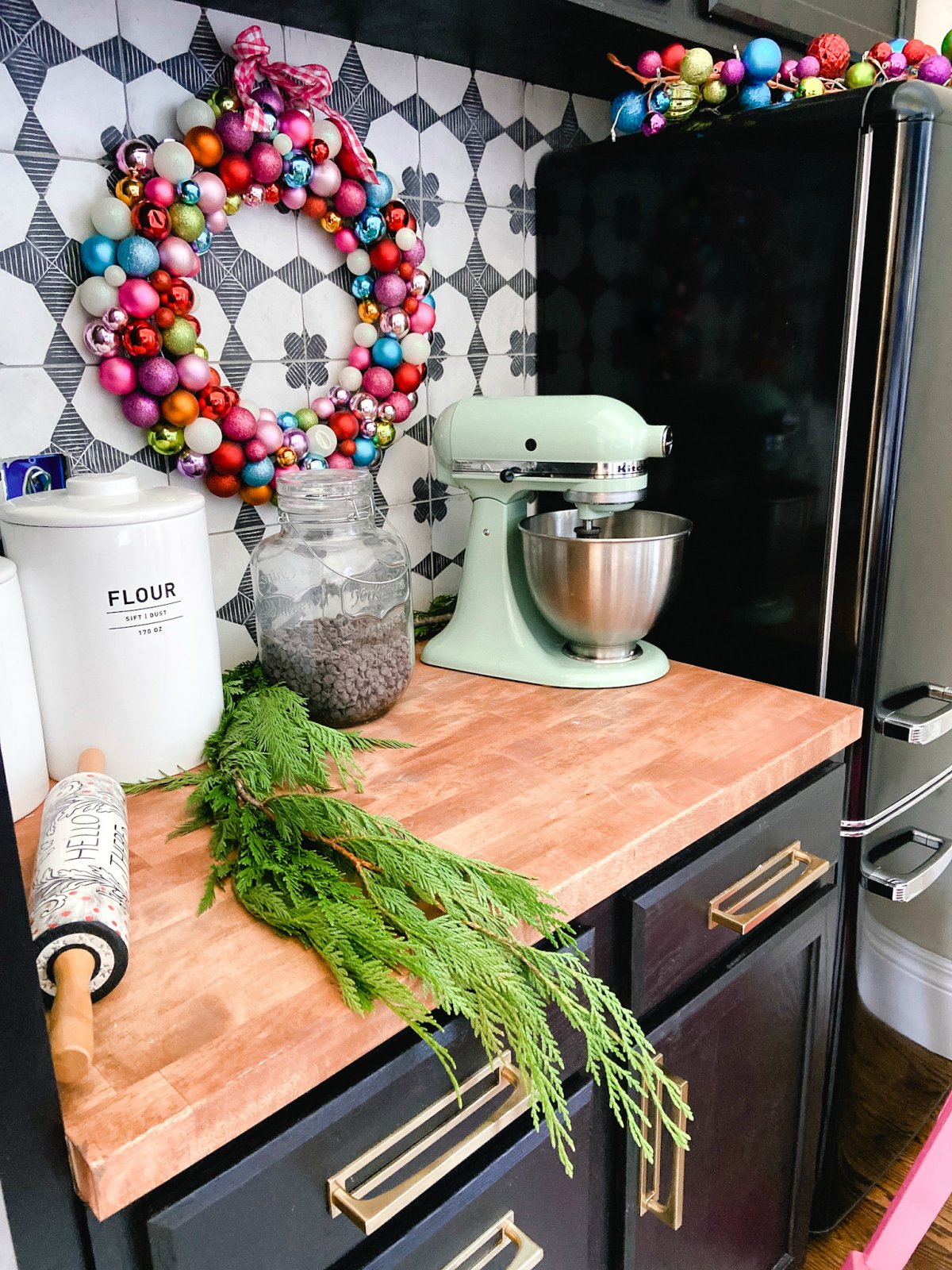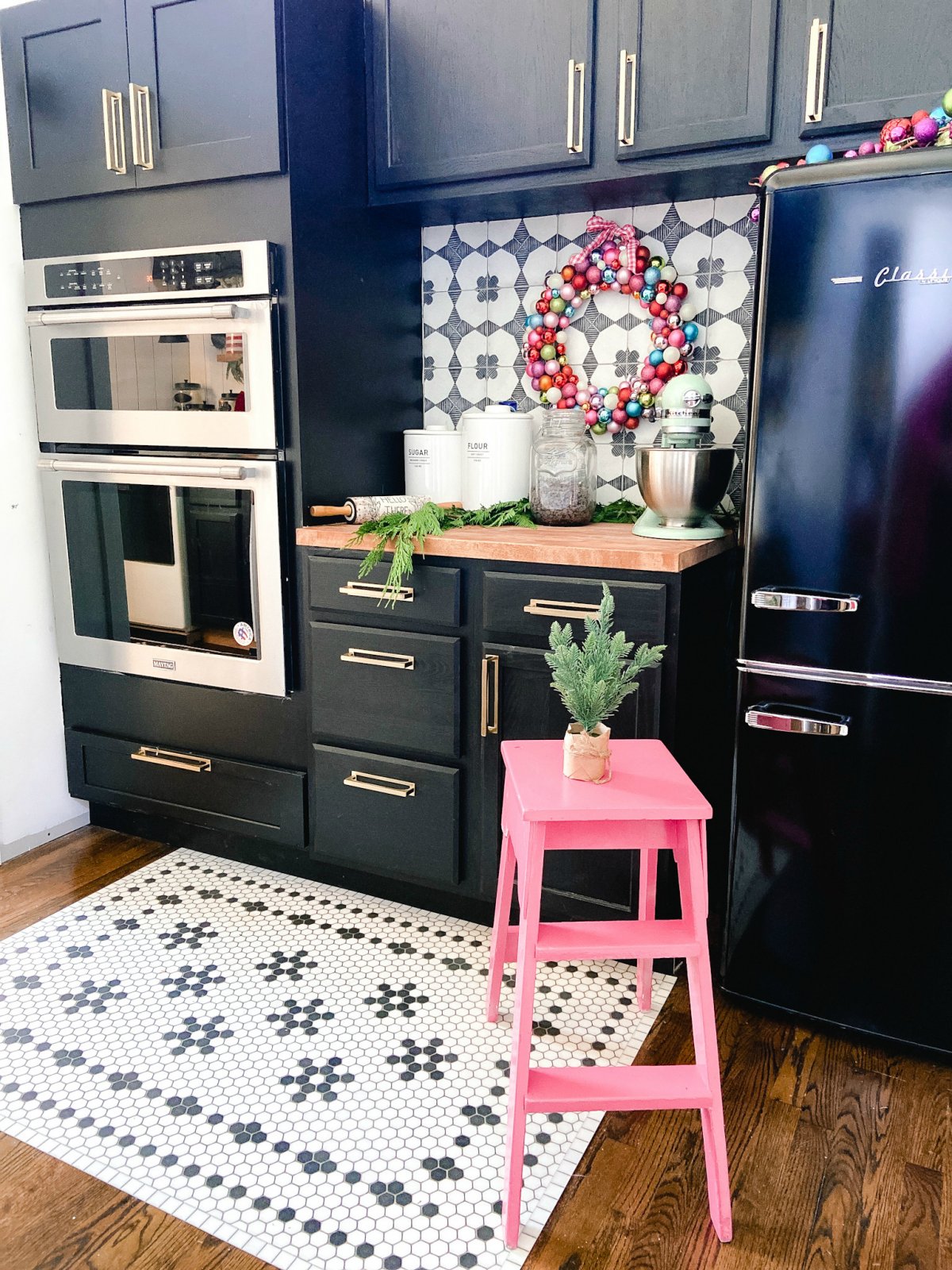 Thanks for stopping by our 1891 cottage! The next colorful home on our list is Mum Little Loves! You are going to love Hayley's holiday home!
Here are all of the homes on the tour! Be sure to see the gorgeous ideas!
IT'S A COLORFUL LIFE 2021 CHRISTMAS TOUR SCHEDULE
MONDAY:
TUESDAY:
WEDNESDAY:
THURSDAY:
FRIDAY:
Join in the party on Instagram by posting your colorful Christmas decor and using #ItsAColorfulLifeTour!
See you there!
Merry Christmas Friends!
xoxo