3-Ingredient Gingerbread Sugar Scrub. This gingerbread sugar scrub smells like cookies while it exfoliates and invigorates the skin and it's a perfect gift idea for anyone on your list!
3-Ingredient Gingerbread Sugar Scrub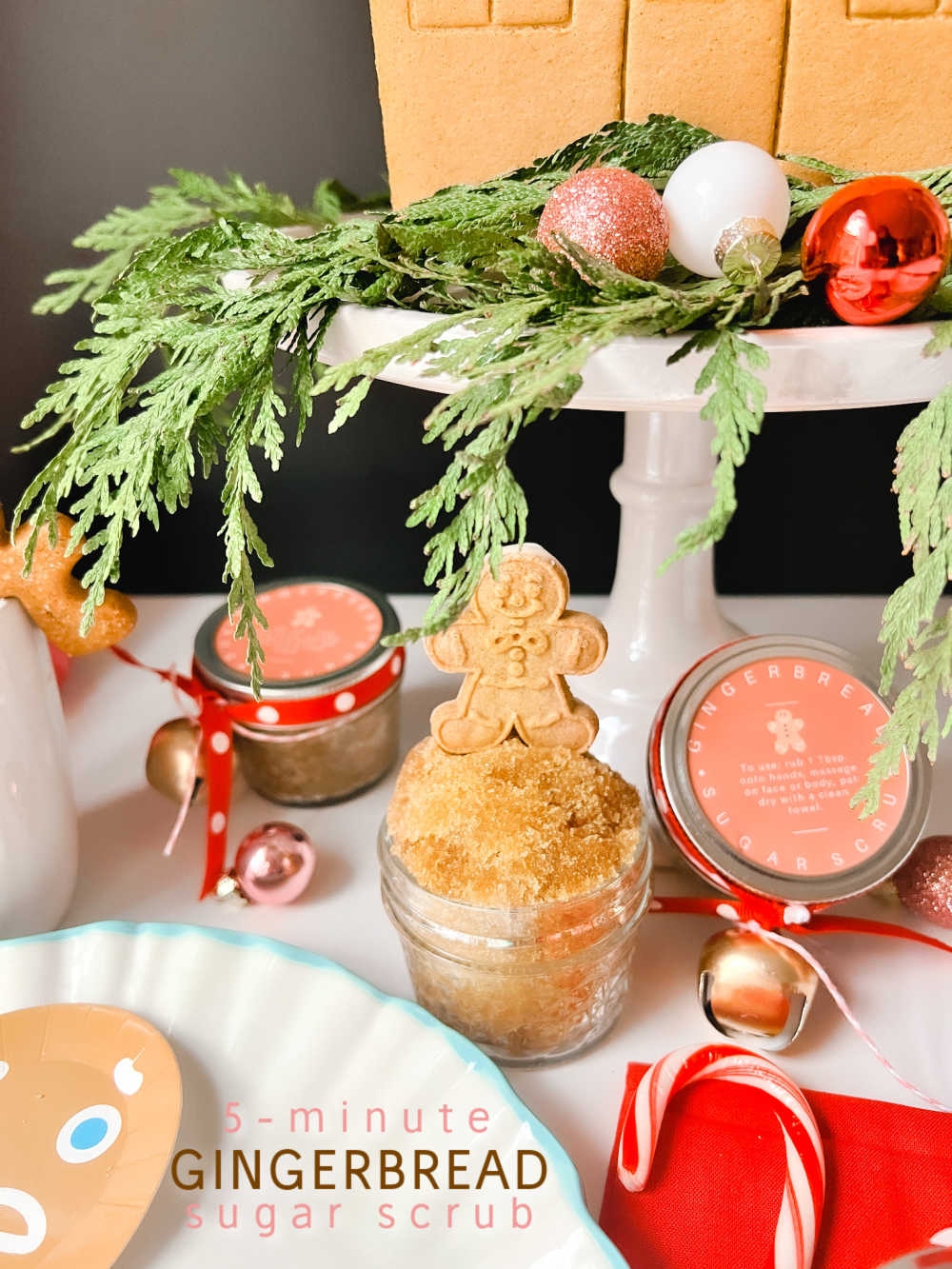 Are you looking for a neighbor or teacher gift? What about a homemade stocking stuffer? I have a gift idea that is great for anyone on your list! Homemade sugar scrub! I use it in the shower to exfoliate and moisturize my skin all year round. One of my most popular posts is my 3-Ingredient Sugar Scrub. I's so popular because DIY sugar scrub is so easy and fast to make, plus it makes a wonderful gift! In that post I used lemon oil and it does smell heavenly. So I thought it would be fun to make a holiday sugar scrub recipe and what's better during the holidays than the small of gingerbread?
3-Ingredients and 5 Minutes to Make!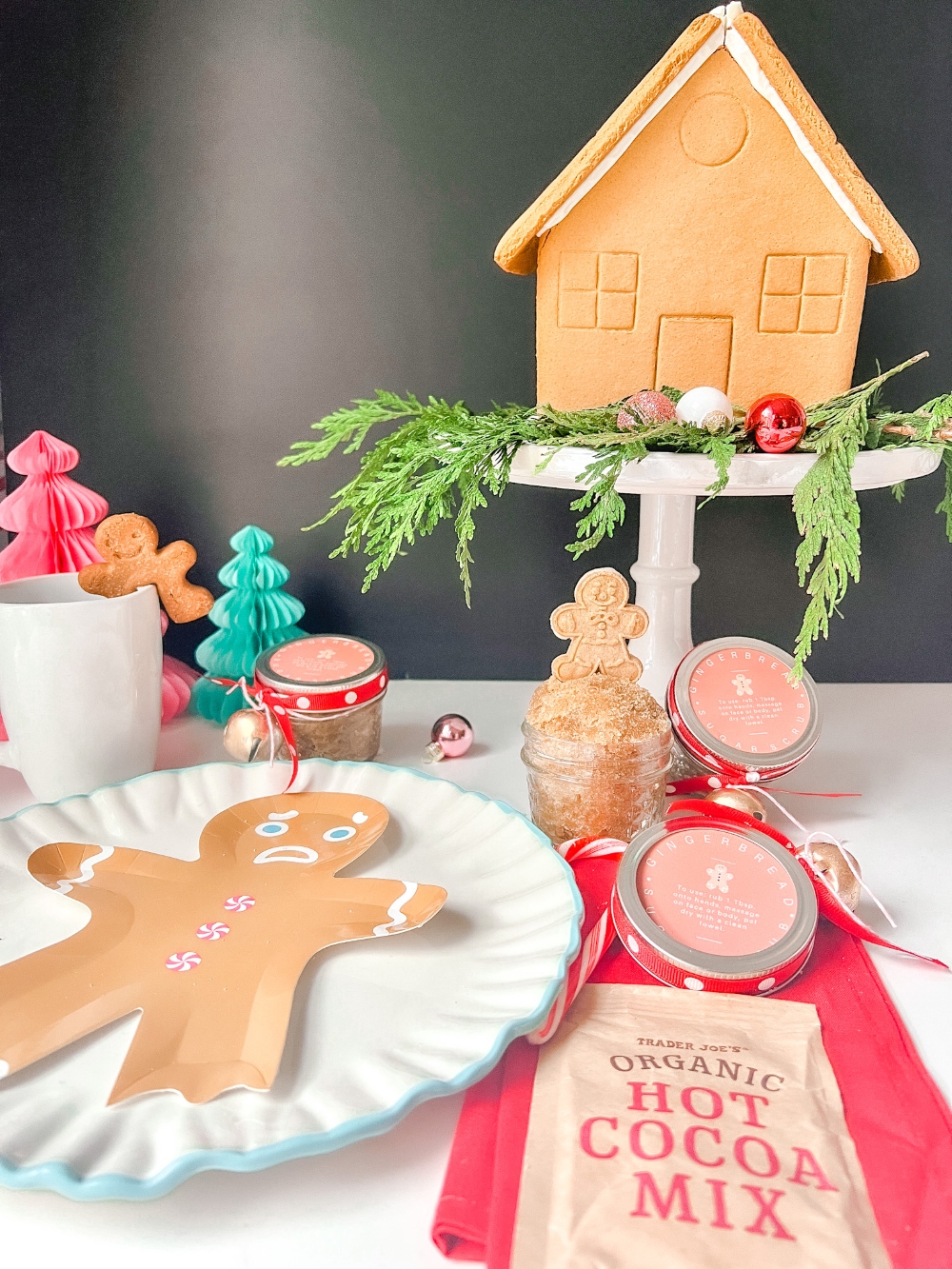 This is such an easy gift to give! You only need: coconut oil, cinnamon oil and brown sugar! I did add a few drops of nutmeg oil to mine but that is an optional ingredient! In 5 minutes you will have a handmade gift to hand out to anyone on your list. I make up a few extras to have on hand in case anyone unexpected drops by!
Gingerbread Party Favors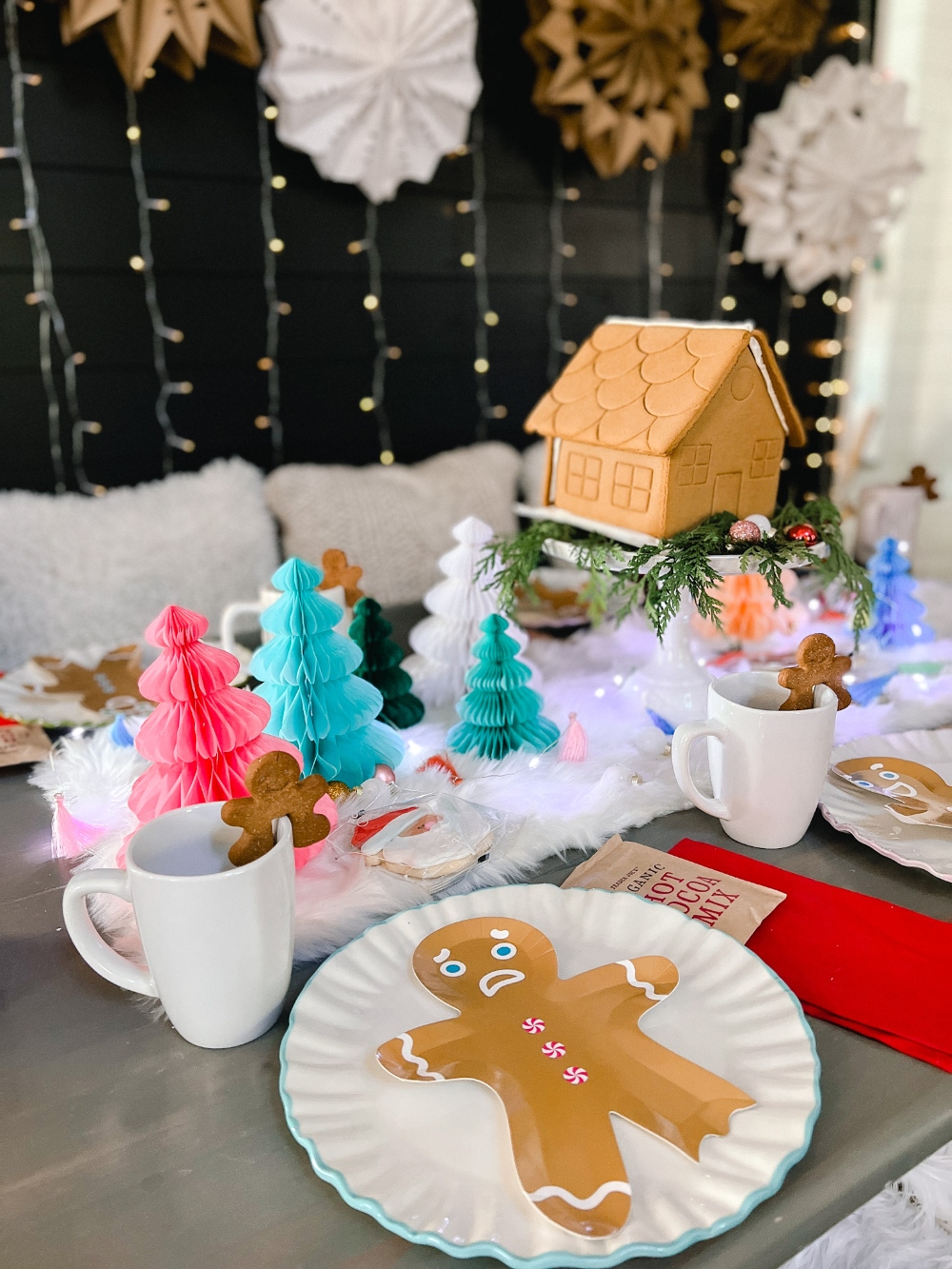 One of our favorite holiday traditions is our annual gingerbread party! I have my kids and their friends over and everyone decorates gingerbread houses! This year I thought it would be awesome to make little gingerbread sugar scrub favors to send home with everyone! I used small mason jars as containers. These containers would also be a great size for stocking stuffers!
What Makes Gingerbread Sugar Scrub Different From Regular Sugar Scrub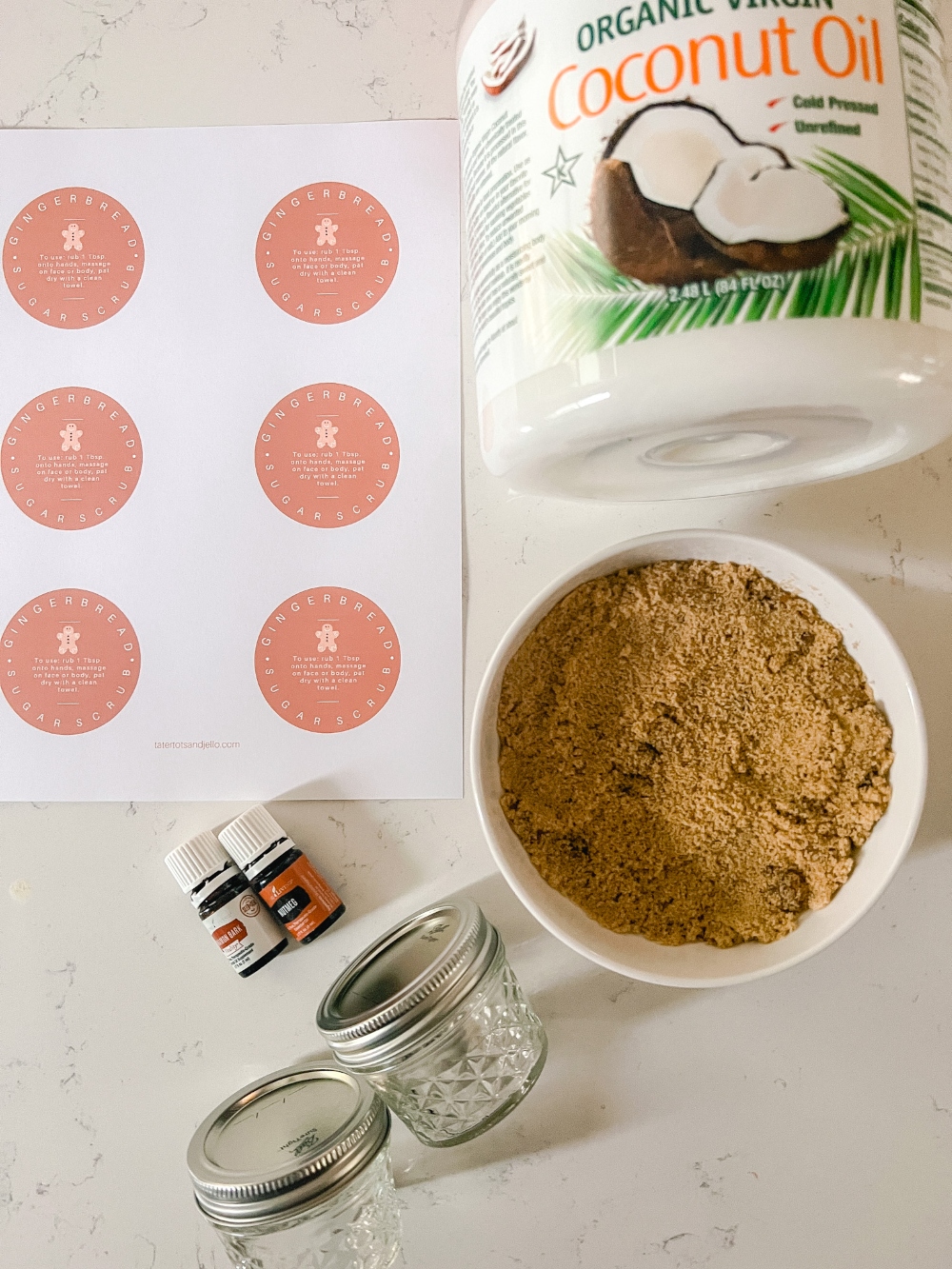 The main difference in this gingerbread sugar scrub is I switched out white sugar for brown sugar. The brown sugar gives the smell of cookies and a different texture. So combining brown sugar with cinnamon oil makes this scrub smell so sweet and heavenly!
What Are The Benefits of Cinnamon Oil?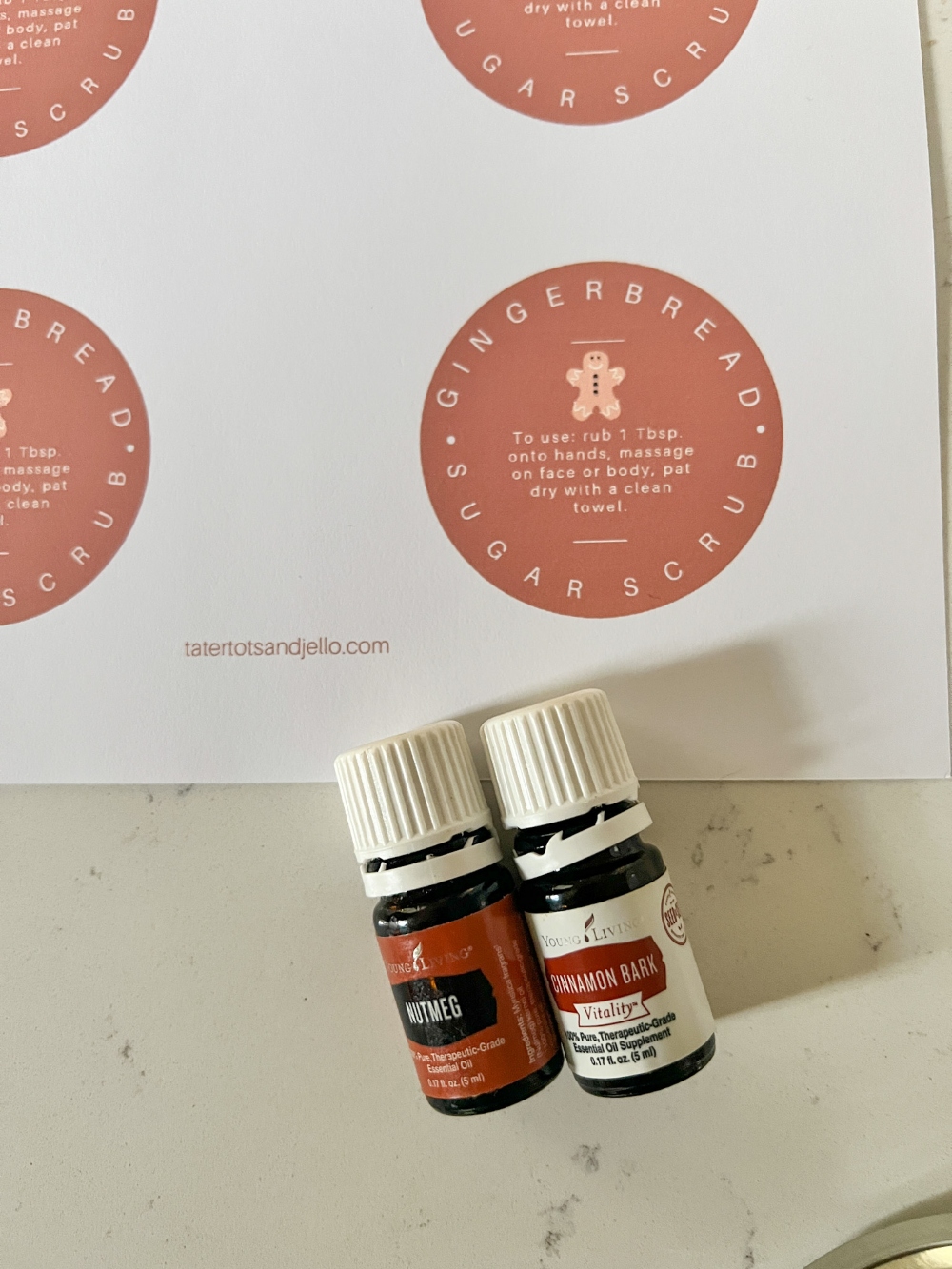 Did you now that Cinnamon oil is rich in anti-fungal, anti-bacterial, and antioxidant properties, cinnamon oil can effectively fight against the microbes contributing to skin problems. Cinnamon Oil can be used on your face too! Cinnamon oil can enhance skin health by reducing inflammation, redness, and swelling while also eliminating harmful bacteria, preventing acne, and soothing infections.
How Do You Use Sugar Scrub?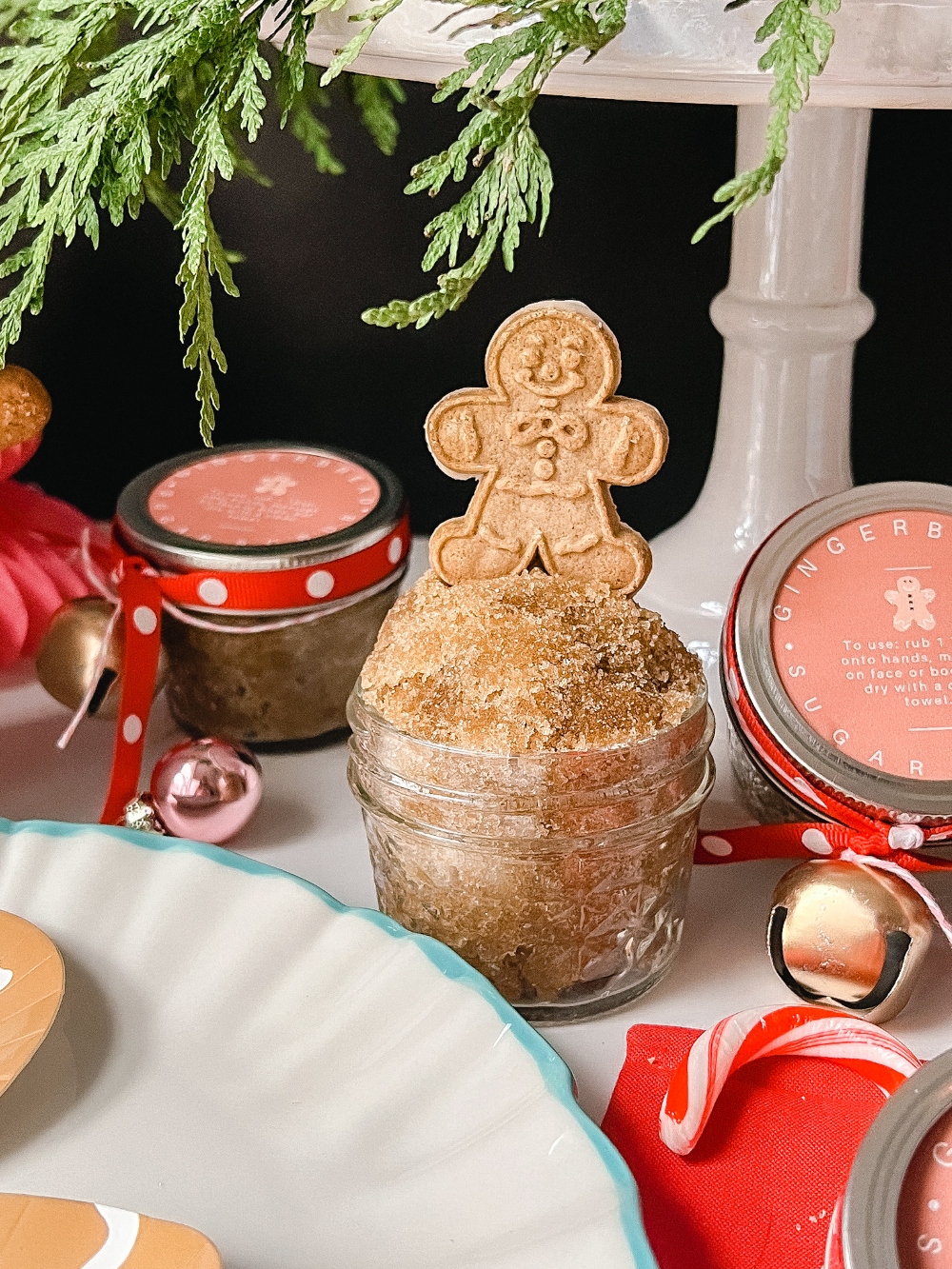 If you have never used sugar scrub, you are in for a treat! You only need a small amount of scrub. I put directions in the printable tag – but basically you take 1 Tablespoon and rub it between your hands, warming up the coconut oil in the scrub. Then rub it on your face and/or body. Massage it into the skin. The brown sugar exfoliates dead skin cells. The coconut oil moisturizes skin and the cinnamon has so many benefits and smells so good! It will keep your skin moisturized all year round. My kids love making it and using it too! It is a great teen craft!
Free Cinnamon Sugar Scrub Printable Tags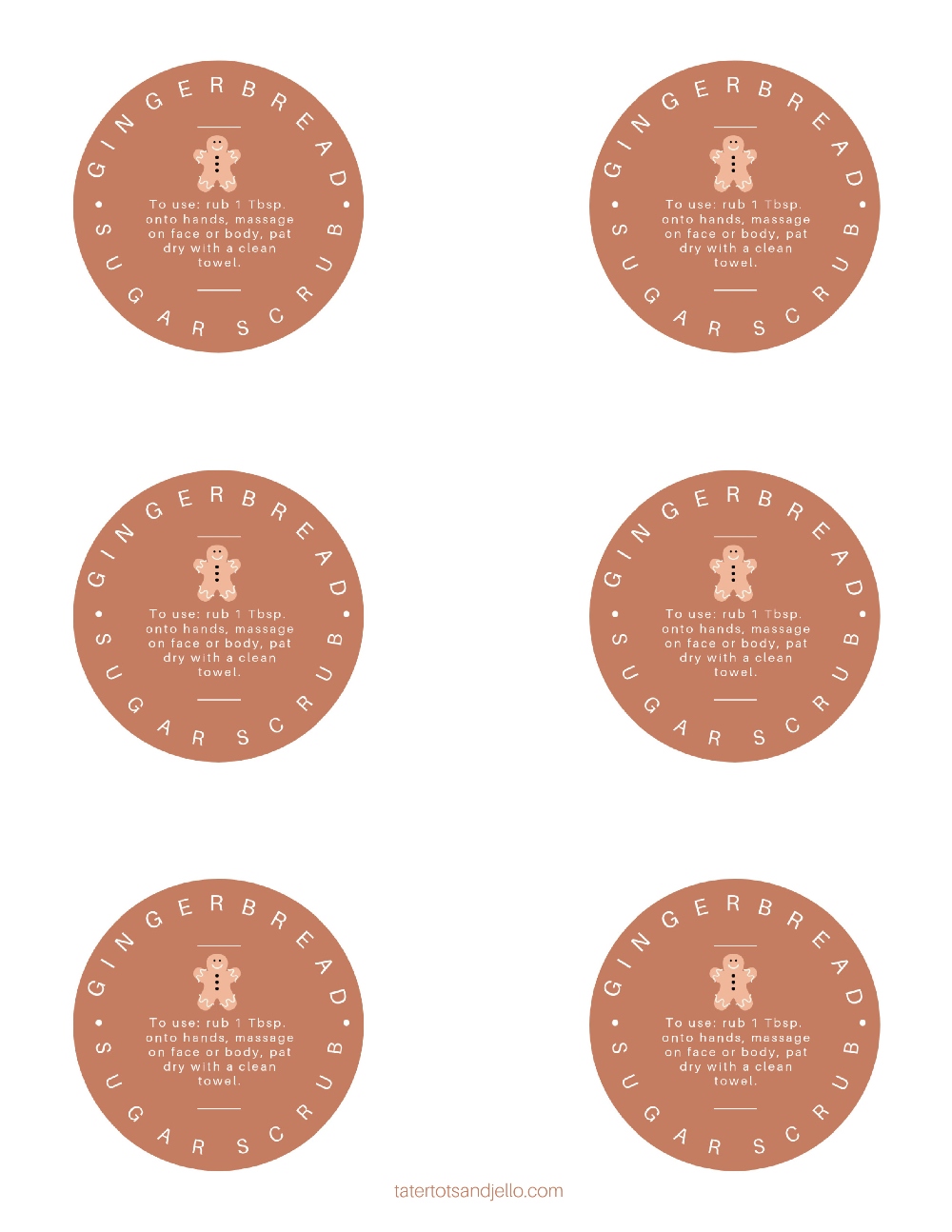 I made up some FREE tags that you can attach to your homemade sugar scrub. The tags have instructions on them. You can put the person's name on the line above the gingerbread man and your name on the line below! So easy! I love a practical gift idea! To print, just click on the link below that says "print out Your Free Gingerbread Sugar Scrub Tags". Right Click on the link and save it to your computer. Then click on the file and print it out.
Gingerbread Sugar Scrub Instructions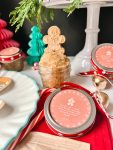 Gingerbread Sugar Scrub Recipe
Ingredients
1 cup coconut oil
3 cups brown sugar
15-20 drops cinnamon essential oil
5 drops nutmeg essential oil (optional)
Instructions
In a large bowl, add coconut oil.

Ddd brown sugar and stir.

Note: You can also microwave the mixture for 30 seconds to soften the coconut oil if you want. If you do this you might need to add more brown sugar.

Add 15-20 drops of cinnamon oil. You can also add 5 drops of nutmeg oil if you want. Stir until mixture.is the consistency of sand. Add more sugar if it seems too wet and more coconut oil if it seems to dry.

Print off gift tags, fill jars with mixture, add the tag and some ribbon!
More Amazing DIY Gift Ideas
Need a fun & cheeky DIY gift idea? Learn how to make personalized socks with a Cricut for a unique gift this season. This is a great project for a beginner Cricut user, and it's so affordable!
If you're trying to figure out what to give to your friends and neighbors this year, why not try my Double Chocolate Chip Cookies in a Jar DIY? Who can resist homemade chocolate chip cookies? This jar of yumminess includes all the ingredients except for three things. Plus, these cookies are hands down delicious!
We all know that a good party starts with great drinks. Today I am sharing easy DIY cocktail napkins to give as a gift. Try pairing it with a pair of martini glasses, cranberries, and a colorful bottle of Tanquerey gin.
More Sugar Scrub Recipes
And if you like this gingerbread sugar scrub recipe, be sure to check out these easy sugar scrubs!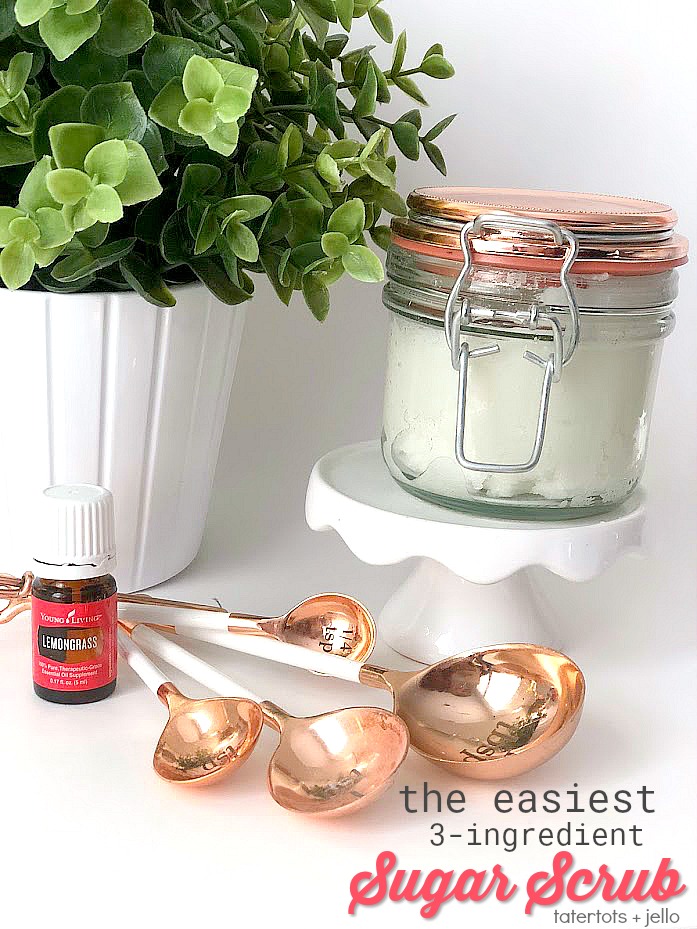 This sugar scrub recipe is my top post right now because it is SO easy to make and you can switch out the smell and make ANY kind of sugar scrub so easily!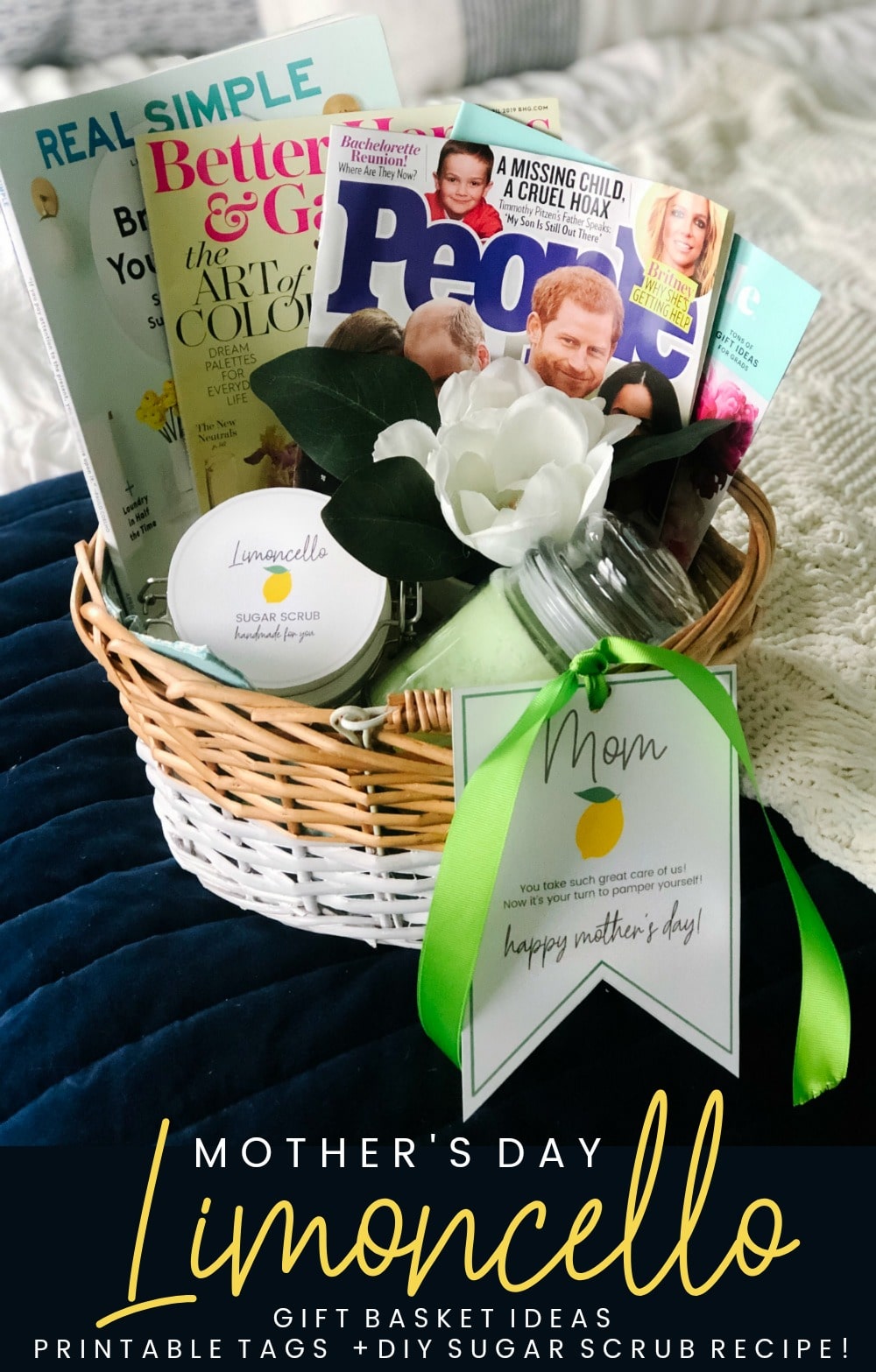 Limoncello Sugar Scrub and Free Printable Tags
Lemon Sugar Scrub is consistently a favorite. I added a twist on the basic sugar scrub recipe on this one. It's not just for Mother's Day. Print out the label and put it on a jar for a fragrant gift that can be used all year!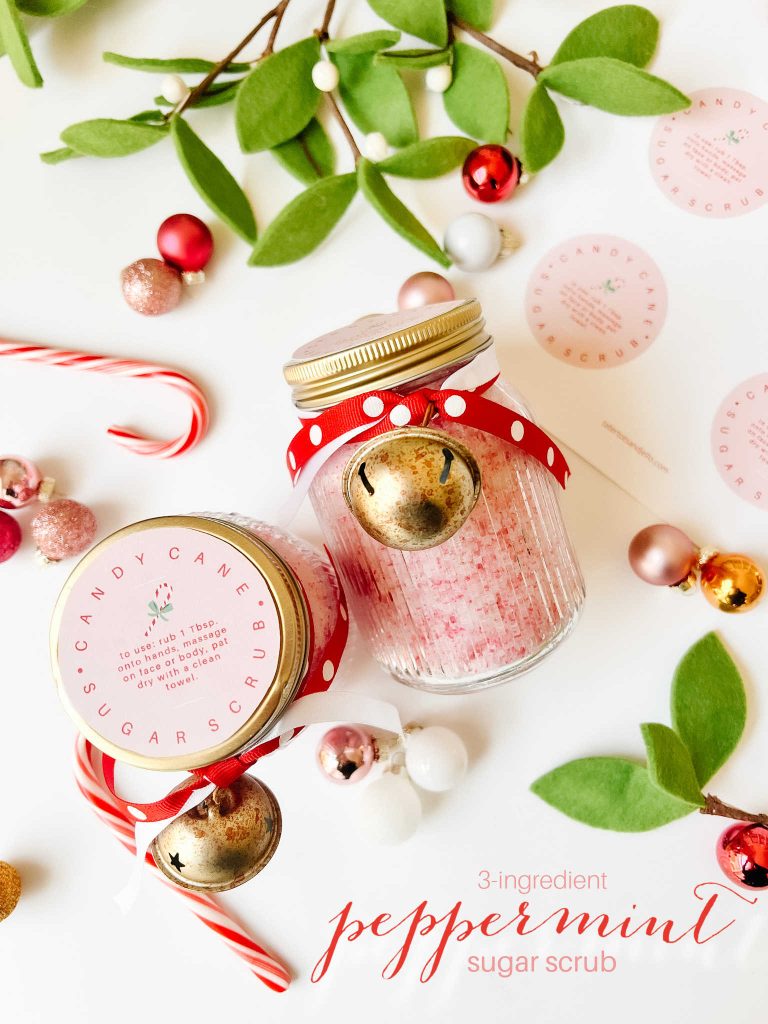 My personal favorite this time of year. It's so yummy!
Have a Creative Day!
xoxox