1891 Cottage Bright Holiday Tour. I'm sharing some easy ideas to bring happy colors to your home this holiday season!
1891 Cottage Bright Holiday Tour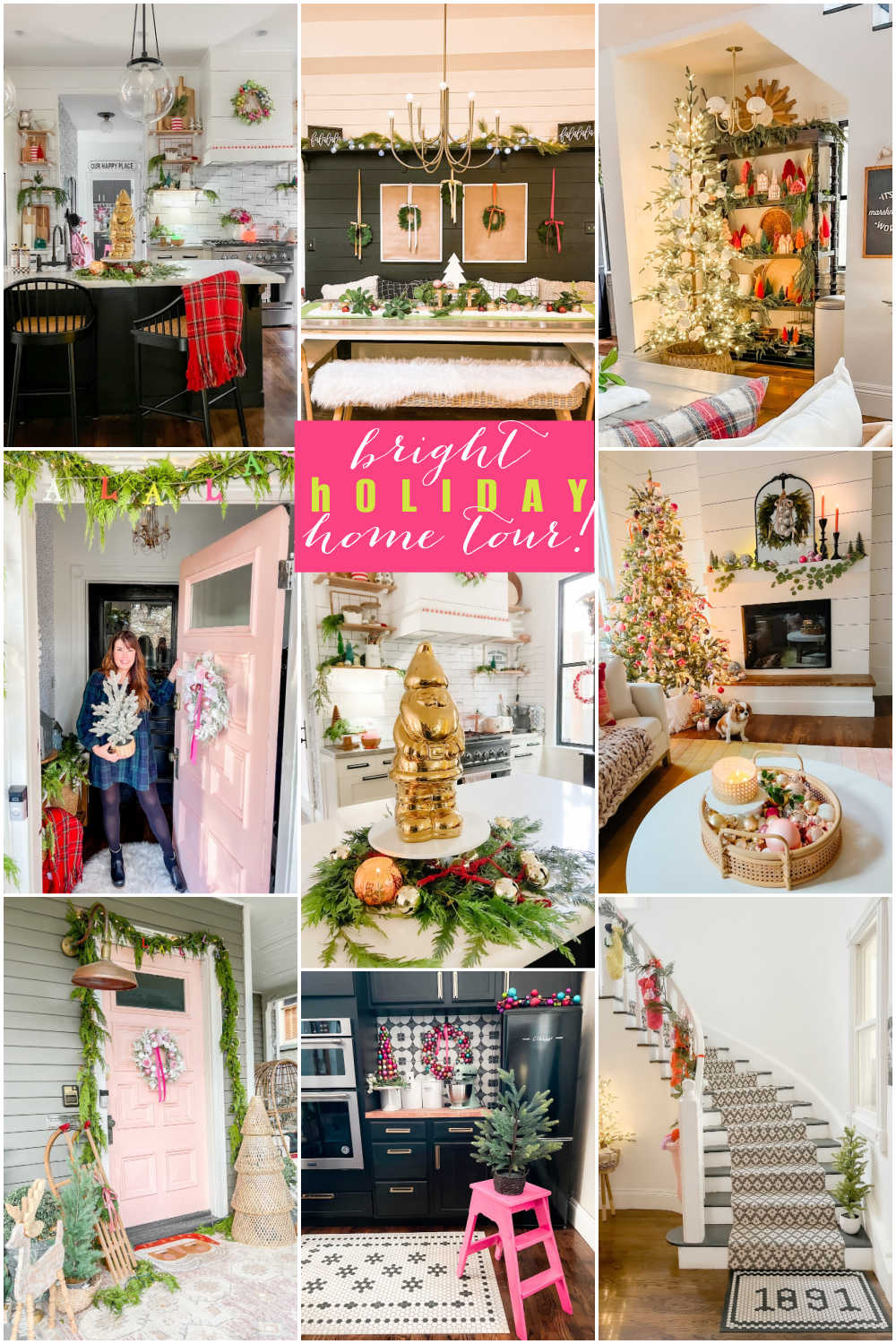 Hello friends!! It's my favorite week of the year – it's time for Jennifer Rizzo's Holiday Housewalk Tour!! I look forward to this tour all year!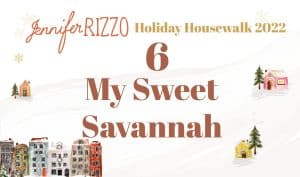 If you are stopping by from Melaine's home at My Sweet Savannah, welcome!! Isn't Melaine's home so gorgeous for the holidays! I love the way she uses natural colors and textures in her home! If you want to start at the beginning of the tour, be sure to start over at Jen Rizzo's 2022 Holiday Housewalk Tour! So grab a warm cup of cocoa or coffee and let's get started!!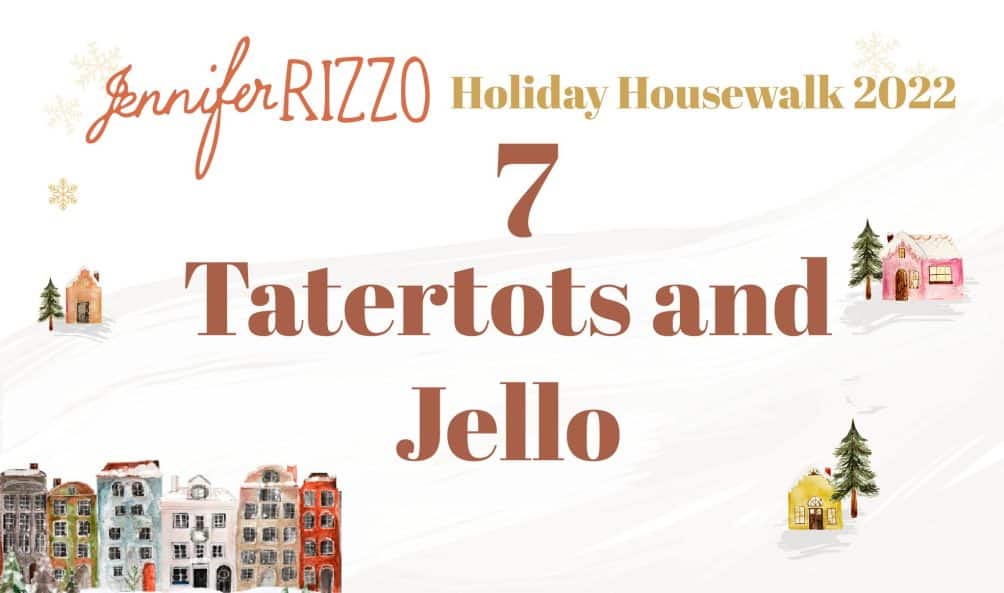 Ways to Bring Color to Your Home for the Holidays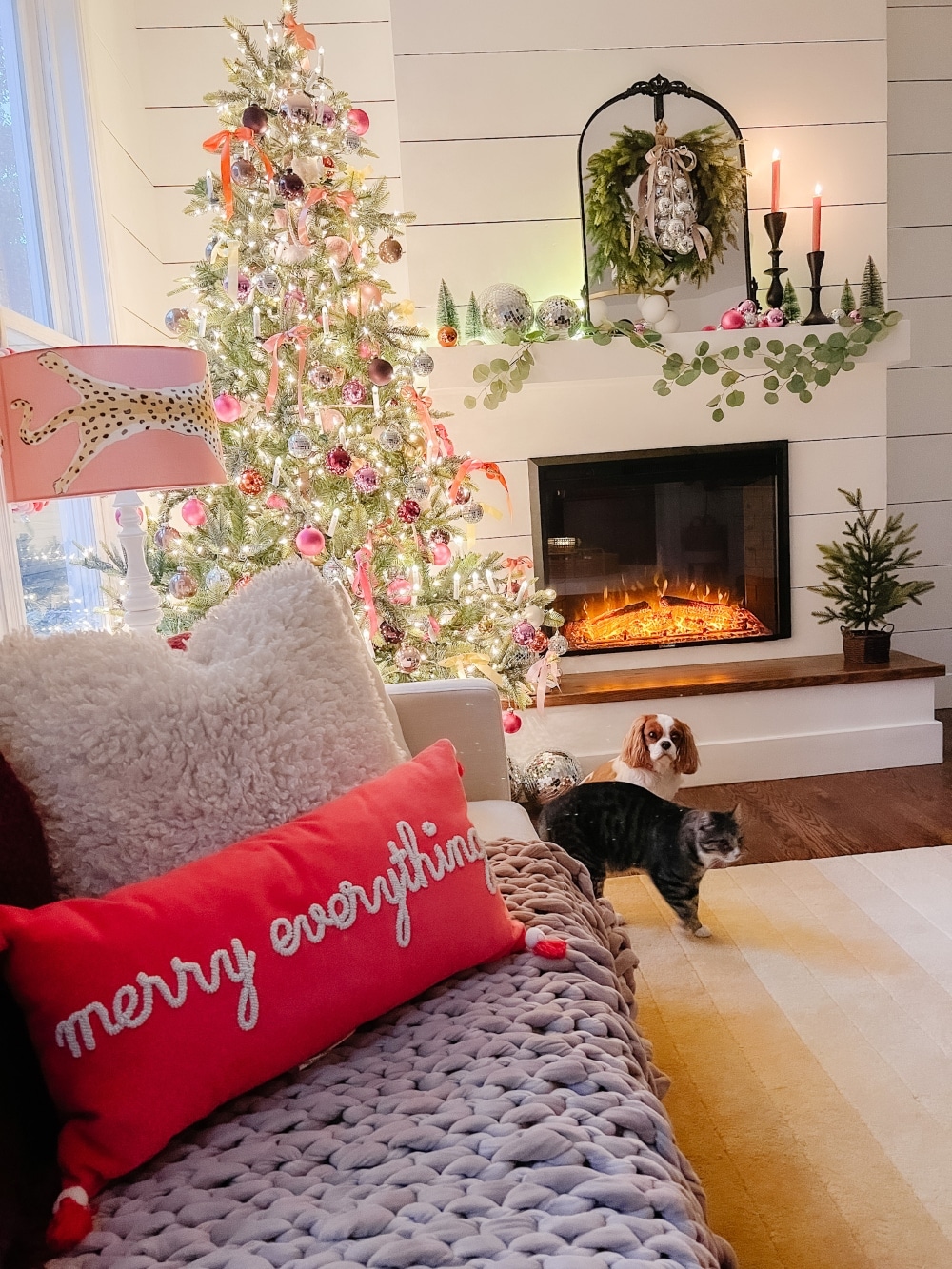 I love color and I especially love bringing happy colors in for the holidays! My favorite color is PINK so you will find pink elements throughout my holiday home!
Holiday Home Front Porch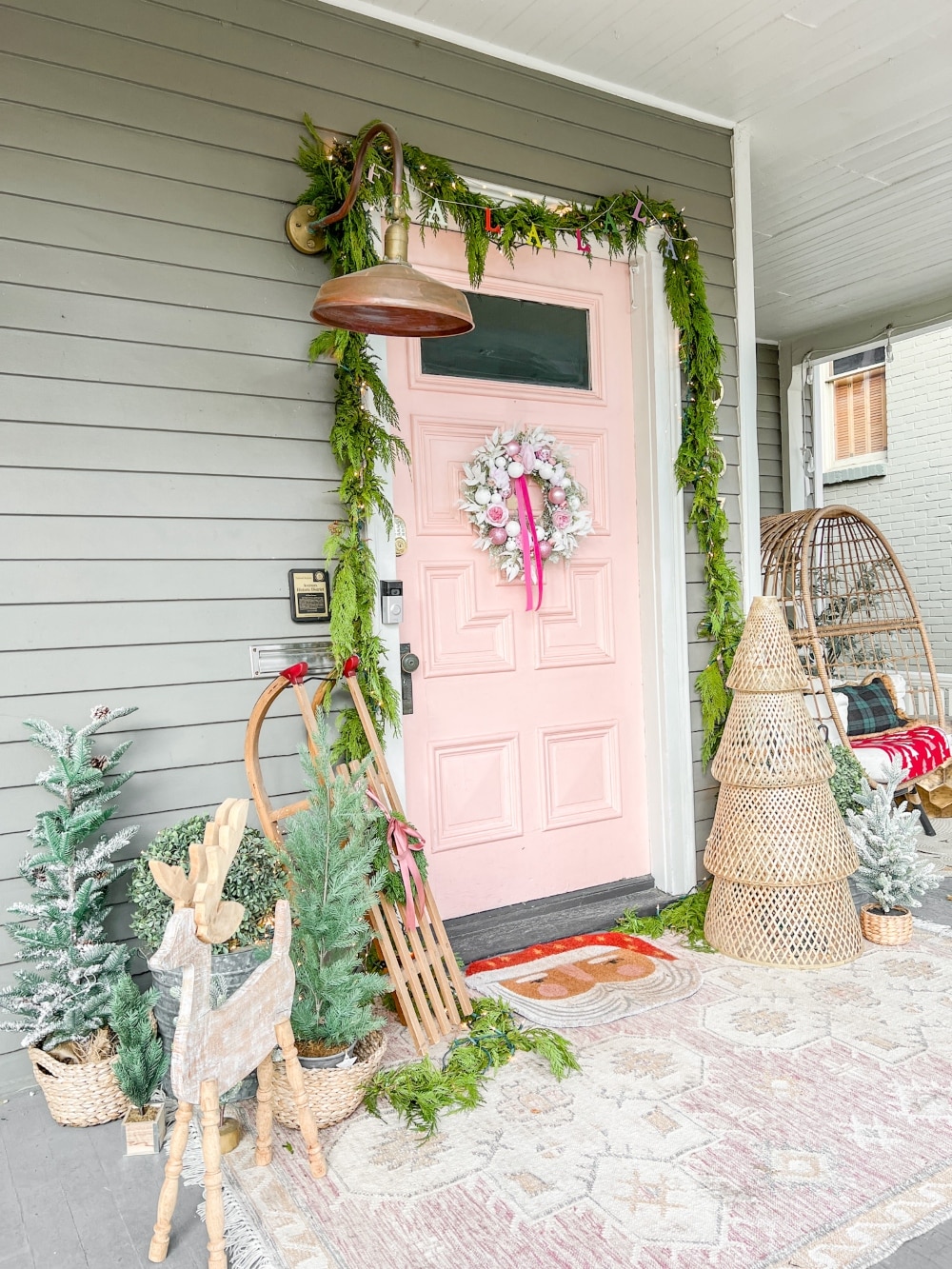 Welcome to our holiday porch! A touch of boho fun is added with these indoor/outdoor rugs. I love the pink color and the tans which match really well with our Serena and Lily hanging double chair.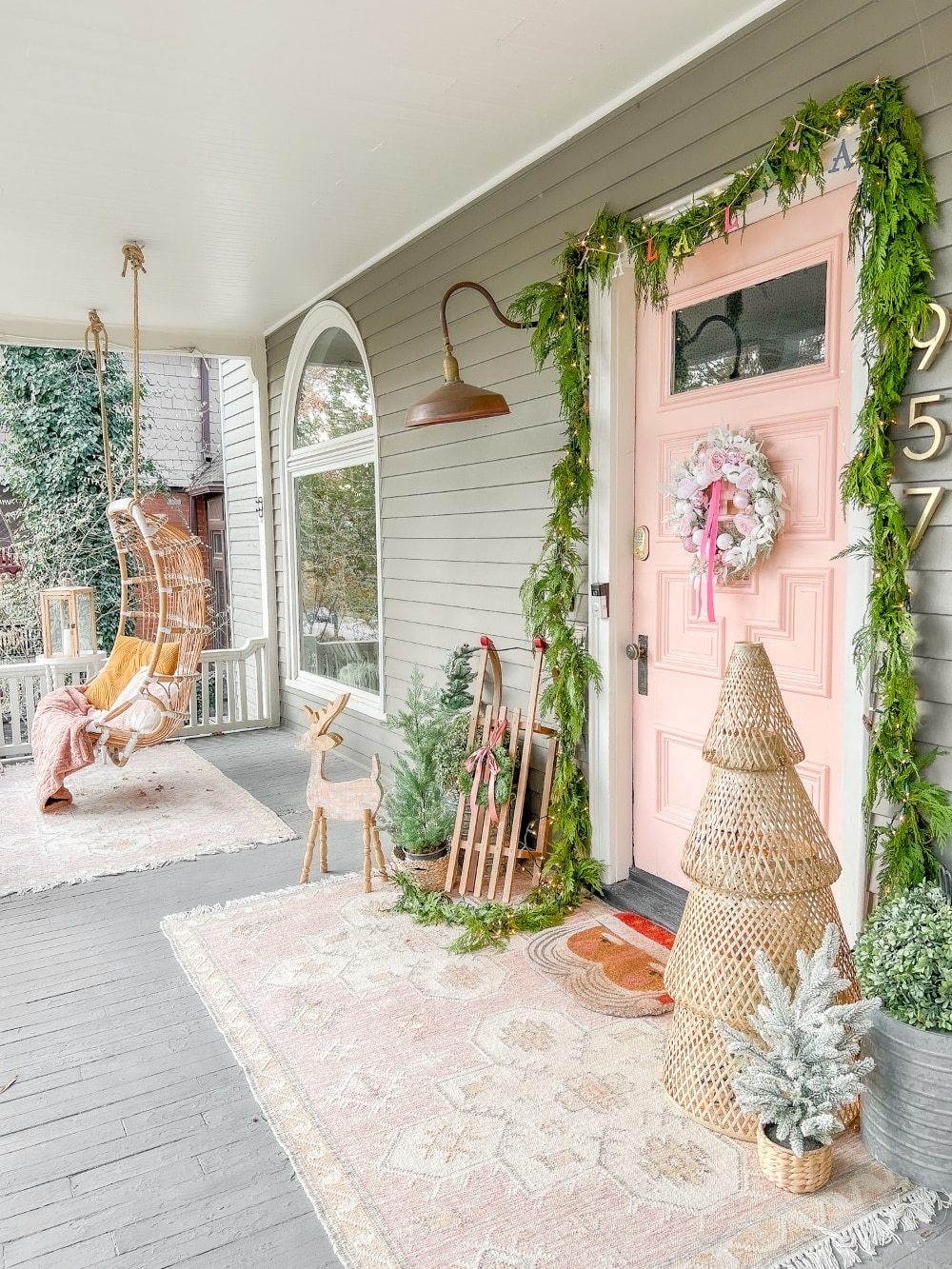 A soft blanket so is perfect to wrap up in it while having hot cocoa and watching our downtown neighborhood!
Pink Holiday Wreath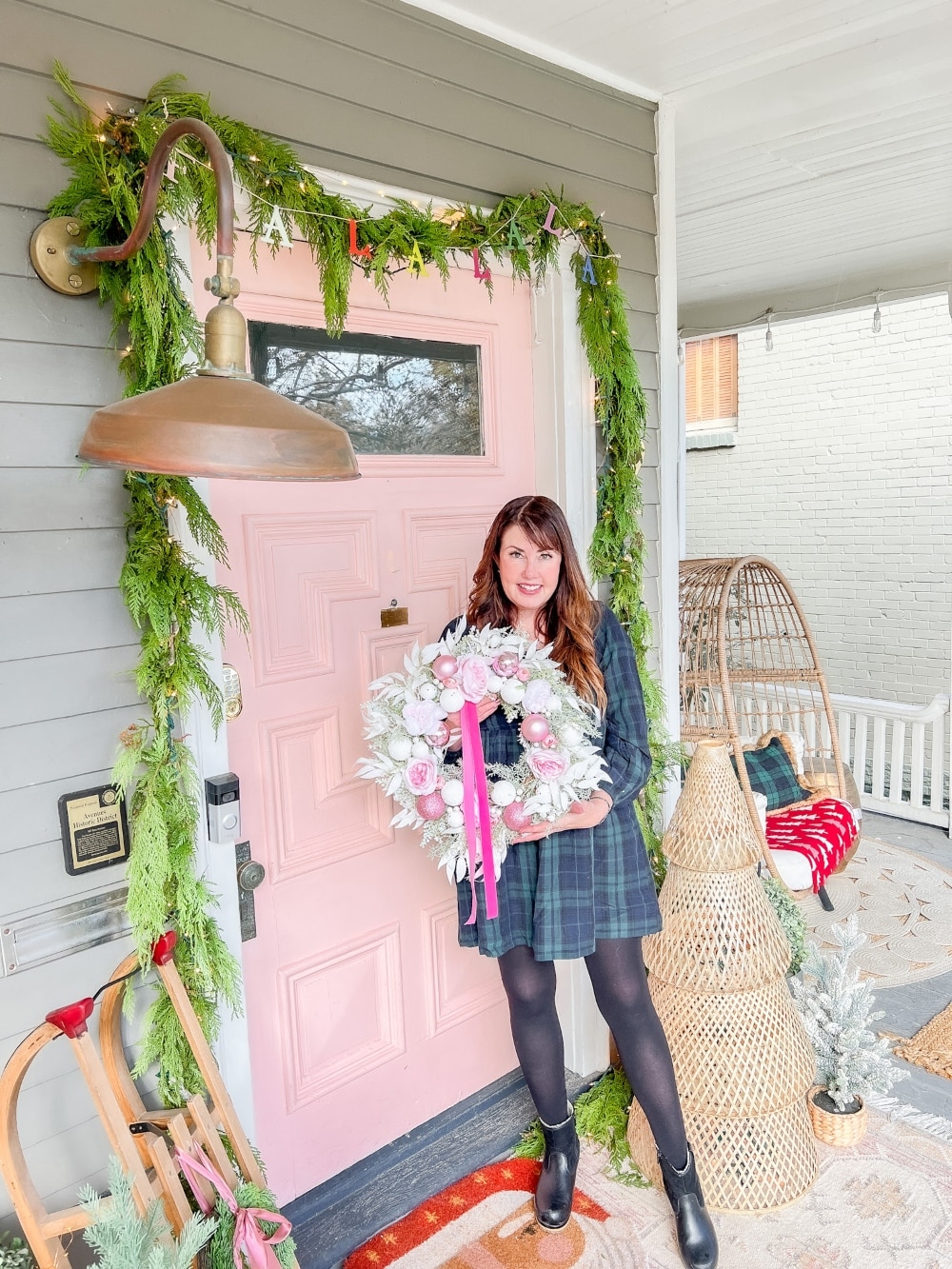 My friend Laura from @roundwreathdotcom sent me this gorgeous Ice Queen wreath. It's the centerpiece of my porch. I will be doing a giveaway with her soon. She makes the most amazing wreaths. I added some natural garland with a FLALALA banner at the top. My cute sled and my favorite wicker tree round out the porch.
Holiday Dining and Kitchen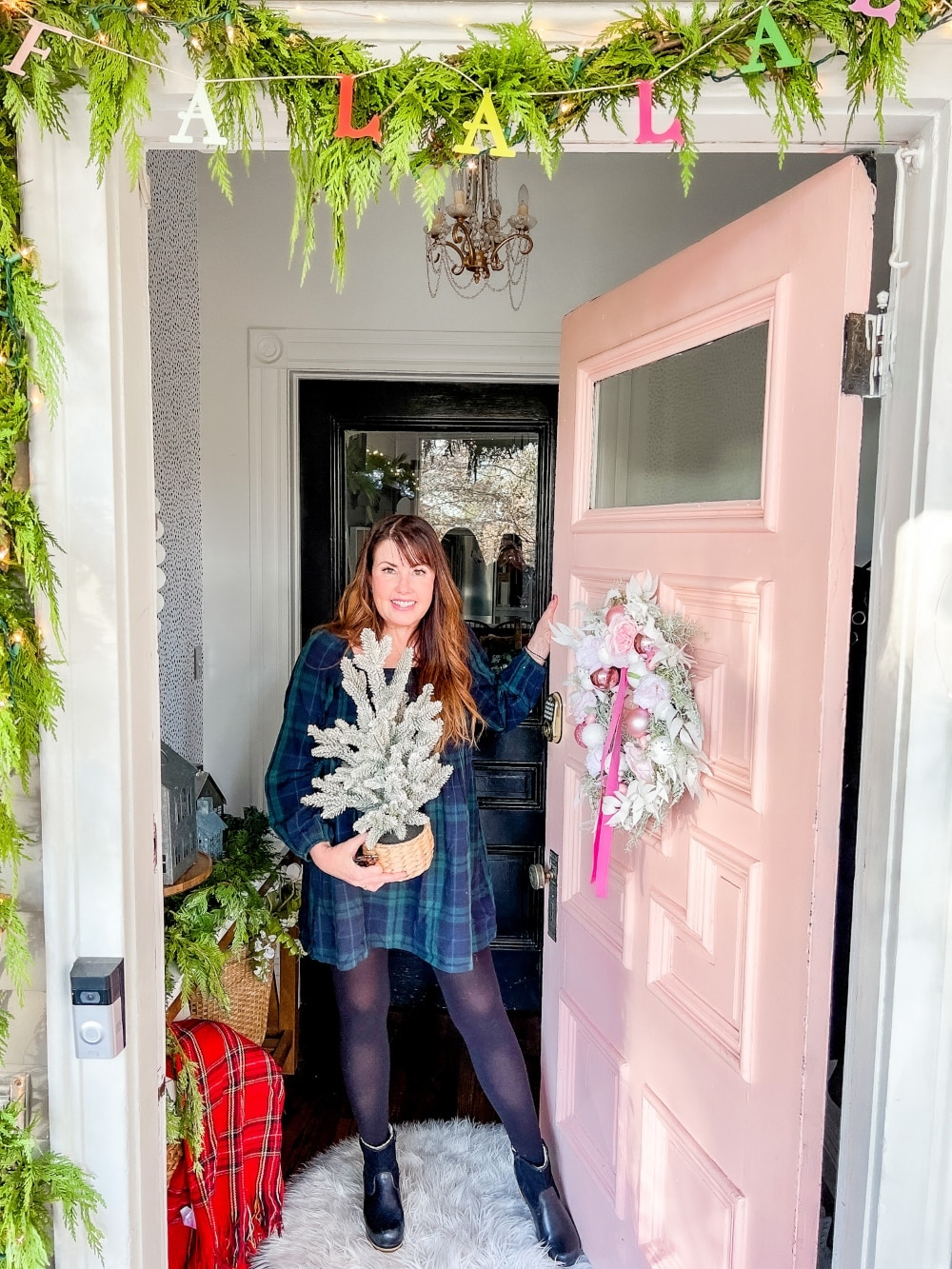 Come inside! I added a sweet little village on our console table and a warm and fuzzy rug. Our dining area is lit up with this whimsical centerpiece.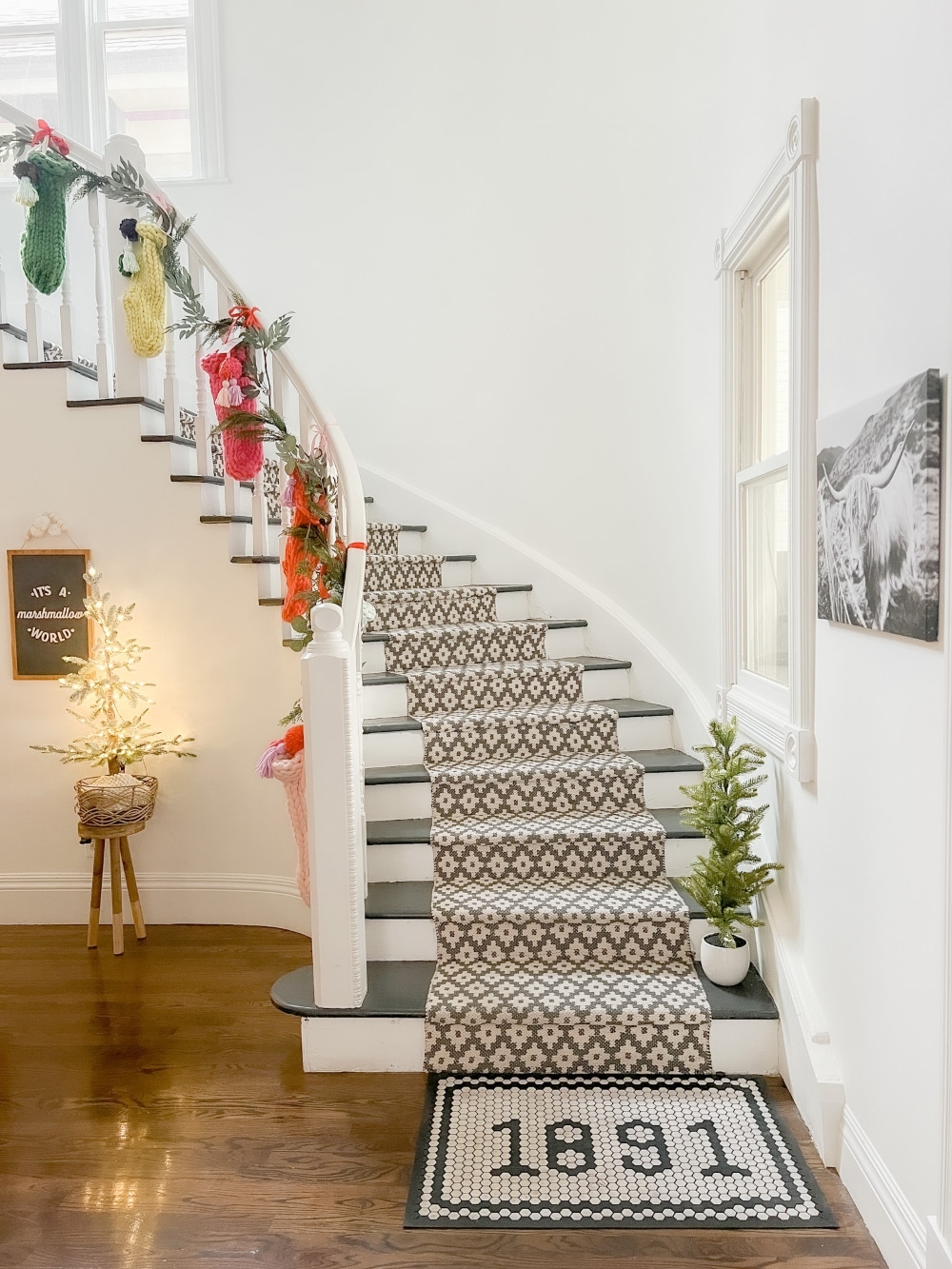 I added some color to our front spiral staircase by adding my favorite colorful chunky stockings going upstairs!
Holiday Dining Room Centerpiece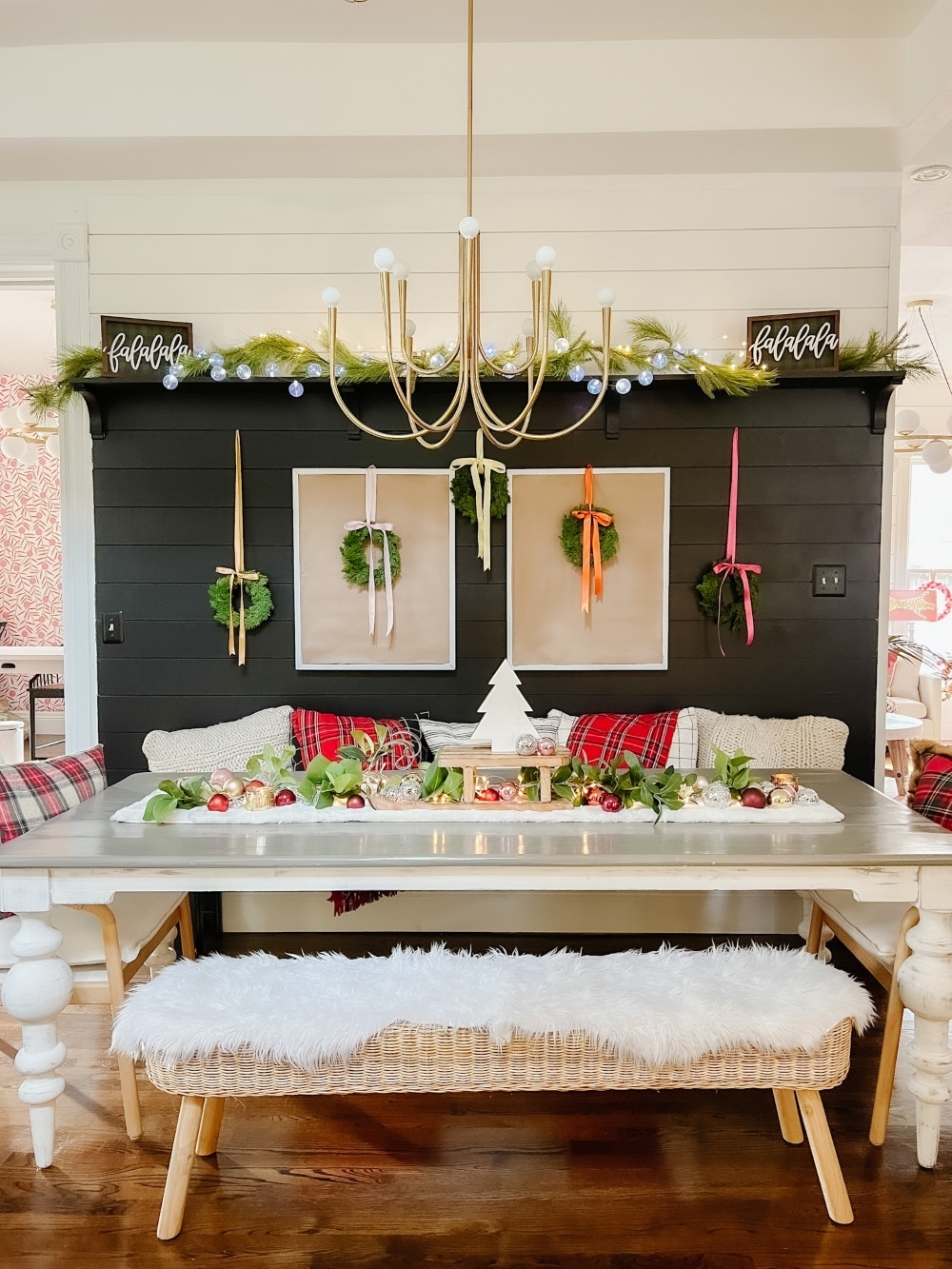 I made this no-sew fabric runner and added pom poms to the ends.
Then layered a soft faux fur runner on top. This little sled is the centerpiece and layers of faux greens and twinkle lights make our dinners so warm and cozy for winter!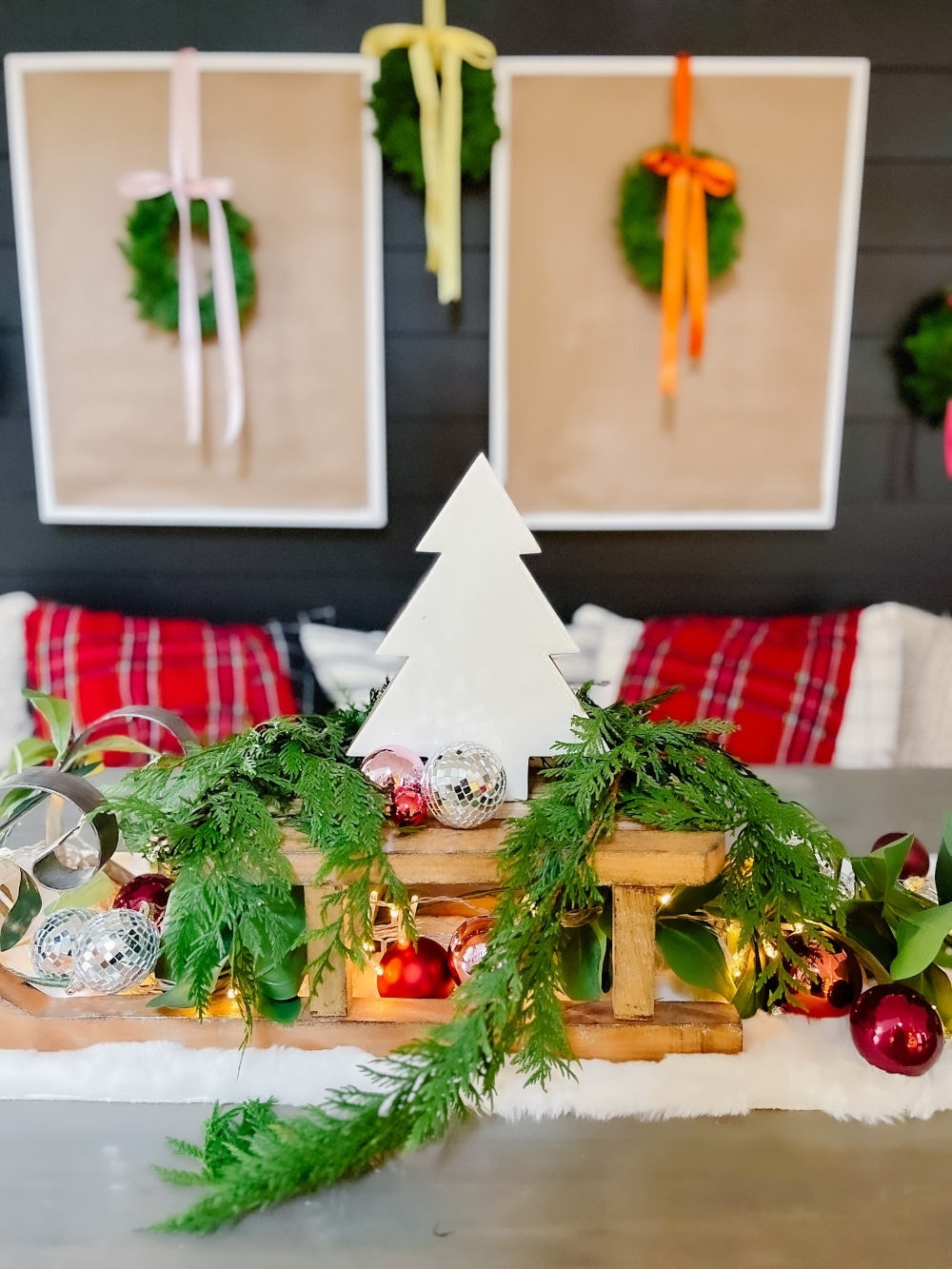 Colorful Holiday Village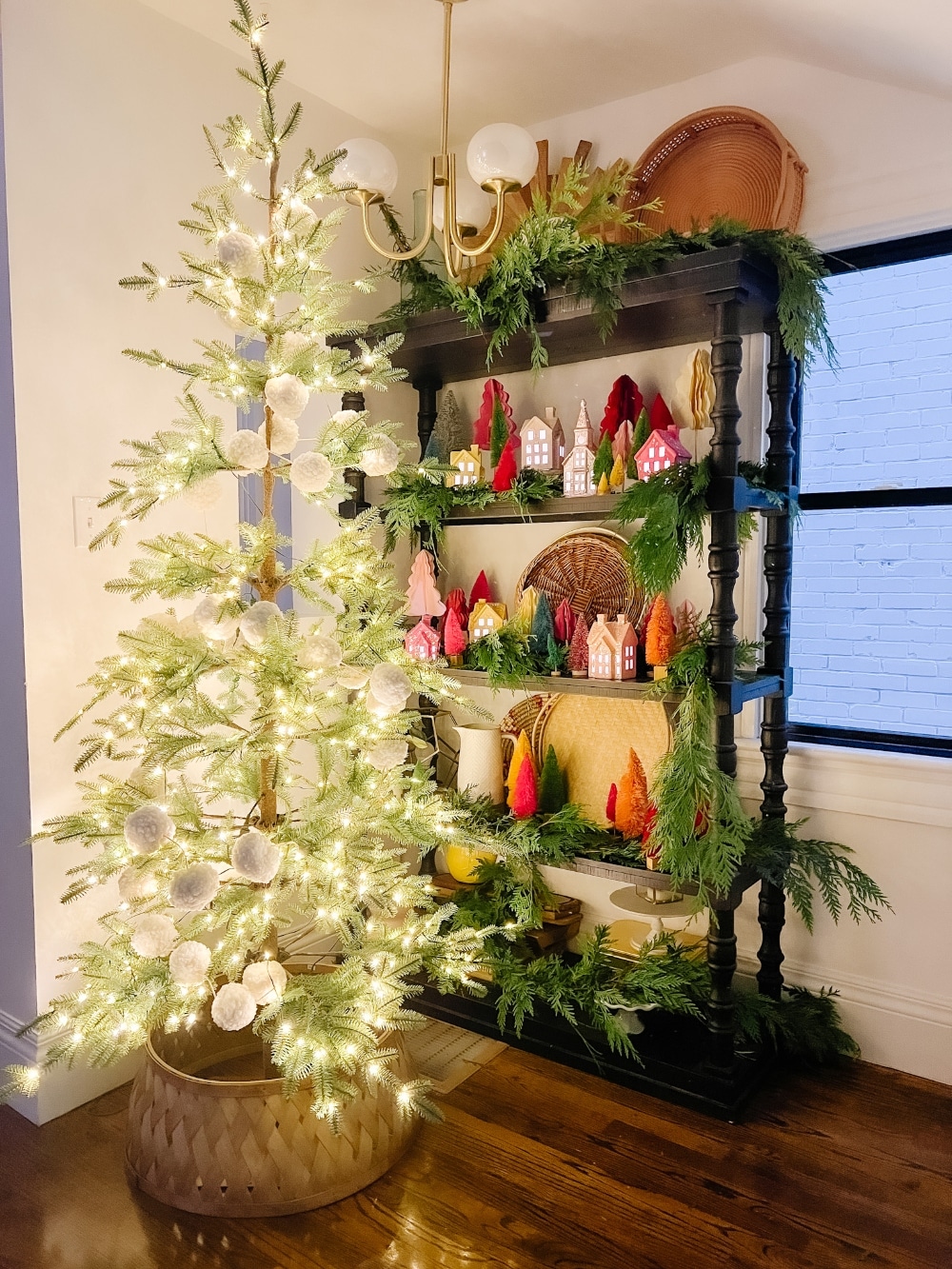 Across from our dining table is this funny little nook. I haven't known what to do with it since we moved in three years ago. This year I decided that it would make a magical Christmas village nook! I added garlands to the pretty bookcase and then painted a village set that I found at Hobby Lobby.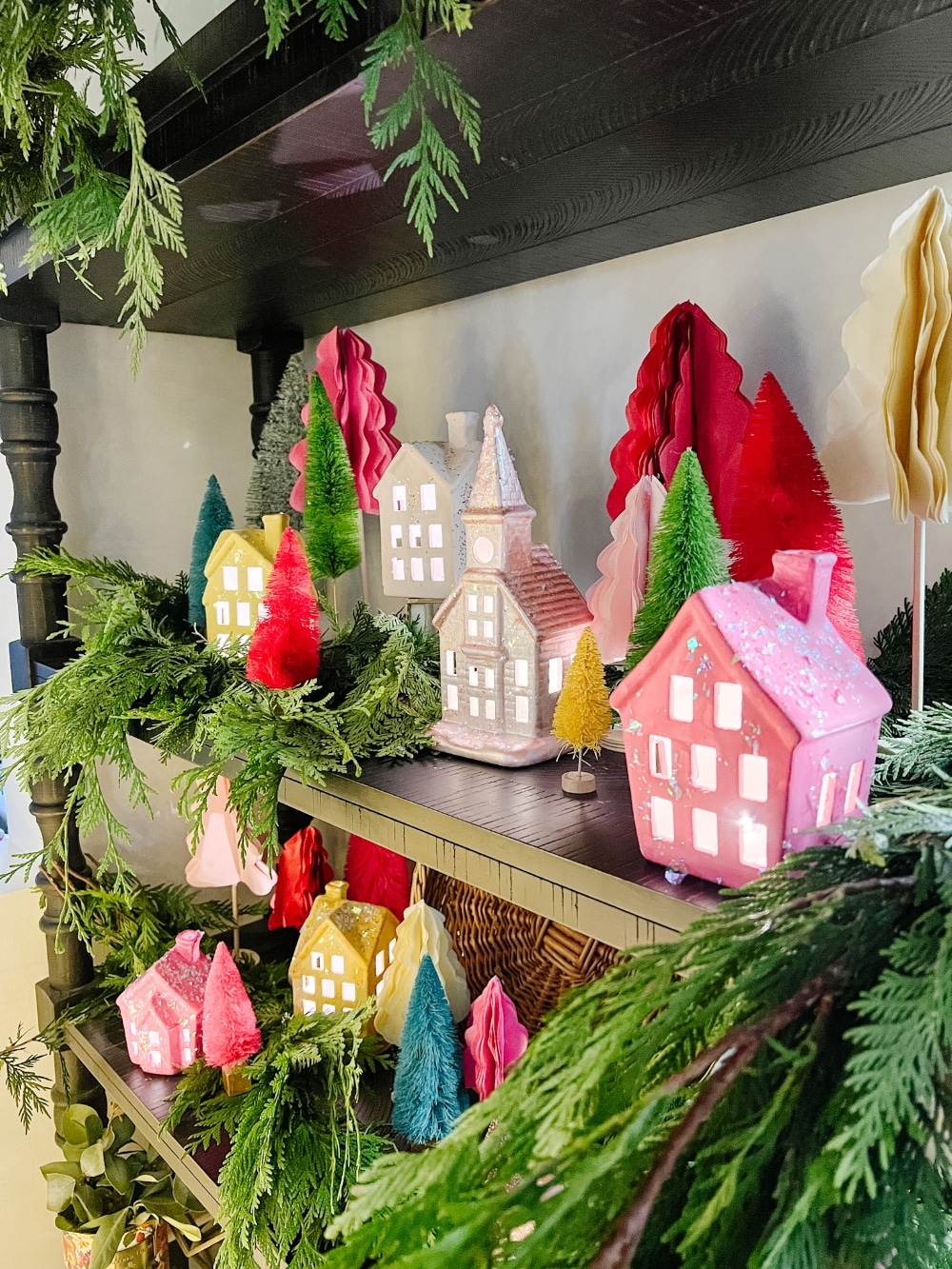 I have a post with all of the directions if you want to check it out — Colorful Christmas Village Nook! Then I put our sweet little Balsam Hill tree in front and it feels so magical all lit up at night!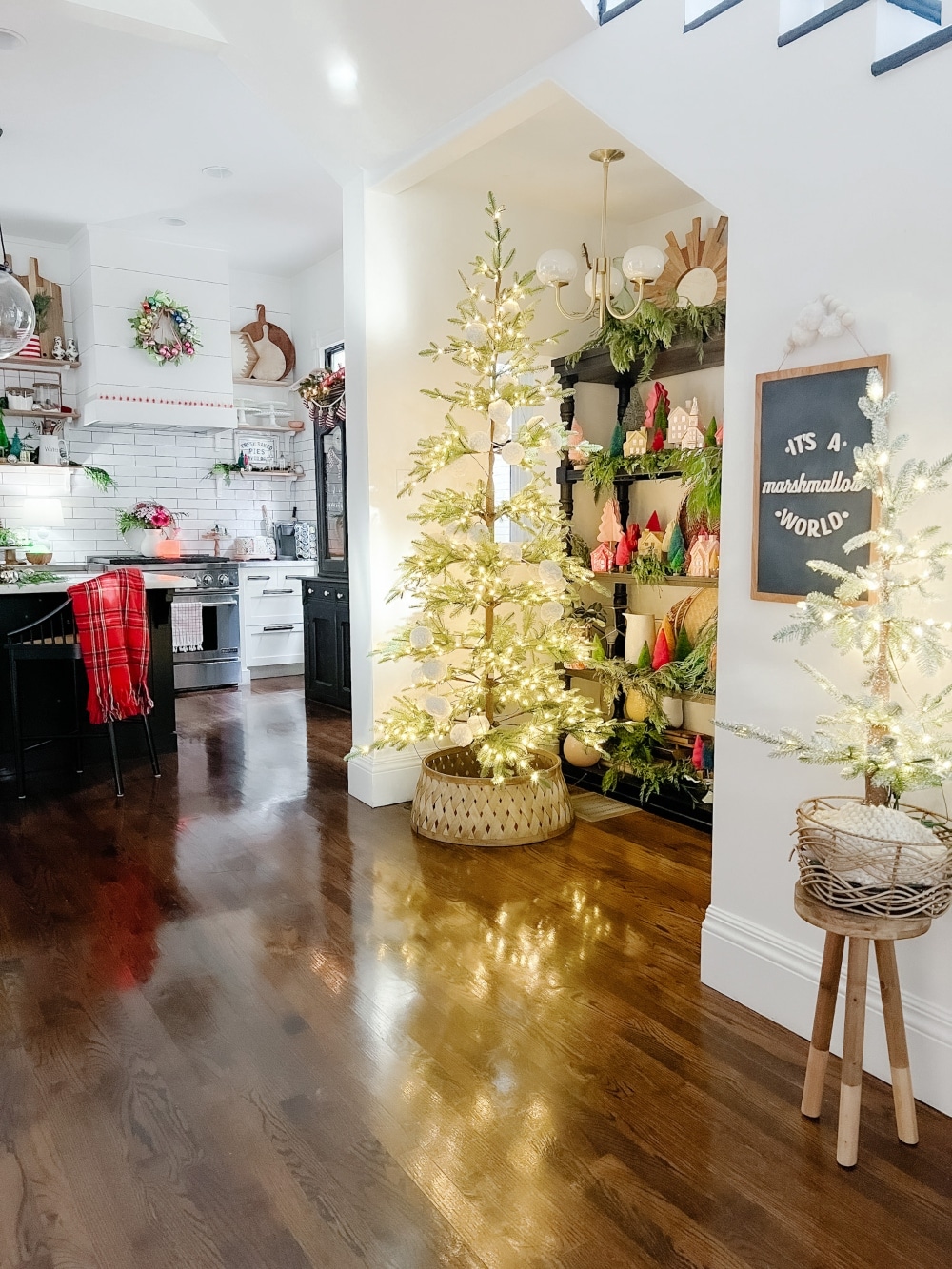 Colorful Elements in Our Holiday Kitchen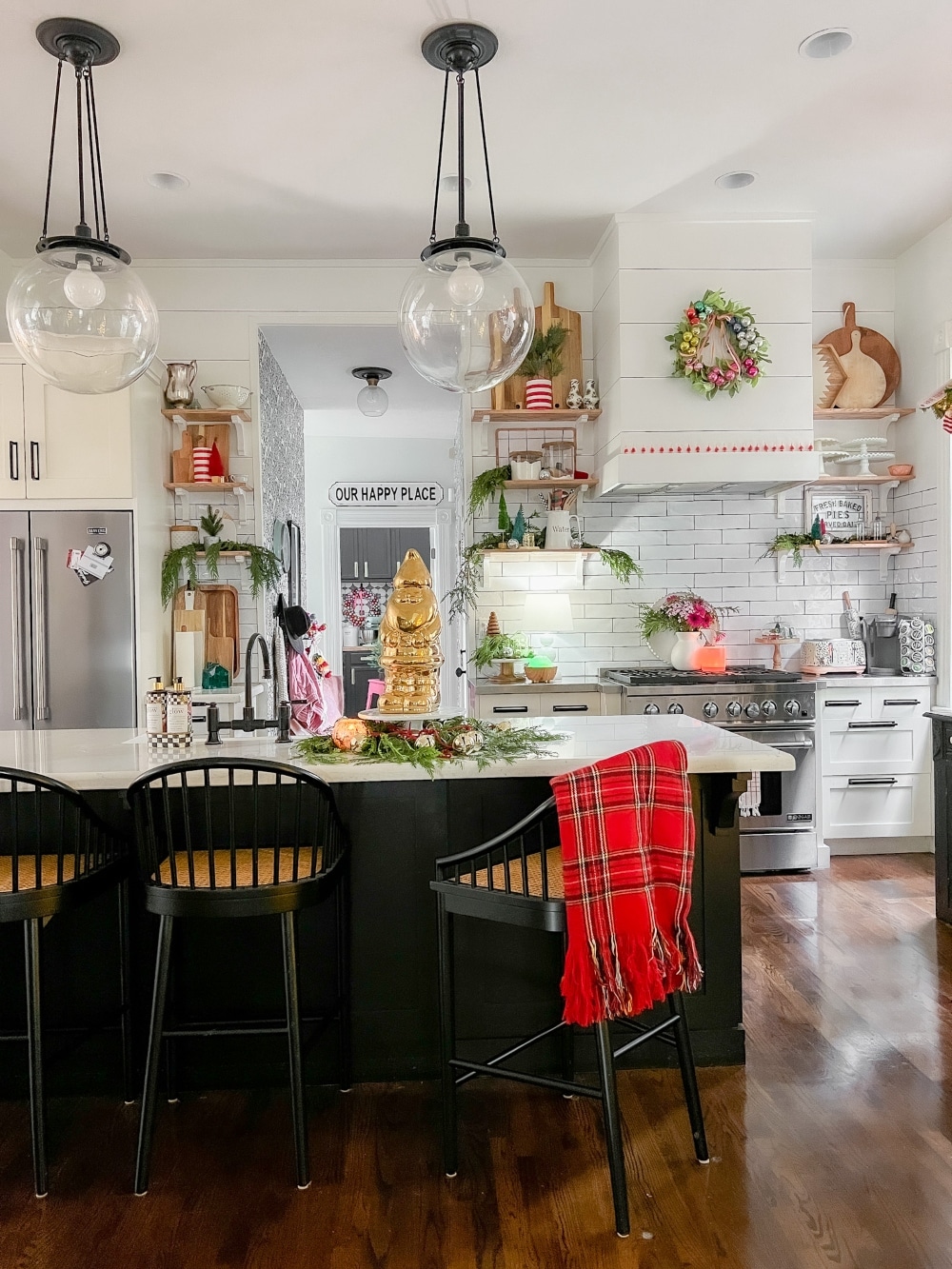 I brought out my favorite Santa gnome for the holidays and put him in center display on our island. I love how he shine! Above our stove I created a vintage ornament wreath with ornaments that I sourced through our local KSL Classified App. These ornaments were the seller's husband's grandmother's from the 1950's! She was excited when I told her that I am going to hang them on a Christmas wreath!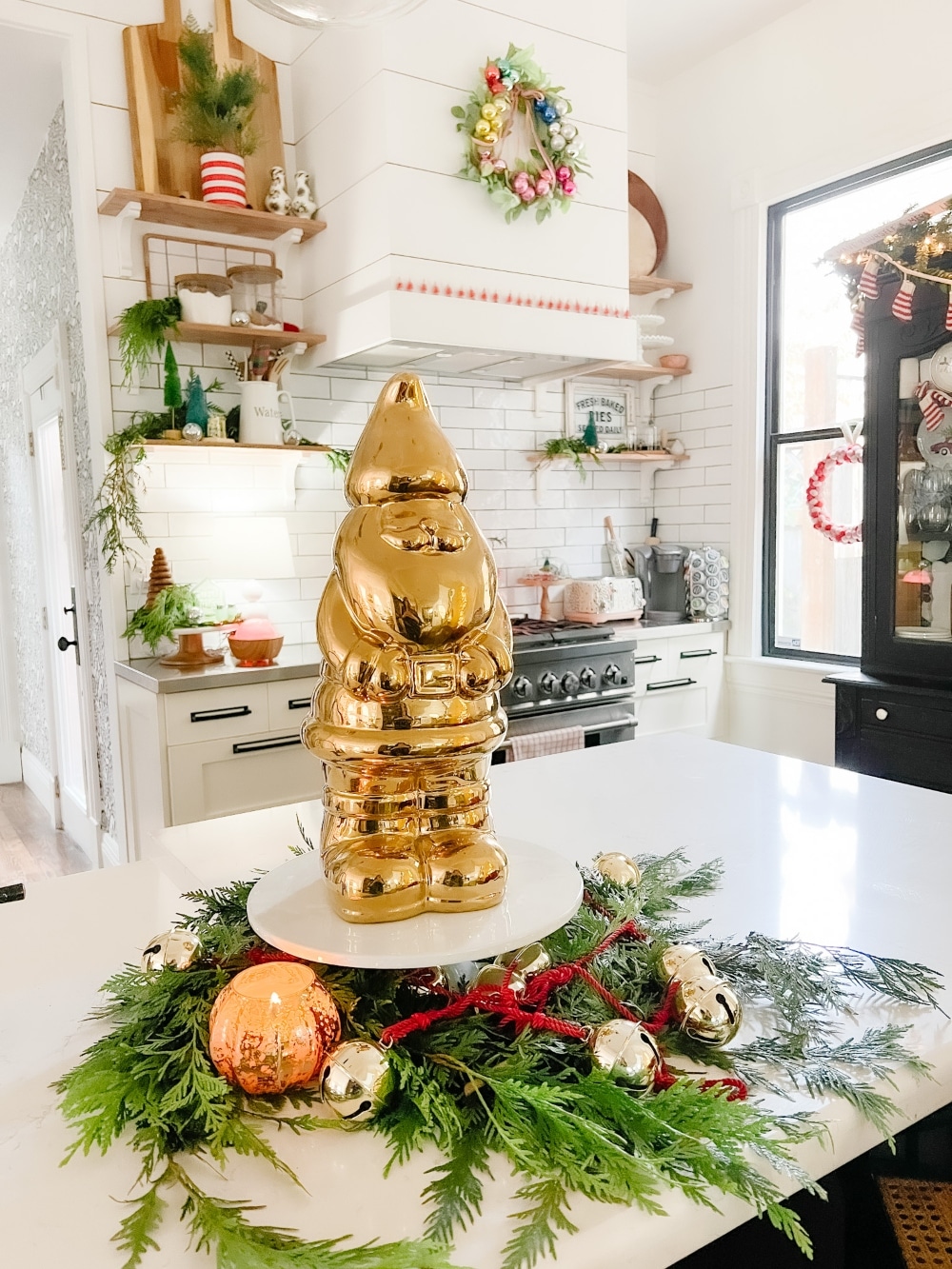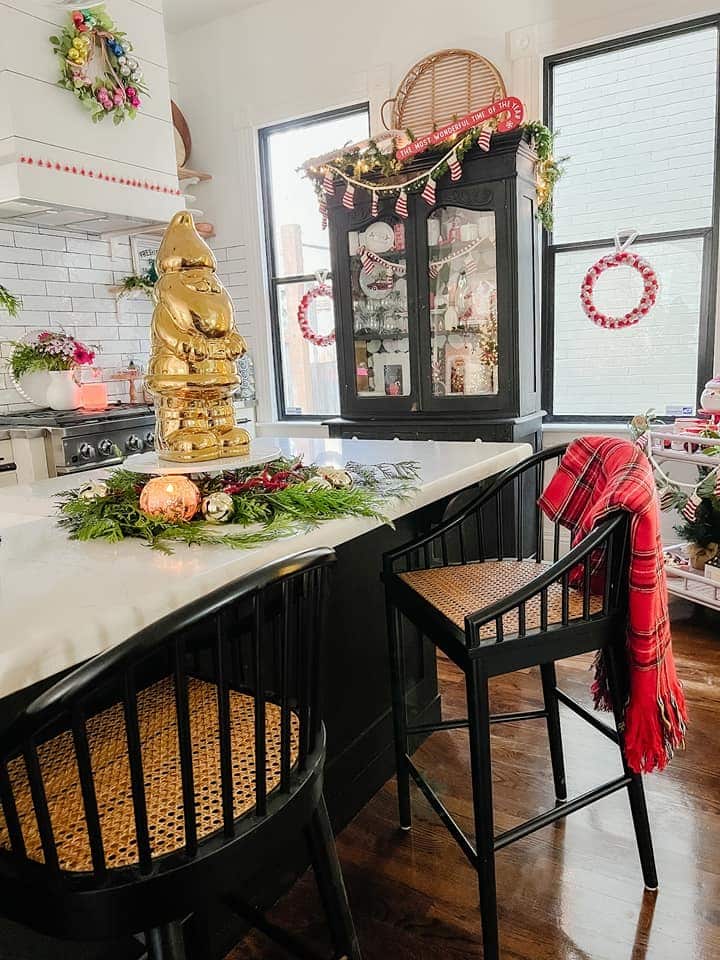 A Hot Cocoa Cabinet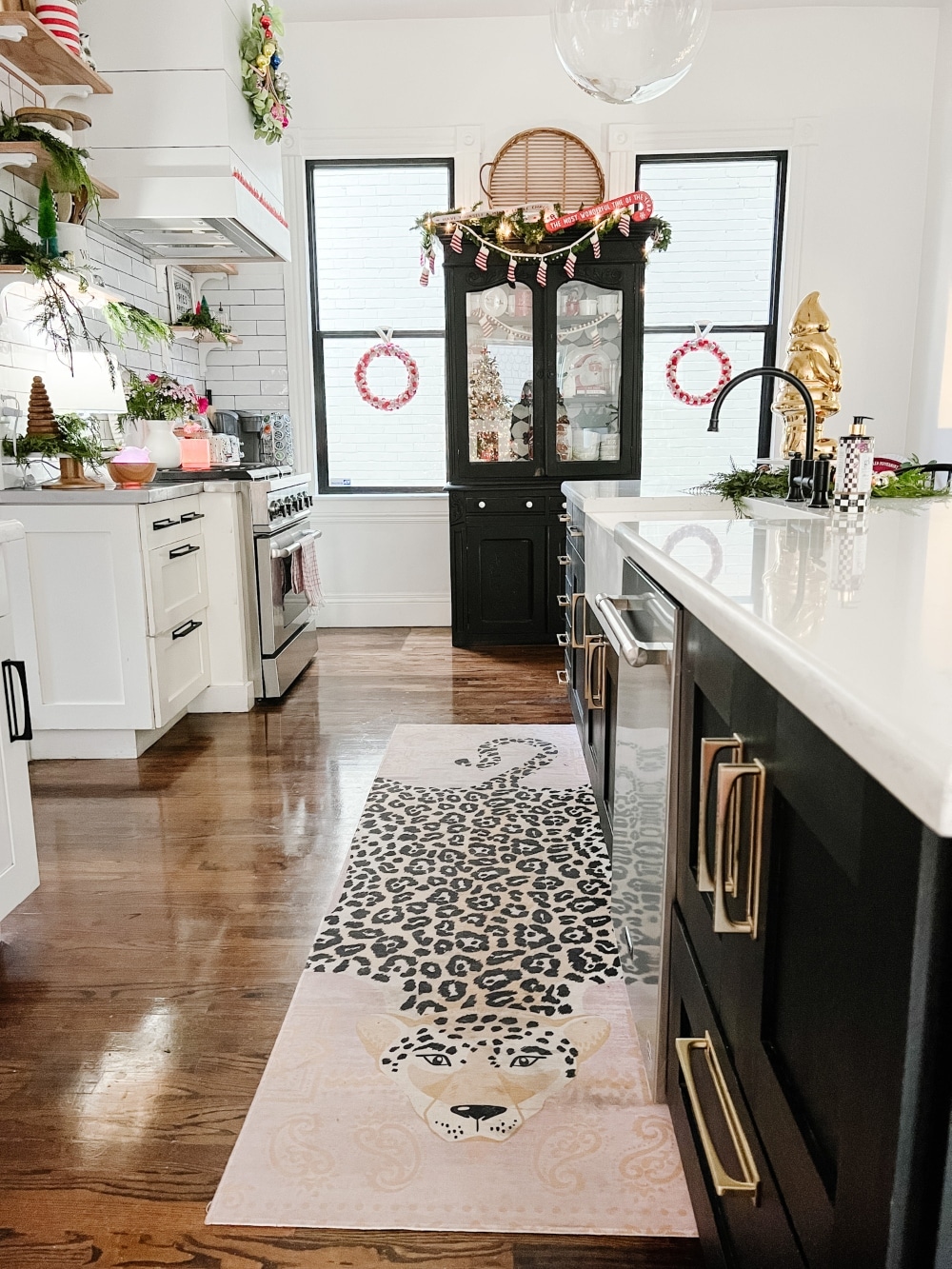 Our everyday dish cabinet is an old gun cabinet from the turn of the century. I love the details. For Christmas, I transformed it into a hot cocoa cabinet. I added my MacKenzie-Childs plates and mugs.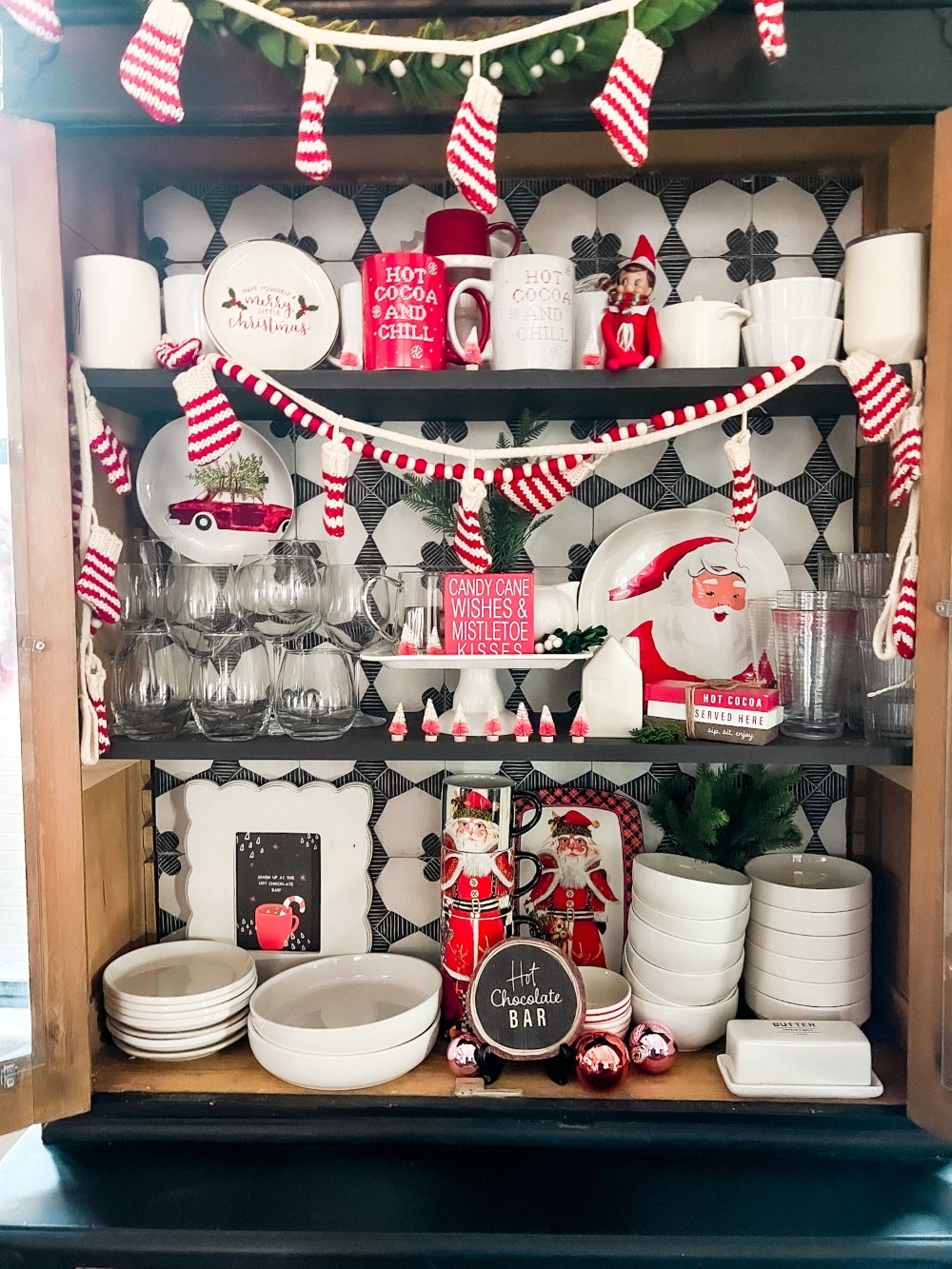 Our elf on a shelf lives there too!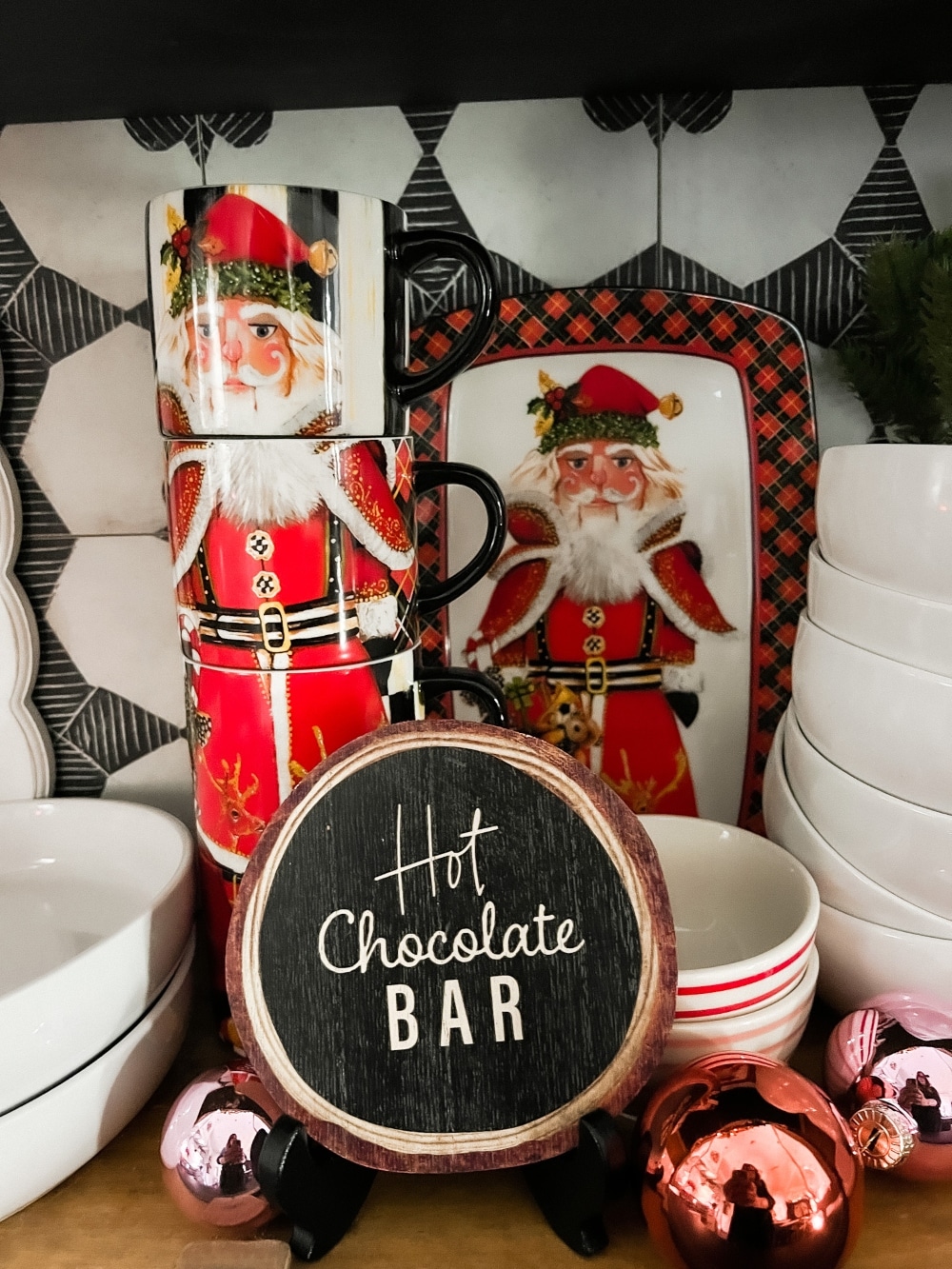 A Christmas Santa Bar Cart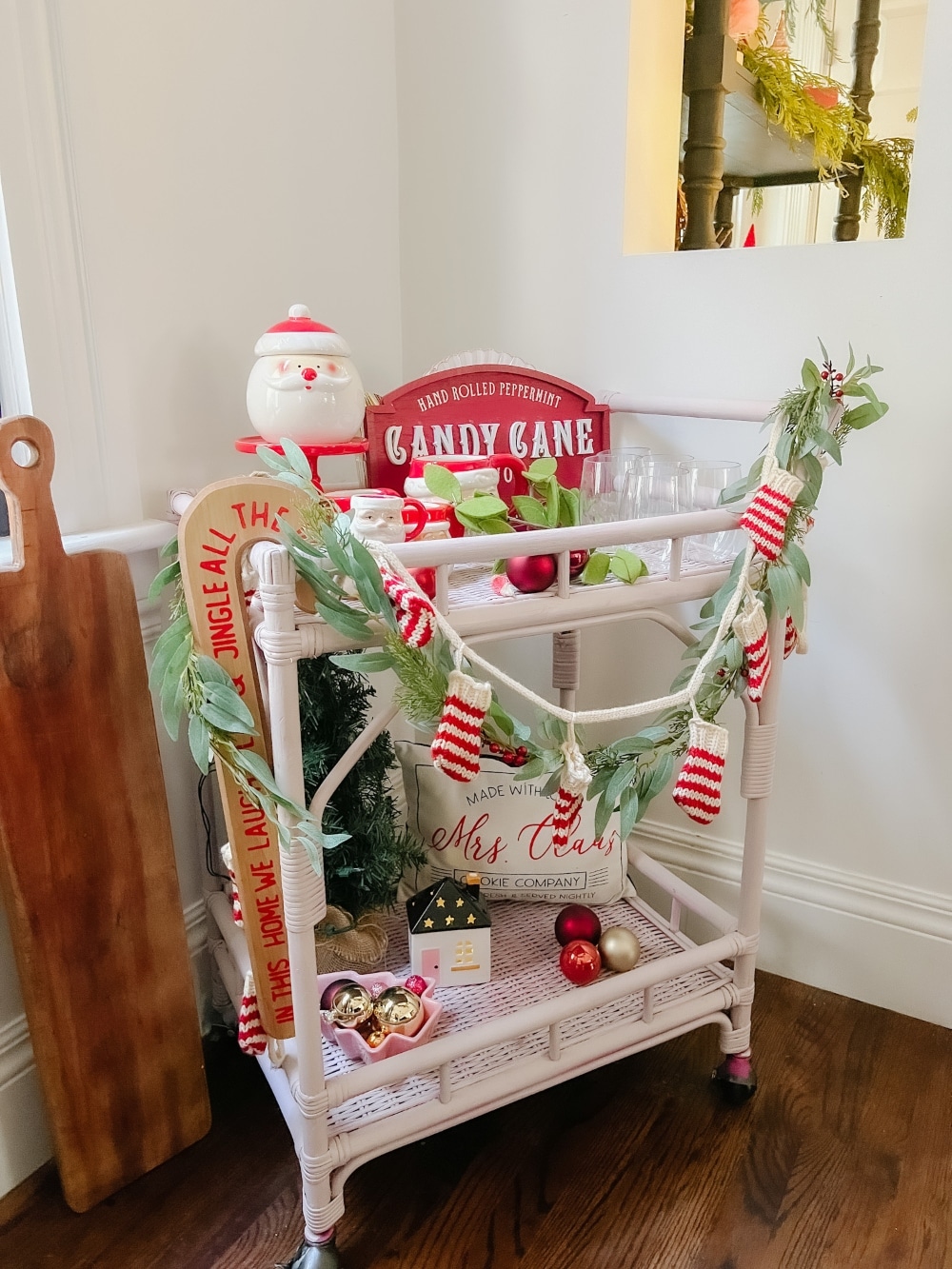 Next to the hot cocoa cabinet is our santa bar car. I display my santa mug collection here and it's perfect for wheeling around when we have game night in our family room!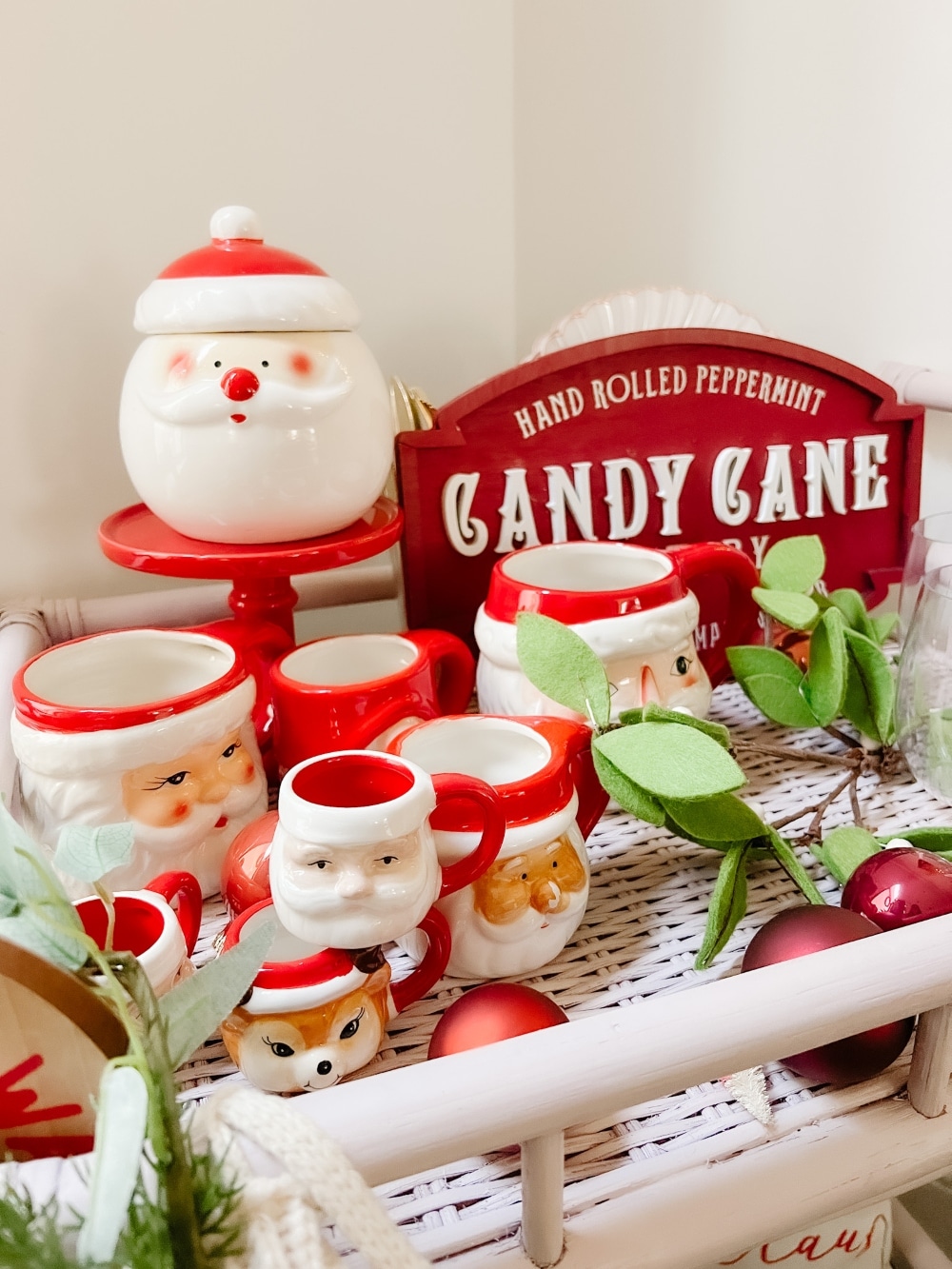 Christmas in Our Butler's Pantry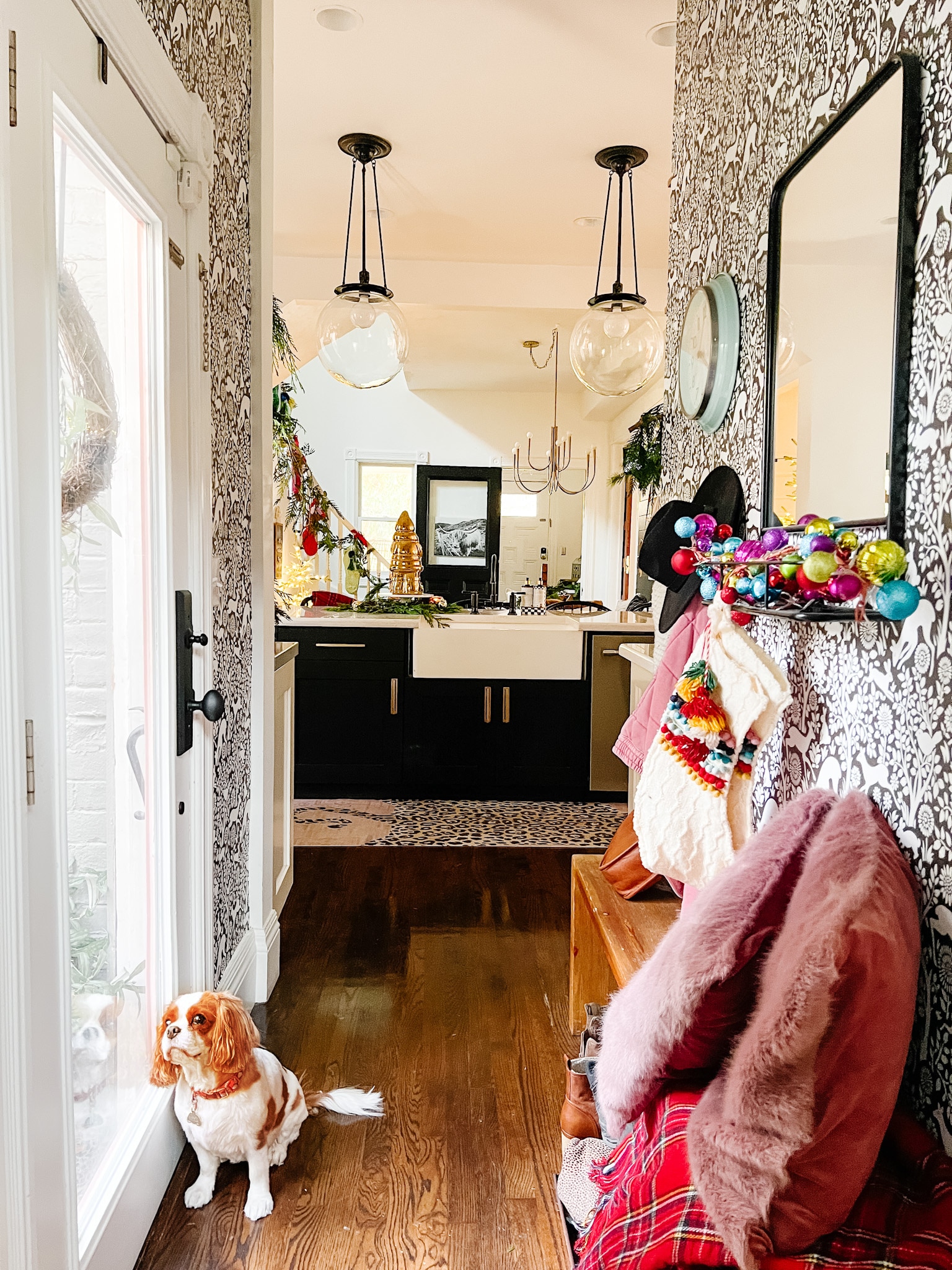 Down the hallway to our butler's pantry I added some garlands in our little mudroom section and then in the pantry are bright and colorful ornaments.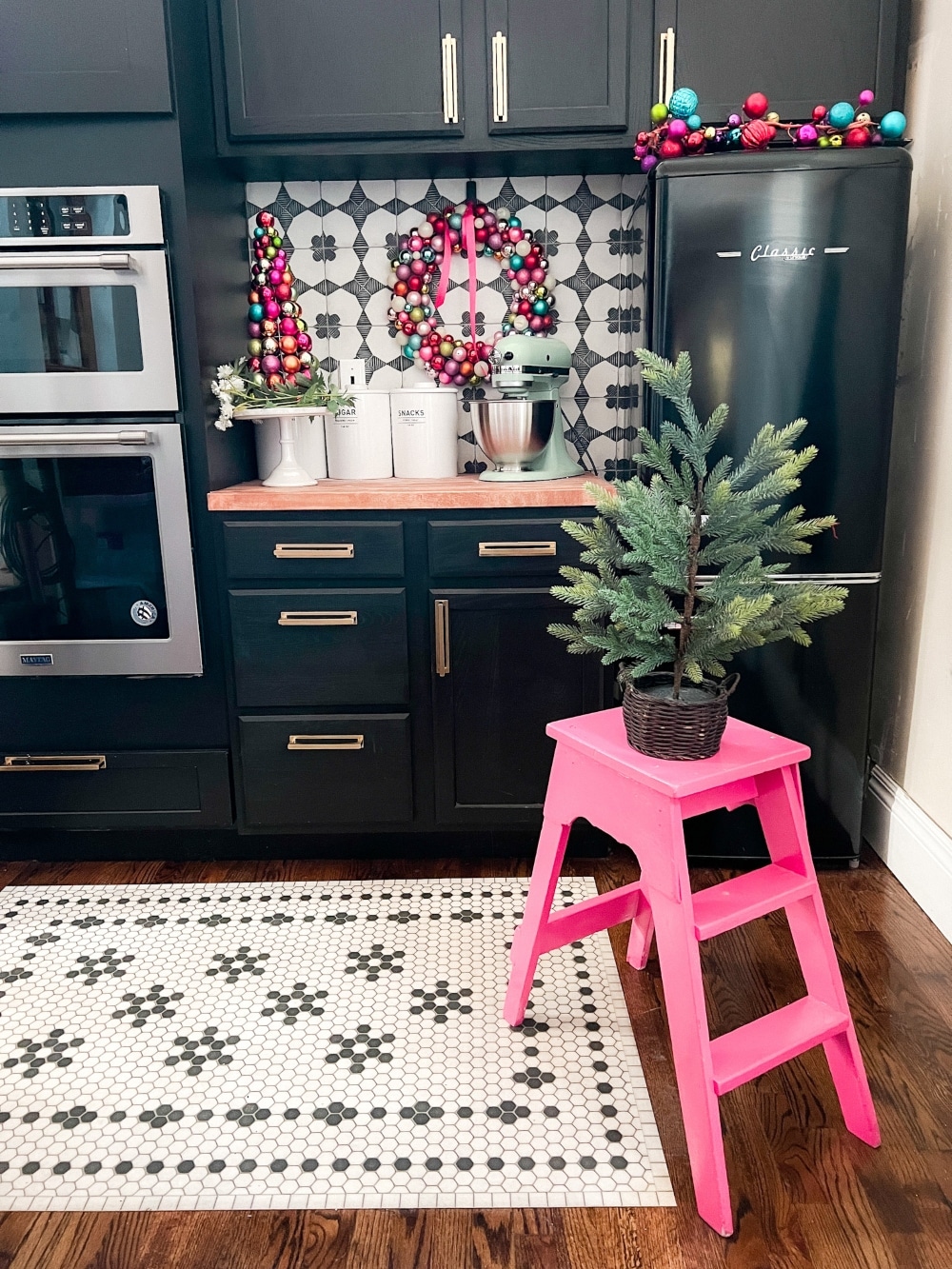 The wreath, garand and tree are beautiful colors and I think they play well off of the black and white theme in that little room. This is where our Christmas cookie station is!
Colorful Christmas in the Family Room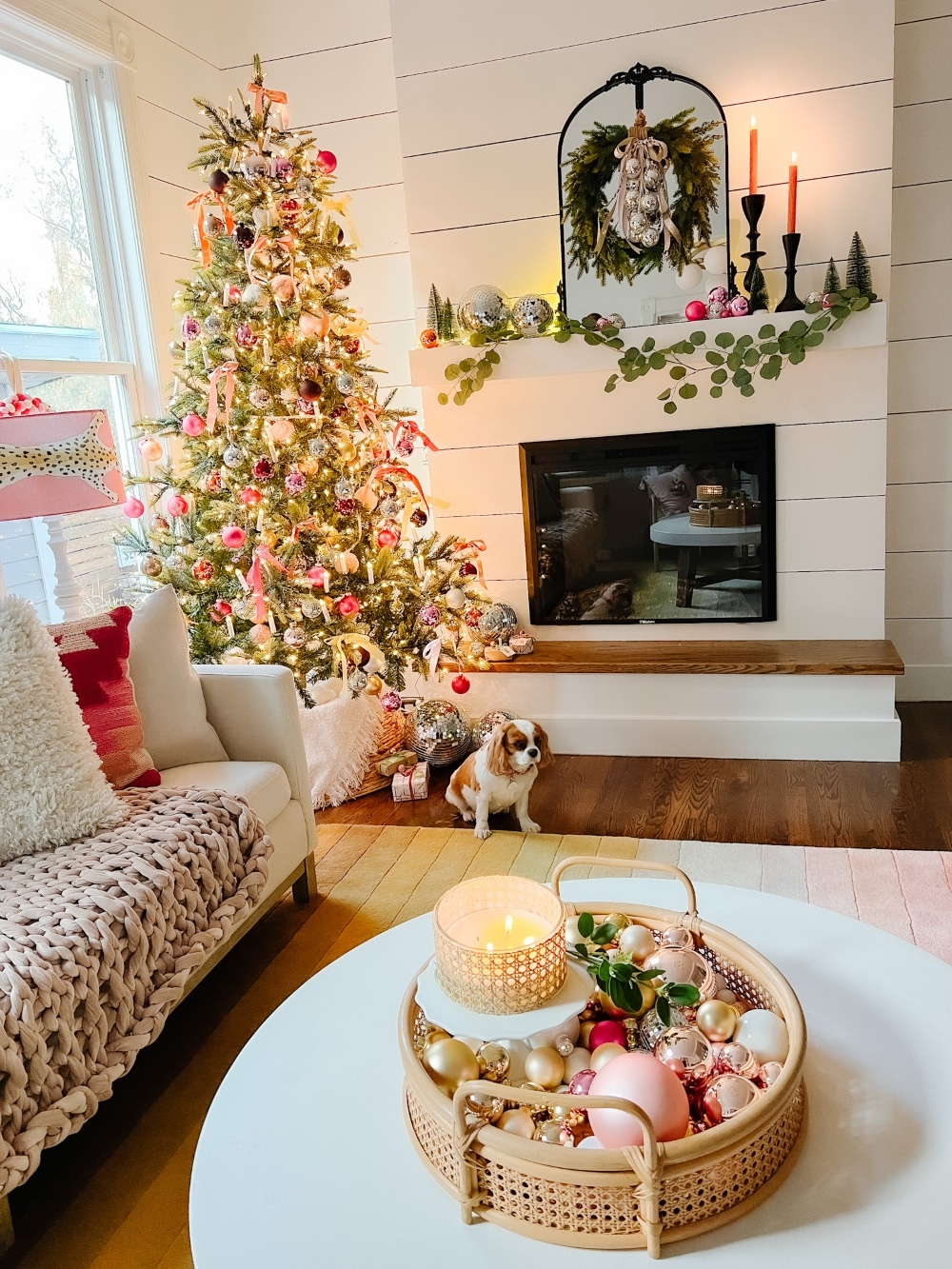 Right off of the kitchen is our little family room. When we moved in, the previous owners used it is a dining room but since it flows so well into the kitchen, I thought it was the perfect cozy get-together space. We built this electric fireplace and mantel and it's my favorite to decorate for the holidays!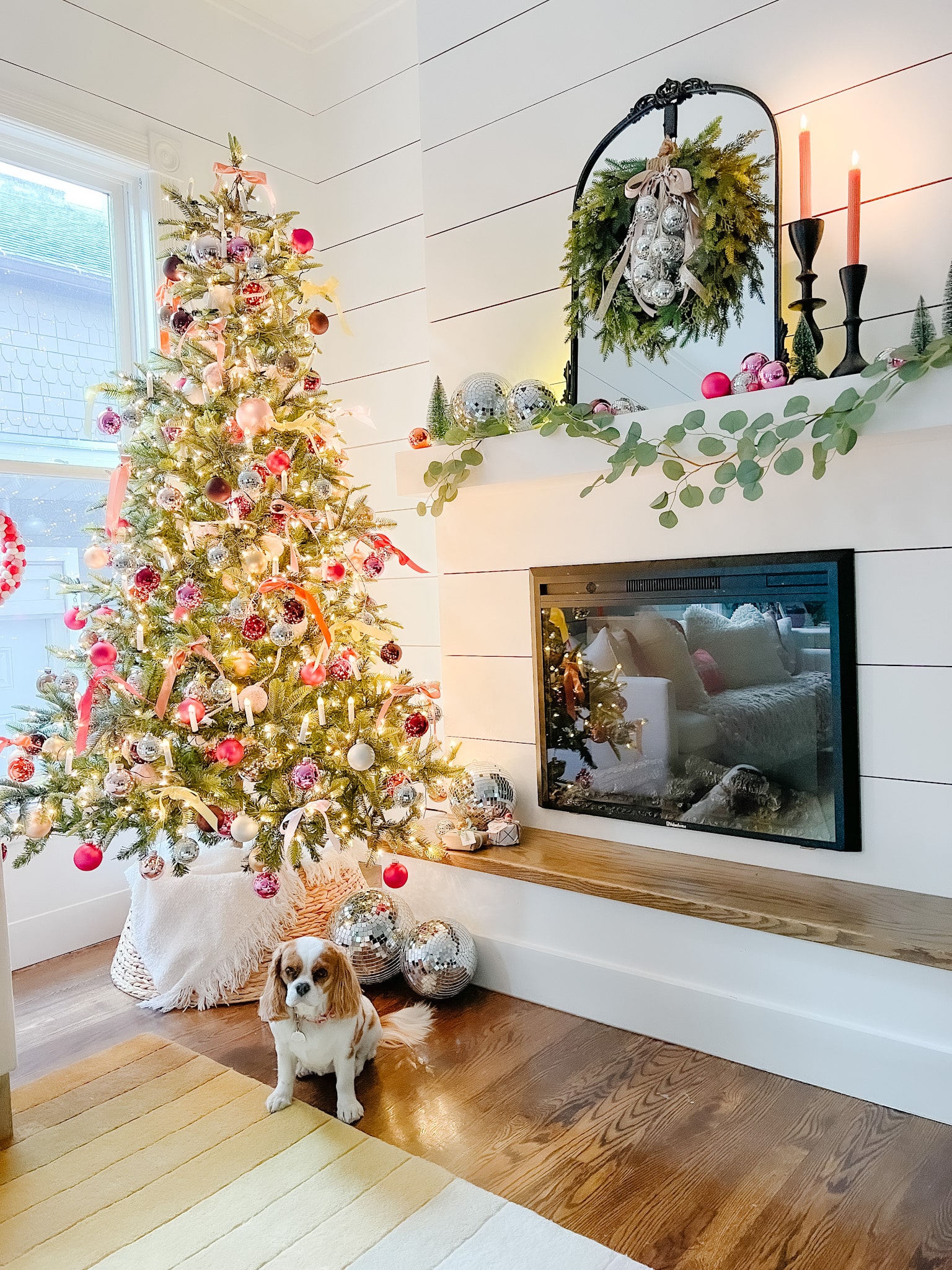 A Disco Ball Themed Mantel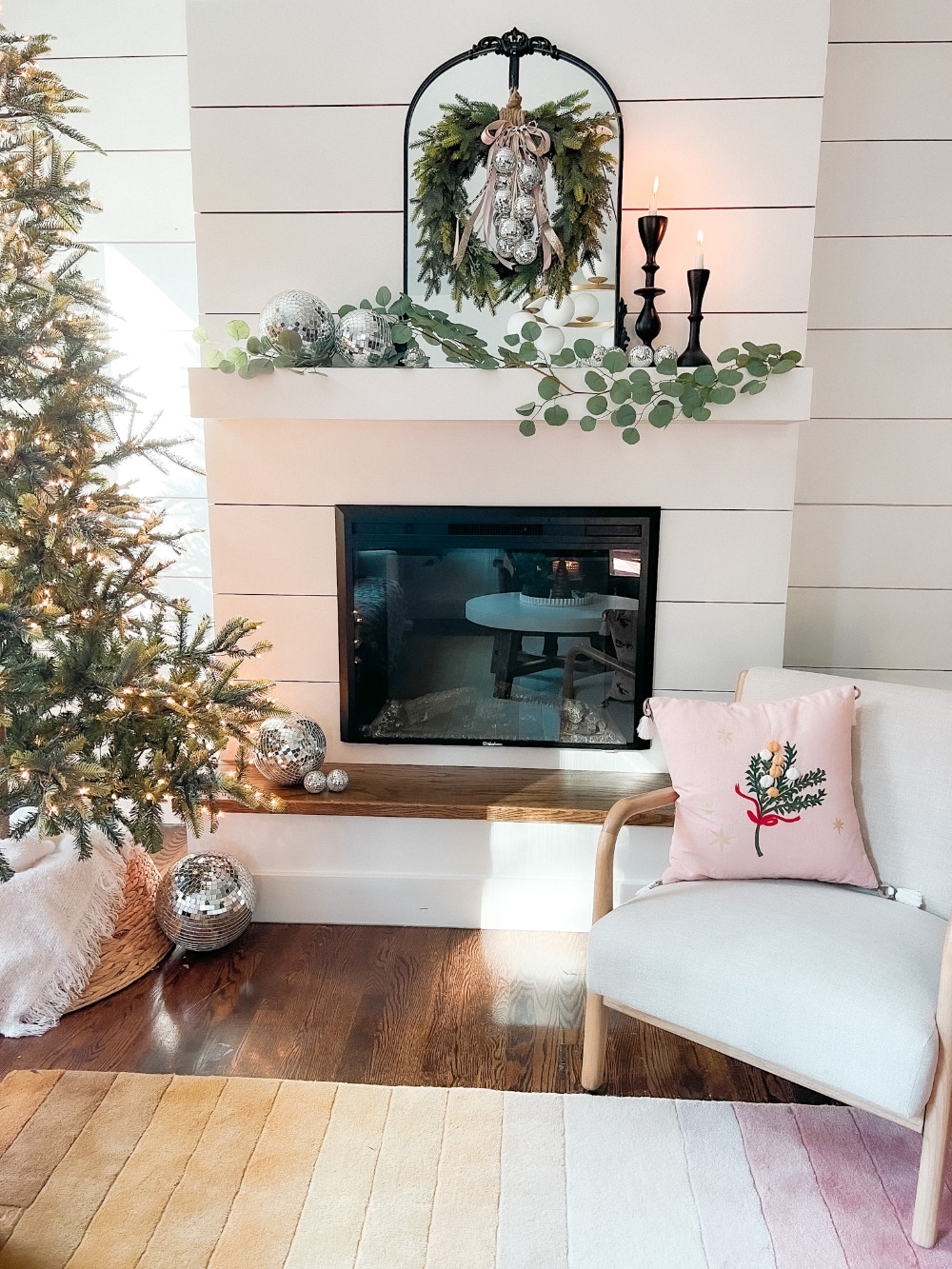 I went with a disco ball theme this year on the mantel! For some reason disco balls seem so happy and remind me of the roller rink when I was in middle school. I created an easy Disco Ball Wreath and I have the tutorial for that if you want to make one!
A Colorful Vintage Tree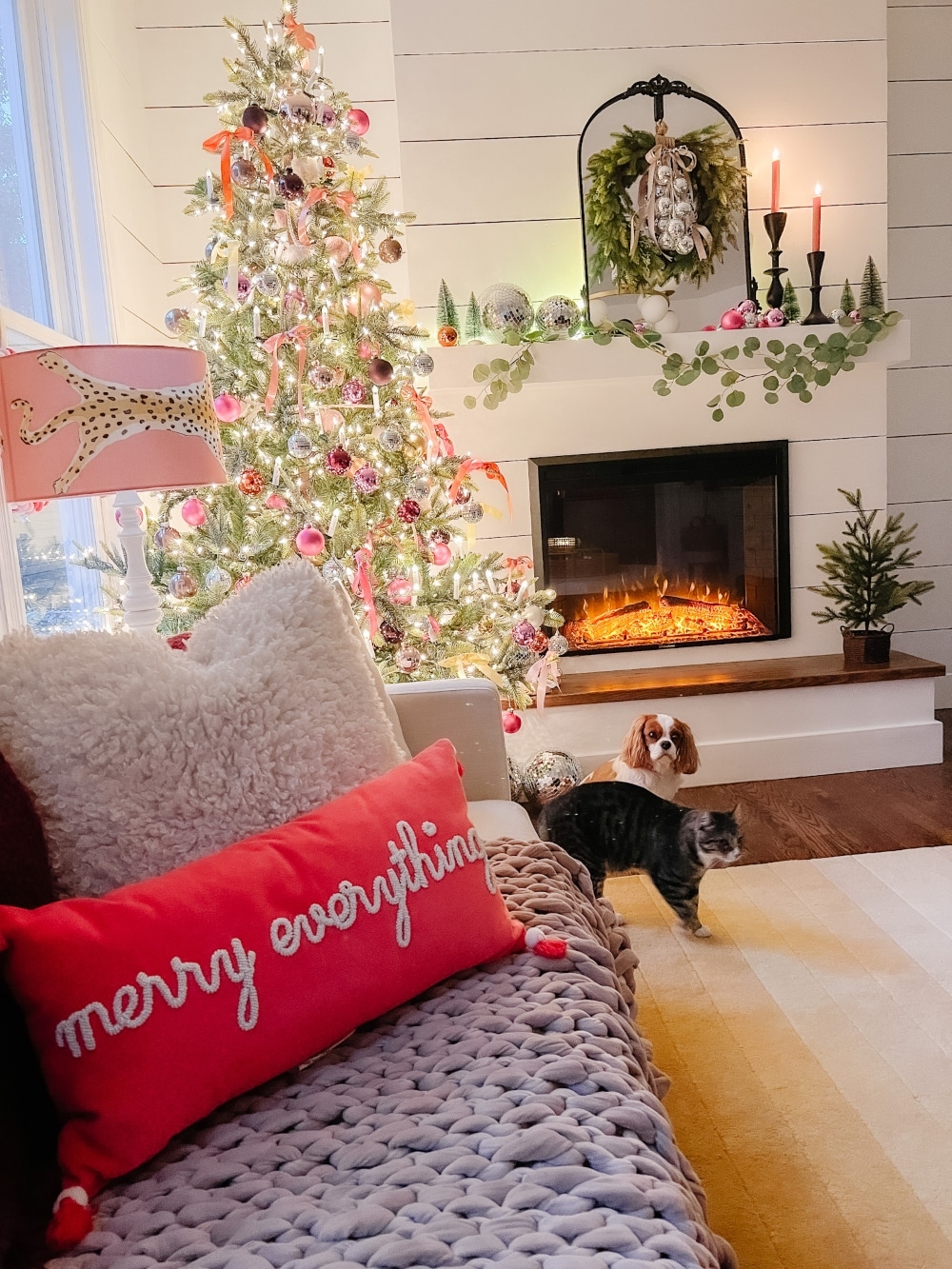 I love a colorful simple tree. This one is full of the happiest colored ornaments. I matched the ornaments to our rainbow striped rugs. So the ornaments are mostly yellows, oranges and PINKS! My favorite colors! I tied simple ribbon bow on the ends of the branches. And I also used my new candle lights!! I love the way the candles glow. The come with a remote so they are super easy to use. You can change the white colors, program with different modes and they even have timers. So fun! I matched the colorful ornament theme with a simple centerpiece using a beautiful rattan basket filled with ornaments and a matching rattan candle that smells so good!
Whimsical Tree Village in My Office
I even brought some Christmas color into my office. This is the original 1891 fireplace. I made these fabric trees and a matching wreath. I love working at my desk in front of the fireplace and seeing the festive colors! We have french doors between my office and the family room so I can see the mantel in my office and the mantel in the family room at the same time. It's so magical!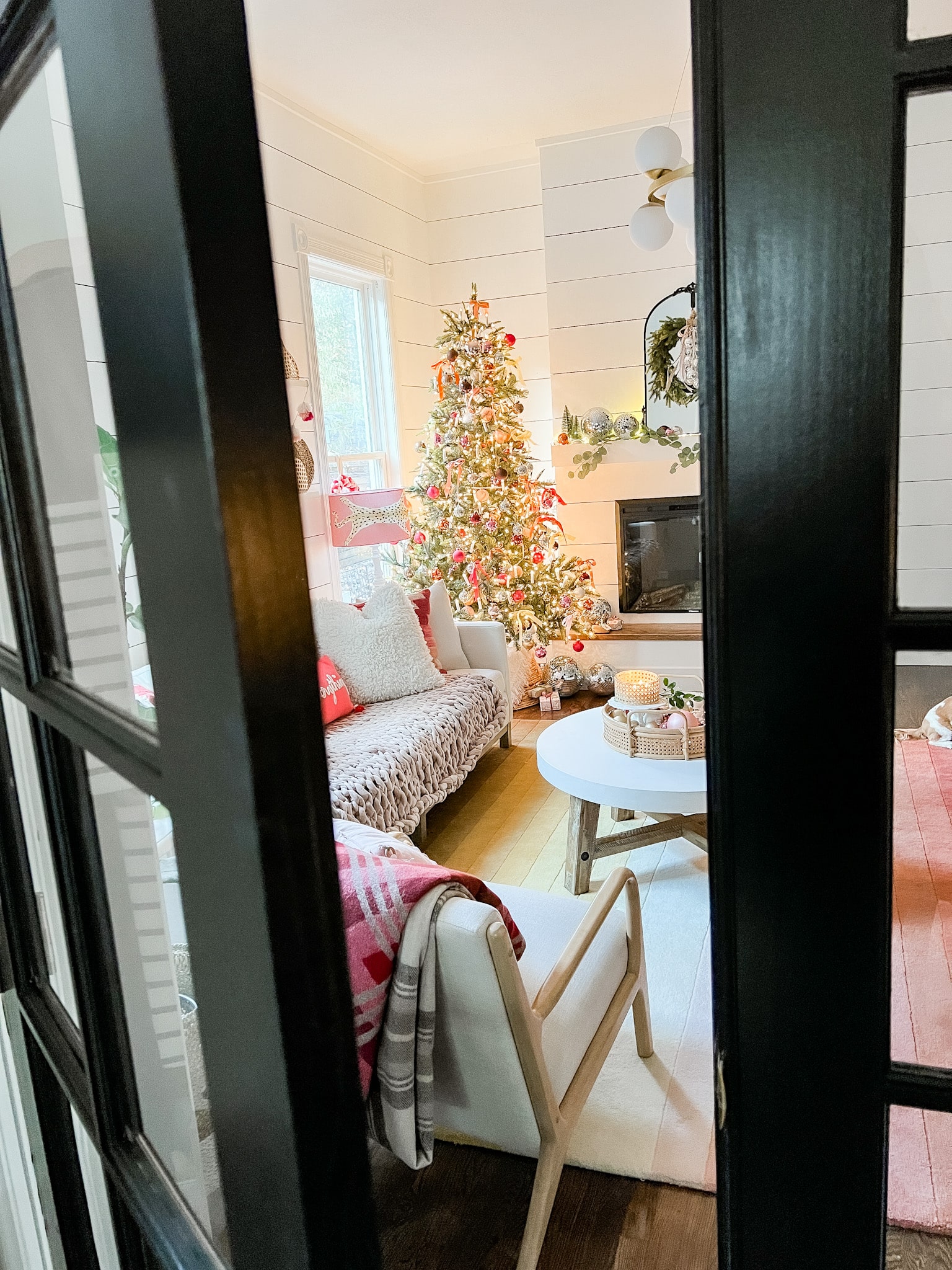 Next Stop on the Housewalk Tour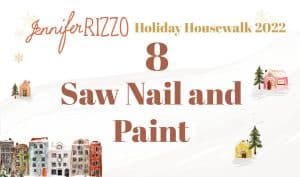 Thanks for stopping by my holiday housewalk tour!! I hope I sparked some inspiration! Be sure to stop by Susan's home at Saw Nail and Paint! I can't wait to see what Susan has done with her new home for Christmas!!
Have a Beautiful Day!
xoxo