How to Make an Autumn Paper Leaf Wreath! Turn paper into a gorgeous paper leaf wreath that you can use by itself or pair it with a letter board!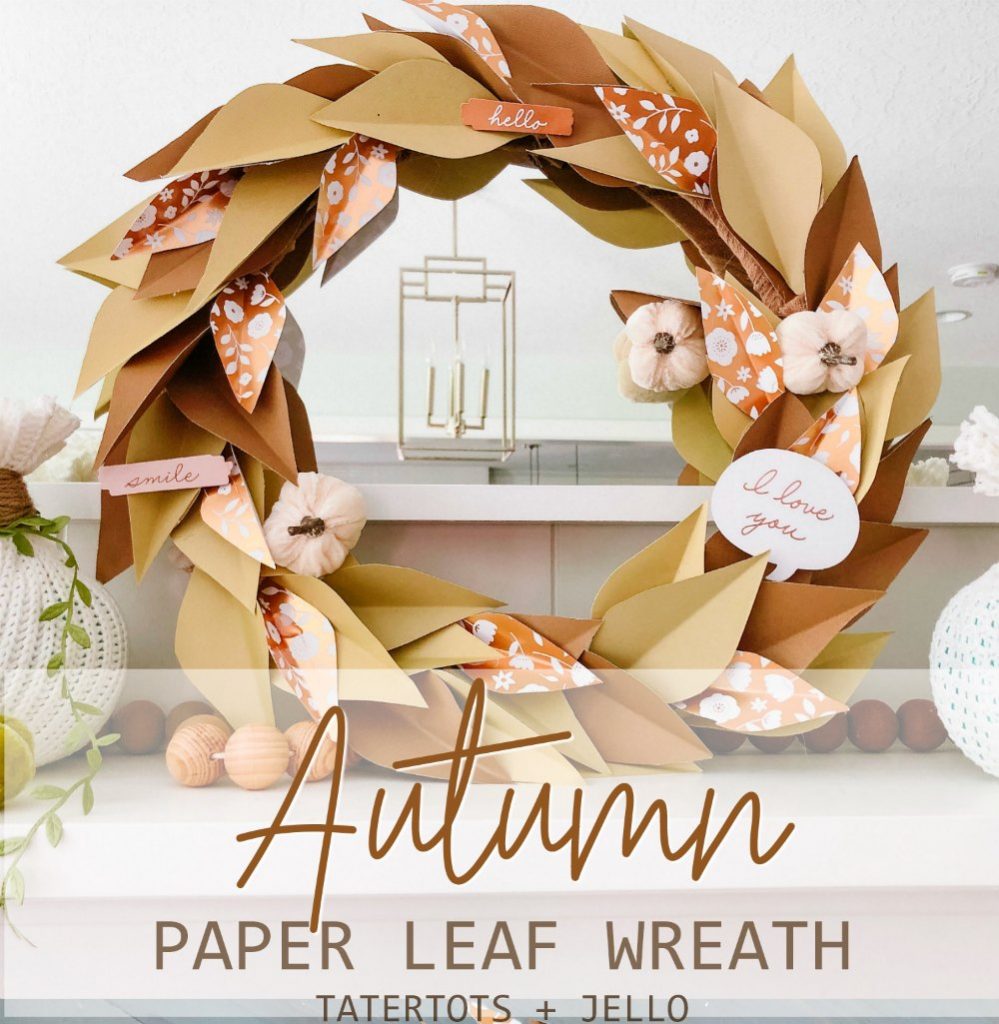 This post contains affiliate links. Affiliate links add no additional cost to you but allow tatertots and jello to bring you free content.
Turn Paper into a Beautiful Autumn Wreath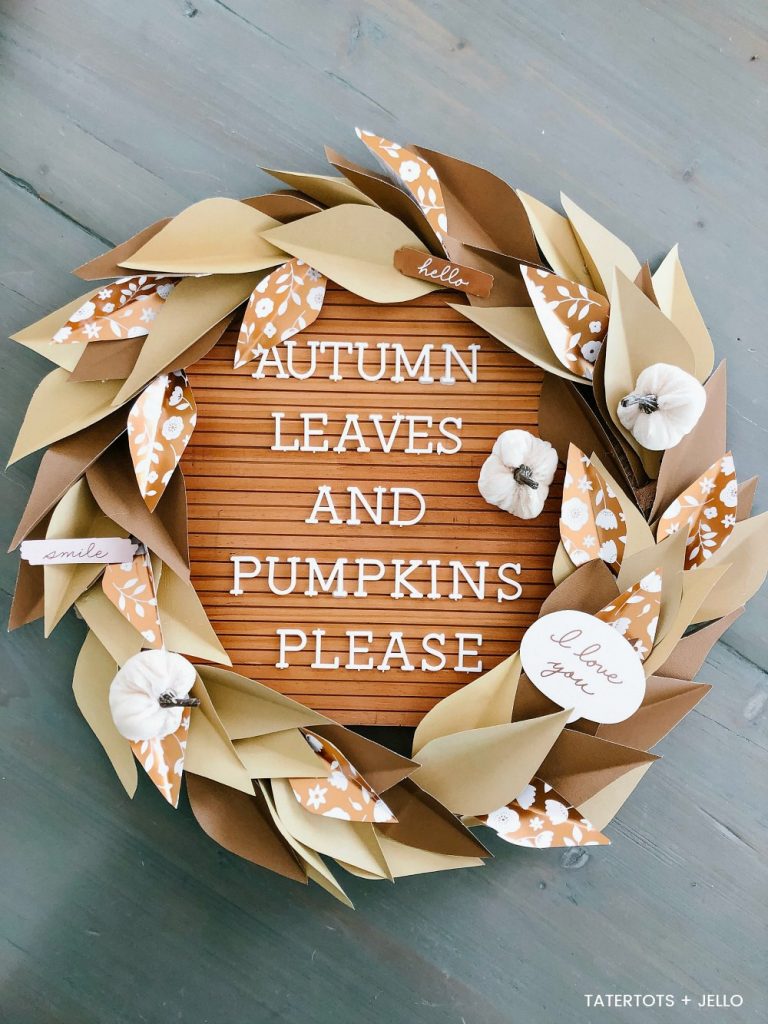 I love paper crafting – especially for home decor and one of my favorite things to make is wreaths! Take paper, cut out leaves and create a beautiful fall wreath.
Pebbles + Jen Hadfield This Is Family Paper Line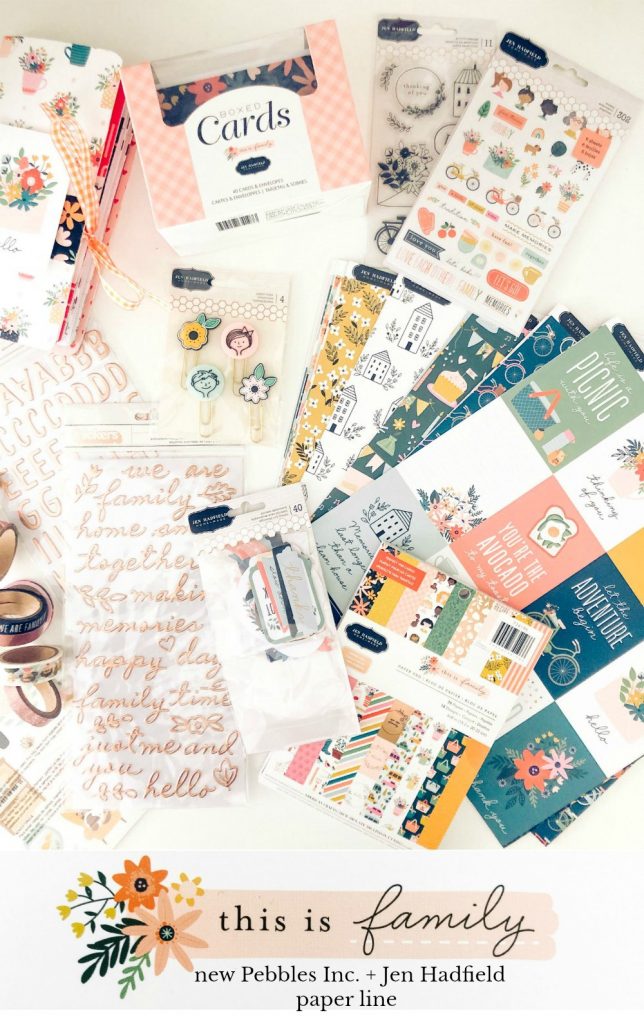 My newest paper line – This IS Family – was just released and I am SO excited. This Is Family is all about family traditions and celebrating the things that you love to do together as families. Things like going on picnics, family trips, birthdays, gardening, cooking together and more!
Choose Paper That Reflects Your Home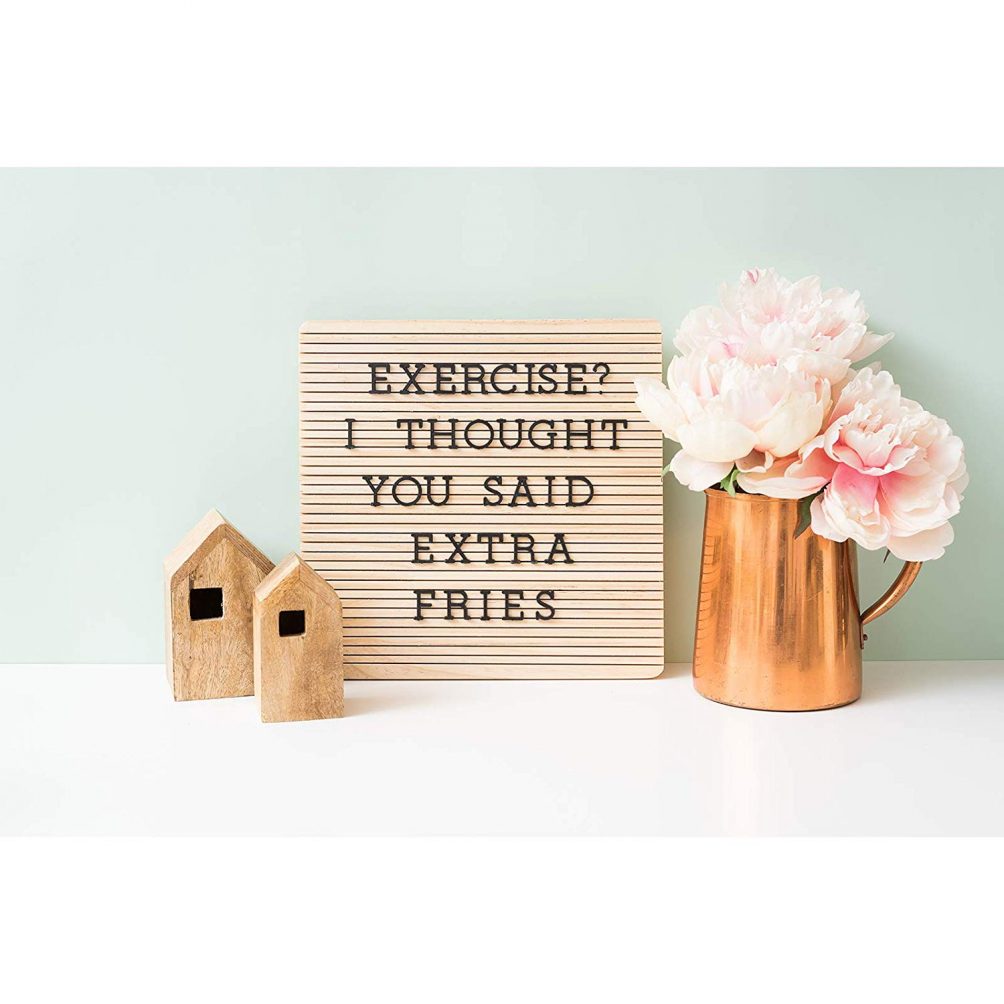 This Is Family is full of gorgeous papers that are perfect for Fall! Deep hues, florals, patterns and papers with a deep copper metallic sheen that looks so pretty for fall! I used one of the copper metallic papers for the leaves in this wreath and I love the way it turned out!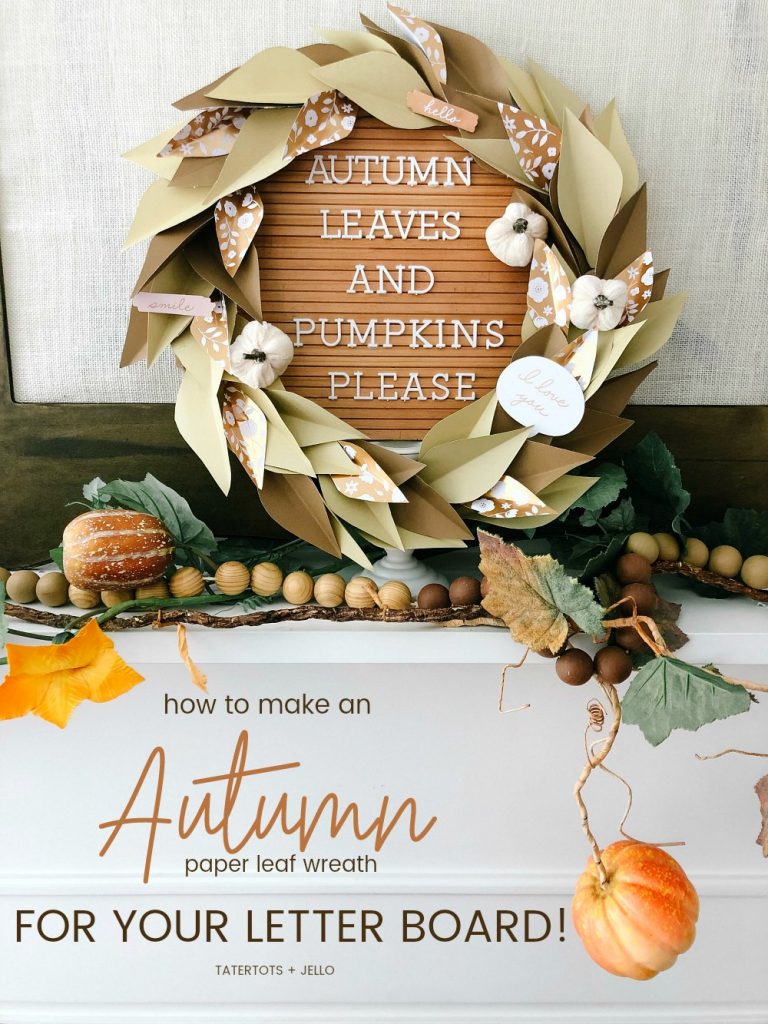 How Do You Cut Out the Paper Leaves for an Autumn Paper Leaf Wreath?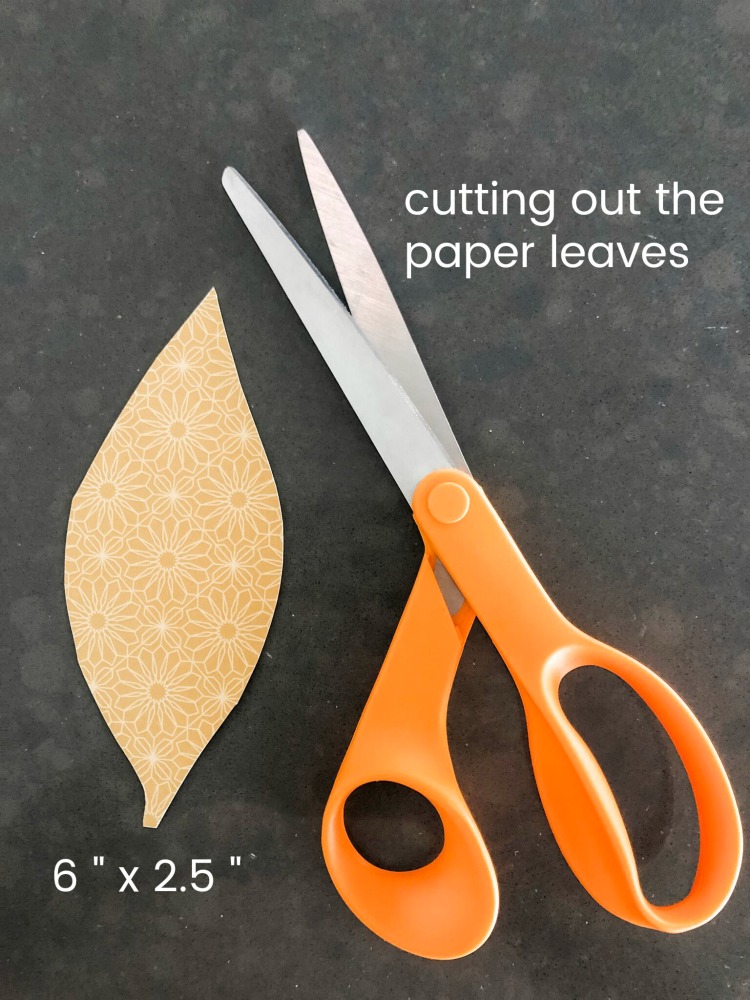 There are a couple of different ways that you can cut out the leaves for your wreath. If you have a craft cutting machine you can buy a leaf file and cut them out with your machine. If you don't have a craft cutting machine, just make a leaf the size that you want for your wreath by sketching it on a piece of card stock paper. Then cut that leaf out and trace it onto the paper you want to use for your wreath.
What Supplies Do You Need to Make an Autumn Paper Leaf Wreath?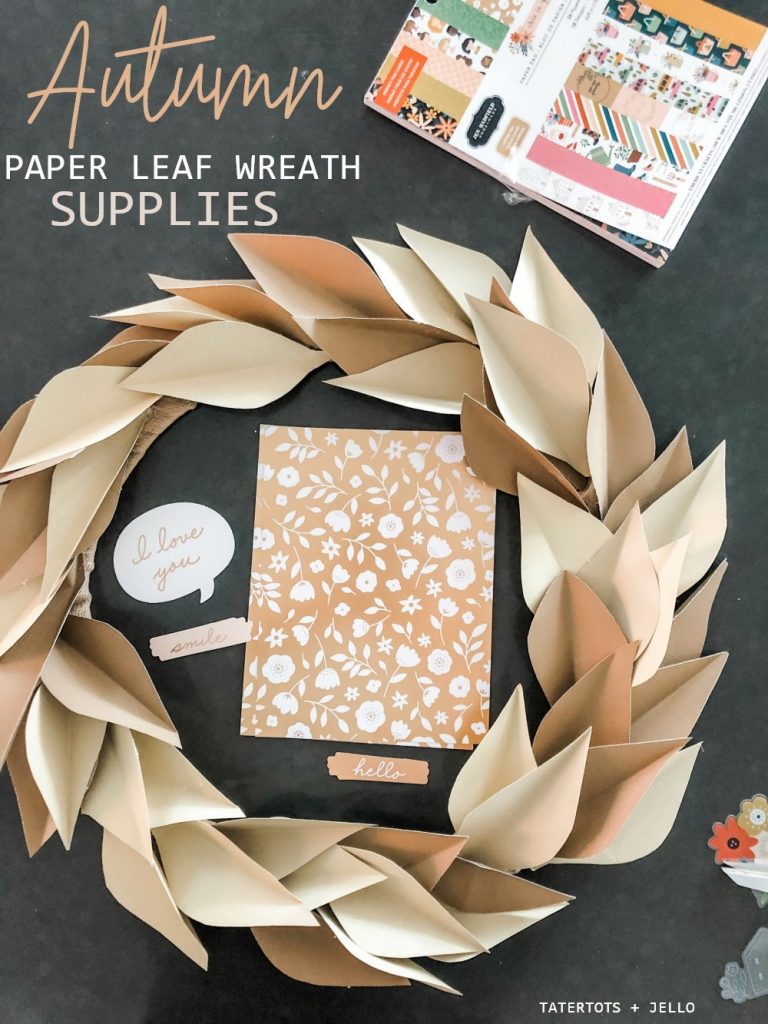 There are just a few supplies needed to create this wreath. Here they are:
Wreath Form
Fabric to Cover the Wreath Form (or Ribbon)
Hot Glue and Glue Gun
3 Scrapbook Papers
I used the copper metallic paper from the This Is Family line, plus two coordinating plain papers.
Embellishments
I used embellishments from This Is Family line.
Letter board
The letter board I used is the DCWV Wood Board.
How to Make an Autumn Paper Leaf Wreath
Wrap The Wreath Form
I used a thin neutral fabric to wrap my wreath form. You can also use ribbon. Hot glue the beginning of the fabric to the wreath form and then wrap evenly and finish off by hot gluing the other end to the wreath form. If you are using fabric, rip or cut the fabric into 4-inch lengths.
Cut Out Leaves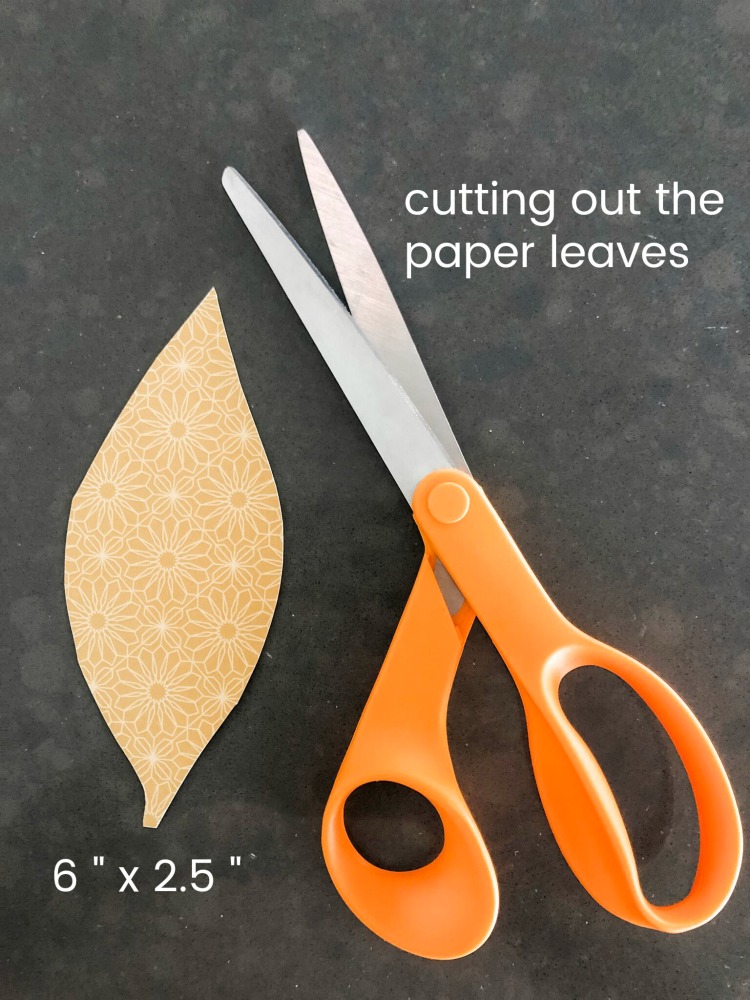 Use your craft cutting machine to cut out leaves out of the three different scrapbook papers. My leaves were 5 inches long by three inches wide. Use 12 x 12 pieces of scrapbook paper for the plain colors. Cut out 25 leaves out of each of the plain papers. I cut out 12 leaves out of the metallic paper.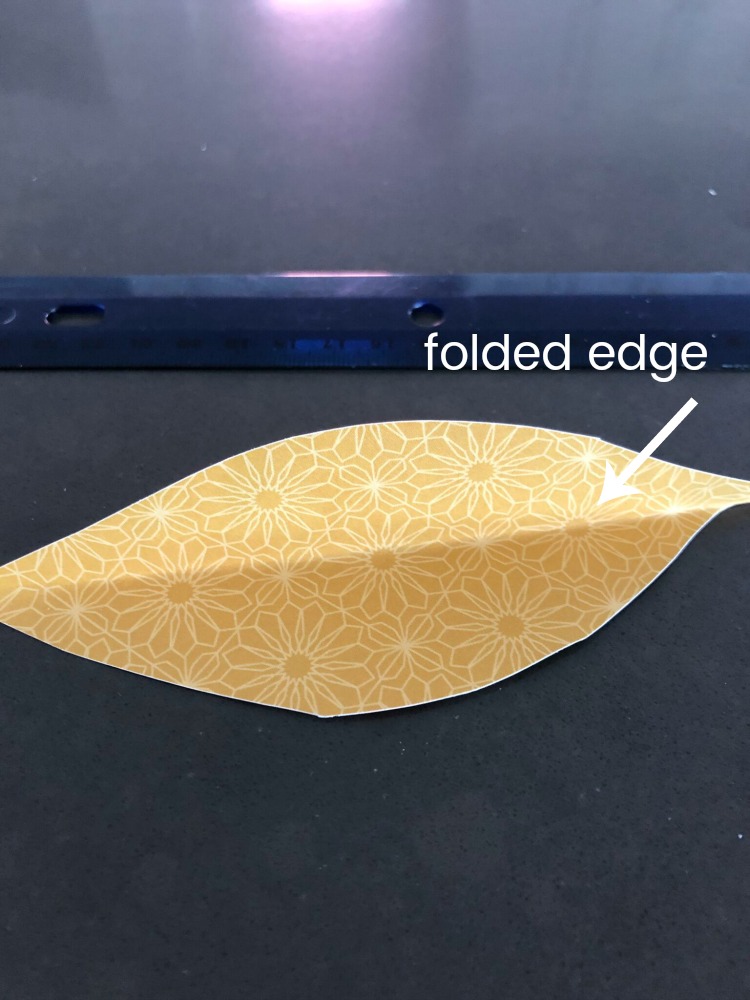 Score the Leaves
If you buy a leaf file for your craft cutting machine, you can buy one that is also scored which is nice. If you are cutting out the leaves by hand, you can fold the leaves by using a ruler. Take the ruler, lay it in the center of the leaf.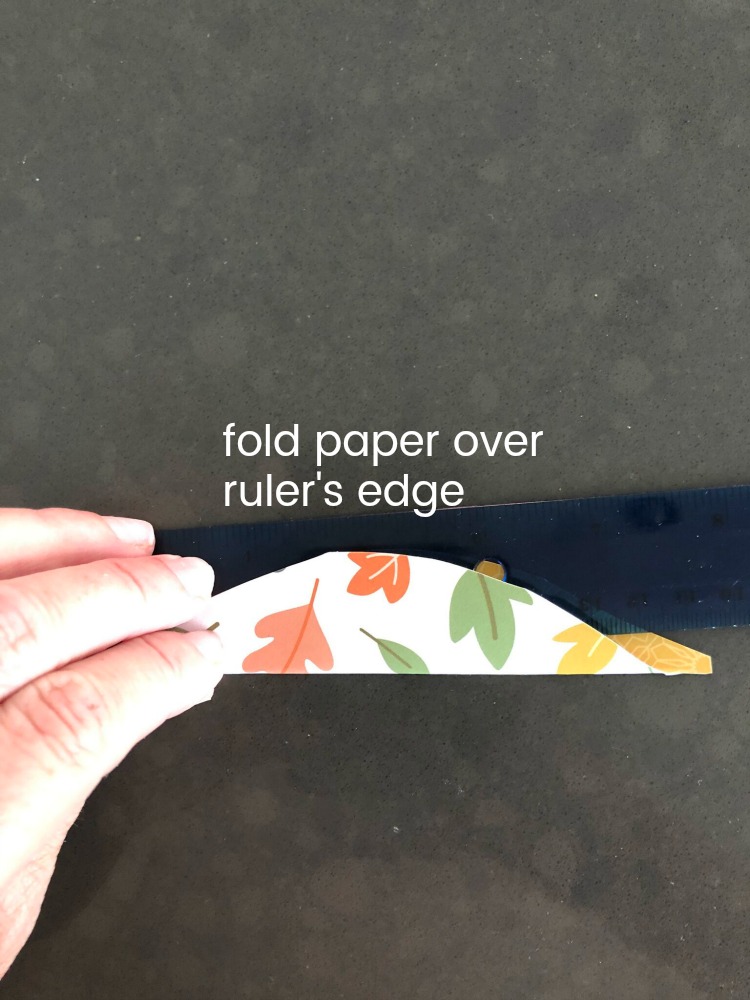 Then fold the leaf at the center, the ruler will hold it and make the line crisp.
Hot Glue The Leaves to the Wreath Form
Place the leaves on the wreath form first before you start hot gluing. Hot glue the plain paper leaves to the wreath form. Have all of the leaves face the same direction. I hot glued one plain color leaves first, then I layered the second leaves over the first color. I hot glued the metallic paper leaves on at the end.
Add Embellishments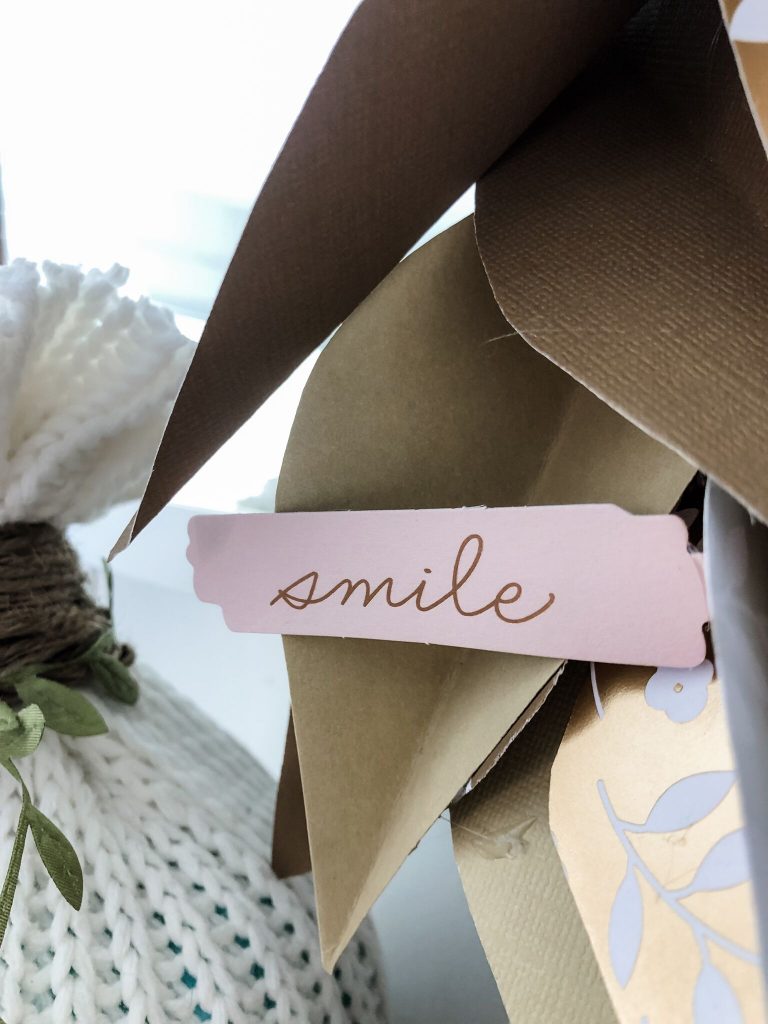 I added a few cute embellishments from the This Is Family line. You can use any embellishments that you want.
Place the Wreath Over Your Letterboard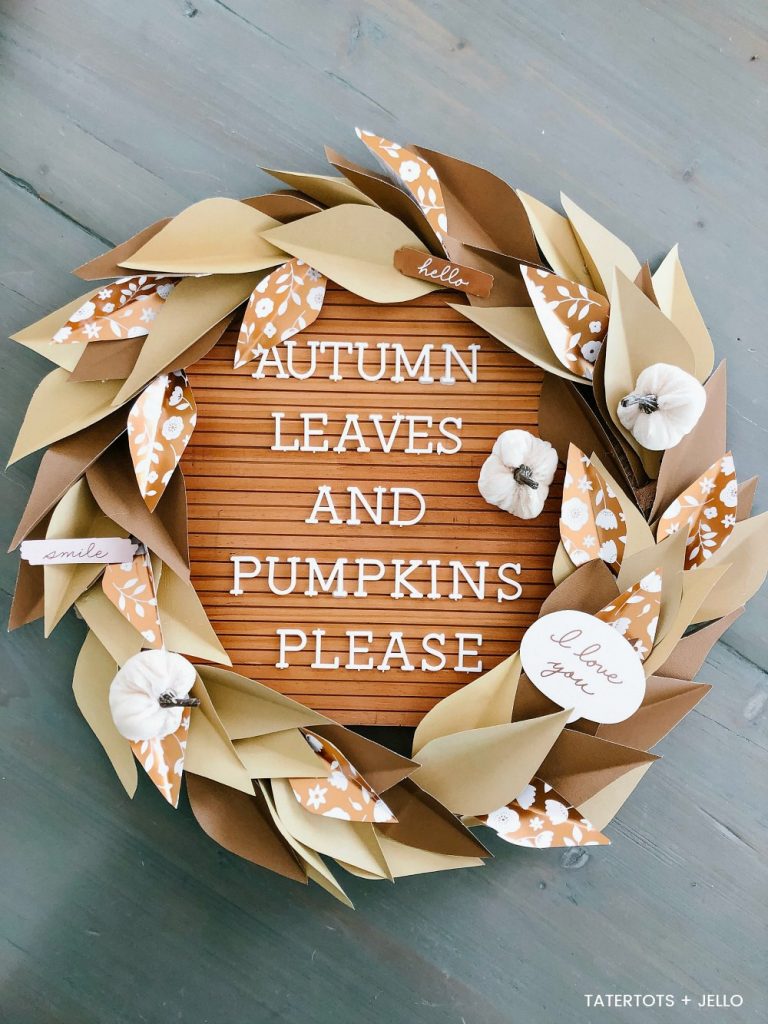 If you want to use the wreath with your letter board, you can add a ribbon loop at the top of the wreath underneath and then have it loop over the top of the letter board and attach to a peg that you hot glue onto the back of the letter board. This way you can switch the wreaths out on your board!
What Size Wreath Form Do You Use With The Letterboard?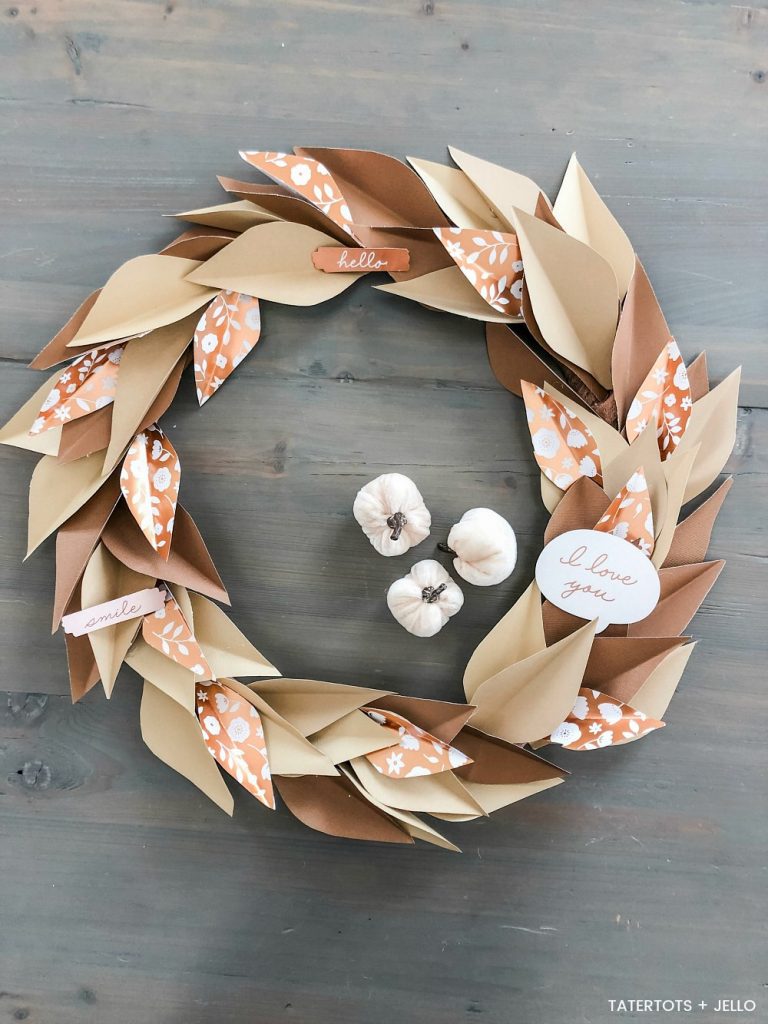 The DCWV letter board I used is 12 inches wide. I knew I wanted the wreath to be wide enough that I would still be able to spell things on the board without having them be obscured. I chose a 16 inch wide wreath form. It's 16 inches wide from the outside and has 12 inches clearance inside. That way I could have leaves that went inside the wreath and still have room to spell things on the letter board.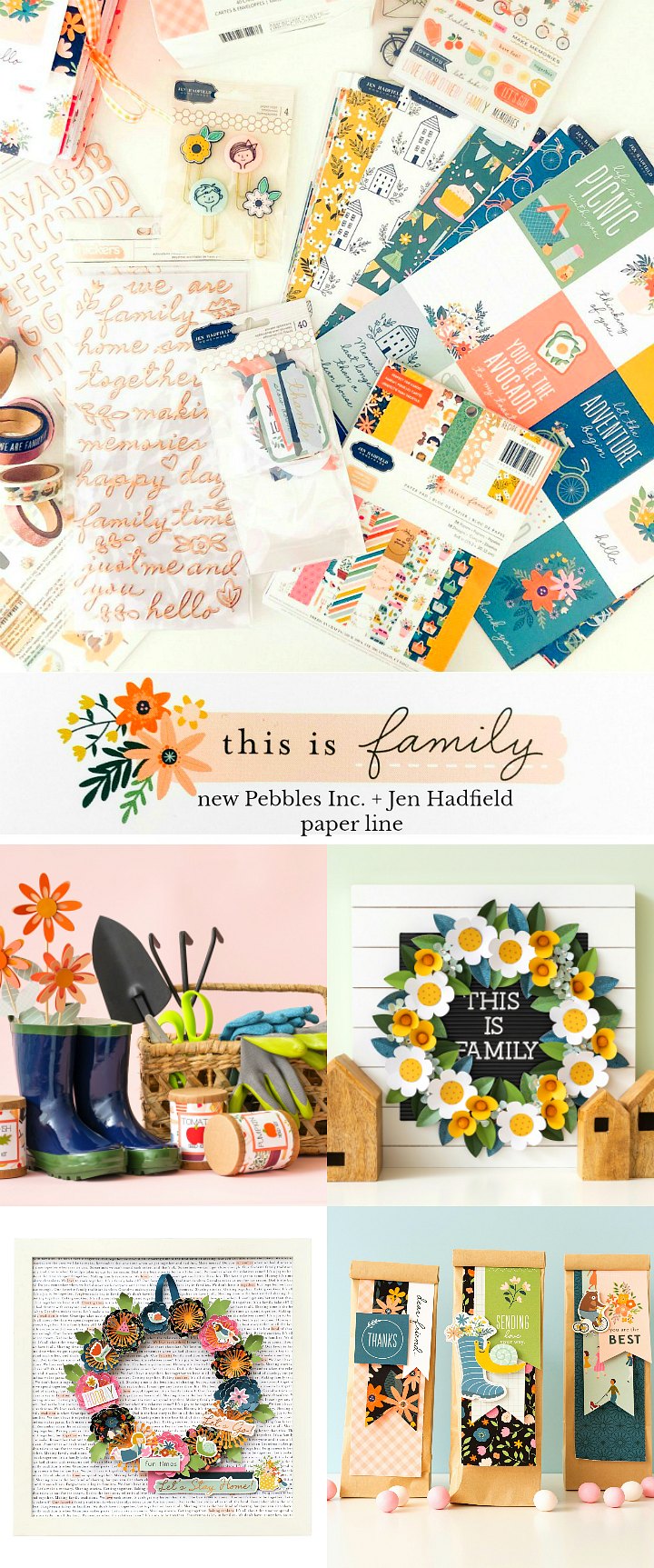 Where Can I Buy This Is Family?
You can buy my new This Is Family paper line online through Scrapbook.com! You can also buy the DCVM letter boards there or through Amazon!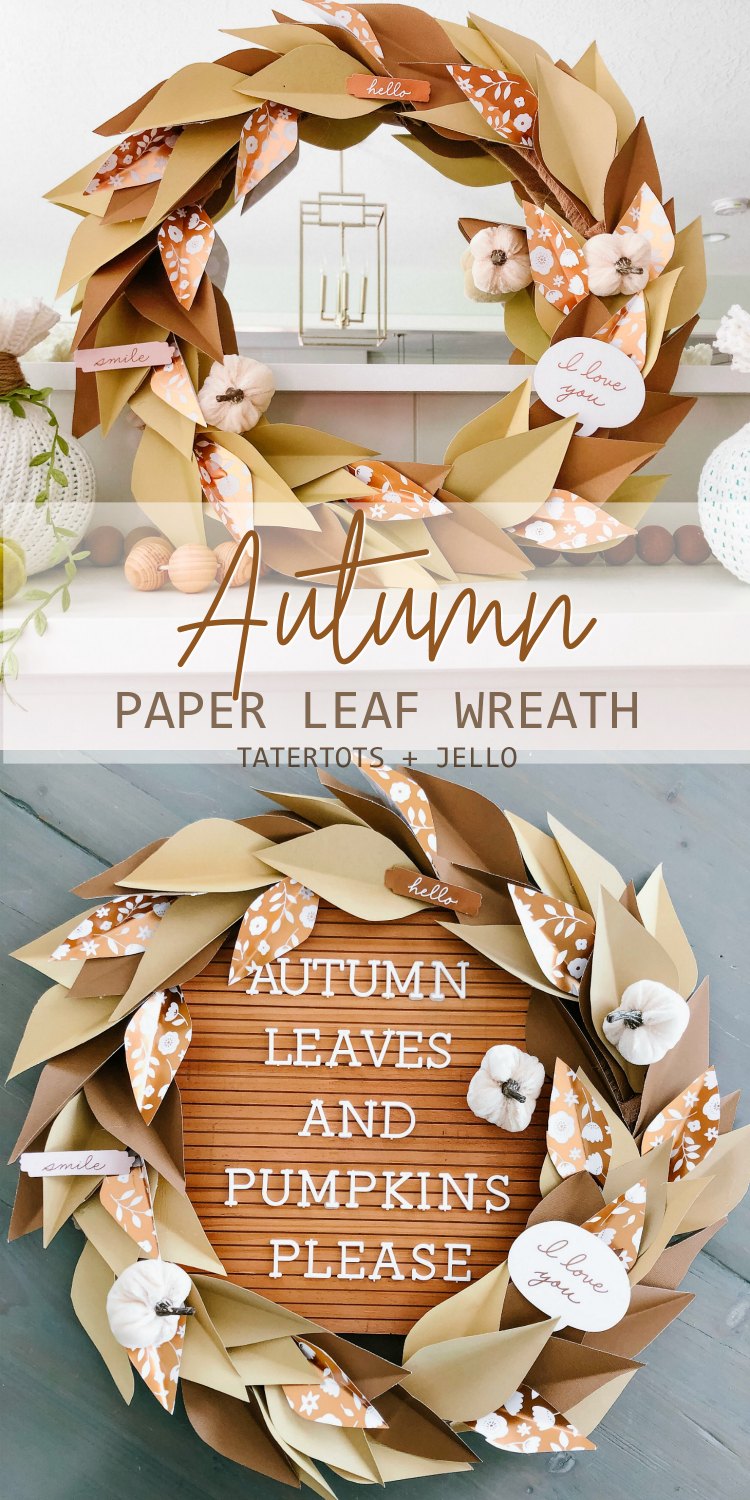 More Fall Wreath Ideas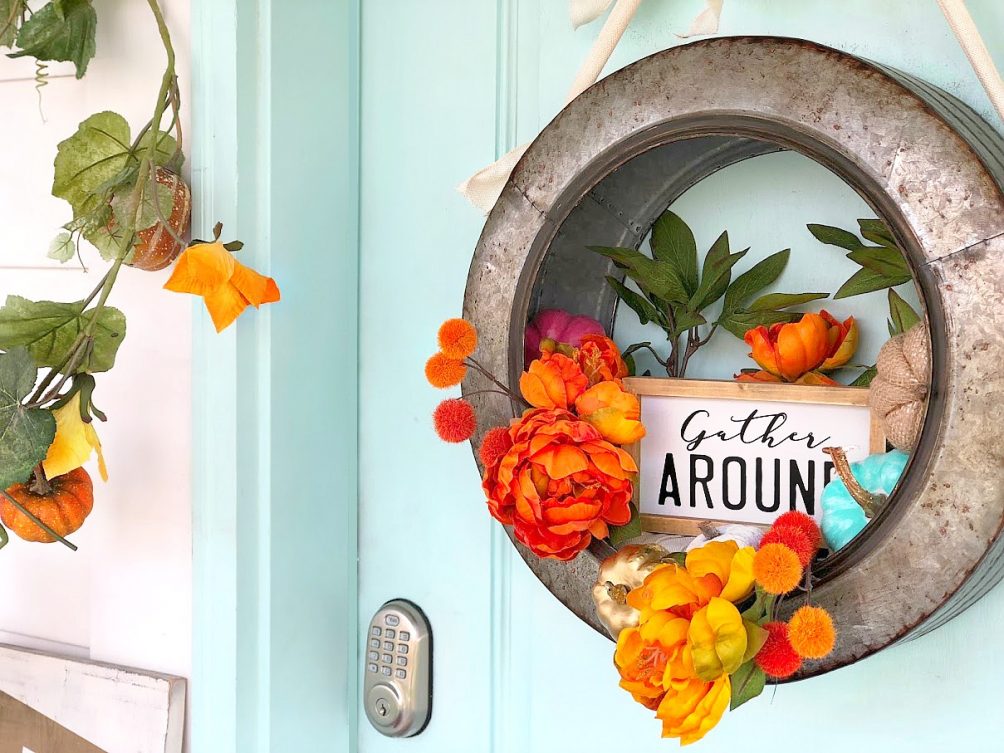 This is an easy wreath to make. Just take a galvanized wreath base, add pumpkins, flowers and a little saying to the center for a beautiful way to welcome friends to your home!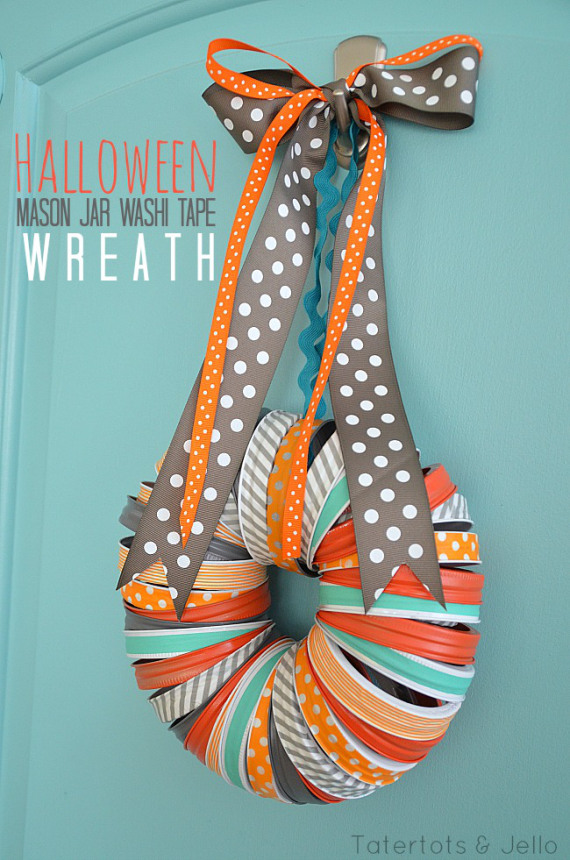 This is one of my favorite Fall projects. All you need are mason jar lids, spray paint, washi tape and some ribbon!
What projects are YOU working on for Fall?
Share them with us in the comments! Or tag me @tatertotsandjello on Instagram!
xoxo

I am a designer with American Crafts and Pebbles. I am so happy to work with companies I love!