How to Create a Warm and Relaxing Great Room. Turn a little used space into a fun, bright hang out and movie room for teens!
How to Create a Warm and Relaxing Bonus Room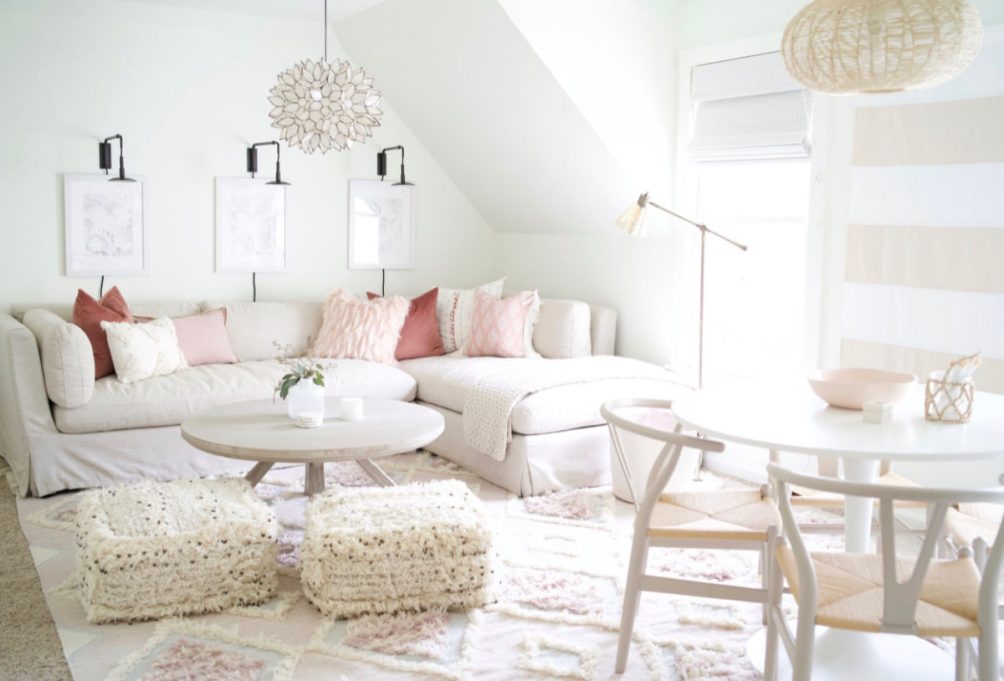 (image via Truth & Co. Interior Design)
We have been remodeling our 1891 for the past two years. We started on the main floor, worked our way downstairs and created an Airbnb and just finished our master bedroom and bathroom. Now we are working on our top floor! Before our bedroom remodel was done we had been using the attic as our main bedroom. Now that the bedroom is done, we moved downstairs and are working on transforming our attic into a bonus room for the family!
What is a Bonus Room?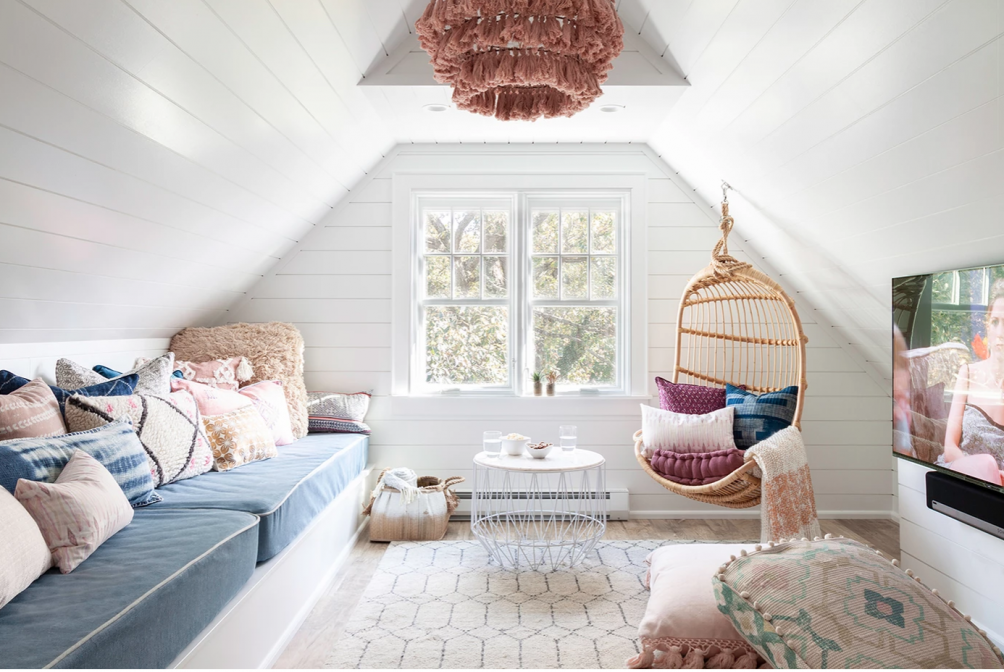 (image via Mimi & Hill)
A bonus room is a room that's more relaxed than a living room. Typically a living room is designed for receiving guests and more formal entertaining. A bonus room can be used for many uses — hanging out, guest quarters, an office, a library, playroom or teen hang-out room and usually has a television. Our bonus room is going to be used for a few different purposes.
Designing a Bonus Room for Different Purposes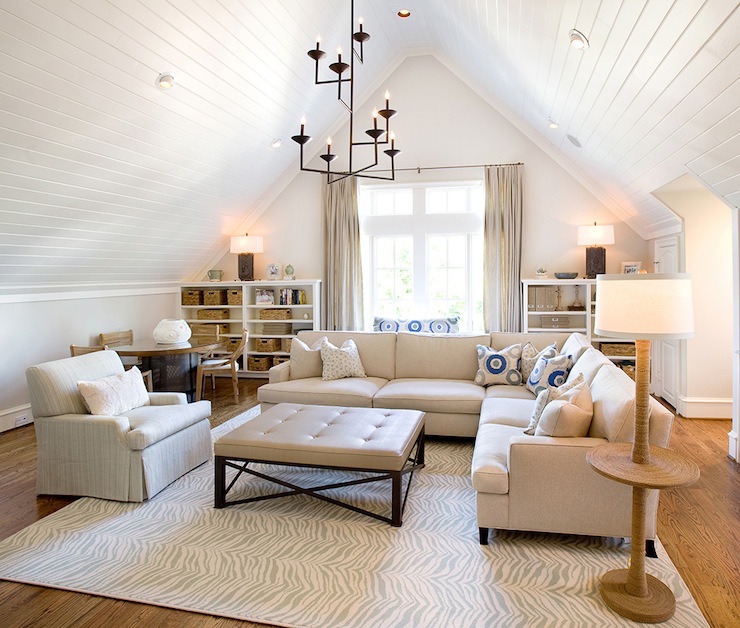 (Attic Family Room via Decor Pad)
A bonus room can have many different uses, depending on your family dynamic and members. Our family is transitioning. My kids are young adults and teens. Some have moved out and my oldest has moved to a different state. Our youngest kids are in middle school and high school. So I need a space that can be used as a hang-out space for friends, a family space for game playing when the adult kids come over and a guest space when my son or family are in town. So as I have been designing the space, I've taken all of those needs into consideration!
Where Can a Bonus Room be Located?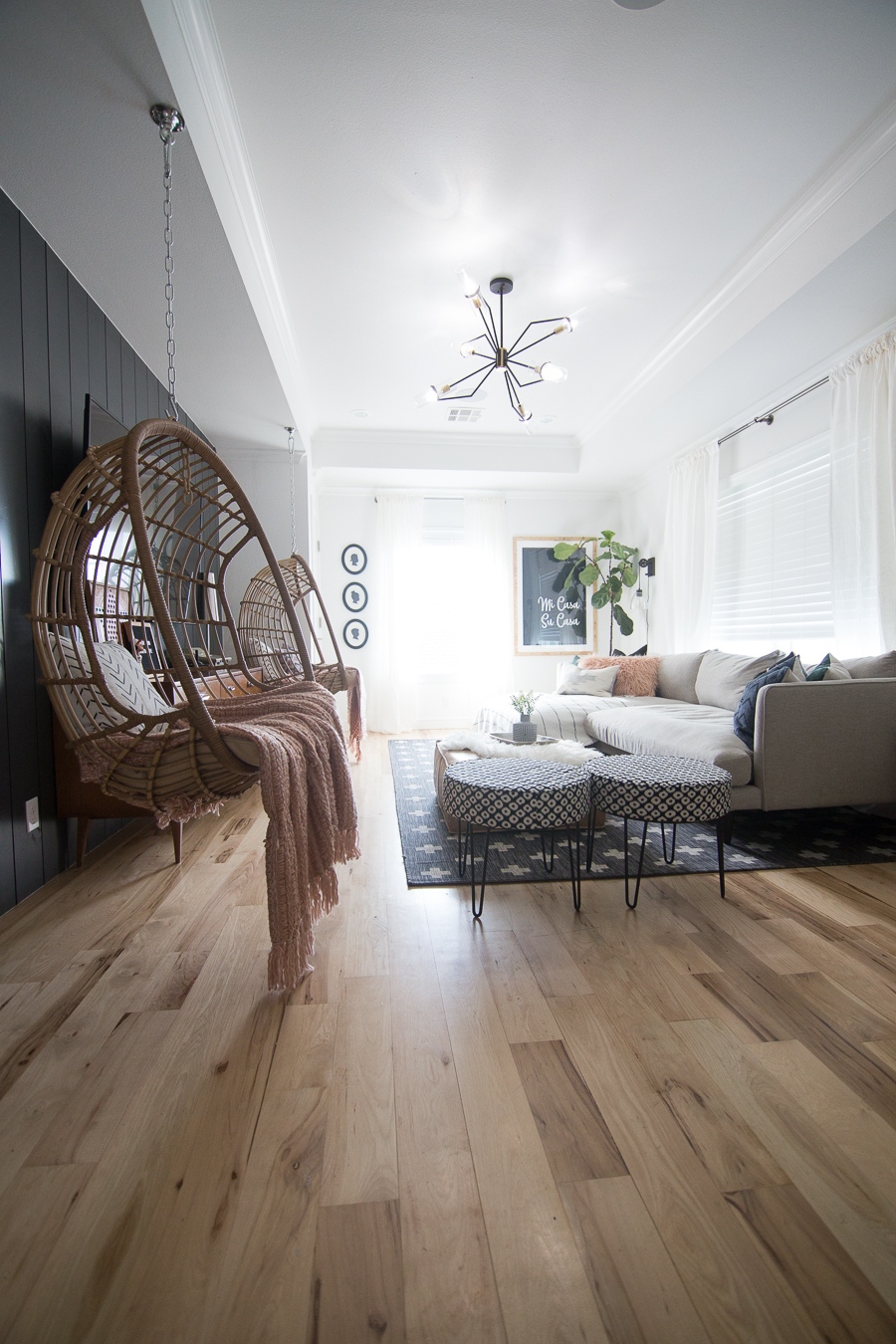 (CC + Mike Teen Hang Out Room)
A bonus room can also be a "family room". Family rooms are typically off the kitchen. But you can also create a bonus in other spaces. Many bonus room are above a garage or in an attic. But a basement can be a wonderful bonus room too. Our bonus room is our attic and it's perfect for us because we just turned our basement into a airbnb income stream. So we needed a place away from the airbnb where we can be loud and not disturb the people on the bottom floor. The attic was perfect for that.
Create a Bonus Room Mood Board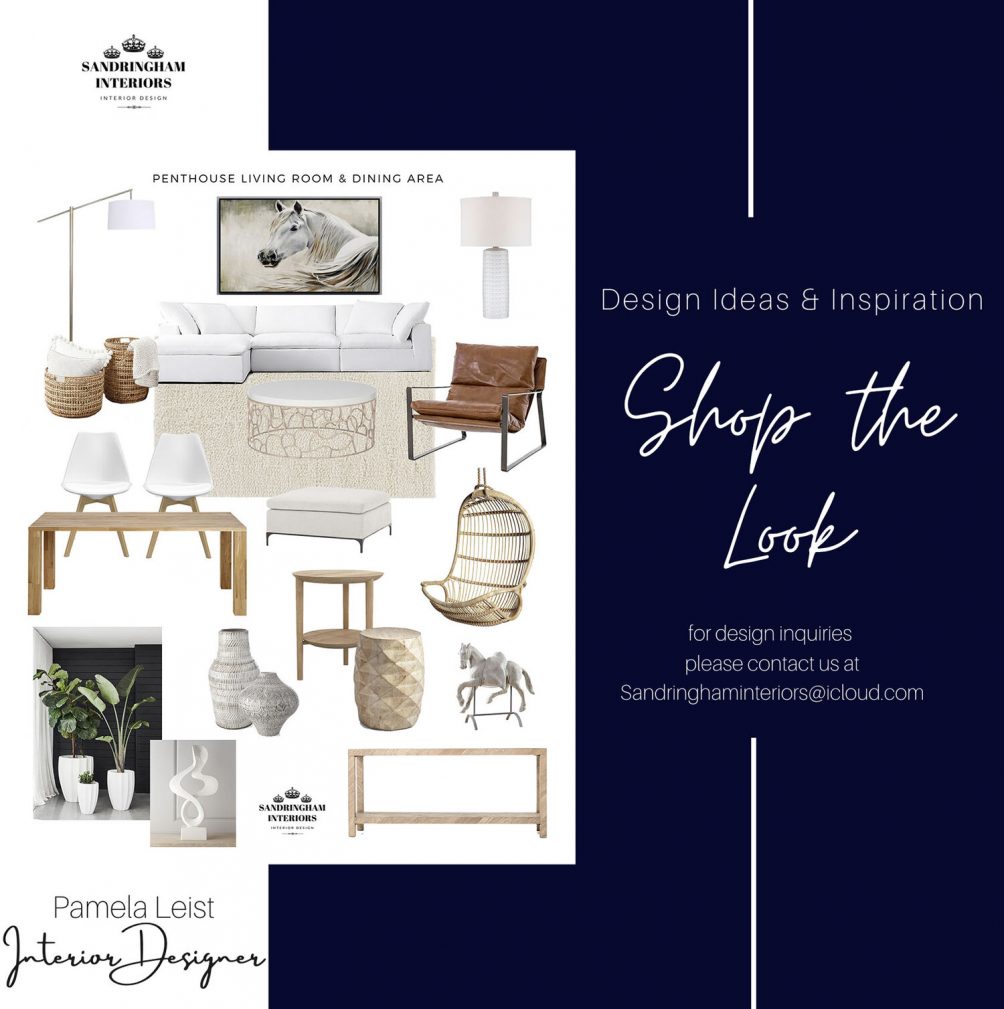 (Mood Board via Sandringham Interiors)
One way to start designing your bonus room space is to create a pinterest board and mood board. Envision your space and what type of aesthetic you are going for. By creating a Pinterest board and then a mood board, you can take the colors and furnishings you like and see how everything looks together before you buy anything!
My Boho Cottage Bonus Room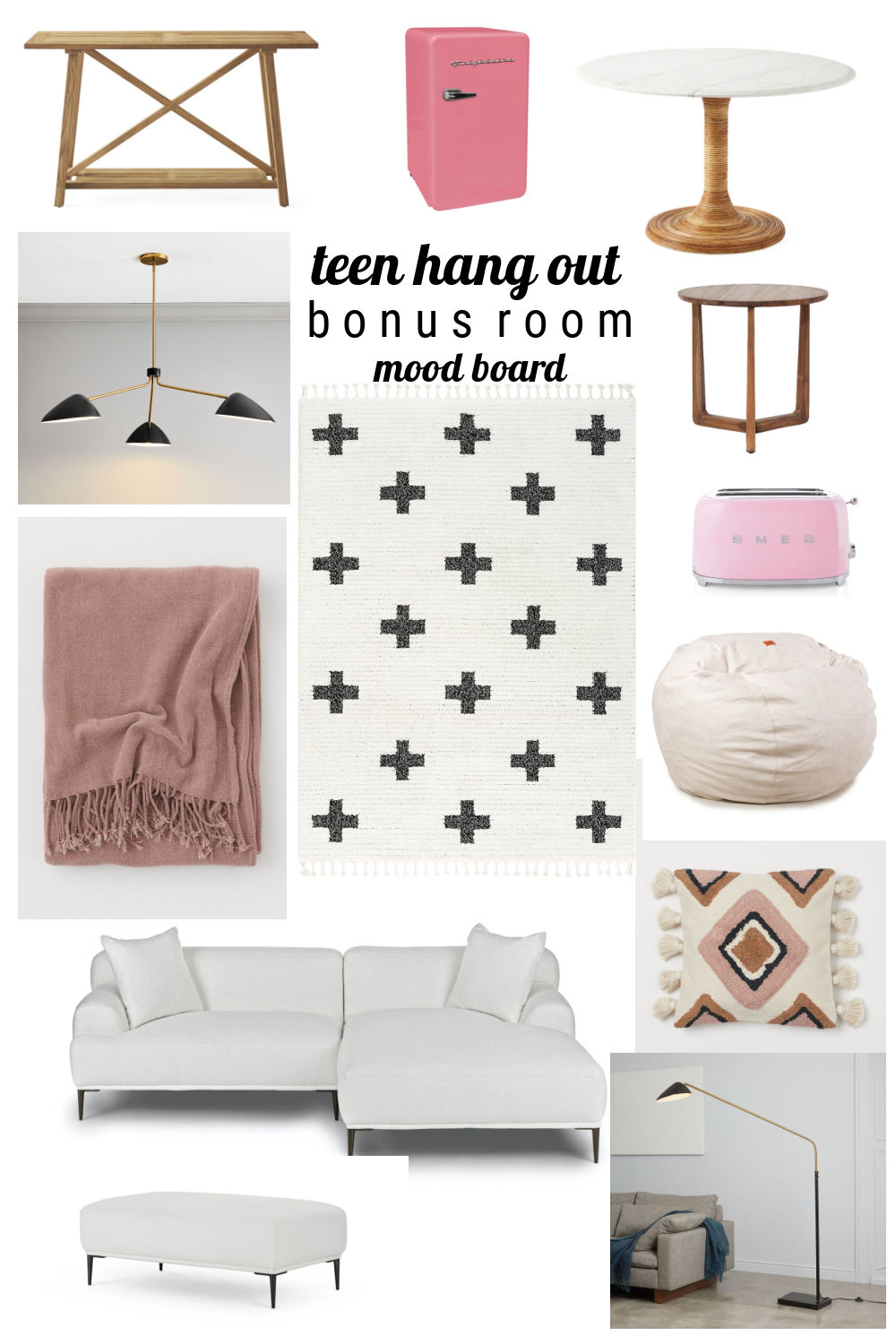 I created a mood board for our room! I wanted to lighten up the room and give it some architectural interest by planking the walls. Since our space is in the attic, the walls are angled on three of the four walls. I thought planking the walls would emphasize those angles and really give the space a cozy, timeless vibe that really works for our 1891 home. And since we only have one skylight to bring natural light into the space I thought having white walls would really brighten up the space.
A Bonus Room is all About Comfy Furniture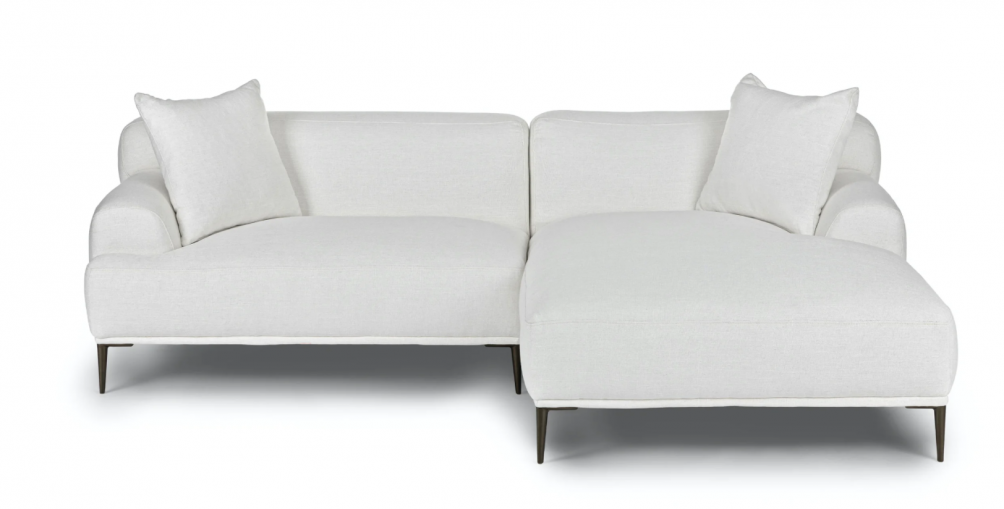 Since the "bonus room" is more casual you can opt for more comfortable furniture than a traditional living room. Usually a bonus room is a place for lounging around and being casual, so the furniture you choose can be comfier. I know my teens will want to have movie time and possibly late-overs and/or sleep overs in the space. So I really wanted comfy furniture that can seat and sleep a lot of people. Plus my sister and her family might be staying in the space so I wanted to have the option of being able to sleep 5-6 people. I decided to order a really fluffy sectional that seats 3-4 people. I also ordered the matching ottoman. That way when the ottoman is pushed up against the sofa, it creates a bed. I can put a topper on the bed that makes it into a queen-size sleeping space!
Transitional Furniture That Can Change Functions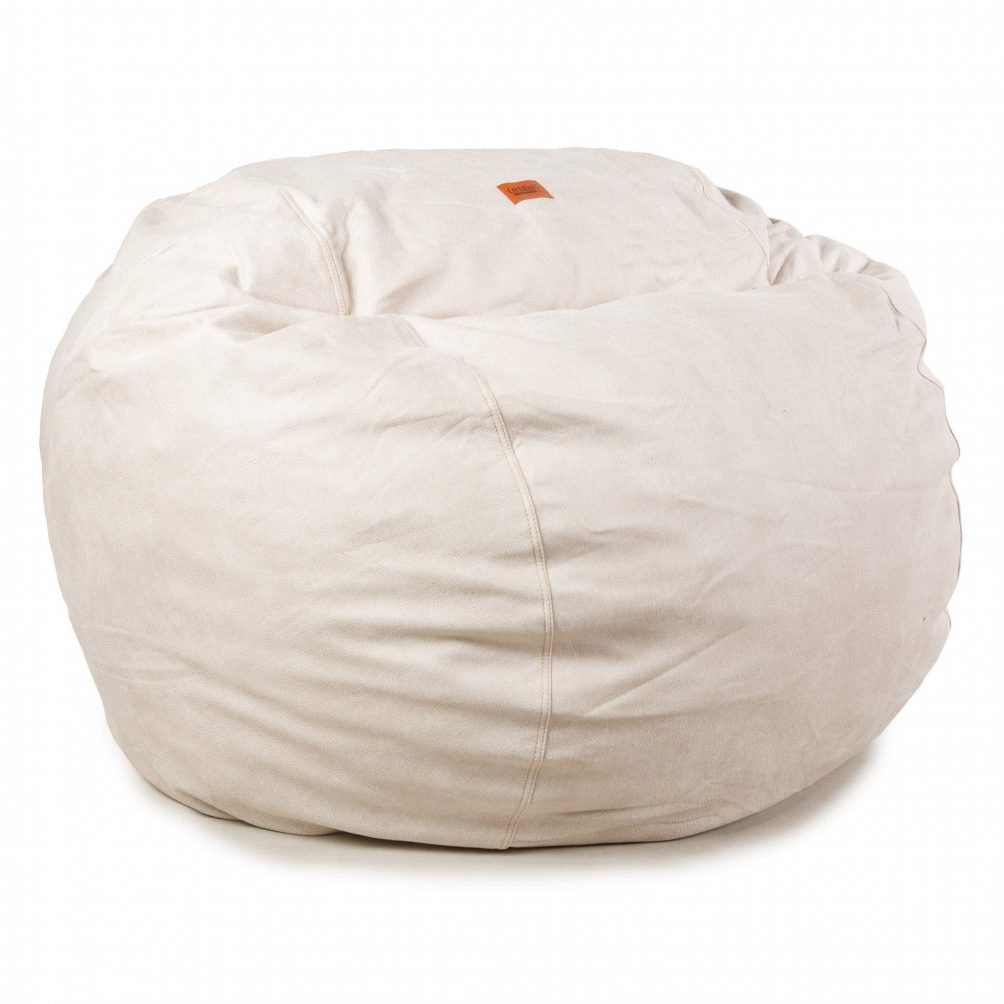 I knew I might need more sleeping spaces in our bonus room. I found a great product! A beanbag that unzips and becomes a queen size bed! How awesome is that? I know the kids will use it when they have friends over to watch movies and it also provides more sleeping room when we have family in town. I also love that the cover can be washed. Such a great product!
Think About What Amenities You Need in Your Bonus Room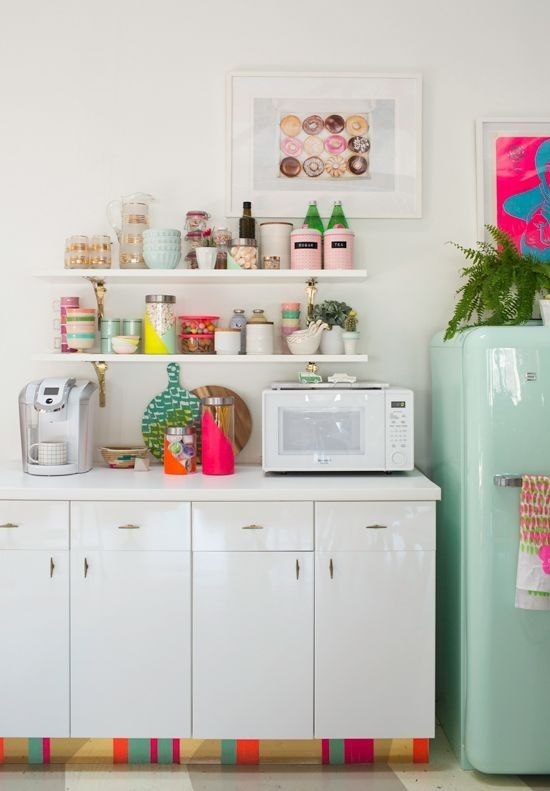 (source unknown)
Since our bonus room is so far away from the kitchen (two floors up), I knew the kids would want drinks and snacks without having to go up and down all of those stairs. And so would we! So I found the most adorable PINK mini fridge. I am going to repurpose our old console table into a little kitchenette with the pink fridge, a pink Keurig, a toaster oven and a microwave. Then I will keep the snacks in rattan baskets. Drink and refrigerated snacks will be in the fridge. There's even a little freezer inside the fridge. Next to the makeshift kitchenette will be a table that my niece gave us. This will be a place that people can eat, but also a place where people can work that are staying with us. PLUS it will be a game table fro game nights with the kids. We LOVE game night!
Add Special Lighting to Your Bonus Room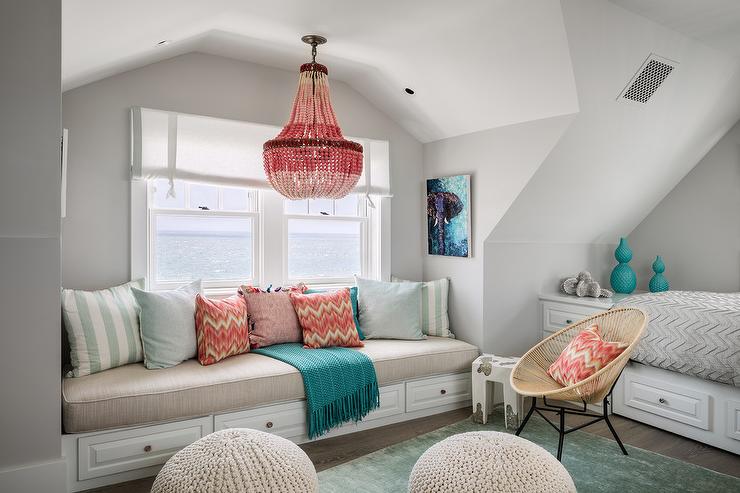 I'm trying to get away from all of the "boob lights" in our home. Almost every single fixture is one! I think I am going to put a chandelier over the sectional and then a fan on the back of the room. Consider what kind of lights your space needs. I also need a floor light that arcs over the sectional and maybe a task light on the work table.
A Rug Ties Things Together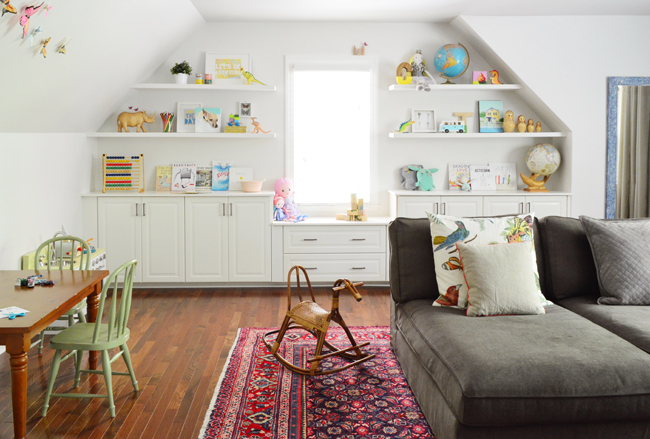 (Bonus Room via Young House Love)
I love a simple design. This swiss cross rug falls into that aesthetic to put under the sectional. I also ordered the runner to put in the adjoining bathroom but I might put it in front of the kitchenette.
Another Teen Bonus Room Idea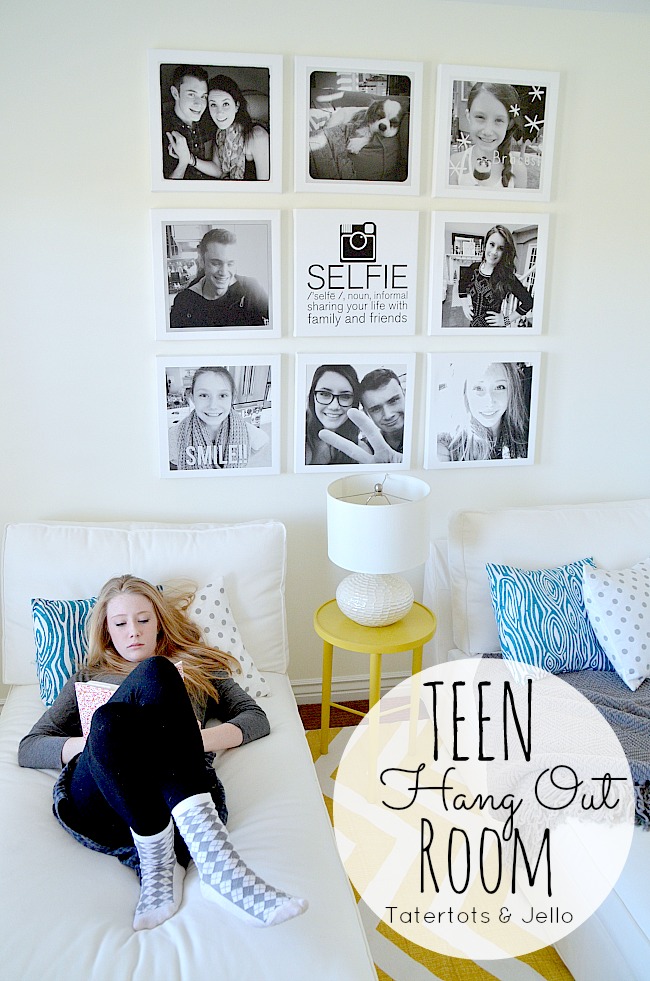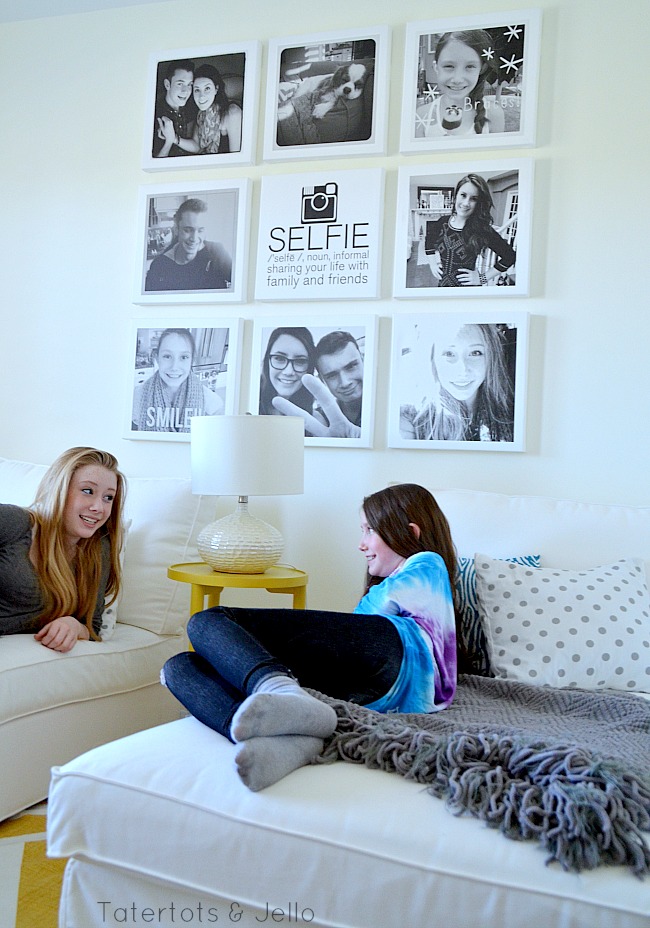 Here's a really popular bonus room that I did a few years ago! We had a jack-and-jill bathroom with two bedrooms attached. One was my daughter's bedroom and I turned the adjacent into a hang out room. It was so fun! I also share a really awesome FREE Instagram canvas idea and printable! Check it out!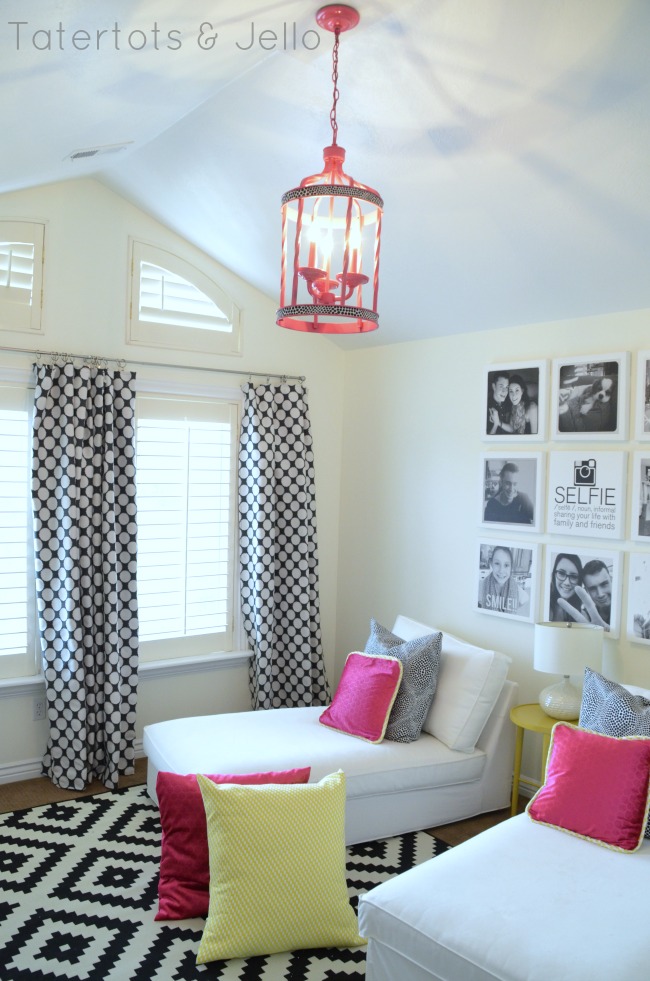 Do You Have a Bonus Room?
Have a Beautiful Day!
xoxo