Ways to Bring Color to Your Cottage or Farmhouse Home. Add some bright color this summer to your home with these easy ideas!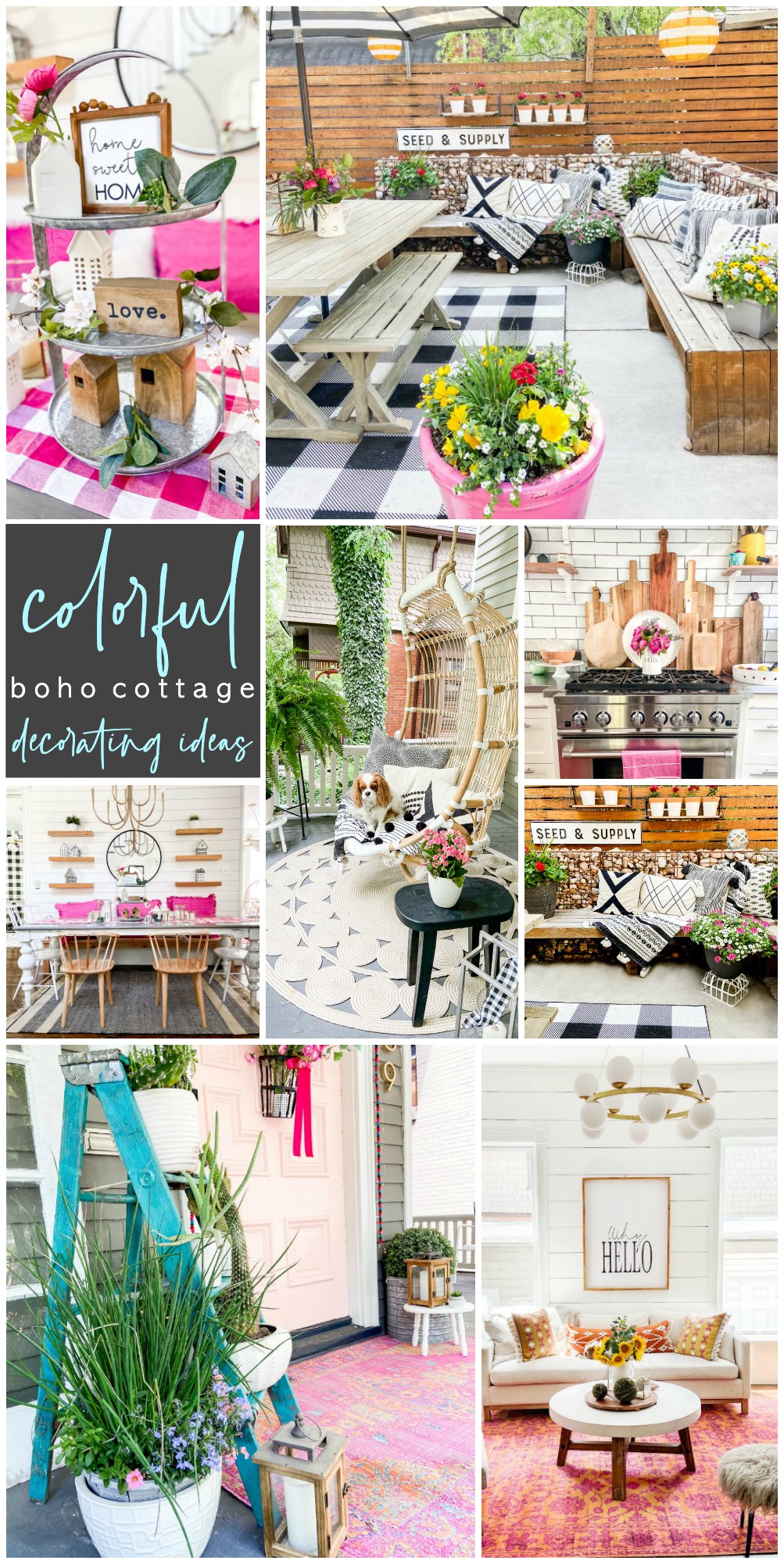 Bring Color to Your Cottage or Farmhouse Home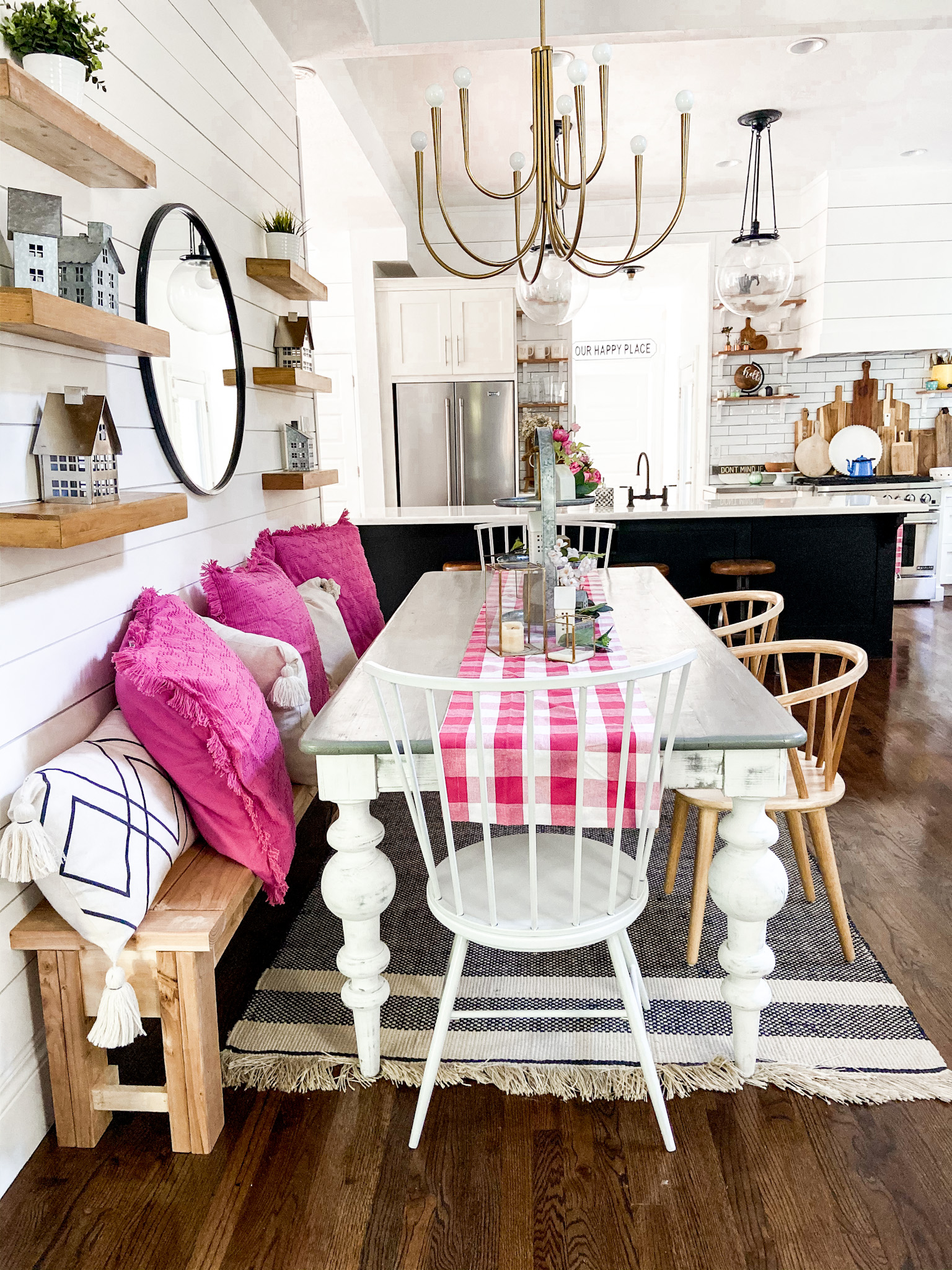 I love color, especially during the Summer. Bright hues just make life feel happier. I added some colorful elements to my cottage home and I am sharing the simple ideas with you today!
A Colorful Life Home Tour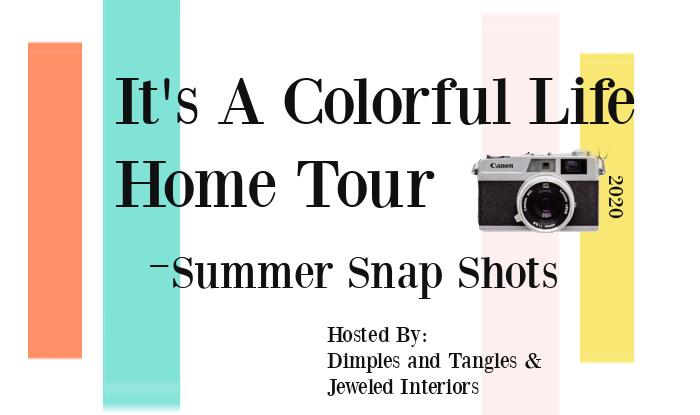 IT'S A COLORFUL LIFE- "Snapshots of Summer" Tour 2020
MONDAY
TUESDAY
WEDNESDAY
THURSDAY
I am super excited to be joining Jennifer @DimplesandTangles in her Colorful Home Tour today! Welcome if you are stopping by from Our Fifth House. Carmel is one of my favorite designers and I LOVE her home!
Colorful Front Porch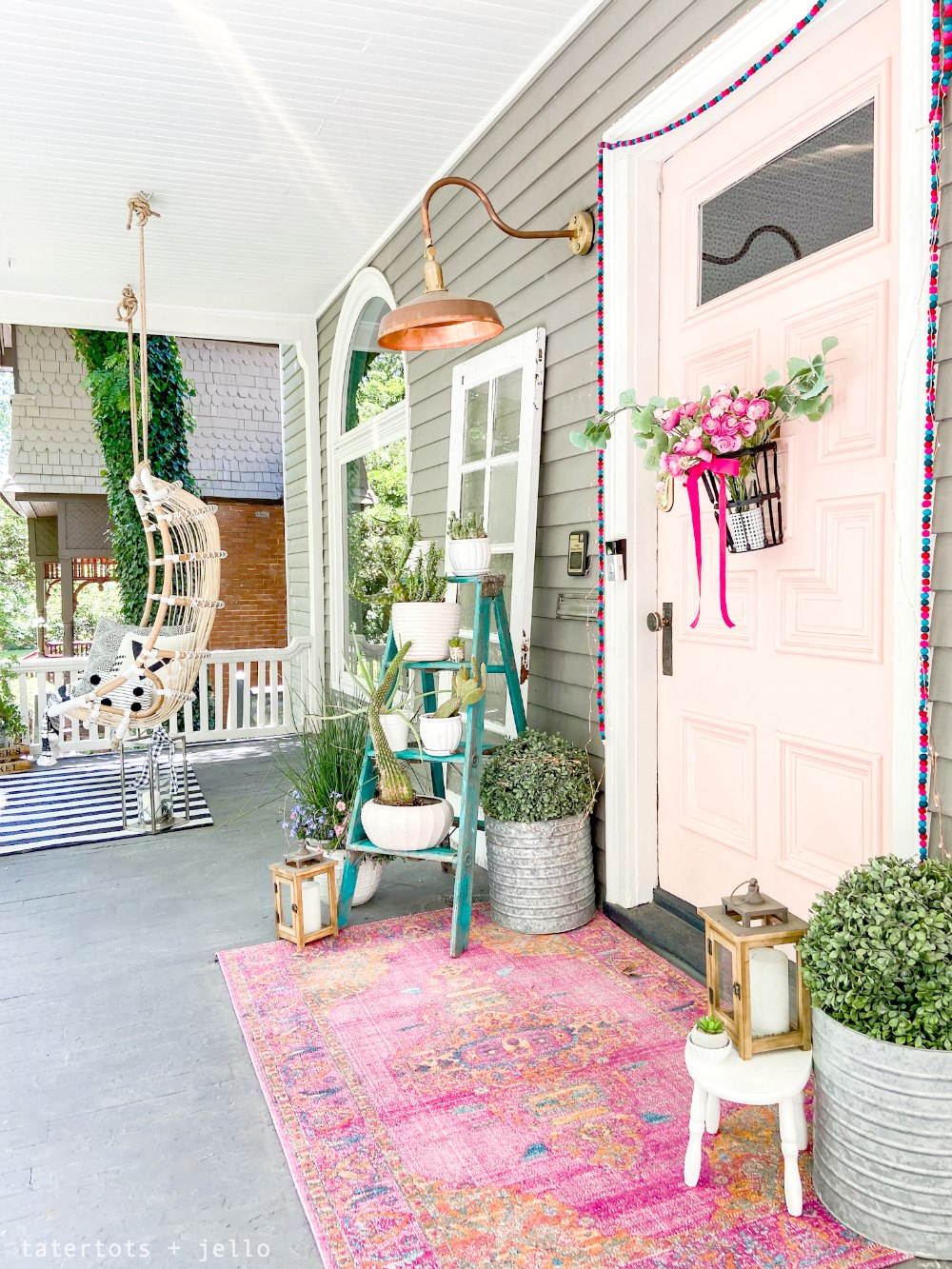 Welcome to our home! Come right up onto our front porch and have a seat. We hung this swing this Spring and it's our favorite place to sit and watch the world go by!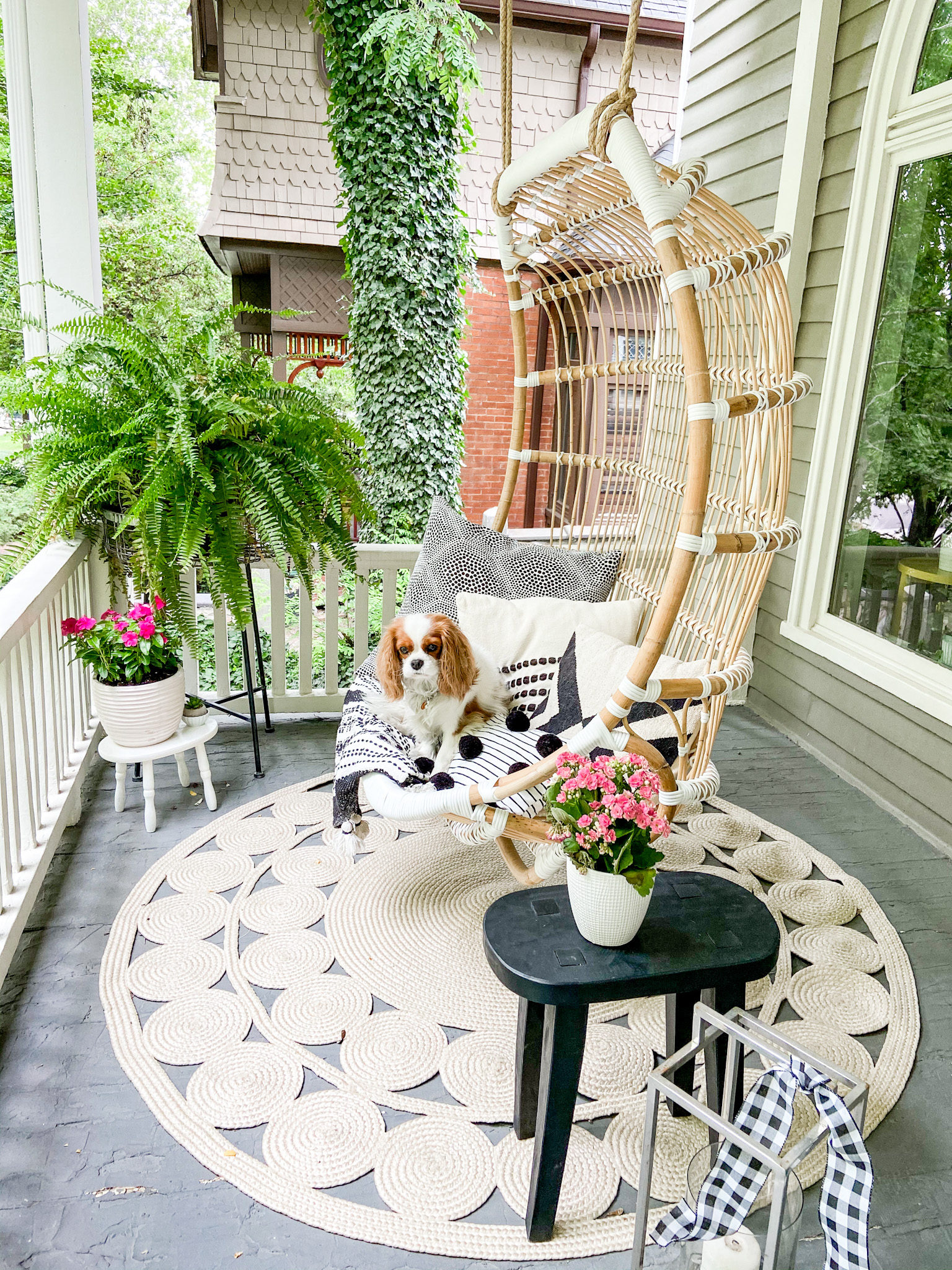 Overall this side of the porch is pretty neutral. I brought a little color in with some blooming plants.
Succulent Ladder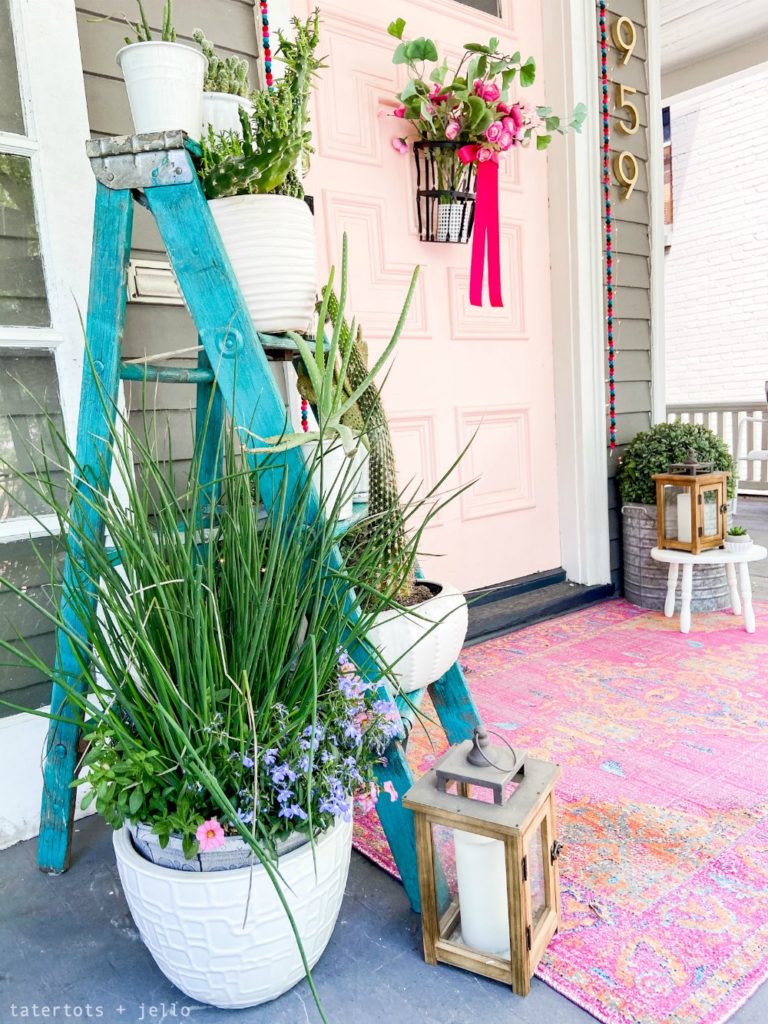 Our succulents are having a wonderful summer being outside. I bought this ladder (it was already this awesome shade of turquoise) and added succulents from inside our home.
Bright Boho Rug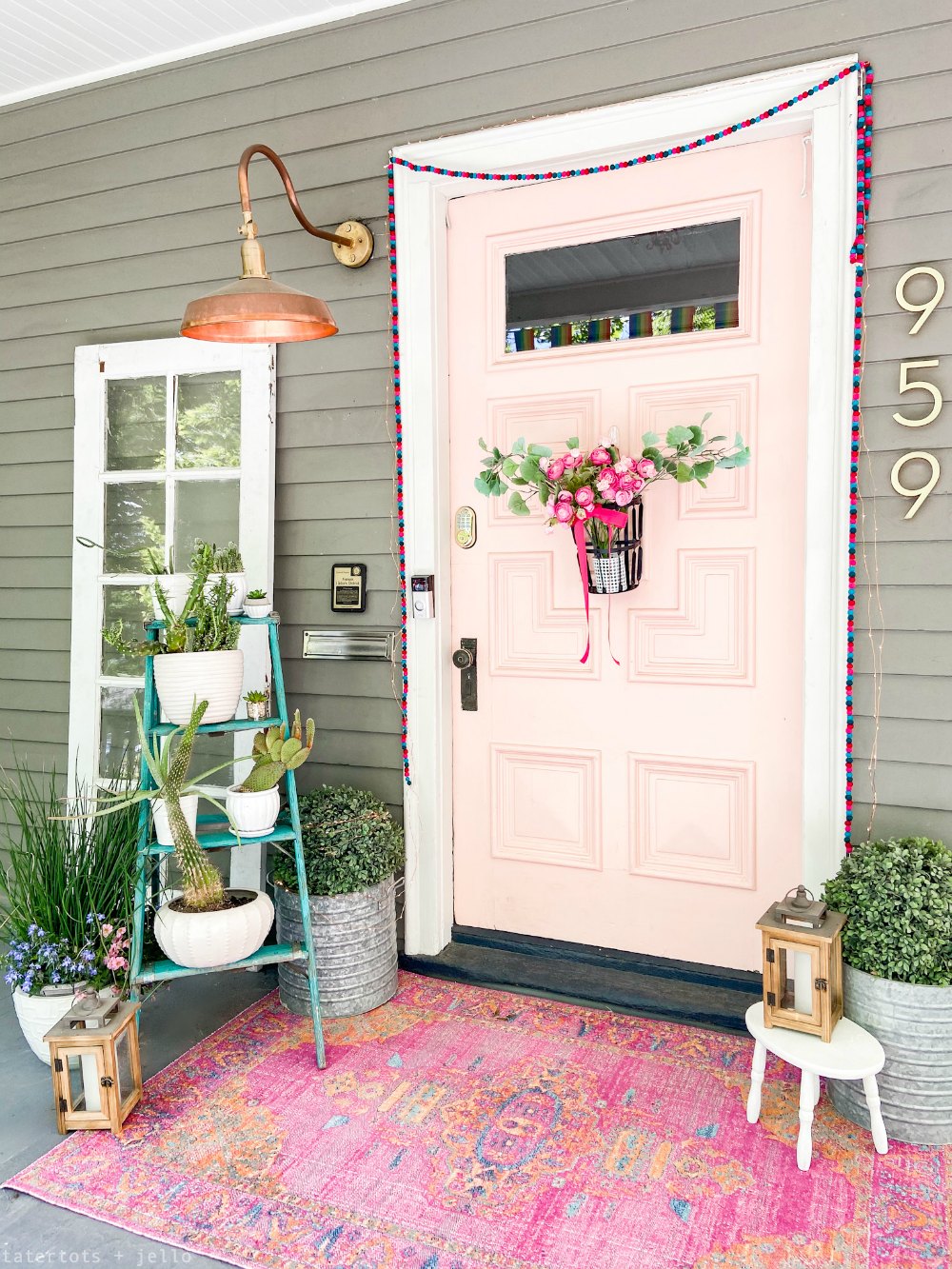 The style aesthetic of our avenues homes is boho cottage. I love a simple cottage look but I put a spin on cottage with some bright colorful boho elements, like this bright rug!
Boho Cottage Kitchen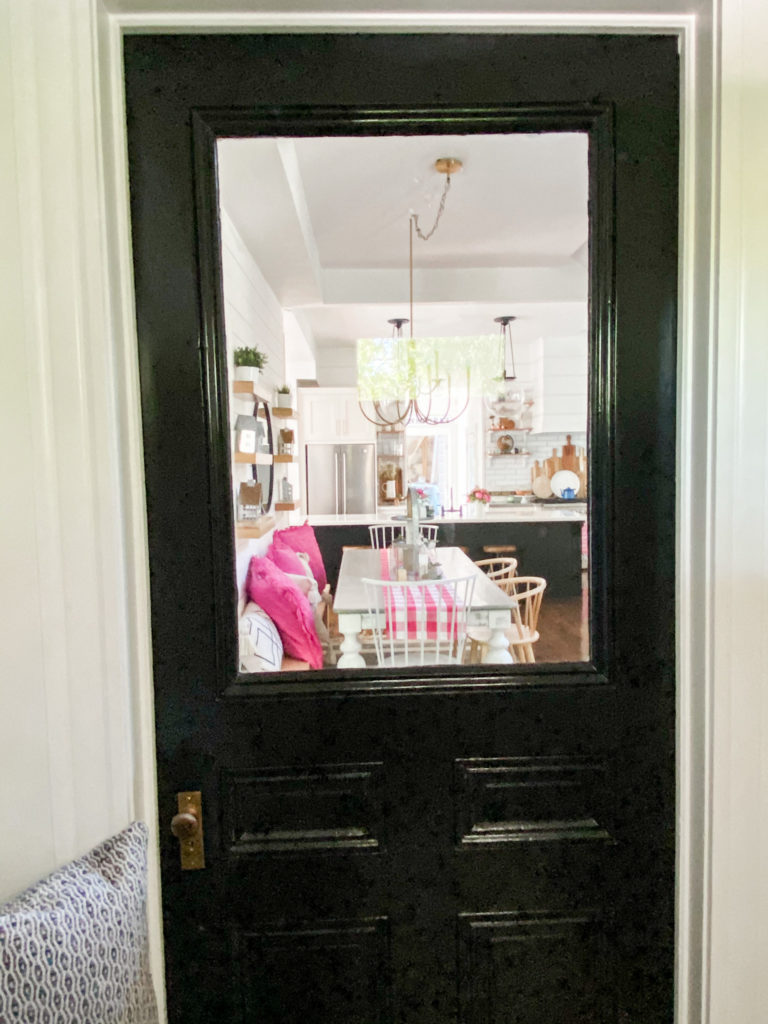 Come into our home. We have a little entryway room and through the door is our kitchen. We are in the middle of renovating it and so excited for the changes already!
Pink Summer Dining Nook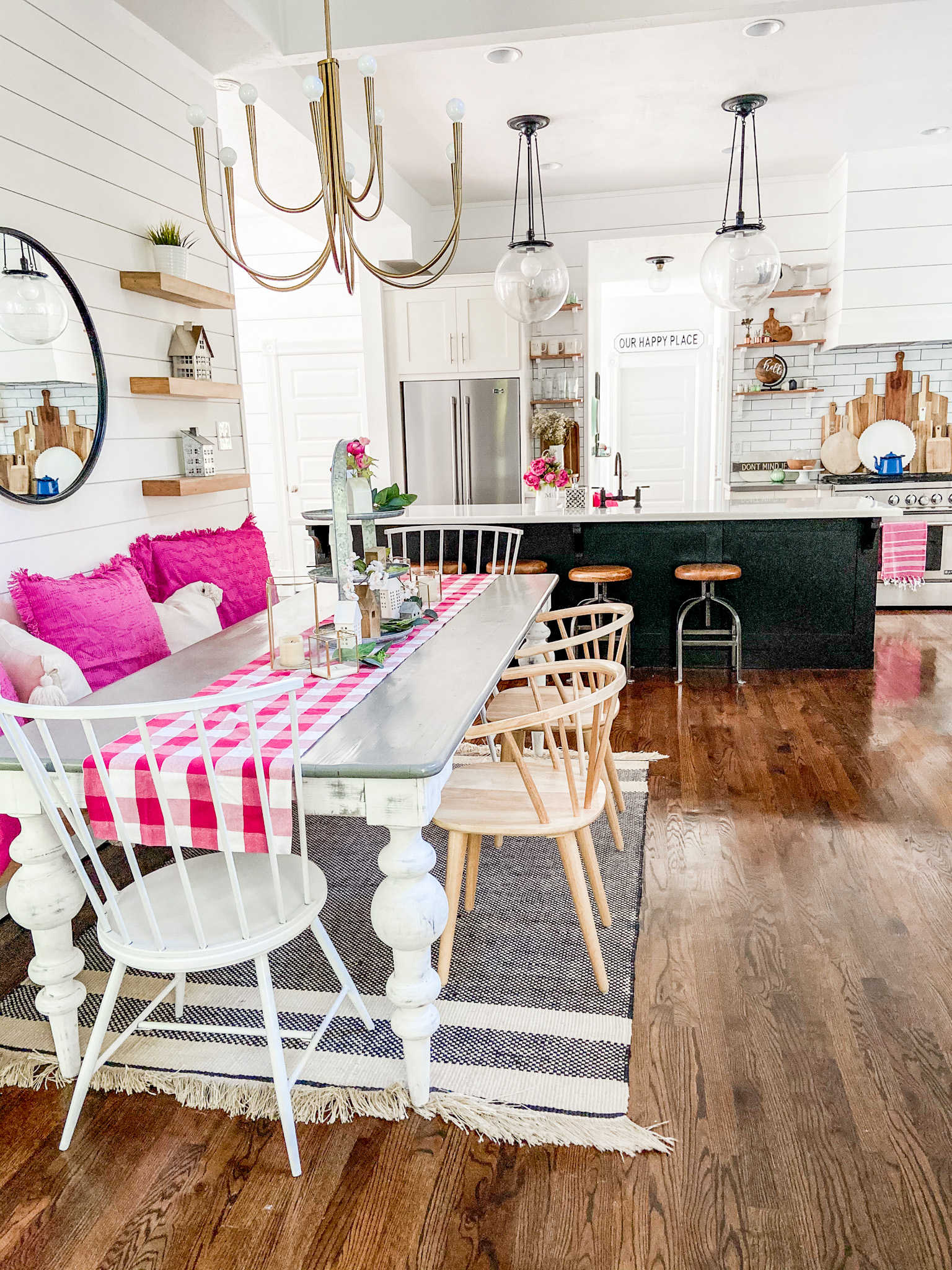 One of the first things we did when we moved in was planked this middle wall and made a dining nook by swagging a light fixture over so it would hang over our dining table against the kitchen wall. We also made an extra long wooden bench that sits against the wall and layered pink and white pillows over the bench.
Add a Bright Table Runner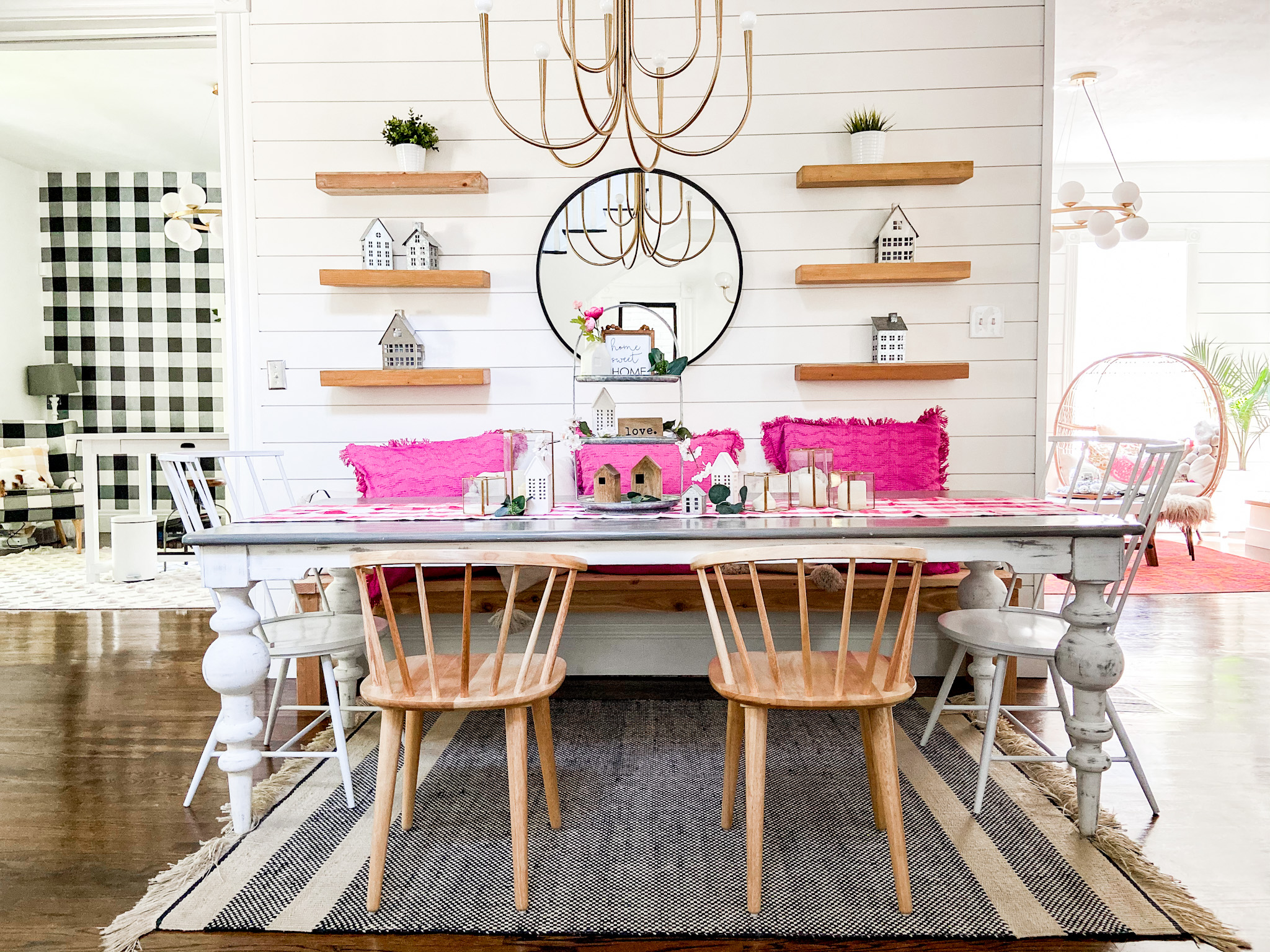 If you want to bring color instantly into your home a table runner is a great way to do it. I ordered this bright pink runner for color, the buffalo check keeps in the cottage theme.
Tiered Table Centerpiece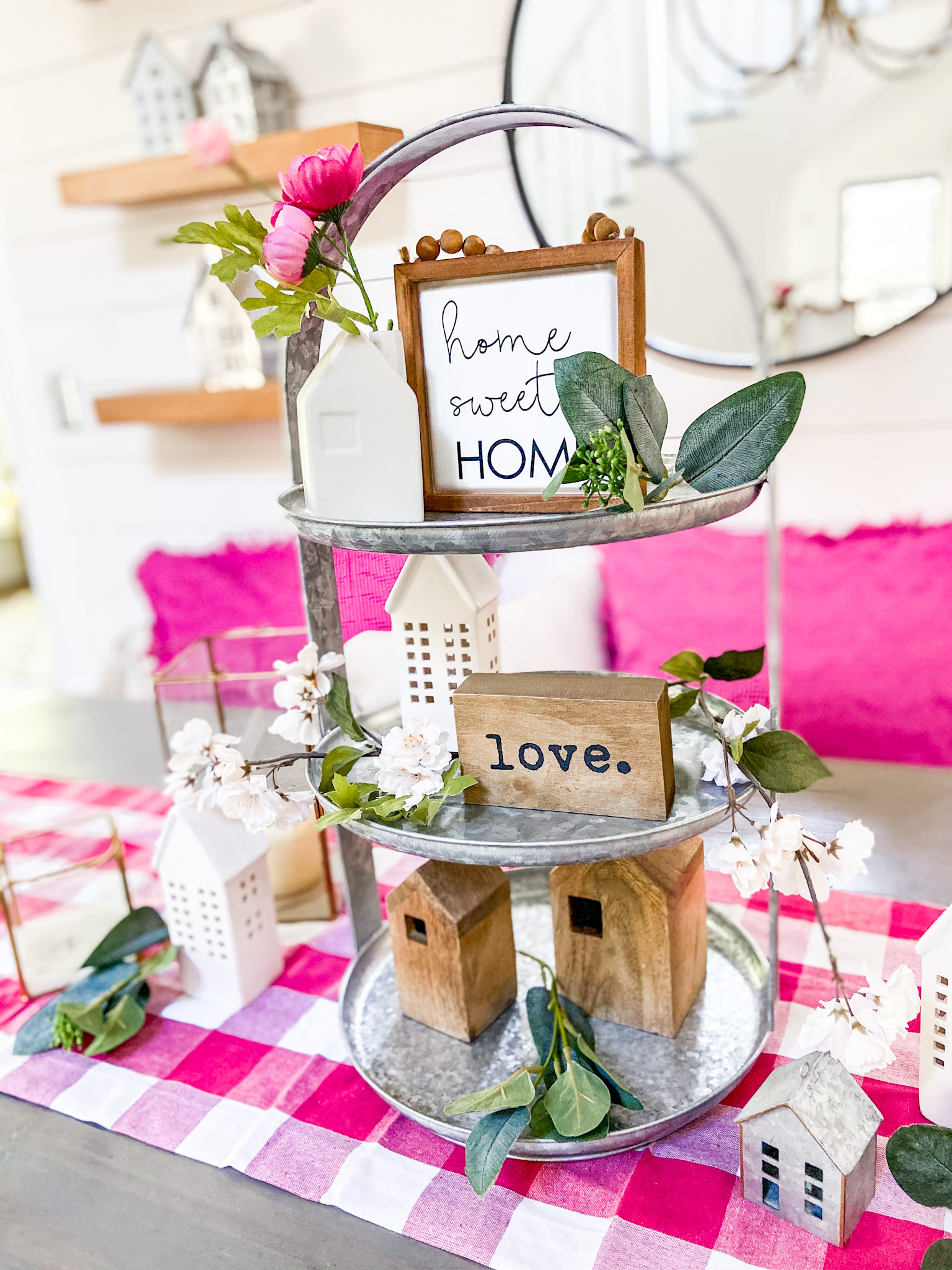 To center our bright summer table, I layered some pink flowers along with some elements I already had. A "Home Sweet Home" sign. Then I brought the "home" theme into the centerpiece with some metal and wooden homes that I have collected. I also added some homes to the shelves behind the table!
Kitchen Summer Updates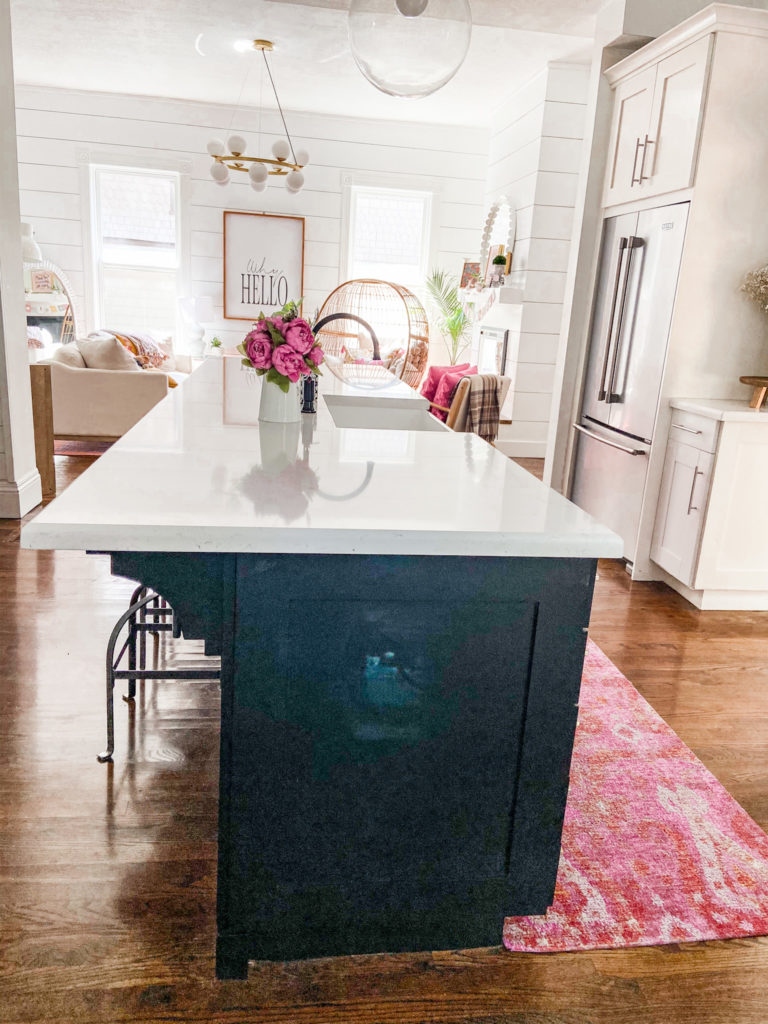 I added some color in my kitchen with a BRIGHT kitchen runner. It's outdoor/indoor so it really has held up great!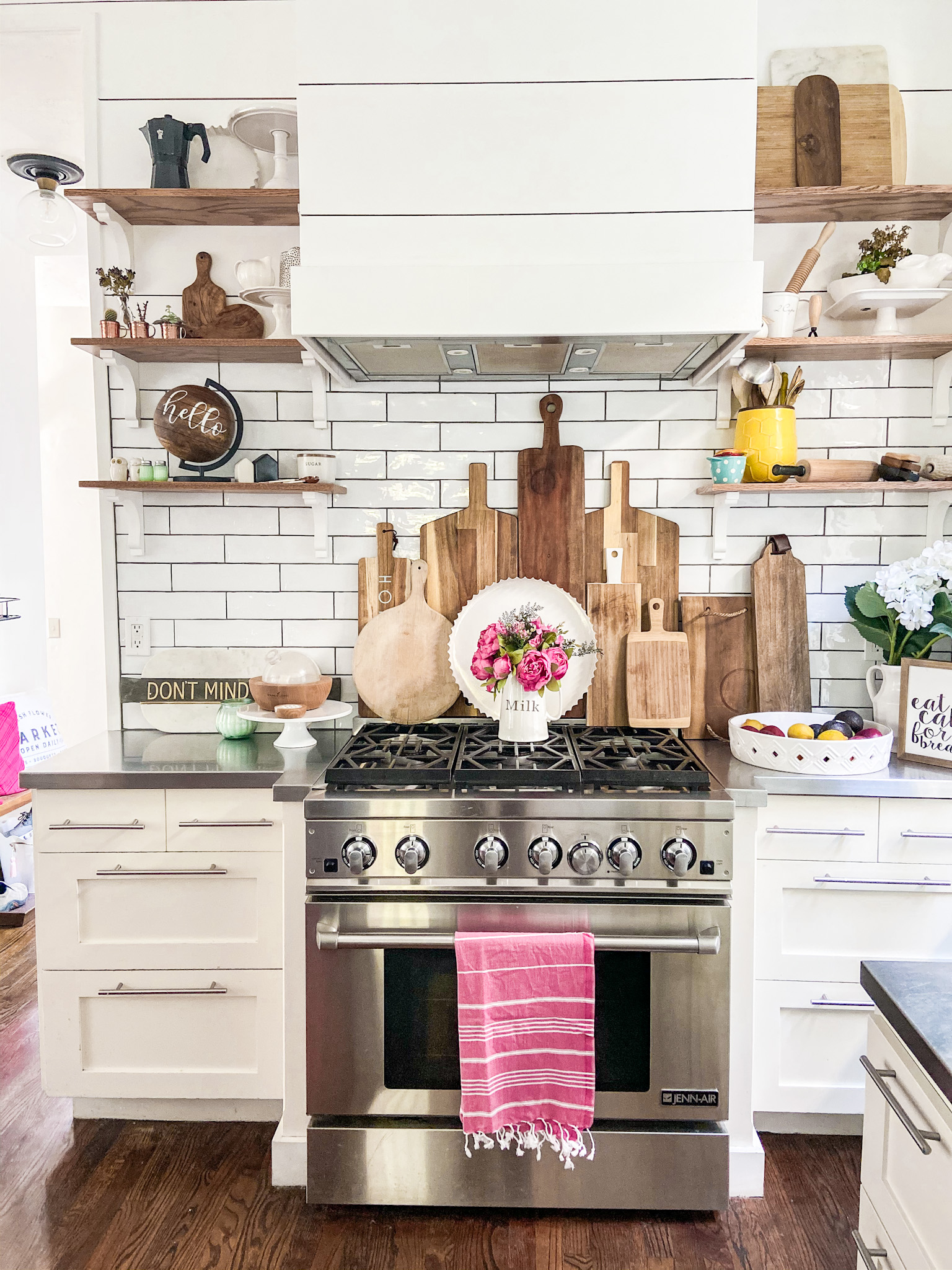 I also added a pink and white tasseled kitchen towel and some flowers!
Boho Cottage Summer Mantel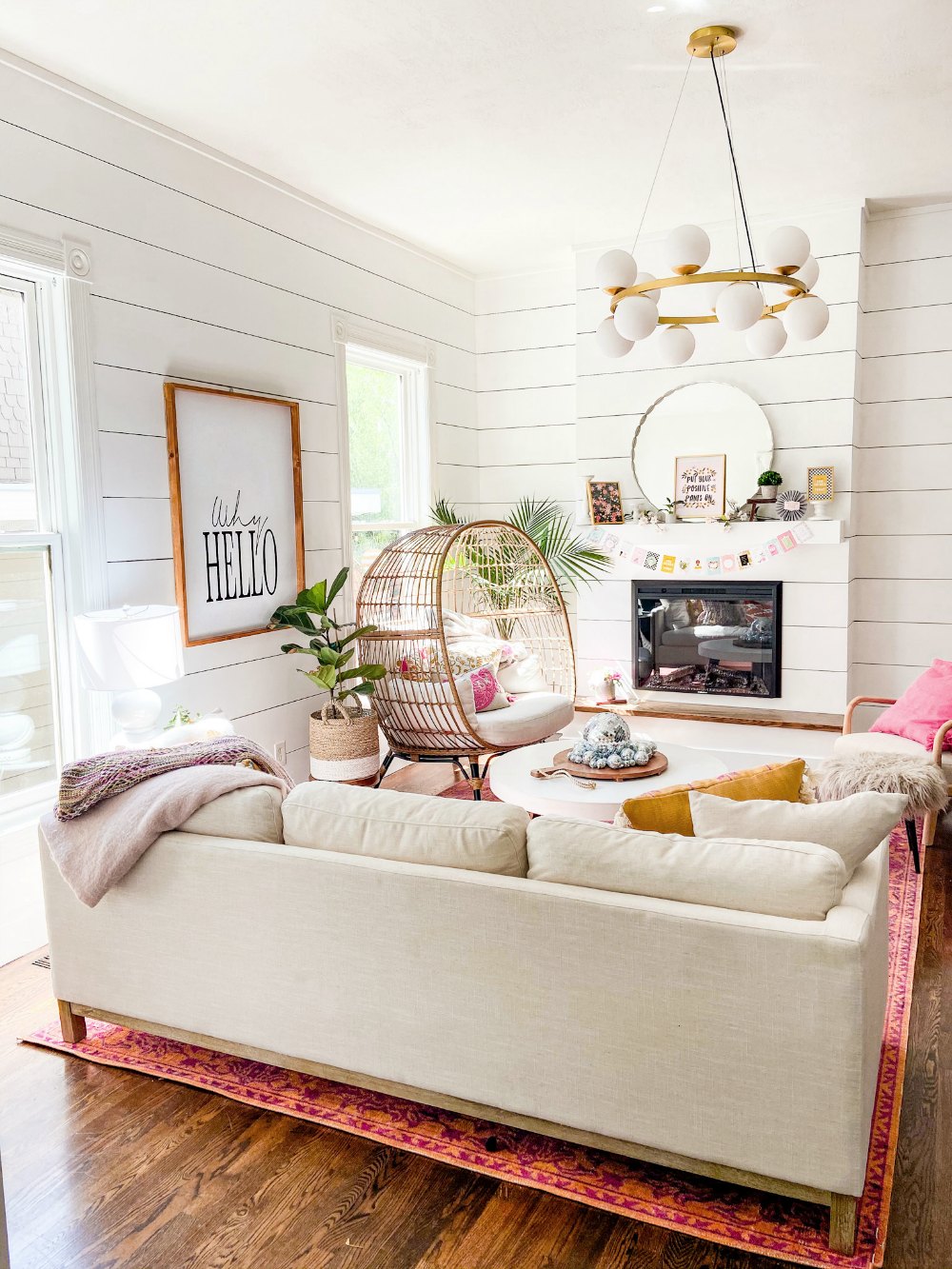 We planked our family and room and added a fireplace this spring. I LOVE decorating this mantel. We brought the white planking across the kitchen and into the family room and I love the simplicity of the planks.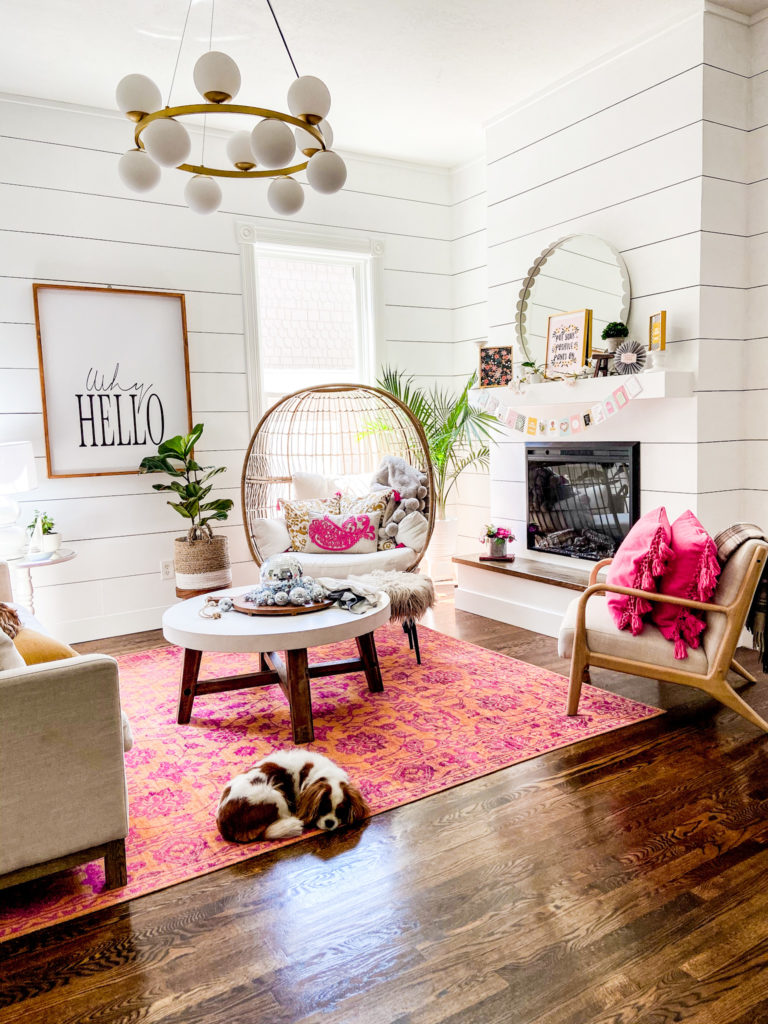 I added color to our mantel with a saying from my Pebbles Hey! Hello! line and a simple banner that I created using a piece of the sentiment paper from the line (it's at JoAnn Stores right now!)
Boho Farmhouse Coffee Table Centerpiece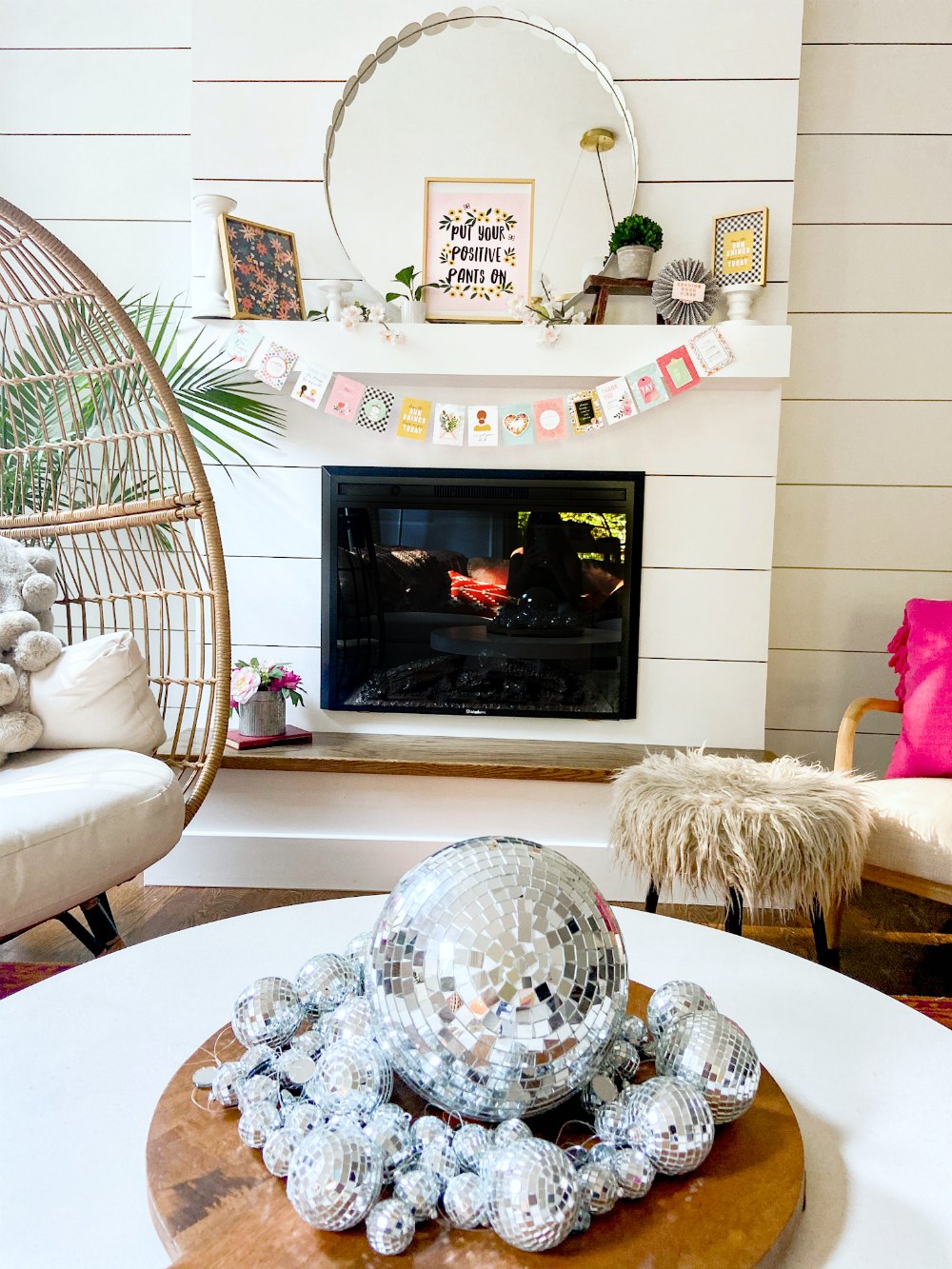 I LOVE sparkly disco balls. They remind me of the roller rink in junior high. I had a few balls from Christmas but I decided that disco balls can be year-round decor! I love they way they sparkle in the summer sun! I think they add an unexpected, whimsical element to our bright family room.
Colorful Summer Rug and Pillows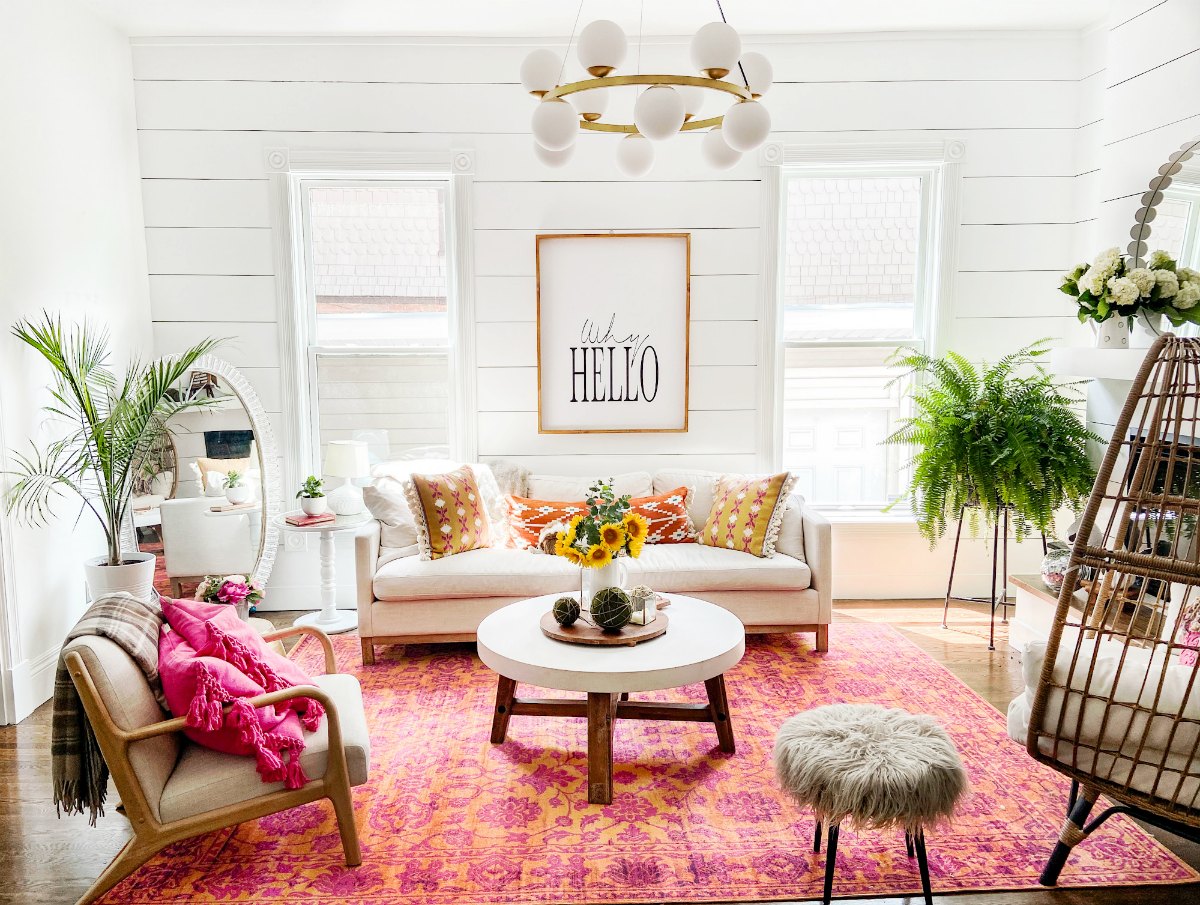 A bright run is such an easy way to bring a colorful element into your cottage or farmhouse home.I added this hot pink and orange rug and I LOVE how happy it looks. The trick to adding such a colorful rug is to make it the focal point of the room. If you have too many colorful items they can clash with each other and make your cottage or farmhouse room look chaotic. I brought in some pillows with the same hues that match the rug.
Adding Summer Color to Your Bedroom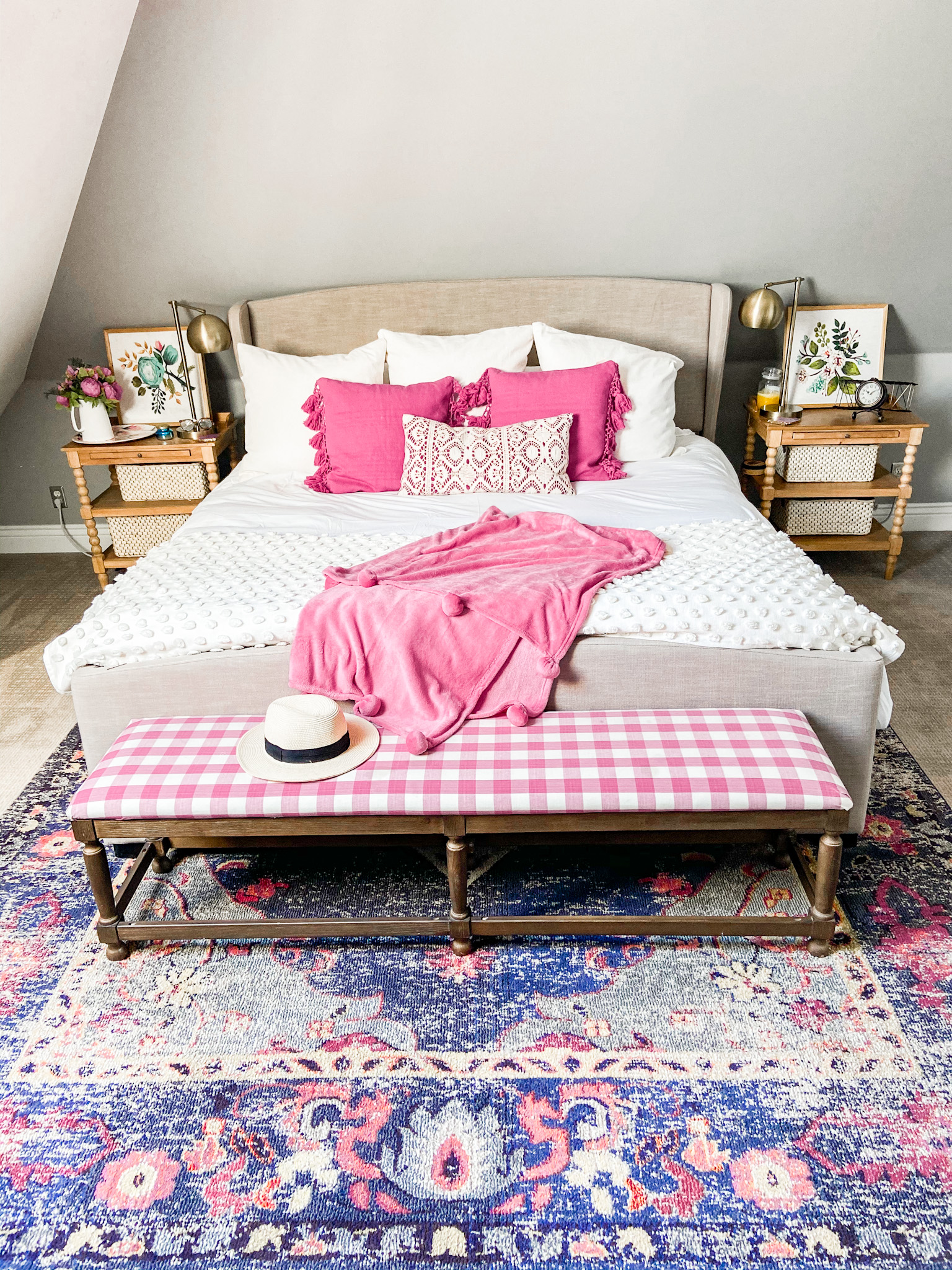 We have a pretty traditional rug in our bedroom. I paired it with an upholstered bench with hot pink buffalo check fabric. I love a crisp white bed for summer. I found sheets at Costco for $15 and they are so soft! A white duvet completes the white sheets and makes a neutral canvas to bring ANY color into the room.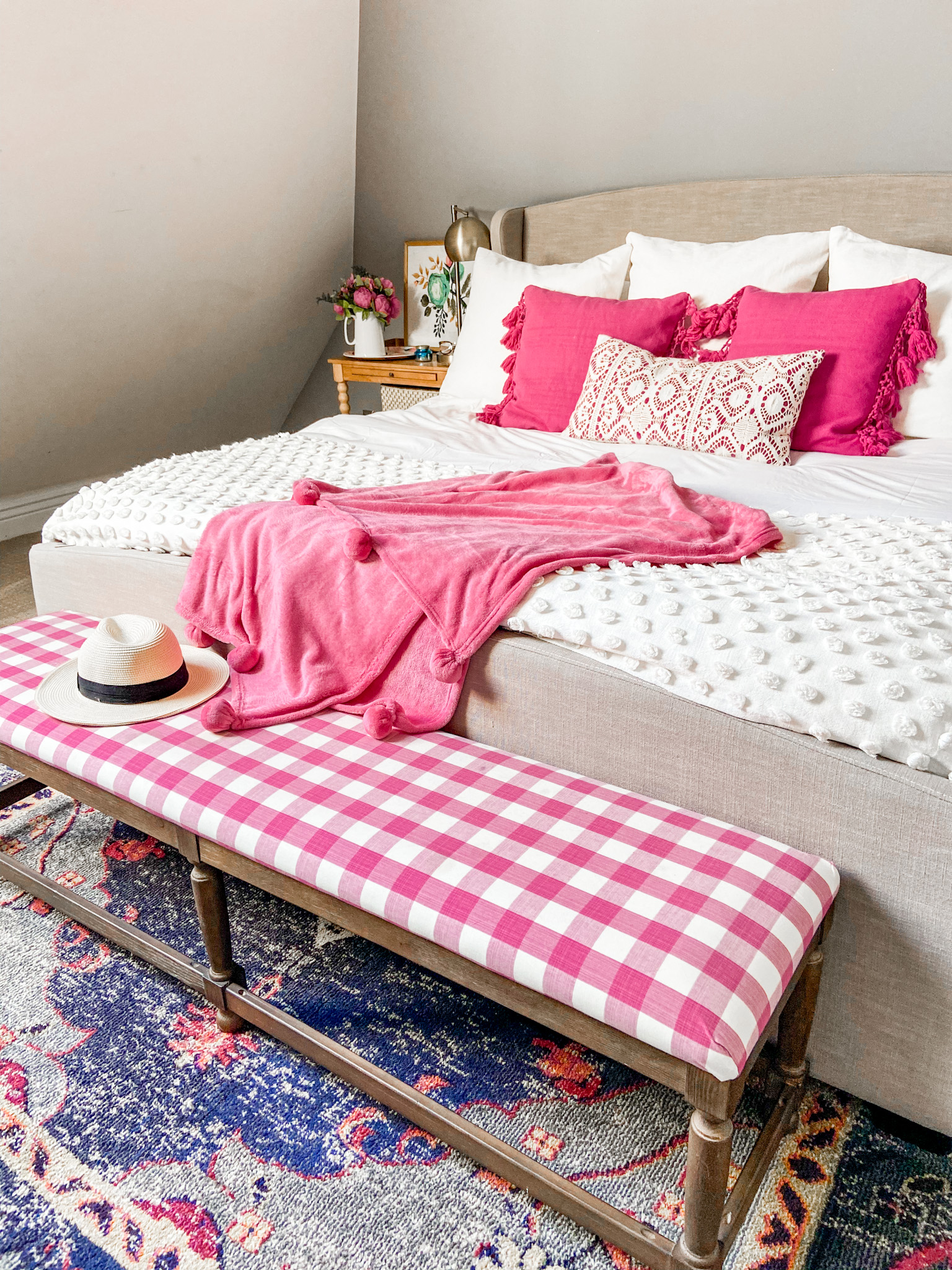 I used some bright pink pillows that coordinate with the bench fabric. And a fluffy pink pom pom throw!
Color in the Backyard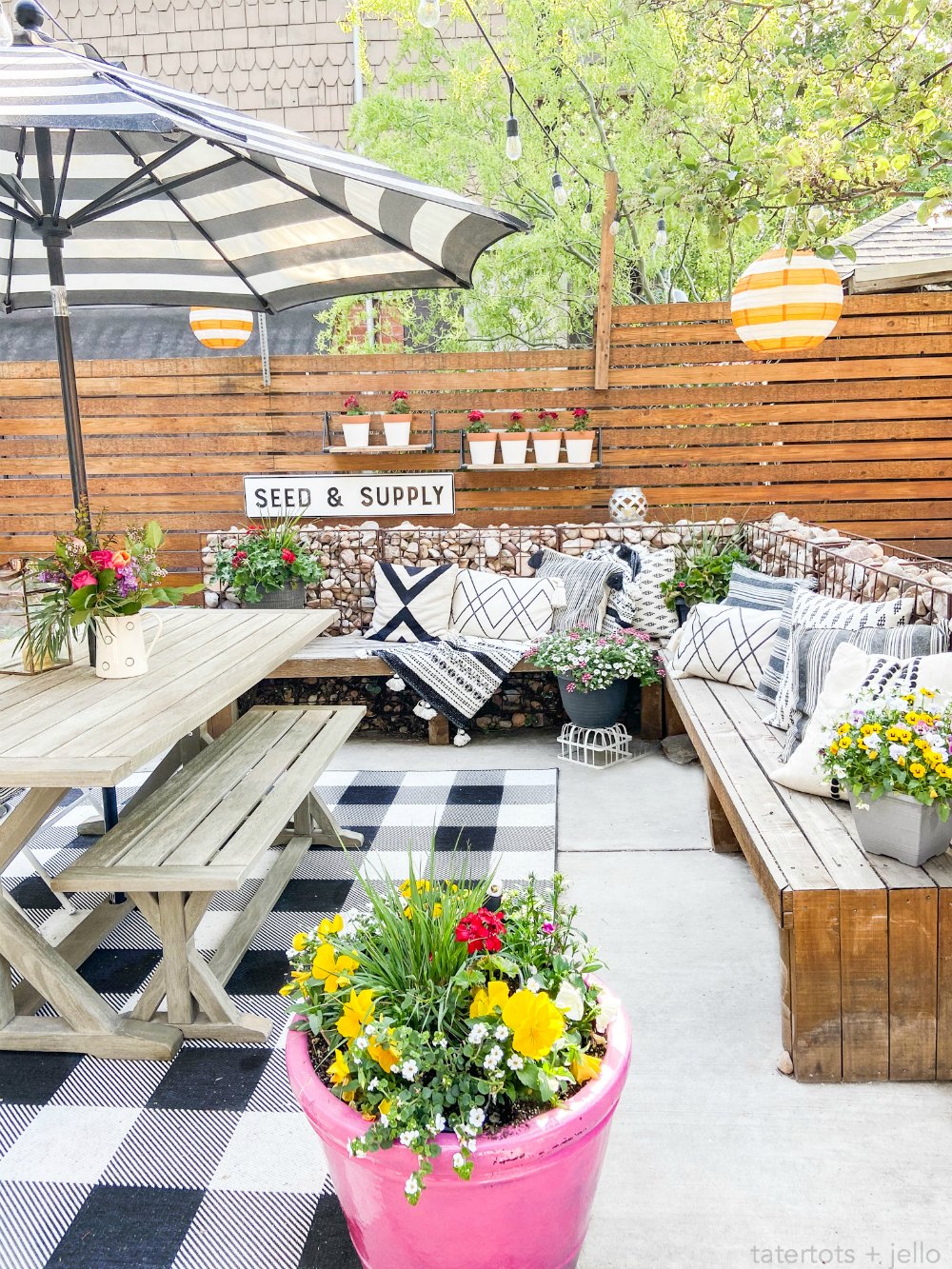 Our backyard is also pretty neutral. I love plants and brought color into the space with potted flowers. I love the hanging flower shelves that we added to the backyard this spring. I also spray painted our pots in the spring. I have a tutorial on how to do that — how to spray paint resin pots.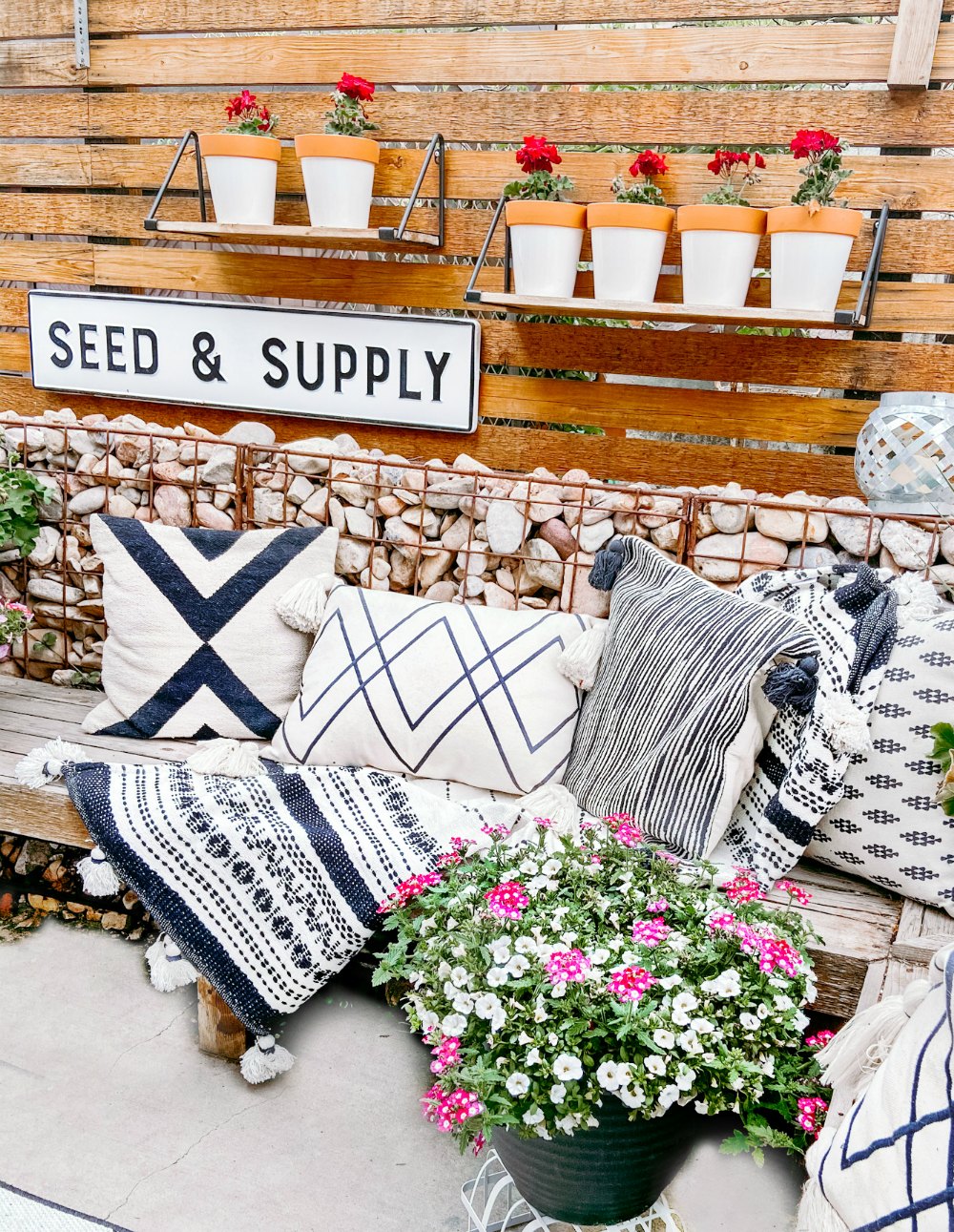 The previous owners left these pots and I love how hot pink spray paint completely changed the look for just a few dollars!
Add Flowers Inside for Color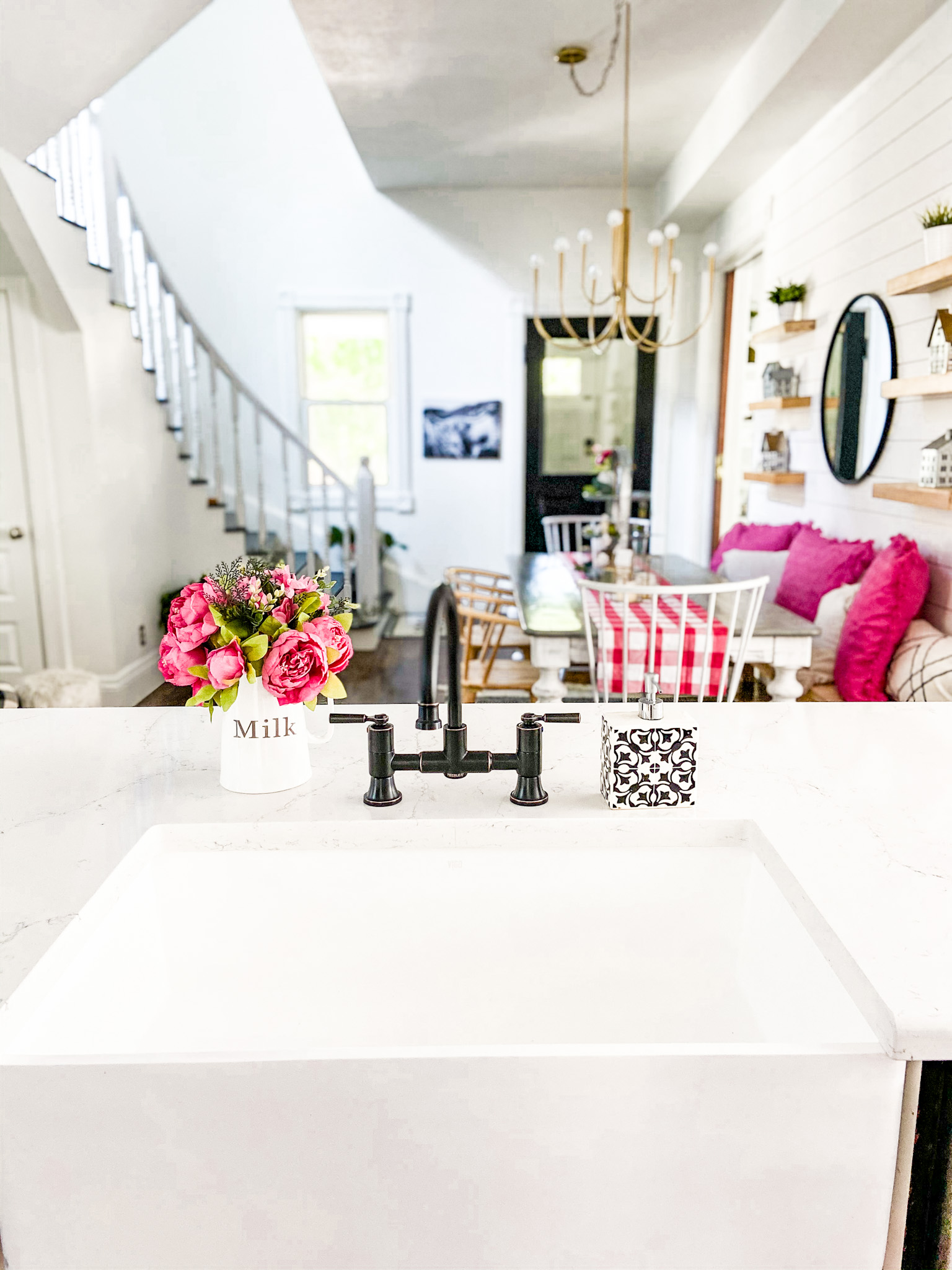 Bringing flowers inside is an easy way to add color to any area inside your home. There's nothing like having fresh flowers to brighten anyone's mood. I also bring color in using "faux" flowers. These pink peonies are so pretty and you can't tell they are not real unless you really look.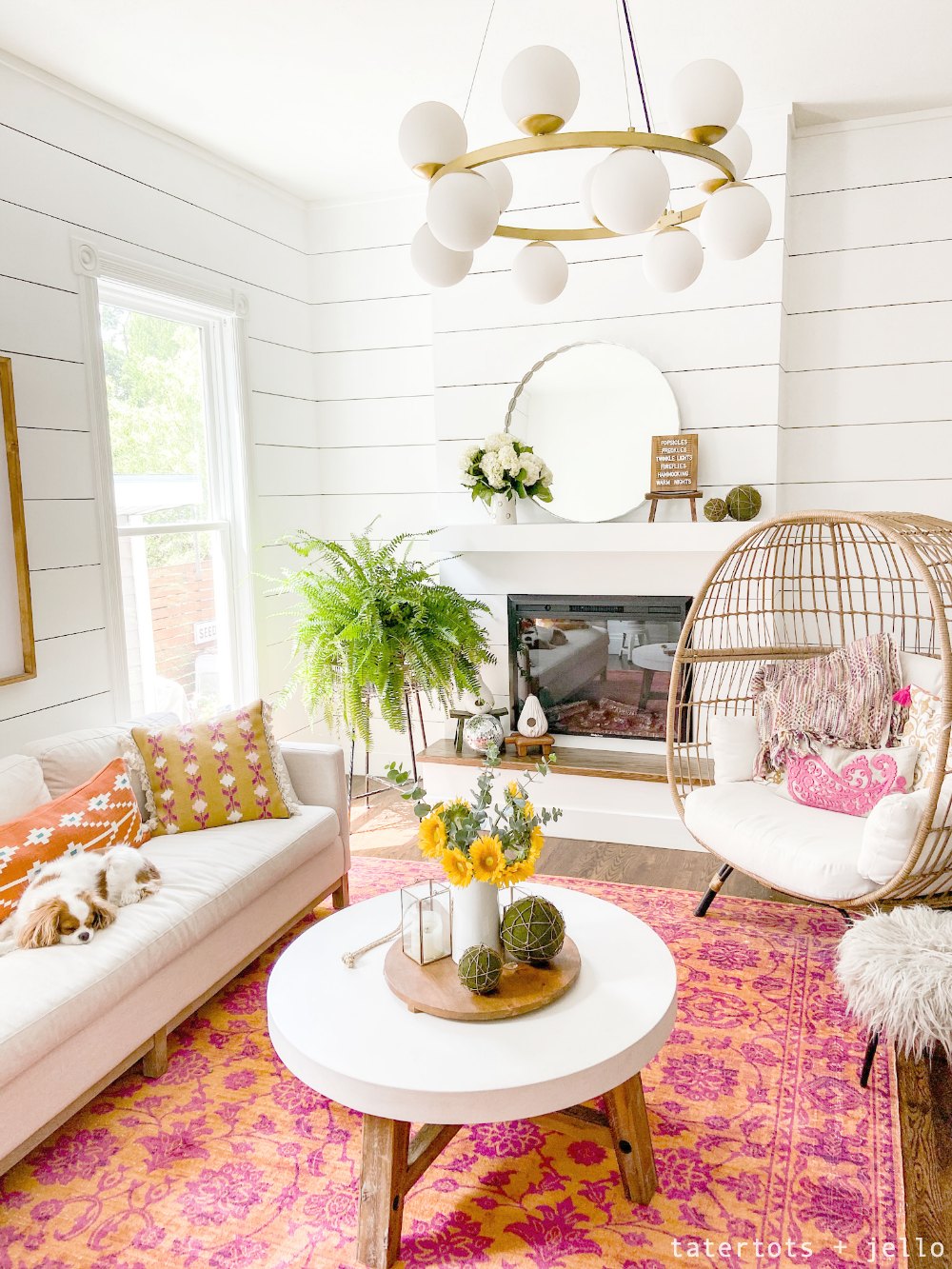 More Colorful Summer Home Ideas
Be sure to head over to Camilia @Effortless Style to see the her gorgeous home! And click on the other links to see ALL of the homes in this fun COLORFUL home tour!
Tag me on Instagram at @tatertotsandjello and show me YOUR projets!!!
Have a COLORFUL day!
xoxo

Pin Colorful Boho Cottage Ideas for Later!