DIY Hanging Patio Garden. Make the most of your patio space by hanging shelves and planting flowers or herbs in painted pots!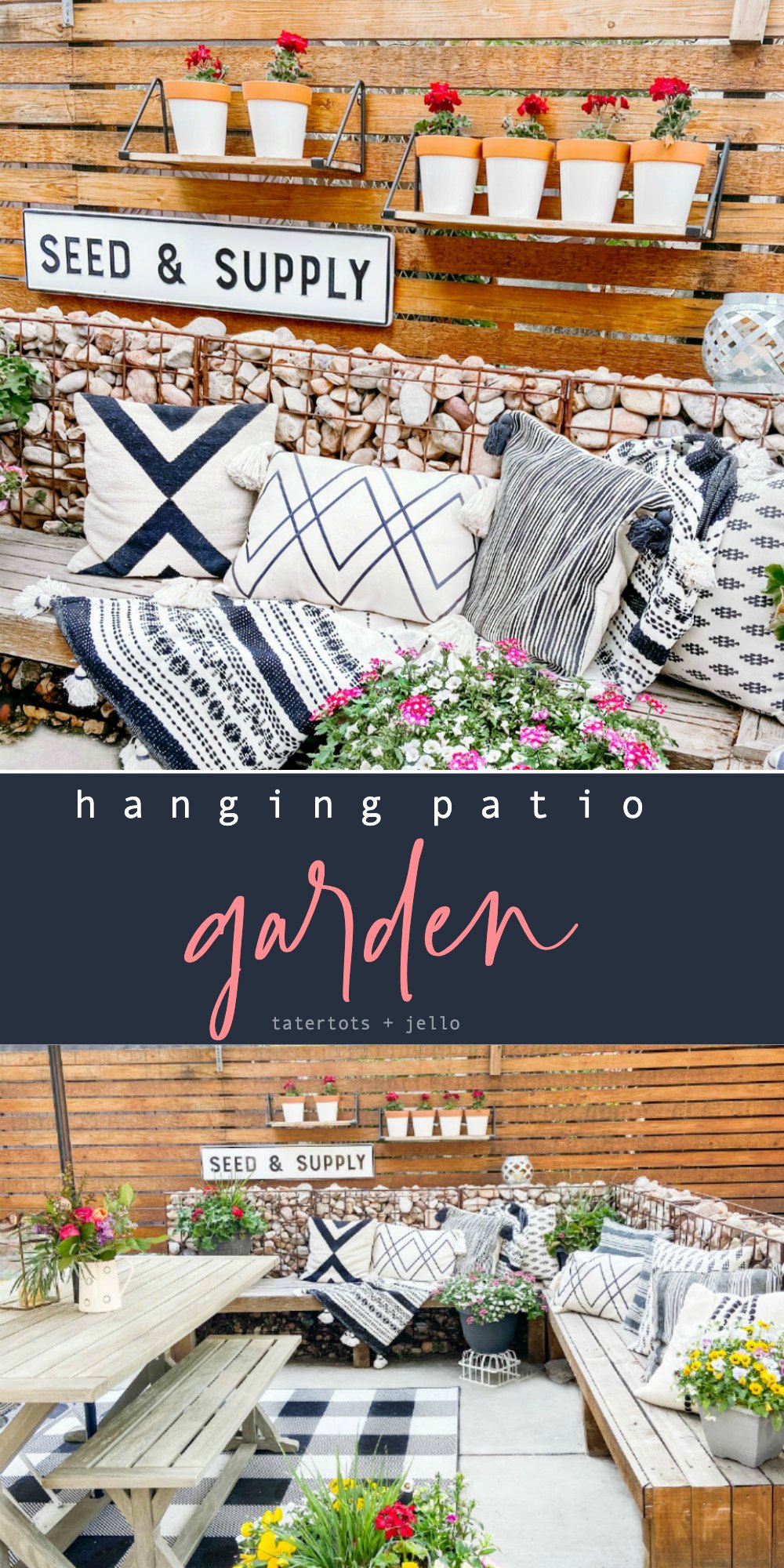 DIY Backyard Patio Garden
We are having so much fun working on our outdoor patio now that the weather is warming up! A few weeks ago we created a simple planter box in our front yard and our seeds have sprouted. It's so much fun to watch everything grow!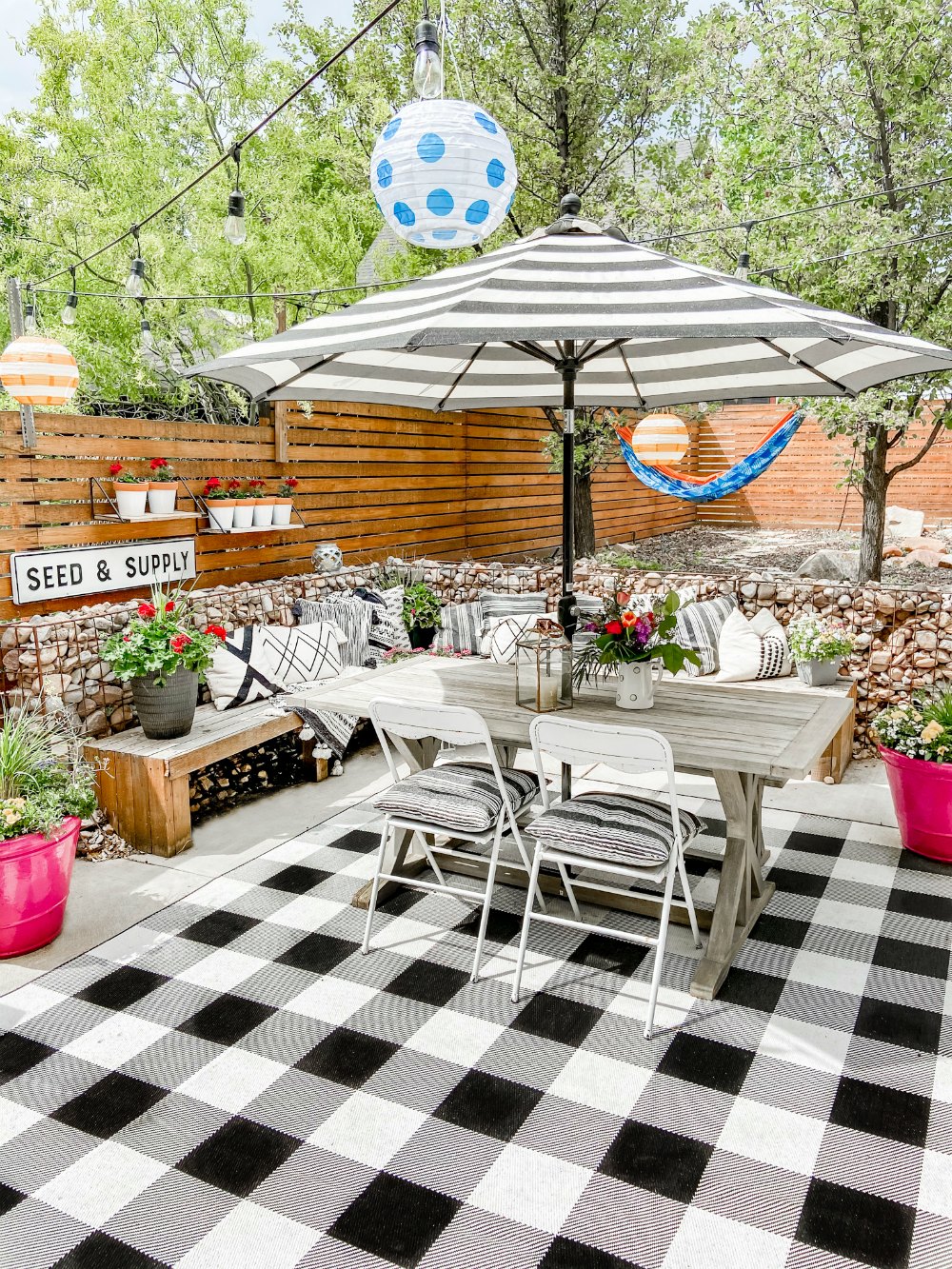 Awesome Summer DIY Projects to Try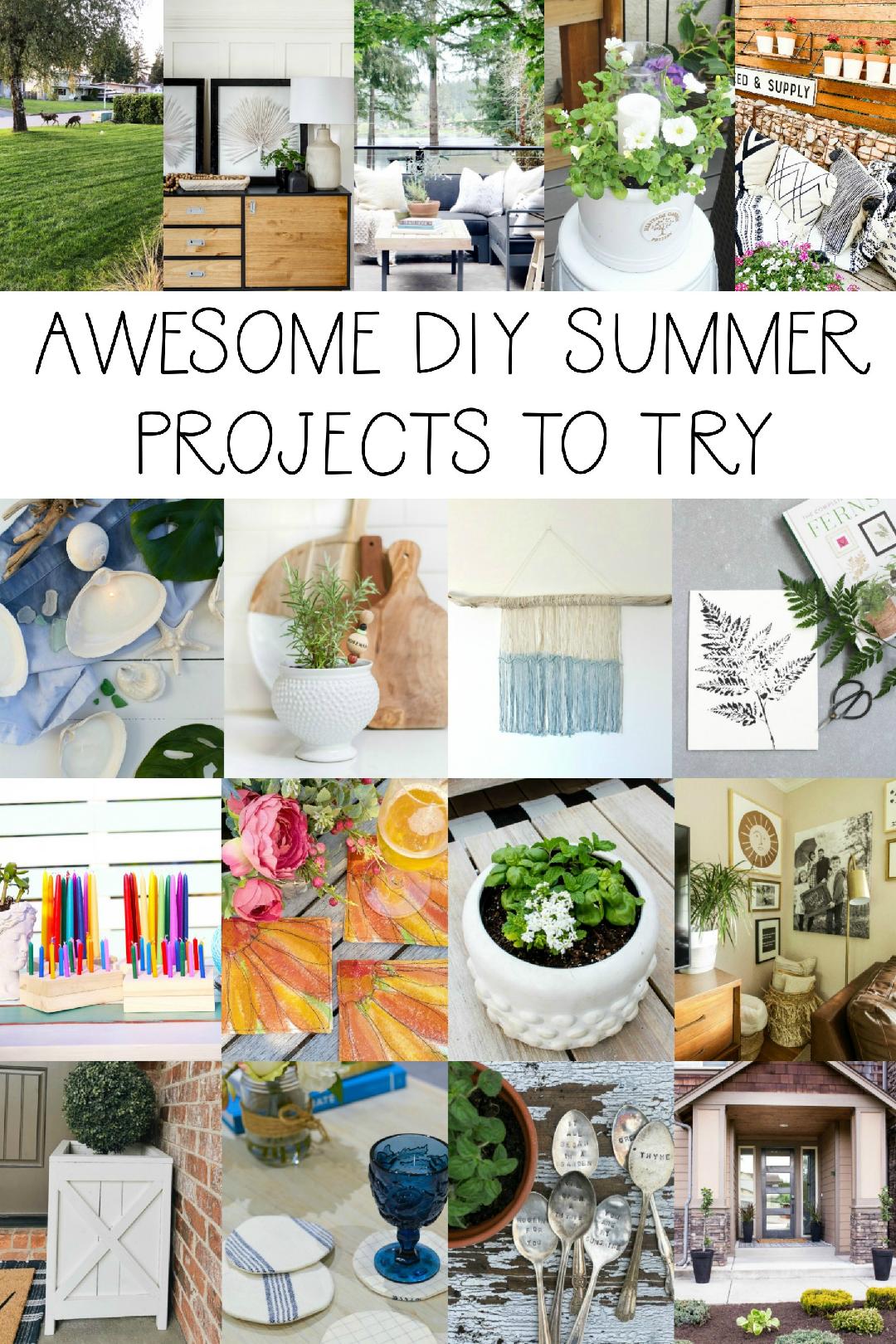 I'm joining some friends who are also sharing Summer DIY projects! Scroll to the bottom of the post and click on the links to go directly to their tutorials!
Backyard Patio Projects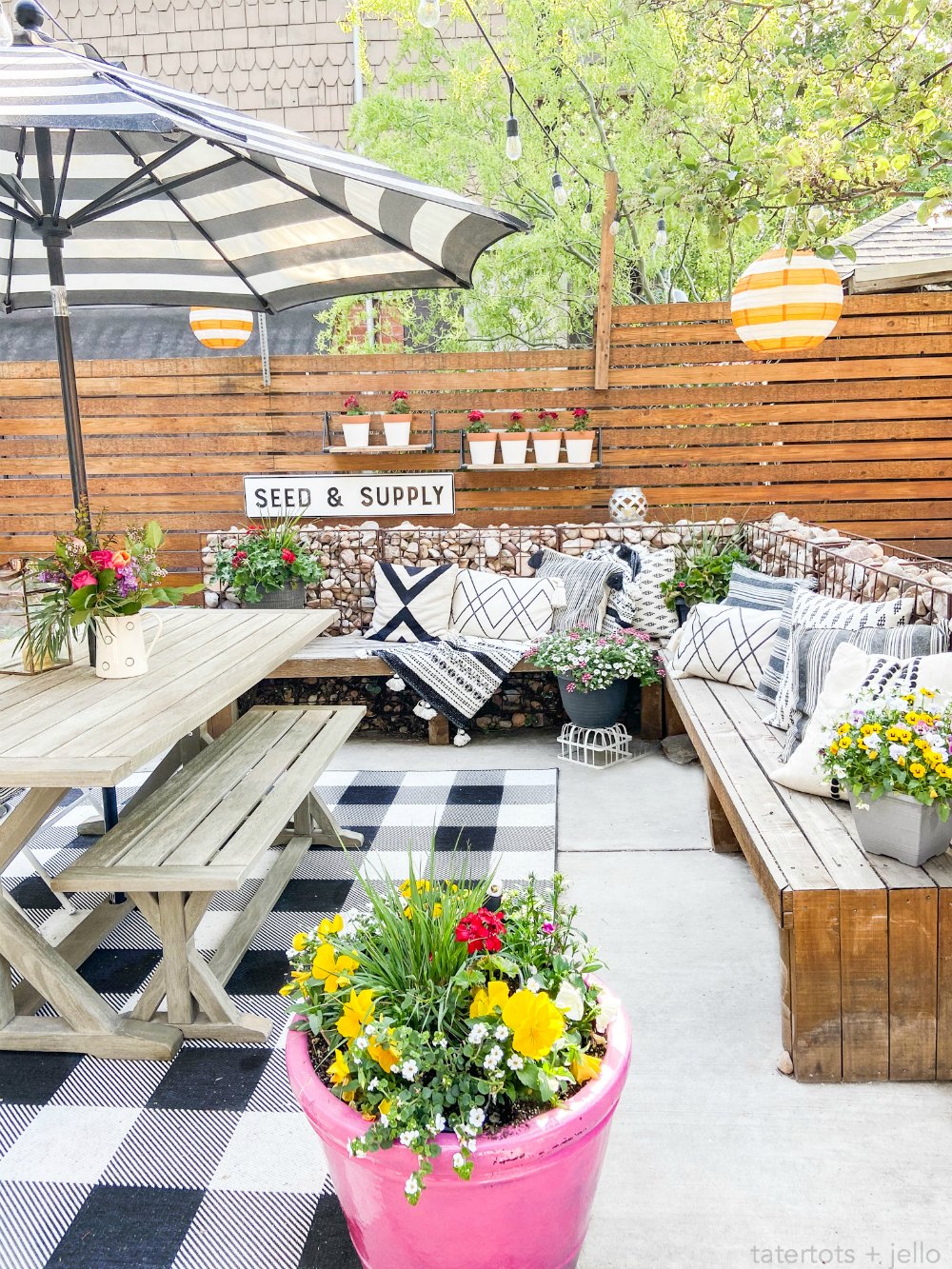 This post contains affiliate links. Affiliate links cost nothing to you, but allow us to bring you free content.
Last weekend we started fixing up our backyard! Our home is almost 130 years old and has a kind of funny yard. The front yard is larger than the backyard and gets the most sun, that's why we planted our garden in the front. Our backyard is mostly just the patio space. There are steps leading to a space behind the patio, but we are hoping to build a garage there so the backyard will mostly consist of just the patio space.
Adding Plants Without Taking Up Patio Room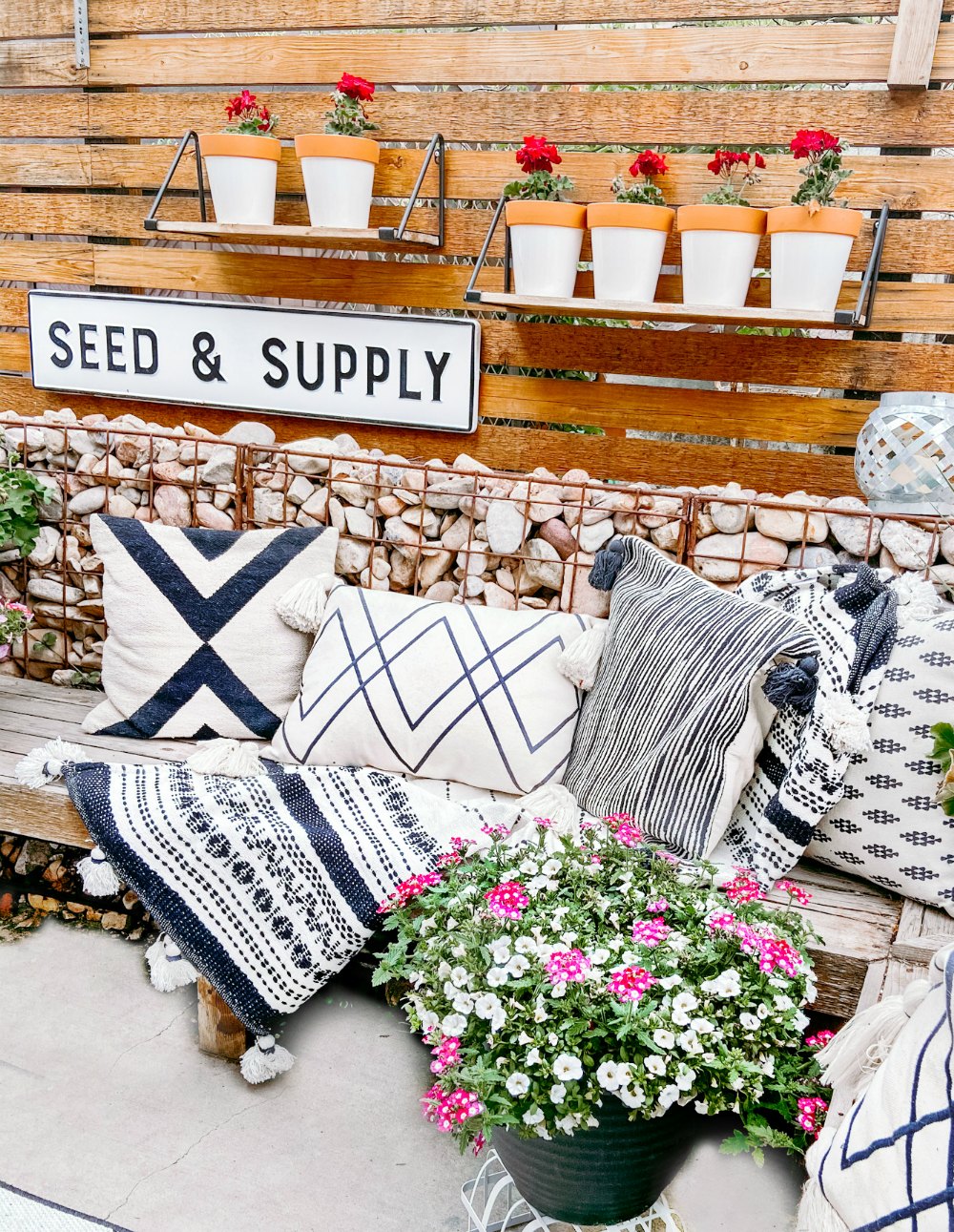 We have a few flowering pots on our patio, but I wanted to find a way to use the vertical space too. The owners before us installed a modern fence which I love. I thought it would be fun to add a couple of modern shelves and add plants!
How to Spray Paint Terra Cotta Pots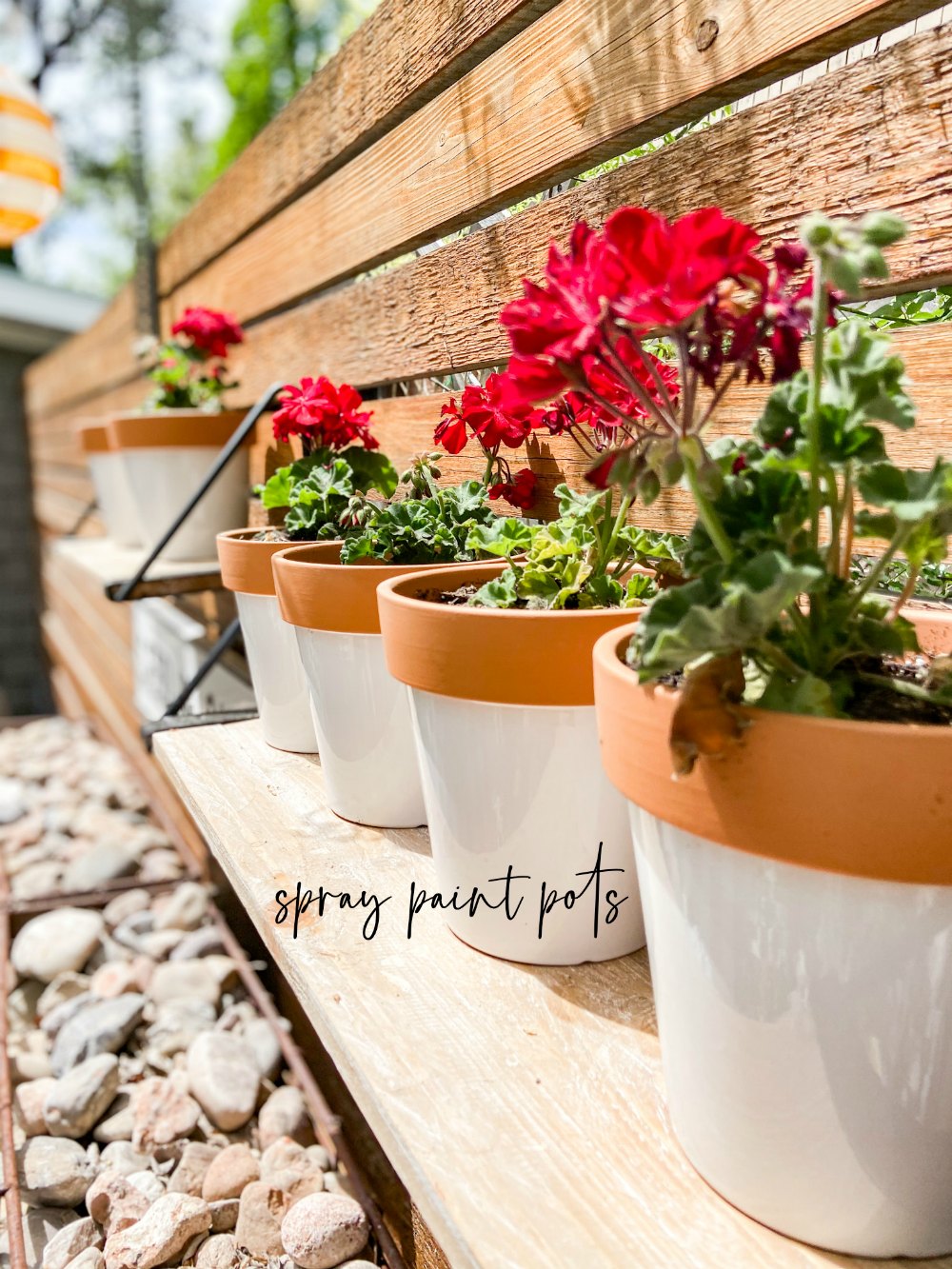 I bought plain terra cotta pots and spray painted them using white glossy paint. I love the way they turned out! The trick to spray painting, especially with gloss paint is to tape the rim off and spray the pots VERY lightly, multiple times. Using a very light spray allows the paint to spread evenly over the surface of the pots, resulting a very even glossy finish. If you spray the post too closely or too thick, the paint will drip and the finish will not be even.
Tape off rim of pot.
Prime pot or use paint + primer spray paint. I used Rustoleum's Gloss Ultra Cover White.
Spray a LIGHT coat 6-8 inches away from the pot.
Repeat 6-8 times until the finish is completely covered and glossy.
Hanging Patio Shelves
I had a couple of shelves I used for this project. But it would be easy to create your own DIY shelves. Just take two metal brackets like the ones above and cut two shelves to whatever length you want. Add the brackets to the shelves and hang them by attaching screws to your fence and hang the shelves on the screws.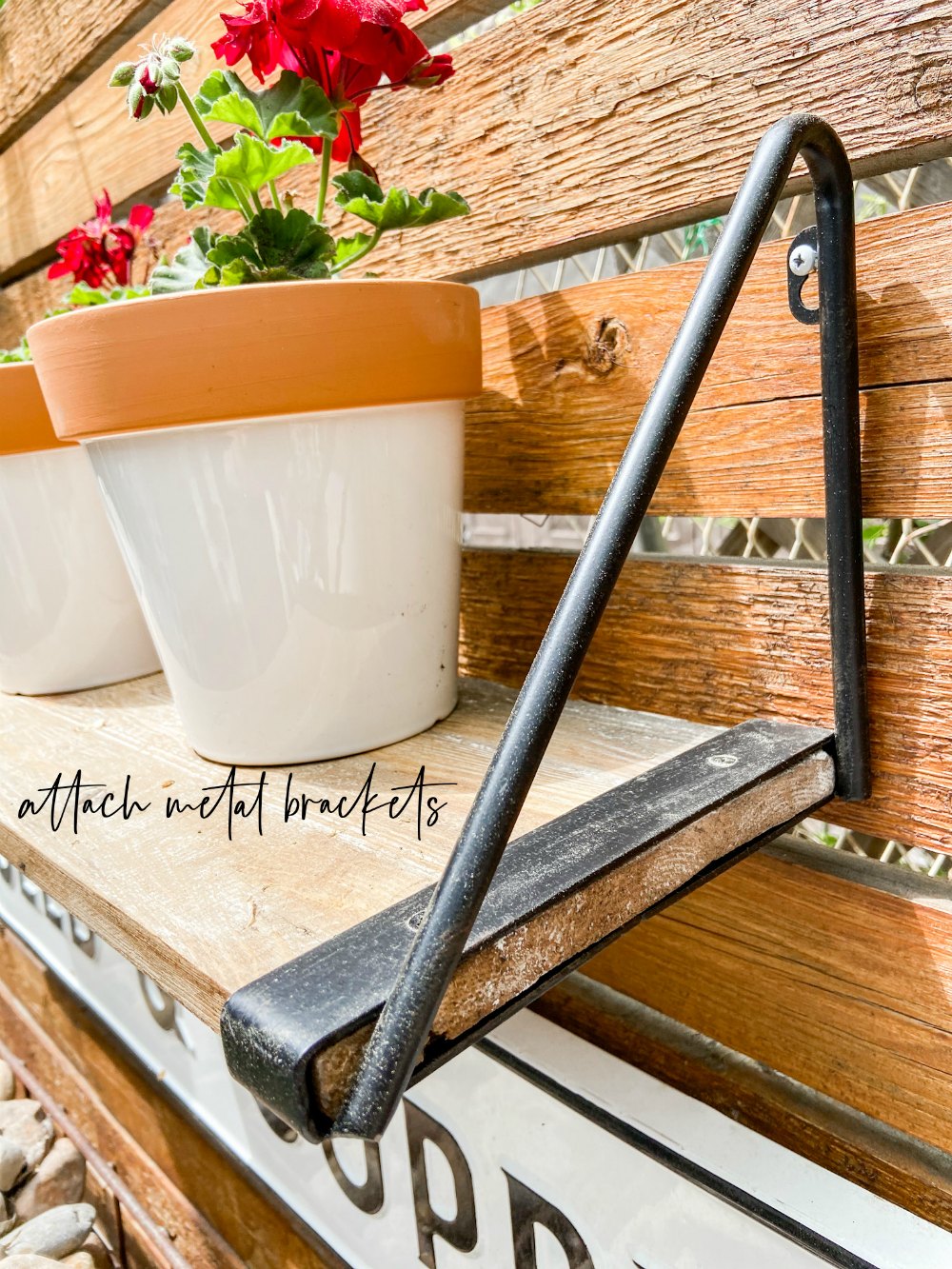 Vertical Herb Garden
This idea would be really fun as an herb garden. If we hadn't just planted herbs in our front planter garden I would totally have made this area into a herb garden. It would be so easy to grab herbs from the shelves whenever we needed them.
How to Hang a Vertical Flower Garden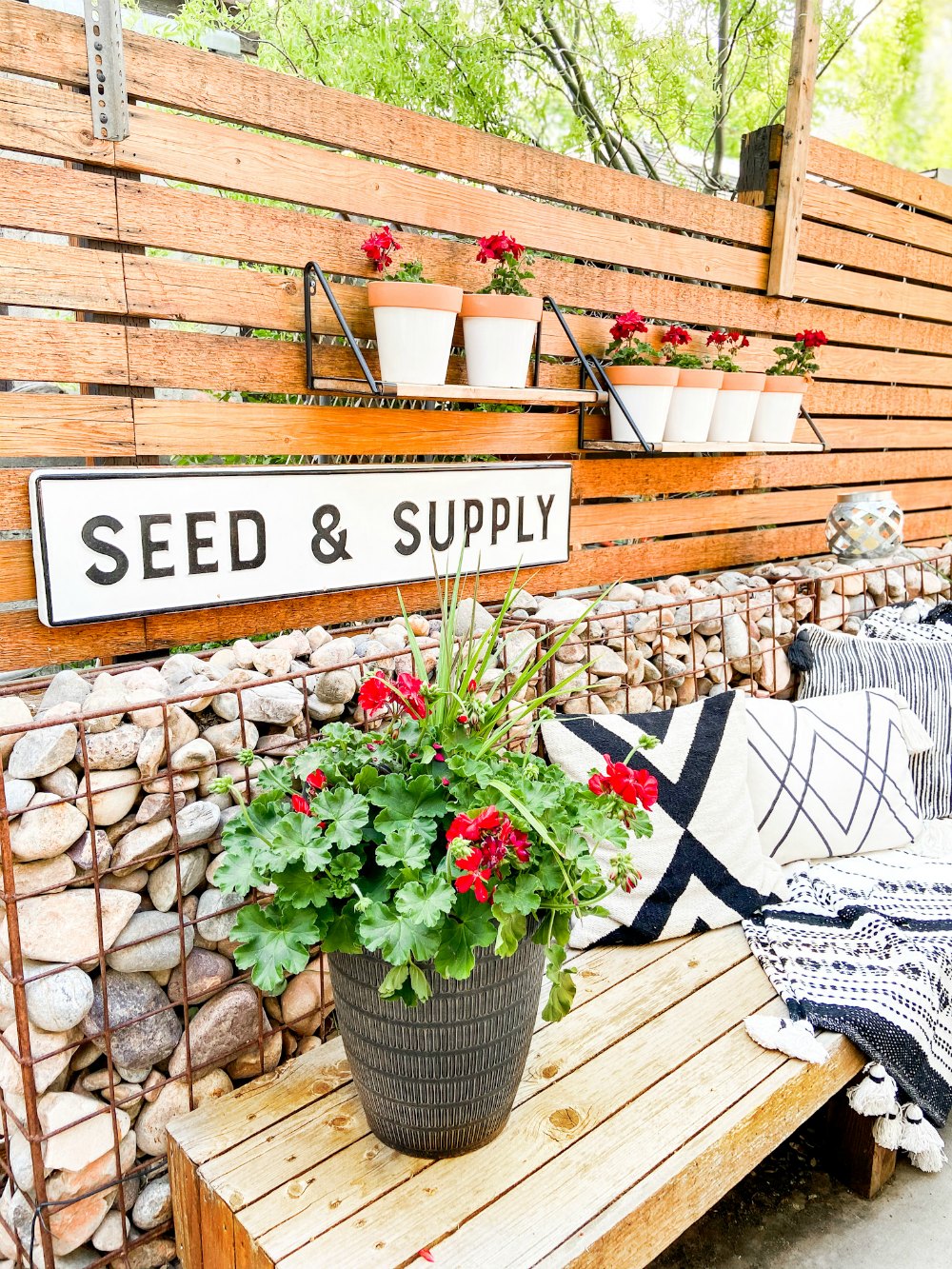 I decided to plant geraniums in our pots. I had geraniums at our last house and they did really well with the Utah heat. My shelves are two different lengths so I put two pots on the smaller shelf and four pots on the longer shelf. I staggered the shelves and added a enamel flower sign.
Small Urban Backyard Patio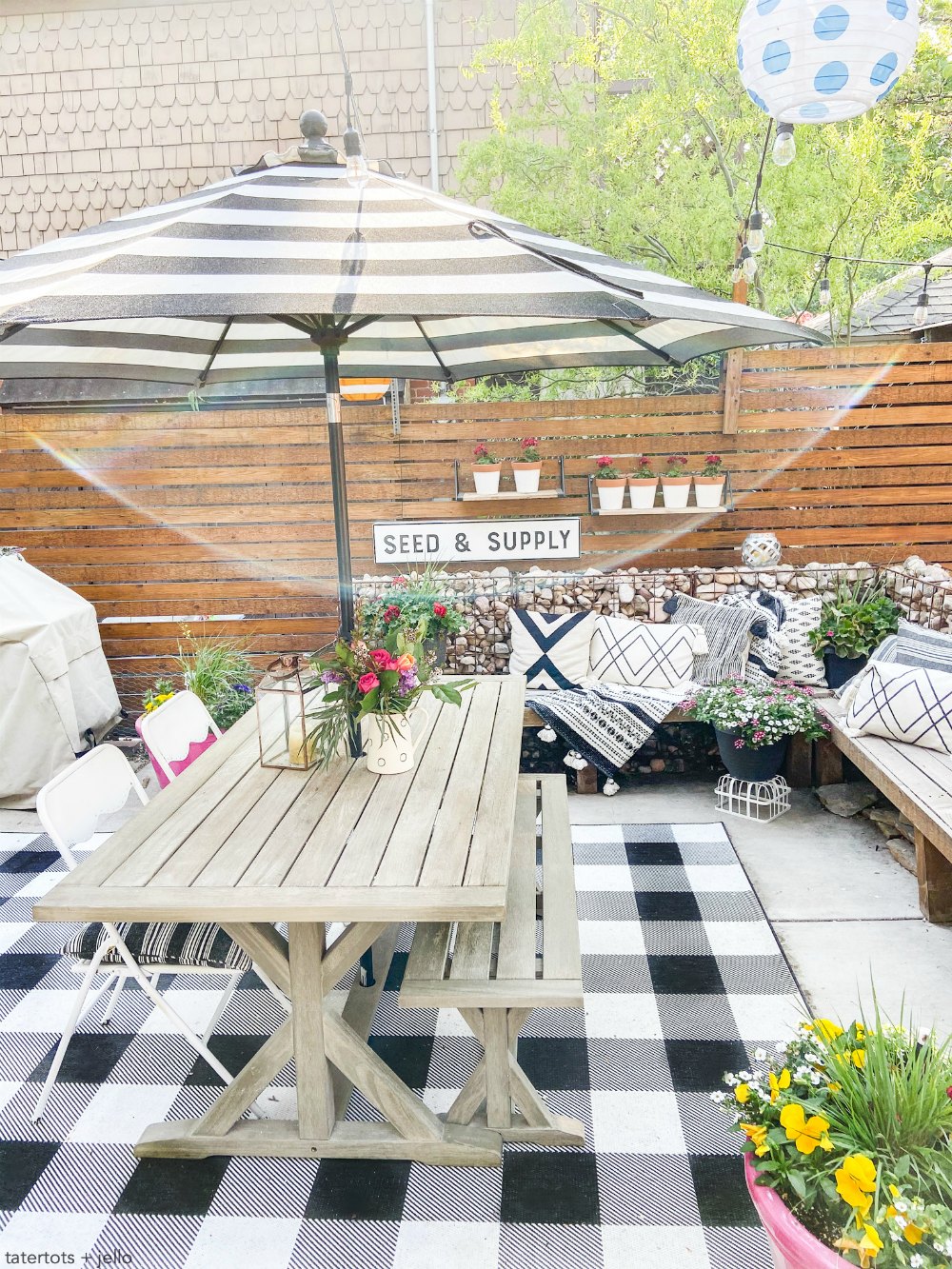 I centered the patio table on an outdoor checkered rug. The black and white pattern is brought over with our striped umbrella. I also added pillows to our outdoor benches and a throw too! I love the way our backyard patio looks with the little hanging garden!
Awesome DIY Summer Projects to Try!


Today I'm joined by some of my blogging friends who are also sharing their Summer DIY/Craft ideas! Just click the links below the images to be taken to their post...






More DIY Garden Ideas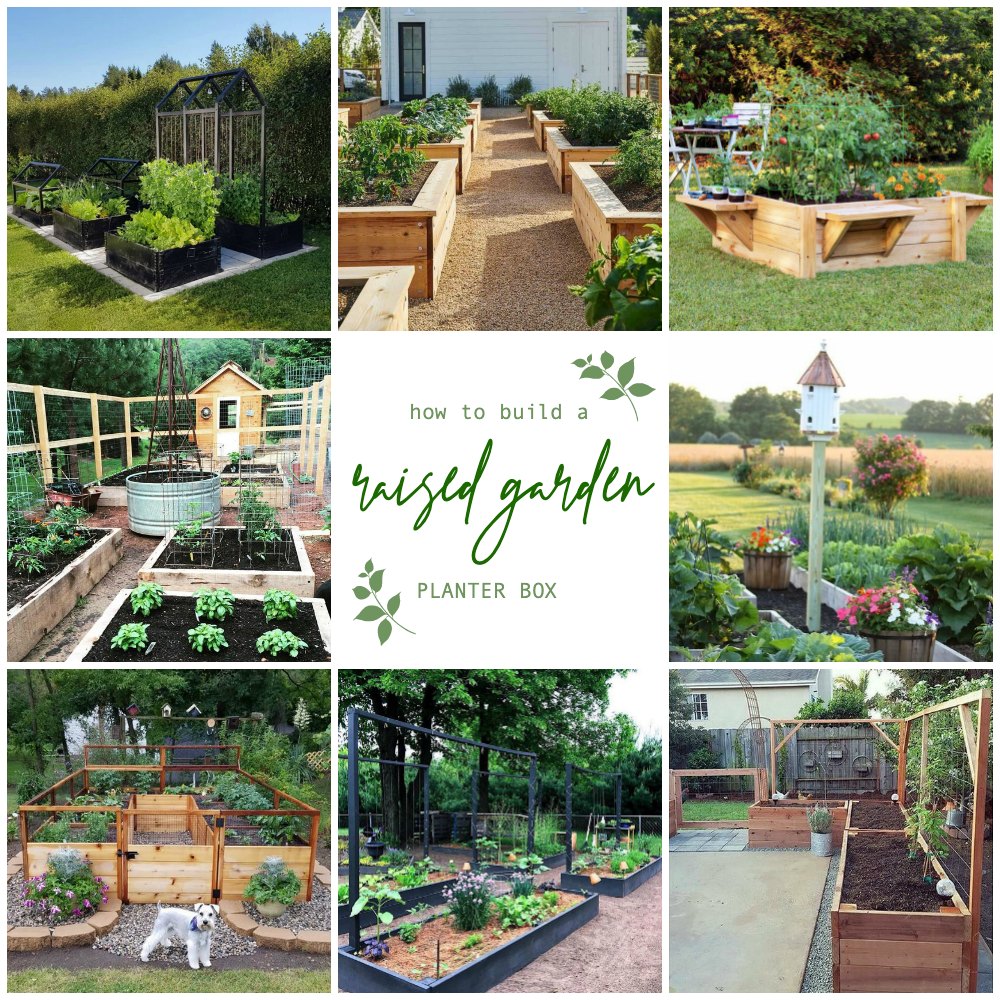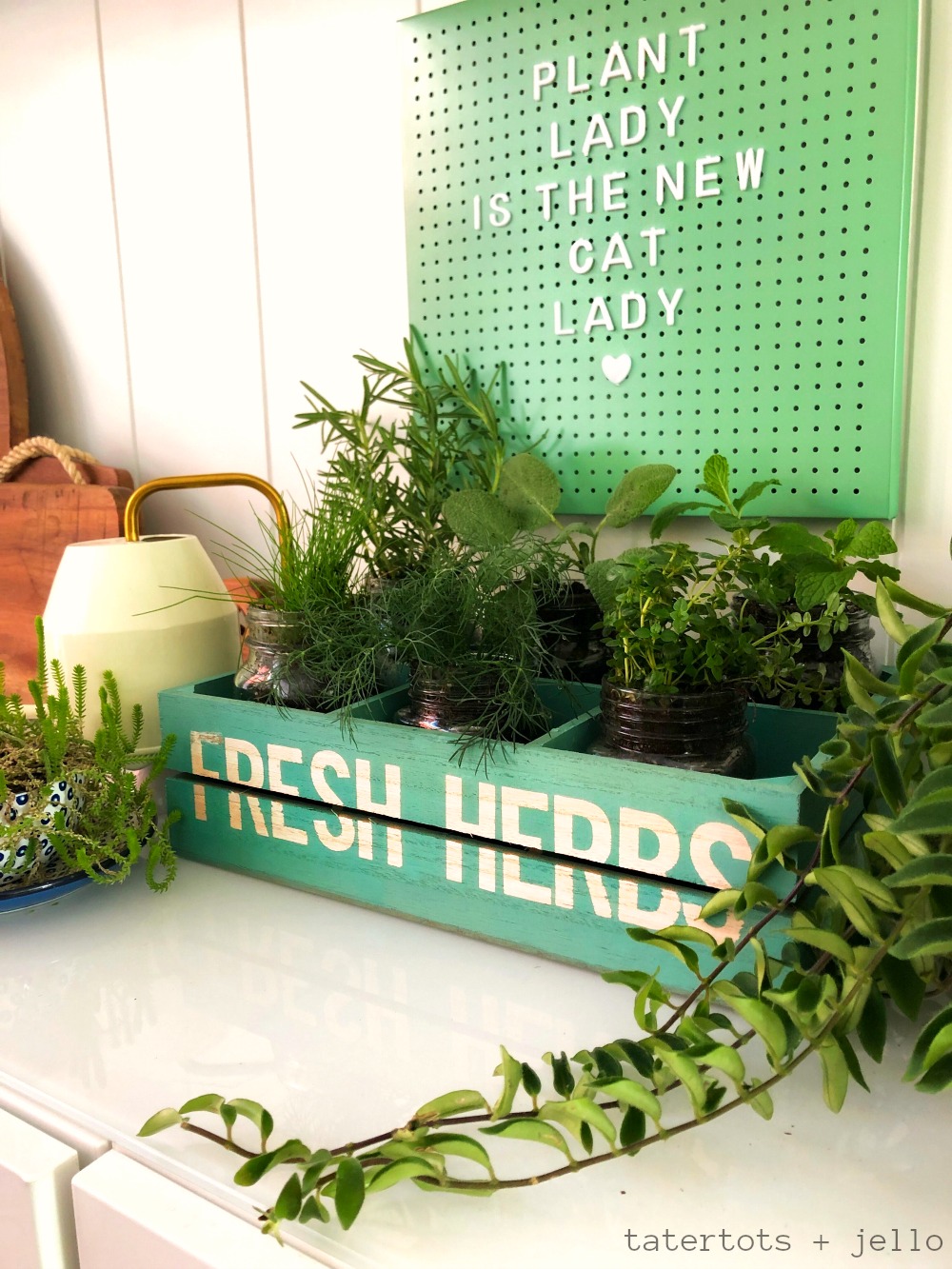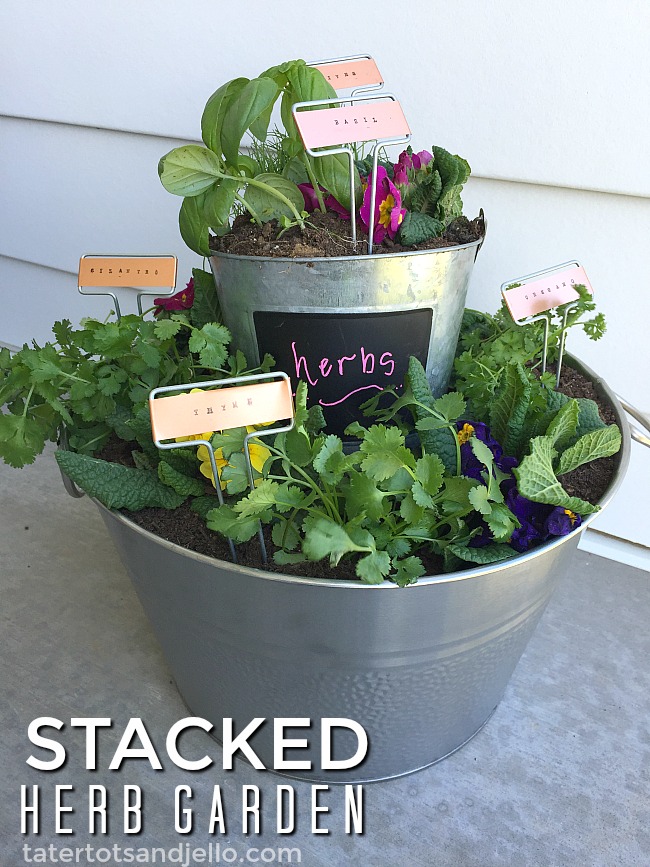 What projects are YOU working on?
Share with us in the comments!
xoxo