How to Make a Simple Garden Planter Box. Grow your own veggies this year with a simple garden box. You can use the box for years to come for healthy homegrown vegetables!
How to Make a Simple Garden Planter Box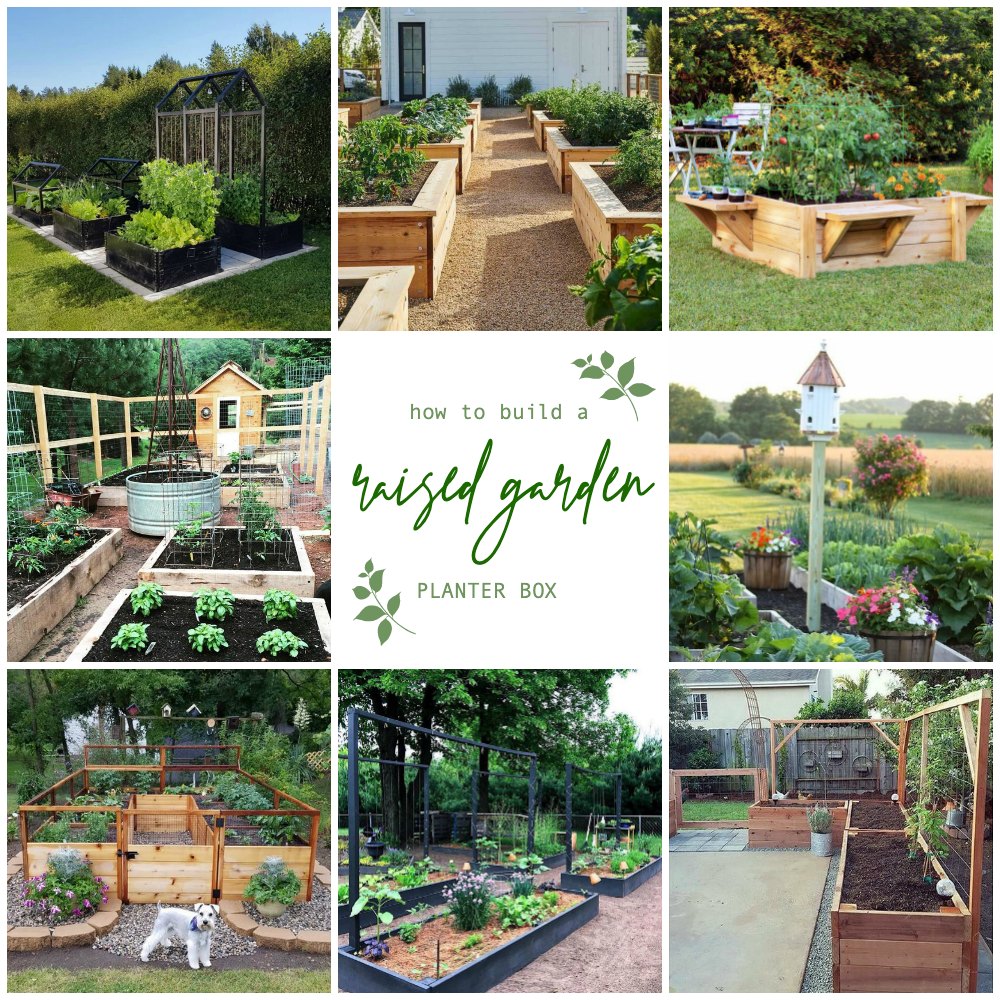 One of my favorite things is warm weather and being outside planting flowers and working on my garden! Over the years I've planted different gardens. Many years ago we planted two huge square foot garden boxes. And a couple years ago I turned a side area into a garden with a vinyl garden box. Now that we are in our forever home, I knew I wanted to make a garden here too!
Why Plant a Planter Box Instead of a In-Ground Garden?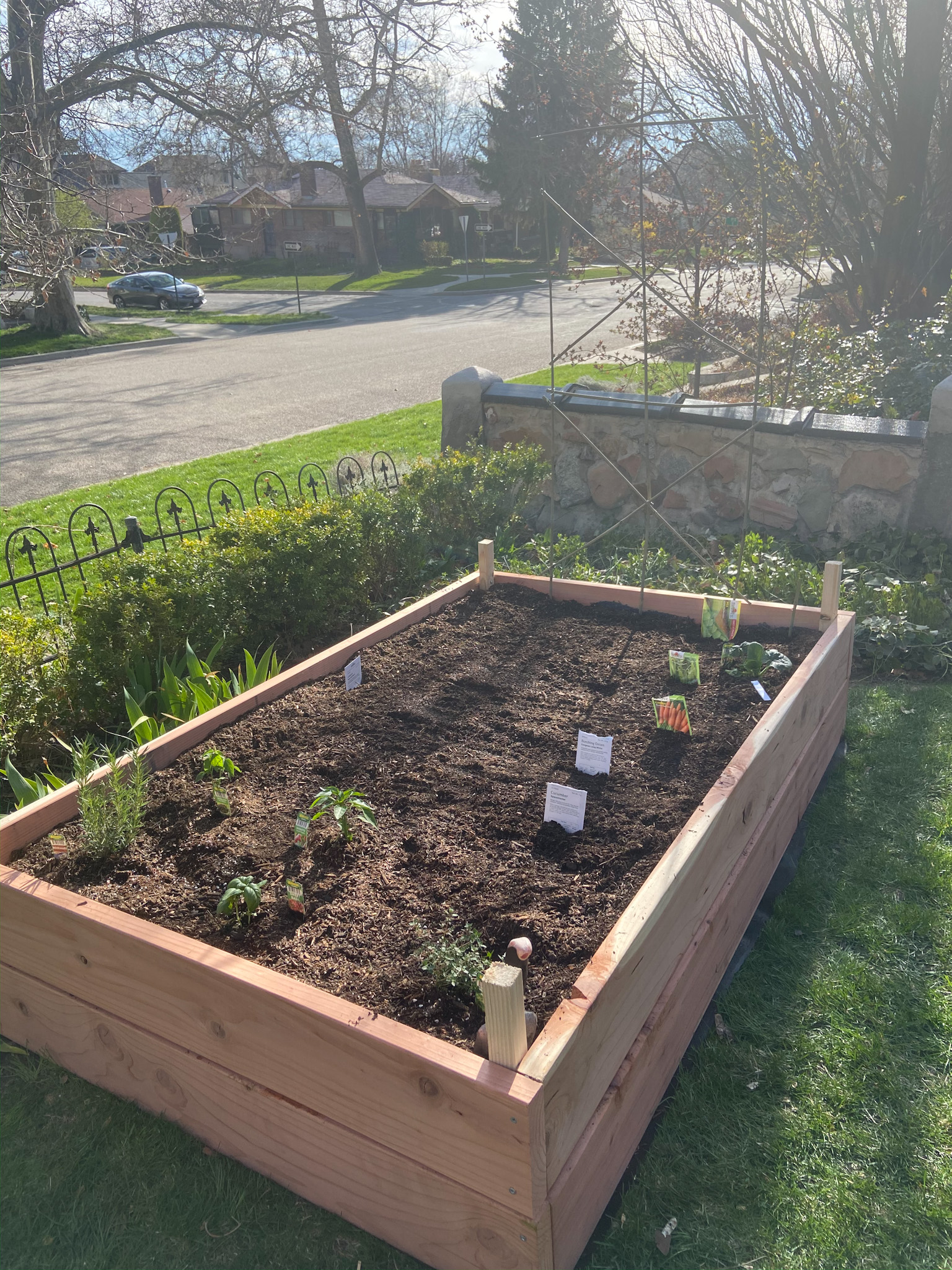 There are a few reasons I love a planter box versus just planting veggies in the ground.
The first is that creating a raised garden is easier to garden. Having the beds raised makes it easier to get to the plants.
Line the box with weed barrier so the beds stay cleaner without weeds.
One more reason I prefer garden boxes is that it's an easy way to garden in any size yard.
Planter Boxes Make Gardening Easy No Matter What Size Yard
Since our new home is right downtown, our yard is quite small. Even though we have a smaller yard, I knew we could still have a garden. I love the 100+ year old trees in our new home, but it created a tricky situation with deciding where to put our garden. The front yard gets the most light so it made more sense to make a garden in the front yard.
DIY Planter Box Video
You Can Plant a Garden in the Front Yard
We decided to put our planter box in the front yard which gets the most sun. We created a simple planter box which complements our home and looks great in the front yard.
Planter Boxes Make Wonderful Square Foot Gardens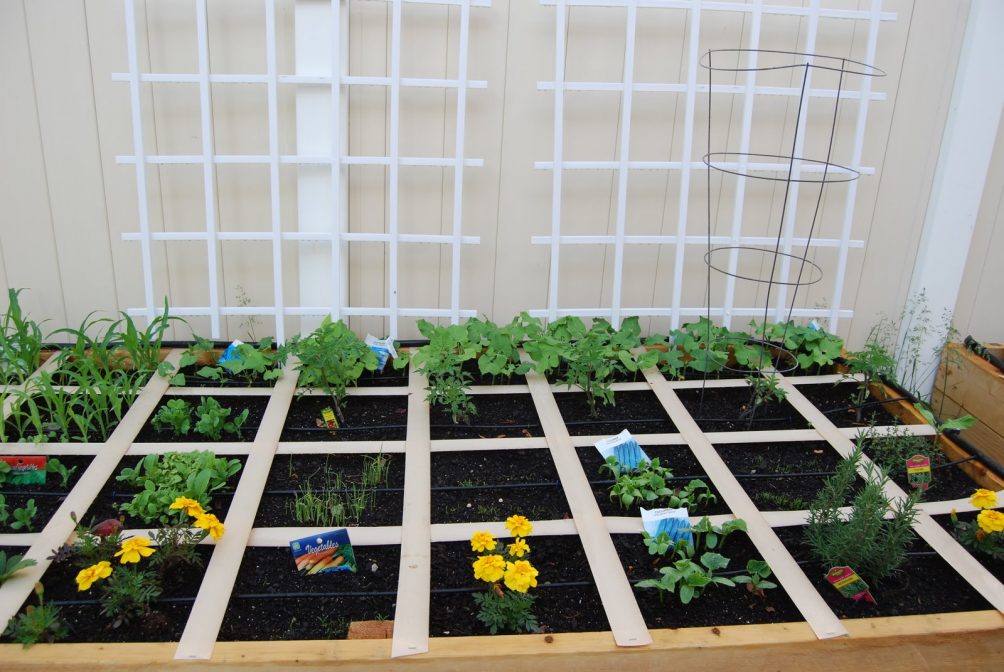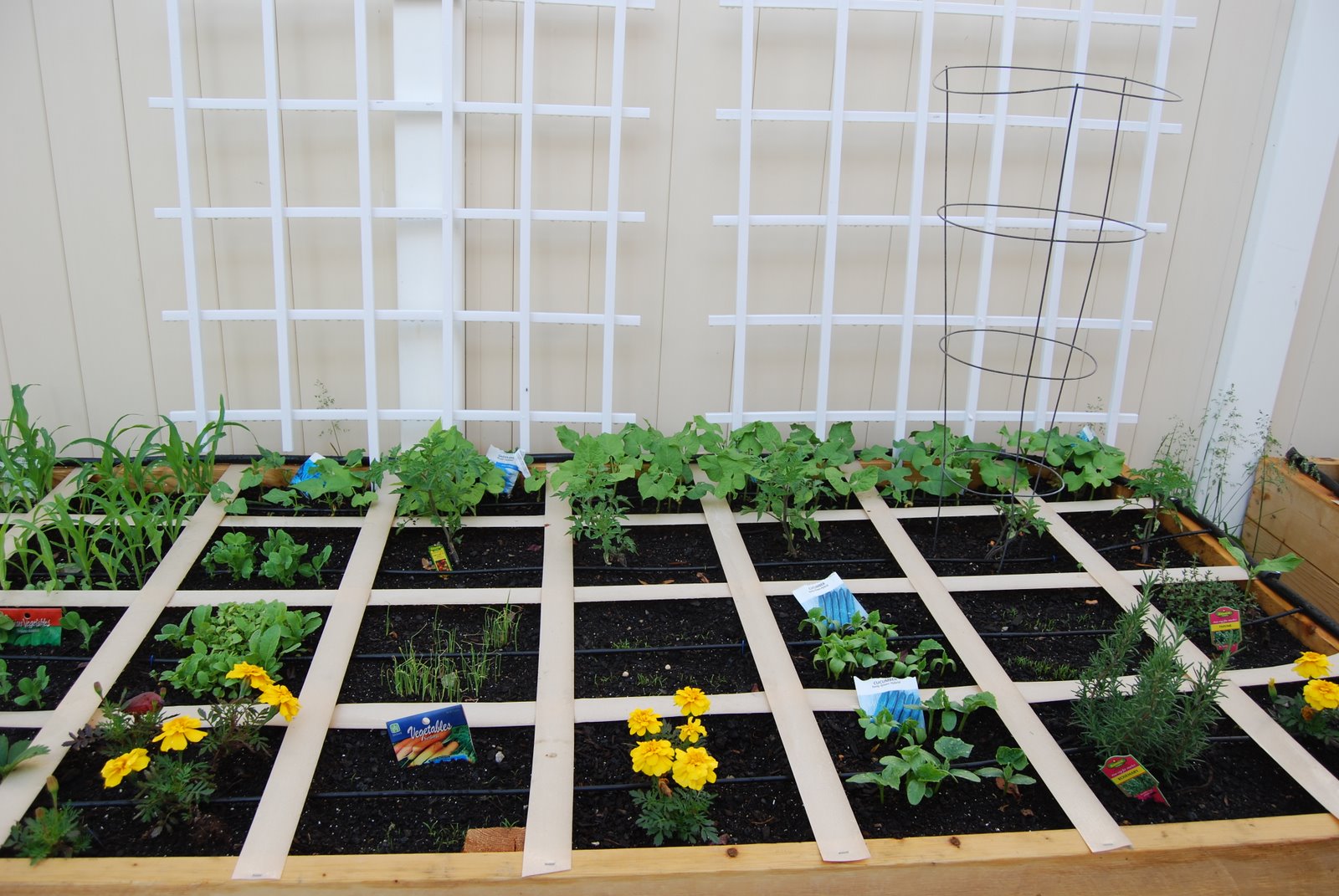 Planter boxes they work great with square foot gardens. You can optimize the output of product you can grow by using the square foot gardening technique.
What is a Square Foot Garden?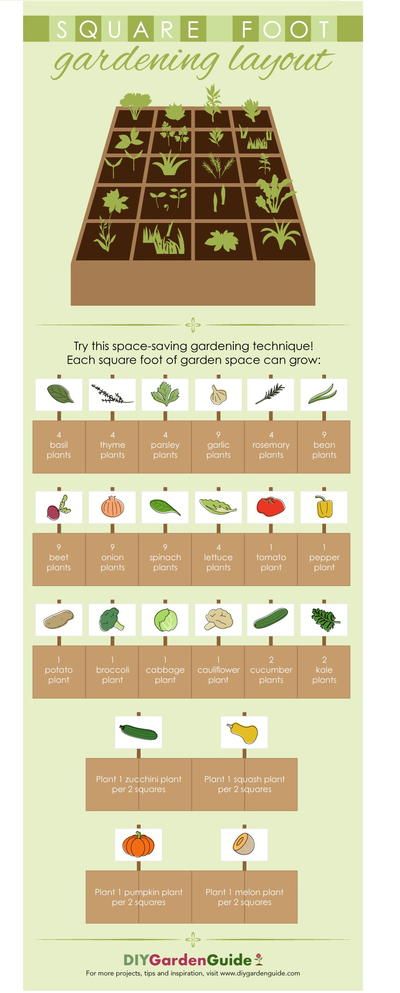 The phrase "square foot gardening" was popularized by Mel Bartholomew in a 1981 Rodale Press book and subsequent PBS television series. Bartholomew, a retired engineer, devised a raised 4 by 4 feet (1.2 m × 1.2 m) square beds with a grid. The 4 by 4 square beds was then divided into sixteen one-foot squares, the grid.

(via Wickipedia)
Planter Boxes Make Growing Plants Vertically Easier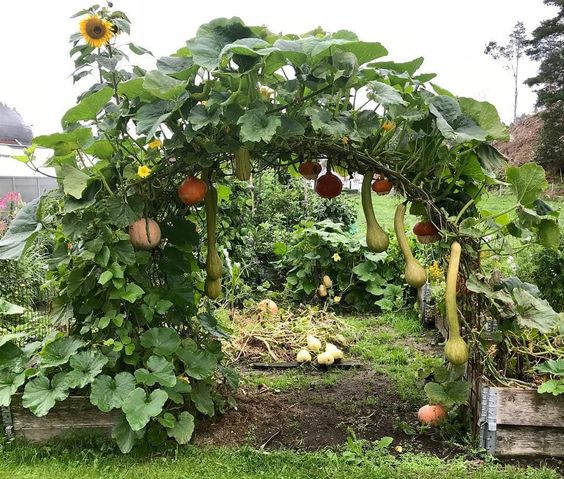 To make the most of your space, build trellis and/or pergolas to go on top of your garden, allowing plants to grow up vertically and maximizing your planter box space.
Decide How Big and How Many Boxes You Want to Create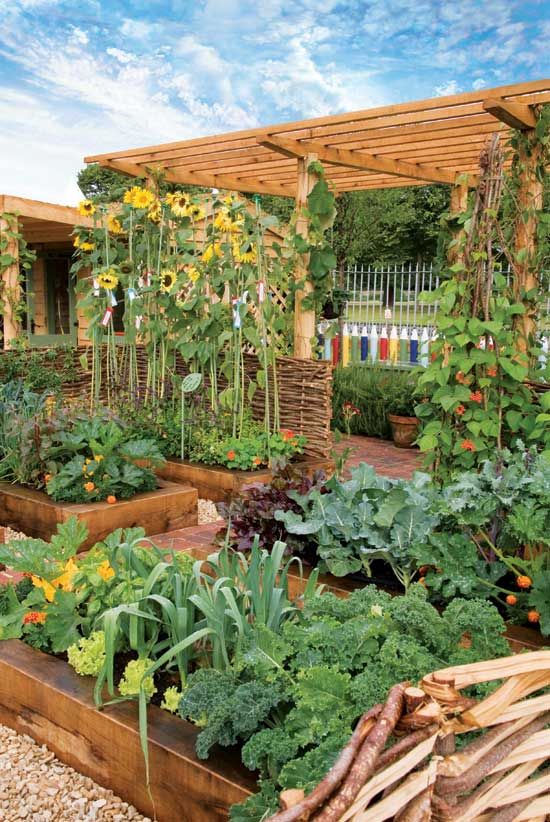 We decided to start off with one pretty large planter box for our yard. Our box is 4-feet wide by 6-feet long. If we were using the square foot method, that would mean that we have 24 boxes to plant in.
Don't Make the Width of Your Planter Box Too Wide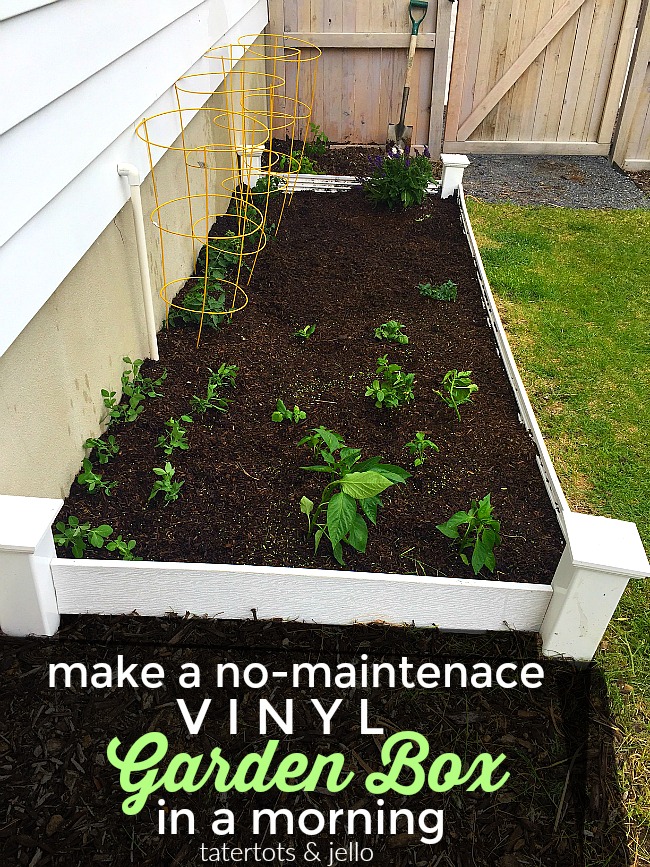 I recommend 4 feet as the longest width you would want to create. The reason is that you need to be able to reach in and tend to the plants. A box that is too wide you won't be able to reach your plants. You don't want to have to climb on top of the planter box. Make a No-Maintenance Vinyl Garden Box.
Create Any Length of Planter Box
Make your planter box(es) as long as makes sense for your yard. I love the idea of running some long planter boxes against your fence.
Planter Box Designs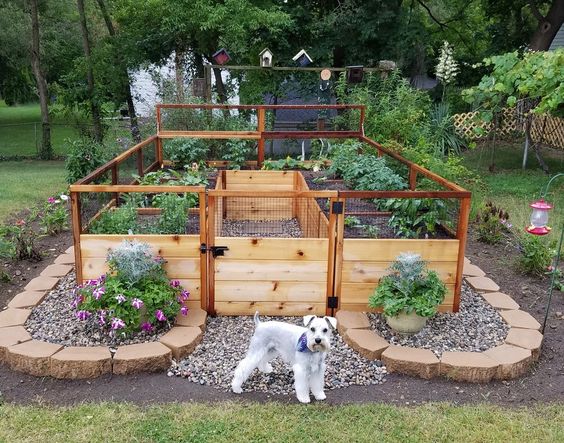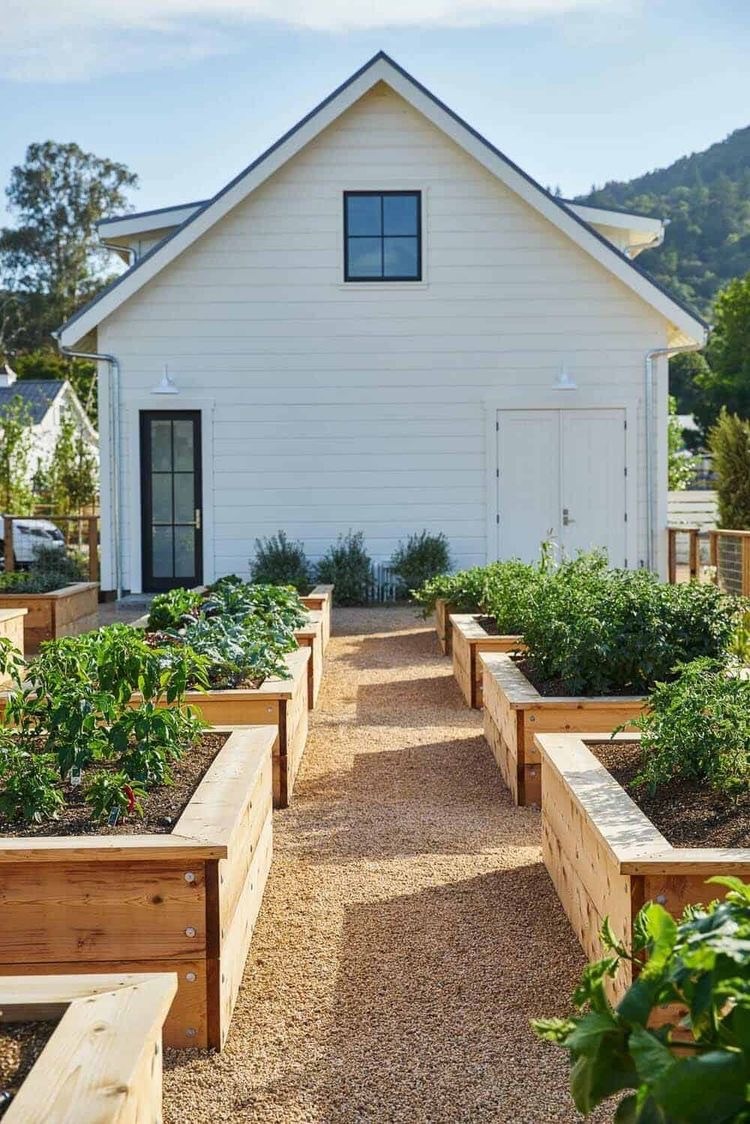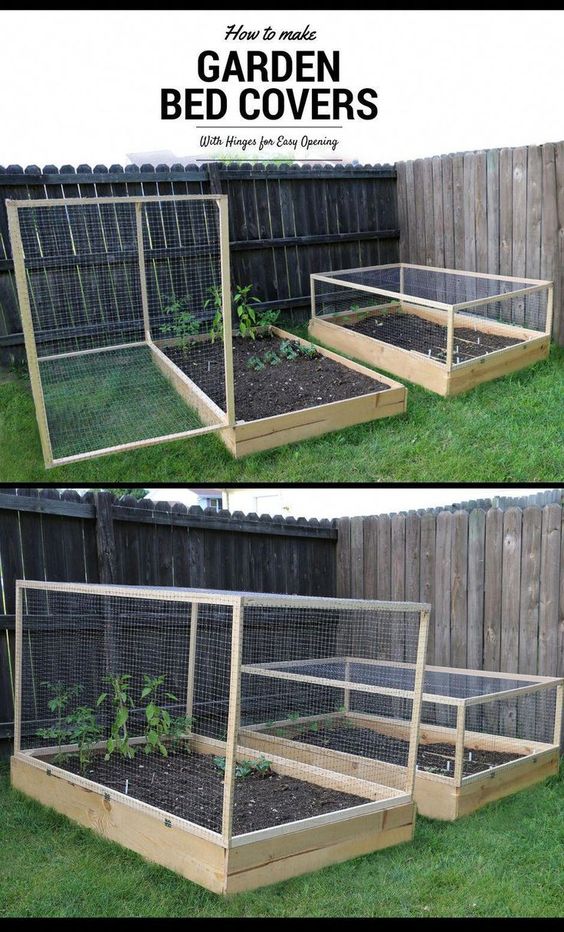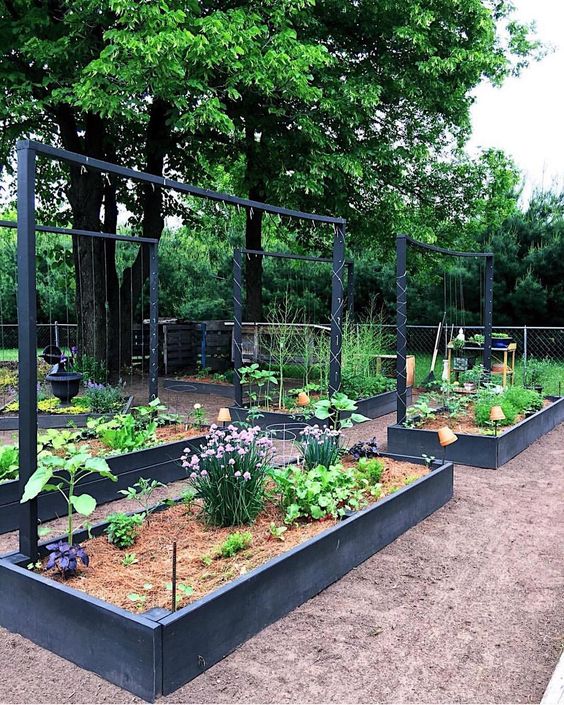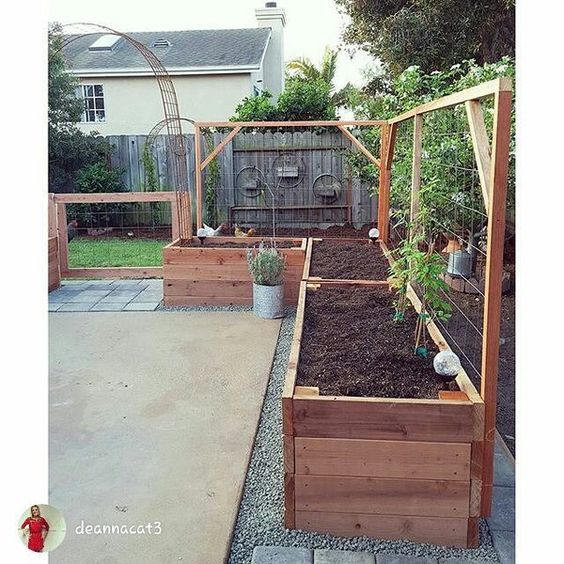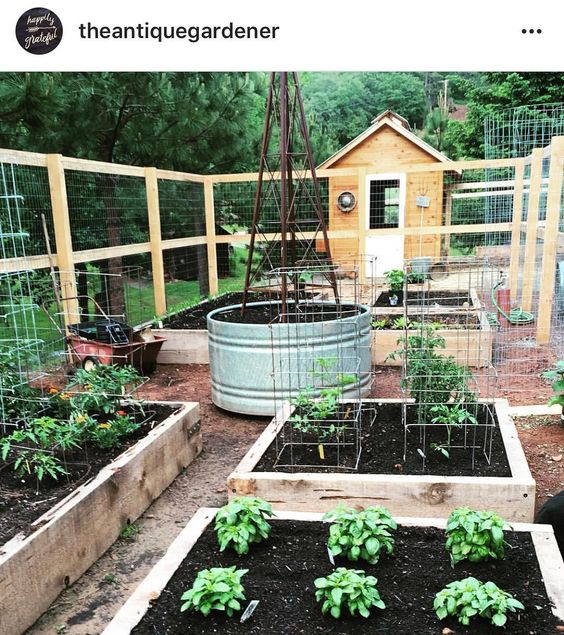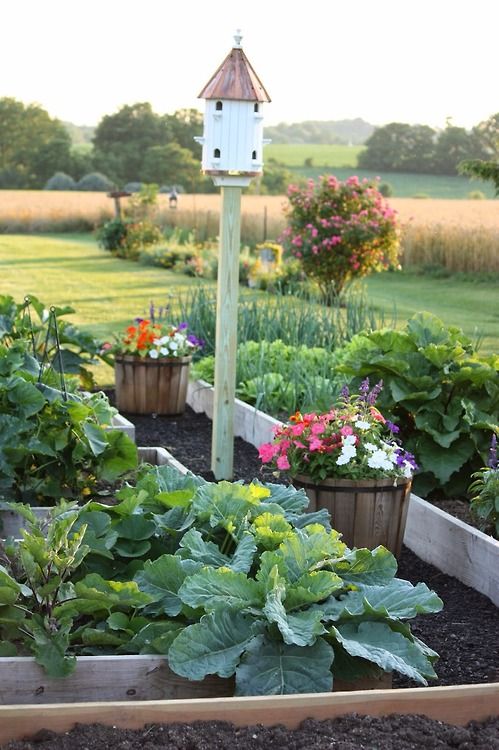 What Materials Do I Use to Make Planter Boxes?
There are several different materials that work best to created raised planter boxes.
Treated Lumber
Redwood Lumber
Vinyl
The Hardware Store Will Cut Your Wood
If you choose redwood to create the outside of your planter box, your lumber store will cut the wood to the lengths you need. That's what we did. Take note that if you go with vinyl or pre-treated lumber you will have to cut those yourself.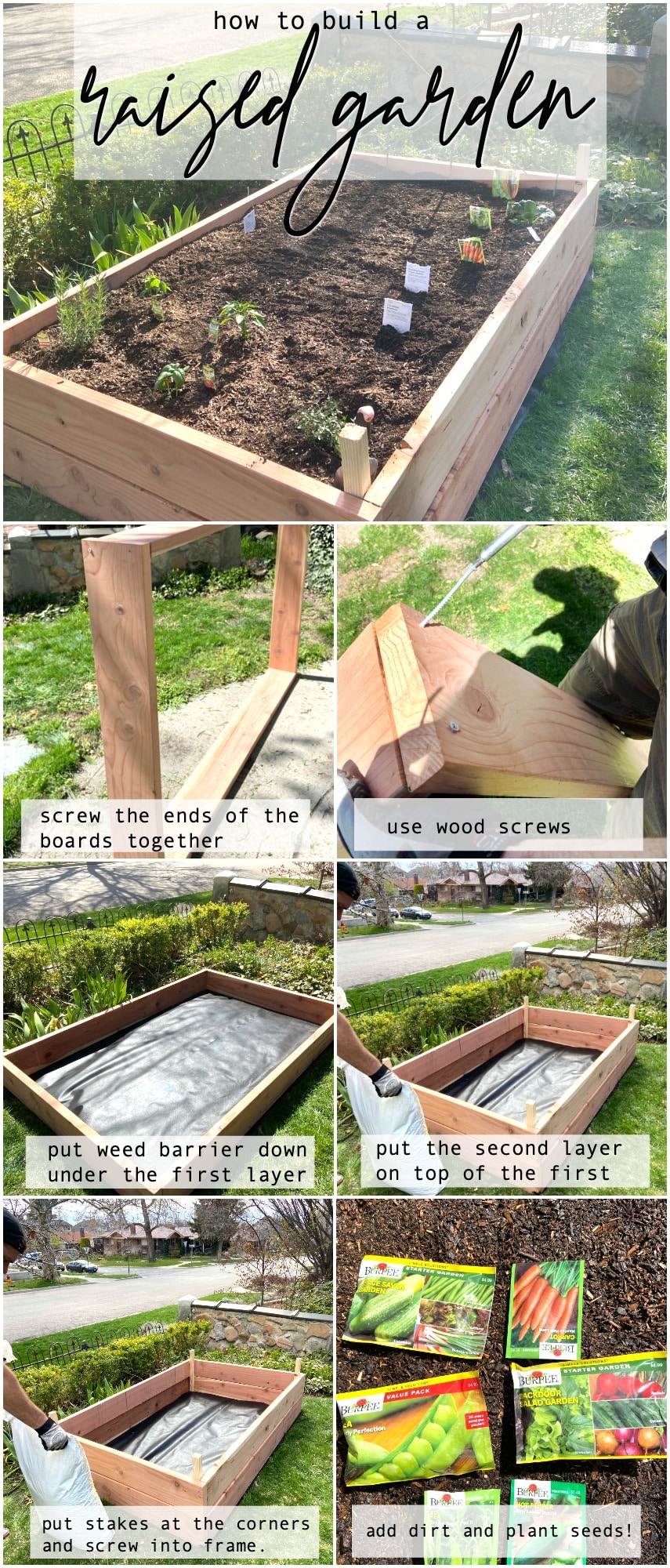 Materials Needed to Create a Raised Garden Planter Box
Lumber (or vinyl) 8 boards (4 for length, 4 for height)
Wood Screws
Weed barrier (estimate the square feet of your box, we tripled our fabric)
Square stakes
Dirt (we mixed half garden soil and half garden prep mixture)
Any materials for trellis or pergola
Steps to Make a Raised Planter Box
Cut boards to size
Screw wood screws in sides of boards, connecting sides. Make the lower box first.
Lay the box on the ground and measure out the weed barrier.
Lay the first box on top of the weed barrier.
Add Stakes on four corners. Put a hole in the weed barrier where the stakes were going so that they could go directly into the ground.
Build second box by screwing wood screws into four boards as you did with the first box.
Lay the second box on top of the first.
Screw wood screws through the stakes into the outside of the second box to secure the first and second boxes together.
Fill the box with dirt, estimate the square footage of dirt you need.
Plant your garden!
Make Garden Markers!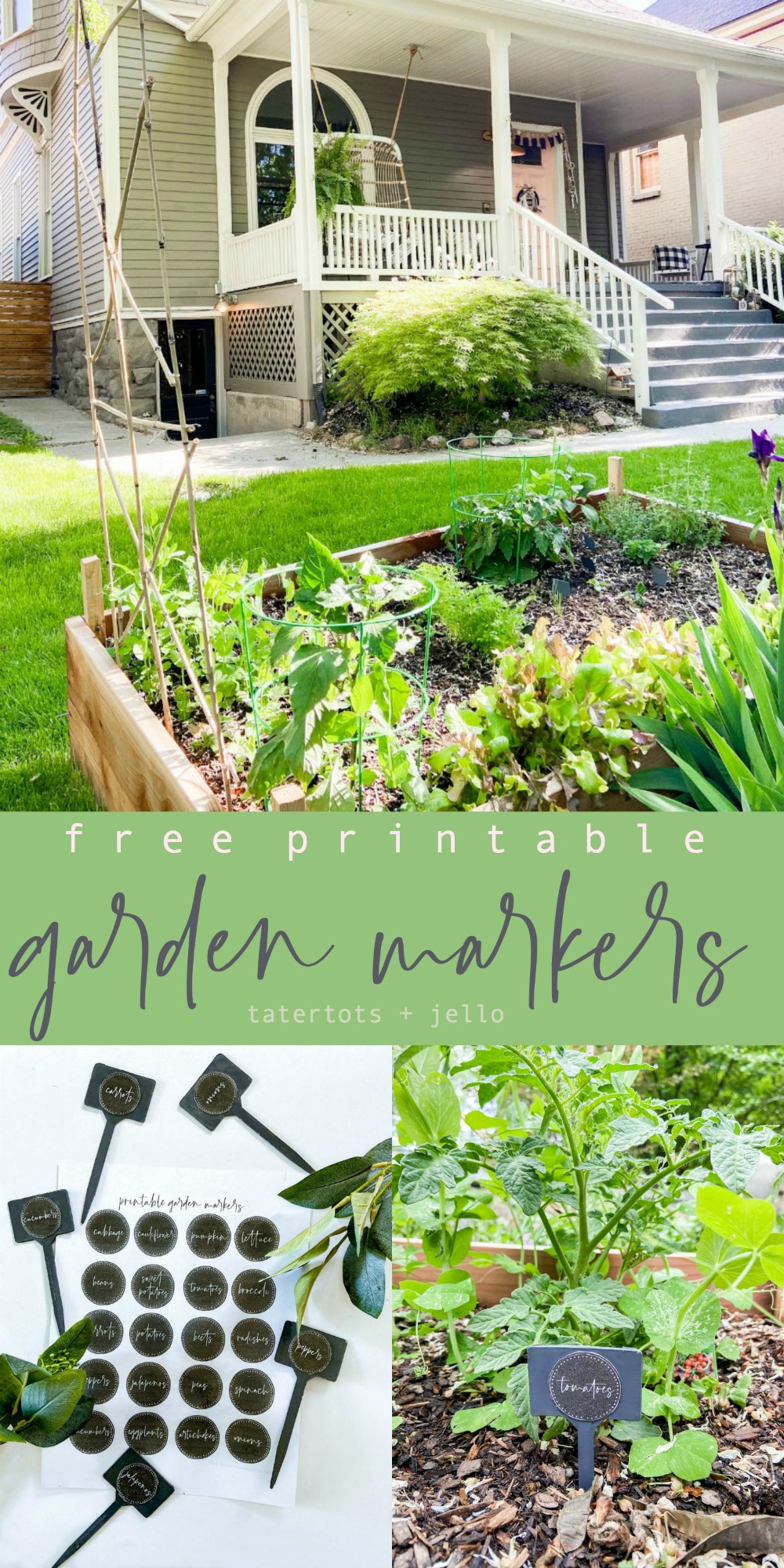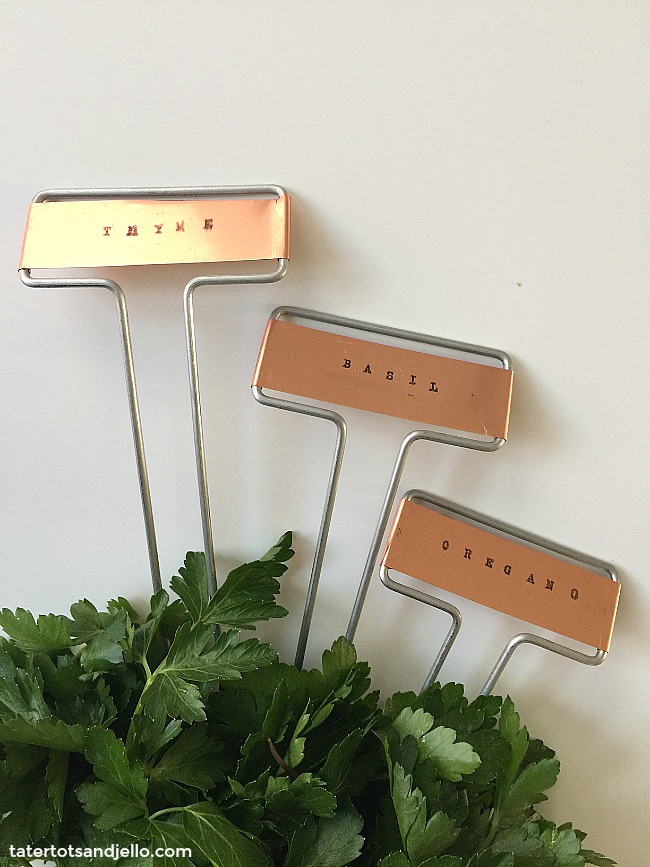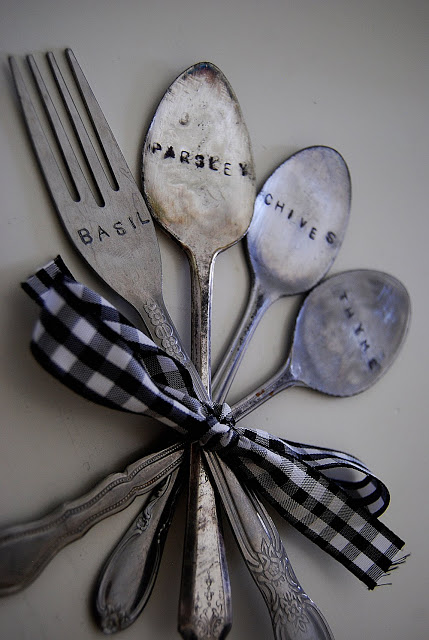 Stamped Utensil Garden Markers
What do you think?? Would you plant a raised planter garden?
Pin How to Make a Raised Planter Box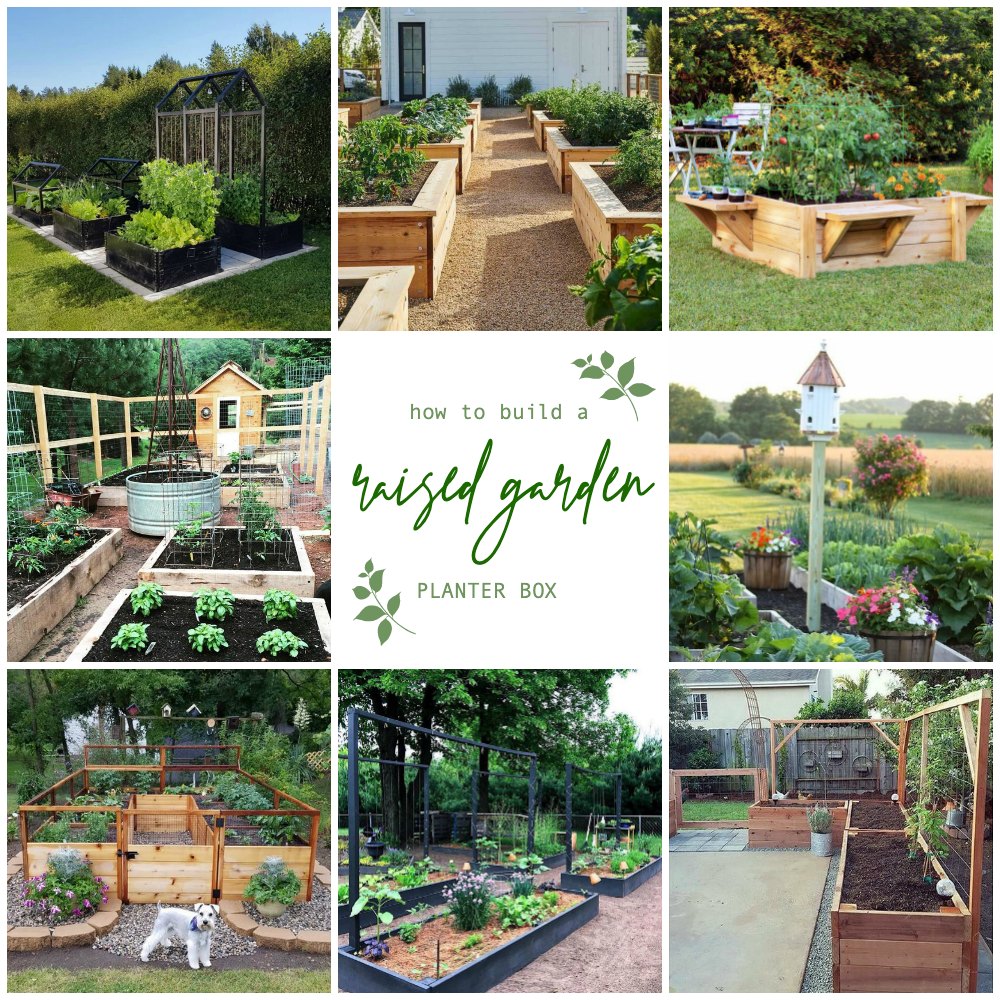 Pin this idea to make later so you can find it!
xoxo