FOUR ways I'm getting healthier this Summer.
Plus the most delicious, refreshing FOUR ingredient Sugar-free Frozen Strawberry Lemonade recipe. It's the perfect guilt-free drink to serve this summer!
This is a sponsored conversation written by me on behalf of Splenda. All opinions are my own.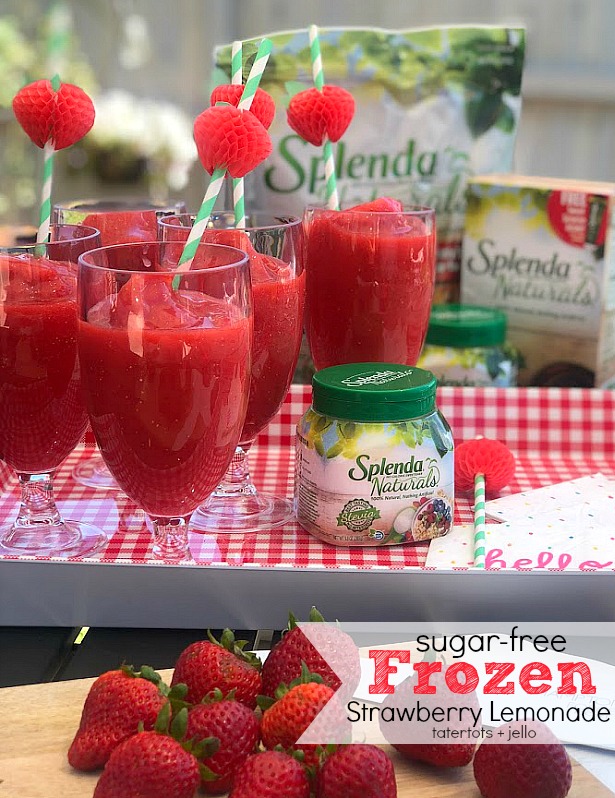 I think I've tried every diet out there. Over time I have discovered that there is no quick-fix to getting healthier. What works for me are small lifestyle changes. So this summer instead of a diet, I am working on FOUR simple ways to get healthier. Do you feel like you've been stuck in a rut too? Come along with me and try a few of these ideas!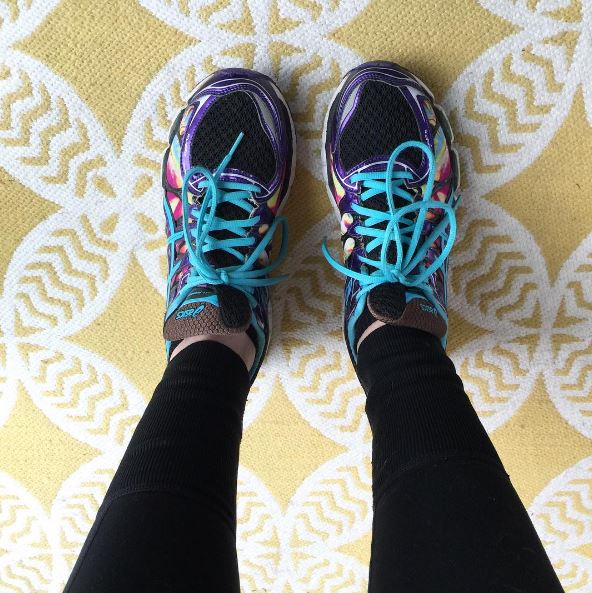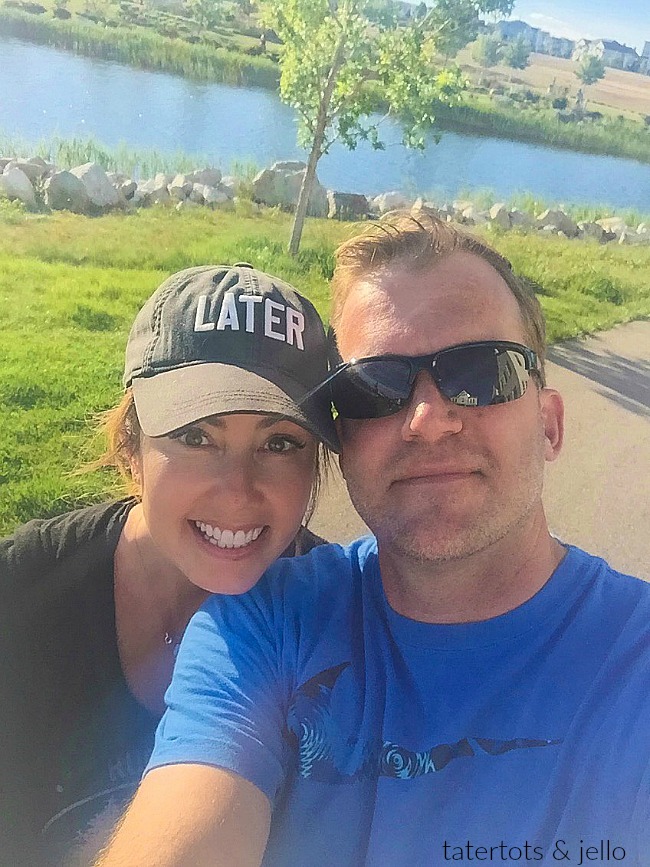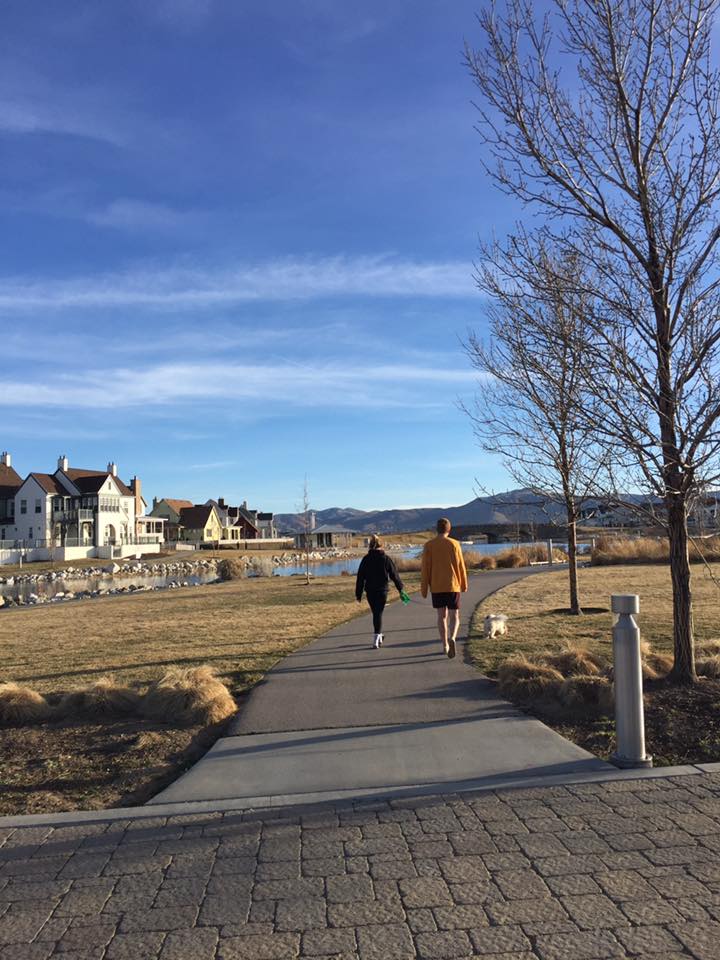 1 . Go walking each day
We live in a huge master planned community with LOTS of sidewalks, paths and even a lake. My husband and I met and fell in love on our daily walks each night. Our walks were one of my very favorite things to do. A few months ago he got a job and works nights. So I haven't been going on our walks and I really miss them. I have committed to getting out and walking, even if it is just myself. But I have been dragging my kids or neighbors along. It feels SO good to get outside! I also am going to start wearing my fitbit again. It's a great way to keep a daily step goal and keep track of how active you are!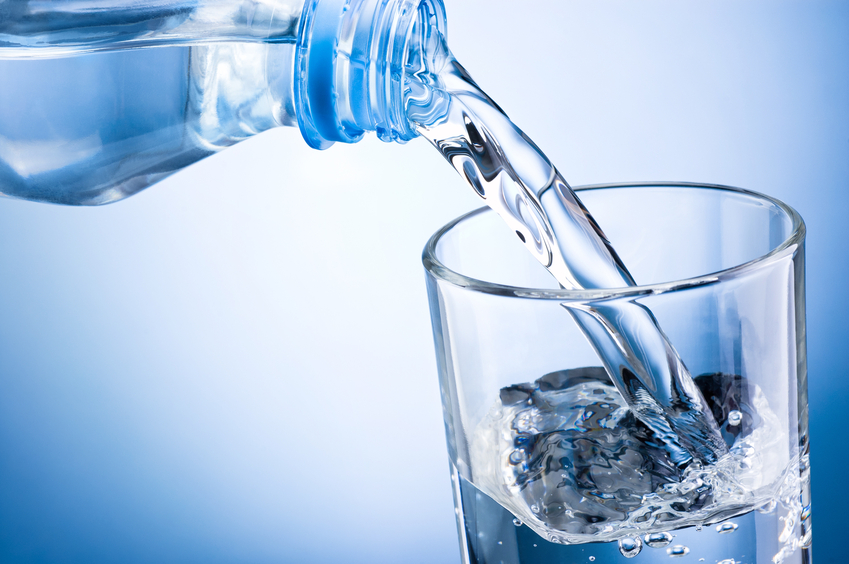 2. Drink more water
I have a hard time getting myself to drink enough water each day. I bought myself a HUGE plastic cup and I keep it next to my computer while I work. My daughter has an app on her phone that keeps track of the water you drink each day. I installed it and it has helped by reminding me when I need to drink more water.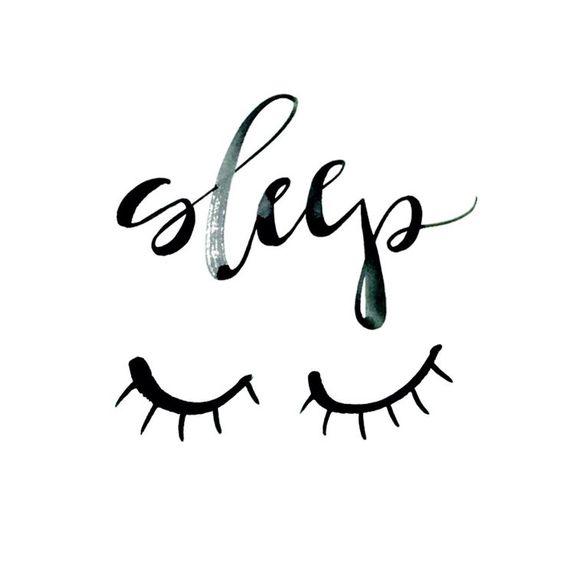 3. Eat healthier snacks at night
I'm pretty good about eating healthy during the day. My problem is snacking at night. I get the munchies. I am going to try to eat healthier snacks at night. I have a bit of a sweet tooth, so when I get a sweet craving at night I am going to try to eat fruits and veggies.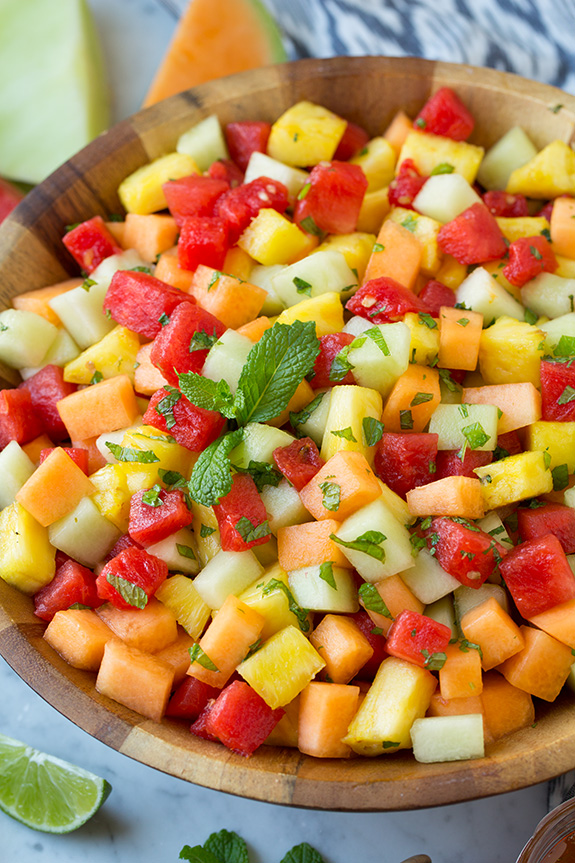 4. Cut down on added sugar
I'm trying to eat more veggies and lean protein. I've discovered Splenda Naturals-100% natural sweetener made from the stevia leaf. I've been experimenting by replacing sugar in some of our favorite recipes with Splenda Naturals. I've tried stevia sweeteners before and they seemed to have a bitter aftertaste. It turns out that other stevia sweeteners were made with a leaf extract called Reb A. Splenda Naturals uses a different extract – Reb D, which does not have the bitter aftertaste. Yay! I love that Splenda Naturals uses no artificial ingredients and tastes as good as sugar!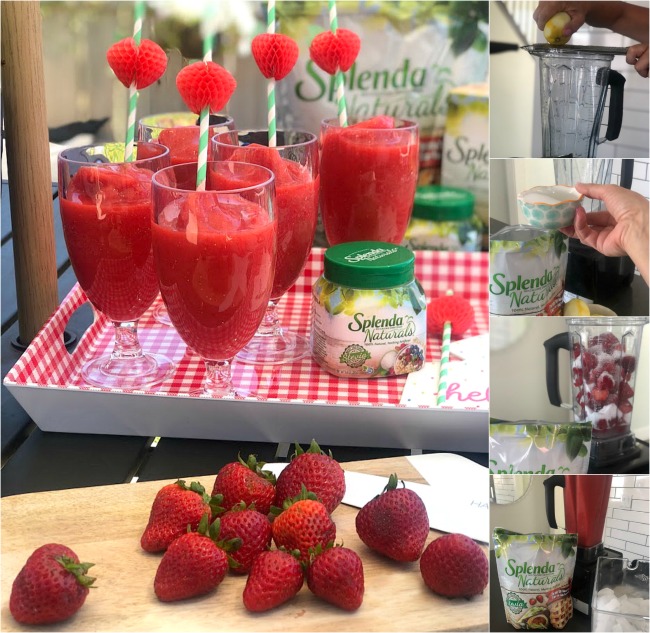 I'm sharing my little indulgence – Sugar-free Frozen Strawberry Lemonade!
It's SO good – you only use FOUR ingredients and it's full of fresh strawberries and lemons. It's perfect for whipping up on a hot day!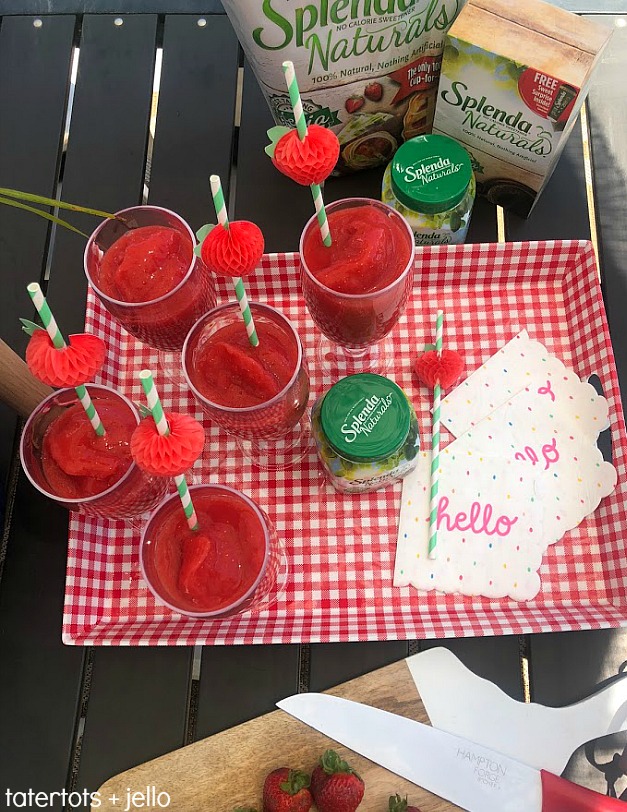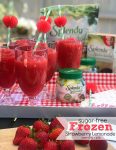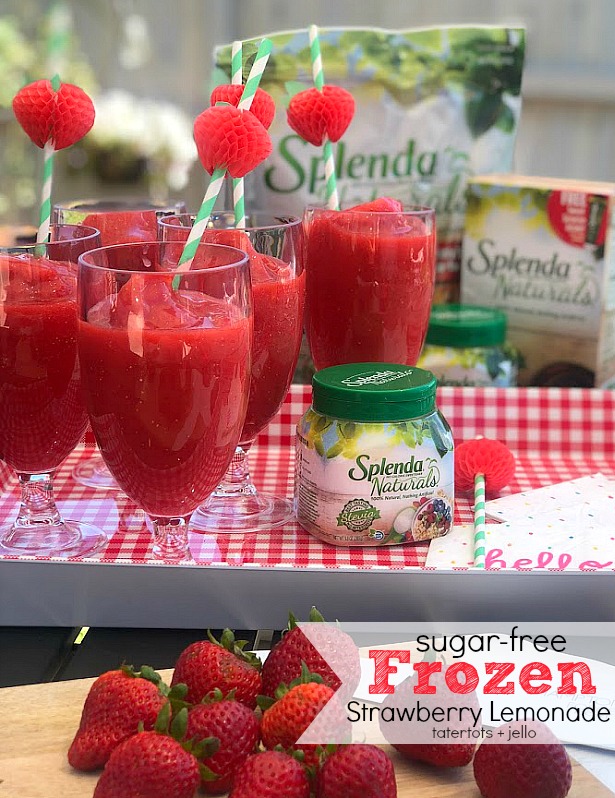 Sugar-Free Frozen Strawberry Lemonade
FOUR ways I'm getting healthier this Summer. Plus a FOUR ingredient Sugar-free Strawberry Lemonade. It's the perfect guilt-free drink to serve this summer!
Ingredients
32 ounces fresh strawberries, hulled
1/2 cup fresh lemon juice
2 Tablespoons fresh grated lemon zest
3/4 cup Splenda Naturals Sweetener
6 cups ice cubes
1/2 cup water
Instructions
Put the strawberries, lemon juice, fresh lemon zest , ice cubes and water in your blender.

Blend until desired consistency is reached.

Taste for flavor and add more Splenda Natural Sweetener if desired.

Divide frozen lemonade between glasses. This recipe makes 6 large lemonades or 12 small lemonades. You can also half or quarter this recipe depending on how many servings you want to make. You can also pour the lemonade into popsicle molds and freeze to make delicious frozen Strawberry Lemonade popsicles!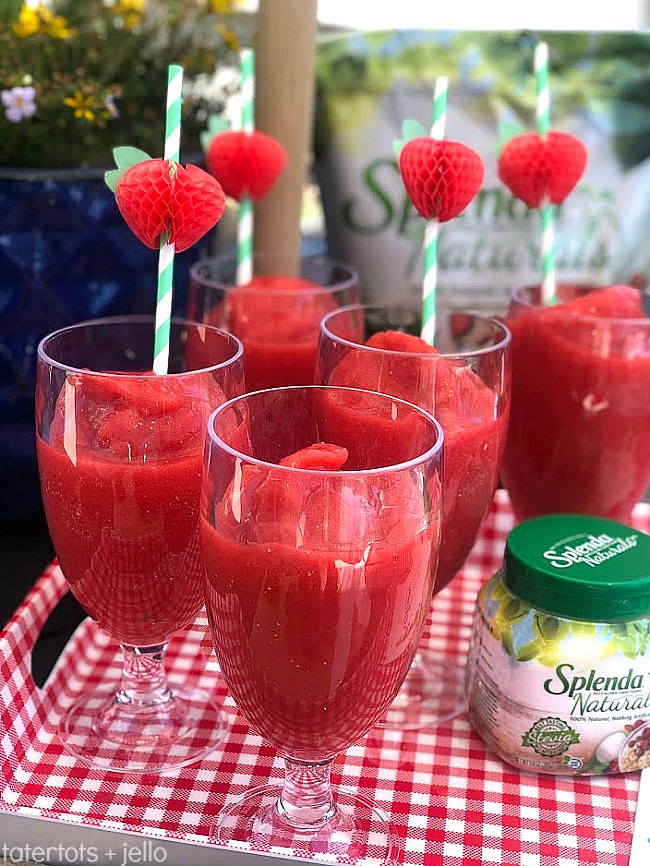 I hope you give this recipe a try!
And feel free to share what works for YOU!! I'd love to hear.
I will be updating on my progress this summer!
Find out more about SPLENDA Naturals:
Have a beautiful day!
xoxo

This is a sponsored conversation written by me on behalf of Splenda. The opinions and text are all mine.
Comments submitted may be displayed on other websites owned by the sponsoring brand.
Pin it for later or share it with a friend!!