Spring DIY Upcycled Chair Planter. Take a broken chair and give it new life by planting beautiful flowers in it to enjoy in your yard!
Spring DIY Upcycled Chair Planter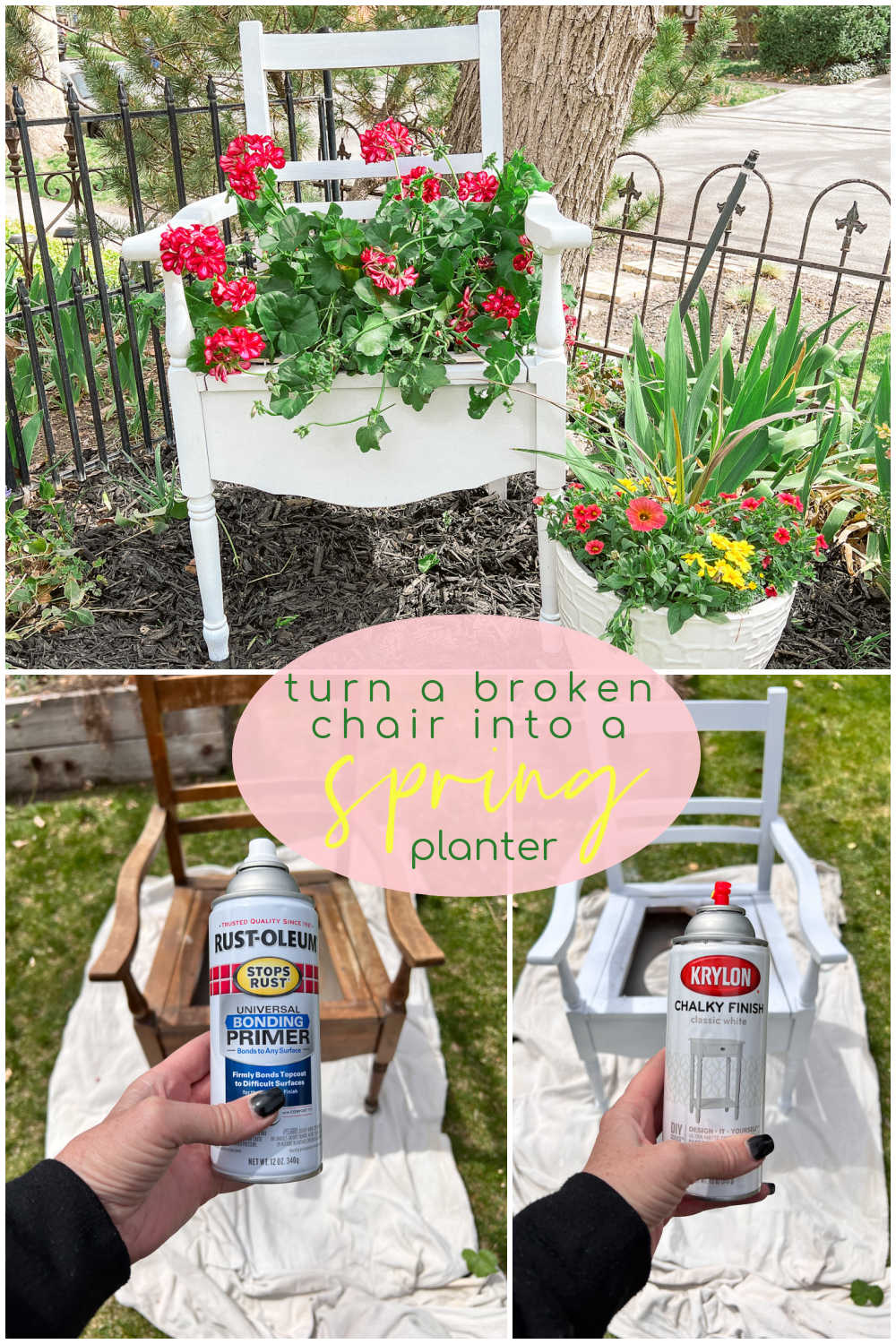 Don't you love Spring? I always get so excited to plant flowers and get my yard ready for outdoor entertaining! When my kids were little I remember taking an old chair, spray painting it yellow and planting flowers in it. So over the weekend when my husband and I were out on our early morning Saturday, walk and I came across an old chair abandoned on a street corner, I knew what I wanted to do!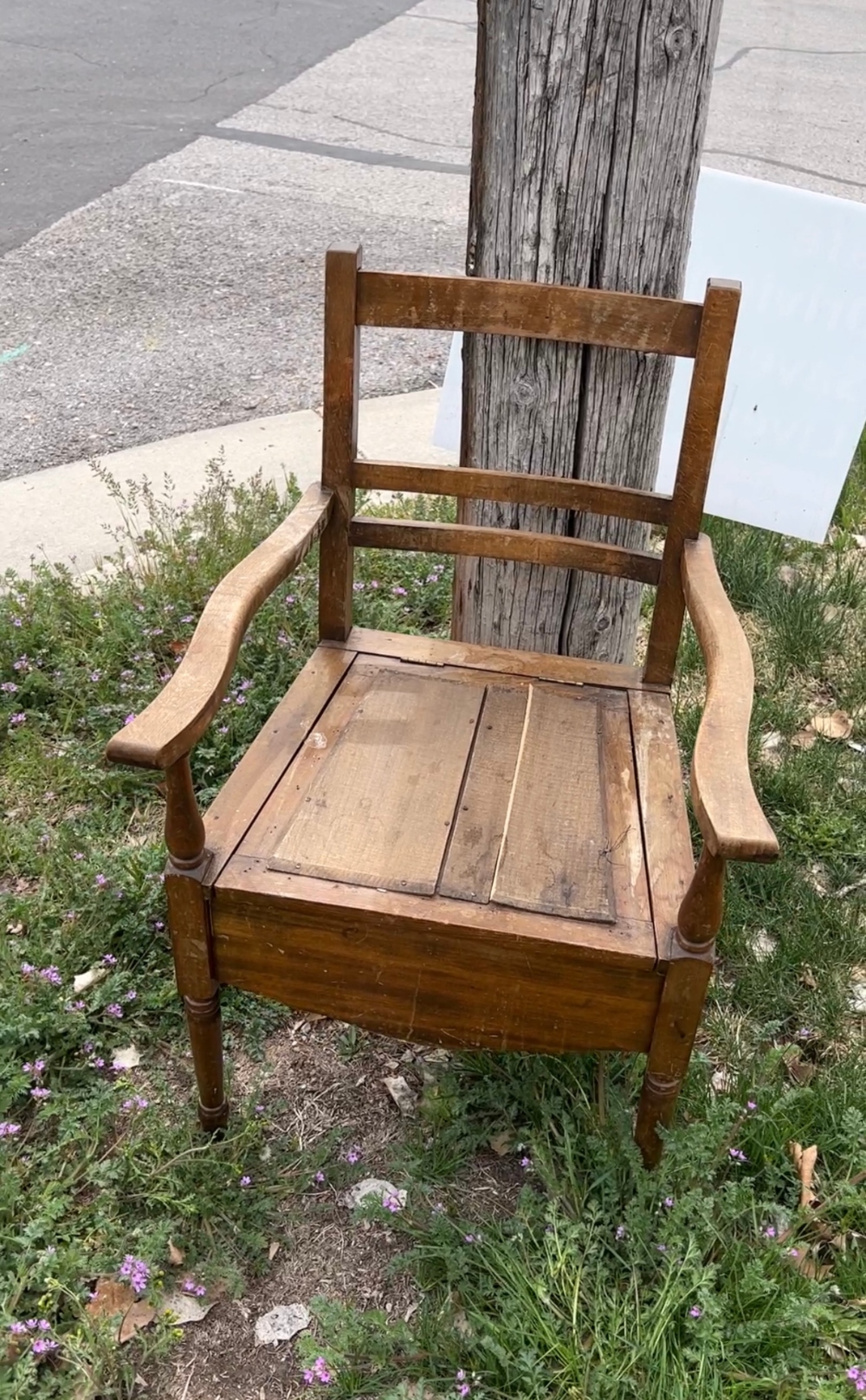 DIY Spring Ideas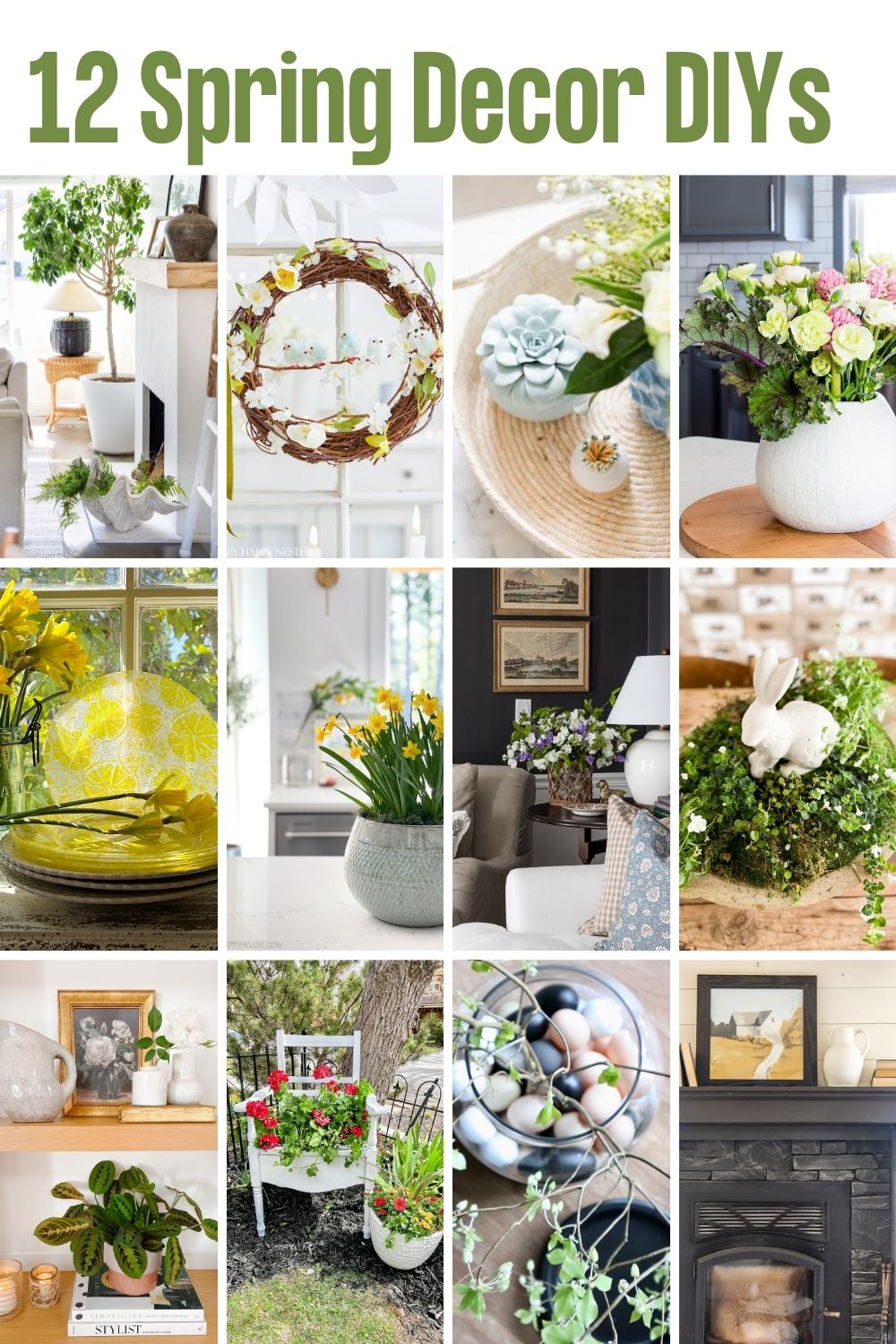 I'm joining some friends who are sharing the prettiest spring DIY ideas. Scroll down and hop over to see the tutorials!
Upcycle an Old Chair Into a Planter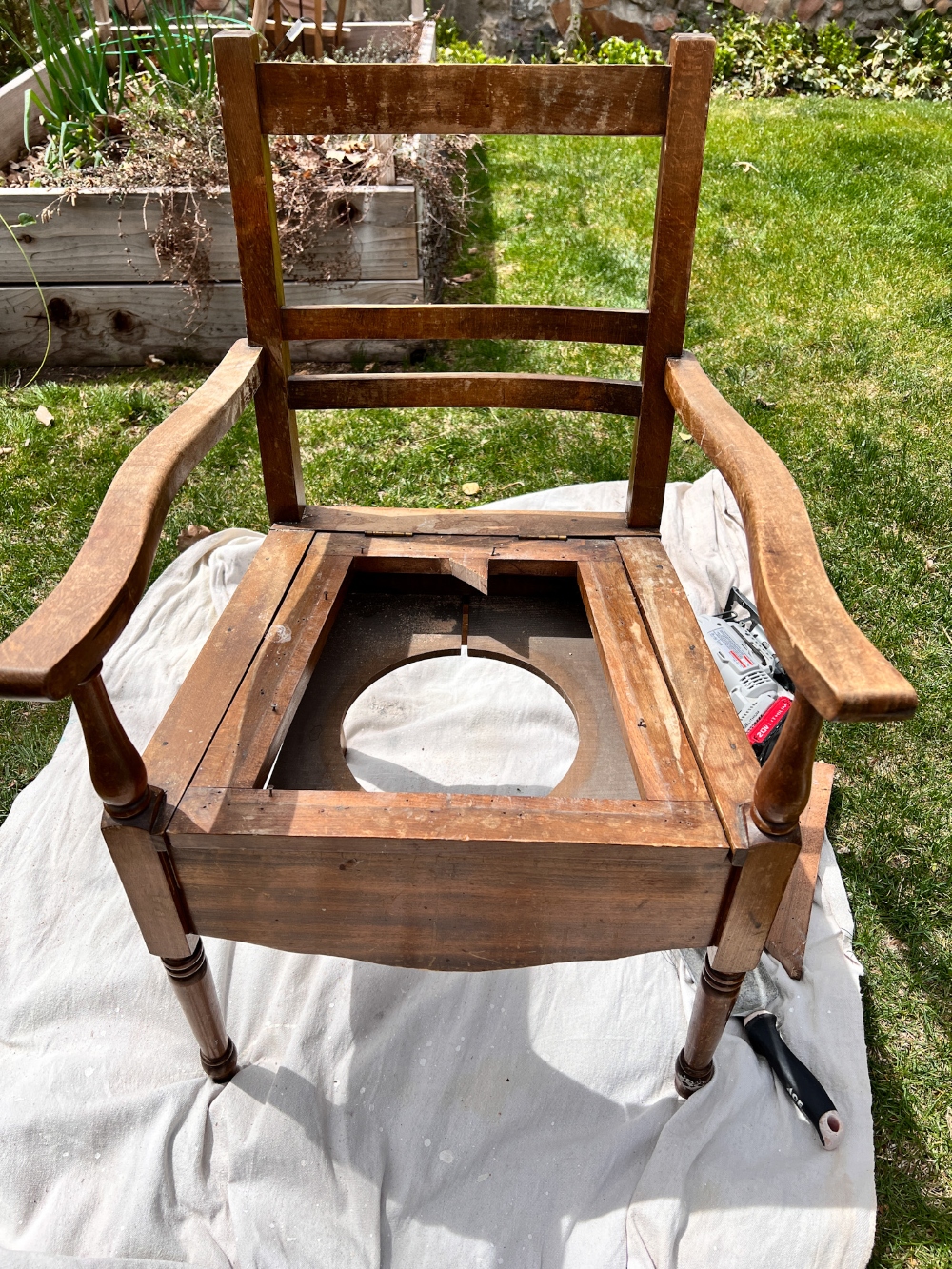 An old chair can become the perfect upcycled planter. There are a few ways to turn an old chair into a planter. I am going to share two ways to turn an old chair into a delightful flower planter.
Chair Planter with No Pot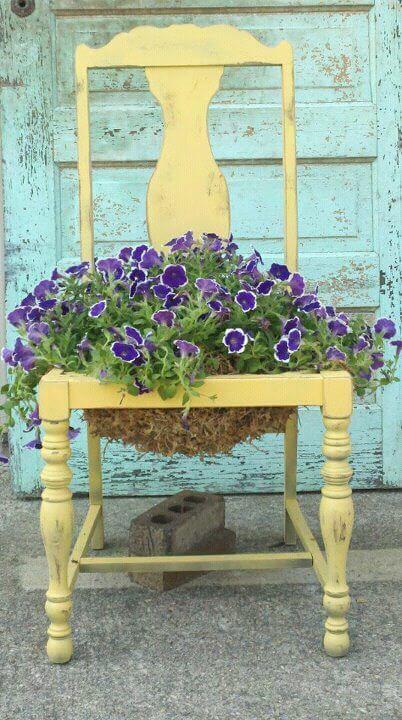 (source unknown)
This is the way I made a chair into a planter about 20 years ago. You don't need a pot to use this method. This is a great upcycle if you have a chair with a seat that is broken or missing.
No Pot Chair Planter Supplies:
old chair with no seat
chicken wire or screen door material
coco liner material
garden dirt
flowers
Staple Gun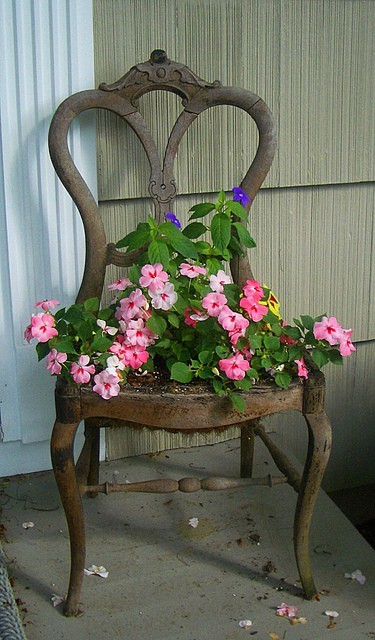 How to Make a Chair Planter with No Pot
Cut a large length of window screen or chicken wire and staple it onto the top edges of the chair cavity, leave enough in the middle so it creates a cavity in the middle of the open chair seat.
Line the chicken wire or window screen material with coir/coco liner.
Fill cavity 3/4 way full with garden soil.
Plant flowers in the cavity.
Fill in holes between flowers with garden soil.
Enjoy your planter!
Make a Chair Planter with a Pot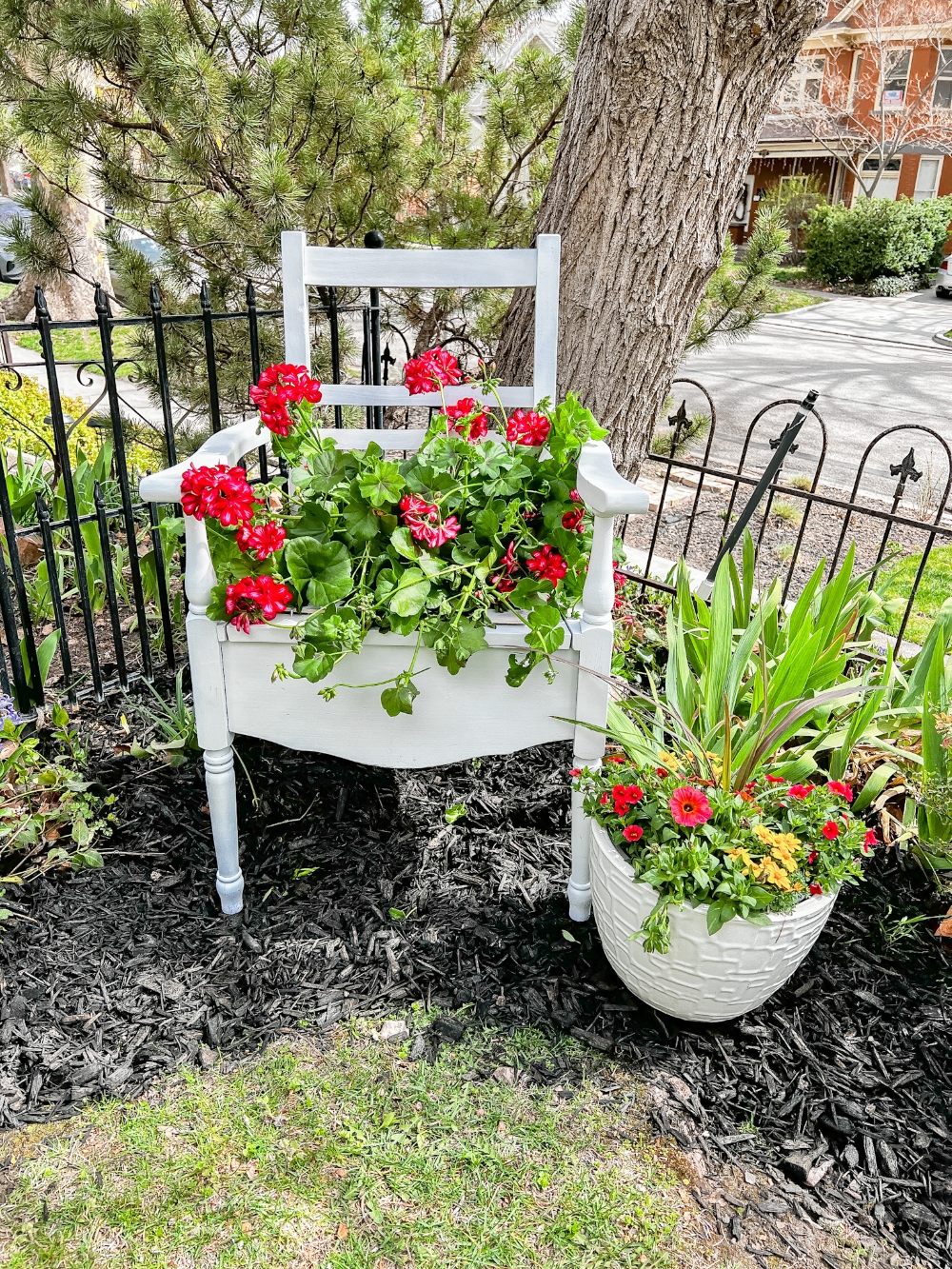 I find this to be an easier way but it might not be as charming? What do you think? The chair that I found on the side of the road was originally a "commode chair" so it already had a hole cut out fo a container. I also love that it has a large apron that conceals the bowl. It's perfect for a planter! But you don't need this type of chair to make this planter. Any chair with a removable seat will work!
Potted Chair Planter Supplies: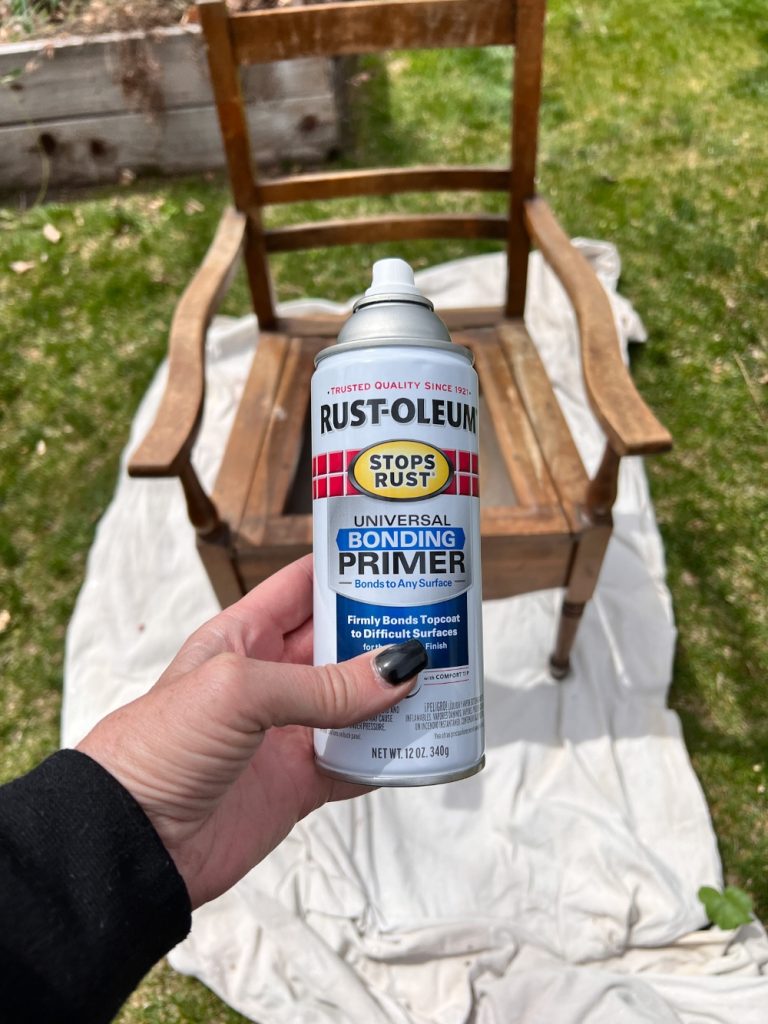 Old chair
Hammer and nails
Shims or a couple pieces of scrap wood
Primer and spray paint (optional)
Pot
Garden Soil
Flowers
How to Make a Potted Chair Planter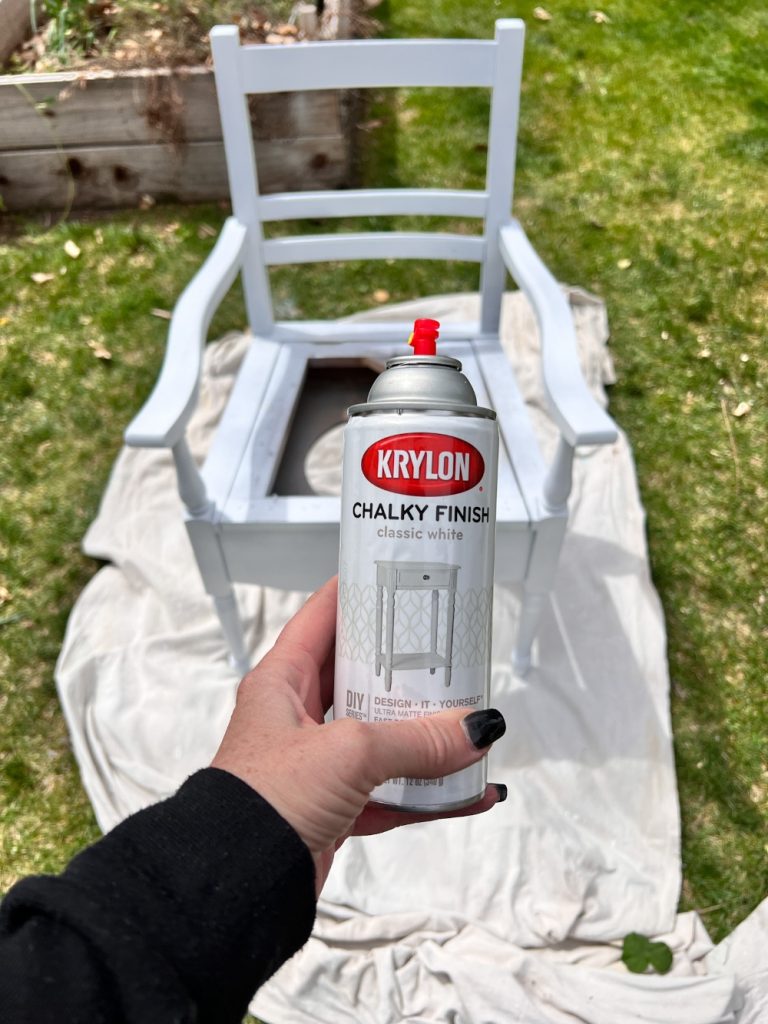 Here is how you can transform an old chair into a cute planter in minutes!
Take the seat off your chair. Or, if your seat is hard to remove, but a hole in the middle of the seat. Measure your pot and cut the hole to be smaller than the widest point of the pot.
Paint your chair (optional). I painted my chair to give it more strength against the elements but you can also leave the bare wood of your chair or give it a coat of polyurethane to protect it. I used a ultra-bonding primer first and then put a chalk spray paint over the top.
If you didn't cut a hole in the seat, you will want to add some pieces of wood around the base of the chair to hold your pot edges. I used a couple pieces of the wood from the seat and nailed them on both sides of the seat so that the pot could rest on them.
Add garden soil to your pot and plant your flowers.
Put the pot in the cavity of your chair.
Enjoy your adorable chair planter!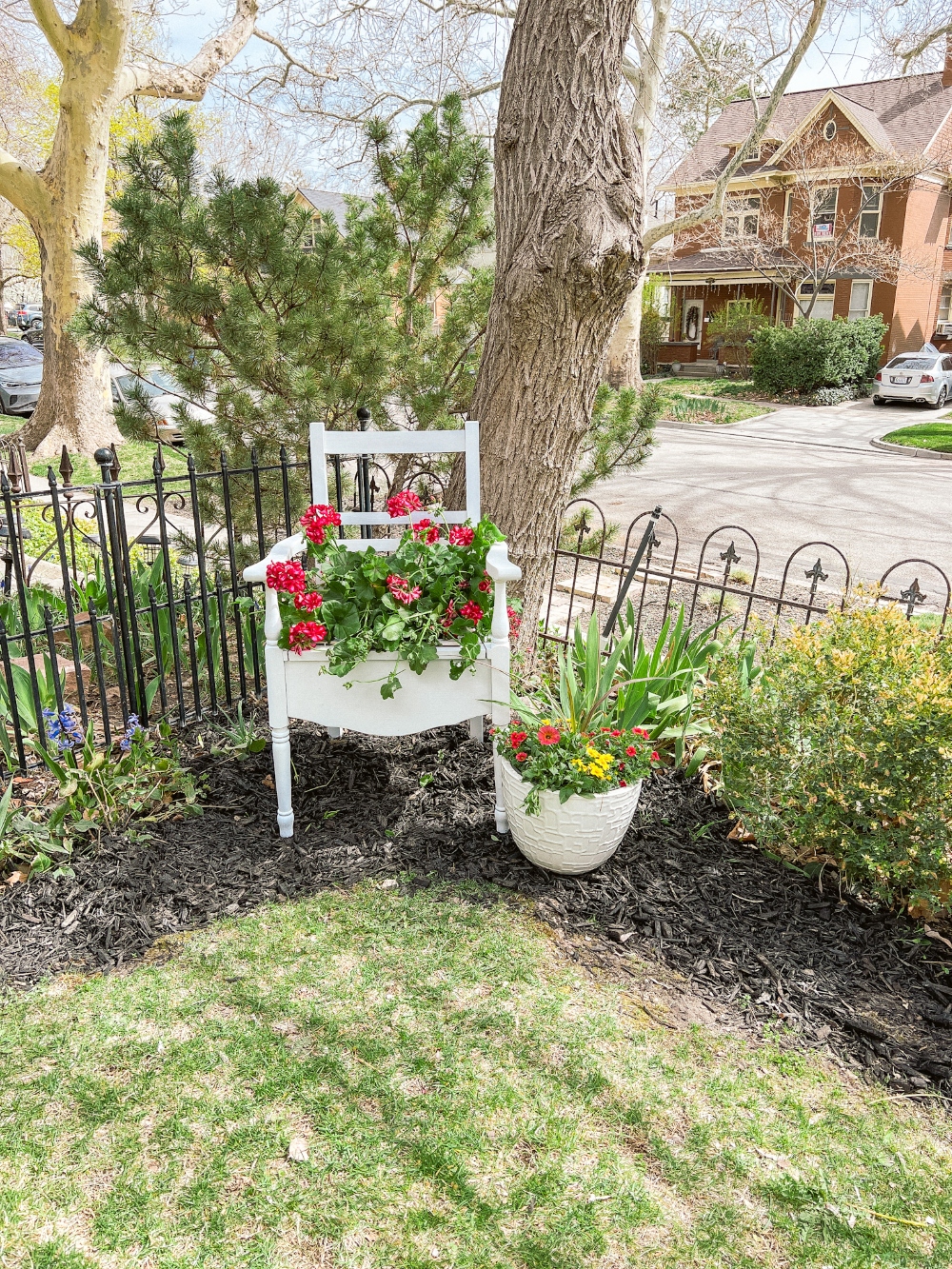 More Potted Chair Inspiration
Here are a few other chair planters to give you inspiration! I hope you score your neighborhood or your Facebook marketplace for free chair to give new life to in your yard!

How fun is this succulent chair? It would be so cute inside too!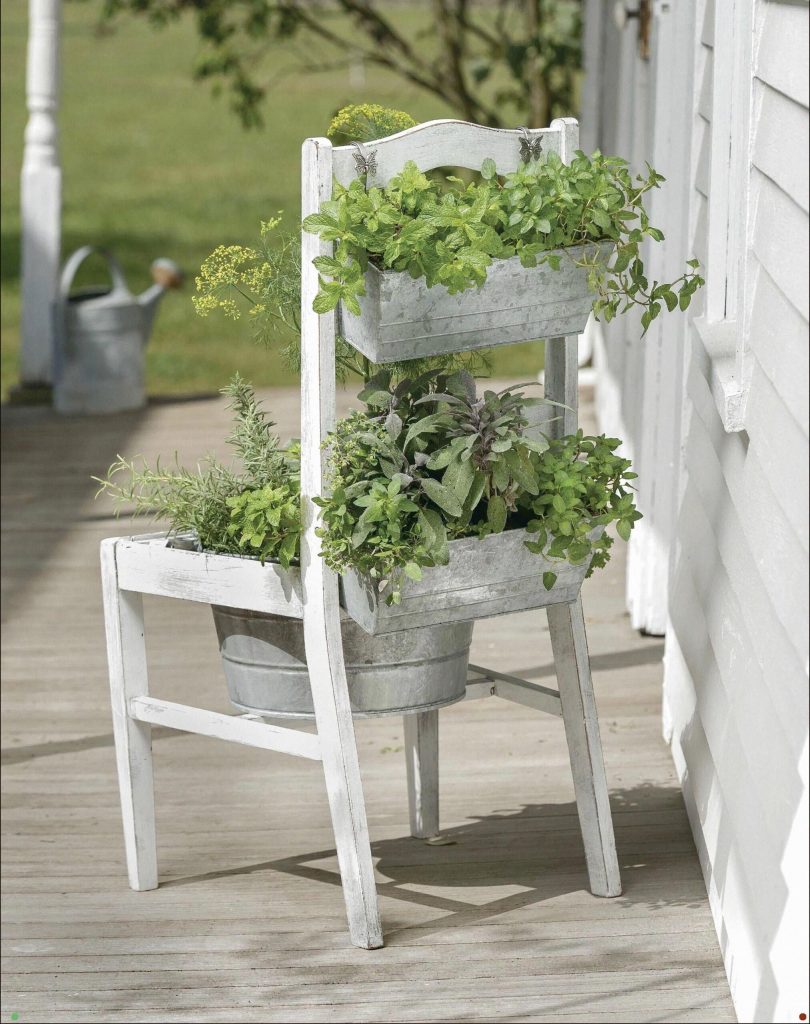 Potted Chair with Herbs (source unknown)
Wouldn't this be perfect to place right outside of your kitchen? I love the idea of planting herbs! It's a perfect idea if you have a smaller yard or apartment.
Blogger's Best Spring Decor DIY
How to Make Your Own Lemon Plates | My 100 Year Old Home
Fresh Spring Home Decor Ideas | Life is Better At Home
Spring Home Decor Trends for 2022 | Modern Glam
Easy Spring Flower Arrangement Featuring Cabbage | Inspiration for Moms

A Simple Easter Table Centerpiece Idea | My Sweet Savannah
5 Easy Steps to a Beautiful Dough Bowl Centerpiece | Robyn's French Nest
How to Decorate for Spring | The Happy Housie
Spring Upcycled Chair Yard Planter | Tatertots and Jello

Easy Spring Decor Ideas | Zevy Joy
A Few Simple Ways To Welcome Spring | Sincerely Marie
Easter Wreath DIY | Happy Happy Nester
Simple Living Room Spring Decor | Twelve on Main
Which project do you want to make first?
xoxo