This post is sponsored by Spider-Man: No Way Home
Family Movie Night with Spider-Man: No Way Home! Watch the new Spider-Man: No Way Home movie with Spider-Man themed frozen drinks, Spidey mask pizzas and spider web snack mix!
Spider-Man: No Way Home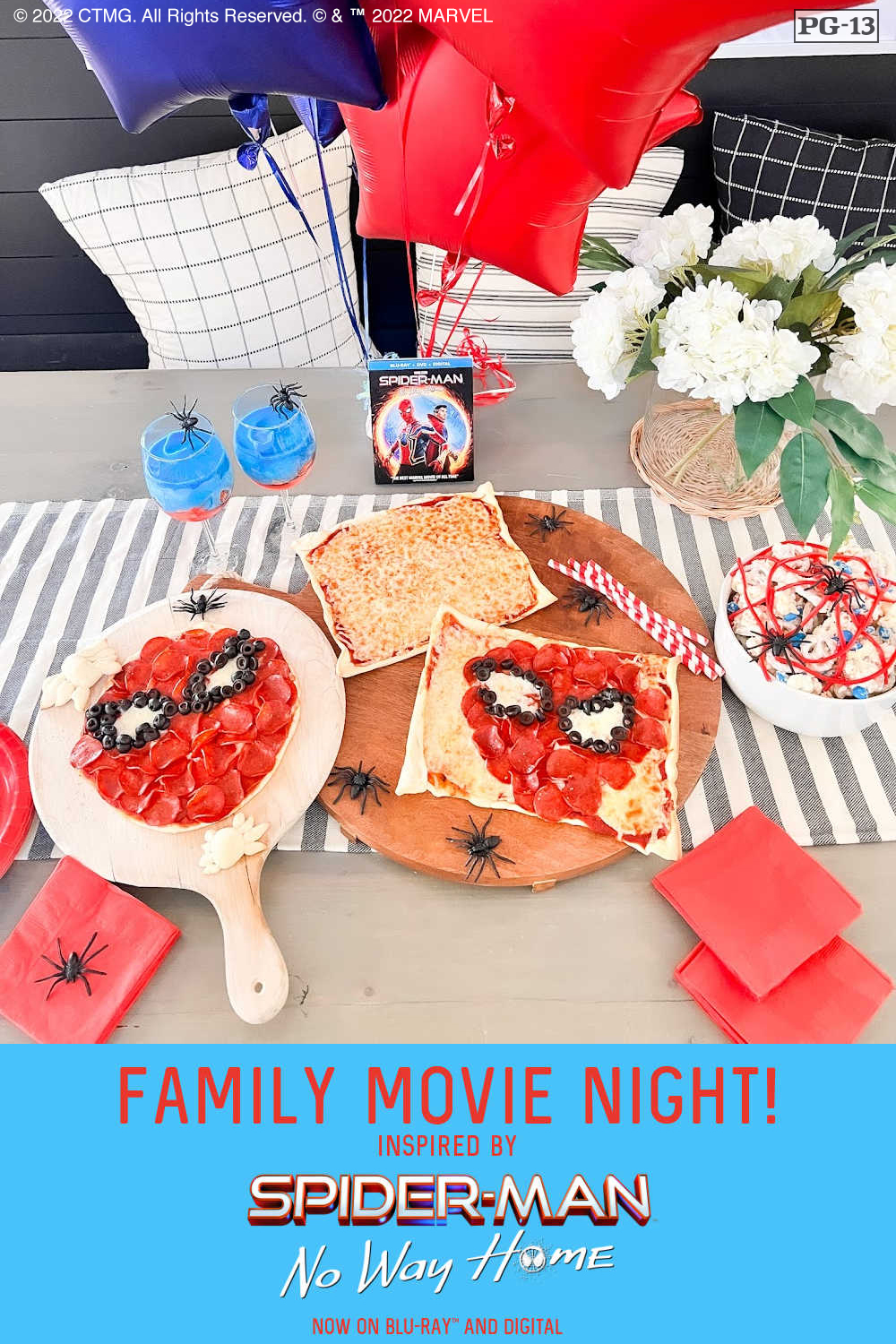 Have you seen the new Spider-Man: No Way Home movie?? We are HUGE Spider-Man fans so we knew we had to do something special to celebrate the release of Spider-Man: No Way Home movie with Tom Holland!! It's available NOW on Blu-ray™ and Digital! We created the most AWESOME Spider-Man: No Way Home Family Movie Night!!
Why We Love Spider-Man: No Way Home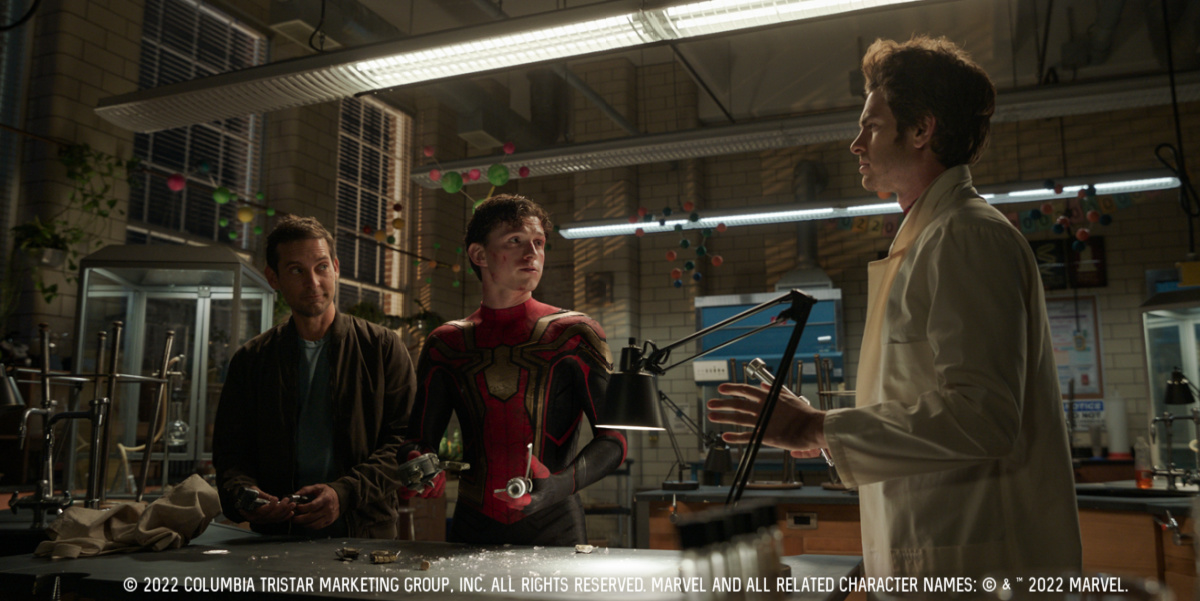 There are so many reasons we love the new Spider-Man: No Way Home movie. First of all, Tom Holland! He's so perfect in the role of Peter Parker. The humor and personality he brings to the role is amazing. We loved how all three Peter Parkers were in the movie and we loved how they all could relate to each other in the silliest ways. It was really fun to see all of the villains from all three movies in the movie together too! This movie sparked a conversation about if we would've made the same life-altering decision Peter Parker made.
Movie Night Inspired By Spider-Man: No Way Home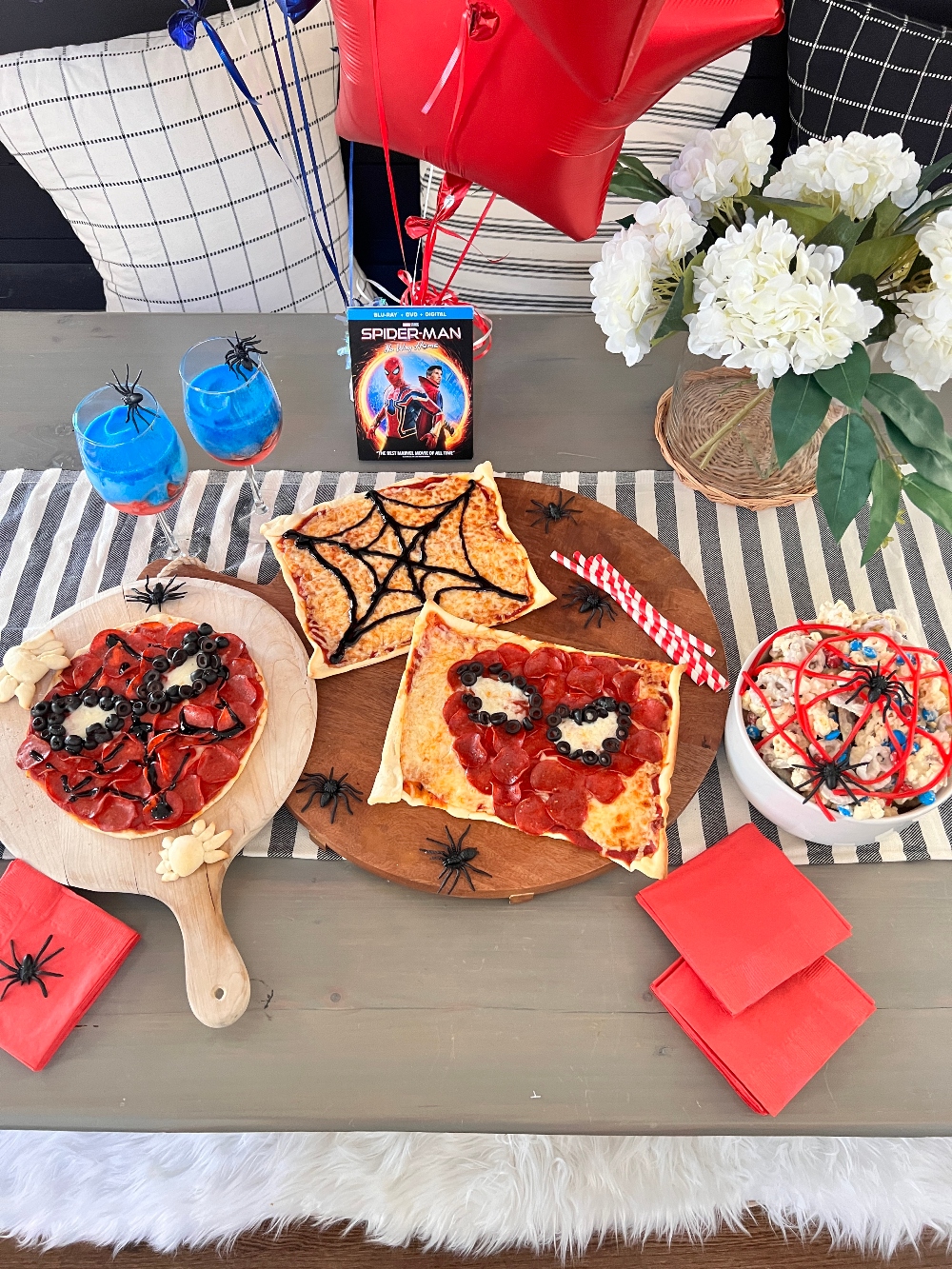 We had so much fun preparing for our movie night. We are sharing the easy ways you can make a movie night for your family and watch Spider-Man: No Way Home at YOUR house!
Spidey Mask Pizzas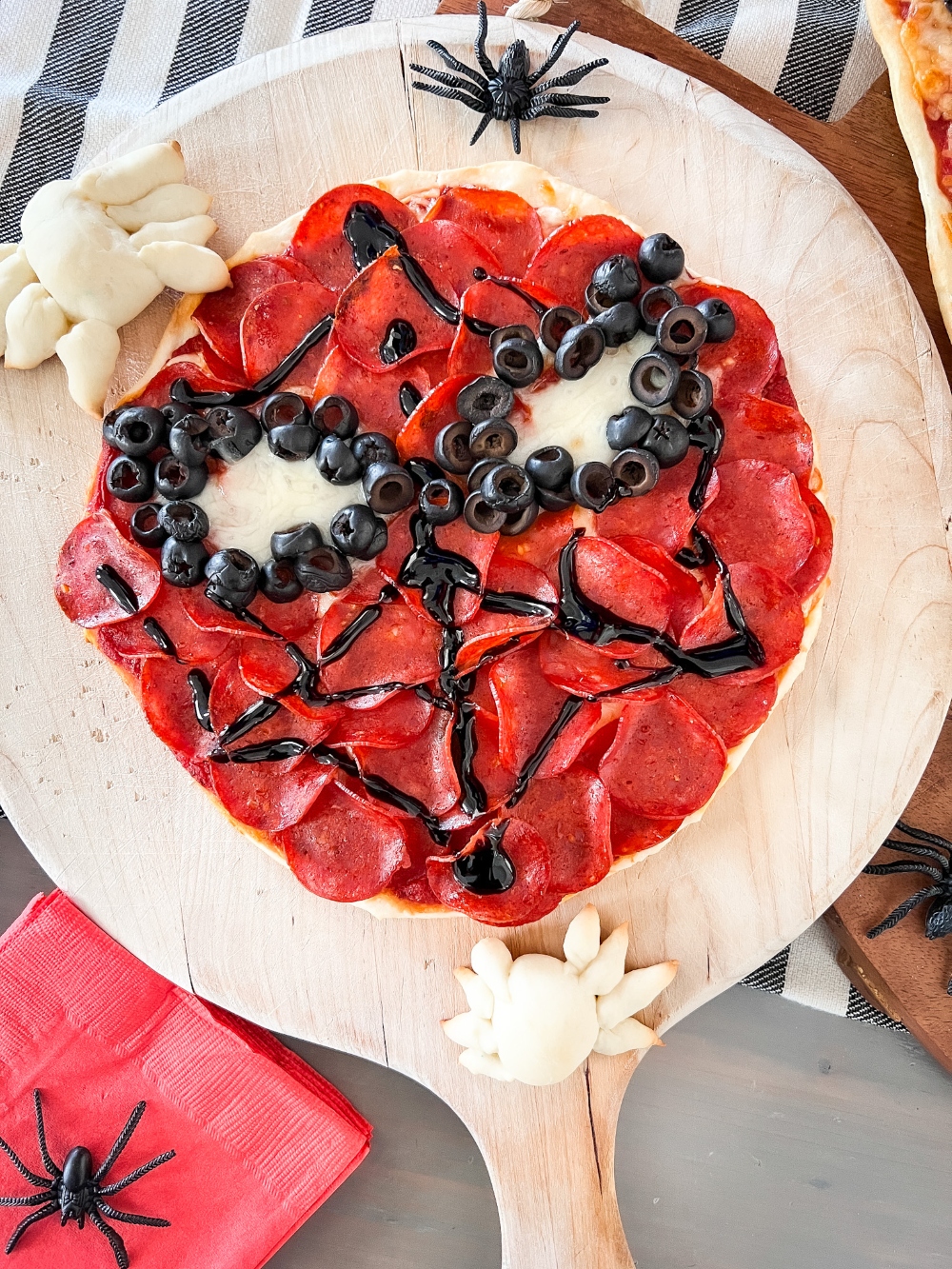 Our main course are yummy pizzas in the shape of Spidey masks! They are super easy to make and your kids will love creating Spidey masks! Each of the three Spideys in the movie have different shaped masks so you can choose which Spider-Man you want to model your pizza after!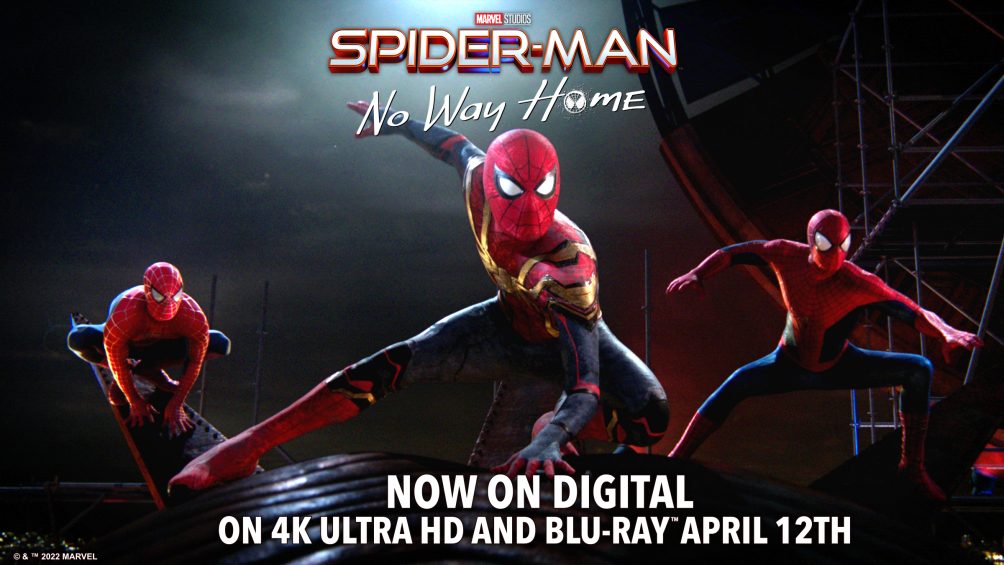 Tom Holland's Spider-Man character's eyes have bolder outlines.
Tobey Maguire's Spider-Man has eyes that are more triangular, meet at right angles.
Andrew Garfield's Spider-Man has rounder and larger eyes.
We based our pizzas on Tom Holland's character, but make YOUR pizza with whichever Spider-Man character you like best! Above is a picture showing the different Spider-Man masks!
How to Make Spidey Mask Pizzas: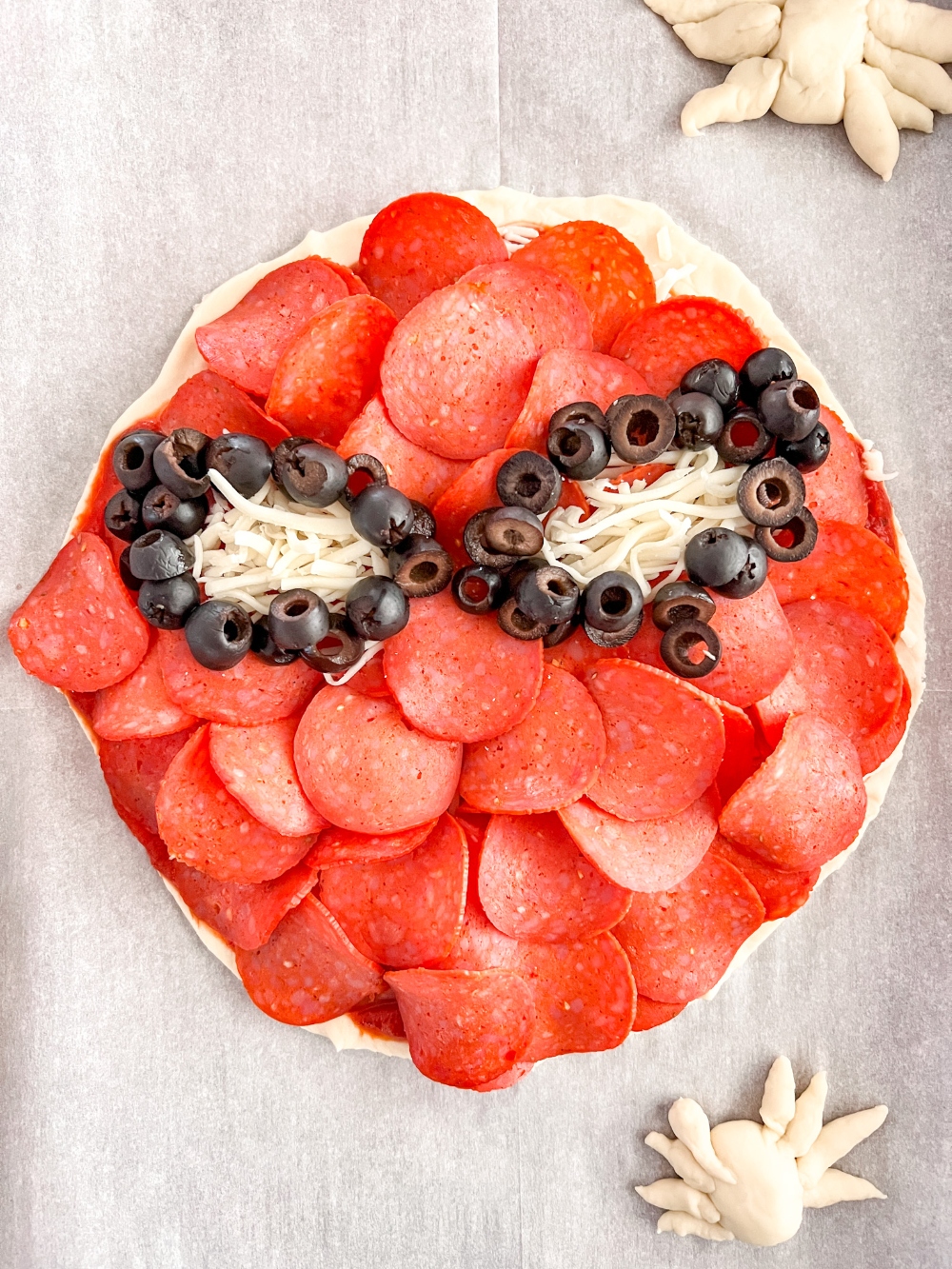 Ingredients: Store-bought pizza dough, pizza sauce, mozzarella cheese, sliced olives, pepperoni slices, balsamic glaze.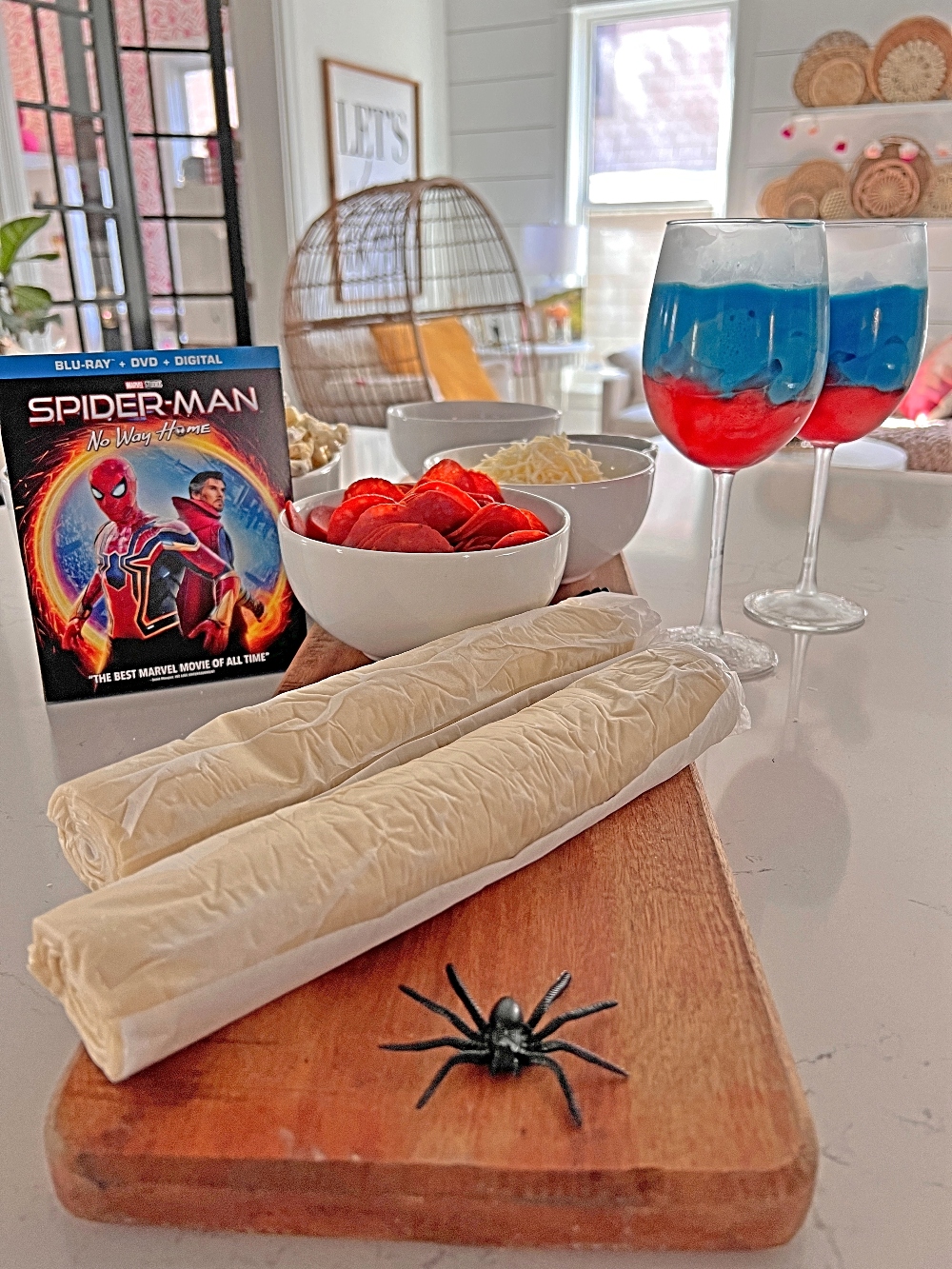 We used store-bought pizza dough, but you can make your own if you want. Lay the pizza dough out on a parchment-lined cookie sheet. Use a knife to cut out a face-shape in the pizza dough. The face is wider at the top and narrows down at the chin.
Remove the extra dough and add sauce to the pizza dough.
Top the sauce with a layer of mozzarella cheese.
Add pepperoni across the entire mask.
Outline the eyes with sliced olives. Then fill in the eyes with mozzarella cheese.
Cook dough according to dough directions. Ours was 425-degrees for 14 minutes.
Take pizzas out when edges start to brown.
Add webbing to the mask by drawing webs with balsamic glaze after the pizza is cooked.
Serve and enjoy!!!
** For vegetarians, you can make a spider-web pizza by making a cheese pizza and drawing a web over the top with balsamic glaze after it is cooked.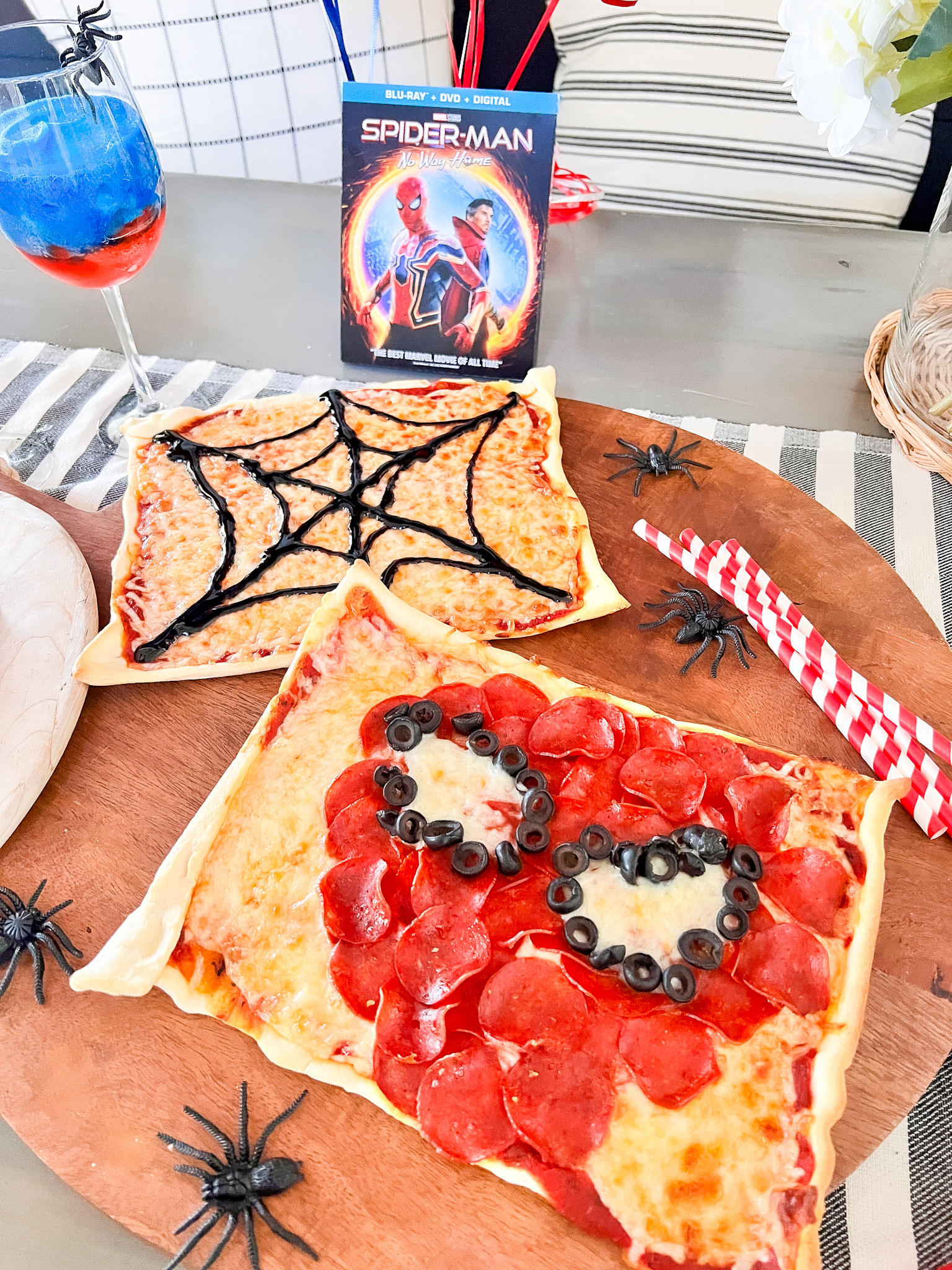 Spider-Man Themed Frozen Drinks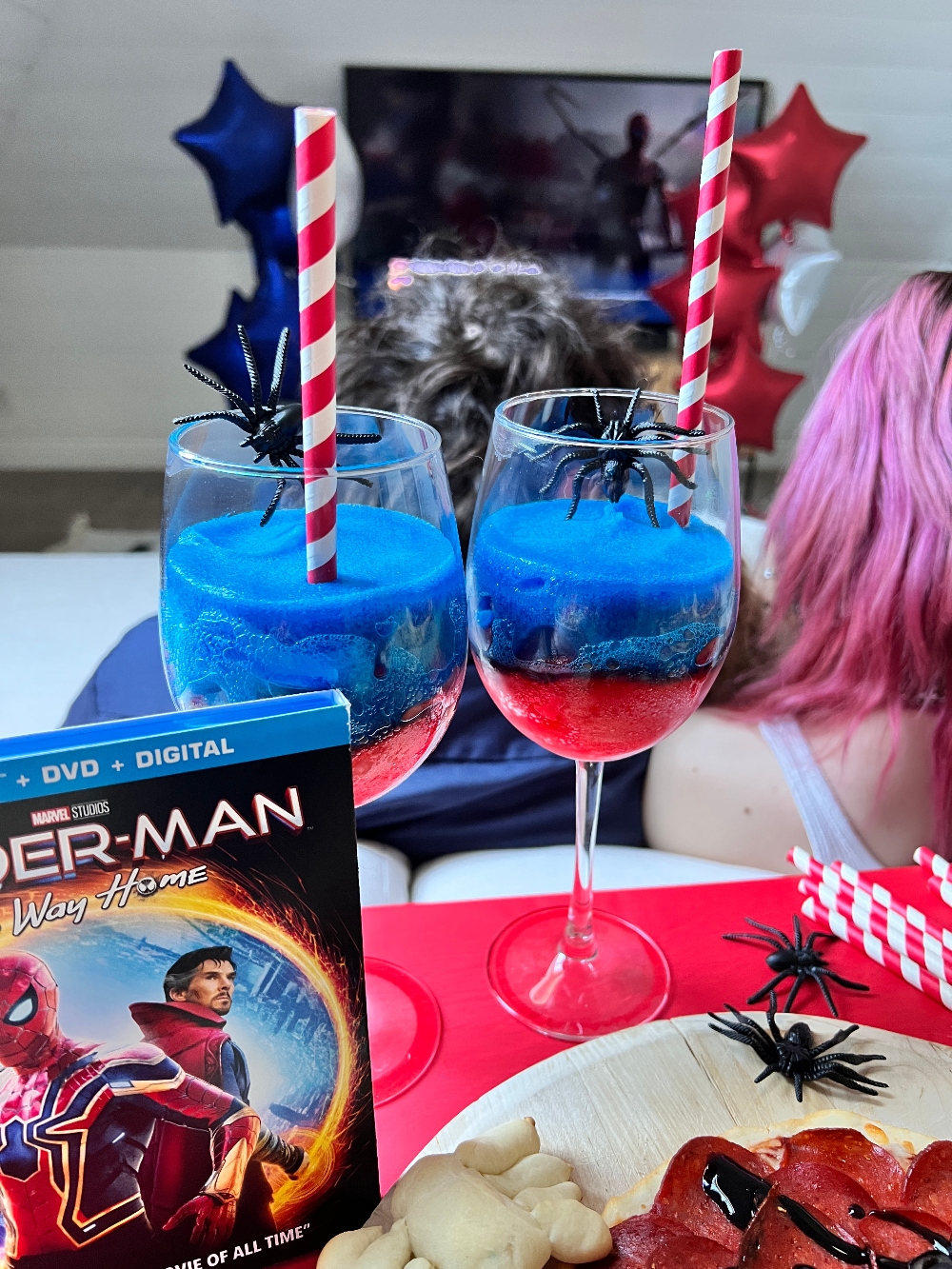 We took the red and blue colors from the movie and made simple frozen drinks. These are even easier to make because all you do is use store-bought red and blue frozen popsicles. Just take the sticks out of the red popsicles, put the frozen popsicles in a blender and blend. Then pour the red popsicle mixture into glasses. Do the same thing with the blue popsicles. Layer the blue popsicle liquid over the red and pop them into the freezer to set for 15 minutes.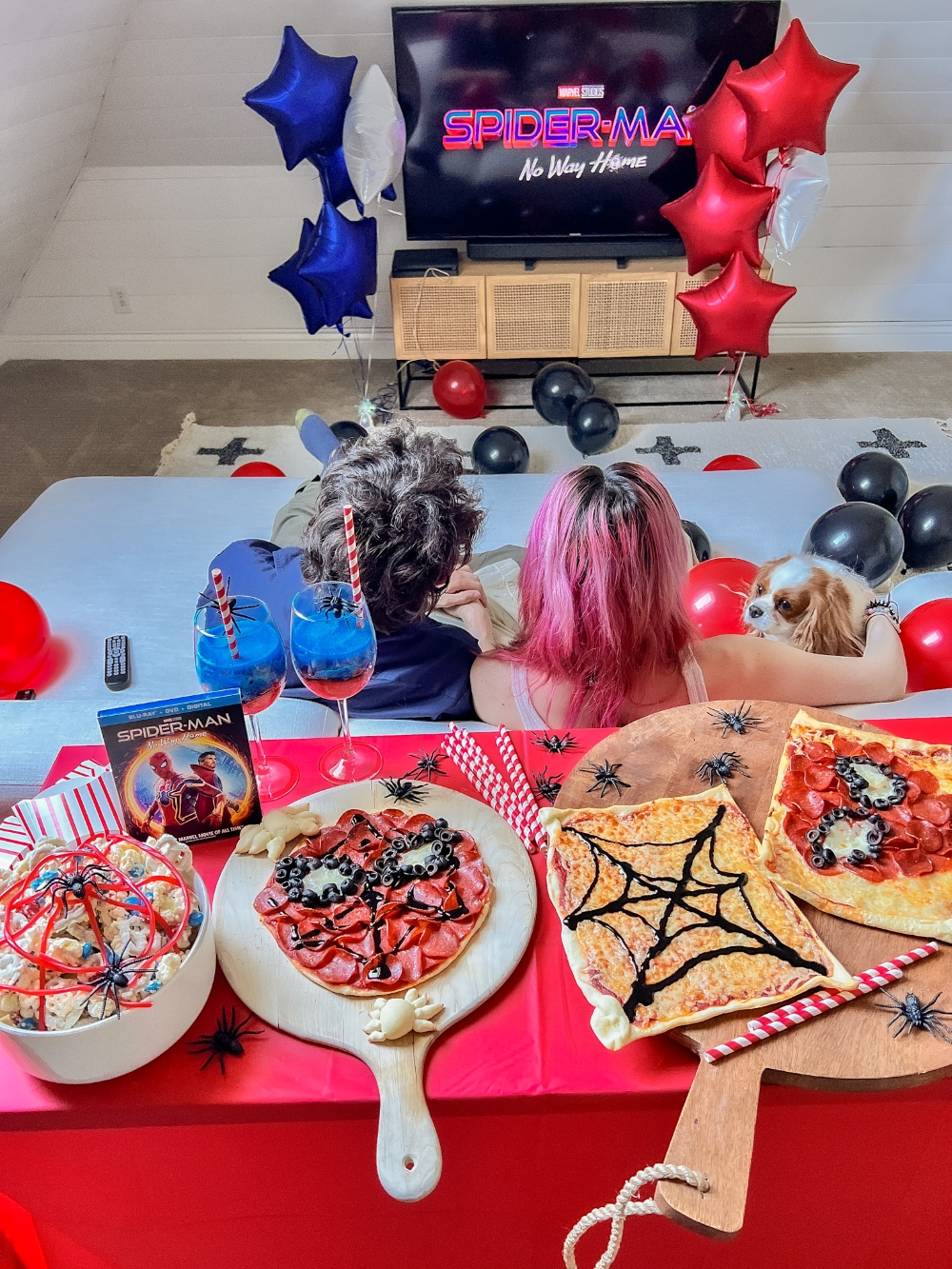 Spider Web Snack Mix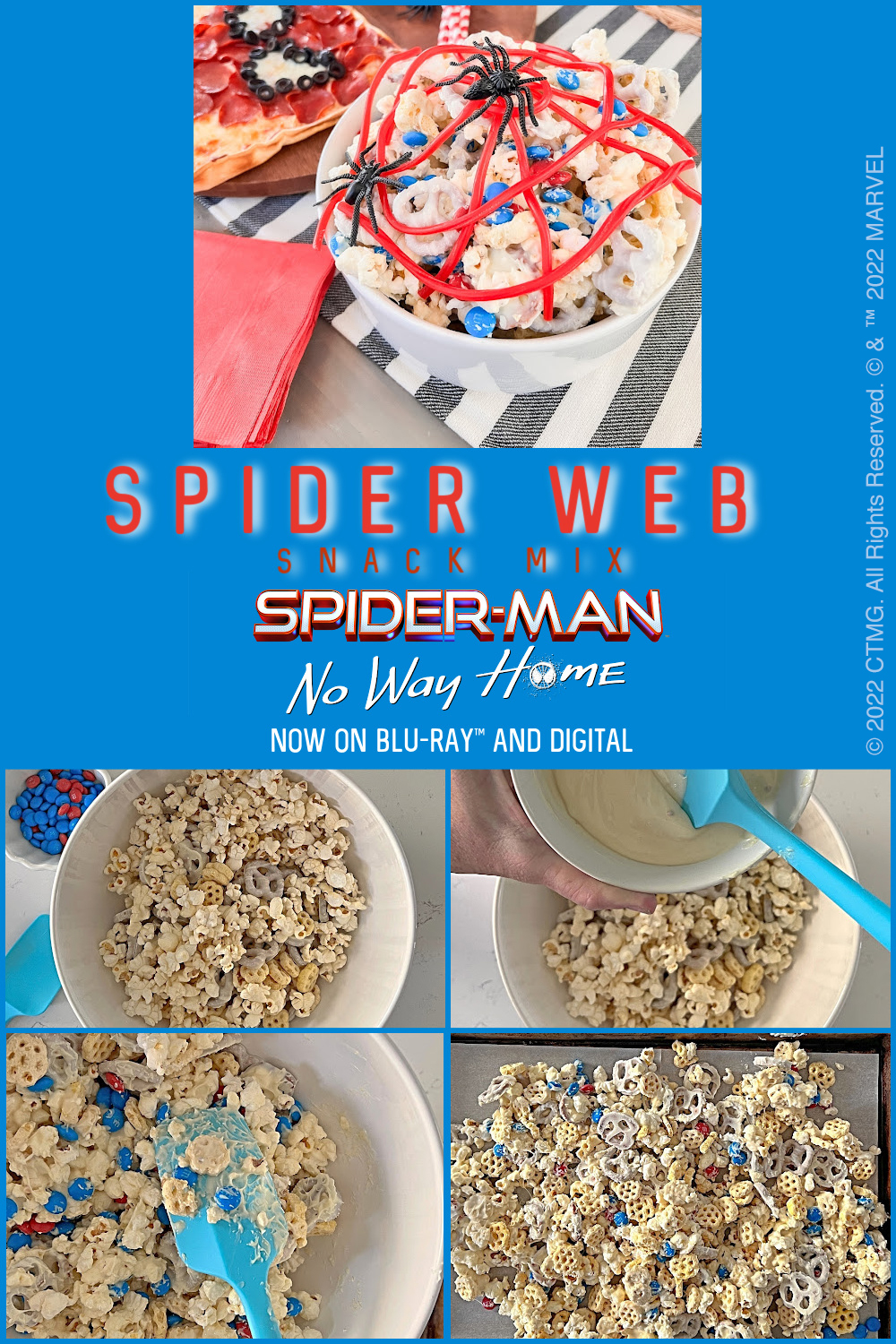 We love a good snack mix for movie time! Making a spider web snack mix is so easy! Here's how to do it:
Spider Web Snack Mix Ingredients: 2 cups popped popcorn, 2 cups honeycomb cereal, 2 cups white chocolate-covered pretzels, 1 cup white chocolate chips, 1 cup red and blue candy-coated chocolate candies. Red or black pull-apart licorice for spider web (optional).
Spider Web Snack Mix Directions: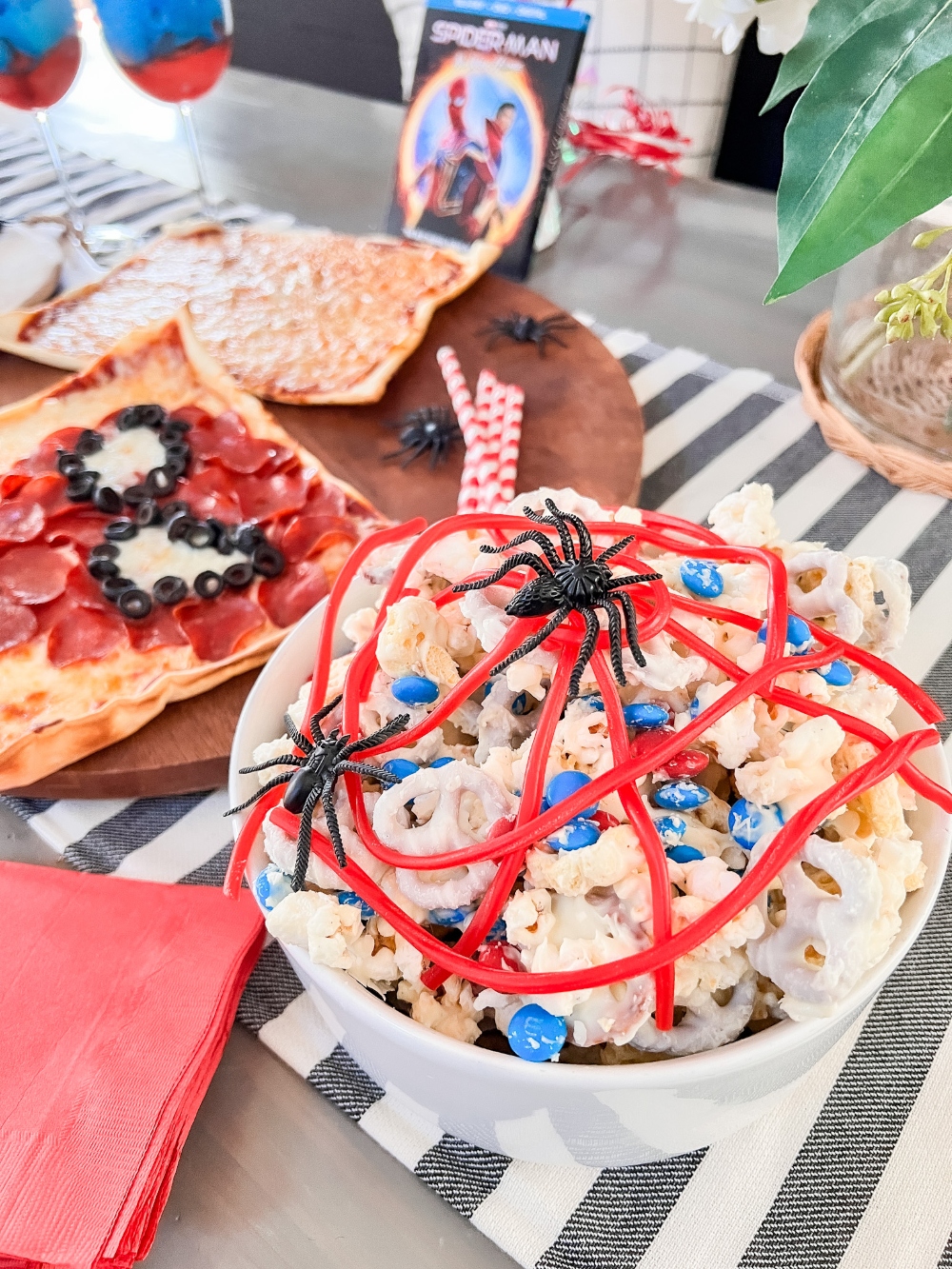 Pour popcorn, honeycomb cereal, white chocolate pretzels into a large bowl.
Melt white chocolate chips in the microwave by putting them in a microwave-safe bowl and microwaving it on half power for 30-second increments until the chocolate is melted, stirring in between increments.
Pour the white chocolate over the popcorn mixture and mix.
Fold in blue and red chocolate candies.
Pour mixture onto a parchment-lined cookie sheet to cool. After 15 minutes put the snack mix into a medium-sized bowl.
Make a spider web out of pull-apart licorice ropes. (optional)
Enjoy Spider-Man: No Way Home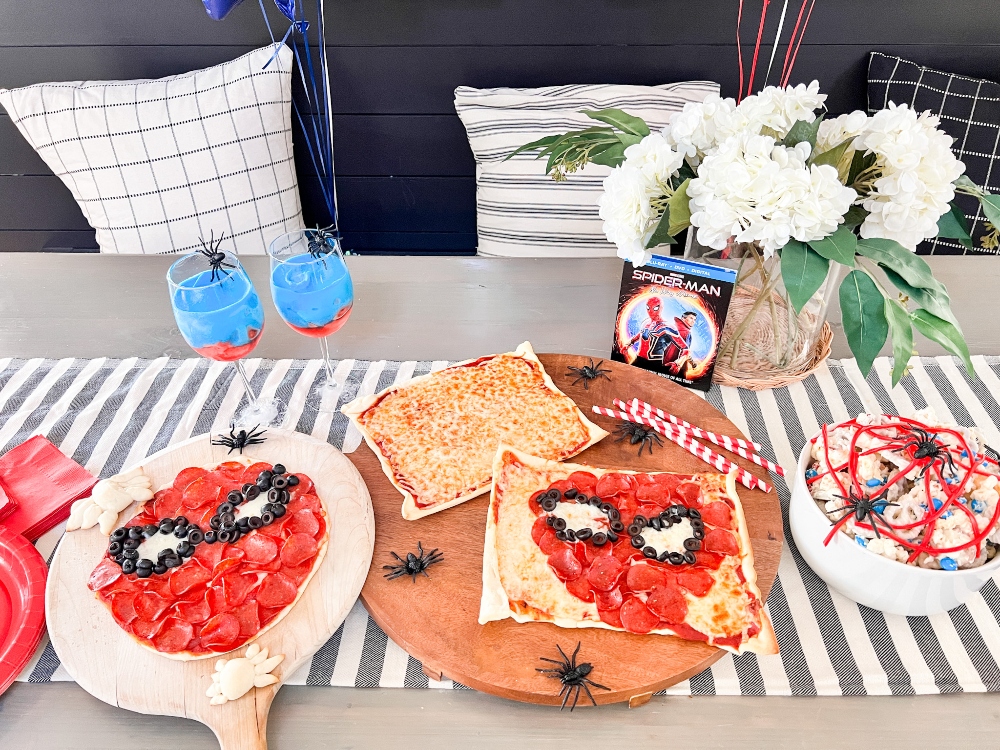 Put the new Spider-Man: No Way Home movie on and enjoy your FUN family movie night!! Let us know in the comments how you like it and which Spider-Man YOU like best in the movie!!
You can find out more about Spider-Man: No Way Home here: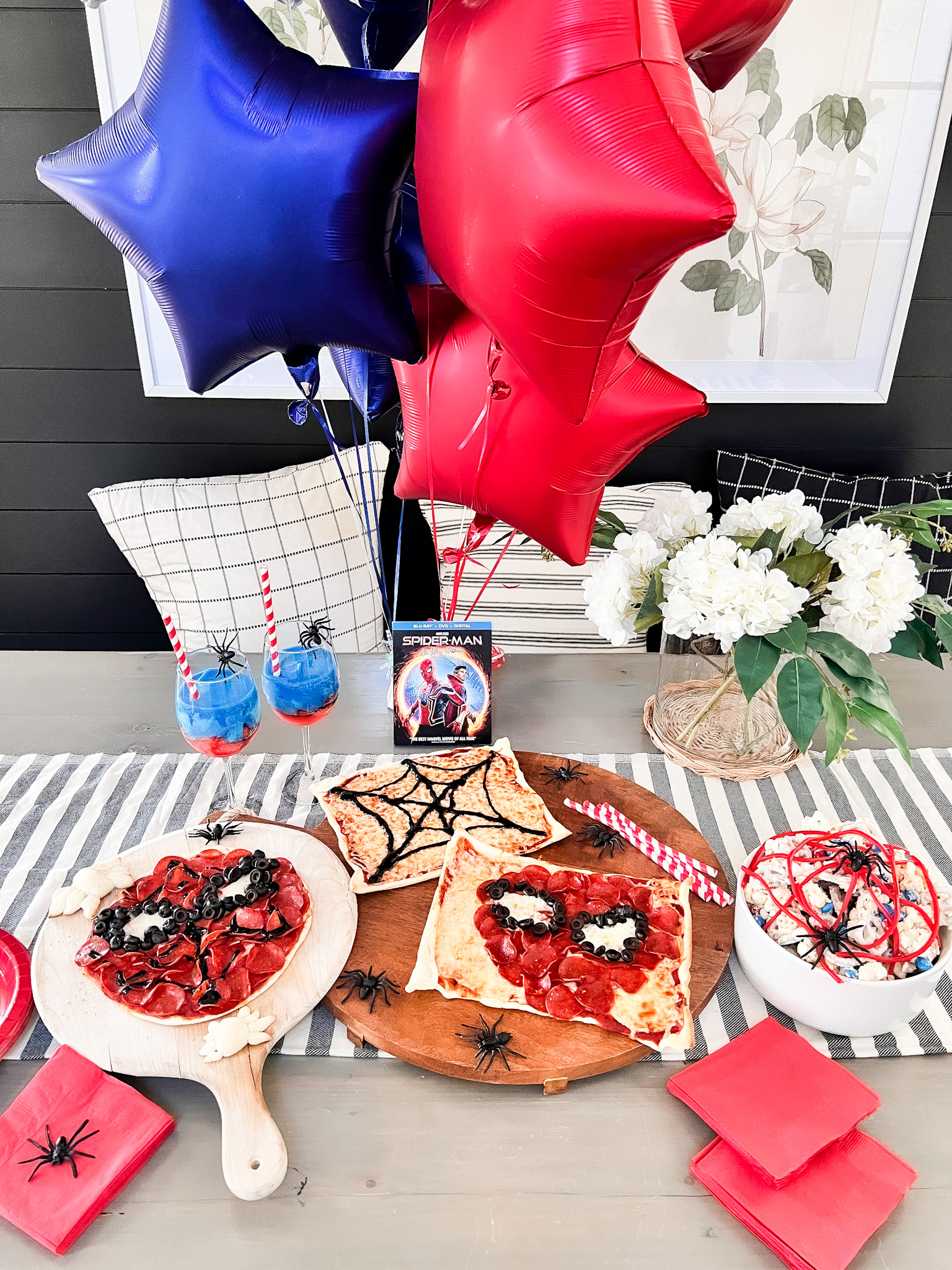 Official Spider-Man: No Way Home Website
Spider-Man: No Way Home on Facebook
Spider-Man: No Way Home on Twitter
Spider-Man: No Way Home on Instagram
Follow the Hashtag #SpiderManNoWayHome on Instagram!
xoxo