The Easiest Grilled Naan Pizzas. Take naan flatbread, toast it on the grill, add ingredients and cook for the most delicious and easiest pizzas!
The Easiest Grilled Naan Pizzas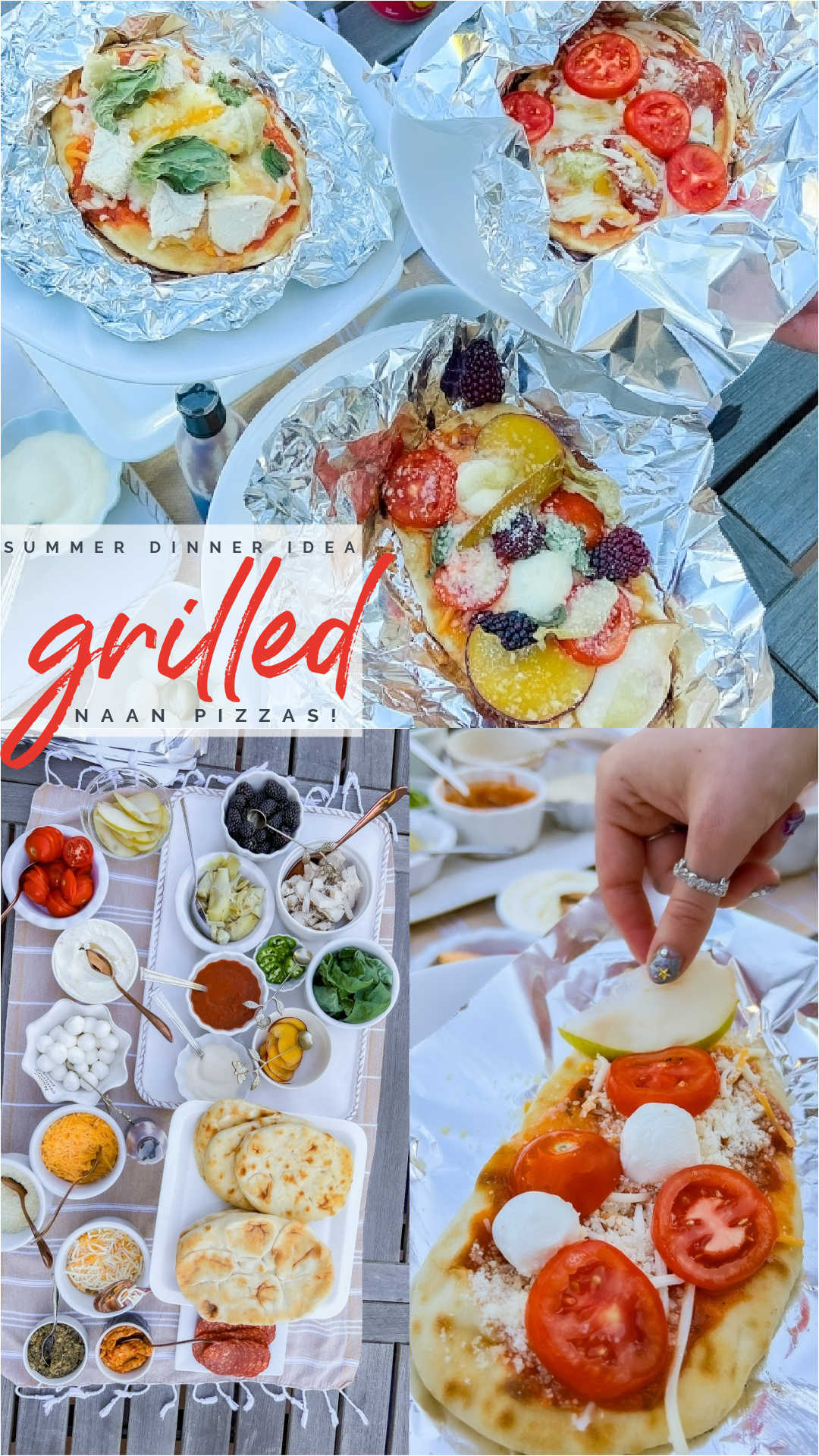 Hi friends! Have you ever baked pizza on your grill? It's one of our favorite things to do in the summer! We use pre-made refrigerated dough and it's so fun! Everyone can add whatever ingredients they like best and it's such a fun family dinner idea. I've also created it for my teens as a get-together and even before a big dance hey love it!
Easiest Grilled Pizza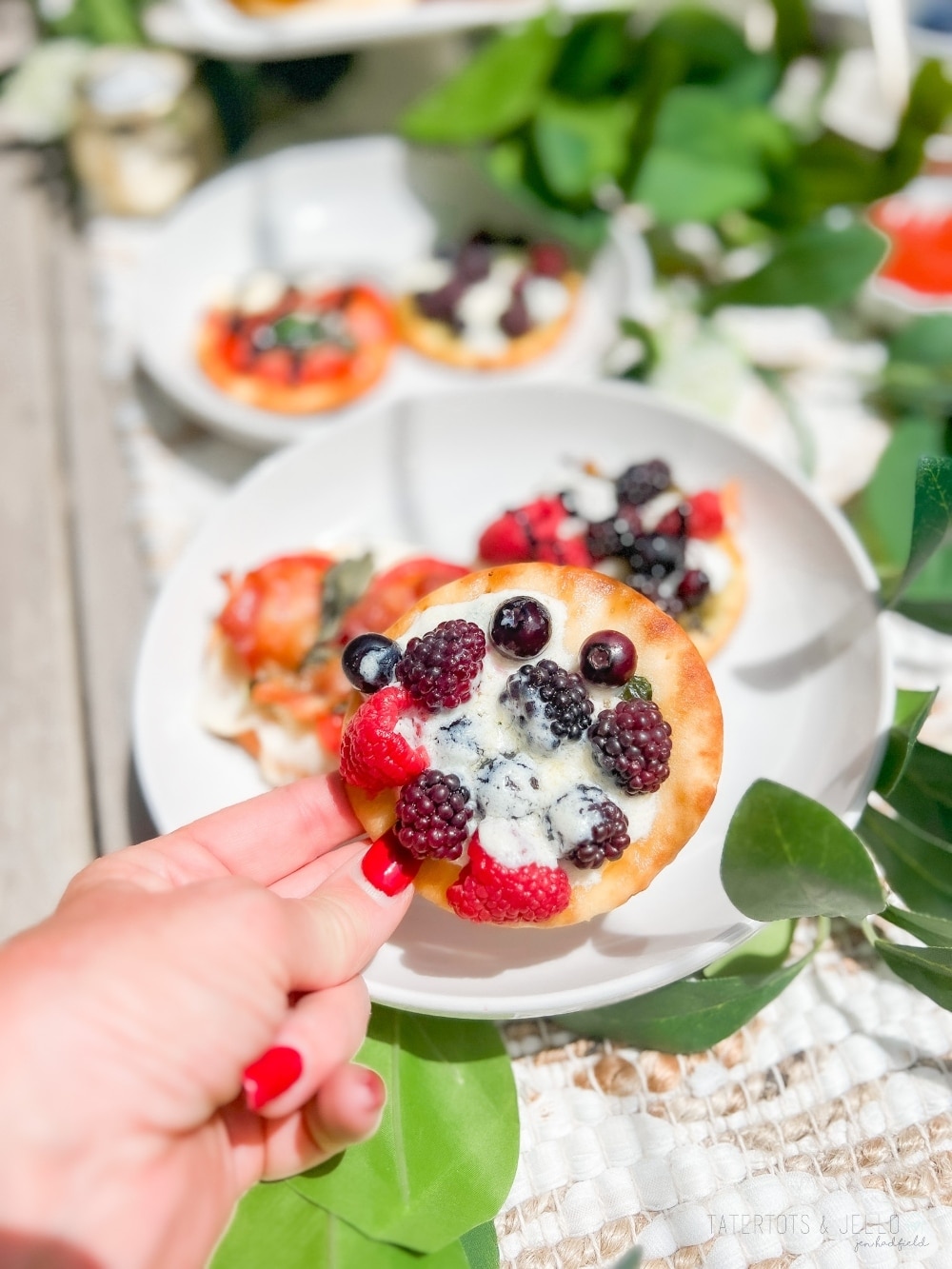 The other day I wanted to grill pizzas and the grocery store was out of my favorite pizza dough. I spotted some flatbread naan and wondered if naan might be an easier alternative to refrigerated pizza dough. And guess what?? IT IS!! So. Much. Easier.
What is Naan?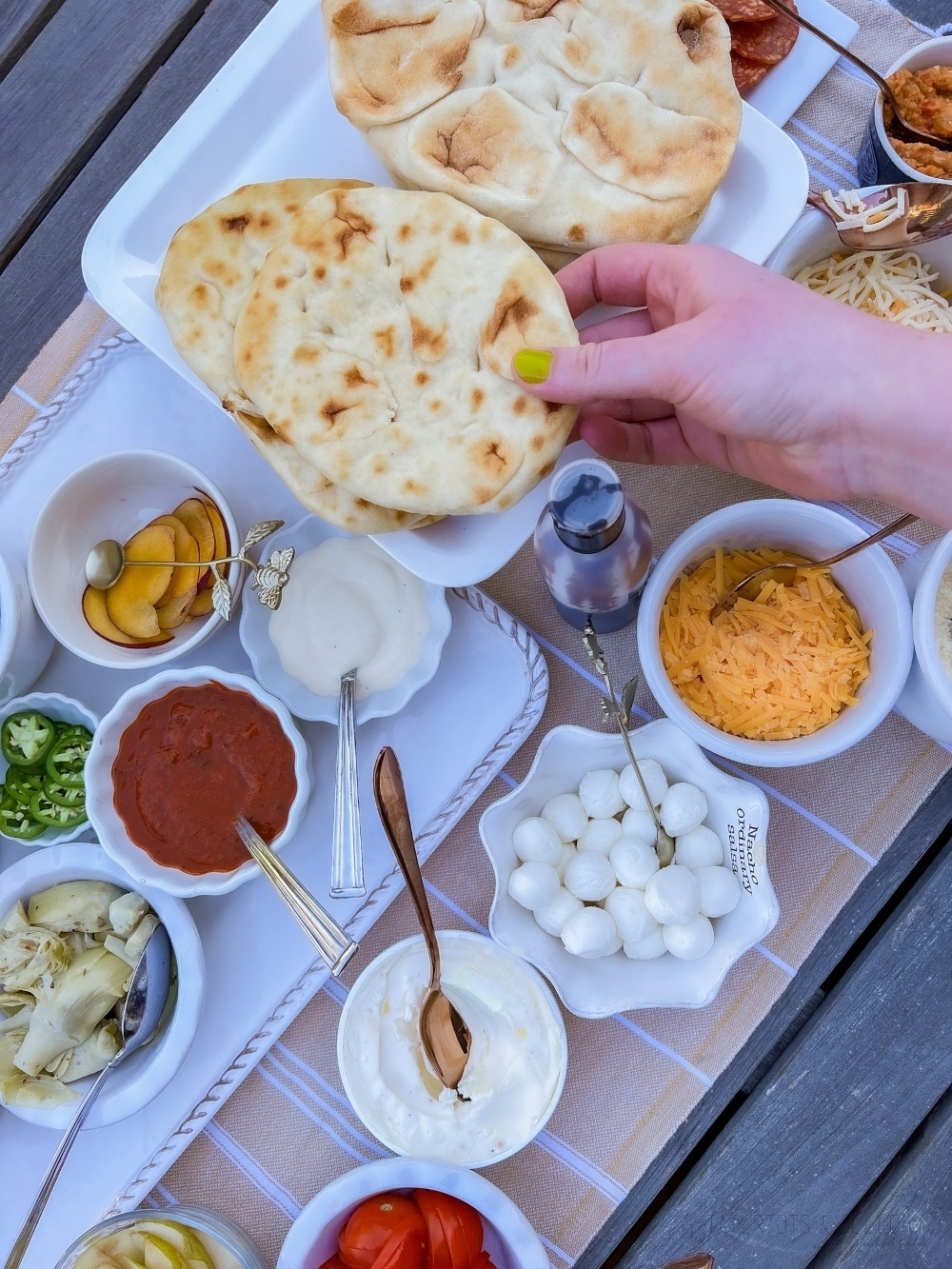 Have you ever bought naan flatbread? It is seriously SO yummy! Here's the definition from recipetips.com:
A leavened flat bread originating from northern India, which is traditionally baked by slapping the bread dough onto the side of a hot dome shaped clay oven referred to as a tandoor. The dough's weight would normally cause it to fall into a teardrop shape, which is the recognizable characteristic of naan bread, however, with changes in baking processes there are now a variety of shapes from round to oval that are readily produced.

The basic ingredients in naan bread include yogurt and white flour, which can be enriched by adding an egg. There are a variety of different flavors produced, such as naan with sesame seeds, whole-wheat naam, herbal flavored naan, and other flavors continuing to be made in the traditional tandoori baking method.

For serving, naan can be filled with various ingredients such as onion, garlic, salsa, meats, cheese, and then folded over or rolled to create a sandwich. Or, sweet ingredients can be added as a layer over the bread to provide a sweeter tasting food. Another way to serve naan is to cut it into individual pieces that will be dipped into sauces, salsas, oils, curry, or hummus. Naan has a dense chewy texture, similar to focaccia bread, and is best eaten when it is still fresh and hot. If it is to be stored, keep it refrigerated for a week or less, or frozen for extended periods of time. This bread may also be referred to as nan, non, nane, or none bread.
Make a Pizza Topping Station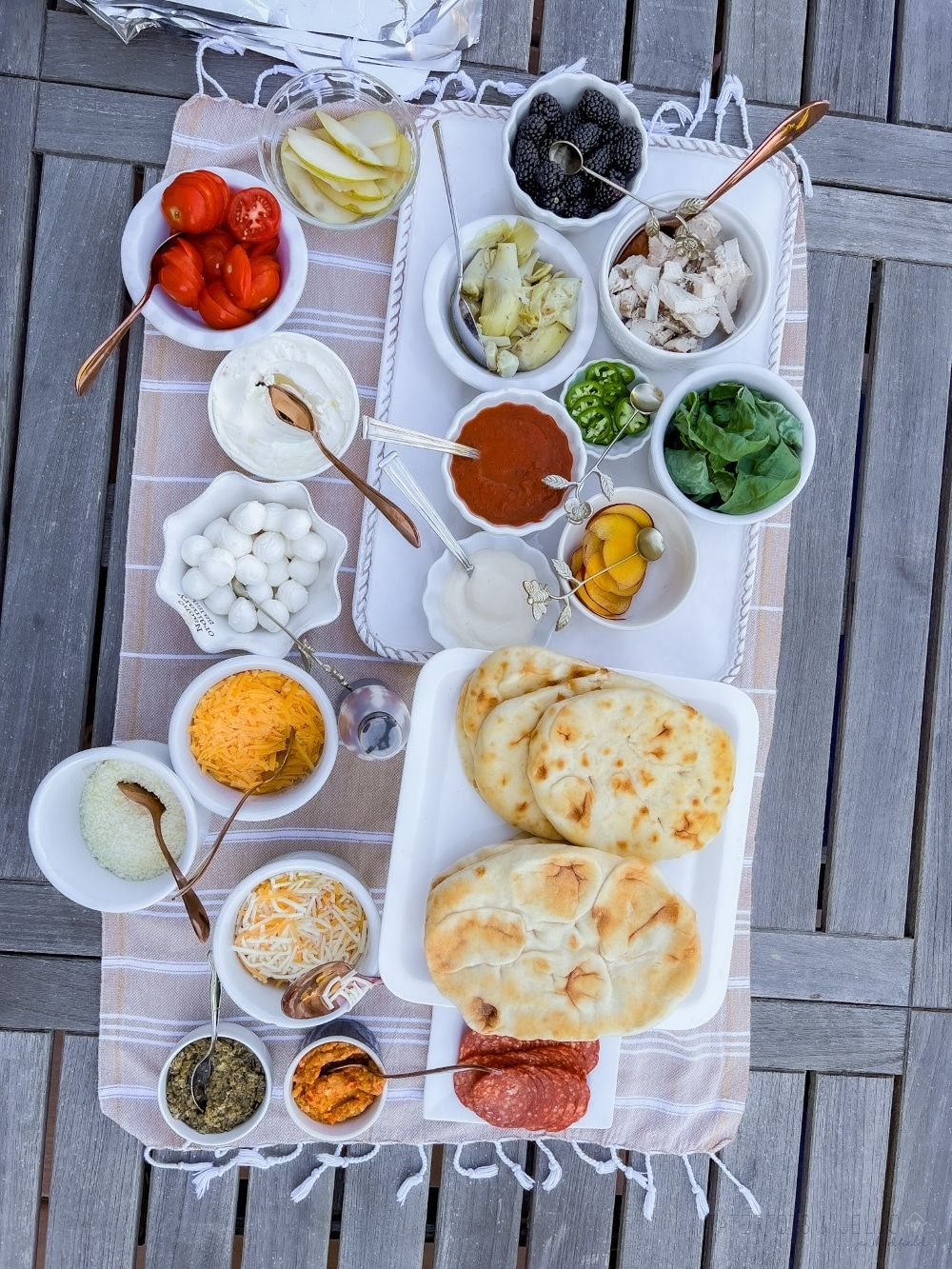 Whether you are making pizza using refrigerated dough, handmade dough or naan bread, we love creating a pizza topping station. I gather all of the ingredients and put them in white bowls. Lay them out on a table. Here are the toppings that I have used for a pizza topping station:
Pizza Base (doughs or naan bread)
Olive oil. This is the first ingredient that goes on the pizza base. You add a light layer to the base and then put it on the grill for about 5 minutes.
Sauces: red spaghetti or marinara sauce. Pesto sauce. greek yogurt, BBQ sauce. Ranch. Peanut sauce. Garlic. White spaghetti sauce. Whatever sounds good to you. I put them in separate bowls, on the table together near the dough or naan since the sauce is one of the firs things to put on the pizza base.
Meats – diced chicken, diced ham, pepperoni, shrimp, prosciutto, bacon, sausage, turkey, etc.
Veggies – yellow, green and./or red bell peppers, corn, red onions, olives, tomatoes, onions, jalapeños, Brussels sprouts, broccoli, brocollini, mushrooms, chives, any veggies that you think your family or friends will like. I put them in separate small bowls, all grouped together.
Herbs – basil, mint, rosemary, thyme, red pepper flakes, cilantro, oregano, etc.
Cheeses — shredded mozzarella, cheddar, colby jack, ricotta, pepper jack, Parmesan, feta. Also burrata and mozzarella balls are so good on these pizzas. Goat cheese, spreadable cheeses are also great as a base of the pizzas.
Shredded lettuces, spinach, basil are also tasty.
Fruit – fruit pizzas are so good. You can also pair fruit with meat and top with balsamic glaze for an amazing sweet/sour combination! Some fruits I love are: strawberries, figs, kiwi, raspberries, cherries, apricots, peaches and melons.
Balsamic glaze – so good drizzled on top!
Nuts – nuts are so grilled sprinkled on top of grilled pizzas. Some nuts can be peanuts, almonds, etc.
Some Pizza Combination Ideas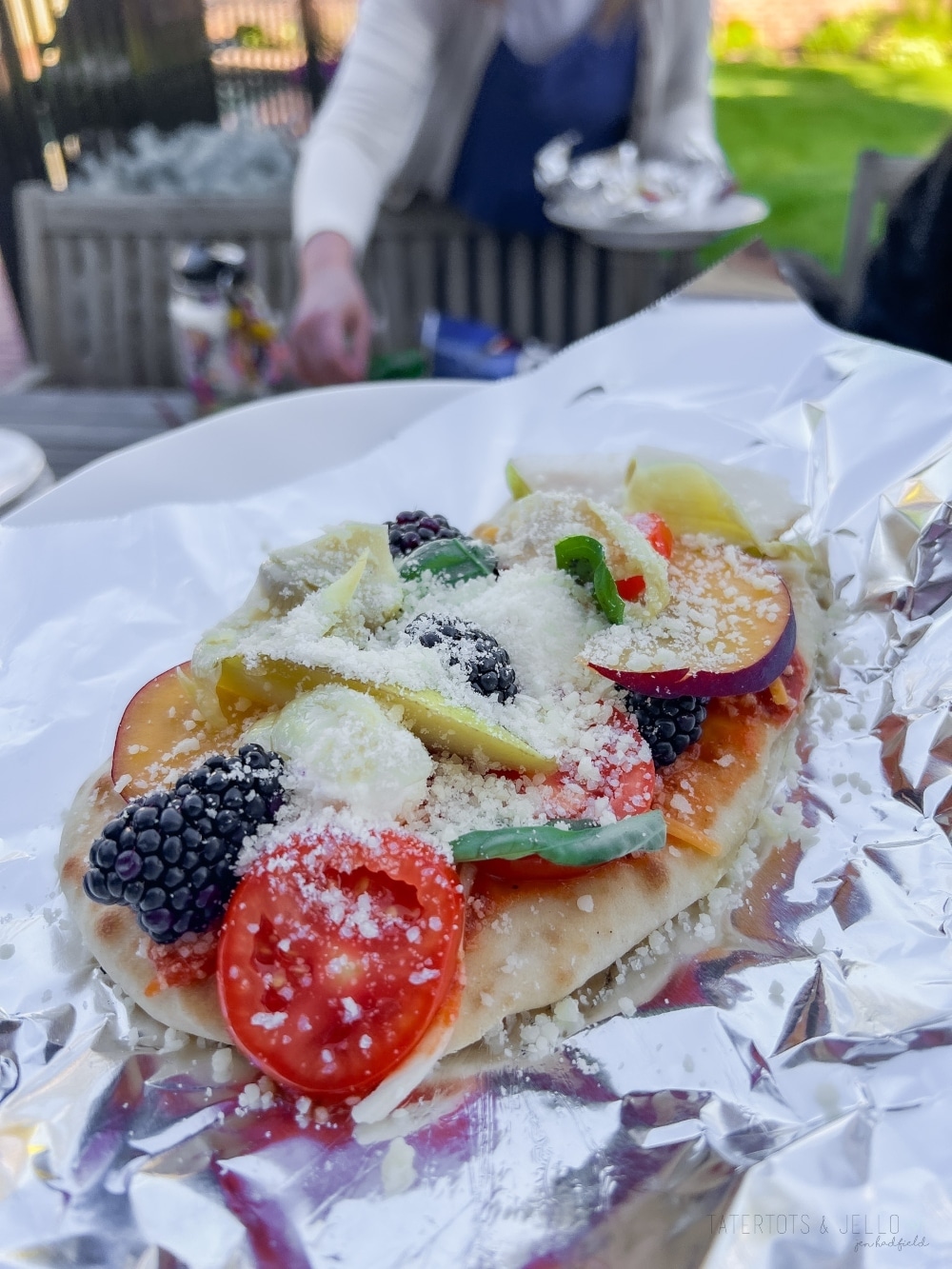 Here are a few ways to combine ingredients to create amazing pizzas!
Peach, prosciutto and parmesan cheese.
BBQ chicken – chicken, caramelized onions, cheeses, cilantro, BBQ sauce.
Berry Pizza — strawberries, raspberries and blackberries with whipped ricotta cheese, honey and balsamic glaze.
Chicken Ranch — ranch dressing, diced chicken, cheese, bacon, sliced tomatoes and chives.
Loaded jalapeno pepper pizza – yellow peppers, onions, bacon, and Monterey Jack cheese.
Margherita pizza — cherry tomatoes, heirloom tomatoes, burrata cheese, shredded mozzarella, basil and olive oil.
Grilled Cherry and Arugula Pizza – Cherries, goat cheese, arugula, olive oil and balsamic glaze.
Mideastern – chicken, greek yogurt, cilantro, artichokes, tomatoes.
Grilled Naan Pizzas Tips and Tricks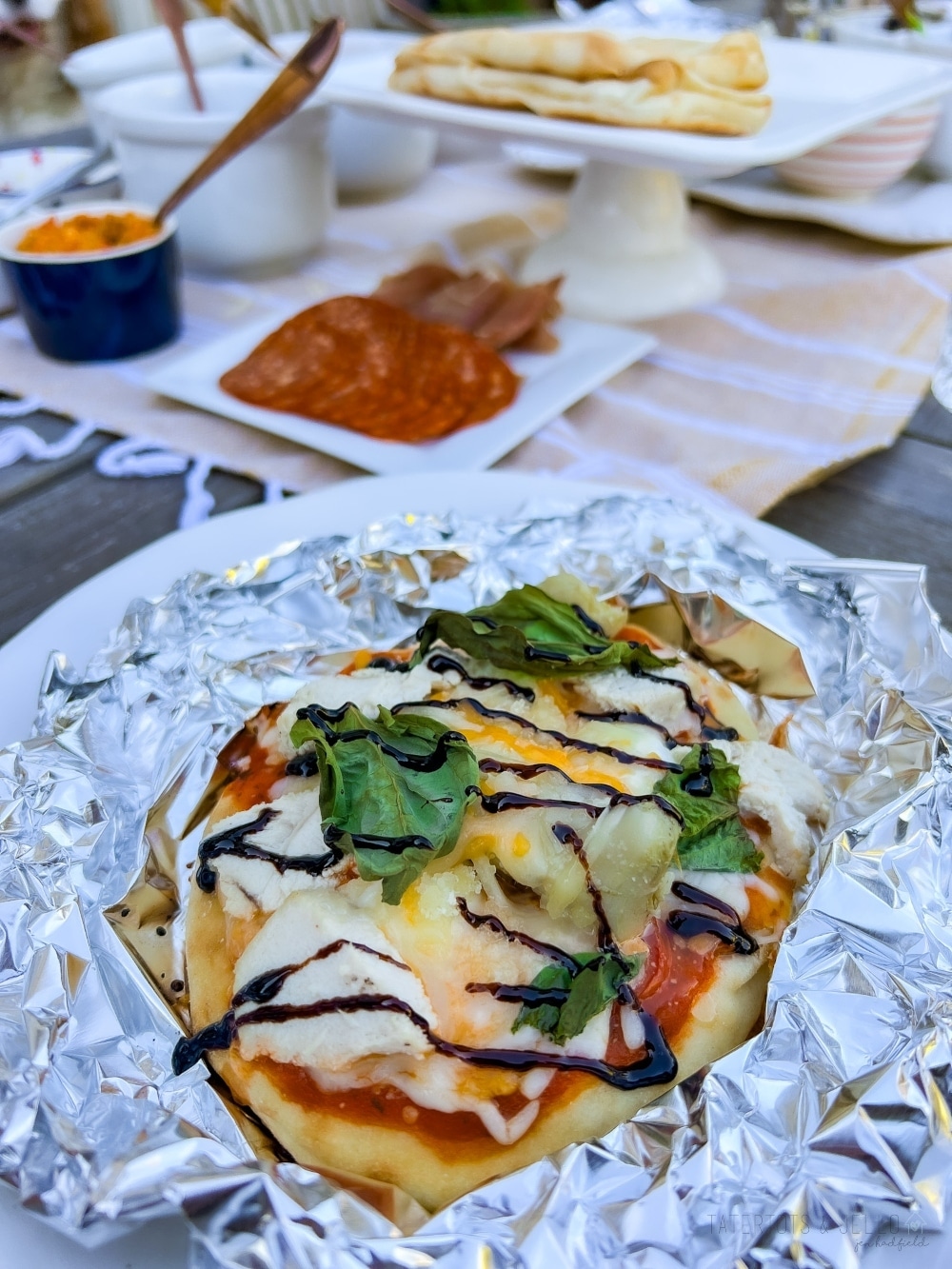 Here are some tips and tricks to make these easy naan pizzas!
Preheat Grill to Medium Heat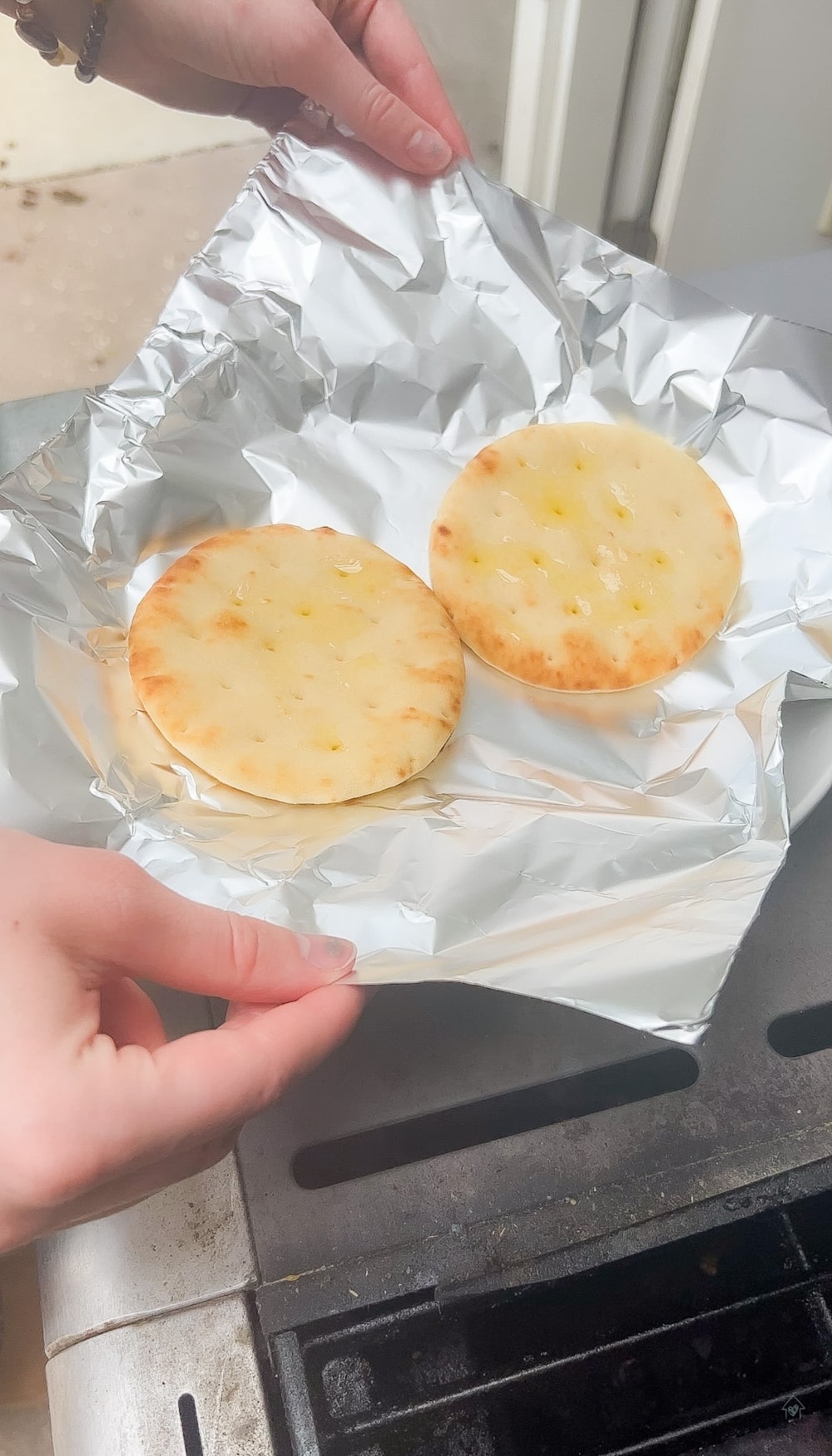 Preheat your grill about 15 minutes before you want to start grilling.
Use Tinfoil
I use a square of tinfoil under each pizza. I think the tin foil regulates the heat. It also saves on cleanup because a lot of the pizzas have cheese or sauces that will drip over the edge of the pizzas. This way the sauces or cheese don't drip down onto the grill and you can eat that gooey yummy sauce!
Drizzle Olive Oil on Naan Bread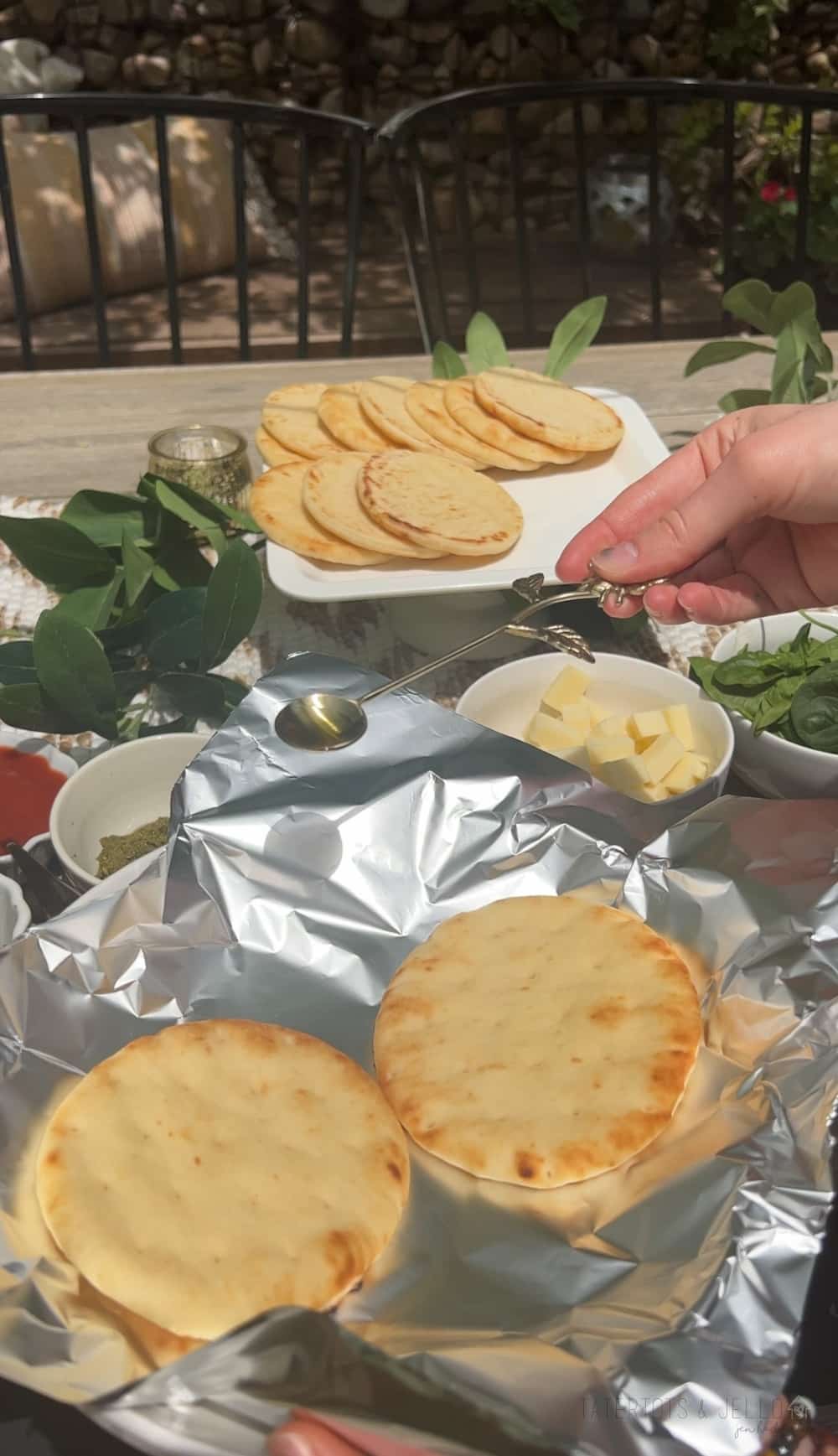 Take a naan round, brush it with a little olive oil and put it on the grill for about 5 minutes. This creates a gold brown crust to the round and keeps the naan from getting saturated with the sauces which keeps it from getting soggy.
Add Base Sauce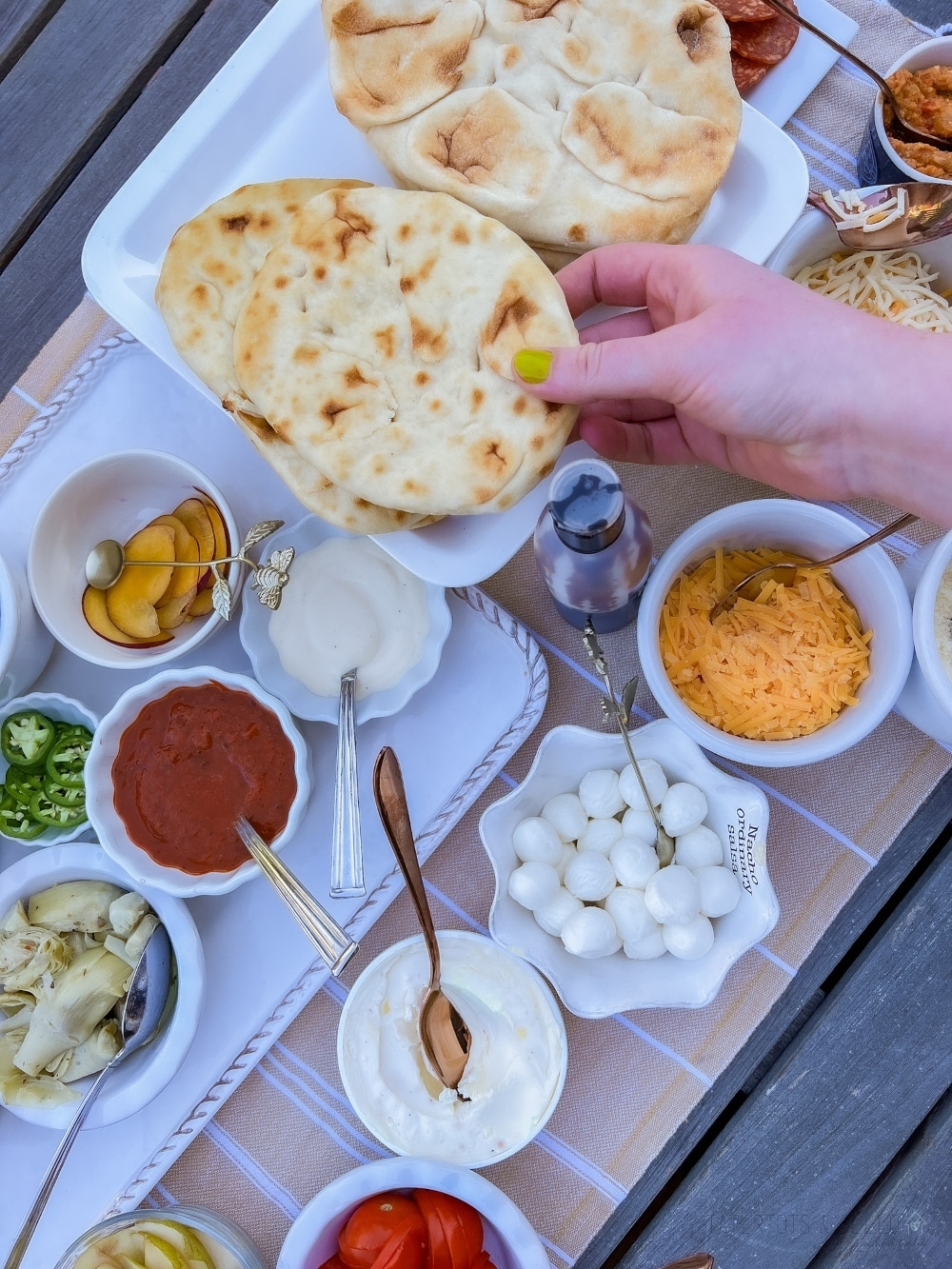 Once the naan has baked for about 5 minutes on the grill, add whatever base sauce you want – marinara, pesto, olive oil, etc.
Now Add Cheese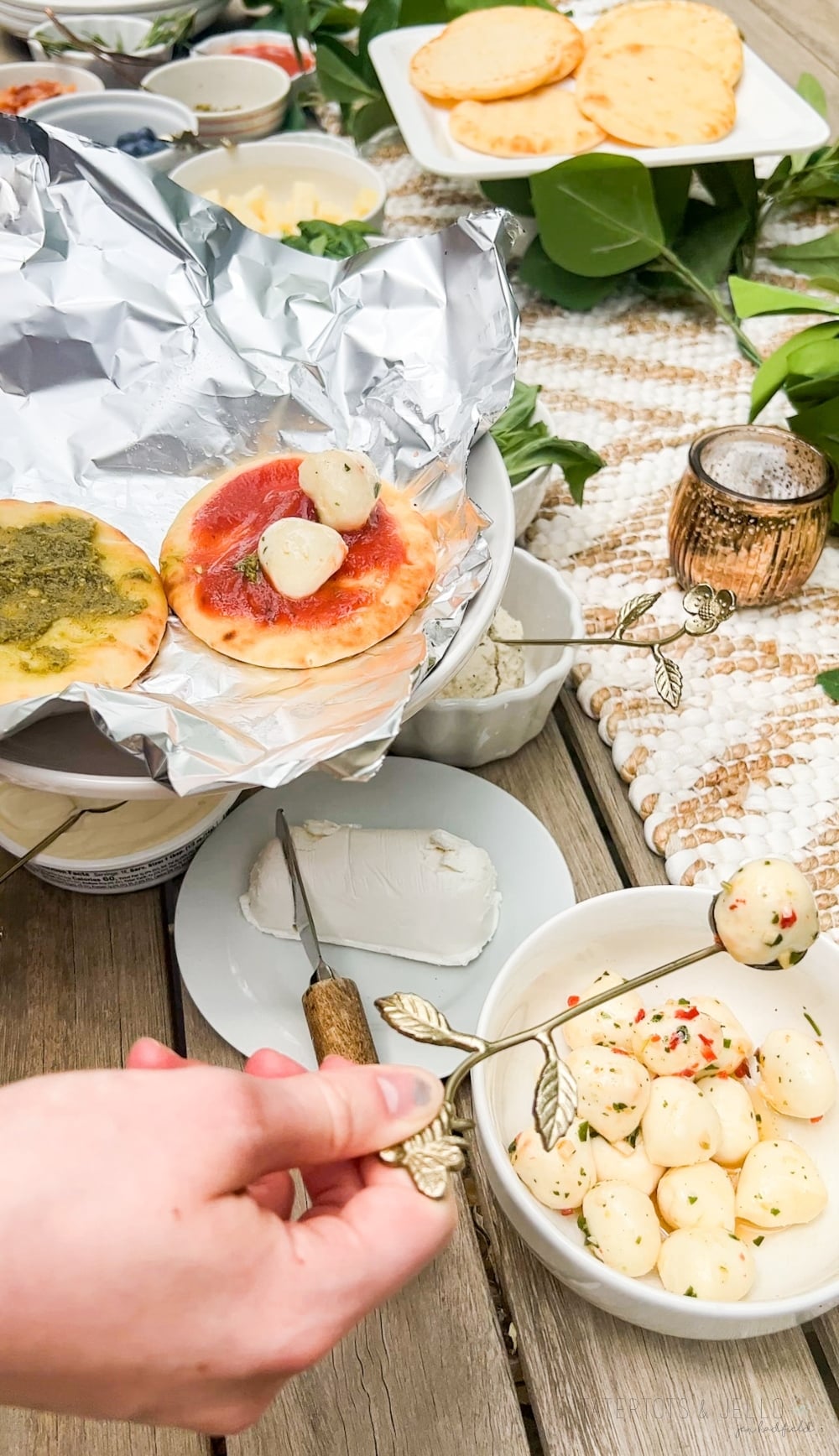 Add whatever cheese you want.
Layer Toppings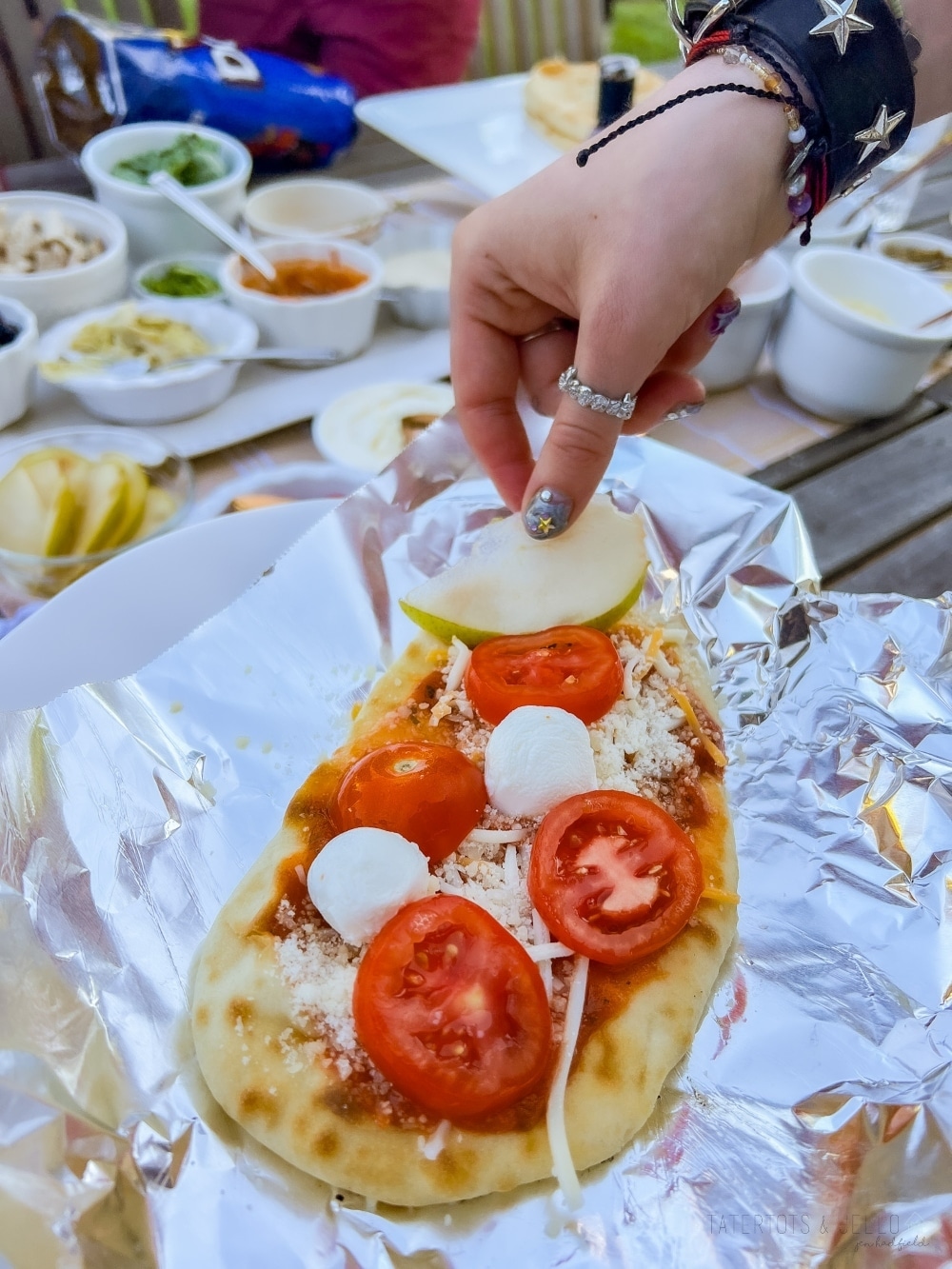 Add whatever toppings you want.
Top with Herbs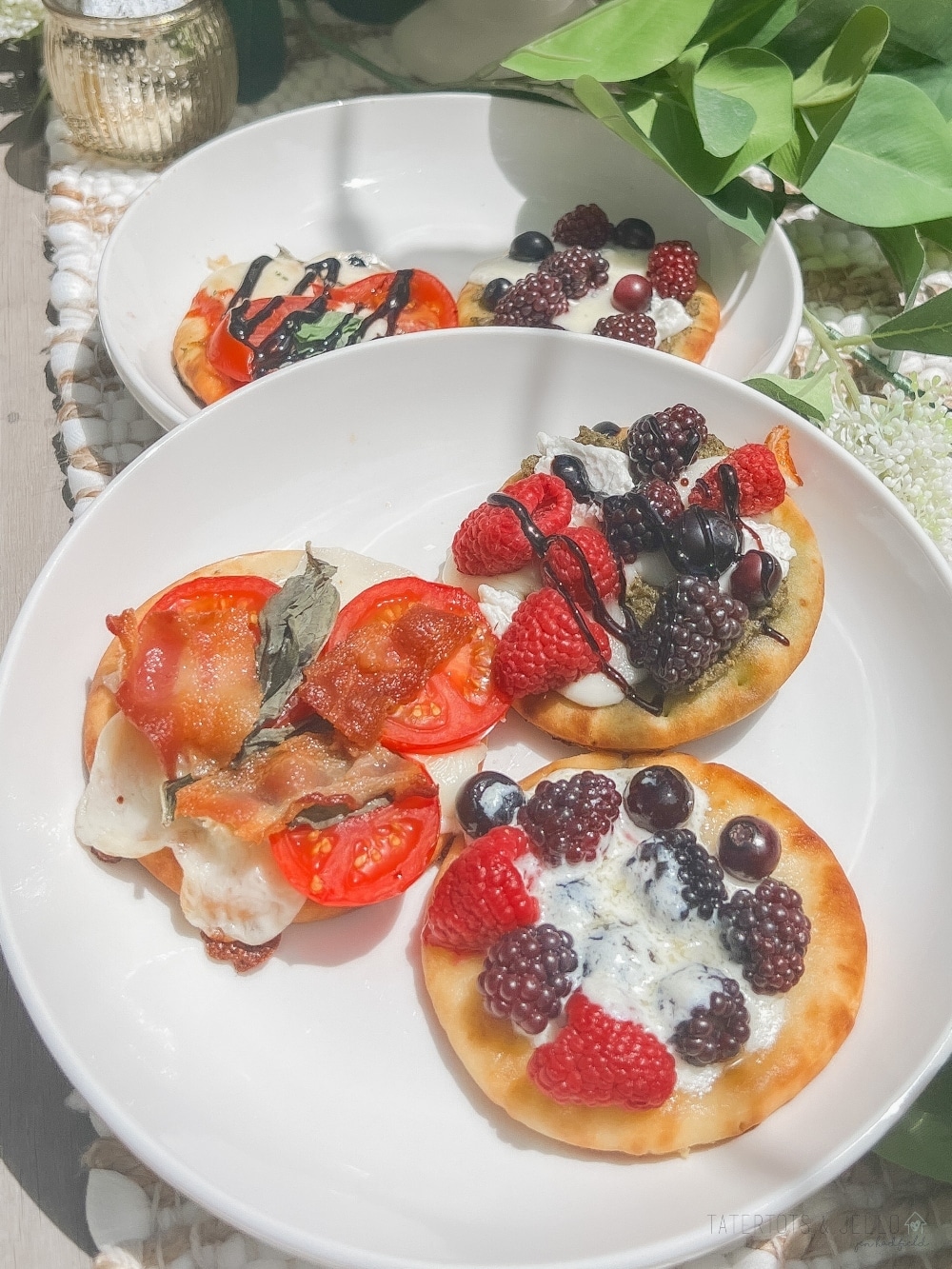 Sprinkle some herbs or additional cheese on top.
Cook Naan Pizzas Until Cooked Through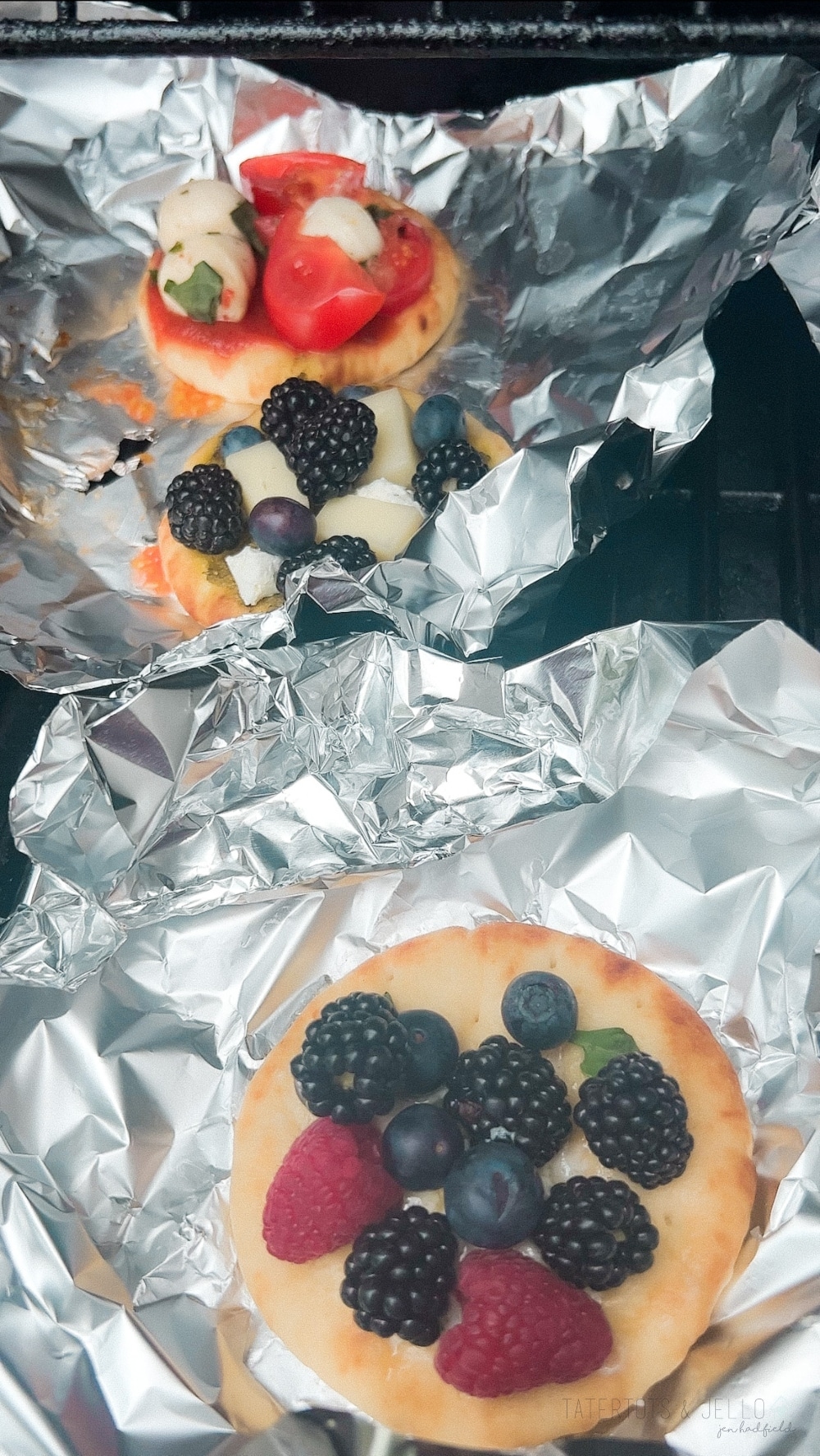 Now is the time to put the pizzas on the grill. I grill them for about 10 minutes or until the ingredients seem to be melting together and the edges are browned.
Enjoy Your Naan Pizzas!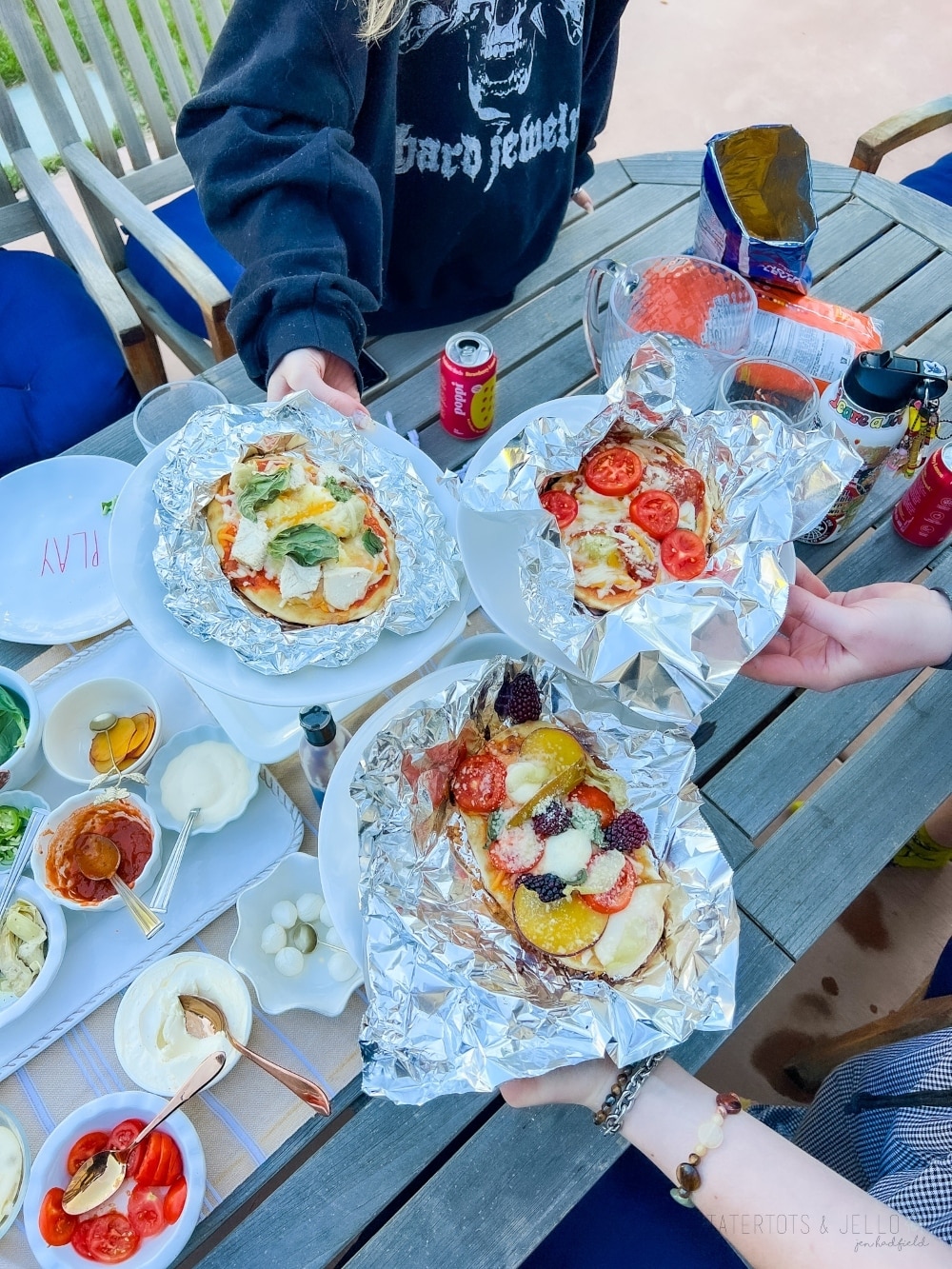 We love to put all of the naan pizzas together on big platters. We cut them in fourths and enjoy them family-style. It's so easy and yummy. You will love experimenting with different flavor combinations! It's really fun to see what flavors you never thought of putting together can become your very favorite combination!
More Grilled Recipes
Summer is the perfect time to dust off your grill. Here are some of our favorite recipes to make on your grill!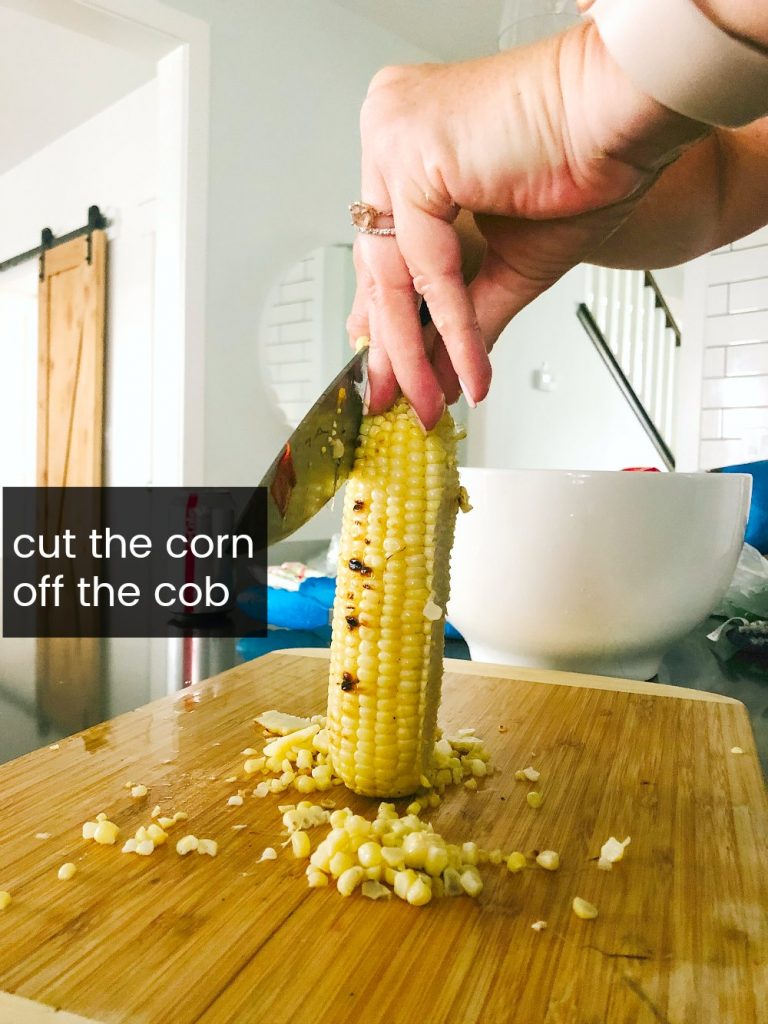 Grilled Corn Salad with Tangy Lime Vinaigrette. Looking for the perfect salad to make this summer? This one takes fresh corn and peppers and grills them to bring out the most flavor, mixes in more fresh veggies and tops it with a refreshing citrus lime vinaigrette dressing.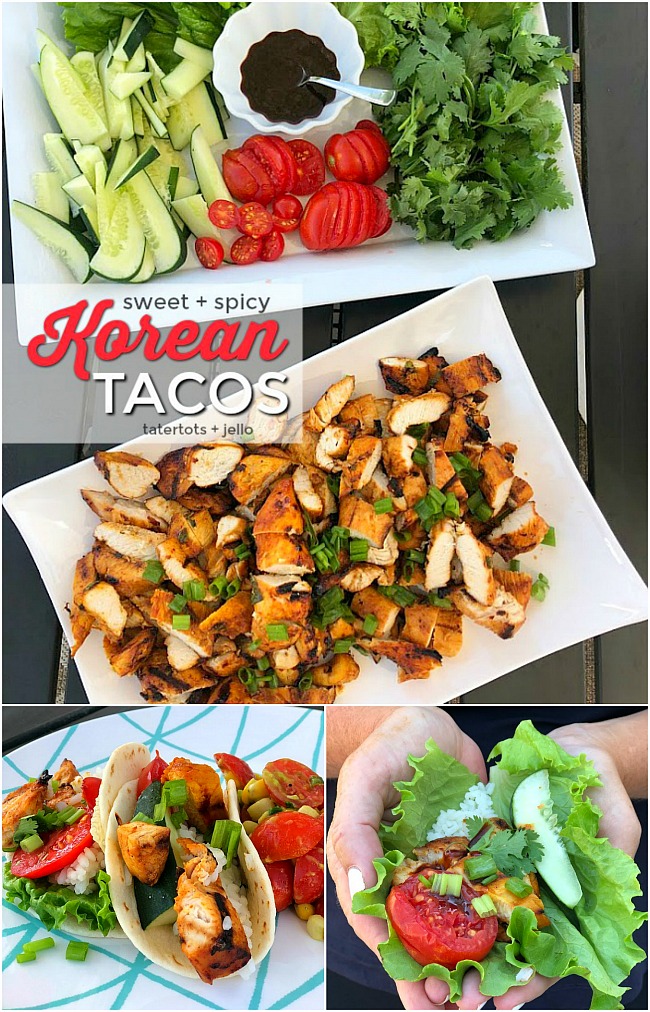 Sweet and Spicy Korean Chicken Tacos are a tasty twist on traditional chicken tacos. Chicken is marinated in gochujang sauce, fresh ginger and herbs and then grilled. Juicy spicy chicken combine with fresh lettuce, cucumber, tomatoes and sauce for tacos that are bursting with flavor!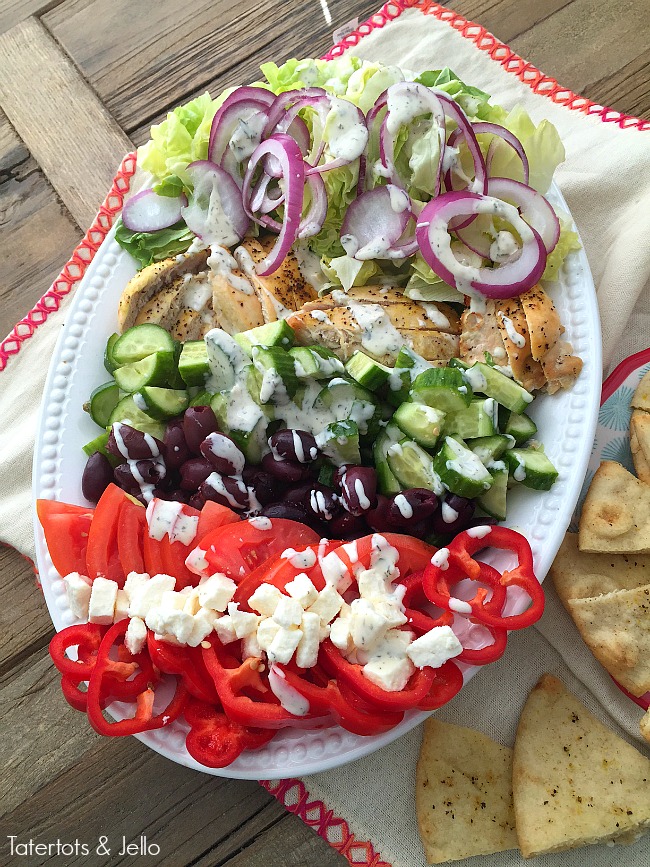 Zesty Grilled Chicken Greek Cobb Salad. I think I could eat salad every day of my life. It is so good. And especially this time of the year, as the weather is starting to get cooler. I want to get as much grilling in as I can before it gets too cold.

How to Grill Pizzas Outside. Grill pizzas outside this summer with your family! Tips and tricks to creating the perfect personal grilled pizzas.
Give Grilled Naan Pizzas a Try!
Let me know what you think! And tag me on Instagram at @tatertotsandjello. I would love to share YOUR pizzas!
xox