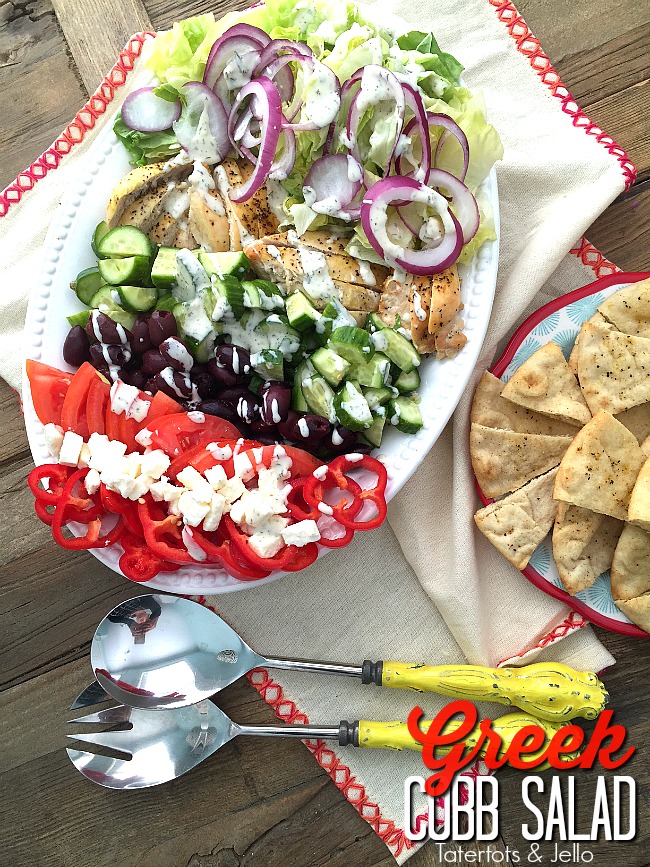 ---
Zesty Grilled Chicken Greek Cobb Salad
---
Zesty Grilled Chicken Greek Cobb Salad. I think I could eat salad every day of my life. It is so good. And especially this time of the year, as the weather is starting to get cooler. I want to get as much grilling in as I can before it gets too cold.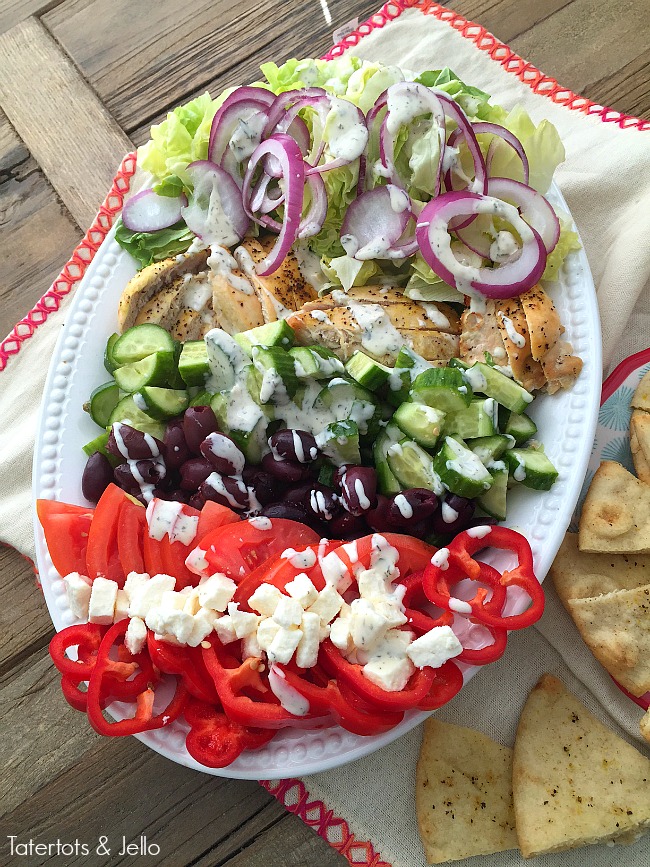 A cobb salad is a pretty way to prepare a salad. You can be as creative as you want with ingredients in making this delicious salad. It's one of my favorite salads to make and a great way to use leftovers. And since I also love Greek food and I love adding a spin to something I love, I decided to make a Greek Cobb Salad with grilled chicken.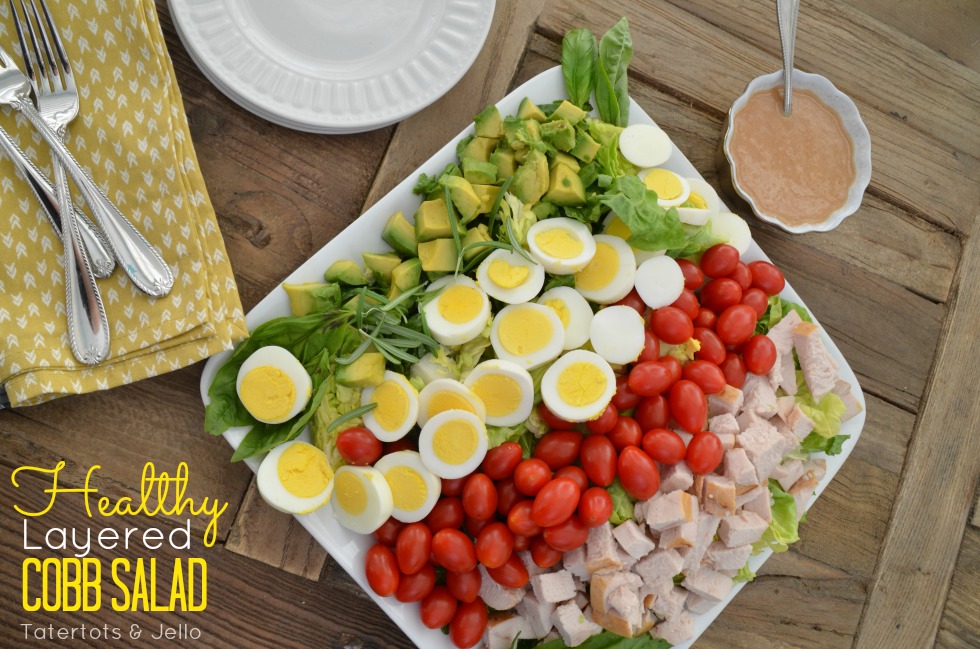 Here is the classic cobb salad with homemade vinaigrette that we love.
Legend says that the Cobb Salad was invented in the 1930s at the Hollywood Brown Derby restaurant. And is named for the restaurant's owner, Robert Howard Cobb. Stories vary as to whether the salad was invented by Cobb or by his chef, Chuck Wilson. The legend is that Cobb had not eaten until near midnight, and so he mixed together leftovers he found in the kitchen, along with some bacon cooked by the line cook, and tossed it with their French dressing.
And here is our newest favorite salad – Zesty Grilled Greek Cobb Salad:
---
Zesty Grilled Chicken Greek Cobb Salad
---
Zesty Grilled Chicken Greek Cobb Salad
Recipe Type: salad
Cuisine: american
Author:
Prep time:
Cook time:
Total time:
Serves: 8
Zesty Grilled Chicken Greek Cobb Salad. Make this delicious greek spin on a cobb salad. It's filling and a beautiful salad with moist, marinated chicken to serve to your guests!
Ingredients
marinade:
1/2 cup red wine vinegar
2 tablespoons honey
1 teaspoon Dijon mustard
1 teaspoon dried oregano
1/2 cup olive oil
1/2 teaspoon lemon pepper
Salad:
2 hearts romaine lettuce or butter lettuce, chopped
2 cups tomatoes, sliced
1 cup feta cheese
1 cup kalamata olives, pitted and chopped
1 cup red peppers, chopped
2 cups baby cucumbers, diced
1/2 red onion, thinly sliced
Sea salt
1 cup tzatziki sauce or greek dressing
Instructions
make the marinade: Whisk together the vinegar, honey, mustard, oregano and lemon pepper in a bowl. Slowly stream in the olive oil while whisking. Put chicken in a zip lock bag or bowl and pour the marinade over the top. Let the chicken marinade in the refrigerator for at least 2 hours, preferably overnight.
Preheat a grill to medium heat.
Spray the grill with nonstick spray. Grill the chicken until golden on each side and the internal temperature registers 165 degrees F, 7 to 8 minutes per side. Let rest before slicing.
While the chicken is grilling prepare the salad.
Line up the salad items on a platter. Romaine or butter lettuce, tomatoes, feta, olives, cucumbers, onions and leave a space for the sliced chicken. Repeat with the remaining ingredients. Drizzle with tzatziki sauce or greek dressing . Garnish with cracked black pepper and sea salt and serve.
Serve with baked pita chips if desired. Enjoy!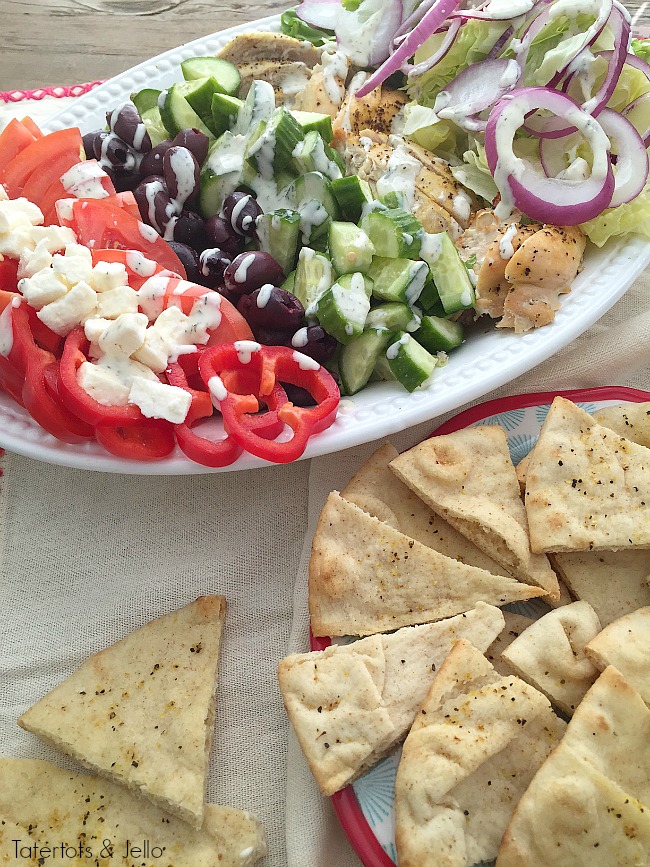 Do you have a favorite salad recipe?
Share it with us in the comments!!
Have a delicious day!
xoxo