Floating Candle Summer Tablescape. Create the illusion of floating candles above your summer table with this ingenious over the table rod system.
Floating Candle Summer Tablescape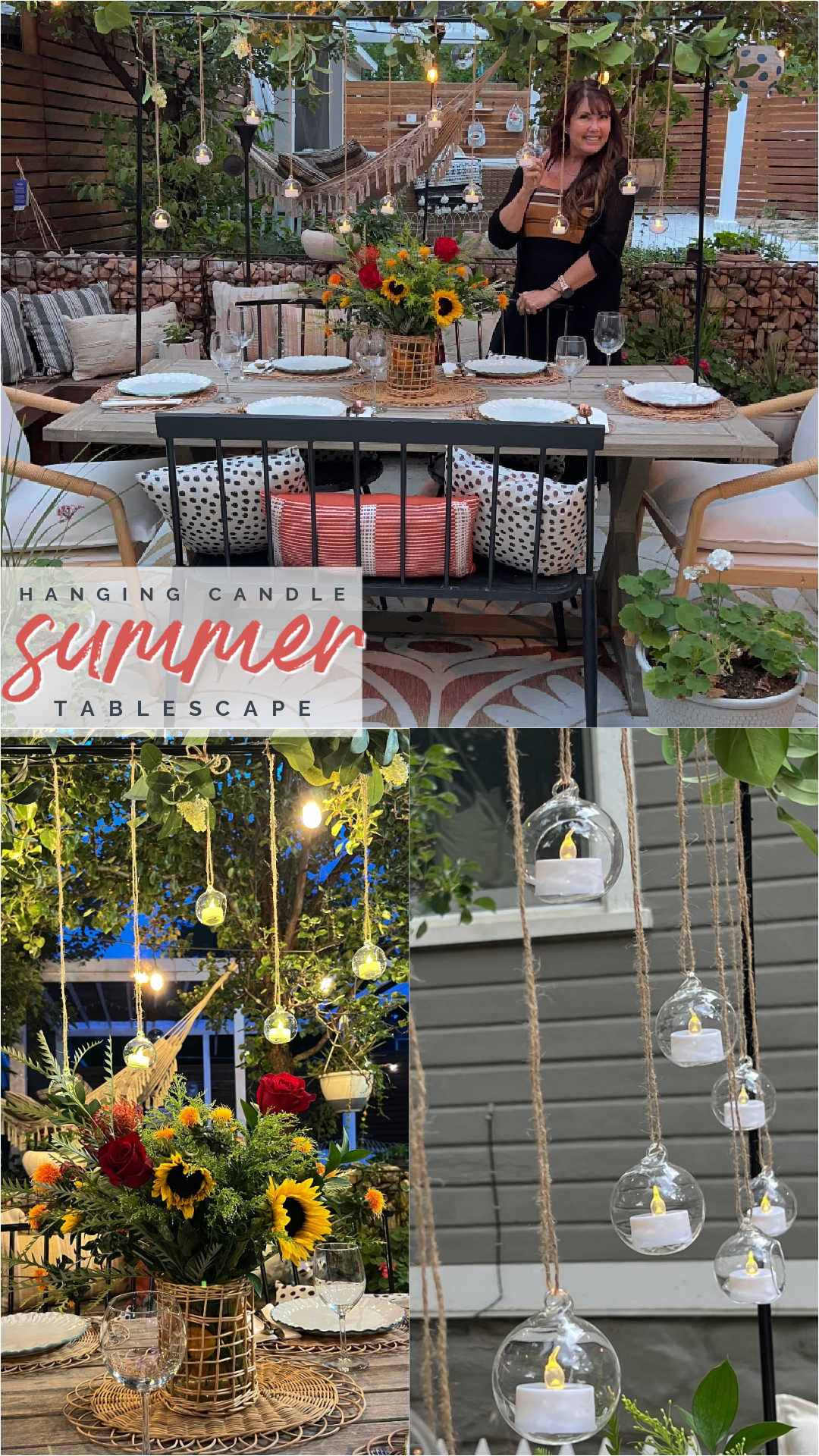 Happy August, friends!! Are you getting excited for fall or are you still in a summer State of Mind? Today I'm sharing this Whimsical magical tablescape that I created in our backyard patio area. I found the most ingenious over the table Rod system which is perfect for creating all sorts of summer tablescapes as well as parties in the summer and also throughout the entire year!
Floating Candles are So Romantic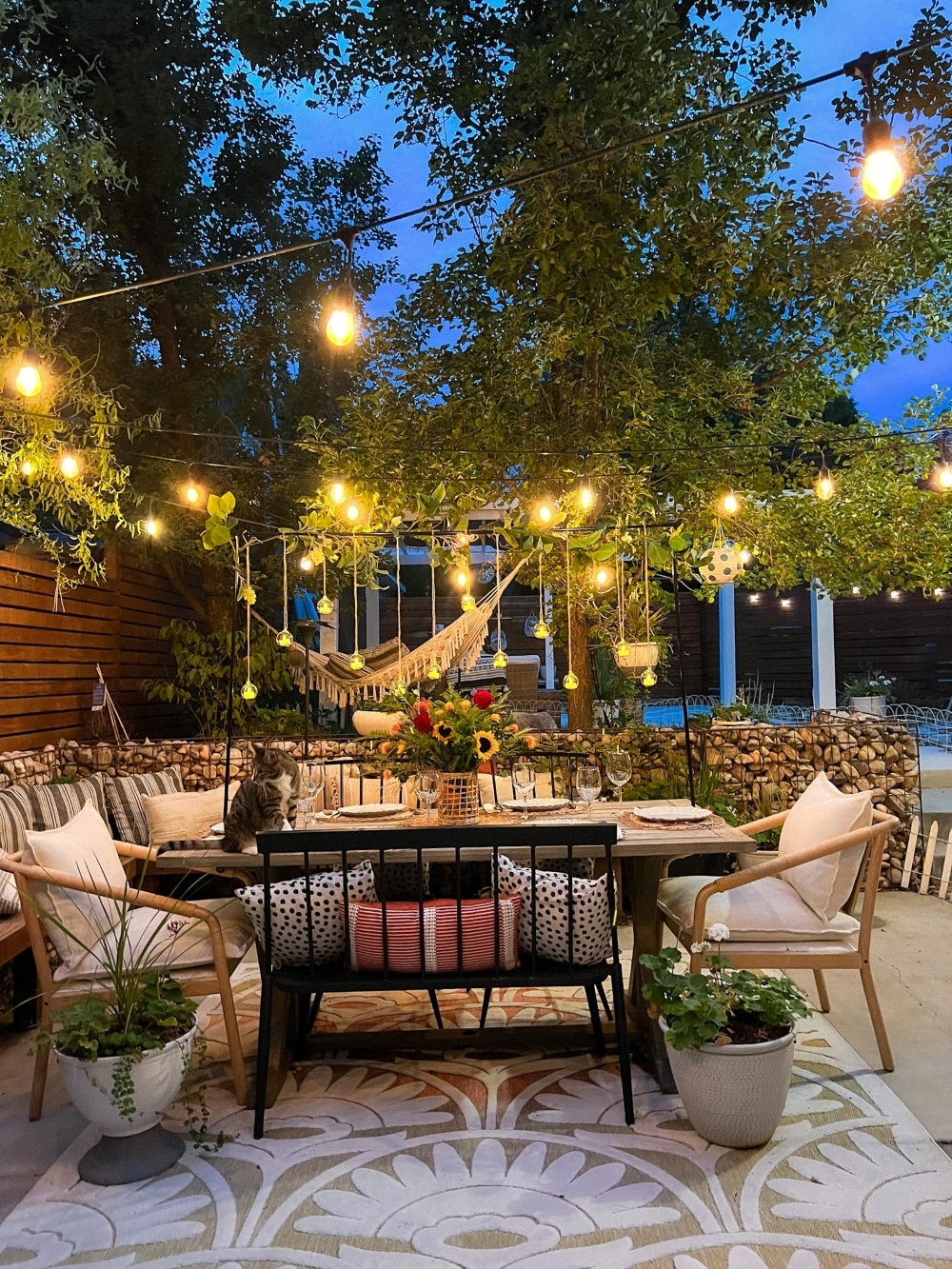 I love dining Alfresco in the spring and summer time. And of course it's even better when you include candlelight. So when I saw this hanging rod system I thought it would be perfect to hang little tea lights. There's just something so special about Candlelight.
Over the Table Rod Stand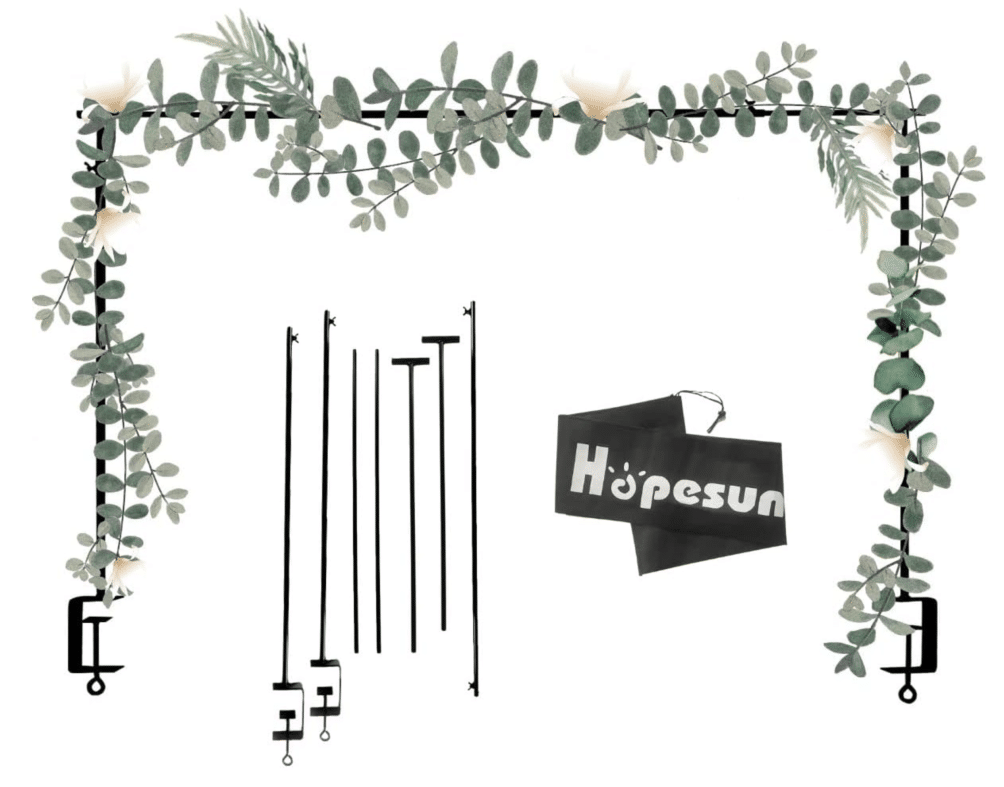 This over the table Rod system is a game changer for celebrations. I used to create this romantic candlelight dinner. But you can use it inside or outside and throughout the year. One of my favorite things about it is that it is adjustable.
How to Assemble the Rod System
The two main rods have clamps on the bottom that attach to your table top. The clamps have a screw system and you turn a lever under the clamp to tighten it up so it is secure on your table top. The clamps can be widened to accommodate whatever surface you're using. So you can attach the clamps to a table but also you can use them on a countertop or a kitchen island or whatever surface you want them to attach to. Once you attach the clamps to your table, you attach two rods to each side of the clamp rods. The clamp rods have at at the top and you slide the adjoining rods into the "T" and then there is another Rod that slides inside those two adjoining rods which connect all of the rods together for me in a "U" shape. Then can adjust the height of the rod system, and then you tighten everything up!
Store Parts in Carrying Case
And once you are done using the rod system, it comes with a handy carrying case. You just unscrew all of the rods and put them in the carrying case and you can store them very easily in a closet in your home until you need it again!
Creating a Floating Candle Tablescape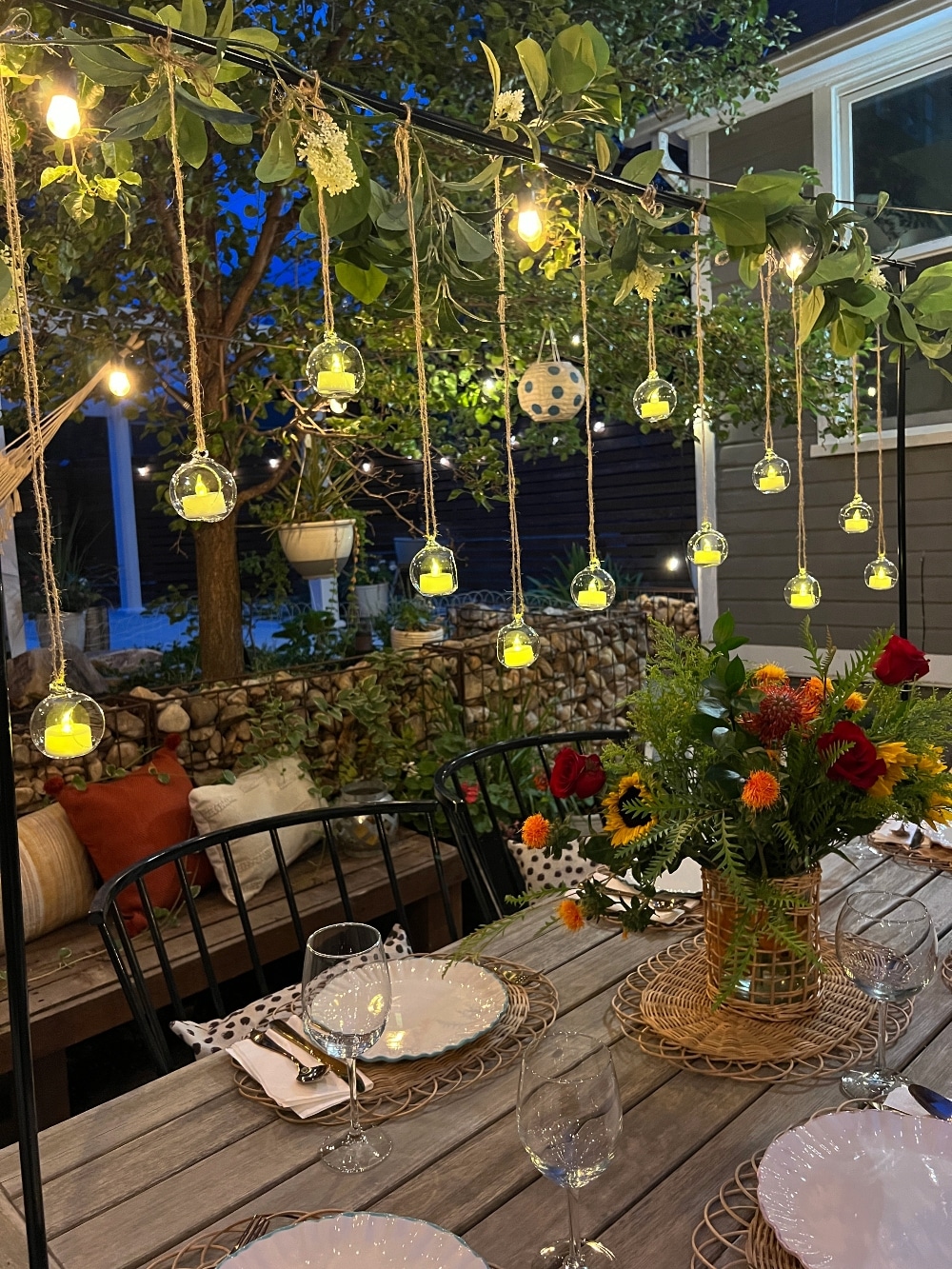 Here is how I created this floating candle tablescape
I put the over the table Rod system together on my patio table. Then I added for a phone Magnolia Garland by wrapping it around the rods. Once the Garland was in place I hung these gorgeous clear hanging vessels to the top rod. I ordered a set of 12 clear hanging vessels and they came with pre-cut twine. I hung each vessel at different lengths and space them out evenly across the top rod.
Add Tea Lights
Then I inserted battery operated tea lights into each of the clear vessels. The tea lights that I ordered have two different settings. One setting is a continuous light that doesn't change and the other setting is a flickering setting which is really beautiful and creates a really realistic looking candle. I've attached the links that I used for the Garland, Rod system, clear vessel kits and the tea lights that I use below!
Magnolia Leaf Garland
Set of 12 Clear Vessels with Twine
Set of 12 Battery-Operated Tea Lights (with 2 light options – continuous light and flickering light)
Rattan Placemats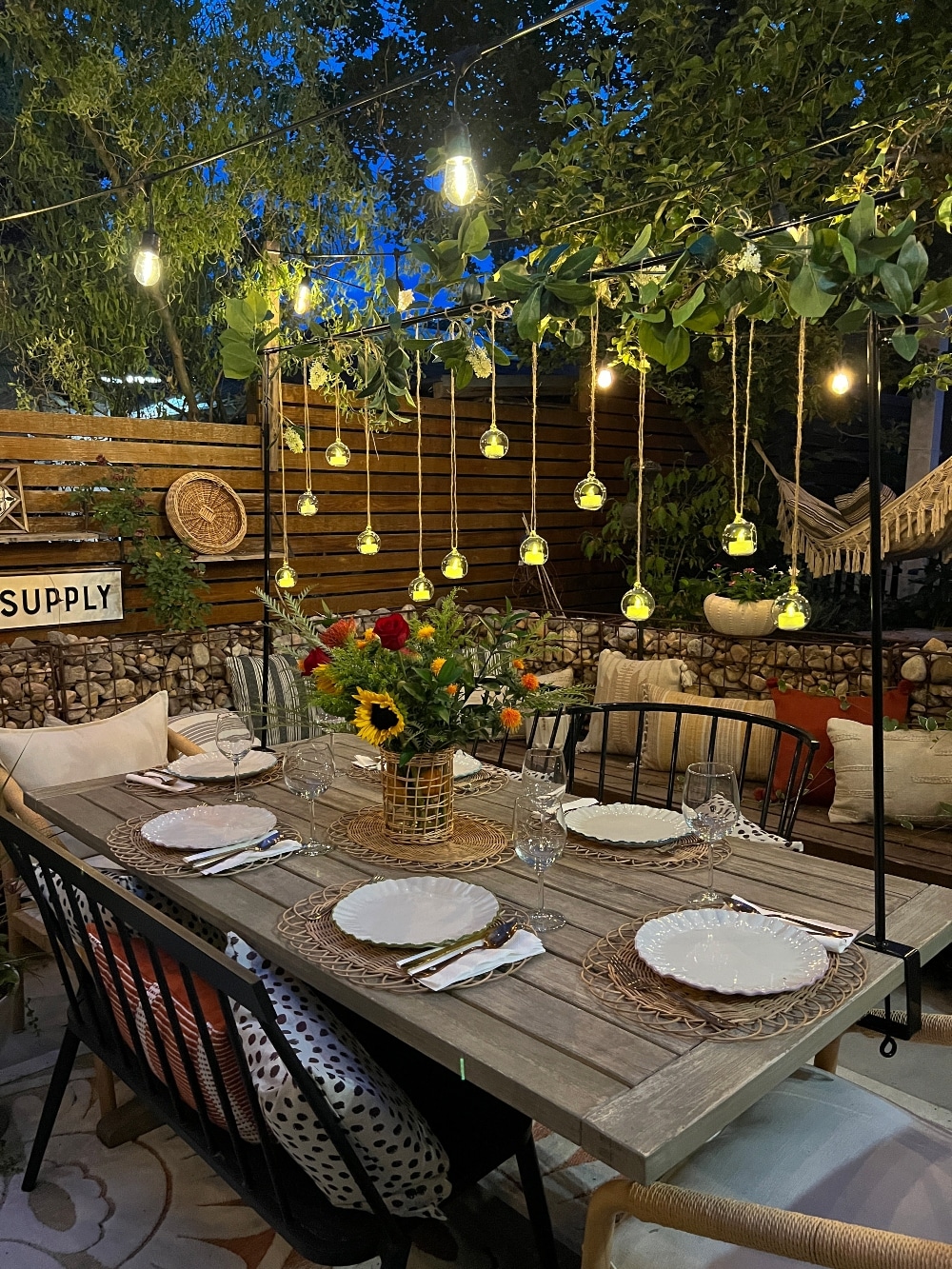 I found these return place mats and I think they are perfect for summer. The Rattan look is so on Trend and I love the pattern which is intricate and beautiful.
Rattan Vase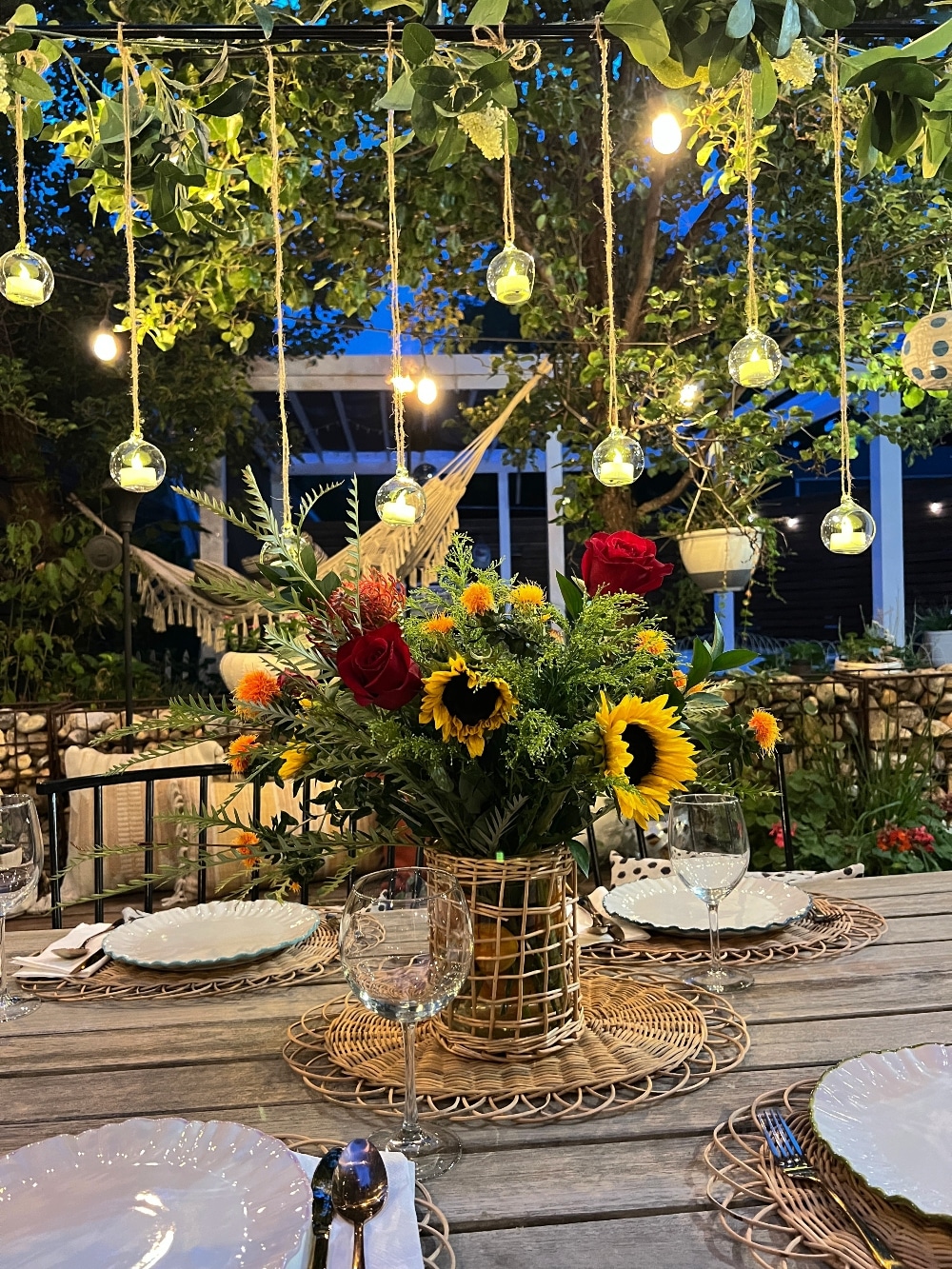 I found this beautiful Growers bunch of flowers at my local Trader Joe's and it was so easy to cut and use as a centerpiece. They were tan vase is beautiful and matches the Rattan placemats. The base comes with a rattan outer part and a glass of vessel which fits inside of the rattan. It's nice that the base comes out because you can pop it into your dishwasher and it's so easy to keep it clean!
Scallop Plates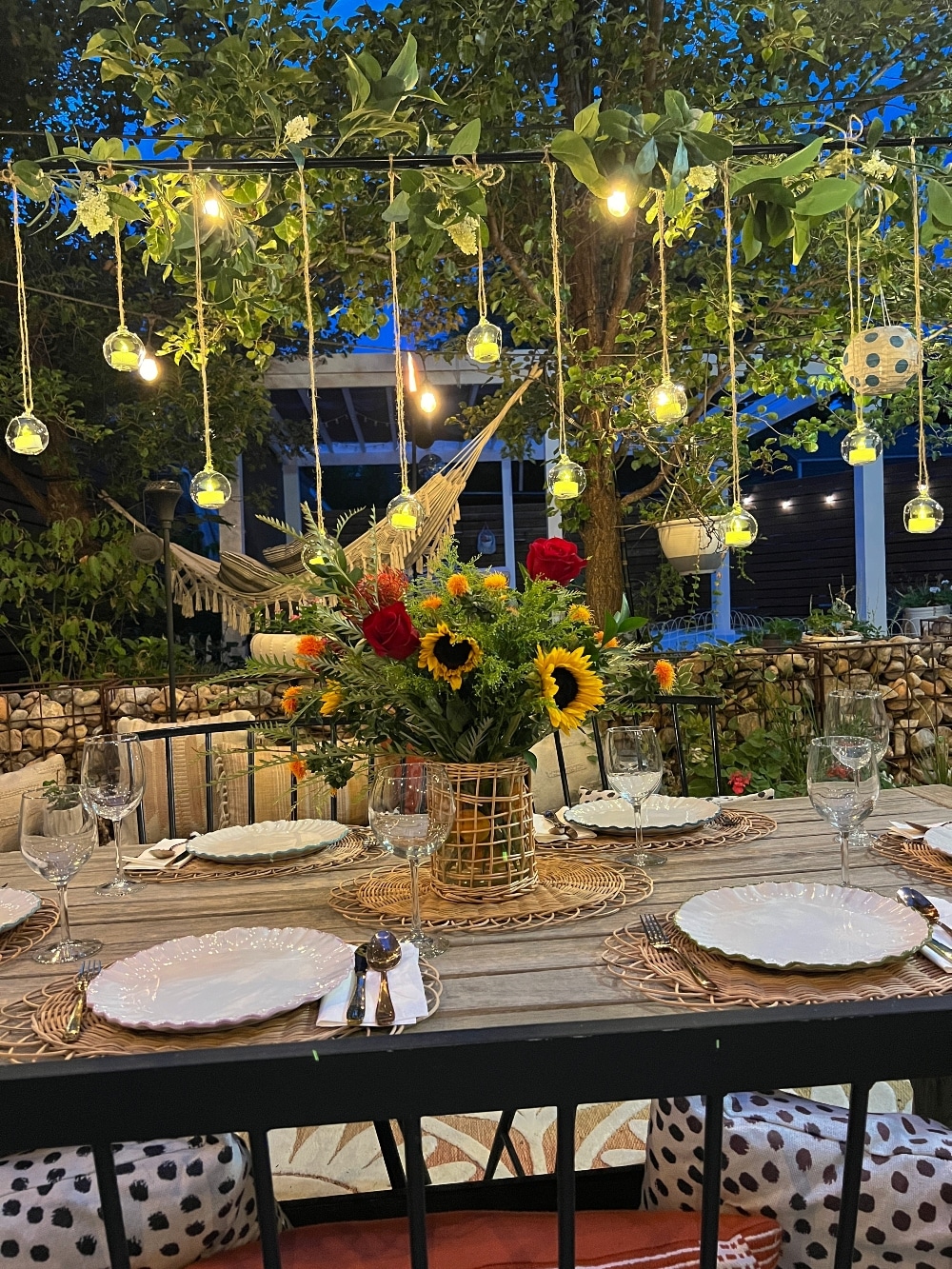 Scallop plates add a touch of whimsy. I bought them a few years ago and I don't think they are made anymore so I have linked a similar set in case you want to grab some. I love that each plate has a different color rim and I think the scalloped edges are so pretty for summer and look amazing on top of the Rattan placemats.
Other Ways Your Can Style The Over-the-Table Rod System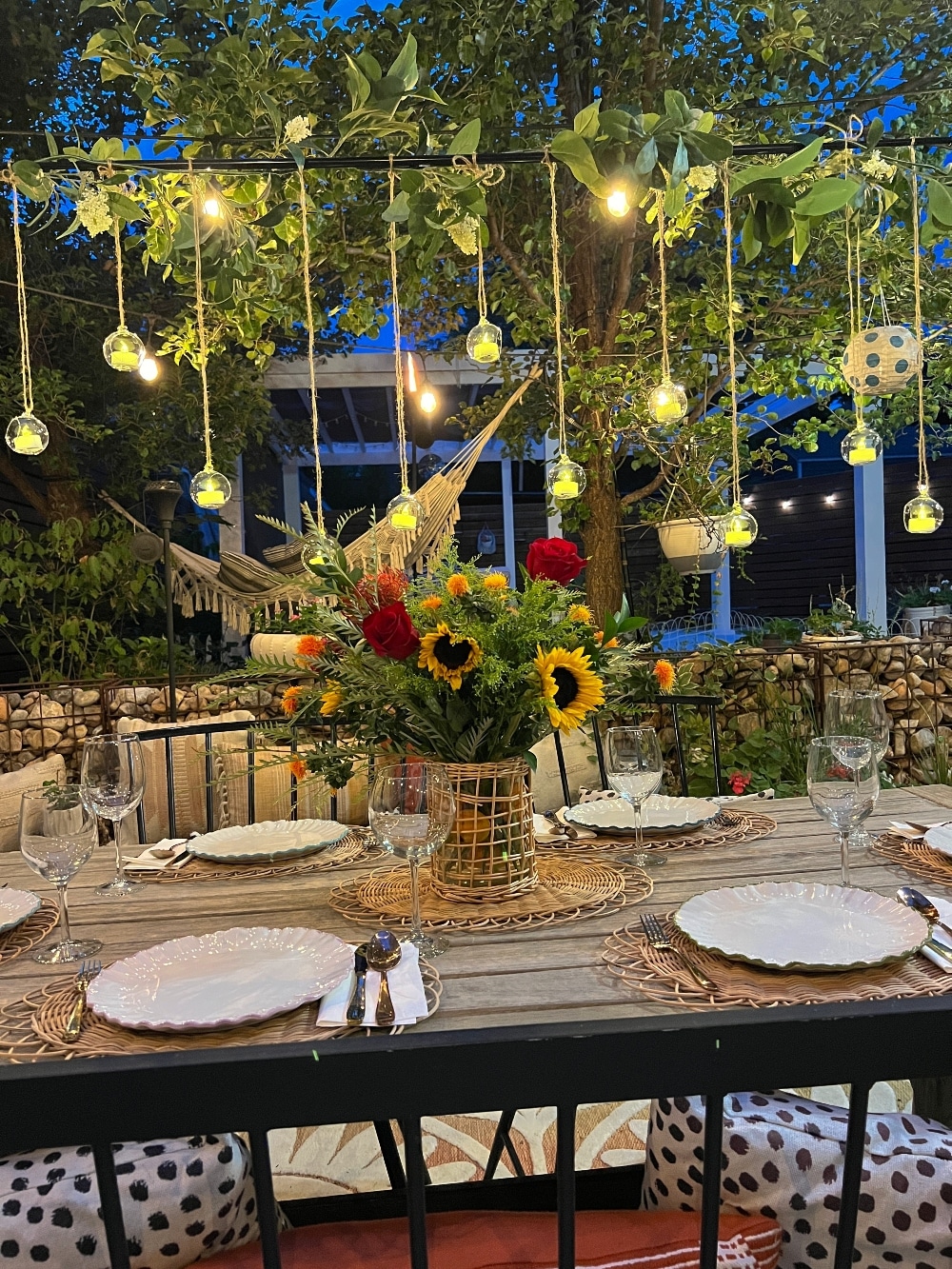 I am so excited about this Rod system! It was so fun to use it to create this floating candle tablescape but I can think of literally dozens of different ways and occasions that you can use this system!
Floating Candle Tablescape (this is the one I shared here today)
Back to School – hang a floral garland with a Back to School pennant.
Fall – fall floral garland. Hang mini pumpkins and string lights from the rods.
Halloween – Black leaf garland. Hang small ghosts or skeletons from the rod.
Thanksgiving – hang a pumpkin garland and use the same clear vessels with candles inside.
Christmas – Hang an evergreen garland. Hang ornaments and lights from the rod.
Hanukkah – Blue and gold garland with mini dreidels.
Winter – White pom pom garland. Hang paper snowflakes from the rod.
Valentine's Day – Red pom pom garland. Hang mini hearts, clear vessels with pink tea lights inside.
St. Patrick's Day – green garland and little shamrocks hanging down.
Easter – Spring flower garland and mini eggs hanging down.
Summer – Summer flower garland and clear vessels hanging with mini votives.
4th of July – red white and blue garland with stars hanging down.
Those are just a few ideas! Plus, you have birthdays, weddings, graduations and other holidays and events you can use to decorate using this handy table idea!
Summer Hanging Candle Tablescape Video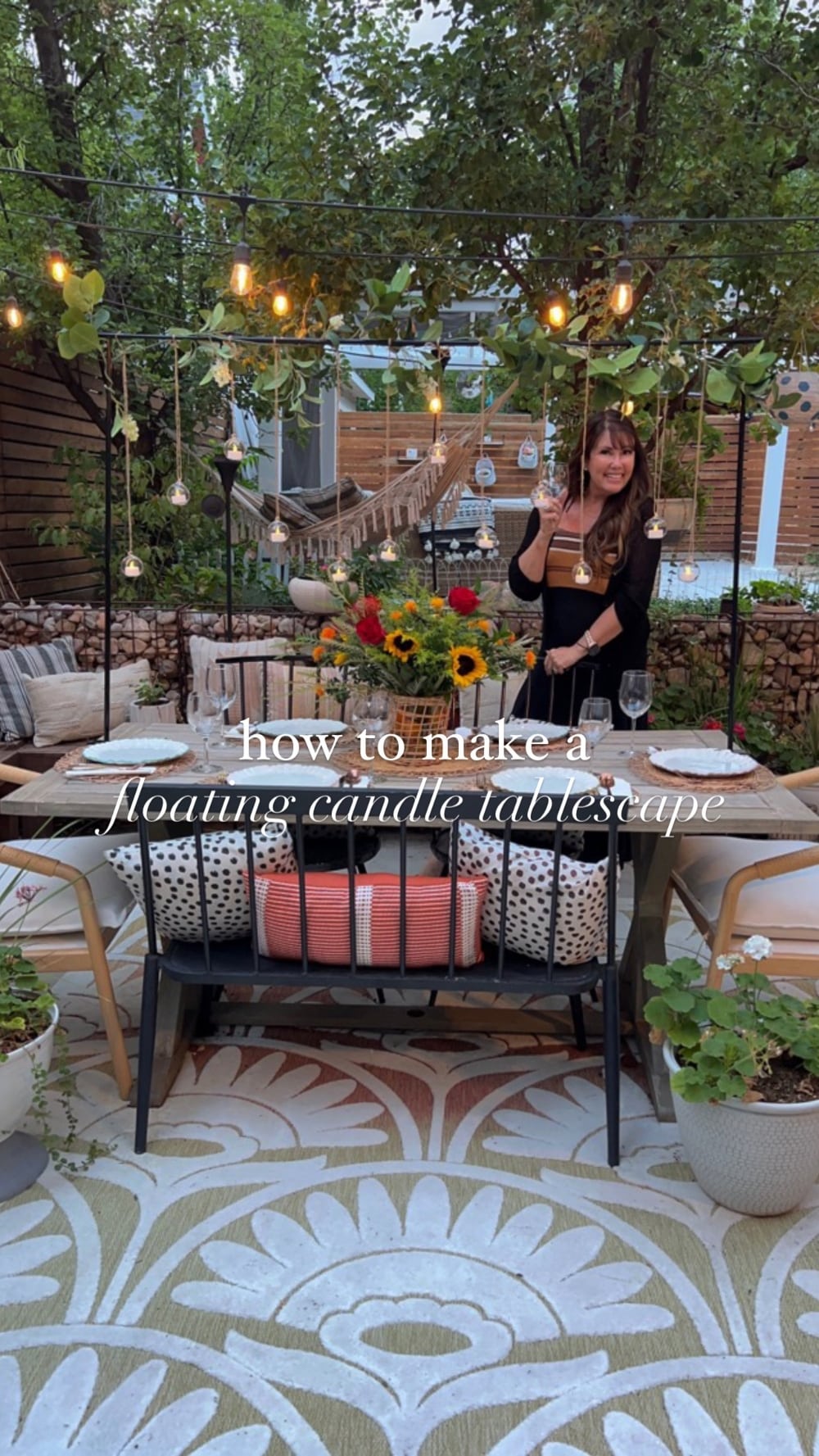 I made a little video on my Instagram handle where I shared putting this tablescape together as well as how to assemble the over the table rod system if you want to check it out! Follow along with me on Instagram at @tatertotsandjello to see how I will style this over the table rod system throughout the year!
More Summer Entertaining Ideas
Here are more Summer ideas for inspo!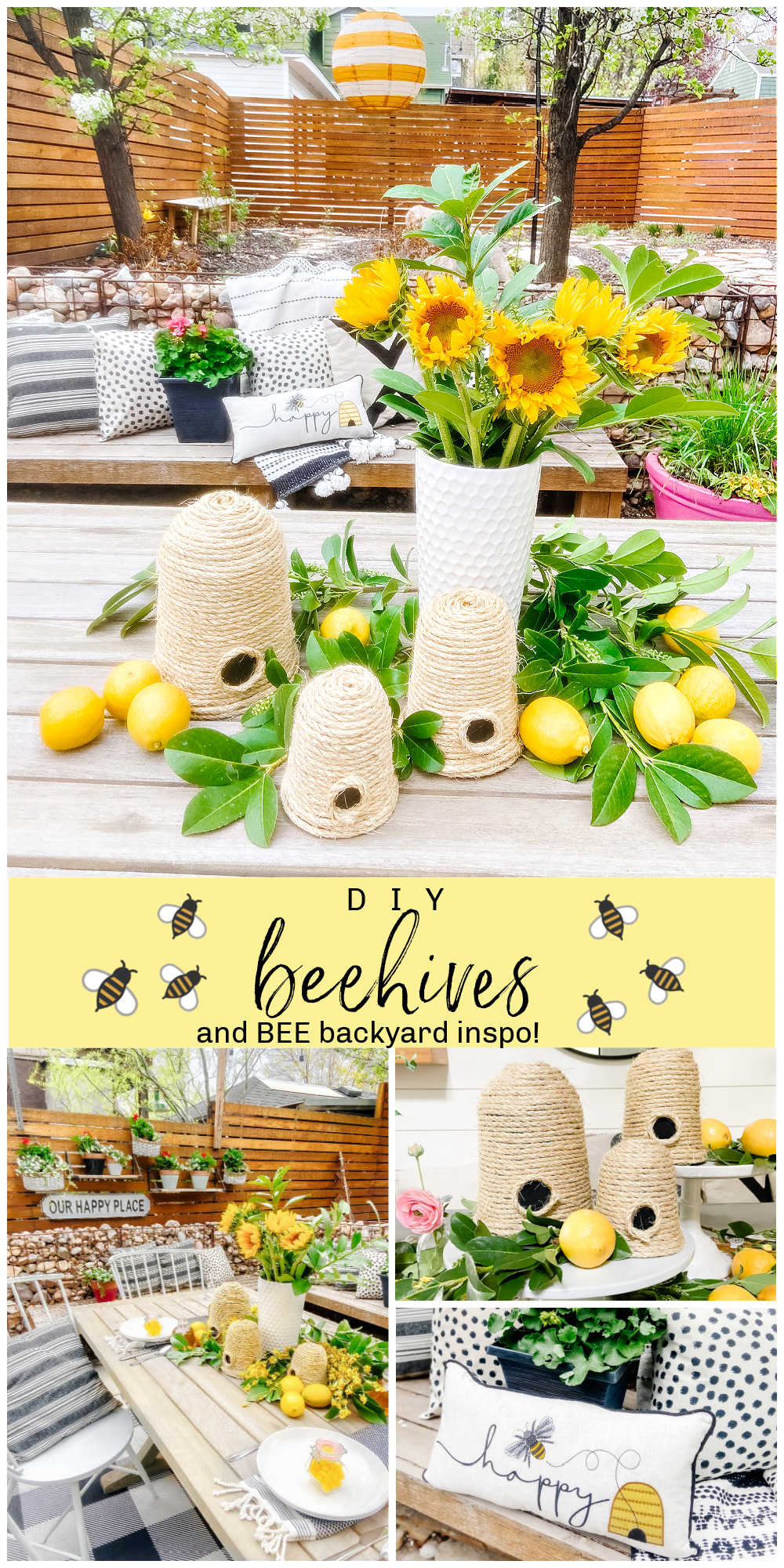 DIY Beehives and Beehive Backyard Inspo! Create cute and inexpensive beehives, add beehive pillows and create a hanging basket garden for a beautiful summer patio!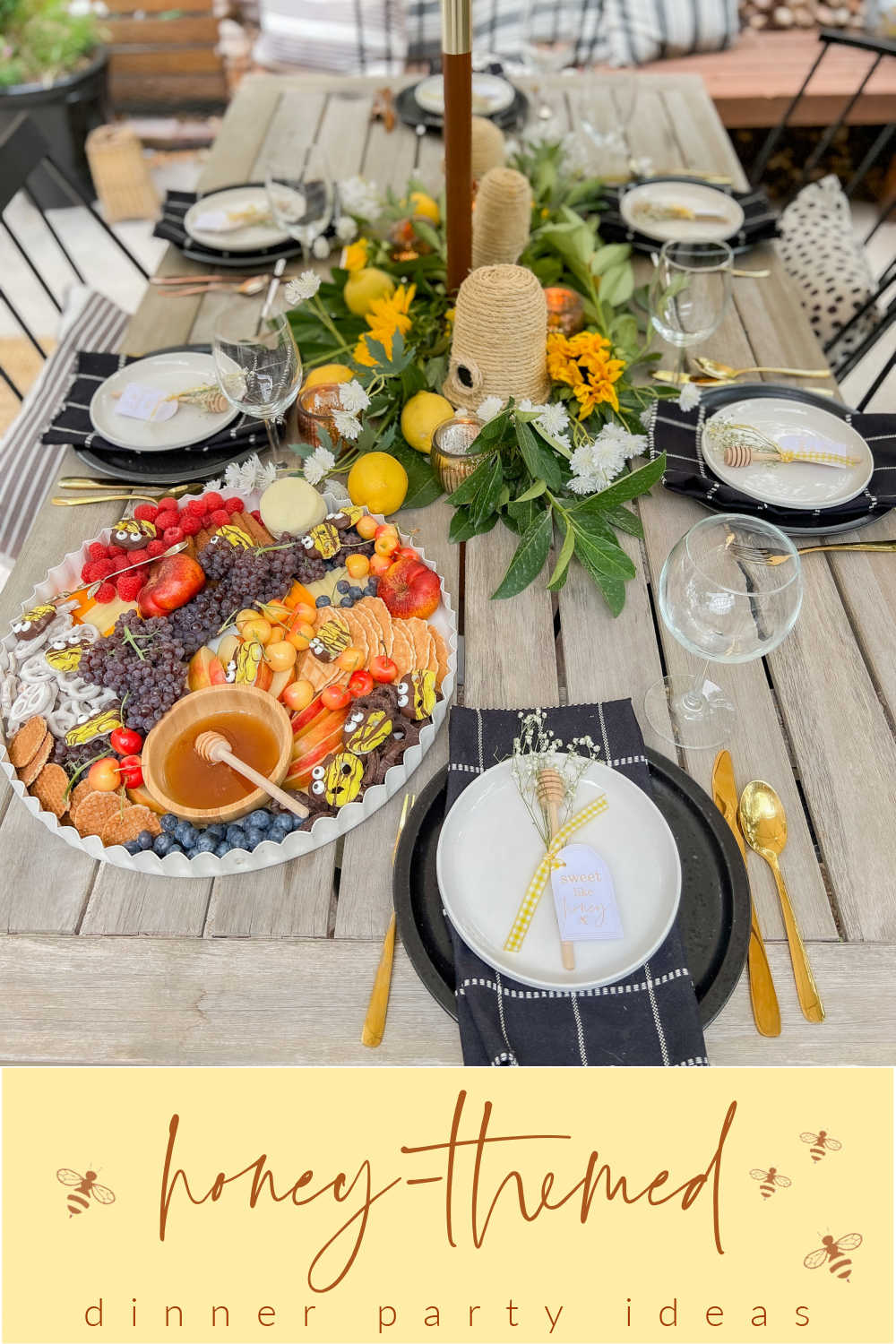 Summer Honey-Themed Outdoor Dining. Celebrate warm weather and summer with a honey-themed dinner, handmade beehives, honey dipper gift and bee-themed dessert board!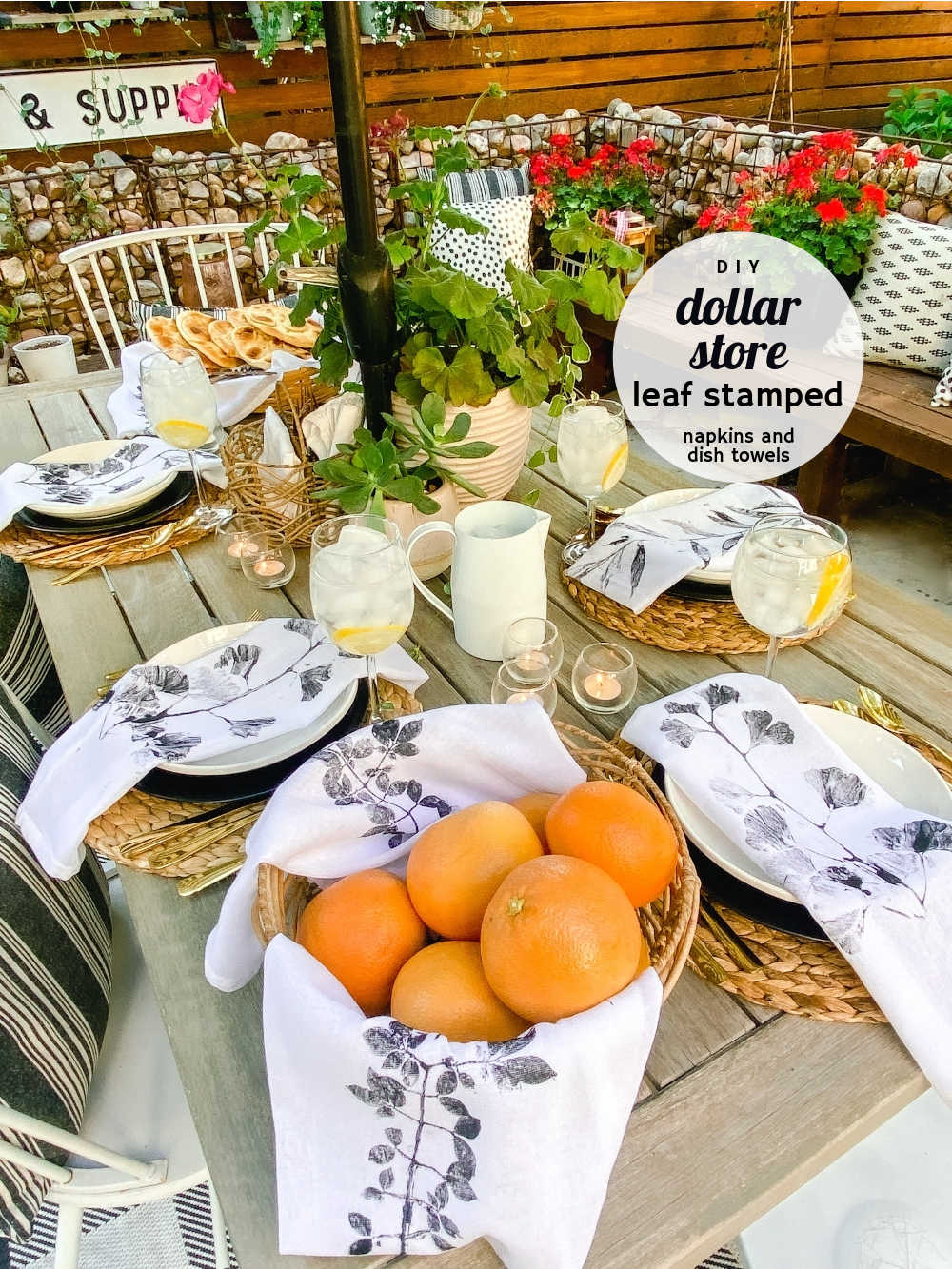 Dollar Store Stamped Leaf Napkins. Dress up your Autumn table by creating DIY stamped napkins with leaves from your neighborhood or a special place!
What kind of table would you use this over the table rod system to create?
Let me know in the comments!
xoxo