Dollar Store Stamped Leaf Napkins. Dress up your Autumn table by creating DIY stamped napkins with leaves from your neighborhood or a special place!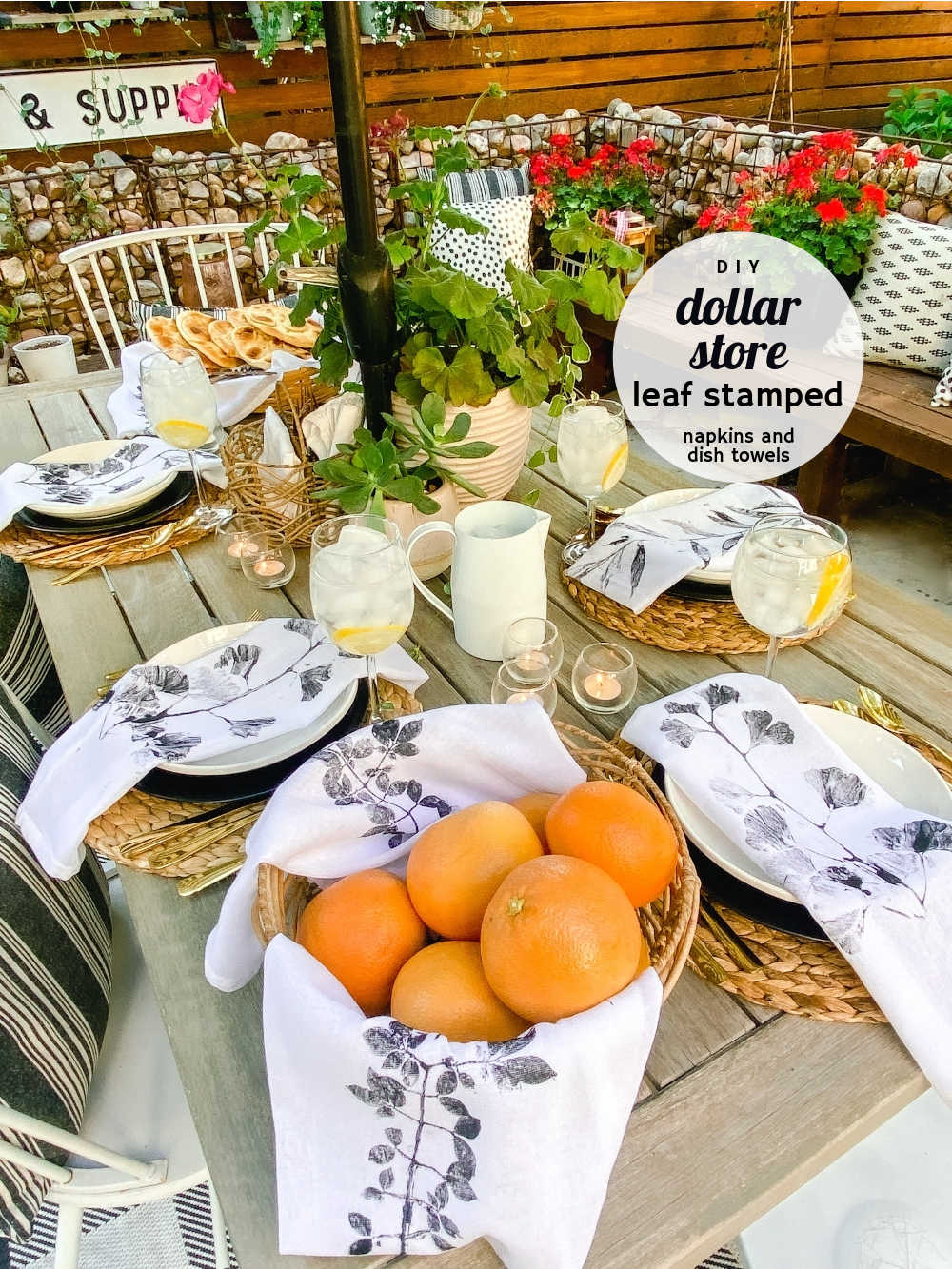 Dollar Store Stamped Leaf Napkins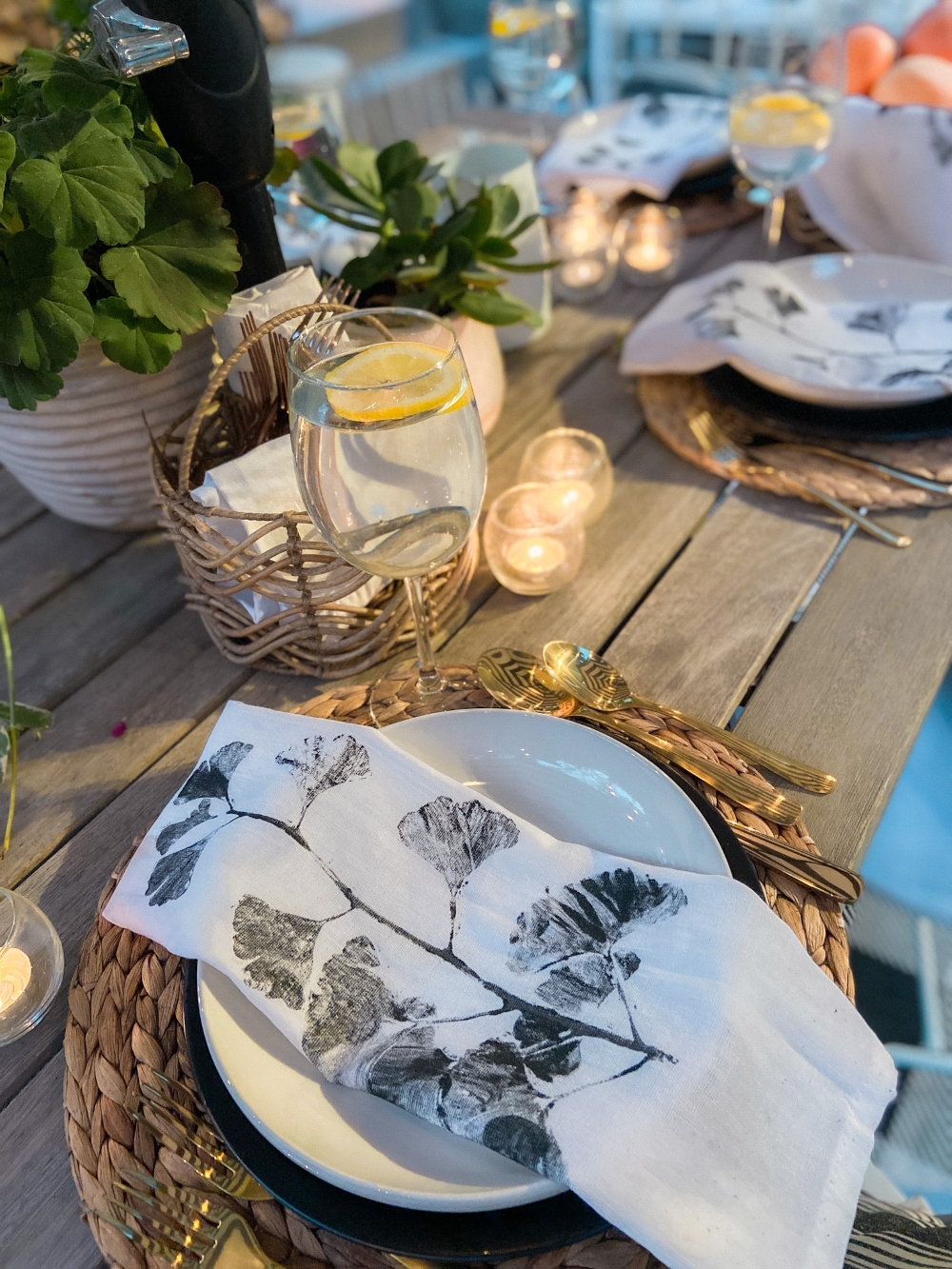 Raise your hand if you love the Dollar Store! It's a great place to get seasonal and basic things to transform on a budget. I've been sharing Dollar Store ideas for over 13 years now and it's one of my favorite types of crafts to create!
Dollar Store Stamped Leaf Napkins and Tea Towels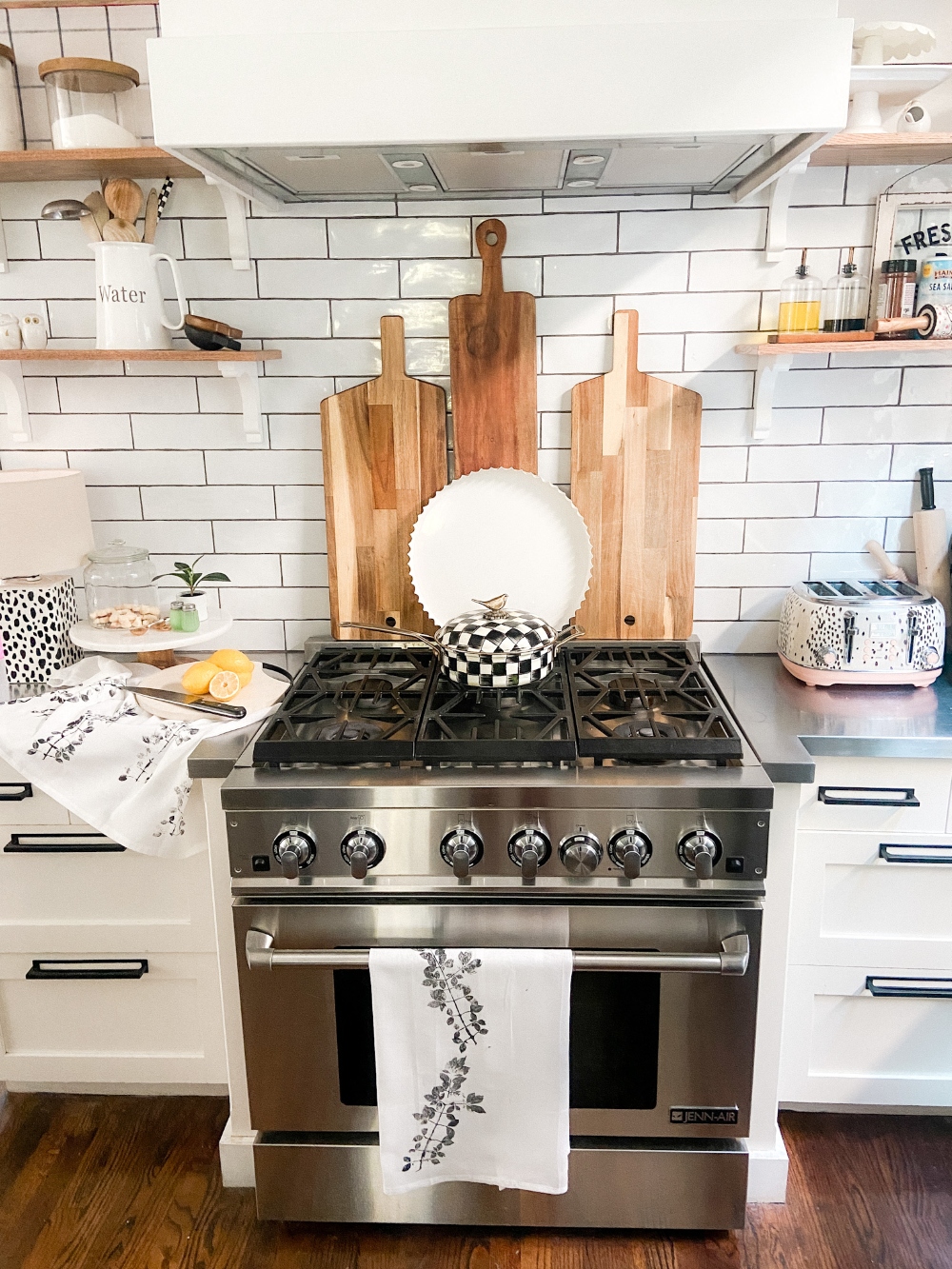 In the Dollar Store (Dollar Tree specifically) you can find really great hemmed flour sacks. They are 30″ x 36″ and the perfect sized dish towel or tea towel! For $1!! I can hardly believe that. I used these flour sack towels and stamped them to use as dish cloths but I also cut them to size to create napkins.
Dollar Store Flour Sacks to Napkins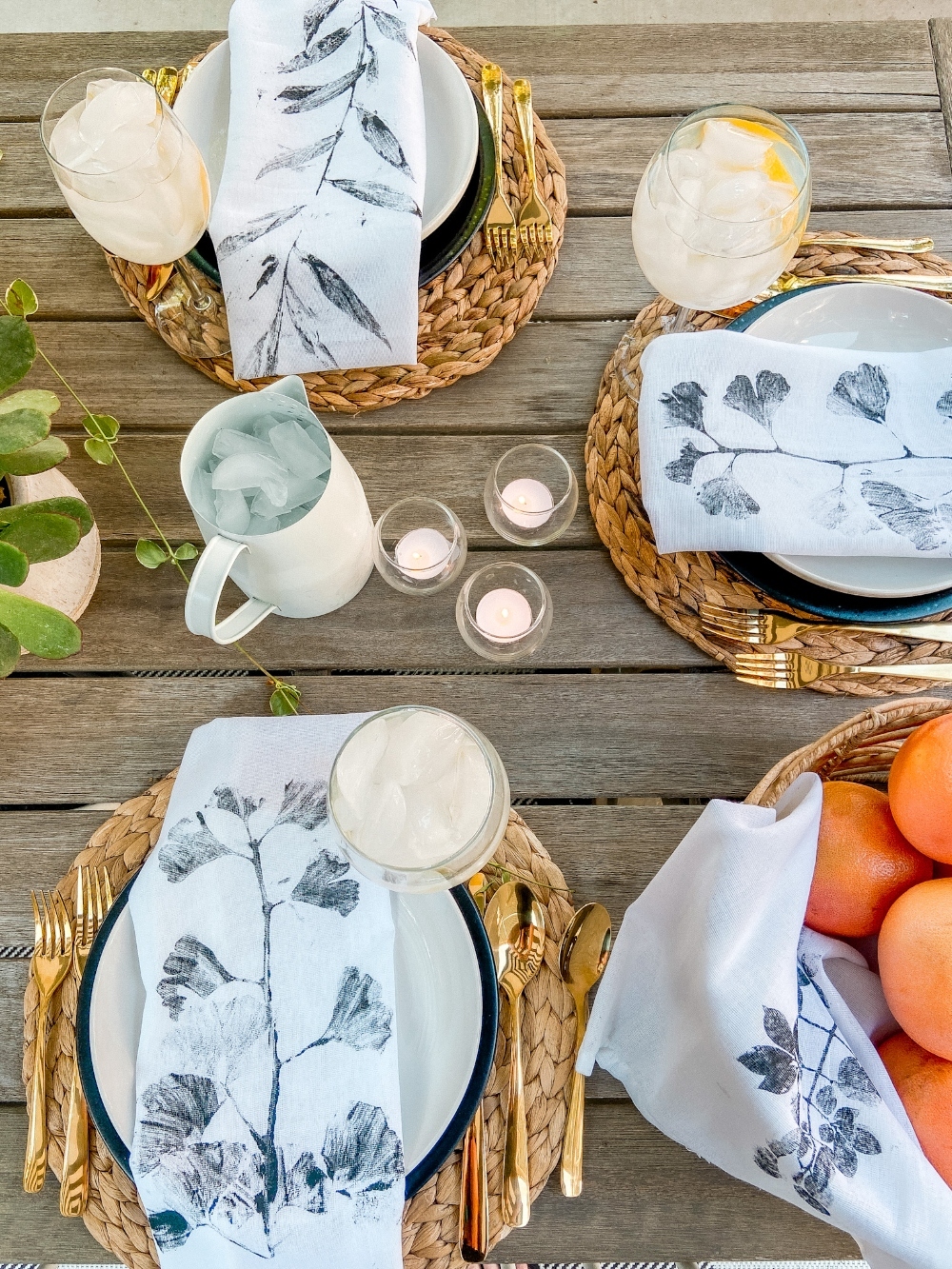 To create napkins, lay the flour sack on your work surface. measure into three sections, cut and hem the edges! Once the towels were cut and hemmed I stamped them to make the prettiest napkins. And at .30 each that is a great deal!
Fabric Crafts with Friends
I love joining my friends to see what kind of projects they share! I think you are going to love all of these projects!
Dress up your Autumn table by creating DIY stamped napkins with leaves from your neighborhood.
Need to make your metal farmhouse bistro chairs comfier? Learn how to sew these simple DIY chair pads with adorable bow ties at the back! These are an easy beginner's sewing project and you can make them to match any decor style.
This easy DIY Burlap Table Runner can be made in less than an hour. I love this farmhouse burlap table runner made with burlap fabric and a paint roller.
How to Make a Pom Pom Pillow

Description: This easy DIY fabric project turns a plain linen towel into a pretty kitchen towel with a French Queen Bee print. Learn how to paint on fabric using a laser stencil in this easy tutorial.

URL: https://happyhappynester.com/how-to-paint-on-fabric-with-stencils
What Supplies Do You Need to Stamp Leaves on Fabric?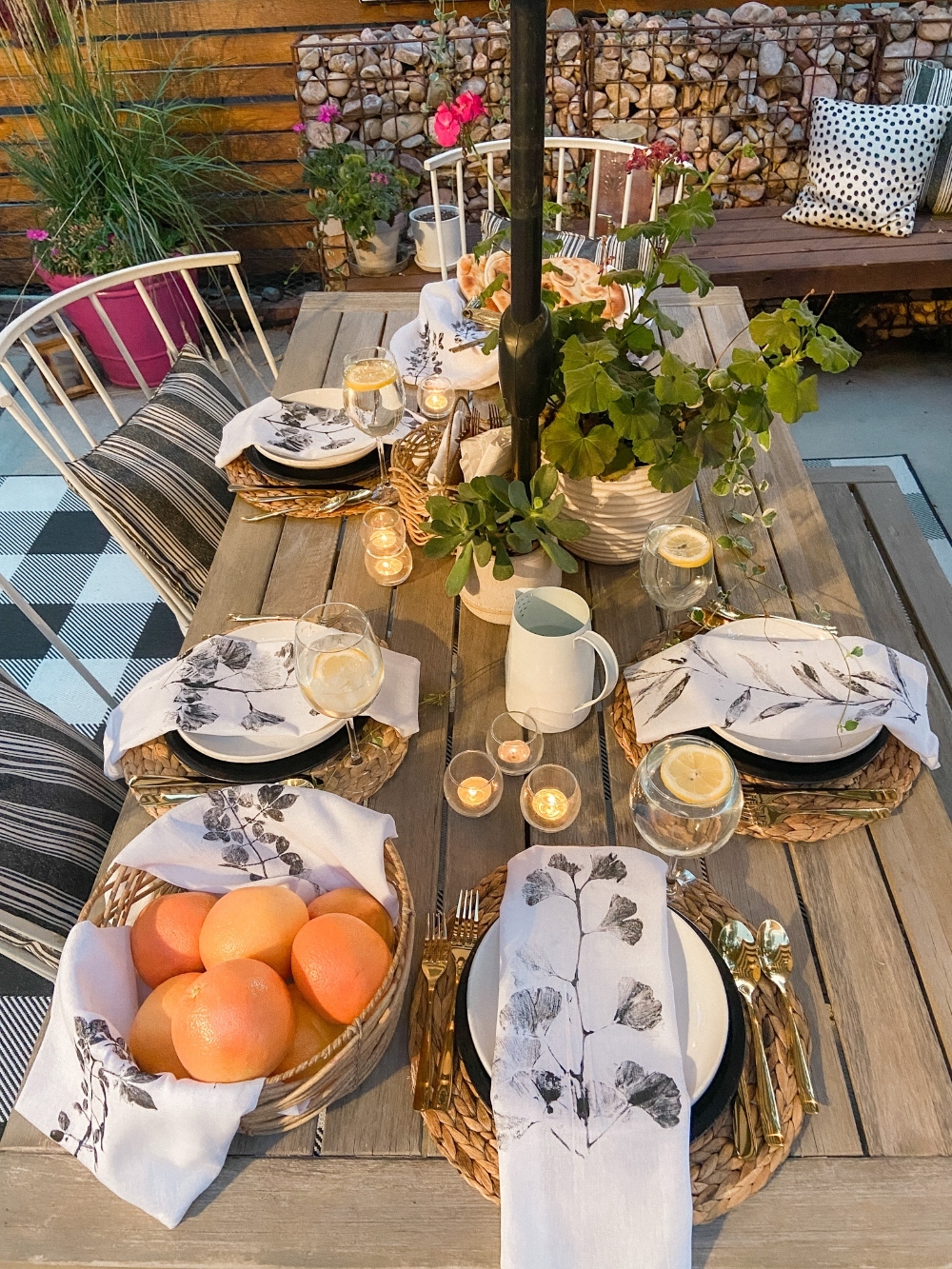 You only need a few supplies to create this easy craft!
Flour Sack Cloths Mine are from Dollar Tree but I linked some that are also $1 from Amazon.
Paper Towels
What Kind of Leaves Can Be Used to Stamp?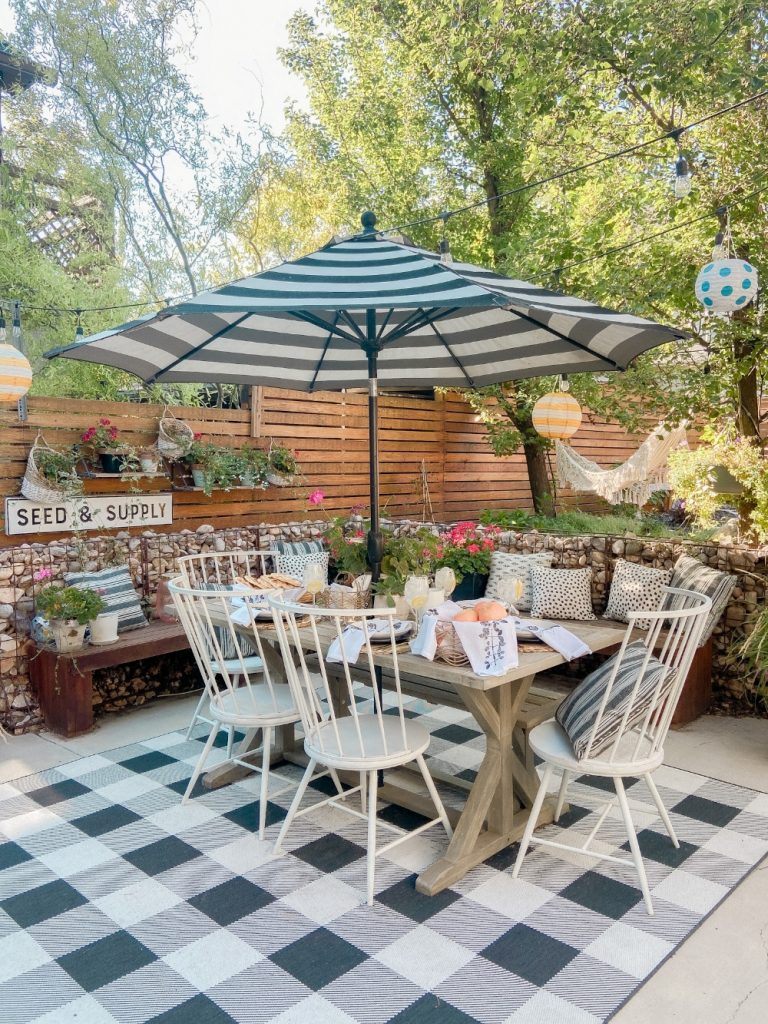 One of the reasons I chose this idea is the trees we have in our Avenues neighborhood. Our neighborhood is 150 years old and the trees are AMAZING! There are so many different varieties. One of my favorite hobbies is walking along our neighborhood streets, admiring the trees and flowers and the old houses! I chose a few leaves from my yard and my neighbor's yard for this project. NOTE — something I discovered as I was stamping is leaves that have a sturdy stem do better than leaves that are kind of delicate.
How to Stamp Leaves on Dollar Store Flour Sacks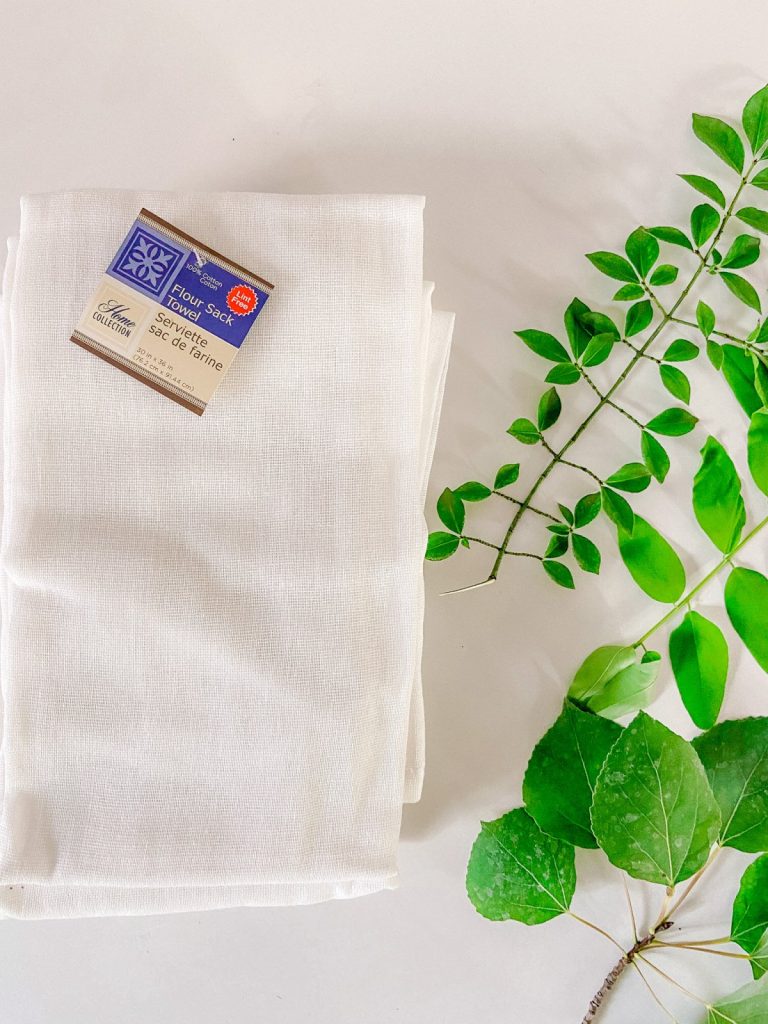 Gather your supplies — flour sack towels, leaves, fabric paint, brushes and paper towels.
Gather Your Supplies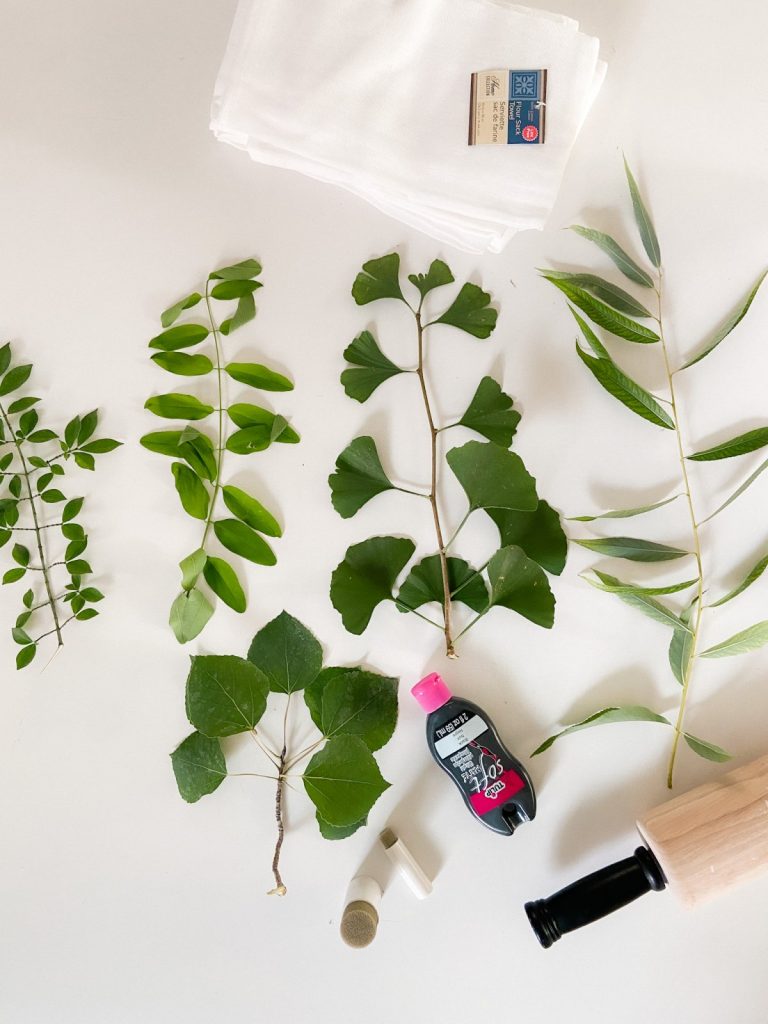 Lay a couple of layers of paper towels down on your work surface.
Put Your Leaf on Paper Towels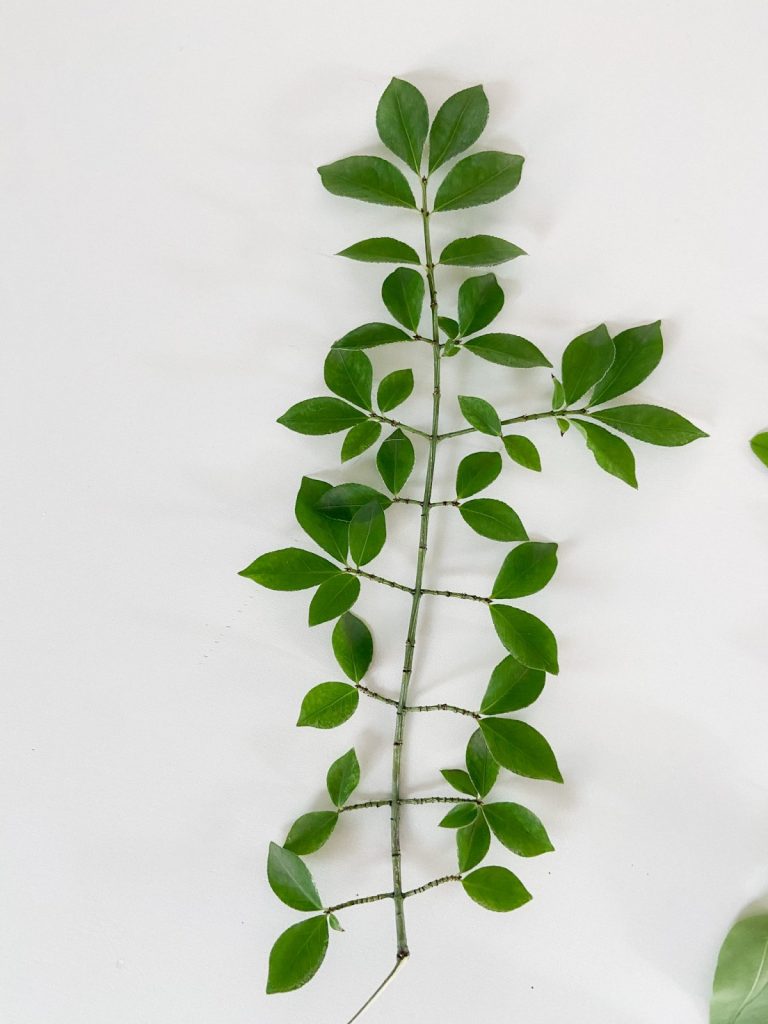 Lay your leaf or stem on top of the paper towel with the back side of the stem showing. You want to paint the underside of the leaf or stem because that is where the veining is.
Paint Your Leaf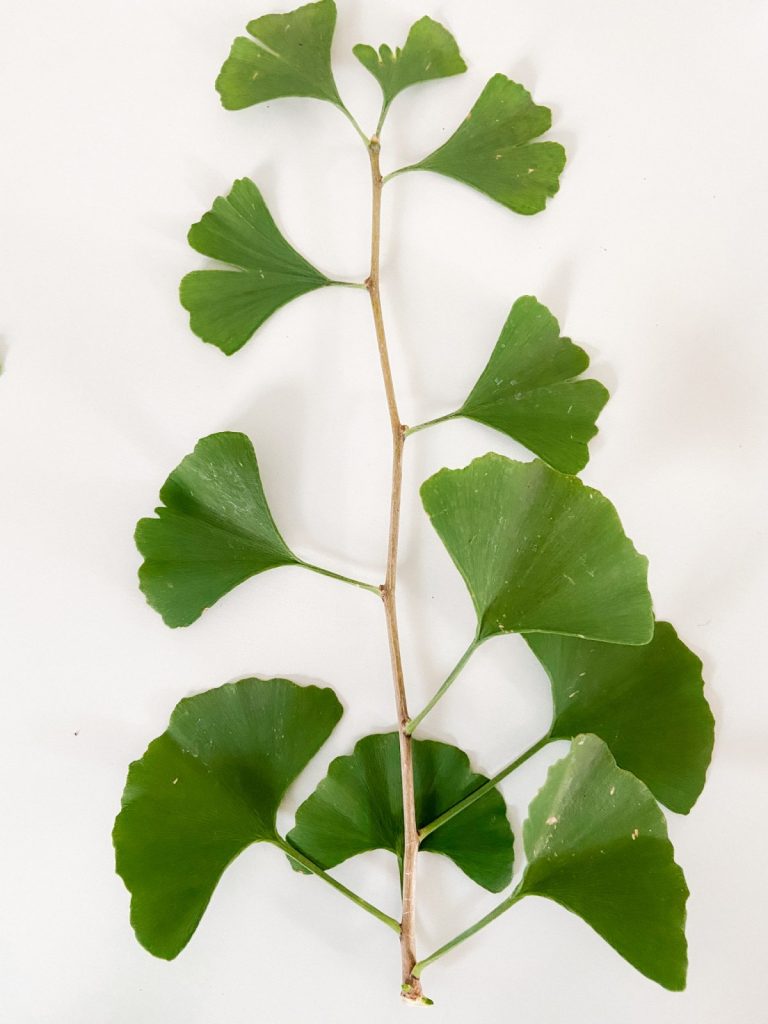 Use a sponge or small paint brush to paint the stem and leaves. Use a thick layer so it doesn't dry out before you have the whole stem painted.
Lay Wet Leaf on Fabric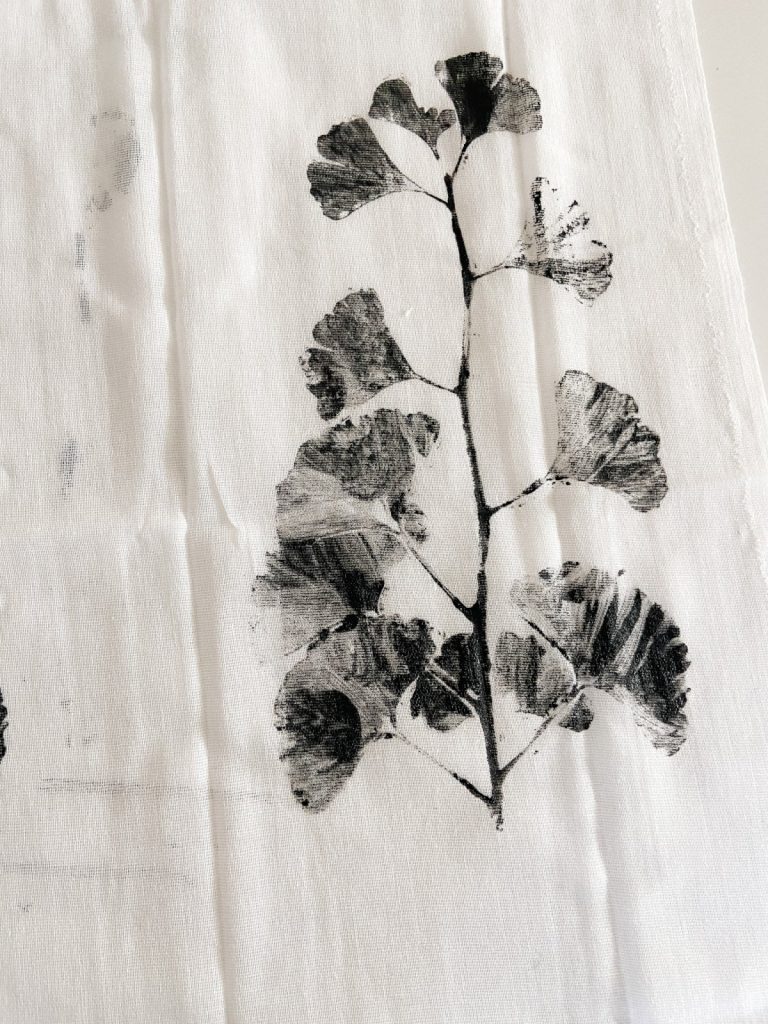 Add three layers of paper towel in a different space. Then lay the flour sack material on top of the paper towel. Flip the stem or leaf over and put it where you want it to go on the fabric, face down with the painted side down on top of the fabric.
Cover with Paper Towel and Roll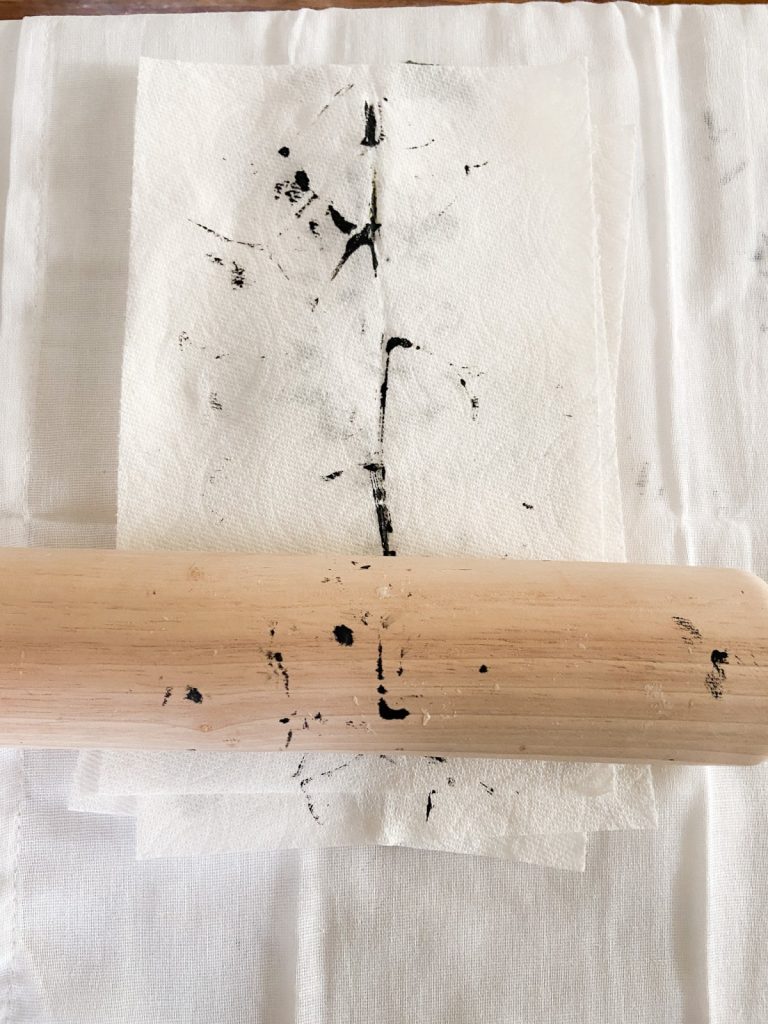 Lay two pieces of paper towels on top of the stem of leaf and use your rolling pin to roll it onto the fabric. I held onto the bottom of the stem as I did this so the stem didn't move around on the fabric.
Peel Leaf off Fabric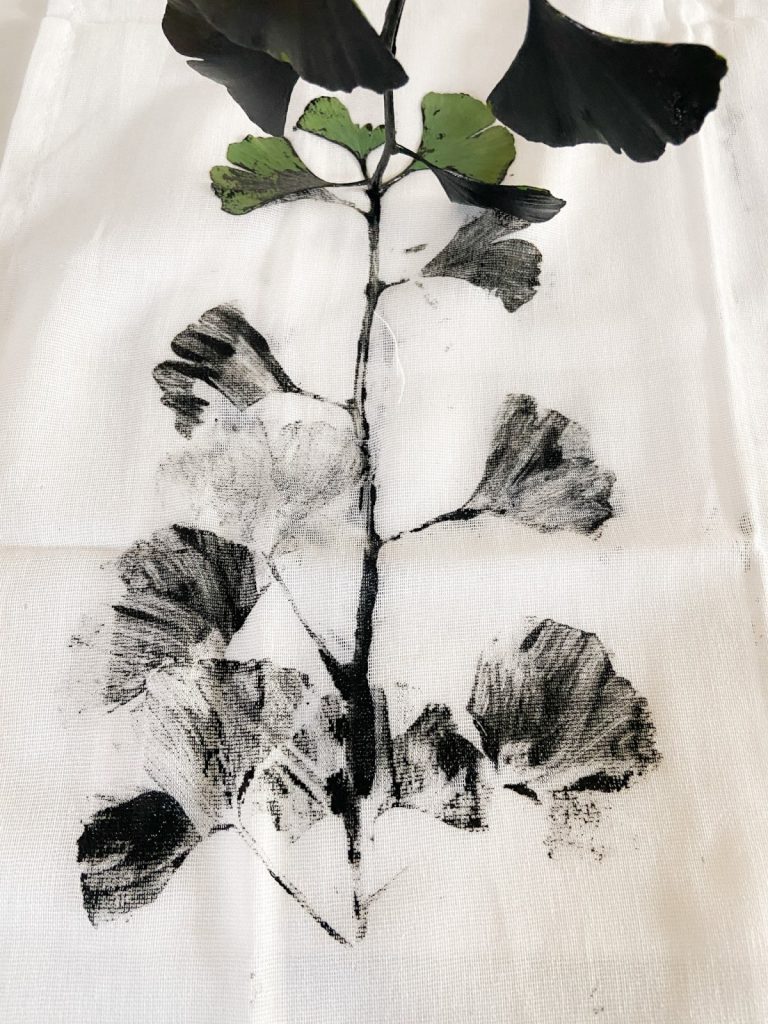 Take the paper towels off and gently peel the stem up from the fabric.
Let Fabric Dry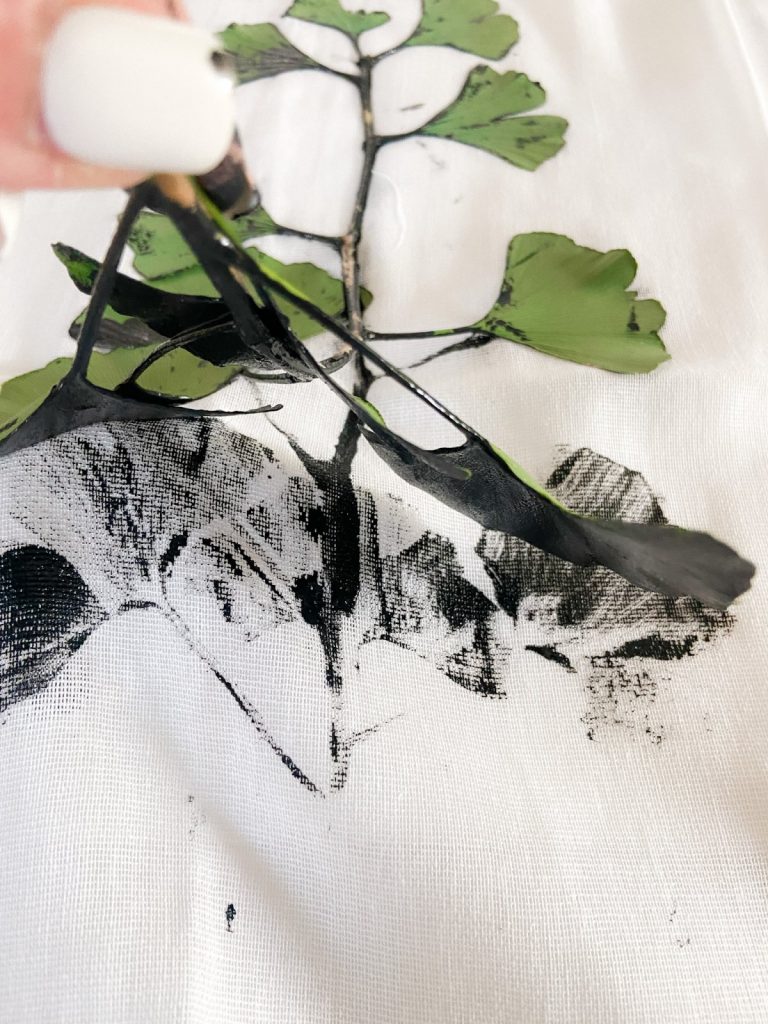 Put the wet towel on newspaper and let it dry. After it is dry, iron to set the paint.
Dollar store Stamped Dish Towel Gift Idea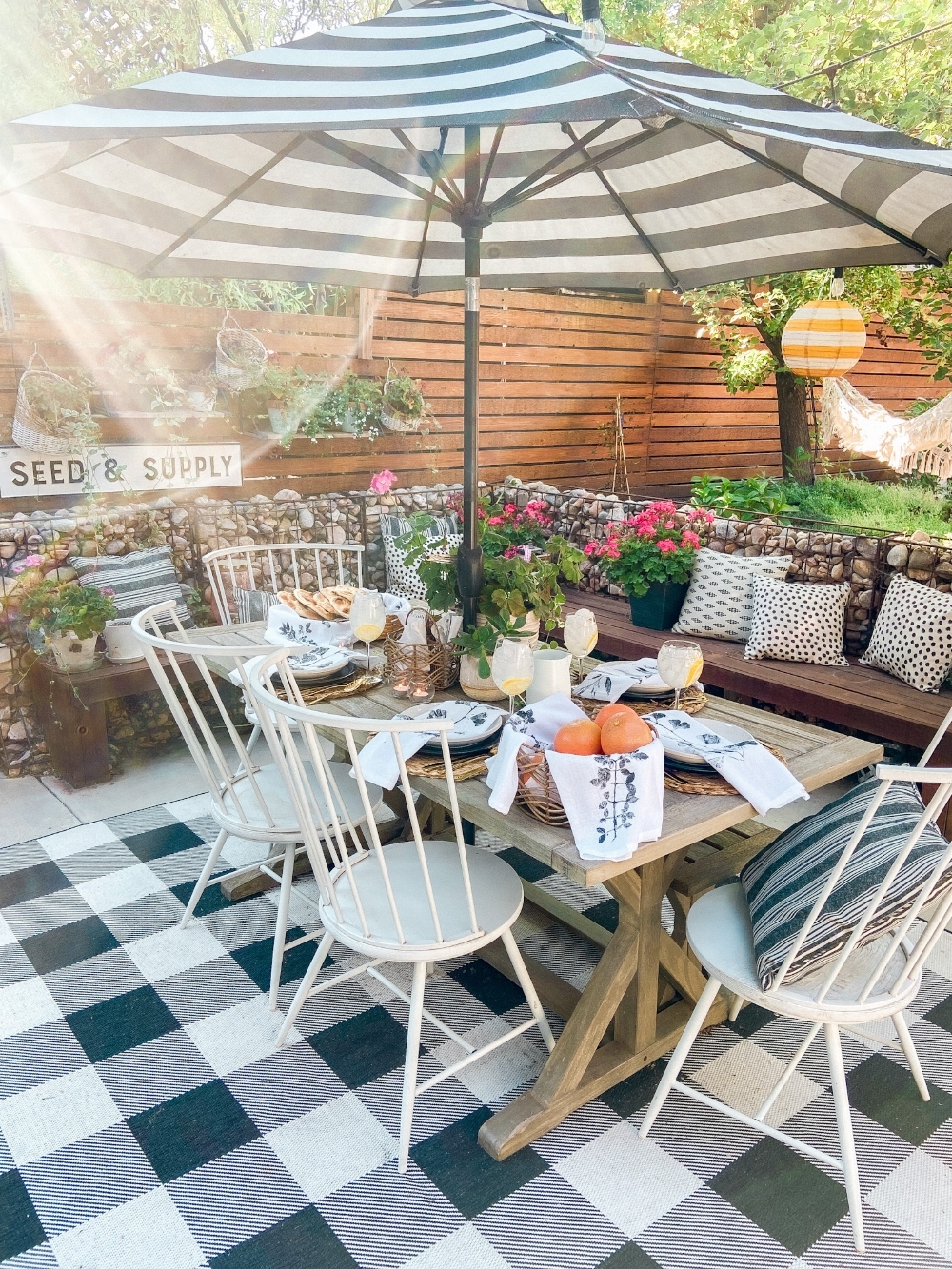 These four sack cloths are also perfect to give as gifts! How adorable would it be to make one for a couple who just bought their first house with leaves from their new home or neighborhood?? Make a custom dish cloth and wrap a loaf of freshly baked bread for the perfect housewarming gift!
More DIY Fabric Crafts
Here are a few other fabric ideas that are fun to make!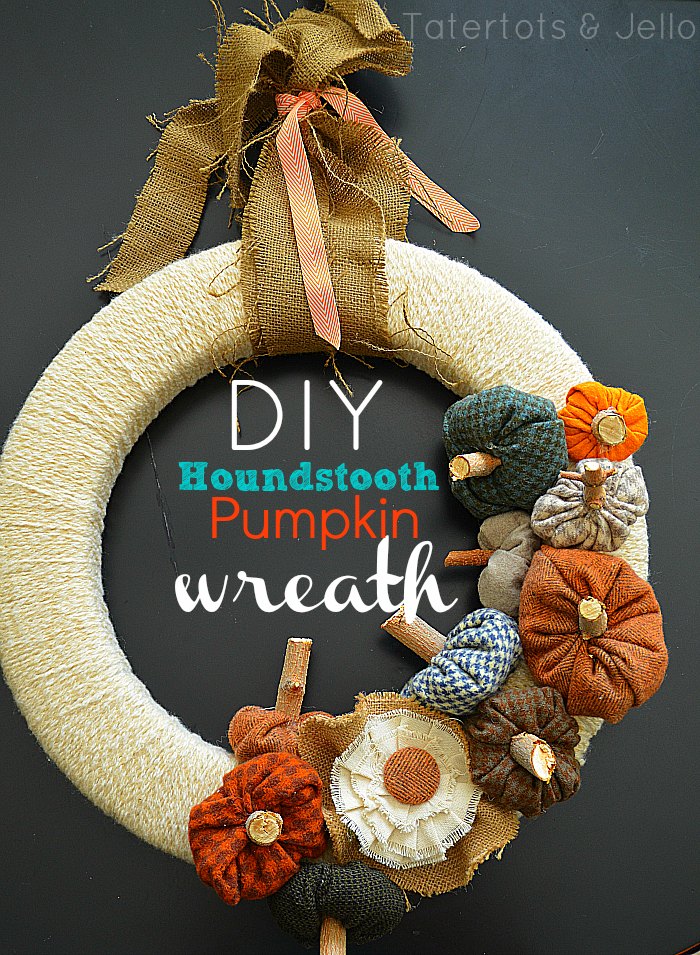 This is one of my favorite fall wreaths I've made! Houndstooth Pumpkin Wreath. Turn leftover fabric into a textured wreath for fall!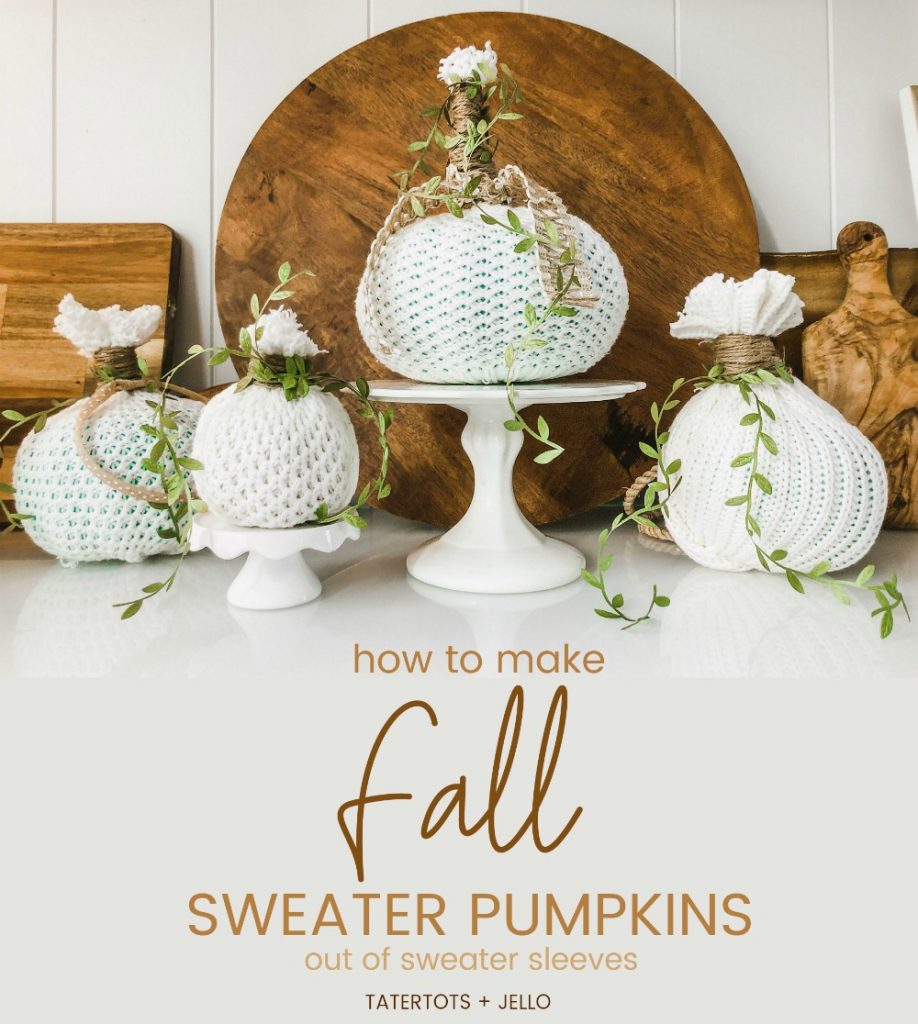 These might be one of my favorite pumpkin DIY's ever. I love how the white pumpkins with green vines looks so fresh for fall. I think they're the perfect transition from Summer to Autumn!
What Projects are You Making for Fall?
xoxo