This is a sponsored post written by me on behalf of Hobby Lobby. All opinions are 100% mine.
DIY Beehives and Beehive Backyard Inspo! Create cute and inexpensive beehives, add beehive pillows and create a hanging basket garden for a beautiful summer patio!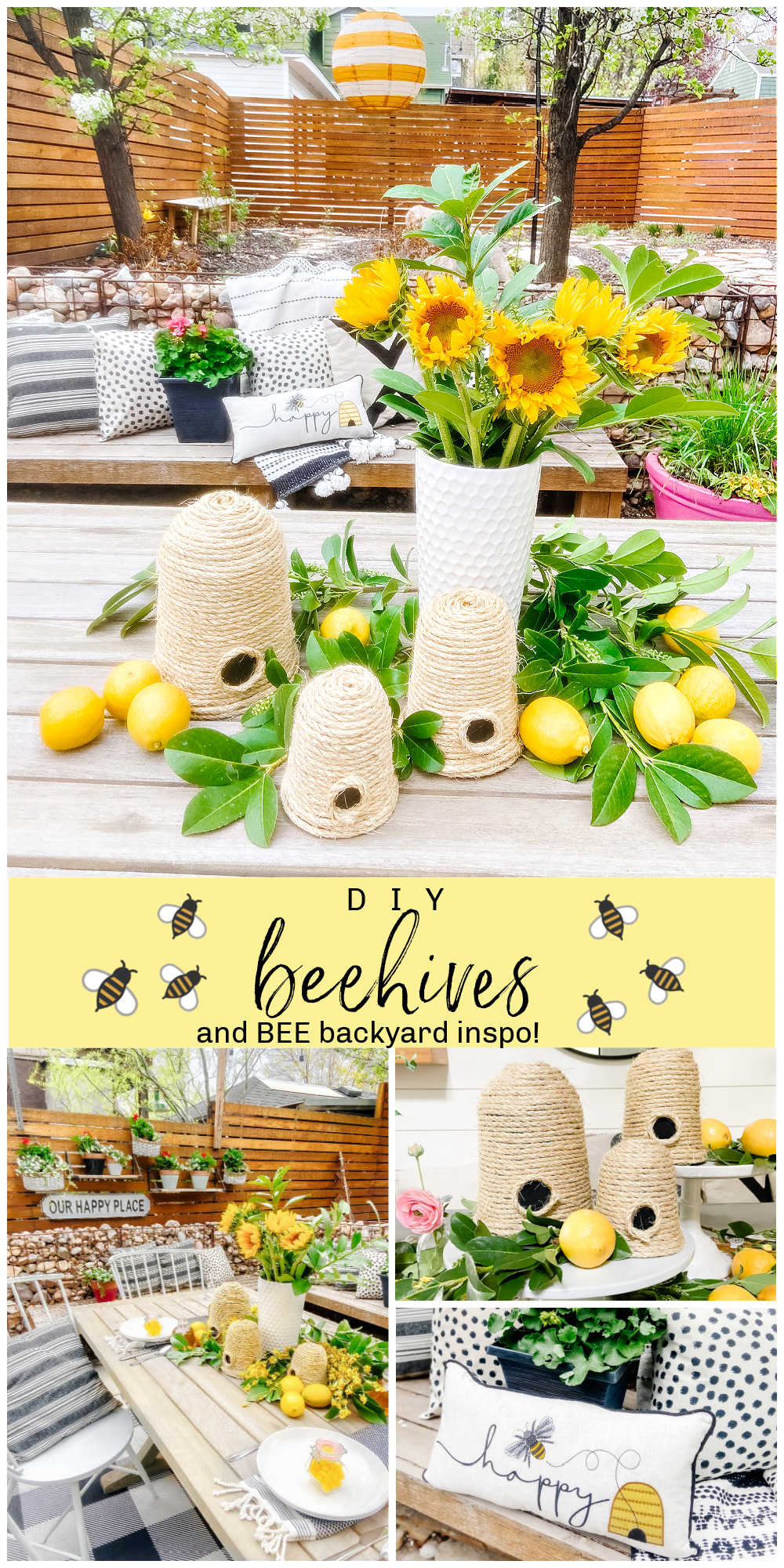 DIY Beehives and Beehive Backyard Inspo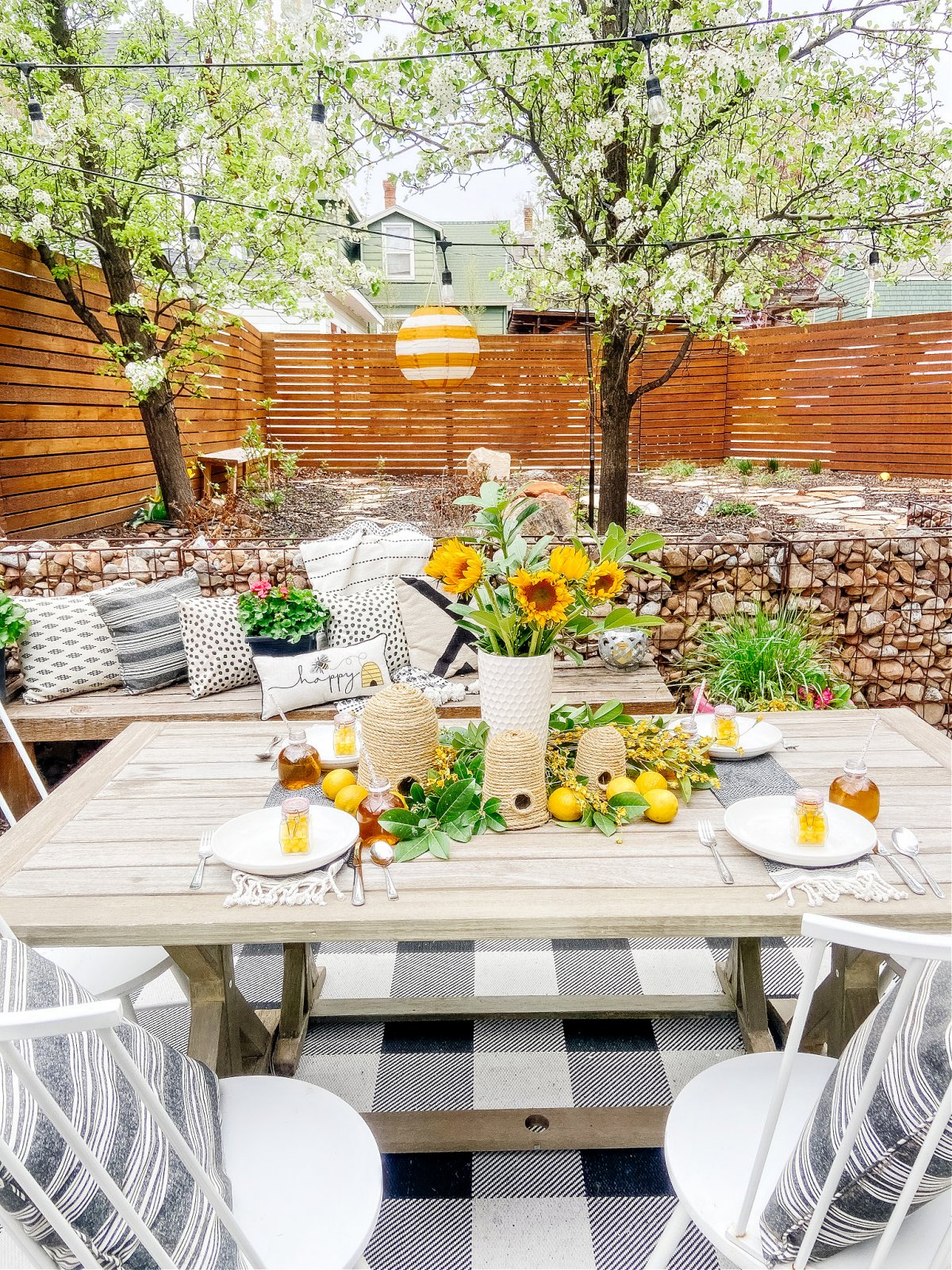 DIY Beehives and Backyard Inspo
I get so excited when it starts to warm up in the spring! One of the ways I know spring is near is we start seeing bees in our blooming backyard trees! This year I was inspired by the cutest pillow at Hobby Lobby to create a little "beehive" theme on our backyard patio for my daughter's birthday!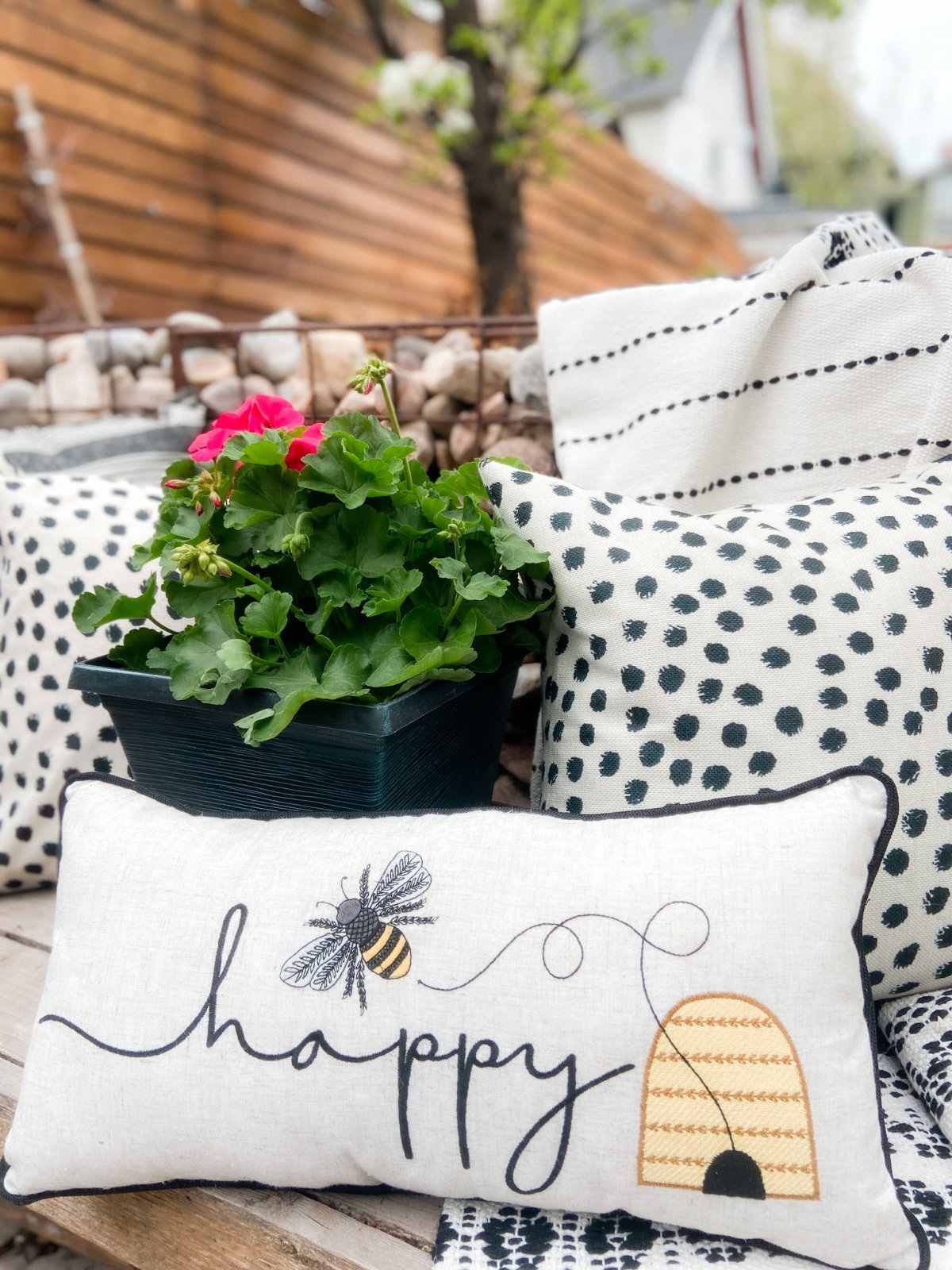 There are also more bee pillows in the Spring Shop!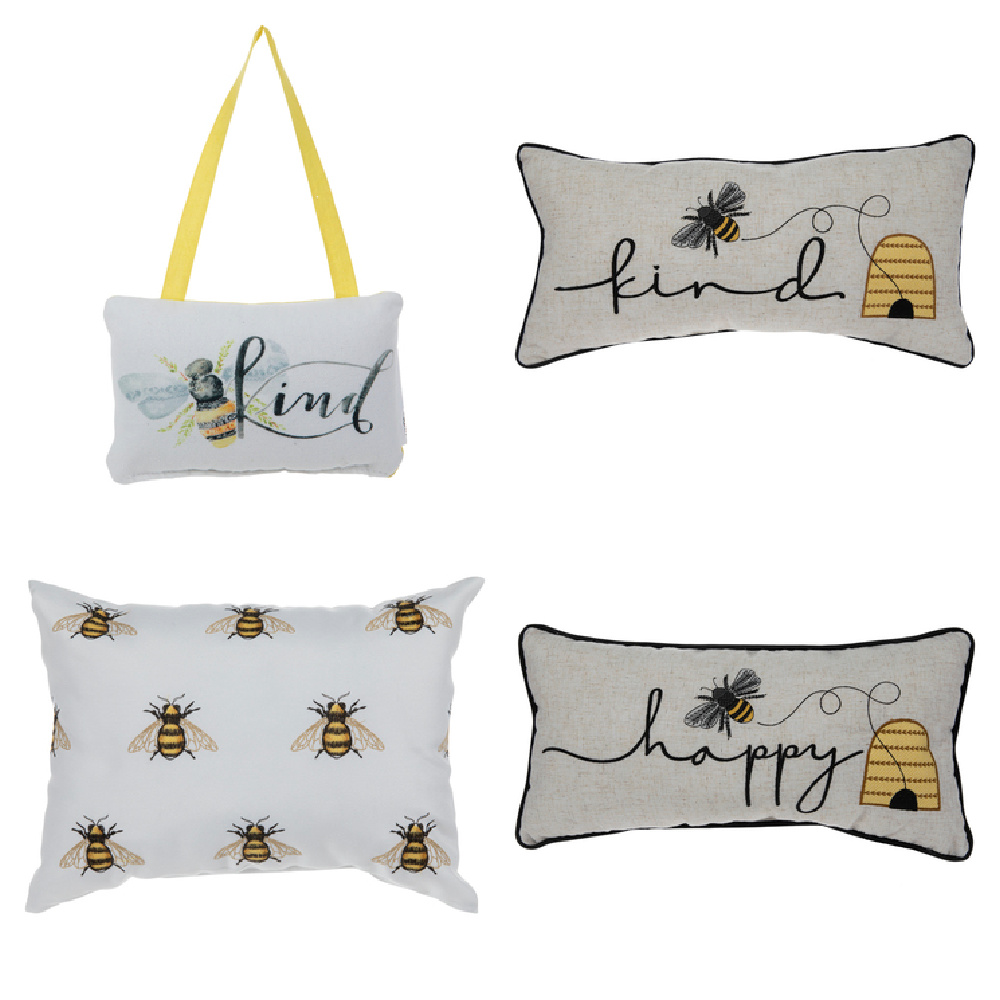 DIY Beehive Skeps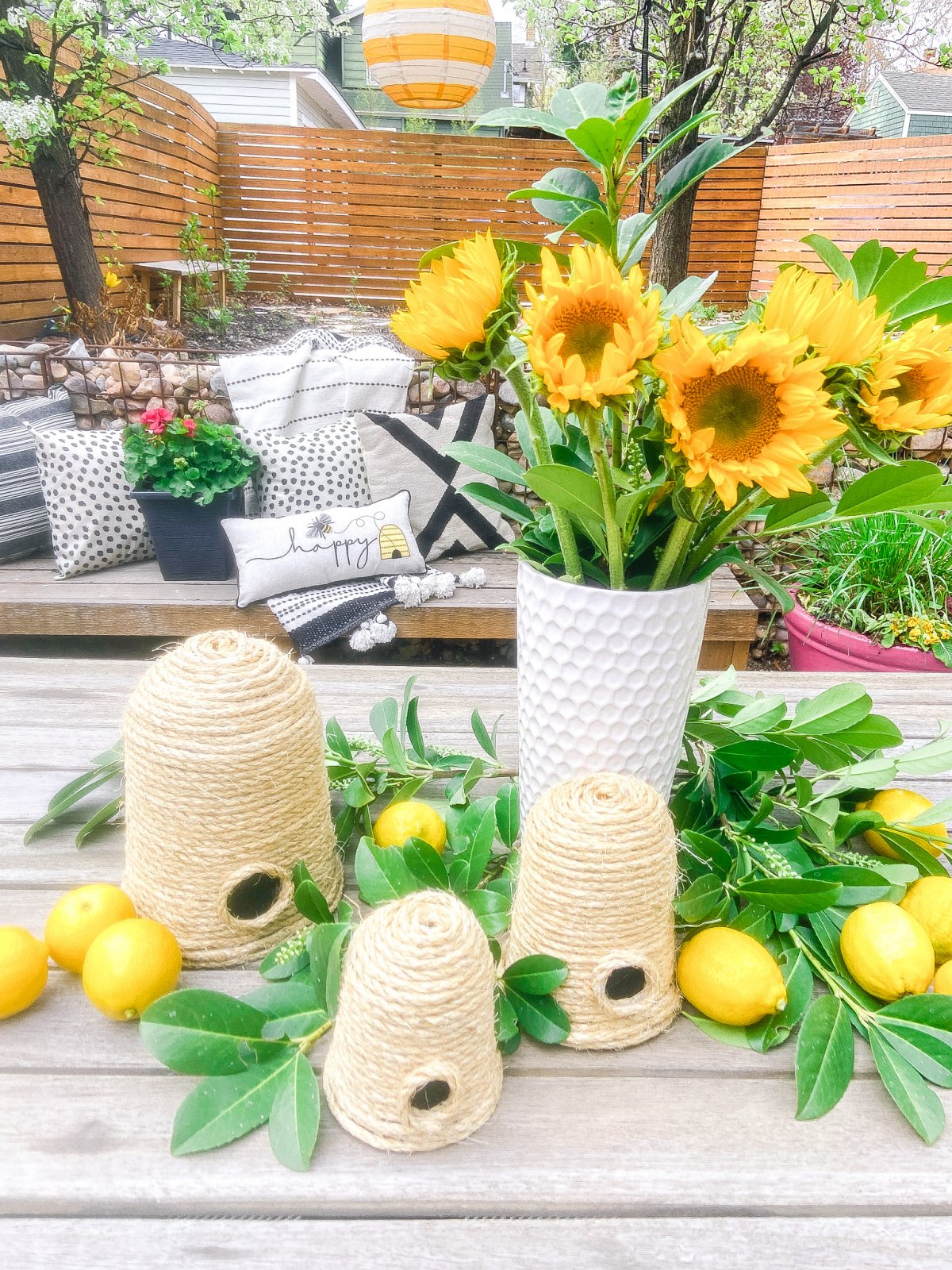 Did you know that beehives are actually called "skeps"? A skep is a middle eastern word for a basket made out of upturned straw baskets under which bees form their naturally curvy honey comb. Isn't that interesting? I think the shape of skeps or beehives is so pretty! And since I live in Utah, and we are "the beehive" state, I thought it would be fun to create a beehive-themed patio at our 1891 historic home!!
What Supplies Do You Need to Make a Beehive?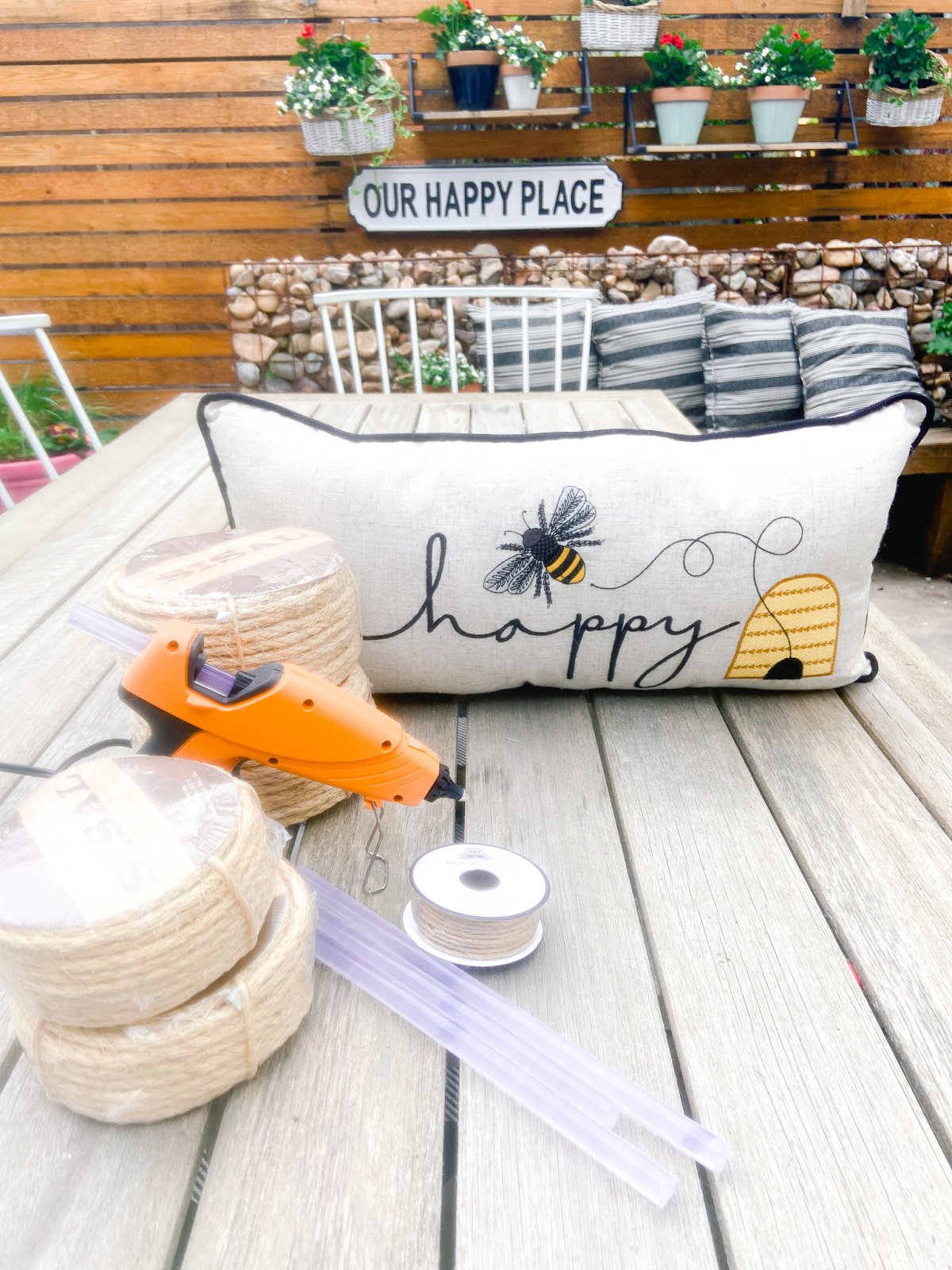 For this tutorial I kept it really simple! The only supplies you need are a plastic pot, a plastic bag, painter's tape, hot glue gun, black felt or black cardstock and twine! Hobby Lobby has three different colors of twine. I used the honey-colored twine. The twine is available in three two different sizes — 50 yard rolls and 100 yard rolls.
How to Make DIY Beehive Skep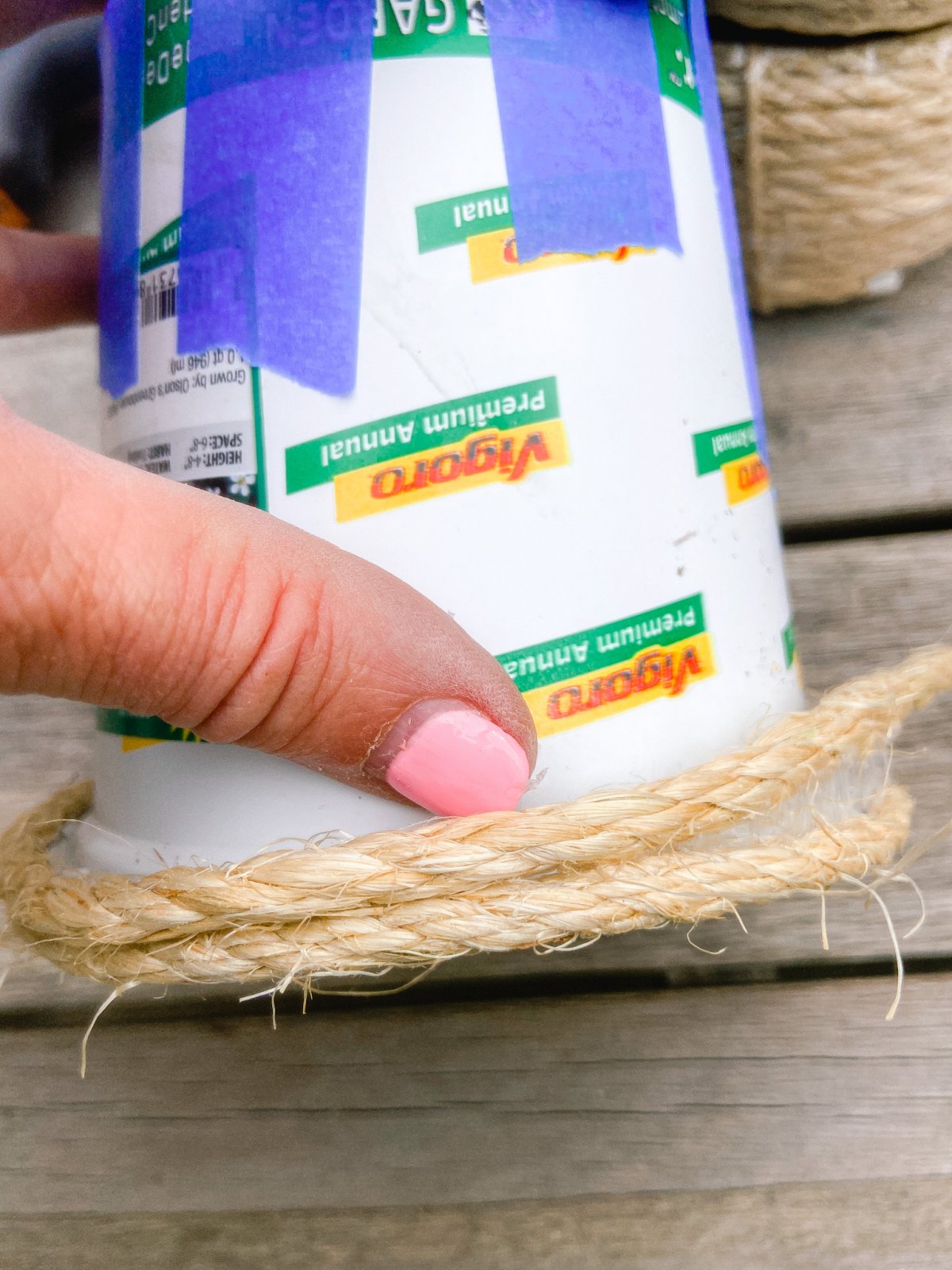 Flip your pot upside down, so the opening side is facing your work surface.
Fold the plastic bag into a circle and put it on top of the pot. Then tape the sides down to attach it to the pot.
Now add a dab of hot glue at the bottom rim of the pot and attach one end of twine. Then run a bead of glue around the outer edge of the pot and attach the twine. Hold the twin down to the pot as you go to make sure it adheres evenly.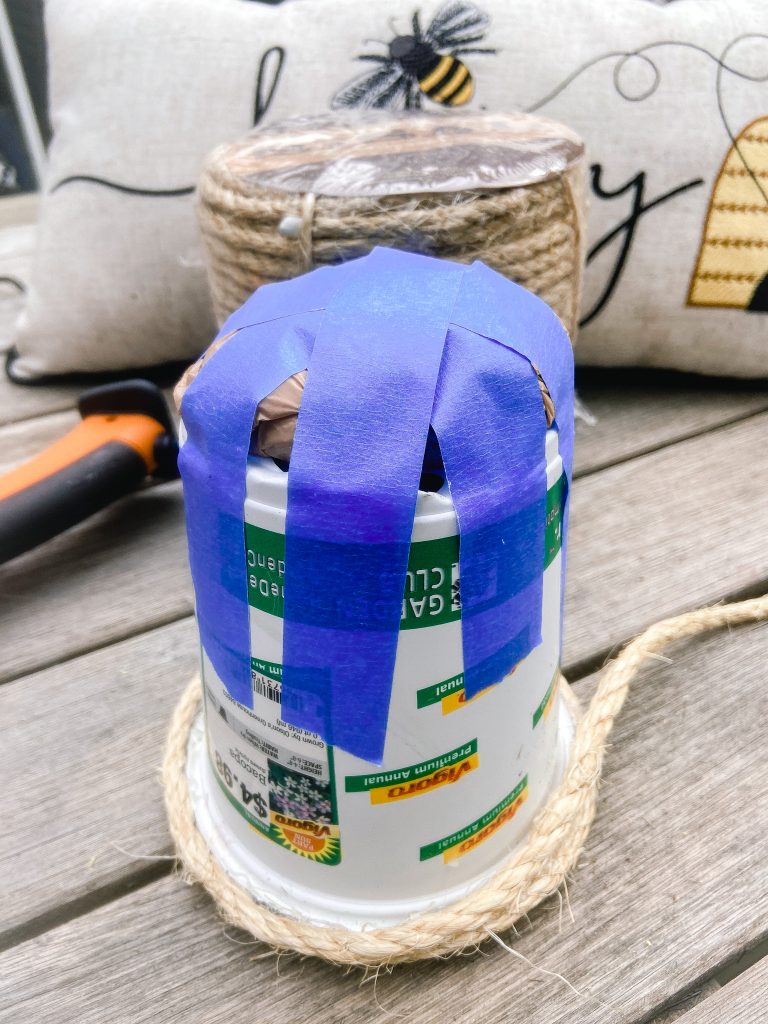 Once you have gone around the entire outside rim, keep gluing the twine and wrapping it around the pot, working your way to the top of the pot.
As you wrap the twine, hold it firmly against the glue so that it attaches evenly and press down toward the wrapped sections so that there are no gaps.
When you get to the top of the pot, keep wrapping until there is a very small opening.
Cut the twine about 2 inches from the small opening, add hot glue to the opening and tuck the cut edges into the opening.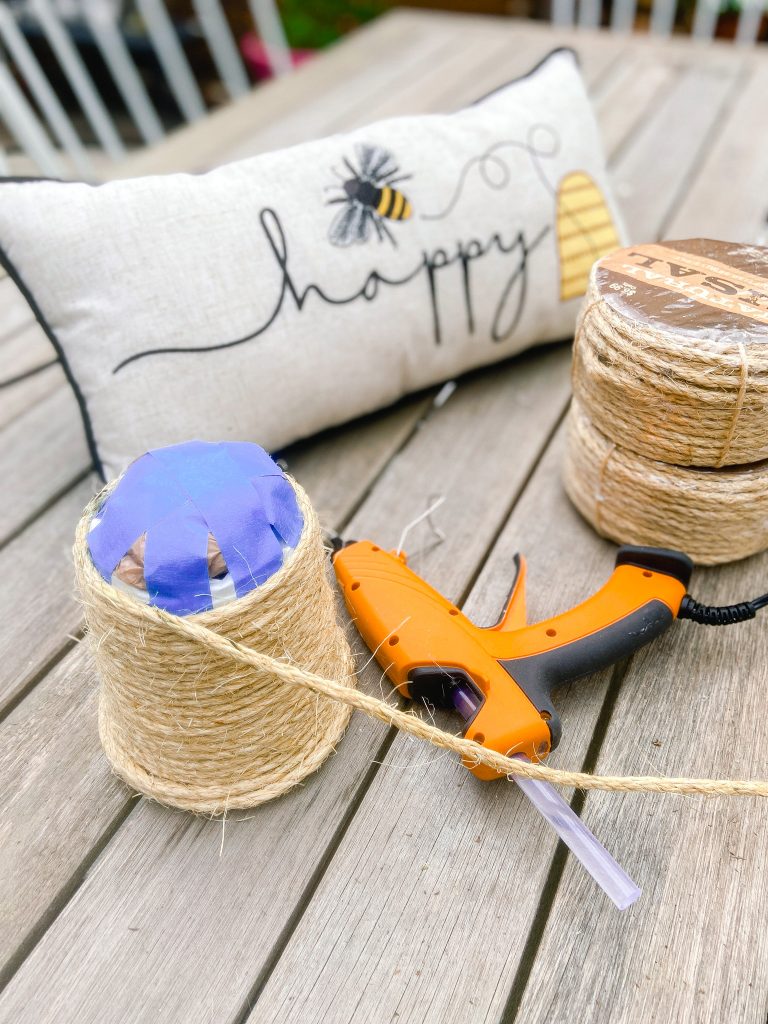 Make beehive opening – cut a small circle out of the felt. Attach the circle to the middle bottom of the beehive. Take a 8 inch piece of twine and hot glue it, wrapping it around the opening twice. Trim excess and hot glue the cut edge down.
Make a Hanging Basket Garden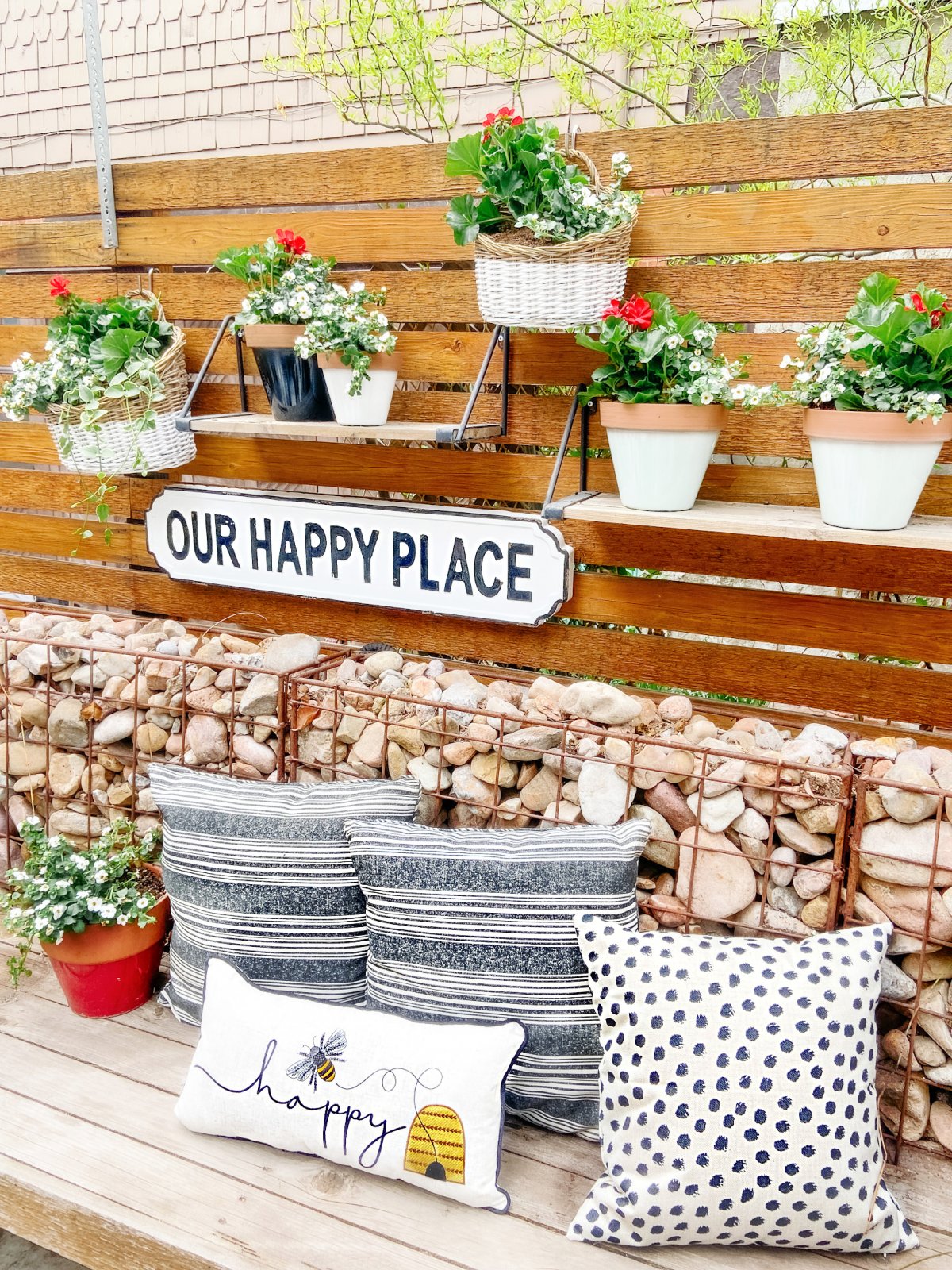 Another project I made for my beehive patio is a hanging garden against the fence near our eating area. Since our patio is small, I love the idea of hanging flowers on the fence! And fresh flowers bring real bees!
Use Plastic Pots to Add Color to Your Patio Fence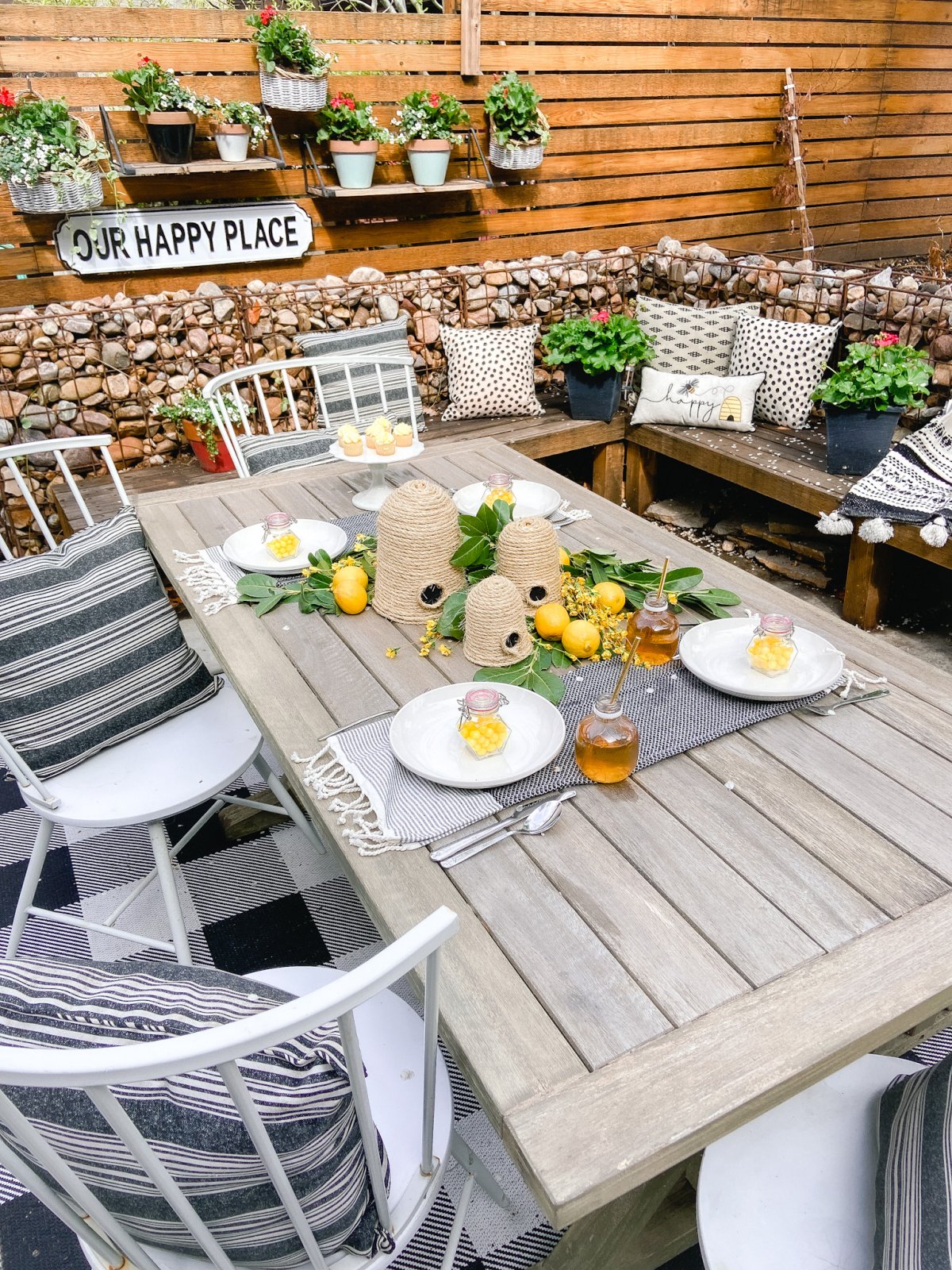 I used plastic flower pots from the Spring Shop on my shelves. I had some enamel pots on the shelves last year and the squirrels knocked them all off last year! So I decided plastic pots made more sense. I love the ones in the Spring Shop. The come in all kinds of colors.
Hang Plants in Dipped Wicker Basket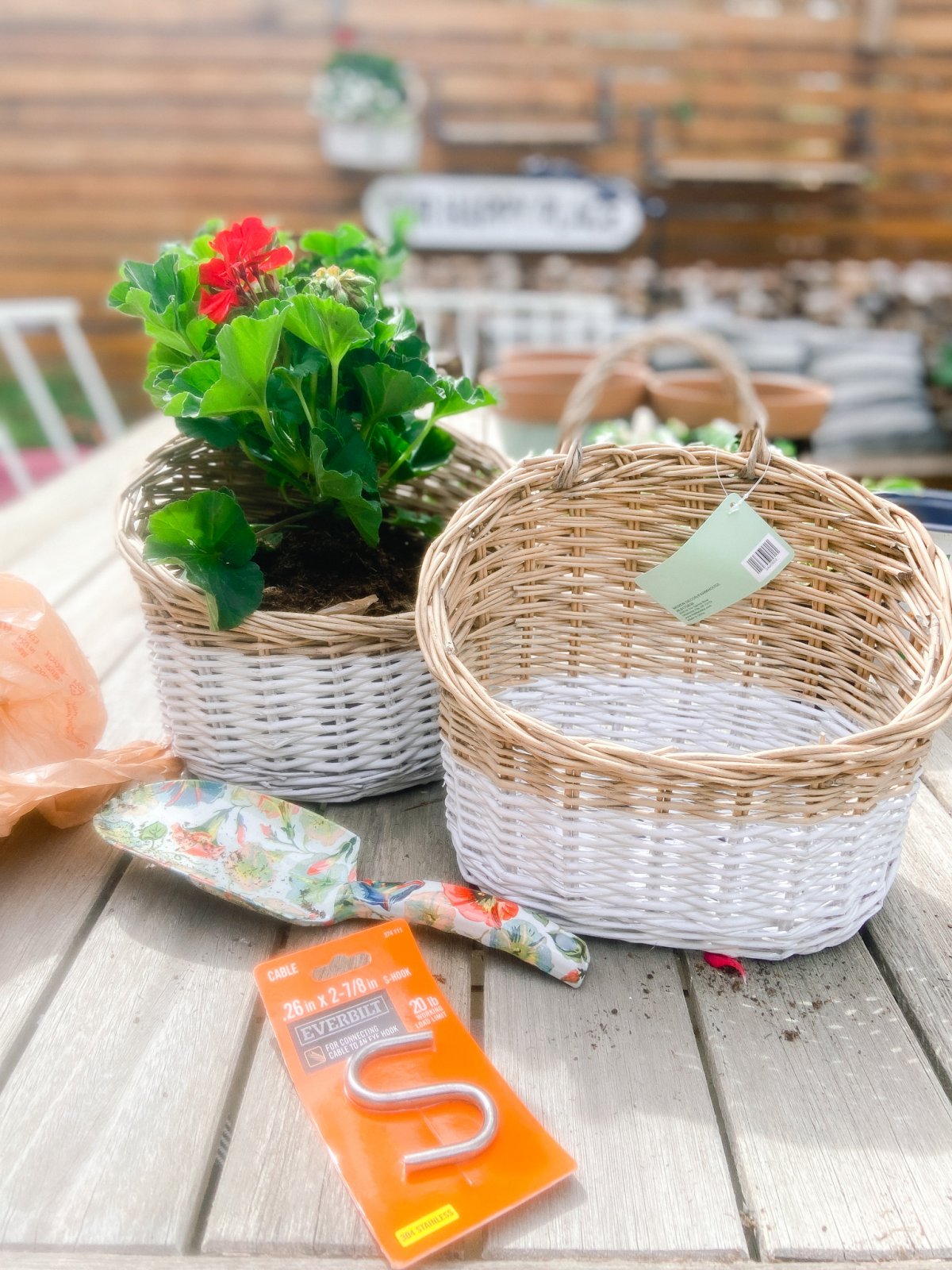 I also used the prettiest dipped baskets that are also in the Spring Shop. I potted live flowers inside. All I did to do that was I lined the bottom with two plastic bags and then put the flowers inside. It's so hot in Utah that I need to keep all of the drainage inside to keep the plants alive. But if you are in a more humid climate, you can add some grave to the bottom of the bags to give the roots some drainage.
Make a "Beehive" Themed Tablescape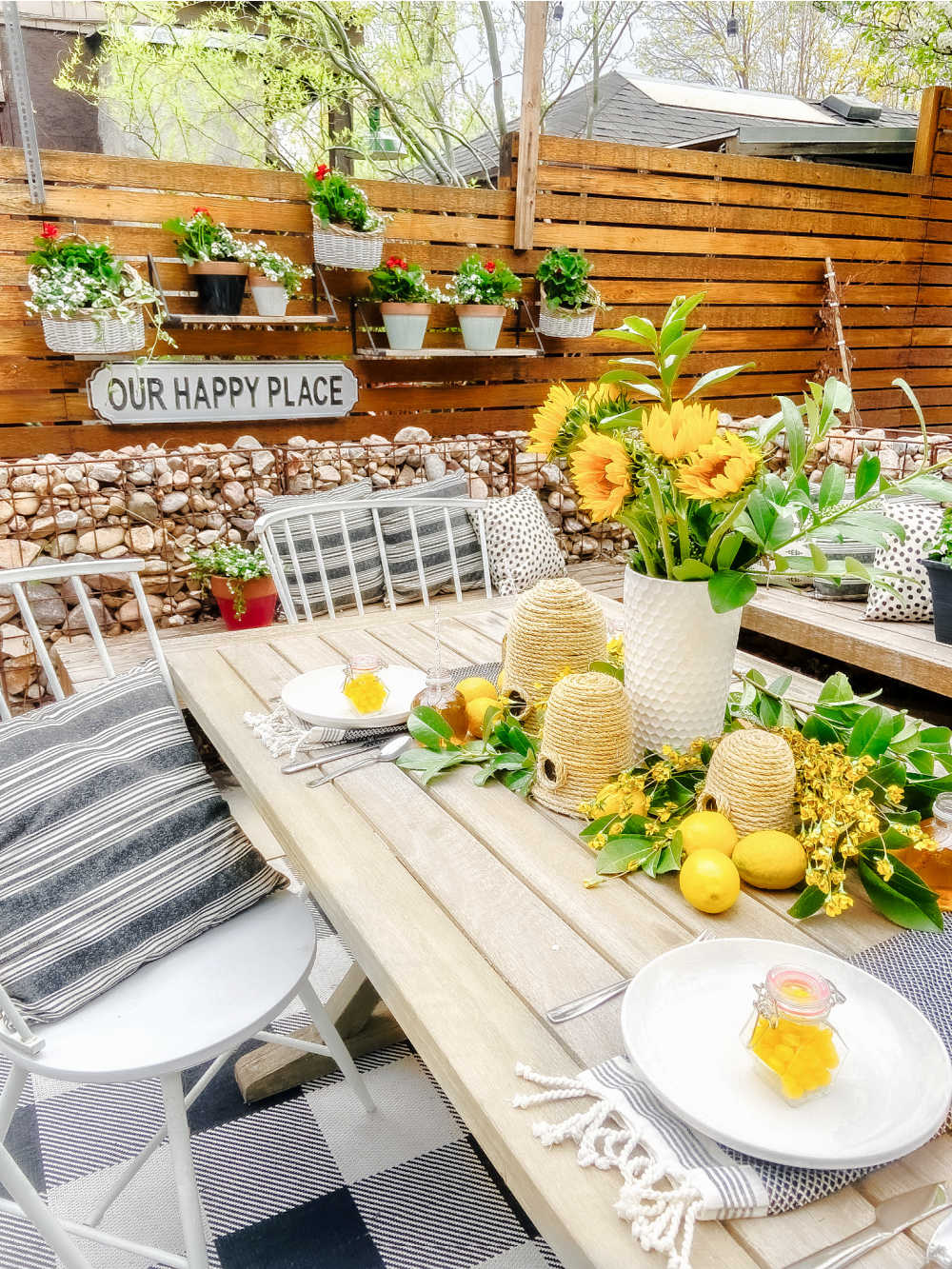 I created a little beehive-themed party to celebrate my daughter's birthday. I used fresh sunflowers, greens from a tree in my yard and lemons to create a little centerpiece with my DIY beehives! Then I used two Spring Shop tassel linens instead of placemats. I also found these beehive hex-shaped bottles in the Spring Shop. I added yellow candies as a little favor for everyone! My kids LOVED seeing the new beehive-themed patio!
Make Beehives in Different Sizes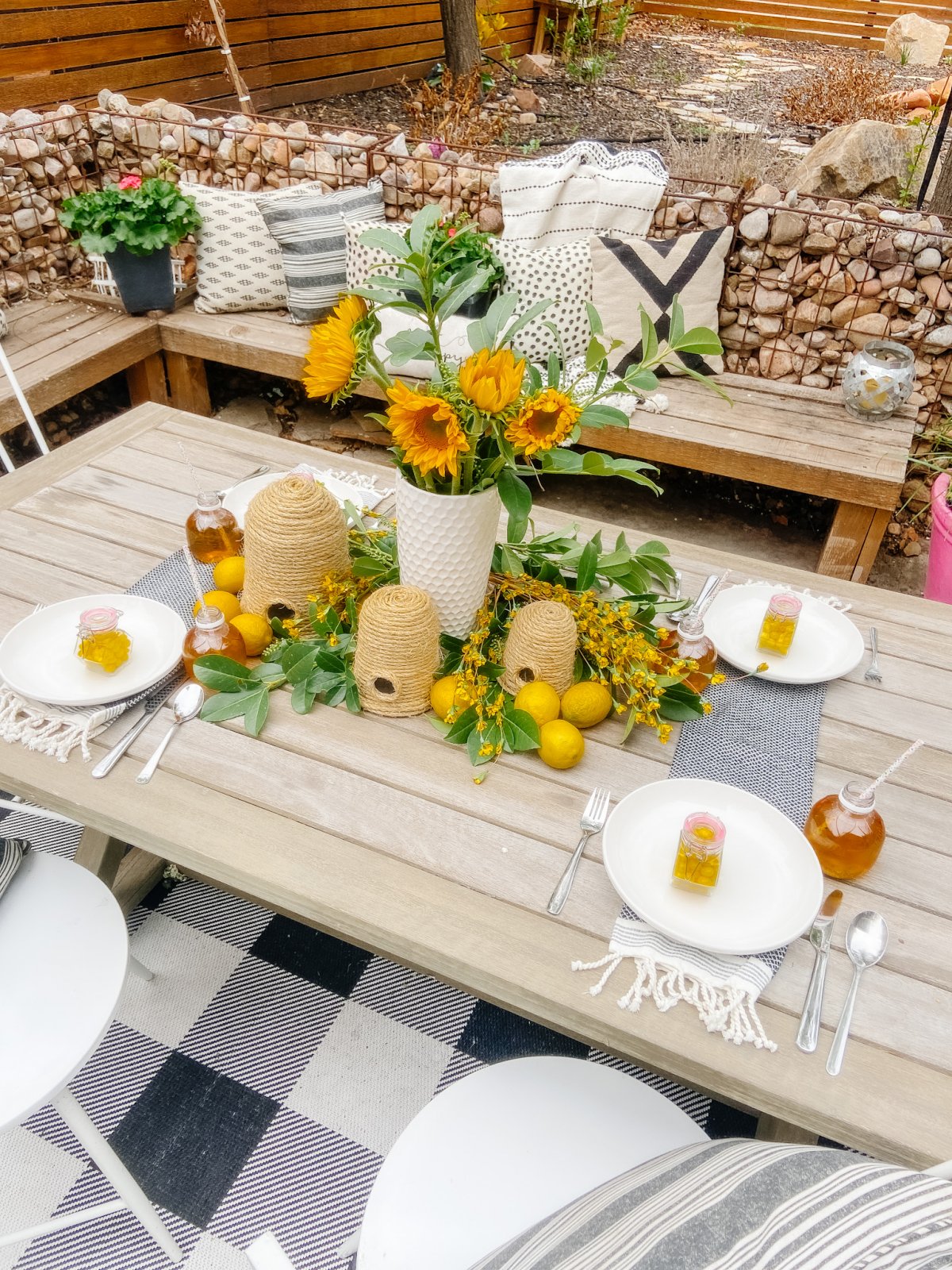 I created three beehives for the centerpiece out of three different pots that my plants came in from the nursery. But you can make beehives in ANY size! I am thinking of making tiny ones as place settings and adding a name to the front for a summer party idea. Wouldn't that be cute???
Outdoor Dinnerware Patterns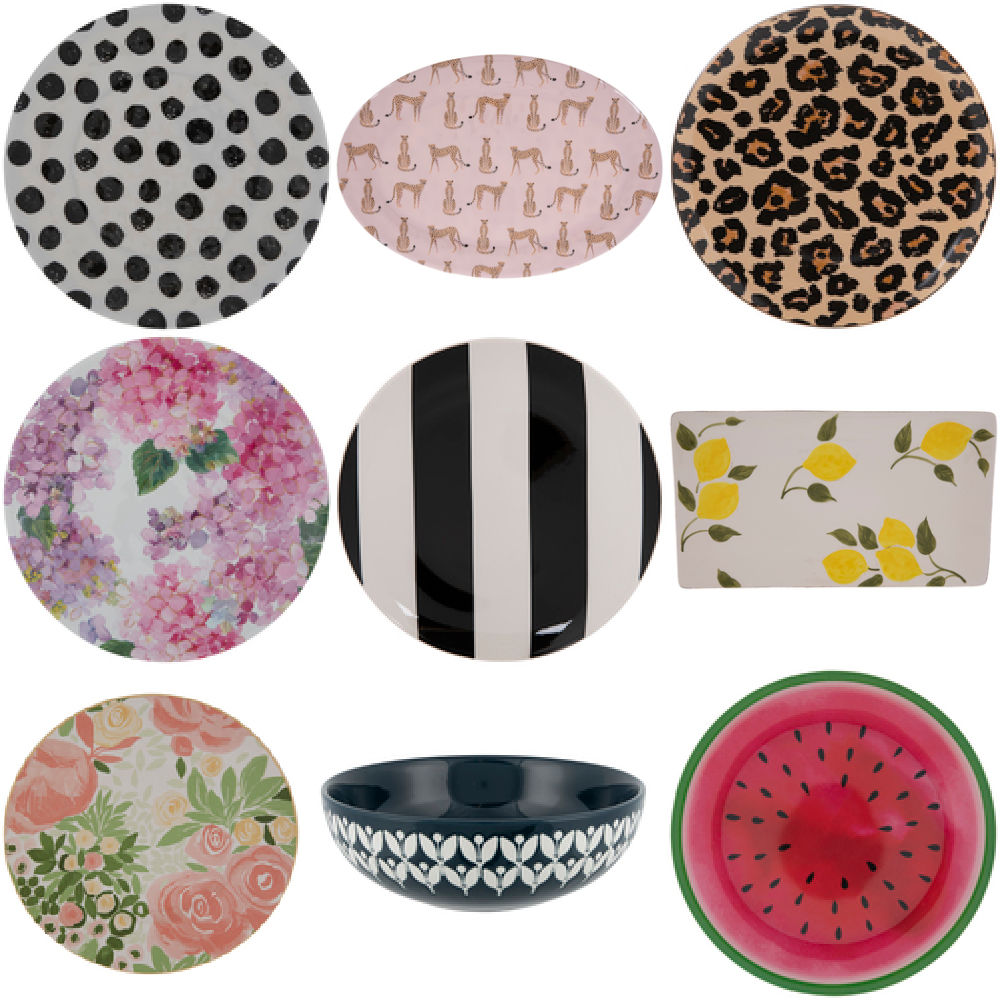 There are SO many different outdoor patterns and colors in Hobby Lobby's Spring Shop right now! Here are a few of my favorites! I love the animal-themed ones! I am going to go back and grab some of those! Be sure to check out the Spring Shop! Everything is 40% off right now. It's the perfect time to refresh your home for spring inside and out!!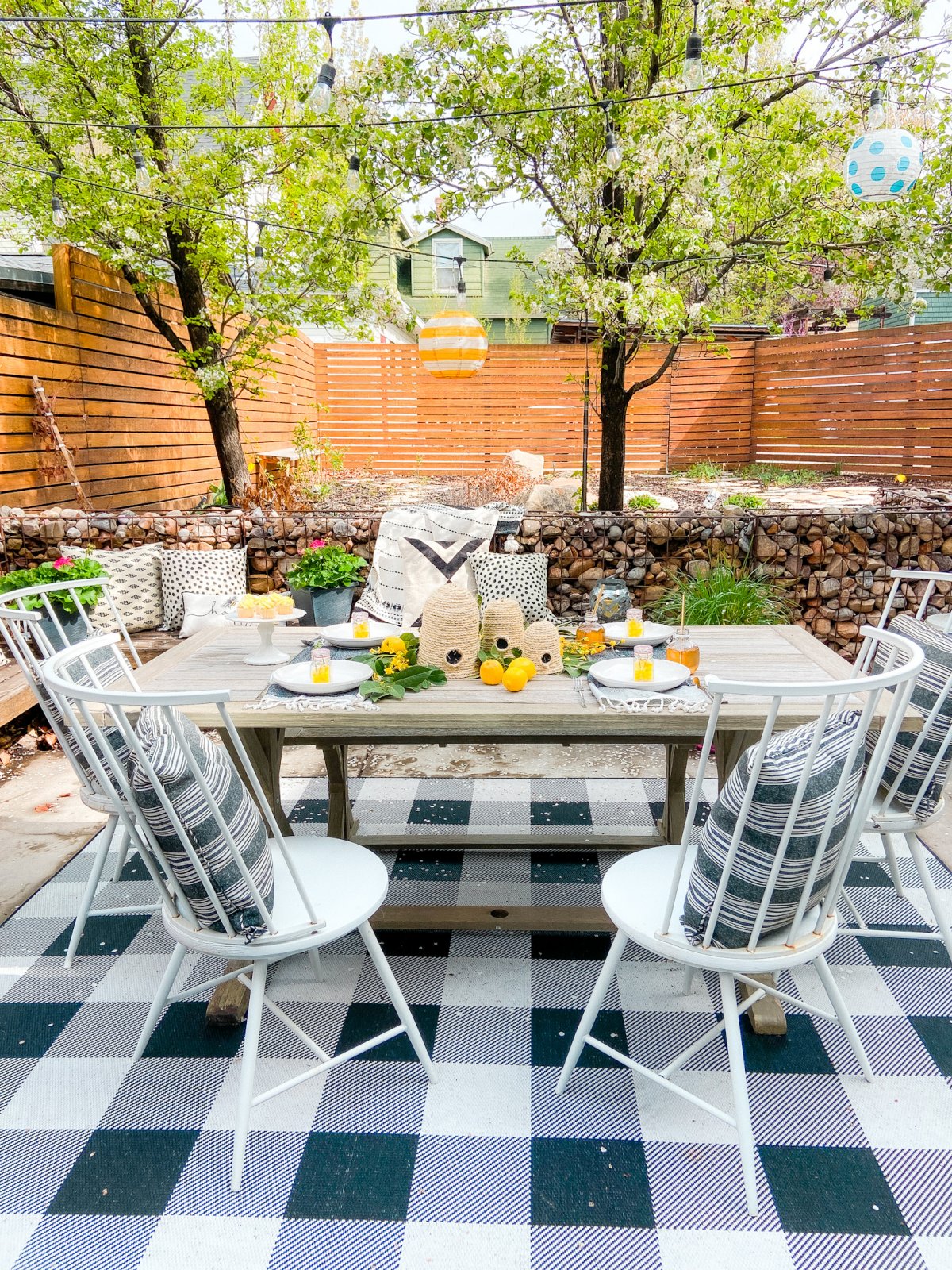 Be sure to head over to Hobby Lobby and grab all of the cute Spring Shop items – they are on sale right now! If you are looking for mantel inspiration – check out the adorable mantel I created with Spring Shop Items!
xoxo