This is a sponsored post written by me on behalf of Hobby Lobby. All opinions are 100% mine.
Colorful Spring Mantel with DIY Chalkboard Sign. Add spring color to your home with bright flowers, pretty accents and a DIY chalkboard Sign!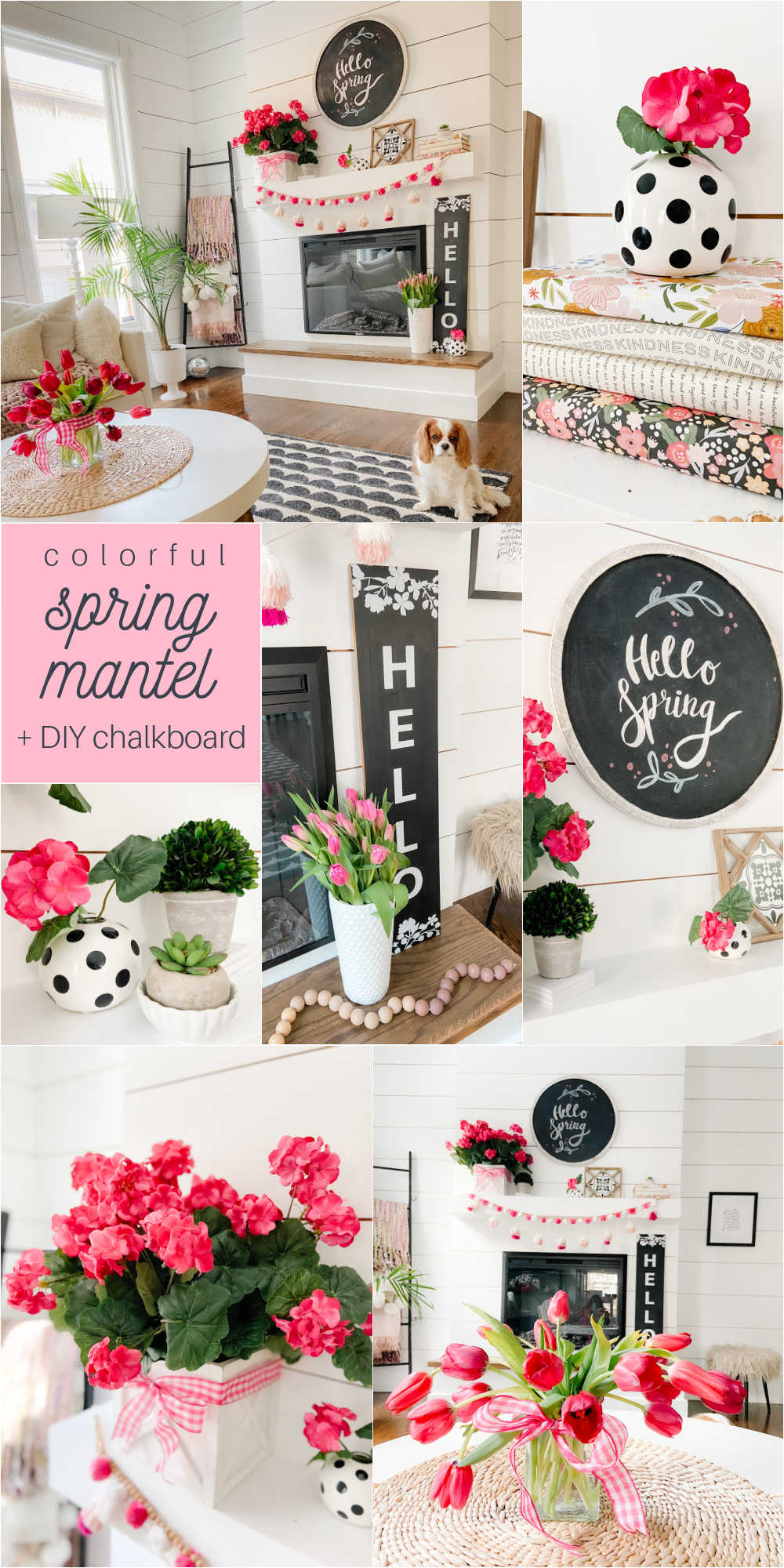 Colorful Spring Mantel with DIY Chalkboard Sign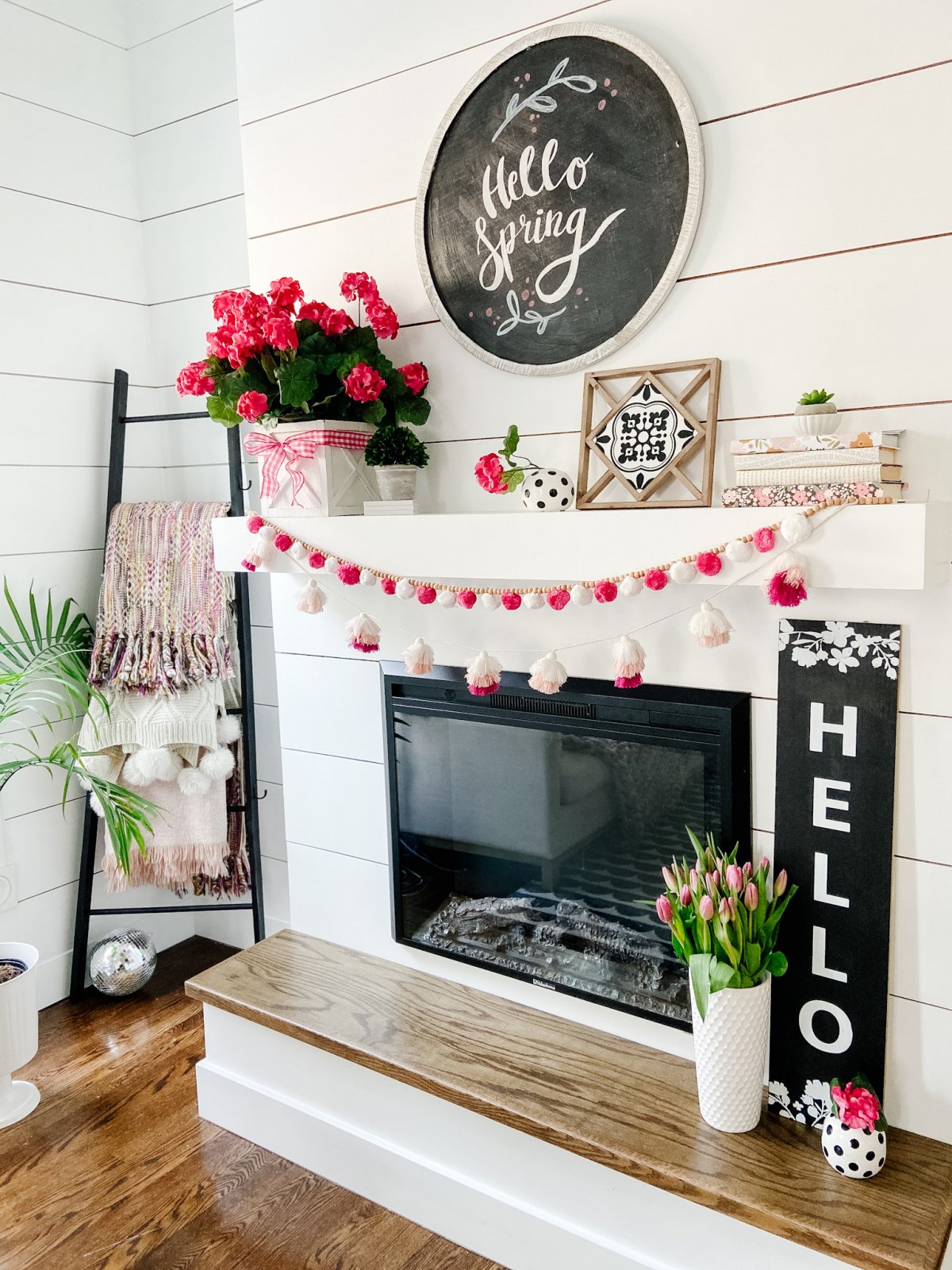 Every year I get so excited for Spring!! I love the colorful spring flowers and feeling that spring brings each year. One of my favorite places to decorate is our mantel. When Hobby Lobby contacted me and asked me to create a colorful spring mantel with some items from their new Hobby Lobby Spring Shop, I was so excited!
Hobby Lobby Spring Shop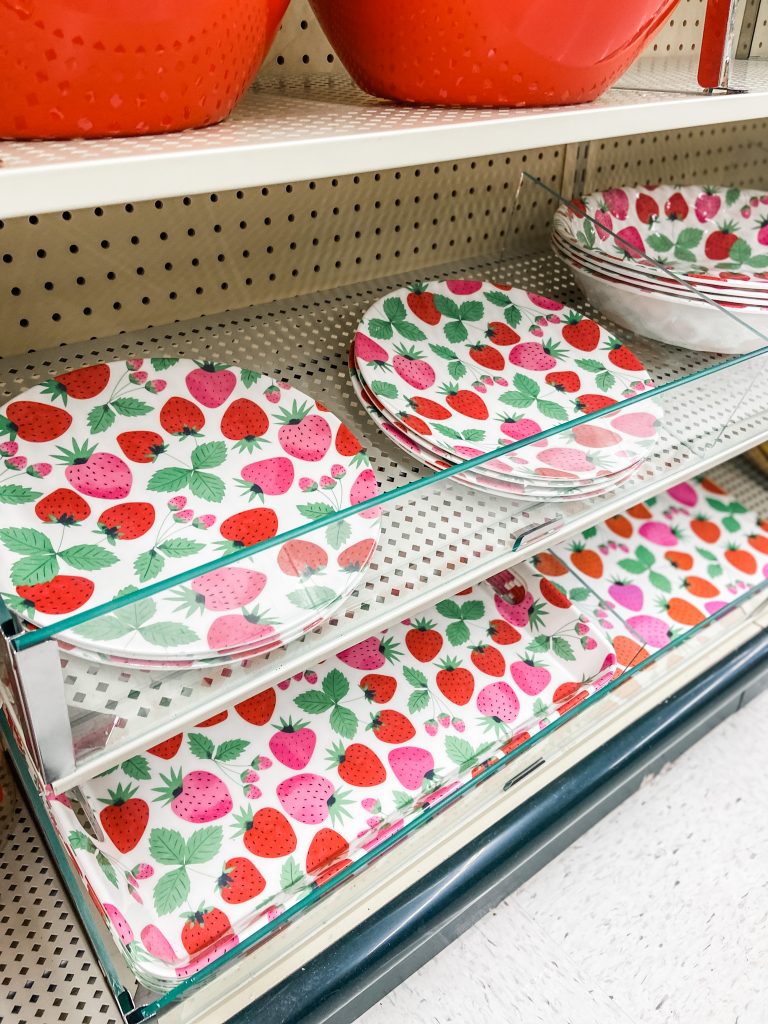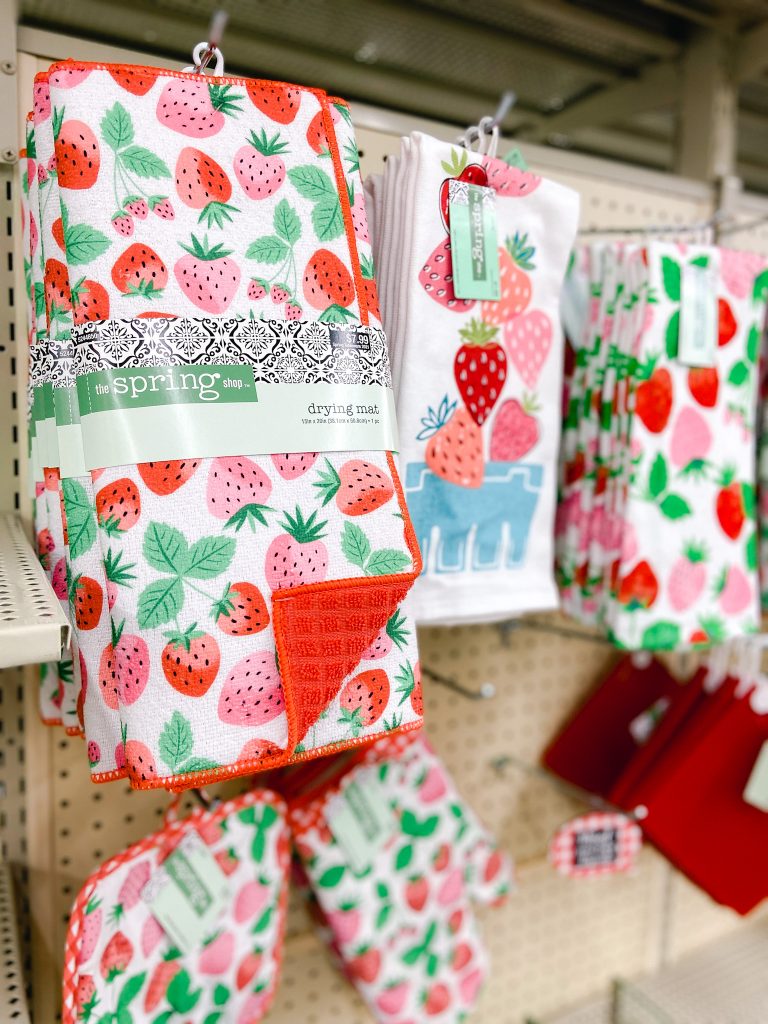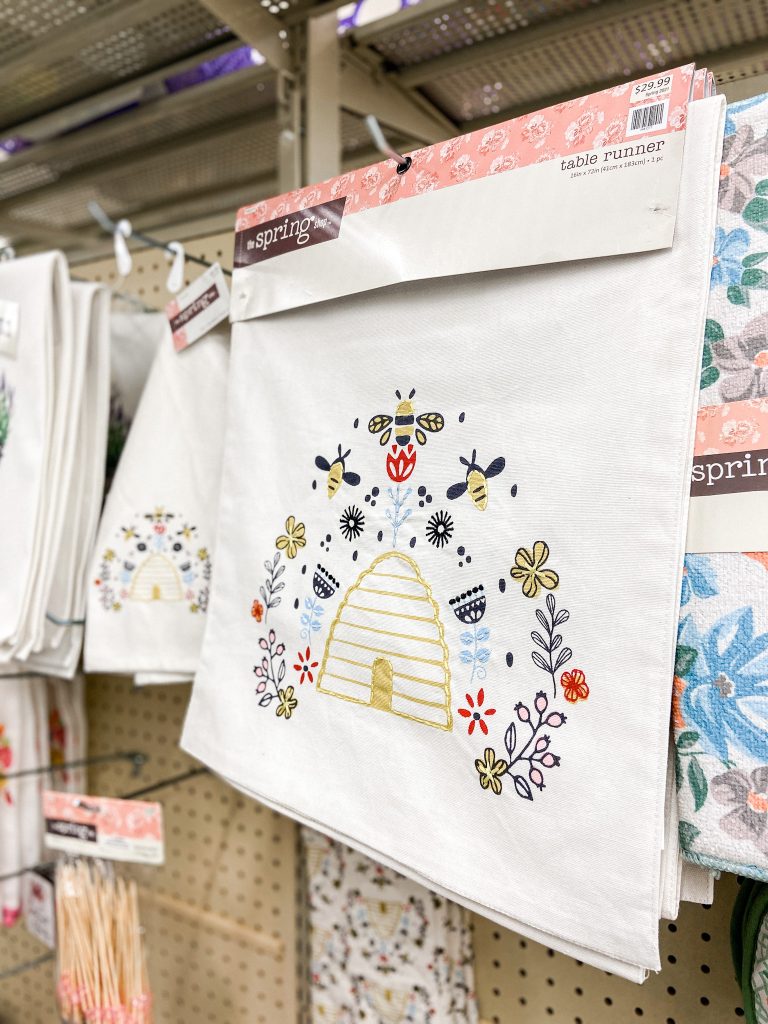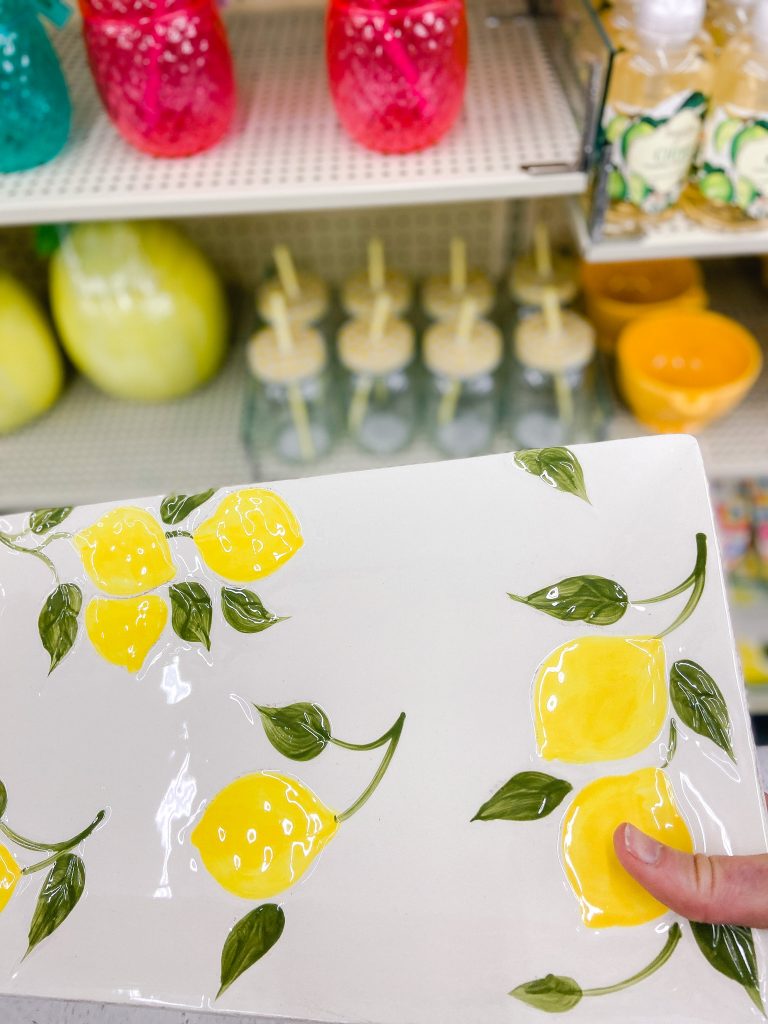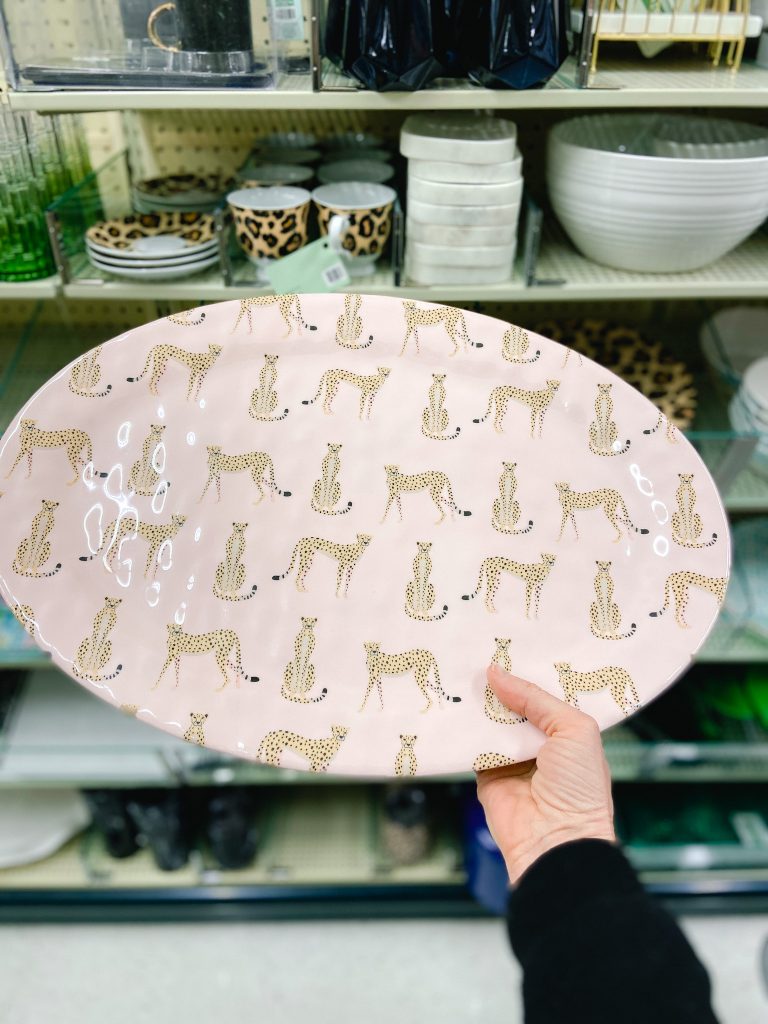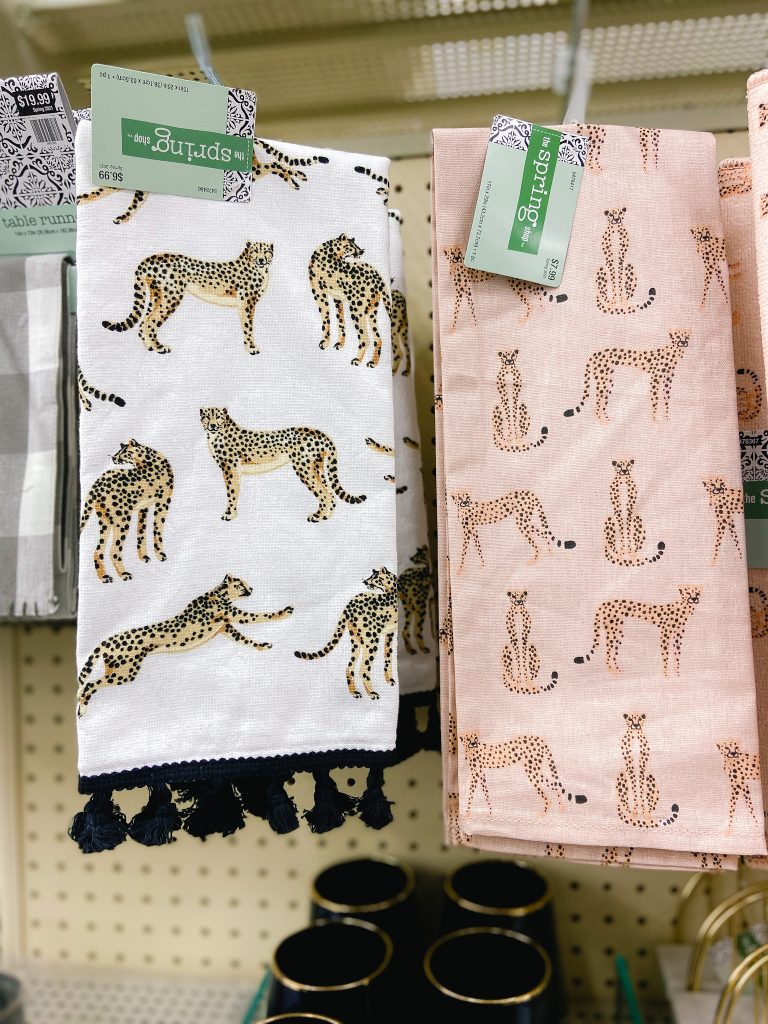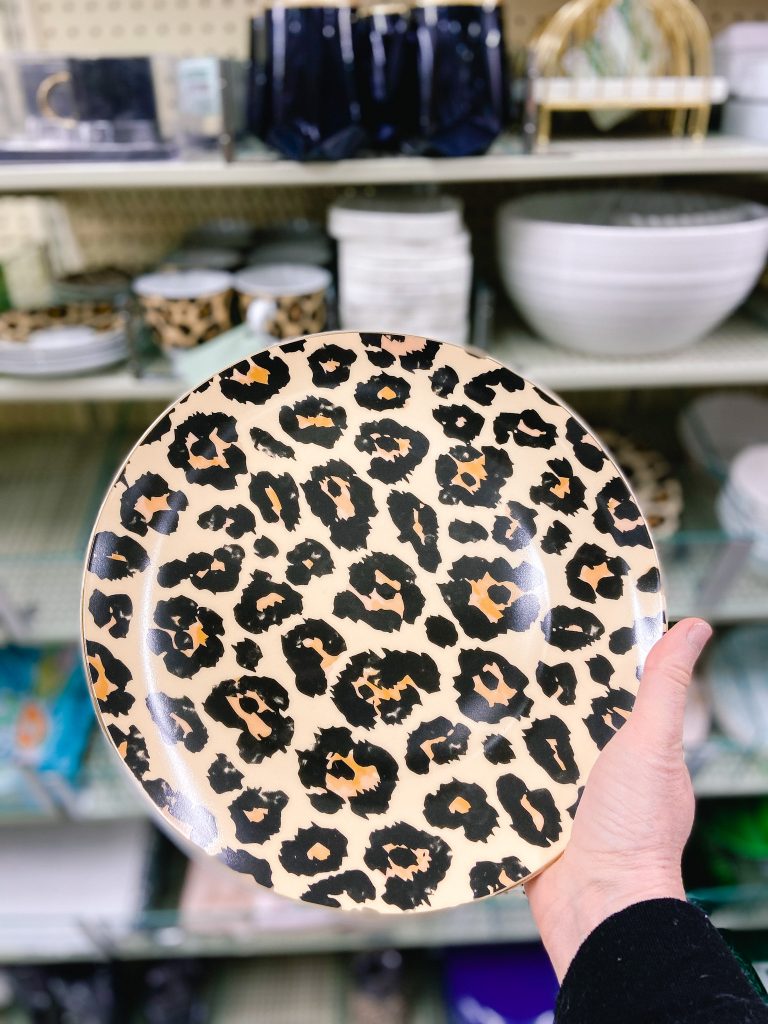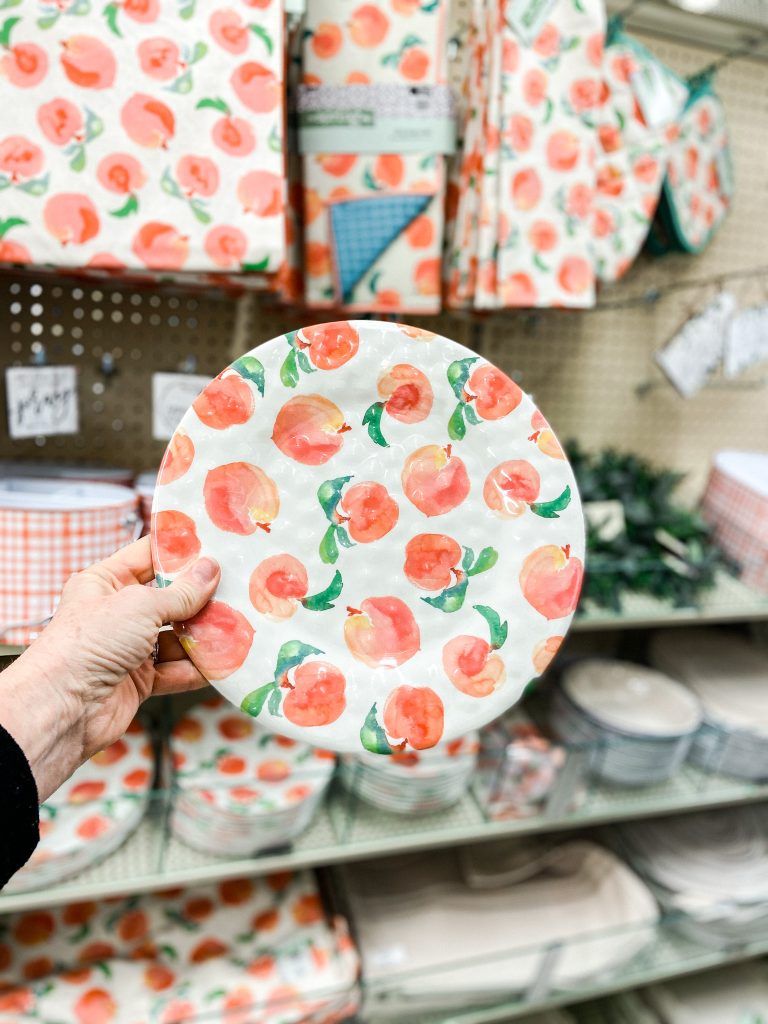 Hobby Lobby has a huge section in their stores called Hobby Lobby Spring Shop. There are literally hundreds of items, ranging from tabletop items, to outdoor dining and BBQ, the cutest yard items, spring home decor items and signs!! So many cute things. I headed over to my Hobby Lobby and it was so fun to see all of the beautiful spring items
Make a Round Spring DIY Chalkboard Sign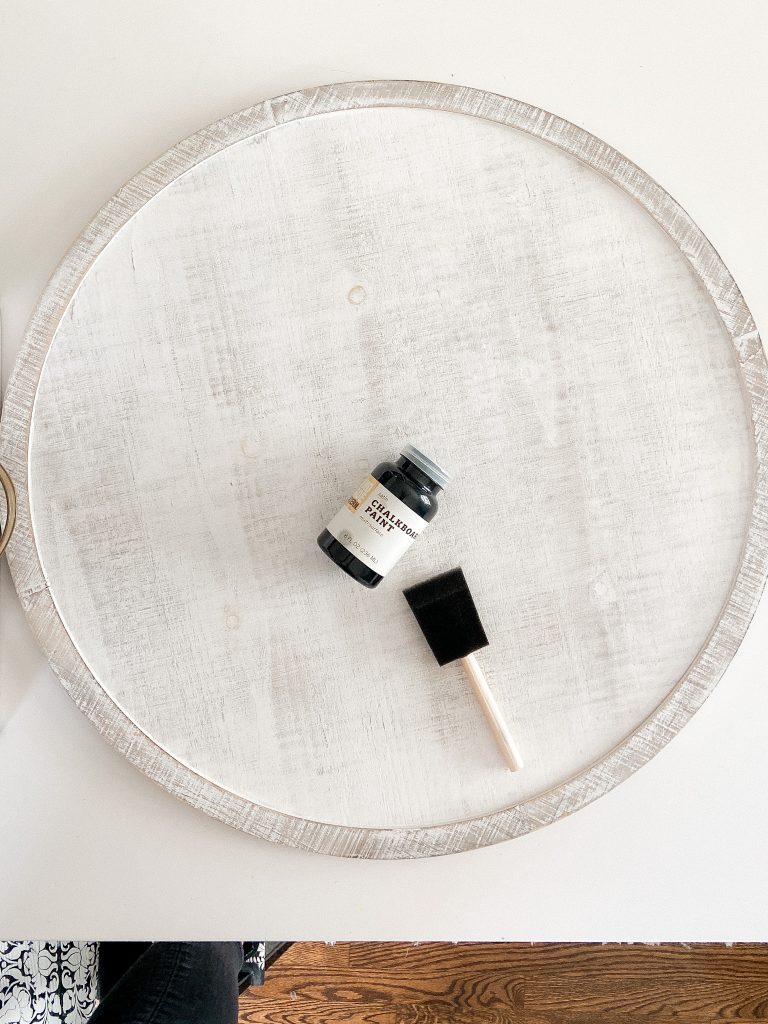 I found a round blank sign in the Spring Shop section and decided it would make a really cute chalkboard and a focal point to my Spring mantel!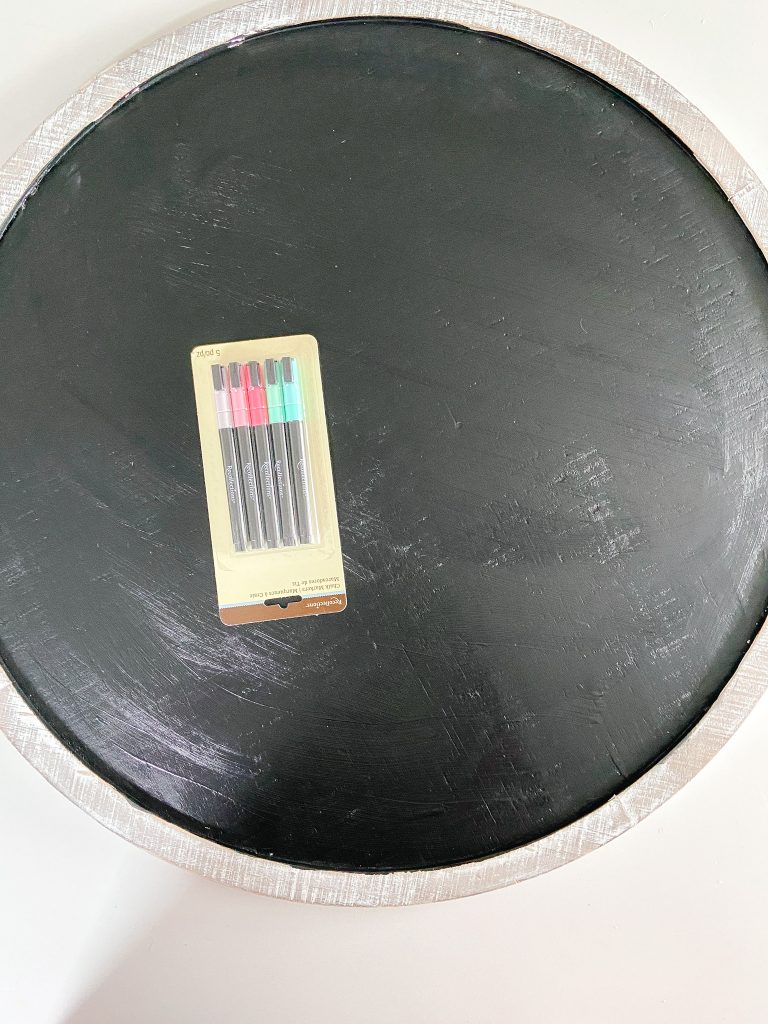 I used chalkboard paint and painted the inside of the sign. Once it was dry I conditioned the sign by rubbing chalk over the surface and wiping it off. It's important to condition chalkboard signs before you draw anything. Conditioning adds a layer of protection over the surface so that once you draw on the chalkboard, the chalk can be wiped off easily.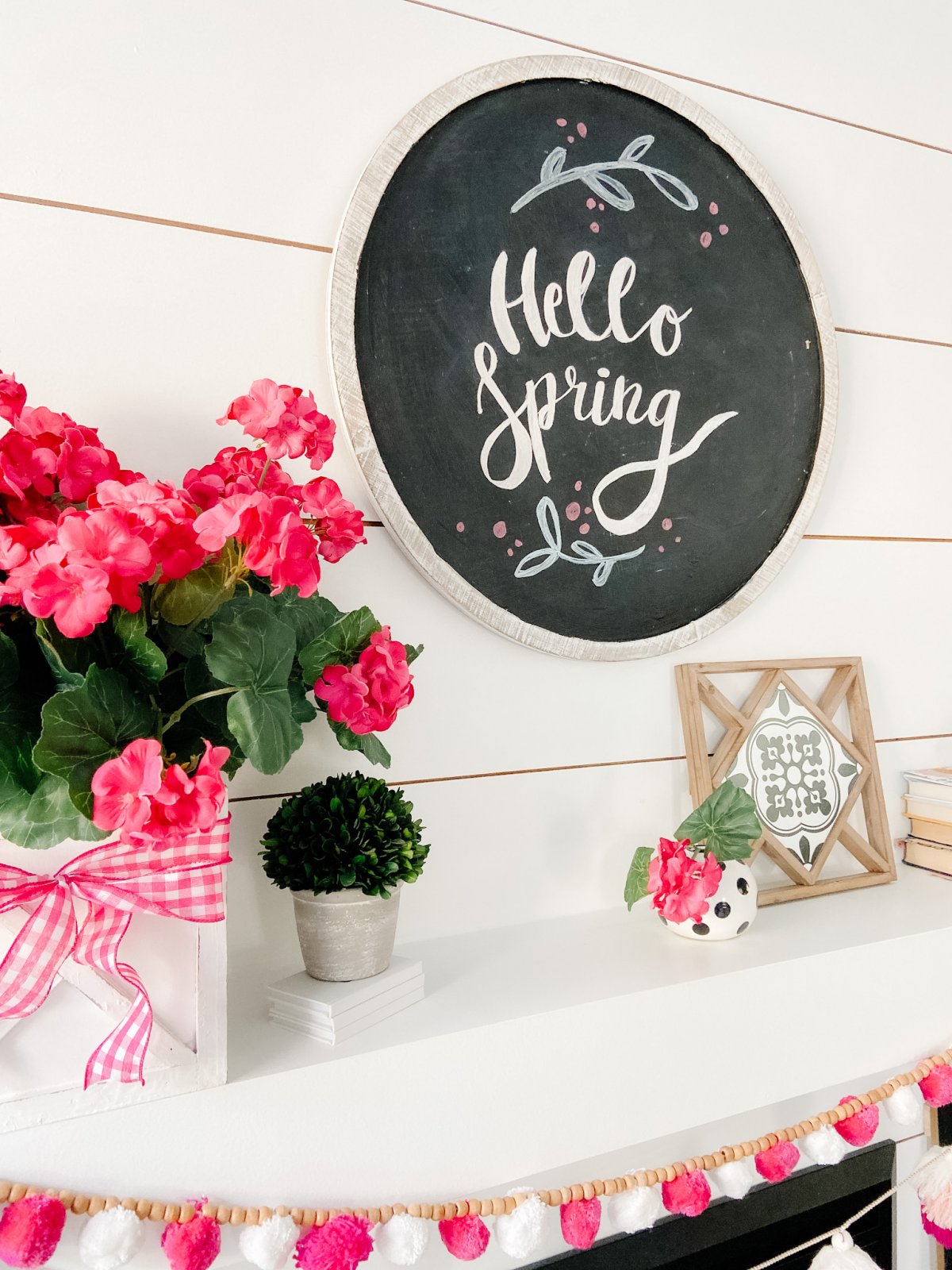 After conditioning the surface I drew a little "Hello Spring" on the board with a flourish at the top and bottom.
Add Mantel Color with Faux Flowers
One way I love bringing color to my mantel is through flowers. Hobby Lobby has an incredible selection of faux flowers and plants. I love bright pink so I bought four bunches of pink geraniums.
Spring Shop Wood Planter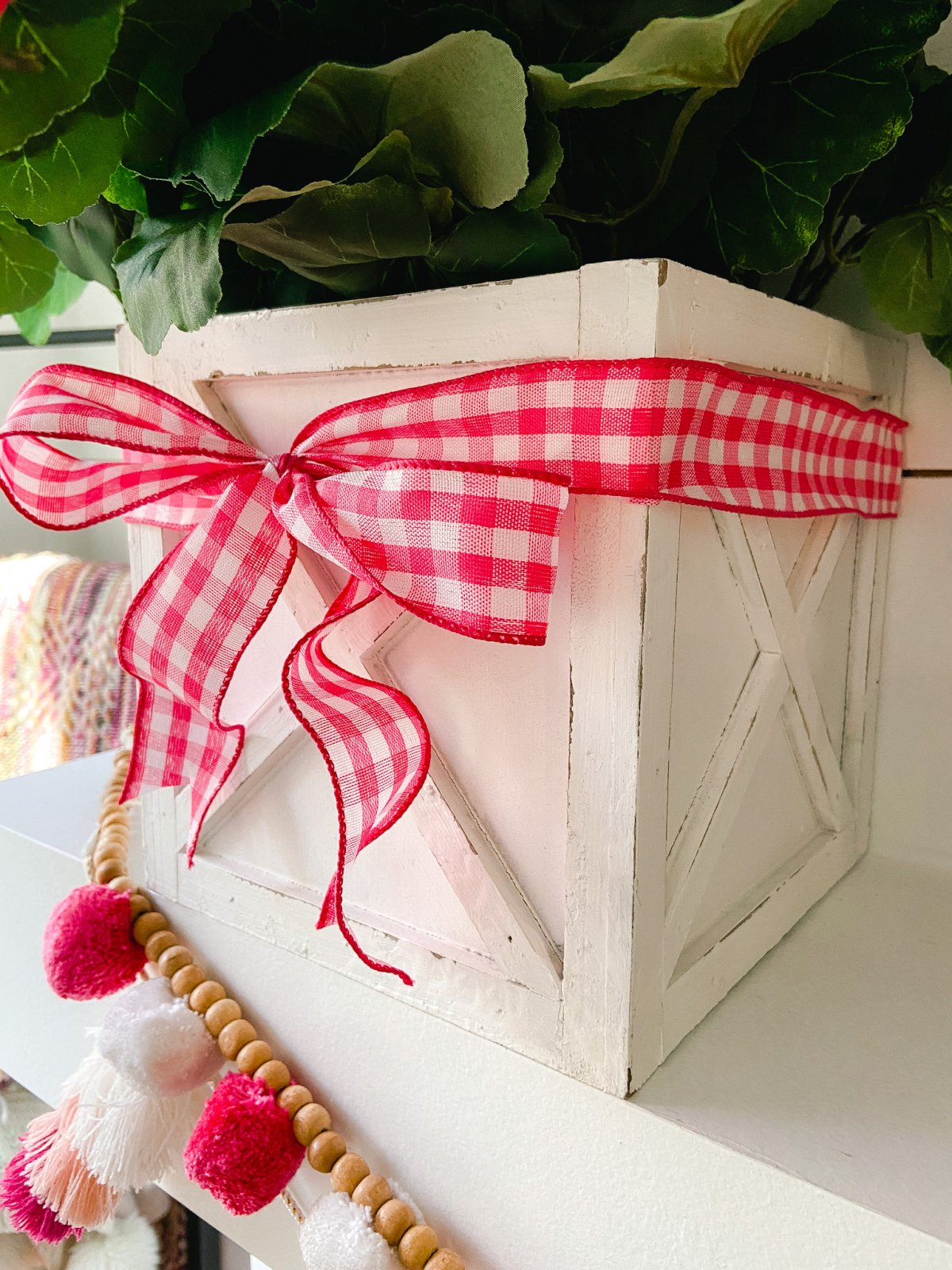 There were quite a few beautiful containers in the Spring Shop. I ended up purchasing a beautiful white wood box as a container for the geraniums. I added a pretty pink plaid ribbon to echo the vibrant pink flowers. To secure the flowers inside of the container I added some green floral foam. A tip to make your faux flowers look more realistic is to bend the flowers at the edges of the container toward the container.
Spring Shop Hello Sign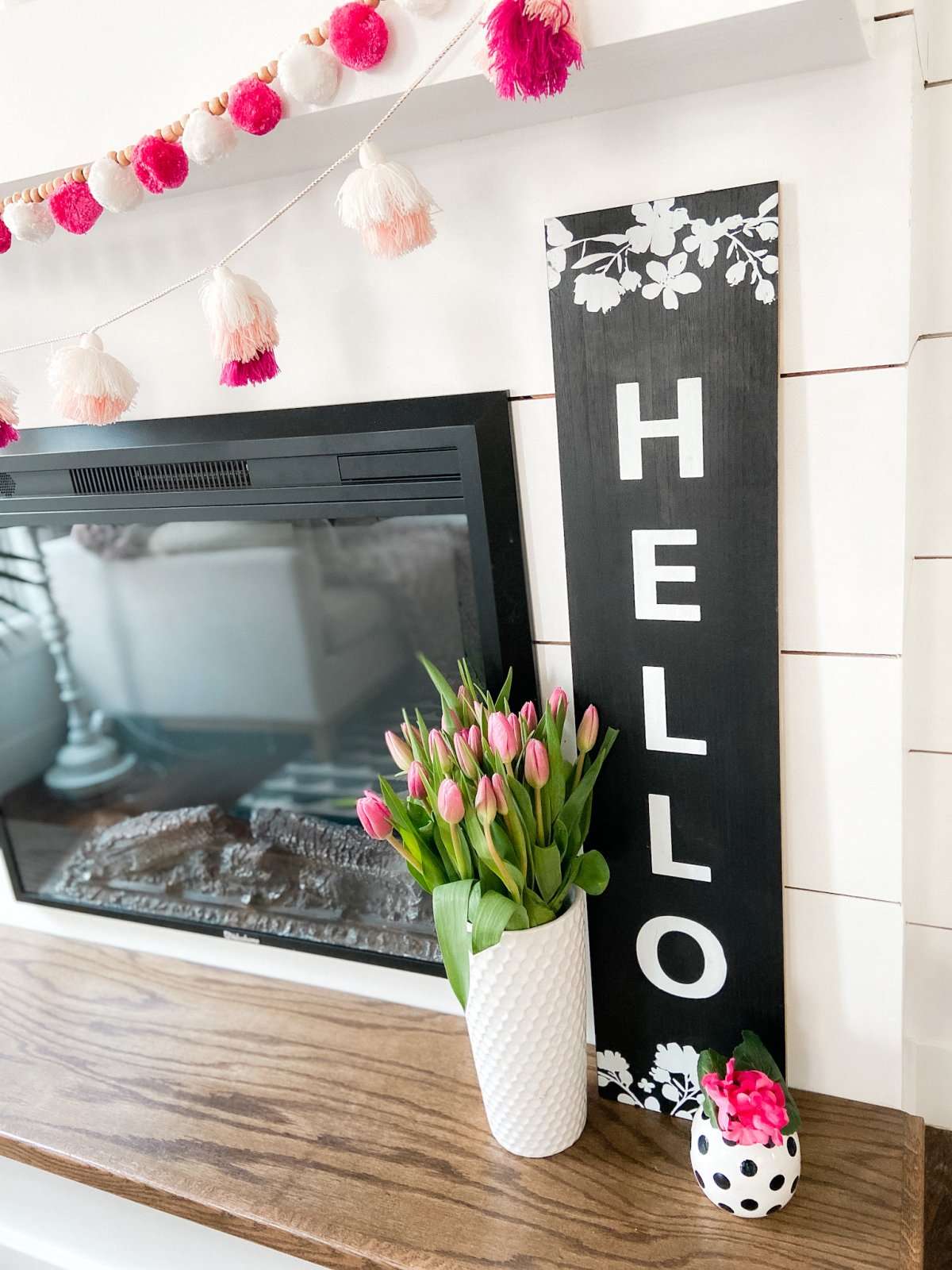 I always like to add a focal point at the bottom of the fireplace as well as the mantel. I fell in love with this beautiful black "Hello" sign. I love the simplicity and the flowers at the top and bottom of the sign are so pretty! I put it on one side of the fireplace and added flowers.
Black and White Accent Items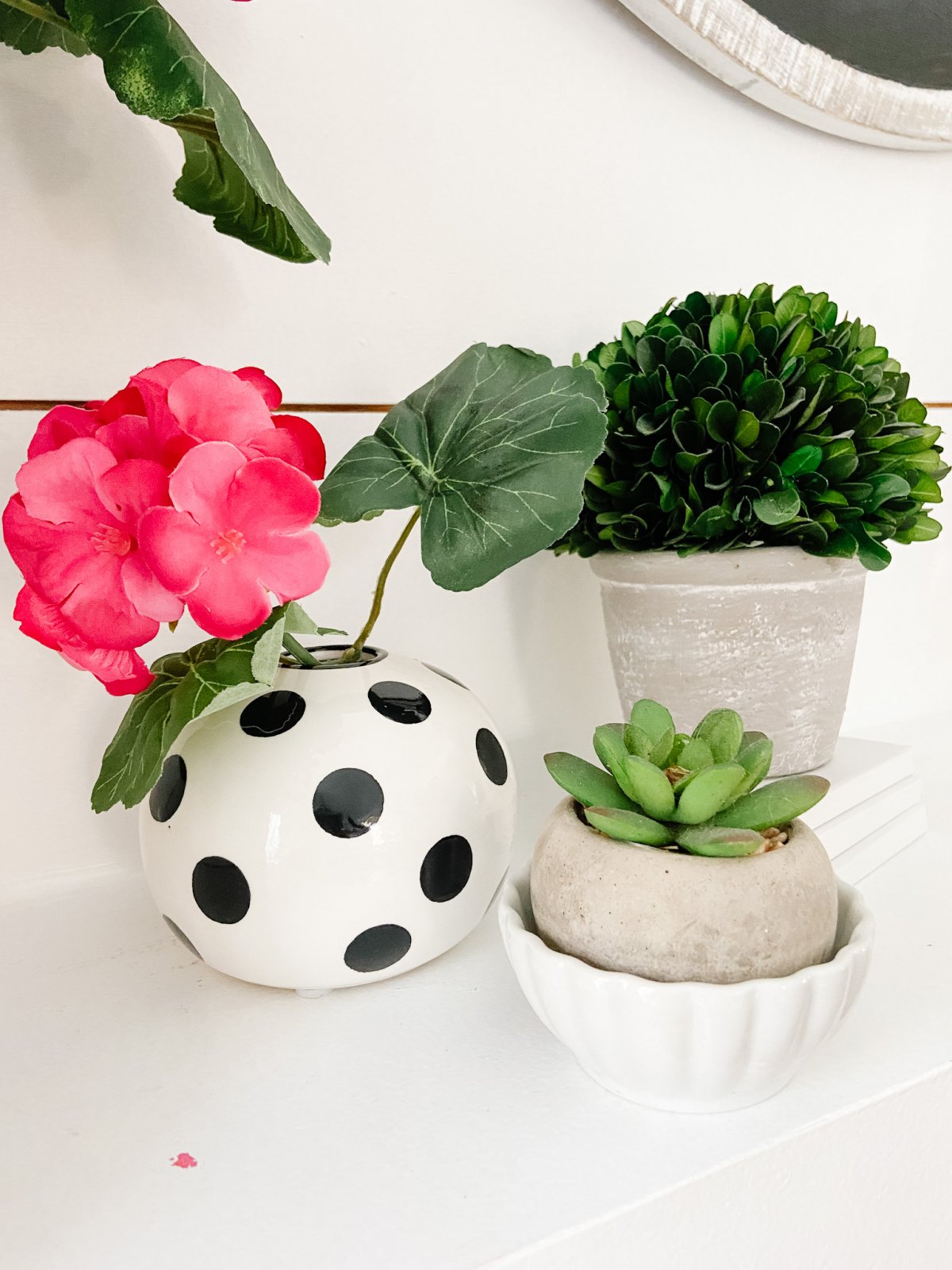 I added a few other black and white items that I also found at Hobby Lobby. I love the simple black and white with pops of bright pink for spring!
Colorful Spring Mantel Banners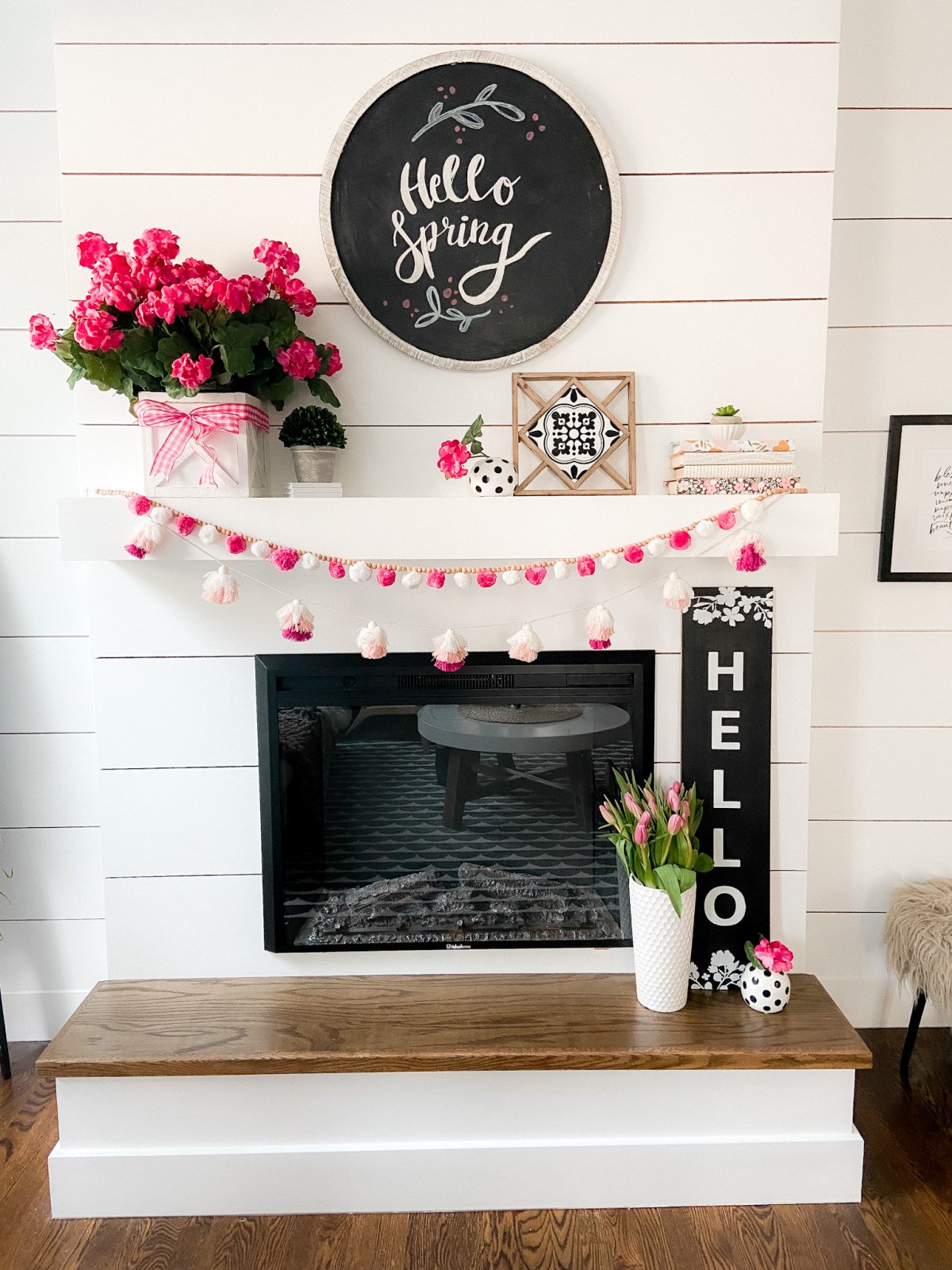 I finished the mantel with a couple DIY banners. The bright pinks complement the pinks in the faux flowers.
Wrap Books in Colorful Scrapbook Paper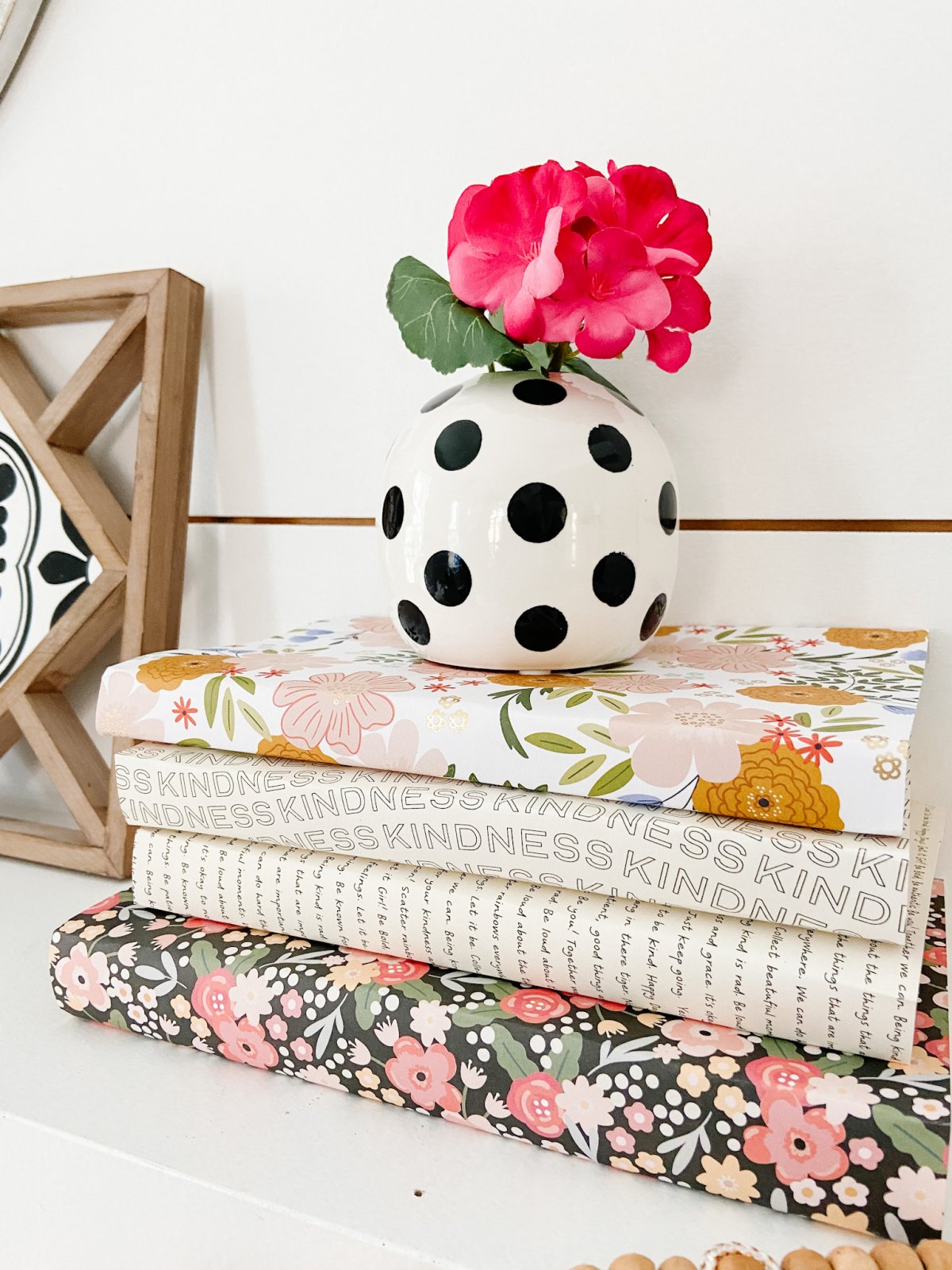 I added some height and color by wrapping some books in scrapbook paper. I used paper in my new Pebbles Reaching Out collection! But you can use any scrapbook paper you want. It's so easy. Just open the book on top of a piece of 12×12 scrapbook paper. Then trim the paper to fit the book. You can fold the edge of the scrapbook paper over and fit the book cover inside the fold to keep the paper laying flat.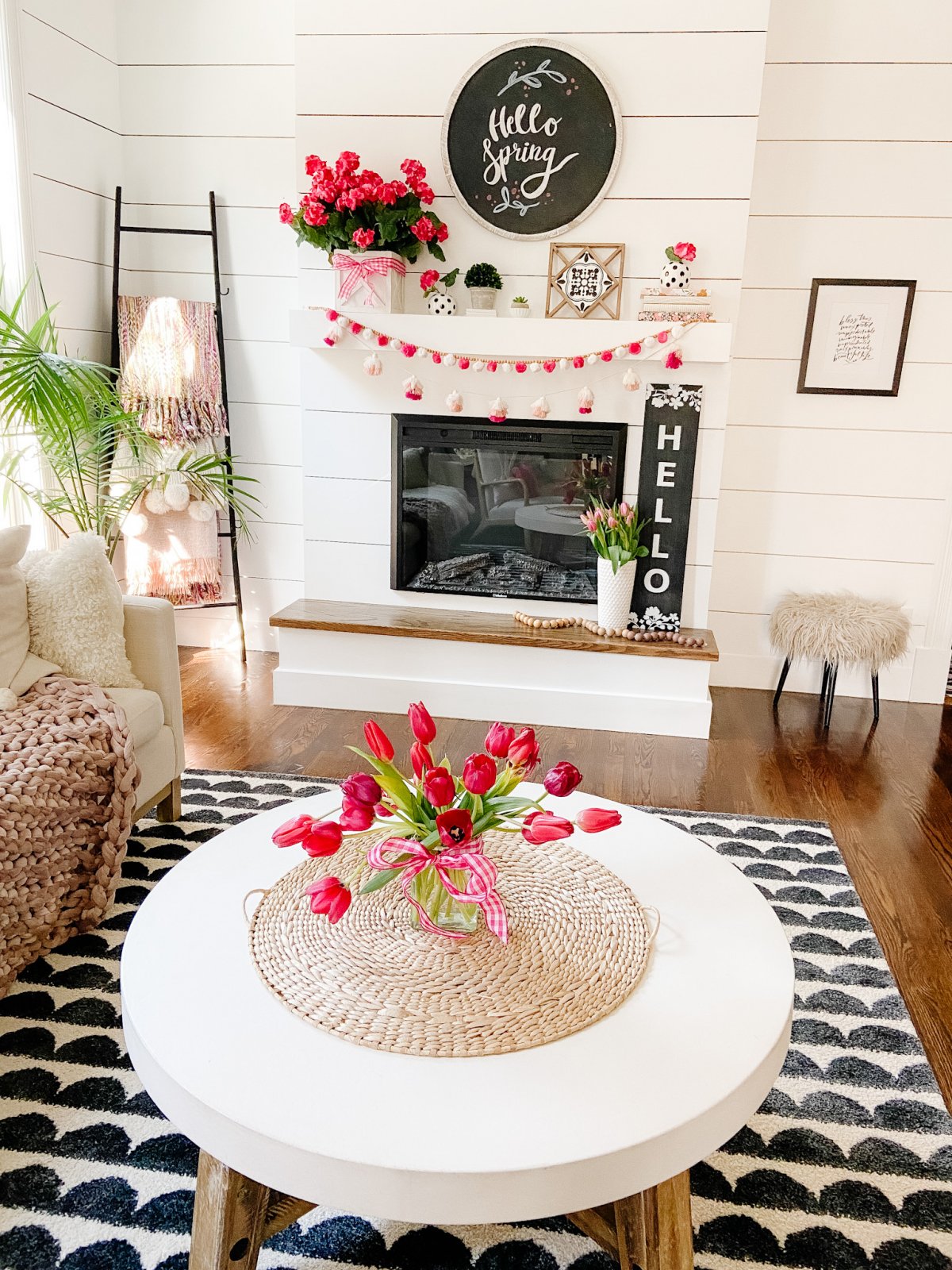 Spring Shop Items are on Sale
Hobby Lobby Spring Shop items are on sale right now. You can also order Spring Shop items online and they will be delivered right to your door!
What Projects are You Working on for Spring?
Share them with me on Instagram. Connect with me @tatertotsandjello. I would love to see YOUR ideas!
xoxo