Zesty Keto Greek Feta Salad. Crisp veggies, tart kalamata olives, creamy feta and a zesty vinaigrette dressing make a refreshing low-carb salad!
Zesty Keto Greek Feta Salad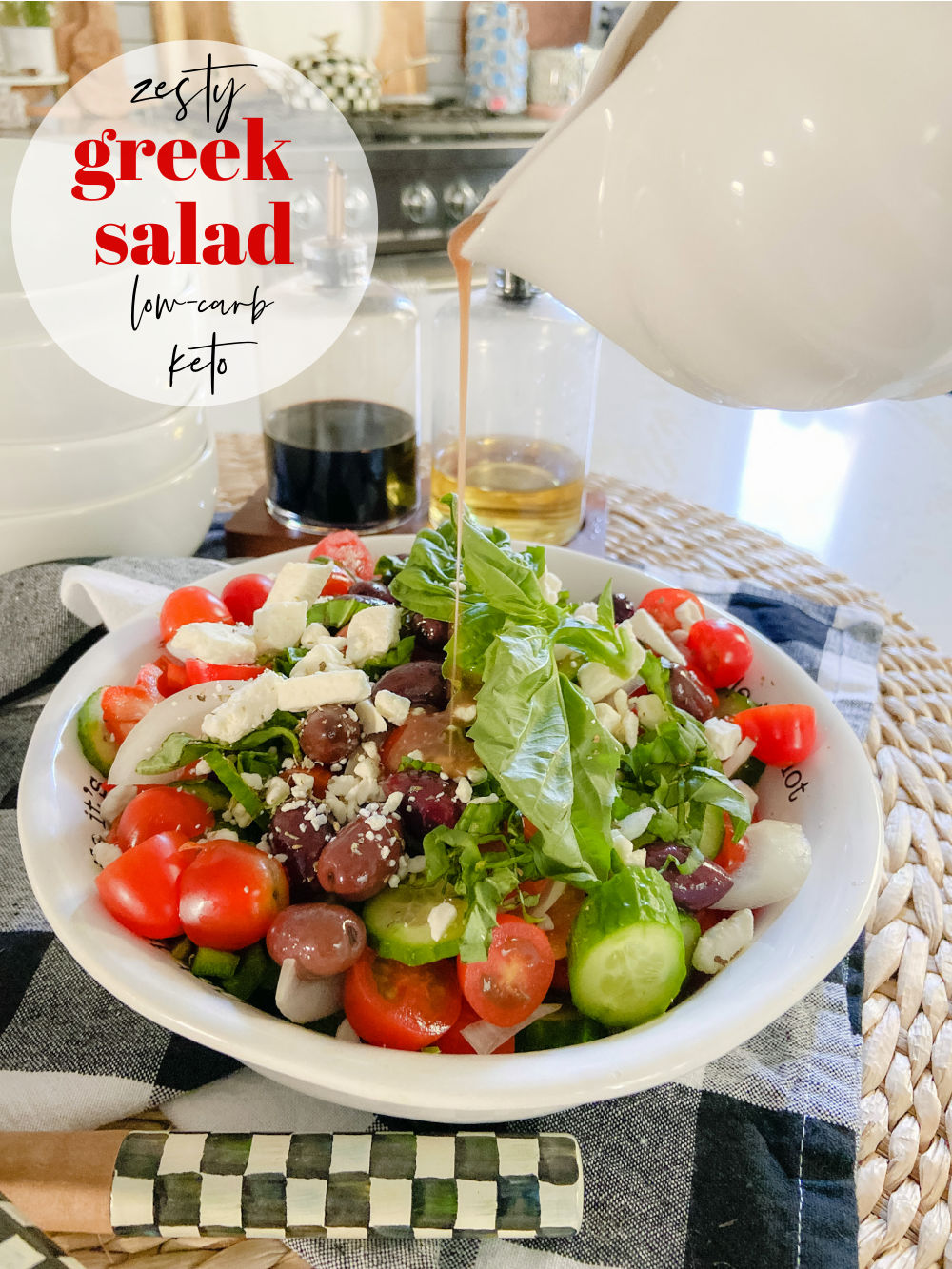 Are you looking for a light and refreshing salad that is also keto-friendly? Be sure to put this zesty greek salad on repeat! It's perfect for lunch or dinner. The combination of crisp veggies, tart olives and tangy feta cheese is the perfect salad to make as a dinner or side dish!
What Makes a Salad Keto-Friendly?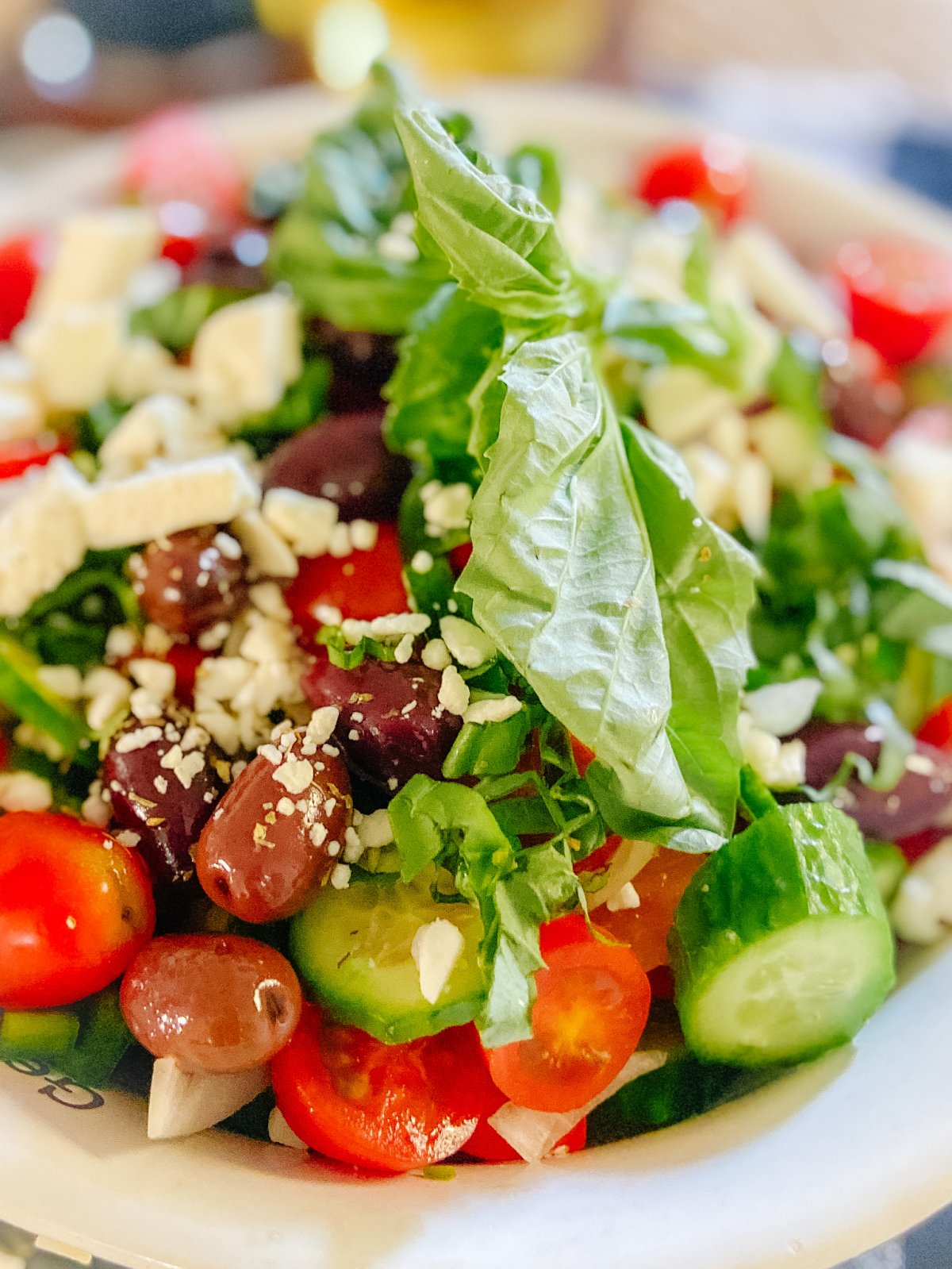 If you just started a low-carb or keto diet, you may be wondering what makes a salad low-carb or keto. What you need to understand about keto is it's all based on the carb count. There are carbs in almost anything you eat. Some veggies and fruits are higher in carbs than others. This salad uses veggies that have a low carb index. Cucumbers, onion, tomatoes and peppers are great veggies to eat while watching your carb intake.
Keto Cauliflower Salad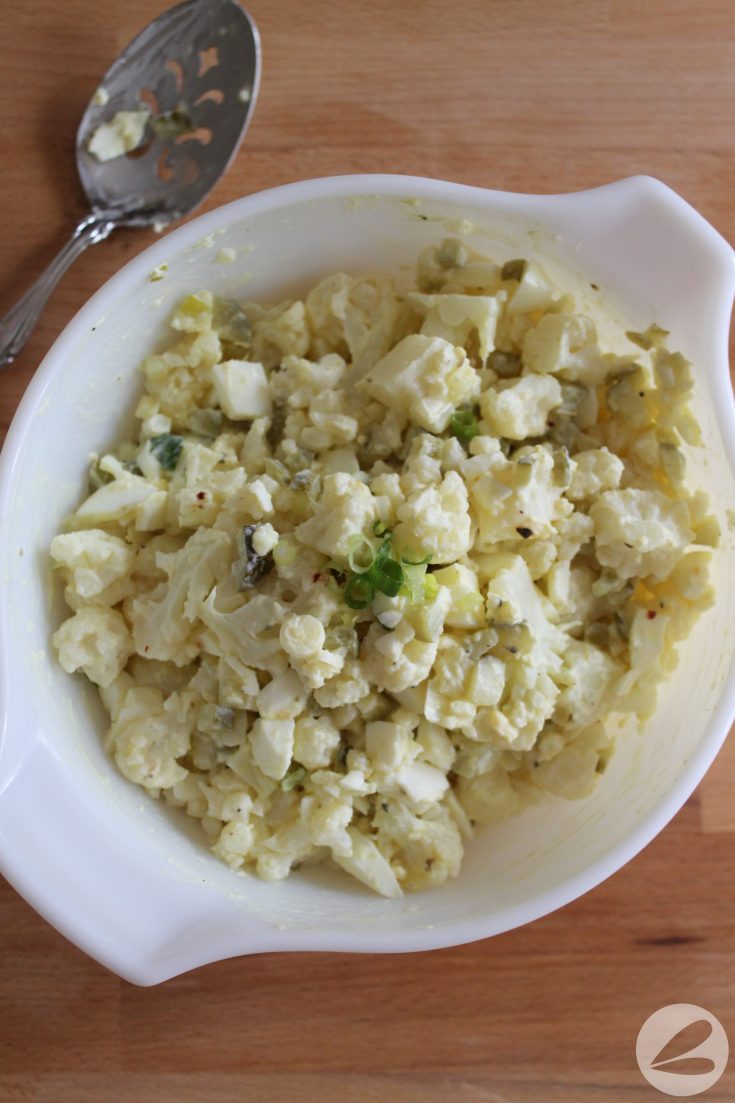 My friend Heather at Homemade Heather has a wonderful recipe if you are craving potato salad. She substituted cauliflower for potatoes and it looks so good. Be sure to click over and grab her recipe!
Make Homemade Greek Vinaigrette Dressing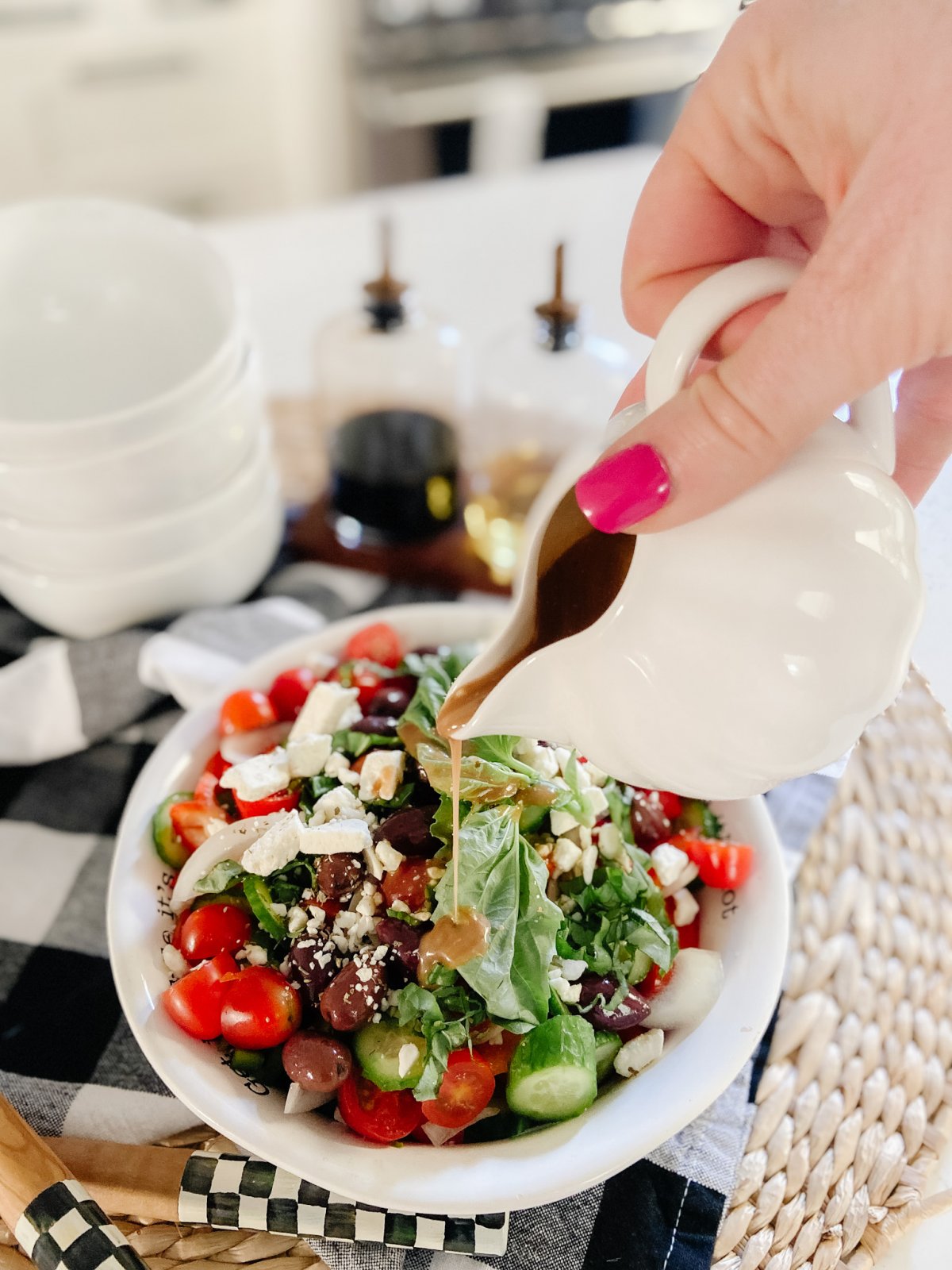 Making your own dressing is so easy. It's also a wonderful idea to make your own dressing when you are following a low-carb diet because a lot of store-bought dressings have hidden sugars which make the carb content too high for a keto lifestyle. The dressing I created for this recipe combines items that are low-carb like avocado oil, vinegar, mustard and herbs which give the dressing a zesty taste and compliments the other ingredients in the salad. I hope you love it!
Eat Zesty Keto Greek Feta Salad for Days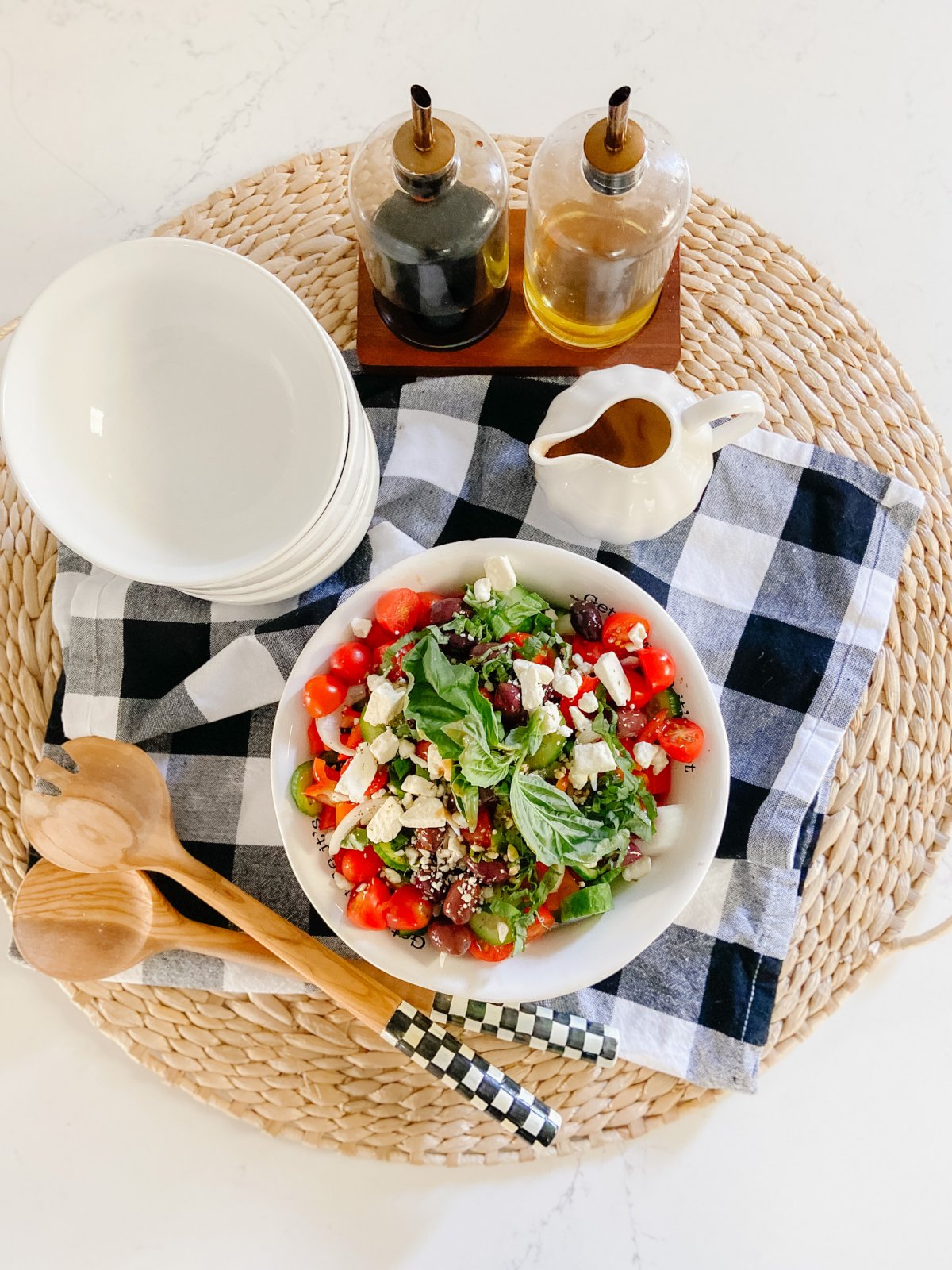 One of my favorite things about this yummy salad is that it can be stored in the fridge and eaten for days! The veggies are crunchy and will last in the fridge for a few days. I make a batch on a Monday and I can eat it for lunch every day until Thursday or Friday. The veggies stay crispy and the tastes only intensify over the week. It's so good!
A Keto Salad Your Whole Family Will Love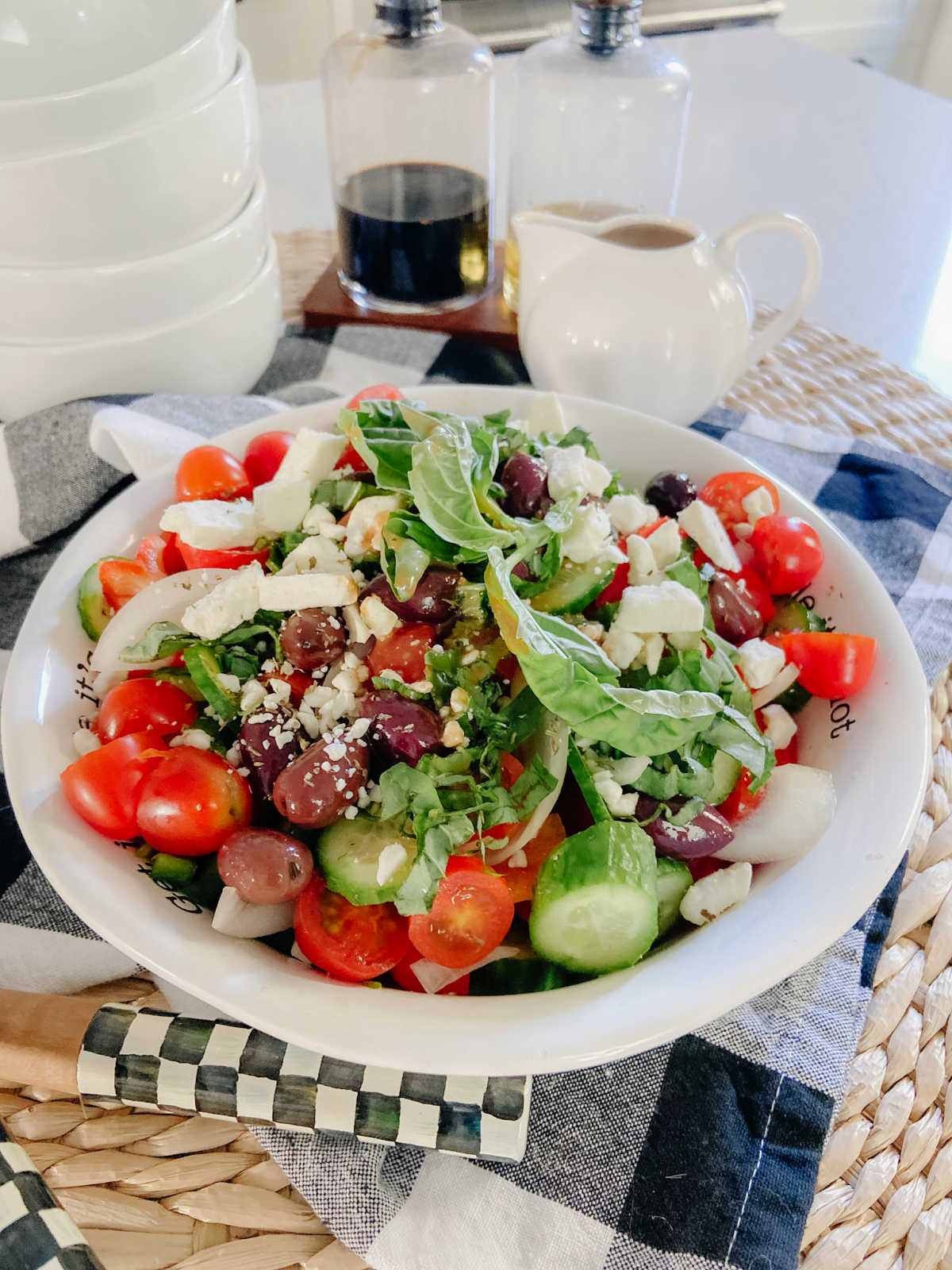 Another reason I love this recipe so much is that I can make it as a meal or side dish and everyone loves it! I love a meal that I can eat and my kids will eat too!
Add Protein for a Filling Main Dish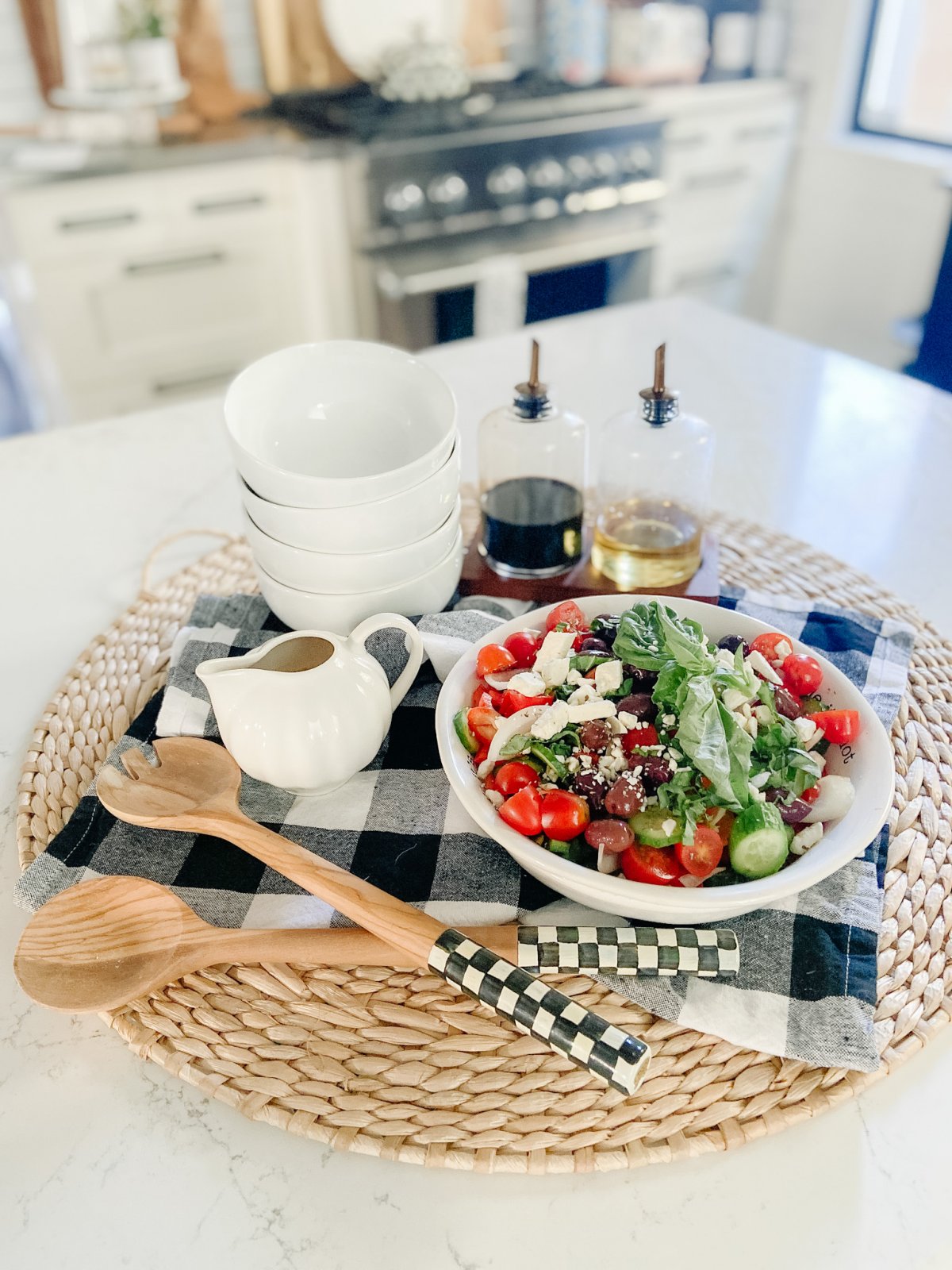 If you want to add more protein to this recipe, just add meat. There are a few different meats I've added to this salad that are so good and also keto-friendly:
Chicken Meatballs
Grilled Chicken
Steak Strips
Beef Meatballs
Grilled Tofu
Pork Meatballs
Kabobs (chicken, beef or pork)
Grilled Lamb
Salmon
Zesty Keto Greek Feta Salad Printable Recipe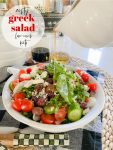 Zesty Keto Greek Feta Salad
Zesty Keto Greek Feta Salad. Crisp veggies, tart kalamata olives, creamy feta and a zesty vinaigrette dressing make a refreshing low-carb salad!
Ingredients
3 small cucumbers, thinly sliced
1 red bell pepper, diced
1 green bell pepper, diced
1 cup cherry tomatoes, halved
1/4 cup white or purple onion, thinly sliced
1/2 cup whole kalamata olives, pitted
6 ounces feta cheese, crumbled
1/4 cup fresh basil, chopped optional
greek vinaigrette
1/2 cup avocado oil
1/4 cup red wine vinegar
1 lemon juiced
4 cloves garlic, minced
1 tsp. dijon mustard
1 tsp. italian seasoning
1/2 tsp. cracked black pepper
Instructions
In a medium bowl, add sliced cucumbers, tomatoes, red and green bell peppers, onions. Then add olives,feta cheese and chopped basil.

Whisk together vinaigrette and adjust to taste by adding more pepper and/or salt.

Toss to coat or have vinaigrette on the side. Serve.

Keep leftovers in a lidded tupperware for up to 5 days in the fridge.
Recipe Notes
Net carbs = 5
More Low-Carb Salad Recipes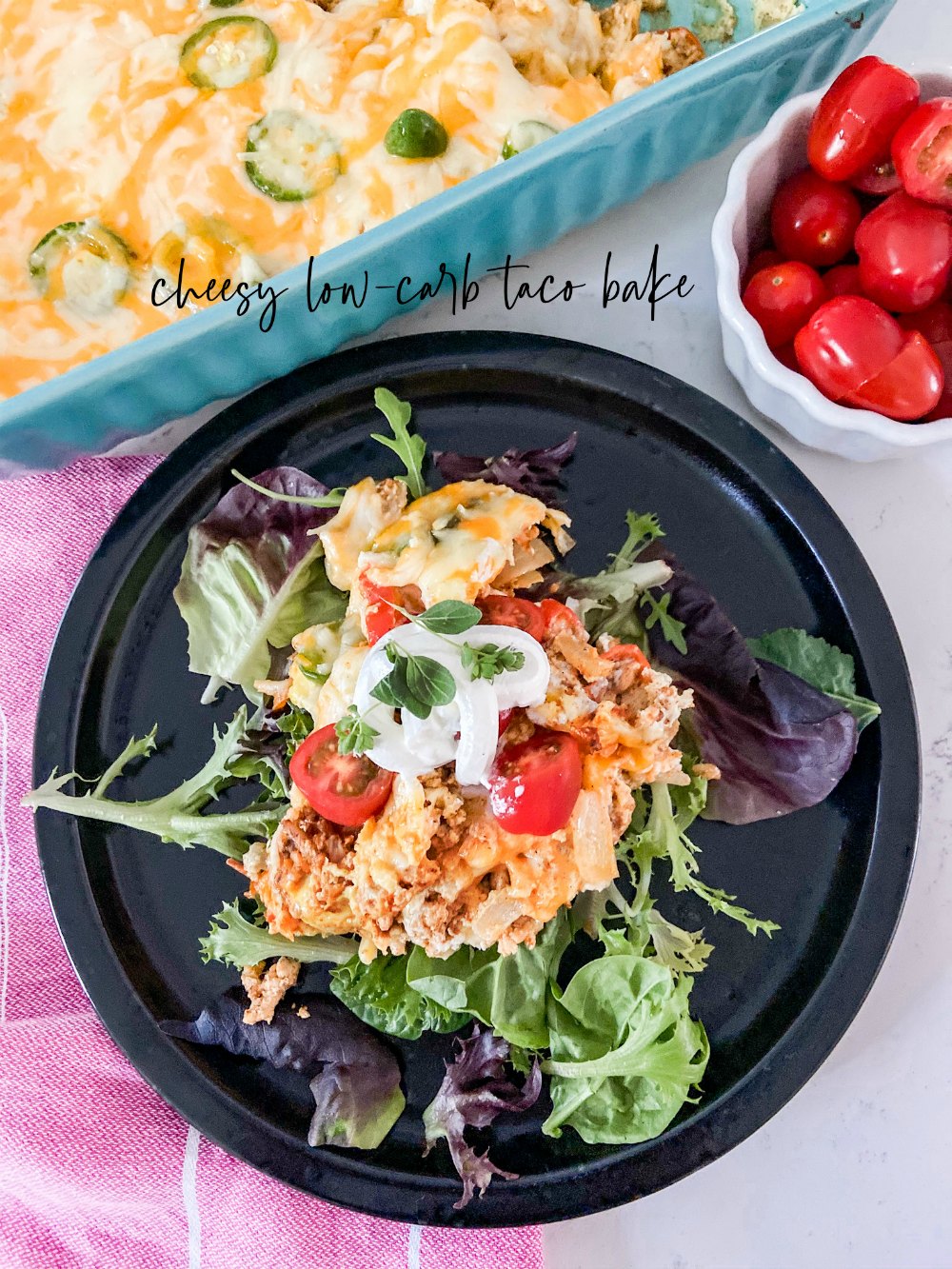 This is a wonderful idea if you want a salad with a warm topping! I make it and serve it over greens but my kids love it on top og chips as a nacho dinner idea.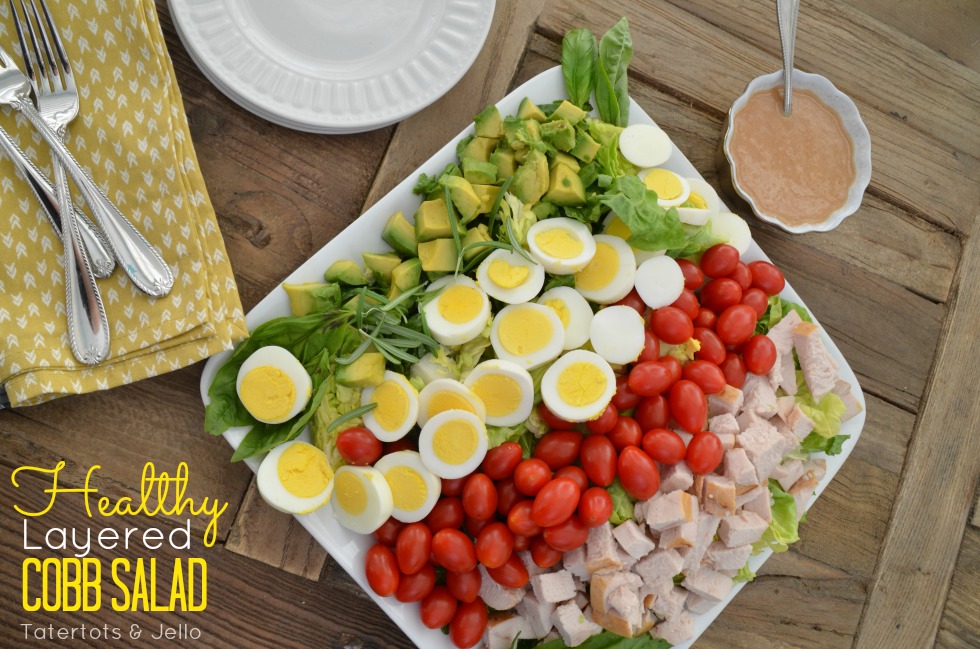 I made this salad before I started eating keto and low-carb. But luckily it also falls into both of these categories. Give it a try. I think you will love it!
And be sure to hop over to my friend Heather at Homemade Heather's site. She has been eating keto for a year and looks amazing. She shares all kinds of keto and low-carb ideas on her site!
Pin Zesty Keto Greek Salad for Later!
Pin this recipe so you can find it later!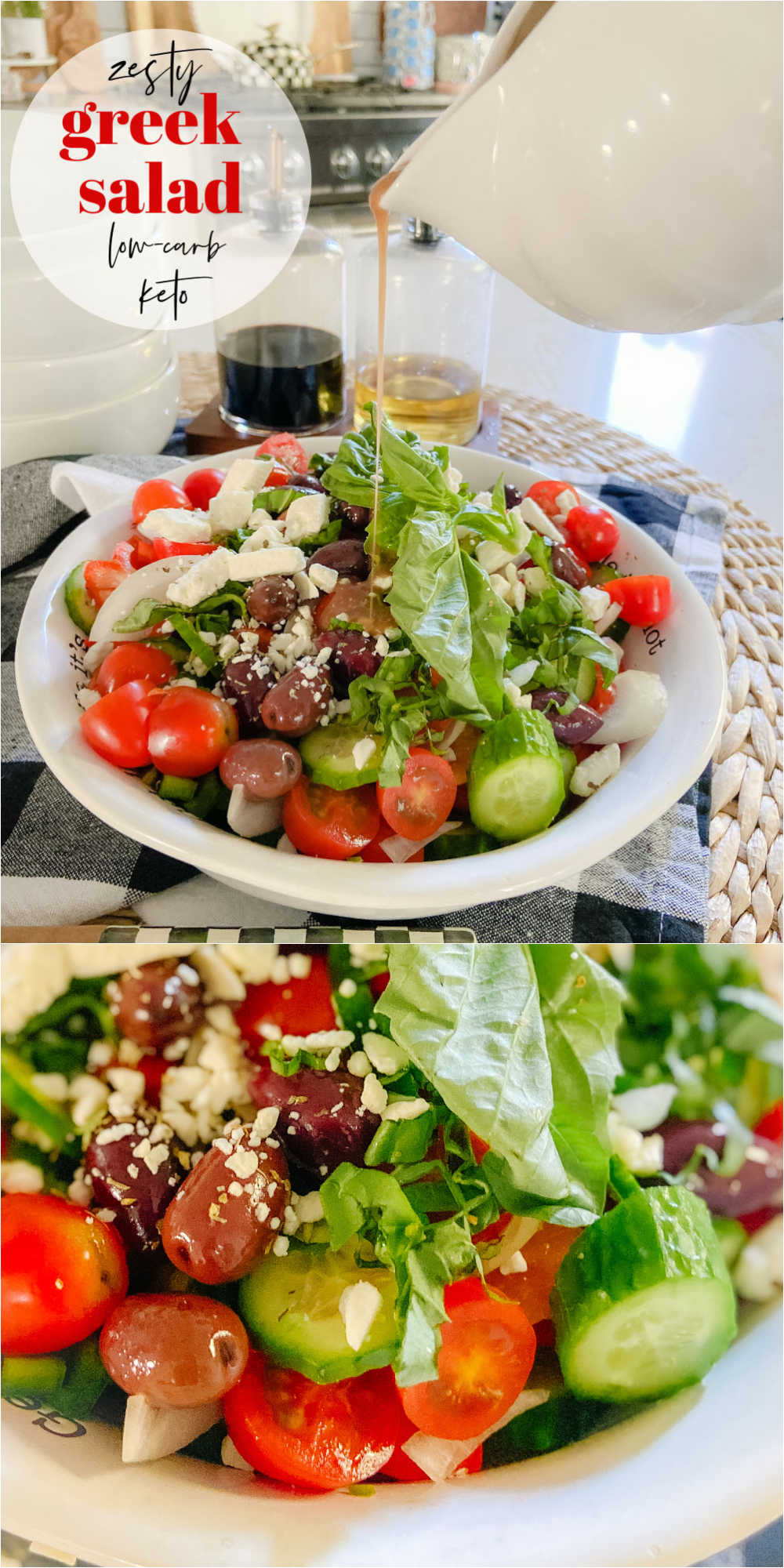 Have a Beautiful Day!
xoxo