7 Spring Porch Ideas. Get ready for warm weather with these 7 porch ideas and DIY projects to make your porch shine!
7 Spring Front Porch Ideas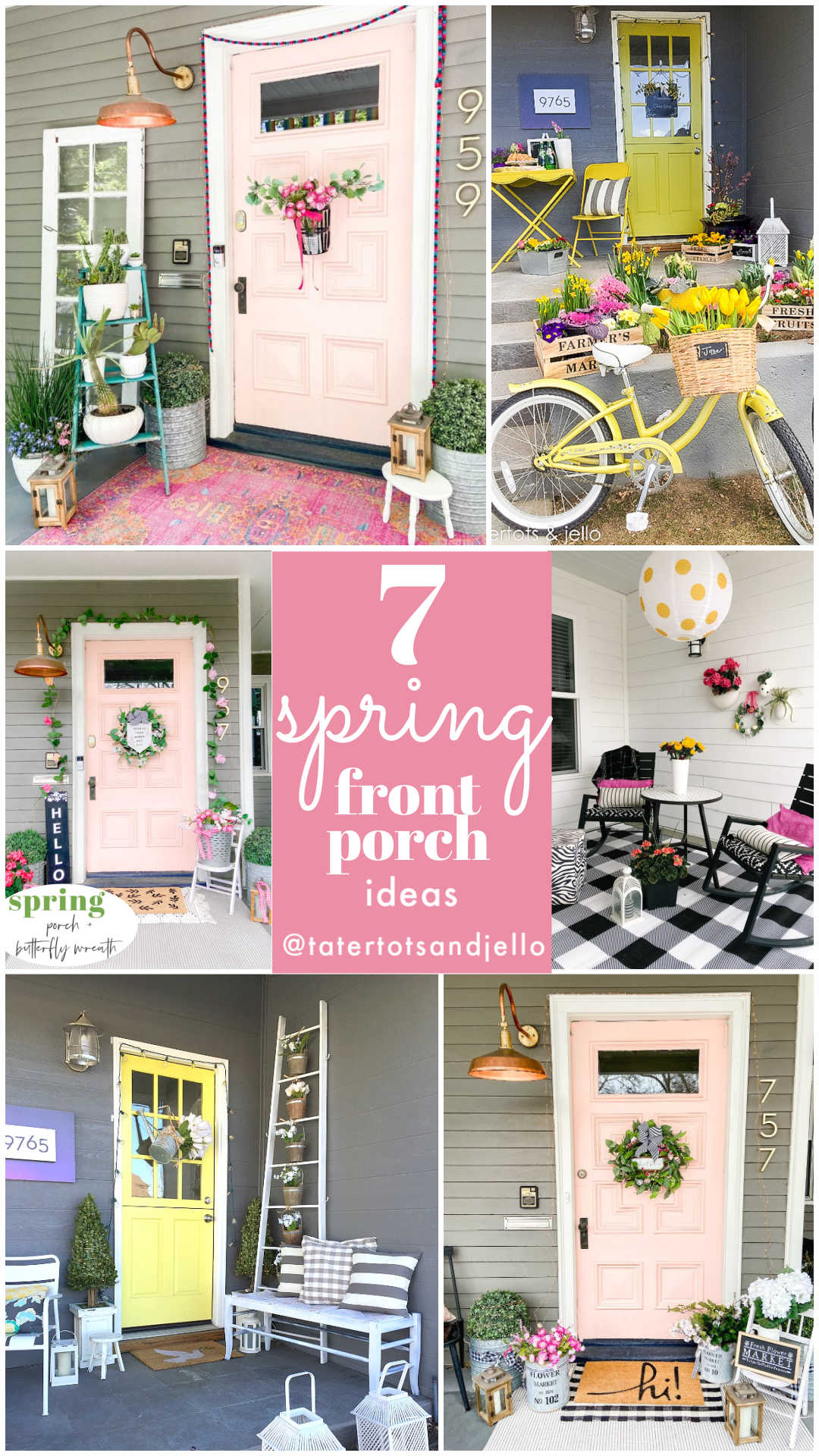 Hi, friends! Raise your hand if you're ready for warm weather and spring period spring is one of my favorite Seasons here in Utah because everything's in blue and the weather is still nice and not too warm. one of my favorite things to do is decorate our front porch period today I'm sharing some of my favorite DIY ideas that make it so easy to create a welcoming front door and porch.
9 amazing Spring Front Porch Ideas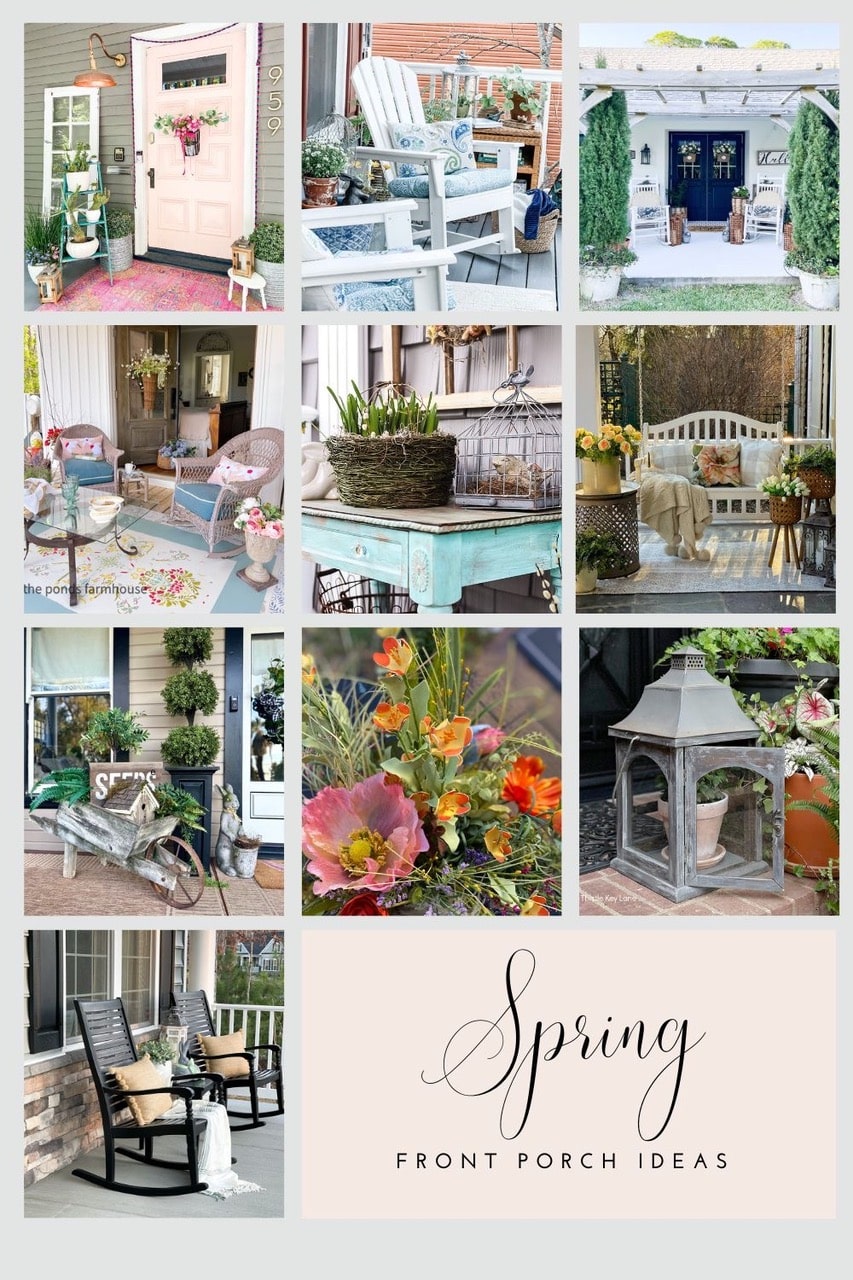 Today I am super thrilled to be joining with some of my friends for a spring front top! You will love these ideas. You can find the links to all of the porches at the bottom of the post. Hop over and pin the ideas so you can find them when you're ready to work on your front porch!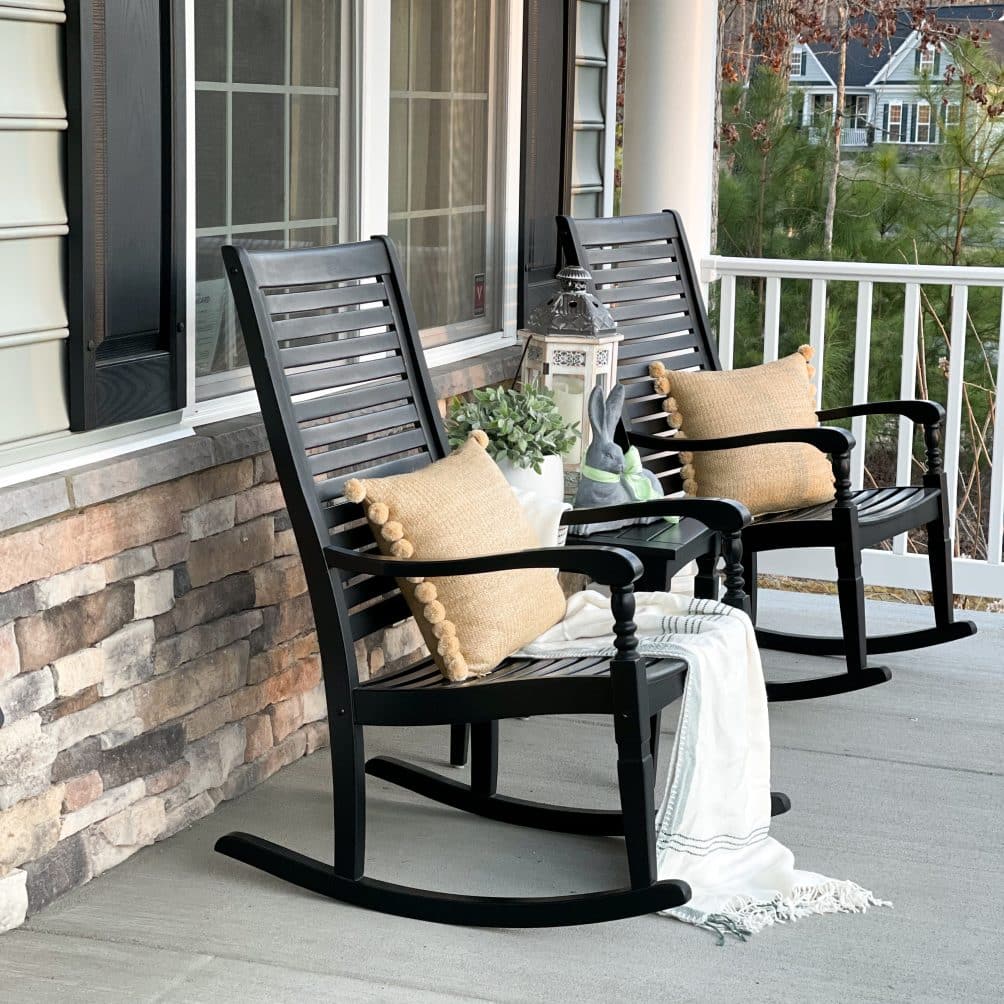 If you are here from White Lilac Farmhouse, isn't Tammy's porch so warm and welcoming?
Spring Succulent Porch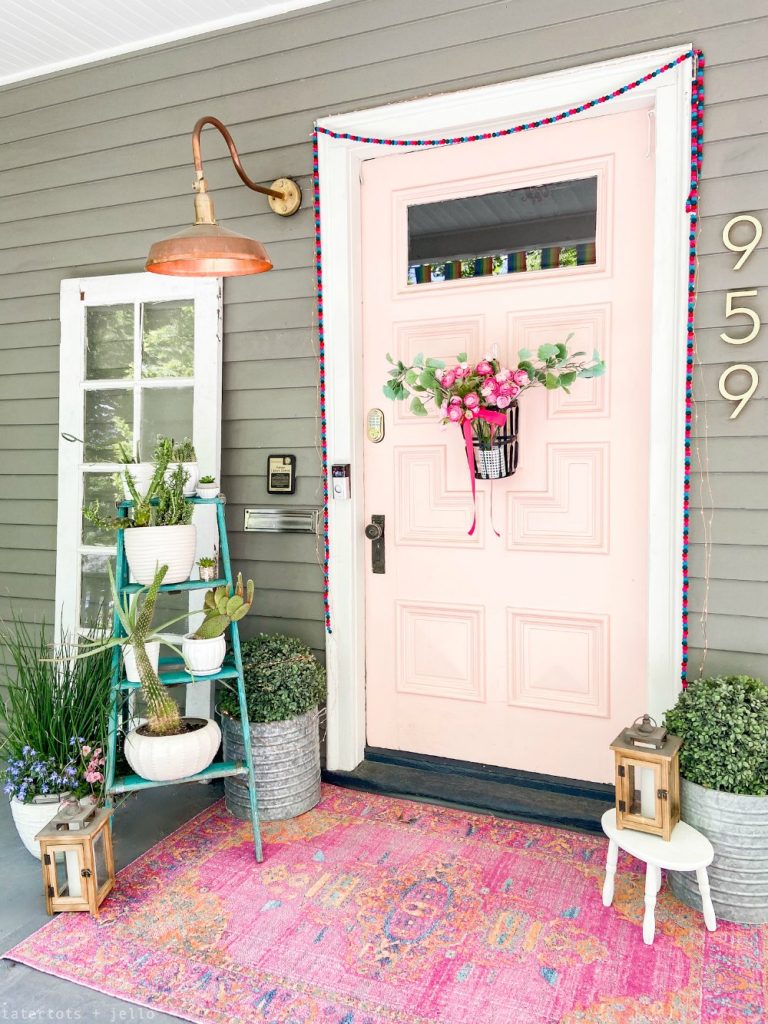 A couple years ago I created one of my very favorite front porches. It had a succulent theme and I love how bright and colorful it was! Here are some simple ways that I brought this fun feeling to our succulent porch:
A bright rug: brings color onto the porch and really grounds the whole Space.
Thrifted ladder: I found this colorful turquoise ladder at a thrift store and thought it would be perfect to Potted plants. I used to White pots to make them all uniform and place them on the ladder rungs.
Basket wreath: instead of a traditional wreath I went with a basket wreath and then I filled it with pho peonies and branches plus a hot pink ribbon which really tied in with my pink and yellow rug.
Vintage door: at the store leftover from our remodeling projects at the 1891 Cottage, and I thought it would be nice to add a little architectural interest to the porch. I put the antique door behind a ladder and I think it's kind of showcases the succulent ladder and a great way.
You can find out more about how I created this succulent porch on this post: spring succulent ladder porch.
Spring Butterfly Porch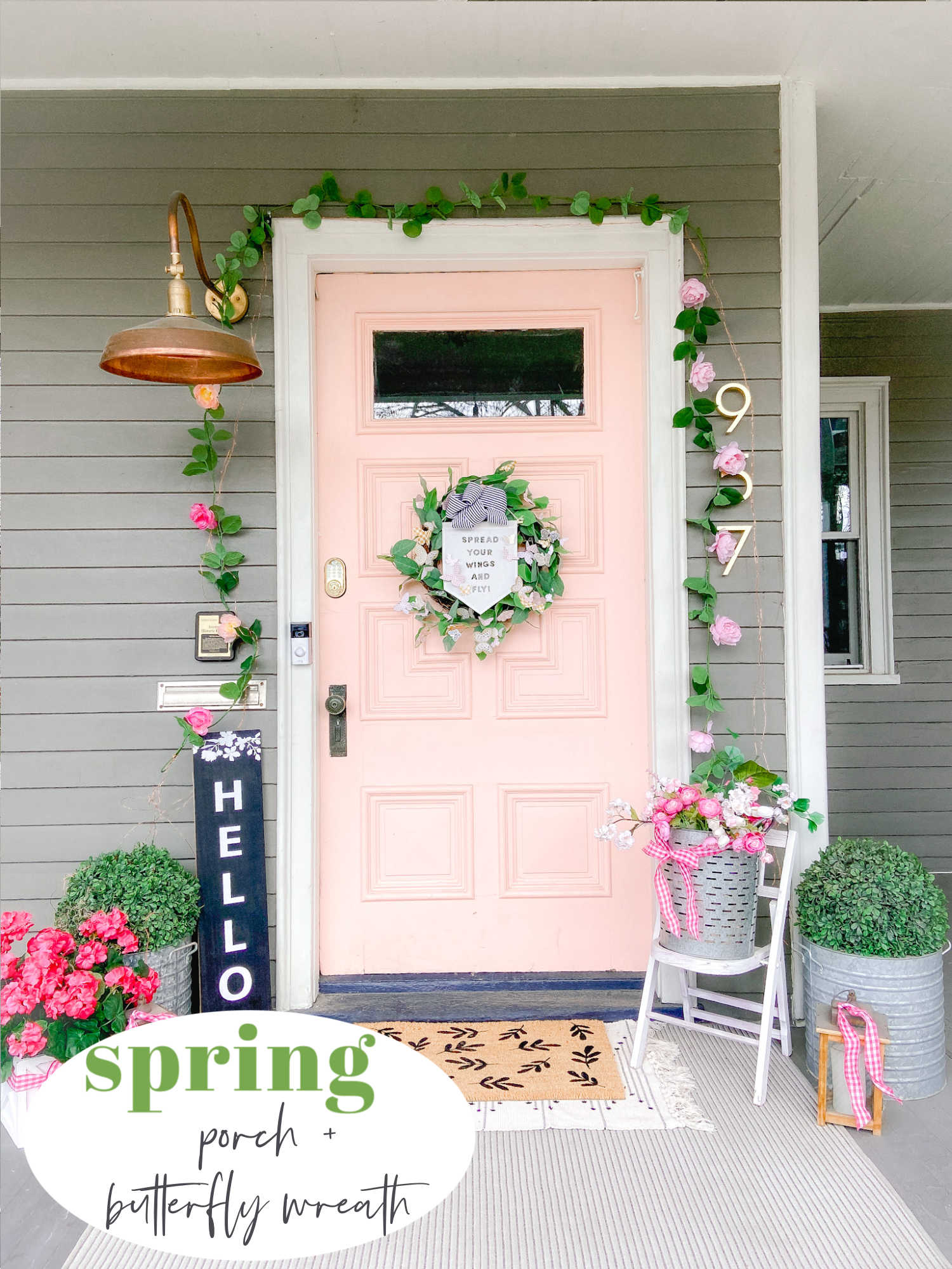 Another year I created a colorful spring porch with many Floral elements. Here's how I created this a colorful spring porch:
Butterfly wreath: I took a wreatha I already had and added some paper butterflies that I cut out of my paper line with American crafts. I added a fabric Banner to the middle that says quotation mark spread your wings and fly quotation mark.
I mimicked the flowers and Greenery of the wreath by using a faux flower Garland around my door. I love the way that it really brings spring to our front door.
Layered doormats: my friends at nickel designs gifted me this beautiful graphic leaf doormat which I layered with one of their black and white bohemian cotton rugs underneath.
Add a spring sign: I found this hello sign with white florals at Hobby Lobby and I thought it looked really great with the graphic entryway rug.
I added pops of color with flowers. Faux flowers in a white wooden planter on one side of the porch balance out the pink peonies that are in the galvanized container which I placed on an antique chair for a statement.
You can find out more about this Spring porch — Spring Porch and Butterfly Wreath
Bohemian Spring Porch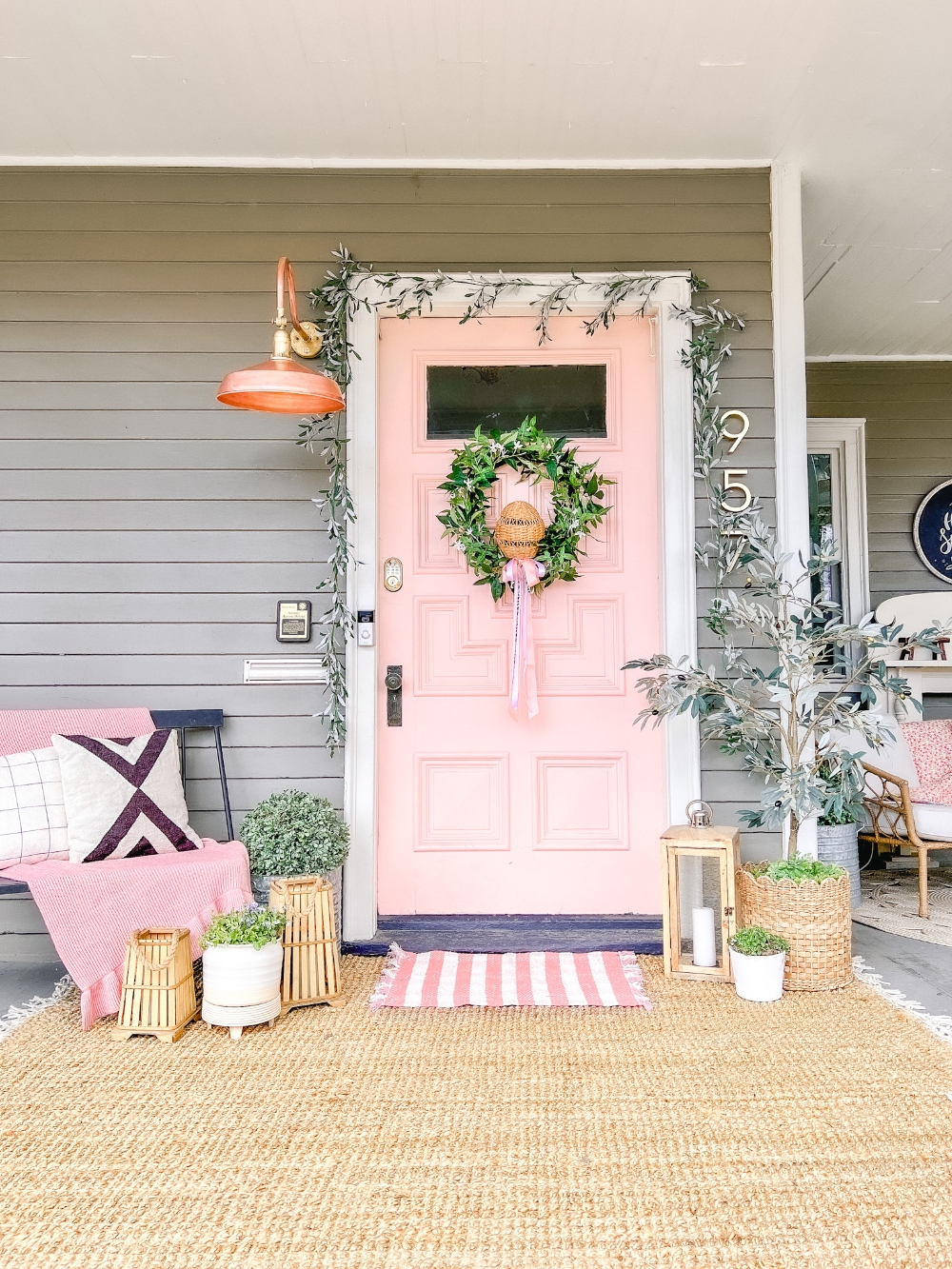 I love a boho look. This year I created a really bohemian-themed spring front porch with some really easy natural elements and pink accents that reflect the pink on our front door. Here's how I created this Bohemian spring porch:
A oversized natural rug really grounds the space. An extra large rug expands the space and makes it more welcoming.
Olive Tree: I wanted to add height to this porch so I brought my olive tree outside and put it in this adorable scalloped basket container.
Olive garland: Continue the olive theme around my front door with a couple Olive garlands that I found on clearance. I think the Olive Tree brings the eye up and then it continues around the door with the Olive Garland.
Natural wood lanterns: I added some natural wood lanterns to bring a glow to the porch at night.
Bench and pillows: A farmhouse bench and bohemian pillows, a cozy pink throw create a welcoming space.
Bohemian Furniture: on each side of the front door we have some beautiful bohemian furniture. Our Serena and Lily swing is on the left hand side of the porch and the natural wood of the swing and the shape really looks so pretty with a Bohemian front door. On the other side of the porch is a sitting area where I put some rattan chairs..
You can read more about how I created this Bohemian spring porch here: spring Bohemian porch.
Flower Market Spring Porch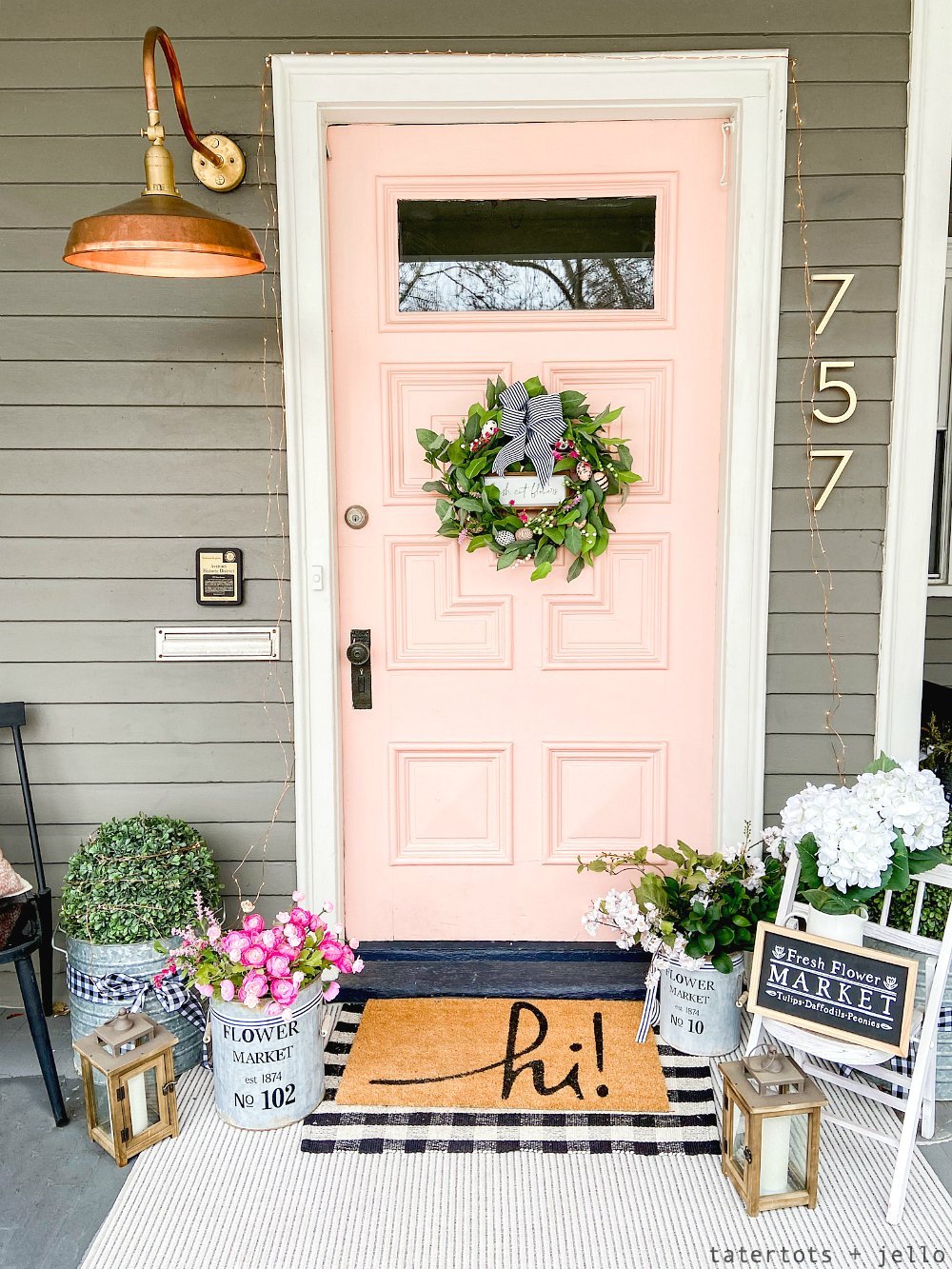 I think spring is the perfect time to create a really beautiful flower-themed porch. Here's how I created this flower market spring porch:
Simple flower market wreath: I used to Greenery wreath and added Sharpie pen eggs. Eggs are just faux eggs that I had and I used Sharpie markers to color graphic designs on the pen and then I glued them on to the wreath. Faux flowers and a large black and white bow for the top, then I added the sign to the wreath.
Layered entry rugs: I love layering rugs and for this front porch I used a "hi" rug and layered a classic black and white plaid rug underneath. I also layered a larger rug underneath those two rugs and really created a cozier space with larger rug that really draws people onto our porch.
Galvanized flower containers: I brought color to this flower market wreath with a lot of flowers that I put inside these Flower Market galvanized containers. I like the way that the galvanized flower market containers coordinate with our larger planters that we keep out all year round.
Flower market signs: Flower market signs on an antique chair with lowers.
Black and white succulent porch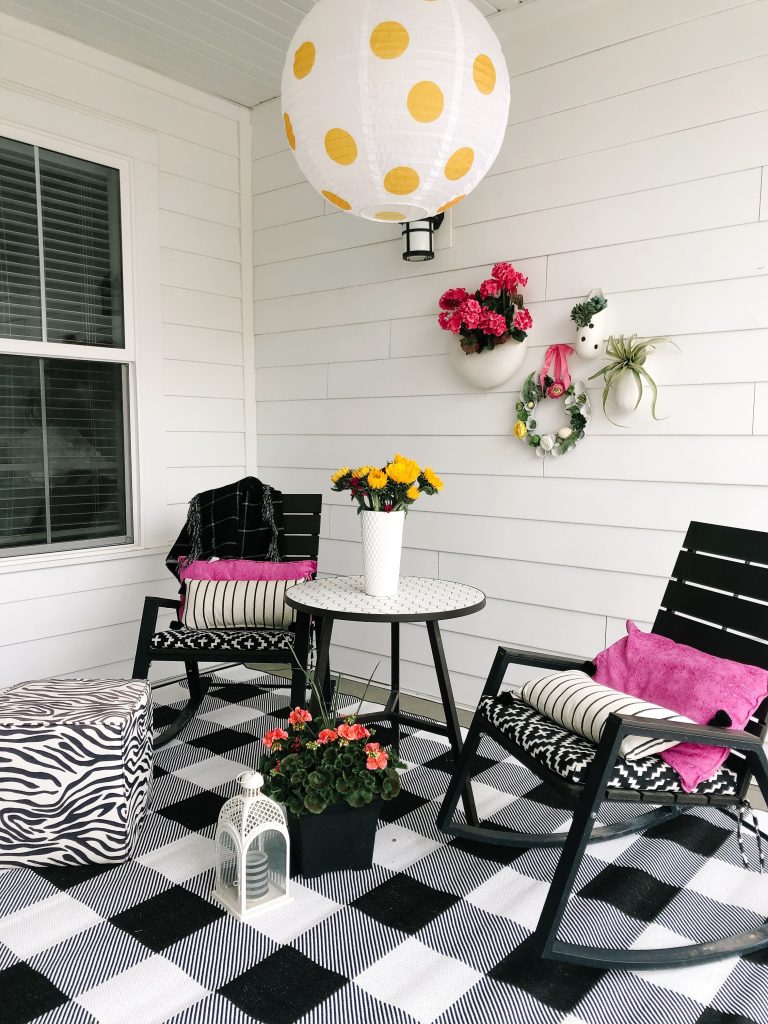 This was our back porch but I thought it would be fun to talk about that for a minute. This is how I created this black and white succulent porch:
Black and white checked rug: I used a very large black and white rug to ground the space and give it a little bit of softness.
Pillows and throws: I think adding comfortable cushions, pillows and throws plus an ottoman here makes the space softer and lends itself more to using the space instead of just having a beautiful porch. I think a port should be used as well as being beautiful.
Succulent hanging containers: team planters. I grouped them behind the chairs and table as a focal point. I also on a succulent wreath that I created: you can find the tutorial for the street here — a container succulent spring wreath.
You can find out how I made this flower pot porch here — DIY Spring Porch.
Spring Kite Porch
This was the spring porch at my 1905 Cottage. It was small but this is one of my favorite porches that I have created. Here are some of my favorite projects from that flower pot porch: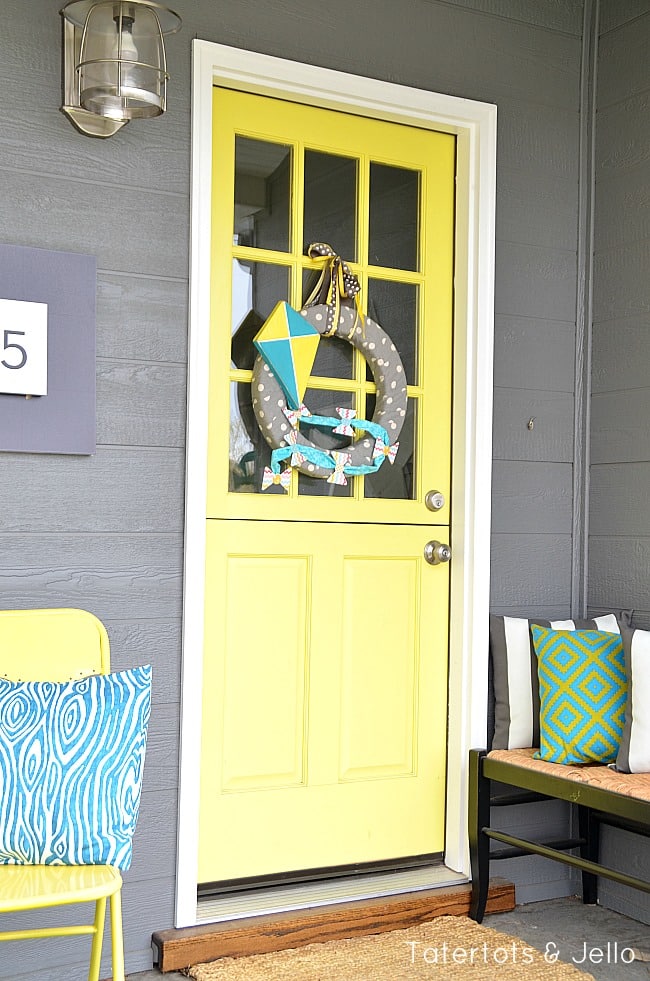 I thought a kite-themed wreath was perfect for Spring. I cut out a kite shaped piece of wood, painted it and added it to the wreath. It's a fun wreath for Spring!
You can find out how I made the Spring Kite wreath here — Spring Kite Wreath.
Flower Pot Spring Porch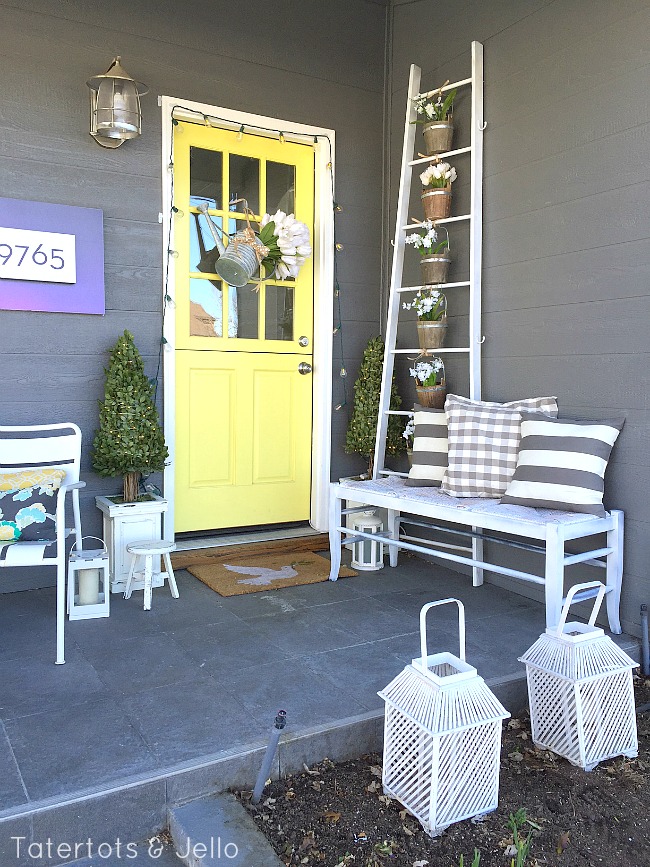 Ladder with hanging pots: This DIY ladder was an Advent ladder originally. For a spring porch, spray painted the ladder White, and found these wooden buckets and put flowers inside and hung them from the rungs of my DIY ladder.
Created a seating area: a small bench is perfect for a smaller porch. Just add pillows and you have an instant seating area.
A watering can wreath: use a galvanized watering can as a wreath is a super simple way to create a cute and quirky wreath alternative for spring, Just add flowers inside the watering can and ribbon and you have an adorable wreath alternative.
White lanterns: multiple white lanterns bring light and are pretty focal points for spring. It doesn't matter if your lanterns are the same the white color connects them, and makes them look cohesive together.
French Spring Front Porch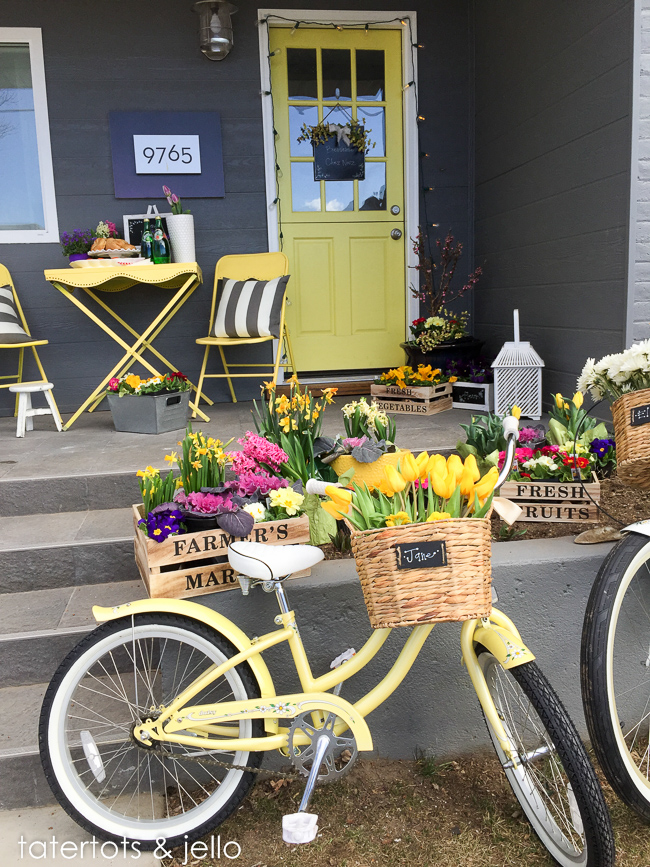 This French spring front porch was also at my 1905 Cottage. I loved that Dutch store. Here's how I created the spring French from porch:
Flowers and crates: Potted flowers and Farmers Market crates in the flower bed in front and around the front door and the bistro set on the porch.
A French bike in front: a French style bike with a basket looked so cute in front of my porch. I added flowers to the basket.
Galvanized door hanger: are so easy to insert inside of a basket hanger for your door. This one was galvanized and I love seeing the flowers peeking out the top and cascading down the container.
A French bistro set: this bistro set is vintage and I painted it yellow to match the Dutch store. Some striped pillows seem very Parisian and we had a little picnic on the porch for spring!
You can find out more about this Spring porch here: Spring Flower Pot Porch.
Next Stop on the Front Porch Tour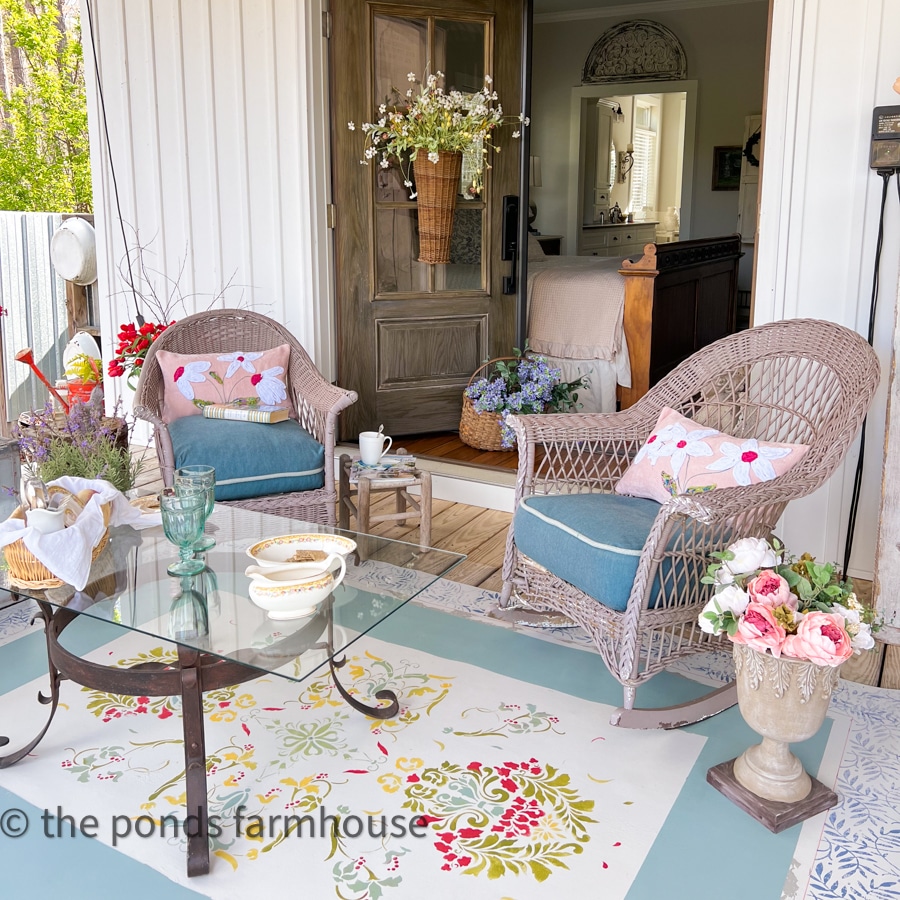 Thanks for stopping by and reading all about my spring front porches. Let me know if you have any questions! Next on the spring front porch tour is Rachel at the Ponds Farmhouse. Rachel has the most gorgeous porch and she's sharing all kinds of ways to make it even Cozier and more welcoming for spring. Be sure to stop by and see all of her Amazing Ideas!
French front porch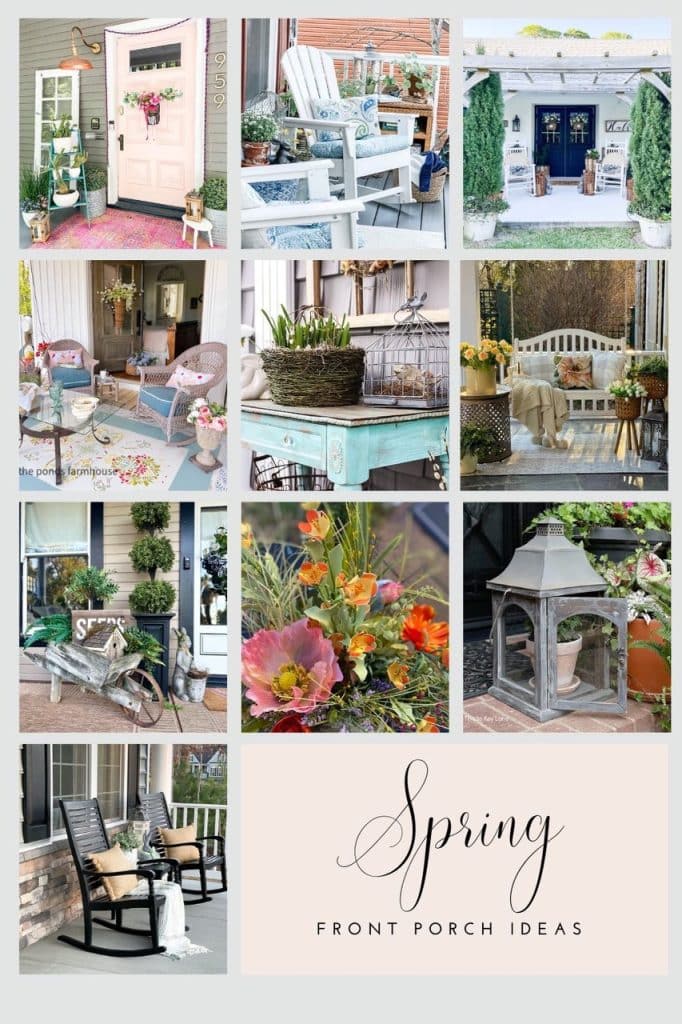 Which idea do you want to begin with on your spring front porch?
Let us know in the comments!
XOXO