Spring Cottage Porch Decorating Ideas. Celebrate Spring by adding a few fresh details to your front or back porch.
Spring Cottage Porch Decorating Ideas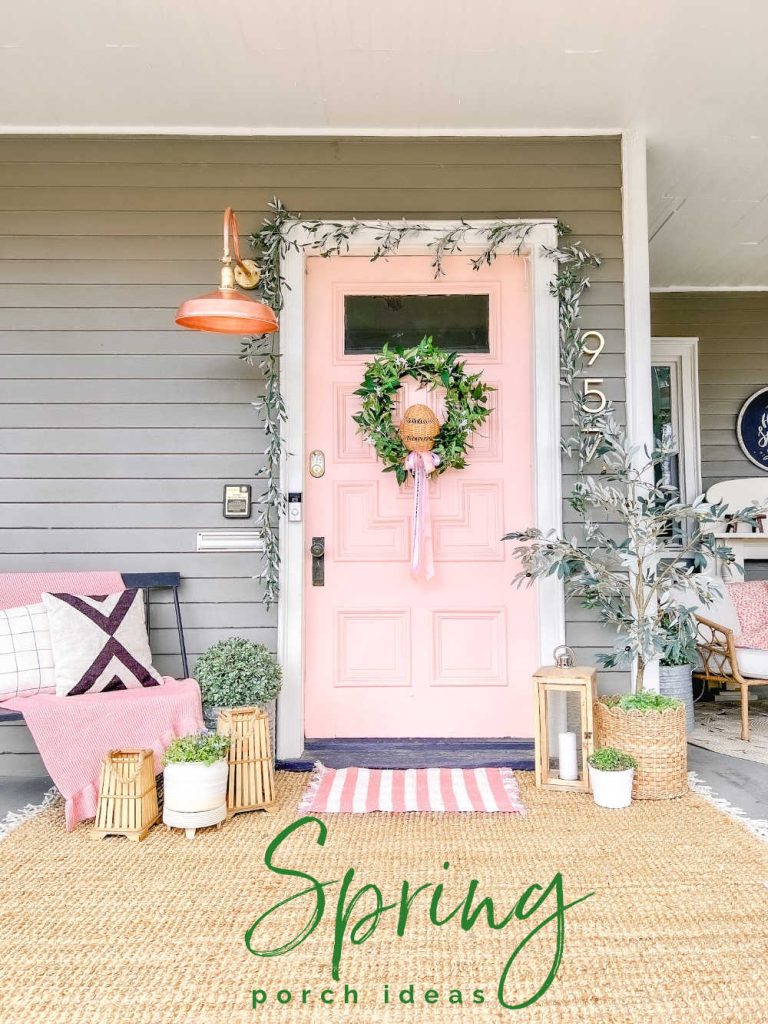 I always get so excited when the weather starts warming up and it's time for porch sitting! This year I kept things pretty simple with some easy ideas!
6 Spring Porch Ideas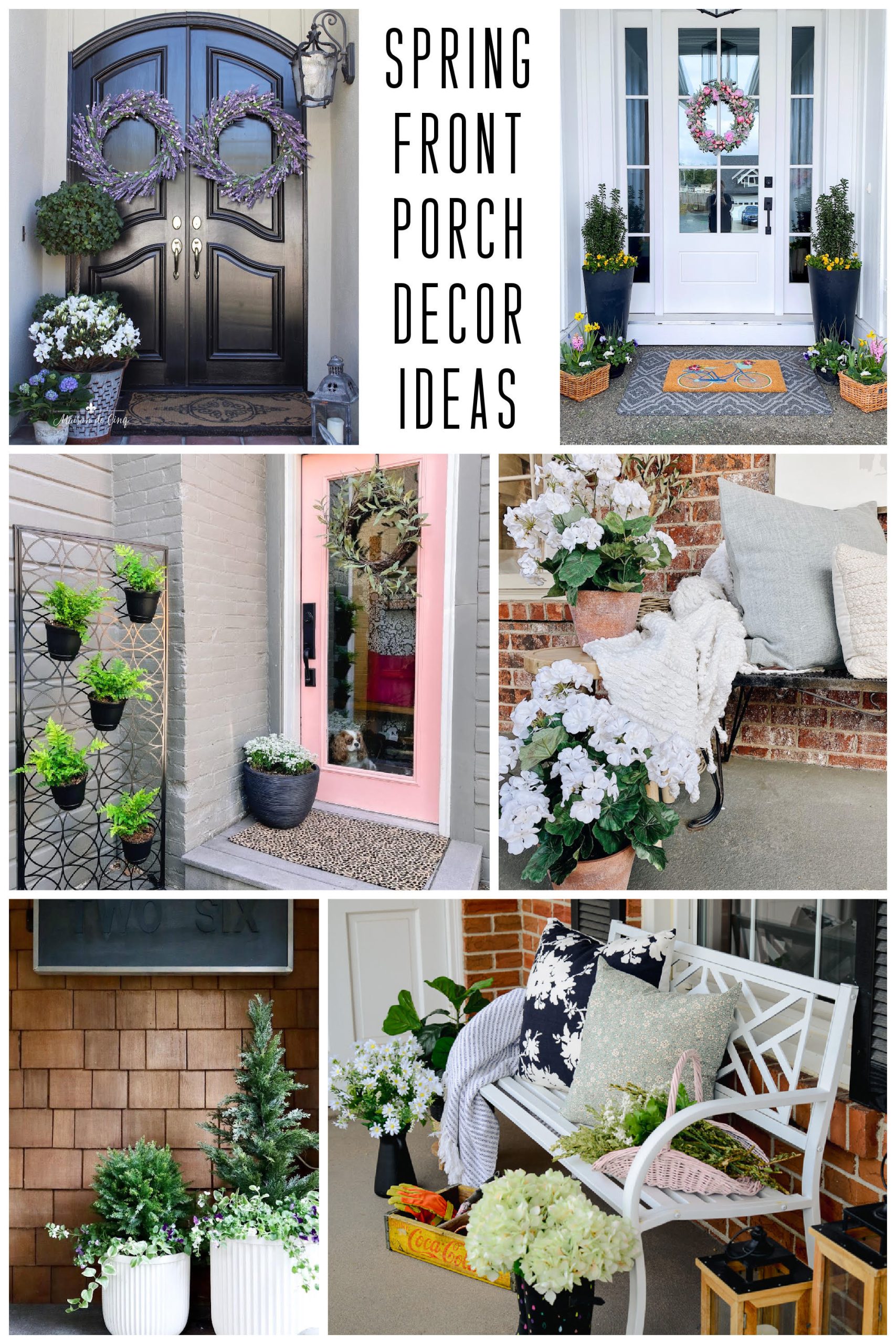 I am joining my #SeasonalSimplicity friends who are sharing the prettiest porch ideas. And don't worry! If you don't have a front porch, these front doors are so inspiring!
Small Porch Ideas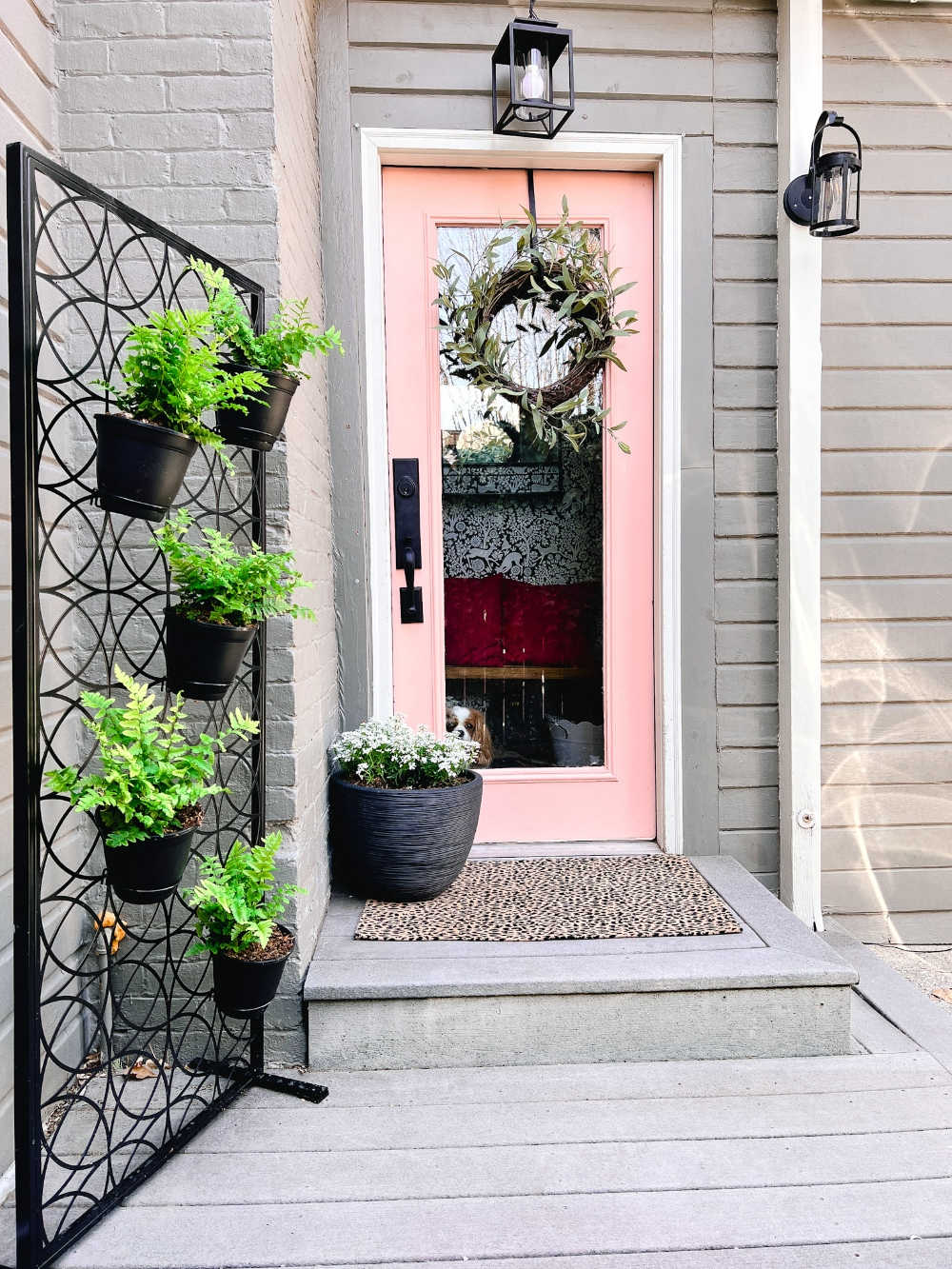 We have a small back entry. I guess you could call it a porch even though it's not covered. We don't have a garage so this is where we park our cars and so we use this door a lot. At Christmas time I painted the back door to match our front door. I also added the prettiest Delaney Hardware doorknob. And I switched out the motion sensor light for a pretty hanging lantern. It made such a difference!
Small Porch Ideas: Add Plants Vertically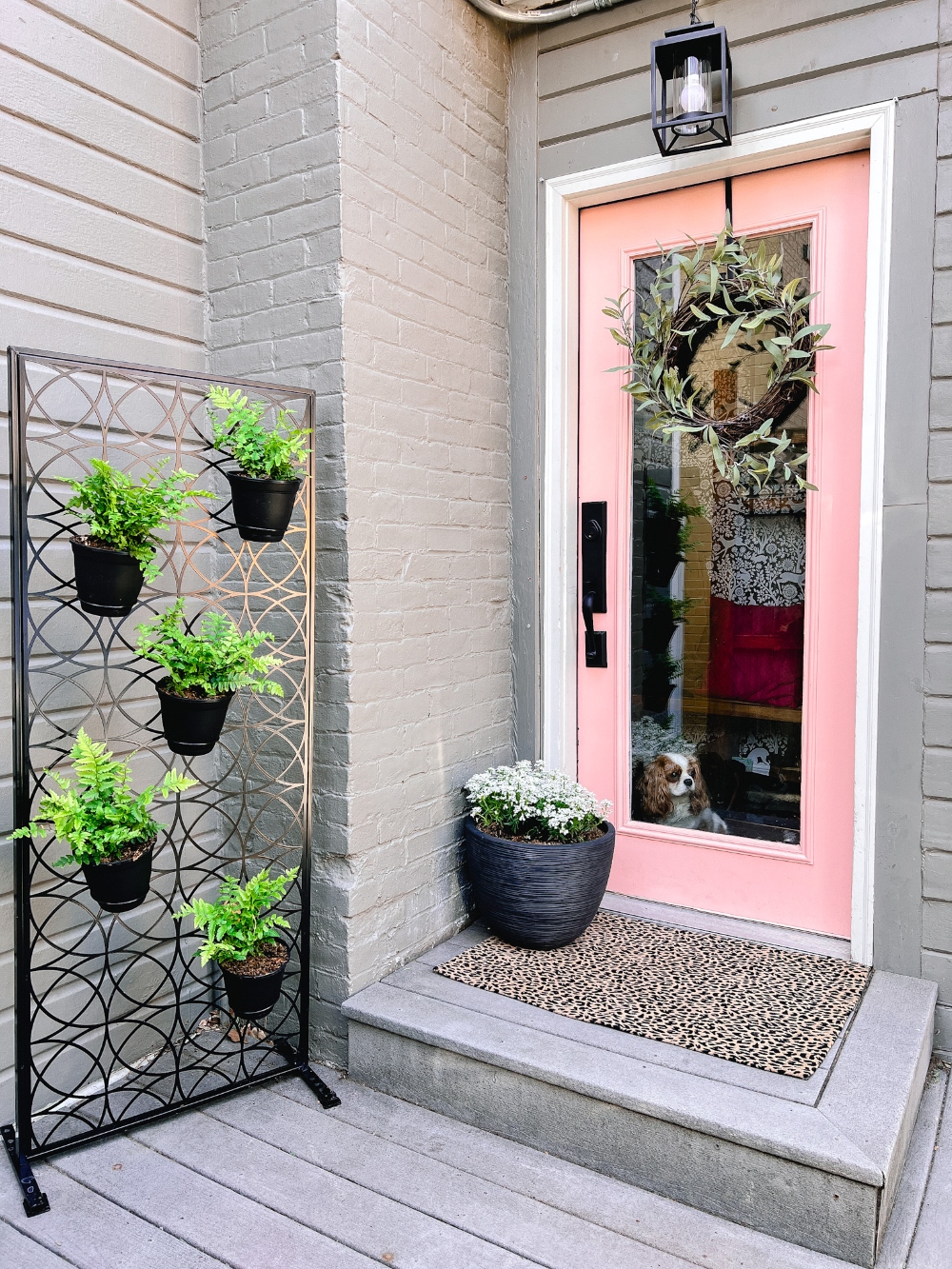 Since the space isn't very big, I thought it might be nice to add some plants vertically. I found this screen and added pots that hang on the screen with clips that attach on the screen and rings that fit around the pots. This screen would also be so cute in a kitchen and you can pot your herbs to use all year round!
Small Porch Ideas: Add a Bold Doormat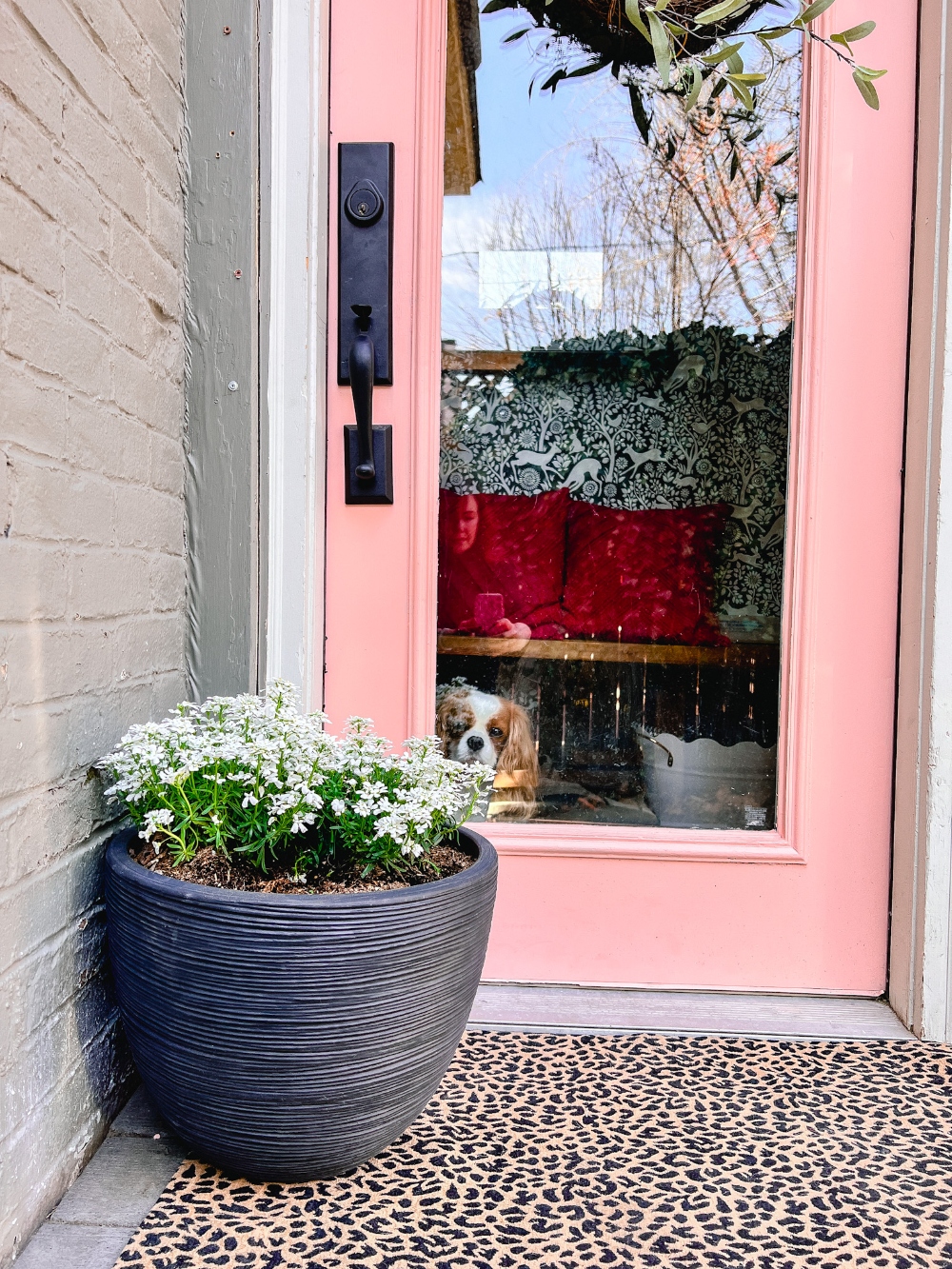 A bold doormat can really make a statement on a small porch. I used this pretty leopard doormat and I love the contrast of the doormat with the greenery and pink door!
Spring Front Porch Ideas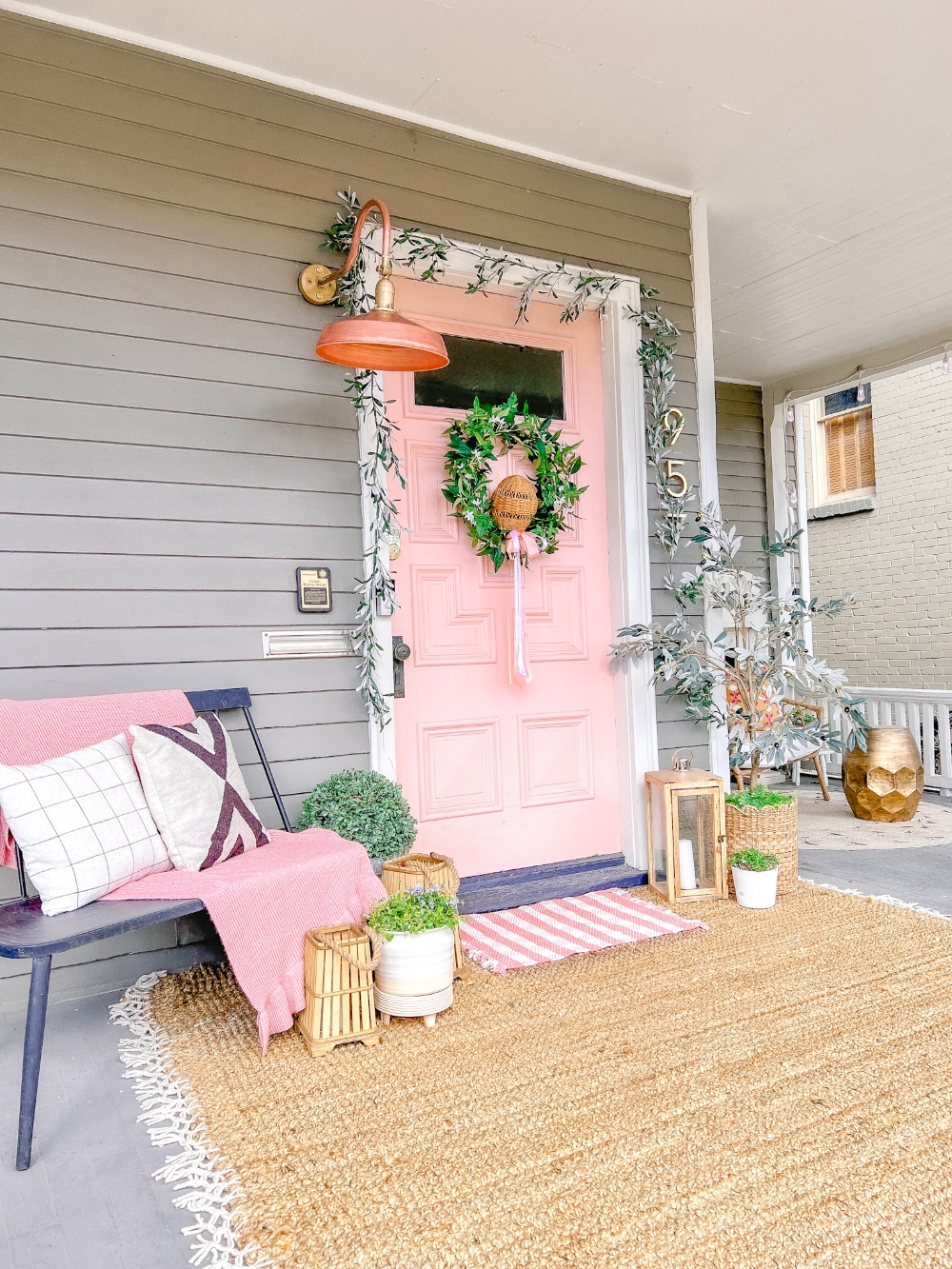 Since I have more room on my font porch, I was able to decorate a little more for Spring. But I still keep the overall vibe very simple with some easy projects!
Spring Front Porch: Add Greenery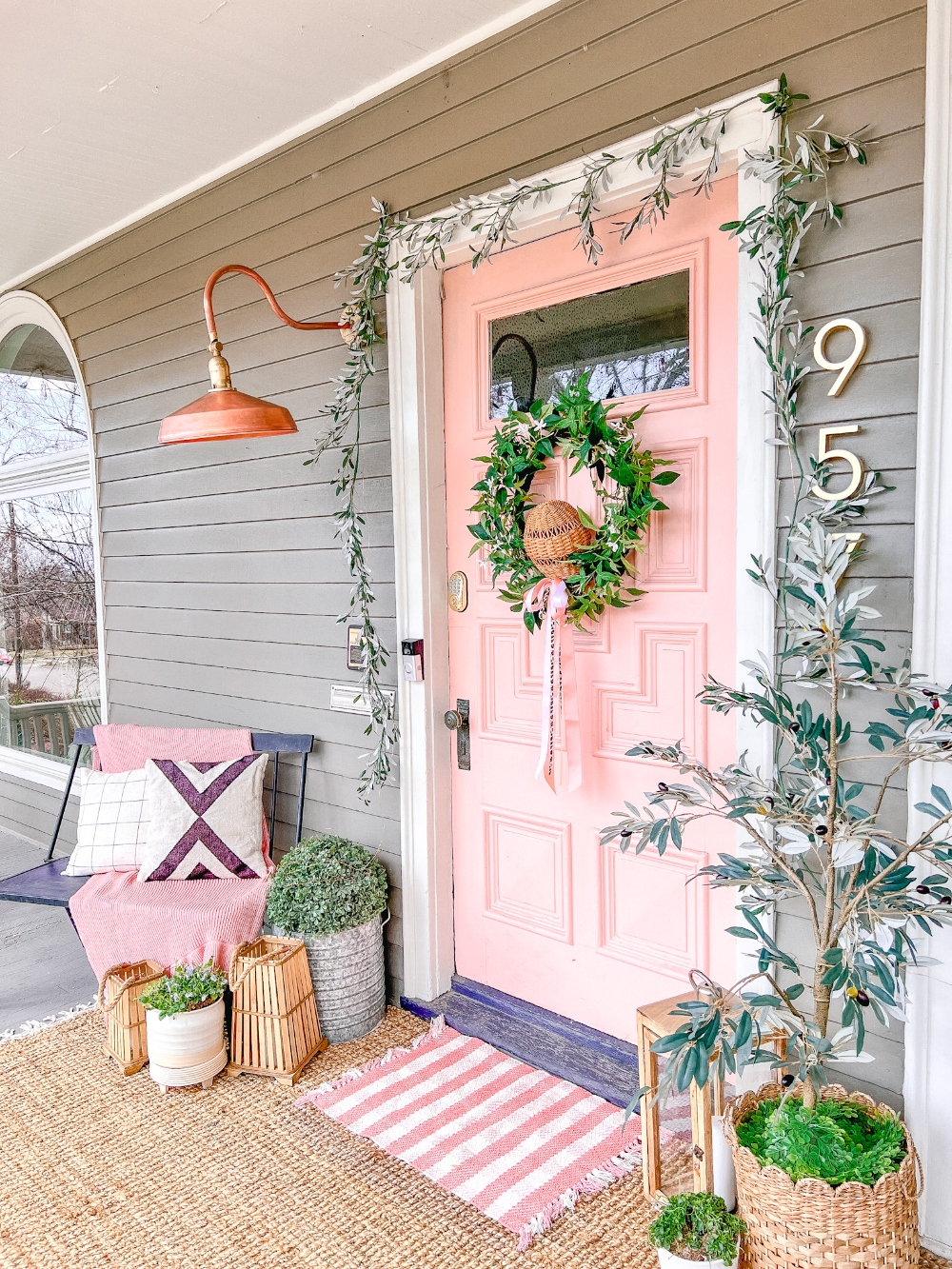 Faux olive garlands around the door feel so fresh. I brought our faux olive tree outside and put it in the cutest scallop basket!
Spring Front Porch: A Simple Spring Wreath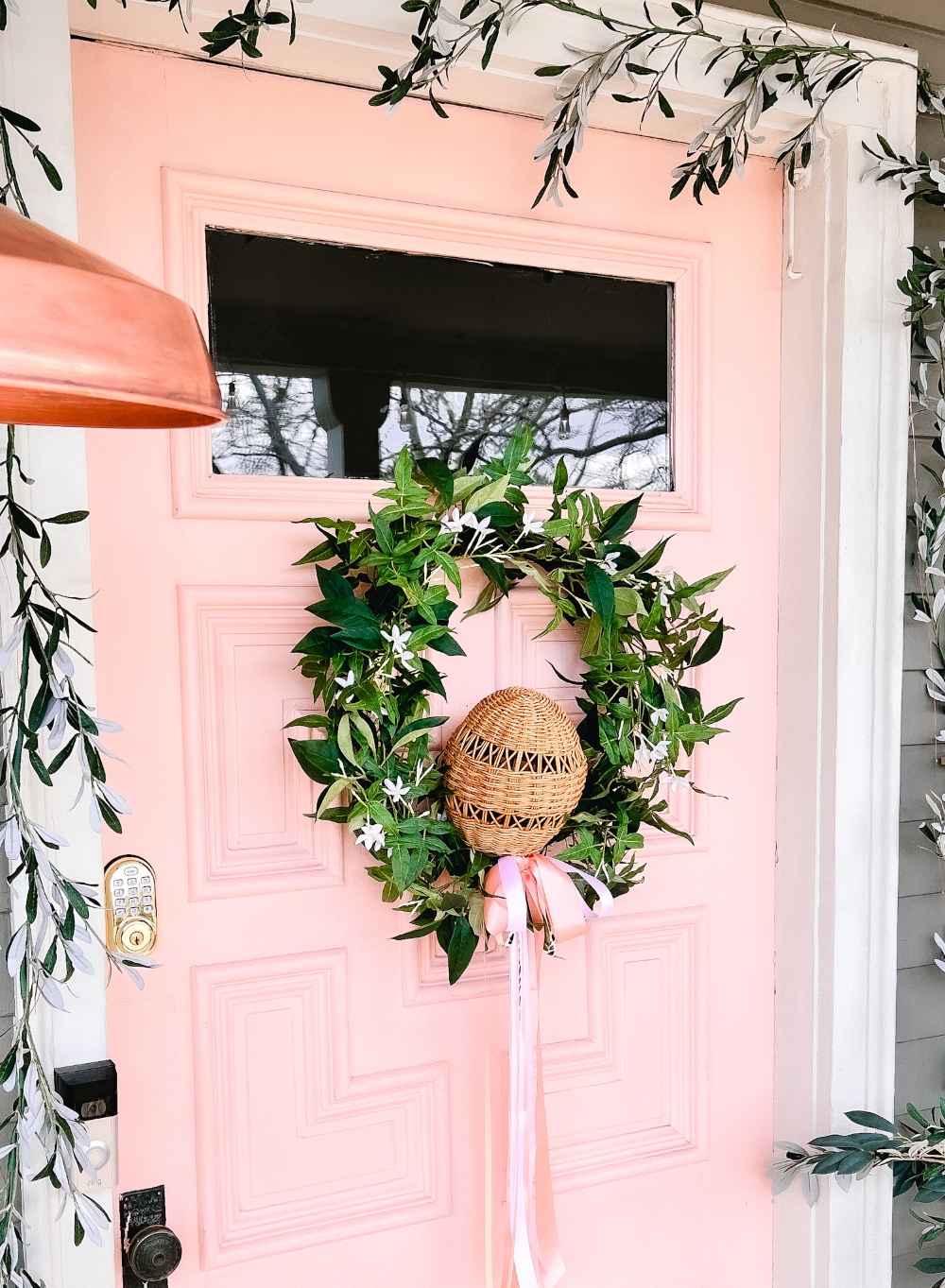 This is the easiest 5-minute wreath. took a simple green wreath and added a giant wicker egg. I just used wire to attach the egg to the wreath. I have a matching scallop basket that I put inside my entry room.
Spring Front Porch: A Coordinating Doormat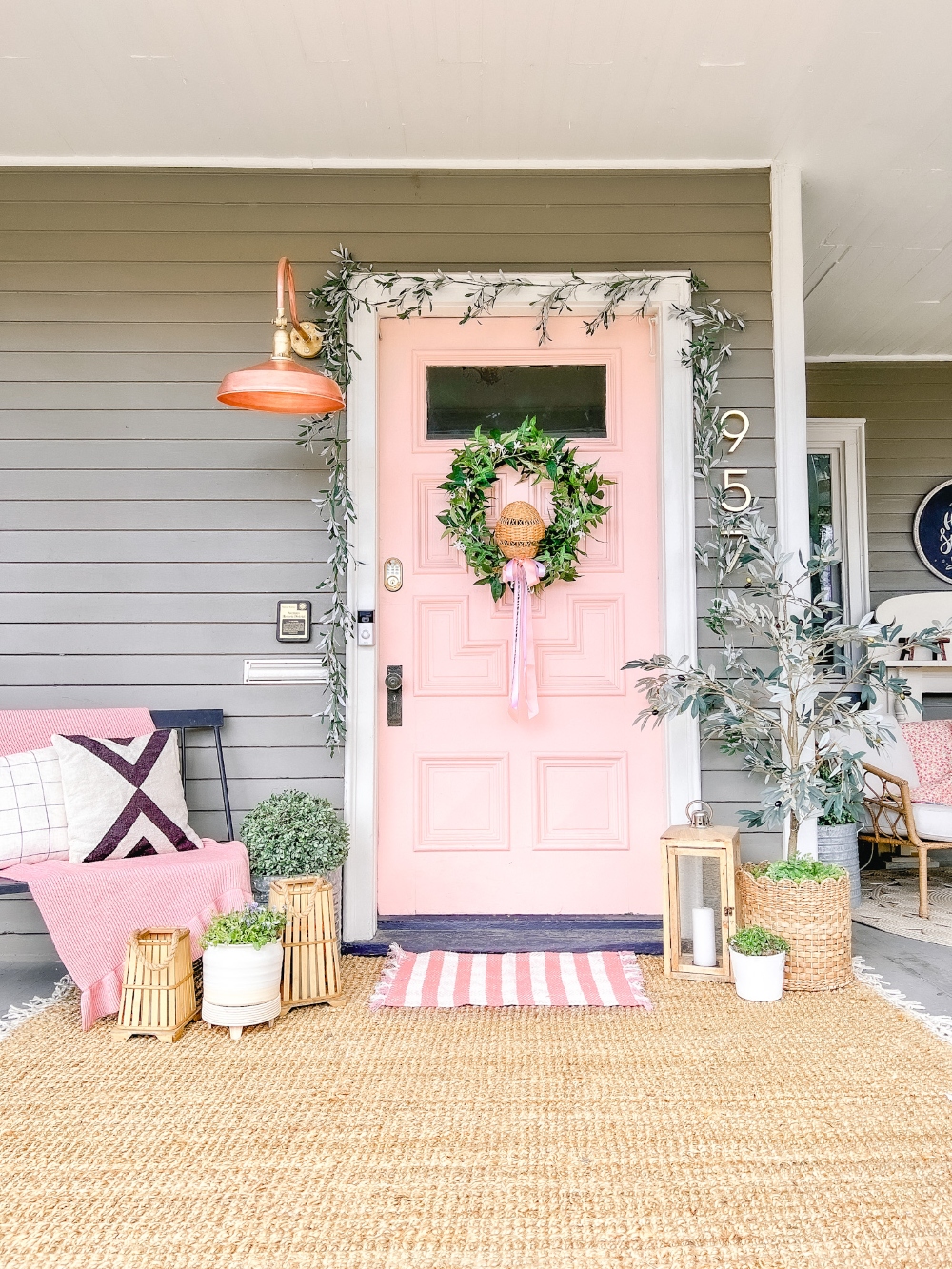 A doormat is a great way to add color to your spring porch. Instead of a traditional doormat, I added a simple cotton pink gingham rug. It matches my door and it's washable which is a great idea in the spring since there might be wet elements this time of the year.
Spring Front Porch: Cozy Pillows and Blankets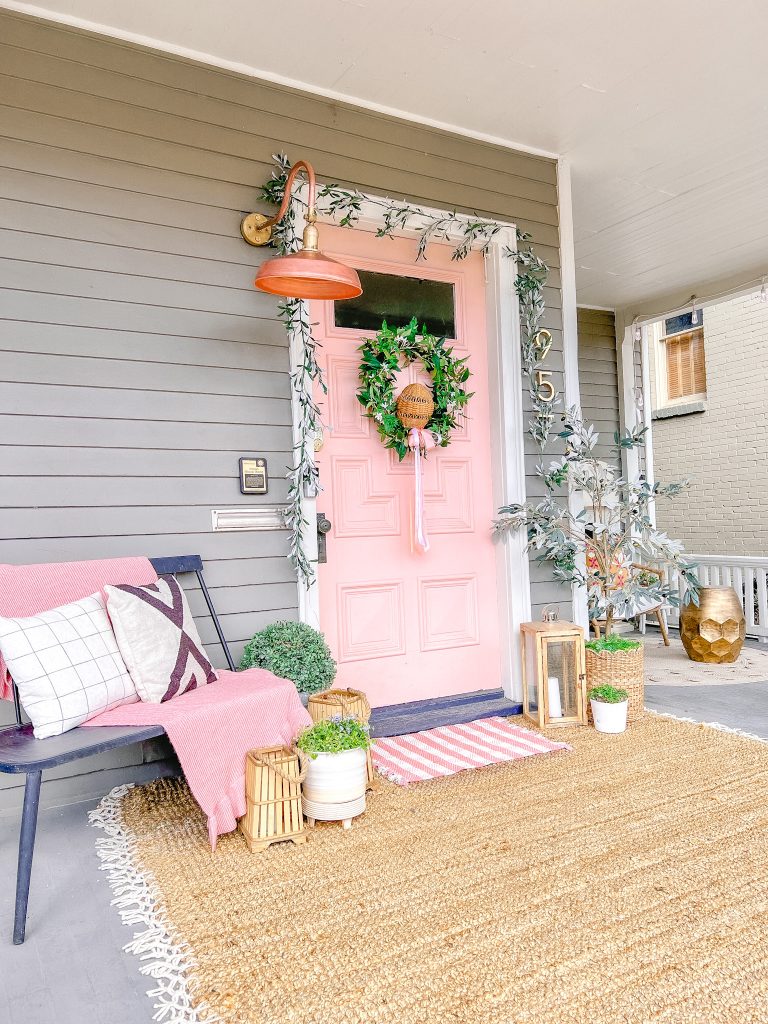 Spring can be a little chilly, so adding some cozy pillows and a throw is perfect for those chilly mornings or evenings. This sweet blanket is so soft and I love the little ruffle at the bottom. I brought a bench from the other side of the porch over in front of the door for spring.
Today some of my friends are sharing their Spring front porch decor ideas! Be sure to visit their posts by using the links below the images.
More Spring Ideas
Here are more spring ideas!!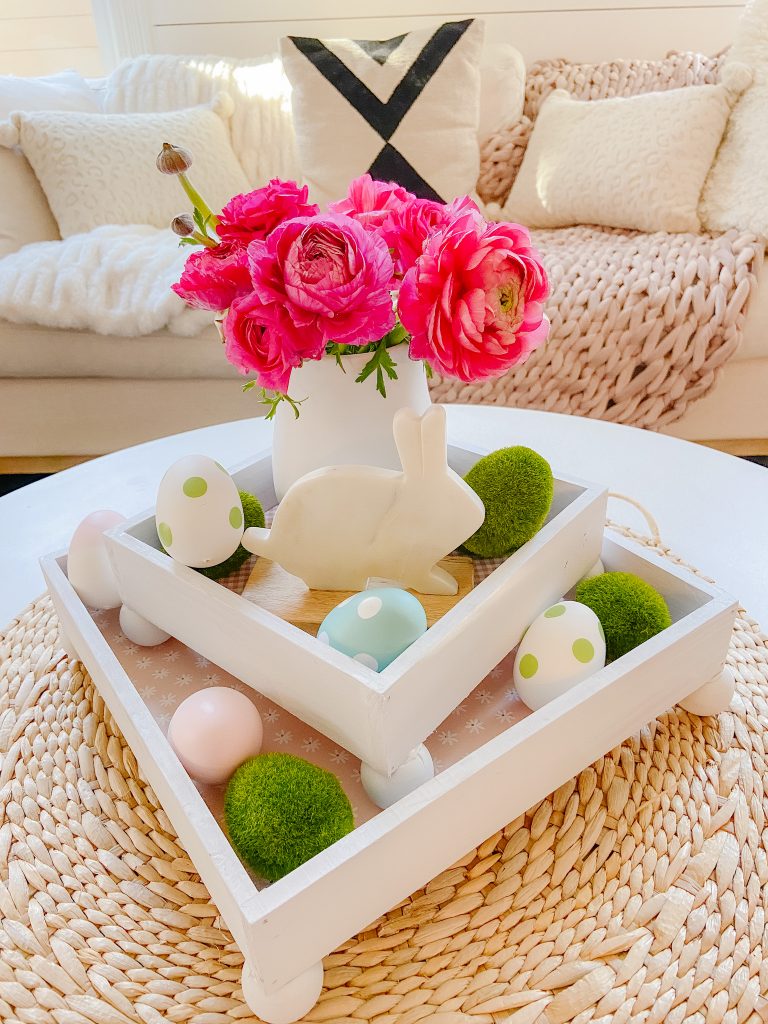 This was such a fun project to make! I took wood frames, added feet and nestled them together for a pretty way to spotlight spring items!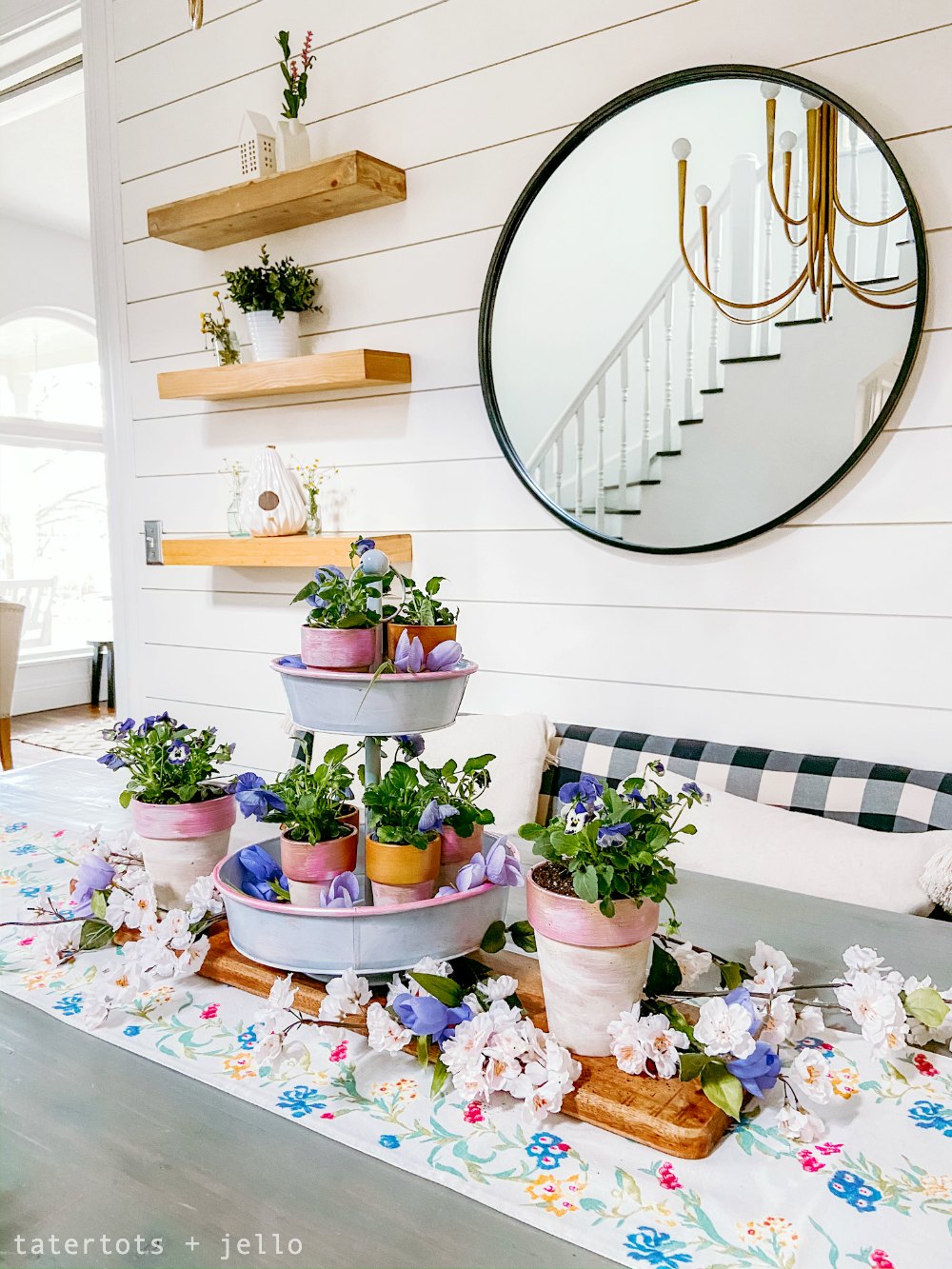 These pots were so fun to make. I distressed the pots on the bottom and added a metallic paint to the top.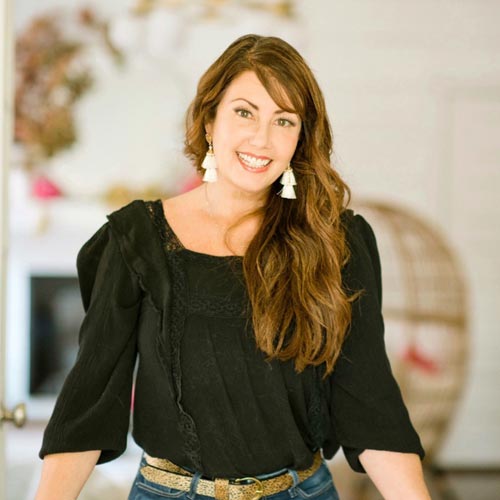 And you guys, I'm excited to be one of Google's paid early testers for their Thank with Google pilot program! Thank with Google is an experimental feature that allows you to purchase a virtual sticker and directly show your appreciation for tatertots and jello content!
You can choose from a variety of stickers, and every time you send a paid sticker you can add a personal message to me! The virtual stickers translate into direct revenue that supports the work of tatertots and jello to bring your free recipes, craft tutorials and DIY ideas!
You can find the Thank with Google feature at the top and bottom of this and all blog posts. If you try it out, let me know what you think! I read each and every one!! Thanks as always for your support. xoxo
What projects are you working on for Spring?
xoxo