Seven Genius Ways to Bring Storage into a Small Laundry Room! Pack a lot of style and storage into a small space with these inspiring laundry room storage ideas.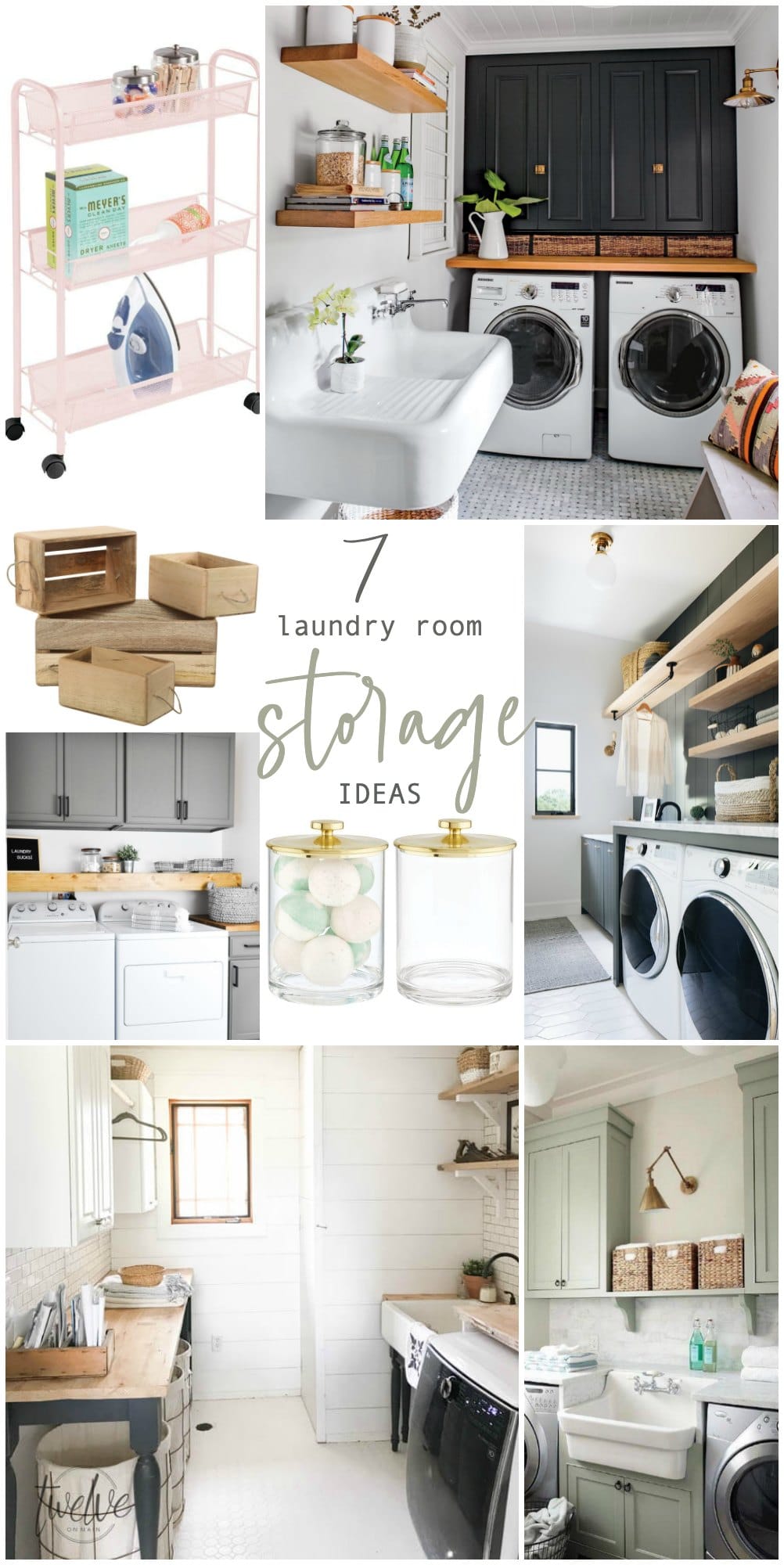 This post contains affiliate links. Affiliate links cost nothing to you but let tatertots and jello continue to bring you free recipes, crafts and ideas.
We are working on dividing a room behind our kitchen into a pantry and laundry room. We are building a wall that will separate the two spaces. The laundry room side of the room is small and narrow. I've been compiling ways to use the space in the most efficient way by maximizing storage in a small space.
7 genius ways to incorporate storage into a small room
Pretty Storage Containers
Instead of storing laundry pods in the original packaging, put them in a vintage crock or clear jar. There are so many different and unique ways to store items that will make your laundry room beautiful and functional.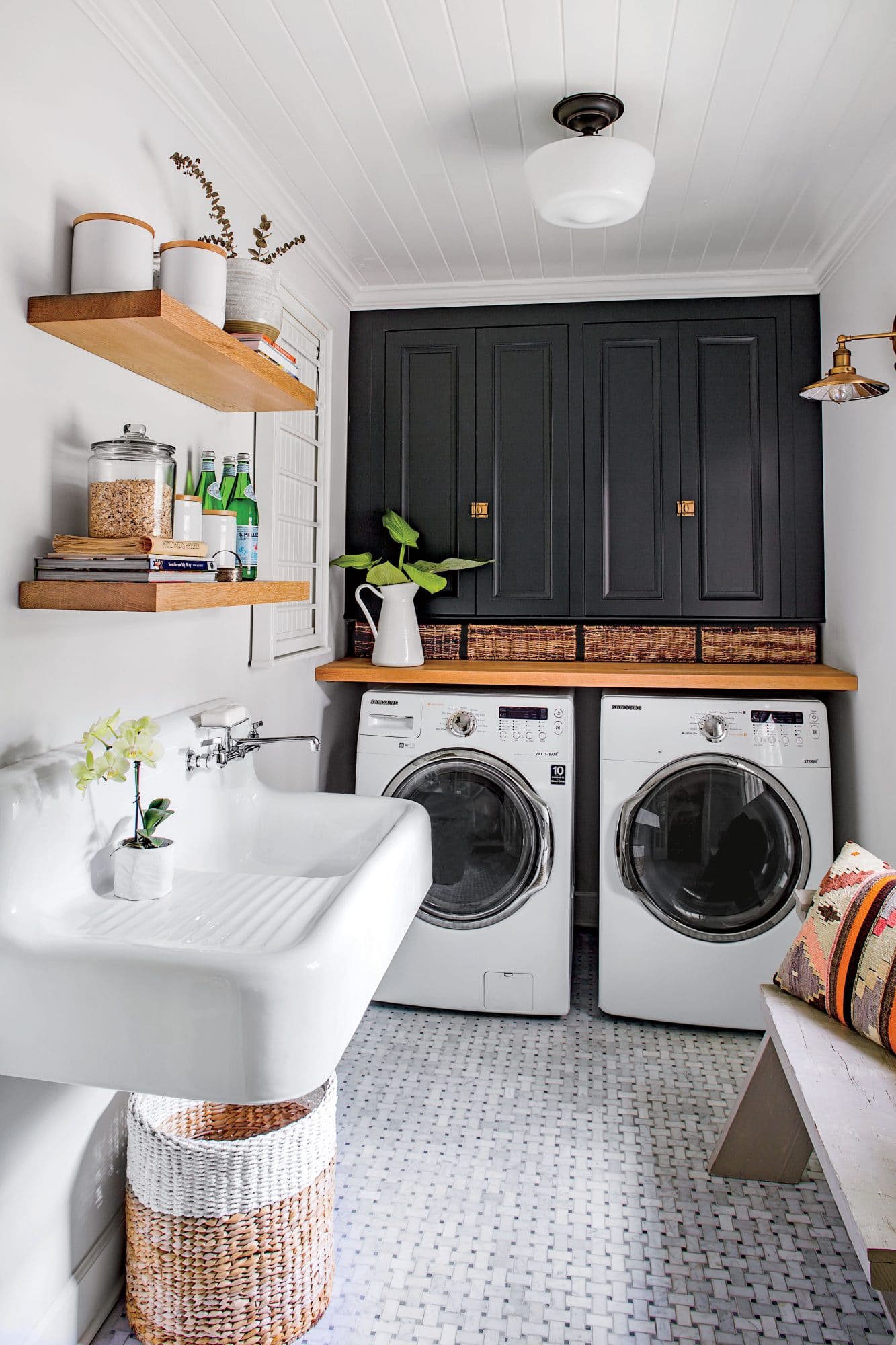 This small laundry room is BIG on style and storage. I love the dark cabinets that sit above the washer and dryer. A folding station is created with a smile shelf above and smaller items can be stored in the baskets. There are also floating shelves on the wall that can hold laundry items. Another element I love is the farmhouse sink and the classic basketweave design in the floor tile.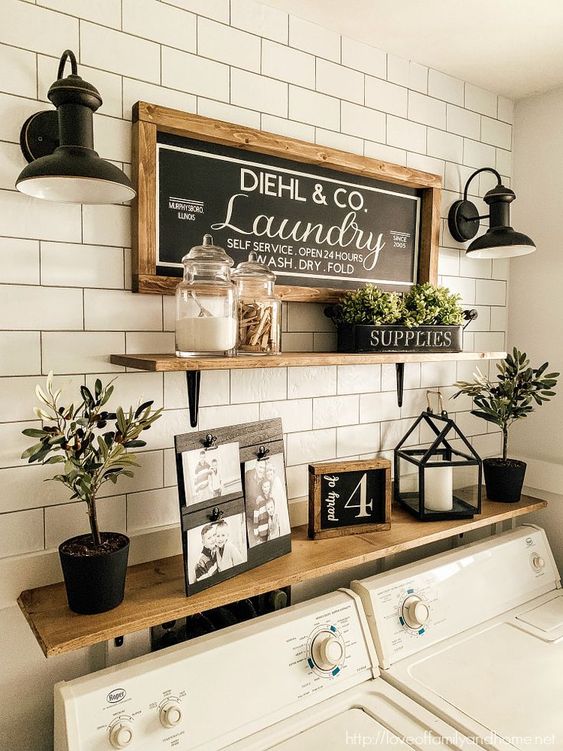 Pretty laundry room storage at Love of Family and Home
Laundry detergent and clothes pins are displayed in pretty and functional containers in this pretty laundry room.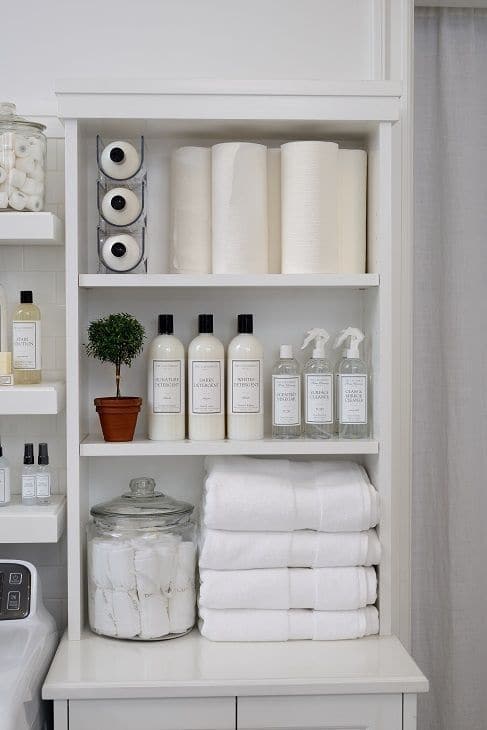 Pretty and Functional Clear Glass Laundry Room Containers
Labeling clear glass containers filled with laundry supplies creates a functional and organized room.
Get the Look!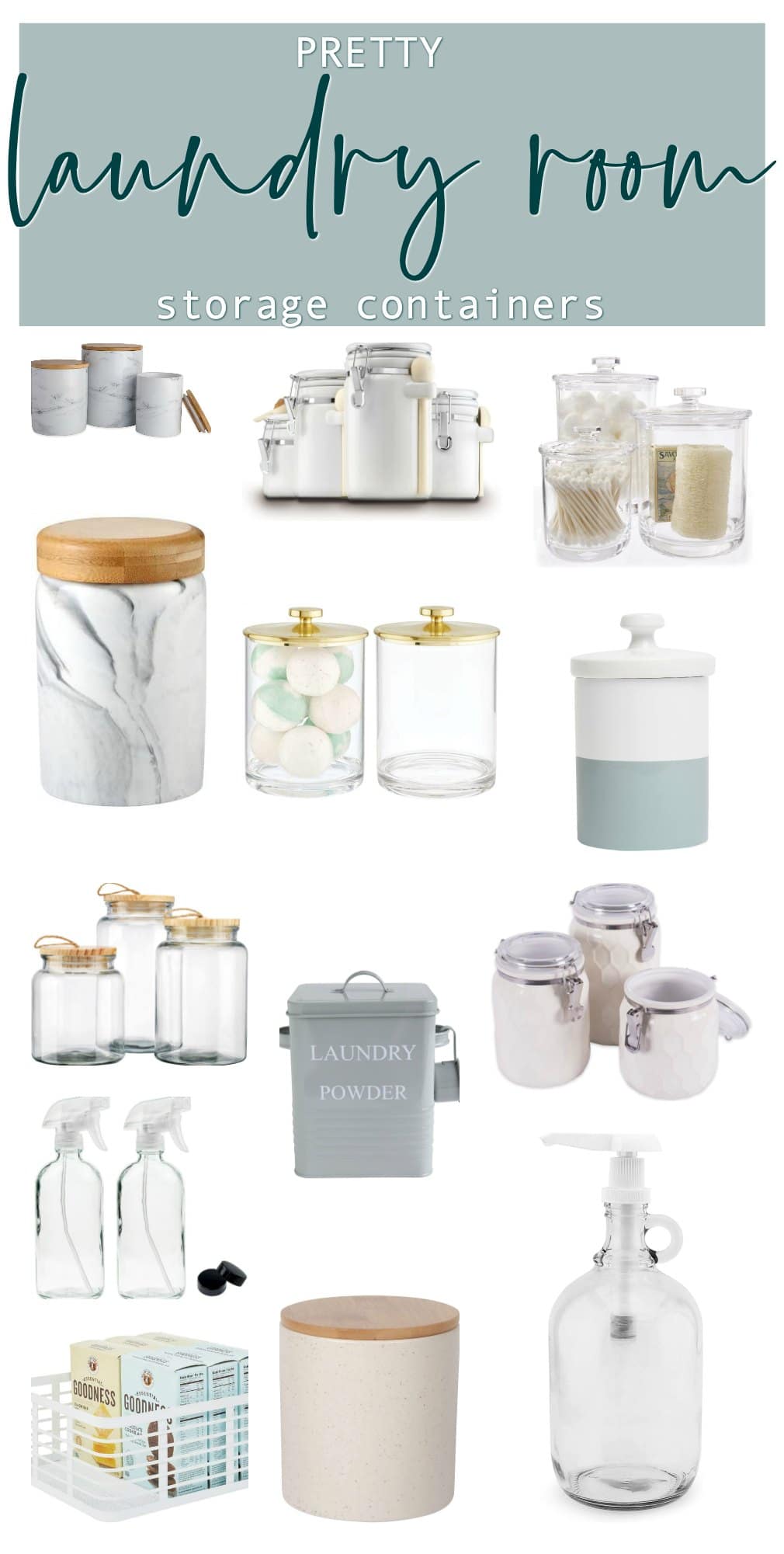 Clear Glass Containers | Gold Topped Clear Containers | Farmhouse Laundry Container | White Wire Bins | Stoneware with Lid | Ceramic Canister Set | Teal and White Canister | White Honeycomb Canisters | Clear Glass Spray Bottles | Glass Pump Dispenser | Clear Containers Wood Tops
Folding Station
A folding station is a flat place where people in the family can fold and sort laundry. Sometimes it can be incorporated on top of front-loading washers and dryers or on top of cabinets.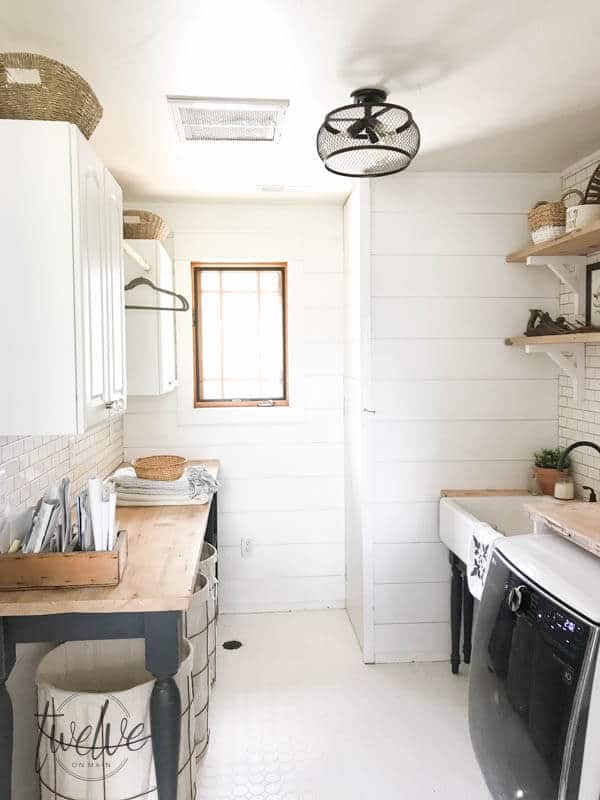 Twelve on Main Farmhouse Laundry Room
This is my friend Sara's laundry room. She did a fantastic job creating a warm and functional space that reflects her farmhouse style. She has upper cabinets as well as shelves for storage. And I am obsessed with her folding station with baskets underneath. Such a beautiful space!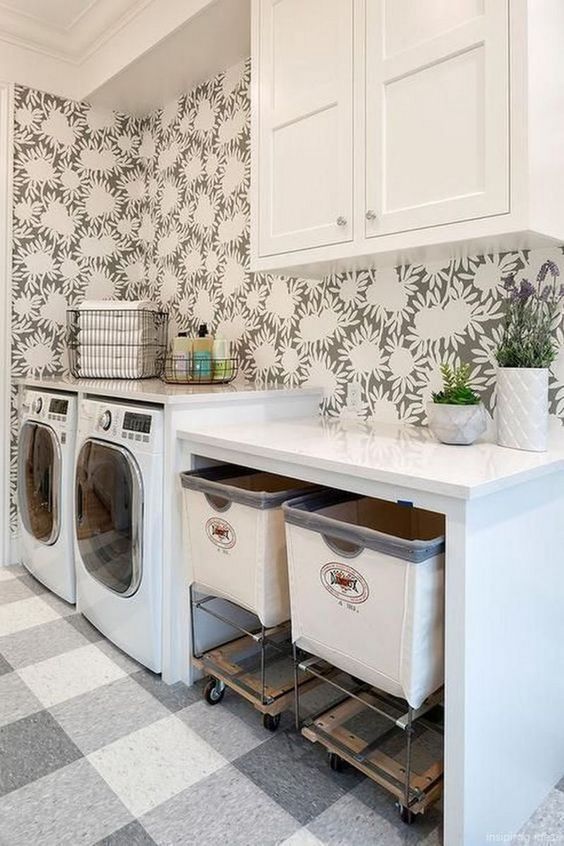 Grey and White Laundry Room at Copper Corners Art
I love the way the wallpaper pattern and floors compliment each other in this gorgeous laundry room. Another feature that makes it very functional is the folding counter over rolling laundry carts.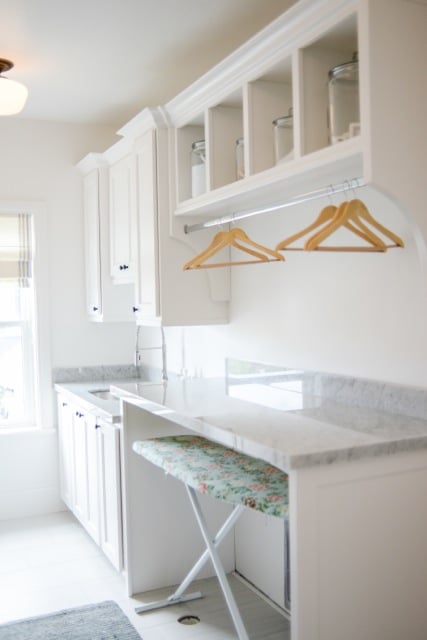 While this white laundry room may appear plain at first glance, it has some genius storage ideas inside. For example, in addition to upper cabinets for storage, there are cubbies for storage containers as well as a hanging clothes rack. My favorite element of this laundry room is the folding station with a space that is the perfect size for a ironing board.
Get The Look!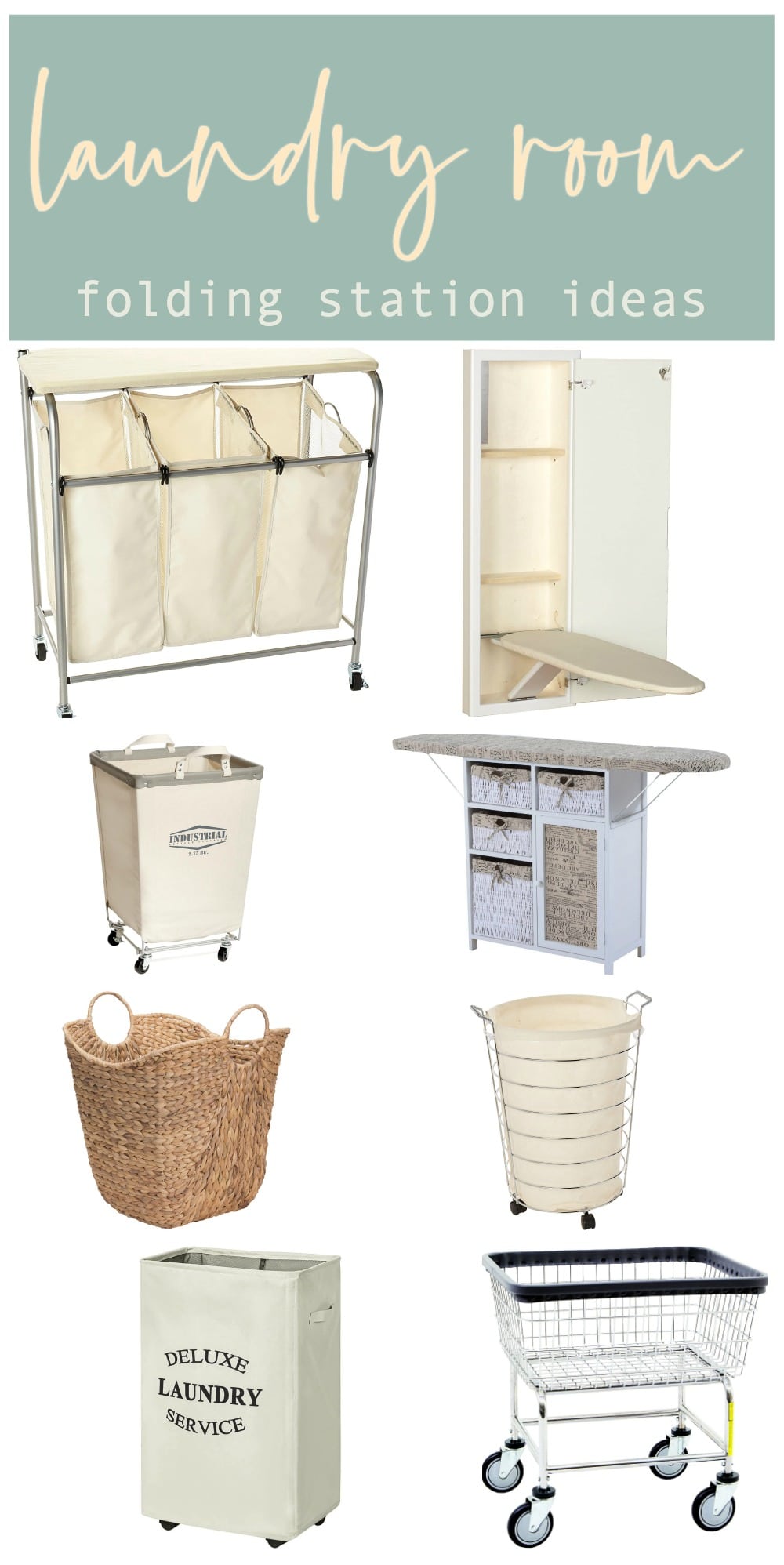 Deluxe Laundry Basket on Wheels | Industrial Laundry Basket Wheels | Laundry Folding Station Cabinet | Laundry Ironing Cabinet | Laundry Bins with Ironing Board | Industrial Bins
Storage Baskets
Storage baskets are a wonderful way to organize, especially in laundry rooms. Things can be tucket out of sight but easily accessible by keeping them in pretty containers and baskets. Baskets and containers can be stored on countertops, shelves and inside of cabinets too!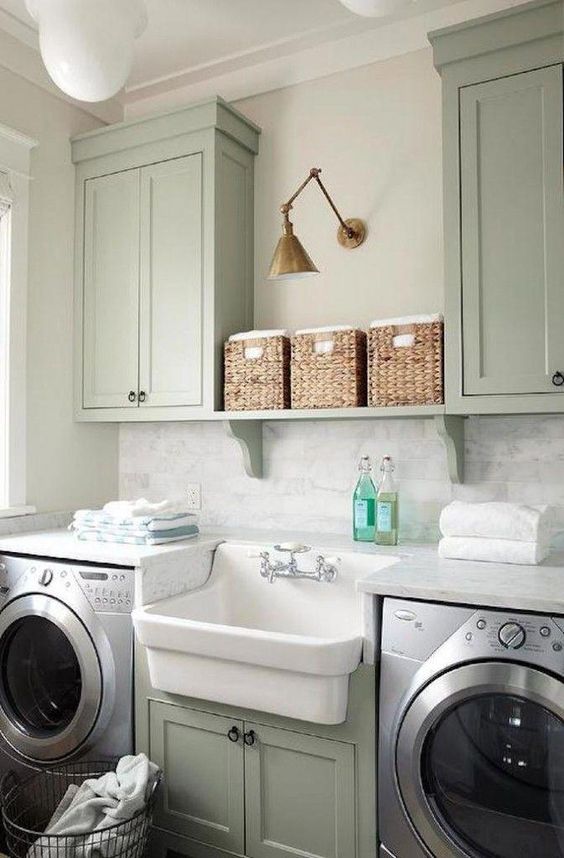 Urban Grace Interiors Laundry Room
How gorgeous is this laundry room from Urban Grace Interiors? It's small but it's packed with storage and class. I love the way the cabinets are separated with the matching shelf and light above. The color of the cabinets is different and looks wonderful with the grey marble backsplash. I also love the way the washer and dryer are separated with a huge farmhouse sink. It's a laundry room to aspire to!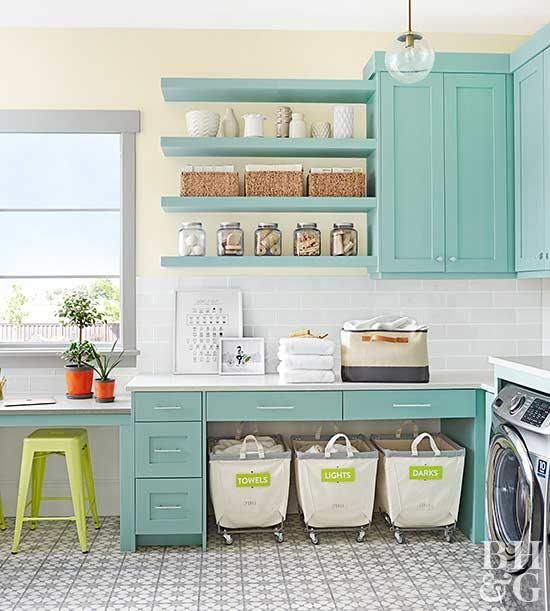 Laundry Room Storage Ideas at BHG
There are so many different storage baskets that are amazing in this laundry room. The baskets on wheels are a great idea to put laundry for each child and they can wheel them to their rooms. Large canvas baskets for carrying towels and large items are great as are the smaller wicker containers for storing cleaners and other items needed.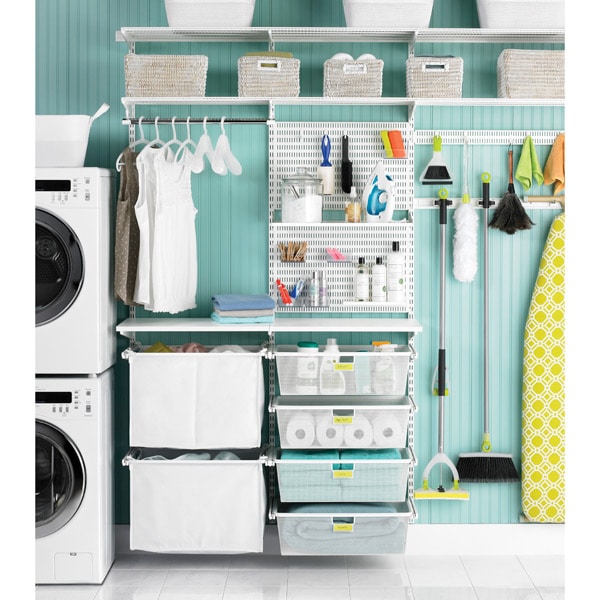 Laundry Storage Ideas at Container Store
The Container Store is a great resource for all things storage. These pull-out baskets using their Elfa system are easy to install and create useful space, especially for a smaller laundry room .
Get the Look!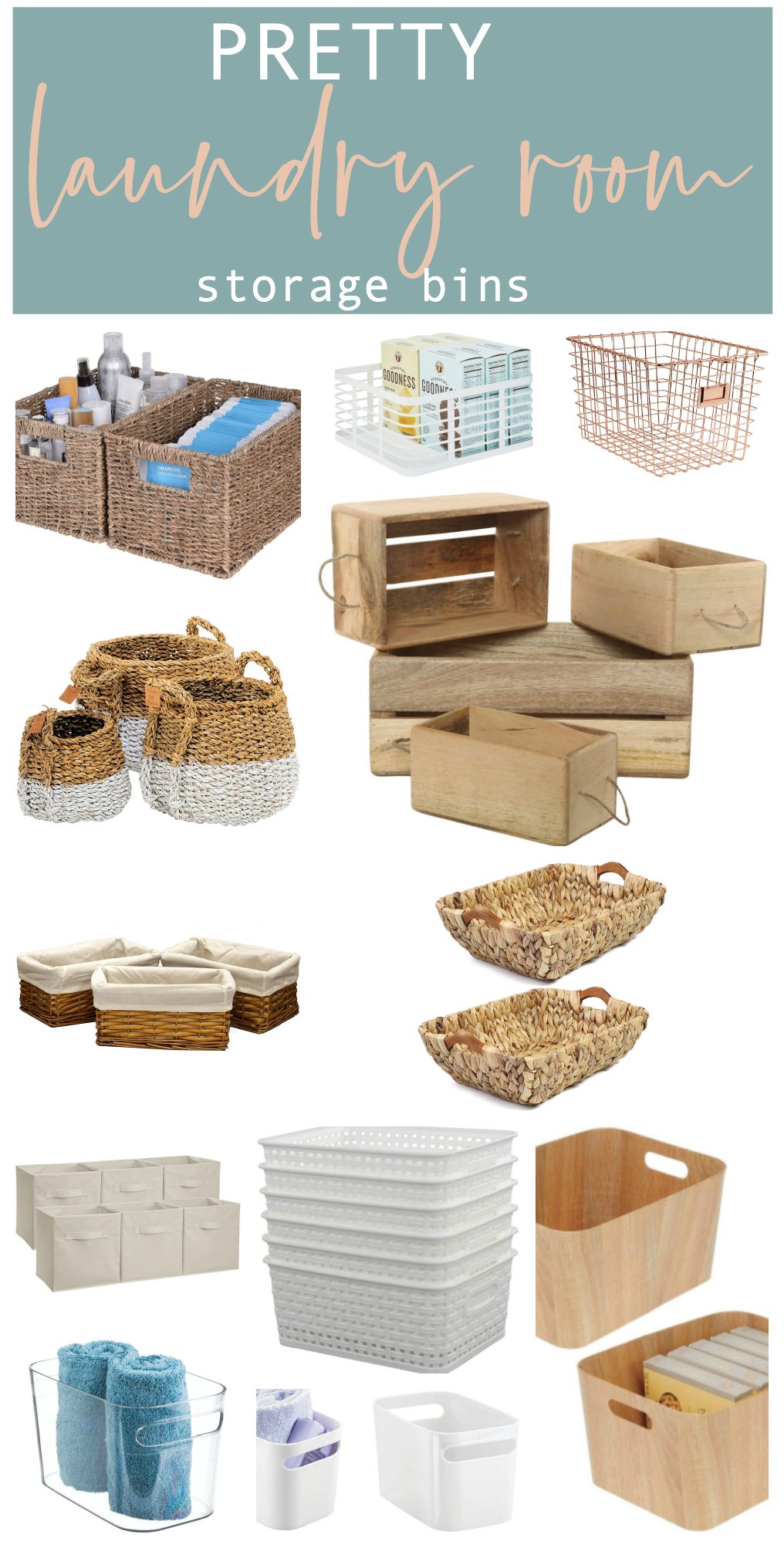 Metal Mesh Bins | Metal Bin with Wood Handle | Metal Wire Bins | Willow Basket Bins | Hand Woven Bins | Sea Grass Bins | Wood Bins | Rustic Wood Bins | White Plastic Containers | Acrylic Storage Containers | Canvas Storage Containers | Dipped Woven Baskets | Copper Wire Storage Bins
Open Shelves
Open shelves are great for a small laundry room because they usually aren't as deep as built-in cabinets. You can organize open shelves with baskets and clear storage containers to keep everything tidy.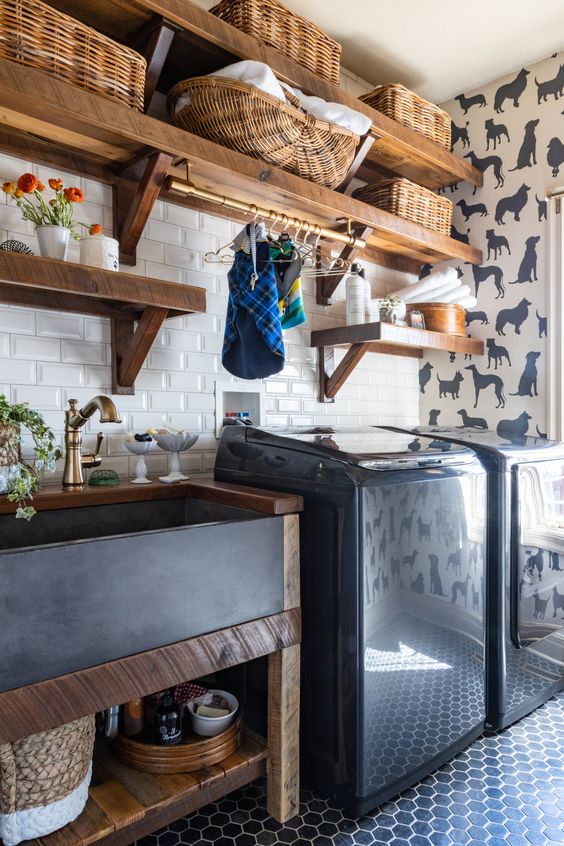 Native Trails Navy Laundry Room
This navy and white laundry room is small bus so functional. I love all of those open shelves for storage. Another feature are all of the wicker storage baskets.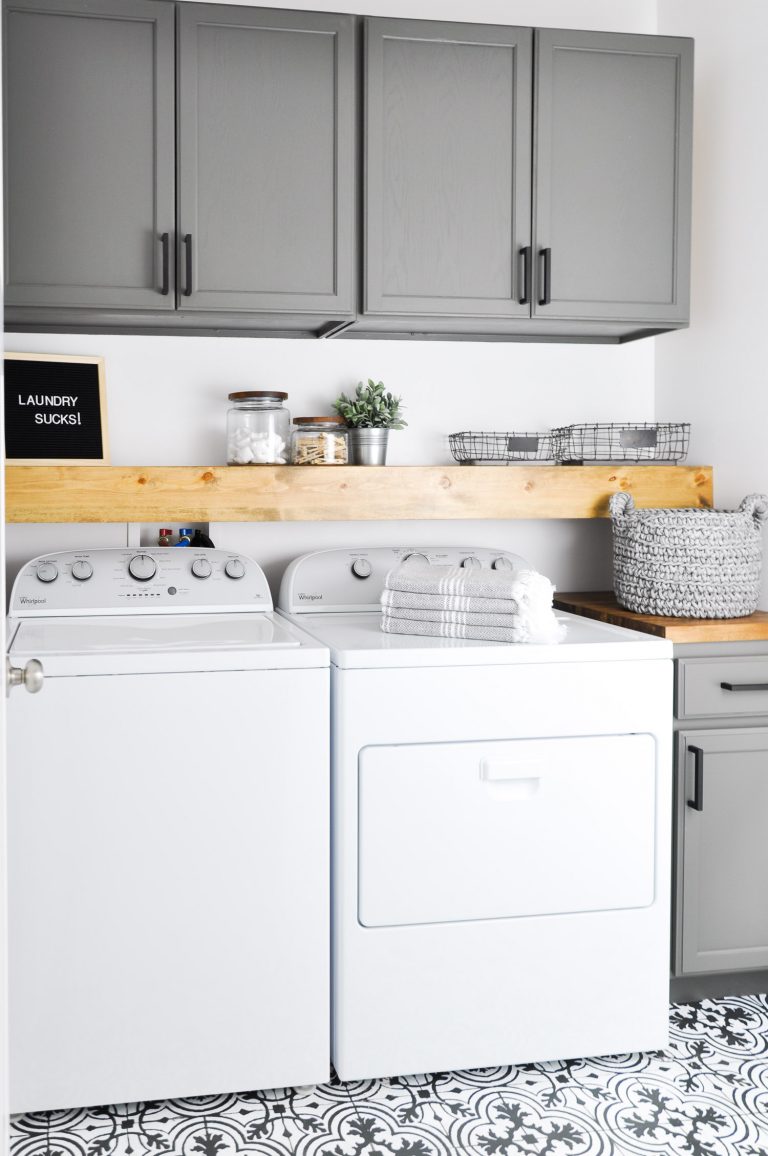 My friend Ashley at Cherished Bliss created a beautiful laundry room with lots of style by incorporating gorgeous floor tile with sleek grey cabinets that give her room lots of storage. I also love her chunky natural shelf and matching countertop.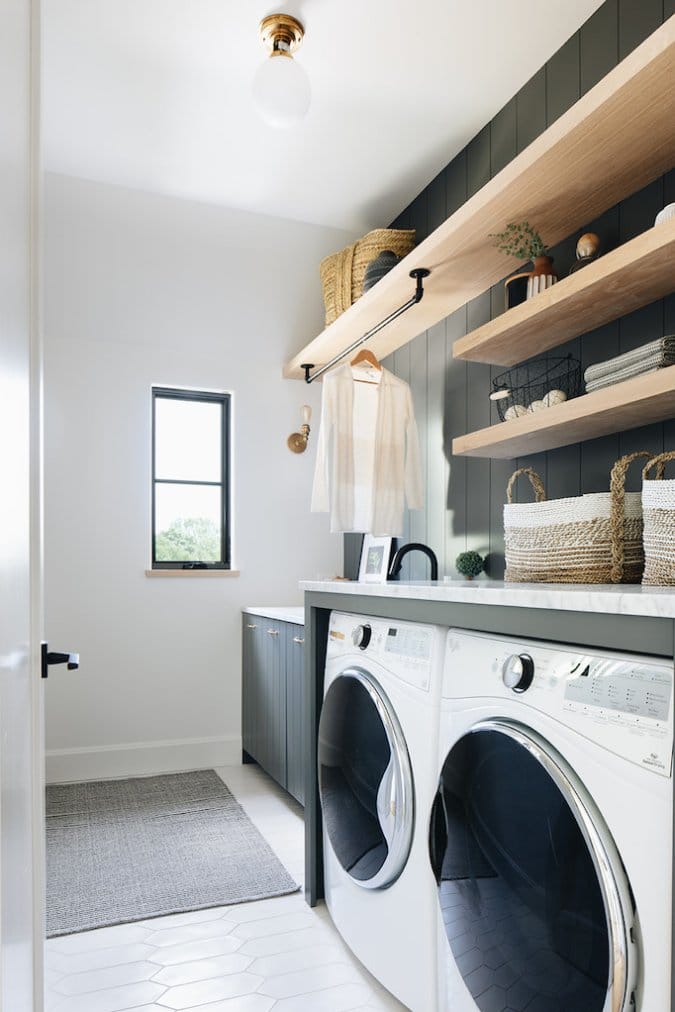 This long, narrow laundry room is about the same shape that our new laundry room will be. I like how much storage and style Becki Owen built into this long room. The planked wall in moss green is a striking statement that really shows off the natural shelves .There is also a lot of storage in the cabinets at the end of the room.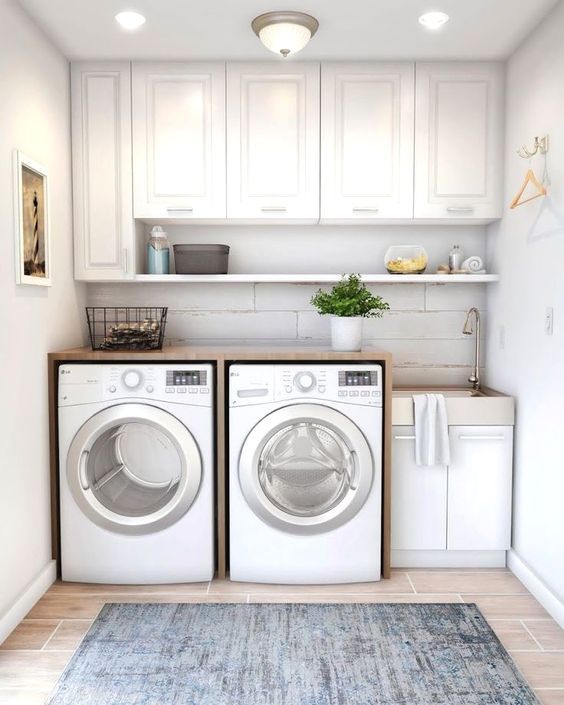 Home Depot Laundry Room
Hanging Rods
Hanging rods or hooks are useful to hang items like laundry brushes and also to hang clothes fresh out of the dryer.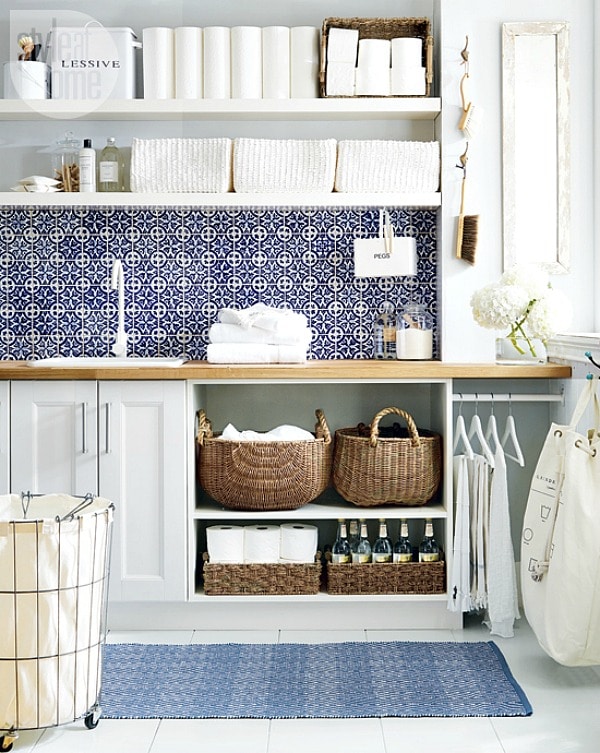 Jenna Sue Designs Blue and White Laundry Room
This might be one of my favorites! I love the crisp blue and white colors, combined with all of the useful storage. Shelves with wicker baskets, plus open shelves above and hanging rods make this laundry room super functional as well as beautiful.
Wall Hooks
Wall hooks are another way to organize a small laundry room. Peg boards can be hung and items such as laundry baskets, drying racks and even shelves can be hung from the pegs. When you have a small laundry room, it's nice to take advantage of all the wall space in the room.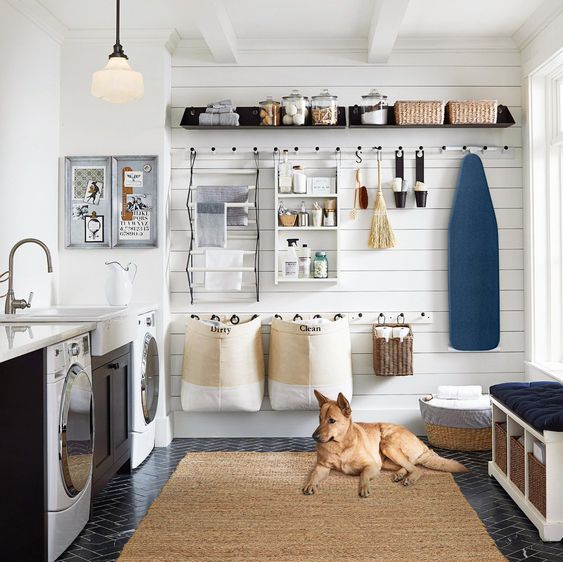 Wall Hook Storage at Planete Deco
Planked walls, shelves and pegboard hooks create a super organized and beautiful space in this scandinavian-design laundry room.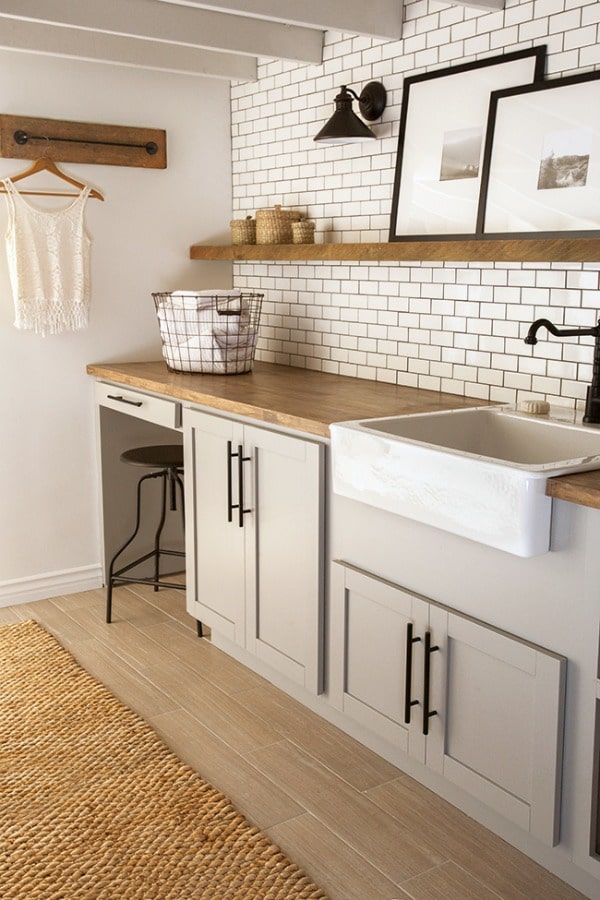 Neutral Laundry Room from Home Bunch
Another of my favorites is this neutral laundry room. While simple in design this room has storage built into the cabinet, the long shelf above the counter and a place to hang laundry in the hanging hook on the wall.
Get the Look!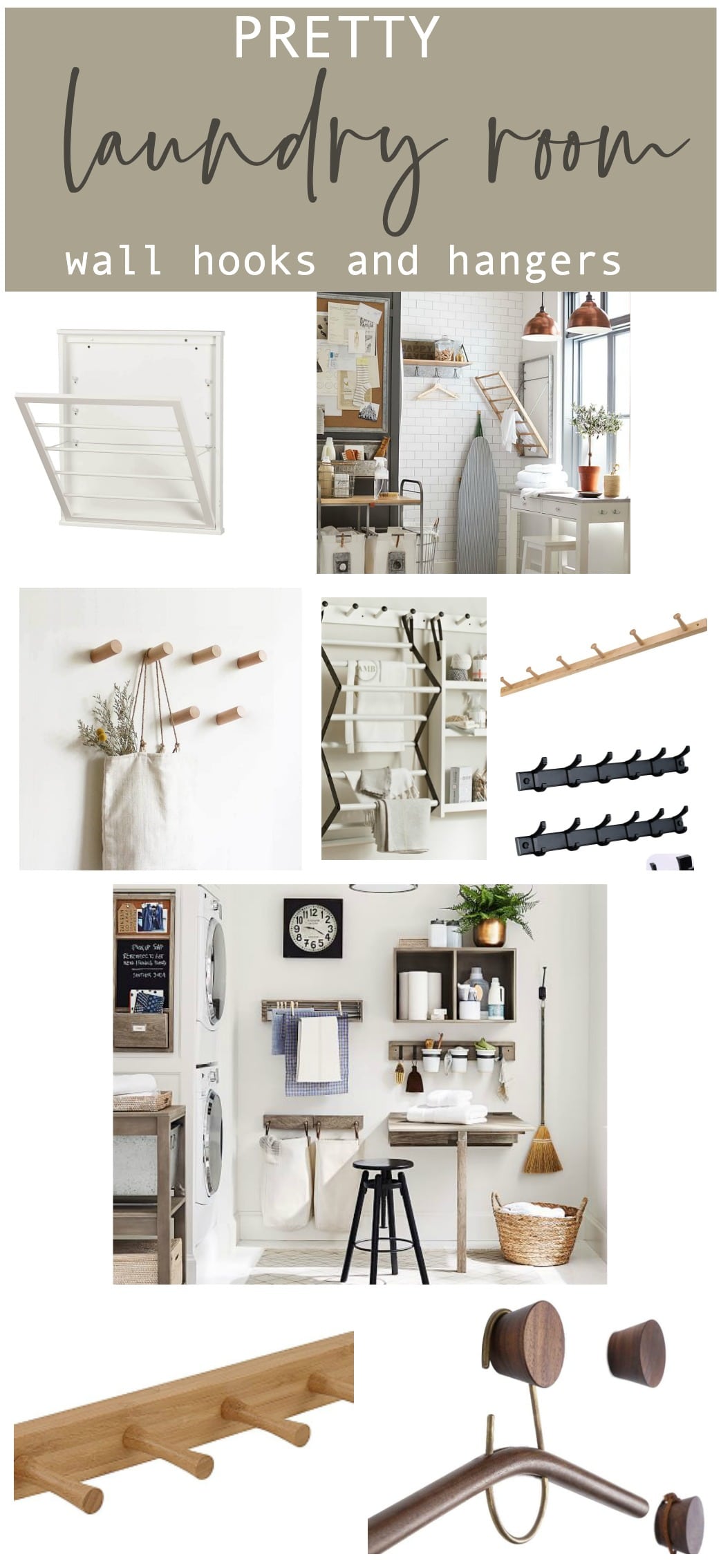 Bamboo Peg Hooks | Natural Wooden Peg Hooks | Wooden Hanger Hooks | Wood Clothes Hooks | Black Metal Hooks | Wall Laundry Rack |
Rolling Shelf Storage
Rolling shelves are great storage for a small laundry room. There are shelves that are very narrow and roll out that can be used next to the washer and dryer for easy access. Another idea I love is using a bar cart in a small laundry room and storing detergents and other laundry supplies in clear containers on the cart.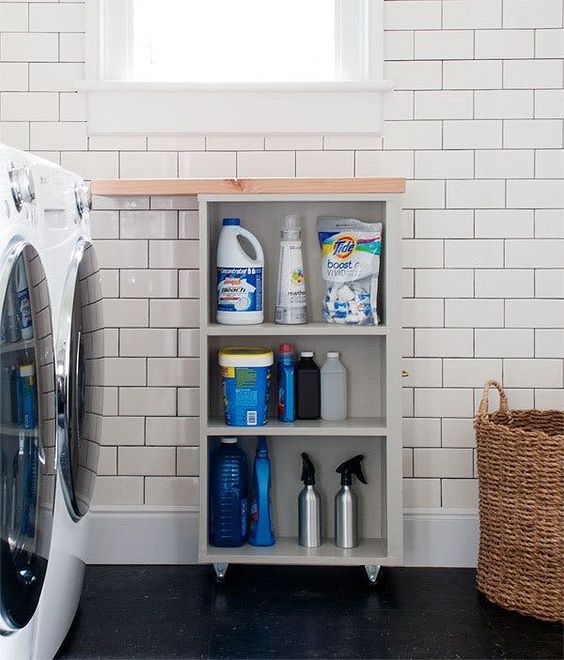 Manhattan Nest Rolling Storage Shelves
Manhattan Nest put a small shelf on wheels with a cabinet front that blended in with their laundry room shelves. You can buy something similar in white but I love how customized theirs is!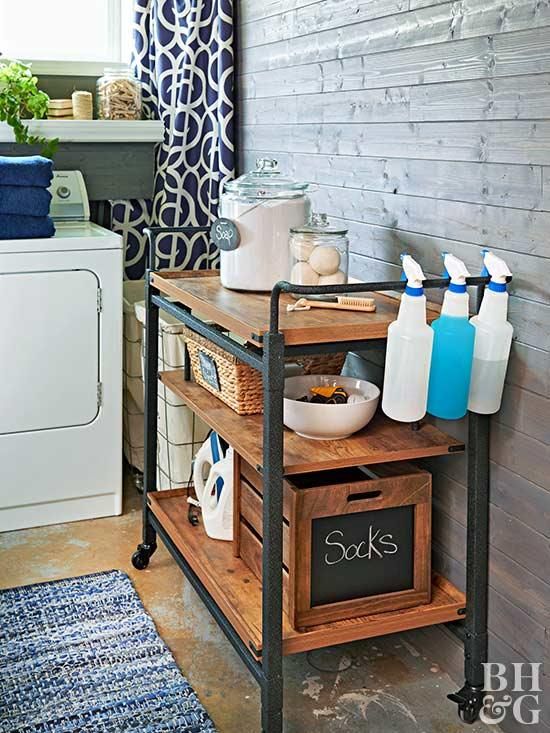 Here's an example of using a bar cart to corral laundry room supplies. The cart can be stored in different places, depending on the needs.
Get the Look!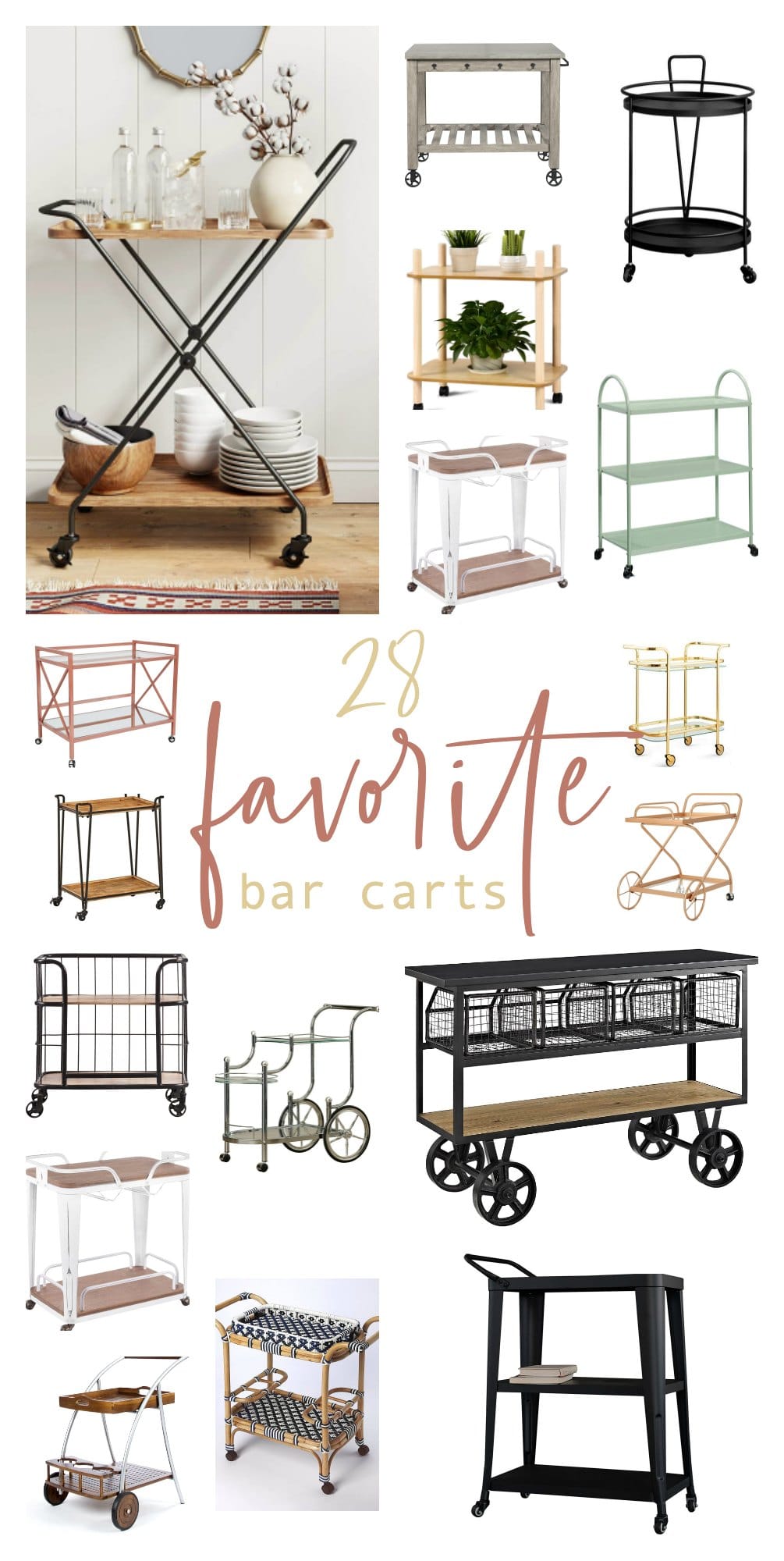 Slim White Laundry Room Cart | White Laundry Cart with Cabinet Front | Slim Metal Cart with Wood Top | Pink Slim Laundry Cart | Wood Two Shelf Cart | Wood and Metal Cart | Gold and White Cart | Silver and Lucite Cart | Gold Cross Cart | Rose Gold Cart | Green Rolling Cart | White Cafe Cart | White and Wood Cafe Cart | Round Black Cart | Industrial Cart | Black Industrial Cart | Gold Bar Cart | Acrylic Bar Cart | Industrial Wood and Black Bar Cart | Navy and White Wicker Cart | Mid Century Cart | Farmhouse Cart | Modern Glam Cart |Wood and Metal Industrial Cart | Grey Weathered Industrial Cart | Wood and Slatted Industrial Cart | Gold Wine Rack Bar Cart | Retro Chrome Cart
More Laundry Room Ideas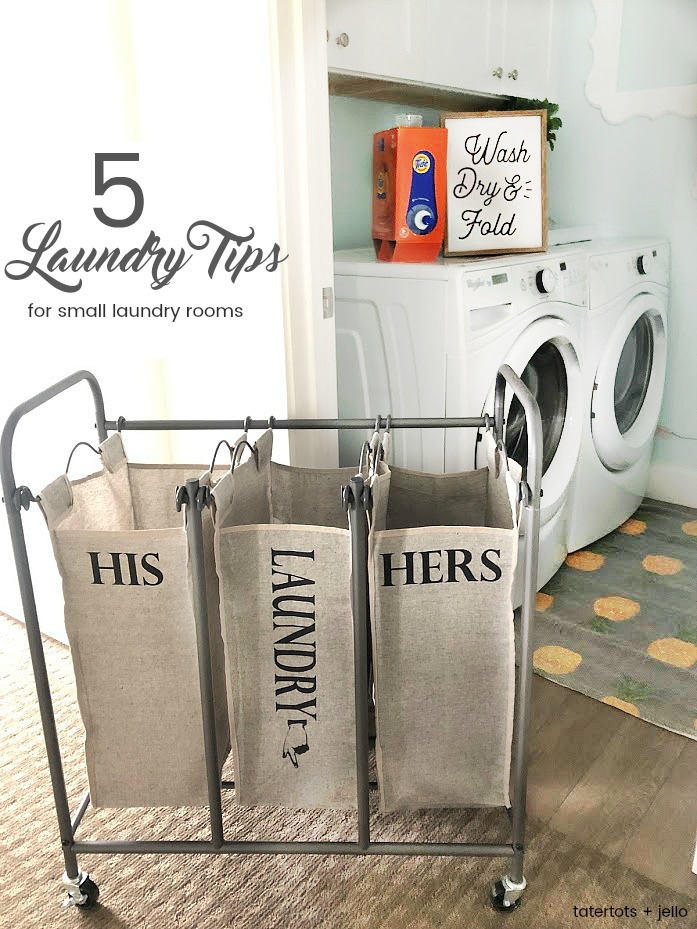 Which laundry room is YOUR favorite?
xoxo