22 Gorgeous Tile Ideas for Modern Farmhouse and Cottage Laundry Rooms. Make your laundry room a showpiece in your home by adding some pretty tile and shelves!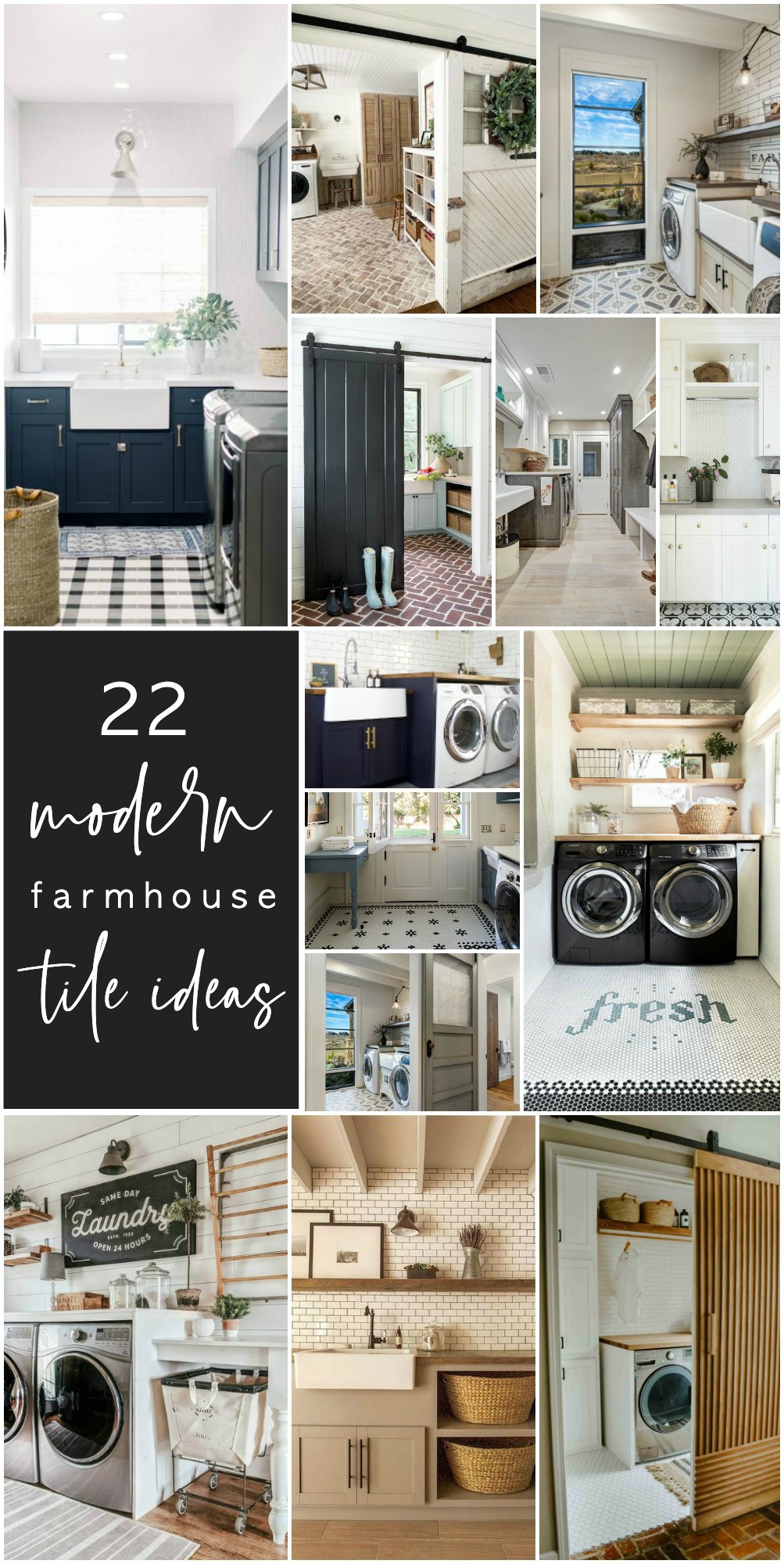 New Cottage Laundry Room
If you follow me in Instagram, you might have seen that one of the big projects we have been working on the past few months is our backroom. We divided it with a wall and made one side into a laundry room and the other into a pantry!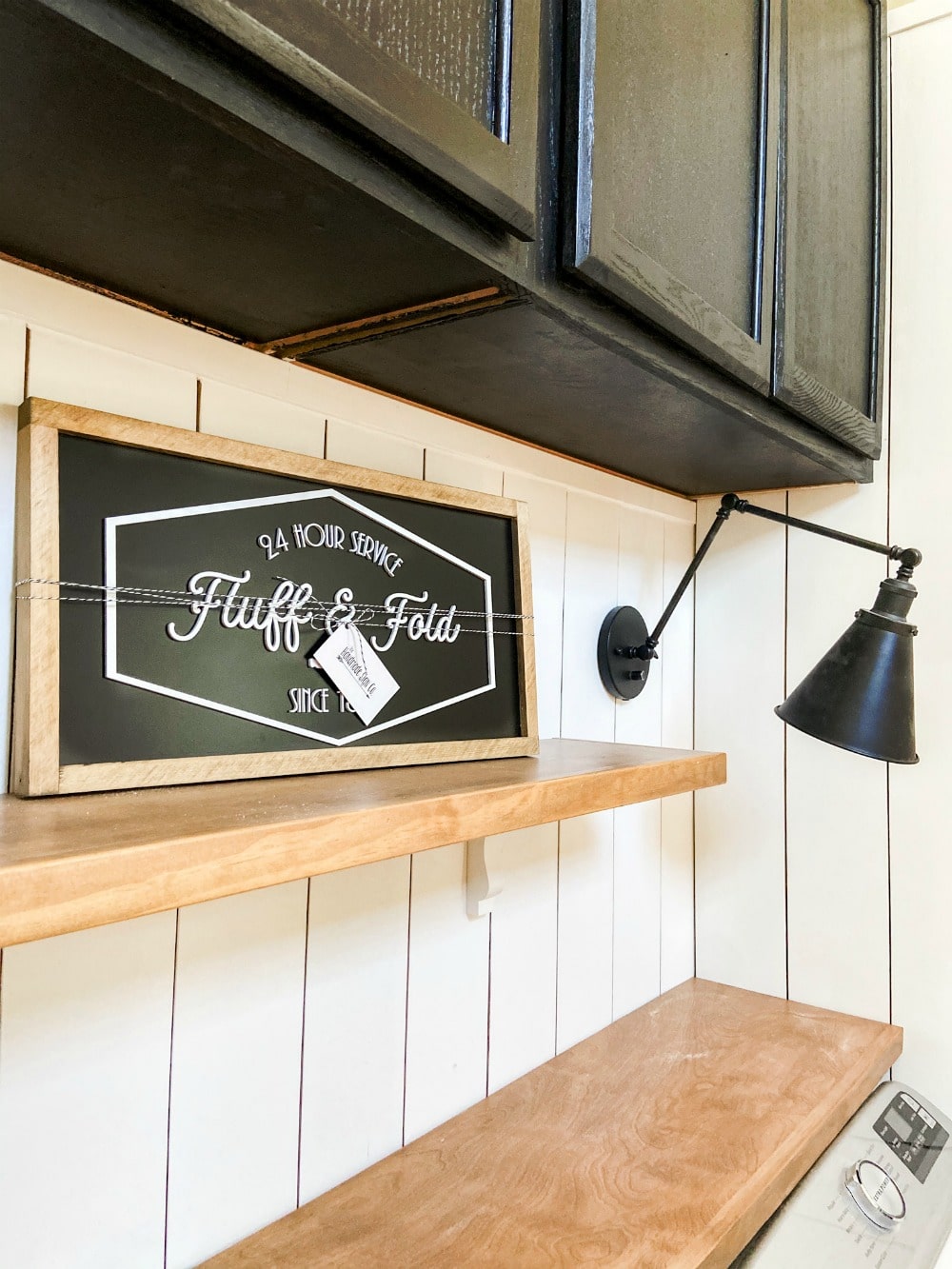 The sign is from my friend Laura @TheHandmadeDesign Co. Shop!
Add Style with Decorative Tile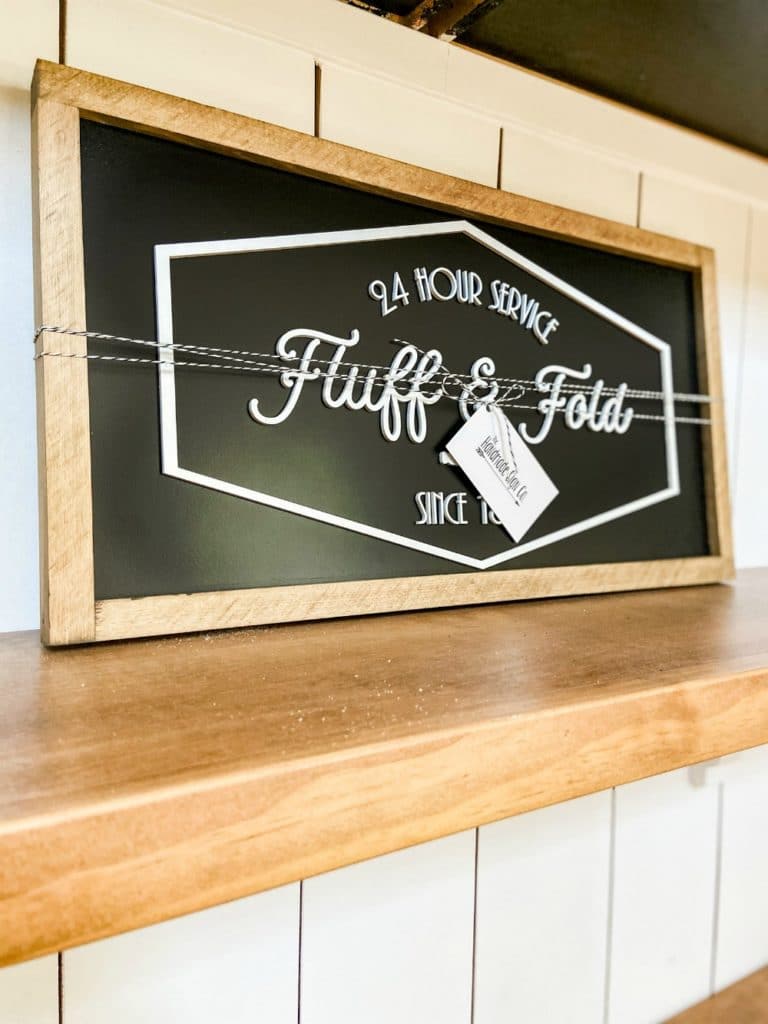 I am super excited that the laundry room side is almost done – hooray! As I was designing our laundry room, I researched so many beautiful and functional spaces. I thought it might be fun to share some of the with YOU!
Tile is an Inexpensive Way to Add Style to a Laundry Room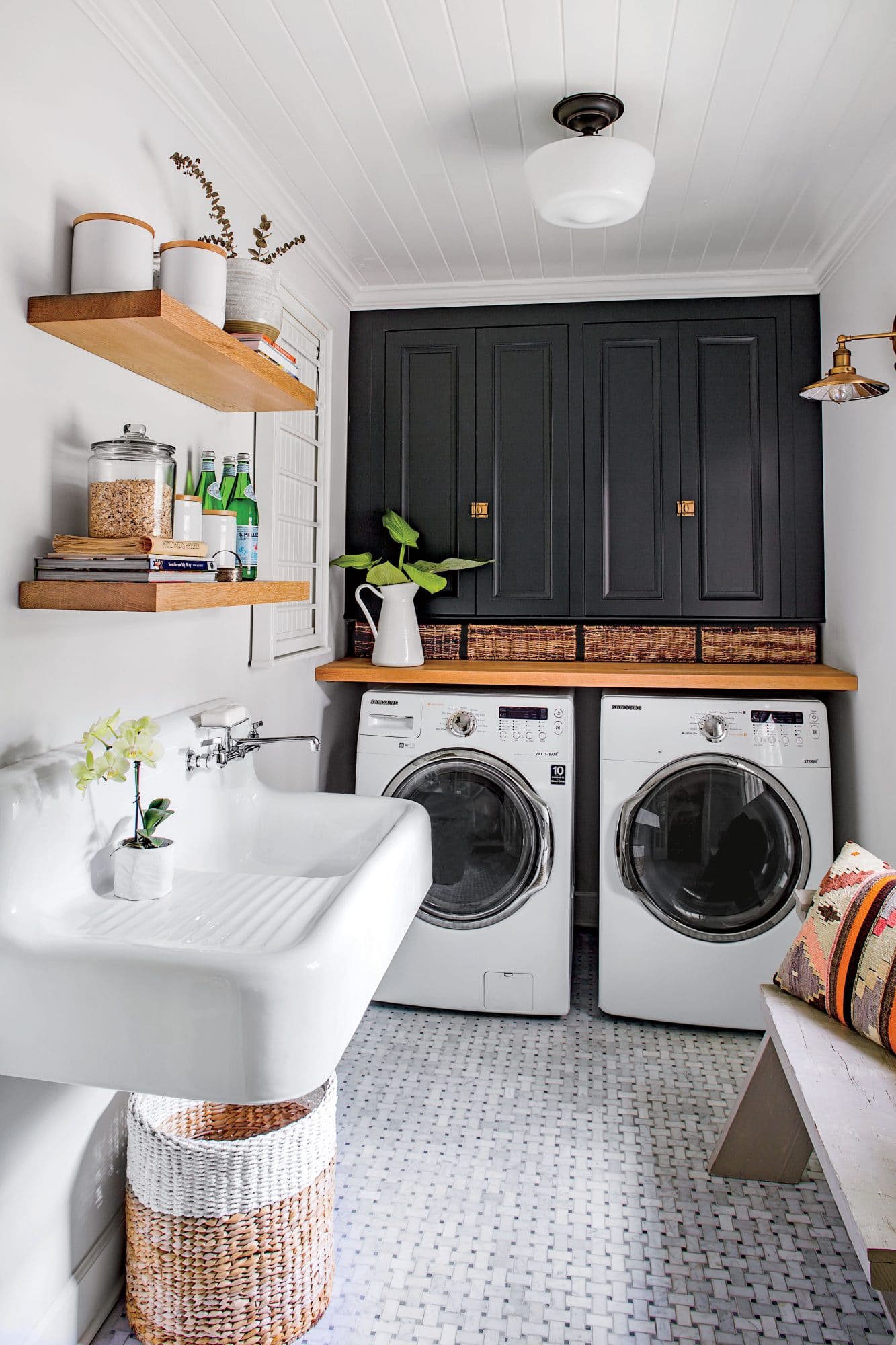 Tile is an easy way to change up a room. Tile is relatively inexpensive and can add such an impact – especially to a small space such as a laundry room. You can add tile to a floor or to a wall to really make a statement.
22 Modern Farmhouse and Cottage Laundry Room Tile Ideas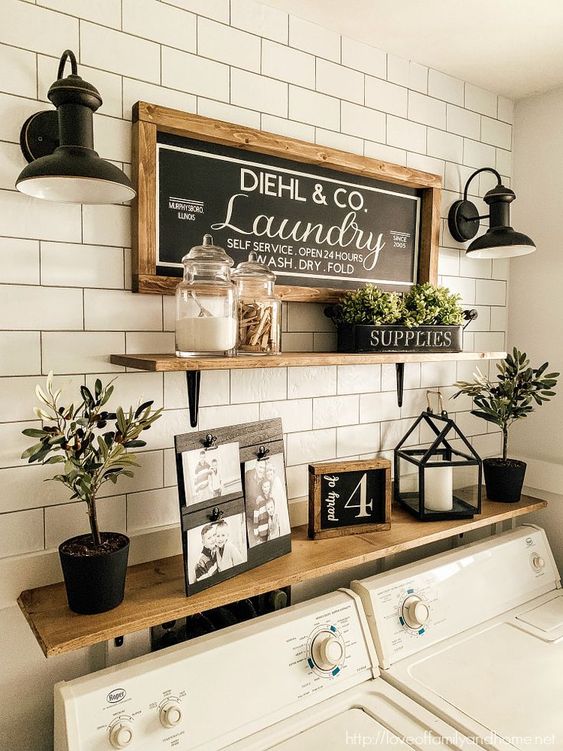 Here are a few ways to use tile and shelves to give our laundry room an update with a farmhouse or cottage twist!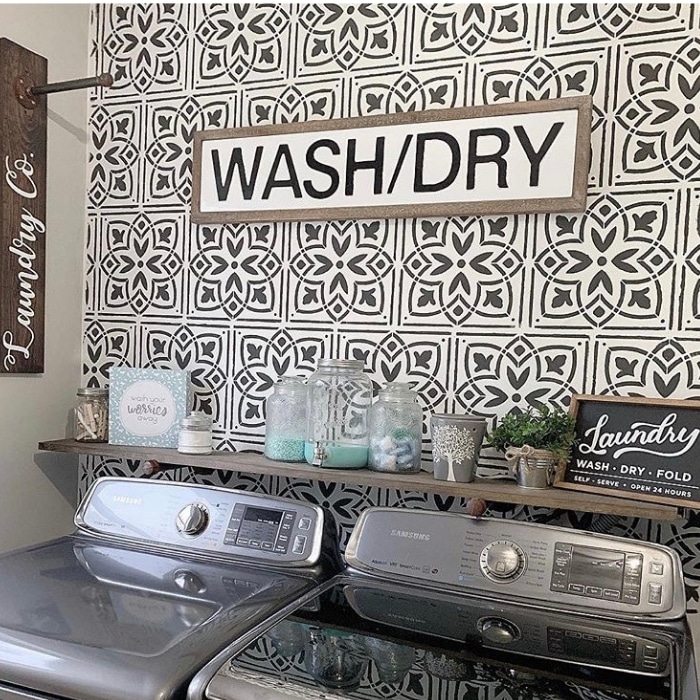 The black and white tiles in this laundry room are a fun statement that compliment the simple shelf and sign.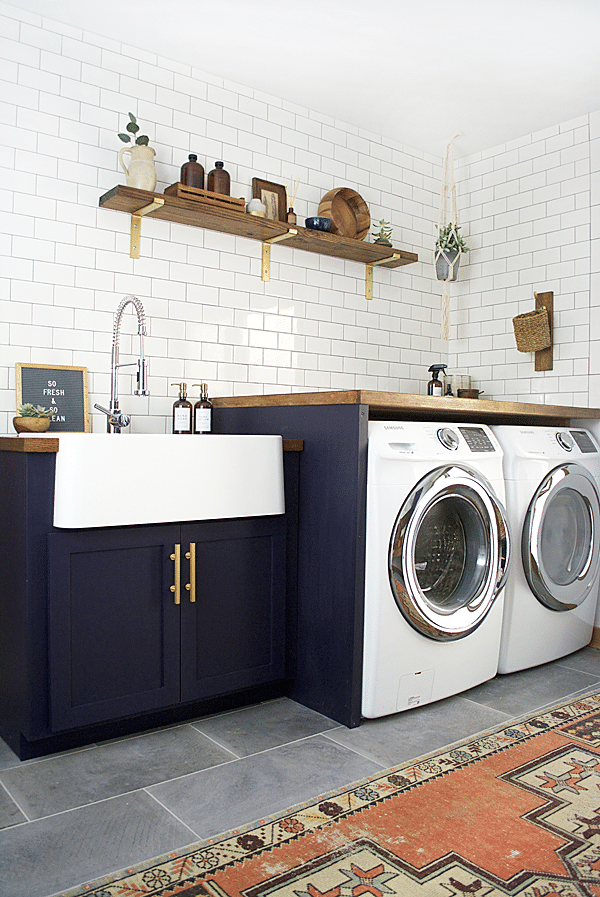 I am a really big fan of dark cabinets right now. Our cabinets in the pantry and new laundry room are black with light gold pulls and I LOVE them! I adore the navy cabinets in this laundry room. I also love the neutral subway tile and the warm patterned rug on the floor!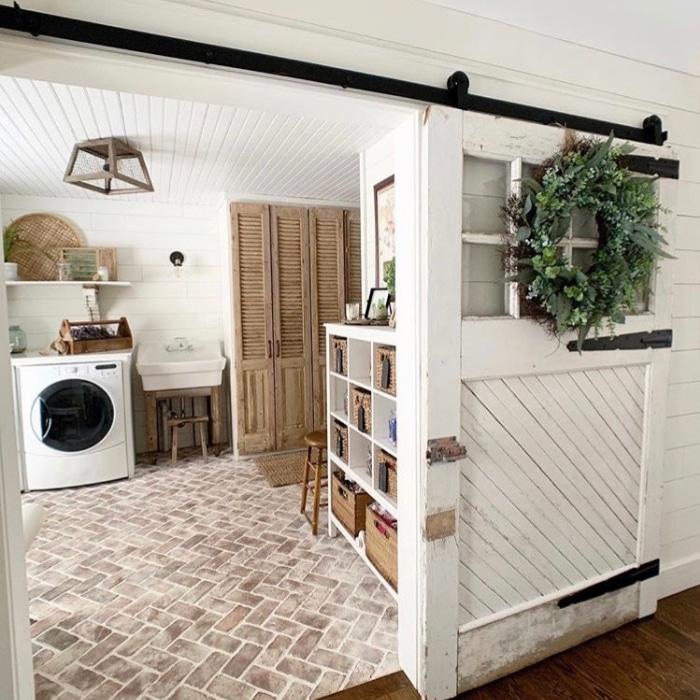 The brick floor is such a warm statement and draws you into this cozy room with lots of wood elements.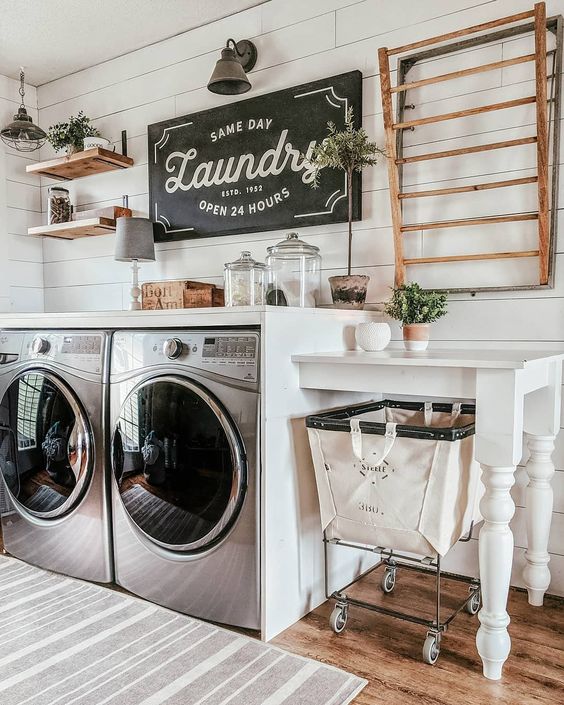 One of my favorite laundry rooms. This one doesn't have tile but I love the planking and the shelves. That little table that houses the wheeled laundry basket is adorable!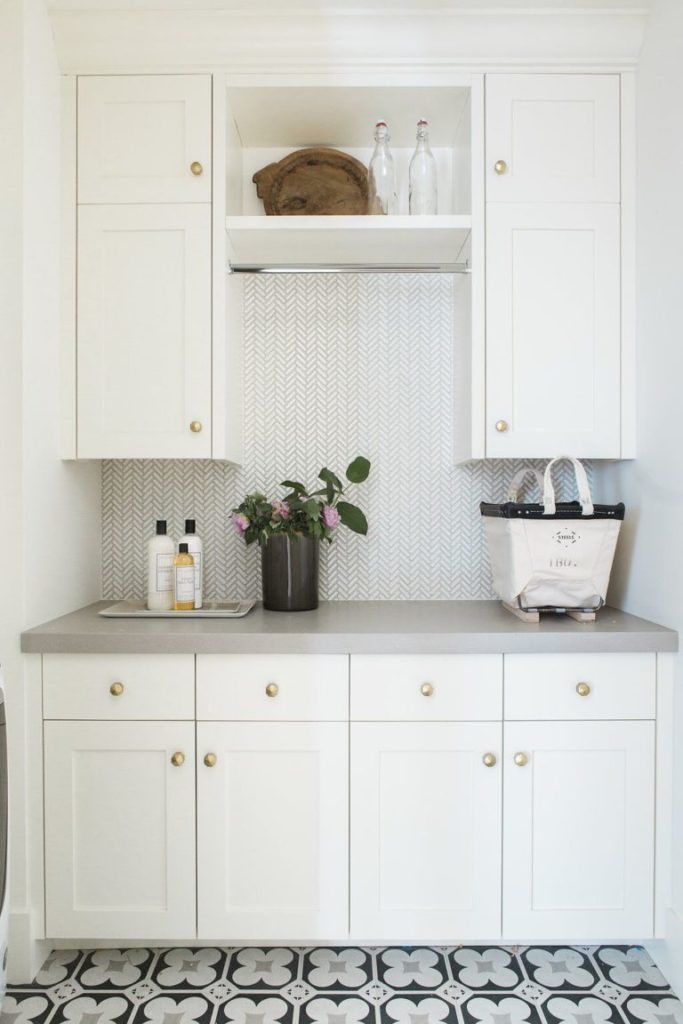 This combination is one of my very favorites. The floor tile seems a little retro and vintage. I love it along with the herringbone tile on the wall. A traditional room with a POP of whimsy!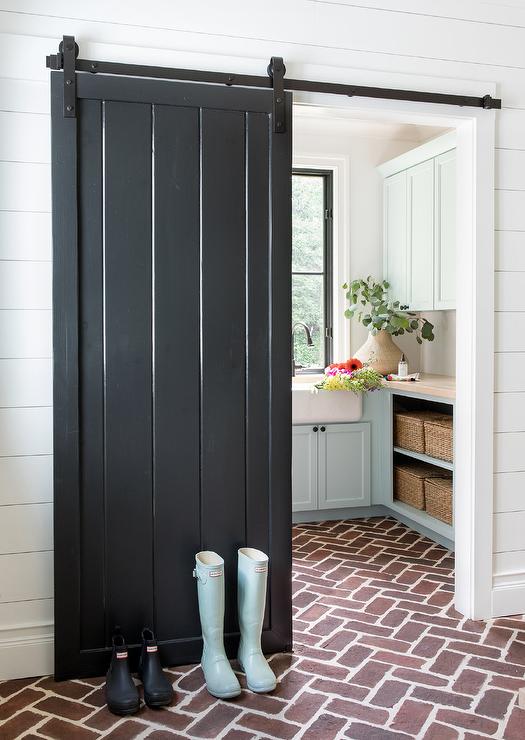 There's something so special about a brick floor. I love this one that leads from the hall into this pretty laundry room through a black barn door. Also the cabinet color in this room are fabulous!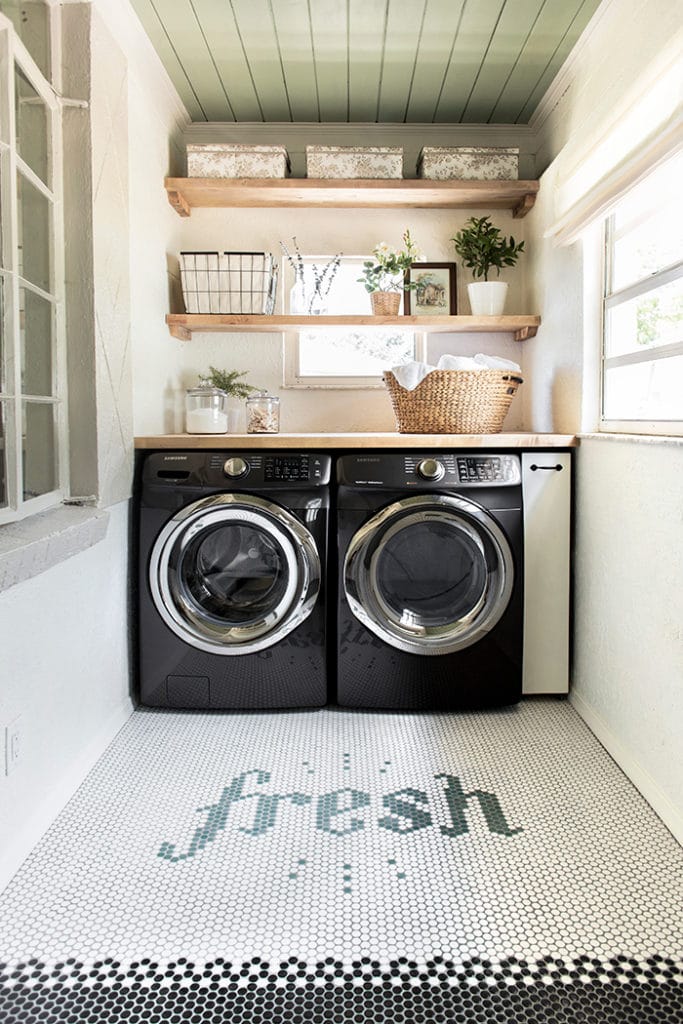 A fun tile idea to put in a laundry room is a monogram or word using penny tile! I've seen words like "hello" and "hey" done and they are so cute! I love this one with the addition of the tile border!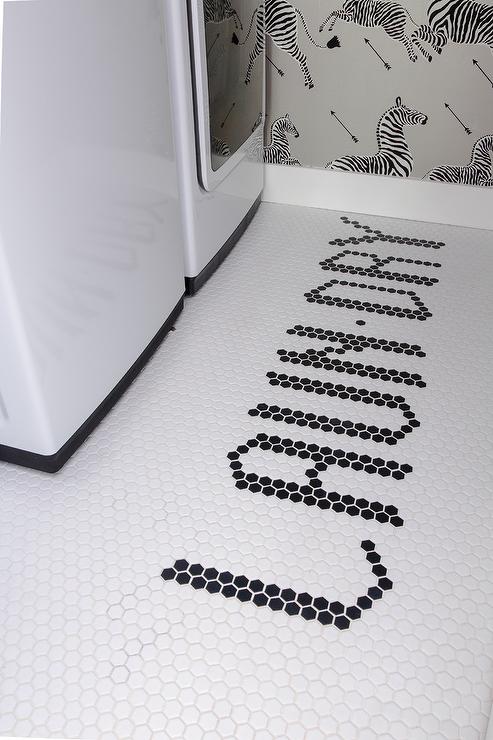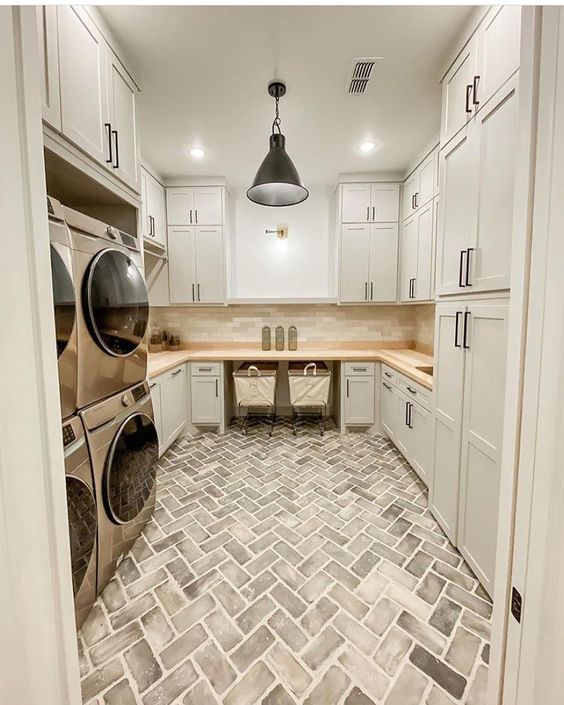 Farmhouse laundry room with tan brick flooring and tan subway tile. Such a sooting neutral room.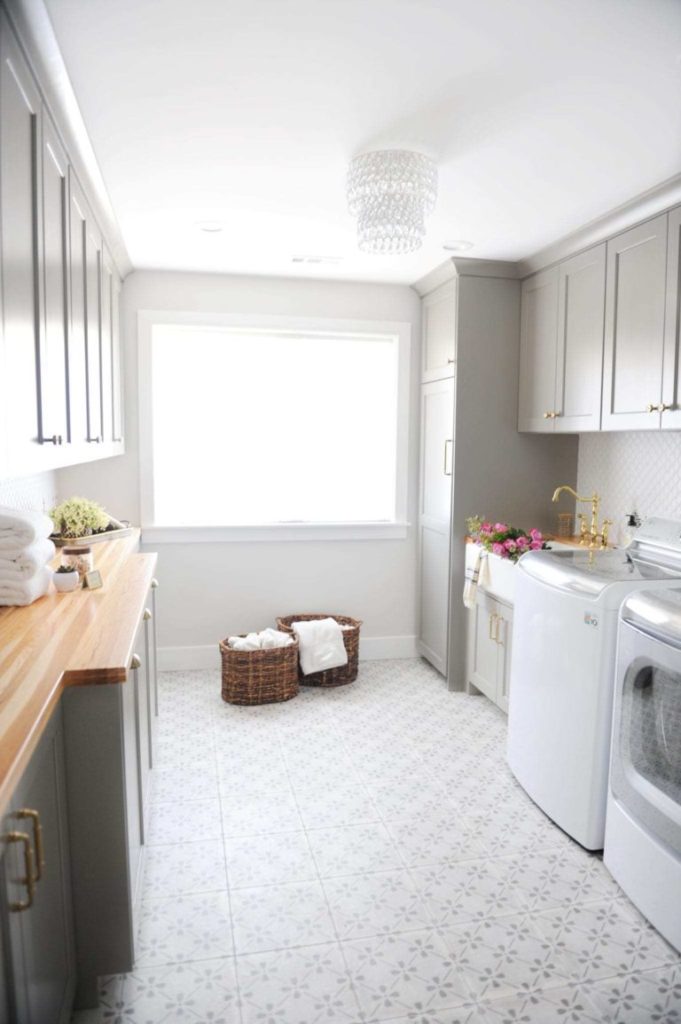 The tile design is so pretty in this laundry room. I also love the cabinet color and the unexpected gold hardware and faucet.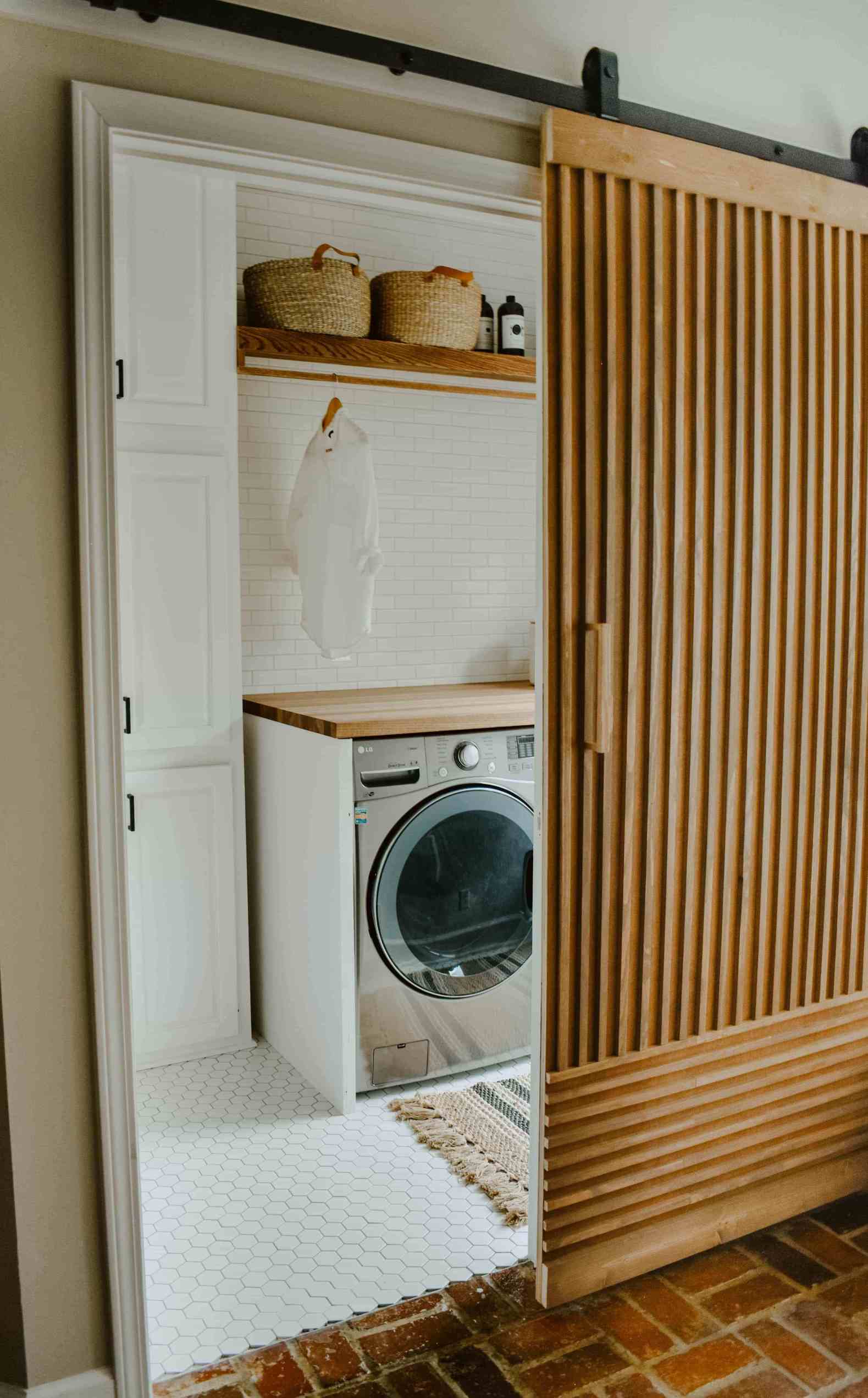 Ok, but seriously…. How amazing is this laundry room??? First there's brick on the hallway floor that transitions into small hexes. Then you have this amazing DIY wood door that glides and inside there are amazing wood shelves against creamy subway tile. It must proves that you don't need a big space to create a HUGE design impact!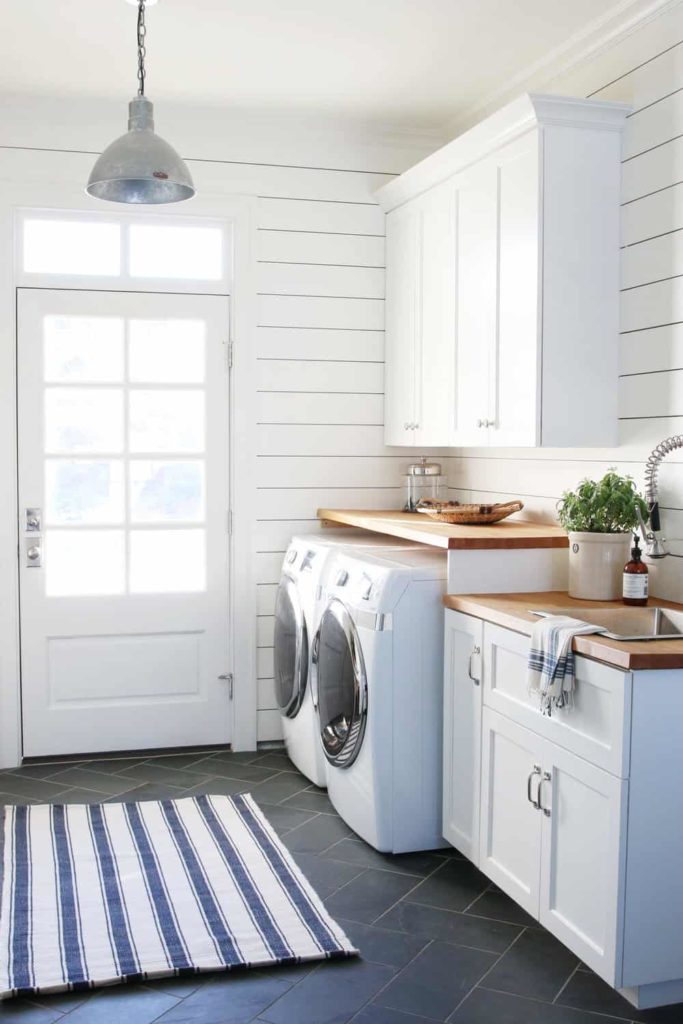 Another stunner by Studio McGee. Love the dark tile floors and warm woods of the shelves in this one.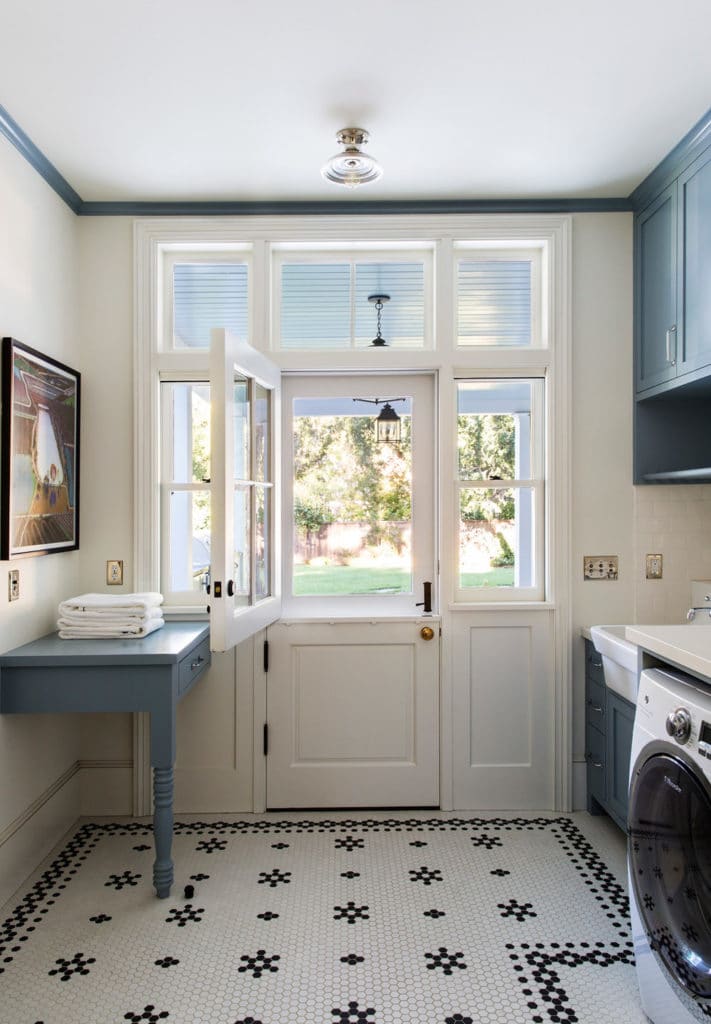 This is one of my favorite laundry rooms. I adore the dutch door, the tile patterns and the cabinet color. So pretty!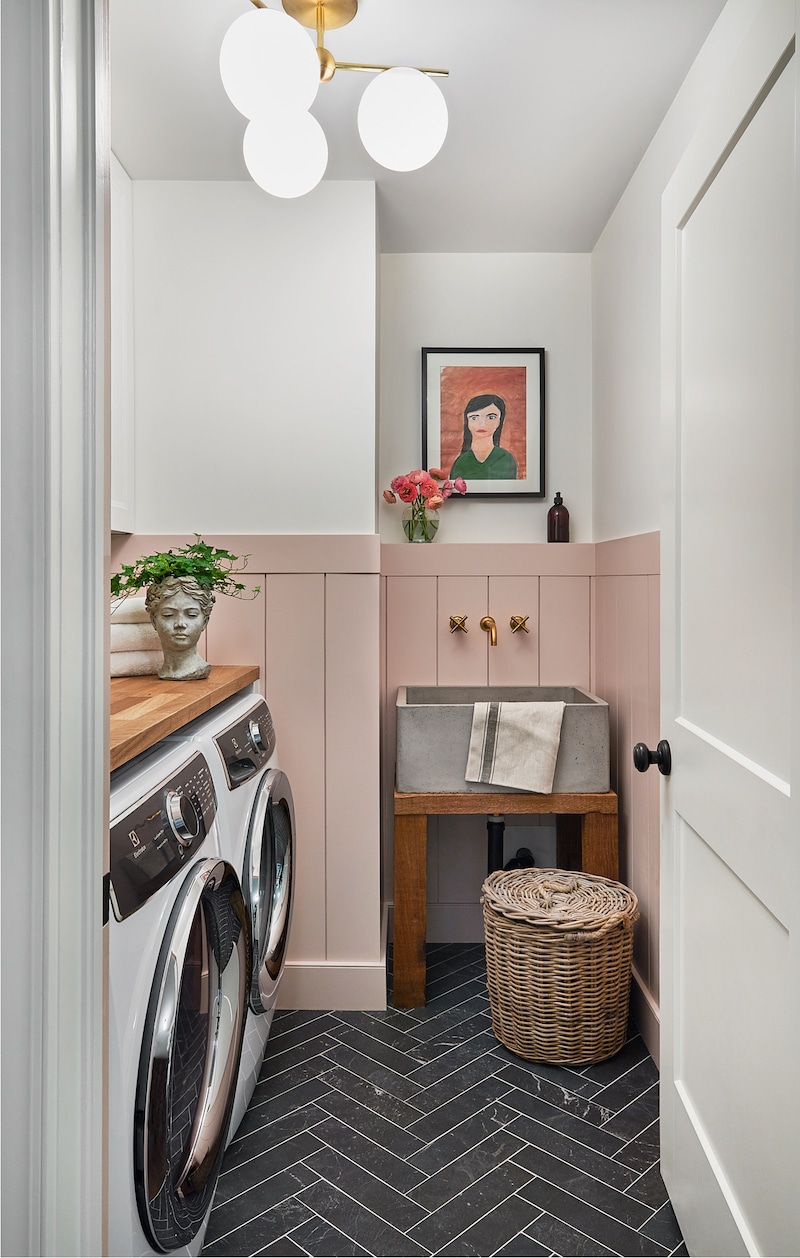 I love a laundry room that is different! This one with the pink planking against dark herringbone tile floors is gorgeous! Another element that really makes this room special is the cement sink and wall-mounted faucet. Perfection!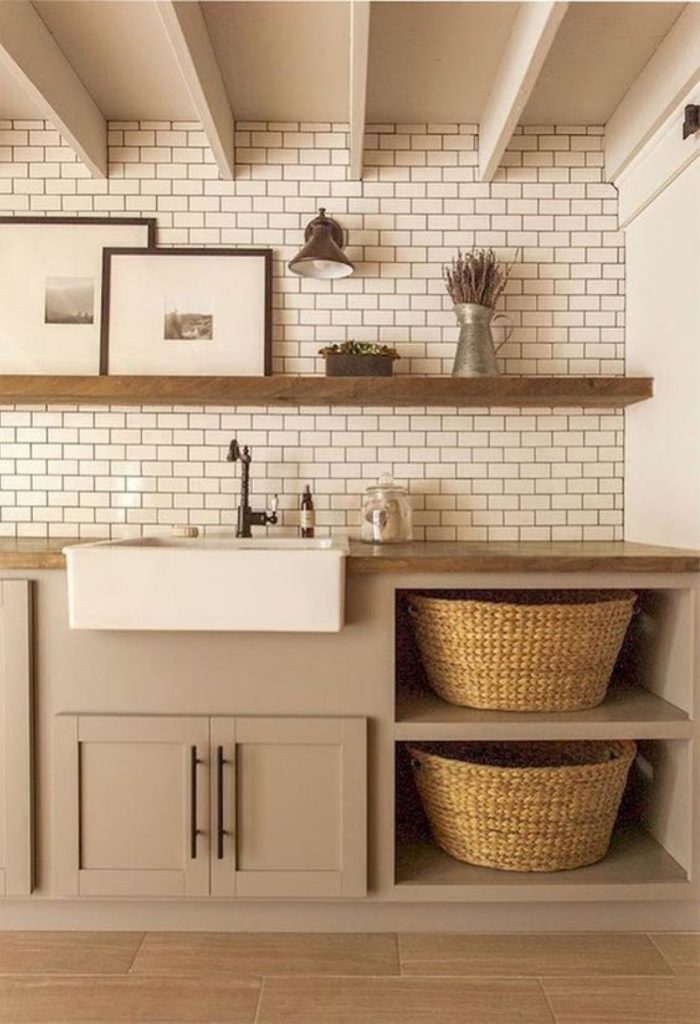 Earthy shades complement each other in this soothing laundry room. The beams at the ceiling are a nice statement and complement the wood shelves and counter in this beautiful space.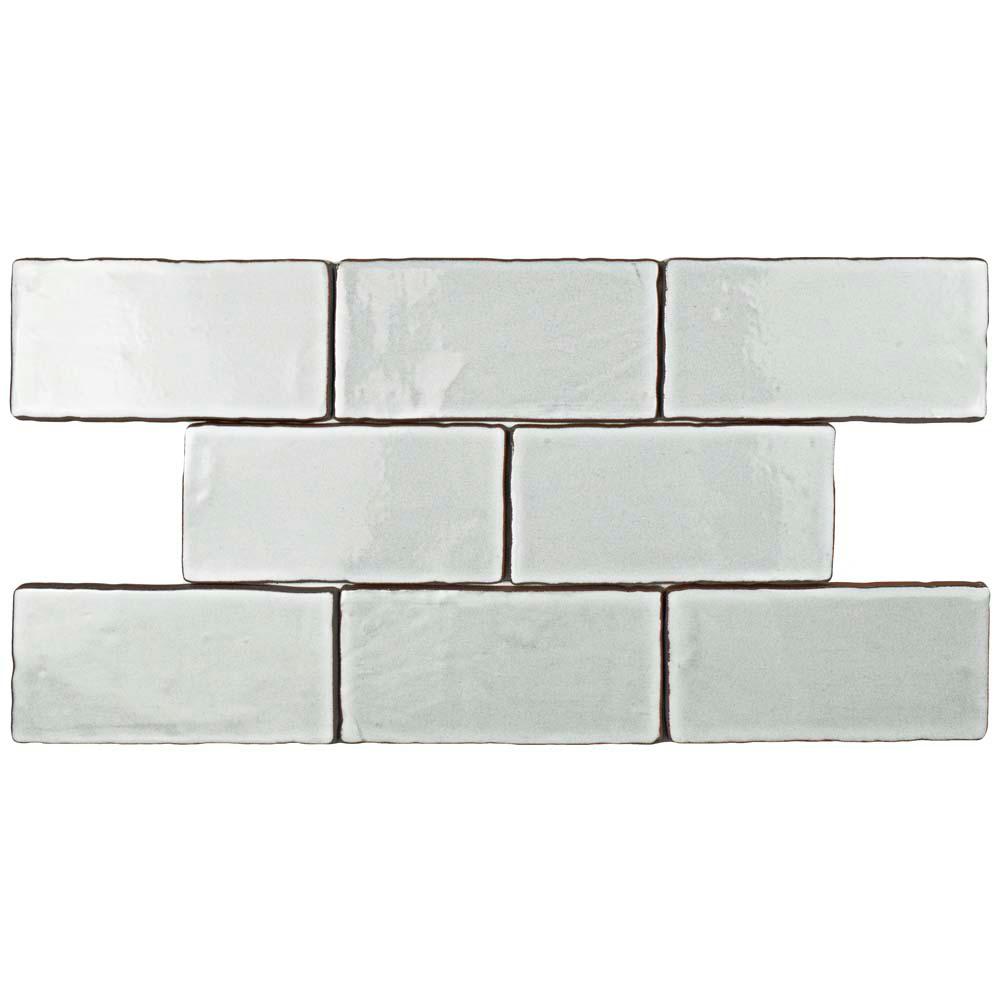 Subway tile with a dark grout is one of my favorite tiling solutions. It complements just about any laundry room, kitchen, and bathroom. All you need to find is the perfect tile (like the one linked here) and some dark grout.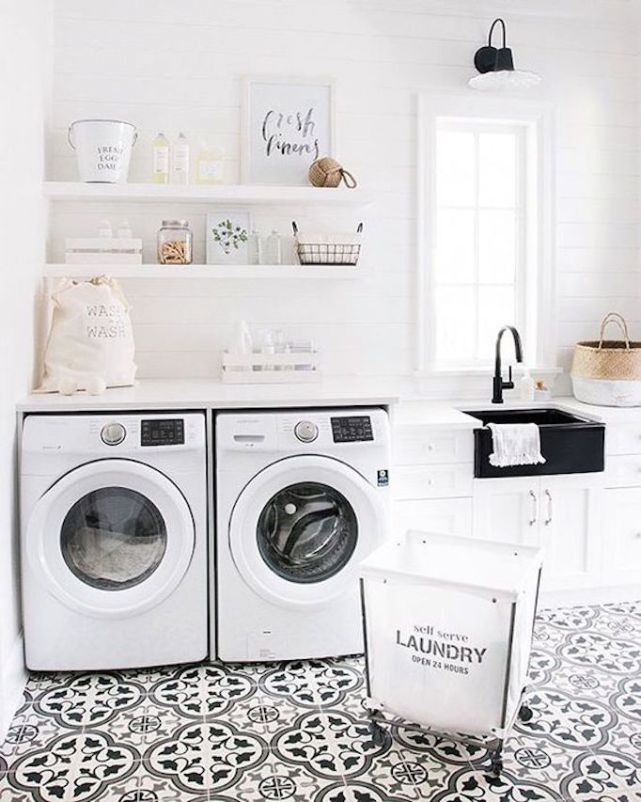 Black and white tile are the main attraction in this farmhouse-style laundry room with a modern twist. A few supporting players I love are the BLACK farmhouse sink and simple shelves.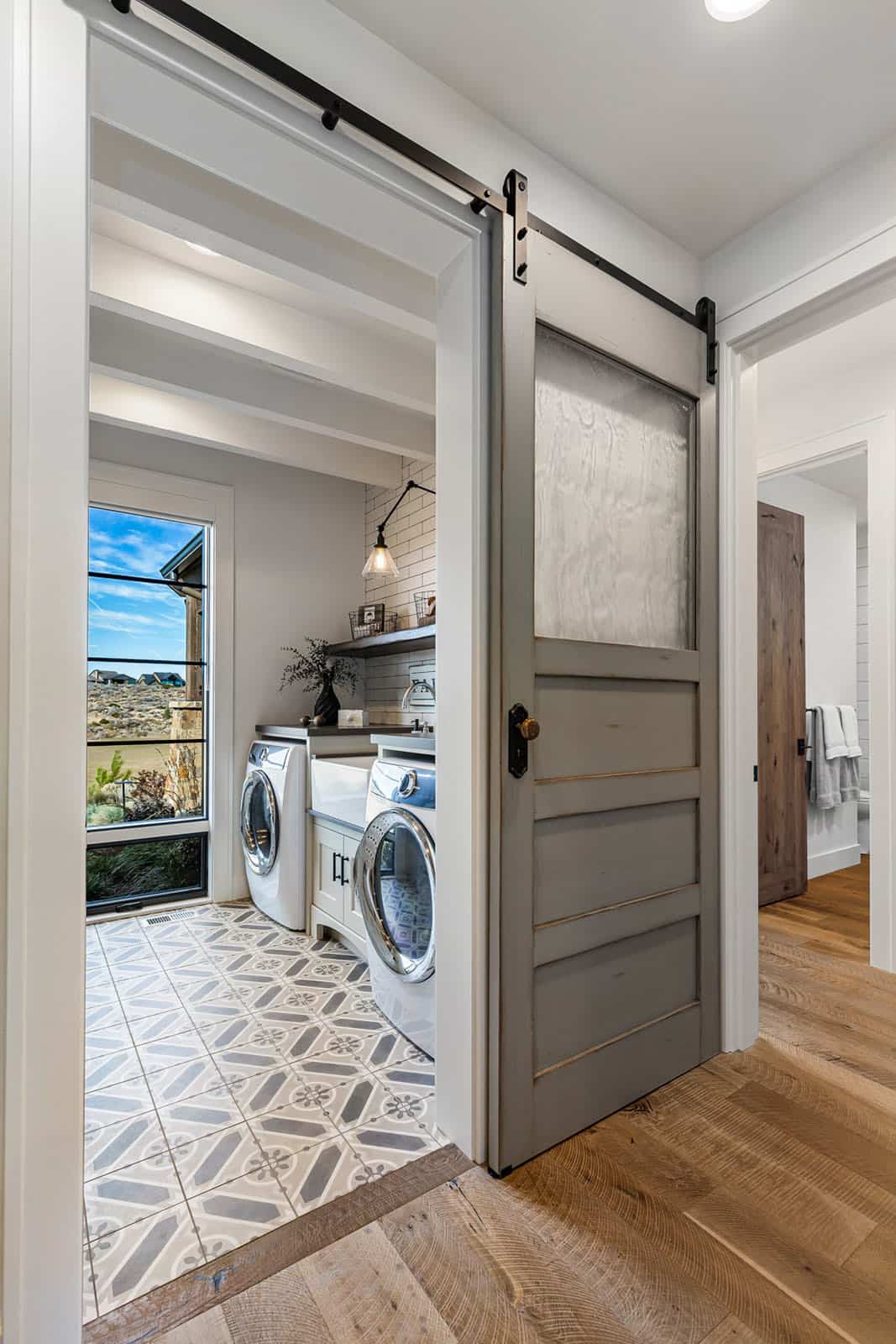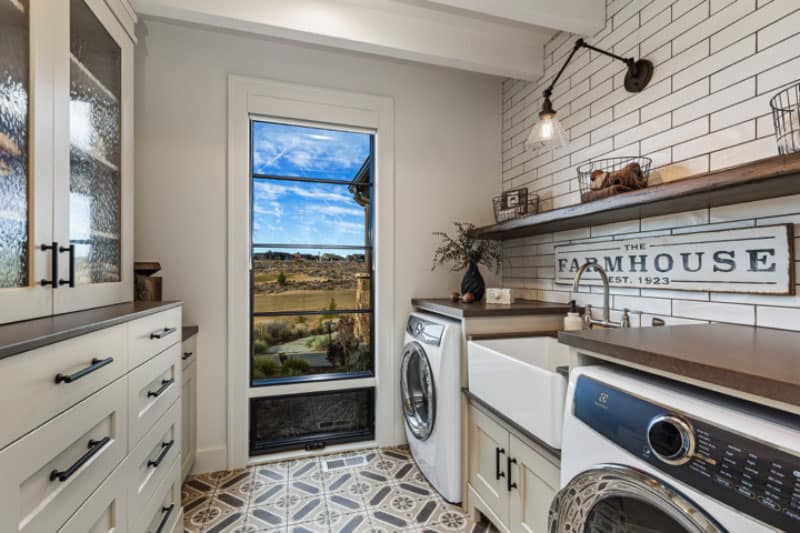 So many gorgeous elements come together that really make this laundry room shine. The patterned tile is subtle but distinctive and really7 plays against the subway tile and custom cabinets. Overall a beautiful, functional, timeless design.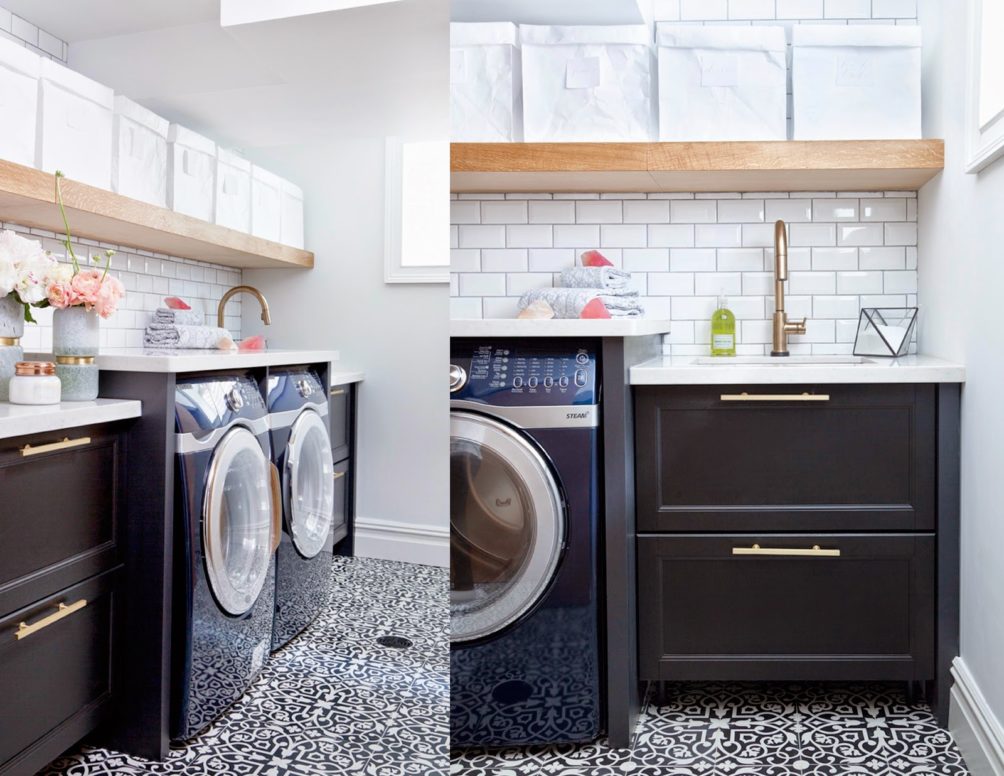 Another laundry room with black cabinets. I love that they installed dark appliances too. It really elevates the space. All of the other elements are very simple and allow the floor to tile to shine.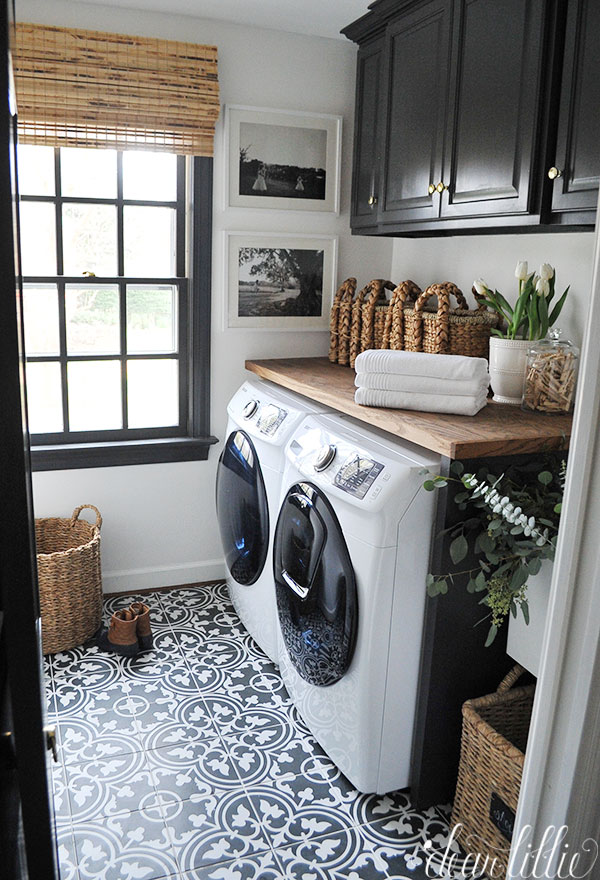 If you are on a tighter schedule, fear not. You can get the same look for less by using floor tiles. These are from Wall Pops and so easy to install.
Cement Tile Shop
I love a geometric tile. This one from the Cement Tile Shop is timeless and goes so well with the grey cabinets.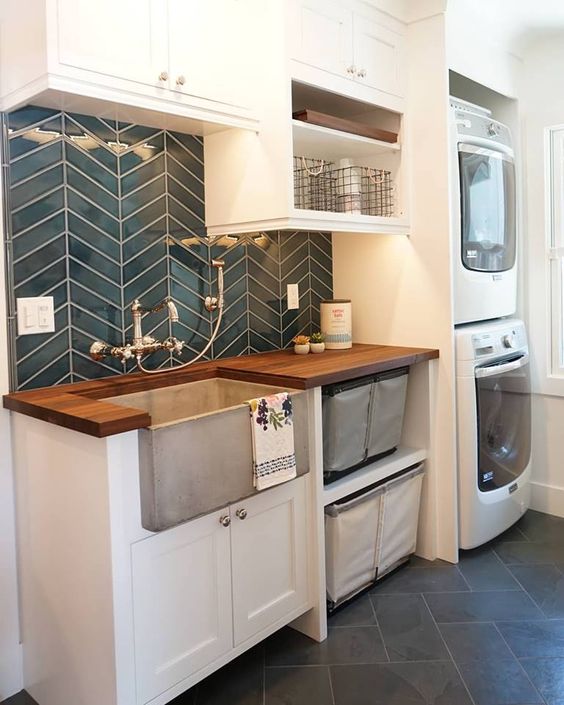 I love how compact and practical this laundry room space is. The cement farmhouse sink is so striking against the blue chevron tiles.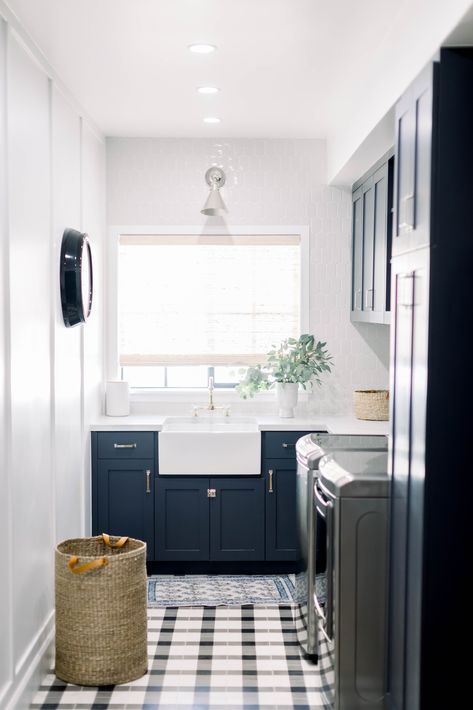 Plaid Tile
I love plaid and I think it's classic. The plaid tile in this laundry room really make an adorable statement. Who wouldn't want to do laundry in this space? (source unknown)
Which Laundry Room is YOUR Favorite?
Leave a comment and let us know which laundry room you like best! And I'd love to have you follow along on Instagram @tatertotsandjello where we share the latest on our 1891 home remodel. I can't wait to share our NEW laundry room with you!
Pin Tile Ideas for Later!
More Farmhouse and Cottage Tile Ideas
And here are more beautiful farmhouse and cottage ideas that can be used in a laundry room!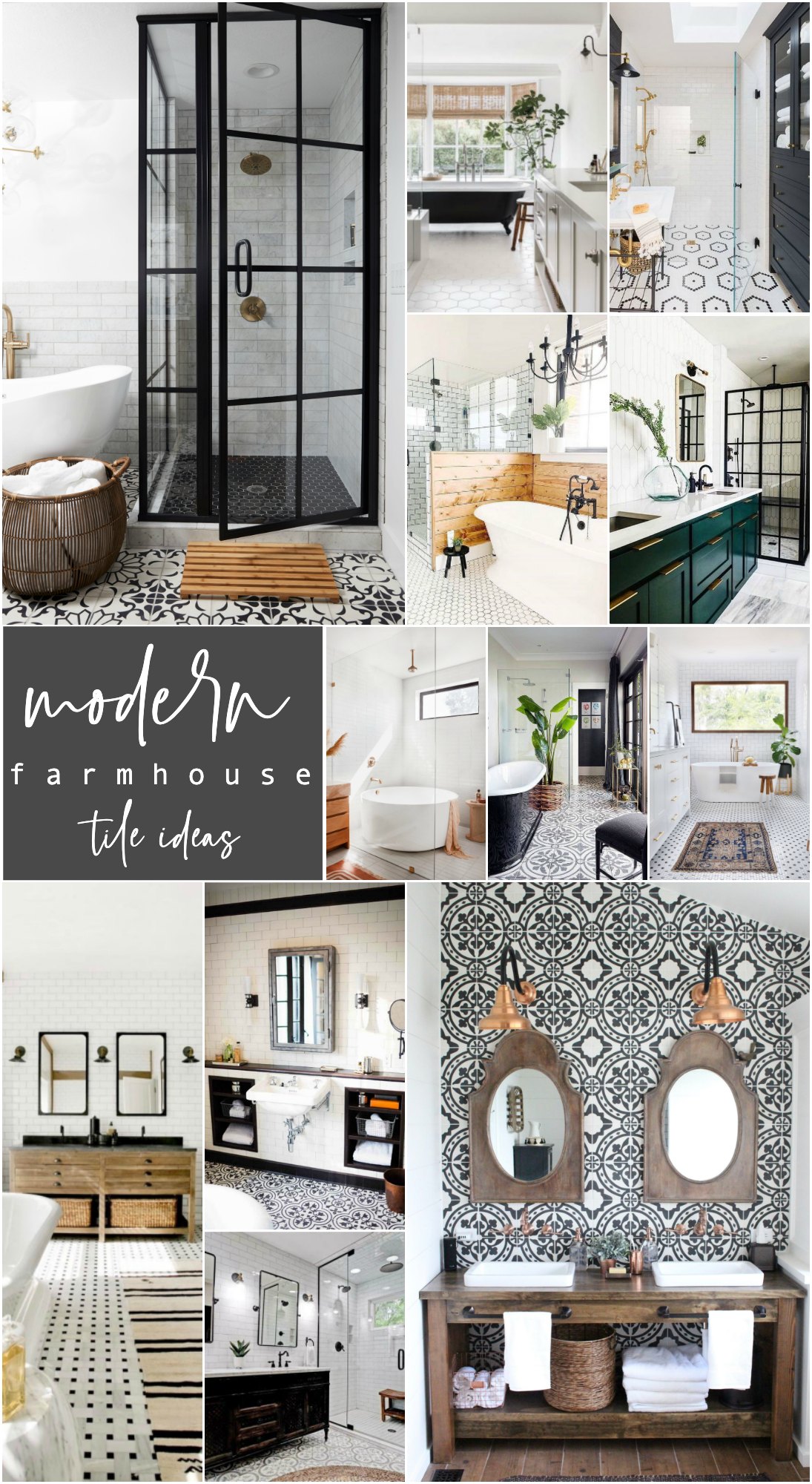 Have a Beautiful Day!
xoxo