Low-Carb Creamy Taco Soup (Keto). Creamy taco soup filled with veggies and spicy taco flavor!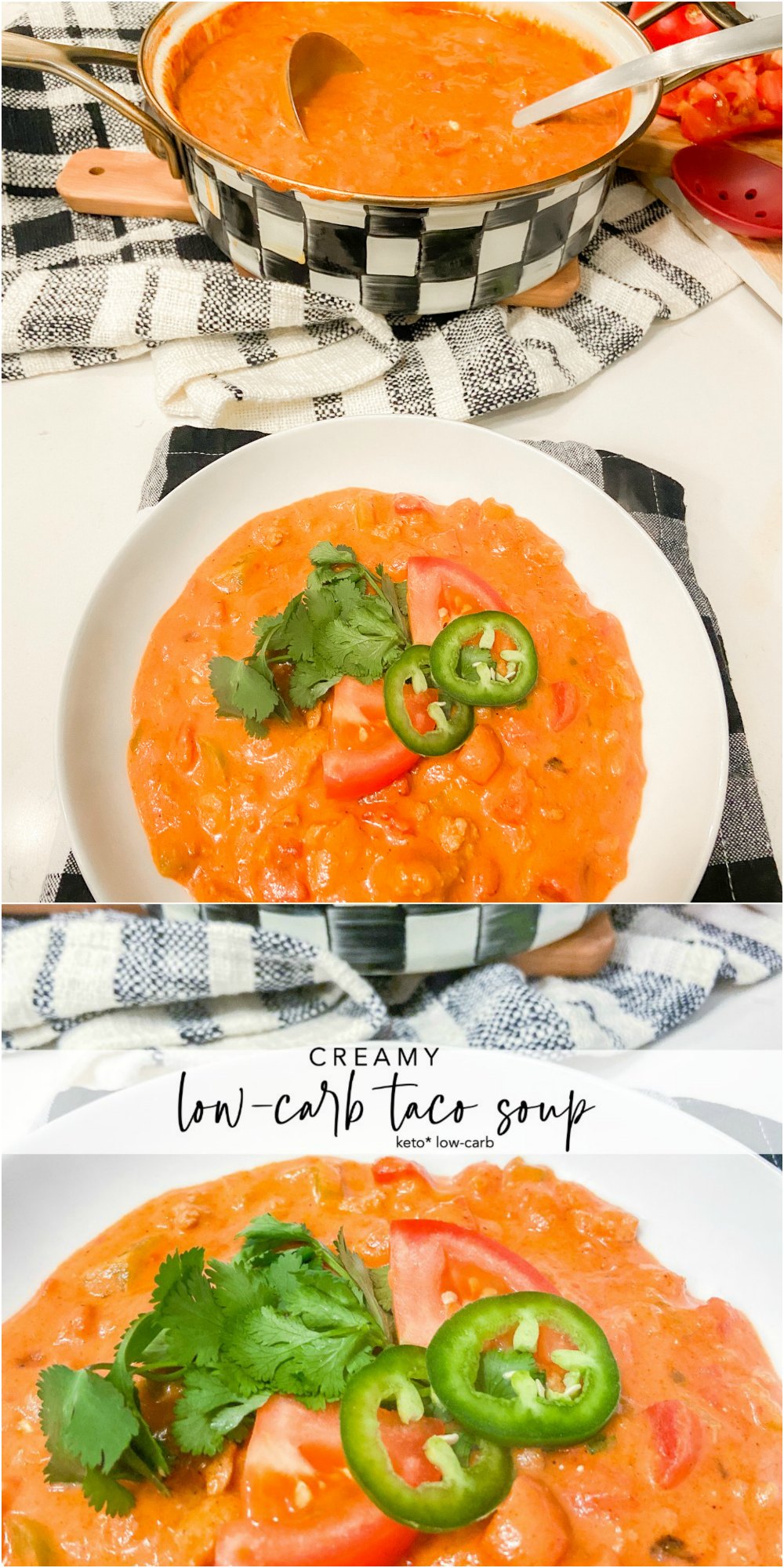 Low-Carb Creamy Taco Soup
I've been eating low-carb for 6 months now and I feel great! I'm following a ketogenic lifestyle and I have so much more energy. Over the past months I've learned tips and tricks that make eating low-carb easy. Creamy Taco soup is so easy to make; it's become one of our favorite family meals.
Keto Taco Soup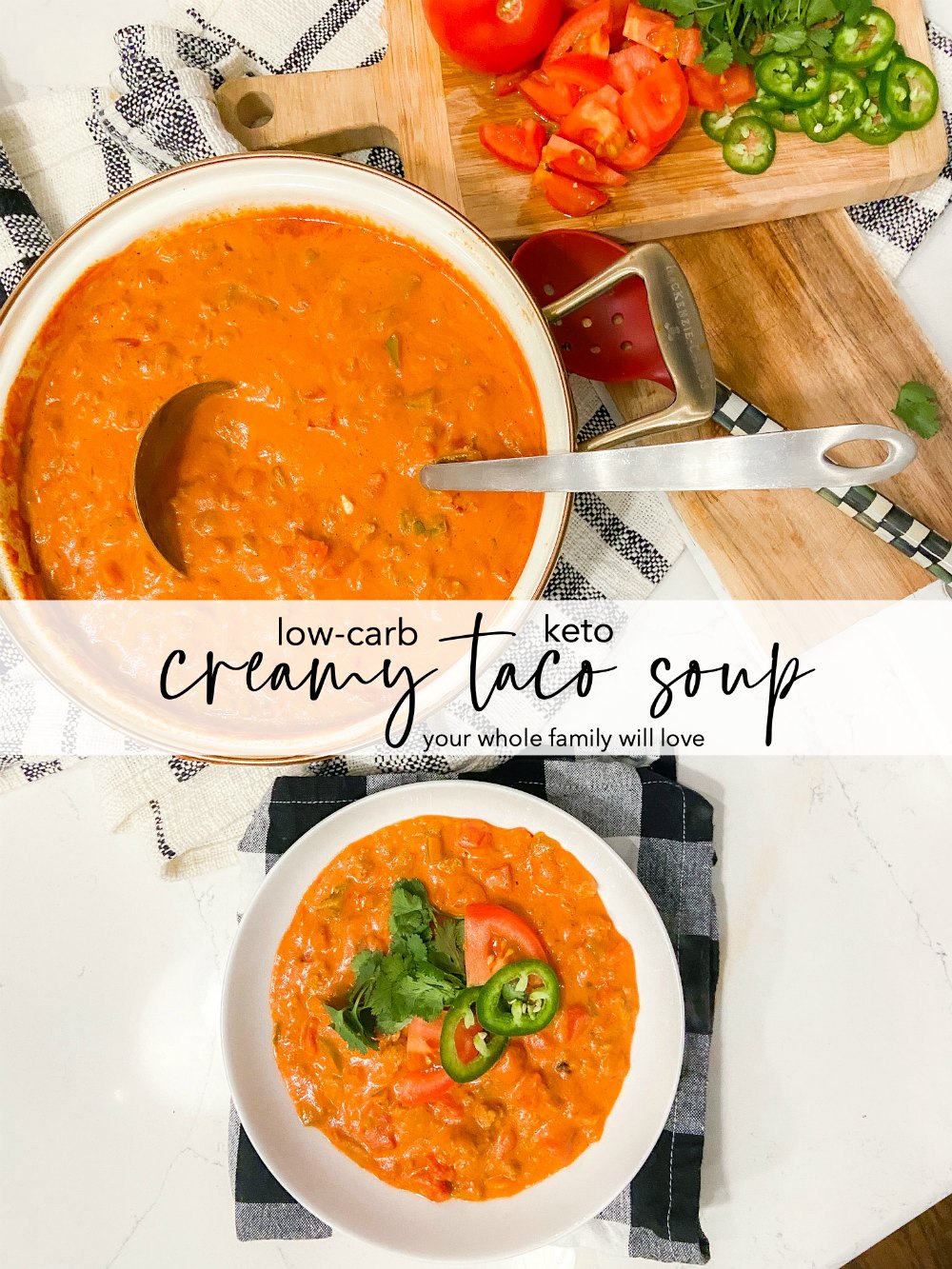 This soup fits in with a keto lifestyle, but it also works if you are trying to cut down on carbs generally. At less than 6 net carbs per serving, it is perfect dinner idea the whole family will love!
Low-Carb Taco Soup Your Whole Family Will Love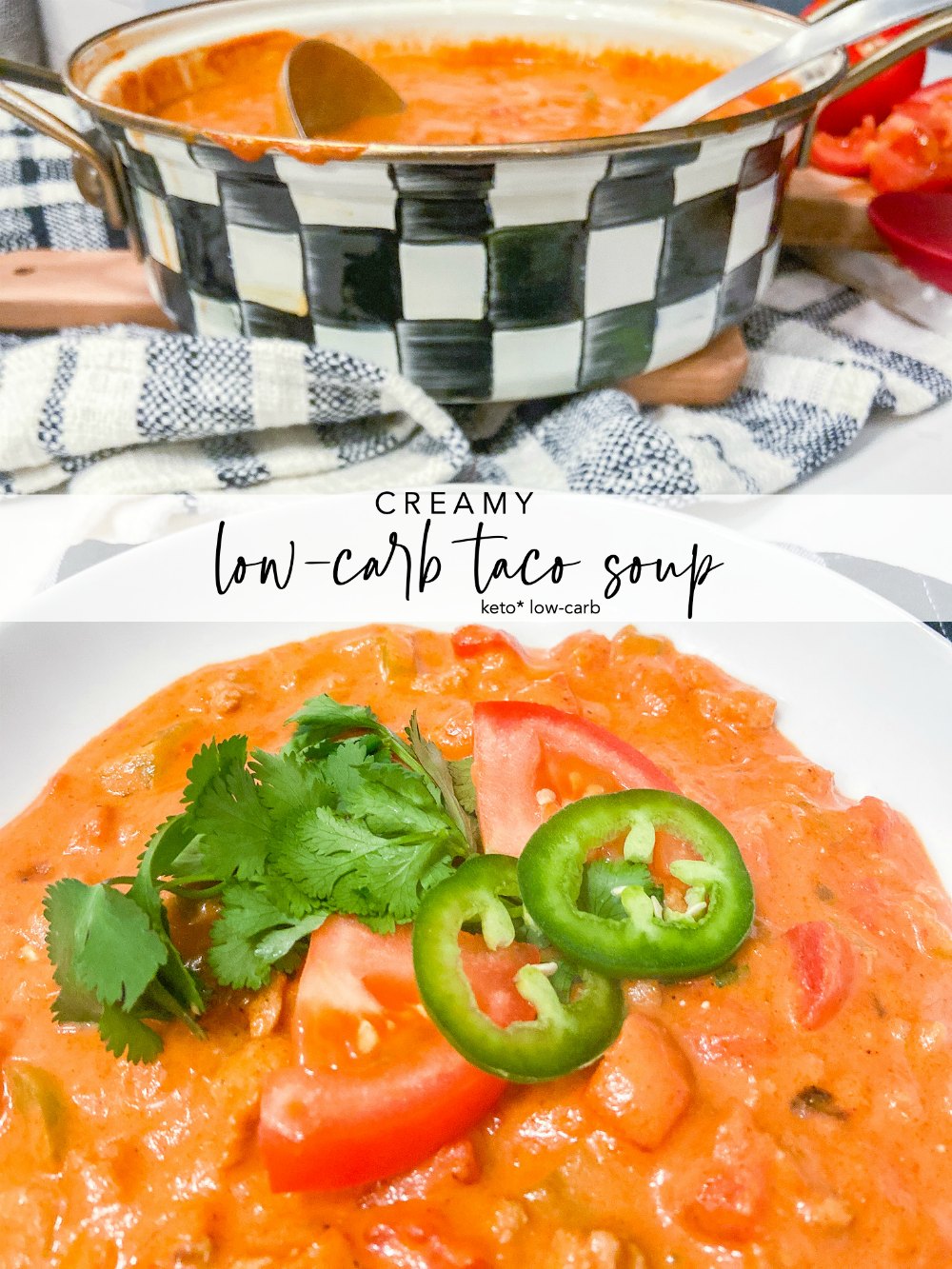 One misconception about going keto or low-carb is that you have to prepare two separate meals — one for you and one for your family. I've discovered that there are so many delicious recipes you can make that you can eat AND your family will love. Your family won't even realize that the recipe is low-carb because it is FULL of delicious flavor. This creamy taco soup is the perfect example!
You Can Customize Creamy Taco Soup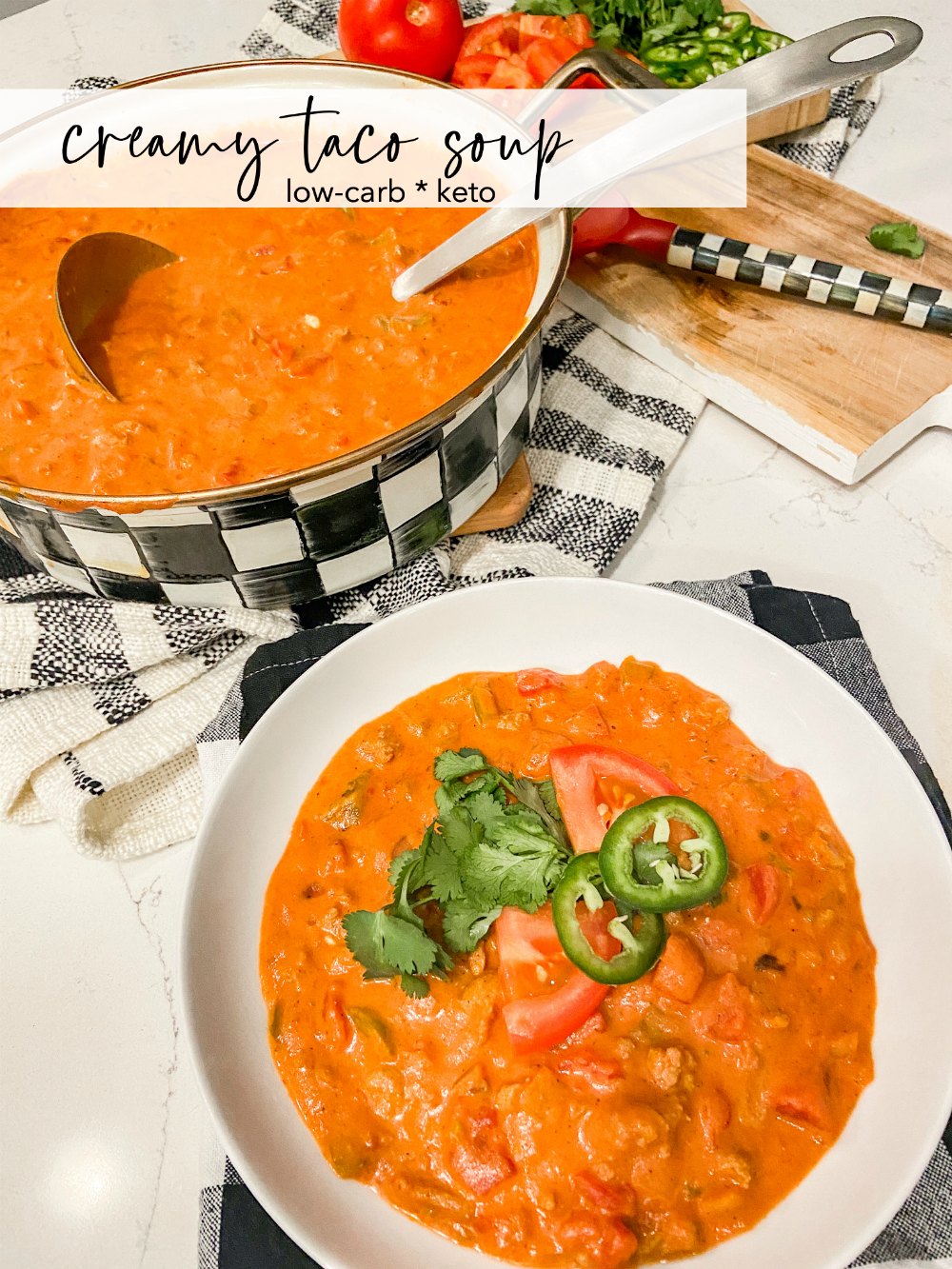 Another thing I discovered over the past few months is you can adjust a low-carb diet to you! I don't adhere to the full-fat keto misconception. For me low-carb is a lifestyle and I am going to be healthy about it for long-term success. I track my carbs and calories. For this creamy taco soup recipe you can choose what type of protein you want to include. I chose ground turkey for my soup. But you can choose whatever protein you want — ground turkey, ground chicken, ground beef or even a plant-based protein.
How Do You Make Taco Soup Creamy?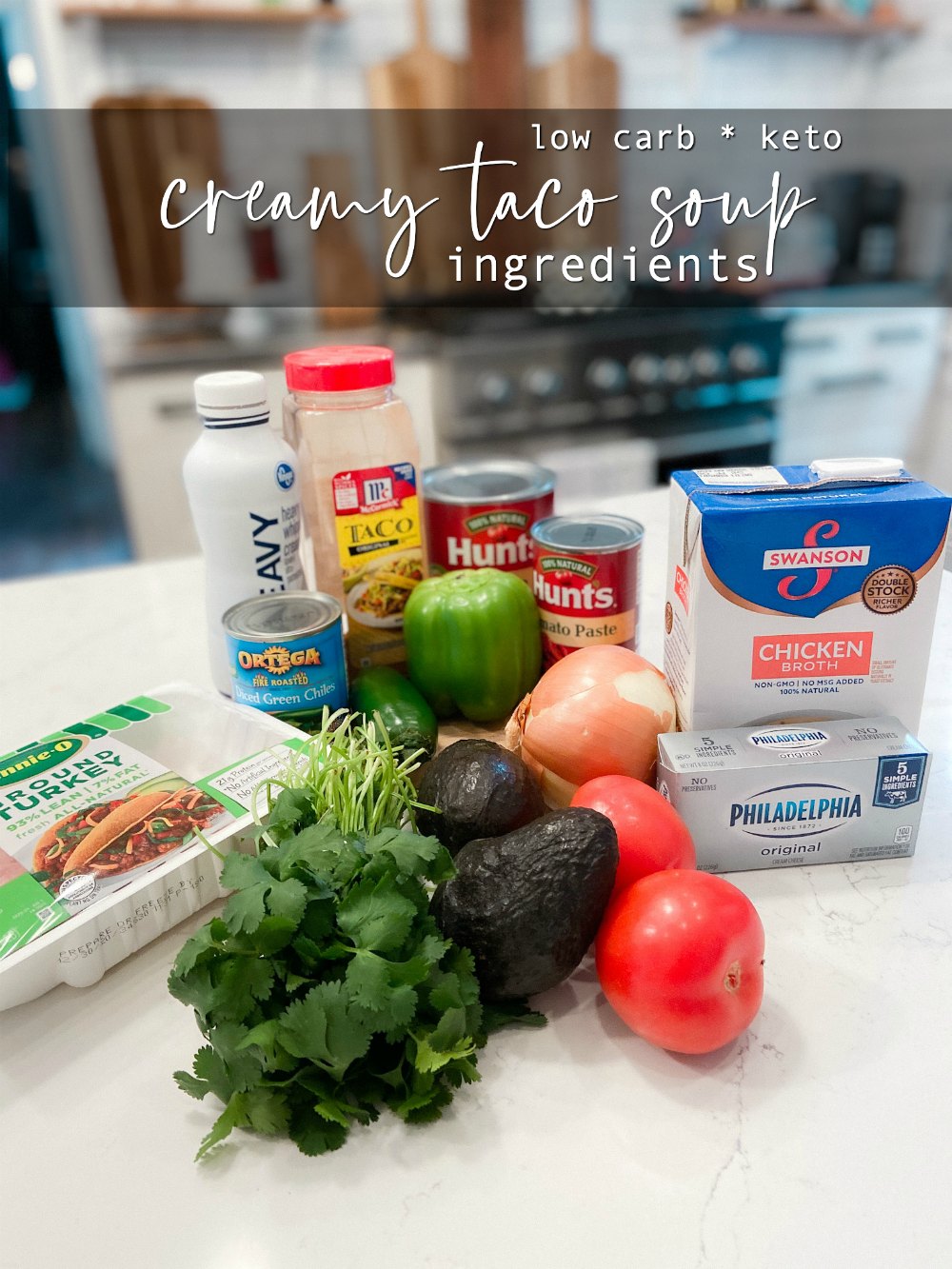 The trick to making taco soup creamy is adding dairy. This is another way to customize this soup. If you are following a Paleo diet which doesn't use dairy, just cut the dairy out. Taking the dairy out will not affect the taste. I add 4 ounces of creamy cheese and 1/4 cup of cream (or milk) to the soup at the end for the thicker, creamier consistency.
Low-Carb Taco Soup Recipe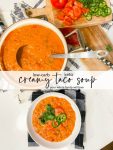 Low-Carb Creamy Taco Soup (keto recipe)
Low-Carb Creamy Taco Soup (Keto). Creamy taco soup filled with veggies and spicy taco flavor!
Prep Time 15 minutes
Cook Time 20 minutes
Ingredients
3 Tbs. avocado oil
1 pound ground protein — turkey, chicken, beef or meat substitute I used ground turkey
1/2 cup green or red bell pepper, diced
1 28 ounce can diced tomatoes, undrained
1 7 ounce can tomato paste
1/2 large onion, diced
6 cups chicken broth
1 package taco seasoning
salt and pepper to taste
1 7 ounce can diced green chilies
4 ounces cream cheese, cut into pieces
1/2 cup heavy cream or milk
toppings (optional)
1 small fresh jalapeno, sliced
fresh cilantro
tomatoes, diced
sour cream
shredded cheese
fresh avocado, diced
Instructions
Set stovetop to medium heat. To a medium pan — add avocado oil to pan and brown protein until cooked through. Add a little salt and pepper if desired.

Add diced onion and cook about 5 minutes until onion is translucent.

Turn heat down to low and add canned tomatoes, tomato paste, chicken broth, green chilies, green and/or red peppers, taco seasoning and stir.

Turn heat to simmer and put lid on pot. Simmer for 20 minutes.

After 20 minutes, soup will have thickened and reduced. Take lid off pot and add cream cheese squares. Stir until incorporated.

Add cream or milk to the pot and stir. Let soup simmer for another 5 minutes.

Serve soup with toppings on the side. People can customize the toppings they want to add to their soup.
Make This Soup in The Instant Pot
If you want to make this in your instant pot, follow the same directions. Changes would be — use the sautee feature to bro the protein and cook the onions, then add the other ingredients as directed above. Lock the lid in place and set the pressure to high for 7 minutes. After 7 minutes either quick release the pressure or let the pot come down in pressure. Then add cream cheese and milk and stir until incorporated. Serve.
Recipe Notes
5.7 net carbs per serving. 8 servings total.
Toppings for Creamy Taco Soup
You can add whatever toppings you want to this soup. Some ideas are — avocados, tomatoes, jalapenos, sour cream, additional cheese, onions. I cut up a bunch of different toppings and let my family customize their soup. They love that!
Can You Freeze Creamy Taco Soup?
Yes you can freeze this soup. Let it cool down, the pour it into an air-tight tupperware container. Put it in the freezer for up to a month. When you want to make the soup, ust put the container in the fridge the night before and then heat it up!
How Many Servings Does This Creamy Taco Soup Make?
This recipe makes 8 servings of soup. I put the leftovers in the fridge and ate it the next night and it was even more delicious! 6 net carbs per serving.
More Low Carb Recipes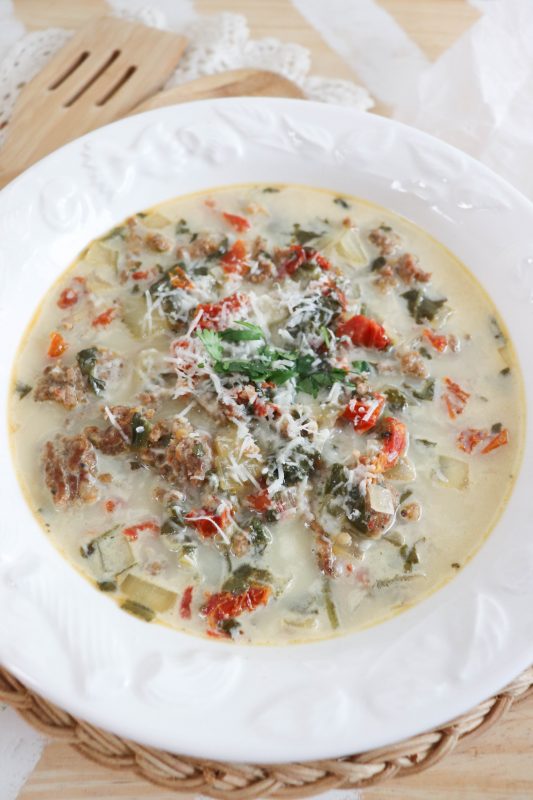 THe best low-carb Tuscan soup. Put the ingredients in your crockpot in the morning and by dinner time you have an instant meal!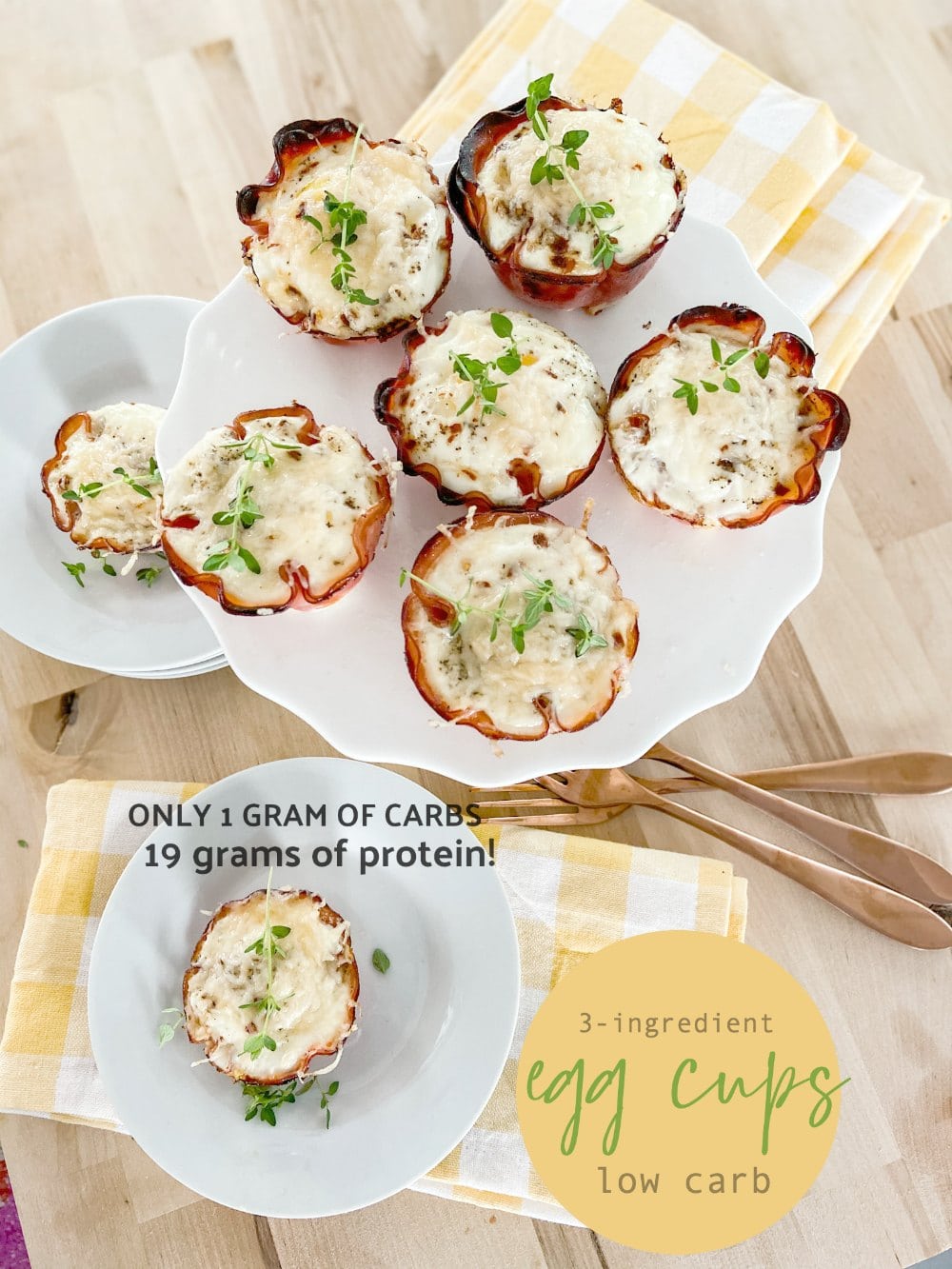 The easiest low-carb breakfast with only THREE ingredients. I bake up a batch once a week and pop one in the microwave each morning for an easy breakfast that is packed with protein!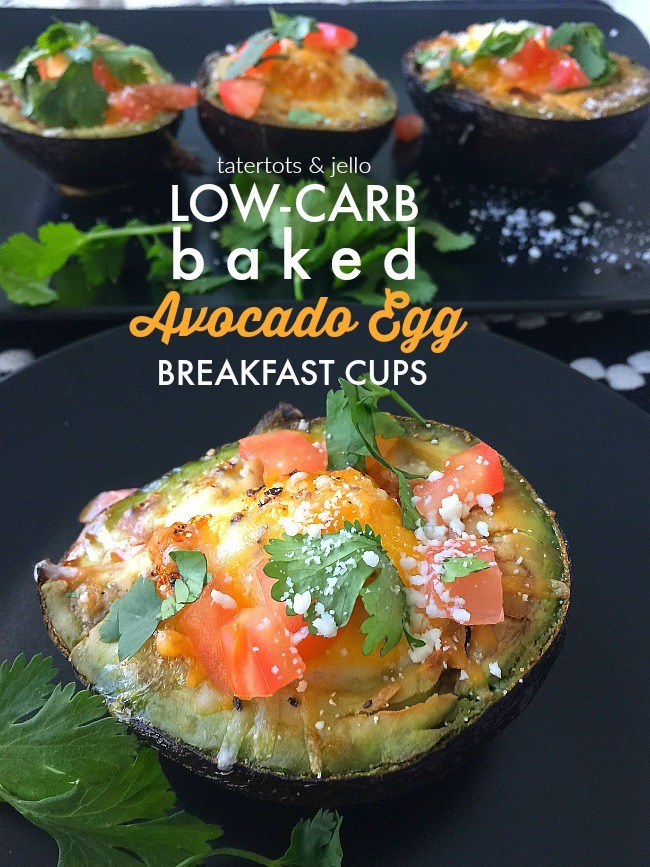 One of my favorite breakfasts and so easy to bake in the oven.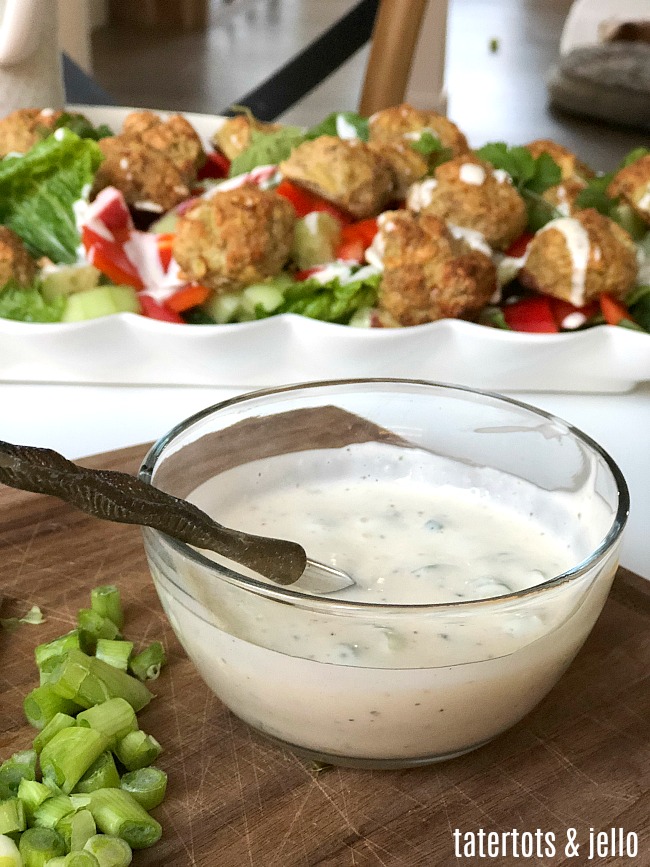 If you are eating low-carb or specifically Whole 30 or Paleo, you will love these delicious Mediterranean meatballs with a creamy dressing!
Tag me on instagram @tatertotsandjello with YOUR low-carb ideas!
Have a Delicious Day!
xoxo