Colorful Cottage Summer Tour. Add some summer color to your home with these easy bright ideas!
Colorful Cottage Summer Tour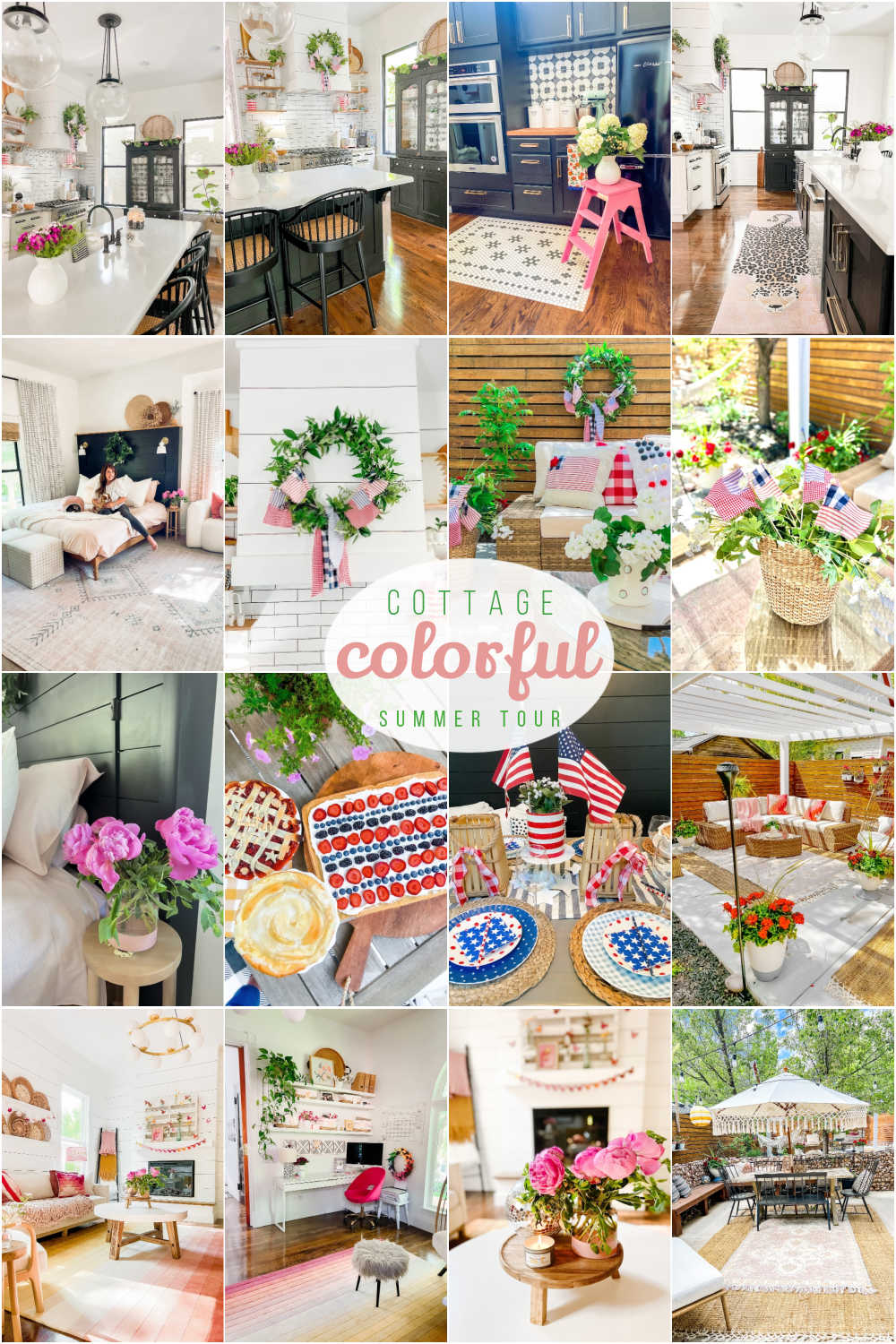 Easy Way to Add Summer Sunshine
It's summertime! Celebrate warm weather with these colorful, bright and happy ideas. Here are some simple ways that I added some bright summer cheer to our home!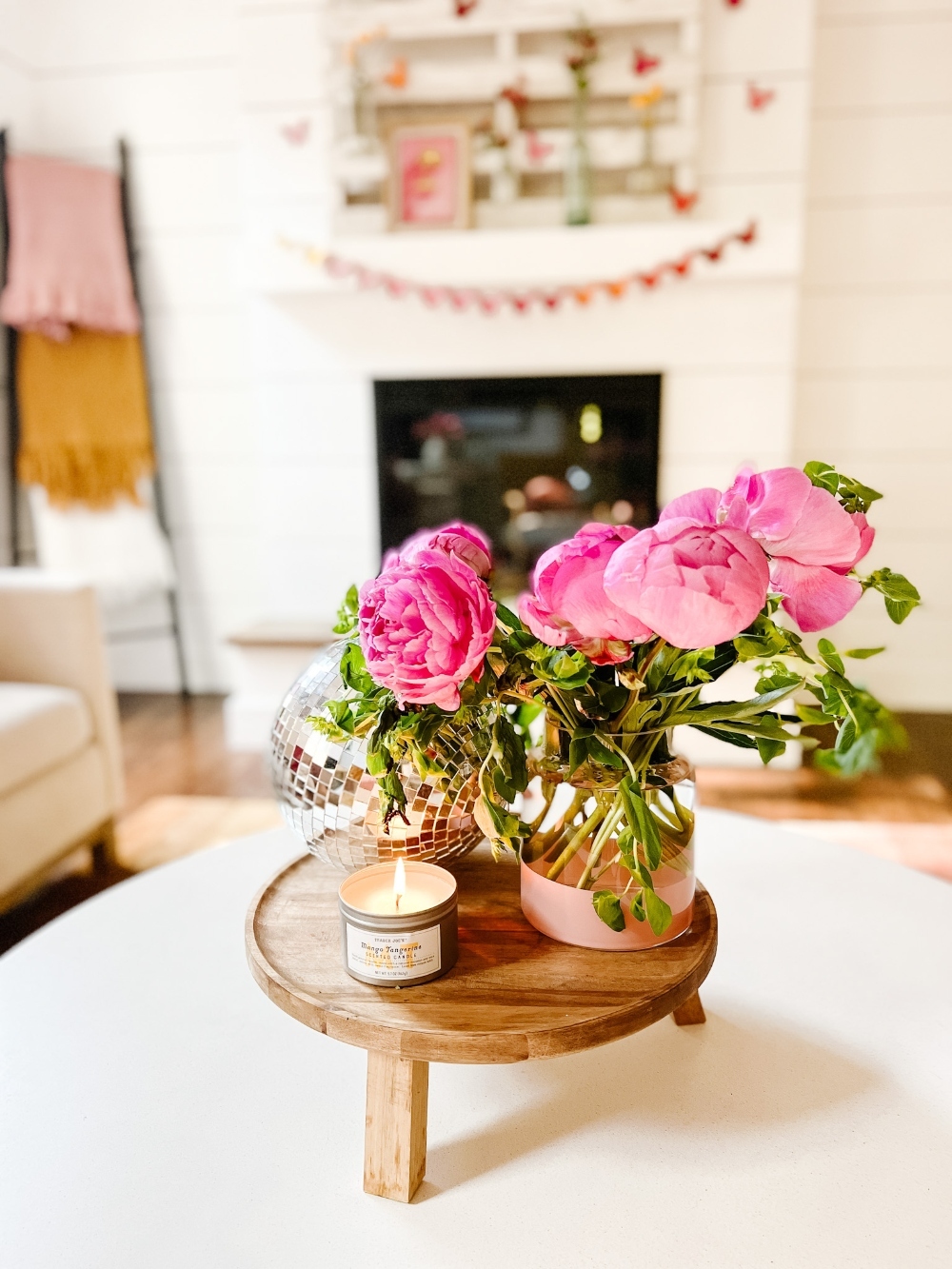 It's Summer Home Tour Week!!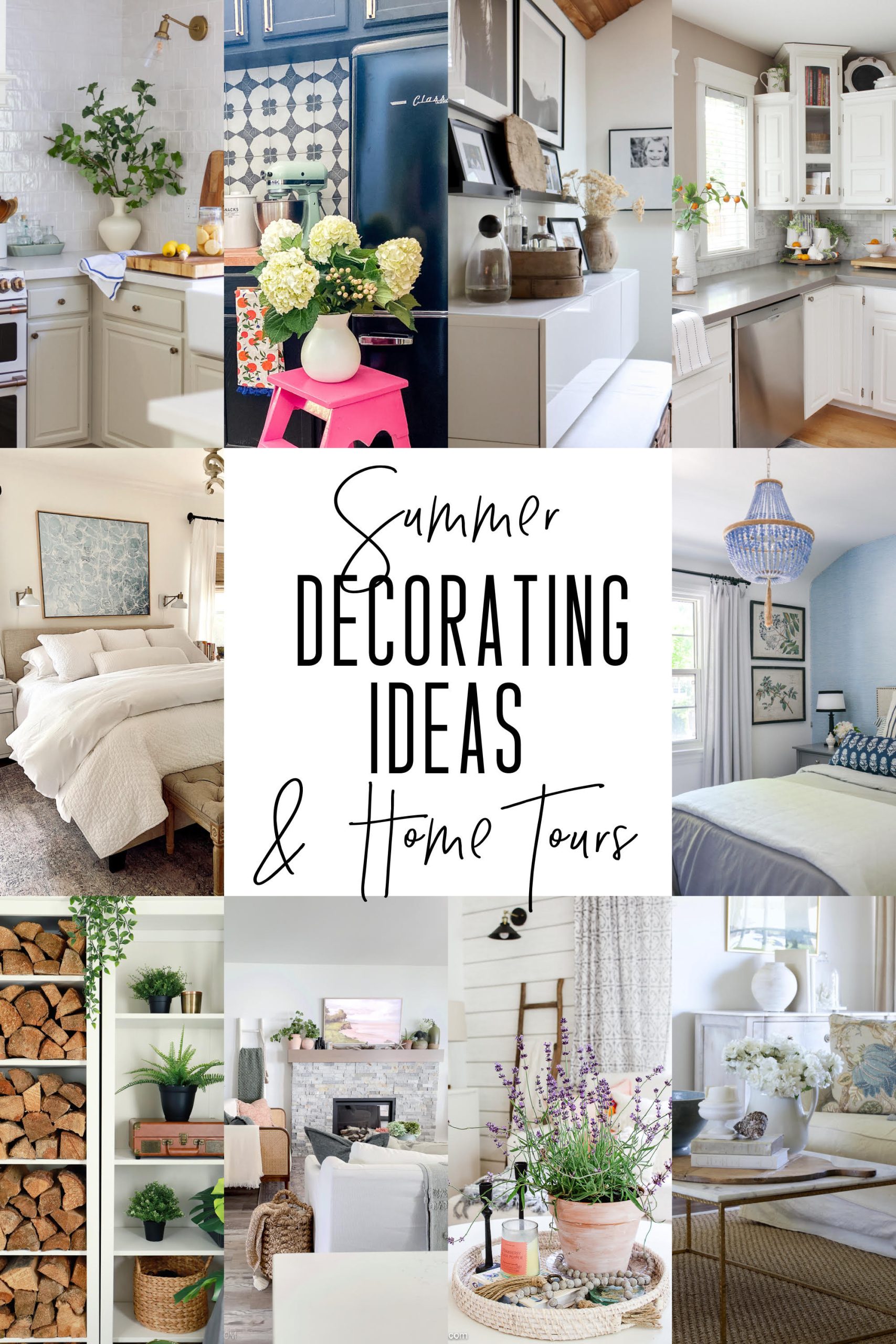 Welcome!! This is one of my very favorite weeks of the year! Time for Krista @TheHappyHousie's #SeasonalSimplicity Summer Home Tour! I am thrilled to share our 1891 cottage in progress with you. Scroll down and HOP over to see all of the gorgeous homes and summer DIY ideas!
Fresh Summer Flowers
One easy way to bring summer into your home is by adding fresh flowers. There's nothing like summer flowers to make your home feel like summer. I added some fresh flowers to my butler's pantry and kitchen!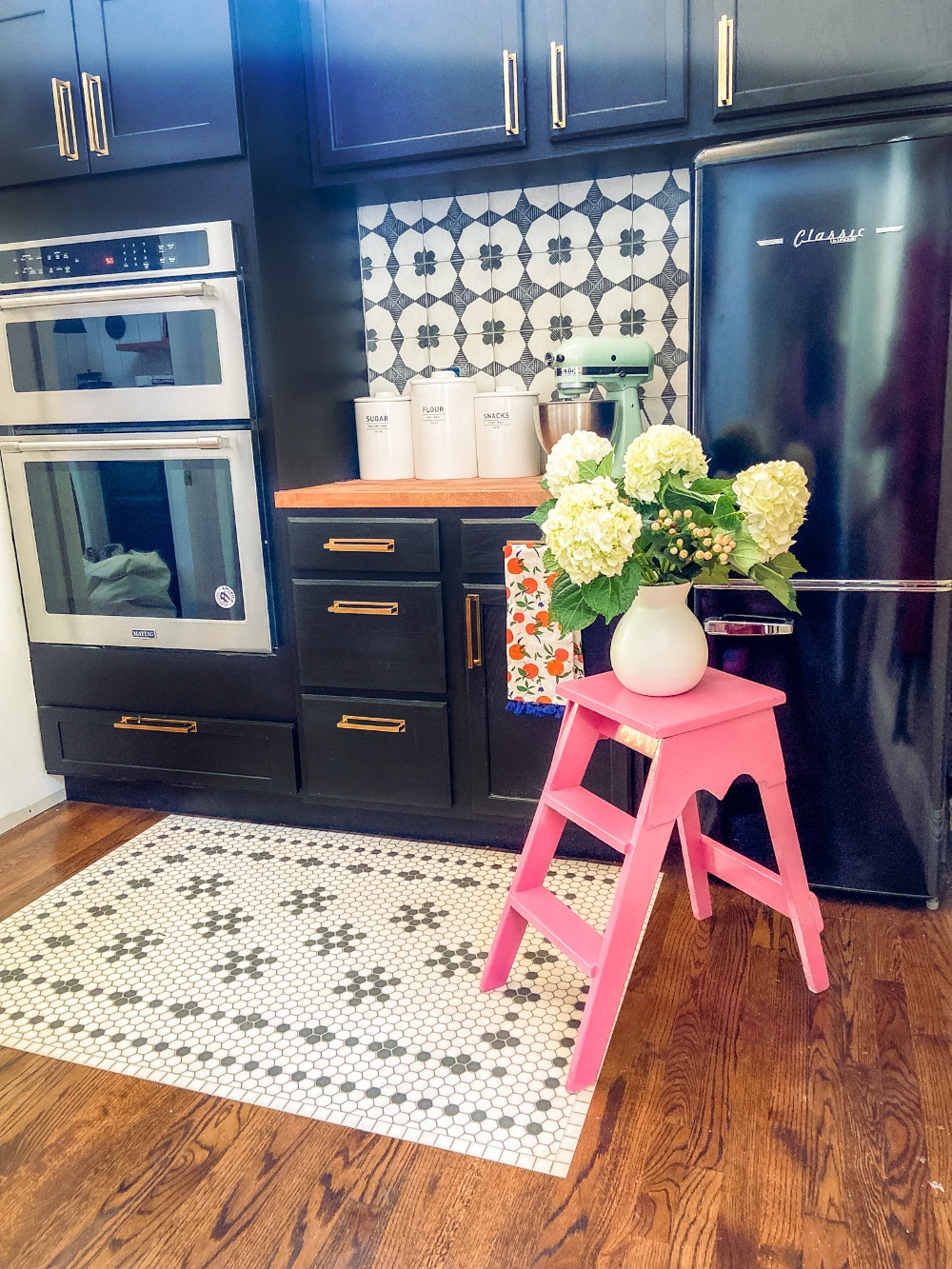 Add Summer Touches in the Kitchen
It's super easy to change up the vibe of your kitchen with some simple changes.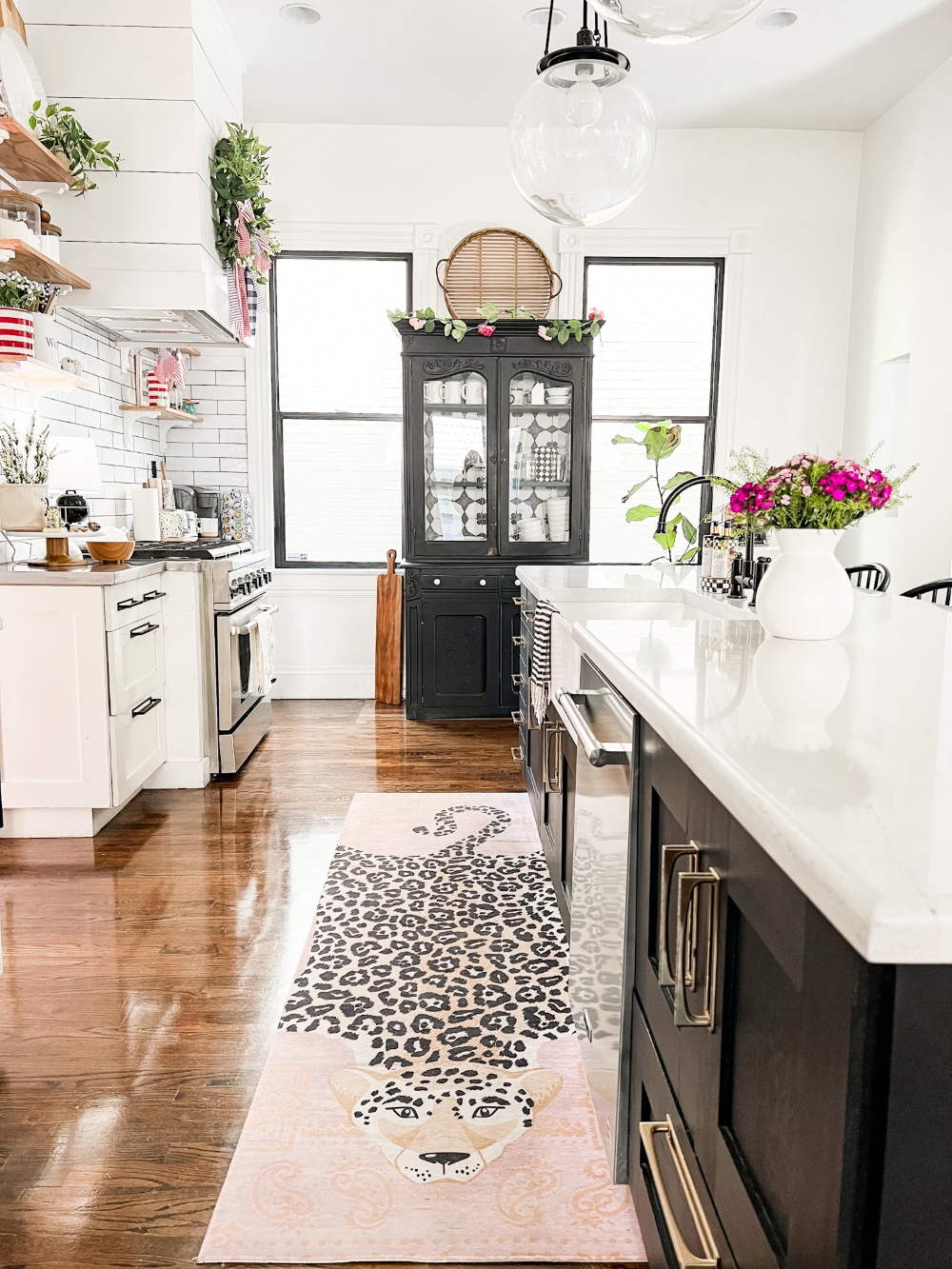 Colorful Kitchen Rug
One way I brought some color in is through fresh flowers. I also think my pink leopard rug is perfect for summer.
Summer Kitchen Wreath
You might think wreaths are only for front doors or over a mantel, but out kitchen hood is the perfect place for a wreath. I created this easy Scrap Fabric Flag wreath I already had and added some Handmade Scrap Fabric Flags so easy!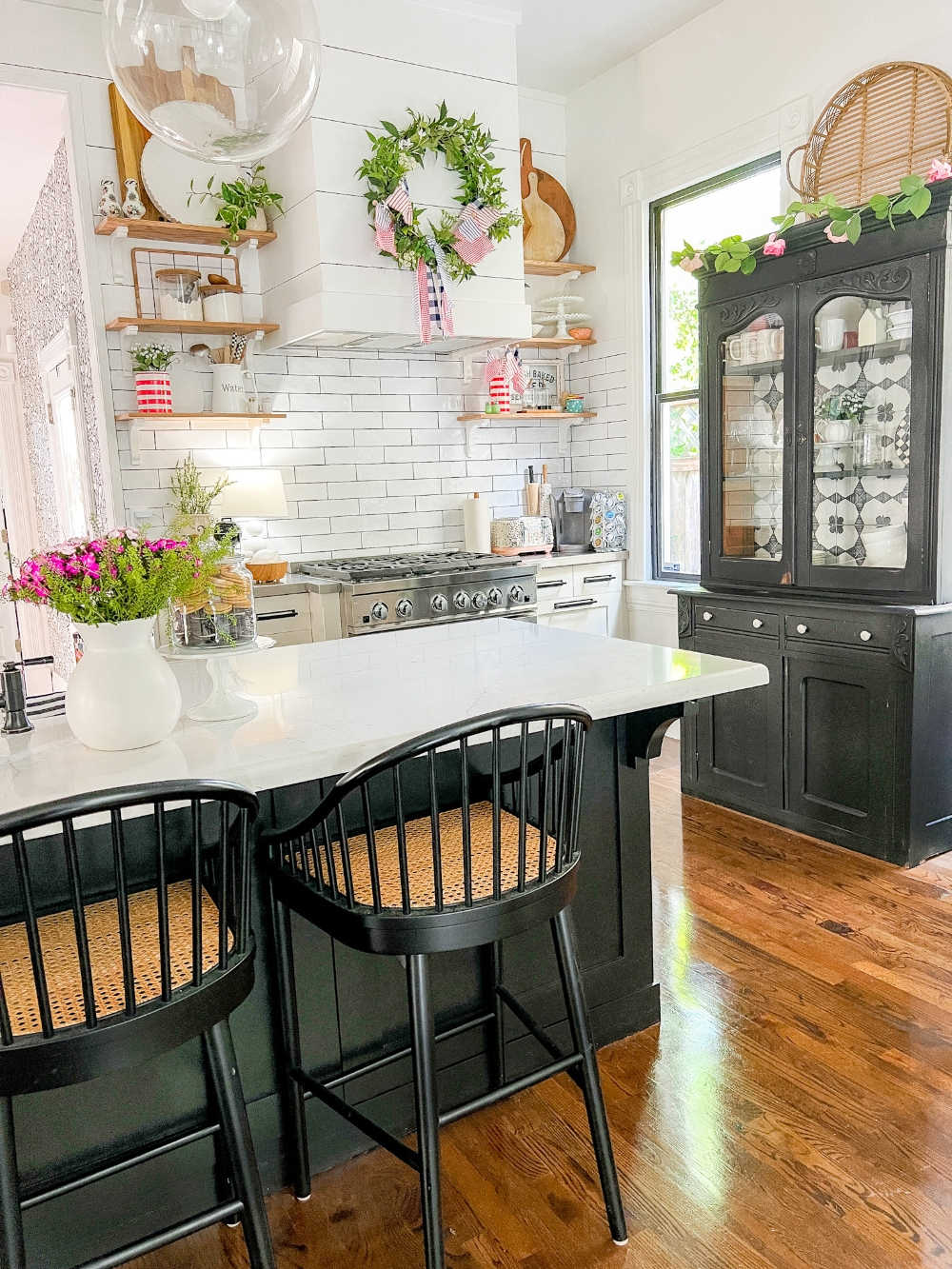 Styling Kitchen Shelves for Summer
When we did our remodel we added some open shelves to our kitchen and I LOVE them. They are so fun to style for different seasons. For summer I added a blue and white tray that coordinates with the Fourth of July items. I also added some red and white striped vases and put a plant in one and some of the matching Scrap Fabric Flags from the wreath!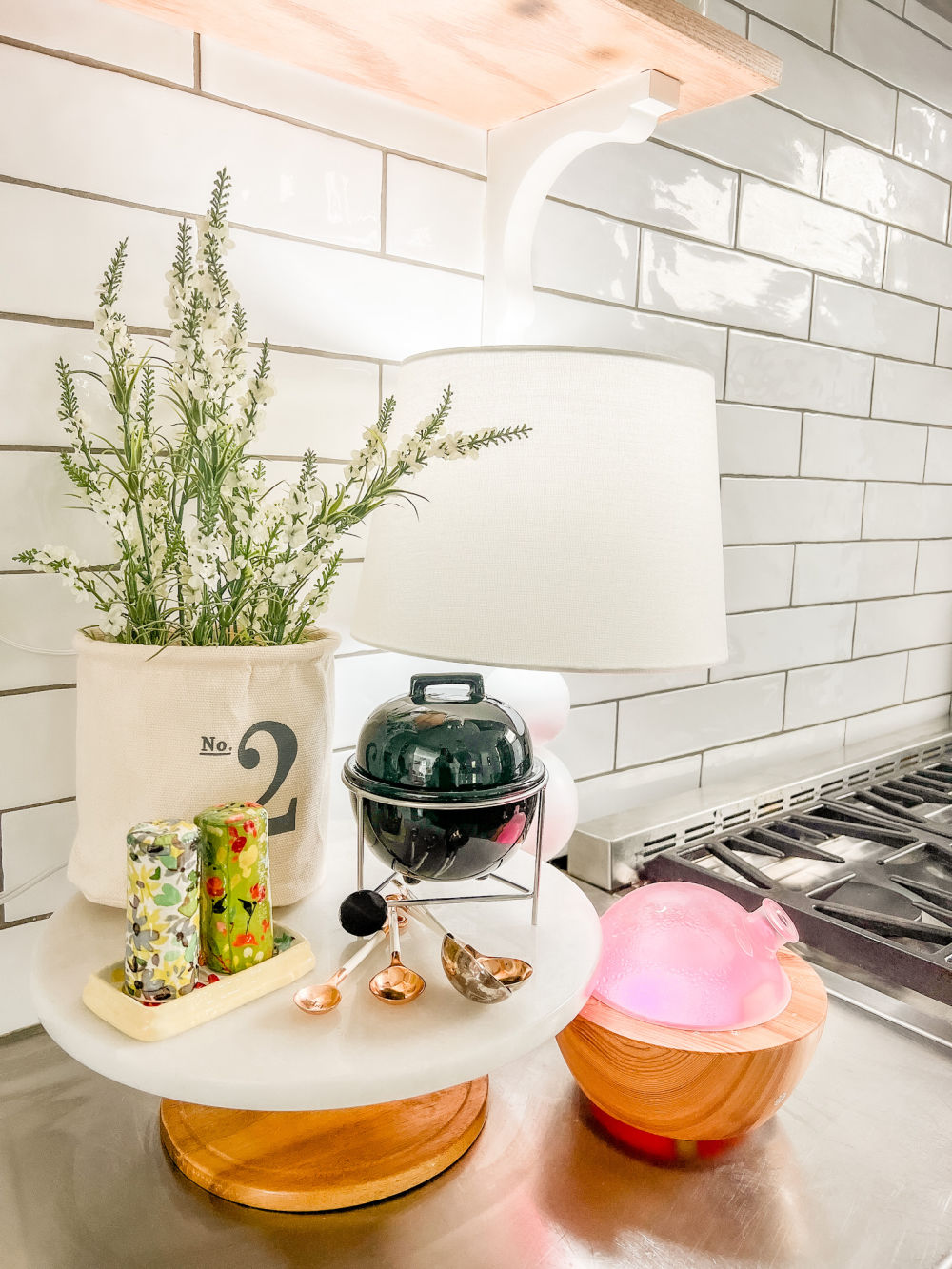 Create a Kitchen Vignette
I keep a cake plate next to my stove. It's a great way to elevate things that I use when I cook. I always keep a set of salt and pepper shakers and my measuring spoons. These Summer Salt and Pepper shakers are from Anthropologie and bought them when they came on sale a few weeks ago. This BBQ condiment container that I use when we barbecue! I also have our diffuser there filled with lemon essential oils and it makes our kitchen smell so good. I found this $400 Young Living Essential Oil DUPE oil diffuser and it has colors too!
Easy Summer Ideas in the Family Room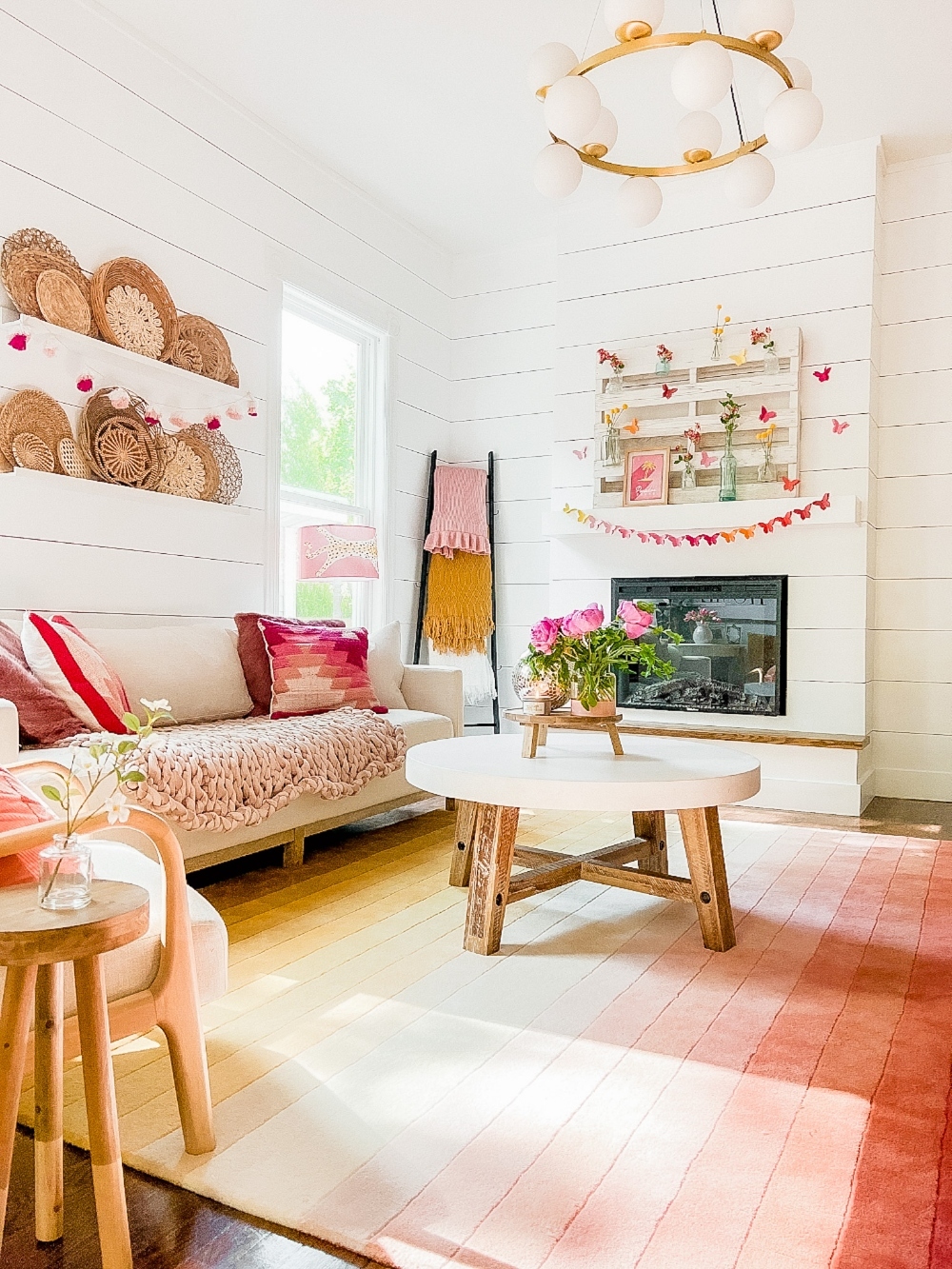 An Upcycled Pallet makes a beautiful flower display. I coordinated the flowers with our rainbow rug and added a matching Rainbow Butterfly Garland.
Rainbow Summer Office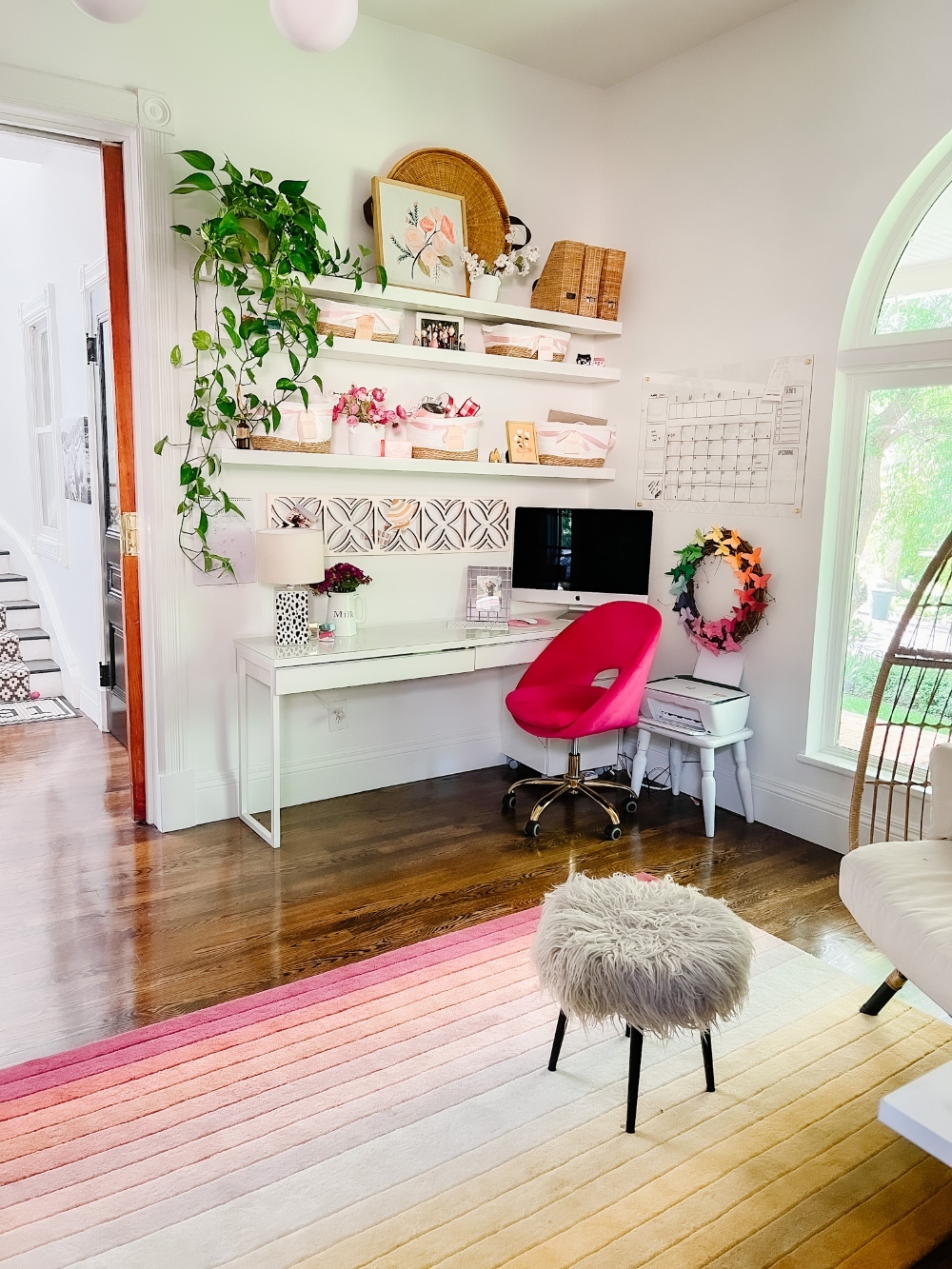 Our 1891 home has a double parlor with huge french doors that divides the space. When the french doors are open the whole space opens to each other into one huge room. To make the rooms more cohesive, I added matching bubble lights and matching rainbow rugs. I love seeing the whole space open together and the rainbow rugs are one of my splurges.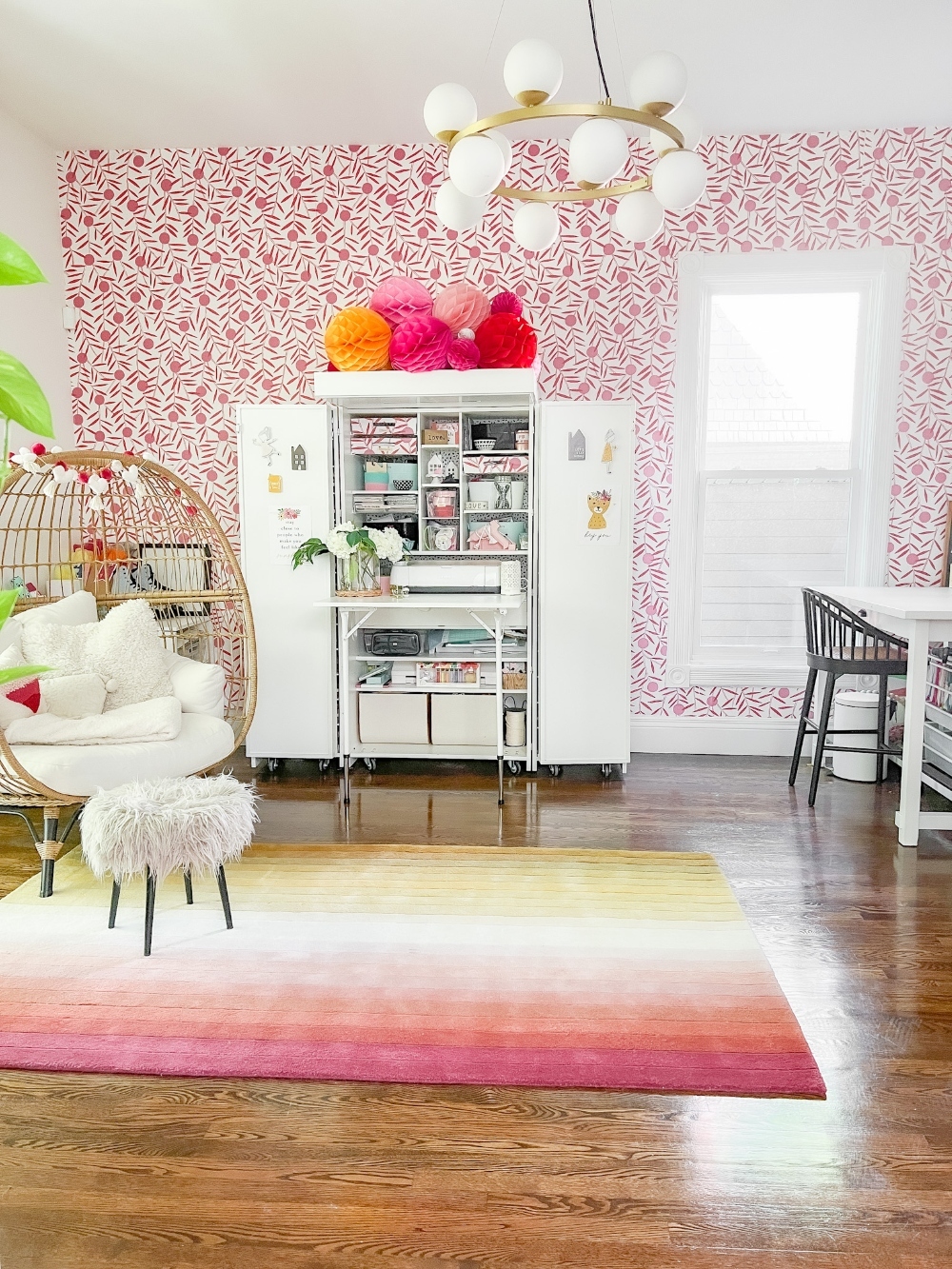 I added this Hygge and West BLOOM wallpaper and I love how bright and happy the space is now! This is peel and stick wallpaper so it can easily be removed. How cool is that?? I have a post with all kinds of Peel and Stick Wallpaper Tips and Tricks if you want to find out how to install removable wallpaper!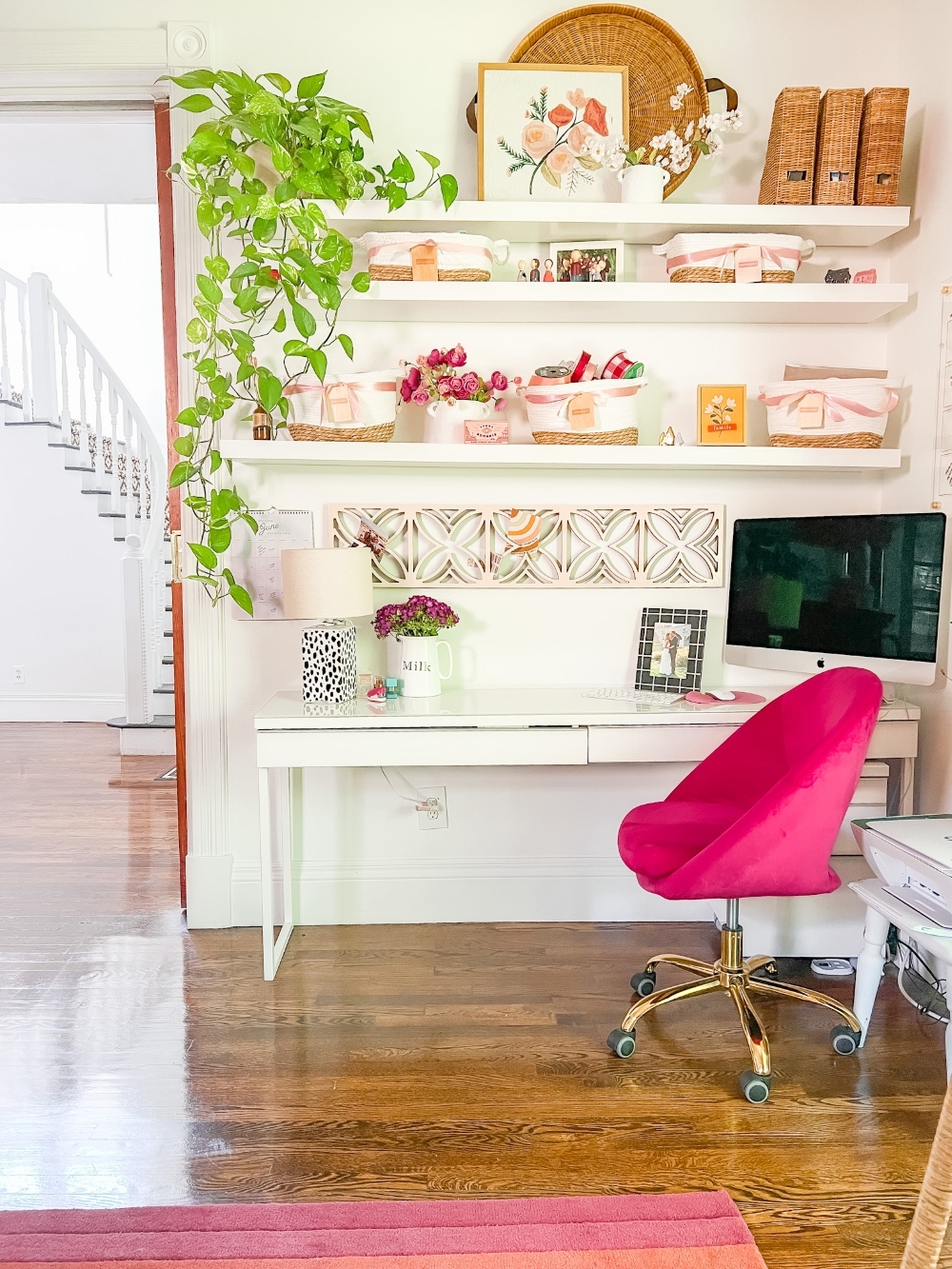 Summer Bedroom Decor Ideas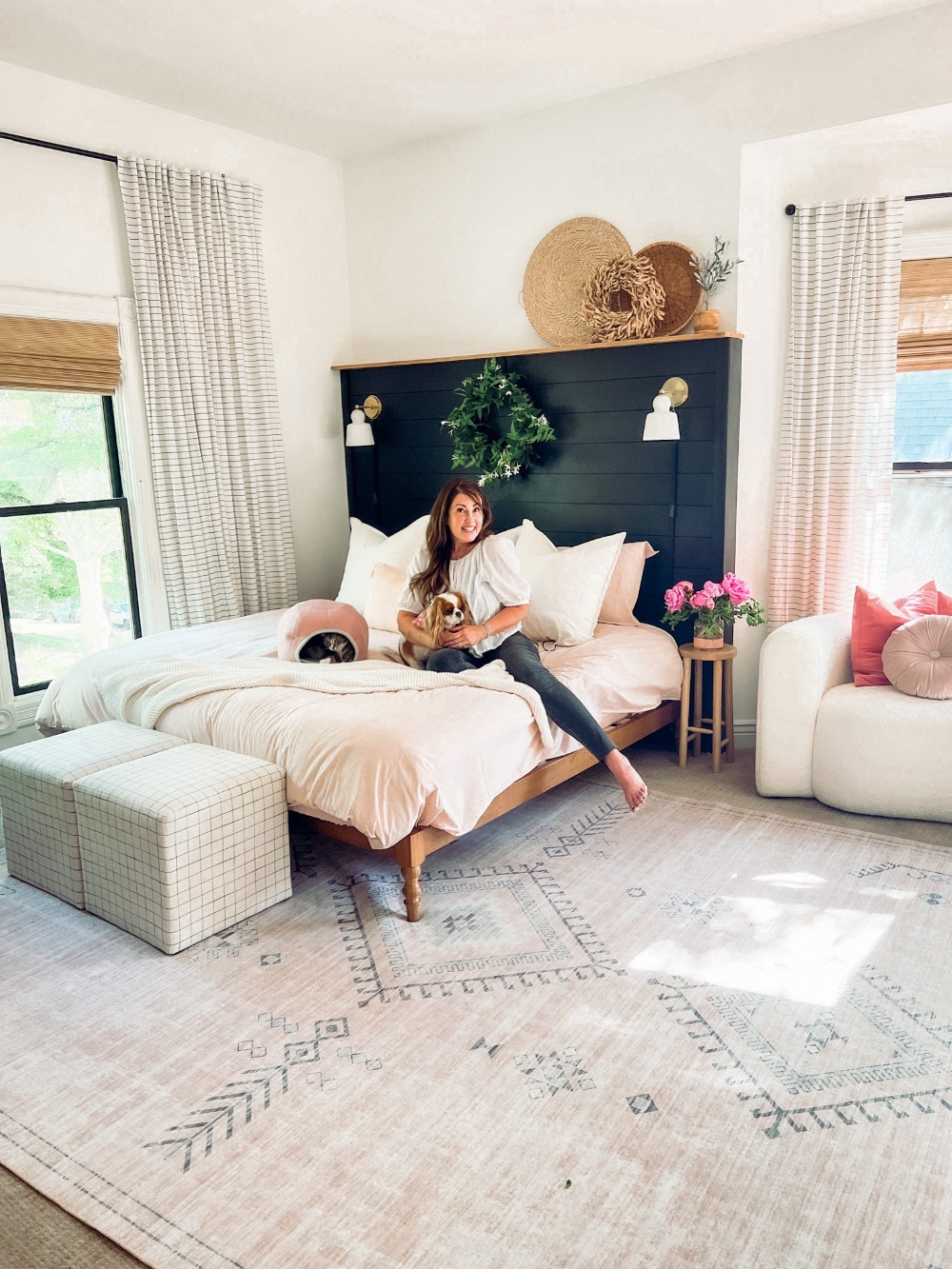 You might not think to decorate for summer in your bedroom; but if you think about how much time you spend in your bedroom you might find that switching it up for summer can feel so refreshing!
Switch to Lighter Bedding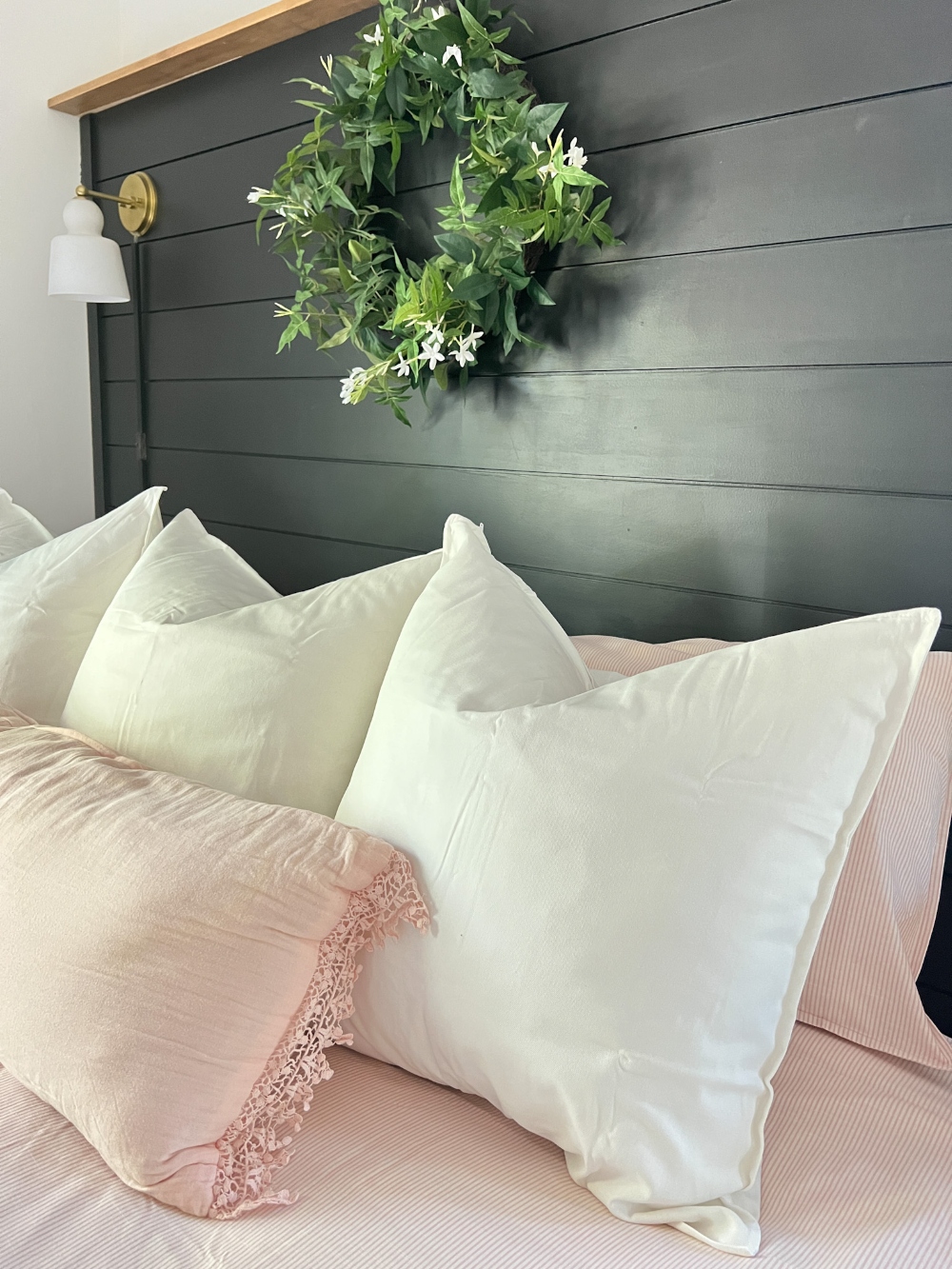 We have been sleeping so much better with lighter bedding. It really makes a HUGE difference. I had a heavy velvet duvet cover on the bed and it was so cozy in the winter, but so HOT in the summer! I switched it out for a light cotton ticking duvet with matching shams. It's so light!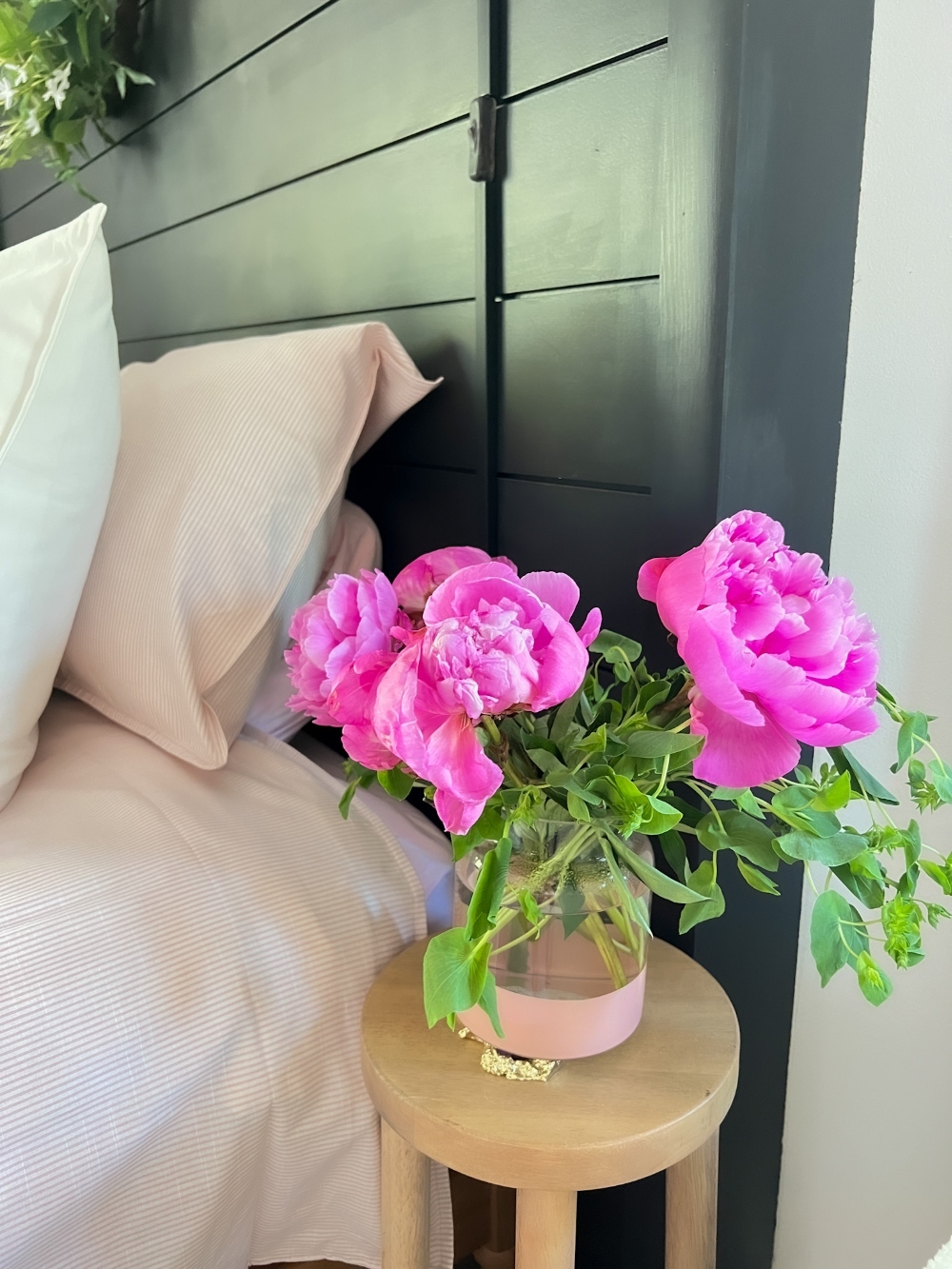 I also added white eruo shams and a light cotton blanket. Now I am obsessed with our bedroom.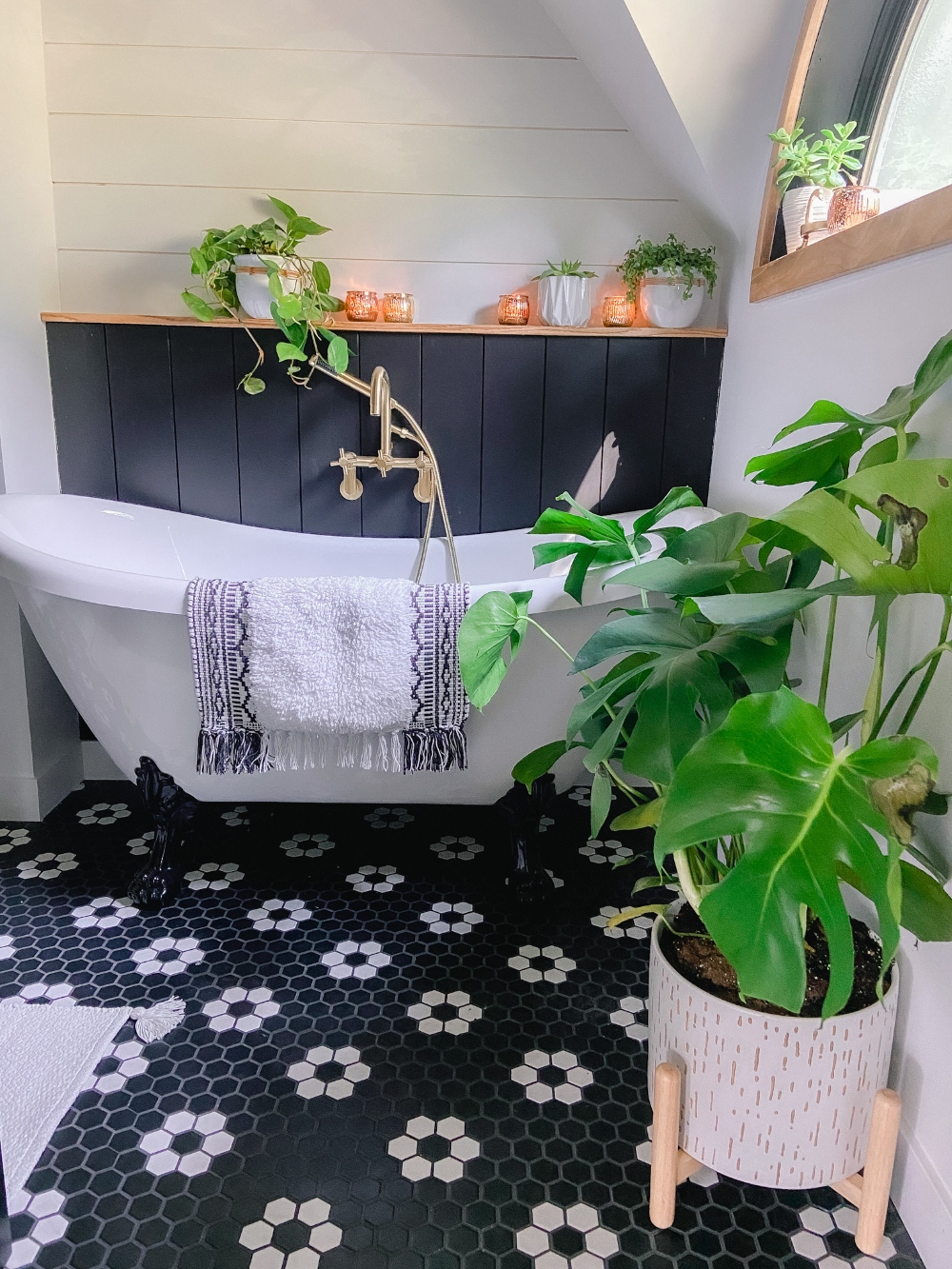 I added some summer touches in our bathroom too with some plants and candles. I also added some pink towels and it feels so fresh and pretty!
Summer Touches Outdoors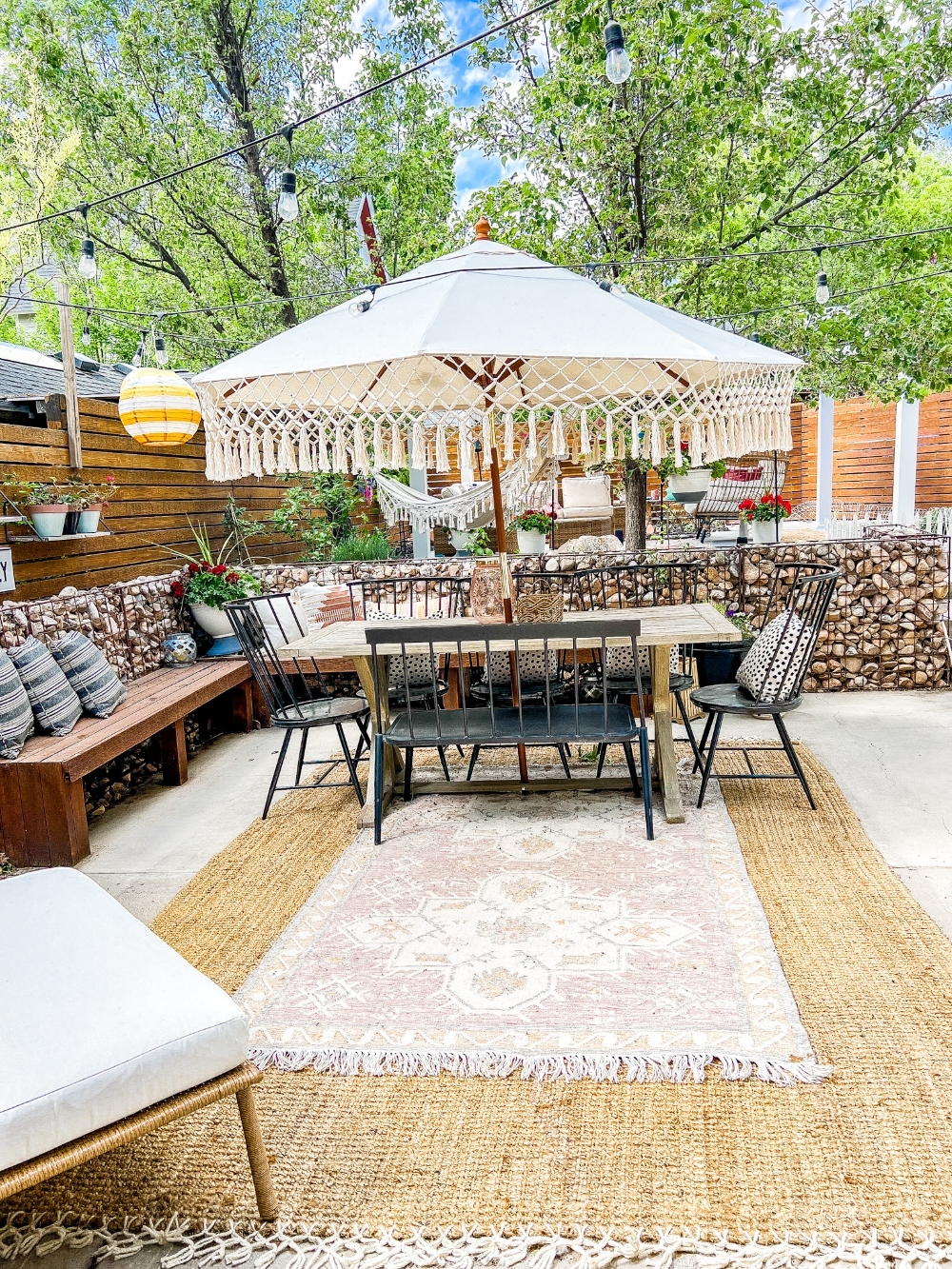 We tackled our backyard this year and we are almost done! We live in an 1891 home and one of the reasons I love it so much is that it is super quirky. Our backyard steps up in the back, basically cutting the backyard in half. The back of the yard is level with the alley behind our house, where we park. We had been only using the front patio area and the back step up yard was just wood chips until this year.
Add Summer Outdoor Rugs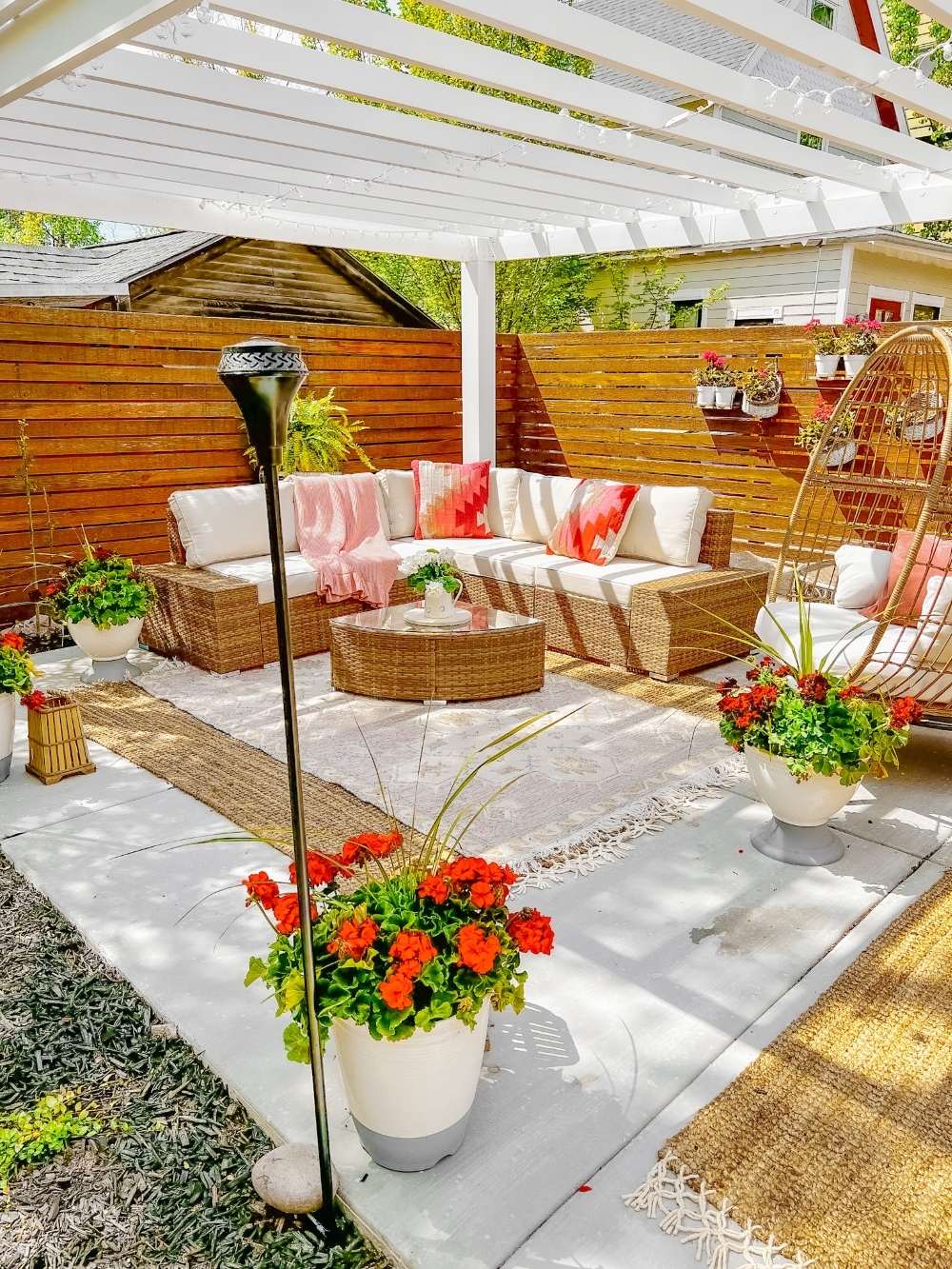 We add a huge new patio to the back part of the yard. I wanted both sections to seem cohesive so I added matching rugs to the patio area in front and the back patio in the back!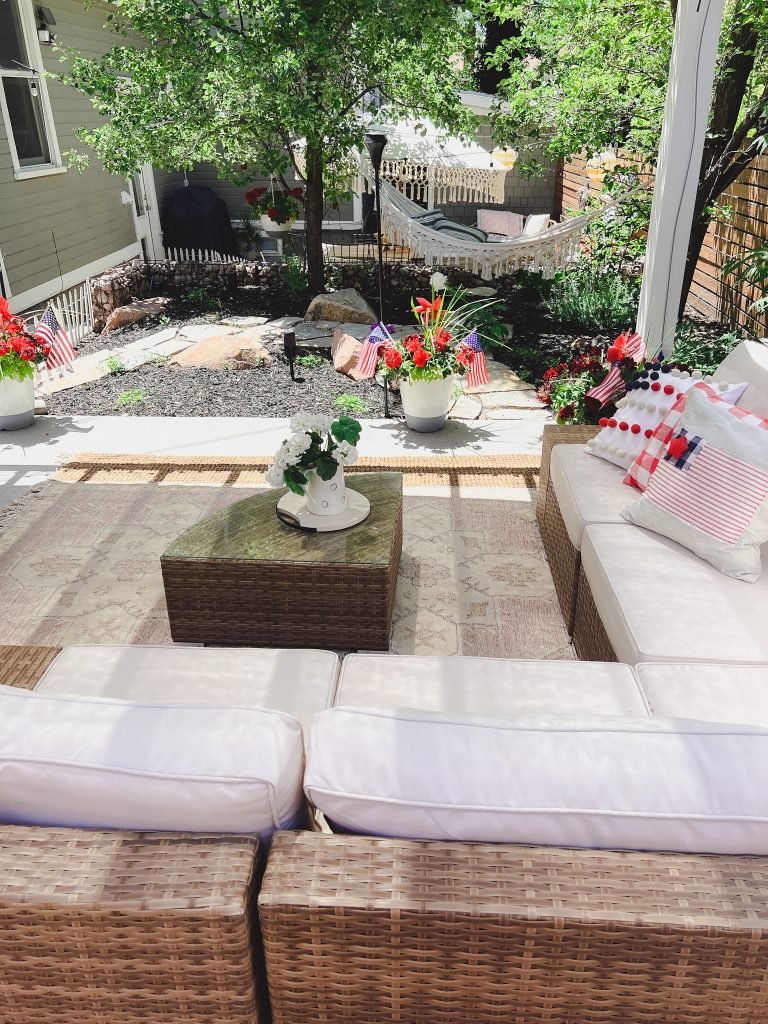 Summer Decorations Outside
A added some patriotic items for summer to our patios. I created some Simple Patriotic Pillows, added Scrap Fabric Flags as well as regular flags and it feels so festive!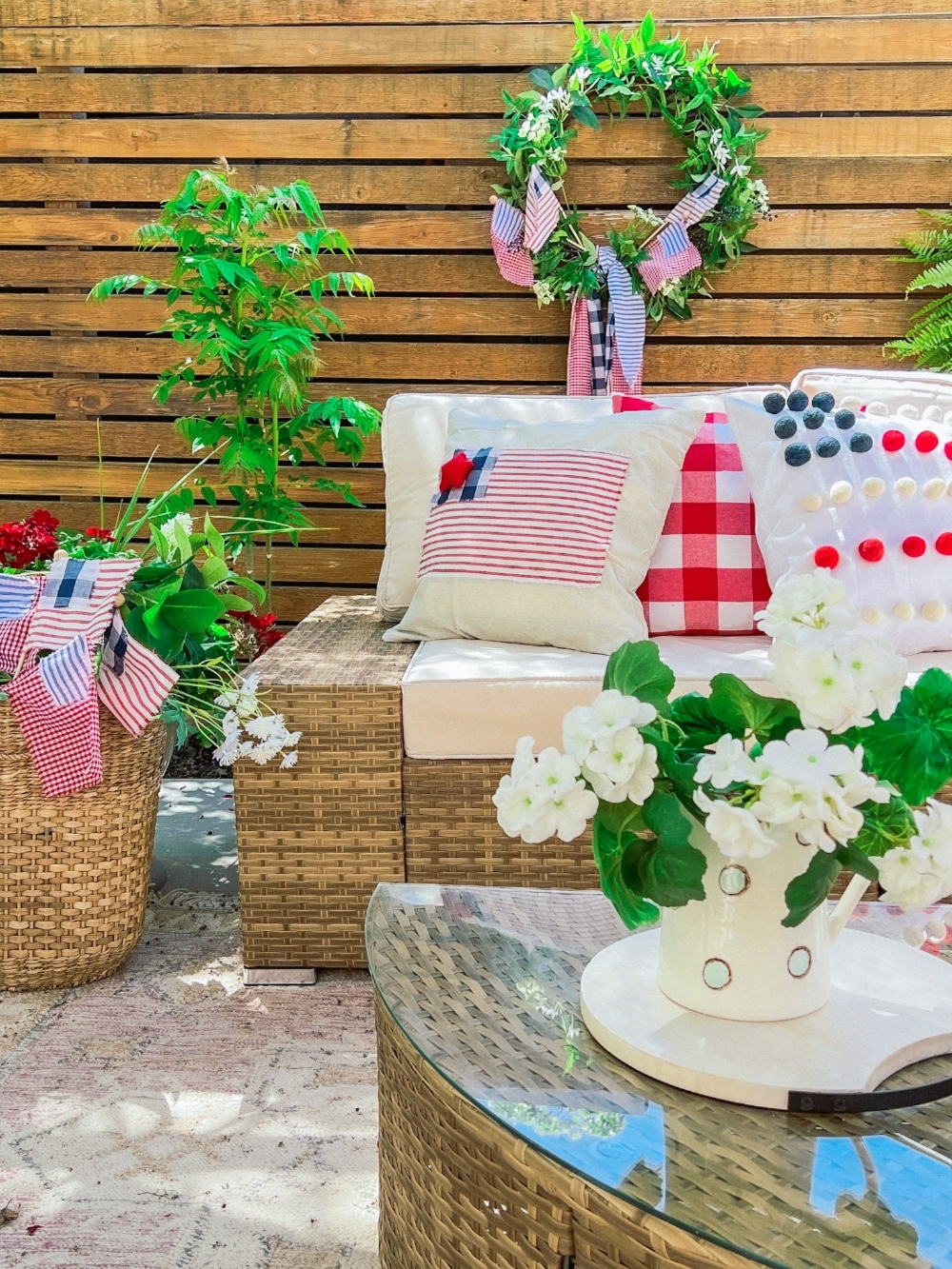 Summer Cottage Tour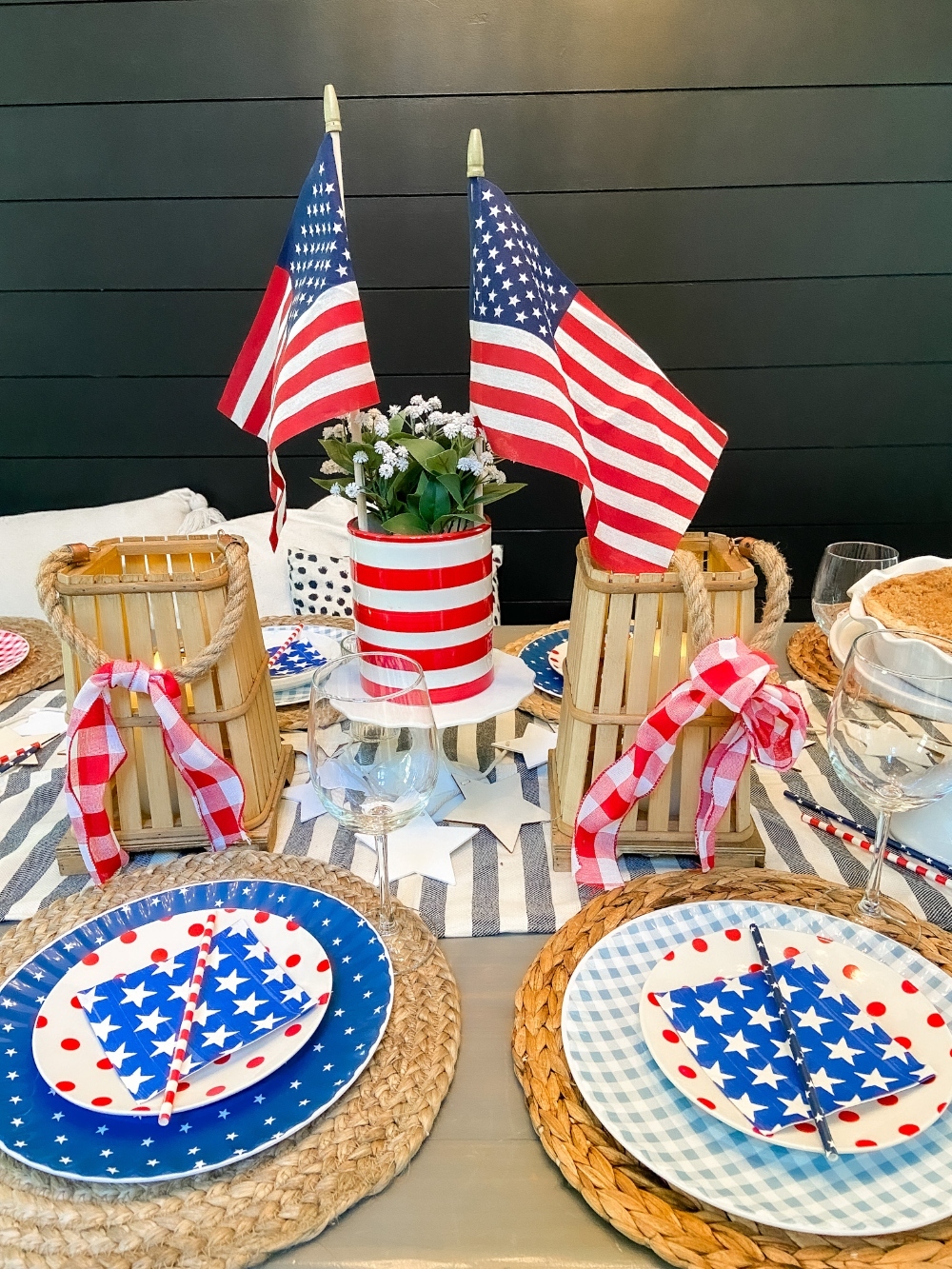 Now we are ready for summer. I can't wait for summer BBQ's, picnics, swimming and spending time with our family who will be visiting!!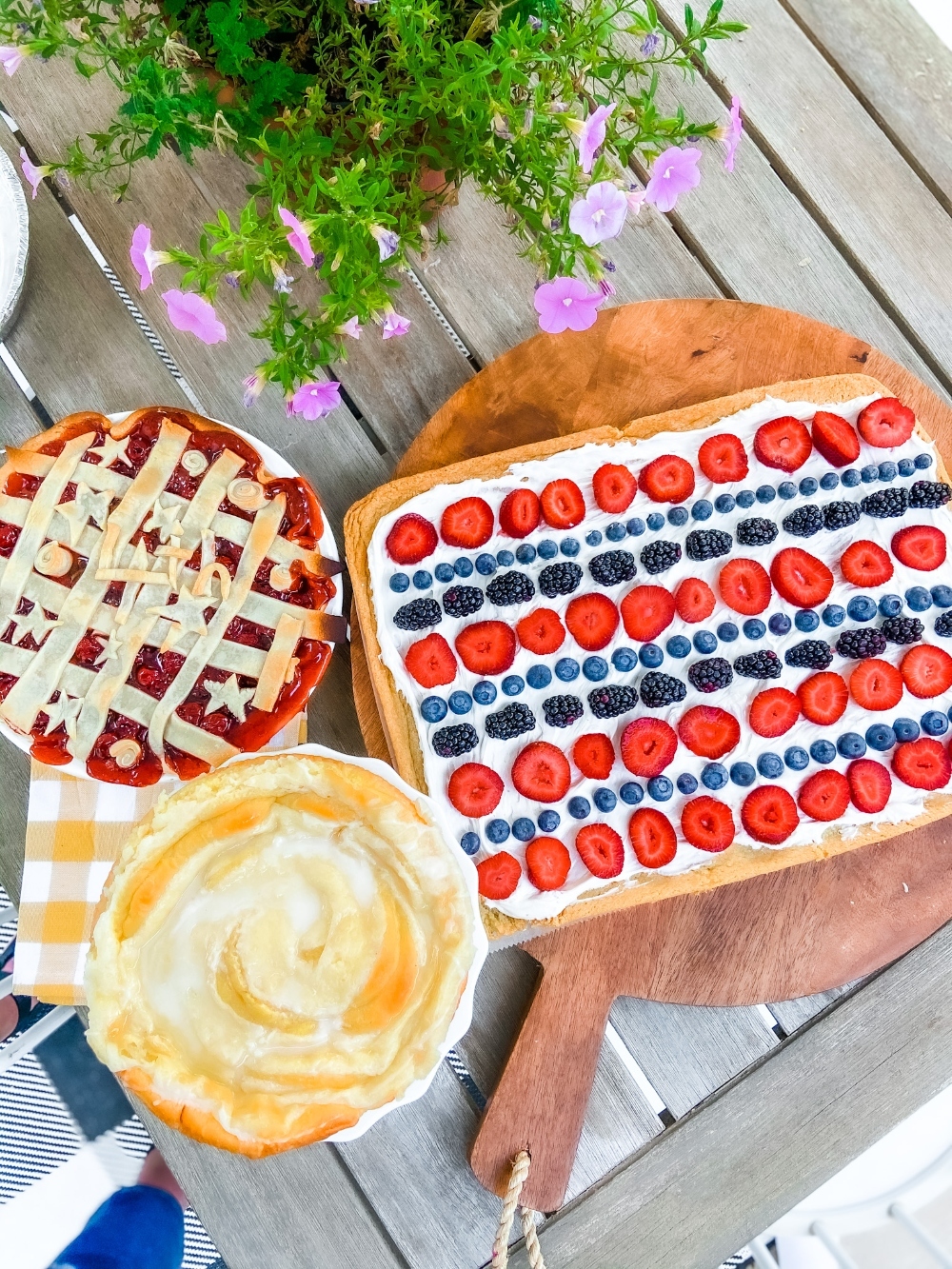 We even have our airbnb all decked out for summer!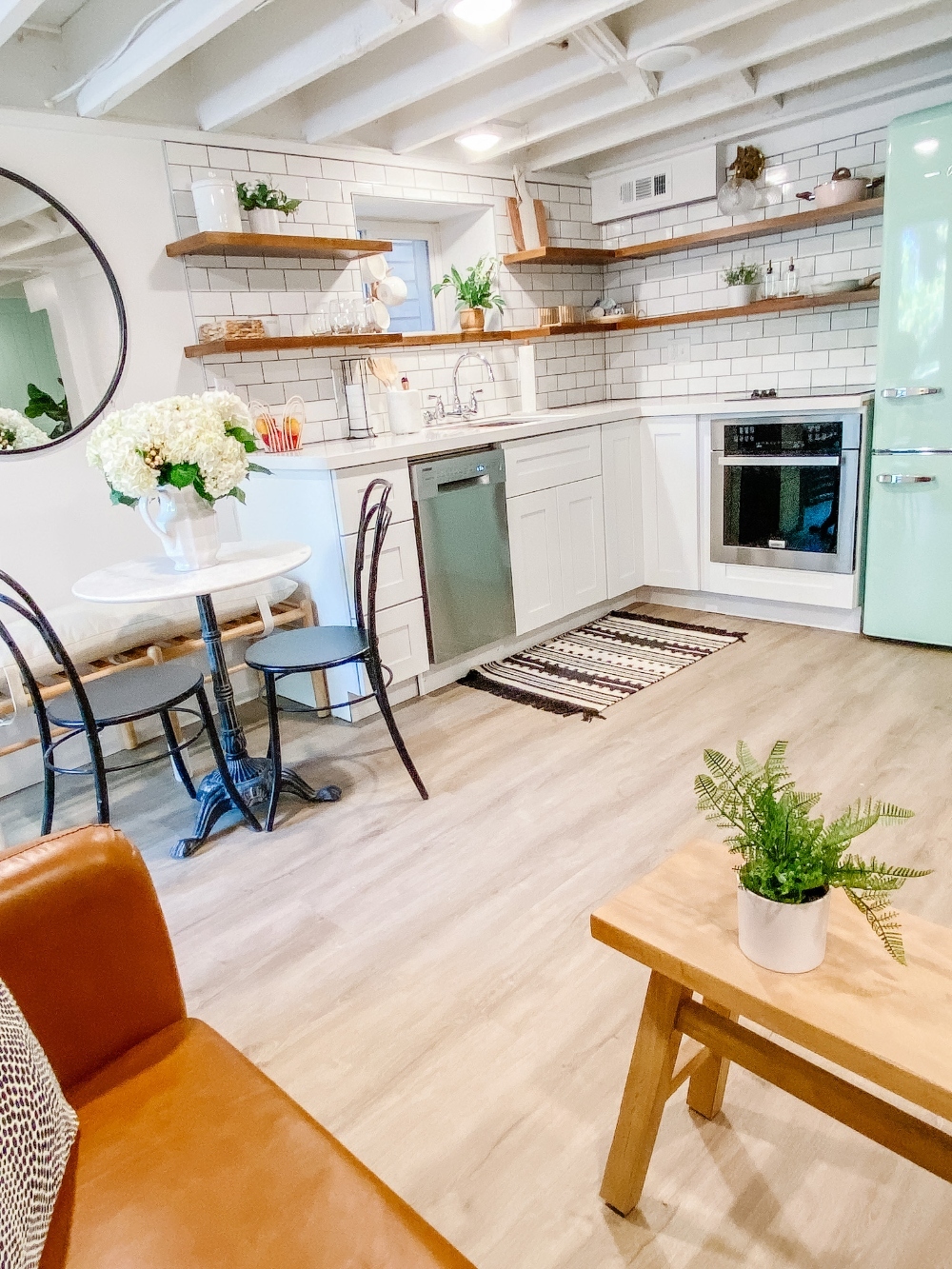 Today is Summer Home tour day! Some of my friends have joined me to share their summer decorating ideas with you. You can visit their full article by clicking on the links below the images.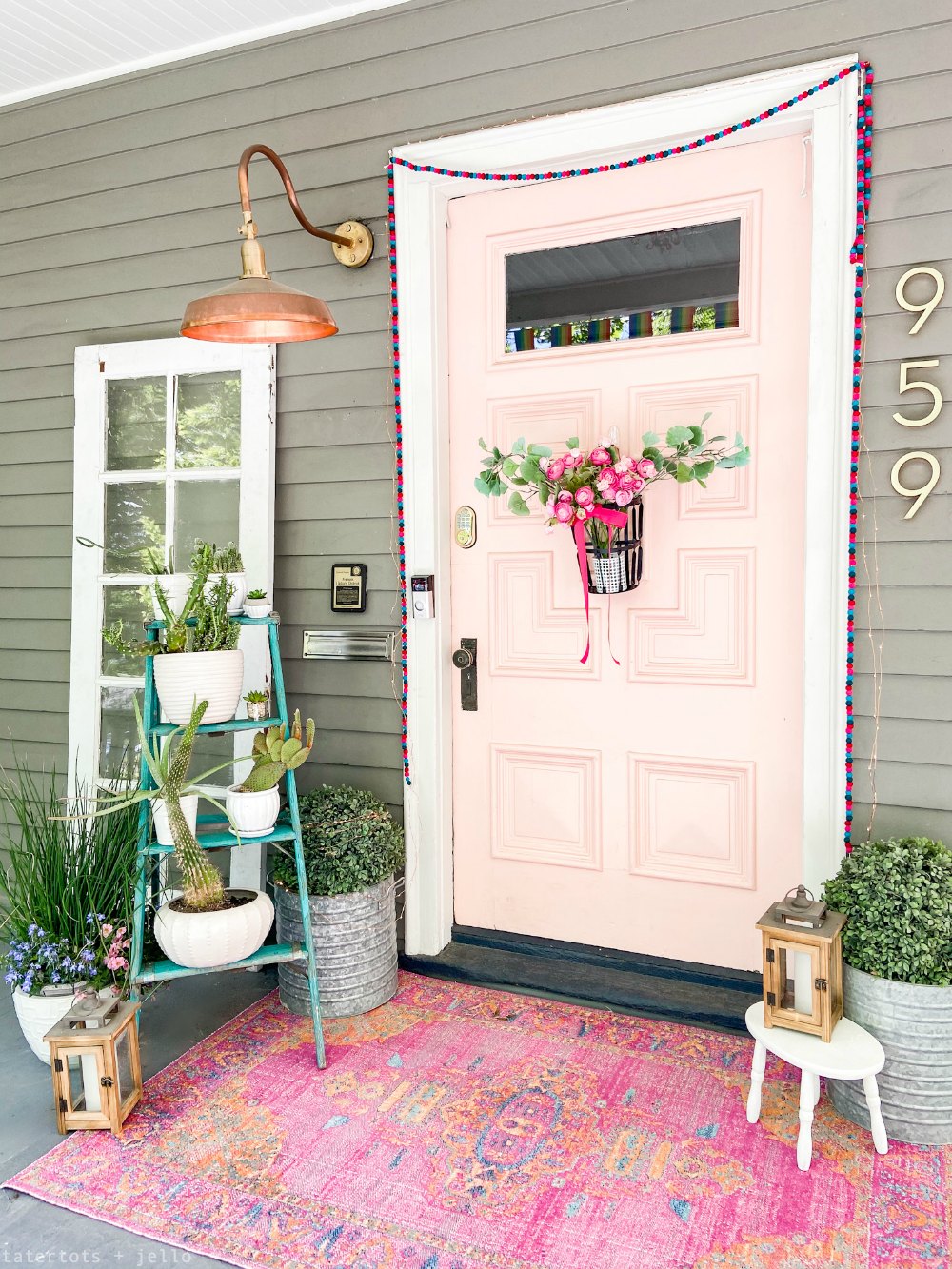 Hey guys! I'm excited to be one of Google's paid early testers for their Thank with Google pilot program. It's an experimental feature that allows readers to give a thumbs up that you appreciate our hard work and content in a fun way through virtual stickers. I love it because the feedback makes me feel more connected and engaged to my readers because they have the ability to thank me directly and share a personal message when they send a paid sticker. I read each and every message and appreciate the feedback.
I love that my readers can choose from a variety of stickers and every time a reader decides to purchase and send a sticker, he/she/they can add a personal message. Personal messages allow my audience to express themselves and share what my work means to them. It's also a way to directly support the content I share at tatertots and jello!
You can find the Thank with Google feature in multiple places on my site, including the top and bottom of this and all blog posts. If you try it out, let me know what you think! It means so much to me! xoxo
Have a Happy Day!