This post brought to you by LightHeaded Beds,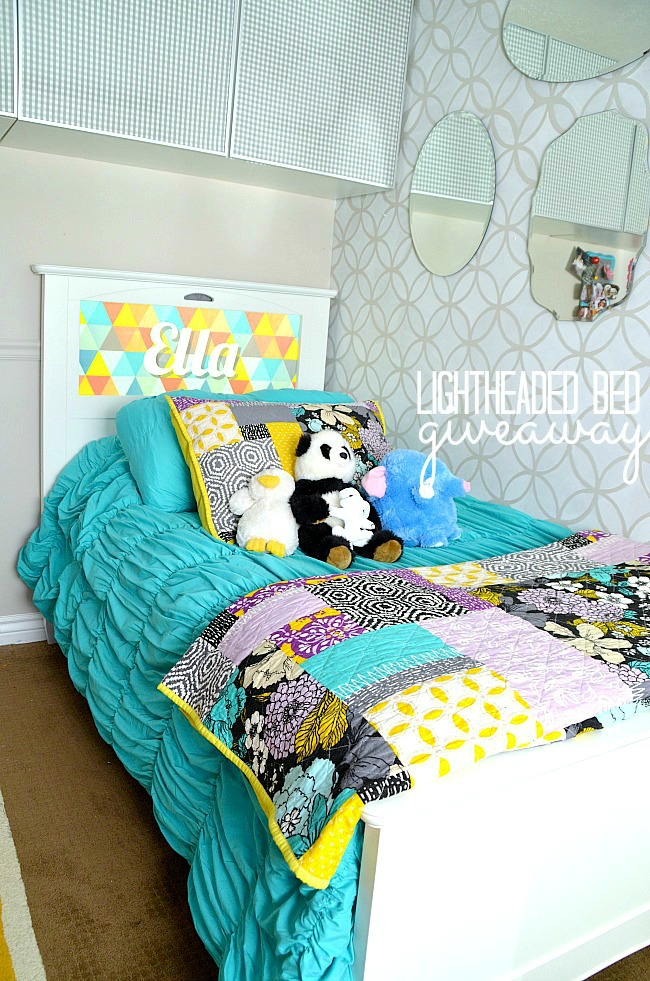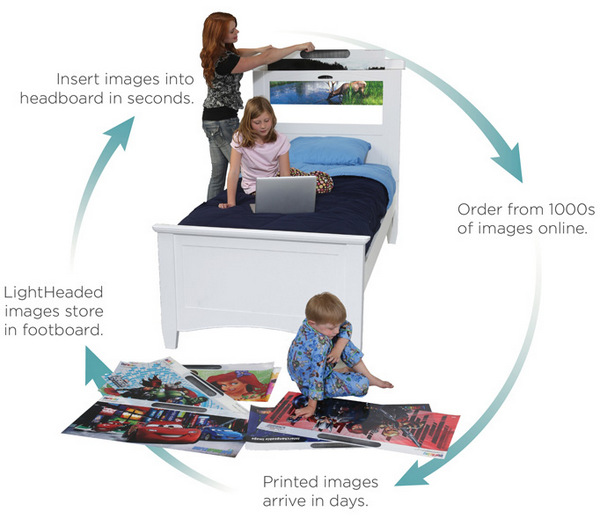 We've just discovered LightHeaded Beds, and Ella loves her new bed with the headboard that lights up. Yes, it is fabulous.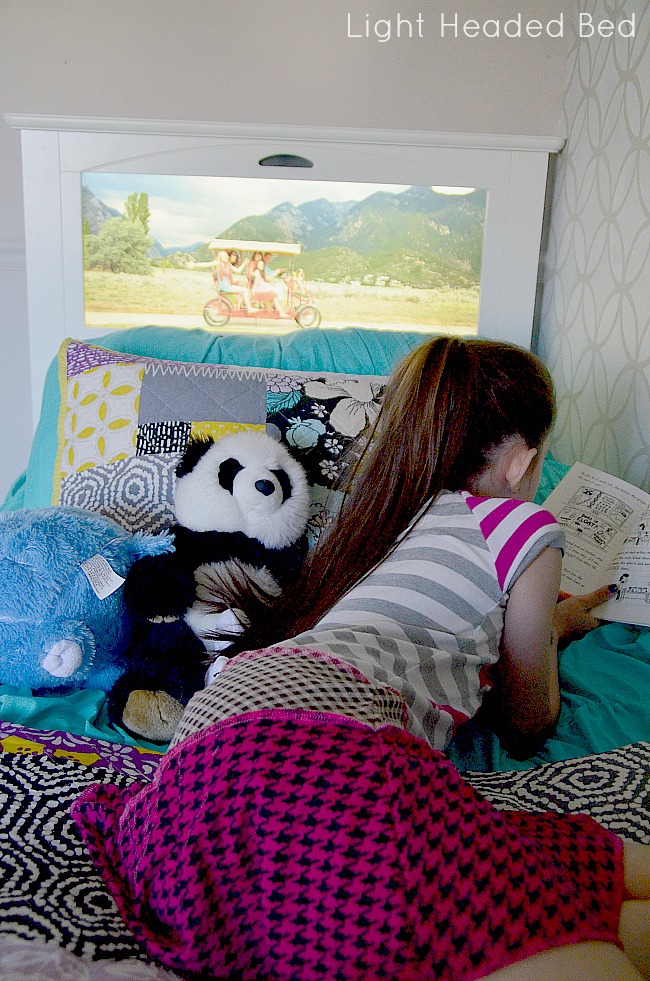 She designed her own headboards and even chose one from the tons available on the site! Here's how it works. You order a bed of your choice. They are now available to purchase at Sam's Club. Once you have the bed, you select a few images that can easily be changed out or you can order your own custom images. The footboard of the bed also works as storage for the other images that are not in use.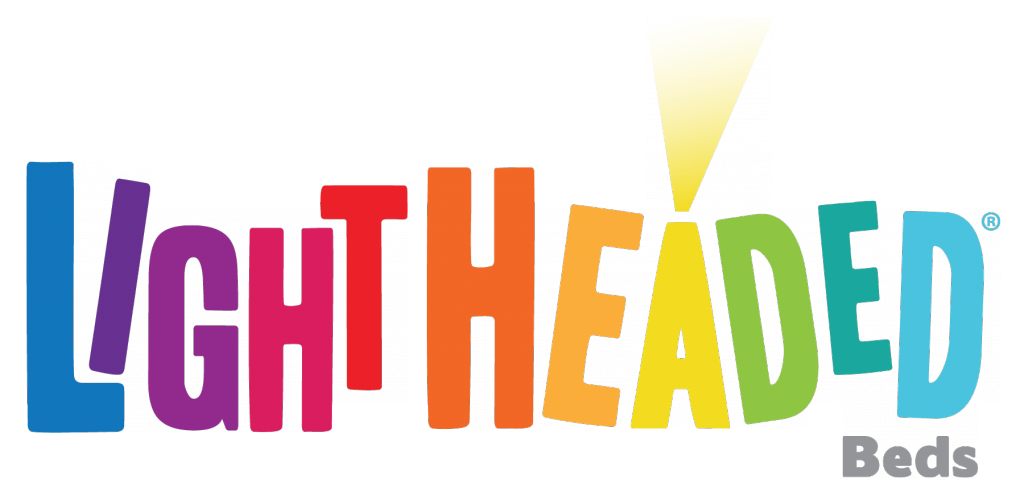 It looks so cool in a dark room:
(actual model in actual LightHeaded Bed using the illuminated headboard as a reading light to finish devouring the new Diary of a Wimpy Kid book)
I'll show you how to win your own LightHeaded Bed — an over $600 value — below!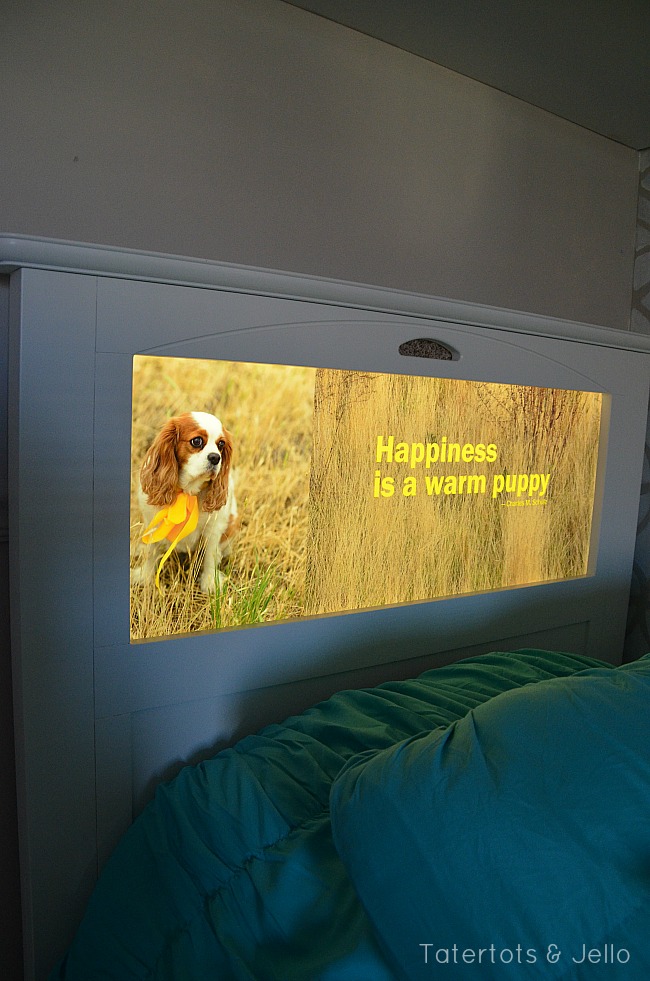 A few of my favorite things:
These beds are so cute and they are sturdy! They are made out of real wood and they all come with a matching headboard and footboard — in a variety of sharp-looking styles.
The twin and full-sized beds feature a large-scale backlit panel where you can change the images so when your child grows and changes interests… these beds grow with them! You can interchange these images in a matter of seconds!
The bed itself has a bright, LED-lit headboard — bright enough to read by! The included remote is cool — you can use it not only to turn the light on and off, but also to adjust the brightness and set a sleep timer – so it automatically turns off after, say, 30 minutes. So you can use it as a nightlight, reading light, or just a cool headboard that glows!
There's a remote with options to make the headboard brighter or dimmer and also ways to set the headboard light on a timer!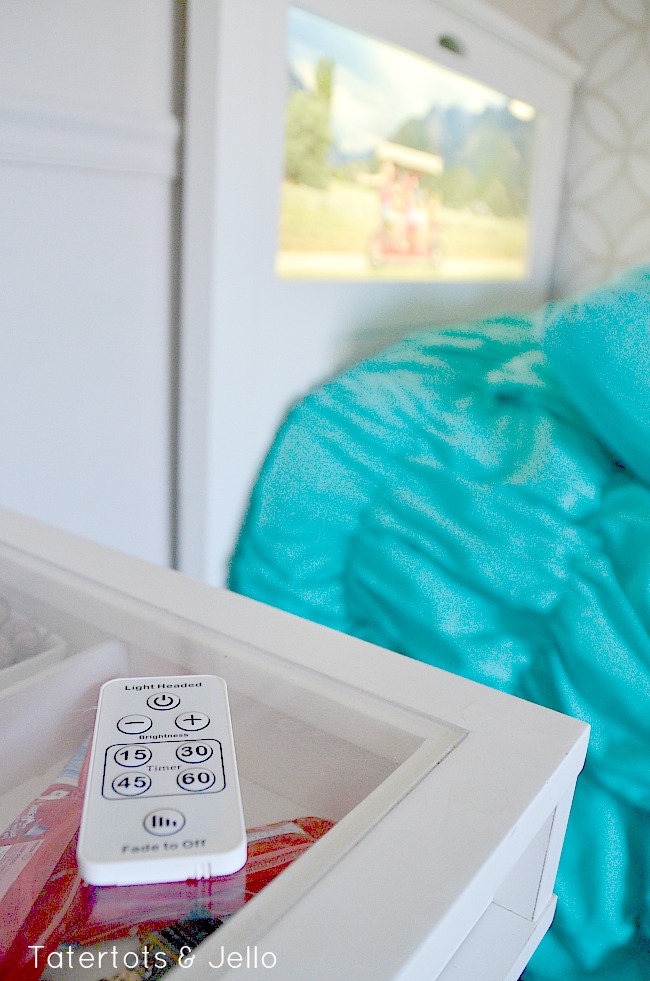 The footboard — and this is super smart — has a secret compartment to store the images you're not using: up to 25 of them! And the images are easy to switch in and out, with the headboard top hinged so that it stays open (no finger smashing).
Ella loved so many of the images on the LightHeaded Beds site — there are so many! But what she really wanted was to design her own, so we made three just for her:
One with a cool triangle pattern and her name:

One with her friend Trixie,

And one of the family (yes, it's hard to see one of us but it was the best horizontal picture we had!):

You can create your own custom images, too! When you upload your pictures, they have to be very high resolution because the image will be printed at 33 x 13 inches! I think we had to use images that were about 8200 x 3230 pixels.
But there are so many great images to choose from — Ella picked an ocean wave.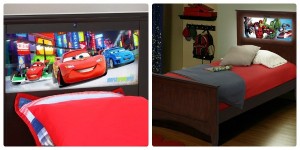 (Check out all of the Disney & Marvel images for your younger ones!)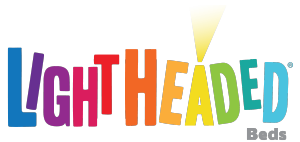 You can get your very own LightHeaded Bed at Sam's Club or directly from the LightHeaded Beds site — an awesome Christmas or gift idea.
I love how you can change the headboard images to match decor or your children's mood!!
Want to find out more about LightHeaded Beds? Check out their "about us" page — and their whole site!
And here's how you can enter to win!
Good luck!
xoxo

LightHeaded Beds sponsored this post, however all the opinions and custom images are all mine! See my disclosures.