The best Instant Pot homemade chicken noodle soup! Just like Grandma makes with homemade noodles and ready in minutes!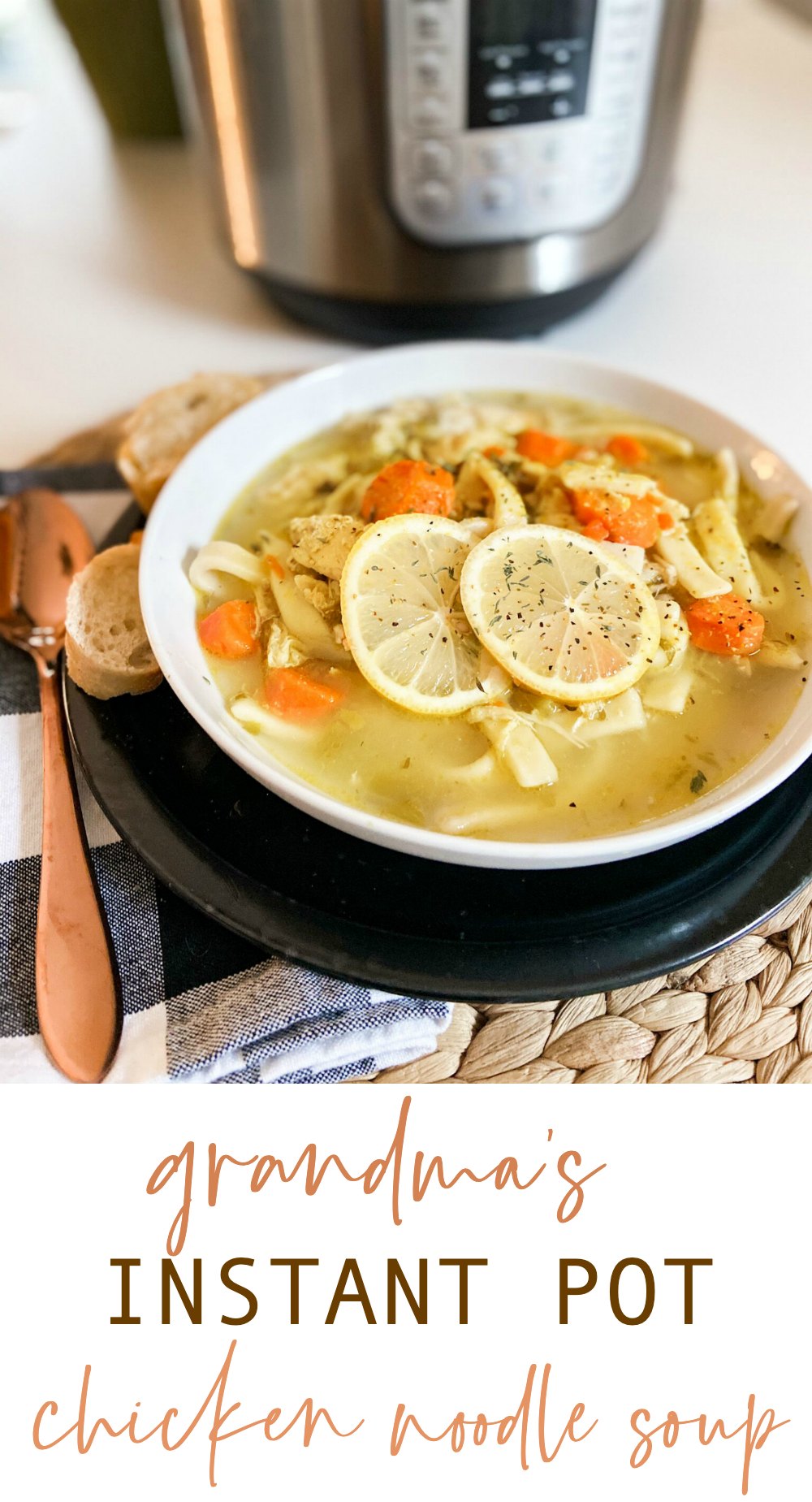 There's nothing better in the cold winter months than hot, homemade soup! Am I right?? I make soup at least once or twice a week. I love making soup because it's easy, warm and filling and my kids love it. Plus leftover soup is perfect for lunch the next day too!
Jump to Recipe
I've made homemade soup in my crock pot for years and years. And while I love using my crock pot to make soup, it requires planning ahead and some days I just don't have the ingredients ready to start my soup 6 or 7 hours before dinner.
Why is an Instant Pot Better Than a Crock Pot?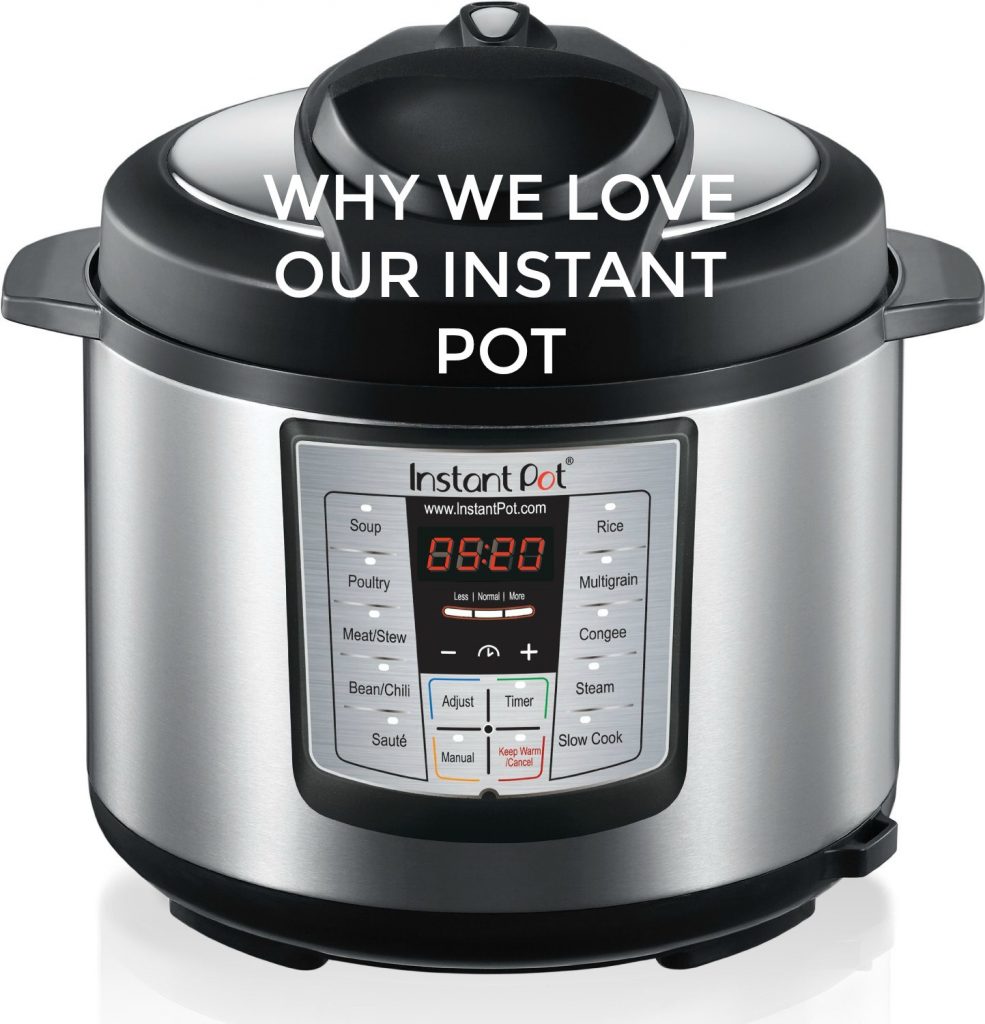 That's where the Instant Pot comes in. I love my Instant Pot because it makes creating dinner when I am running behind so easy! Instead of taking 1-2 hours to make soup on the stovetop or 6-7 hours in the crockpot, if I use my Instant Pot I can have soup on the table in less than 45 minutes. You can read more about why we love our Instant Pot here!
Instant Pot Chicken Noodle Soup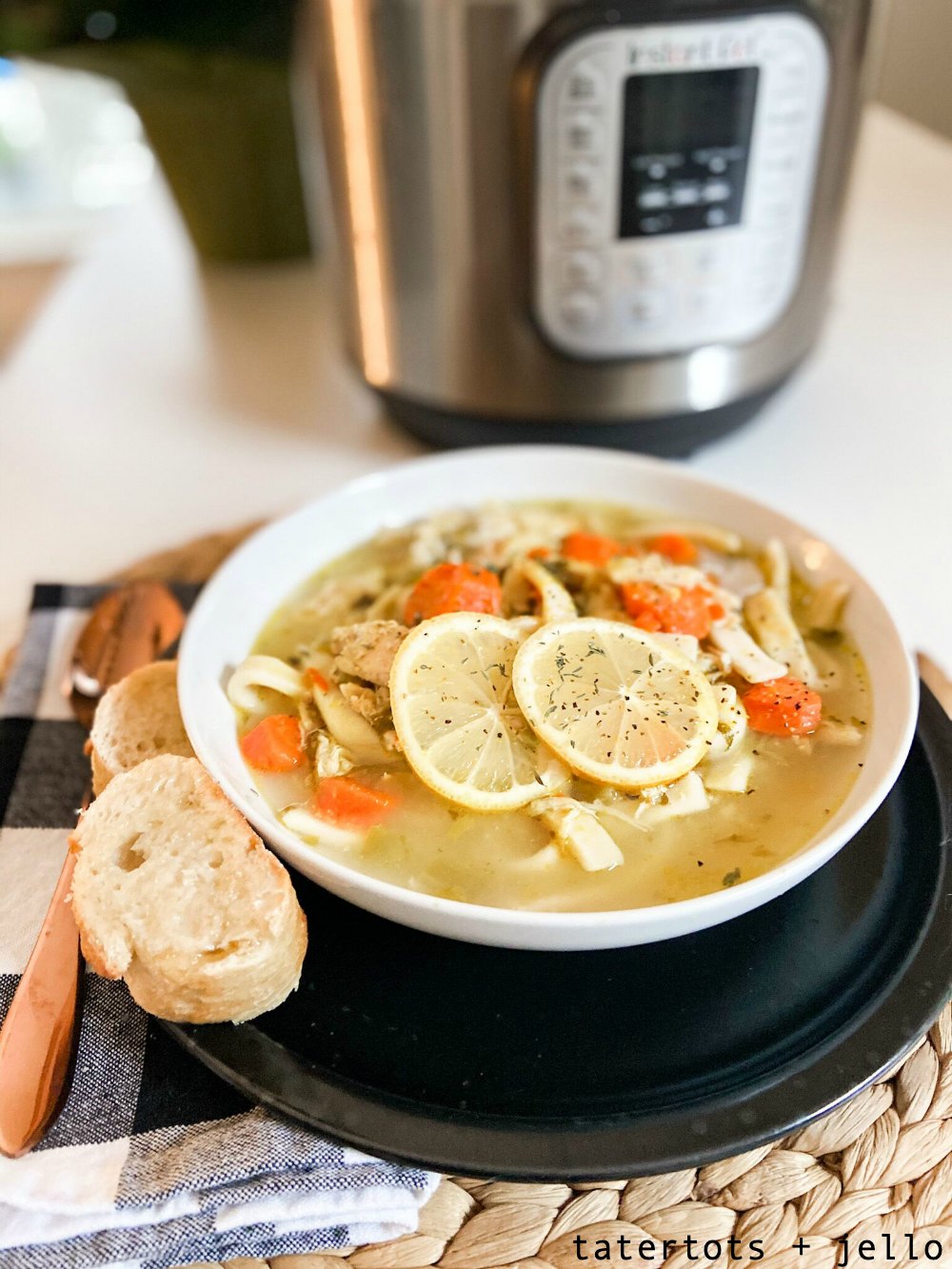 Probably my favorite soup to make is chicken noodle soup. I've been experimenting with chicken noodle soup in my Instant Pot for a couple of years and I finally have a version that tastes like my grandma's chicken noodle soup, but this version doesn't take all day, you can whip this up in less than an hour!
Chicken Noodle Soup Secret Ingredient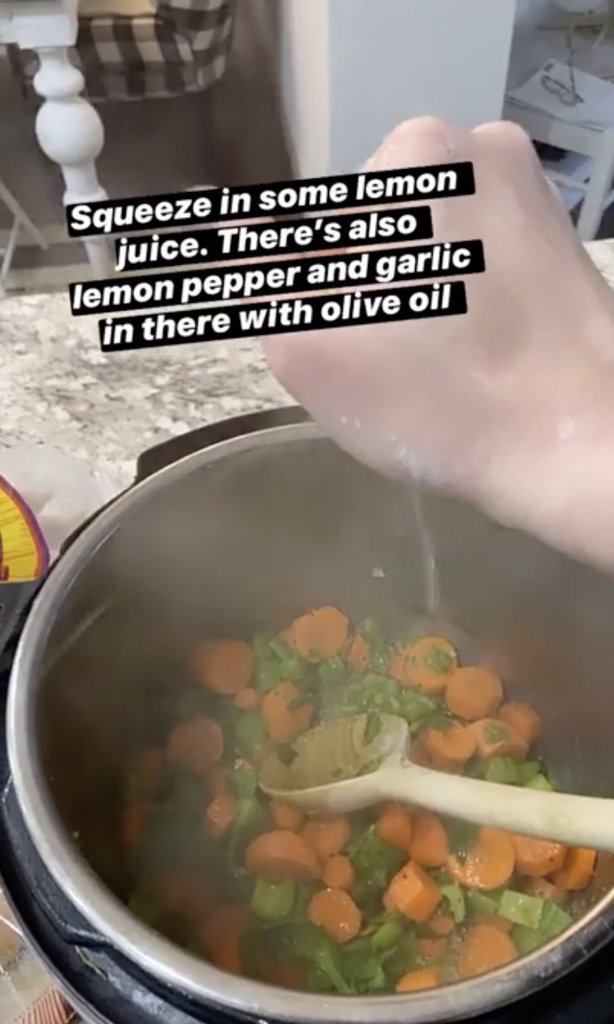 There are a couple secret ingredients that make this chicken noodle soup the Best! The ingredient that makes this soup taste like grandma's chicken noodle soup are the noodles I use. And it's funny because the brand of noodles is actually called "Grandma's" noodles. They are noodles that are uncooked and frozen. Grandma's noodles are made and then frozen immediately. So once you thaw the noodles, it's just like they had been handmade. I have a pasta machine and these noodles taste homemade. The consistency is thicker and chewier than store-bought dried noodles. Give them a try and let me know what you think!
Fresh Lemons Give This Soup an Extra Flavor
The other "secret" ingredient I put in this soup is lemons. I love the taste of lemon with chicken and to achieve the best lemon flavor I use fresh lemons plus lemon pepper. It's so easy and good!
Can I Use Frozen Chicken Breasts in Instant Pot Chicken Noodle Soup?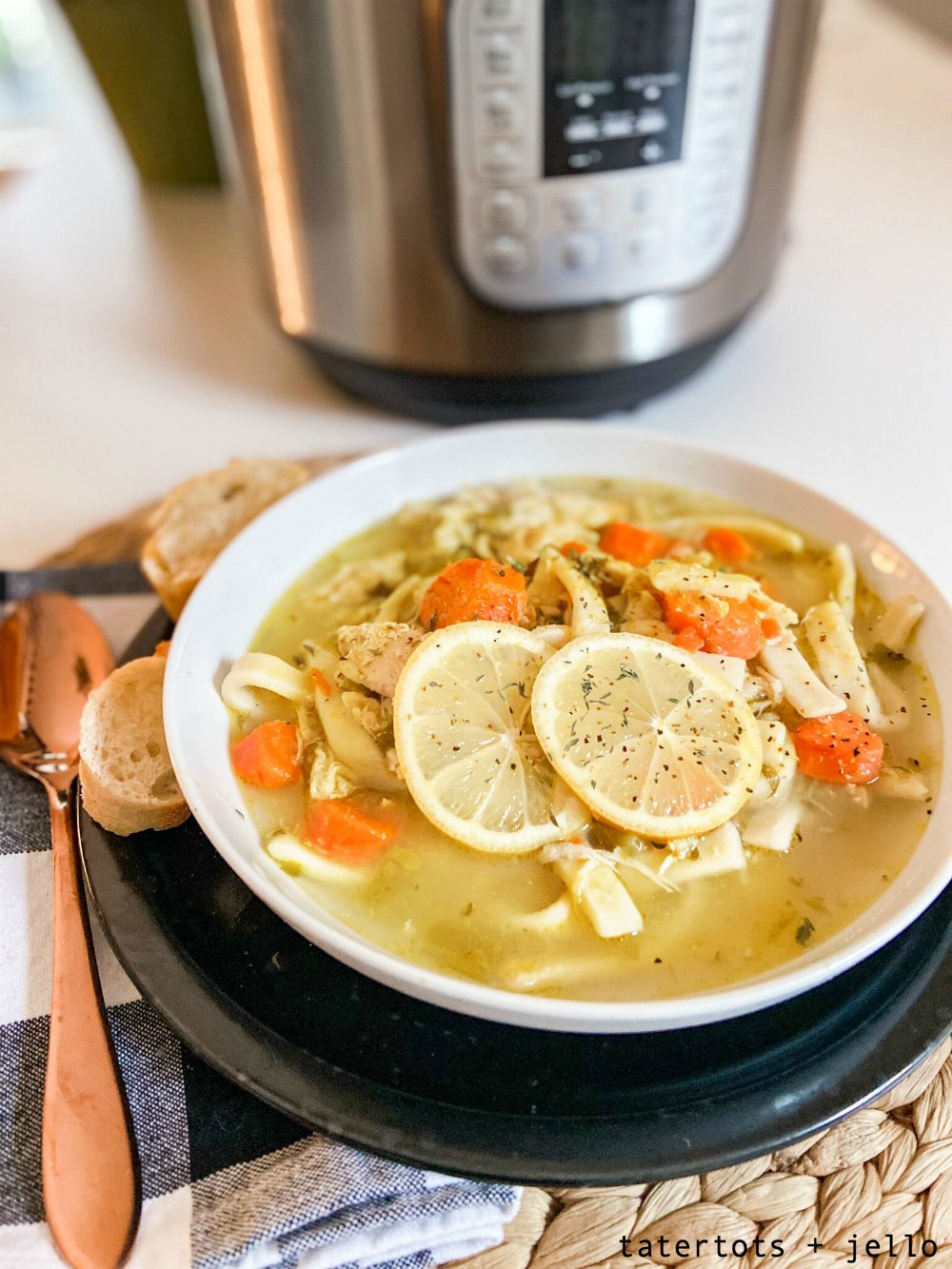 YES! I use frozen chicken breasts in this recipe. Using frozen chicken breasts makes creating this homemade chicken noodle soup even faster. But you can also use fresh chicken breasts too. If you do use fresh chicken breasts, I suggest reducing the Instant Pot cook time from 20 minutes to 15 minutes. The Instant Pot cooks the chicken under high-pressure which allows the chicken to cook faster.
What Ingredients are Needed to Make Instant Pot Chicken Noodle Soup?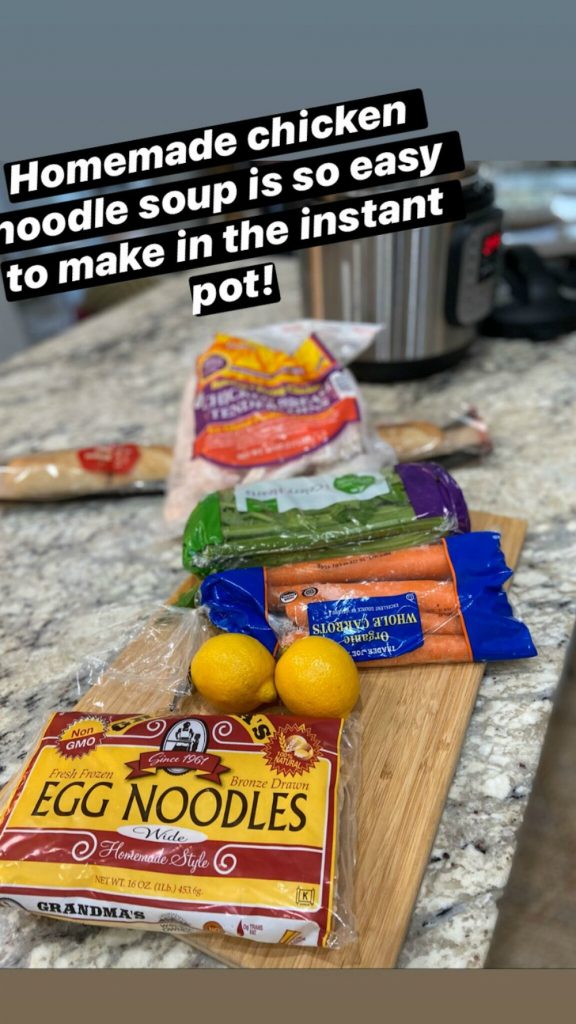 All you need to make this soup is chicken breasts, garlic, celery, an onion, carrots, chicken stock, noodles, a lemon and seasoning. If you have frozen chicken breasts then you can always have ingredients on hand to make this soup which makes it perfect for weeknight meals when you are in a hurry!
The BEST Instant Pot Chicken Noodle Soup Recipe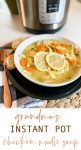 Grandma's Homemade Instant Pot Chicken Noodle Soup
The best Instant Pot homemade chicken noodle soup! Just like Grandma makes with homemade noodles and ready in minutes!
Prep Time 5 minutes
Cook Time 20 minutes
Ingredients
3 Tbs. olive oil
2 cups chopped carrots
2 cups chopped celery
1/2 large onion, chopped
4 chicken breasts (frozen) If using fresh chicken breasts, reduct the Instant Pot cook time to 15 minutes.
30-40 ounces chicken broth
1 large lemon (cut in half)
2 Tbs. lemon pepper
3 cloves of garlic, minced
1 16 ounce pkg. "Grandma's" brand fresh noodles that are frozen You can find these in the frozen foods by frozen pastas like ravioli.
pinches salt and pepper to taste
Instructions
Chop up onion, carrots, celery and mince garlic.

Add olive oil to Instant Pot liner and put Instant Pot to "sautee" setting.

Add chopped onion, carrots, celery , garlic and lemon pepper. Squeeze half a lemon into the pot. Let sautee for 3-4 minutes.

Turn off sauté setting. Add frozen chicken breasts and chicken stock. Lock Instant Pot lid in place and make sure the knob is set to "pressure". Set Instant Pot to "high pressure" and set for 20 minutes.

While the soup is cooking you can cook the noodles separately or wait until it is done and cook them in the Instant Pot using the sautee setting while you shred the chicken. These noodles cook longer because they are raw. They need to cook for 10 minutes.

Once the Instant Pot is done cooking, manually release the pressure by turning the knob to "release". NOTE – be sure to put a towel over the knob to absorb steam and use a utensil to move the knob because the steam is HOT!! Let the steam release and the pot will depressurize allowing you to unlock the lid after a couple of minutes.

Open the lid and take the chicken breasts out. Put them on a plate or cutting board. If you didn't cook the noodles on the stovetop, you can unplug the Instant Pot and replug it in and set it to sauté. Add the noodles and let them cook for 10 minutes while you shred the chicken. If you already cooked the noodles, add them to the pot and shut the lid while you shred the chicken.

Shred the chicken. You can add a little more lemon pepper to the chicken if you want.

Add the chicken to the soup. Stir and serve! Garnish with very thin slices of lemon.
Give it a try! I think it will be something your family loves!!
More Instant Pot Dinner Ideas

Comfort food at it's finest. And be sure to make the crispy ravioli too. So good!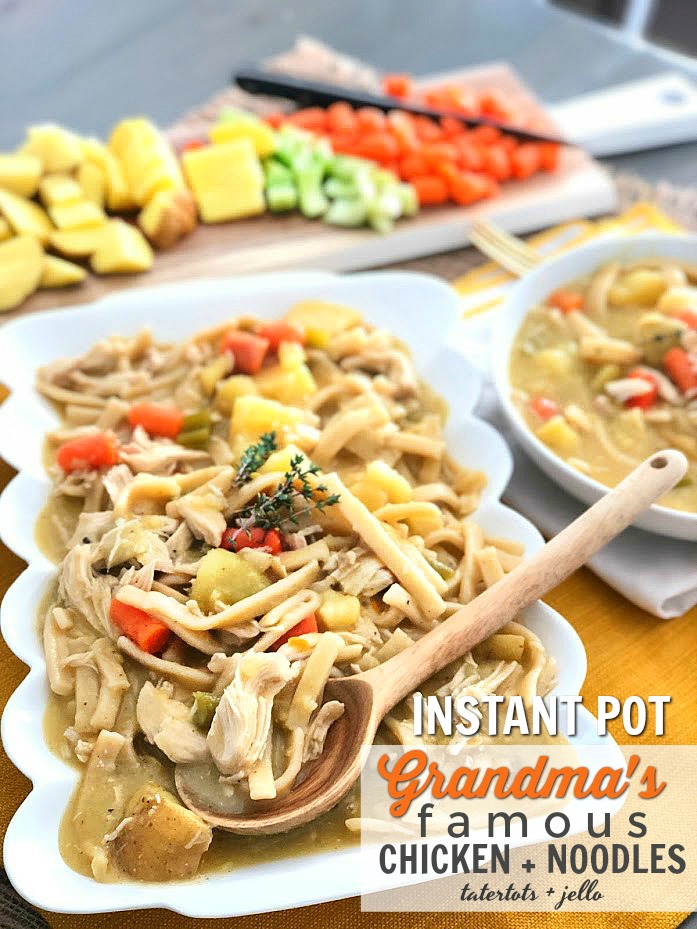 This was my dad's favorite recipe that his mom made for him for his birthday every year. It's so good!
Have a Delicious Day!
xoxo