I don't know what I would do without our crock pot. It's so easy to throw a meal together in the morning and by dinnertime, there's something yummy ready for everyone.
One of our favorite crock pot recipes to make in the colder months is our Crock Pot Chicken Noodle Soup. It just hits the spot on a cold winter day.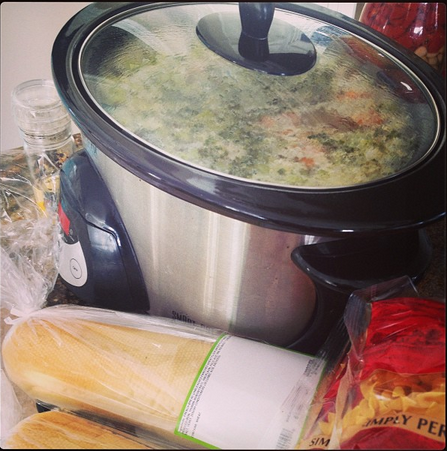 I showed a picture of the soup cooking on Instagram last week and had quite a few people ask for the recipe. So here it is!!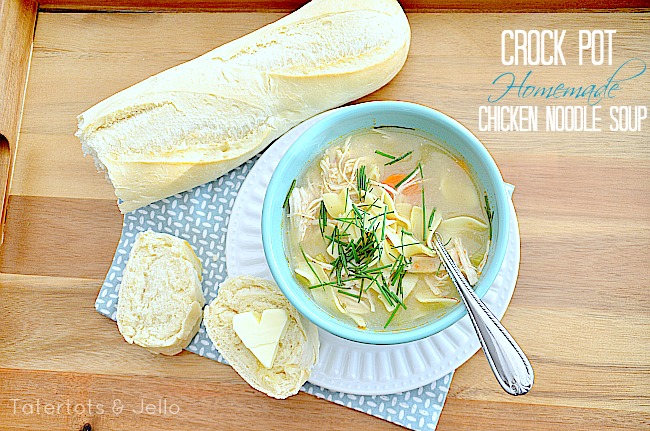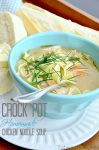 Easy Slow Cooker Chicken Soup
Prep Time 30 minutes
Cook Time 6 hours
Total Time 6 hours
Ingredients
4 12 oz cans chicken broth recommend organic, low sodium (can substitute chicken stock)
2 10.75 oz cans cream of chicken soup low fat
4-6 large chicken breasts skinless, trimmed
1 small package whole carrots sliced (6-8 medium carrots)
1 small package celery if desired, sliced (to taste)
1 10 or 12-oz package of egg noodles
1 tsp Fresh garlic chopped
Lemon pepper to taste
Parsley fresh or dried to taste
Chives fresh or dried to taste
Fresh ground pepper to taste
Instructions
As with every slow cooker recipe, this is a very easy recipe, but be sure to start early enough in the day to allow cooking time.

Slice carrots and any other veggies into small slices - whatever size you like.

Pour the chicken broth into the slow cooker, adding the cream of chicken soup, the chicken breasts, the veggies, fresh chopped garlic, and herbs to taste. (We like pepper, so we used quite a bit of fresh ground pepper.)

Turn the slow cooker on low. (If you're going to be around during the day, you can cook on high for four hours and then turn on low for the remainder of the time.)

6-8 hours later, approximately 30 minutes before serving, check the chicken for done-ness with a fork (it should fall apart easily and have no pink color remaining).

Start the water boiling to cook the egg noodles.

While you're waiting for the water to boil, take the chicken breasts out of the soup and place on a plate. Fork shred the chicken and put it back in the soup.

Cook the egg noodles according to the directions on the package.

To serve, place some egg noodles in the bottom of the individual bowls and scoop soup on top.

If you're using fresh chives, you can garnish with those.
Recipe Notes
You can adjust the quantities in this recipe for the size of your family and your slow cooker. Feel free to add other vegetables you'd like, like onion, or feel free to omit the celery We keep the egg noodles out of the soup because we get the crock pot so full when we do the soup in the first place. If your broth seems to run low after serving, you can always heat up another can of chicken broth and add it to the slow cooker. Excellent with fresh-baked bread (yes it's okay if you buy the bake at home bread) Mix remaining soup and noodles together to store leftovers.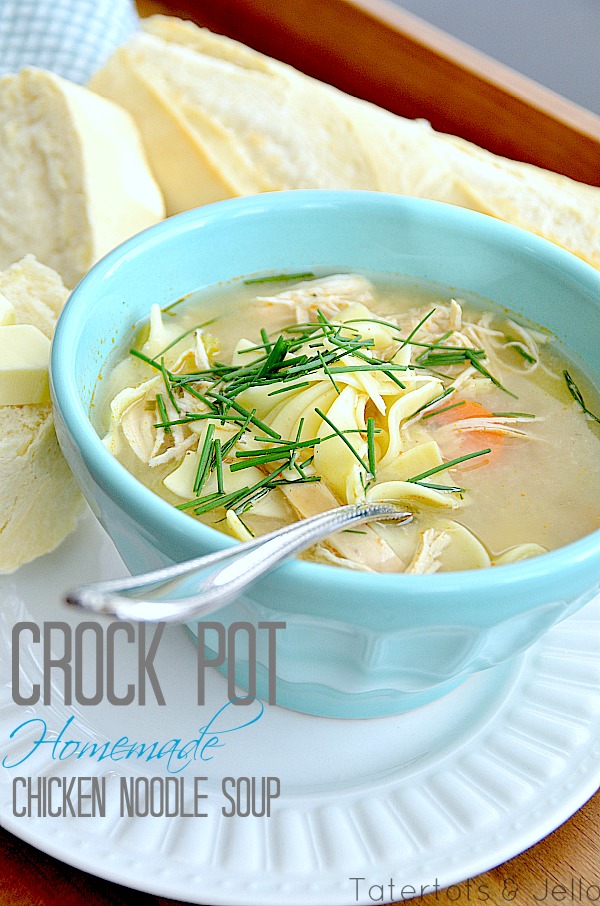 Do you love using YOUR slow cooker??
What is your favorite recipe?
Let us know in the comments. We would love to come over and see YOUR favorite recipe!!
Have a Wonderful Day!!
xoxo