Terra Cotta Star Herb Planters. Create pretty farmhouse planters with natural wooden stars for your home or yard!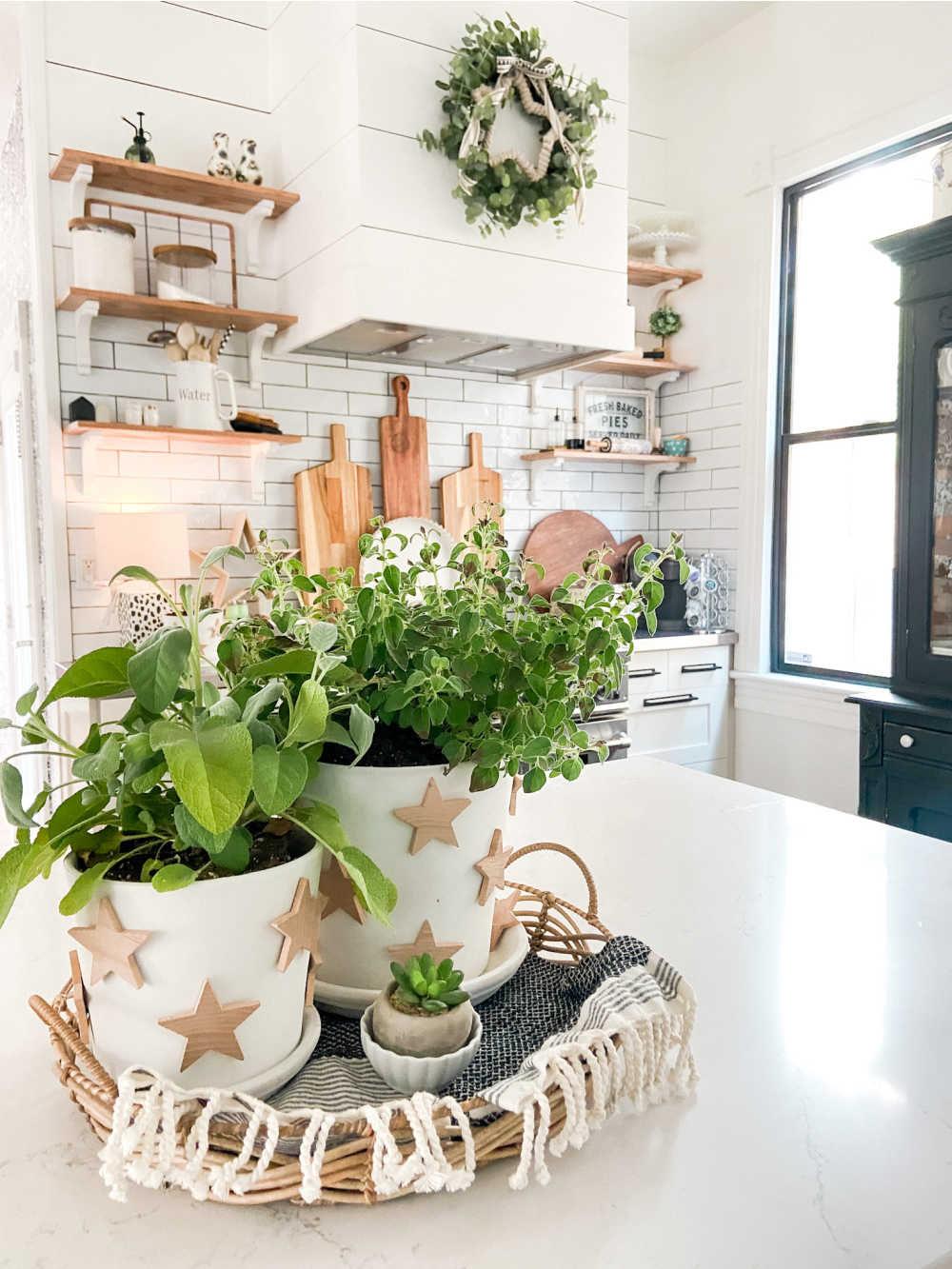 Terra Cotta Star Herb Planters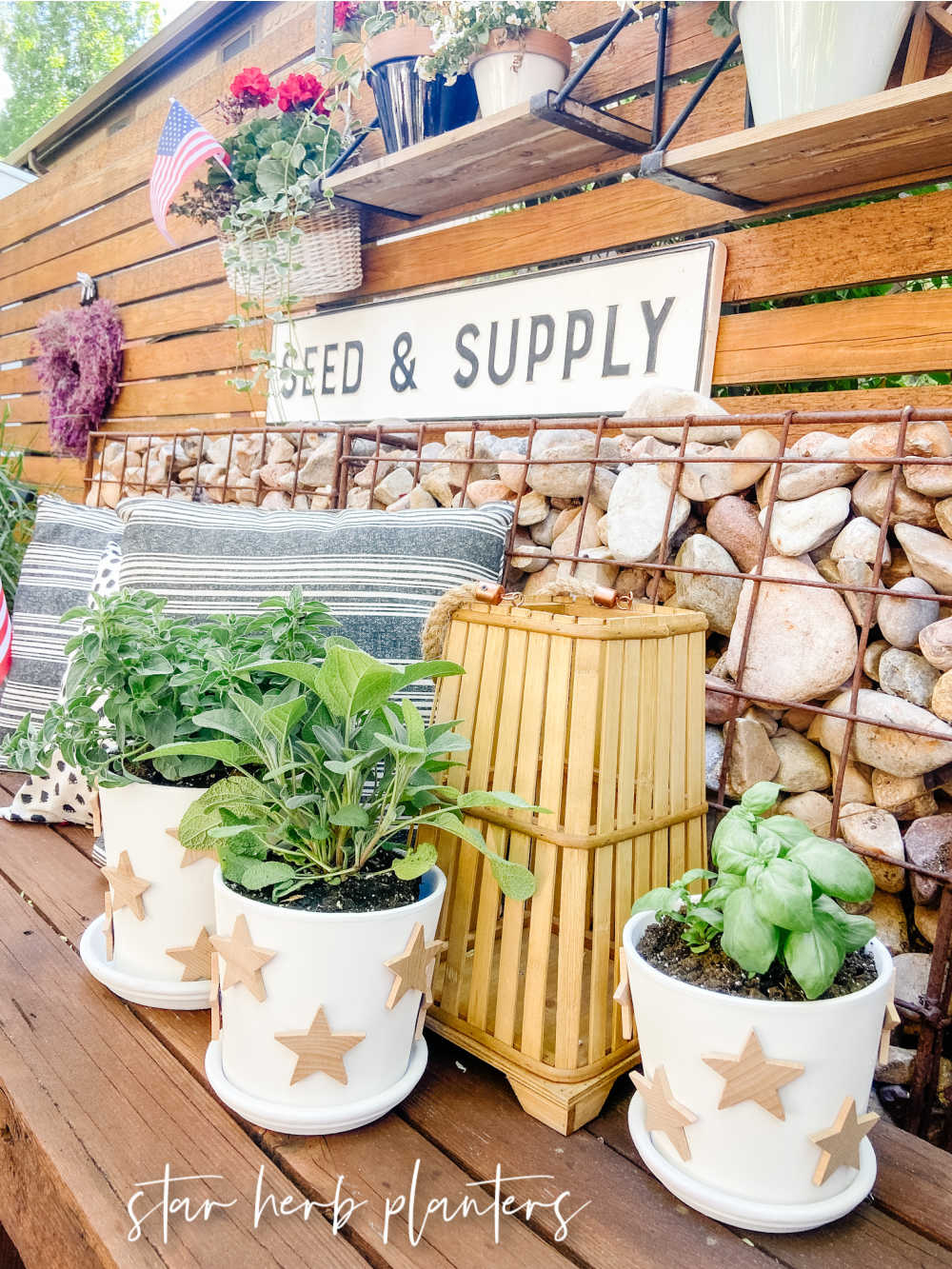 Terra Cotta Star Herb Planters. I love fresh herbs! Summer is the perfect time to plant some fresh herbs for your yard or kitchen! Take inexpensive terra cotta pots and turn them into pretty pots with a farmhouse twist.
Festive Patriotic Projects
I'm joining some friends who are also sharing patriotic projects. Scroll down to get the DIY ideas! My friend Christina is sharing a Canadian idea too which I love!
Terra Cotta Pots are Inexpensive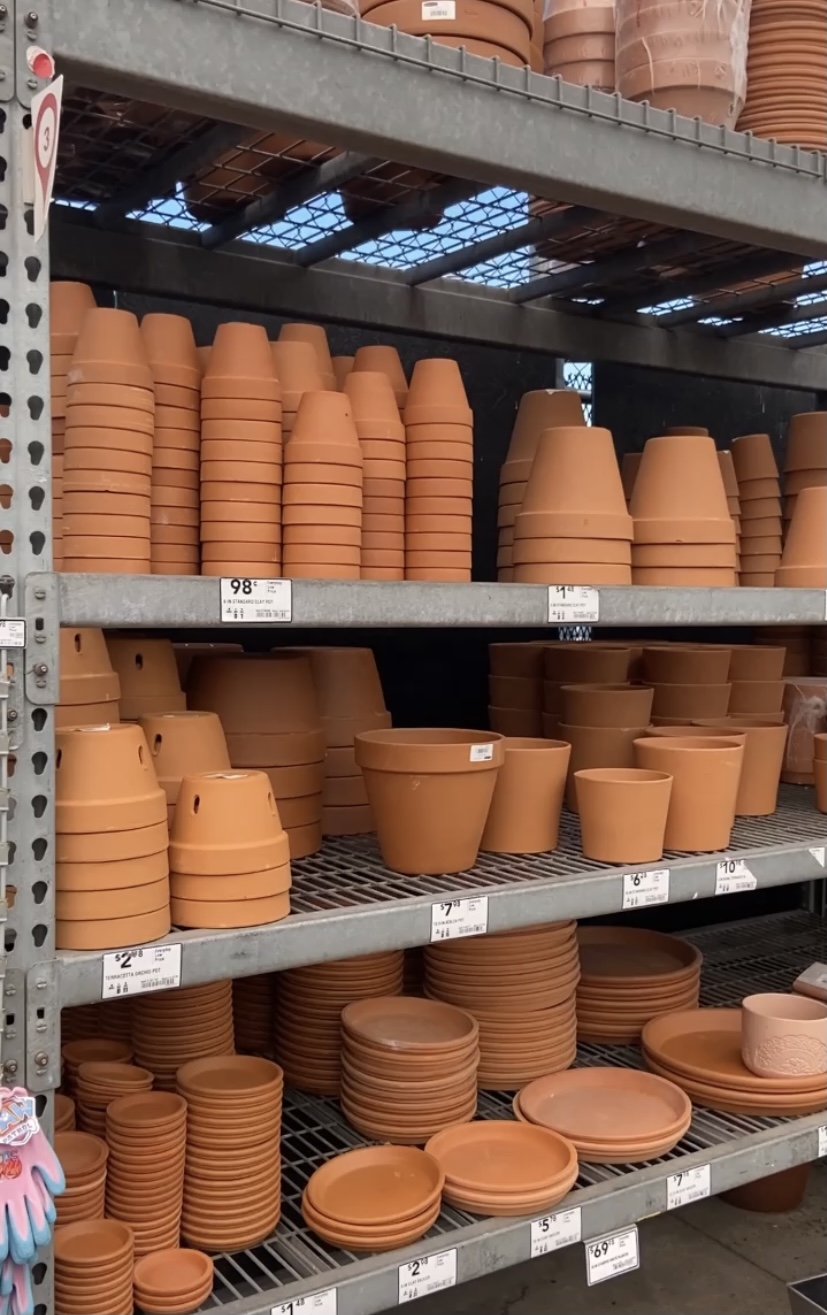 You can find terra cotta pots at any hardware store and they come in so many different sizes and shapes! They are also very inexpensive so making this project won't break the bank!
Spray Paint Terra Cotta Plants for a Farmhouse Look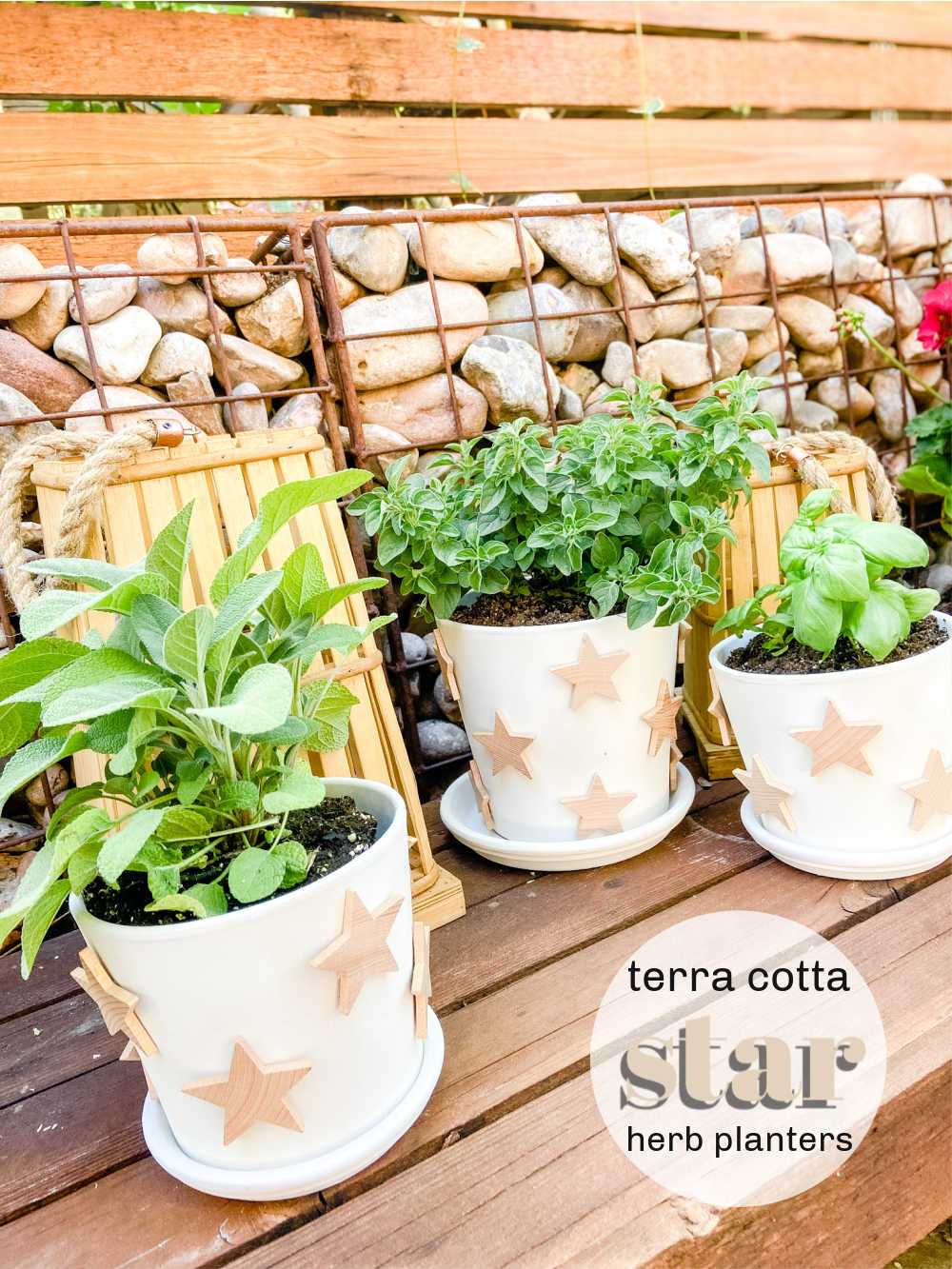 Spraying terra cotta pots a different color lets you customize them to your color scheme. I used white paint because I love a simple look.
Seal Terra Cotta Pots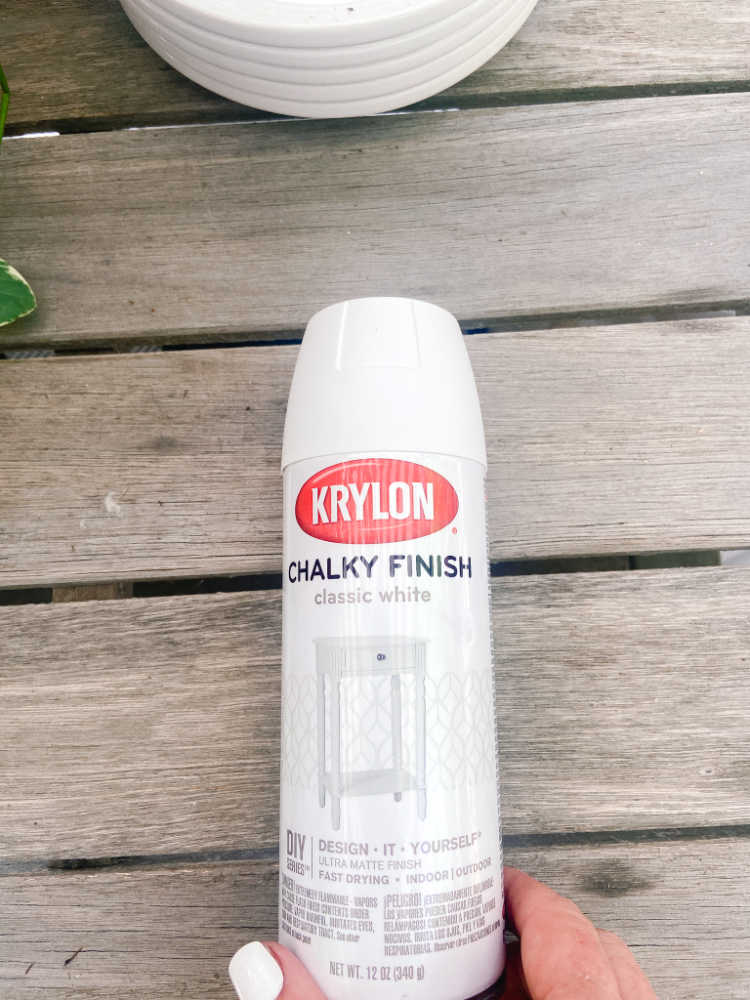 Using spray paint transforms terra cotta pots but it also seals the pots which is great. The reason you want to seal terra cotta pots is left untreated they are very porous which makes it harder to keep herbs moist.
Add Stars for a Patriotic Theme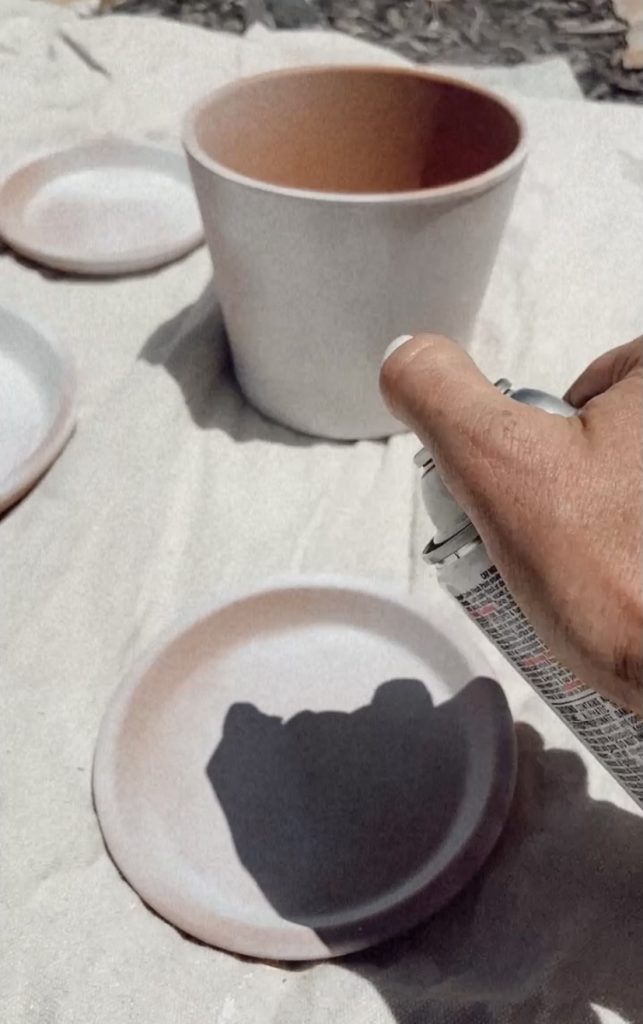 Adding wood stars gives the posts a patriotic theme. I used natural stars that you can buy in a pack of 20. I left them unfinished for a farmhouse or scandinavian simple look! And stars are so cute in the winter at Christmas too!
Grow Fresh Herbs All Year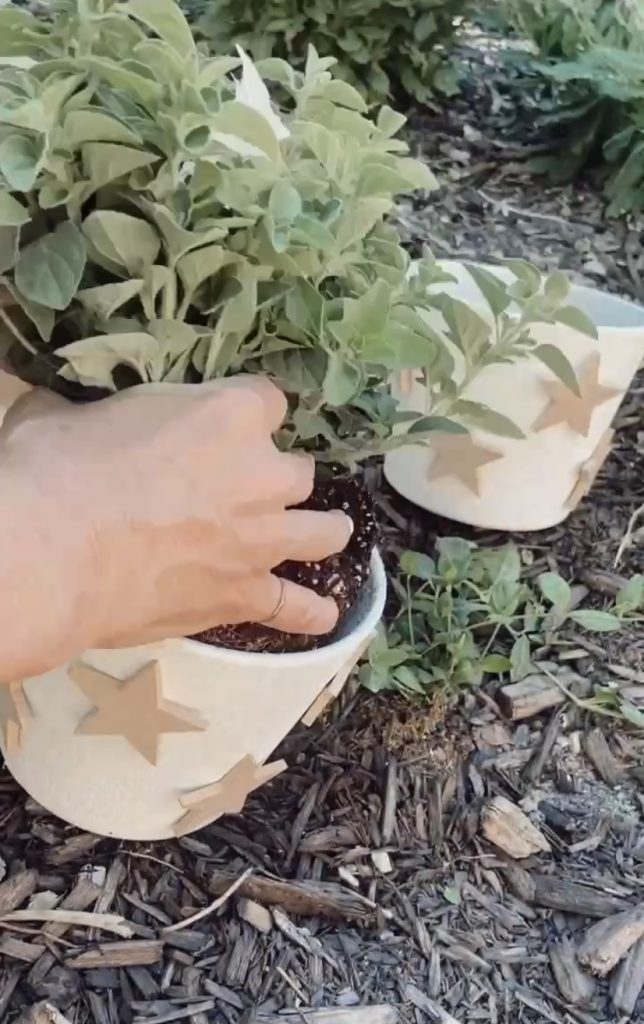 The thing I love about this project is I can keep my herbs outside in the summer and then bring them in when it gets cold and keep them in my kitchen so I have fresh herbs ALL year long. I think fresh herbs brings so much flavor when cooking!
How to Make Terra Cotta Star Herb Planters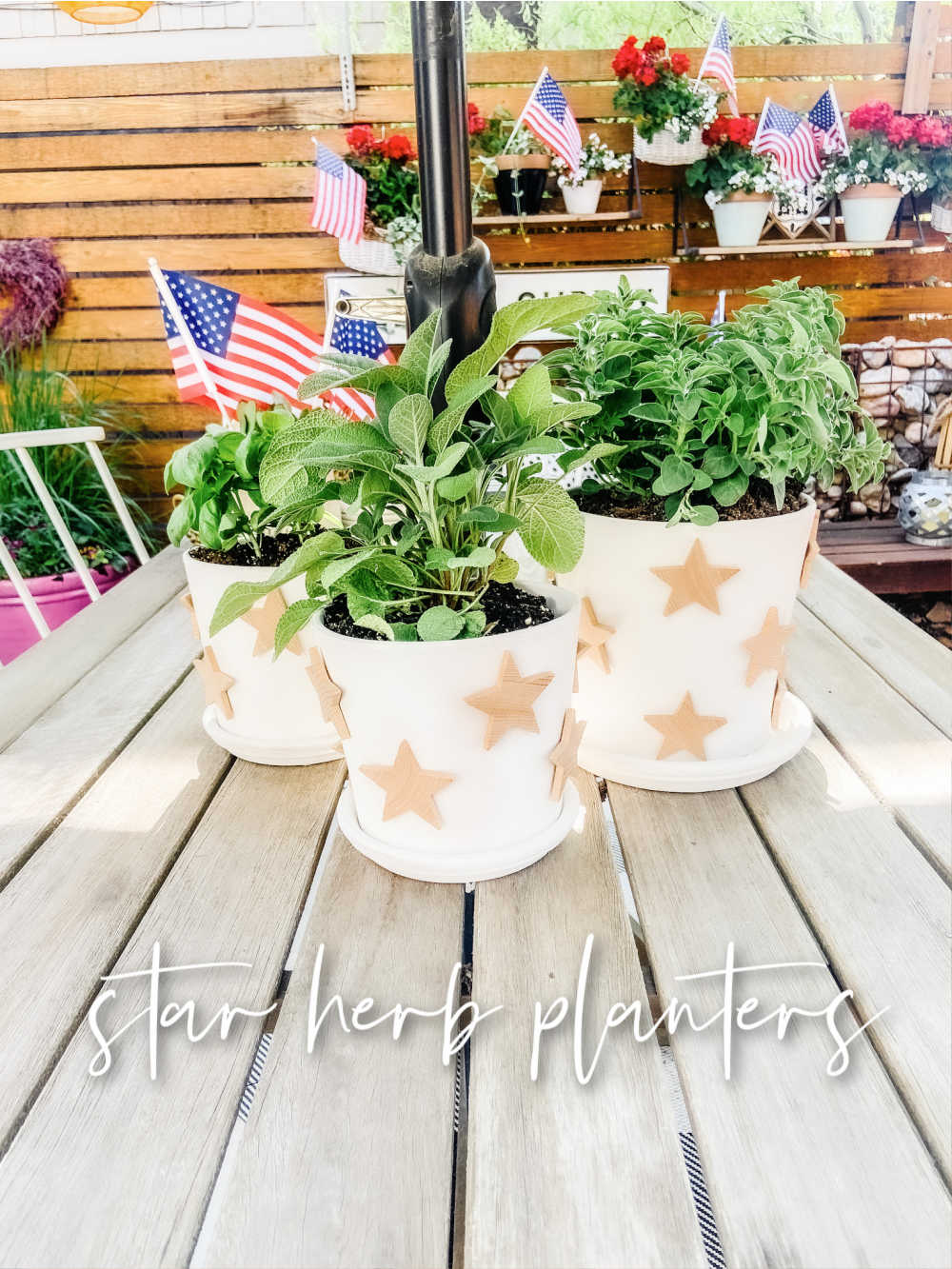 Buy Terra Cotta Pots
I found a great supply of terra cotta planters at my local lowe's stores. I liked these pots that don't have a rim. Be sure to buy the accompanying draining plate. This will keep the water from coming out the bottom and damaging whatever they are sitting on.
Spray Paint Terra Cotta Pots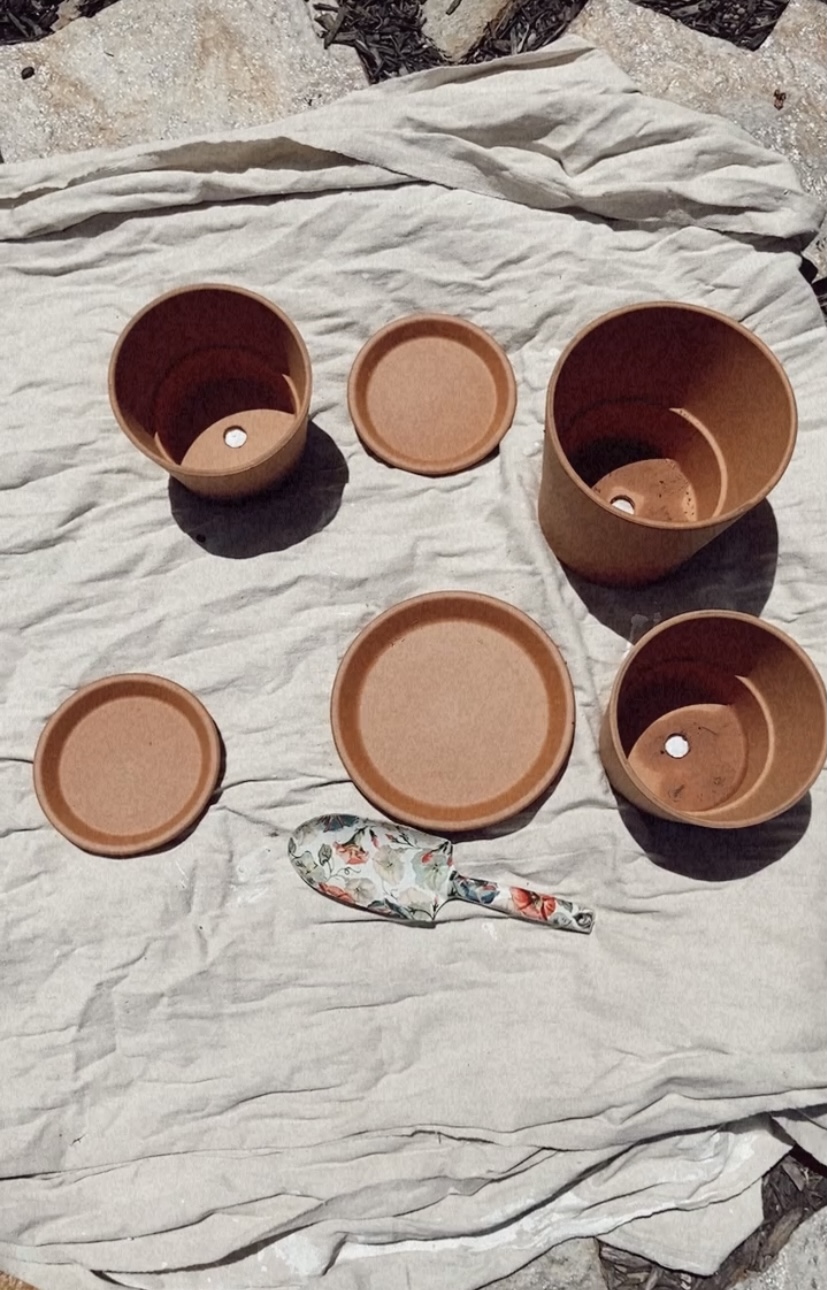 You can use a paint with a primer if you want. I primed my pots and then used a chalk spray paint for a matte finish. Terra cotta is very porous so it will really soak up the paint initially. I sprayed my pots with two coats of primer and two coats of spray paint. I also turned the pots upside down to get the bottom of the pots and plates.
Add Wooden Stars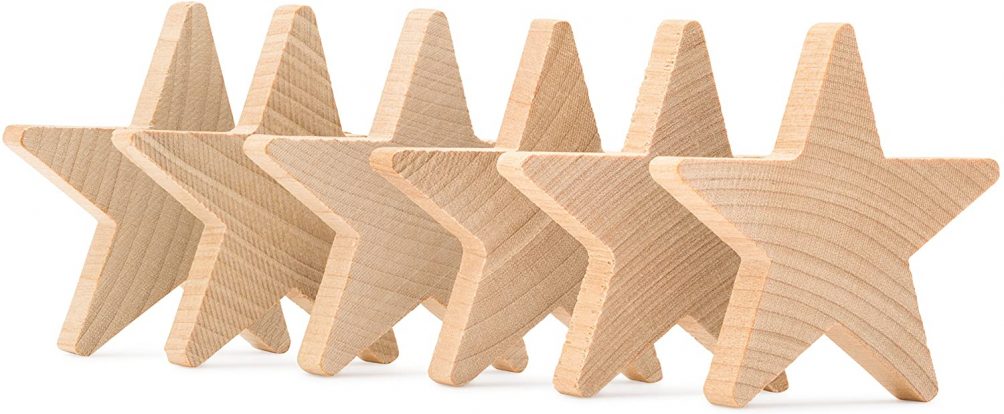 I used 2-inch nice thick wood stars in this project. I used hot glue to attach the stars to my pots. The hot glue is a little fragile on the hard surface of the pot. So if you use hot glue just be sure to pick up the pots by the bottom and not bump the stars. You can always re-attach any stars with another dab of hot glue if they get dislodged when you move them.
Add Herbs to Your Pots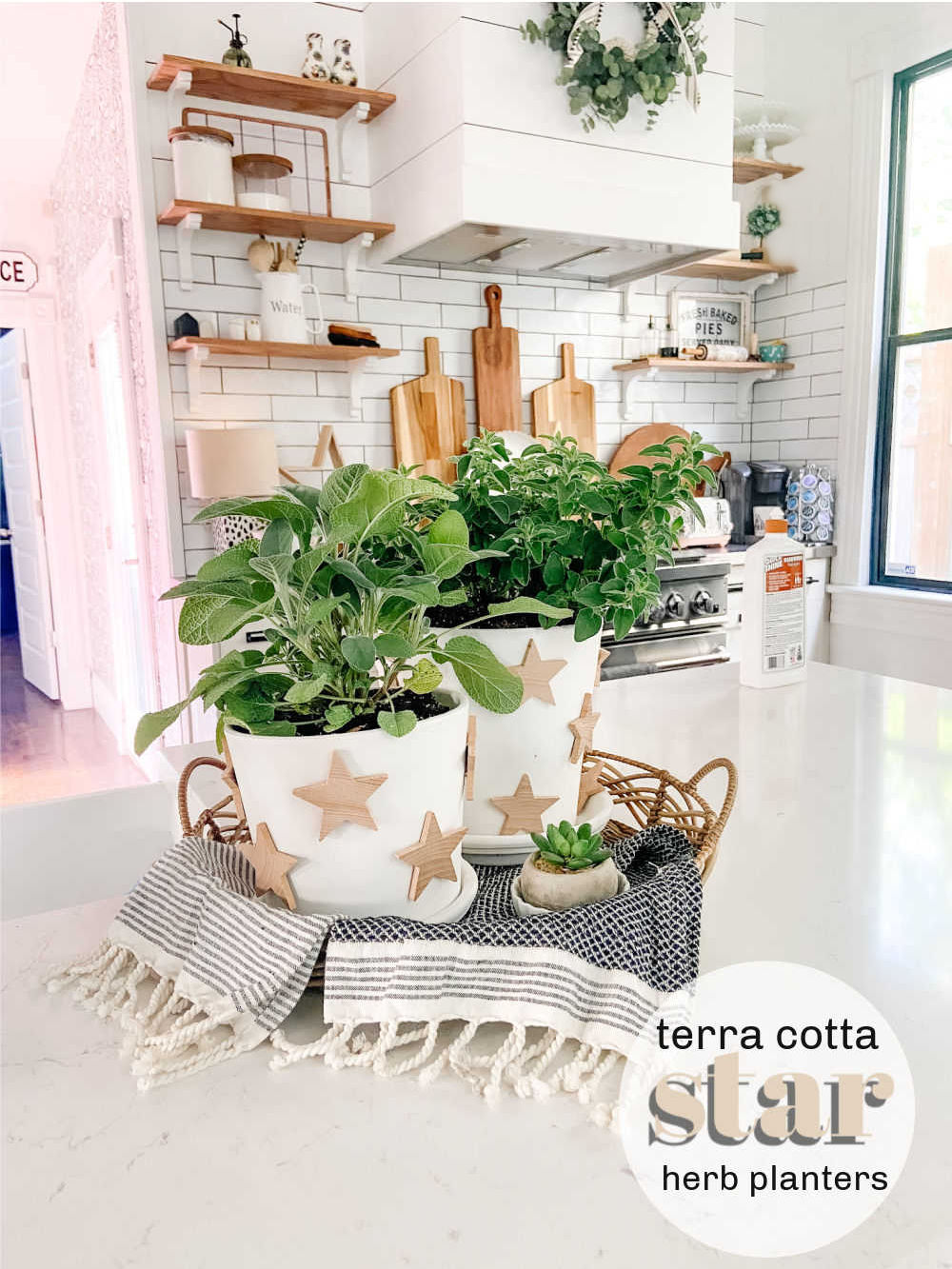 I added my favorite herbs to my pots but you can also plant houseplants or annual flowers – whatever makes YOU happy!
Place Pots in Your Home or Outside
I keep my herbs in my kitchen since I use the herbs when I cook! You can keep the pots both outside or inside. I think they are so simple and pretty. You can also put them on your front porch, filled with festive red and white flowers and they would be gorgeous for the Fourth of July!!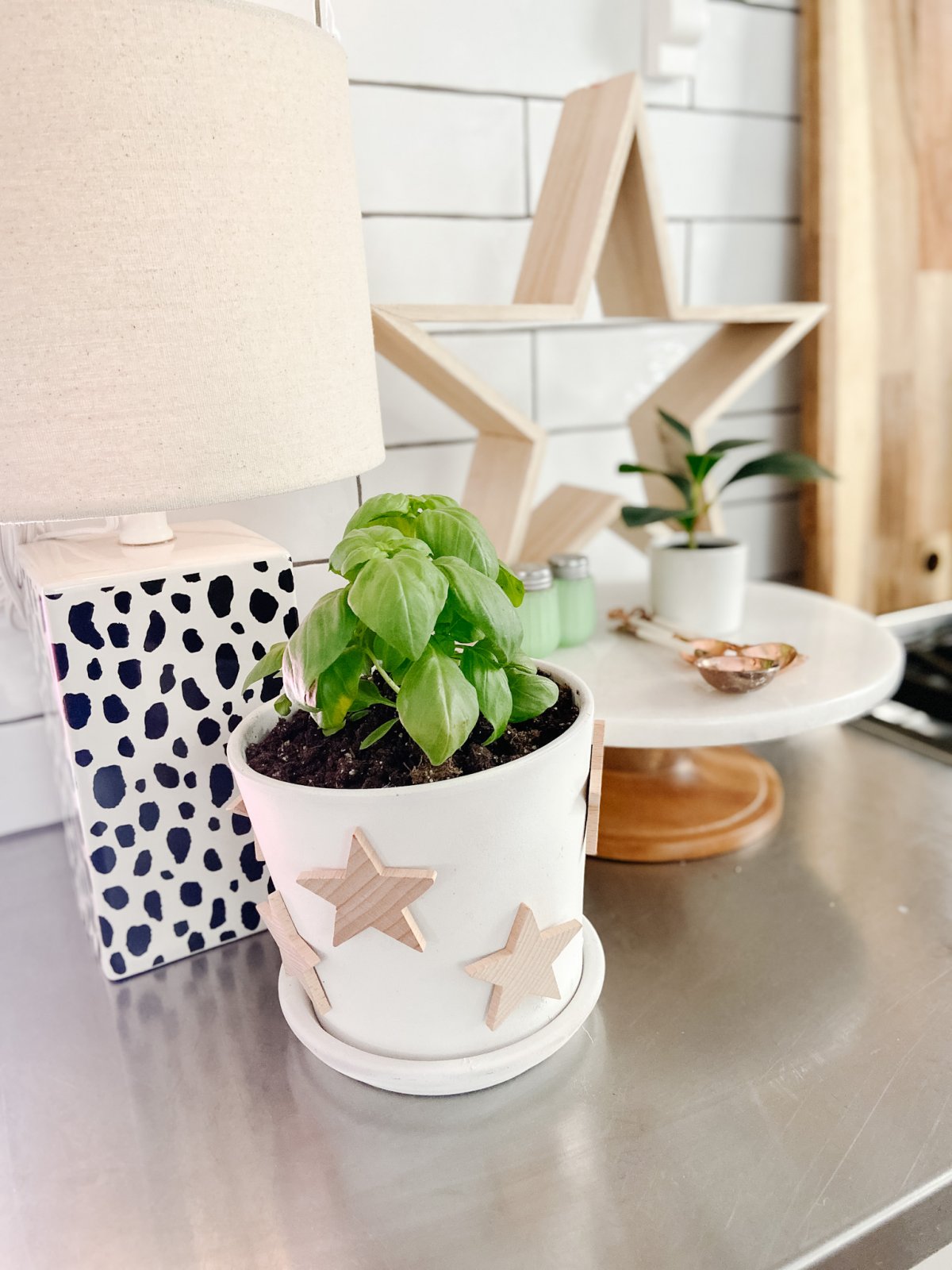 Patriotic DIY Projects
Here is the code for tomorrow's post.
Creative Patriotic Decor DIY Ideas
This free stitch embroidery project is so fun and easy to make. I used a star shaped cookie cutter to outline the stars. then I painted them and stitched around the outside for more detail.
This Canada Day S'mores caddy makes a great gift for a host, and it's also a fantastic addition to your own festive outdoor celebration! Personalize an inexpensive metal caddy with a patriotic design, fill it with marshmallows and all the goodies you love with your s'mores and enjoy with friends and family.
Here is how to make paper pinwheels out of paper. This step-by-step tutorial shows how to make this simple paper craft project. You can use scrapbooking paper or buy digital paper on Etsy. And finish it off with either a wooden dowel or a tree branch from your garden. The results are so cute.
More Patriotic Projects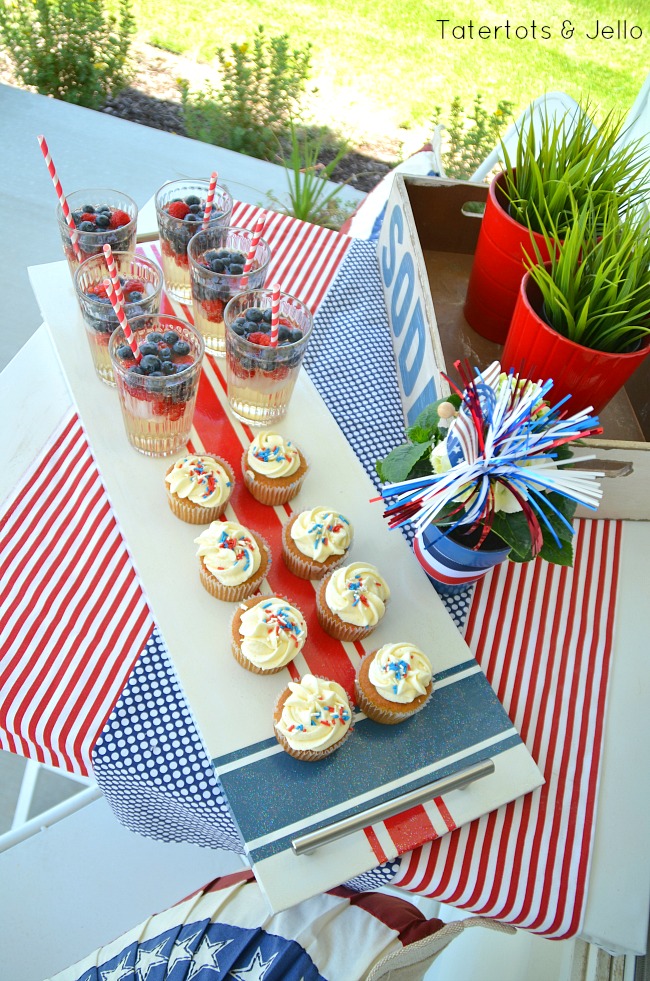 Turn a left over board into a pretty serving piece. All you need is paint. It's perfect for summer charcuterie boards!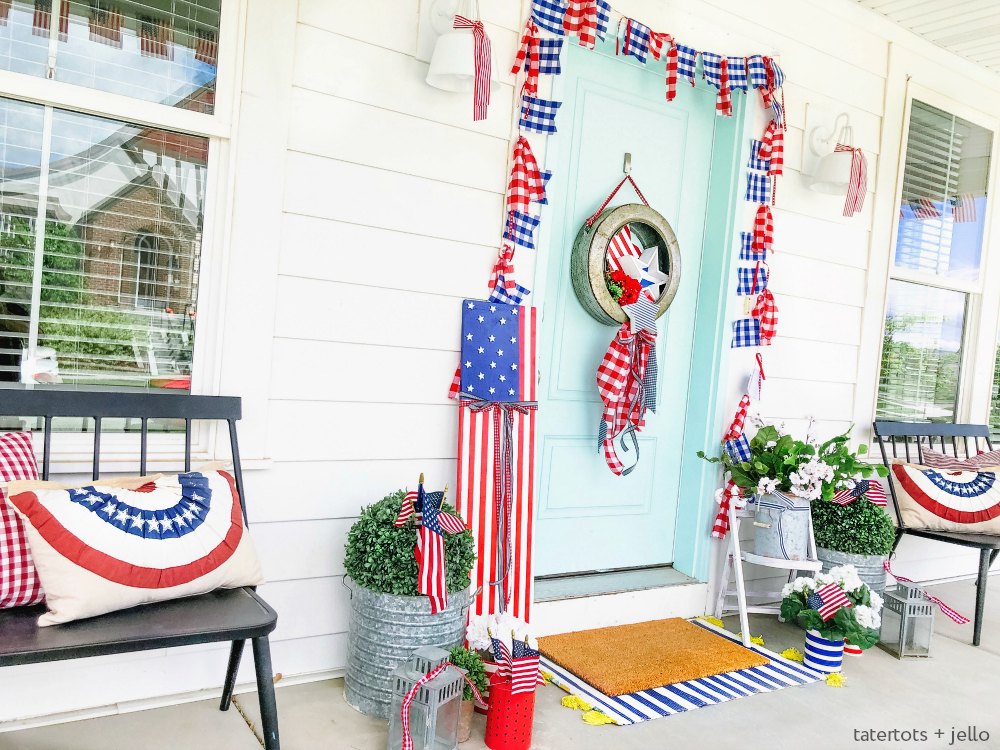 I love making giant signs and this flag sign is one of my favorites! I added wood stars and ribbon to give it a more dimensional look!
What Summer projects are YOU working on?
xoxo