Slime Holiday Ornaments – a great gift idea for kids and tweens!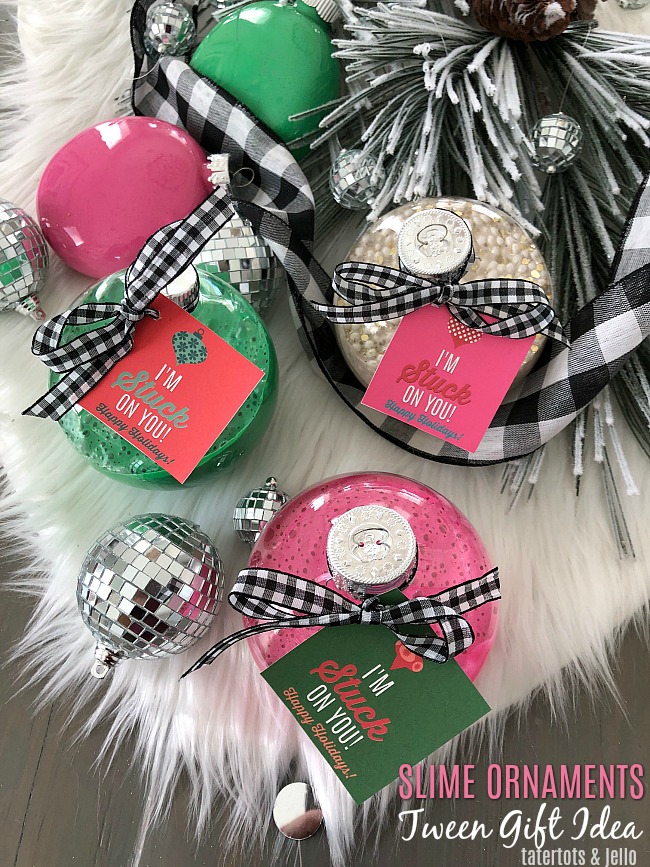 Slime Holiday Ornament Gift Idea
I think it's always a little hard to find little holiday gifts (that aren't candy) for my kids to give to their friends. We've had such a fun time making slime over the past few years that I thought it would be fun to make some special holiday slime as a gift idea. Then I spotted some plastic ornaments at Michaels the other day. I loved that they were extra large, PLUS they have a flat bottom so you can put something liquid inside and it wouldn't roll all around. PERFECT!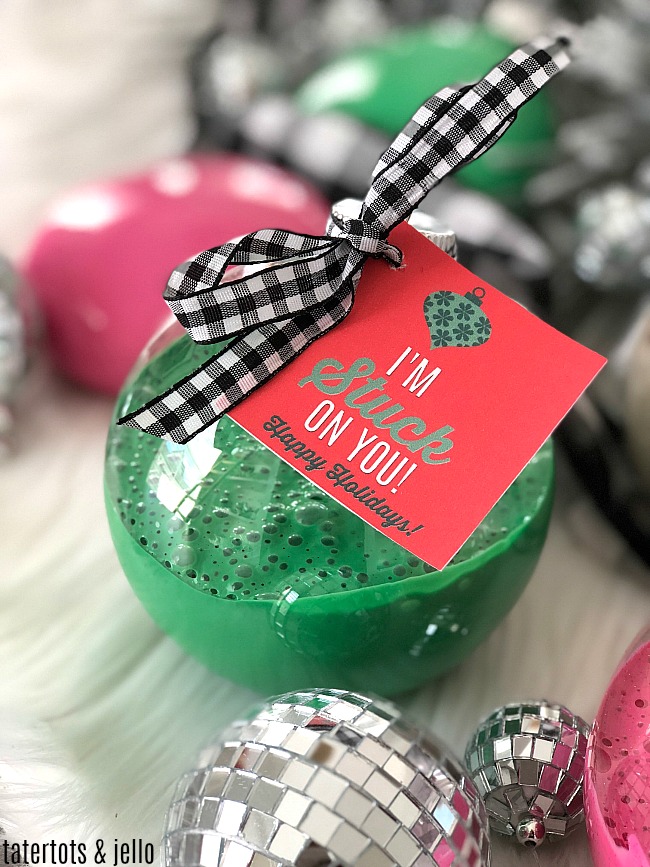 I asked Ella to make up some special holiday slime. Of course that involved some GLITTER. And we only make slime that is safer than using straight Borox. We buy our glue in gallons through Amazon, which is super convenient AND cheaper that way.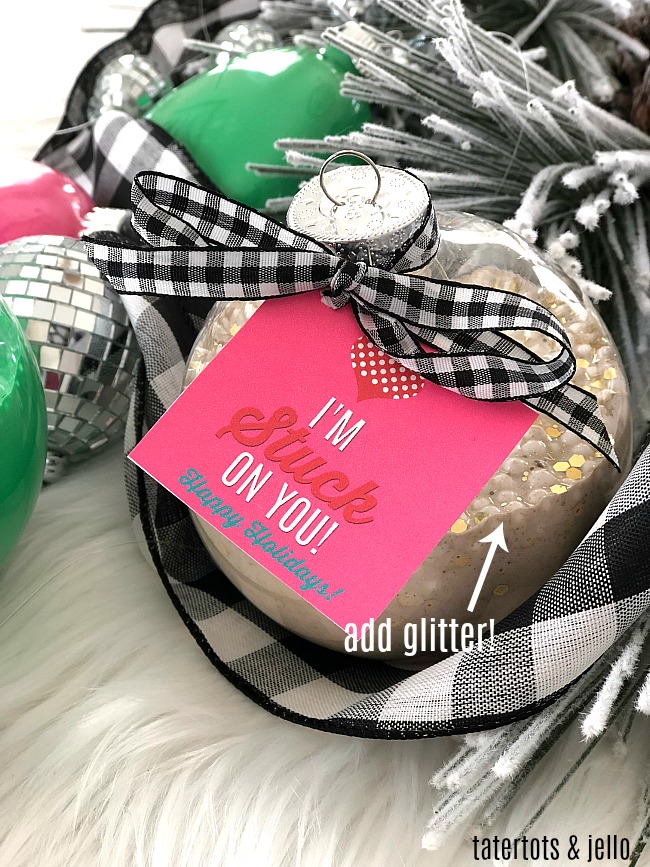 Slime Holiday Ornament Gift Idea
Here's the SAFE Holiday Glitter Slime recipe:
2 2/3 cups Elmer's White School Glue (you can also use clear glue)
food coloring (as much as you want to get the right color. Stir it)
1/2 cup foaming hand soap
2/3 cup liquid starch (use Sta-Flo starch) Add half to begin with, then knead the rest of it in 1 Tbs. at a time until it becomes stringy. You might not need all of the liquid starch. It just depends. Use less liquid starch than you think you need until you start kneading and can see if you need more. You can always add more later, but if you add too much it will be too thick. You can add hand lotion to the mixture if it's too thick and that will make it slimier.
knead the mixture until it reaches a slime consistency
Add glitter – you add it at the end so it's EXTRA glittery
(one of our ornaments has foam balls in it too. But you don't need to add those if you don't want to)
I made up some simple SLIME holiday gift tags you can use with your slime ornaments. I'm STUCK on you – get it?? Funny. hahaha!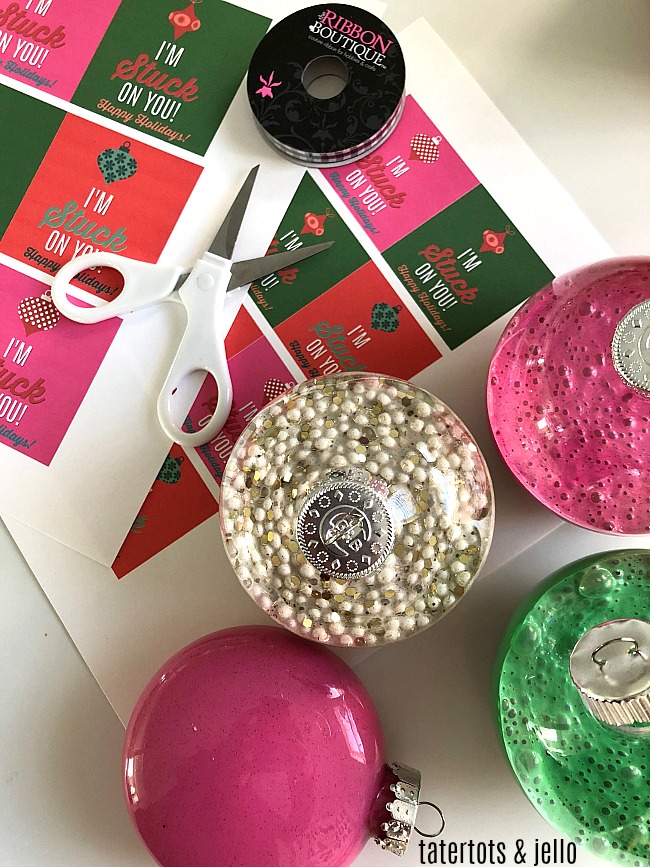 Get the SLIME PRINTABLES HERE.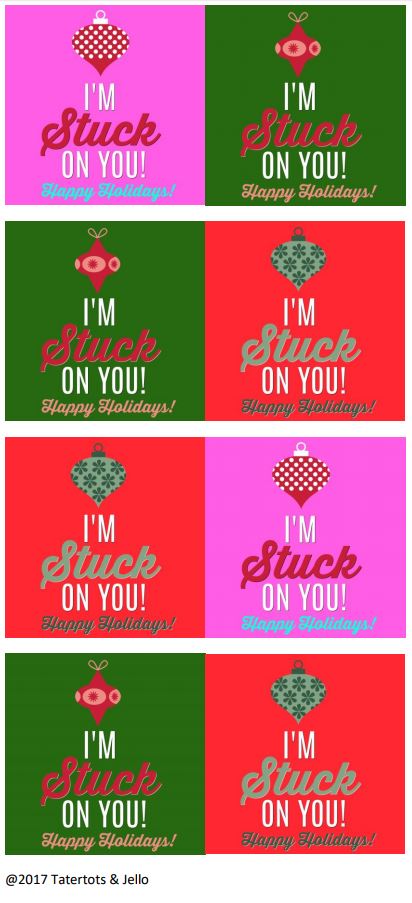 I love that the ornaments are plastic so they won't shatter if dropped and they are safe for little fingers to poke around inside. This recipe is a thinner recipe than the PUFFY slime recipe we shared over the summer. To get the slime in the ornament just take a small section of slime and feed it in small sections into the mouth of the ornament, you will have the whole thing filled up in no time. And when the gift receiver gets the ornament, all they have to do to get the slime out is tip it sideways and it will slowly pour out.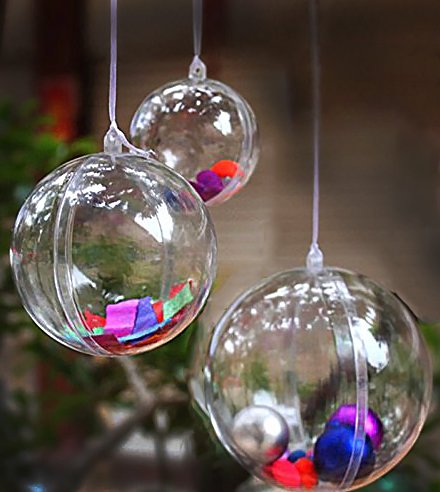 I looked online and can't seem to find the exact ornaments I used. These plastic ornaments on Amazon open in the middle and would work for slime to easily get it in and out. You could attach a ribbon and the printable to the hole at the top. I think these actually would contain the slime and keep it fresh longer since it shuts completely. I found mine in a big bin in an aisle at Michaels.
We have found that playing with slime is soothing for anxiety. I always make my kids play with the slime on a table or hard surface and keep a lid on it so it doesn't dry out.
Help your kids make up a big batch of Holiday Slime. They will love giving this fun gift to their friends this year!!

Here's another gift idea that is great for teens and tweens: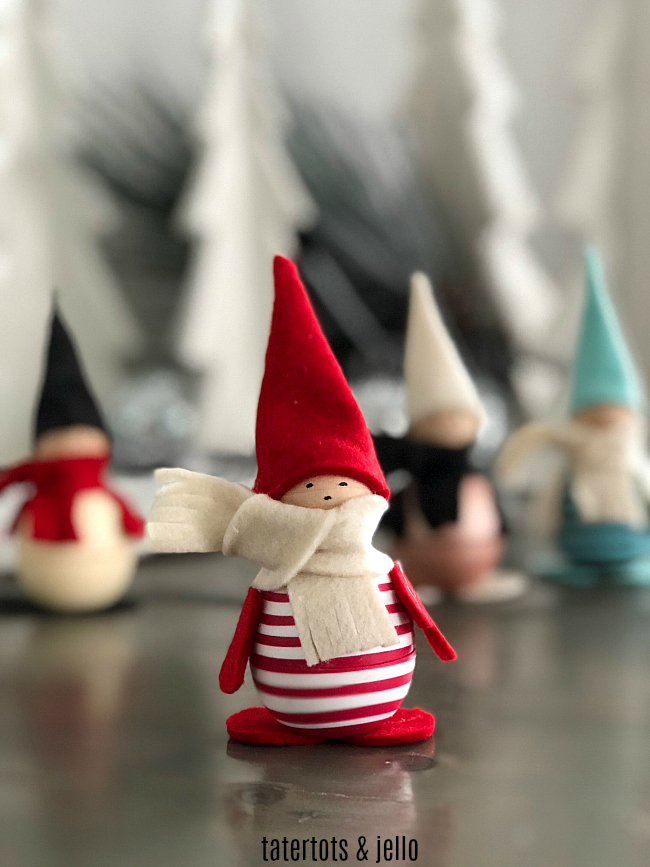 Have a SUPER day!
xoxo

disclosure – this post contains an amazon affiliate link. Amazon affiliates earn a small percentage back and it helps fund our website.