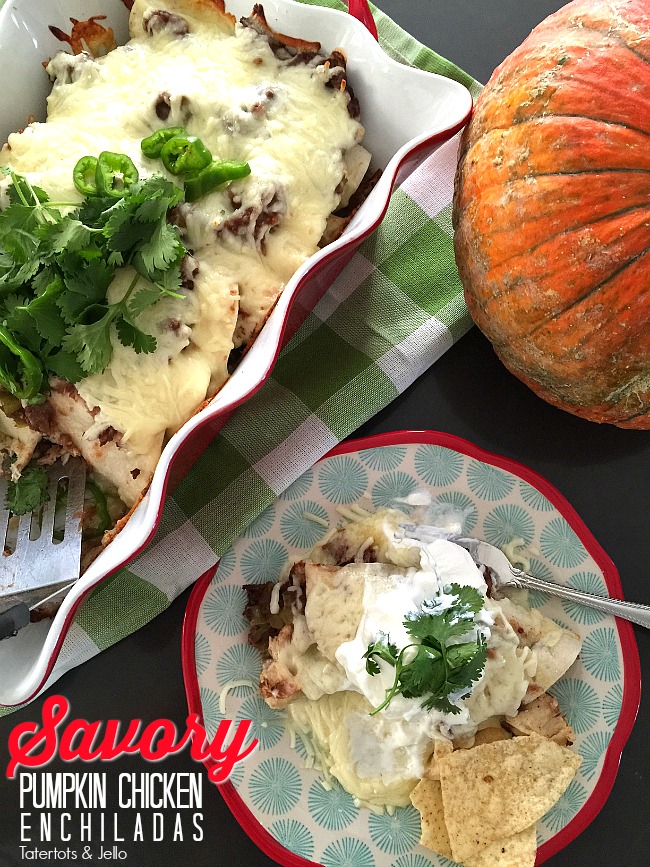 ---
Savory Delicious Pumpkin Chicken Enchiladas
---
Gooey and delicious pumpkin chicken enchiladas. You will love the combination of caramelized pumpkin and shredded chicken enchiladas, covered in bubbling cheese. A perfect fall casserole. Just pop it in the oven for a hearty meal!
I want to make pumpkin recipes every single day this time of the year. I have created quite a few recipes using pumpkin puree, but when I saw the cute baking pumpkins at the grocery store I thought maybe I could chop a little pumpkin up and sautee the pumpkin pieces for a recipe. And since Mexican food is my fave – I thought it would be fun to experiment making sauteed pumpkin enchiladas!
I think the savory side of pumpkin gets overlooked for all of the sweet pumpkin recipes, so I was very excited to make these Pumpkin Chicken Enchiladas!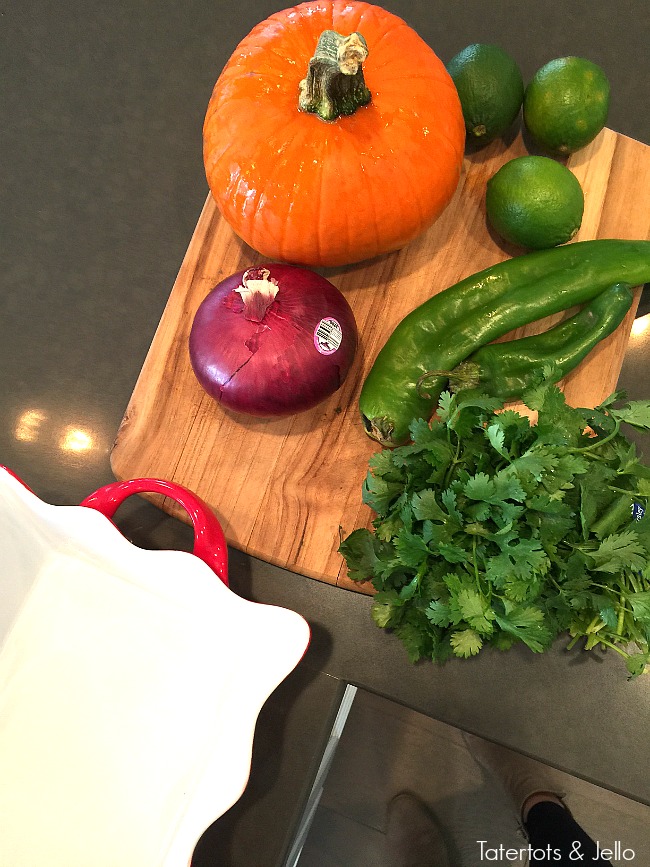 ---
Savory Delicious Pumpkin Chicken Enchiladas
---
Savory Delicious Pumpkin Chicken Enchiladas
Recipe Type: Dinner
Cuisine: Mexican
Author:
Prep time:
Cook time:
Total time:
Serves: 8
Savory Gooey and Delicious Pumpkin Chicken Enchiladas
Ingredients
2 teaspoons olive oil
1/2 cup chopped onion (1 medium)
1 fresh jalapeno chile pepper, seeded and finely chopped (optional)
2 cups pumpkin, peeled and chopped
1 1/2-1 3/4 cups water
1 teaspoon chili powder
1/2 teaspoon ground cumin
1 cup no-salt-added red kidney beans, rinsed and drained
1 1/2 cups shredded cooked chicken breast
1/2 cup shredded part-skim mozzarella cheese (2 ounces)
8 6 – inches white corn tortillas, softened**
Instructions
Preheat oven to 400 degrees
Lightly coat a 2-quart rectangular baking dish with nonstick cooking spray; set aside. In a medium saucepan, heat oil over medium-high heat. Add pumpkin, onion and chile pepper; cook and stir about 10 minutes or until pumpkin and onion are tender.
Pour the pumpkin and onion mixture into a mixing bowl.
Add the beans, 1-1/2 cups of the water, the chili powder, cumin, and 1/2 teaspoon salt and half of the cheese. Mix.
Spoon a generous 1/3 cup of the bean mixture onto each tortilla. Roll up tortillas; place, seam sides down, in the prepared baking dish. Pour the remaining pumpkin mixture over tortilla roll-ups, followed by the remaining cheese.
Bake, covered with foil, for 15 minutes. Sprinkle with the remaining 1/4 cup cheese. Bake, uncovered, about 10 minutes more or until heated through. If desired, serve with sour cream and cilantro.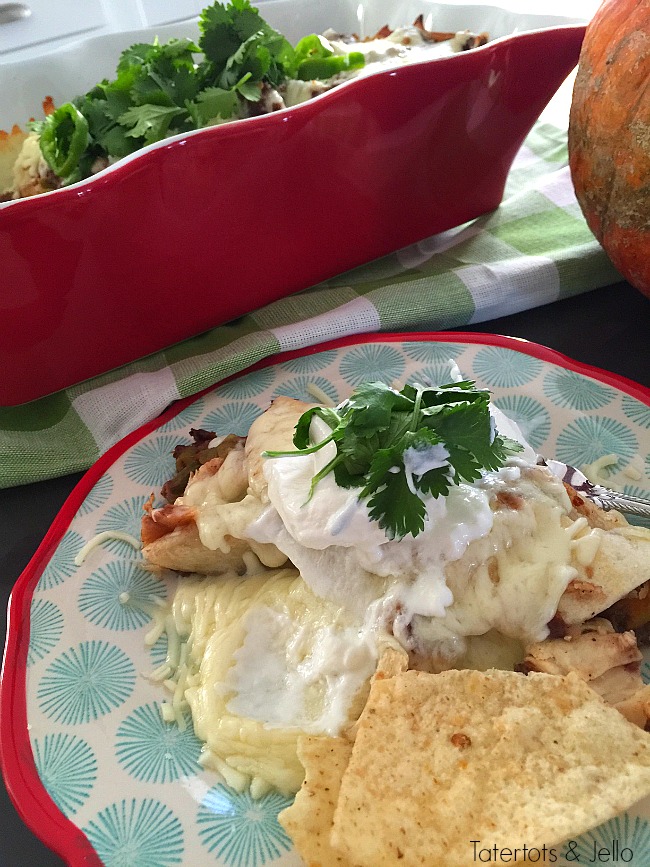 Do you make anything with Pumpkin?
Here are a few other pumpkin recipes I love to make: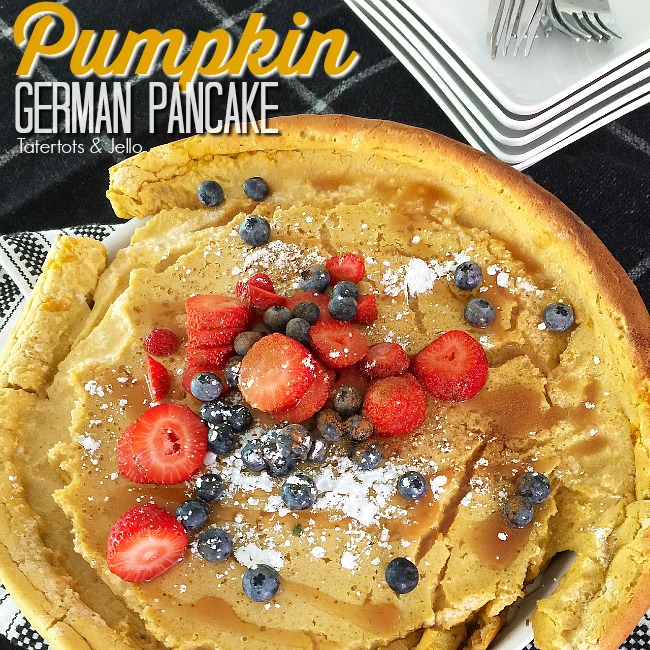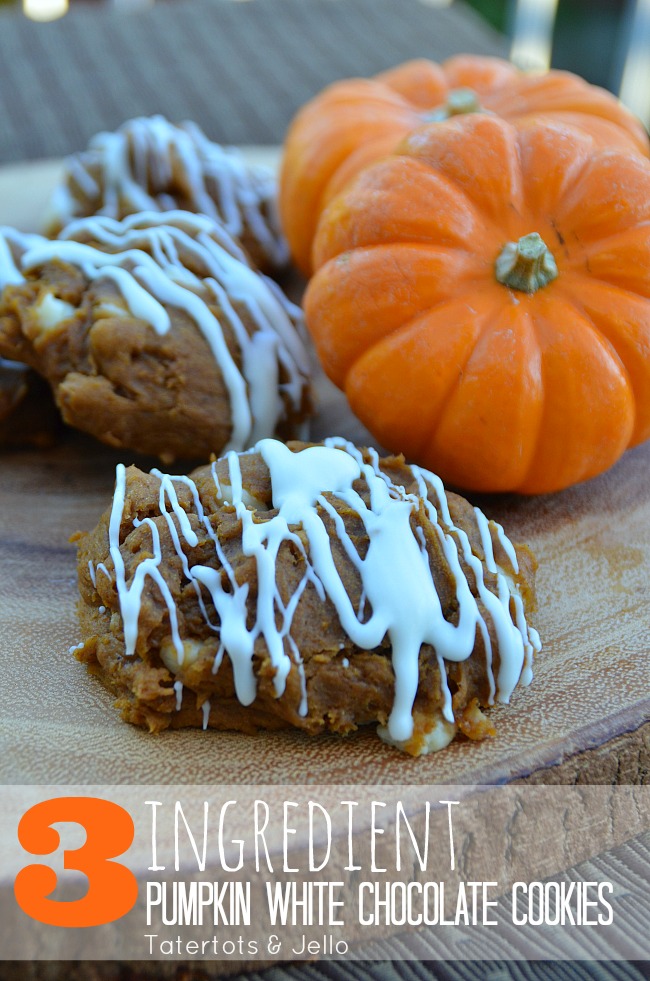 3 Ingredient Pumpkin White Chocolate Cookies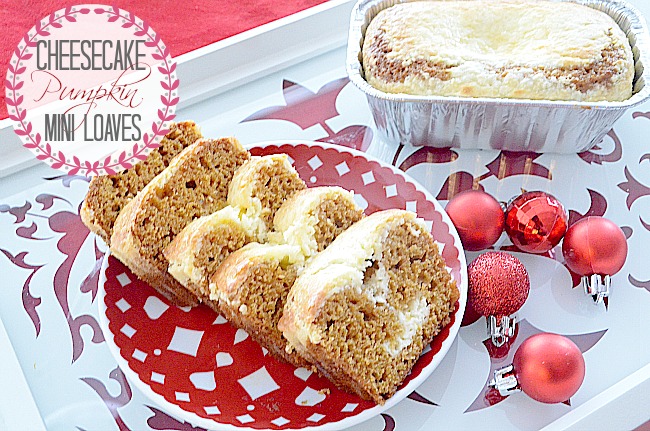 Cheesecake Pumpkin Mini Loaves
What is your favorite recipe to make?
xoxo