This post sponsored by Lowe's.
As the holidays approach, in the rush of decorating and gift buying, it's easy to overlook getting your home ready for holiday guests. But it's not that hard to do, and a few minutes can add warm touches that will make your guests feel extra special.
Inspired by the recent Lowe's Holiday Ready Home live webcast,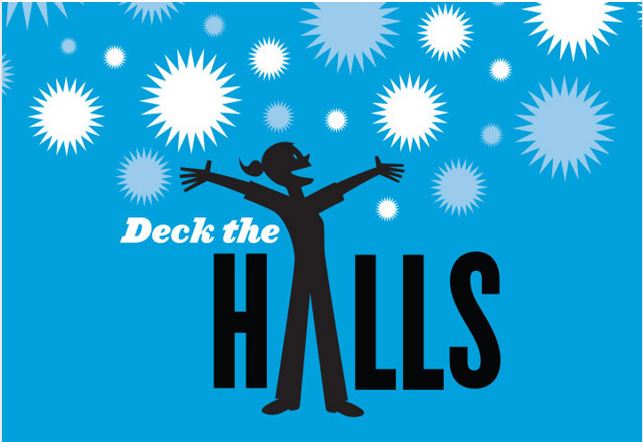 I've compiled three tips for getting your home ready for holiday guests — easily and quickly!
Plus, I'll share with you how YOU could win a $50 Lowe's Gift Card to help with your holiday decorating!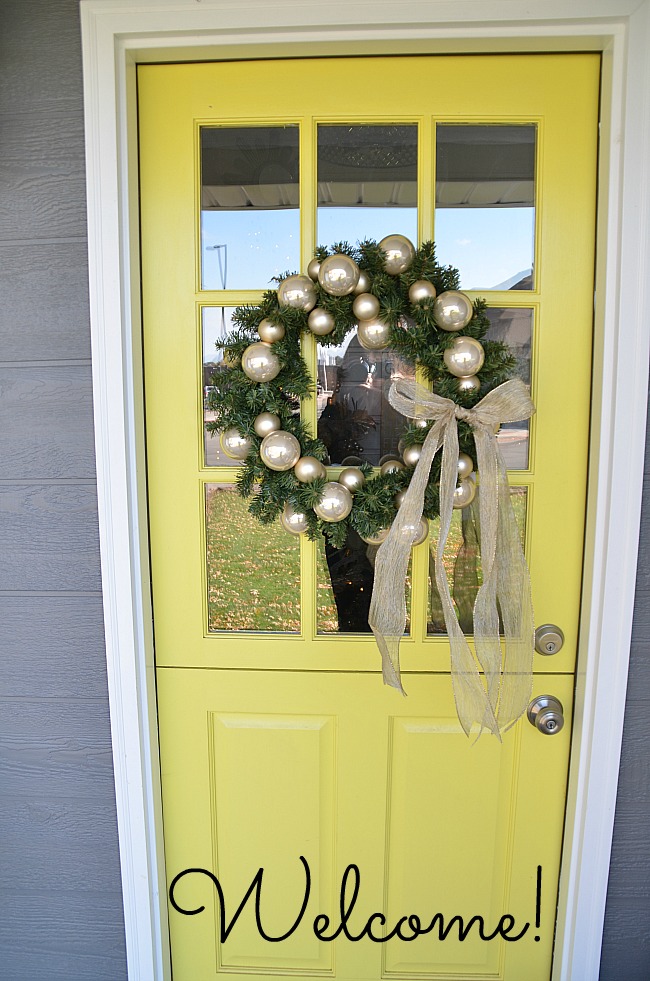 Tip 1: Make your home's entry inviting.
(The picture above is from the 1905 Cottage Porch.)
You may have an apartment or not much of a porch. You may have a spectacular portico with plenty of room to decorate. But no matter what your porch/front door looks like, you're always going to be pressed for time to make it look festive and inviting.
One of my favorite quotes from the Lowe's Holiday Ready Home live webcast was this:
"You don't have to recreate the wheel. You just have to make the wheel a little bit cooler."
So while you can spend hours creating an amazing porch-door-entryscape, you don't have to if you don't have time. But you can clean it and add a festive wreath — which doesn't take hours.
Every year, we spend only about 30 minutes cleaning our porch to make sure it looks inviting for our holiday guests. We usually stock up on at least one new broom from Lowe's (this year our push broom had bit the dust so we picked up a new one). We clean the leaves out of the gutter, which goes quickly, and then sweep all of the accumulated leaves and dirt from the porch. We remove autumn decor and any cushions that might not stand up to winter weather. And finally we add some of our favorite holiday decor to the porch — like we did at the cottage. (Yes, I'll be talking about the porch at my home soon.)
(One of my favorite segments of the Lowe's Holiday Ready Home live webcast — on the "porch" — had some great ideas, too:
Tip 2: Don't store it – display it!
One of the great things about being a decor blogger is that I get to change my holiday decor every year. One of the downsides of being a decor blogger is that I change my holiday decor every year. So even when there's something I really liked from a previous year, odds are it won't fit this year's color scheme. While I do donate some of my decor and give some to friends, there are some favorite pieces I can't bear to part with.
(We store all of our past decor in identical plastic tubs in a storage closet built to fit them — tubs and wood for shelving all from Lowe's.)
As you're unpacking your holiday decor, put aside a few favorite items you can make into a holiday vignette for your guest room or wherever your guests will stay!
For example, I've used last year's chalkboard ornament — part of the Winter White Photo Tree — to write a welcome message in our guest room.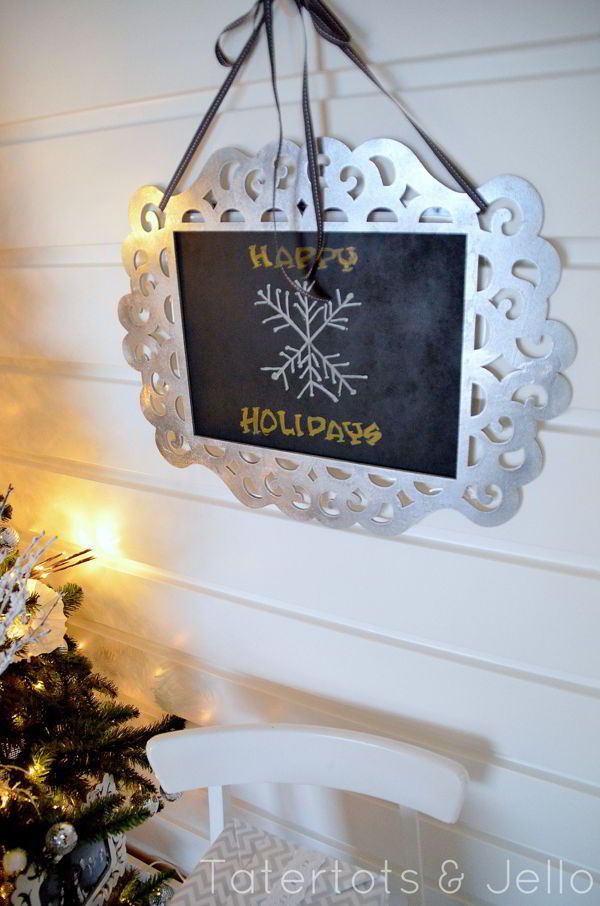 Tip 3: Add the Personal Touch
This, too, takes only a few minutes. When you're out doing holiday shopping or even grocery shopping, you can pick up an inexpensive, small gift — or even a few — for your guests. Does your mother in law love dark chocolate? Pick up a small chocolate bar. Stopping by the dollar section in your favorite store? Grab a few simple items to keep the kids entertained.
Again, inspired by the fun segment on the Scandinavian tradition of receiving small gifts in winter boots, you might use some winter boots as decor in your guest room, or anywhere, really. Grab some LED Christmas lights in a color that complements your decor — you can even get a small string of battery-operated ones — at Lowe's. String some in the top of each boot, and set the small presents in the top.
You could use any small container for this idea; I've even just created a small "nest" of lights — with a few presents on top — on the guest room dresser.
What's your favorite holiday guest decor prep tip?
(Self-medication is not the answer I'm looking for – LOL!)
* * * * * * *
To help you get started with YOUR holiday decorating,
Lowe's is giving one lucky reader a $50 gift card!
Here's how you can enter to win!
You can also follow Lowe's on Facebook for more great ideas and sign up for their FREE Creative Ideas Magazine with TONS of great DIY ideas and instructions!!
++++
What are YOU most excited to create for the holidays???
Let me know in the comments!!
Have a FESTIVE day!
xoxo
Thanks to Lowe's for providing sponsorship for this post; the opinions and content are mine. See my disclosures.