Patriotic Red White and Blue Star Wreath. Celebrate summer with this easy and adorable wreath using wood stars.
Patriotic Red White and Blue Star Wreath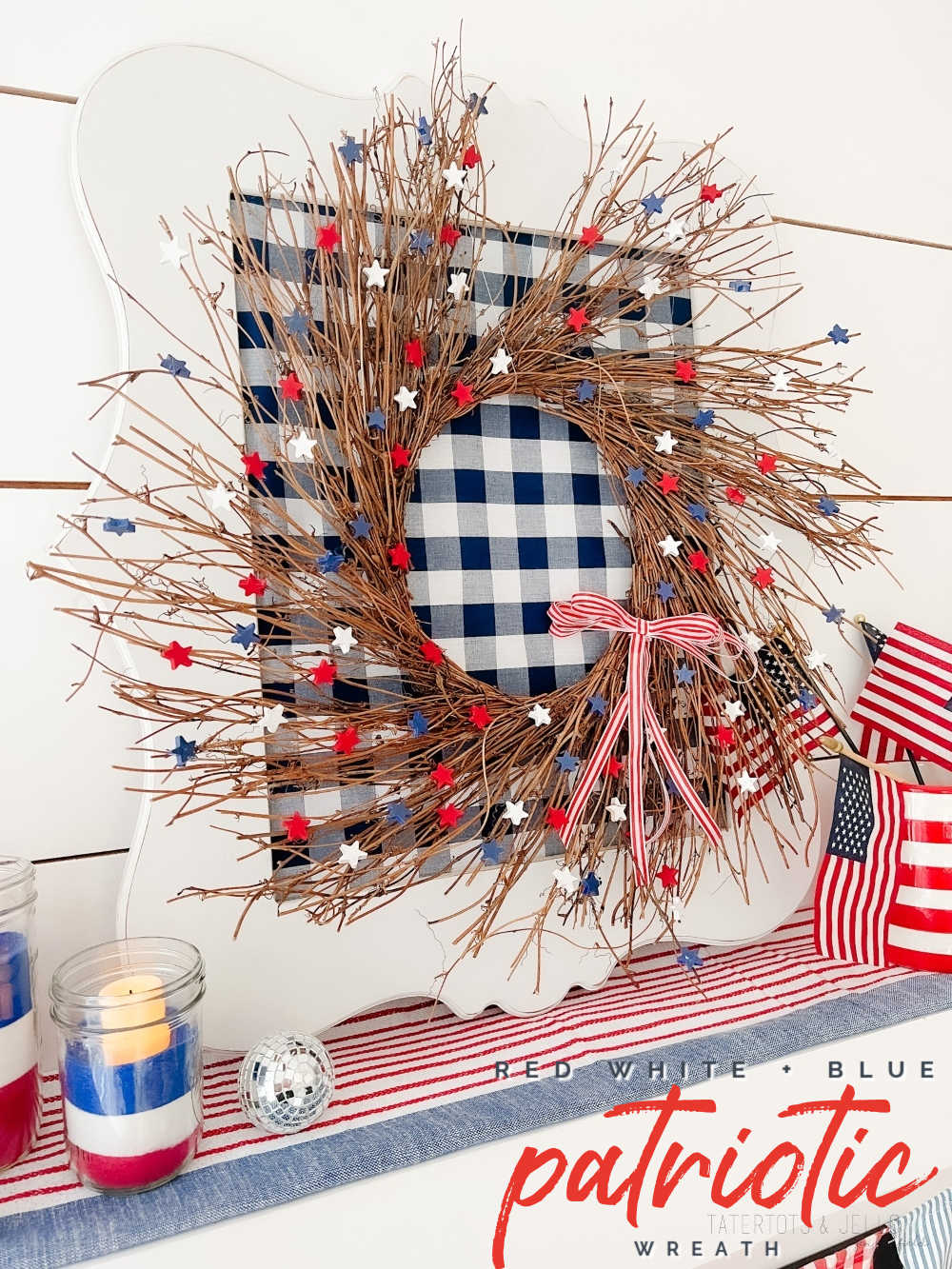 One of my favorite ways to decorate for Summer is using a patriotic theme! Red white and blue is so festive and perfect for Fourth of July, if you celebrate in the United States; and red and white for Canada Day. This year I created this festive little wreath using wood stars I ordered online. It is so easy to make!
Handcrafted Society June Challenge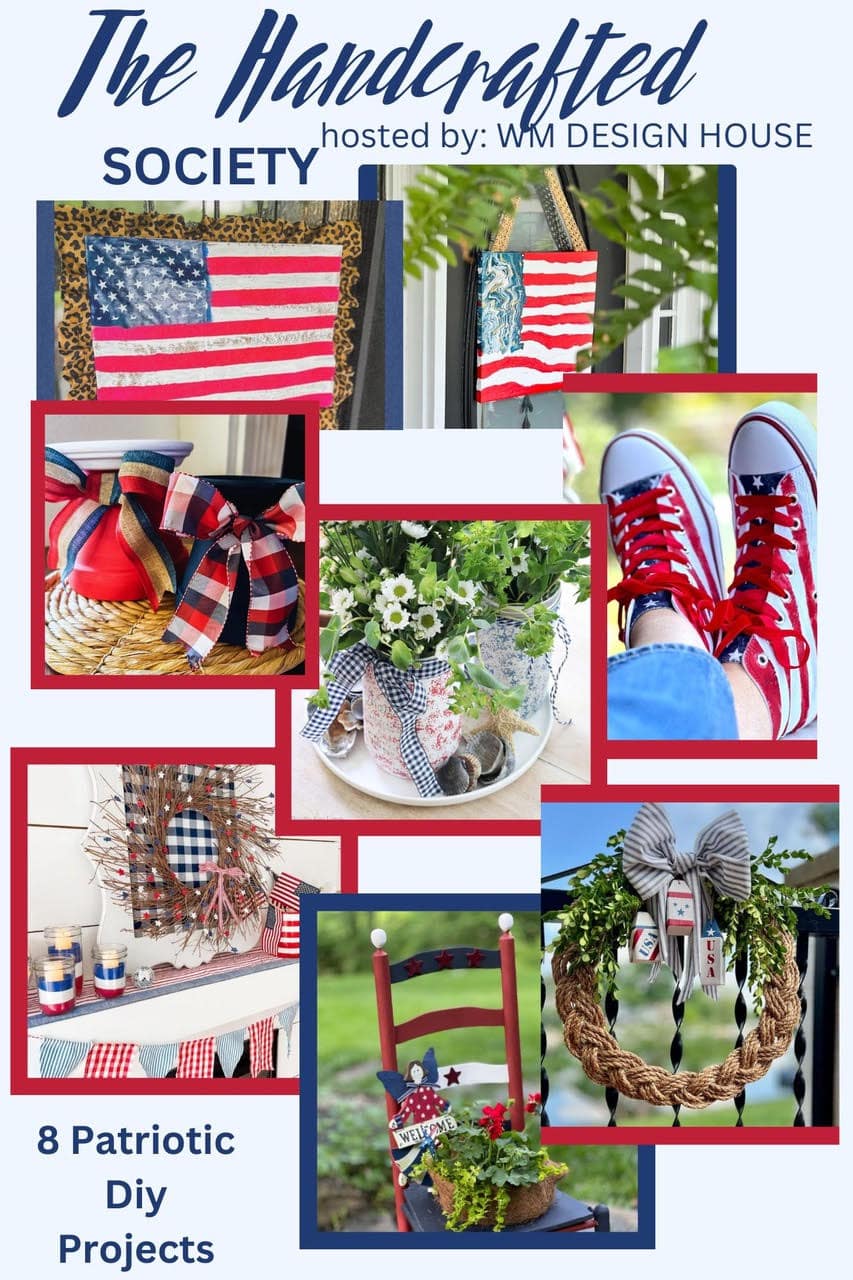 It's time for our monthly Handcrafted Society challenge. This month the challenge was paint something red, white and blue. So of course I immediately thought of the Fourth of July. And in Utah we also celebrate our state's birthday on the 24th of July. So decorating with red white and blue is something I love to do in June and keep up throughout the month of July! If you are here from South House Designs, welcome!! Isn't Diane's patriotic wreath so pretty??
How to Make an Easy Red White and Blue Star Wreath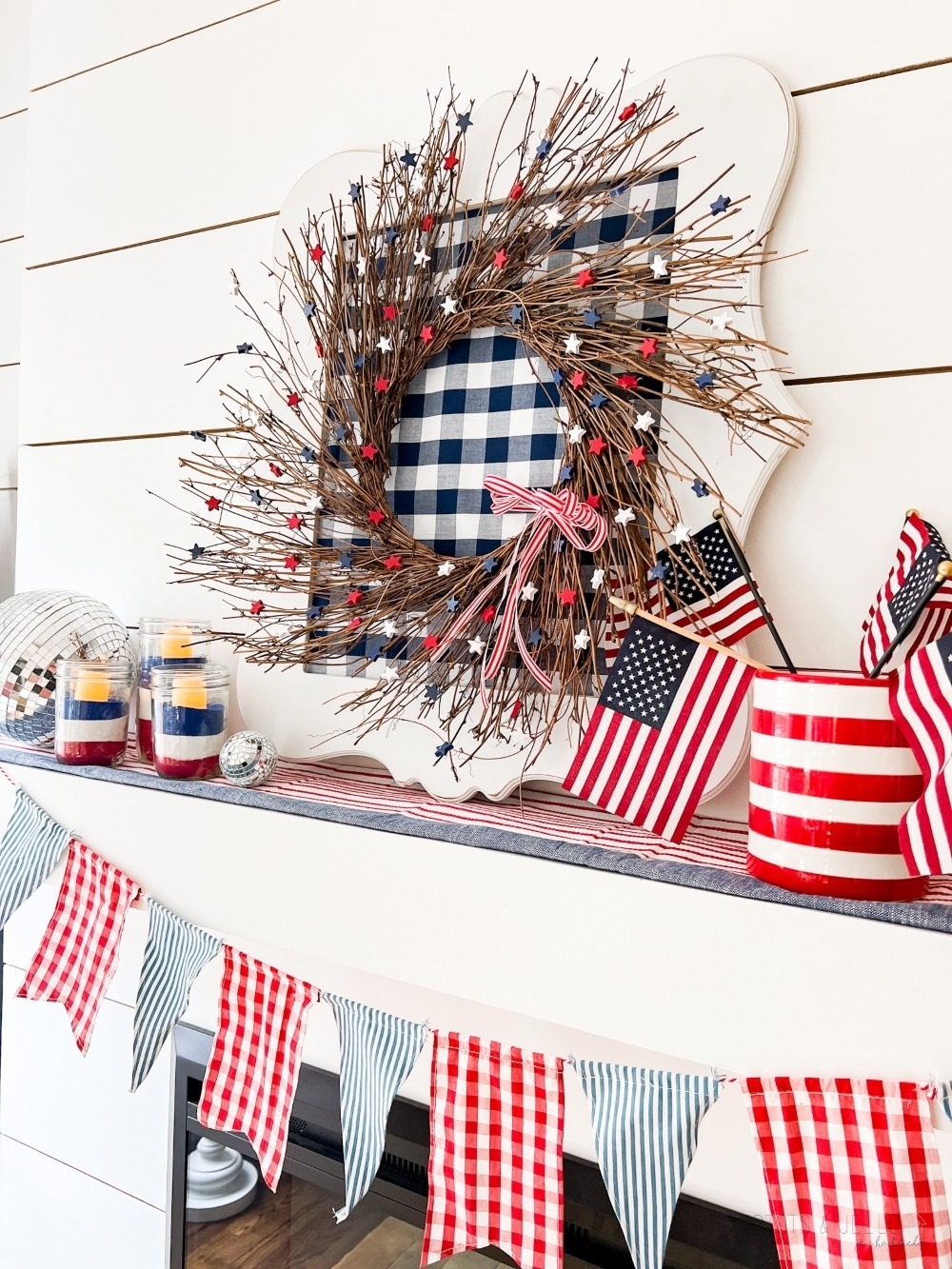 As I said, this is a very easy wreath to make! I also have a tip on how to paint the stars that makes it easy and you won't get any paint on your hands! I'm sharing that below.
Patriotic Red White and Blue Star Wreath Supplies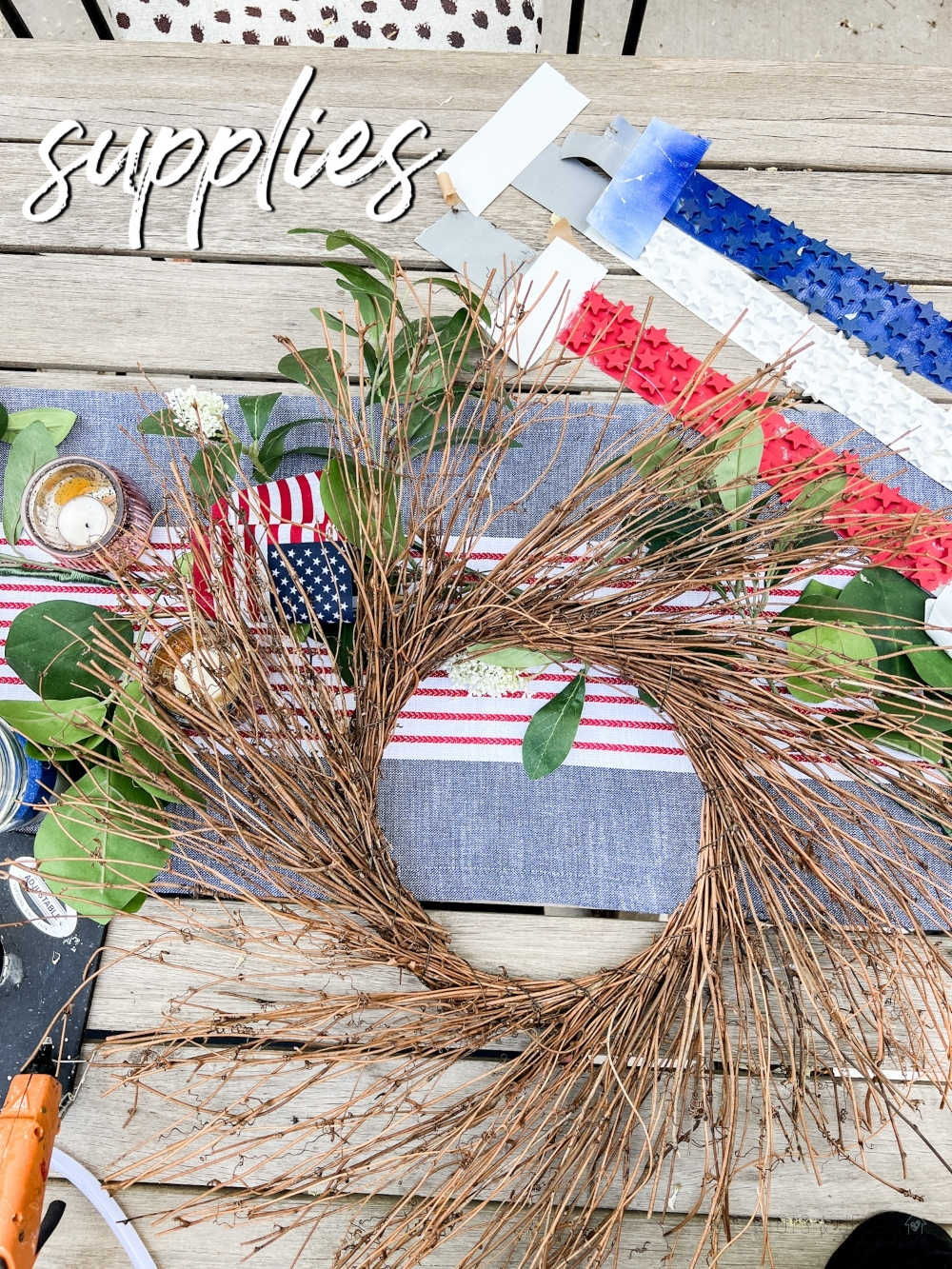 Here are the easy supplies, just click on the link and have it sent right to your door!
How to Easily Spray Paint Stars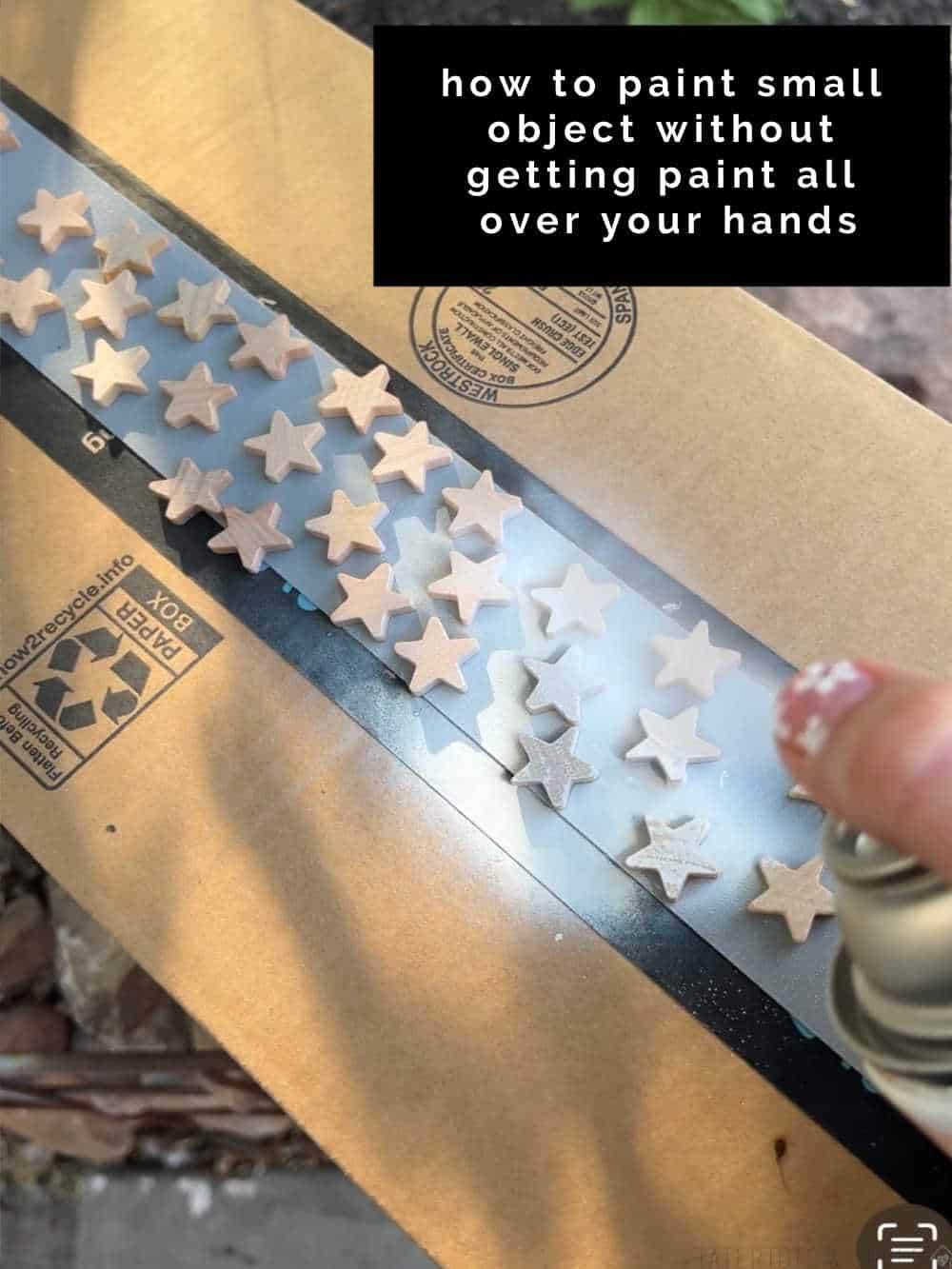 I used to paint small items with a small brush and figured getting paint all over my hands was just part of the process. Then I discovered an easy way to do it! This is what you do:
Get a cardboard box.
Cut a piece of duct tape that is the length of the box.
Cut two smaller pieces of duct tape.
Put the longer piece of duct tap eon the box with the sticky side UP.
Attach the two smaller piece of duct tape at both ends to secure the long piece. These pieces of duct tape are put down with the sticky side DOWN to secure the long piece.
Then lay the stars on top of the sticky duct tape.
Spray paint the stars and let them dry.
Do this with each color spray paint that you want to use. I did it three times with red, white and blue spray paint.
How to Make a Patriotic Red White and Blue Star Wreath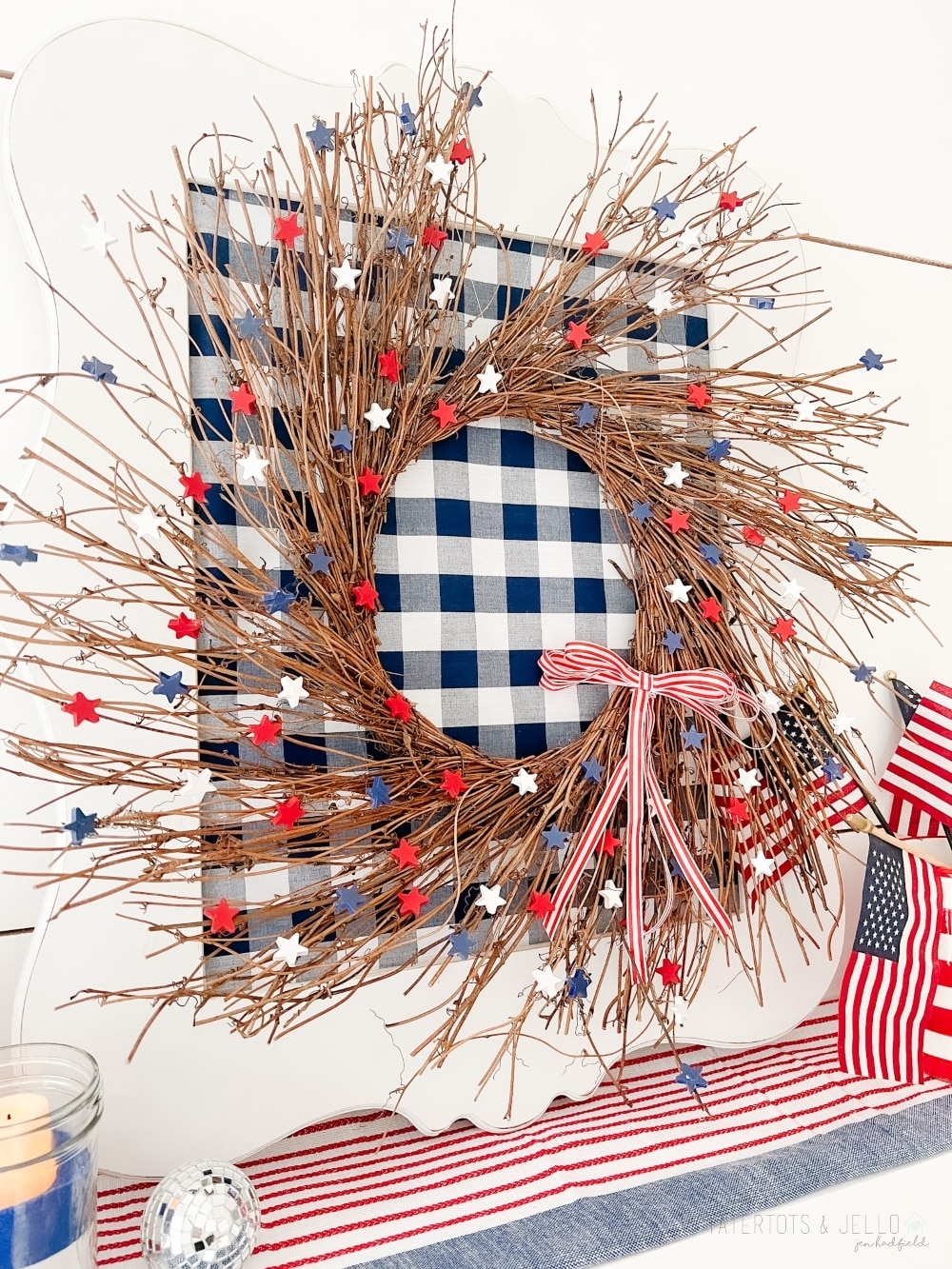 Here are the steps to make this easy wreath!
Spray paint the stars, using the steps shown above.
After stars are dry, lay the wreath on your work surface.
Lay the stars on the wreath until you have the placement you desire.
Use a hot glue gun to secure each star to the wreath.
Add a bow.
Enjoy your festive patriotic wreath!
Create a Patriotic Mantel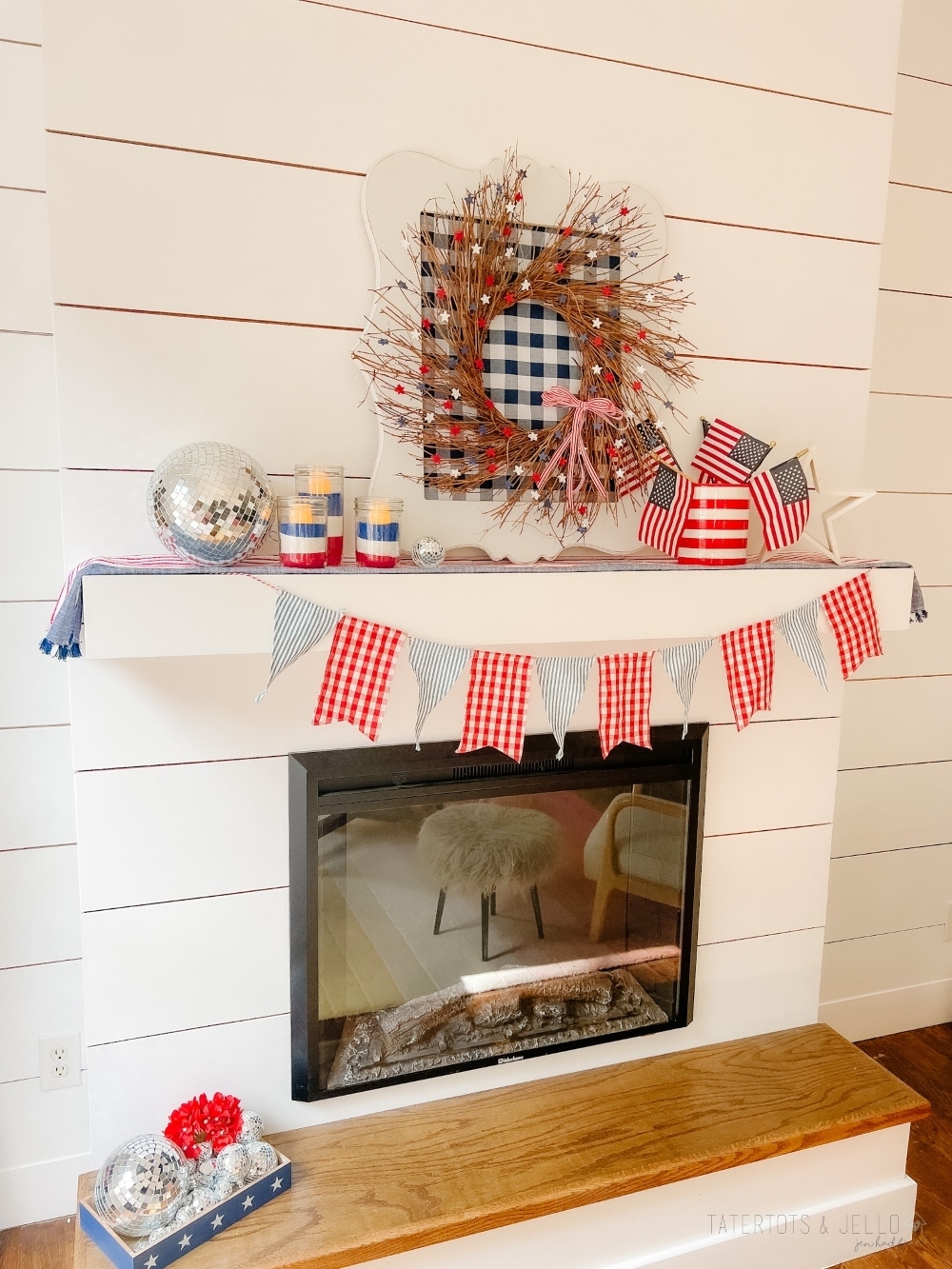 I used the red white and blue star wreath as the focal point for my patriotic mantel. I hung the wreath on top of a frame that has blue and white gingham fabric inside. To easily hang the wreath, I took a piece of white thread, wrapped it around the top of the wreath and then tied it into a large loop. I looped the other side of the thread over the finials at the top of the frame. If you are using a square frame, you can take the other end of the thread loop and put it over the top of the frame and secure it with tape so the wreath will hang in the middle of the picture frame.
Add Patriotic Elements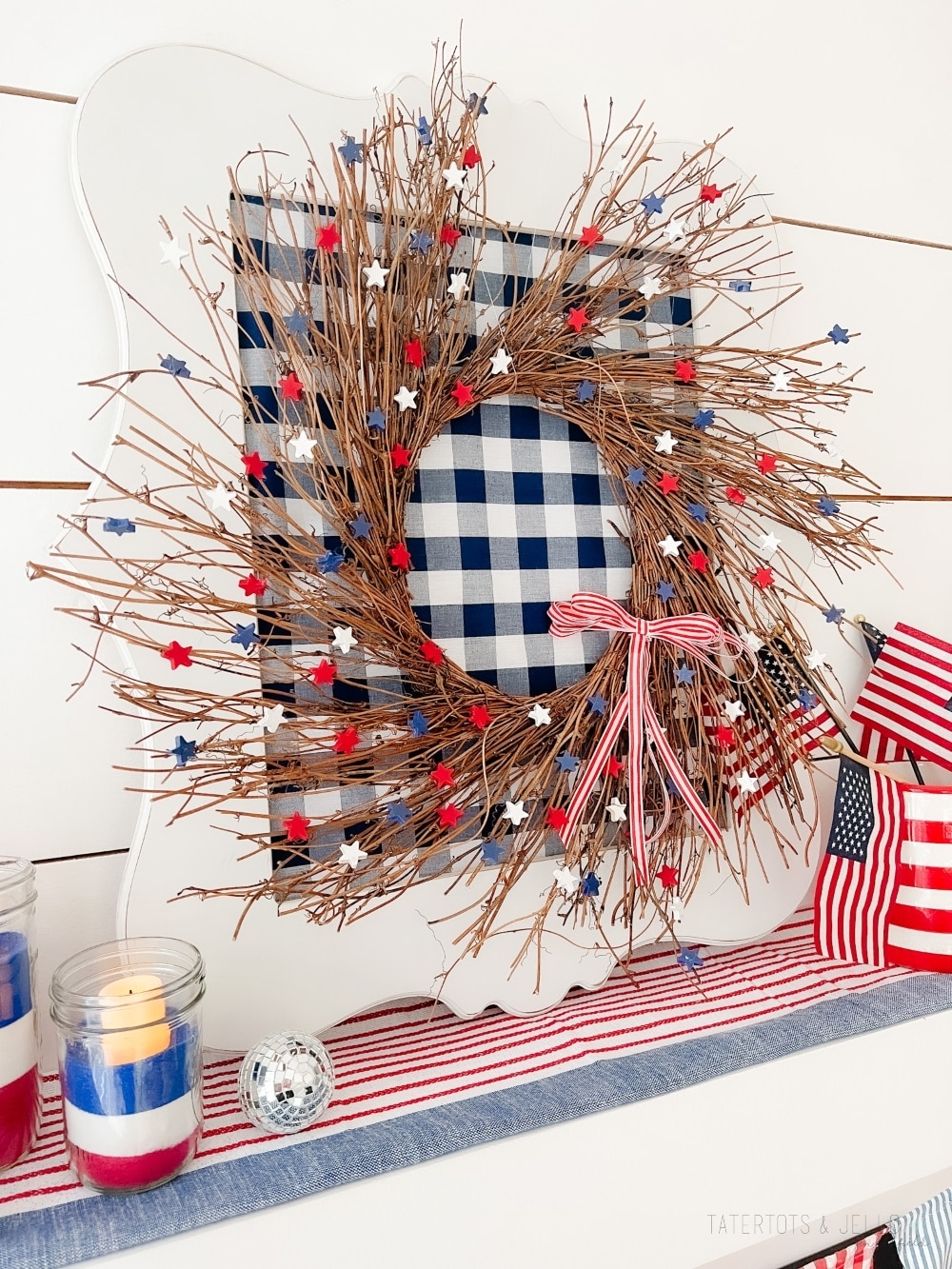 Other elements that I used to create this patriotic mantel are:
Large White Frame
Blue Gingham Fabric
Red white and blue runner
Patriotic pennant banner
Small flags
Red and white striped vase
Next Handmade Society Stop
Now HOP over to my friend Amy Sadler Designs and learn how to make some red white and blue painted pots!
More Patriotic Ideas
Here are a few other easy Patriotic ideas for inspiration!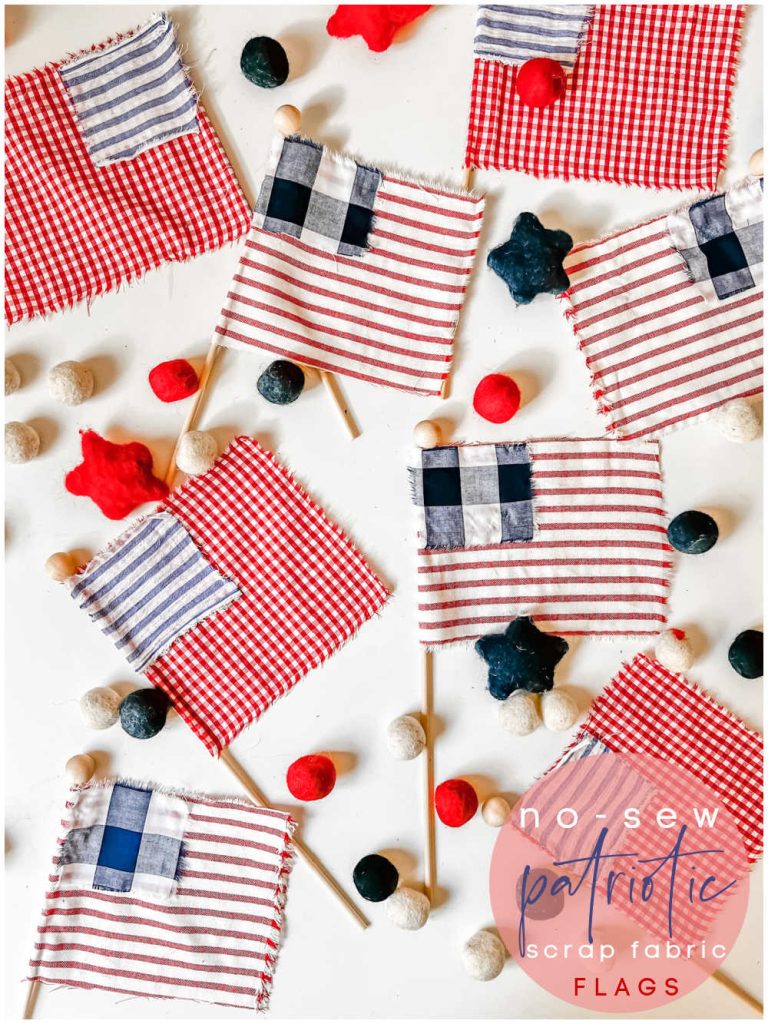 No-Sew Patriotic Scrap Flags. Mix and match left-over fabric to create pretty patriotic flags that can be used to decorate this summer!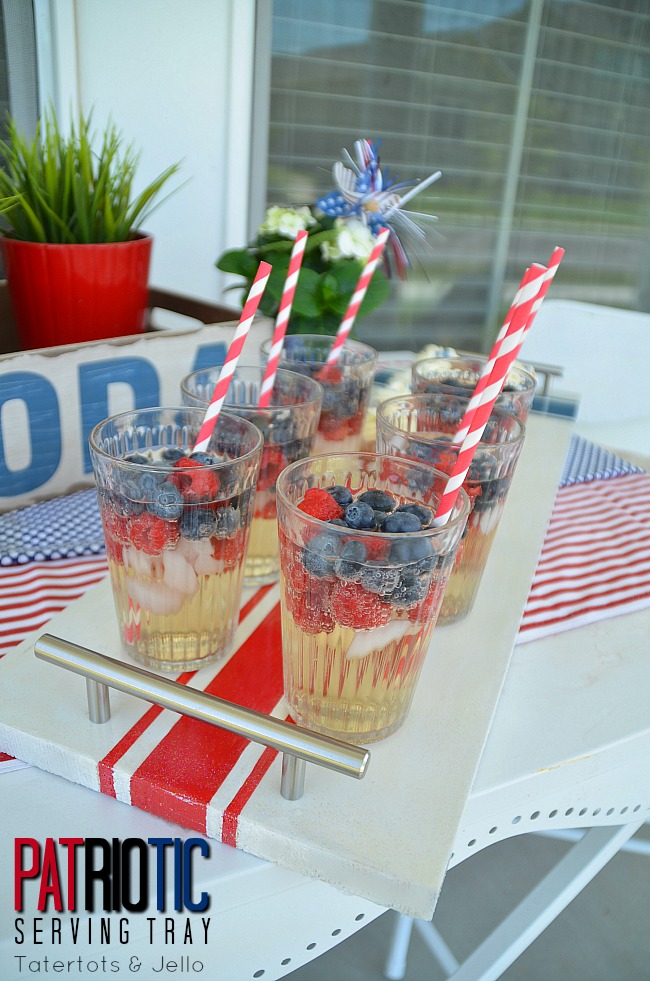 Turn a piece of scrap wood into a festive red white and blue serving tray with paint and a couple cabinet candles!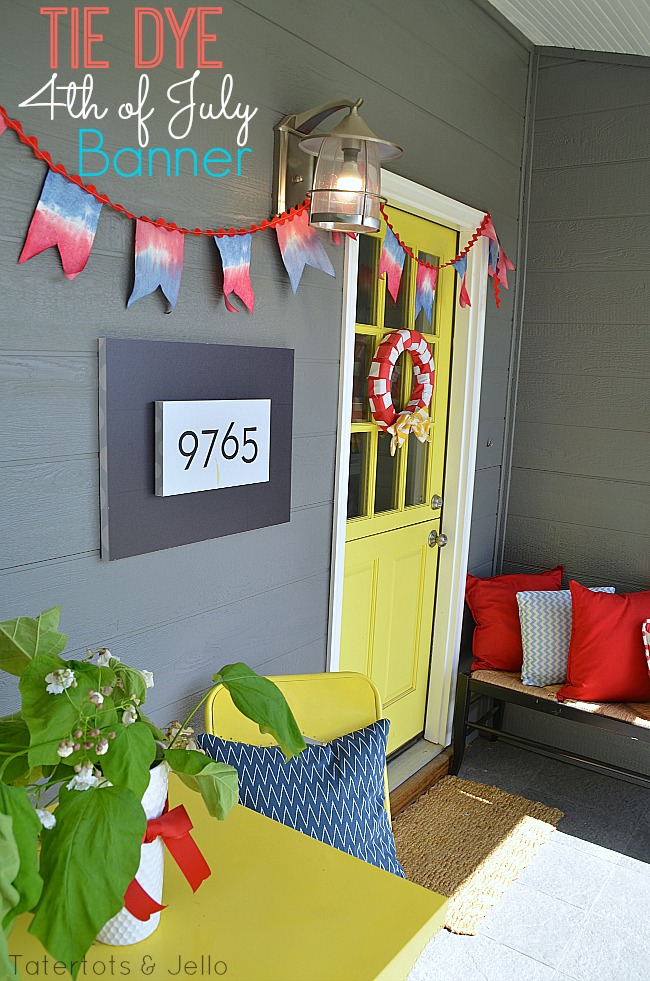 Did you know you can tie dye fabric t make a red white and blue banner. It's no-sew and such a fun and easy project to make with the kiddos this summer!
Which project do you want to make first?
Let us know in the comments!
xoxo