My plaid fall porch – use plaid and bright colors to welcome fall! Welcome guests to your home with these easy and inexpensive Autumn DIY ideas!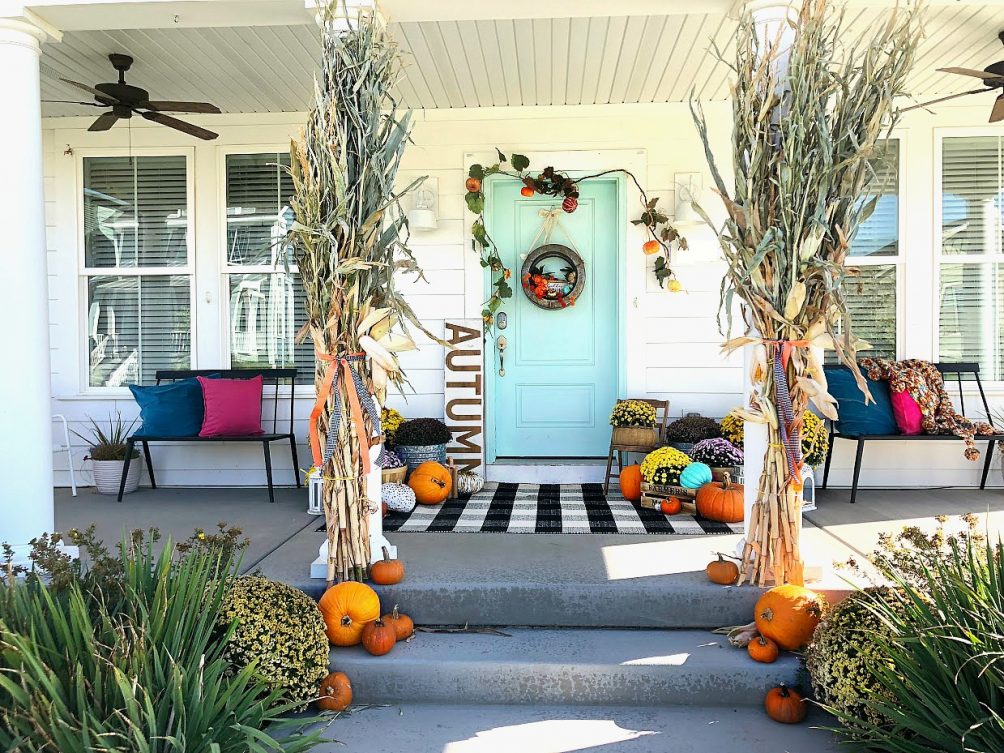 My Plaid Fall Porch – with bright colors!
Happy Fall! Autumn is my favorite time of year to decorate for. Fall is so pretty with the leaves changing and bright colors, and the anticipation of Thanksgiving and Christmas is such a great feeling. I just love sprucing our home up for Autumn!! My porch is one of my favorite elements to decorate for each season. This year I combined a little bit of old and new to create a plaid porch with bright colors. I thought I could share some easy and inexpensive ways to bring the joy of fall to your front door!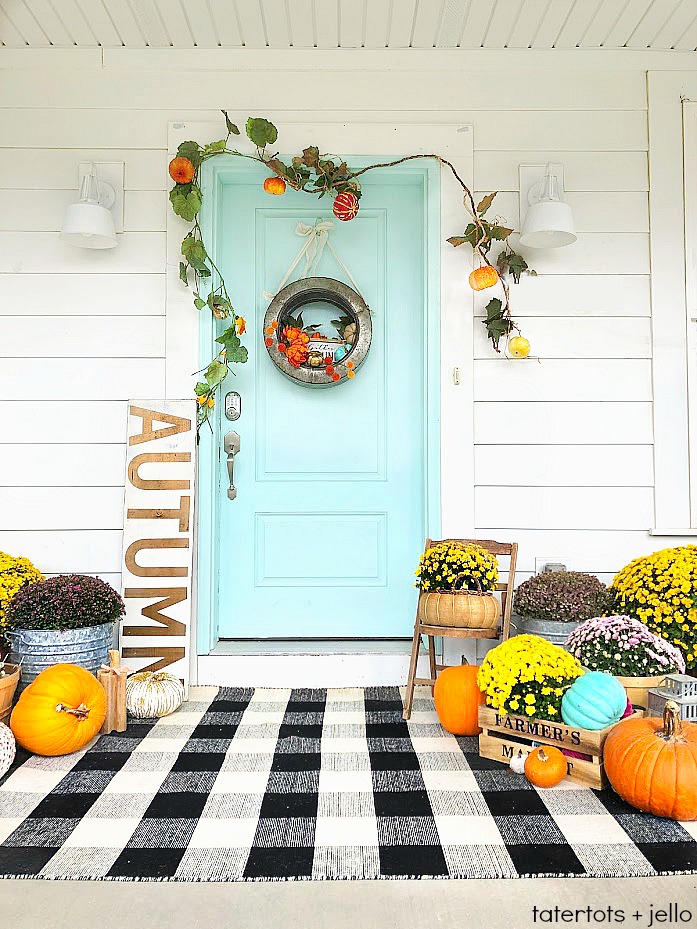 SIX Easy and Inexpensive Ways to Bring Fall Color to Your Front Door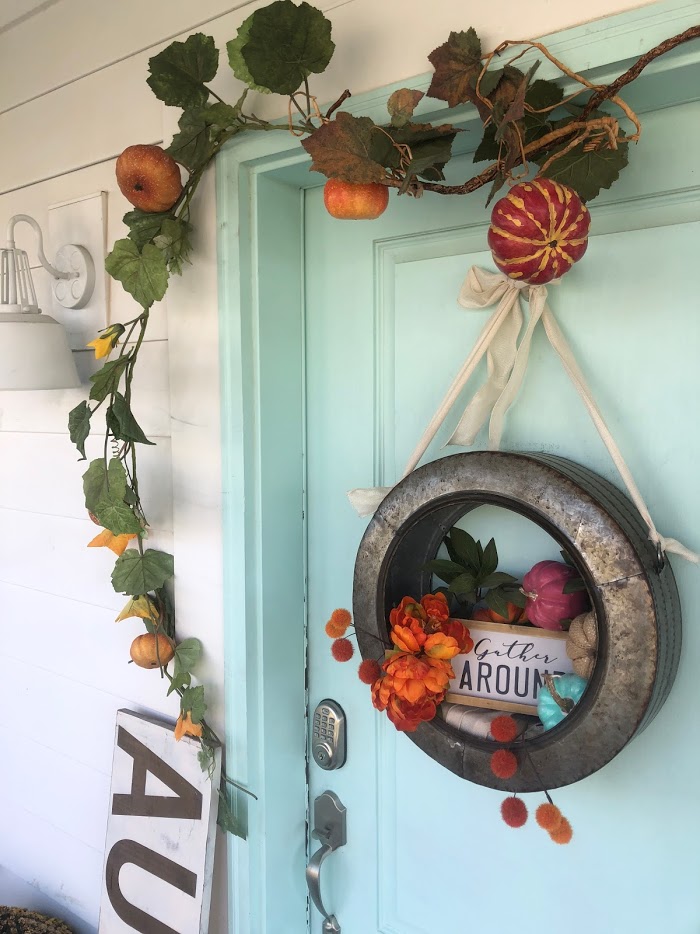 A Fall Garland
I've had this Fall garland for a few years. It's actually two garlands that I wrap together and it's bendable so it can be manipulated into different shapes. I kind of like having it look like it grows a little wild in the shape.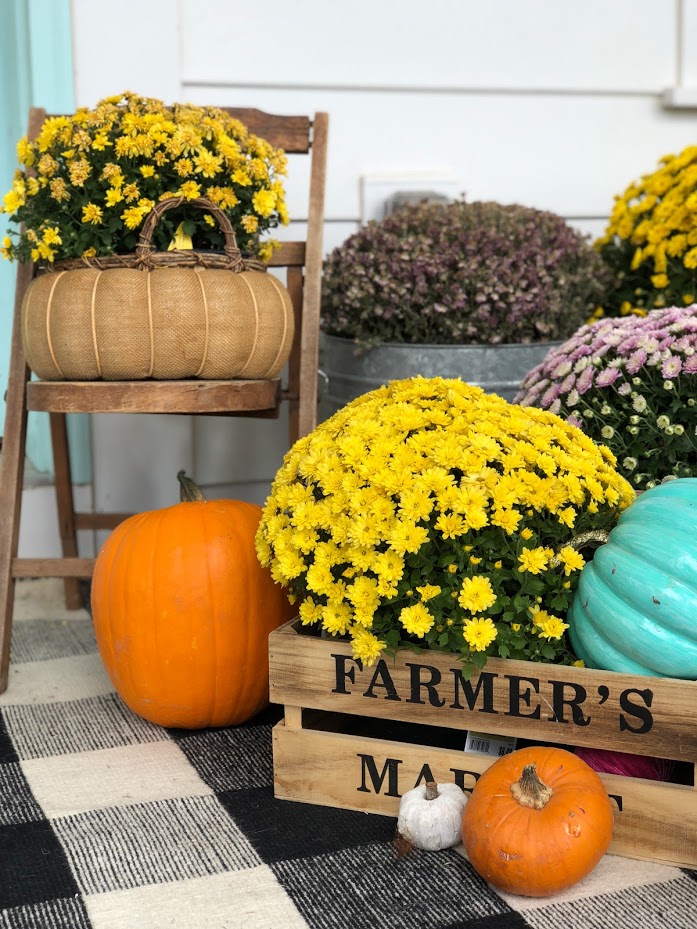 A Festive Rug
I bought this rug last year and used it for my Christmas Plaid Porch. I love the buffalo check and it seemed perfect to use again for Fall.
Colorful Pillows
I brought some of the pink and blue colors from the pumpkins into the porch with pillow covers. These are from Ikea. The larger ones are velvet and the smaller pillows are a cotton twill. I tied the pillow colors together with a warm and cozy throw that has those colors plus the orange and brown natural colors. I also have a SUPER easy pillow tutorial – you can seriously make pillows in 10 minutes. Make Pillow Covers in Four Steps.
A Giant Sign
If you've followed my blog for awhile you might know that I am a little obsessed with making giant signs. I've been making them for 9 years. They are SO easy to make. All it takes is a piece of unfinished wood from the hardware store. You can get one for under $10. Then you paint it a color and then print off some vinyl with whatever you want your sign to say and then spray paint over the vinyl and peel it off. I have a tutorial on how to make these signs here — How to Make a Giant Sign.
A Wreath
I love a pretty wreath. This one is a galvanized wreath form from Hobby Lobby that I love to change out. I added a little GATHER sign, some pumpkins and flowers. So easy! I also love non-traditional wreaths. I made a Halloween Banner a couple of years ago that was so easy and cute. Here's the tutorial to that wreath if you want to make one — Make a Galvanized Gather Wreath for Fall. You can make one and then you add heat transfer vinyl to say anything you want. Here is that tutorial if you want to make one – How to Make a Door Banner Sign.
Add Natural Elements
Natural elements like flowers or plants really make a porch pop. I added all kinds of different sizes and colors of mums. I also added some corn stalks on my pillars and tied them up with colorful ribbons! I love the way it looks!
There are so many easy, inexpensive ways to make your fall porch POP! I hope you enjoyed these ideas!!
And be sure to check out my neighbor Tauni's Fall Porch! It's beautiful!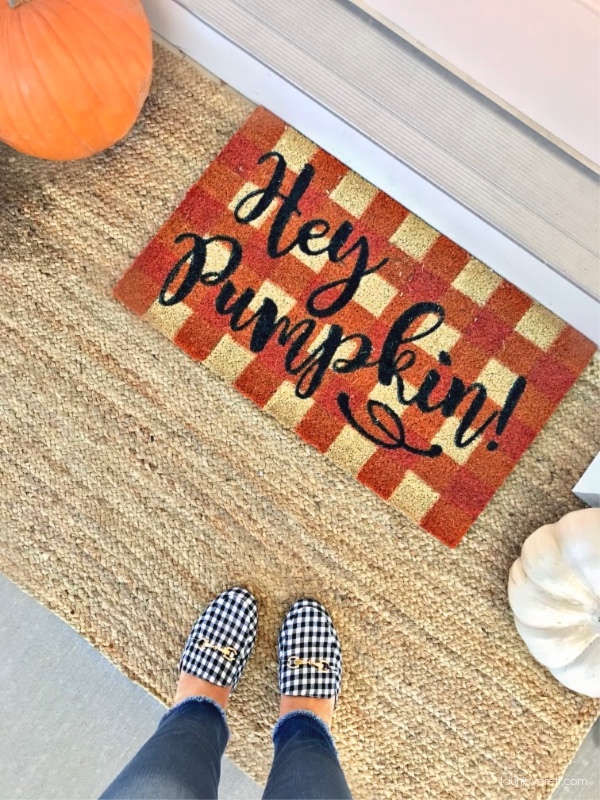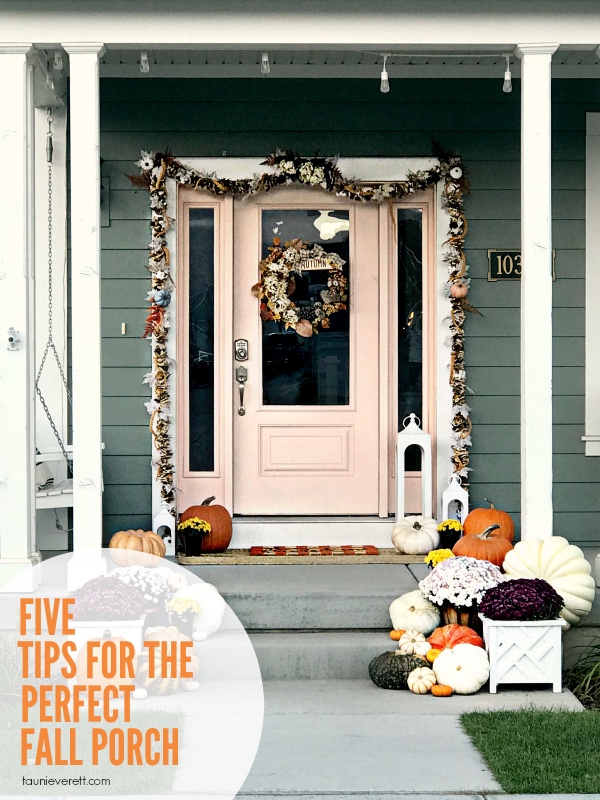 Are you decorating your door for Fall?
Share your ideas in the comments – I would LOVE to come over and see YOUR ideas!
Have a Beautiful Day!
xoxo