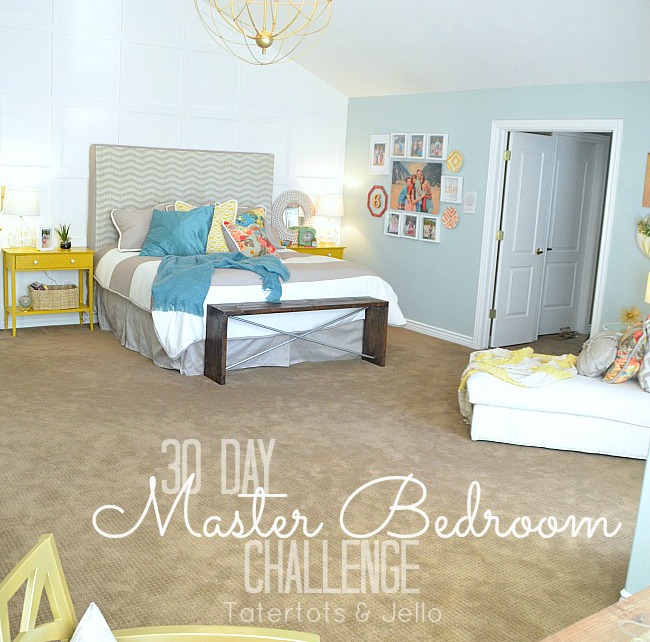 The past 30 days have FLOWN by as I have been working hard to complete our Master Bedroom Makeover for the Jo-Ann and HGTV HOME™ Magic with Fabric & Trim challenge. It's been a whirlwind of activity, but SO much fun too!!! I have loved seeing my room transform every day into something new.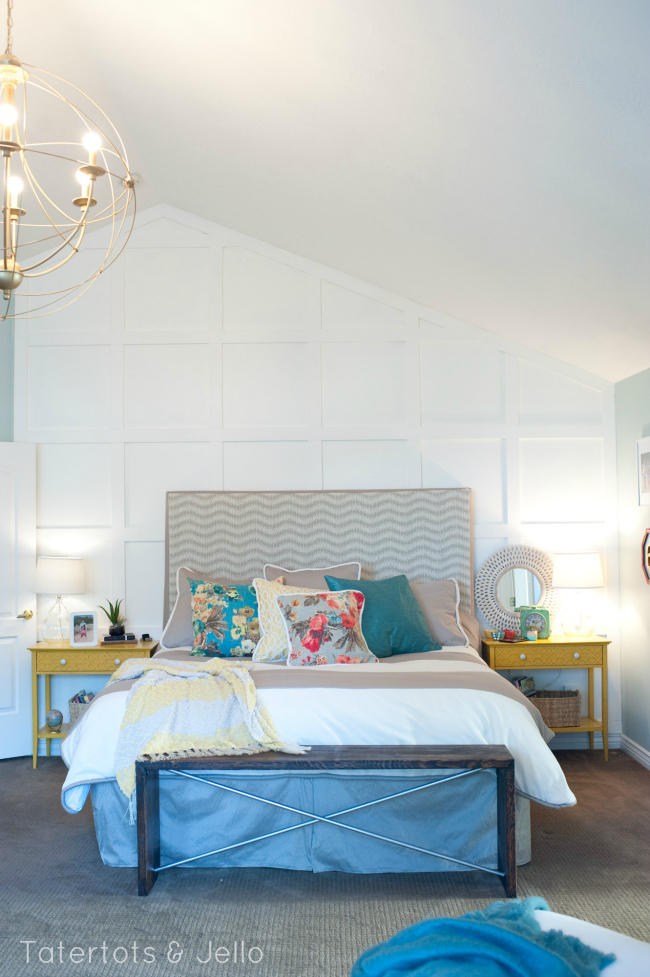 You see, with three teenagers in the house, sometimes things get a little LOUD and CRAZY around here. I wanted to make a space that was is a peaceful retreat for my husband and I. So we kept the bed in the same place, but we added a little office nook and also a little place where we can relax and read a book. Now we have a room which is so calm and pretty and useful!
It's my favorite room in the house. I wake up in the morning and want to spend the morning checking email and working at the little office nook.
Here's what the room looked like before – kind of dark and dreary.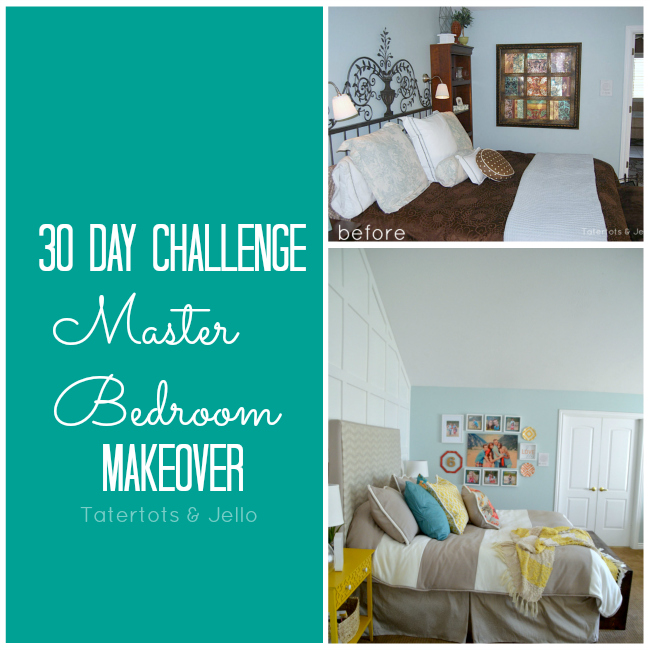 One of my favorite projects I created was different slipcovers for the headboard. So I can switch them out during the year.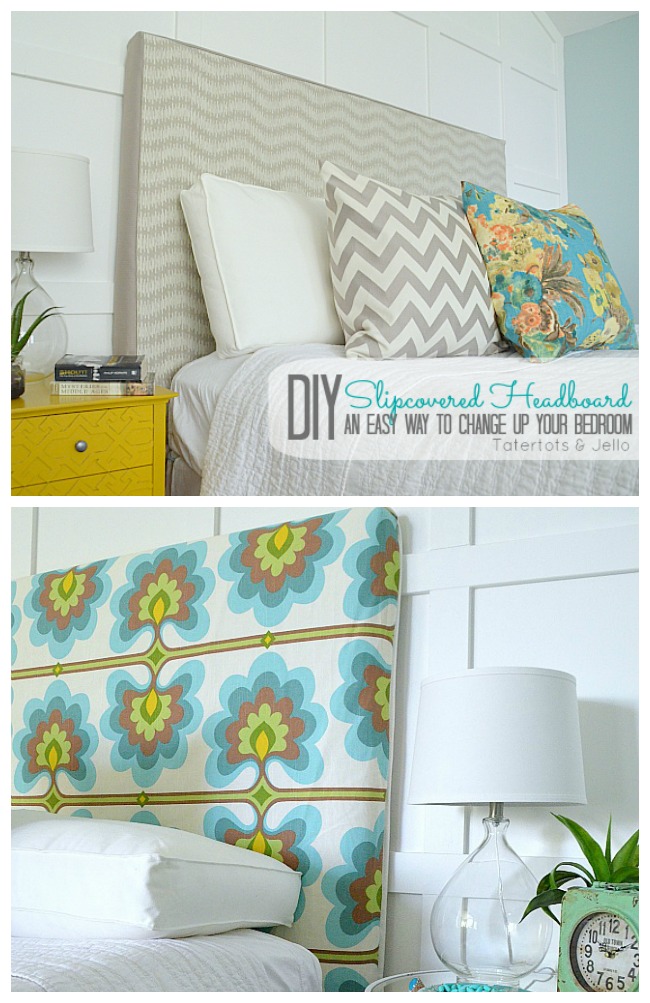 My husband and I also made the Board and Batten wall which I think really brightened up the room. A tutorial will be coming up with some tips to save you time if you want to do this in YOUR home! And we also made a DIY Knock Off ZGallerie/Restoration Orb Chandelier!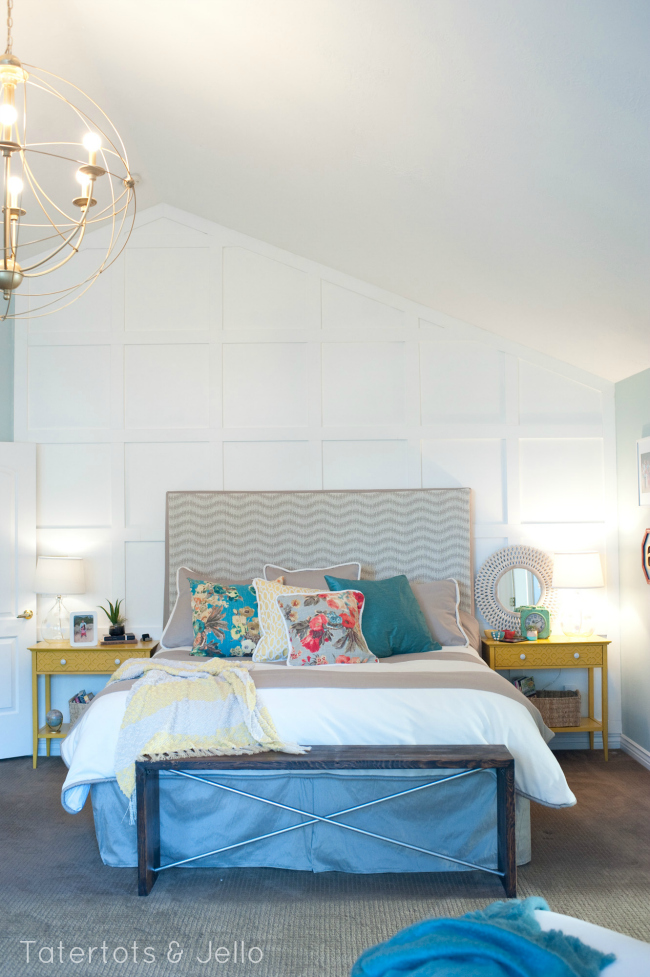 I also learned how to make corded pillows – which weren't as hard as I had imagined! And I made a striped duvet cover, using two of the HGTV fabrics and cording around that too!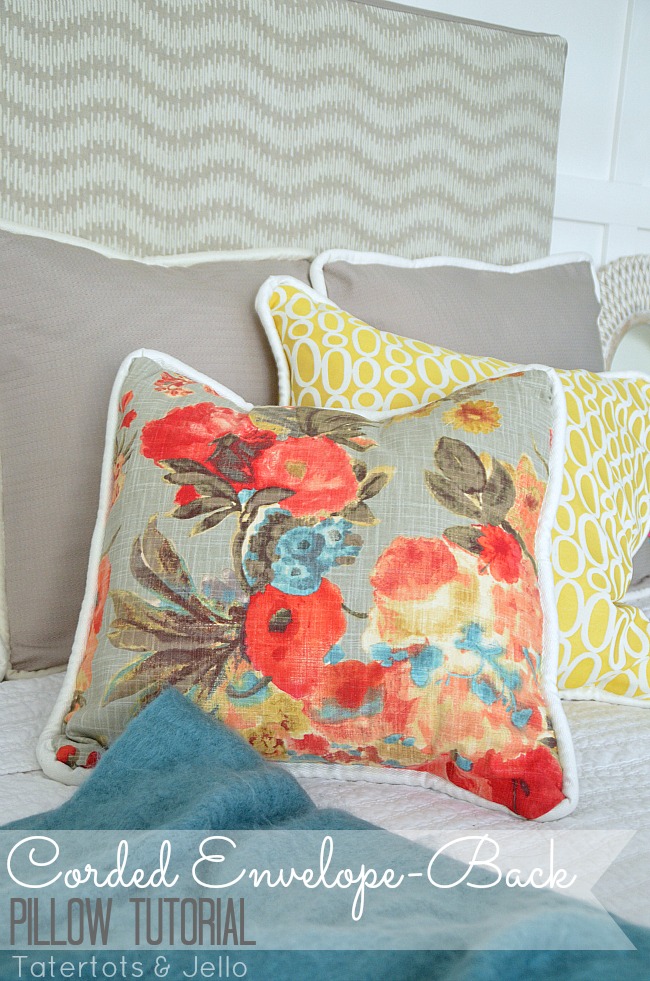 Another favorite part of the room is the gallery wall with pictures of our family. I mounted the pictures on HGTV Fabric and framed them to hang on the wall.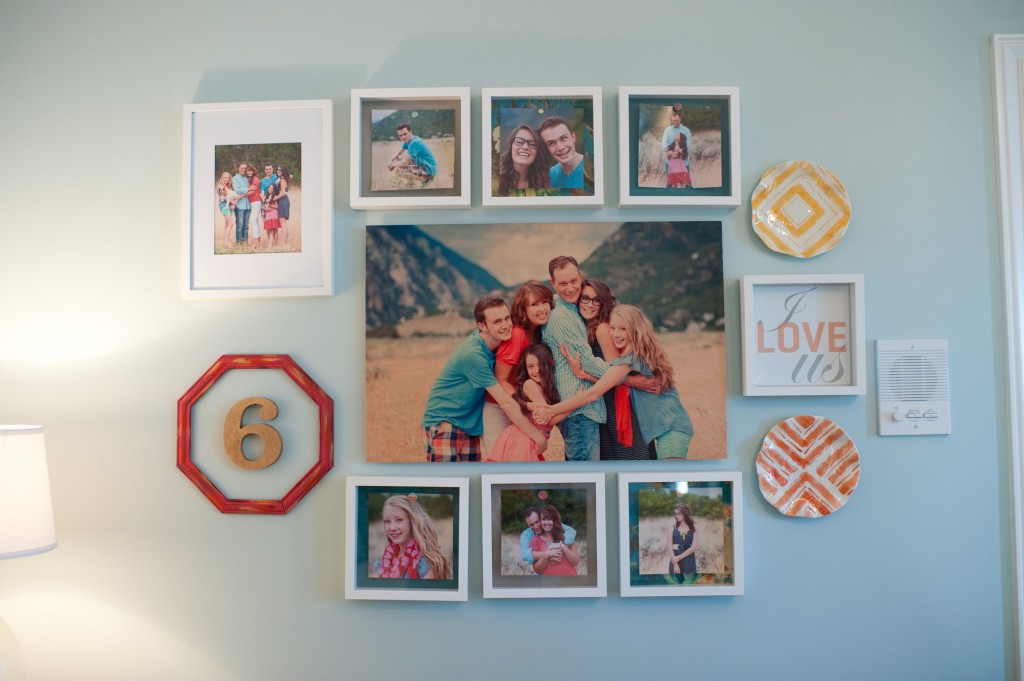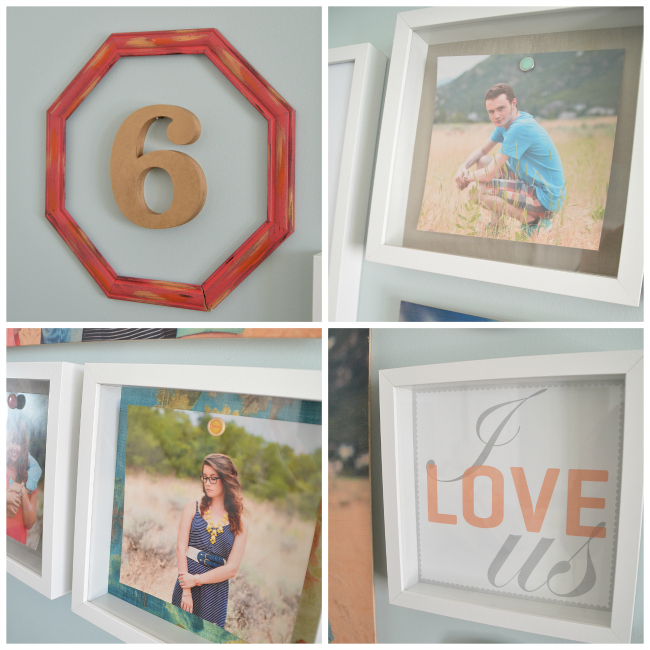 We also made a X-Bench for the end of our bed. A tutorial will be coming up soon!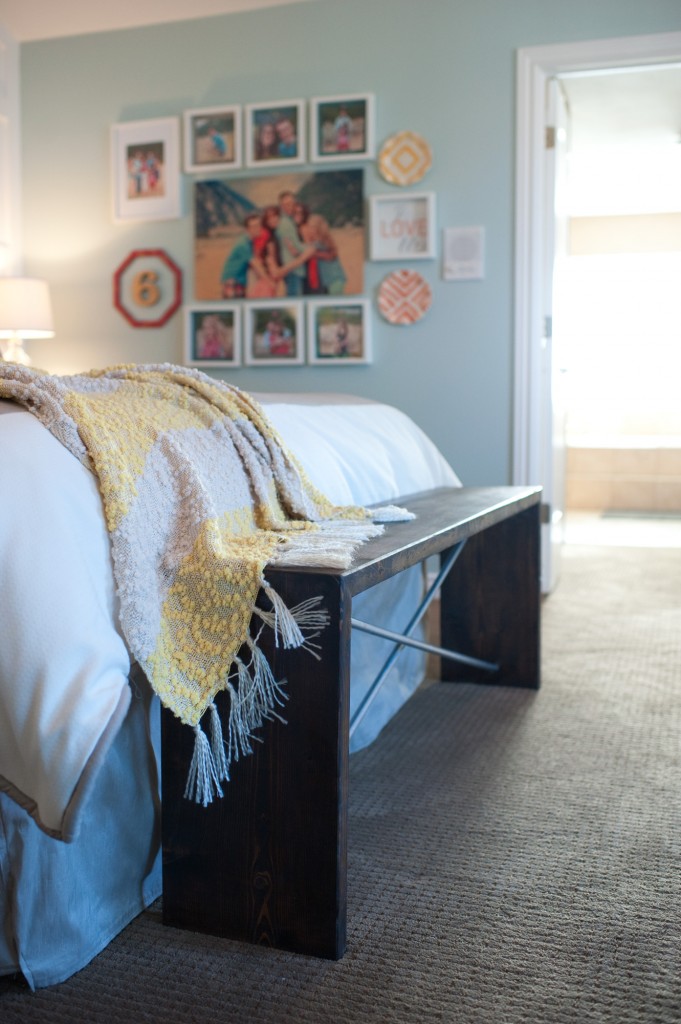 We turned a nook in the room which we never used into a bright and useful office area.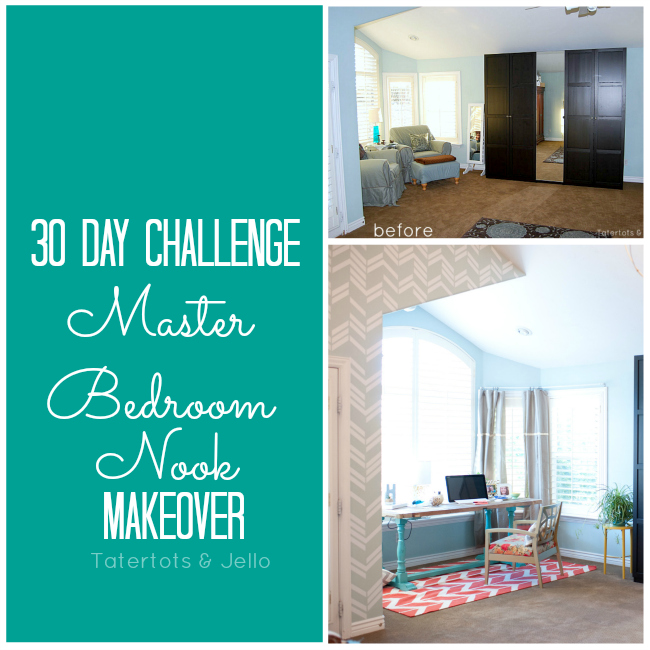 Now this is my favorite place to sit in the mornings. Our home also overlooks my kids' elementary school so I can see the kids playing as I work and the mountain views!
I also painted and upholstered this oversized chair for the space! I love how the fabric ties in with the table and rug in the space.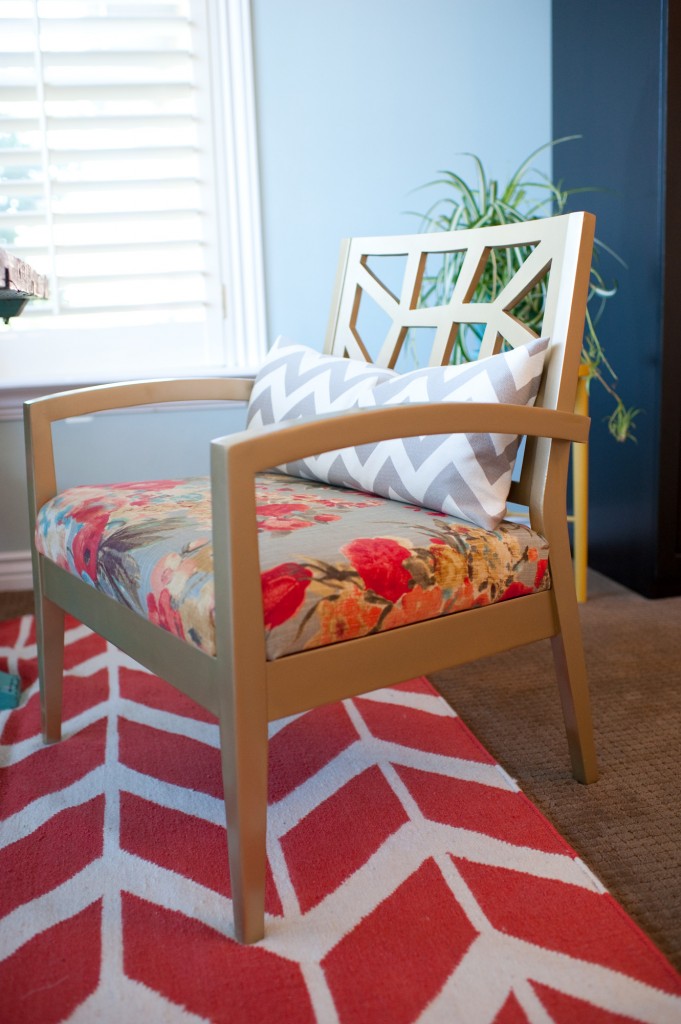 I also made some no-sew curtains for the nook! I used the pre-ruffled trim from the HGTV Home Magic Line on the curtains and Stitch Witchery to hold the seams and the trim onto the curtains! A tutorial will be coming up on how to make these.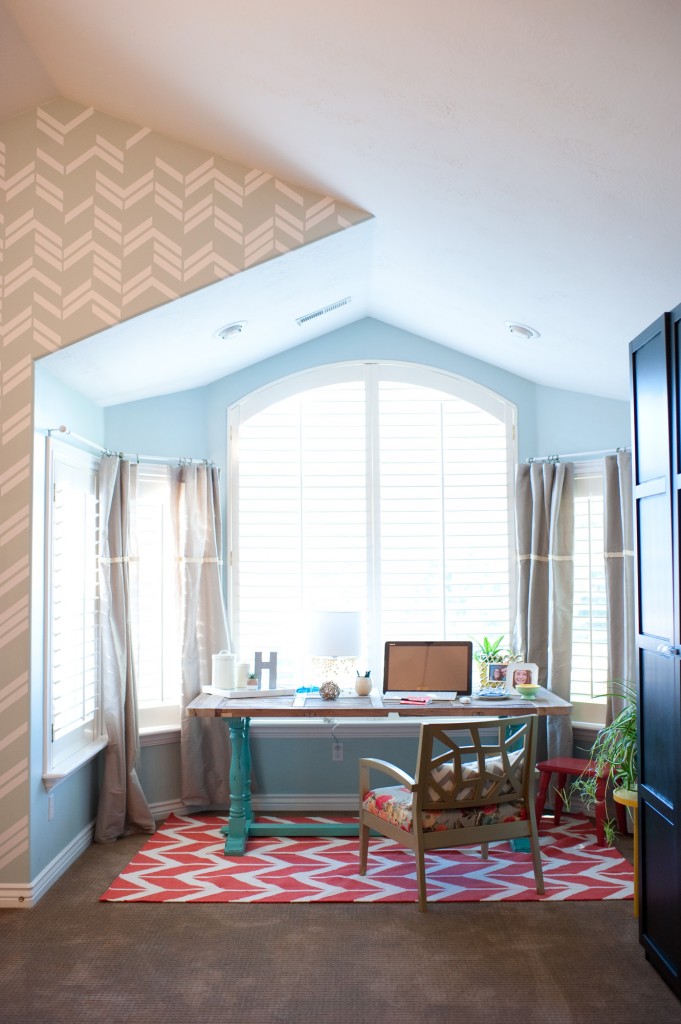 And the third part of the room is a little corner which I never knew what to do with. We decided to turn it into a little lounging area where we can read a book or just relax.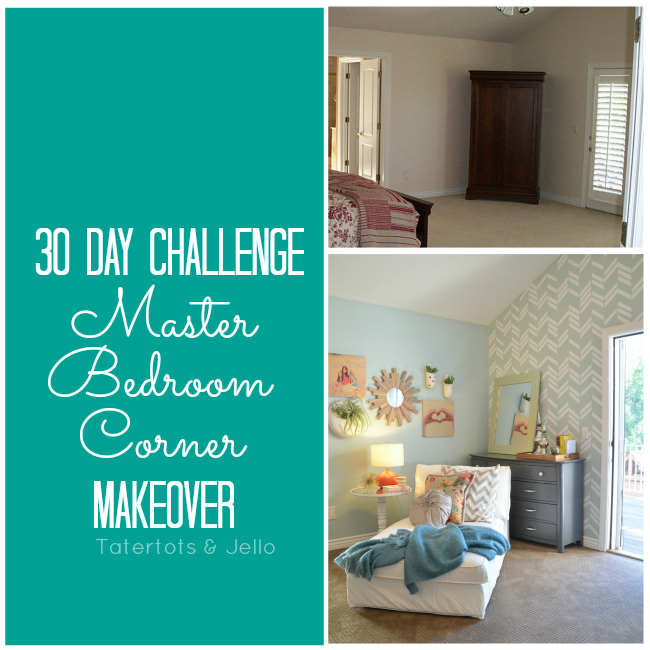 Shelley from House of Smiths helped me put up this Herringbone Wall for the space! Isn't it cool? I'll be sharing more details about how to create this wall on Monday. You can check out the vinyl in her shop.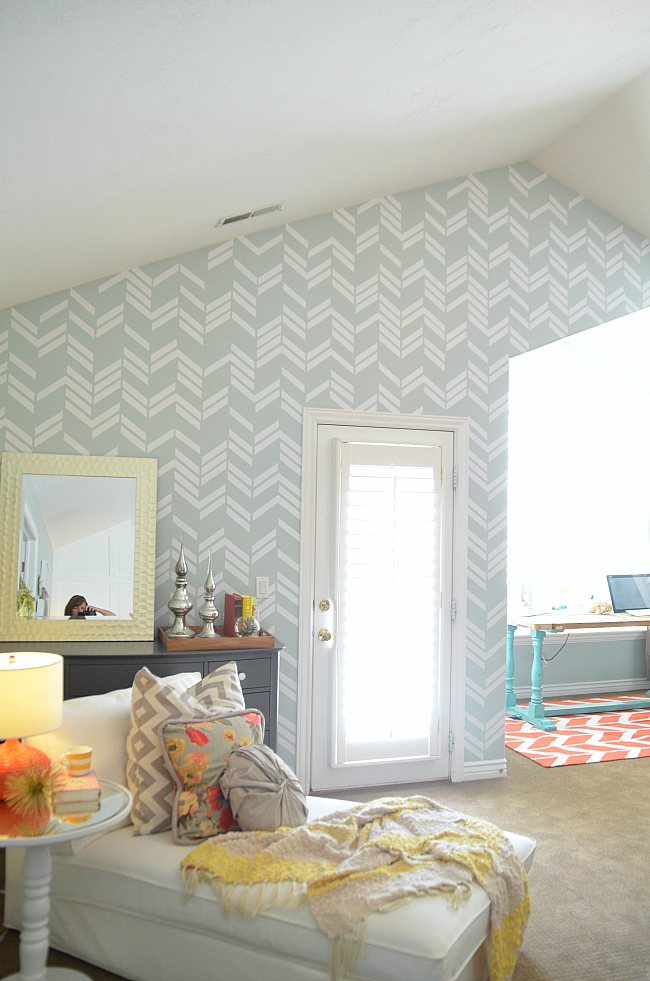 I love laying on this little settee with the door to our deck open in the evenings. It's a great place to unwind and my husband loves taking Sunday naps here. Our dog has decided that this is the comfiest place in the house – ha!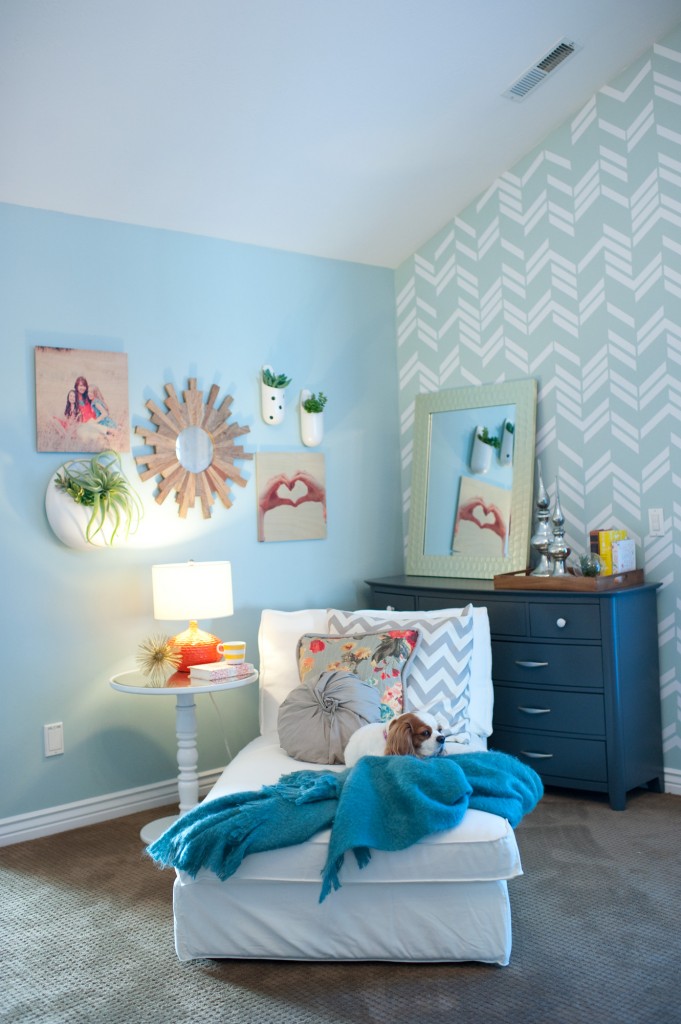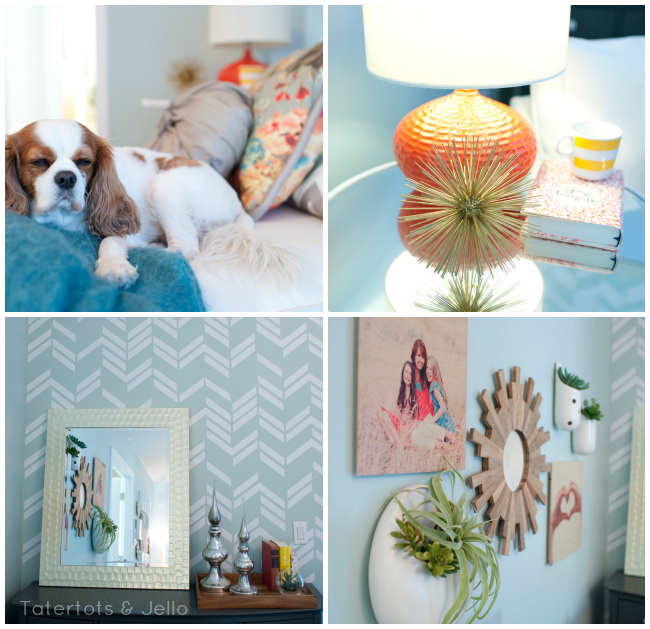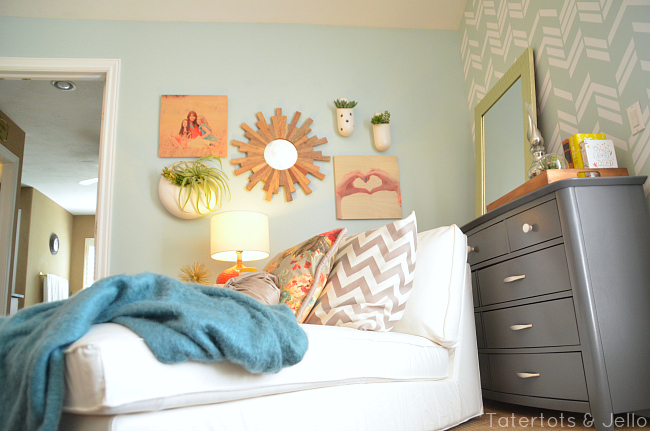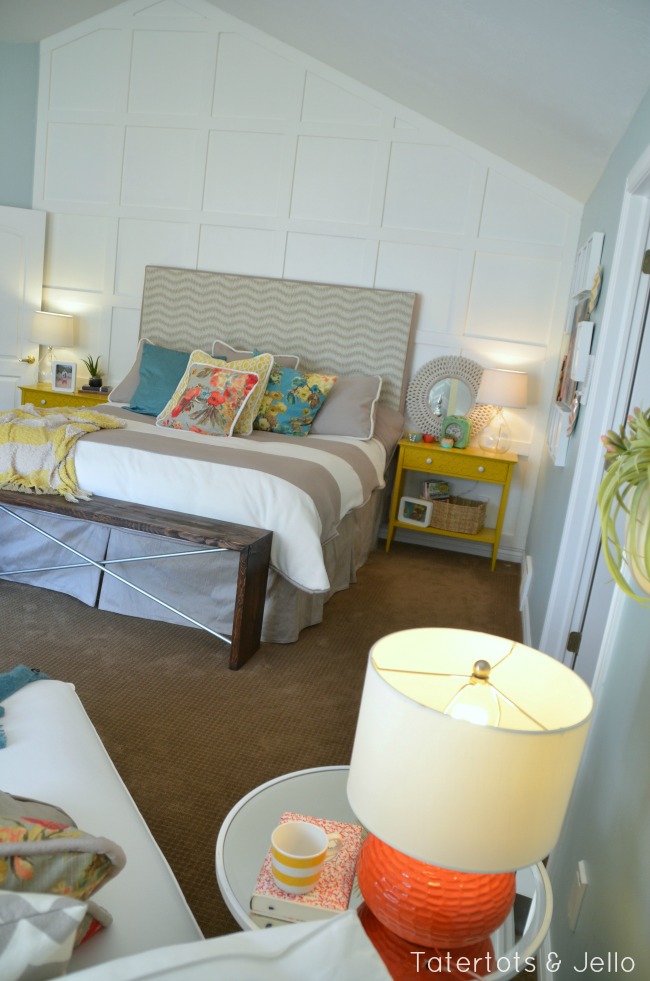 Thank you so much JoAnn Stores for inviting me to be part of this challenge. This has been such a great experience!! You can find the HGTV line of fabric at Jo-Ann Stores. I love the fabric and this challenge was just what I needed to motivate my to FINALLY tackle my room!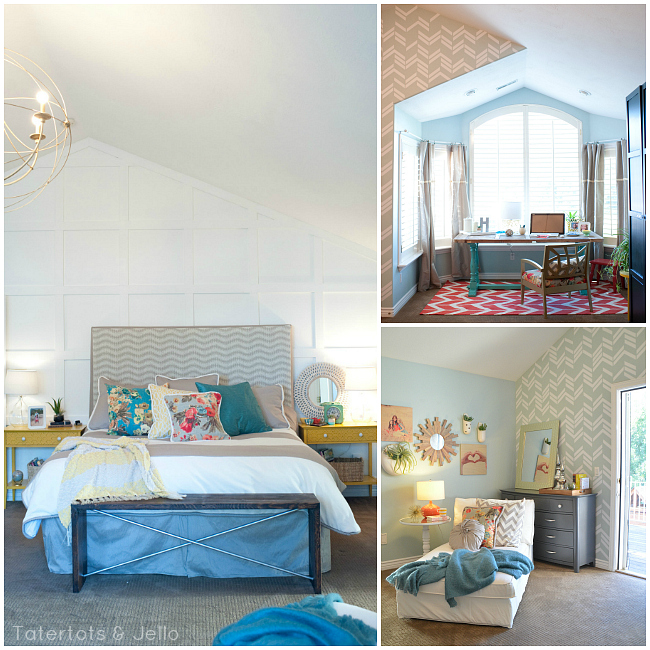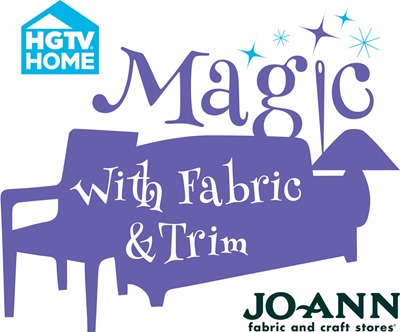 You can find out all about the #HGTVHomeMagic challenge at the Jo-Ann HGTV Home Website.
Be sure to check out the other room reveals! They're amazing!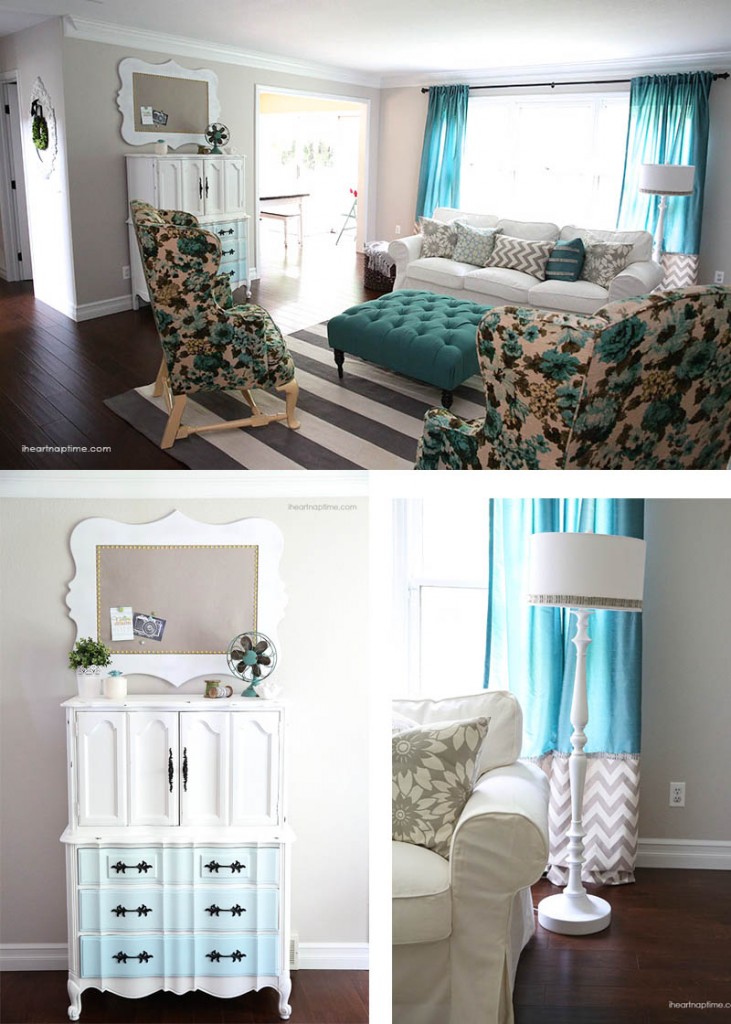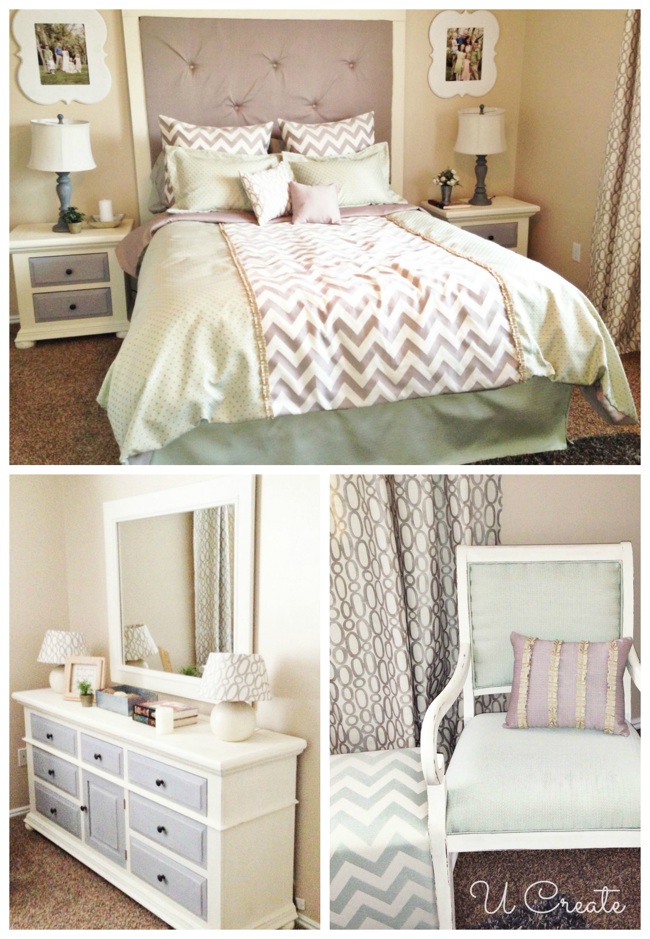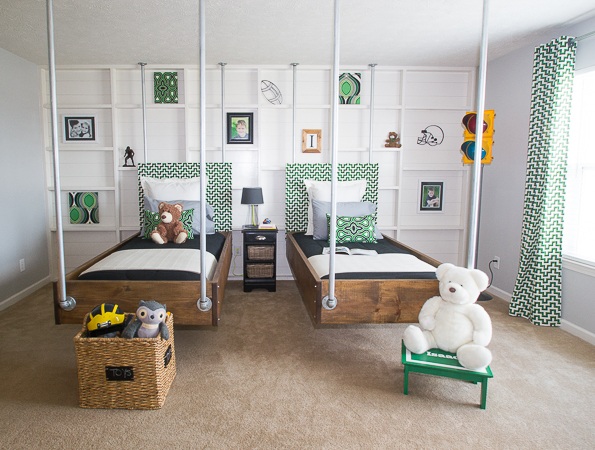 And thanks to my super-talented sister — I talked her into taking some pictures for me! Check out her site at Wendy VonSosen Photography. (and if you're in the SF Bay Area, you should look her up!)
Sources:
Fabric – HGTV Home™ fabric and trim from Jo-Ann Fabric and Craft Stores (provided for this project)
Table and Rug – Downeast Home (rug provided for this project; I bought the table)
Gold Spikey Ball – ZGallerie, Lamps, white mirror, gold mirror, round table and green clock – TJMaxx, Canisters –World Market , Gold Frame, Little Notebooks, yellow side tables- Target
Wall Decals – House of Smiths Designs (provided for this project)
Number 6 in Gallery Wall – Craft Cuts (provided for this project)
Wood Wall Art – Shutterfly
White Frames – Ikea
Gold Chair – Overstock, painted and reupholstered
Dresser – Thrifted
Bench – Handmade
Headboard – Thrifted (and slipcovered)
Chandelier – Handmade
It's my five-year anniversary of Tatertots & Jello. I couldn't even have imagined where I'd be today when I started — and it's all thanks to you. I'm so thankful for you and all of your support — and how much you inspire me with your creativity. Thanks to all of you and everyone who shares Tatertots & Jello (the site, not the food) with their friends!
xoxo

This post and the challenge are sponsored by Jo-Ann Fabric & Craft Stores, who provided the fabric … but the opinions and projects are all mine! Rug courtesy Downeast Home. Regardless of sponsorship or product provided, I only post about products or companies I love. For more information, see my disclosures.