Keto Instant Pot Spicy Italian Soup. Spicy Italian sausage, herbs and veggies in a thick creamy sauce is the perfect soup to make for Winter!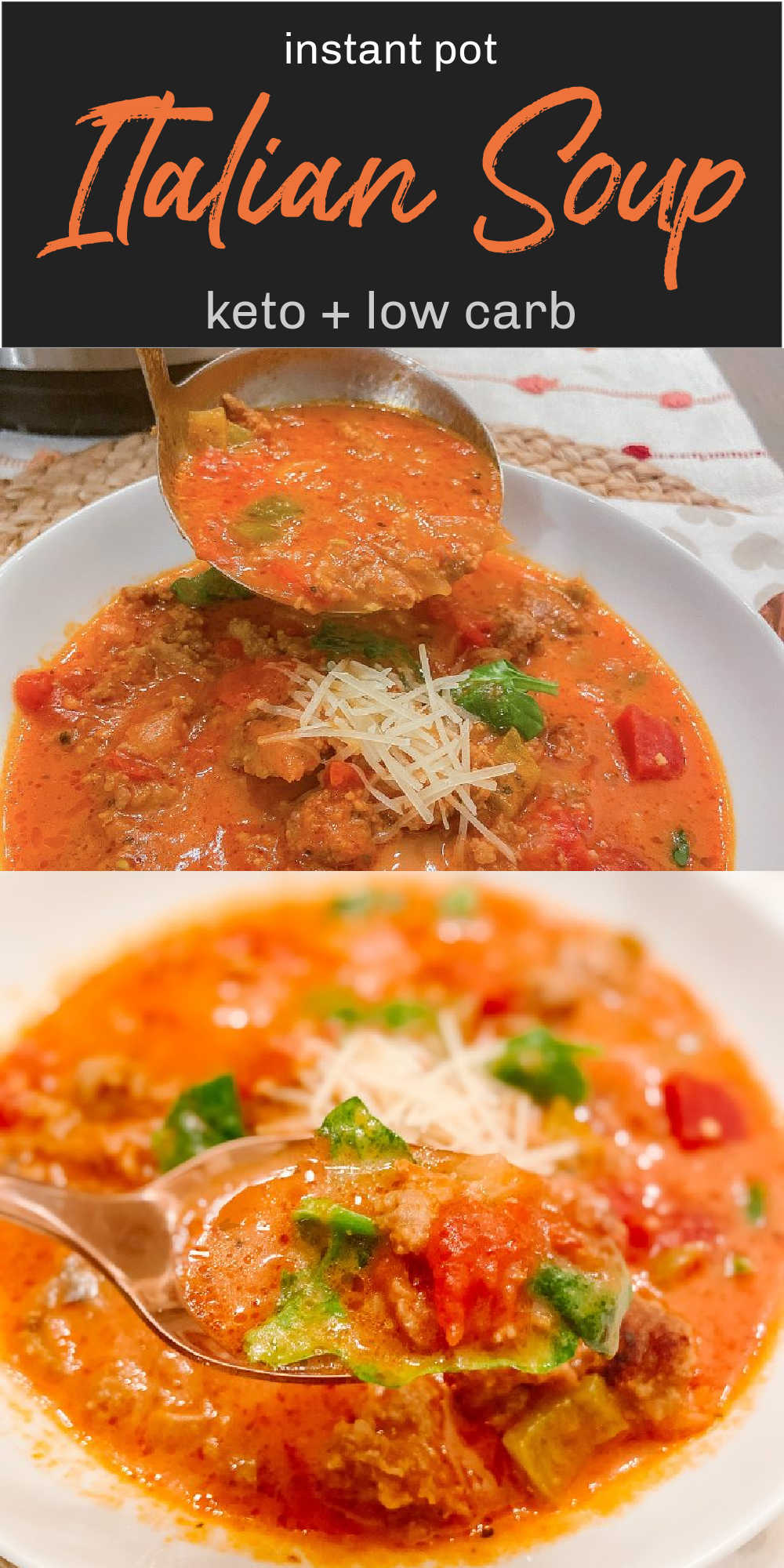 Keto Instant Pot Italian Soup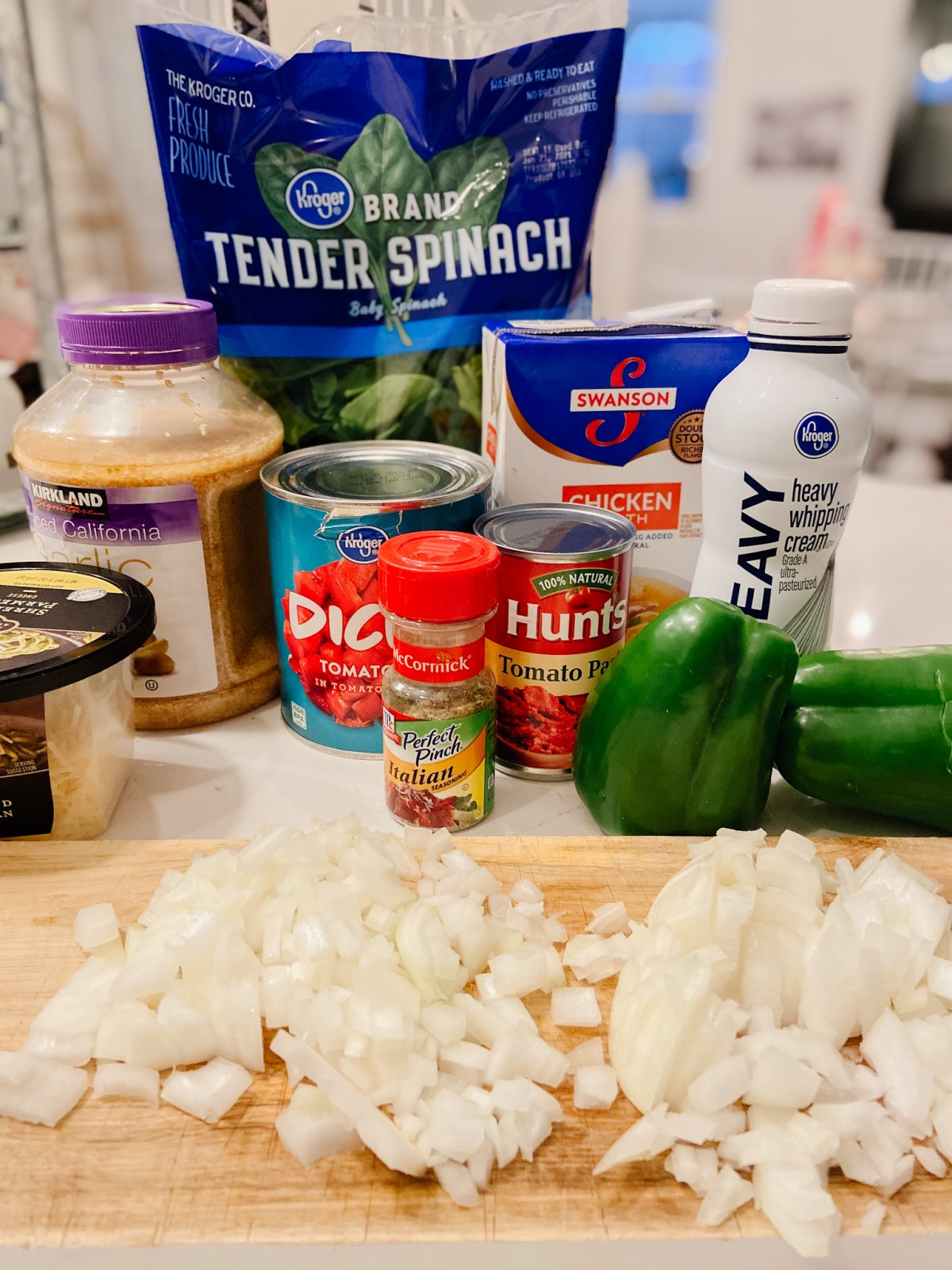 I've been following a keto lifestyle for about 7 months and love it! I feel like I have so much more energy when I am eating less sugar and carbs. Plus my mind feels sharper and more focused. One of the things I love most in the winter is SOUP. So it's been fun experimenting and converting some of our favorite soup recipes to keto/low-carb!
My Favorite Tuscan Soup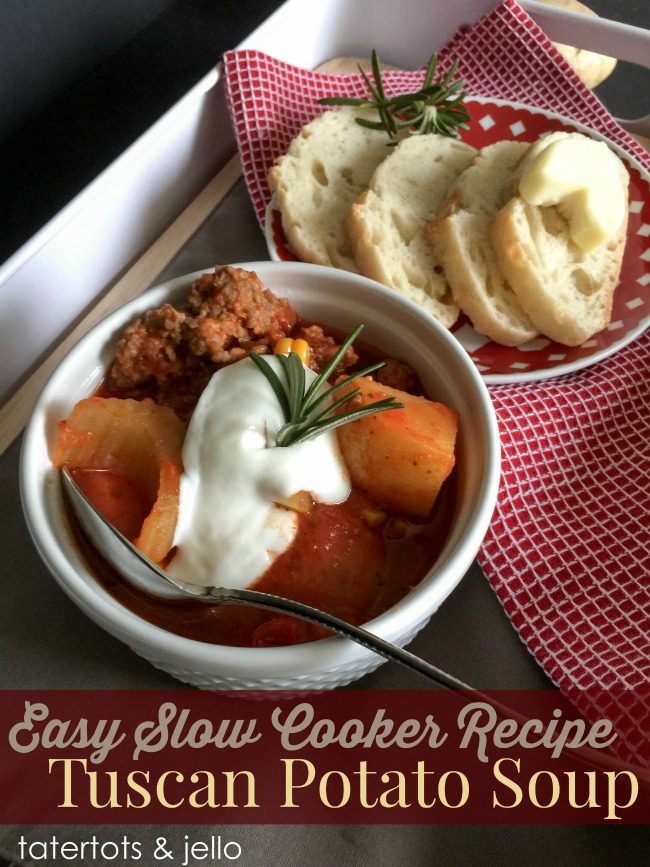 One of my favorite soups and one that is a favorite on my site is my Sausage Tuscan Soup. It's my daughter's favorite and one that I usually made every single week in the winter. I decided to convert it to keto and after a few revisions I think it is ready to share!
Another Delicious Keto Soup Recipe
I'm teaming up with my friend Heather from Homemade Heather to share keto ideas and recipes! Each month we are going to share a recipe and link to each other. This month the recipe is SOUPS. Heather is sharing Creamy Cauliflower and Bacon Soup. YUM!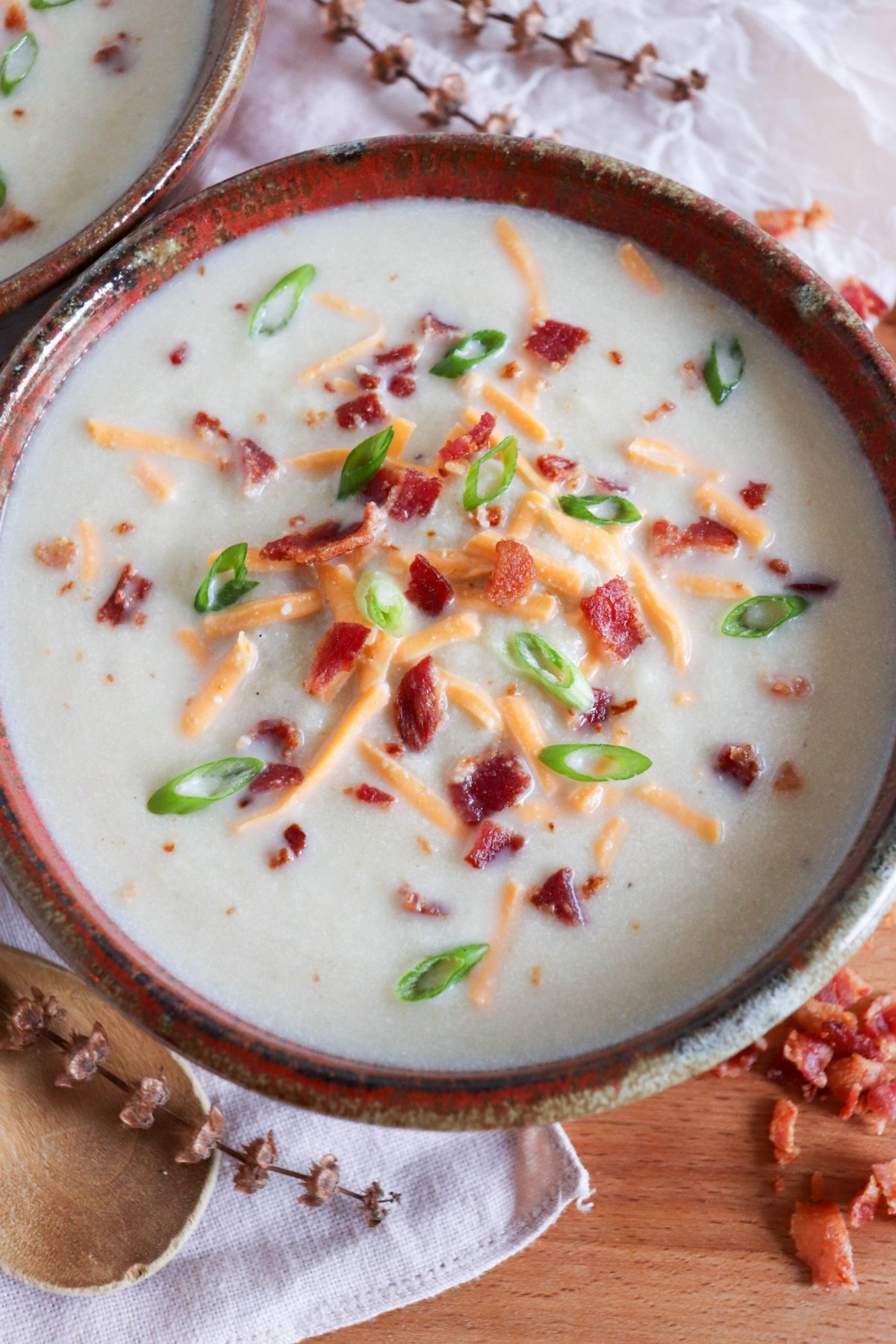 What Make a Soup "Keto"?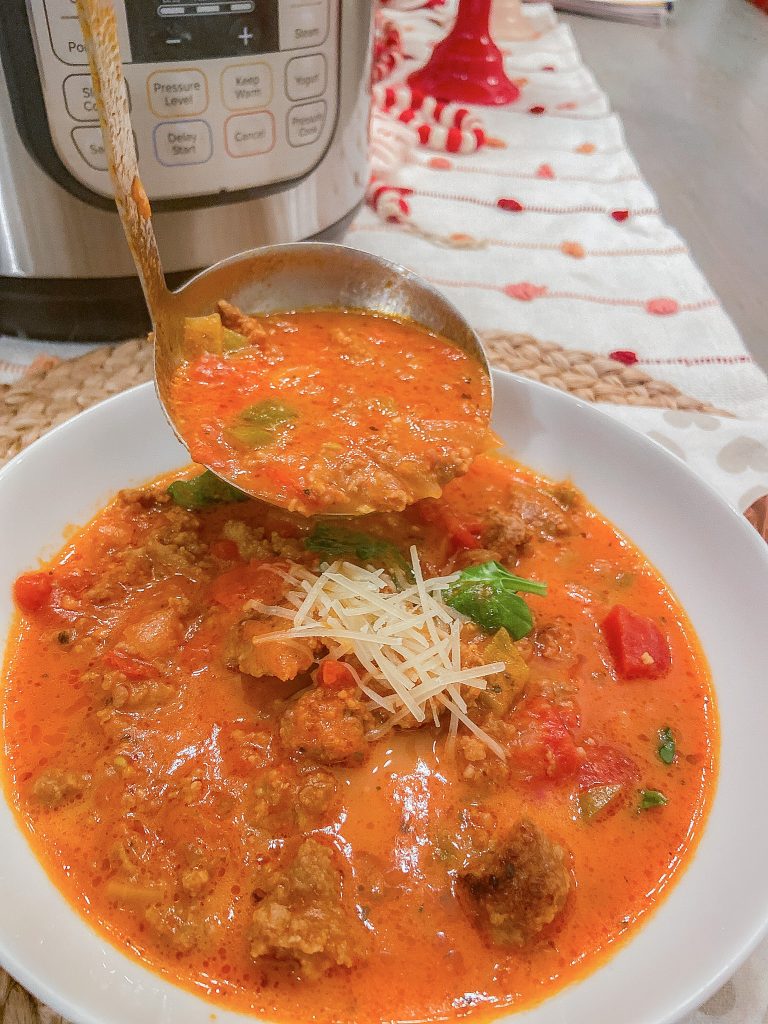 If you aren't familiar with Keto, "Ketogenic" is a term for a low-carb diet (like the Atkins diet). The idea is for you to get more calories from protein and fat and less from carbohydrates. You cut back most on the carbs that are easy to digest, like sugar, soda, pastries, and white bread. It sounds a lot harder than it actually is!
Substituting Ingredients to Make Keto Italian Soup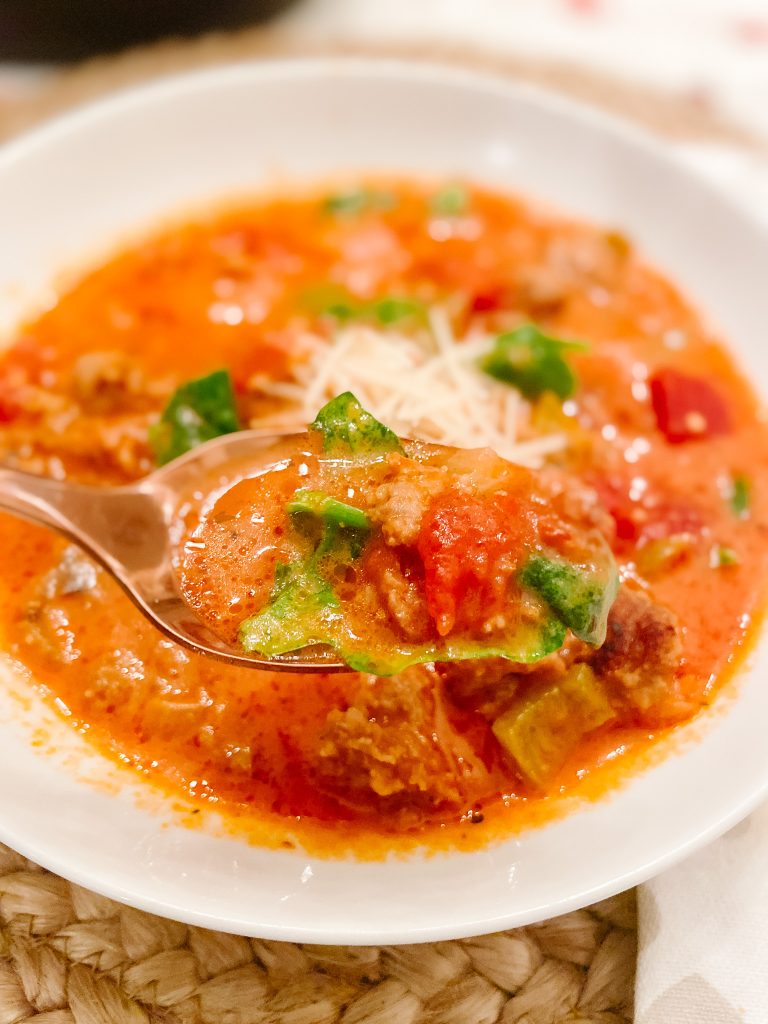 My original Tuscan soup has potatoes in it which aren't allowed in a keto recipe. So I omitted those. But you can add cauliflower into this soup which will make it seem almost the same as the original Tuscan Italian Soup! This soup has a slightly spicy sausage which gives it a really deep flavor. I added diced tomatoes, tomato paste, spices and lots of onions and peppers.
How to Make Soup Creamy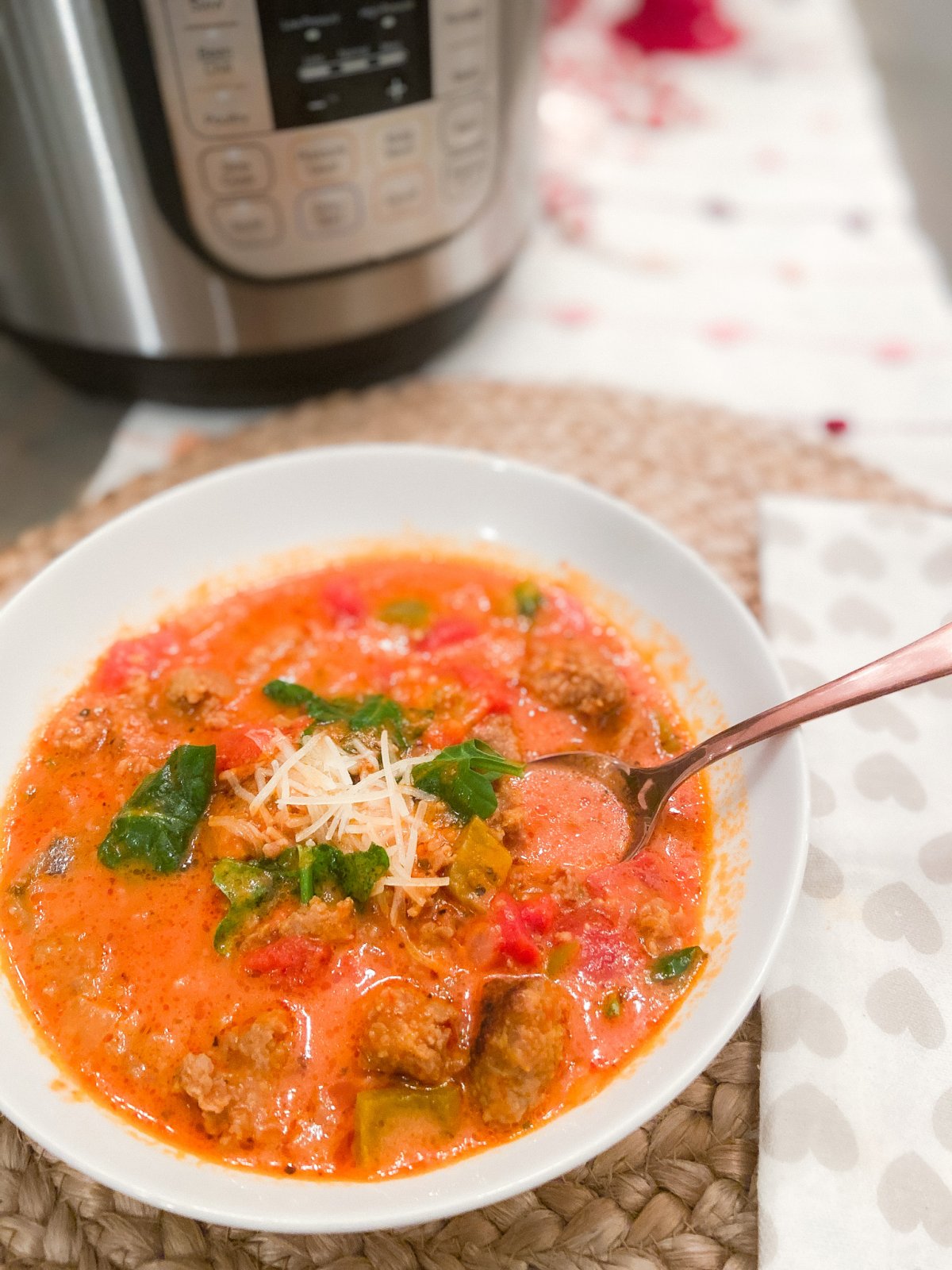 I love the creaminess of this soup. The savory, creamy base is achieved by adding heavy whipping cream at the end.
Why Make Soup in the Instant Pot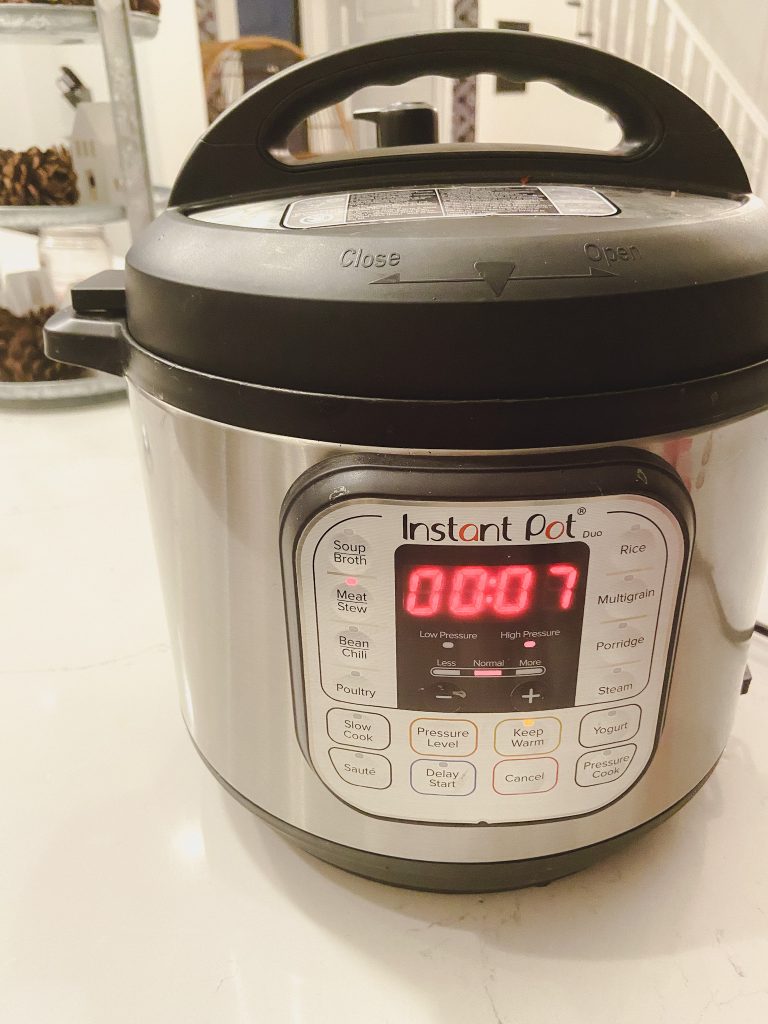 This soup can be made in the Instant Pot or on the stovetop. The Instant Pot will save you a few minutes of time. But the real reason I use the Instant Pot is that when the Instant Pot locks in pressure, the presure compresses the ingredients and really gets the favors in the sausage to go into the rest of the ingredients in the soup. This results in a more intense flavor.
Can You Freeze Keto Italian Soup?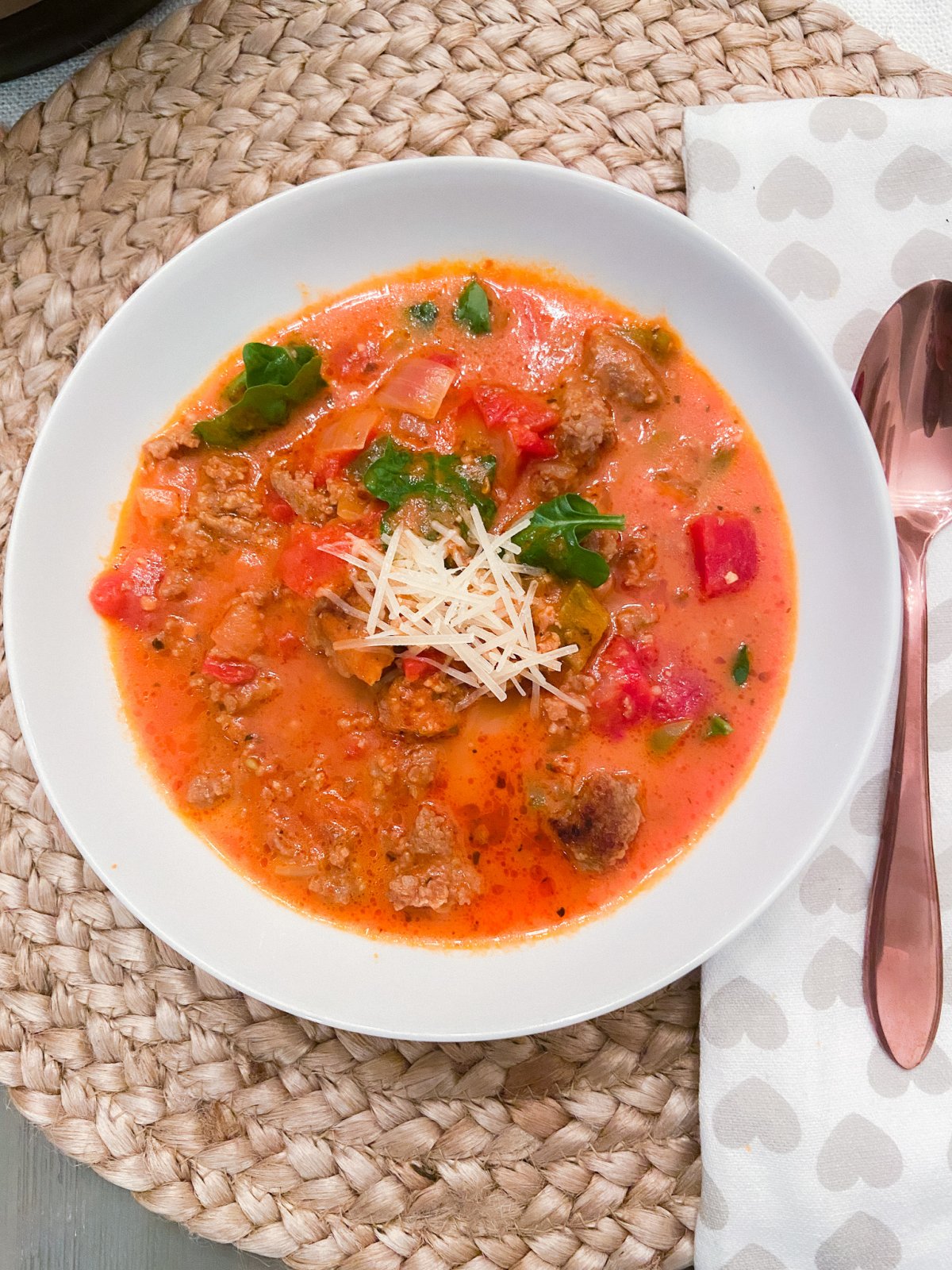 Yes! This soup is even better as leftovers! You can keep it in a sealed container in the fridge for up to 3 days. But if you want to freeze the soup, just let it cool. Then put it in a sealed tupperware container in your fridge. When you want to eat the soup, take it out of the freezer and put it in the fridge the night before so it can thaw. Then warm it up the next day! Note – warm the soup up slowly so the dairy doesn't separate.
Add Spinach or Kale
I add the spinach or kale right before serving so it doesn't get mushy. I also have everyone adfd it to their bowl. That way I can save the leftovers in the fridge or freezer and the spinach and kale aren't mushy.
Instant Pot Italian Soup Printable Recipe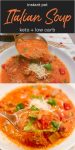 Keto Instant Pot Spicy Italian Soup
Keto Instant Pot Spicy Italian Soup. Spicy Italian sausage, herbs and veggies in a thick creamy sauce is the perfect soup to make for Winter!
Prep Time 15 minutes
Cook Time 10 minutes
Ingredients
1/3 cup avocado oil
2 pounds Italian sausage I use 1 pound mil1d sausage and 1 pound spicy.
1 large onion, diced
6 cloves garlic, minced
2 tsp. Italian seasoning
28 ounces can diced tomatoes (in water)
6 ounces tomato paste
1-2 red, green and/or yellow peppers. diced
salt and pepper to taste
5 ounces baby spinach or baby kale
48 ounces chicken or vegetable stock
1 cup heavy whipping cream or milk
1 cup tomato paste
1 cup fresh Parmesan cheese, grated
Instructions
To make this in the Instant Pot — Turn IP on "saute" feature. Then add avocado oil, garlic, Italian seasoning and sausage. Cook until almost cooked through.

Add diced onion, cook for about 5 minutes until they start to turn translucent.

Stir in chicken stock, peppers, diced tomatoes and tomato paste. Season with salt and pepper.

Select manual setting on your IP with high pressure. Set timer for 7 minutes Lock lid and start. After 7 minutes manually quick release the pressure.

Stir in the whipping cream and stir until incorporated.

Ladle soup into bowls and add spinach or kale. Top with shredded cheese.
Recipe Notes
To make this on the stovetop – Follow the recipe, sauteeing the meat, onions and garlic in a big pot. Then add the other ingredients. Put a lid on the pot and let it cook for 20 minutes. Then add the whipping cream and serve.
More Low-Carb Recipes
Here are a few other low-carb ideas!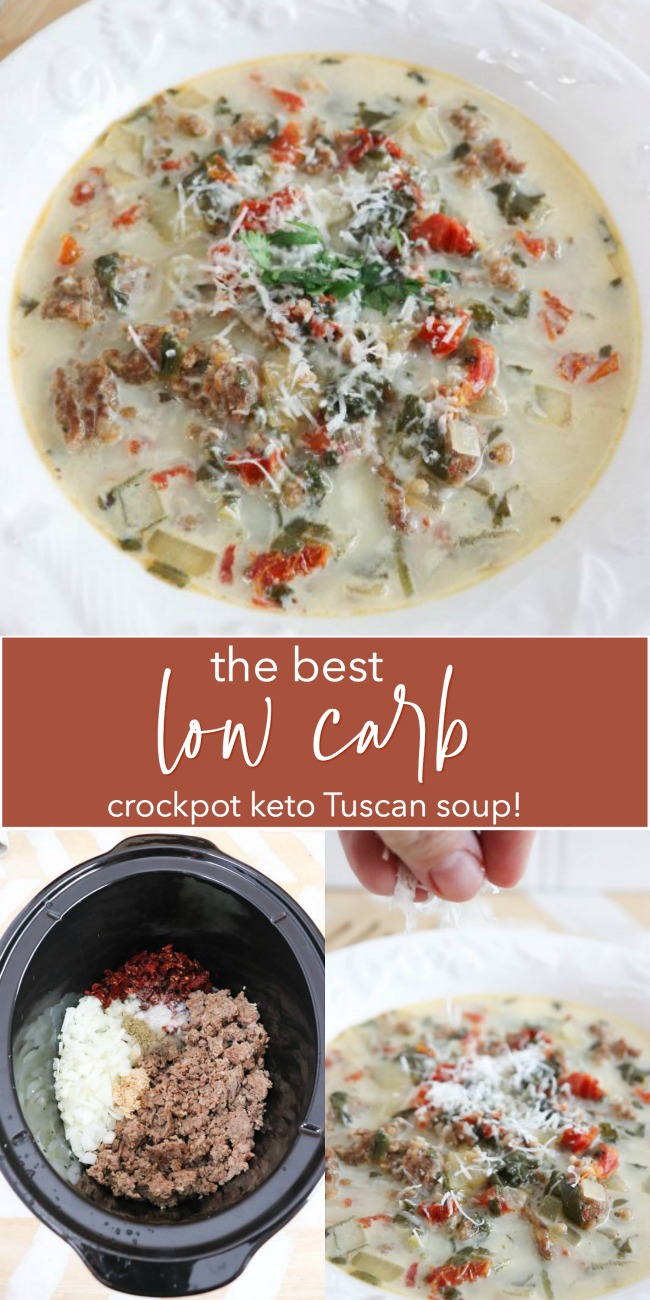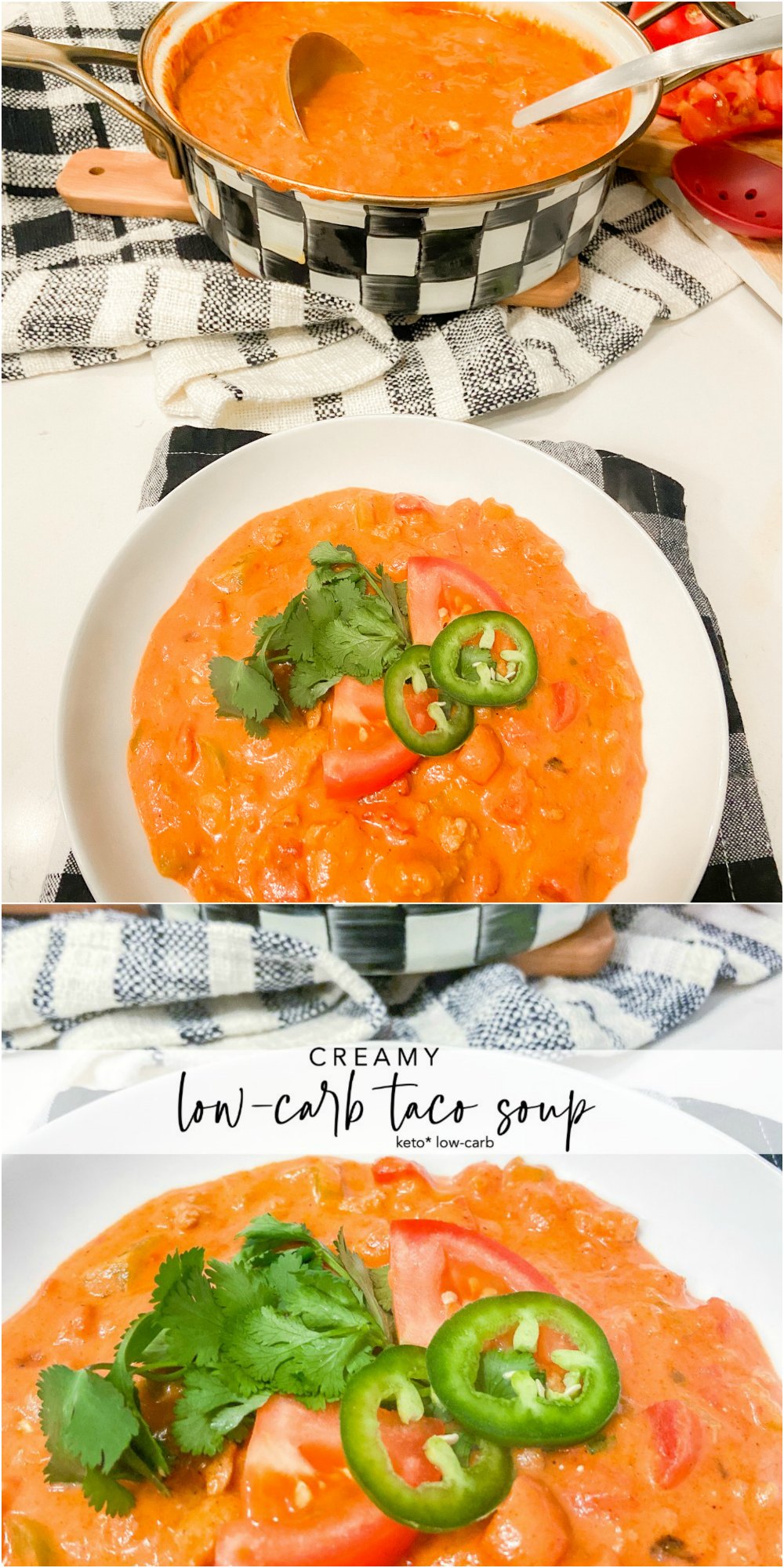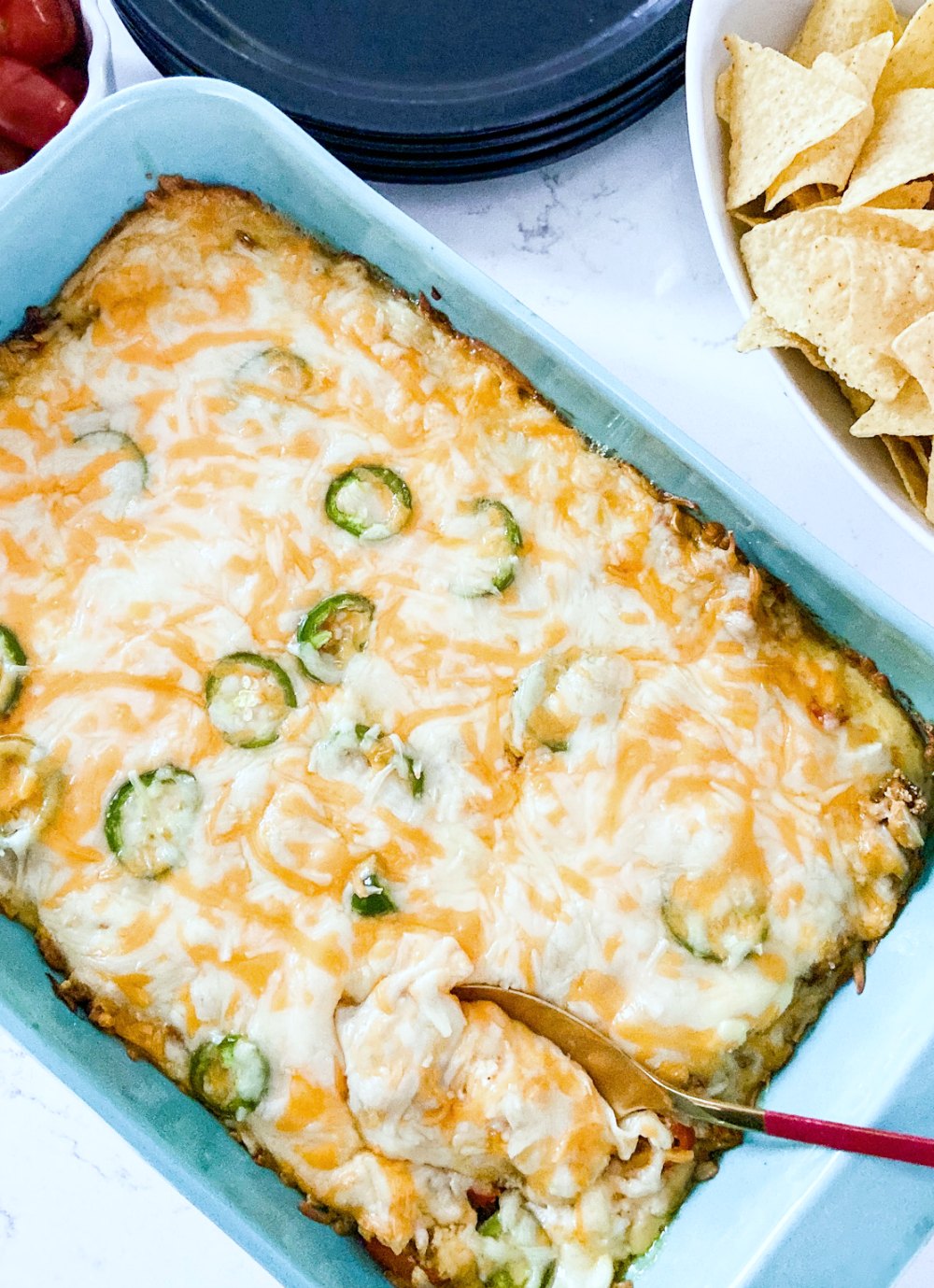 Have a delicious day!
xoxo