Joy to the World Holiday Porch. Bright colors, a GIANT Joy sign, Snowball Wreath and hand-painted rug create a happy welcome for family and friends with holiday season!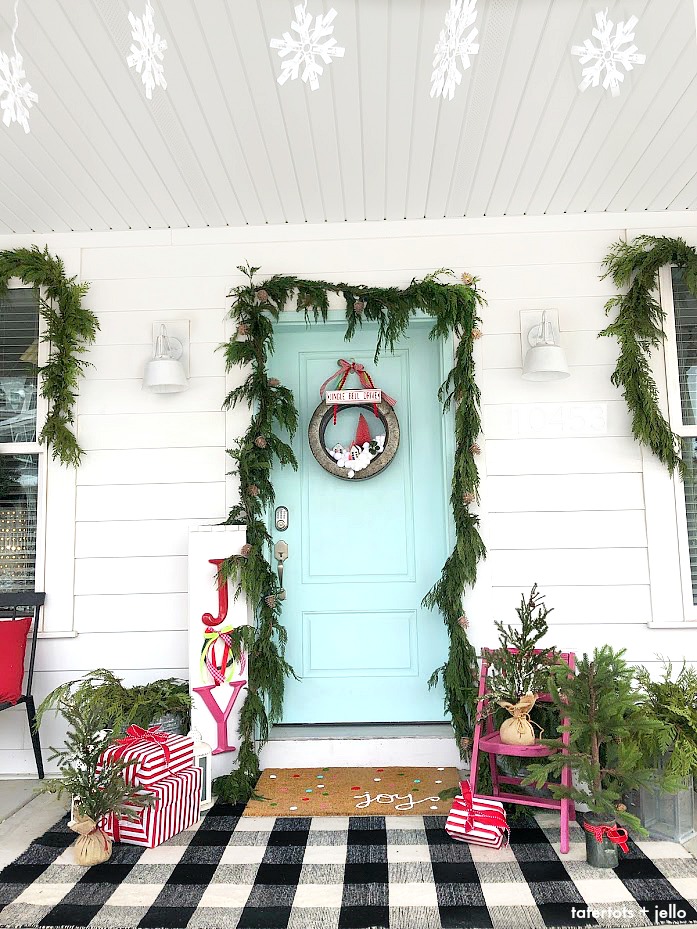 I love decorating our porch. One of the things we love about where we live is that all of the homes are built with porches. It's so much fun to drive around the neighborhood during the holidays and see all of the lights and decorations! Each year I love having a theme. This year I did a Joy to the World mantel in our family room so I thought it would be fun to carry the theme over to the front door too.
Personalize your Porch with easy, inexpensive DIY elements
I also love creating DIY hand-made elements for the holidays. It's inexpensive and it means so much to me when I create them myself. For this project there are a few DIY elements I added. A GIANT Joy sign, a Snowball Wreath and a hand-painted rug.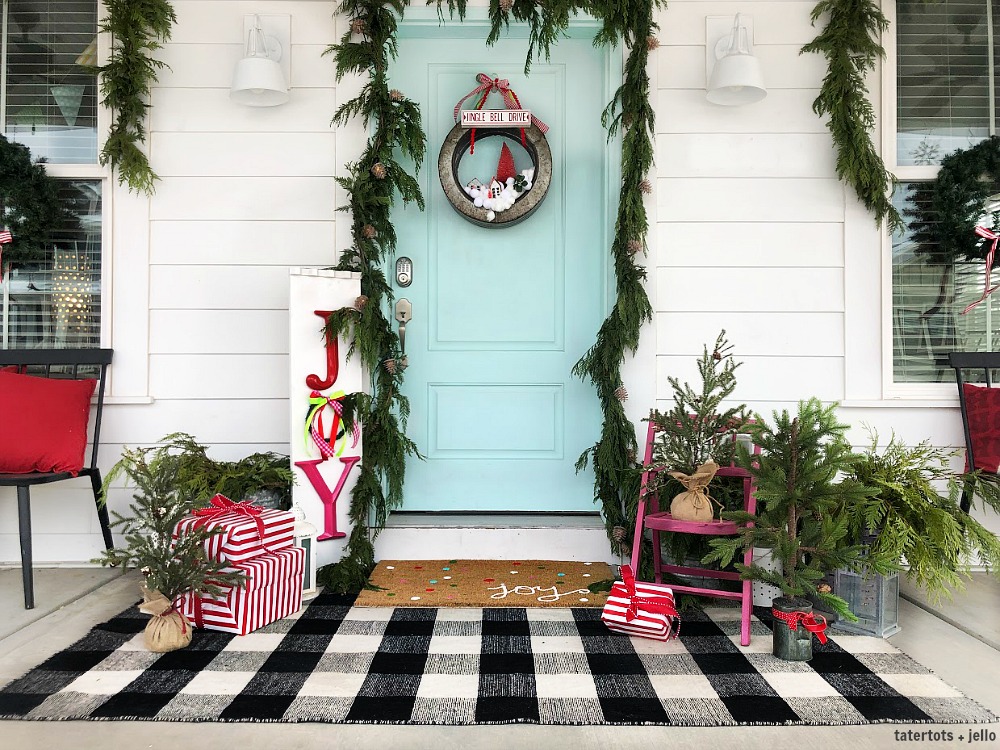 GIANT Joy Sign
I love creating giant signs out of inexpensive pine shelves. I bought a $10 shelf and had the hardware store cut in half. I made two signs out of the one piece of wood. One sign is propped up by our mantel and the other sign is by the front door. I made each sign a little different that the other.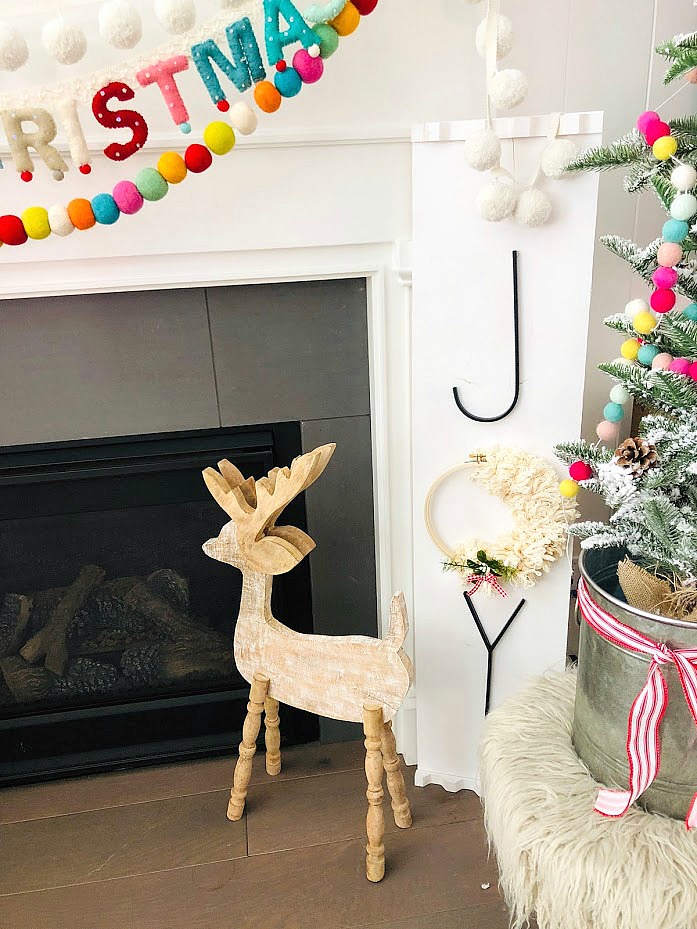 The Joy sign in our family room is very sweet. It has metal letters, an embroidery hoop for the "O" and is painted white. The sign by our door is also white but I painted some big resin letters bright colors and then for the "O" I made a little wreath and added some colorful ribbons! It makes me happy seeing how festive it looks on the porch!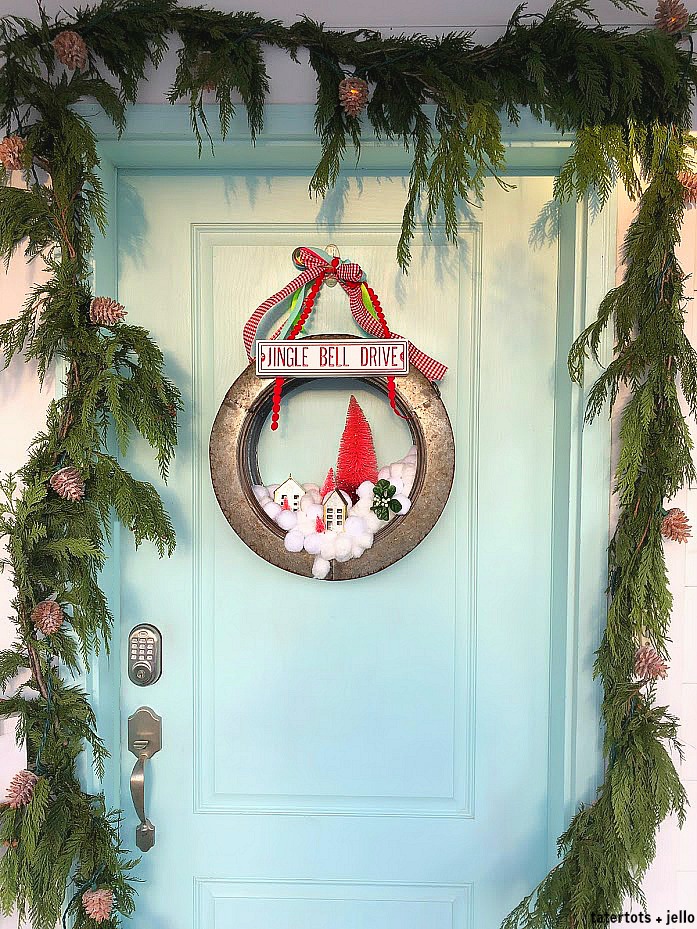 Snowball Galvanized Wreath
I love this galvanized metal wreath form. I bought it last year at Hobby Lobby and I've used it so many times for different holidays. I just switch out the insides and start over. For Christmas I thought it would be cute to do a snowball wreath. I also added a bright tree and a couple galvanized houses, plus a Candy Cane sign at the top. It's whimsical and fun.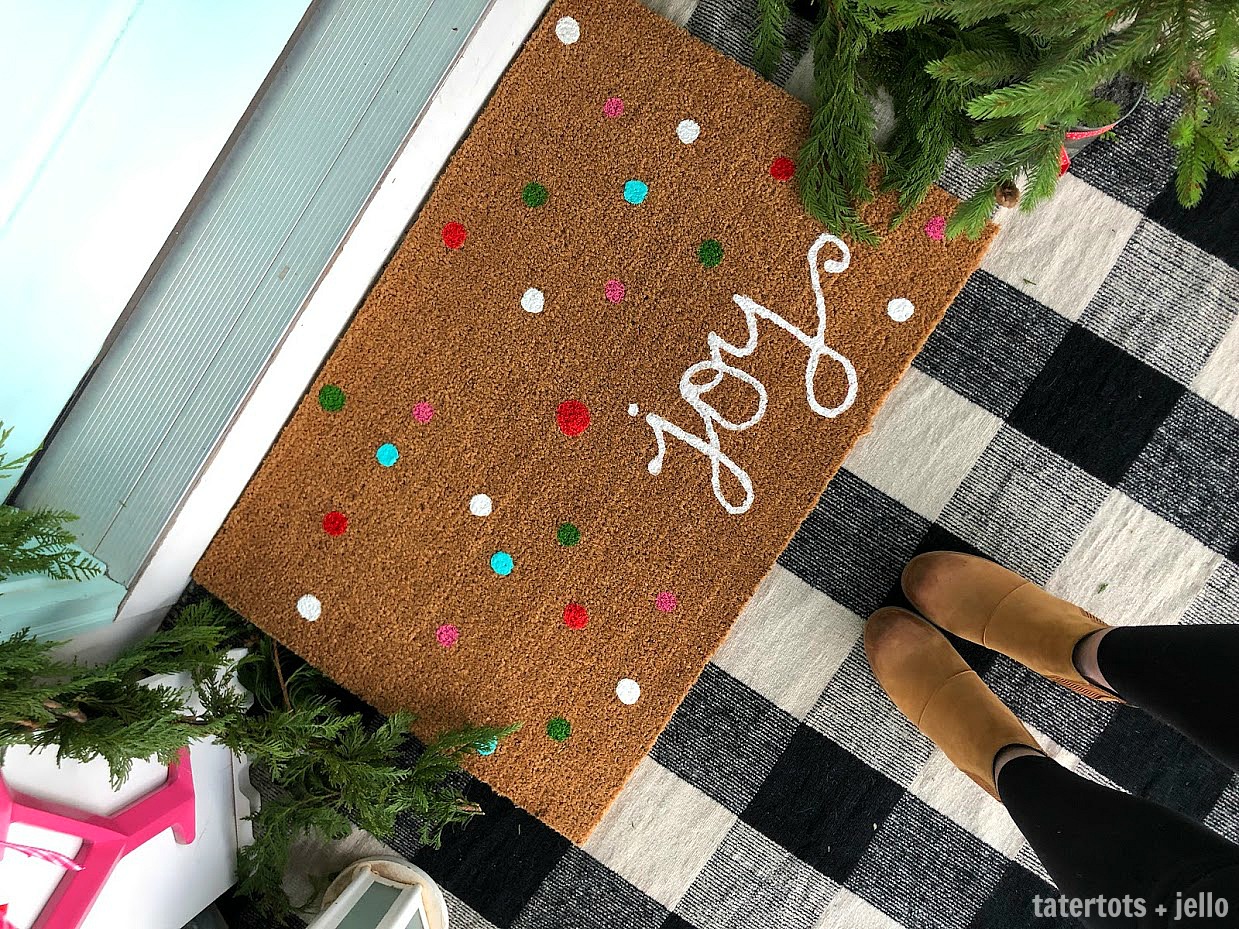 Painted JOY Rug
I've been blogging for over 10 years. During that time I've gone through quite a few project phases — chevon, burlap, subway art signs, and also painting rugs. I took a few years off but I am back to loving to paint rugs. Little jute rugs are an easy way to create a special saying your guests will see as soon as they come up to your door. I have tried spray painting jute rugs and it's hard because when you tape off your letters to paint, the spray gets under the jute since it isn't flat and the lines are never clear. This year I found a new way to paint jute rugs. I use bottles with little openings and I paint the images and words on the rugs with the spout. The smaller opening gives me control of the flow of paint, and pouring the paint onto the jute rug keeps the lines clear since the paint just drips down. So for a few dollars I create e bright and cheerful way to welcome my guests.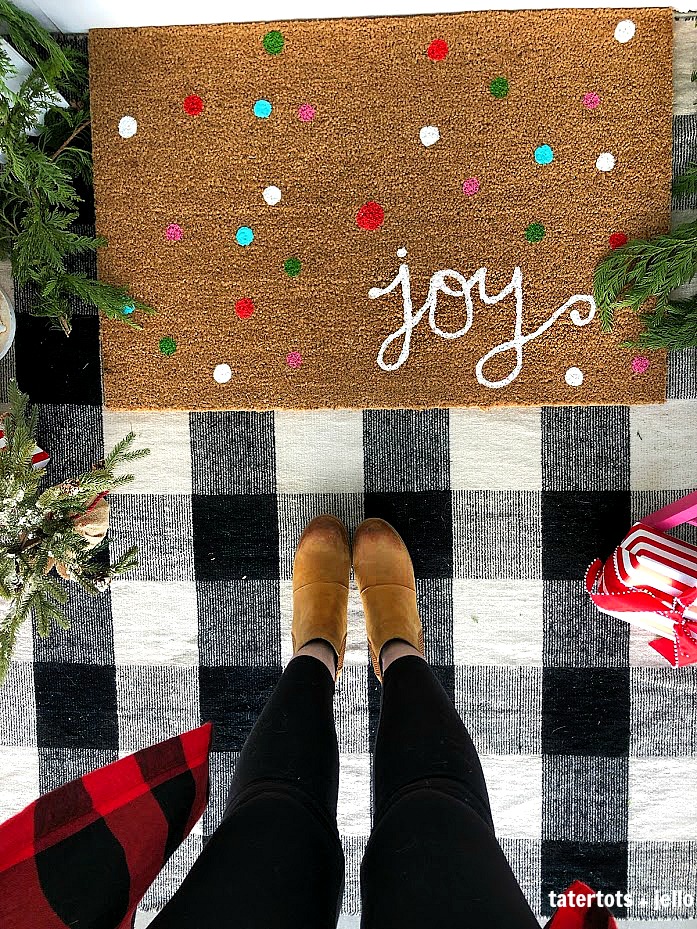 A couple other things I did to create a fun porch are —
Spray Paint Elements to Match
I painted a thrifted child's chair PINK and put a tree on it. This brings in a little more color to the overall porch.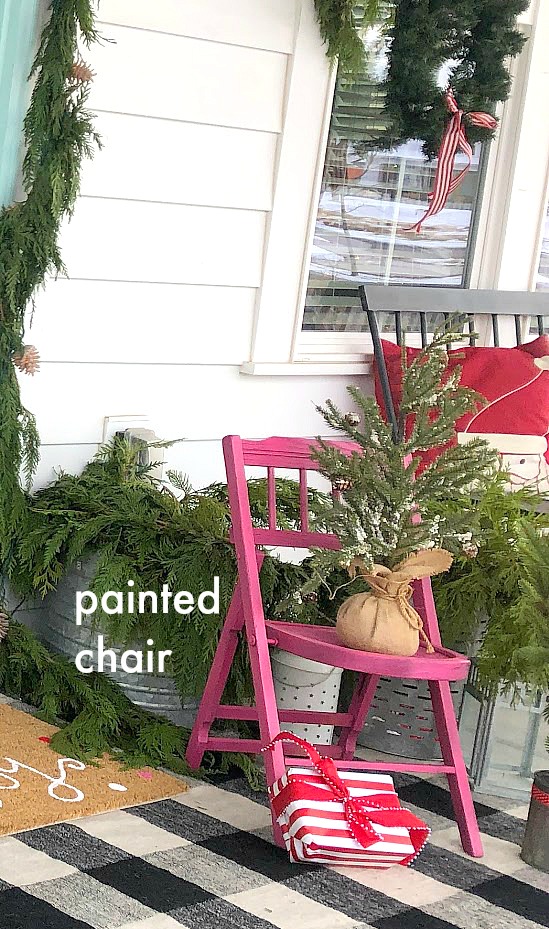 Use Fresh Garlands
I used fresh garlands over the door and windows. Costco sells amazing garland and it's inexpensive. I love the way fresh garland looks. In Utah because of the cold weather, fresh garland holds up well outside.
Wreaths on all the Windows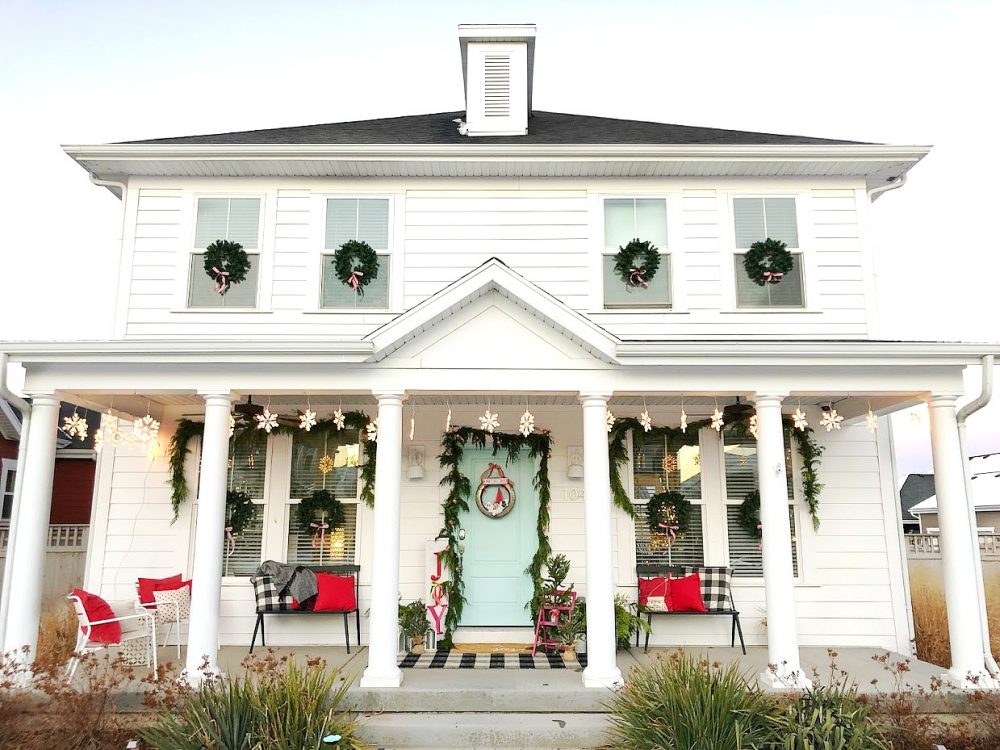 I hung a wreath on each of the windows. The wreaths aren't real. I store them and use them every year. Sometimes I switch out the ribbons to change up the look of the decor. Also – to hang the wreaths I use command hooks on the windows. They work great.
Wrap up some Packages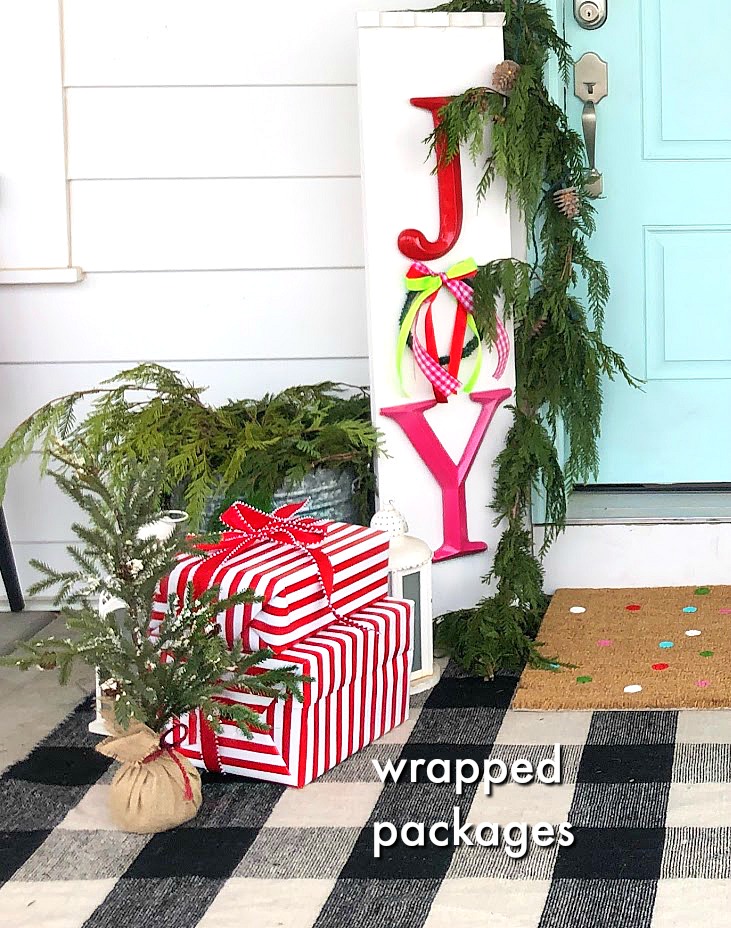 If you want to add a little more color to your door or porch, wrap up some packages in colors that go along with your theme and stack them on your porch. This is a great inexpensive way to create a more festive porch.
Pillows
I put pillows out on my porch. I wrap the pillow forms inside in a plastic bag to protect the pillow form. Then I use washable covers on the outside. That way I can take them in and wash them when the season is over and reuse them again the next year. And the pillow forms are still fine to use inside later.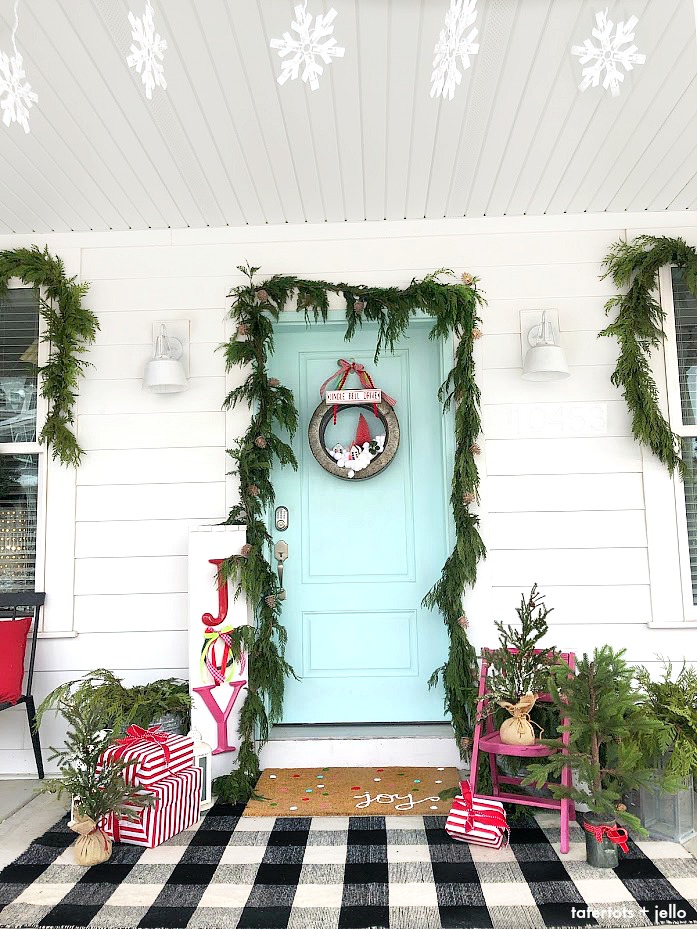 That's my 2018 Joy to the World Porch! I am thrilled to be taking part in Taryn's Porch Tour! Be sure to go around and see all of the porches!! So inspiring!!


Taryn Whiteaker Designs | Just A Girl And Her Blog | Two Twenty One | Tatertots and Jello
Jaime Costiglio | Inspiration For Moms | Stone Gable | Clean & Scentsible
Lolly Jane | Town and Country Living | The Happy Housie
Have a Festive Day!
xoxo