Painted Gingerbread Houses Holiday Wreath. Inspired by Pottery Barn's viral Gingerbread Village Houses, use spray paint, paint pens, and a sprinkle of creativity to create this gingerbread houses wreath.
Painted Gingerbread Houses Holiday Wreath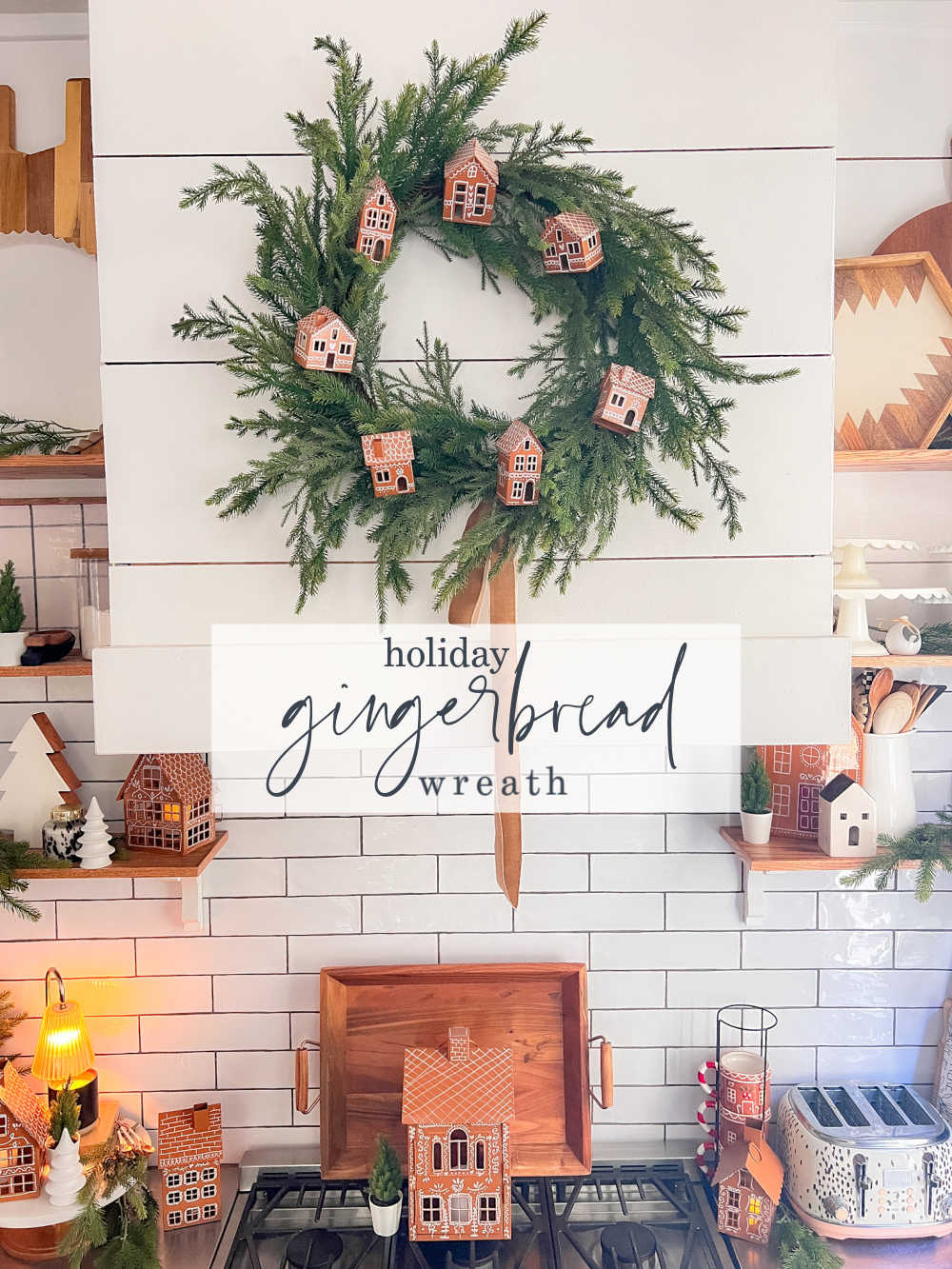 The holiday season is upon us, and there's a sweet trend taking over the festive decor scene—gingerbread houses! Thanks to the viral sensation of Pottery Barn's Gingerbread Village Houses, these buttery caramel-colored confections with intricate white details have become the must-have holiday accessory. But fear not, you can recreate this viral look for a fraction of the cost with just a can of spray paint, an evergreen wreath, and some paint pens. In fact, I took it a step further and transformed larger galvanized houses into charming gingerbread abodes. Intrigued? Let me walk you through the steps.
Gorgeous Christmas Wreaths
I am joining some friends who are all sharing DIY wreath ideas. Scroll down to the bottom of the post to see their beautiful ideas!
The Inspiration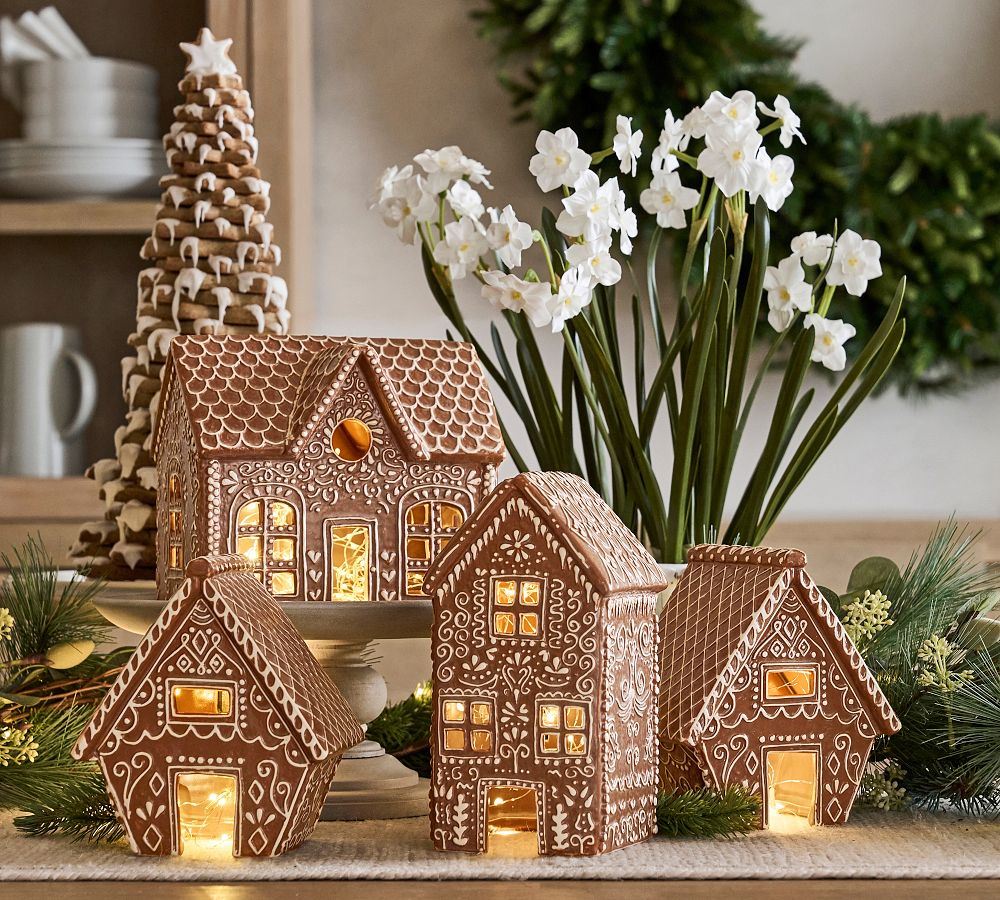 Pottery Barn's Gingerbread Village Houses are undeniably adorable, but the hefty price tag may leave your wallet feeling a little less festive. That's where the magic of DIY comes in. Armed with a can of spray paint, a trusty evergreen wreath, and a set of paint pens, you can bring the spirit of the Gingerbread Village to your doorstep without breaking the bank.
Supplies You'll Need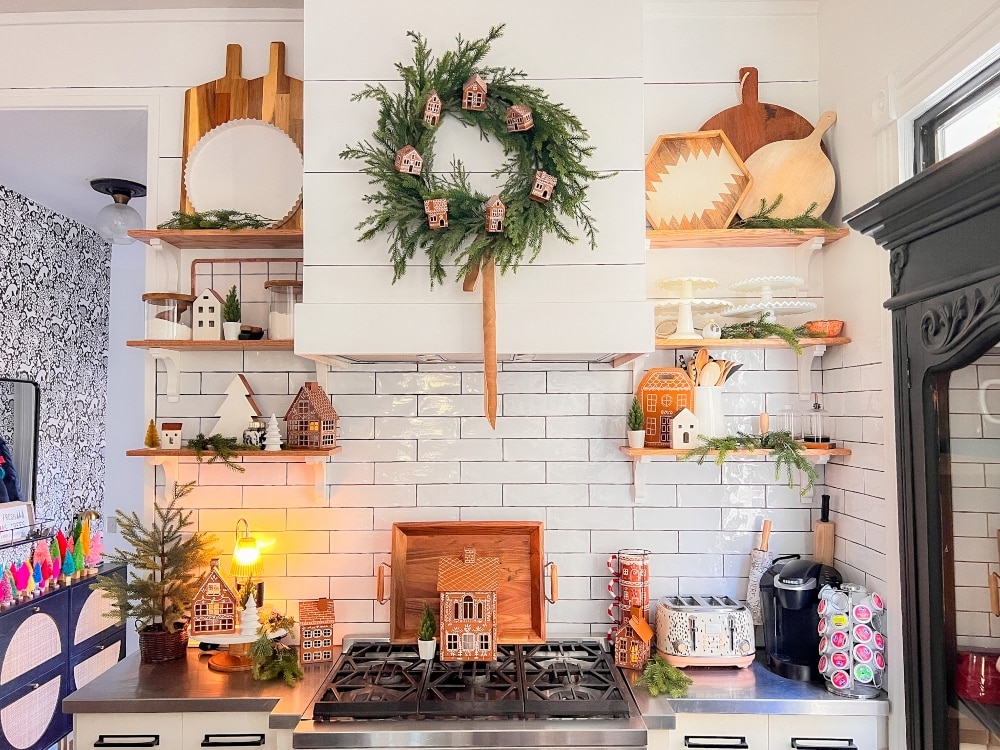 Before we dive into the how-to, here's a quick rundown of the supplies I used to create this budget-friendly holiday wreath:
Spray Paint: I opted for a warm caramel hue to capture the essence of traditional gingerbread.
Paint Pens: These are essential for adding those intricate white details to your gingerbread houses. Look for pens that won't smudge and have a fine tip for precision.
Evergreen Wreath: Choose a high-quality wreath as the base for your masterpiece. I added a touch of luxury with a velvet ribbon.
Galvanized Ornaments: For an extra touch, I transformed larger galvanized houses into gingerbread wonders.
Click on my LTK shop for the links to the supplies I used — tatertots and jello LTK shop.
The DIY Process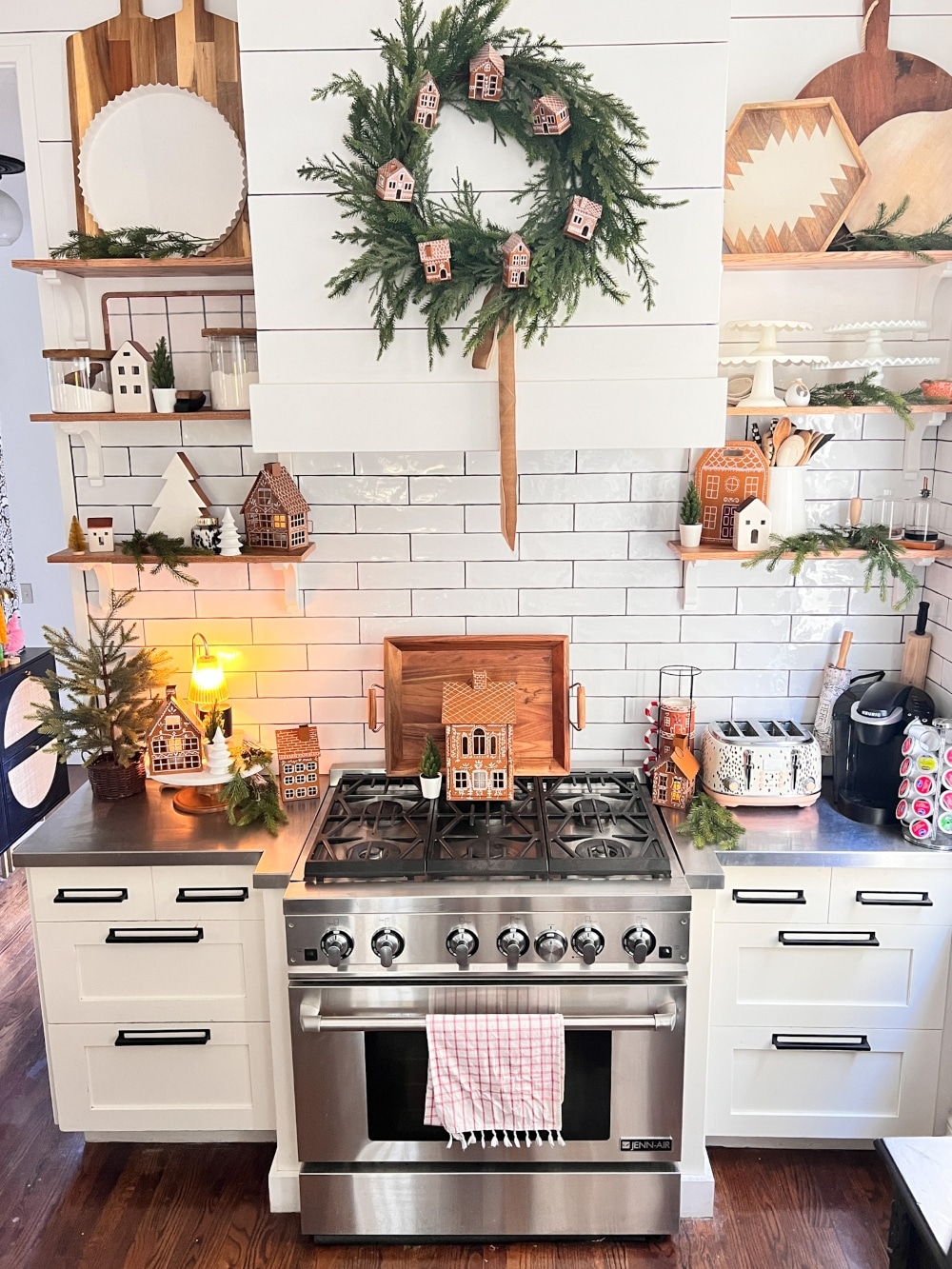 Spray Paint Magic: Begin by giving your evergreen wreath a light, even coat of spray paint. This will create a subtle gingerbread backdrop for your houses. Allow it to dry completely before moving on to the next step.
Gingerbread House Galore: While your wreath is drying, grab those galvanized houses and work your spray paint magic on them. The transformation is astounding—watch as the cold metal turns into warm gingerbread goodness.
Detailing with Paint Pens: Once the paint is dry, it's time to bring your gingerbread houses to life with paint pens. Add windows, doors, and delicate snow-like details to capture the charm of Pottery Barn's Gingerbread Village.
Wreath Assembly: Secure your painted gingerbread houses onto the wreath using hot glue and pipe cleaners. Arrange them in a festive pattern, ensuring they're evenly spaced for visual appeal.
Velvet Ribbon Elegance: To add a touch of luxury, weave a velvet ribbon through your wreath, securing it with discreet knots. This not only enhances the overall look but also adds a classic holiday feel. The wreath I used comes with a ribbon already pre-attached!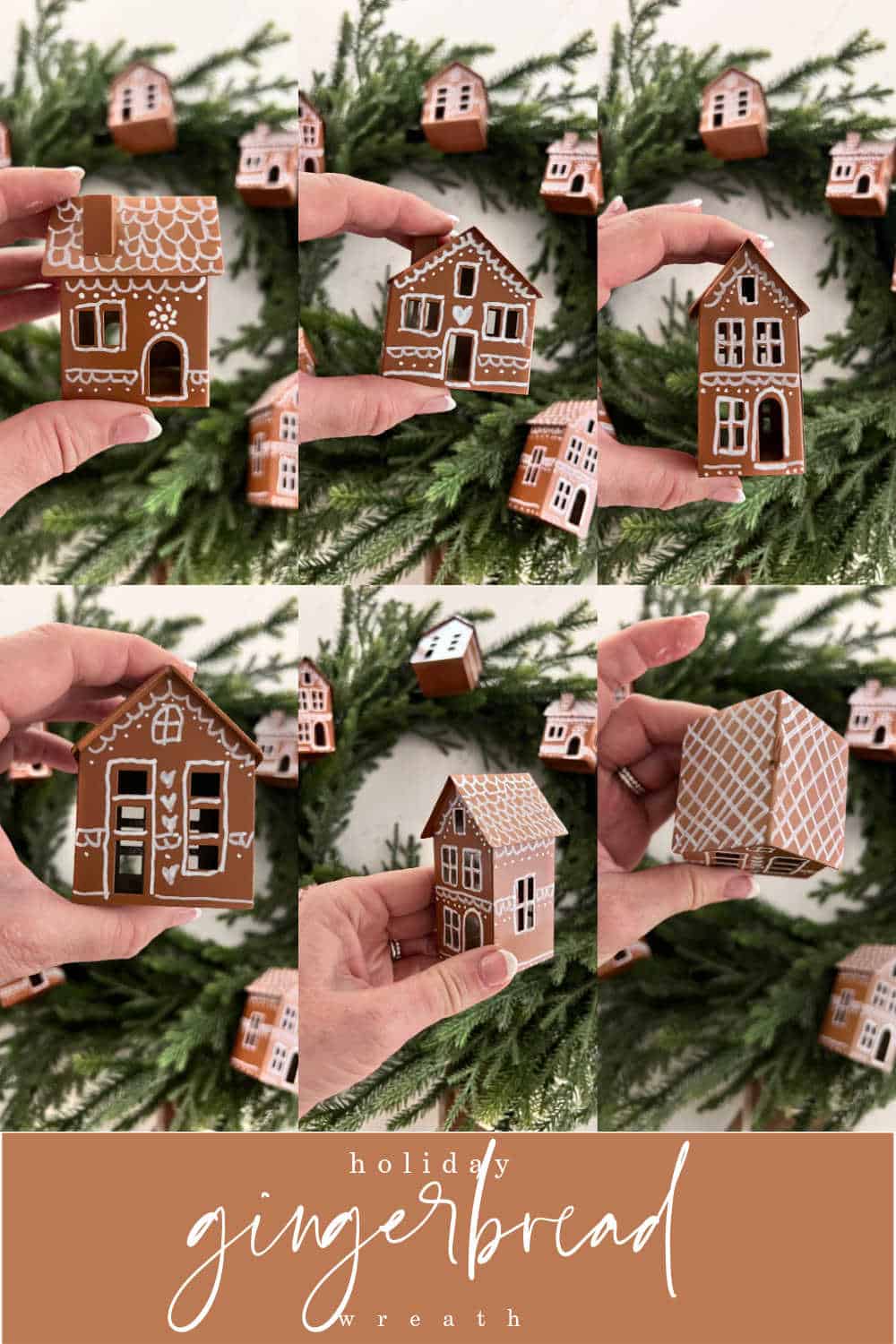 Showcasing Your Masterpiece
Now that your DIY gingerbread wreath is complete, it's time to showcase your creativity! I also transformed some larger metal houses into gingerbread houses. I have a brief tutorial on my Instagram page @tatertotsandjello.
Christmas Wreath Hop
I'm not the only one spreading holiday cheer with DIY wreaths! I've teamed up with friends who are sharing their gorgeous Christmas wreath ideas. Scroll down to hop over to their blogs and gather inspiration for your festive decor. 'Tis the season for creativity, after all!
In conclusion, don't let budget constraints dampen your holiday spirit. With a can of spray paint, a wreath, and a dash of creativity, you can welcome guests with a charming DIY gingerbread wreath that will undoubtedly become a cherished tradition for years to come. Happy crafting, and may your holiday season be as sweet as gingerbread!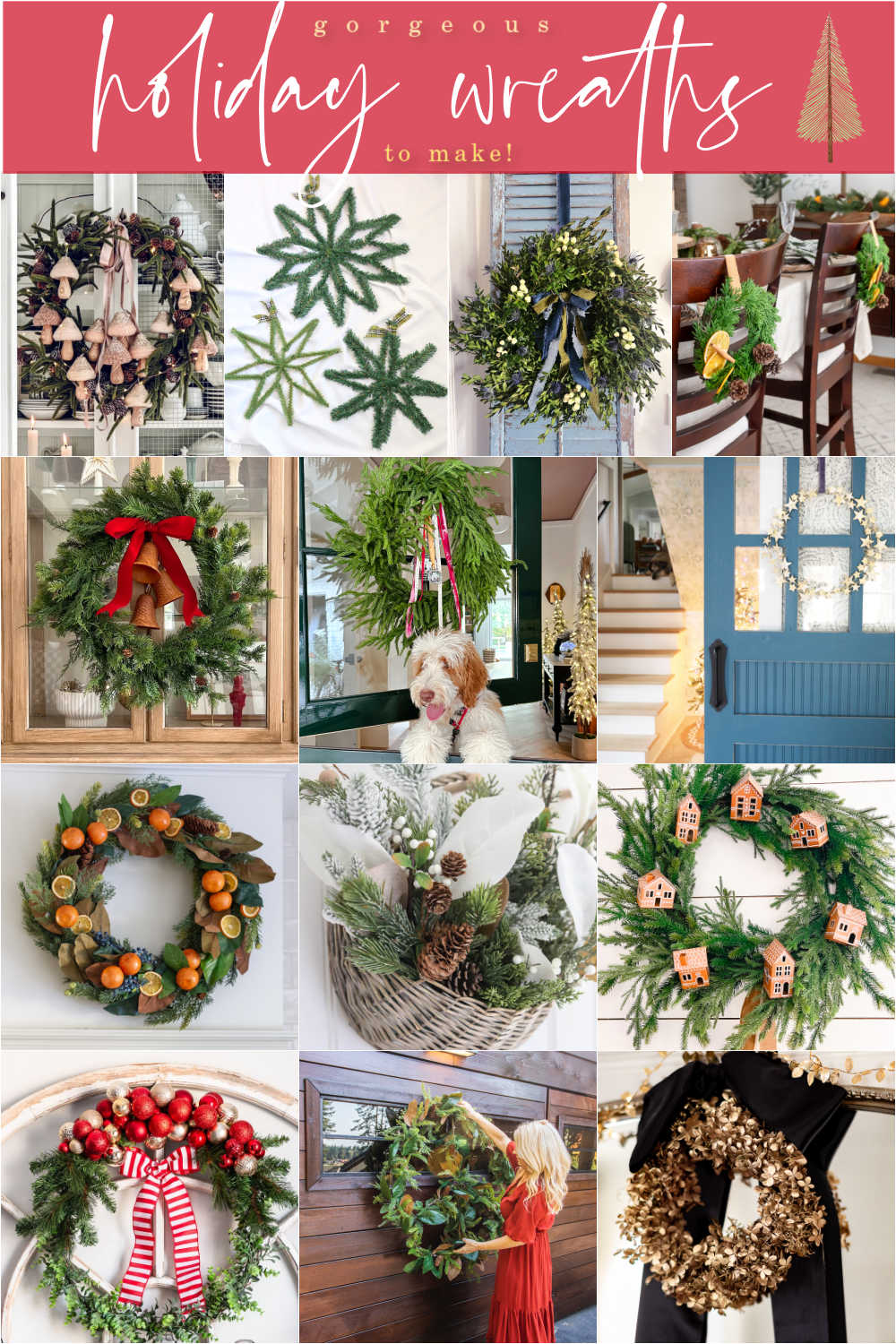 10 Festive Holiday Wreath Ideas | LeCultivateur
DIY Scandinavian Evergreen Star Wreath | Today's Creative Life
A Beautiful Christmas Boxwood Wreath & Tips for Extending It's Life | The Tattered Pew
How to Make Festive Chair Wreath for Christmas | Midwest Life and Style
Christmas Wreath with Bell Ornaments | Lolly Jane
Easy Disco Ball Christmas Wreath | Modern Glam Home
DIY Constellation Wreath | The Handmade Home
DIY Magnolia and Orange Leaf Wreath | Zevy Joy
Winter Hanging Basket Wreath | Rooms For Rent
Painted Gingerbread Houses Holiday Wreath | Tatertots and Jello
DIY Ornament Cluster Wreath | DIY Beautify
DIY Christmas Wreath Using Garland | My Sweet Savannah
Mini Gilded Hydrangea Christmas Wreath | Craftberry Bush
Which Wreath do YOU want to make?
Let us know in the comments!
xoxo