Holiday Cheesy Pull-Apart Bread Wreath. Golden rolls with a cheesy filling a perfect appetizer for holiday parties or for a night at home.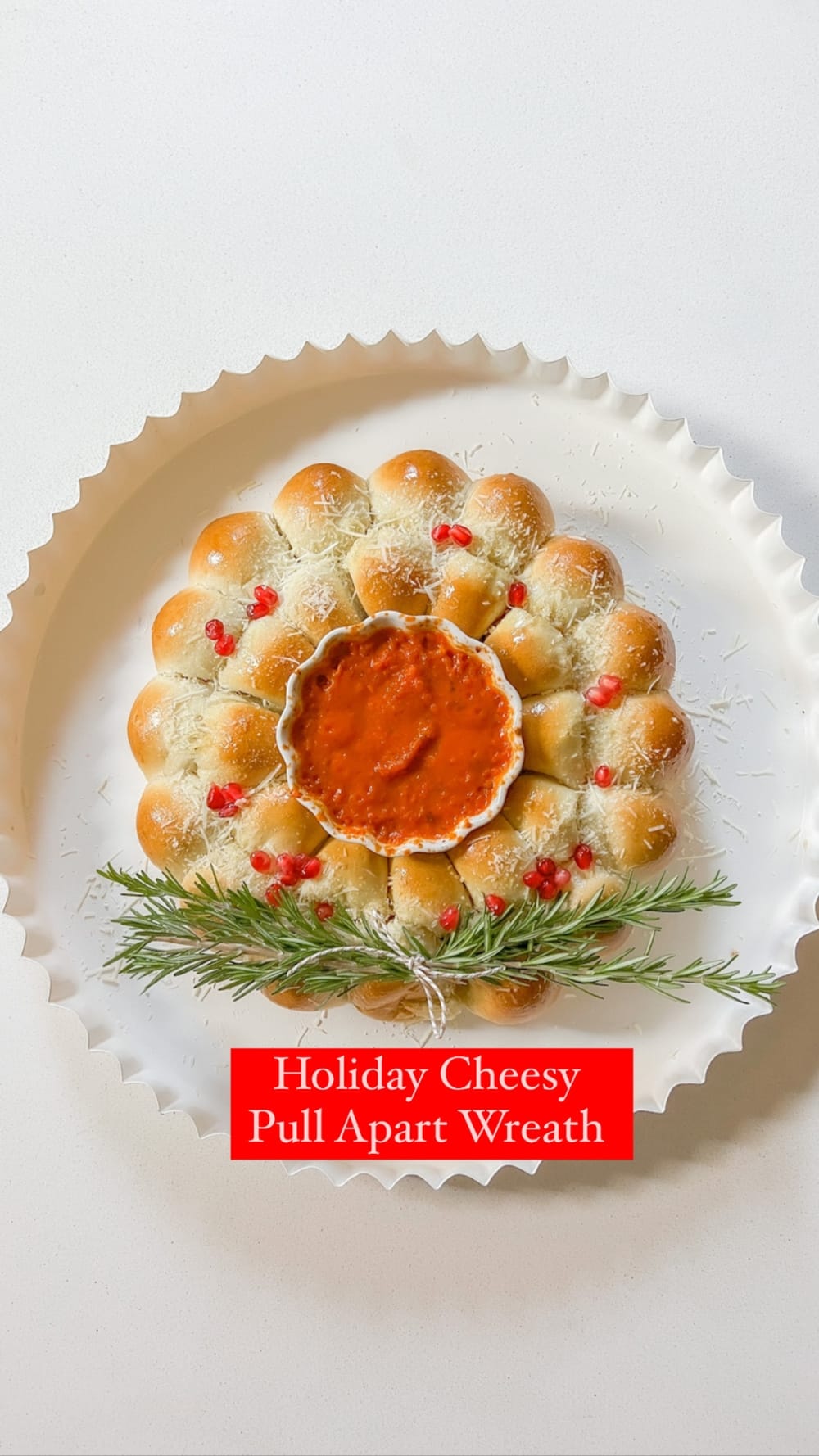 Holiday Cheesy Pull-Apart Bread Wreath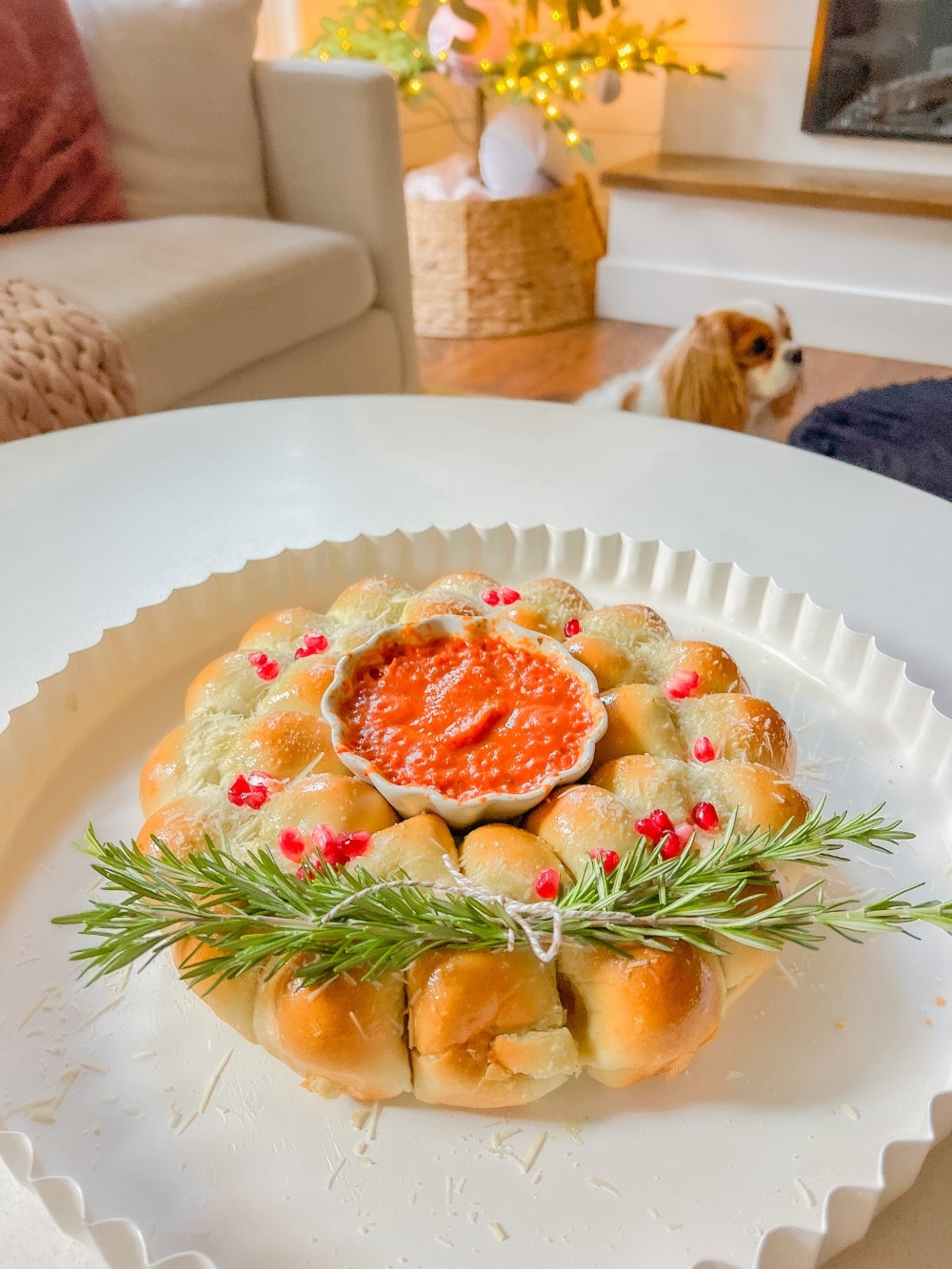 Looking for an easy appetizer that is festive and perfect to bring to holiday parties? This holiday cheesy pull-apart bread wreath is so pretty AND delicious! Golden brown rolls with a buttery glaze of garlic and spices and inside is soft dough encasing molten cheese. It's absolute heaven!
Jump to Recipe
A Bread Wreath That is So Easy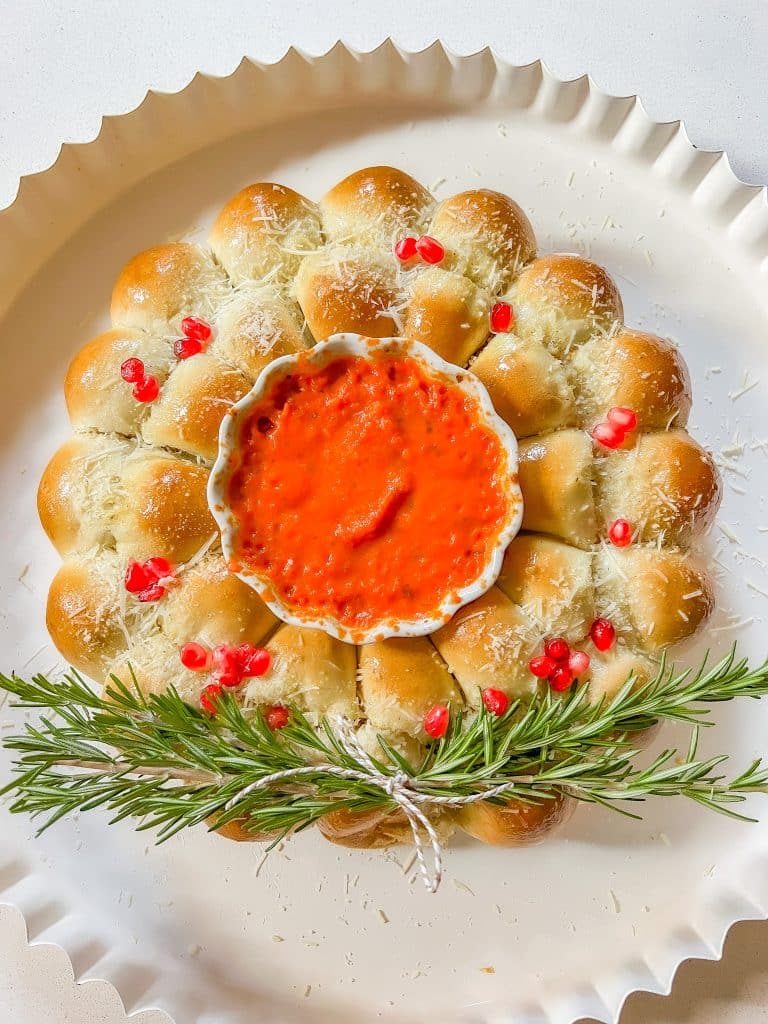 The secret to making this recipe super easy is that I use frozen bread dough! My favorite rolls are made by Rhodes. I love Rhodes because they make the best frozen dough AND they are local to Utah! One of our favorite holiday traditions is serving Rhodes orange rolls every Christmas and Easter mornings. So Yummy! You can find their rolls in the frozen bread department at your local grocery store. I used the large size which contains 36 rolls in each package.
Unthaw Wreath Rolls Before Using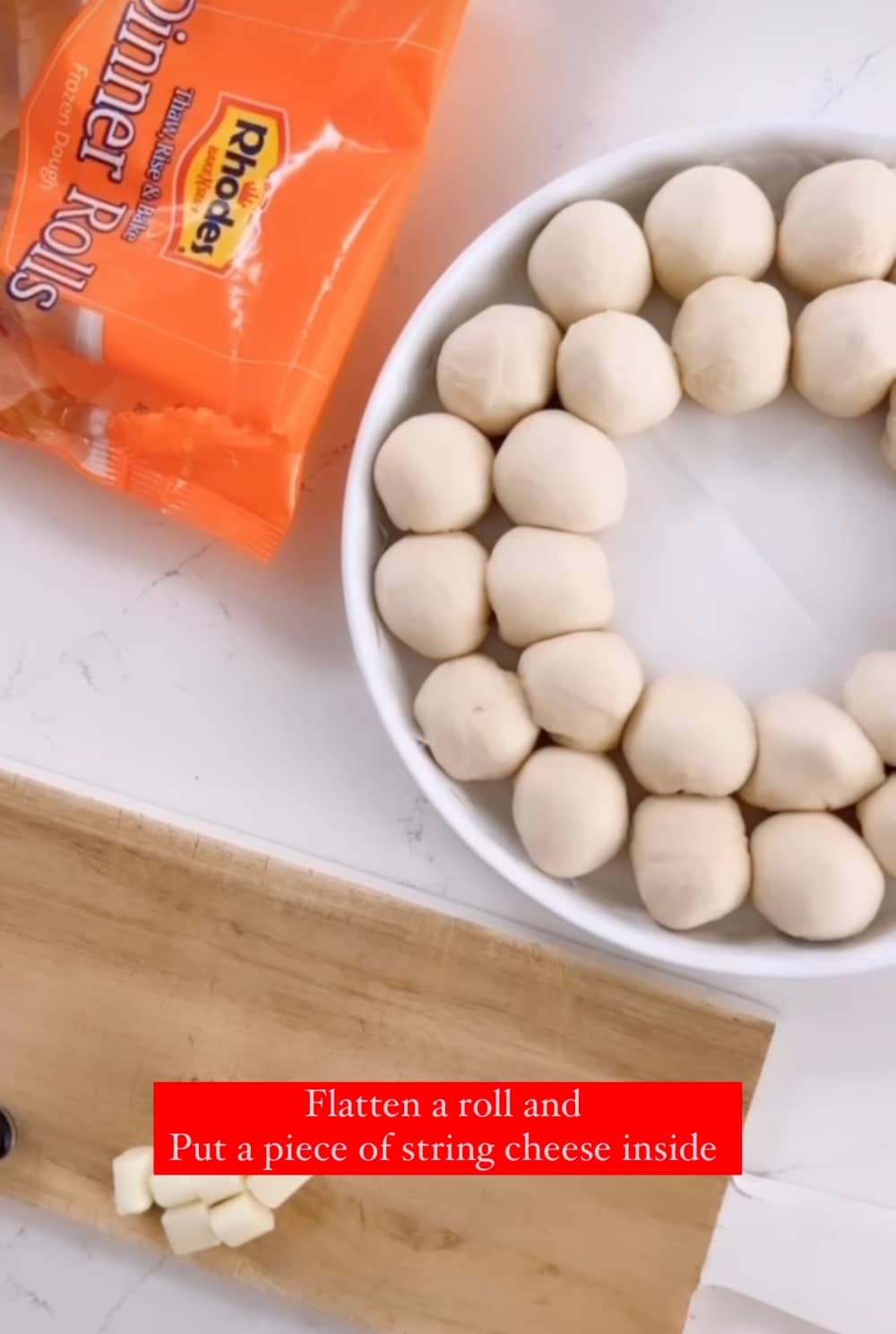 If you are making this recipe, you will want the dough to be defrosted. I usually set the frozen roll package on my counter the morning I want to make the wreath. The rolls need to thaw out at least 2 hours. But make sure not to leave them out too long of they will start to rise and the rolls will start to stick together. If I know I am making the rolls the next day, I will take the frozen rolls out of the freezer the night before and put them in the fridge to thaw overnight and it's perfect!
Personalize The Butter Glaze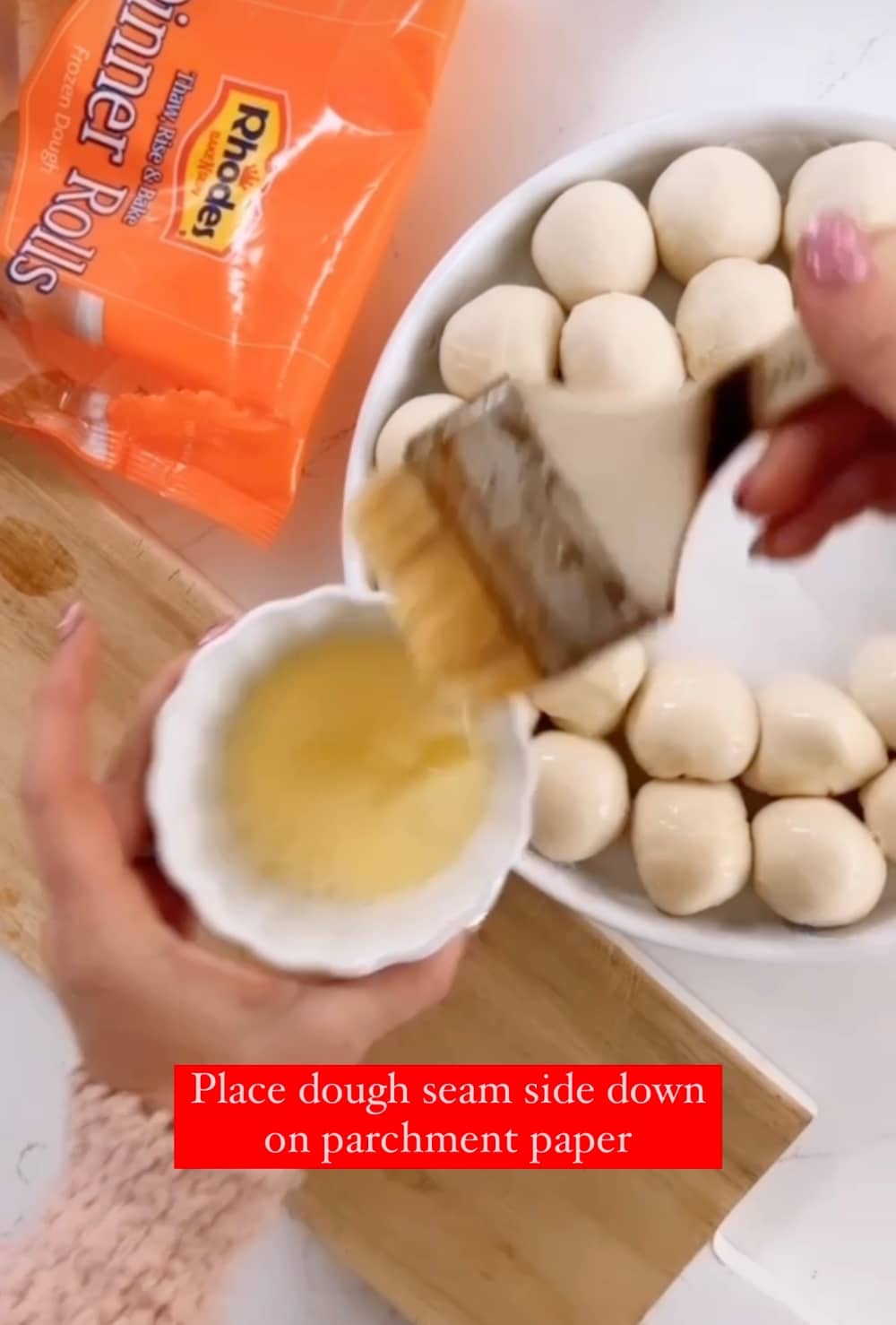 Another fun fact about this recipe is that you can personalize the glaze and add spices that you like best! I use Parmesan cheese, butter, garlic, rosemary, salt and pepper; but you can use any spices you like! I love the idea of using a lot of different spices to make it even more fragrant!
Cheesy Pull Apart Bread Tips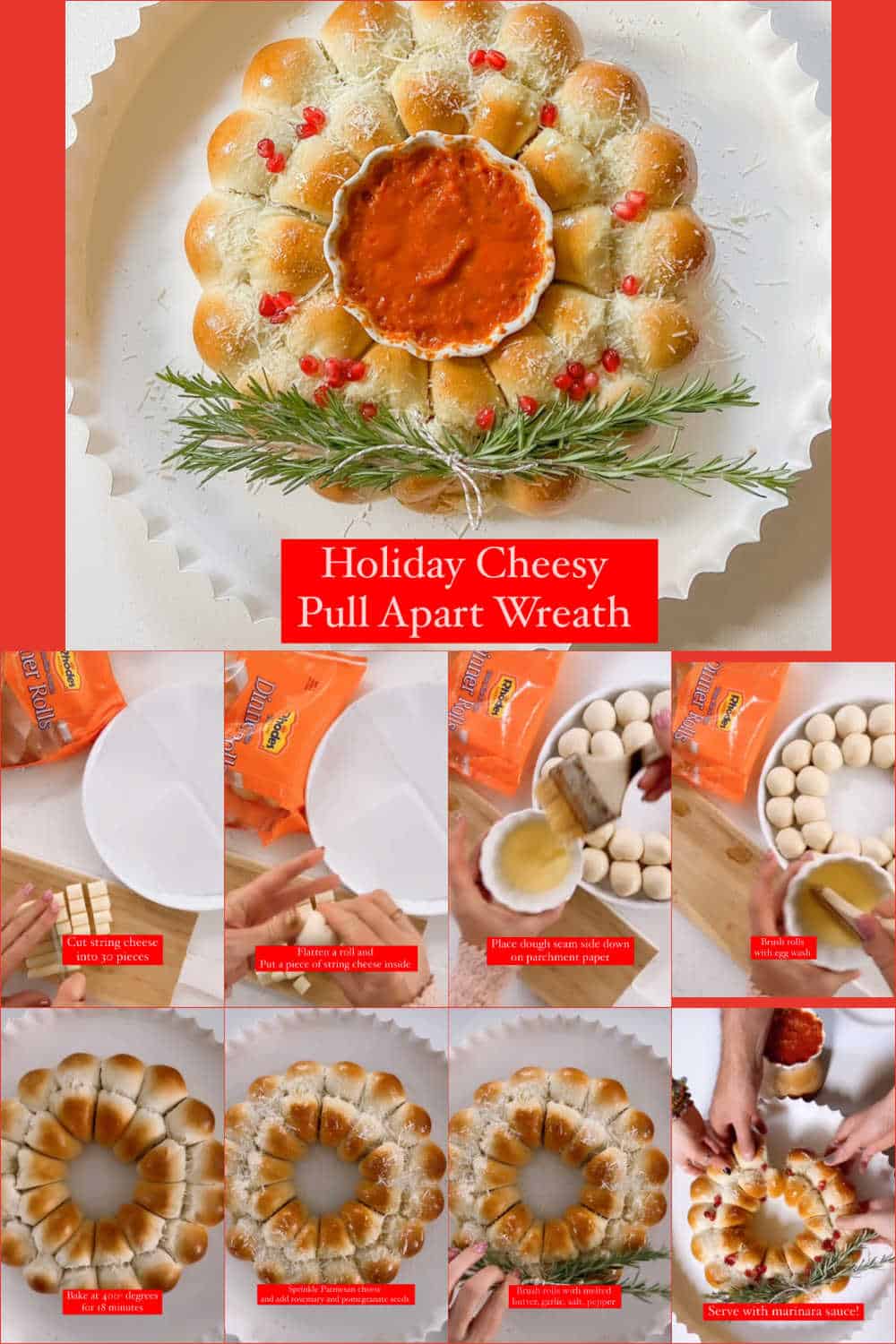 Here are a few tips I've found that make this recipe even easier to make!
Use parchment paper instead of non-stick spray. I've found that parchment paper is a great resource to make this recipe. I think parchment paper helps the rolls bake more evenly. And I usually transfer the wreath to a tray. So using the parchment paper allows me to use a couple of spatulas and put them under the parchment paper and I can transfer the wreath without it breaking apart.
Turn the baking tray about half way through the baking time. I've found that if I turn the baking tray then all of the rolls achieve a more even brown color and are evenly cooked through.
Holiday Cheesy Pull-Apart Bread Wreath Recipe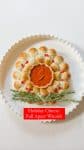 Holiday Cheesy Pull-Apart Bread Wreath
Holiday Cheesy Pull-Apart Bread Wreath. The perfect appetizer to bring to holiday parties or for a special night at home.
Prep Time 2 hours 10 minutes
Cook Time 18 minutes
Ingredients
1 package Frozen Rolls (36 count)
6 sticks string cheese, cut into 36 pieces
1 egg for egg wash
1/2 cup shredded Parmesan cheese
Butter Glaze
1/2 cup shredded Parmesan cheese
6 cloves garlic, minced
spices you can add fresh or dried italian seasoning, rosemary, thyme or whatever you like.
salt and pepper to taste
Instructions
Take rolls out to thaw. You can thaw them on the countertop for 2-3 hours or take them out of the freezer the night before and let them thaw in the refrigerator.

Preheat oven to 425-degrees. Lay parchment paper on baking tray. I used a round baking tray so I cut the parchment paper into the circle shape so it would fit in the pan. (Having the parchment paper fit the pan keeps the wreath edges from getting bunched up in the paper as it rises in the oven).

Take one roll out of the package and flatten it in your hand. Add a cube of string cheese and wrap the edges of the dough around the cube of cheese so it is completely enclosed in the dough.

Place the dough ball on the parchment paper with the seam side down. Do this with all 36 rolls, placing them so they touch each other gently and go around in a round shape. Create one circle and then place rolls inside the circle so there are two circles of dough balls with all dough touching gently.

Make an egg wash by putting an egg in a small bowl and adding about 1/4 cup of water. Whisk until combined. Brush egg wash over rolls.

Sprinkle 1/2 cup of shredded cheese over rolls.

Place baking sheet in 400-oven for 16-18 minutes. I turn the tray half way through so the rolls brown more evenly.

Once rolls are done baking, take the baking tray out of the oven.

Melt butter, add herbs, salt and pepper. Brush butter glaze over rolls.

Sprinkle remaining Parmesan cheese over rolls.

Serve with marinara or pesto sauce. Enjoy!
Make Different Variations of Cheesy Pull-Apart Bread
The beauty of this easy recipe is you can take the same idea and make the rolls into different shapes. I made a pumpkin-shaped one and it was so good. I combined a couple of the roll dough and created a little pumpkin stem and inserted 1/2 cheese stick inside. It was so cute. You can also make a tree for Christmas. I am going to make that one next! Another idea would be create a heart for Valentine's Day – the ideas are endless!
Pumpkin-Shaped Cheesy Pull-Apart Bread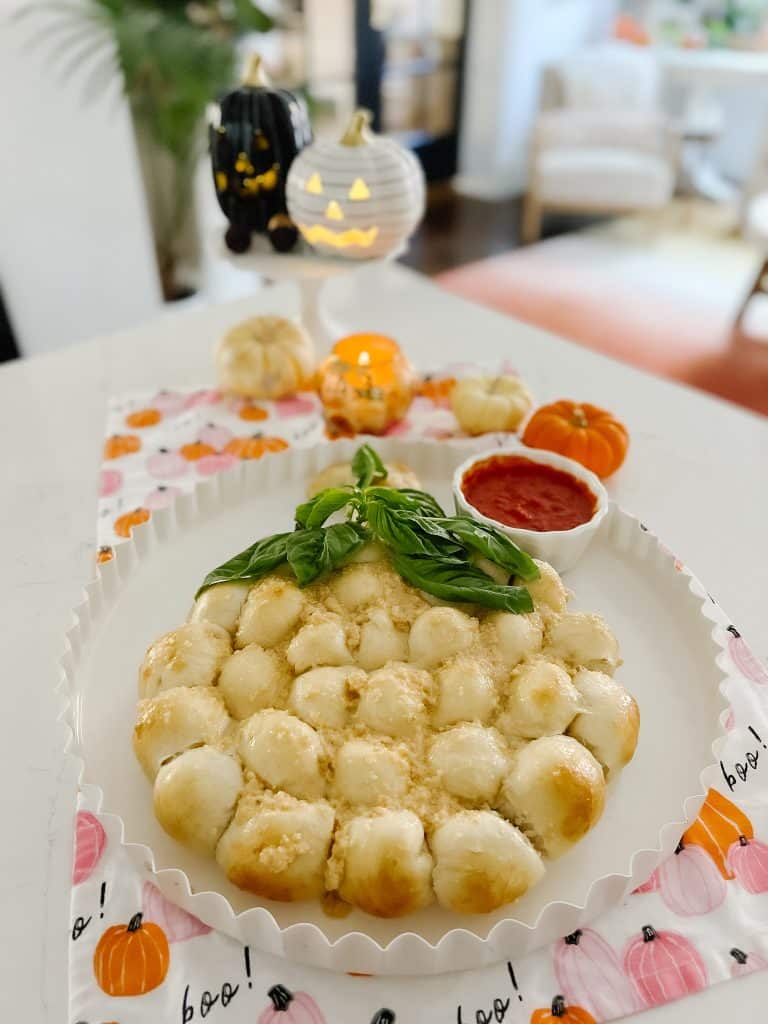 Heres a link to the Pumpkin-Shaped Cheesy Pull Apart Bread I shared on my Instagram page @tatertotsandjello. This one is perfect as a Thanksgiving appetizer!
More Festive Holiday Recipes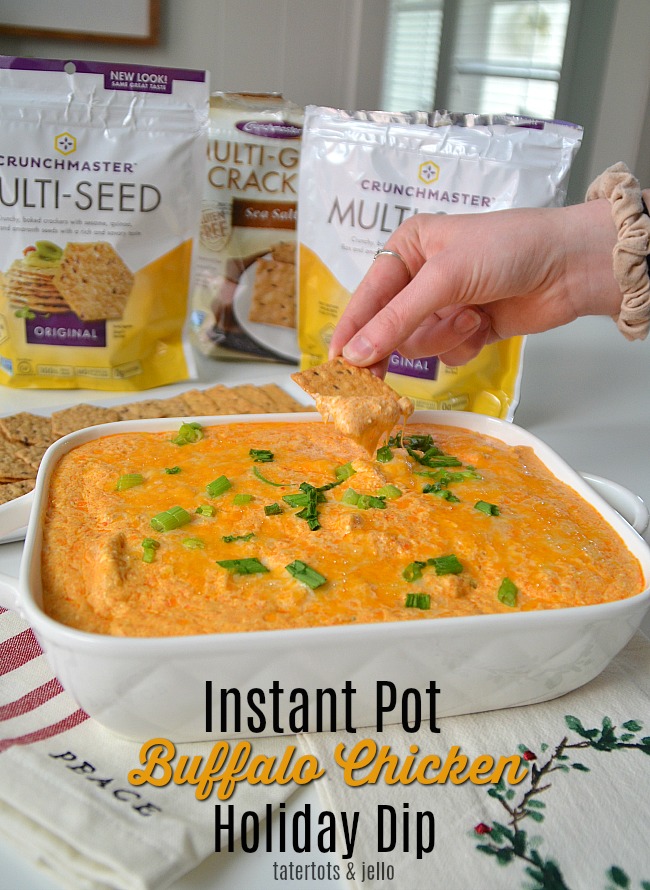 Instant Pot Buffalo Chicken Dip – the perfect easy dip to make for holiday parties!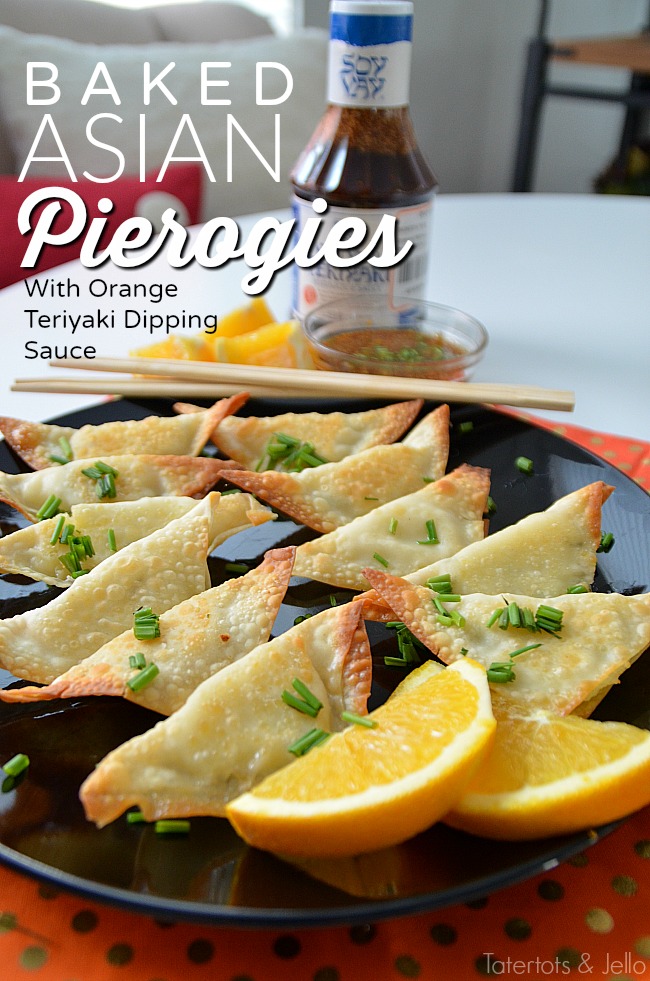 One my favorite family traditions is making my grandma's Pierogis during the holidays. Here's a spin on traditional pierogis — Baked Asian Pierogies with Orange Teriyaki Dipping Sauce. So yummy!
Have a Beautiful Day!
xoxo