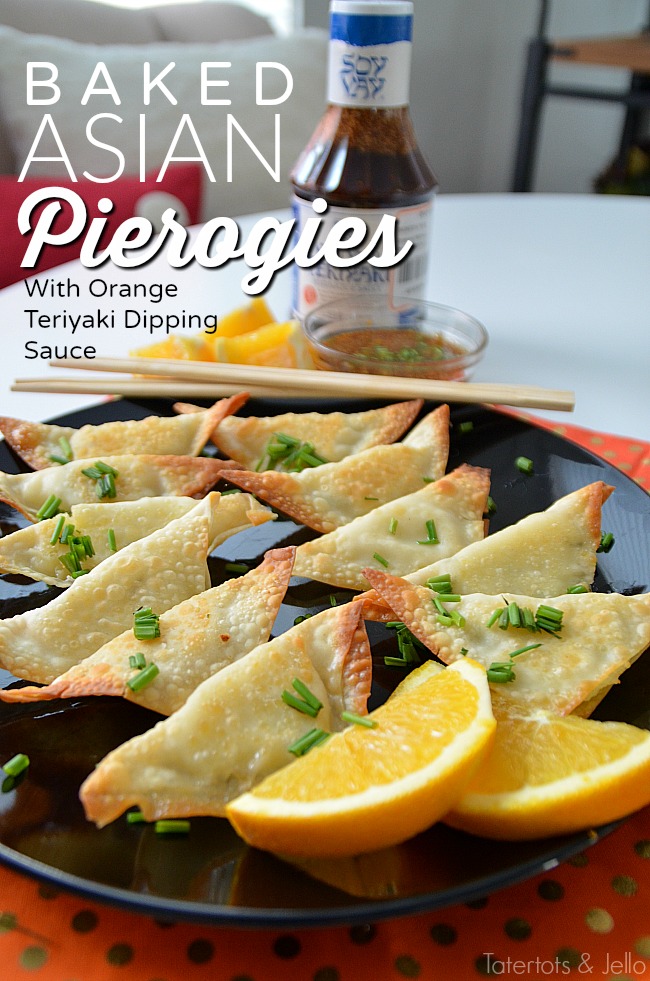 ---
Baked Asian Pierogies with Orange Teriyaki Dipping Sauce
---
Baked Asian Pierogies with Orange Teriyaki Dipping Sauce. Ever since we moved to our new house this year I have been craving traditions. I've pulled out the recipe book my mom made me so many years ago and made so many of the dishes from my childhood. One of my favorite memories is my grandmother making Pierogies. She was an amazing cook. She would make Pierogies during the holidays and I loved the memory of walking into her kitchen and smelling the dough and butter and hear the Pierogies sizzling on her stove.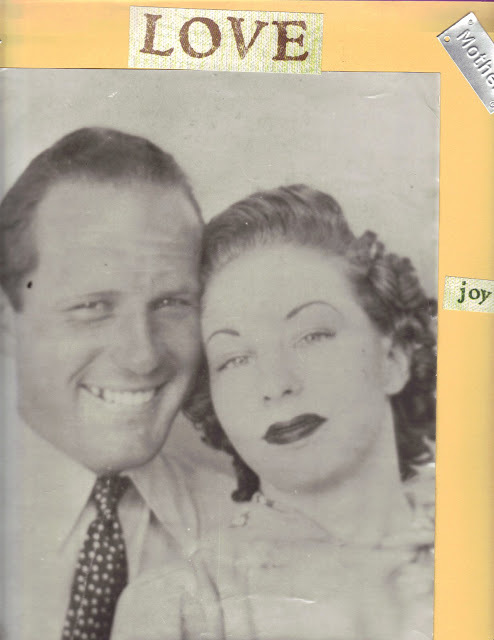 I've been making Pierogies on New Years Eve for at least 10 years now; it's one of my favorite holiday traditions — here's my grandma's Polish Perogies Recipe!!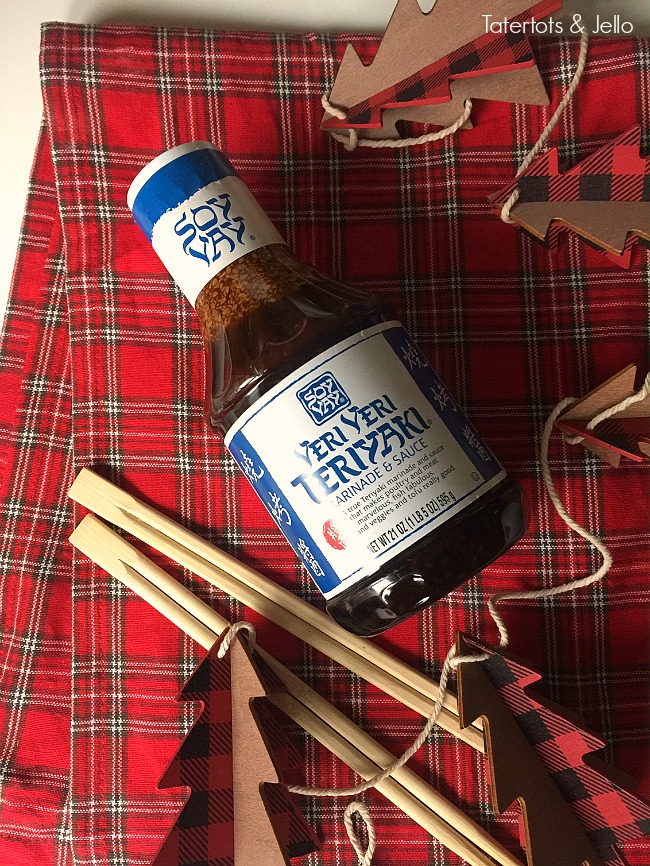 So when Soy Vay contacted me about their Chrismukkah campaign I thought it would be so fun to make an Asian version of my childhood favorite Pierogi recipe! Baked Asian Pierogies with Orange Teriyaki Dipping Sauce.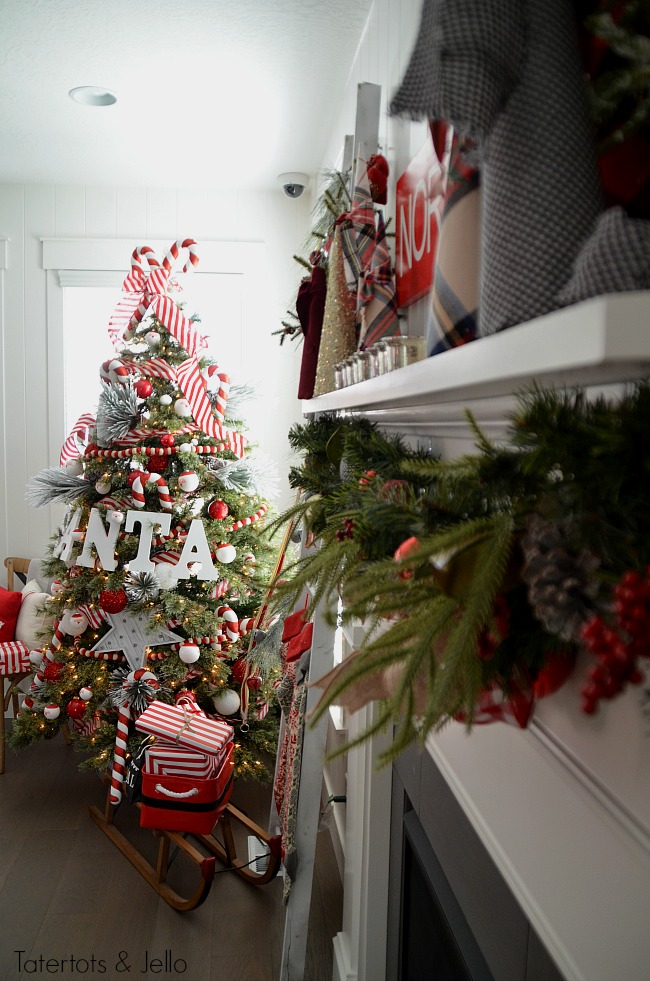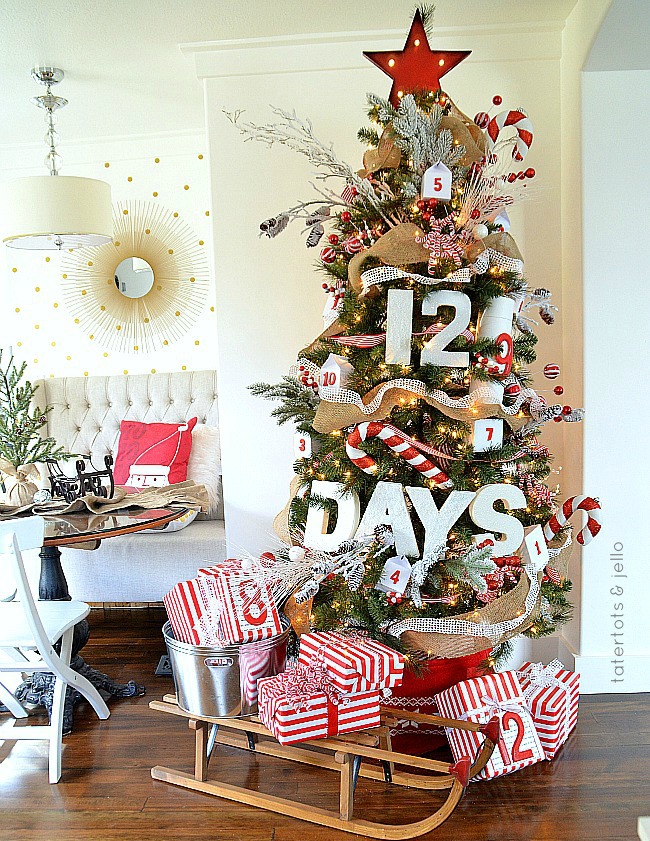 It's perfect to make while you are trimming the tree!!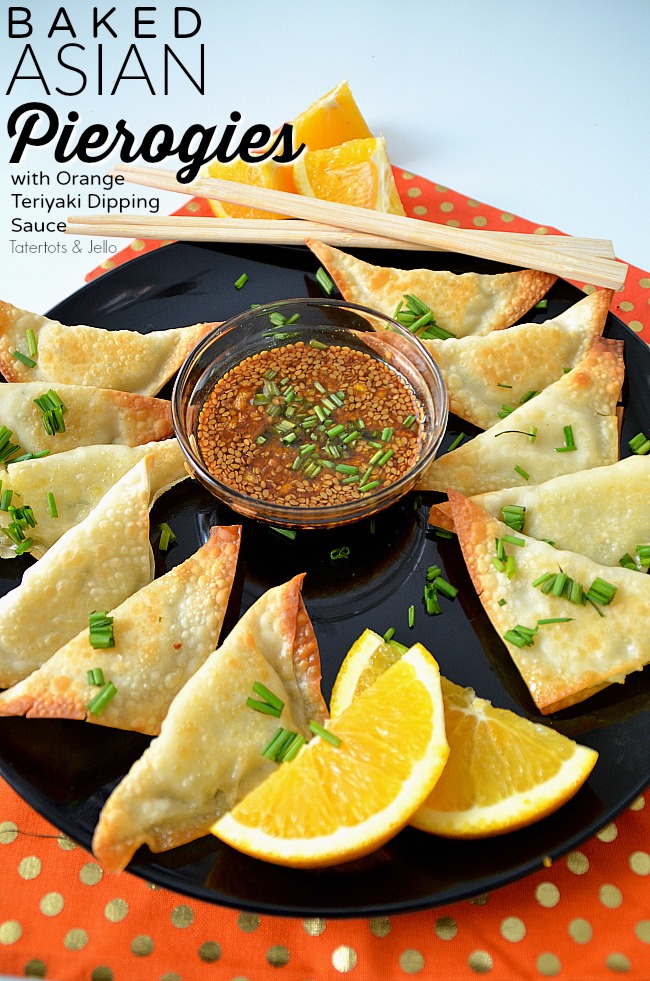 Soy Vay wants to mash-up our nation's favorite holiday mash-up, Chrismukkah, by adding a Soy Vay twist to bring it to next-level amazing.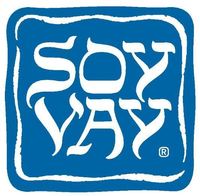 As both Christmas Day and the start of Hanukkah land on December 25th – it's the ultimate time to celebrate the super holiday!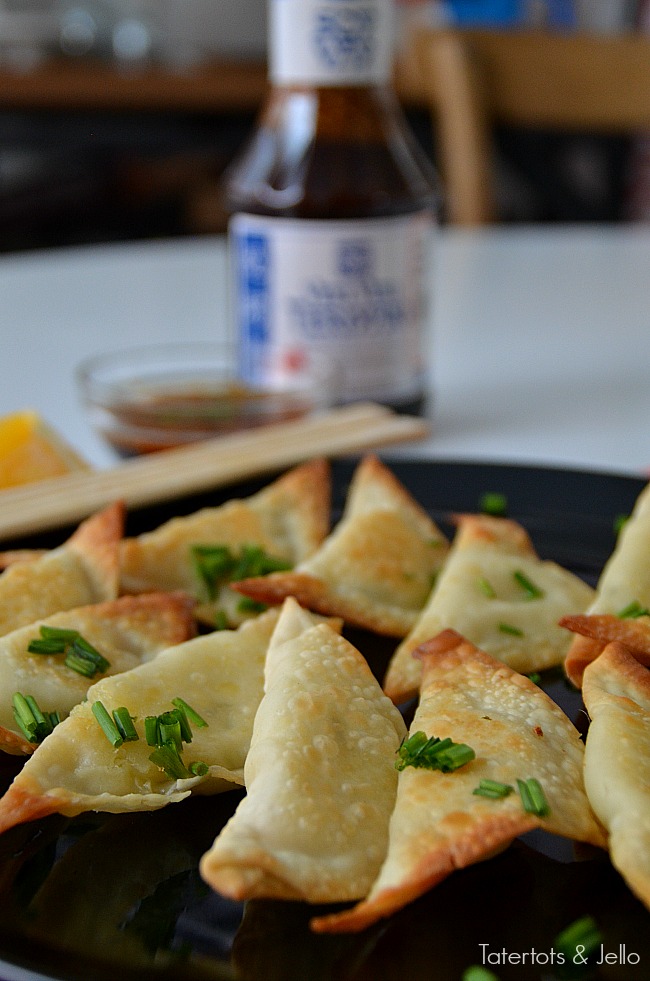 ---
Baked Asian Pierogies with Orange Teriyaki Dipping Sauce
---
Check out this fun Chrismukkah Song!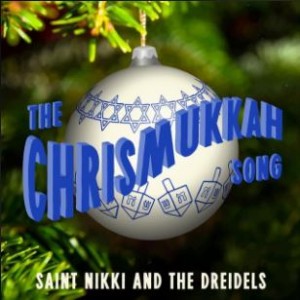 I am a HUGE OC fan and my favorite episode ever is their Chrismukkah episode. I love the idea of combining Christmas and Hanukkah. We've made some friends in our new neighborhood that are jewish and it's been so fun hearing about their traditions!
These Baked Asian Pierogies would be the perfect appetizer to bring to Christmas, Hannukah, New Years Eve or pretty much ANY holiday party this year!!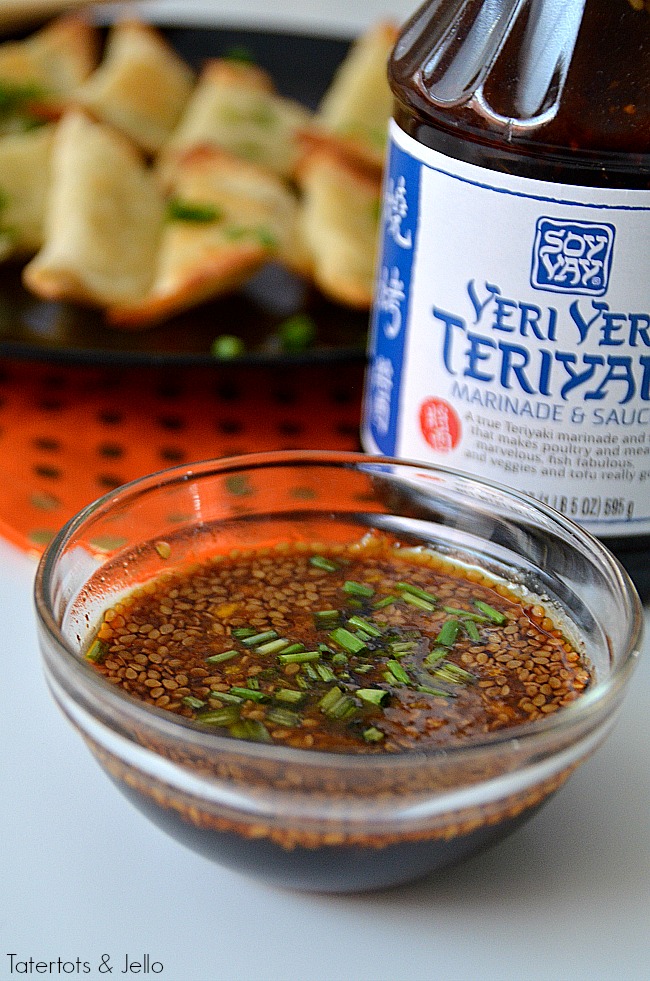 In case you aren't familiar with Pierogies,
Pierogi are filled dumplings from eastern Europe. I am not sure how my grandmother came by this tradition but it was likely handed down from her European ancestors. To make Pierogies, you make a dough which is rolled out and you cut out small squares or round circles in the dough and fill those with filling. Some of the fillings I have seen are sauerkraut or meat. My grandma always made Pierogies filled with a delicious potato cheese filling. Just talking about it makes my mouth water. The filling is placed in the center of the dough and then the dough is folded over and sealed up with a little water and a fork. You boil the pierogies in water and then you fry them in butter and serve them with sour cream and chives.
As I was thinking about how fun it would be to make an Asian version of this favorite dish, I thought about trying to make the Asian Pierogies with won ton wraps?? How easy would that be!! Won ton wraps are basically flour dough that is already rolled out, cut and ready to use! And I love that Soy Vay is such a fun brand to work with! Soy Vay® was founded in 1982 when two friends—a Jewish boy and Chinese girl— came together over their love of food, Asian flavors, secret family recipes and the idea to bottle the best-tasting sauces possible by using only the finest ingredients around— I knew that they would love the idea of taking a traditional recipe and twisting it into something NEW!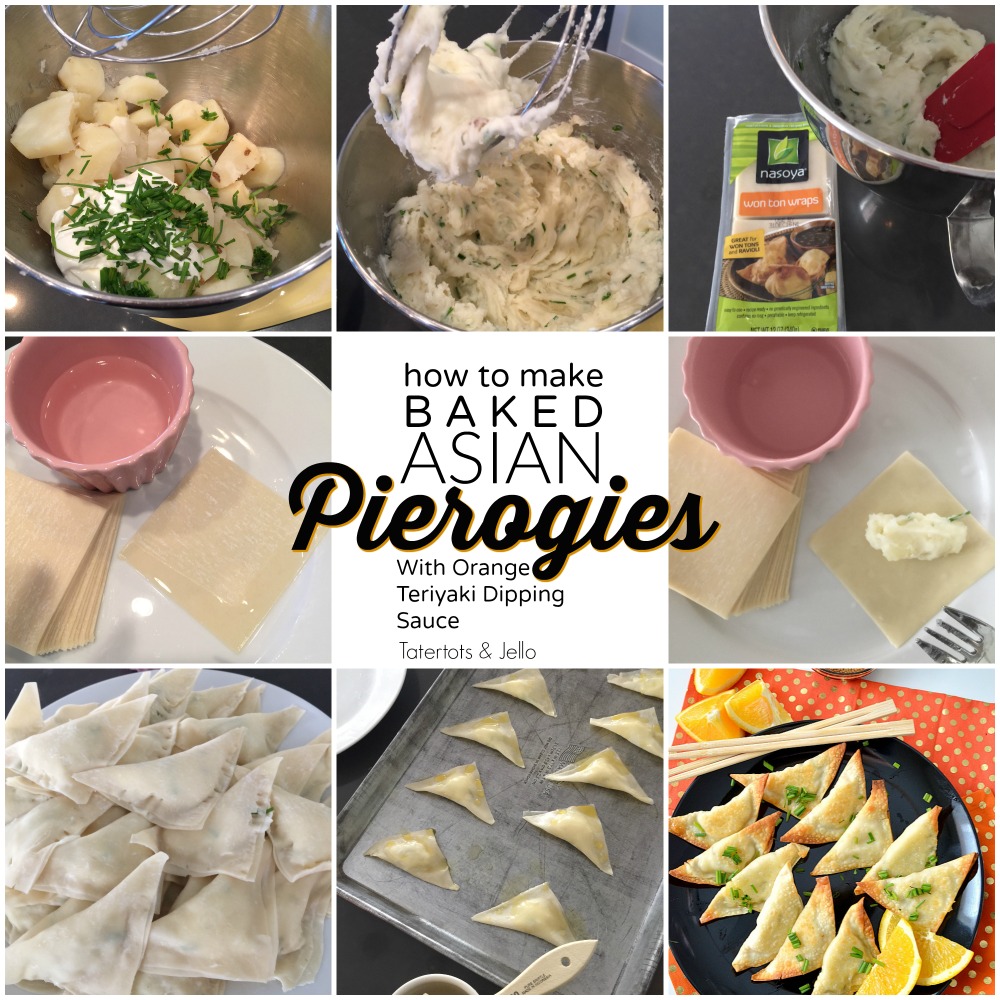 ---
Baked Asian Pierogies with Orange Teriyaki Dipping Sauce
---
I experimented making this recipe a few different ways and came up with this baked version that uses Won Ton Wraps. You can whip this recipe up in no time throughout the holidays!
Baked Asian Pierogies with Orange Teriyaki Dipping Sauce
Recipe Type: Appetizer
Cuisine: Asian
Author:
Prep time:
Cook time:
Total time:
Serves: 24
Baked Asian Pierogies with Orange Teriyaki Dipping Sauce. Take traditional pierogies and give them an asian twist with these easy asian appetizers. Perfect for the holidays!
Ingredients
1 pkg. Won Ton Wraps
3 potatoes, peeled and diced.
1/4 cup sour cream
1/8 t. ground ginger
chives, chopped
olive oil
salt and pepper
Soy Vay® Veri Veri Teryiaki® Sauce
1/4 cup orange juice
1 T. orange peel grated
1 orange for garnish
Instructions
Boil potatoes in a medium saucepan until soft.
Mix potatoes, sour cream, 1 T. chopped chives, salt and pepper and 1 T. Soy Vay Teriyaki Sauce.
Wet the edges of each won ton wrap and put a small spoonful of filling in each won ton wrapper.
Fold the won ton over the filling and press the edges together with your fingers or with a fork.
After all of won ton wraps are filled, put the pierogies on a greased baking sheet.
Heat oven to 350 and brush the tops of the pierogies with olive oil. Bake the pierogies for 8-10 minutes or until edges are brown.
While the pierogies are baking mix up the dipping sauce.
Dipping sauce:
Put 1/3 cup Soy Vay Teriyaki Sauce in a bowl. Add 1/4 cup orange juice, ginger, and orange peel and mix together.
I can't wait to make these Baked Asian Pierogies with Orange Teriyaki Dipping Sauce for New Years Eve this year!!

And if you are looking for something else that's delicious – try these Chrismukkah Bundles!
You can follow along with Soy Vay for all kinds of yummy inspiration:
Pinterest: @SoyVay
Instagram: @SoyVay
Twitter: @SoyVay
Facebook: @SoyVay
Do you have any holiday tradition recipes?
What do YOU love to make for the holidays?
xox

Thanks to Soy Vay for sponsoring this post. I love the idea of taking one of our traditional recipes and putting a Chrismukkah spin on it! All opinions are my own.
This is a sponsored conversation written by me on behalf of Soy Vay. The opinions and text are all mine.