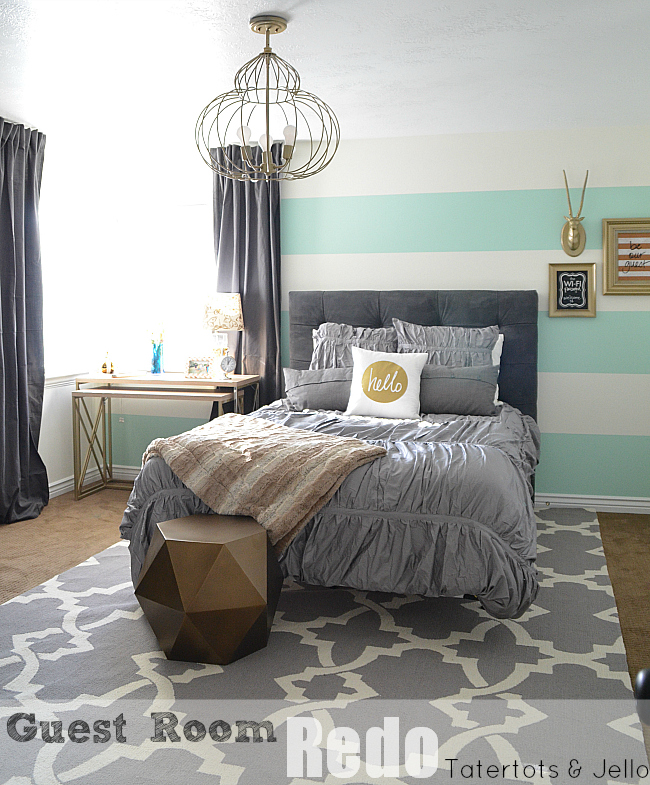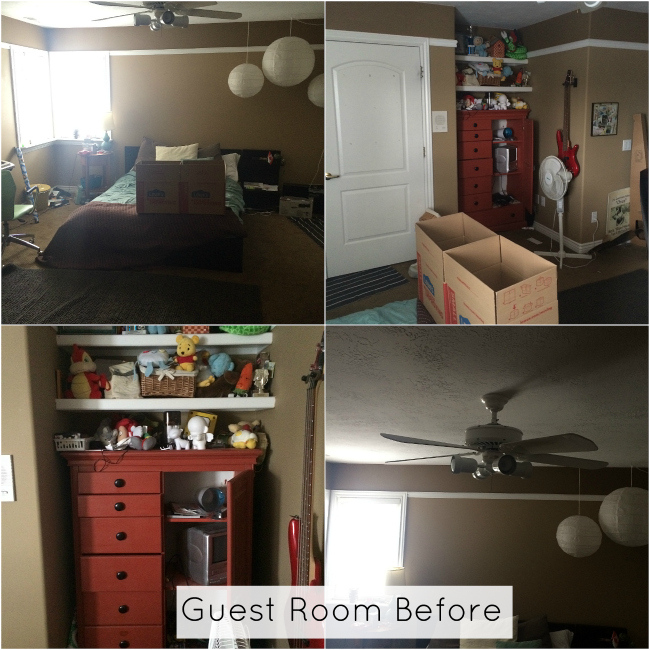 I've had such a fun time working on our new guest room. At the start of the school year all of my kids wanted to switch rooms around and my middle daughter took over what used to be our guest bedroom in the basement. My son is away at college and since his room is the largest bedroom and has its own bathroom, I thought it would be a great space to turn into a guest room.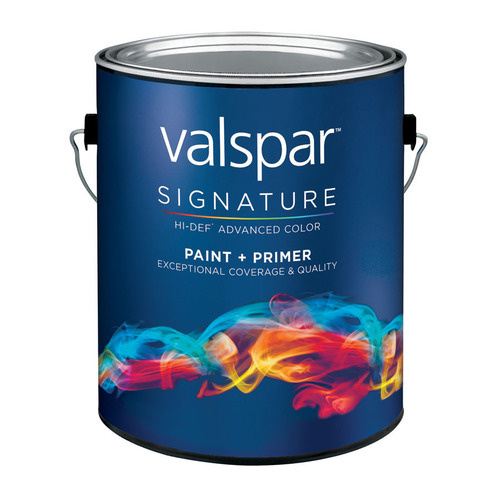 I consulted my son as I was planning this room. I didn't want him to think that he wouldn't have a bedroom when he comes home in the summer from college. I made sure to use colors that he likes.

Color Choices
The room was very dark before. I wanted to lighten it up by painting it mostly white. I chose Valspar Betsy's Linen which is a soft white. I love stripes and I thought it would make such a statement to paint really wide stripes horizontally on the main focal wall. And I also thought it would be pretty to bring in an accent color. And Valspar Pacific Pleasure is such a strong and pretty color. And to ground the room I brought in some greys with the rug, duvet and the headboard. I painted it Valspar Wetlands.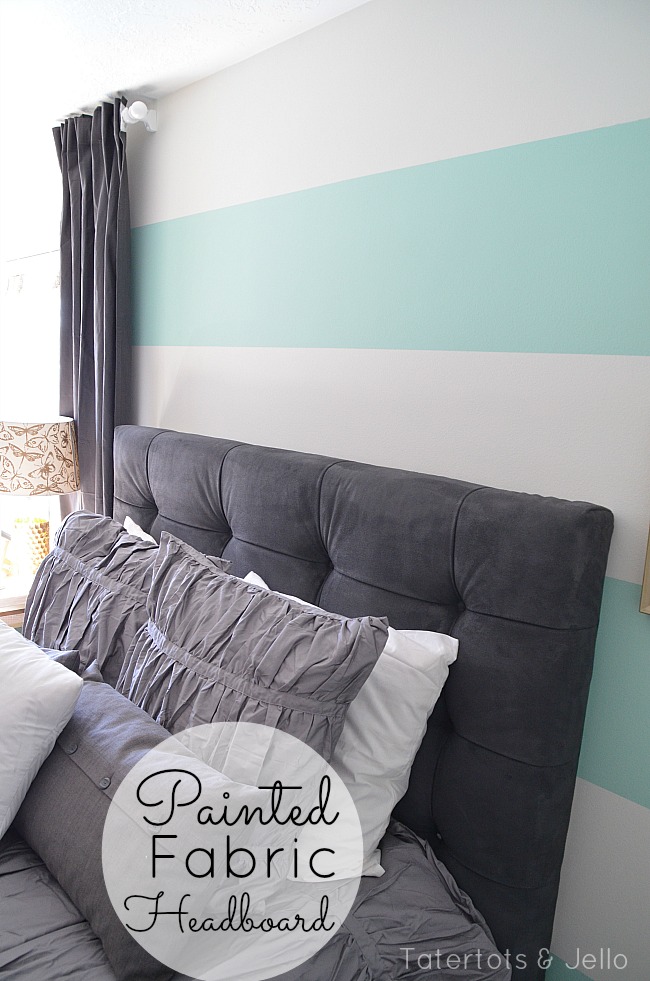 Headboard
I was going to build a headboard and upholster it, but as I was browsing at a thrift store, I found a headboard that was just about the right size and shape. It was upholstered in a fuzzy white material which wouldn't work in my space. But as I was thinking about it, I thought it would be fun to try to paint it and see how that turned out. And I have to say I love it. The paint makes it look like it's suede, which is really pretty and gives the headboard texture.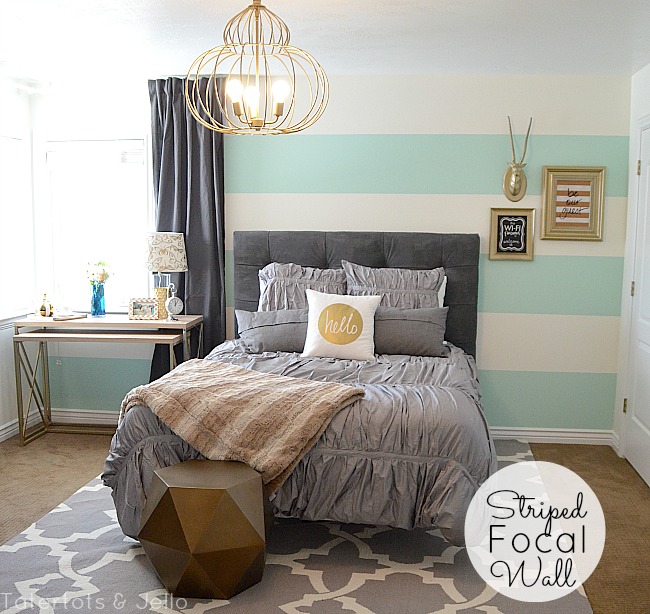 Stripes, and then more stripes
You may have seen my wall stripes in this post (along with tips for painting perfect stripes!). I love using these big, bold stripes as a focal point for the room. But I also wanted to try them on a smaller scale in the desk nook. So I painted vertical stripes above the desk, too! (I show you how I did both types in this post.) And the duvet is from Crane and Canopy – MIrabel Grey Duvet.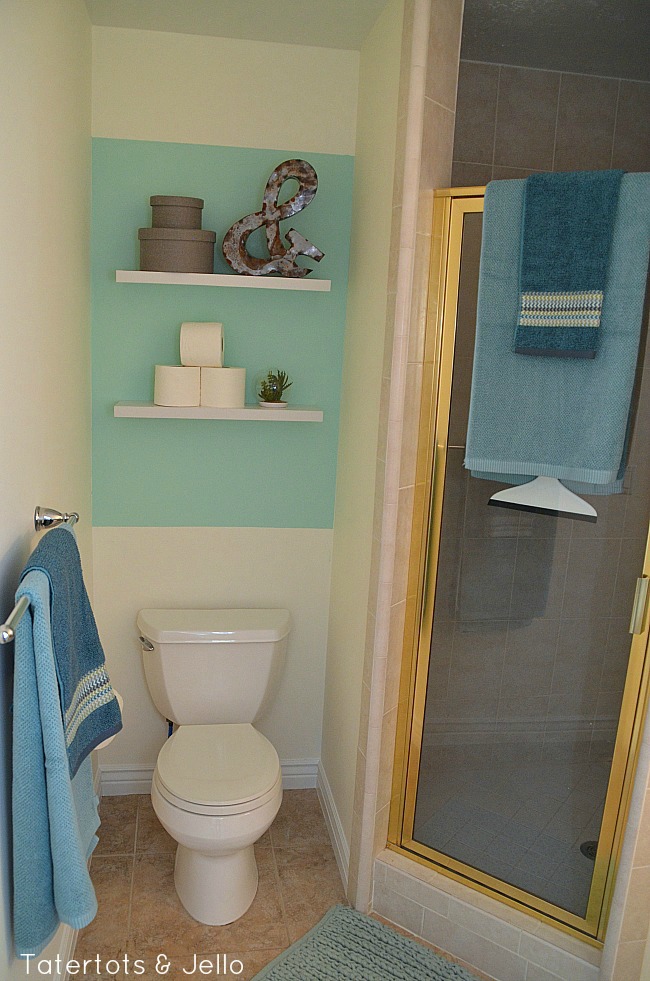 Bathroom Focal Wall
I wanted to bring the mint color into the bathroom as well — so I created a focal area above the commode. I thought about painting stripes, but felt they would have been just a little too much in that space. I did, however, break up the color with two white floating shelves. The block of color is about 45 inches high.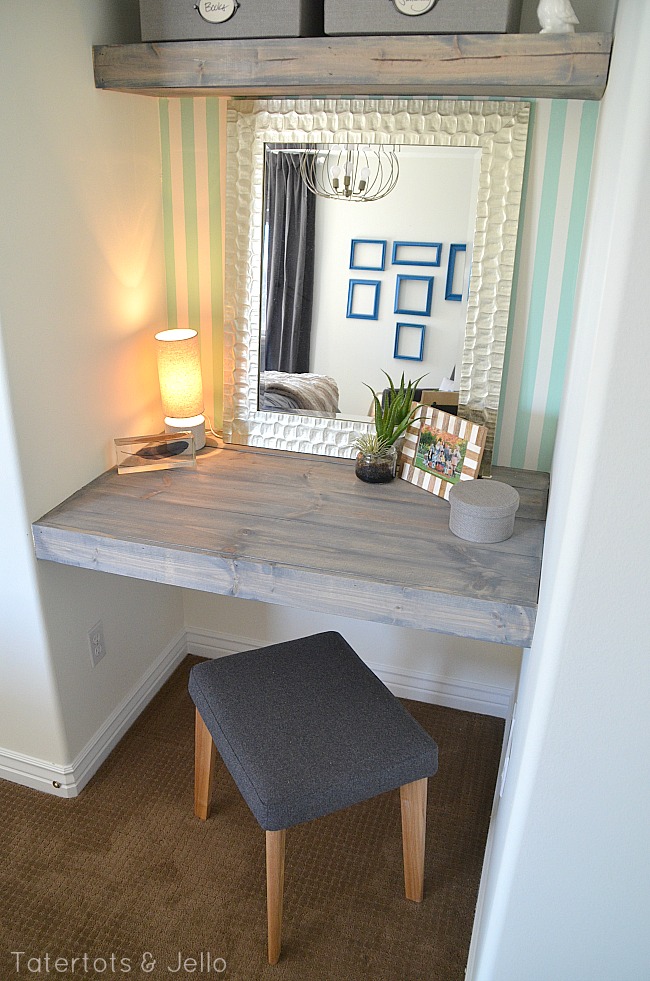 Floating Desk and Shelves
I replaced a couple of tall particle board shelves painted white — and an ancient armoire in this nook with custom-built floating shelves and a floating desk. They added a practical and attractive additional space to this guest "suite." It's perfect for using a laptop, applying makeup, writing a postcard home ("I'm never leaving. Jen's guest bedroom is too comfy. Wish you were here."). I shared the tutorial on how to make this Floating Desk and Shelves here.
Lighting Changes
I've gradually finished replacing all of the ceiling fans in the house. While I like how they move the air, they are not attractive and the lights attached are just horrible. So instead I replaced this with a cage lamp. It shipped with Edison lights, which were fun, but did not provide enough light. I also added a couple of other lights in the room, one on the desk and one near the bed. I think guests will use those more frequently.
In the bathroom, we had embarrassingly dated light fixtures — I replaced both the yellowing can lights with new LED retrofit cans. I also replaced the vanity lights with a more modern, bright fixture.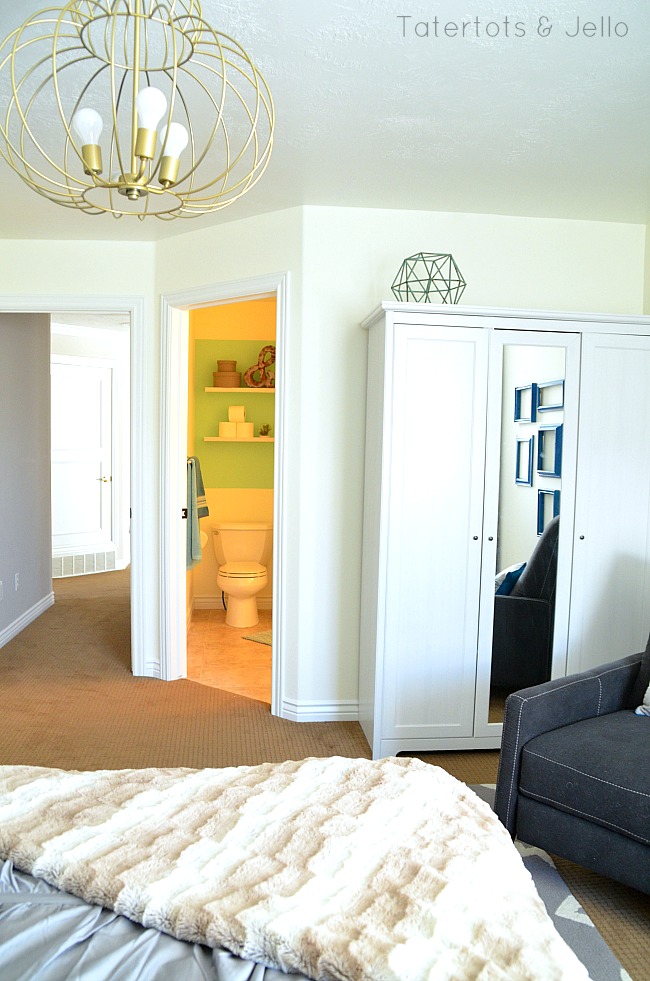 Faucet and Racks
While I can't remove all of the brass in my house … yet … (see the shower door), I did replace all of the towel racks with pretty silver ones. I even added a robe hook! I also replaced the faucet with a nicer silver one –and replaced the cabinet knobs with complementary white knobs. I'm still deciding on what color to paint the vanity. I'm thinking either white or grey. What do you think??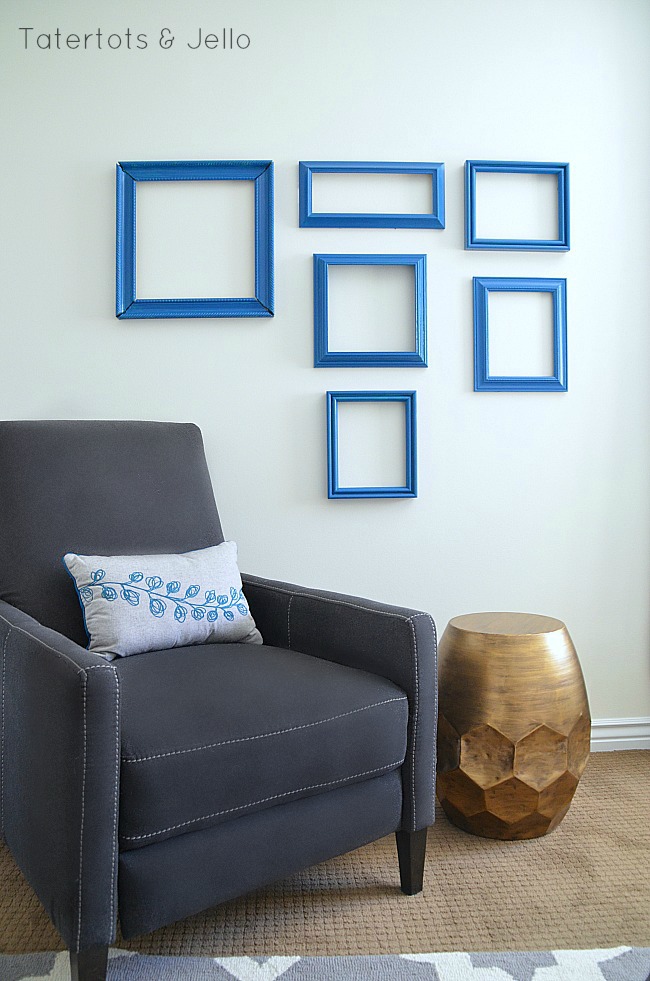 Bedroom Accents
I chose gold as an accent color, and added blues to complement the Valspar Pacific Pleasure blue as an additional accent color. I painted thrift store frames this pretty blue and hung them on the wall with Command Strips.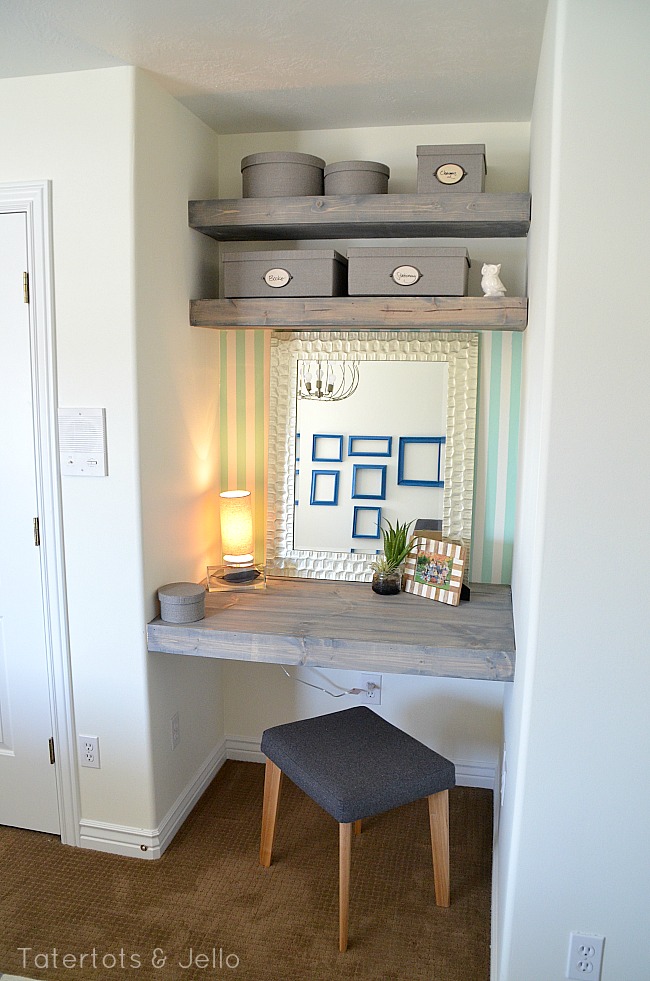 Other fun things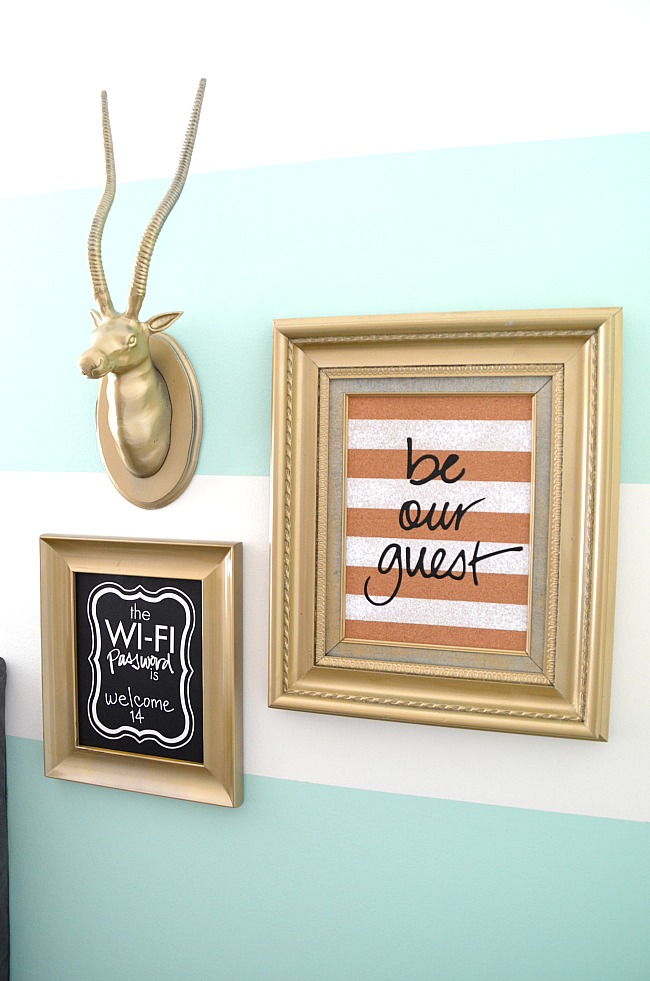 And here's a quick look at the room, how I chose the paint, and some tips for perfect painting!

Do you have a space in your home that you want to freshen up?
Be sure to check out the Valspar Color Selector and Virtual Painter tools at ValsparPaint.com. They are amazing resources that will save you time and money.
And don't forget the Valspar Love Your Color Guarantee — if you paint your walls don't love the color, Valspar Paint offers you a complimentary replacement. That's pretty awesome.
* * * * *
Find out more about Valspar Paint at the Valspar Paint site (special offers, help, and more!).
Check out the Valspar Love Your Color Guarantee
And
Follow Valspar Paint on YouTube
Visit, follow and like Valspar Paint on Facebook
Follow Valspar Paint on Pinterest
Follow Valspar Paint on Twitter
Follow Valspar Paint on Instagram
xoxo

This post sponsored by Valspar Paint. I received materials and compensation for this post. However, the contents, project and ideas are all mine. See my disclosures.
PS: I've linked up this post to these fabulous blogs this week!