Flower Market Summer Mantel and Decorating Ideas! Bring the feeling of summer into your home with these FIVE easy decorating ideas!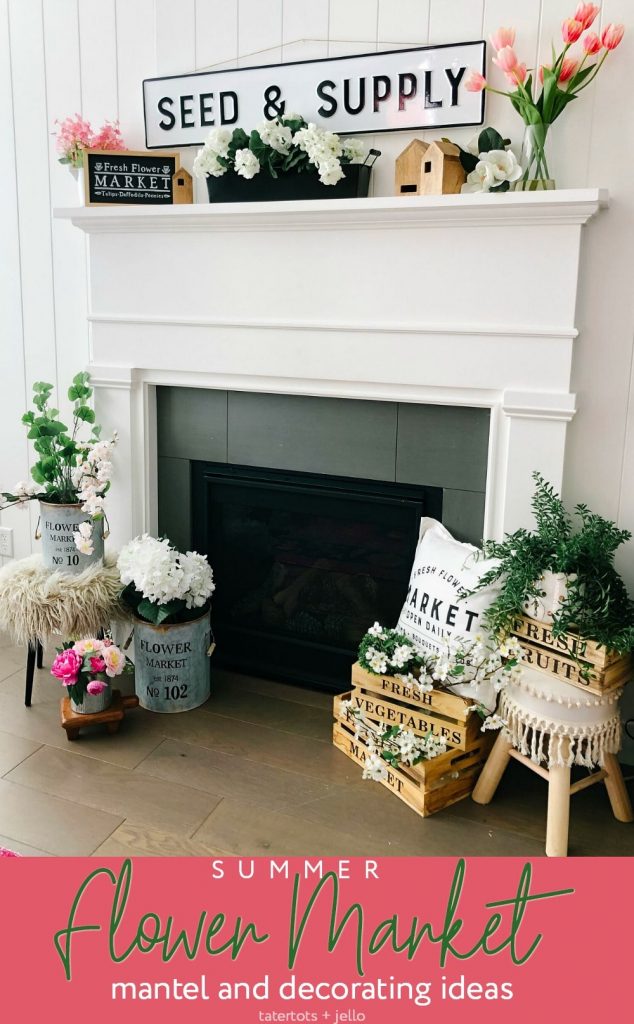 It's been so cold here this Spring! Finally last weekend we had our first "warm" day and it really inspired me to get our home ready for Summer!!
Flower Market Summer Mantel and Decorating Ideas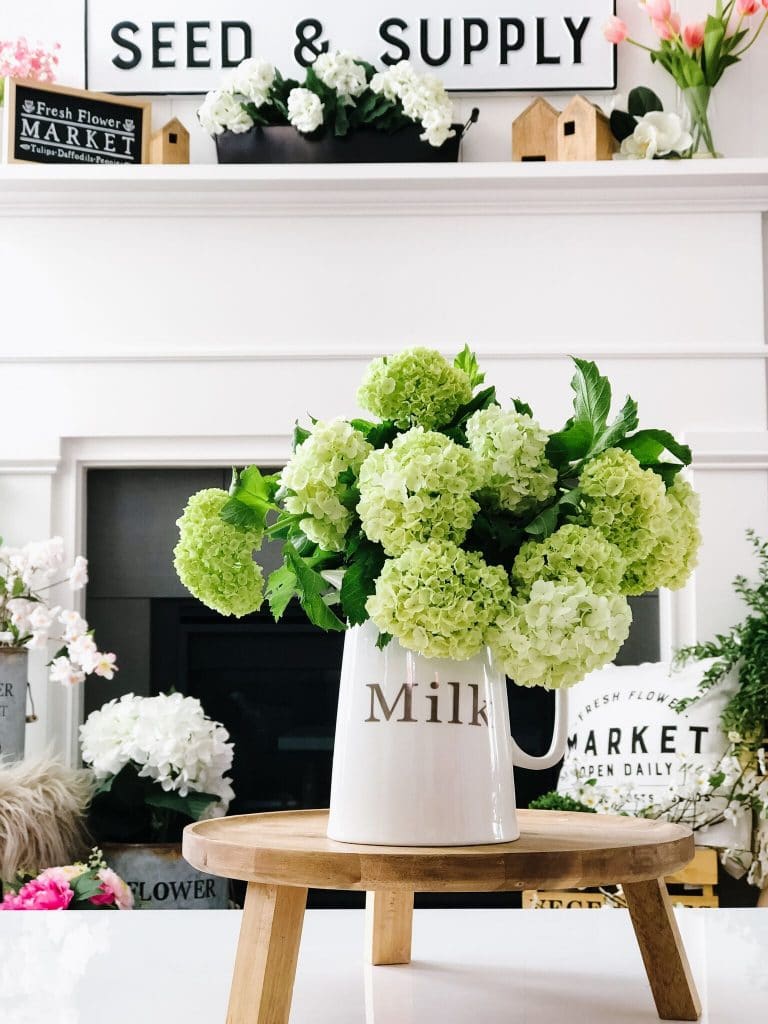 FIVE easy ways to bring the feeling of Summer into YOUR home!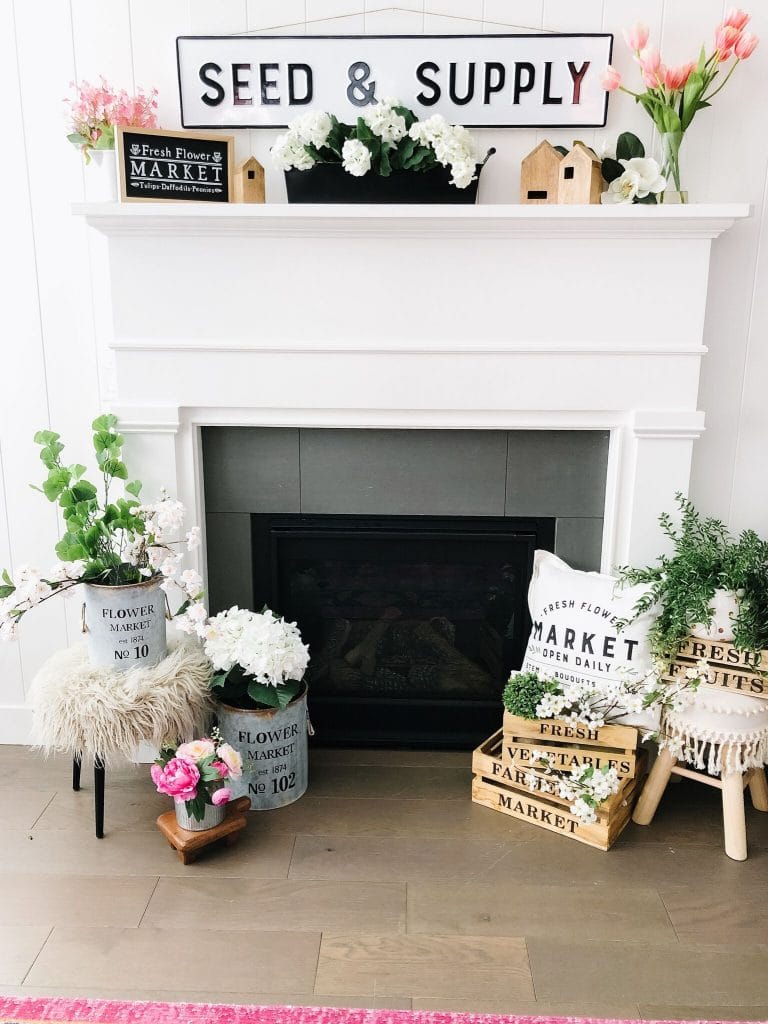 Decorate a Shelf or Mantel for Summer
I love decorating my mantel for the different holidays and seasons. Of course I wanted to decorate for Summer. I found a few easy ways to decorate our mantel with a Flower Market theme!
A Big Summer Sign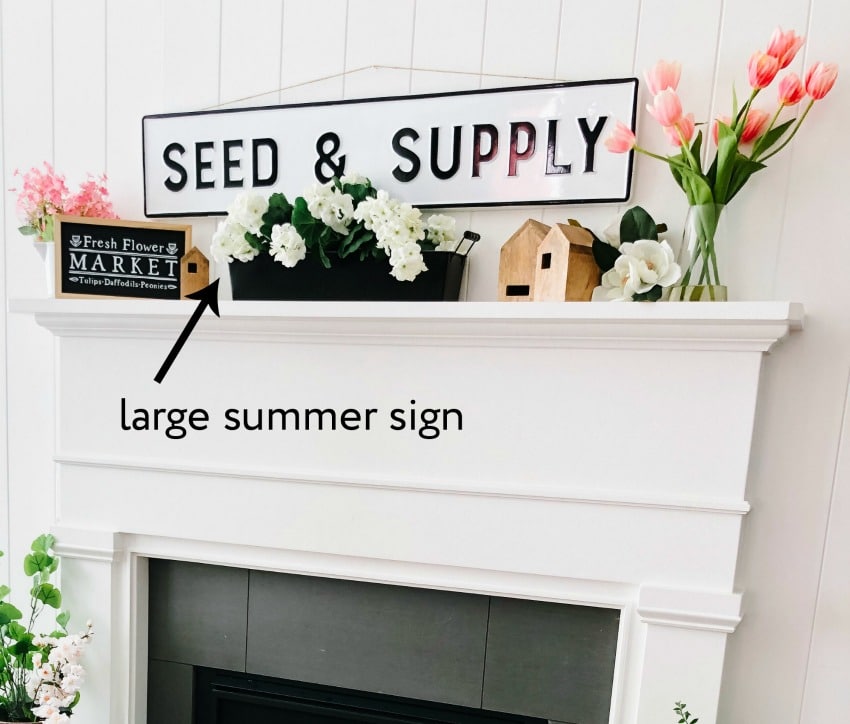 I found this enamel sign at JoAnn Stores. It has an enamel look which I love. I also loved that it was on sale for 70% off – so it was a great deal. If you can't find a big sign that you love, you can always make a GIANT DIY Sign. I have a tutorial on my site. I love making GIANT signs.
Plant Flowers in Galvanized Pots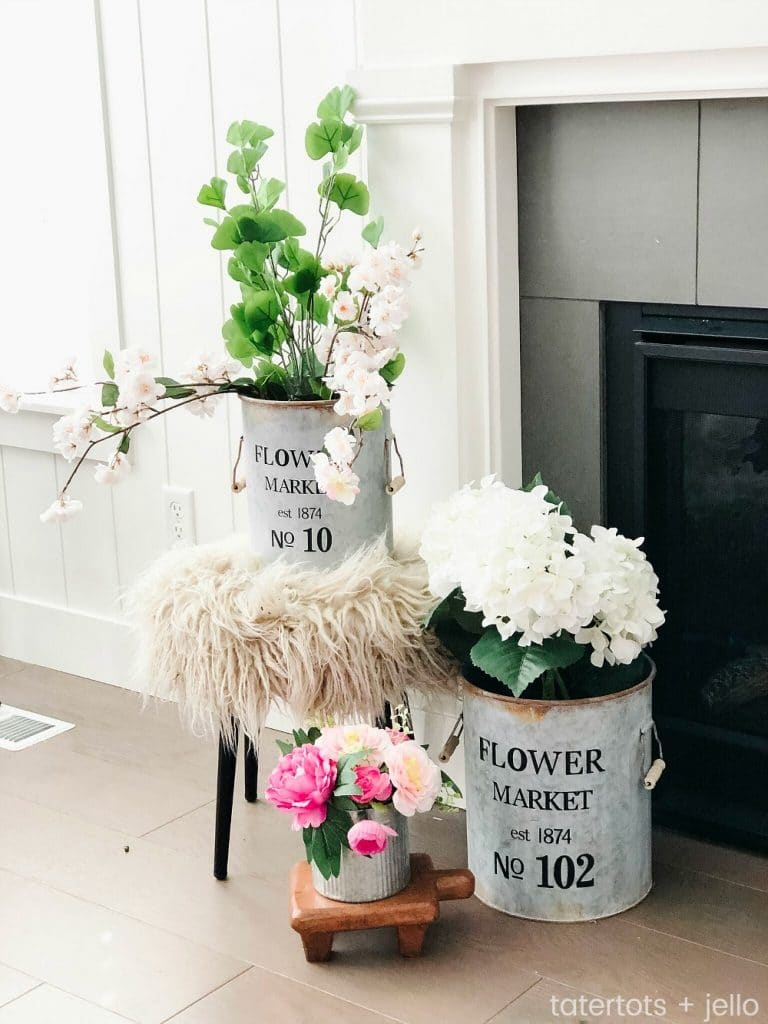 Plant real or "faux" flowers in big pots. I also found these galvanized pots at JoAnn Stores. They were also 70% off. But almost any store has galvanized pots, including Walmart. If you can'y find galvanized pots you like, you can also DIY some pots by using silver spray paint and then rubbing a little stain over the top to make them look galvanized.
Add A Summer Pillow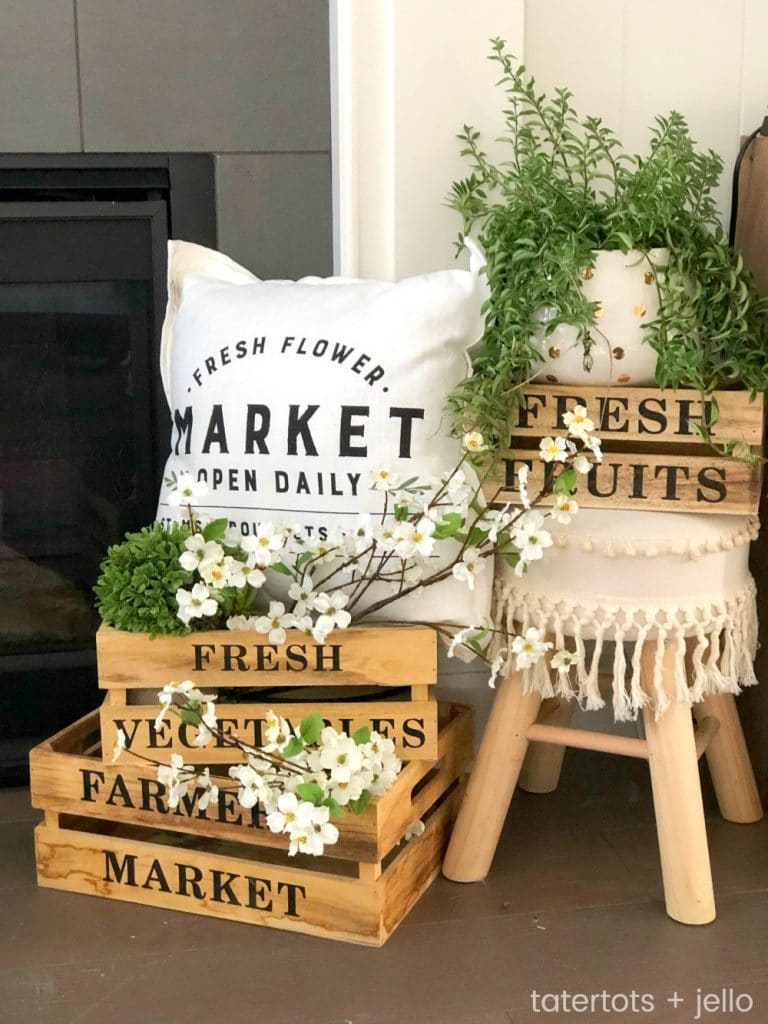 Bring the summer theme into your home with a cute pillow. This is a pillow I also found at JoAnn Stores. But you can DIY this pillow with a plain pillow cover and then either stencil a pattern or saying on with fabric paint, or you can print off the saying on fabric transfer vinyl and IRON it on!
Add a Smaller Flower Sign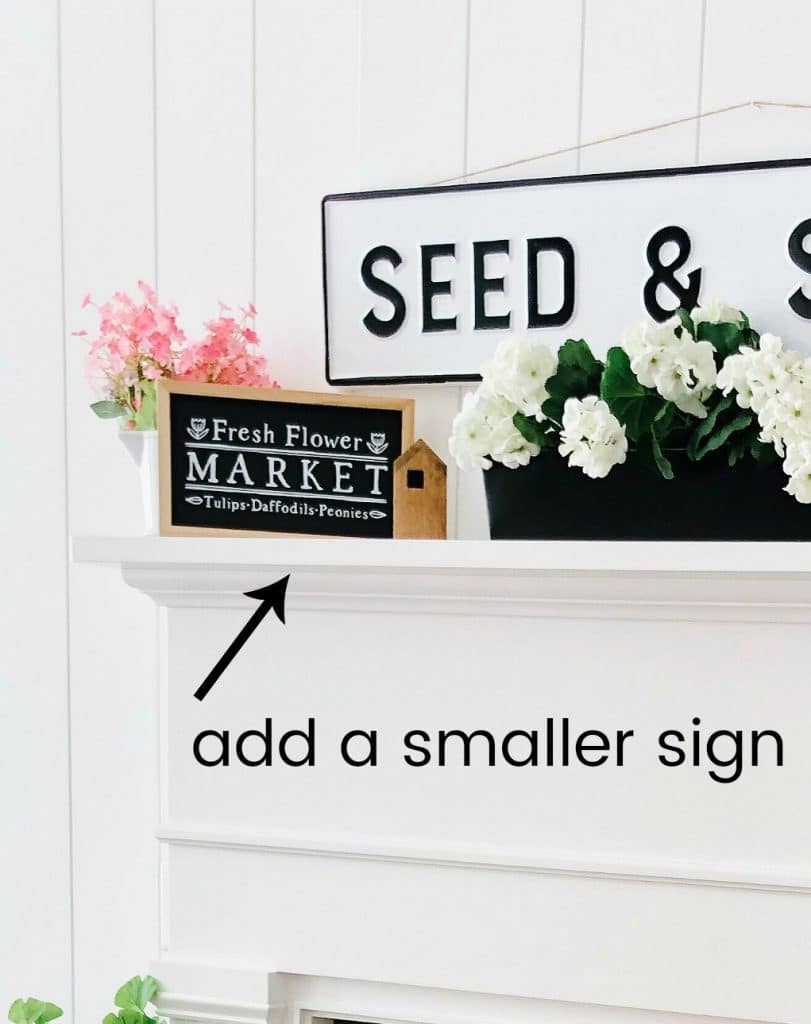 Carry the flower idea through with a smaller sign that goes with the larger one. The idea is the same with this idea as the GIANT sign. You can paint the frame with black paint and then use white vinyl to create the saying. You can also paint the saying by printing off the vinyl and using it as a stencil! Stencil Sign Tutorial.
Stencil Dollar Store Crates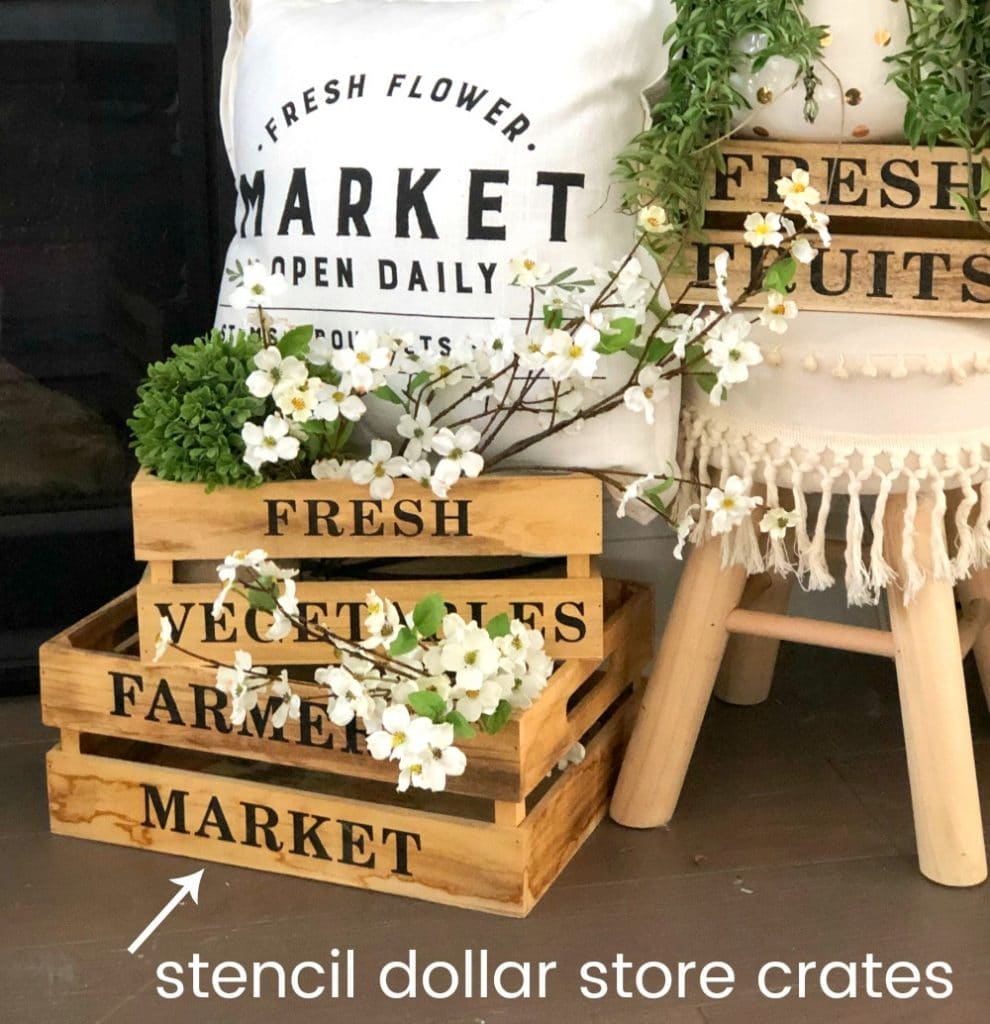 I added some faux and real plants to some crates I found at the dollar store a few years ago. You can also find crates like these in the dollar spot section at Target. JoAnn Stores also has crates like these that you can stencil and JoAnn Stores has stencils too. You can also use "thicker" scrapbook letters to stencil – here's a tutorial to do that — DIY Stencil Crate.

I am so happy with our new Flower Market mantel! I am also going to add a few paper banners under the mantel for some more color! You can make an easy Burlap and Paper banner in just a few minutes. I have the Burlap and Paper Banner Tutorial on my site!
Decorate a Shelf for Summer instead of a Mantel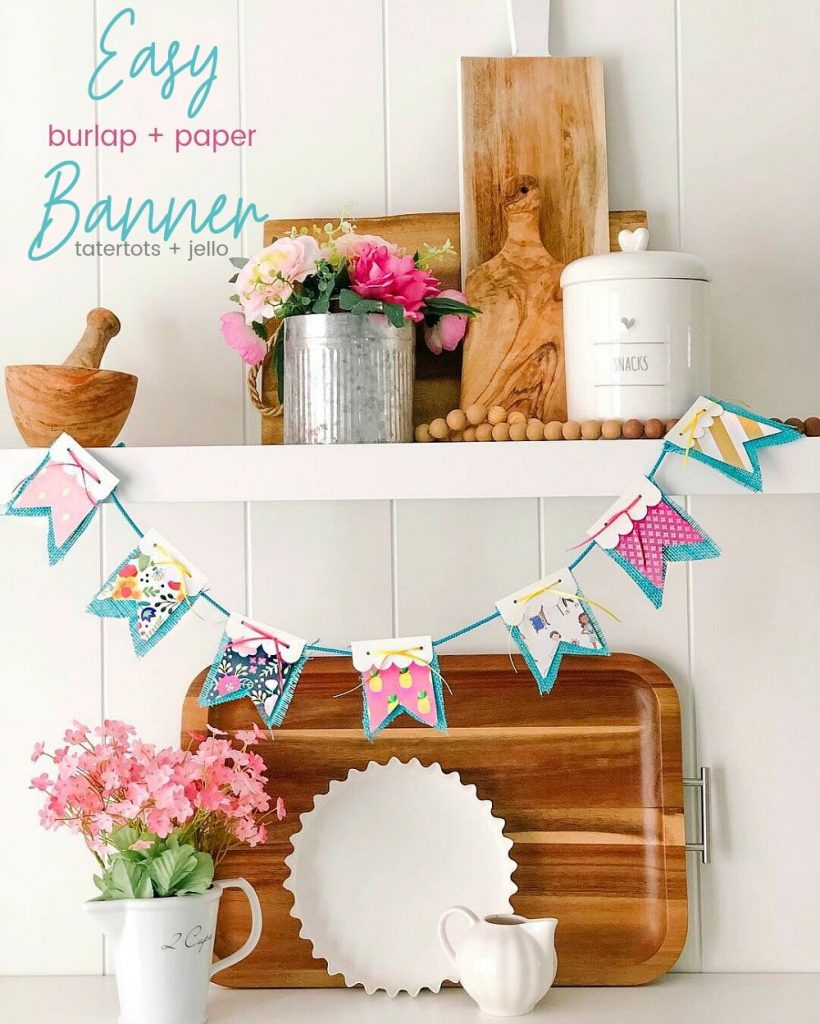 No worries if you don't have a mantel in your home! You can use these same ideas to decorate a shelf or table! I created a nook in my kitchen with shelves and this is an area I love to decorate for the different seasons and holidays too! DIY Burlpap and Paper Banner.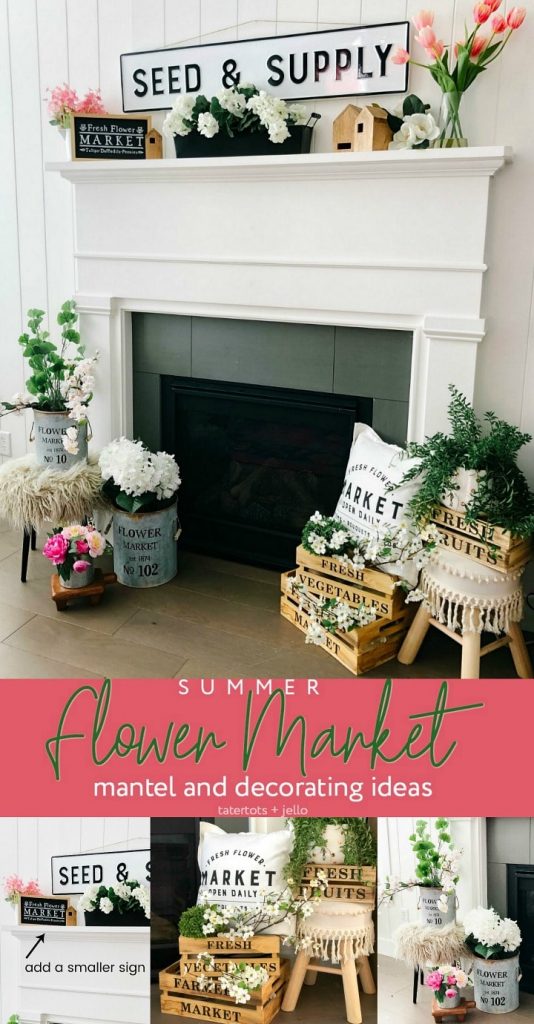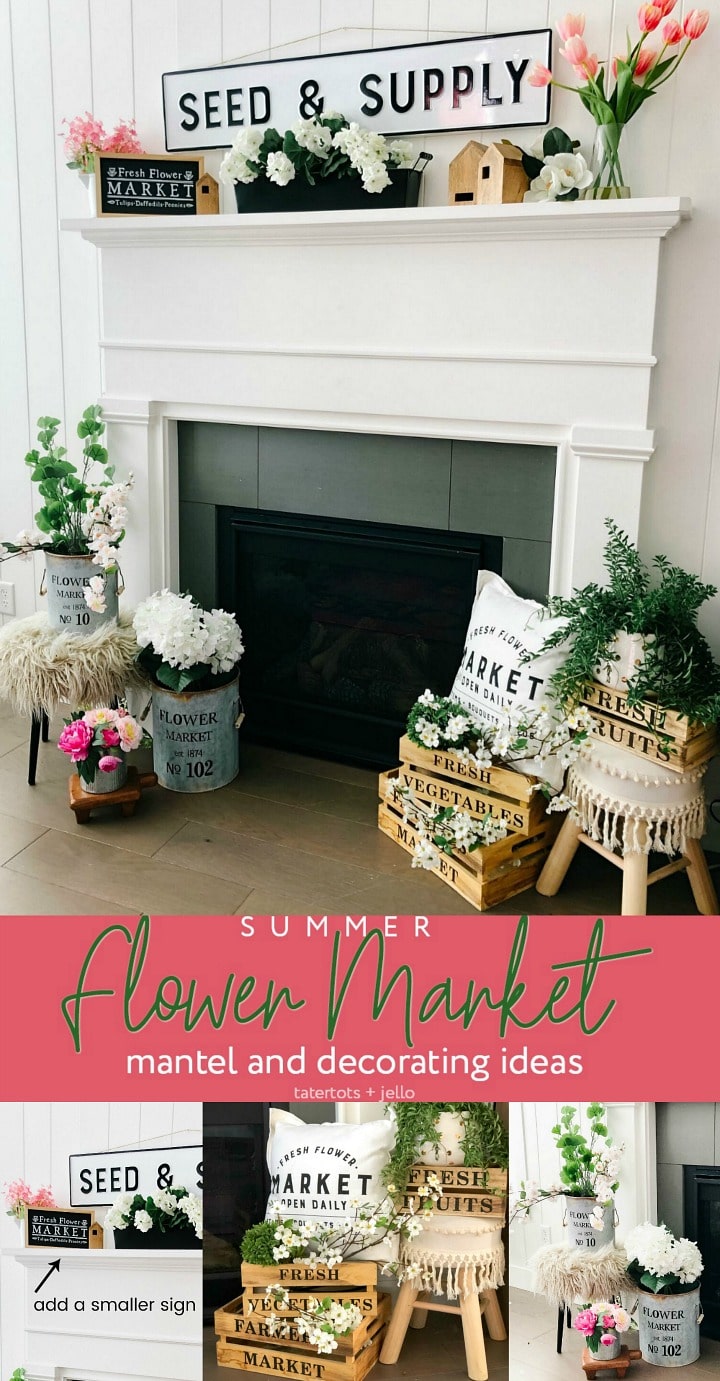 Also – I am so thrilled that my Chasing Adventures and Heart of Home lines are in JoAnn Stores! Be sure to check them out when you are there!!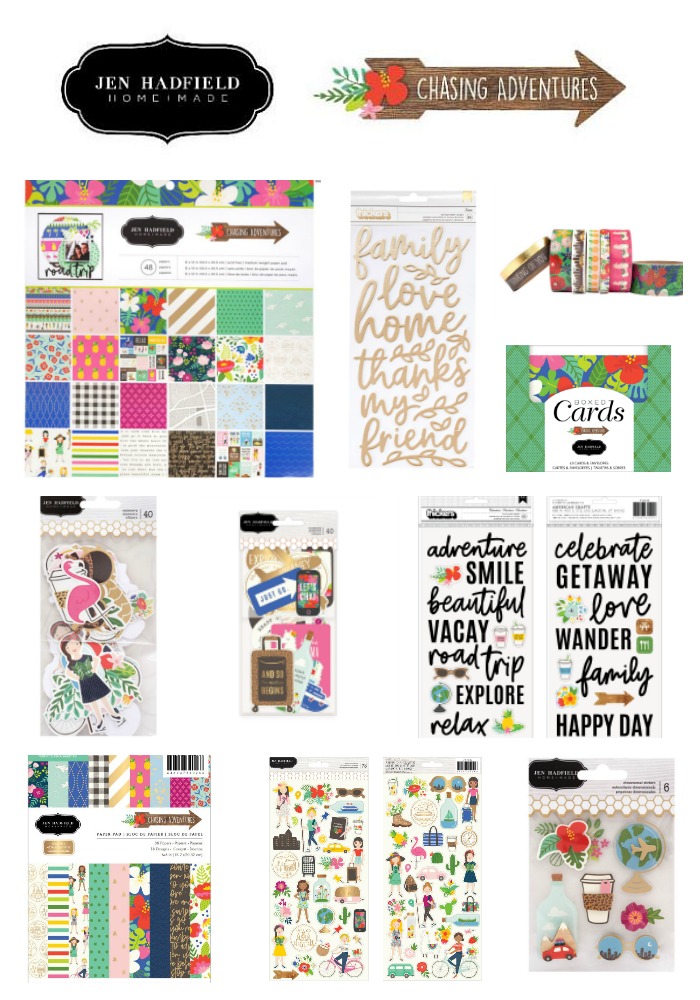 What are YOU working on for Summer?
Share YOUR ideas in the comments!!
Have a Creative Day!
xoxo