Scallop Paper and Burlap Banner with Free Templates! Create a simple paper and fabric banner for any occasion – parties, birthdays, home decor!
Banners are Easy to Make!
I love making banners! They are perfect for ANY occasion. Birthdays, parties, decorating, etc. And the best thing about them is you can personalize them for any holiday too!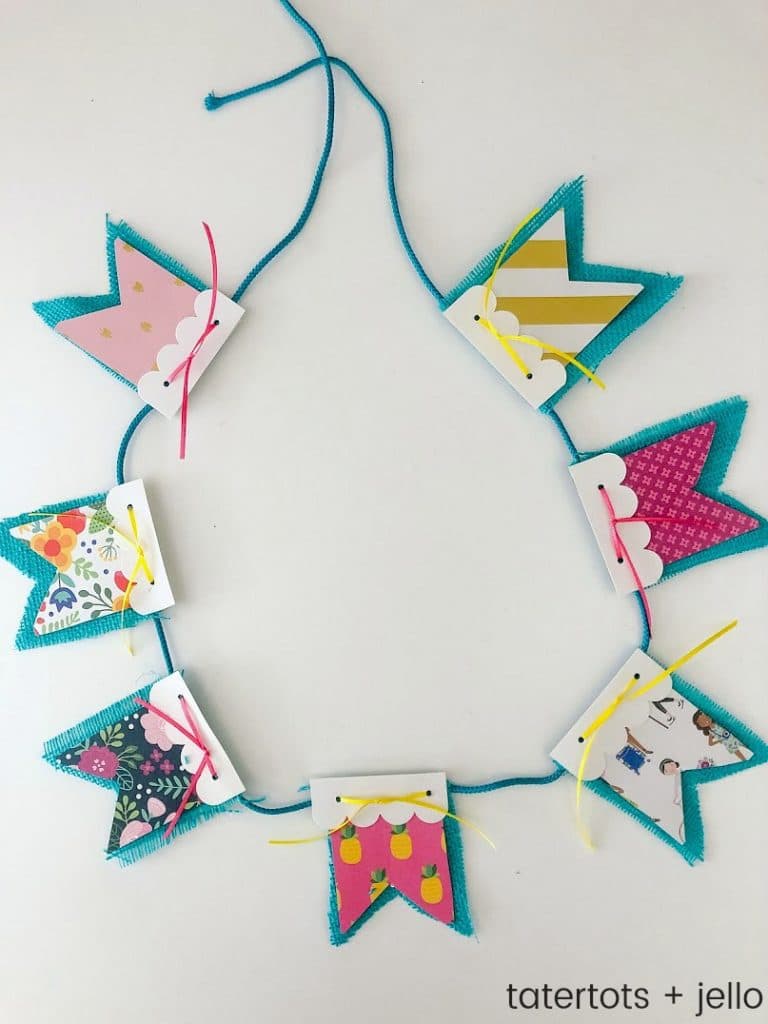 There are so many beautiful scrapbook papers you can choose from. Then add a bit of fabric to the back and you have a really festive way to decorate.
You Can Use any Fabric
Way back in my early blogging days I wanted to create 100 burlap projects. I think I got to about 60 before I stopped. I was thinking about it the other day and I decided that I am going to make that goal. So this project uses burlap!
Burlap Comes in Lots of Colors Now
The nice thing about crafting with burlap now is that it comes in TONS of cute colors! I used a bright turquoise burlap for this banner.
You Can Use any Paper
You can also use any paper you want! I used my new Chasing Adventures paper for this banner! It's my newest Pebbles line and it's all about getting out of your house and having adventures. It's so colorful!
Chasing Adventures is Now Available at JoAnn Stores


I am SUPER excited to announce that my new Chasing Adventures line AND my Heart of Home lines are now being carried in the NEW Designer Destination area in most JoAnn stores!!!! It's the first time my lines have been so accessible and I can't be more thrilled!!
Add a Scallop Border
I added a simple scallop border at the top of the pennants to add a little "extra" to the project. You can cut the scallops out with scallop scissors OR with your craft cutting machine.
Free Pennant Banner Templates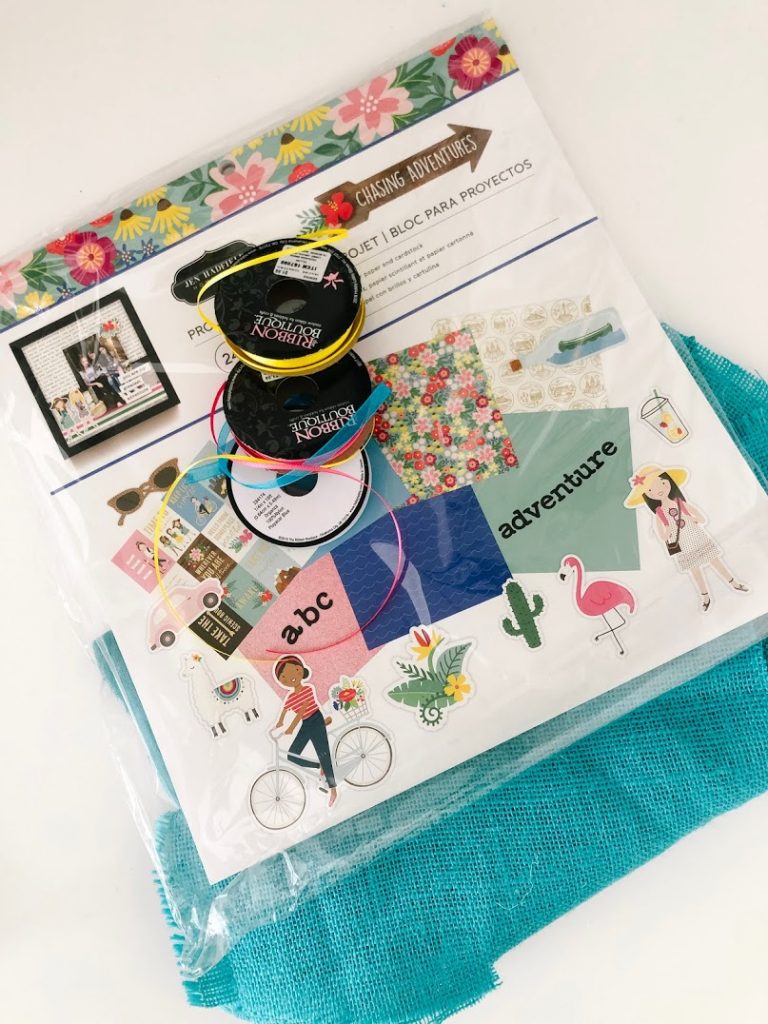 I also created two pennant templates you can use to cut out your paper and fabric! Just click on the link below to grab the free templates!
Customize the Banner for ANY Occassion
You can make this banner as long as you need. If you are using it to decorate a shelf, you might not need to make as many pennants than you would if you are using the banner to decorate a party or a mantel.
How to Make a Scallop Paper and Fabric Banner
Supplies:
Fabric (1/2 yard or so)
Paper (the amount of paper depends on whether you want all of the patterns the same, or alternating, or each pennant a different paper print. It's up to you).
Hot Glue and Gun
Narrow ribbon to tie the pennants together (10 inches – 12 inches for each pennant)
Twine or ribbon to string the pennants together.
The length depends on what type of project you are using the pennants for.
Directions
Decide how many pennants you need for your project.
Print out the free templates on card stock and cut them out.
Trace the large pennant on fabric (I used burlap).
Trace the small pennant on scrapbook paper.
Cut out the scallops (this is optional)
Layer each pennant – fabric, paper and scallop on top of each other.
Use a hole punch to punch a hole on each side each pennant.
Thread very fine ribbon or twine through the hole, around the back and back through the opposite hole. Tie in a knot or bow.
Once all of the pennants are assembled, lay them out in the correct order and flip them over onto their backs.
Lay the twine or ribbon you want to string the banner together over the tops of the pennants.
Fold each fabric over the string and hot glue it into place.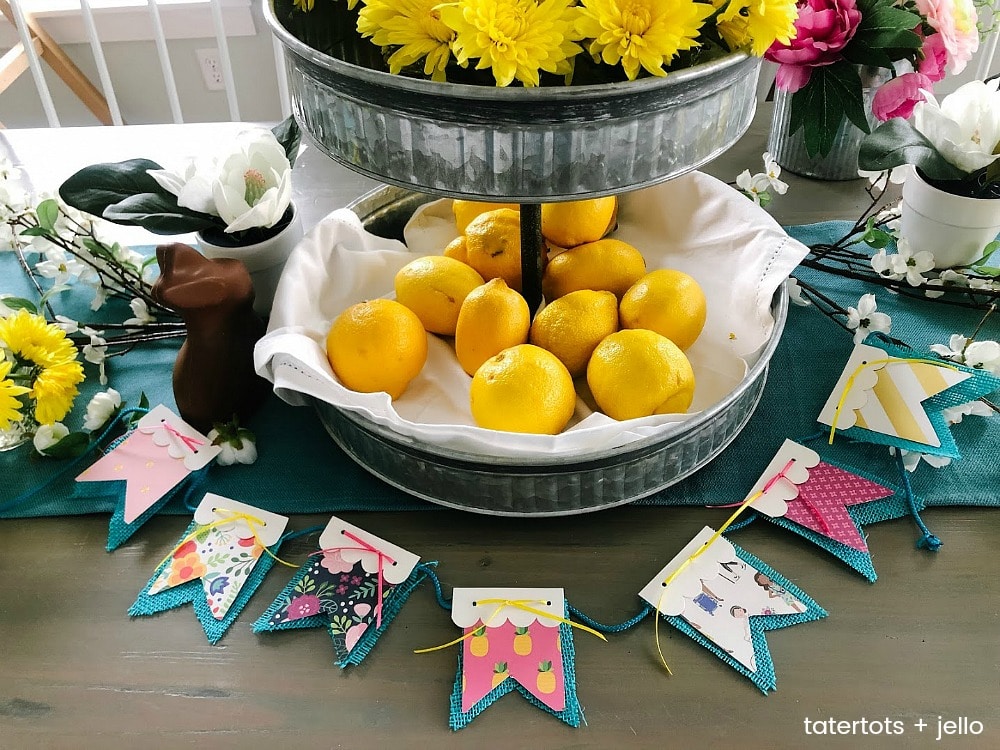 Now you have a beautiful pennant to use! Save the templates and make tis banner over and over again with different fabric and papers – the possibilities are endless!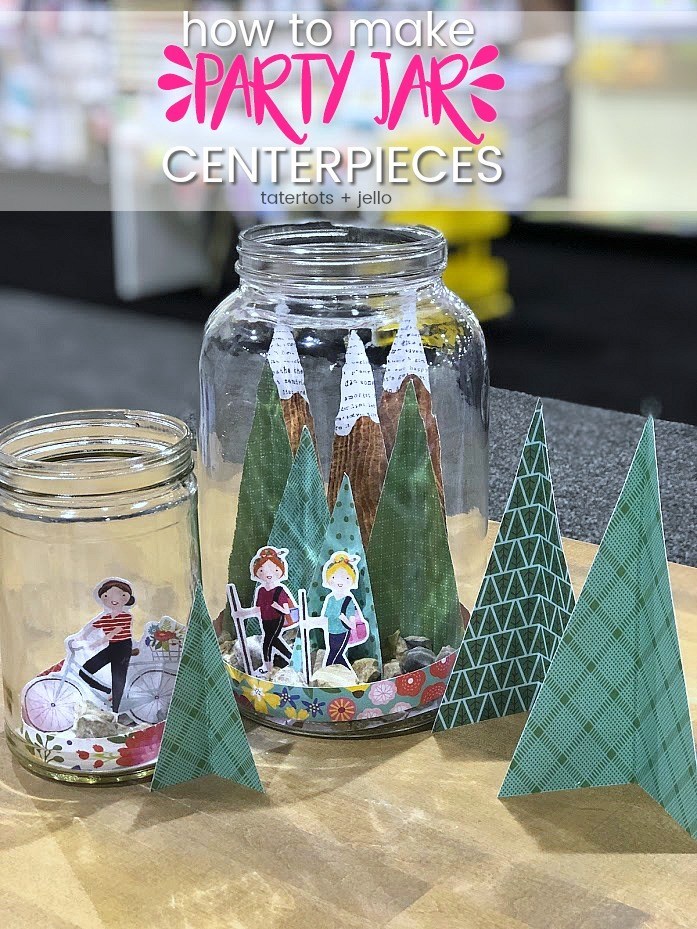 Head over to JoAnn Stores and online to check out their Designer Destinations area – my Chasing Adventures AND Heart of Home lines are being carried there now!!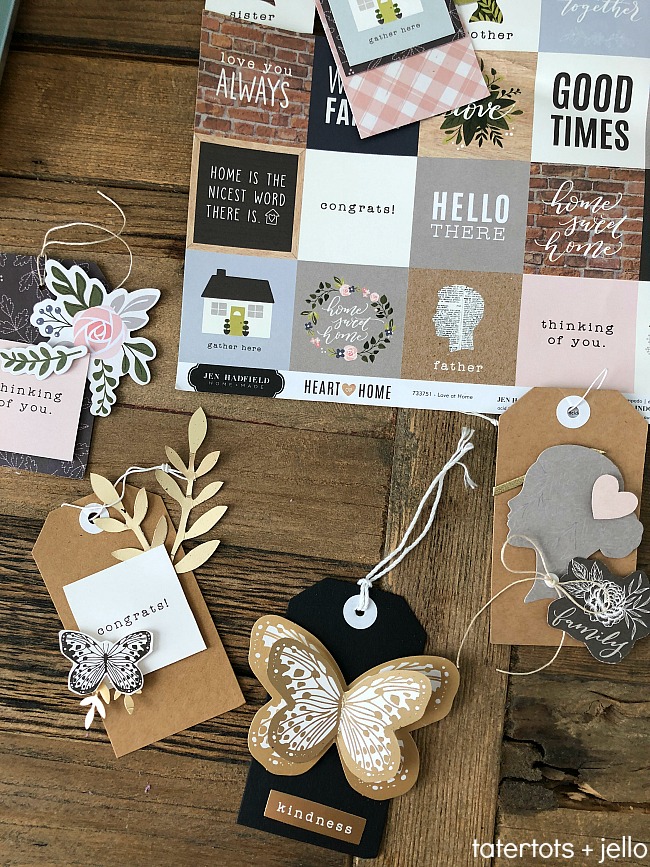 I have a video tutorial on how to do this from my Instagram live video and I will put it on my YouTube channel if you want to check it out!
Have a Delightful Day!
xoxo