I've partnered with Hobby Lobby to bring you this cozy fall mantel and DIY felt leaf garland idea. All opinions are my own. #ad #hobbylobby #hobbylobbyfinds
Fall Mantel and DIY Felt Leaf Garland. Get ready for fall with this cozy fall village mantel and DIY felt leaf garland!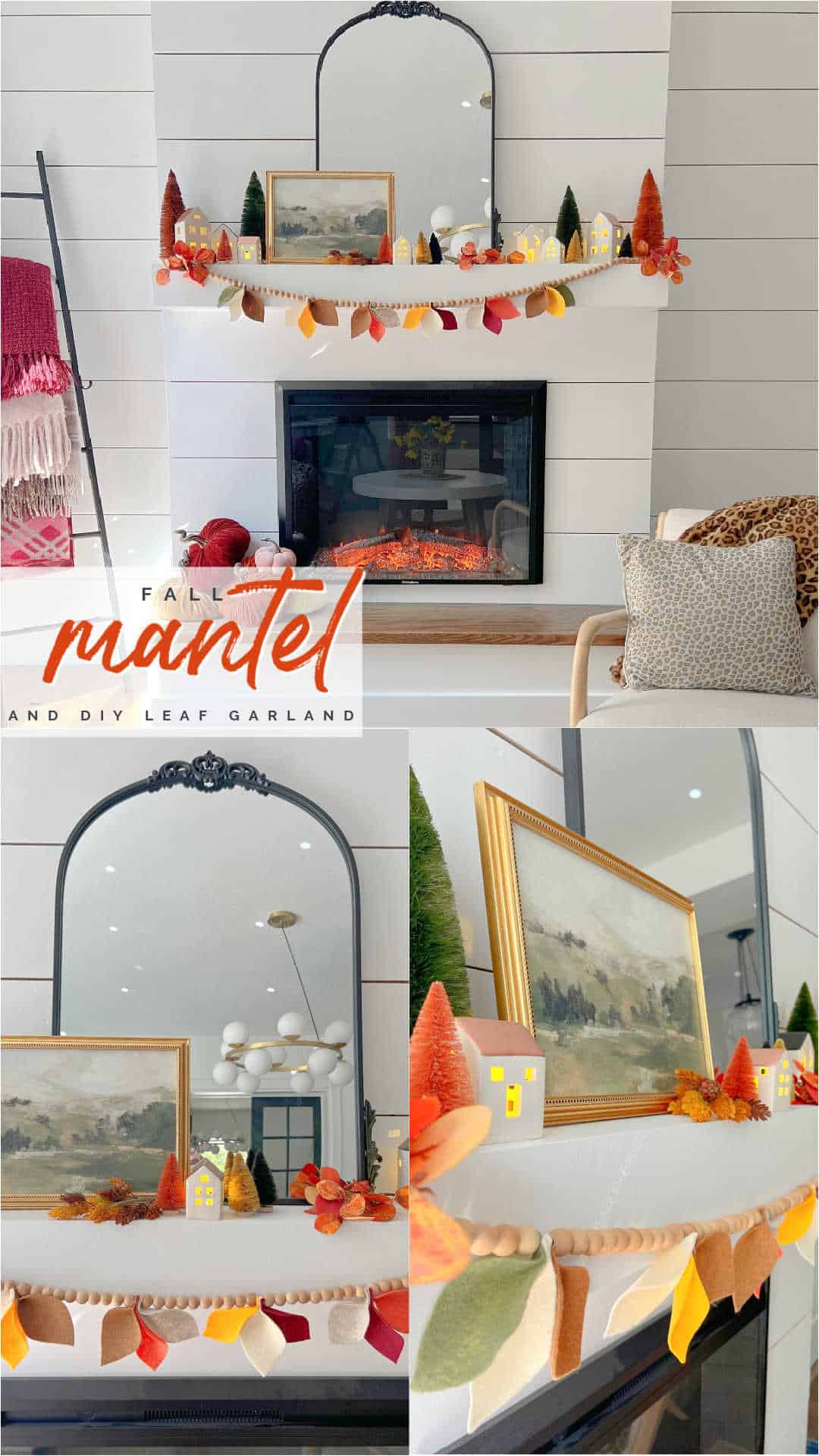 Fall Mantel and DIY Felt Leaf Garland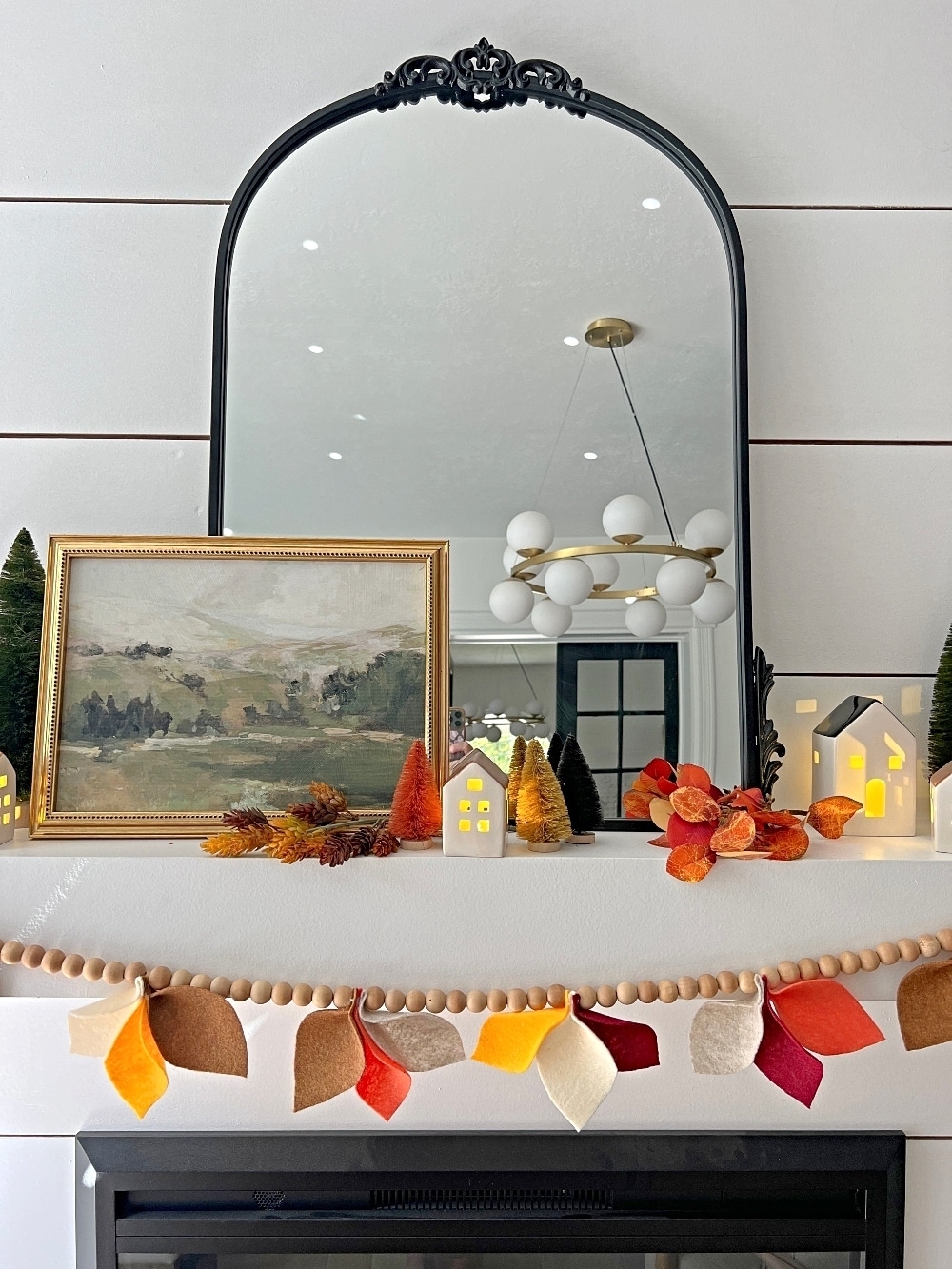 Can you believe the fall is almost here? Fall is my favorite! I look forward to crisp mornings, bright colorful trees, roasting marshmallows in the backyard and sipping hot Cider on our porch. One of my very favorite things to do to get ready for fall is decorate our family room mantle! This year I partnered with Hobby Lobby to share the coziest, cutest fall mantle and DIY felt Leaf Garland. I hope you will be inspired by this project!
Fall-Colored Bottle Brush Trees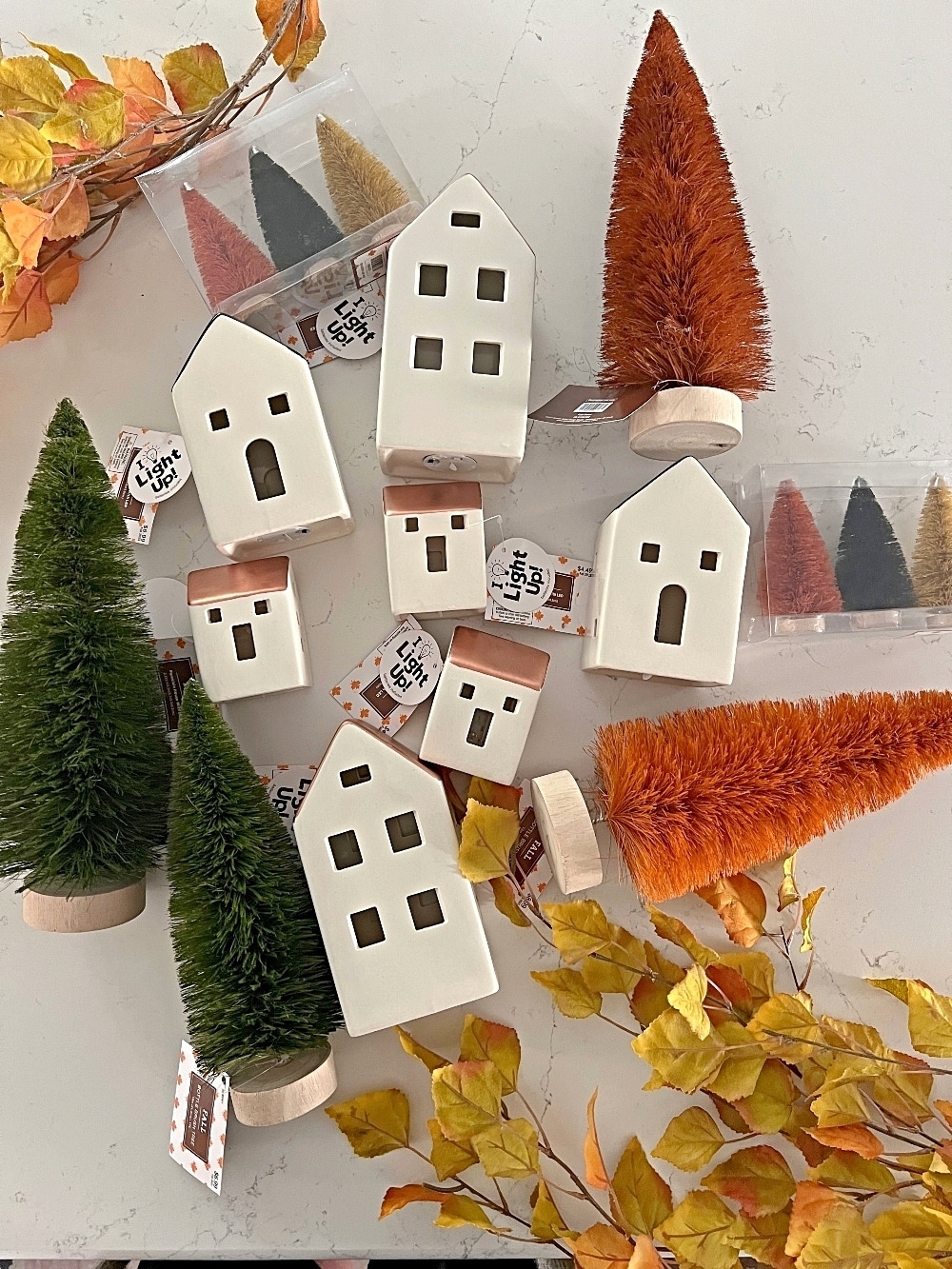 Over the years I have been collecting Hobby Lobby's colorful bottle brush trees. I use them for Thanksgiving and Christmas decor each year. This year as I was browsing Hobby Lobby's fall items, I was so excited to see that they have a fall collection of their bottlebrush trees! The colors of the Fall bottlebrush trees are So Glorious. They come in three colors – a moody dark green, a beautiful rust yellow-orange and a gorgeous mustard yellow. There are also a package of smaller trees that coordinate with the larger ones. The smaller package has a black tree, a mustard yellow tree, and a rust orange tree. They are perfect to decorate for fall and Halloween!
Fall light up Village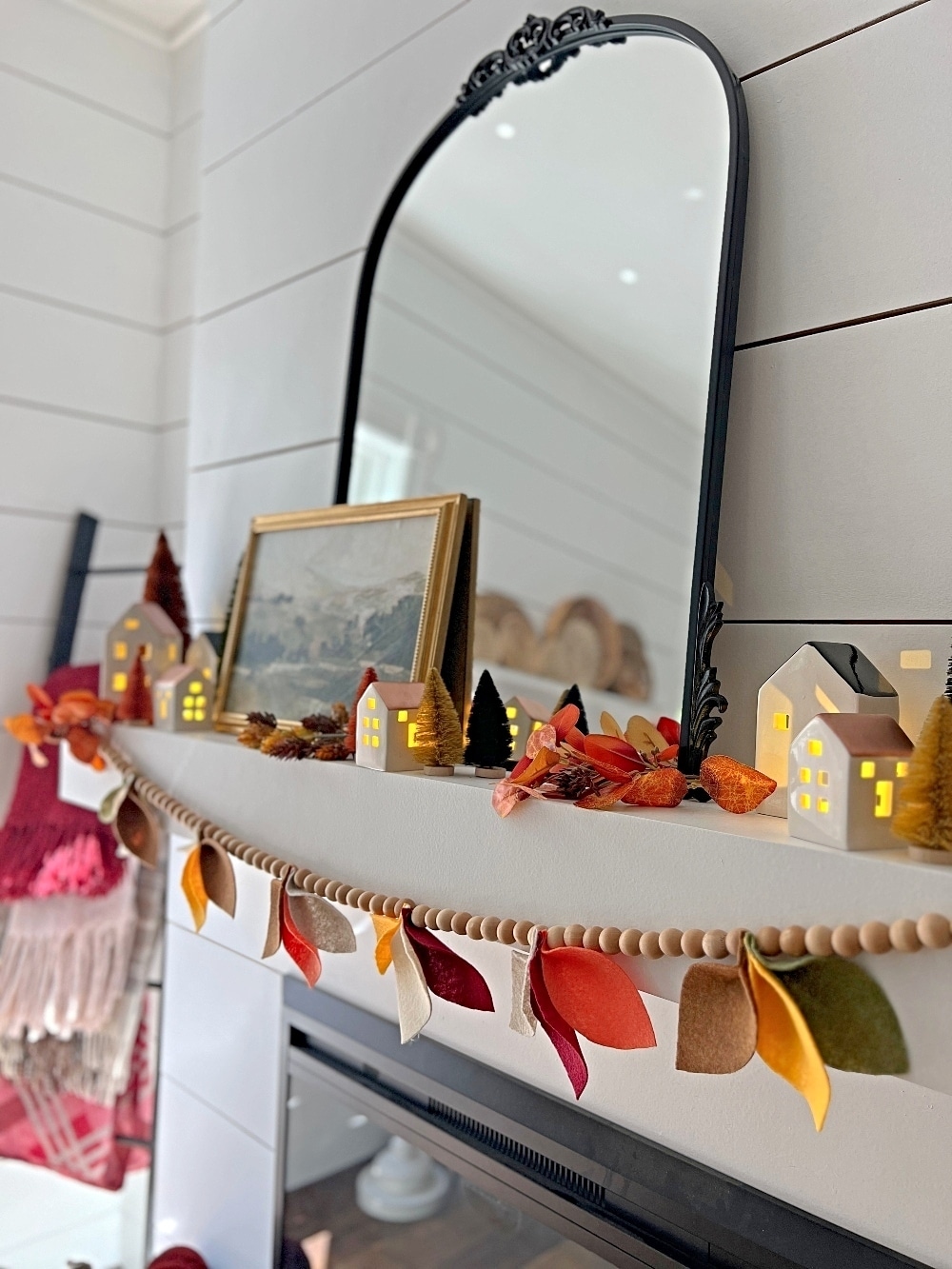 Another item that I fell in love with as I was browsing Hobby Lobby's fall section, or these gorgeous ceramic houses. I was thrilled to see that they also light up! How adorable and cozy will these houses be on a mantle, a shelf or as a centerpiece on your kitchen island or dining room table. The roofs of the houses are black and there are some that have copper roofs. I love the sheen of the metallic against the white ceramic houses. The houses in the bottlebrush trees are so adorable to decorate with for fall and Halloween! I couldn't resist. I scooped up 7 houses of different sizes as well as two packages of the small bottle brush trees and five of the larger bottle brush trees!
Scrolled Mirror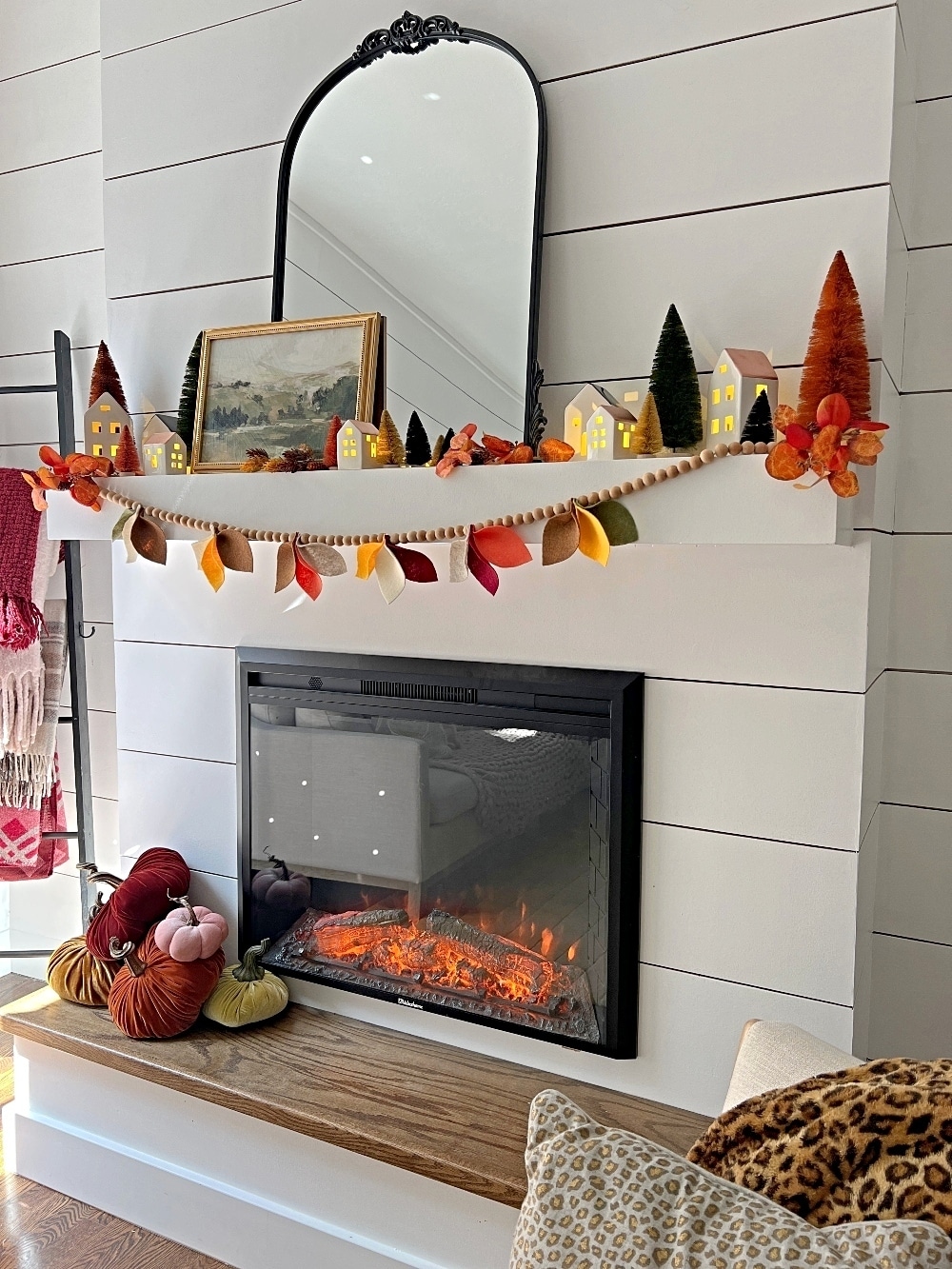 Another one of my favorite finds from Hobby Lobby is my scrolled mirror. The look of the scrolled mirror is so upscale and it's a piece that you can keep out all year round. I love using a mirror on my mantle because it's a great way to reflect the light into a room. I layered the mirror with this beautiful landscape that I also found at Hobby Lobby. The wall art was on sale the week I bought it so I was able to purchase it for 50% off and it came to under $10! I love the way that the landscape looks layered against the mirror.
Fall DIY Felt Leaf Garland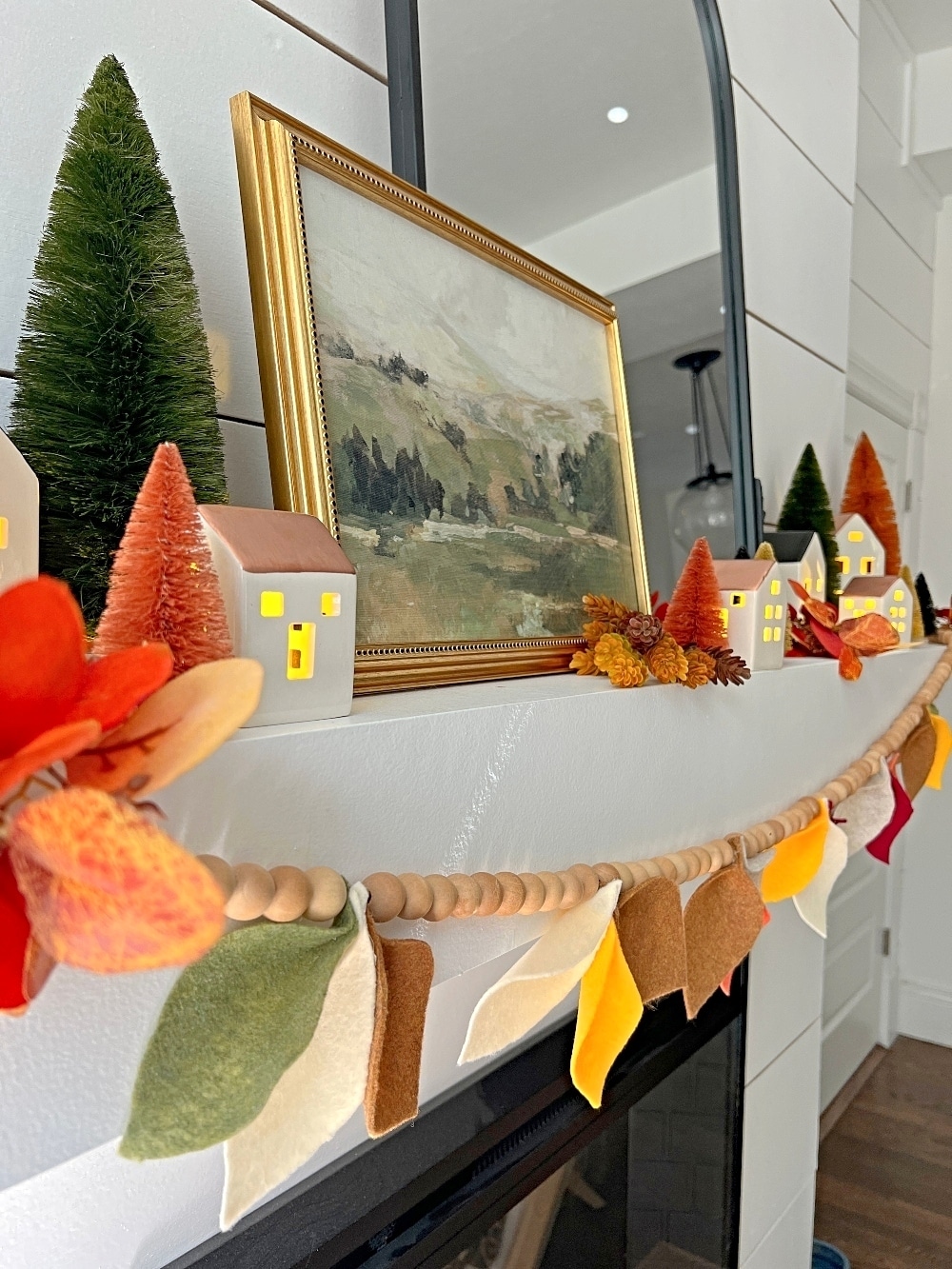 One DIY that I love to create our garlands. Last year I made a pumpkin Garland out of yarn and it turned out so cute! This year I thought felt would be perfect for fall. I found six different felt colors in the felt aisle at Hobby Lobby. I decided to create a super easy and cozy Leaf Garland using this felt.
Free Leaf Template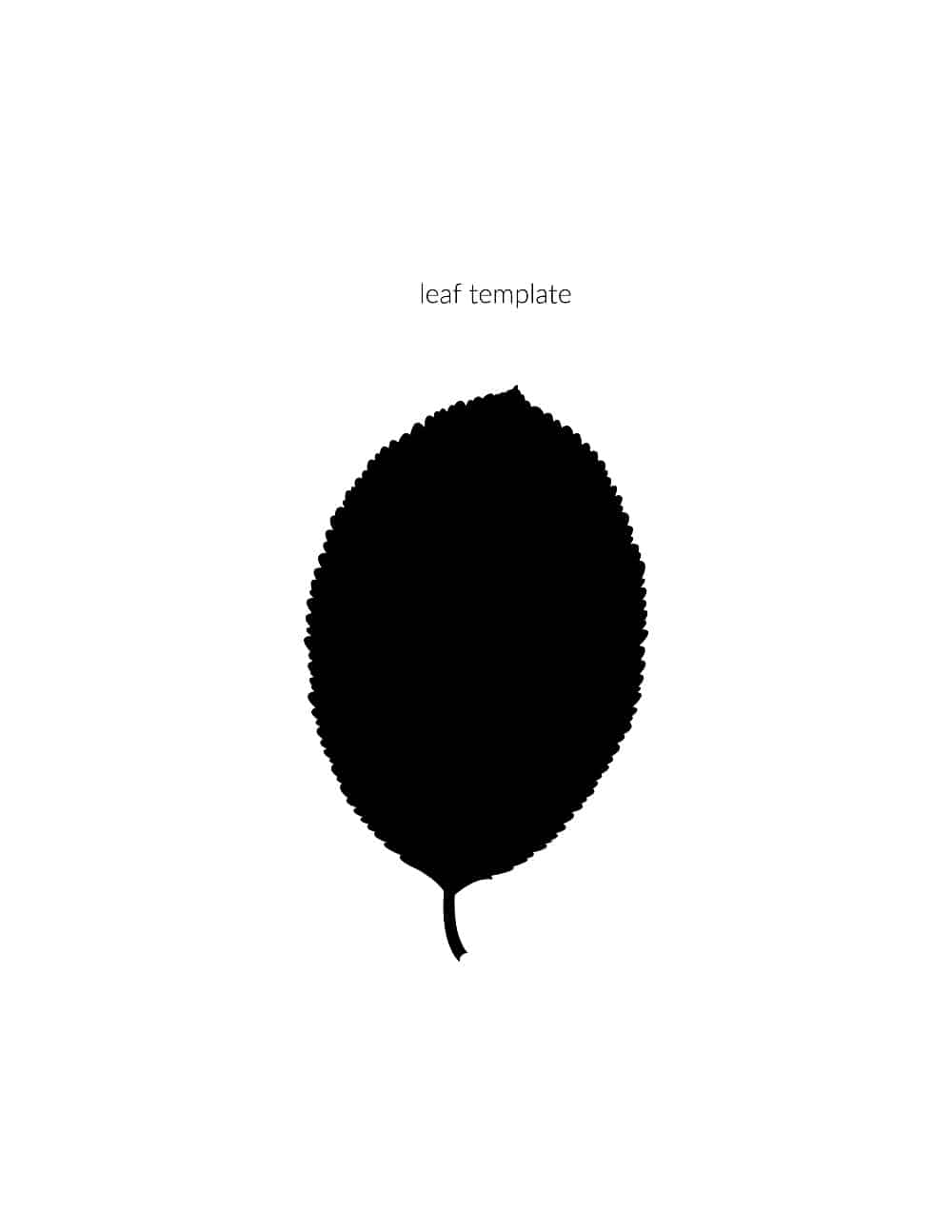 I created a template to make cutting out the felt leaves super easy and I'm sharing it with you! Just right click on this the link below and save it to your computer.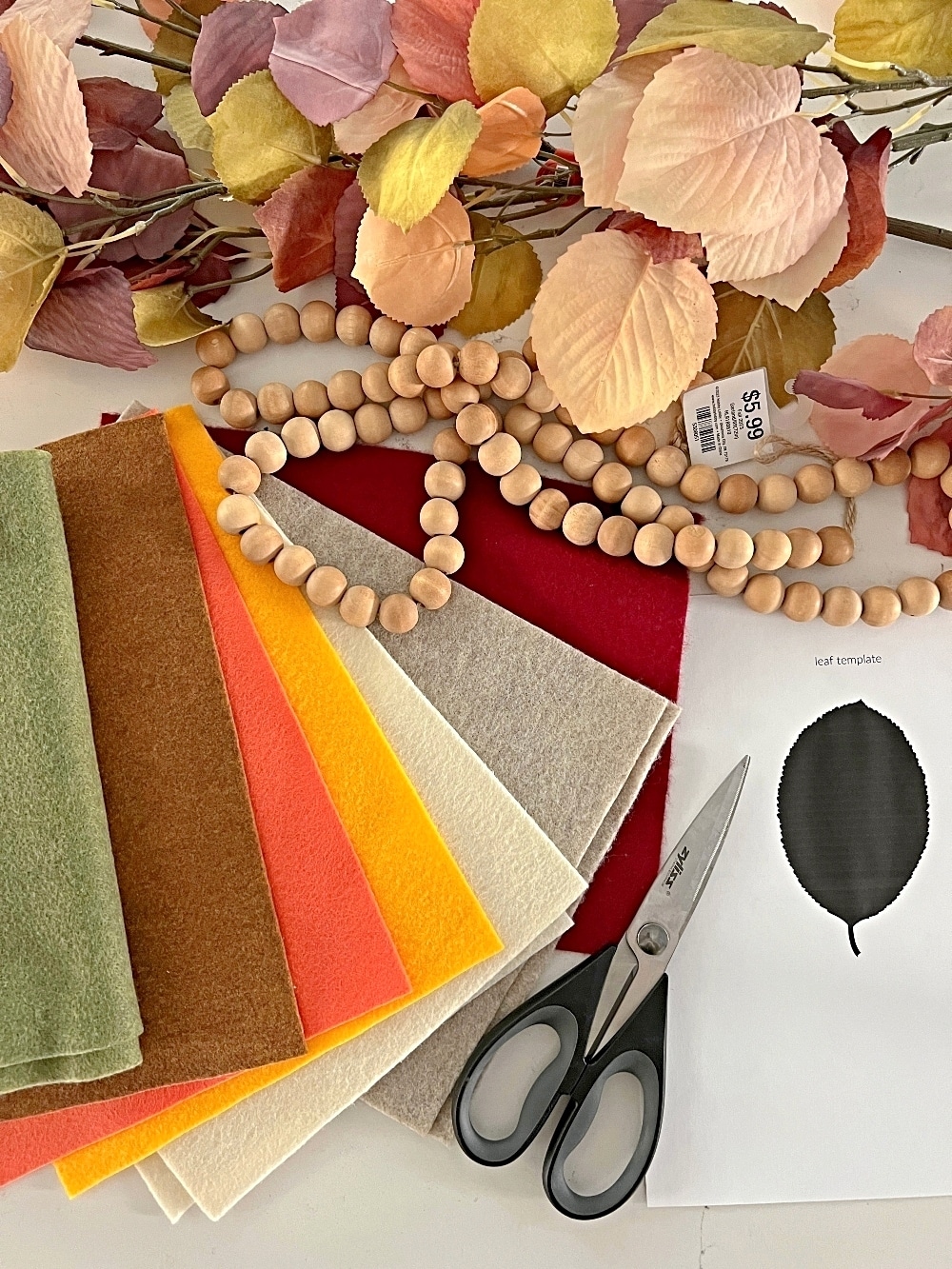 Then print it out. Cut out the leaf and Trace the template onto your felt. I just lay it on top of the fill and cut around the template instead of having to trace. This is an easy way to create leaves that are uniform so that they all look like they're the same size.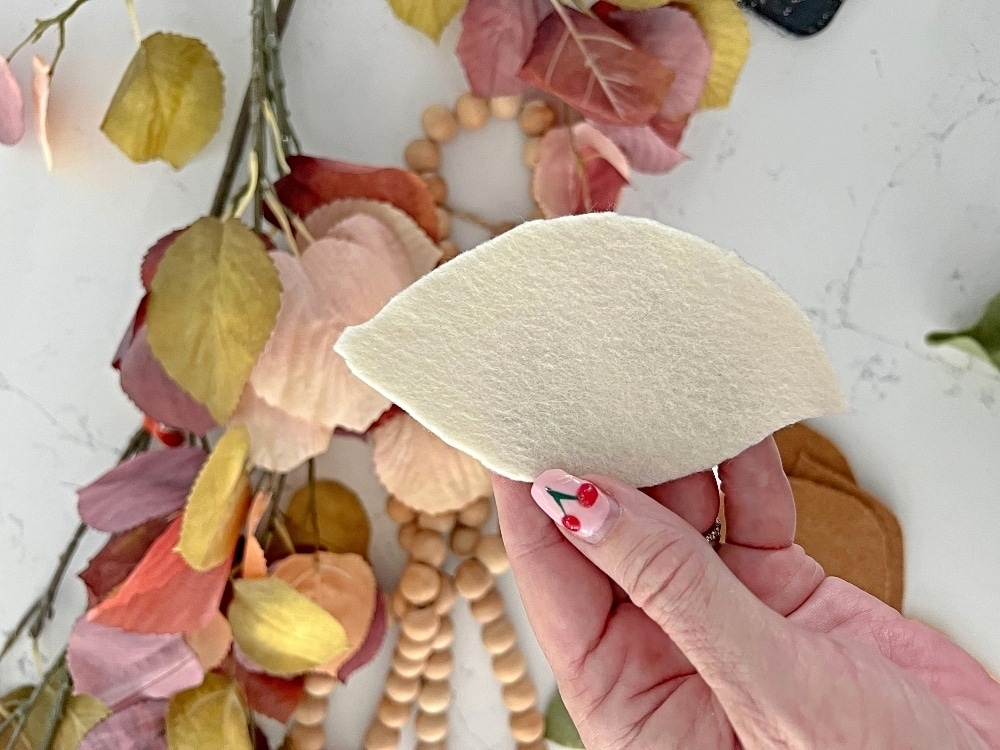 Beaded Garland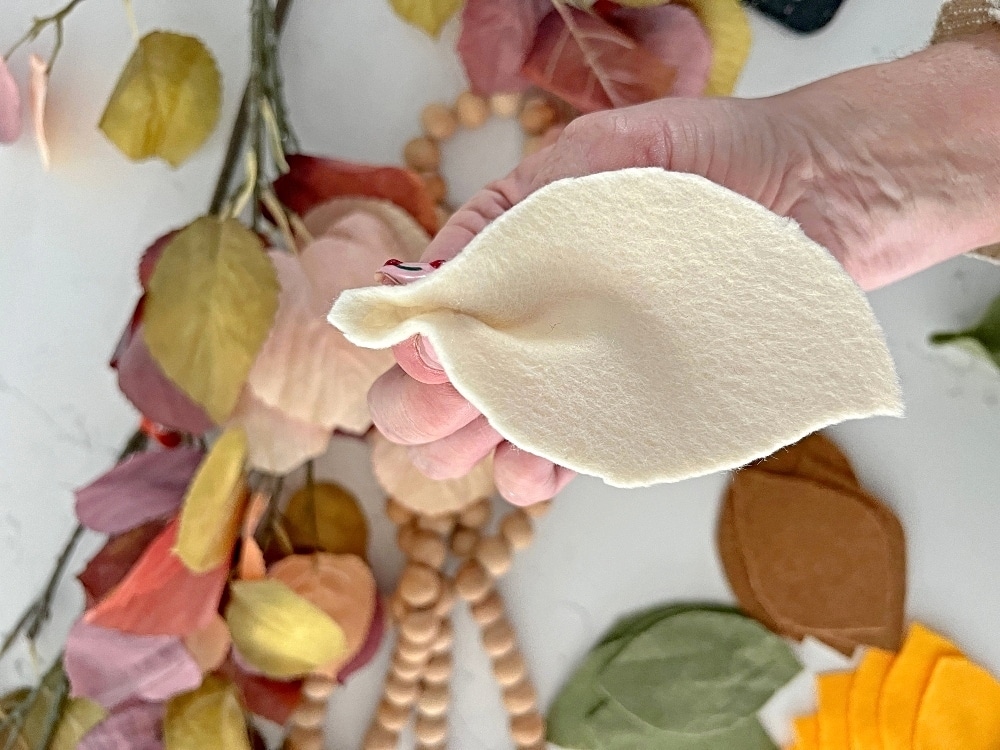 I found this 5 ft Beaded Garland and Hobby Lobby's fall Department. Everything in Hobby Lobby's fall department is on sale right now so this Garland was super affordable. Once I cut out the felt leaves, I simply added glue to the top of the leaf pinched the top together until the hot glue dried and then hot glued three leaves together in bunches. I spaced the leaves apart on the Garland counting out 10 beads between each of the leaf bunches. I use hot glue to attach the leaf bunches to the twine and voila I had a super cute fall Garland to hang on my mantle!
Velvet Pumpkins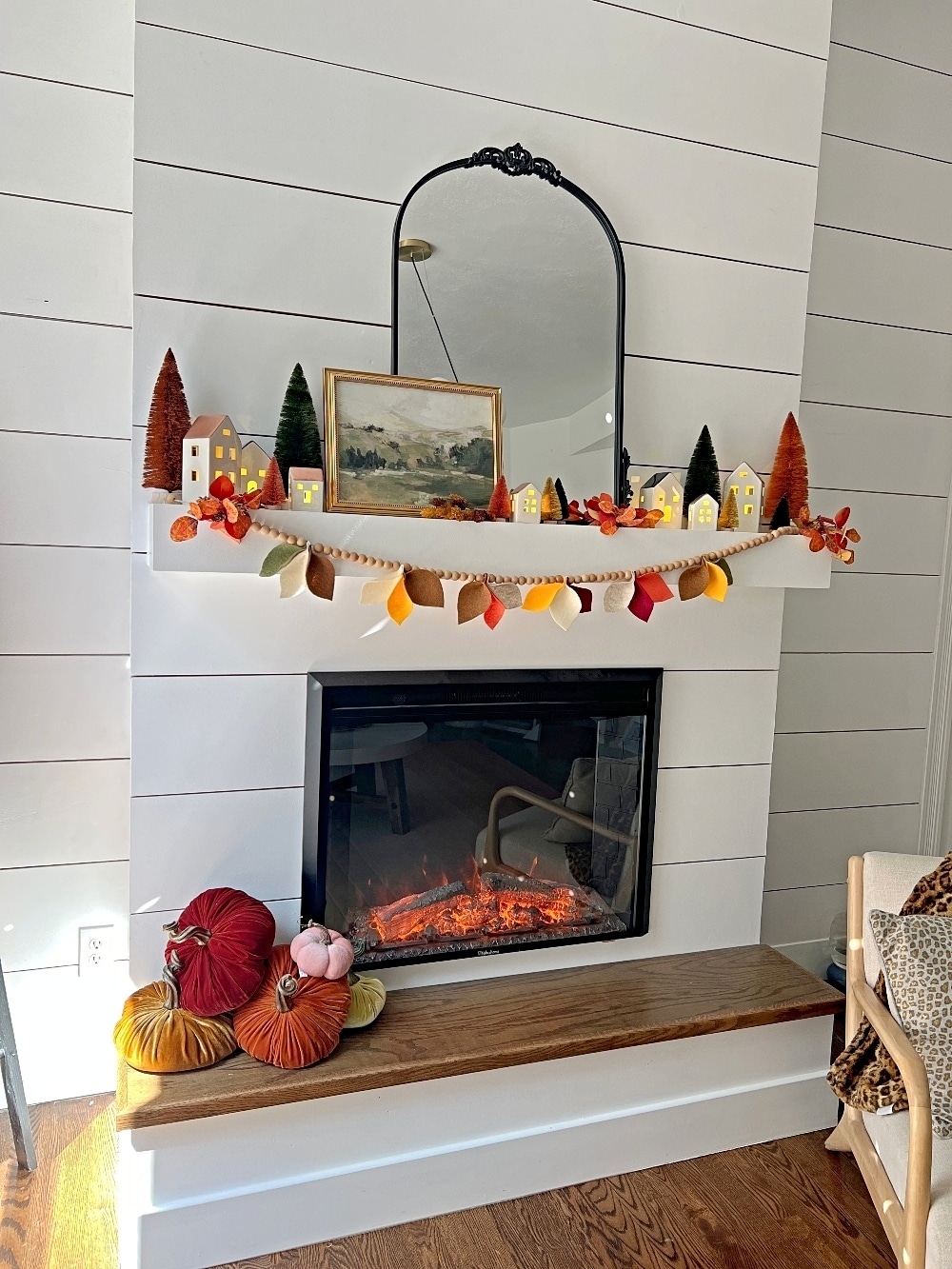 Another one of my favorite fall items that I unbox these gorgeous Jewel-colored velvet pumpkins that I bought last year at Hobby Lobby. I spotted them again this year so be sure to grab some before they're gone! The Velvet colors are just beautiful and the texture of the velvet is so Luxe!
All Hobby Lobby Fall Decor is on Sale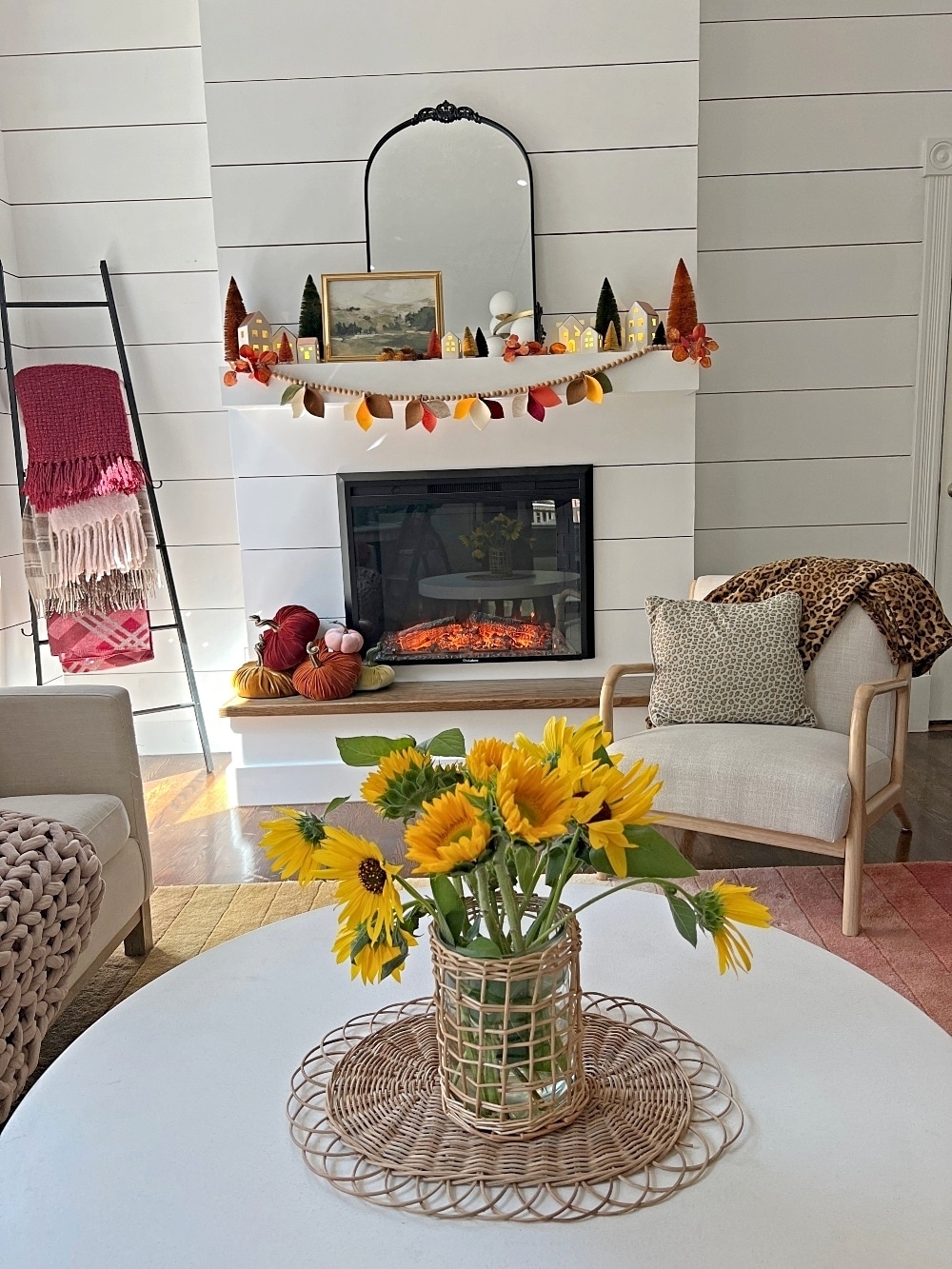 So head over to Hobby Lobby to grab the items to make this project! All of Hobby Lobby's fall Decor is on sale right now and they have the absolute cutest items for decorating your porch, your mantle, creating a fall table, and all of the fall crafts!
Follow Along for Inspiration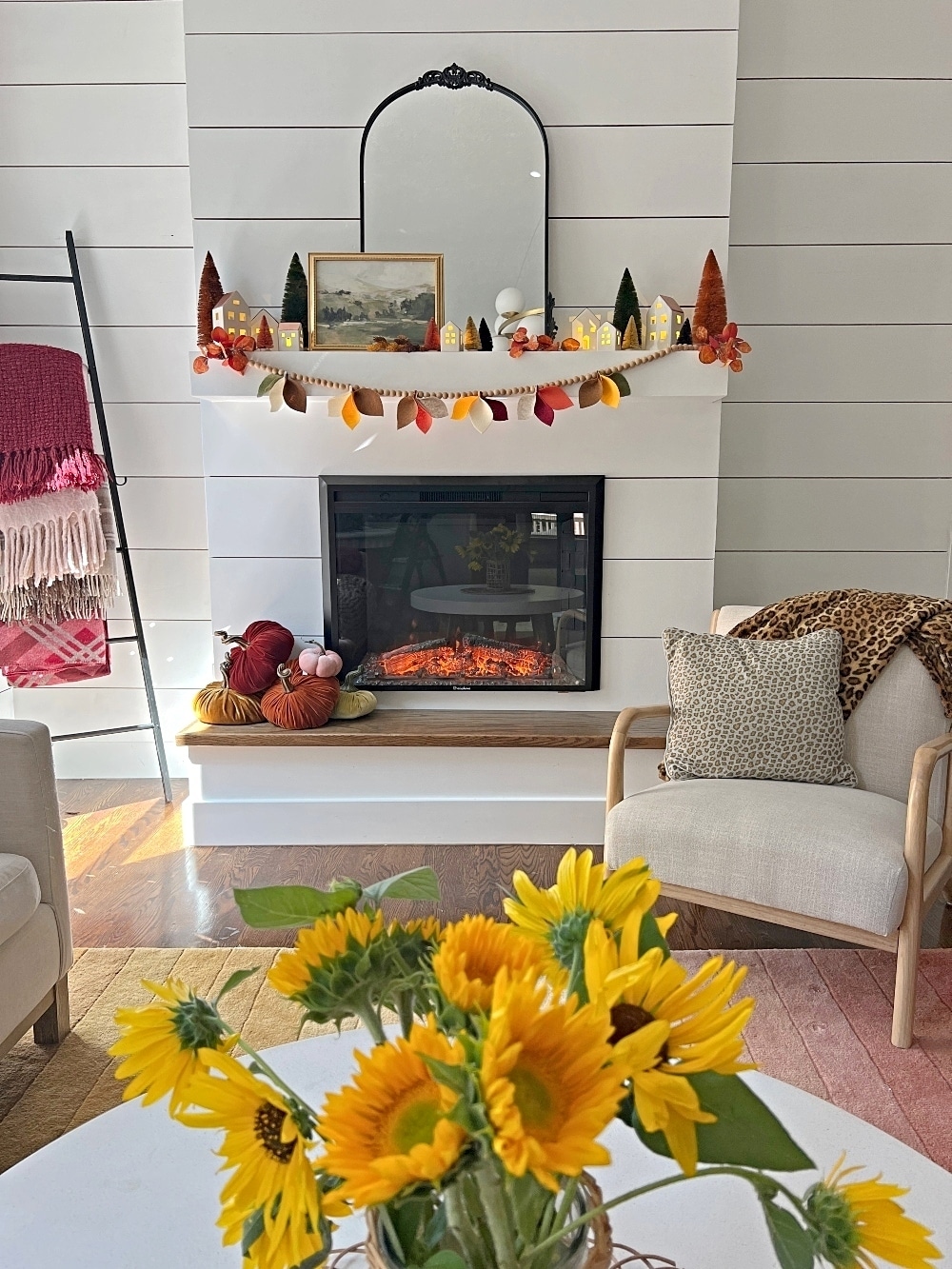 Make sure to follow along with Hobby Lobby on Instagram @Hobbyobby to see all sorts of cute projects and inspiration for your life! And tag me on Instagram at tater tots and jello if you make this project, I would love to share your ideas!
Have a Creative Day!
xoxo