Hey, hey TT&J peeps! I'm Jessica from Mom 4 Real, and I am so excited to be back here sharing some fun home decor! It's my favorite season…I adore Fall. I live in Kentucky, and it's already nice and cool here, and the pumpkins are ready to harvest. I am in a Fall decorating frenzy for sure! I started with my mantel last week, and somehow Fall ended up taking over my entire house. Today I want to show you a cute little Fall vignette that I created using an old some old shutters and a little washi tape!
This is the space before…cute, but a little to Summery. (Is that even a word? Let's just pretend it is.)
I found this old set of shutters at the Peddler's Mall a few weeks ago, and just couldn't leave them. They sat in my garage for a couple of weeks, then one day, I decided they needed to be orange.
I spray painted them with two coats of Valspar's Color Radiance in Gloss Orange and let them dry.
Then I dry brushed on some aqua paint to give it a little bit of a distressed look. I knew exactly where I wanted to put it, but needed to figure out how to tie the orange into the area.
I grabbed my bucket of washi tape and added a band of cute aqua tape around the bottom of my lamp shade and a band of orange and white polka dot tape around the top. The great thing about the washi tape is that it is so low tack that it is not permanent and can be removed any time!
I added some mini pumpkins in with some pretty potpourri I had and filled my glass lamp…isn't it cute?
Then I plopped a few pumpkins around and stood back…
I love it…it's fresh, but still says Fall is here.
Thank you so much for having me each month…this is one of my favorite places to be!
Happy Fall Y'all!
Jessica! I love that little area that you change up for the seasons!! You use the same colors I do for Fall – Orange and Turquoise. And I love the use of washi tape too. So fun!!
Be sure to check out Mom4Real for more awesome ideas like:

Have you checked out Mom4Real's Pumpkin Party?? Link up YOUR pumpkin!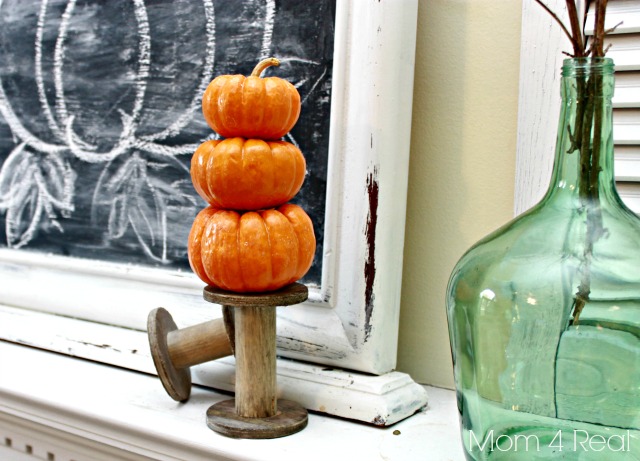 And be sure to head over and see Jessica's Fall Chalkboard Mantel – so cute!
Be sure to put Mom4Real on your "must-read list"!
Have a HAPPY Day!
xoxo