Colorful Summer Farmhouse Kitchen Nook. Turn a corner of your kitchen into a colorful nook with bright summer elements, pillows and a DIY Summer ADVENTURE banner!
I love the coziness of a kitchen eating nook . I've had one in my last three homes. From full banquettes with built-in, upholstered benches to the simple nook I created with things I already had for our current home.
How to Make a Colorful Farmhouse Kitchen Nook
There's something cozy about a bench and a corner nook. I centered our nook under the main window in our kitchen so it gets plenty of light
Add a Bench to Your Kitchen Nook
Place one or two benches against the walls in the nook to ground the space. Then add chairs to the sides that are exposed.
Center Overhead Lights Above the Nook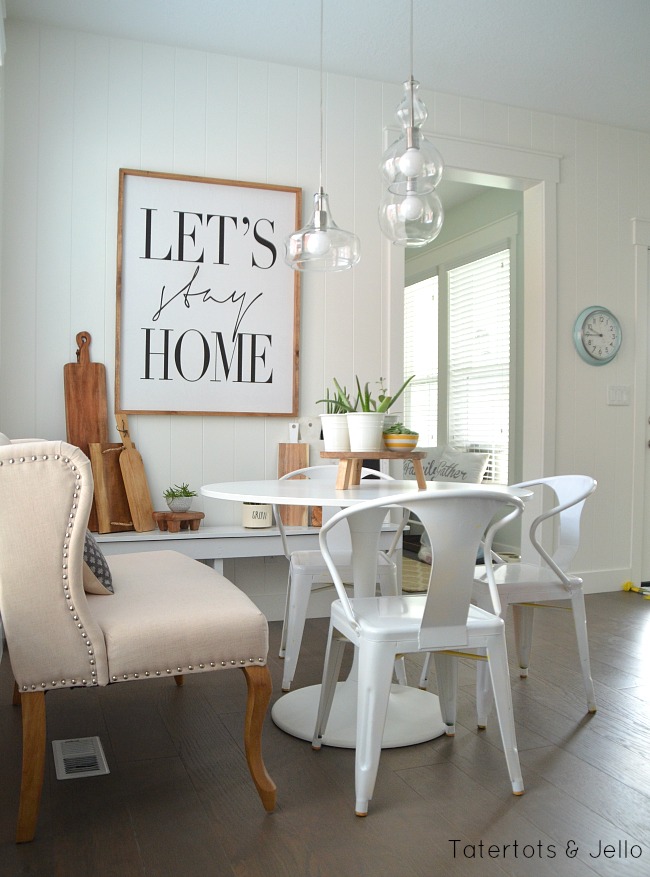 I had an electrician move our light so that it is centered above the nook. If you can't hire an electrician or don't want to, a more temporary solution is to swag the light fixture so that it is centered over the nook. I did this in one of my houses and you can see it in the photo "Black and White Eating Nook" at the bottom of the post.
Add Shelves to Display Items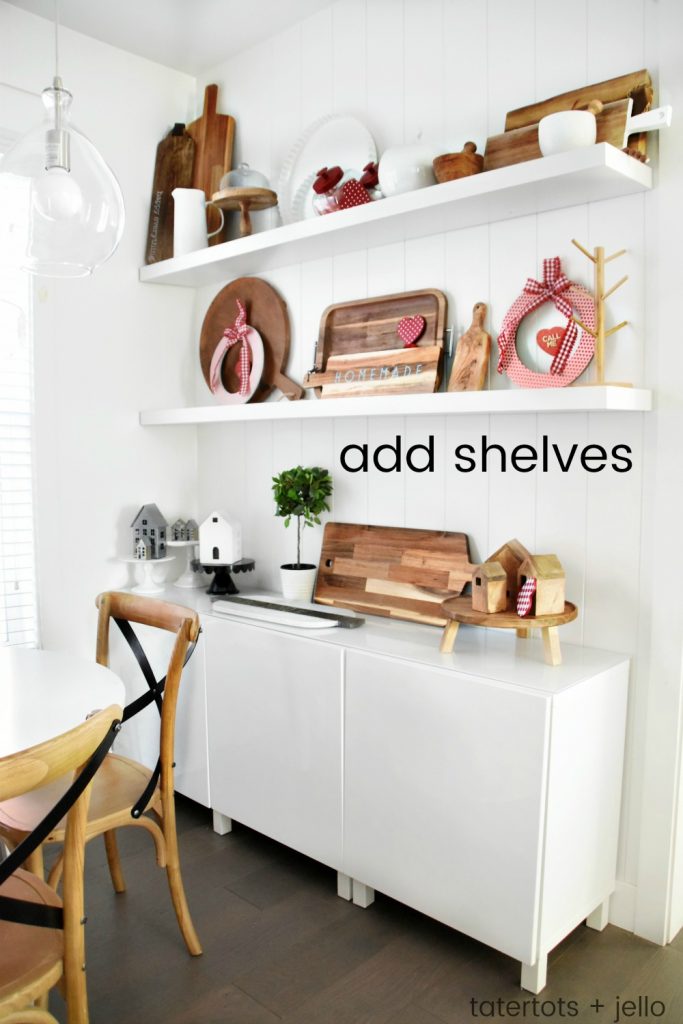 I needed more space for serving pieces so we installed a buffet and then hung floating shelves on top. I display seasonal items on the shelves but they are also functional because I keep everyday items there like my cutting board. The shelves were $18 each from Ikea. You can read more about how we installed them — How to Create a Modern Farmhouse Kitchen Display Wall for $40.
Add Colorful Summer Pillows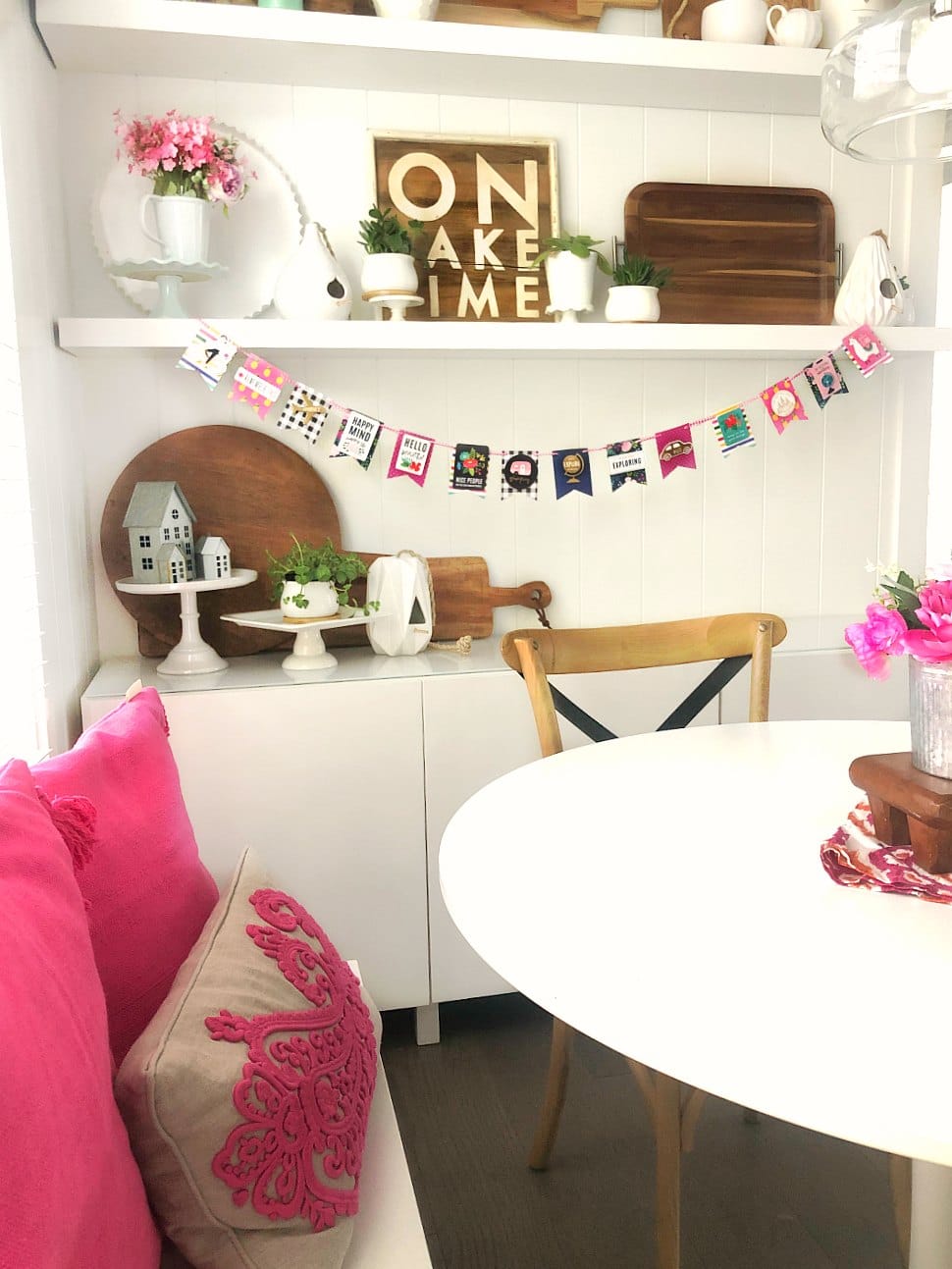 Our bench is very plain and it's easy to change up the look of the space by changing out our throw pillows. For Summer I added pink fringed pillows and a bohemian paisley trim pillow.
Bring in Natural Elements
Live plants will warm up your space, especially for Summer. I potted some succulents in white modern pots and spread them out on the shelves.
Make a DIY Summer Banner
Summer is all about family time and adventures. So I thought it would be fun to create a Summer EXPLORING banner.
Chasing Adventures Paper Line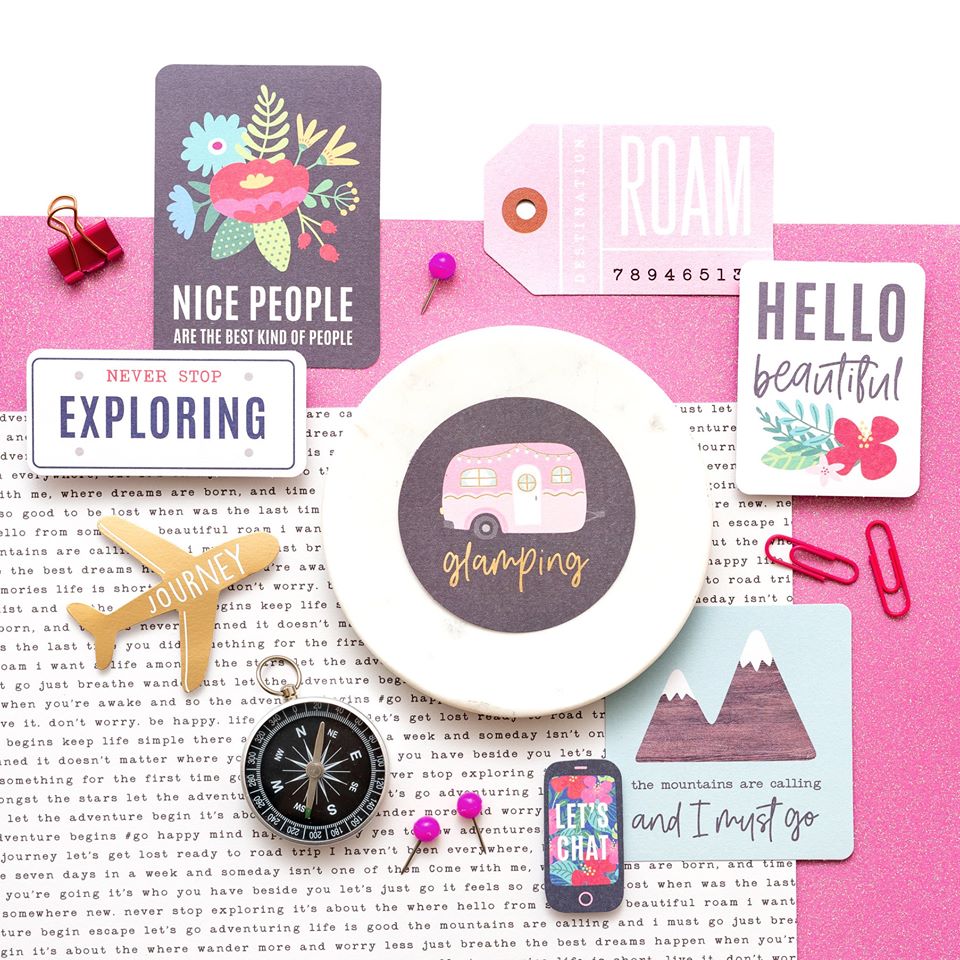 I used my Chasing Adventures line which is all about bright colorful prints and patterns. I used paper for the pennants and then added quotes and cute images from the ephemera in the line. So easy. I am so thrilled that my Chasing Adventure AND Heart of Home lines are in JoAnn Stores!! It's a dream come true!
Banner Punch Board Tool
I actually cut out the entire banner while we were traveling from a Disneyland adventures a couple of weeks ago. I brought my Banner Punch Board Tool and it was super easy to cut out the banner and then I just added the ephemera to the front of each banner. I love the banner punch board tool because its's easy to take on-the-go and you can cut out three different shape pennants in over 30 different sizes. It also has a punch built in so you can punch the top of the banner and string it together.
Hang up the Banner in Your Nook
The banner looks so cute in our nook. I love the way it brings color to our space and reminds us each day to choose an adventure – whether somewhere big or in our backyard. We are so excited for all of the summer memories we are going to make together!!
More Kitchen Nook Ideas
Here are a few of the different kitchen nooks I've created.
Modern Farmhouse Kitchen Nook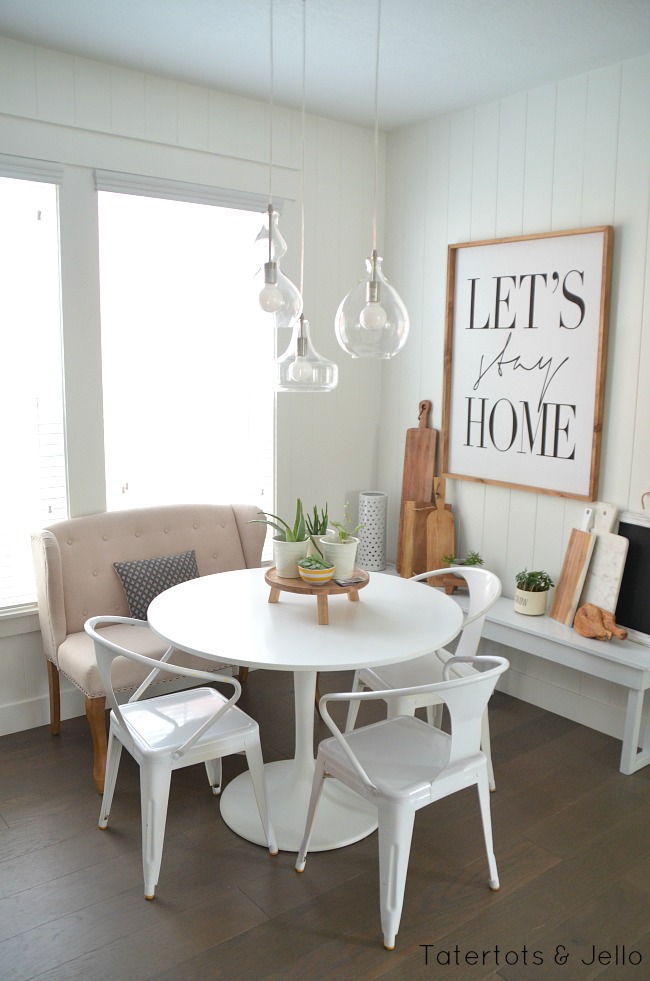 This is what our kitchen nook looked like before we put our buffet and shelves in. I displayed my cutting boards on a bench in the nook.
Cottage Kitchen Nook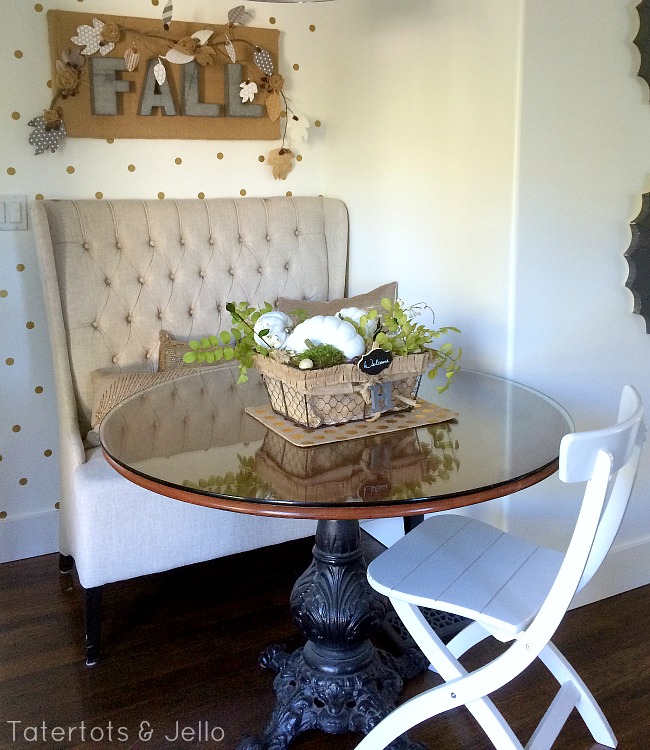 In the #1905Cottage I turned a tiny corner into a nook with an upholstered bench and a vintage table. It was my favorite place to eat because I could look out the french doors into the sunny backyard and see the mountains.
Black and White Nook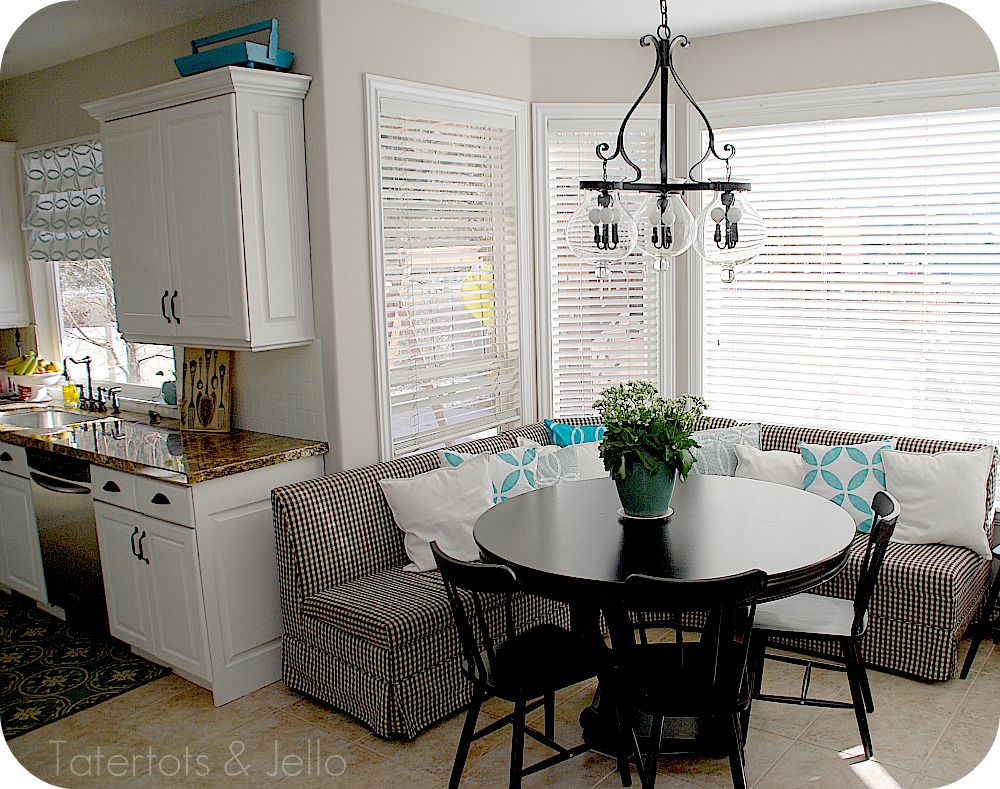 This was a large eating nook I created with benches from Ballard Designs. The seats flipped up and I kept tablecloths, placemats and napkins under the seats which was so convenient. I had one of the benches altered so it fit our wall exactly and really looked custom-made.

What projects are YOU working on for Summer?
Share them with us in the comments!
xoxo